In this post we're going to share everything you need to know to help you visit Milford Sound, one of New Zealand's most spectacular natural attractions.
First though, I have a confession to make. In a previous post, I referred to the geological feature known as a Sound as being the New Zealand equivalent of a Fiord.
I have come to learn that this is seriously incorrect – they are distinct features and confusing one with the other is a bit like confusing a puddle with a lake.
For clarity therefore, here is the definition.
A Sound is a waterway formed by the action of a river, which results in a v-shaped valley. A fiord is created by the movement of ice, usually in glacial form, which results in those lovely u-shaped valleys that you probably remember from the geography lessons of your youth.
All this geography aside, I will now talk about Milford Sound, which is actually a fiord (I'm not the only one who gets these things wrong, although at least my efforts don't end up on atlases), in the World Heritage listed Fiordland National Park, on the south west coast of New Zealand's south island.
About Milford Sound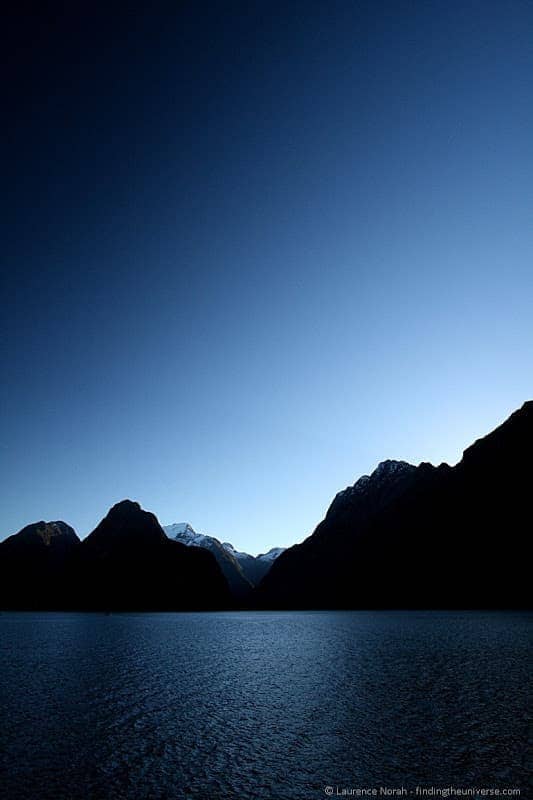 A bit of perspective for you. Fiordland National Park is fairly big. It takes up about 10% of New Zealand's entire land mass. As well as that, everything in Fiordland National Park is pretty big. Lakes are deeper, longer and, I would guess, somewhat colder than in other parts.
Mountains rise out of the sea in distances that can be measured in kilometres. Glacially formed valleys challenge your brain to comprehend the scale of the sight before your eyes, as tiny camper vans and cars crawl like ants on the snake like roads that traverse the area.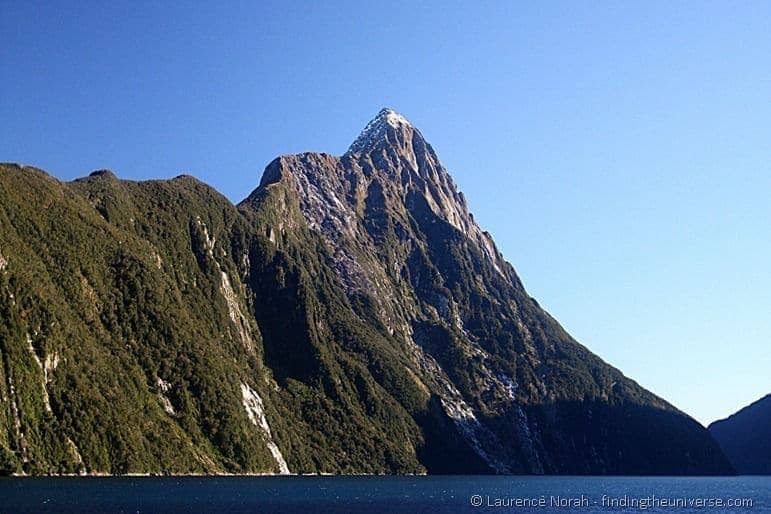 Hopefully I've conveyed the impression that Fiordland is a big place, with some big things in it. Big, impressive, snow capped things.
One of the main drawcards of the Fiordland National Park, and in fact, of all of New Zealand, is the Milford Sound. If you are a Kiwi, this tops the list of the 101 things you must see before you die (yes, there is an actual list).
Specifically, the main attraction is the Mitre Peak, a mountain which rises up out of the Sound to a rather jaw dropping height of 1692m, making it one of the highest mountain peaks in the world of its kind.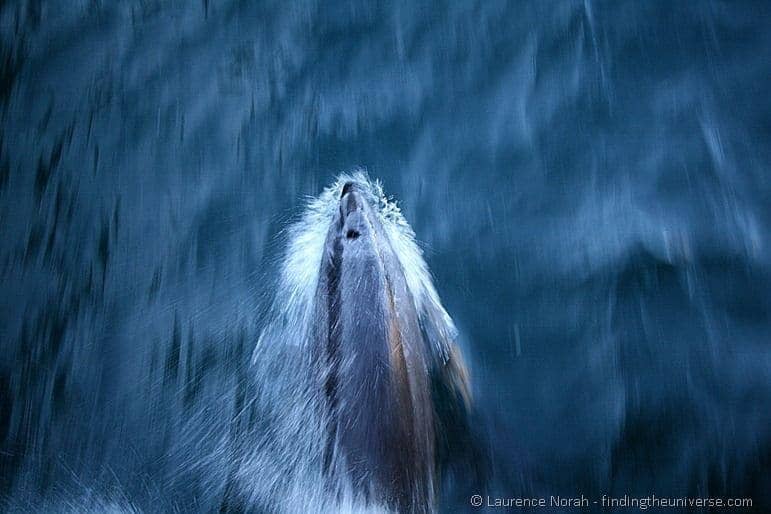 There are a number of ways to experience Milford Sound. Scenic flights are one. Walking the Milford Track is another. Standing on the jetty at the Milford Sound cruise terminal is a third option.
But probably the option that most of the half million or so people who come through here yearly choose, and also the one that I went for, is to take a cruise, lasting in the region of two hours, which takes you out into the Sound itself, right out to the where it meets the Tasman Sea, and then back again. Which was what I did.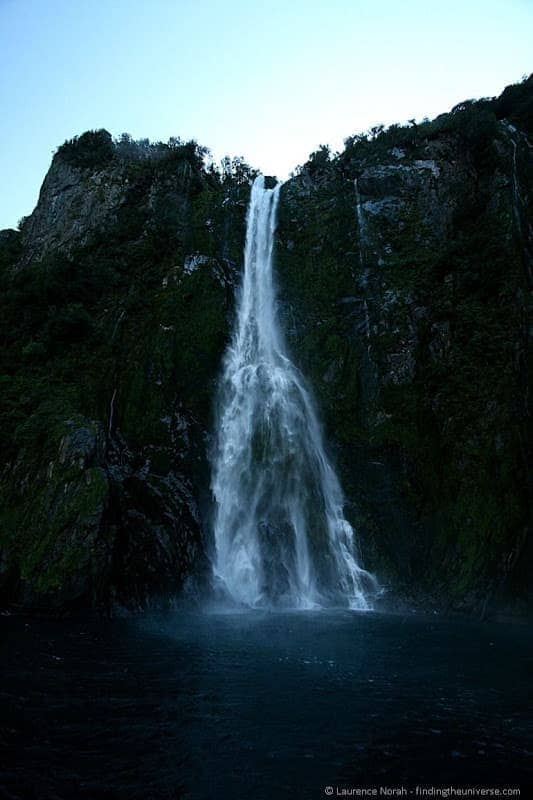 Given that so many people visit this part of the world, and the fact that the weather was somewhat stunning (a blessing for a part of the world where they experience 8000mm of rain a year, and a drought is called if more than nine days go by without precipitation), I was a little bit surprised to find that my boat, which could probably accommodate at least 200 people without any trouble, had a grand total of nine passengers.
This was something to do with giant clouds of ash from a nearby volcanic eruption wreaking havoc on flights, but did mean that I had no problem finding a spot to take photos.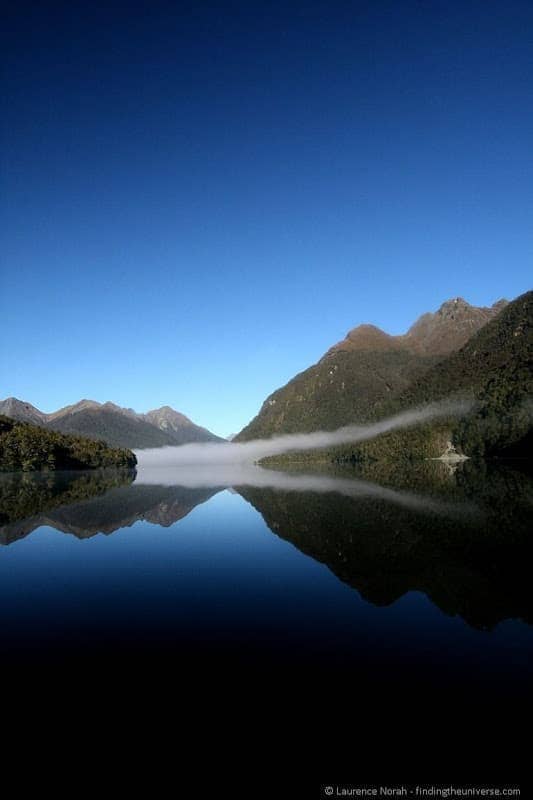 Which was a good thing. Because one thing that this journey does is astound you with visual wonders that require you to attempt to capture their beauty, and then wonder quite how to do so in a medium that doesn't let you print life sized pictures of kilometre high mountains.
The cruise was pretty wonderful. The boat nosed it's way into waterfalls, sailed along the edge of cliffs that rose dizzyingly into the sky, and even managed to find a pod of dolphins that played in the bow wave. It really was awe inspiring stuff.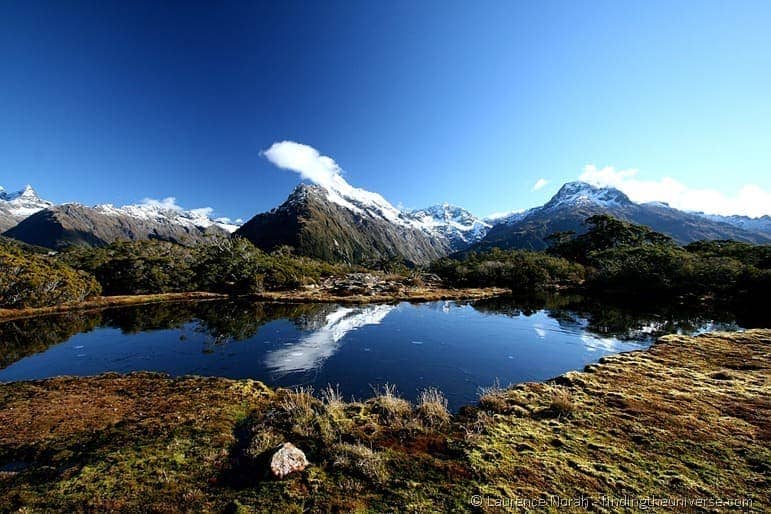 Of course, the boat ride, whilst the main highlight, wasn't all that there was to do in this part of the world.
The 119km drive from Te Anau to Milford Sound itself was a pretty awe inspiring journey in itself, with hair raising roads and spine tingling vistas around pretty much every corner. There was even a tunnel, hand hewn over a period of twenty years, forming part of the route, angling down through the mountain at a 1 in 10 ratio for a kilometre.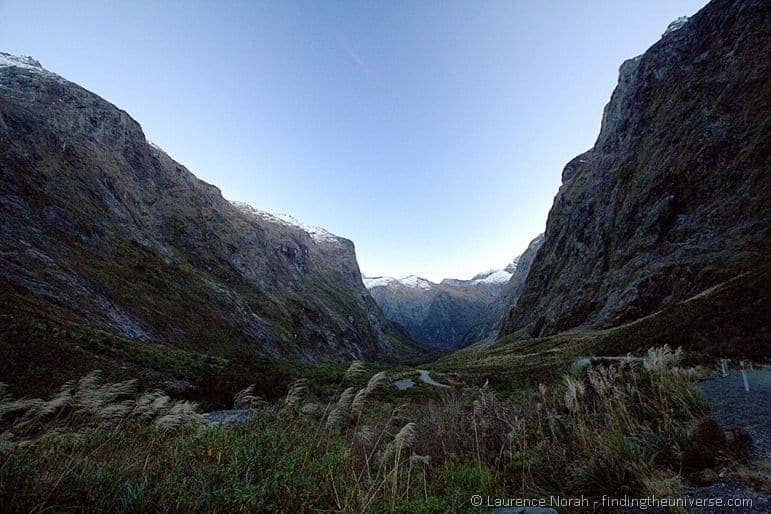 We even did a bit of a walk in the park, walking up a part of the world famous Routeburn track, the other end of which we had walked from Glenorchy. Admittedly we have missed out the middle, but this is about the closest we have come now to doing a great walk on the south island.
The views from the walk were spell binding, with snow lined mountains all around, and endlessly blue skies stretching beyond. Quite marvellous stuff.
As always, there are were far more things to do here than budget allowed for, with trips to Doubtful Sound (argued to be better than Milford by some, although better can probably be substituted for different) available, as well as all the usual Kiwi adventure activities.
We, though, were delighted to have been provided with two days of absolutely glorious weather in which to enjoy the park, and views that we will never forget.
Getting to and from Milford Sound
The best way to get to Milford Sound, in my humble opinion, is to drive yourself.
Pick up a rental car
and enjoy the magnificent views on the 120km drive from Te Anau. This drive will take 2-3 hours, so if you have an early cruise, plan accordingly. I'd also advise stopping along the way at some of the highlights.
If you're driving yourself,
check the road conditions
with the New Zealand transit authority before you go. This road is susceptible to landslides and avalanches, and there's no point setting off if it's closed!
If you're in a rush, and have the budget, you can fly in to Milford Sound from Queenstown, Te Anau and Wanaka. The views from the air on a clear day are of course, spectacular!
Finally, for those of you wanting a more traditional experience, you can also hike in to Milford Sound along the Milford Track. This is a four-day one way hike that lets you experience some of New Zealand's most breath-taking scenery. Bookings are essential for this one, you can do that
here
with New Zealand's Department of Conservation.
Which Milford Sound cruise to do?
There are a number of operators who offer cruises on Milford Sound, which is the best way to see the wonders of this location. Cruises are usually busy, and the fiord can fill up with boats as the day progresses, so I'd suggest taking an early morning cruise if you can – the light will be better for photography and there will be less people.
Popular options for cruising include
Mitre Peak cruises
,
Southern Discoveries
and
Cruise Milford
, with prices ranging from 70 NZD per person and up. Different cruises cater to different tastes, with varying boat sizes, cruise lengths and focus. There are also cruises which include round trip travel from both Queenstown and Te Anau, if you don't have your own transport.
When to Visit Milford Sound
Fiordland gets over seven metres (yes, metres) of rainfall a year. In the winter months (May – August), there is also snow to contend with, which can causes avalanches, forcing the road to close.
As you can see from the photos I took, Milford Sound also gets gloriously sunny days, but these aren't as common – I was very lucky. The good news is that even in the rain and fog Milford Sound is still gorgeous, with the waterfalls exploding down the mountains, and the clouds adding wonderful atmosphere.
Autumn and Spring are likely to be quieter times to visit. Winter can be riskier, as the road may close, and the summer months bring many more visitors. But, truth be told, there is no bad time to visit Milford Sound – it's a glorious destination year round!

Milford Sound Accommodation: Where to Stay in Milford Sound
Accommodation in Milford is a bit tricky – there are two options, but one (Mitre Peak Lodge) is only available for people who hike in, leaving Milford Sound Lodge as your only option for staying in Milford itself.
This option books up quickly, so another option is to stay at Te Anau and visit Milford Sound as a day trip.
Alternatively, if you have a camper van, there are a number of very basic DOC campsites along the road, which is a good option if you want to get in for an early cruise – stay in a nearby campsite the night before and then drive in the next morning.
If you're looking for accommodation, we recommend using Booking.com to find a great deal. They let you search over 100 booking sites, including Booking.com, to ensure you get the best deals available. Take a look at their listings for Te Anau here.
Further Reading to help Plan your New Zealand Trip
We spent a year travelling and working in New Zealand, and have created a great many guides to help you plan your trip to this spectacular country. Here are some we think you will find useful, but do take a look at all our New Zealand content as well.
And that's it for Milford Sound! As always, we're open to your feedback and suggestions, just use the comments below. Happy travels!