The Seychelles are a small island nation around a thousand miles off the coast of Kenya in the Indian Ocean. For a long time, these islands were also my home, and I'm proud to be half Seychellois! I spent a lot of my youth in the islands, but hadn't visited with Jess – something we changed on a recent trip.
On that trip, Jess and I spent some time exploring the islands. I was excited to show her all my favourite beaches, eat my favourite Seychelles dishes, and of course do a lot of sight-seeing. From this trip, and my previous experience living in the Seychelles, we're going to be sharing a number of posts to help you plan your own visit to the Seychelles, starting off with our guide to how to spend 1 week in the Seychelles.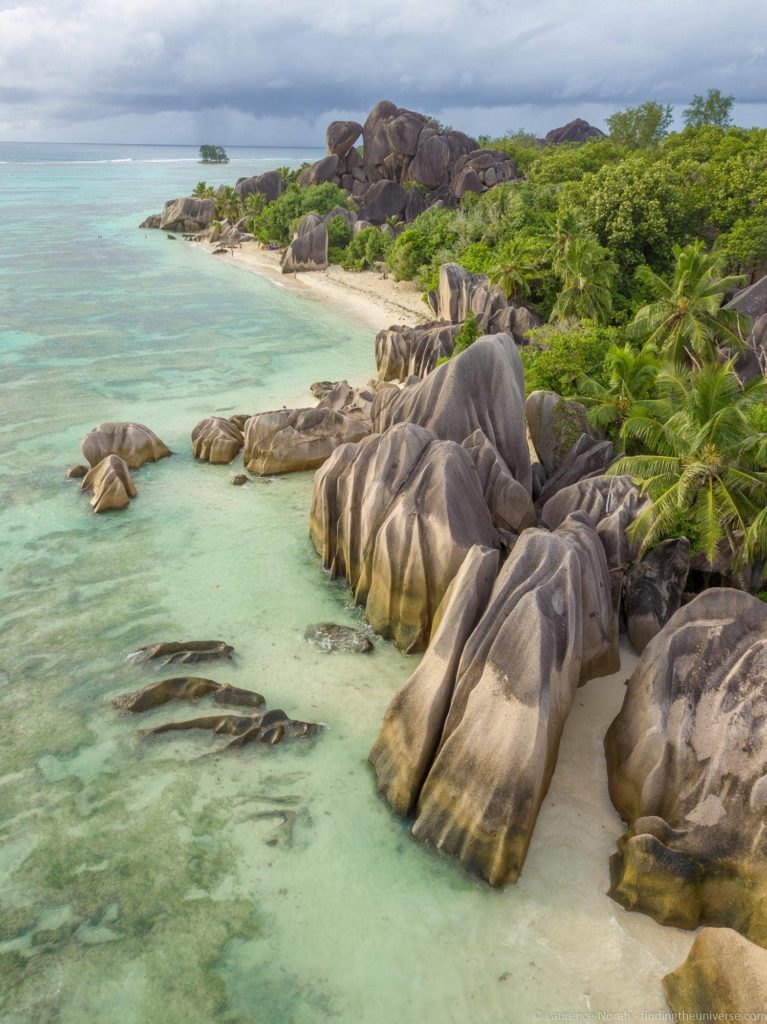 We think 1 week in the Seychelles is about the minimum amount of time to visit the islands for, as it will let you see a number of different islands, and see a fair few sights.
If you have time and budget, we'll also be putting together a two week itinerary which will cover a bit more, and let you spend more time exploring the islands.
As well as a 1 week Seychelles itinerary, this post will also cover a number of practicalities, including when to visit the Seychelles, how to get around the Seychelles, tips for your time on the islands, and much more! Let's get started.
1 Week in the Seychelles
In our opinion, 1 week will give you time to take in three of the main islands in the Seychelles – Mahe, Praslin and La Digue. These are all a bit different with unique offerings, and I always encourage first time visitors to the islands to try and visit a few islands to get a feel for the place.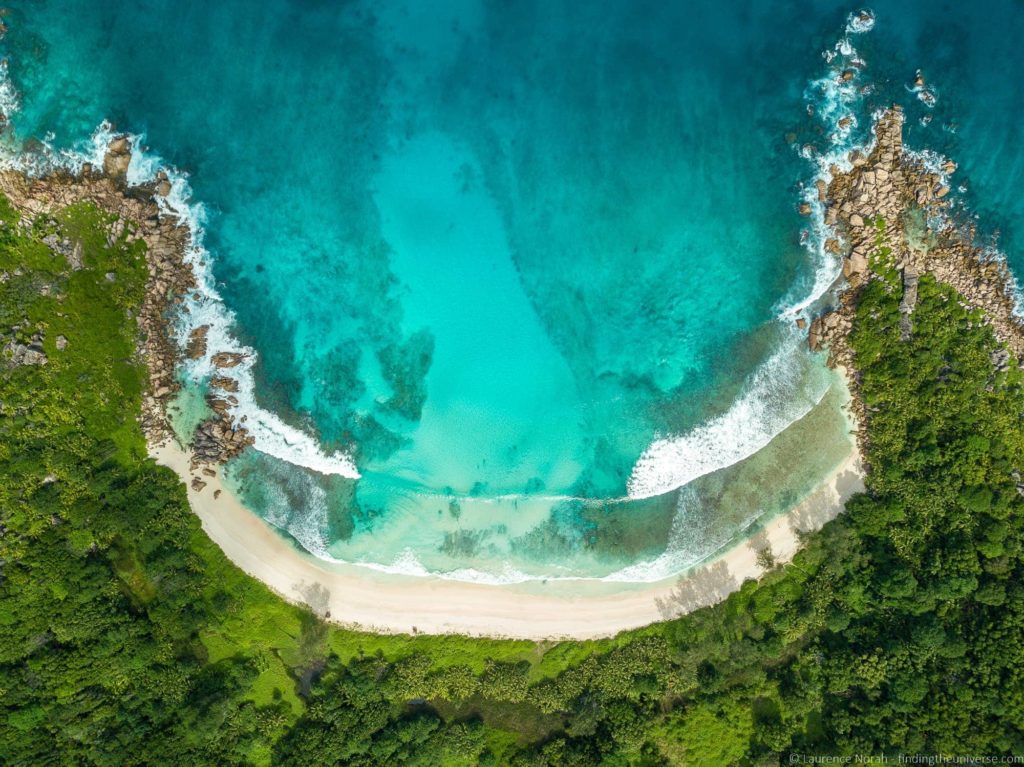 First stop on your trip will be the island of Mahe, and our itinerary has you spending four nights on Mahe, two nights on Praslin and one night on La Digue. Of course, one of the main attractions of the islands are the spectacular beaches, and you are welcome to focus on visiting those on your trip if you prefer.
You're also more than welcome to chill out by your hotel pool! But, for those of you looking to get a bit of local flavour, this itinerary includes some of the sights and activities that we think a visitor to the Seychelles will really enjoy. But don't worry, there are plenty of beaches in here too – although we also recommend checking out our guide to the best Seychelles beaches for more inspiration.
This 1 week Seychelles itinerary assumes you have a rental car but you can also get around by taxi, public bus, or join a tour to see almost all these sites – see the section on transportation after the itinerary for more information on getting around, as well as the section on tours for specific tours we suggest.
Day 1 – Mahe
Mahe is the most populated island in the Seychelles, and also the largest granitic island in the Seychelles archipelago. The Seychelles islands are unique in that they are the only oceanic granitic islands in the world.
They were formed when the Seychelles plateau sank, so the islands that exist today are in fact 70 million year old mountain tops. In some places, the land sank just below the sea, and here coral islands have formed, which are totally flat.
Anyway, back to Mahe. As the largest and most populous island in the Seychelles, with around 80,000 Seychellois calling it home, Mahe is the island you will arrive on as all international flights to and from the Seychelles arrive here.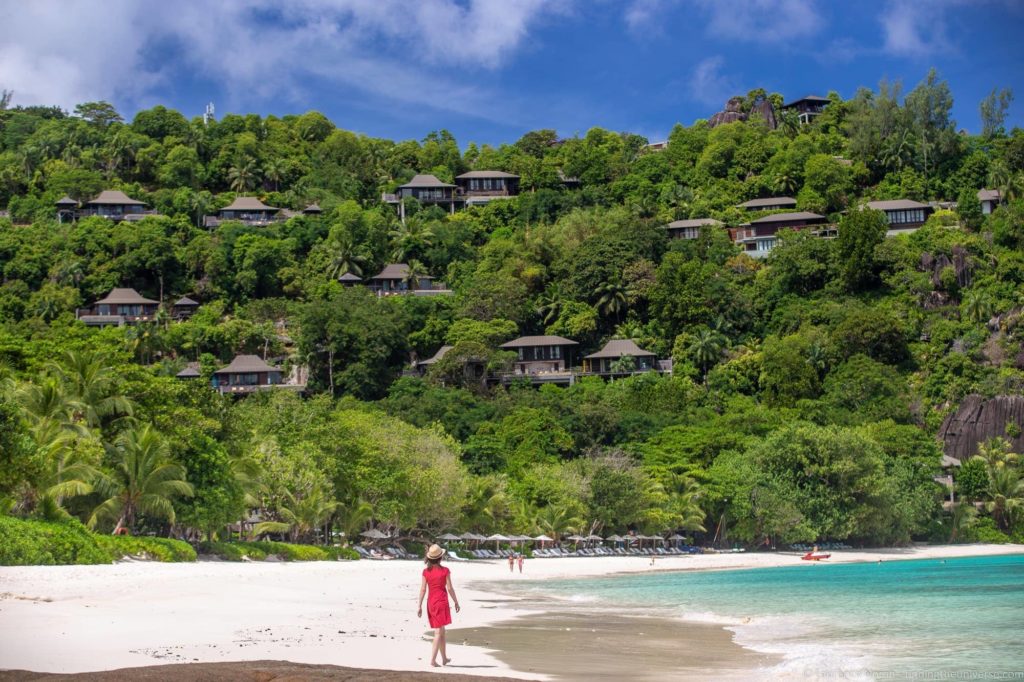 The island isn't that big, at around 17 miles long, but we think that scheduling three nights / four days here at the start of your Seychelles trip will give you time to see a great many of the islands attractions and beautiful beaches.
For your first day, much will of course depend on your arrival time, but we think that you shouldn't try and do too much as you'll need to acclimate to the temperature and humidity.
So we'd suggest heading to your accommodation and relaxing a bit, picking up your hire car (if you booked one), and maybe heading to one of the island's beaches to start your holiday in style.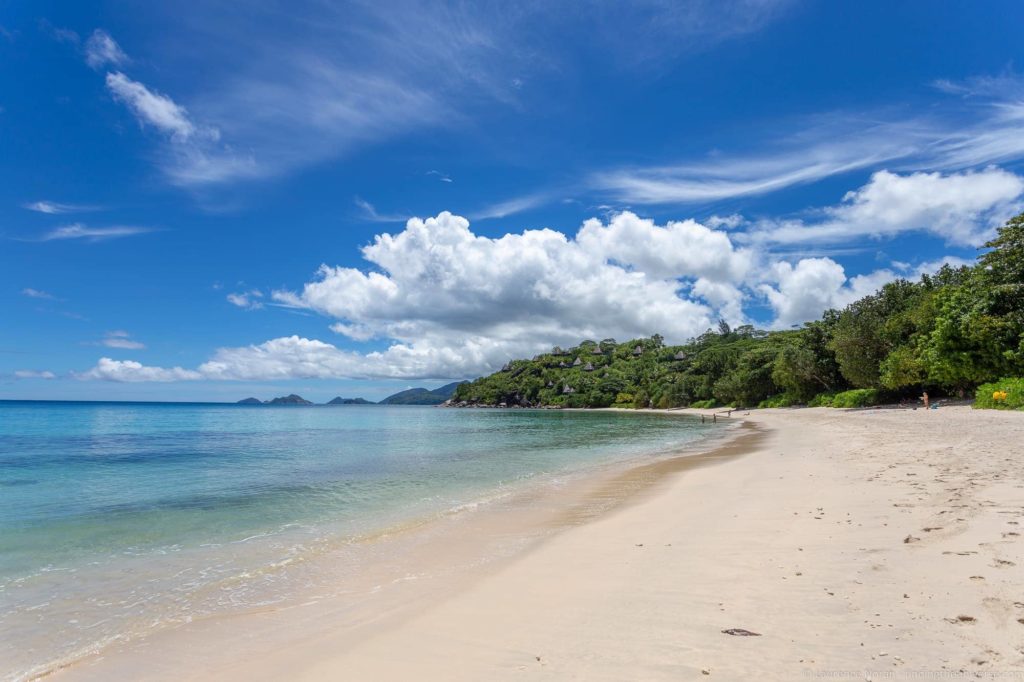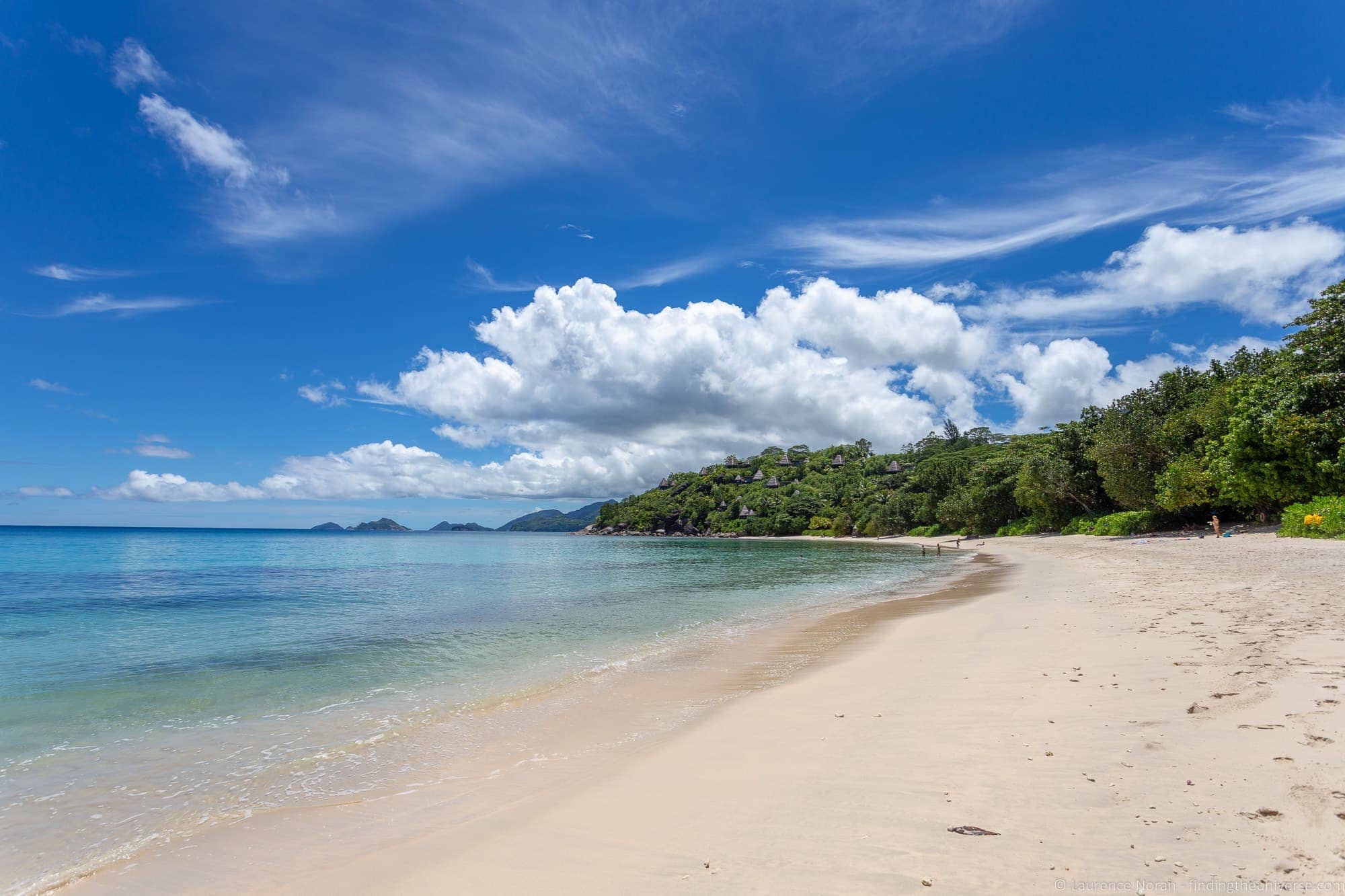 Of course, which beach you head to will depend on where you are, but we'd recommend Anse Intendance or Anse Louis if you're on the south end of the island, or Beau Vallon if you're on the north end of the island. Beau Vallon is also a good location for sunset, and for swimming if you have kids, as the water is most calm.
Day 2 – Mahe
On your second day on Mahe we recommend you take a bit of your day to explore the capital of the Seychelles – Victoria. This is the smallest capital in the world, so it won't take you too long to explore.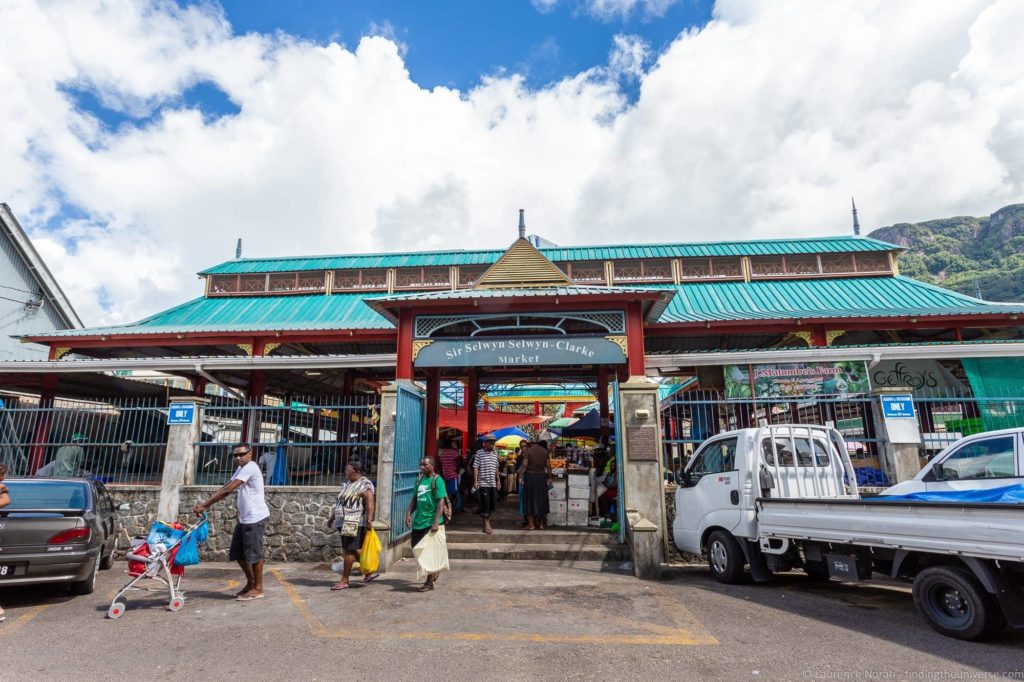 Highlights include the colourful central market and the clock tower in the centre of town. There's also a small but very interesting natural history museum, if you want to learn a bit about how the islands formed and their unique flora and fauna.
From Victoria, we suggest taking the mountain road known as Sans Souci, which will give you a different perspective of the island. This road leads high up into the mountains, and there are a number of attractions along the way. Those of you who love hiking will appreciate the fairly strenuous hike known as Capolia, which takes 90 minutes to 2 hours, depending on your fitness.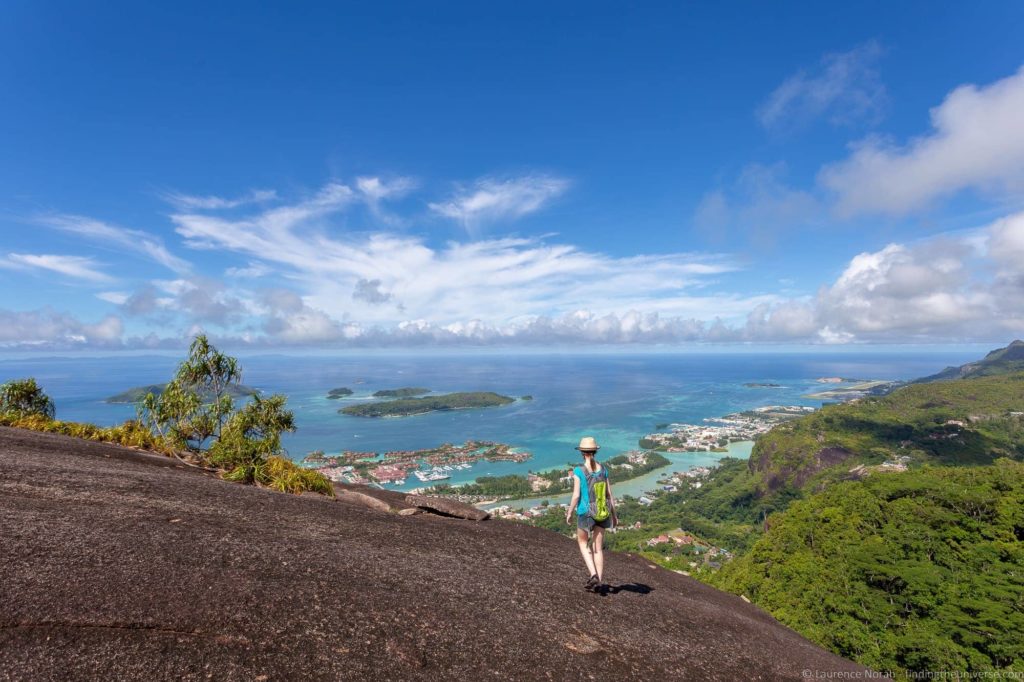 This is a fairly steep hike up onto the giant granite boulders behind Victoria, which will reward you with spectacular views of the east coast of Mahe, as well as across the St. Anne Marine National Park. On a clear day you'll also be able to see Praslin and the islands around Praslin.
Parking is available by the road side here, and the path is marked with a large sign at the start, although be sure not to leave any valuables in your car if you are driving yourself.
Further along the Sans Souci road you will come to the Mission Lodge, which was the site of a school for liberated African slaves on the islands. There is not a lot left to see of the school, but the scenery is beautiful as are the views.
From the Mission Lodge the road starts to wind down the other side of the hill, and you'll pass through the Seychelles Tea Plantation. When we visited in 2018, this was undergoing renovation, however it is due to re-open to visitors soon. There is also a nearby hiking path if you want to explore some of the unique fauna of this area.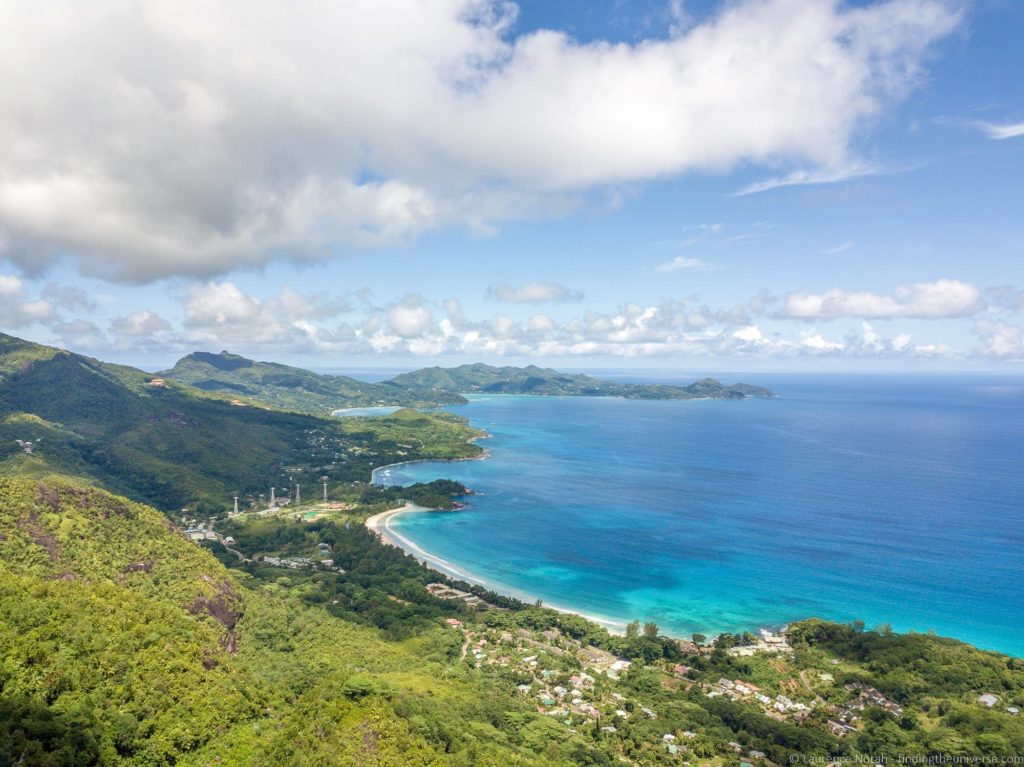 Once you're done with the Sans Souci road, you will find yourself on the west coast, where no doubt it'll be time for a swim and the beach. There are a number of beaches along this part of the coast that are worth visiting, including Grand Anse, Port Launay and Baie Ternay.
The latter does require a short 10 minute walk, although the drive to the beach also reveals a few quite secluded beach spots that you might have all to yourself!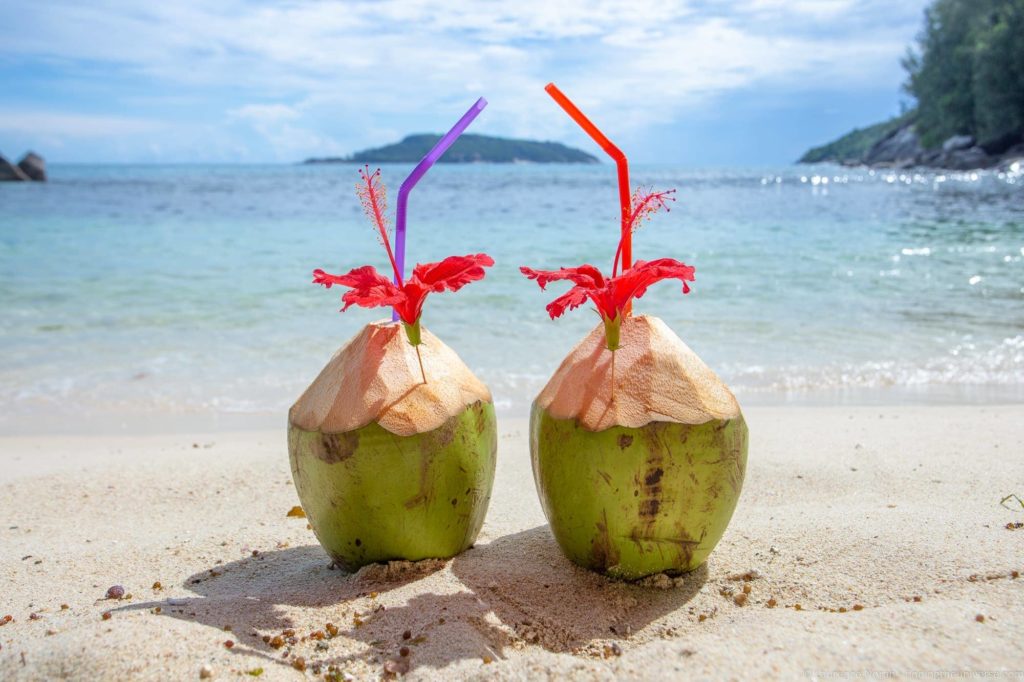 Day 3 – Mahe
For your third day on Mahe, we think you should explore the south of the island, which is one of my favourite parts of Mahe. This part of the island, being a little further away from the capital, is a little less developed, but has many attractions to explore. In terms of geography, generally the south can be thought of as being anywhere south of the airport.
First stop on our tour is the "Craft Village". This, found on a former plantation (you can still tour the plantation home for free), is a village where local craftspeople create all kinds of products for sale.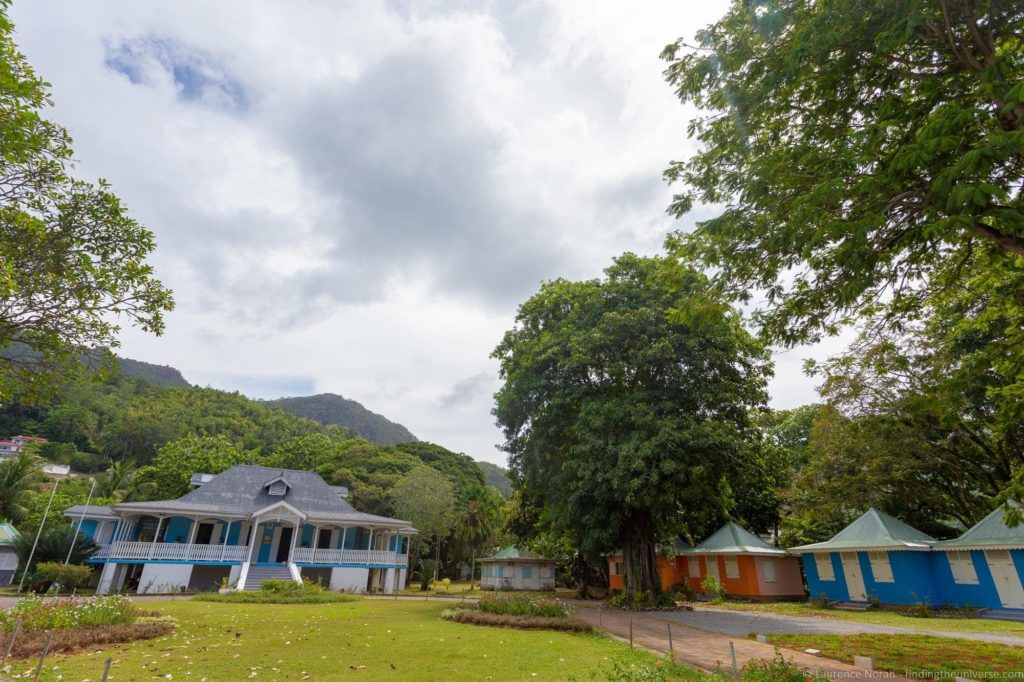 These are very reasonably priced, and you'll find a range of items here from t-shirts to candles to hand carved fridge magnets. I'd suggest that this is an excellent place to go souvenir shopping, as you are pretty much guaranteed an authentic, locally made product, and that the money will go straight into the hands of the crafter.
This is also a good opportunity to chat with the local people about their lovely islands, and learn a bit more about what it's like to actually live here.
From the Craft Village, the next stop is another former plantation, just two minutes drive away. Found at the "Plaine St. Andre" is the Takamaka Rum Distillery, which produces the islands famous rum product – Takamaka rum. By your third day in the Seychelles, we're sure you will have seen plenty of advertising about this rum, and you've probably even tried some.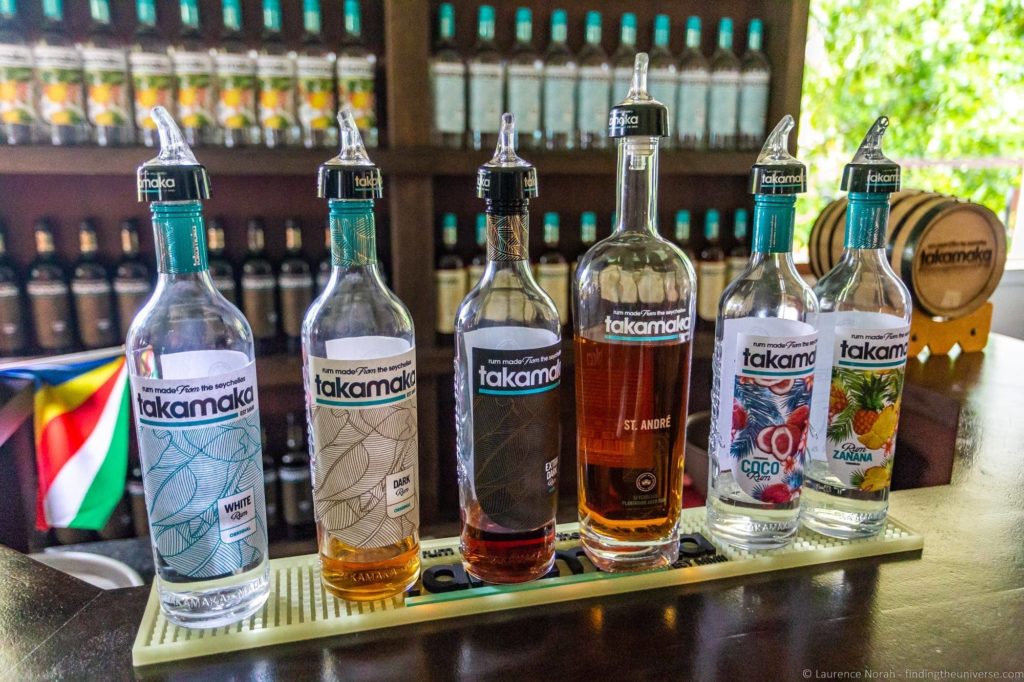 Well, now's your chance to learn all about how it's made! Takamaka rum is the only rum made on the island with locally grown sugar cane, and it comes in a variety of flavours.
Tours are run twice-daily (although the times seem to vary, so do call to check when these are running) and are relatively inexpensive, plus they include a tasting of all the varieties of rum!
You'll also learn a bit about the history of the plantation as well as slavery in the Seychelles, making this, all in all, a worthwhile location for a visit. Naturally, you can also buy some rum to take with you as well.
From the Takamaka rum distillery it's time to head even further south, and explore more of this wonderful part of Mahe. We highly recommend going right to the far south of the island, down the Grand Police road, past Anse Intendance, and exploring one or more of the three beaches down here – Anse Bazarca, Anse Petit Police and Anse Grand Police.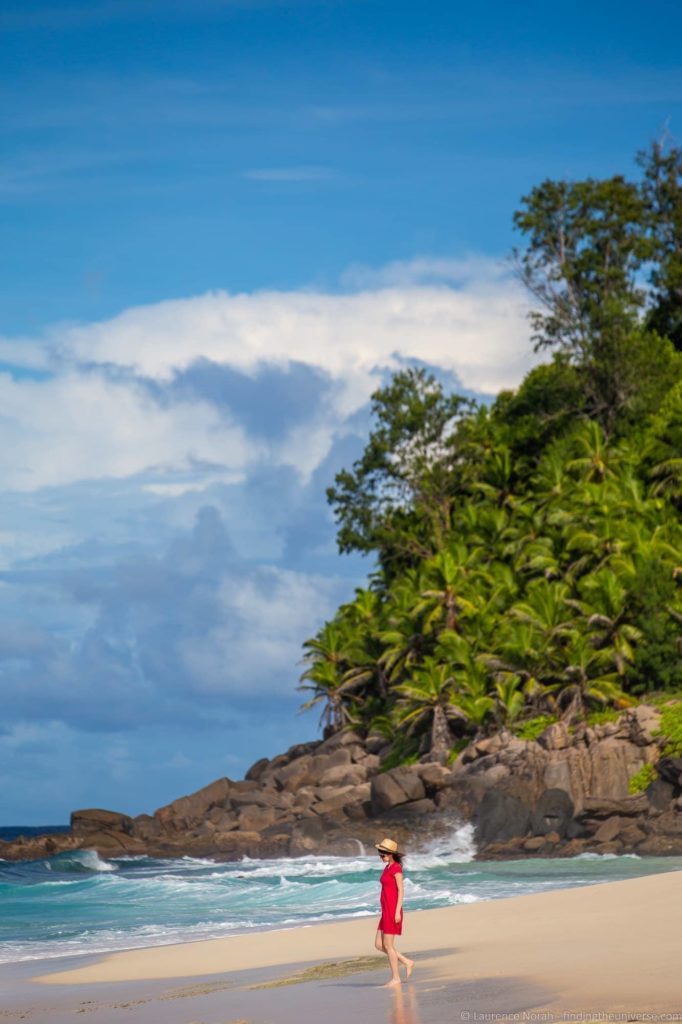 Their far flung location means they get very few visitors (except for locals on the weekends!), and here you can really live the dream of having your own white sand paradise beach location to yourself. Just heed the warning signs regarding the currents as it can be dangerous to swim here at certain times of the year.
You can also wind around the south of the island to some of the other beautiful beaches in the area, including Anse Soleil, and Petit Anse.
Petit Anse is now the location of the Seychelles Four Seasons, but the beach is open to non-guests of the hotel although they do limit the number of visitors. You just need to sign in at the security gate and then park and walk down from the parking area.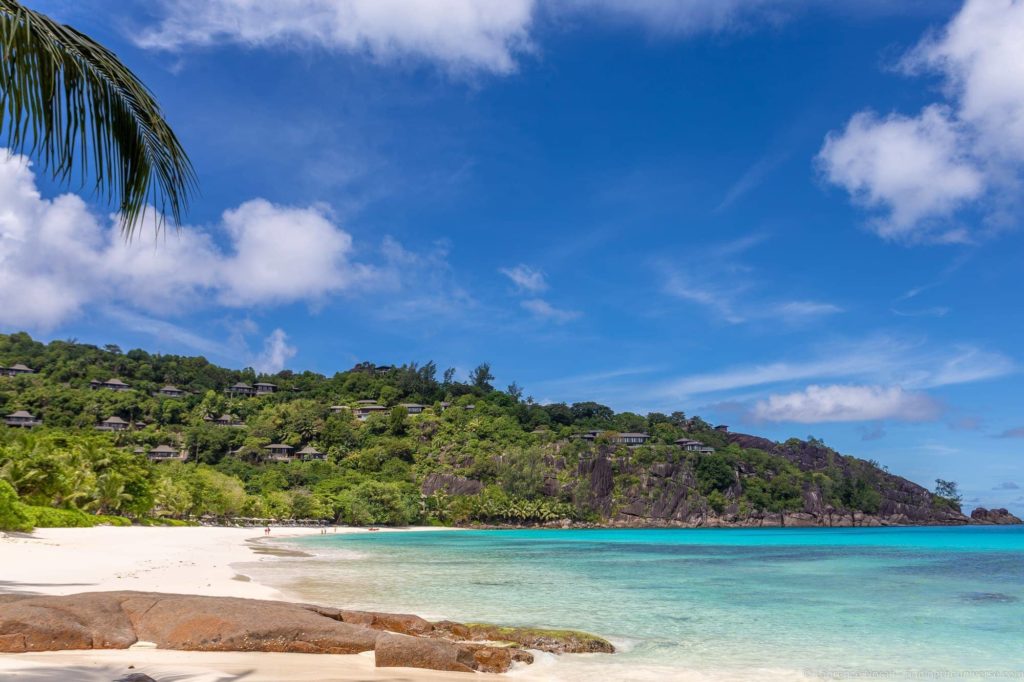 Other pretty beaches in this area include Anse Takamaka, Baie Lazare and Anse Louis. In terms of food in this part of the world, popular and recommended stops include Surfers Cafe and the Anchor Cafe.
Day 4 – Praslin
On the morning of your fourth day, we suggest you take the early morning ferry across to Praslin (the main ferry provider is Cat Cocos) . This takes around an hour, and leaves from the Inter Island ferry port in Victoria.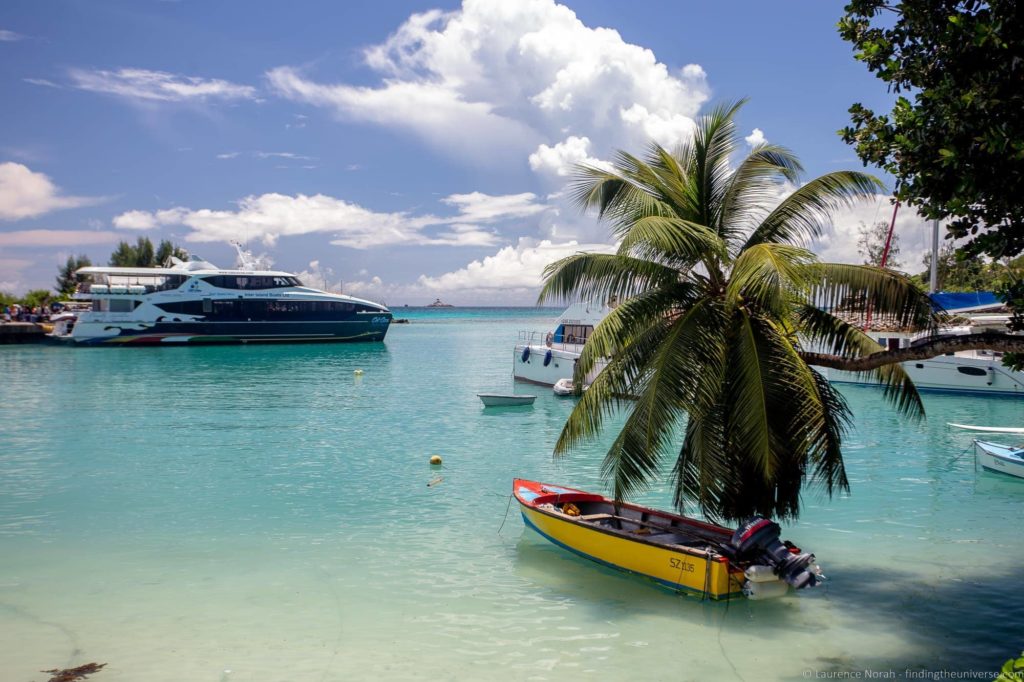 There are also loads of other ways you could visit Praslin or divide your time. If you prefer, you could also take the afternoon ferry on Day 3 and spend an extra night on Praslin, it's entirely up to you.
If you want to reach Praslin faster, you could take 15-minute flight from Mahe with Air Seychelles, or there's also the option to charter a helicopter of course. And, if you'd prefer to do everything from Mahe, you can also visit Praslin as a day trip from Mahe as well.
With one full day on Praslin, our suggestion is to take in the fantastic Vallee de Mai, and visit one of the world's best beaches. A hire car on Praslin will make getting around easier, but public transport also serves the major stops around the island. You can also take a day tour like this.
We're going to start with the Vallee de Mai on Praslin. This is a UNESCO world heritage site, and the major tourist attraction on the island. Here, one of the Seychelles most unique endemic plants grows – the giant Coco de Mer palm.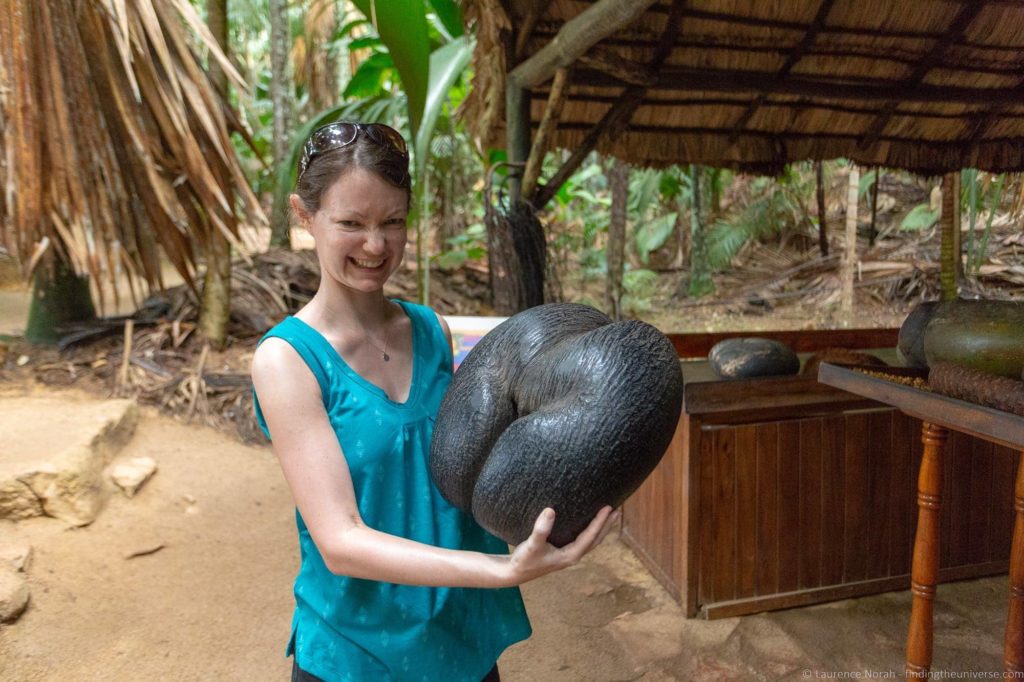 These trees, which grow as either a male or a female, have the world's largest nut. Inside the nut you can find the world's largest seed – which takes up to seven years to germinate!
The name, which translates as Coconut of the Sea, came about because for many years these nuts would wash up on foreign shores. With no idea where they were coming from, they were given the name that suggested they came "from the sea".
Of course, when the Seychelles islands were finally discovered, the source of the mysterious nuts was also found – but the name stuck.
Today, the majority of the world's Coco de Mer palm trees grow in the Vallee du Mai, and a walk through this beautiful and peaceful valley of giant trees is a must for your visit to Praslin.
Note that the nuts are fully protected, so don't try to take one home with you – this is possible, but you need to go through the official channels and paperwork! Whilst you're here, keep an eye out for the Seychelles black parrot also, which is commonly found in the valley.
Once you are done with the Vallee du Mai, it's time to visit some of Praslin's spectacular beaches. One of the most famous of these is Anse Lazio, which regularly tops lists of the best beaches in the world.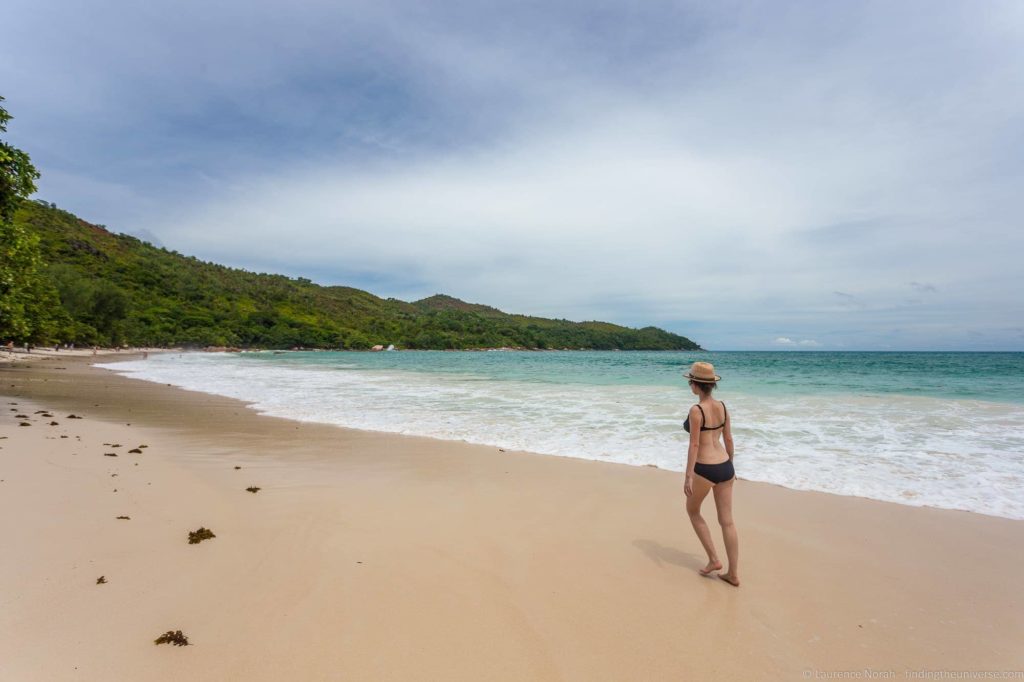 To be honest, whilst Anse Lazio is indeed stunning and worth a visit, there are multiple gorgeous beaches in the Seychelles – many of which are a lot quieter as they are not so famous! But still, Anse Lazio is beautiful, and there is an excellent seafood restaurant here (Bonbon Plume) where you can have some lunch as well.
You can either stay here for the rest of the day, or work your way back around the island's other beaches – it's up to you.
Day 5 – Praslin / Curieuse Day Trip
For your fifth day in the Seychelles, we recommend taking a boat tour of some of the islands around Praslin (you can also do similar boat tours from Mahe as well). The Seychelles archipelago has over 100 islands, each of which is unique, so we think that exploring some of the smaller ones is an essential part of any trip to the Seychelles.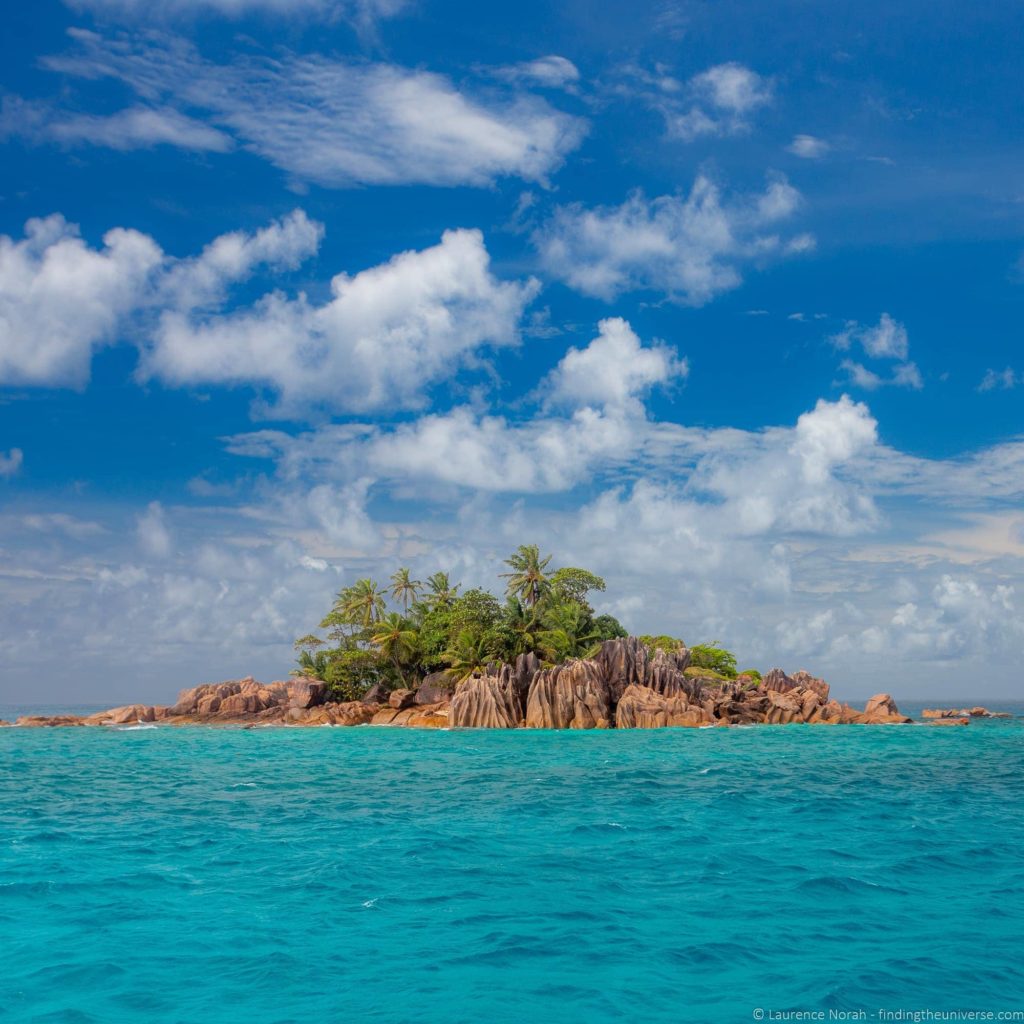 There are a number of boat tours that operate from Praslin which visit a number of the islands around Praslin. The itineraries vary slightly, as do the islands visited, but most of them are a full day trip, such as this one, that includes lunch, soft drinks and transfers from your hotel to the jetty at Baie St. Anne.
Generally, most boat excursions include 2 or 3 of the following islands: Curieuse, Cousin, Felicité, Coco, Sister, and/or the small island of St. Pierre – the latter of which is just a small granite outcrop that is good to snorkel around (you don't actually land on it).
An appealing island for many visitors is Curieuse as this is the best place to meet the Aldabra Giant Land Tortoise. This is a massive tortoise species, endemic to the Seychelles, which can grow to an excess of 600lb and 200 years in age.
Curieuse is probably the best place to see them on this itinerary as they are not fenced in and can roam freely. Fans of wildlife, and in particular bird lovers, may also want to visit Cousine, as this is an excellent place to see a number of the birds of Seychelles, including the Seychelles Magpie Robin, Fairy terns, white tailed tropic birds, and more.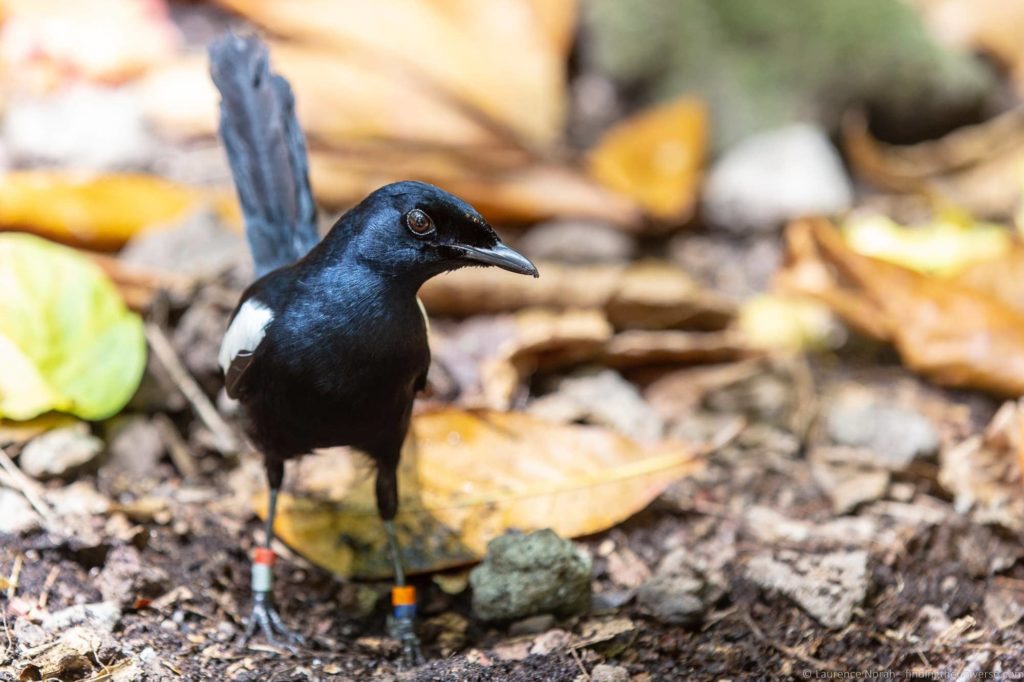 There are a number of tour options, including this option by glass bottom boat and this speedboat option.
Whichever operator you use, make sure to bring swimming clothes, sunscreen and plenty of insect repellant!
Day 6 – La Digue
For your sixth day in the Seychelles we suggest you take the morning ferry across to La Digue. This is a fifteen minute ride and there are two companies offering regular service – Cat Cocos, and the Inter Island Ferry.
La Digue has a very different vibe than the other islands you will have visited so far. There are very few cars, and most visitors get around by bike or on foot. The island isn't very big, taking around 30 minutes to cycle from one end to the other, but it has a number of attractions that make it worth visiting.

First, and at the top of most visitors lists, is a visit to Anse Source D'Argent. This is a beach at the south end of the island, with out of this world granite rock formations surrounded by palm trees, turquoise waters and pale white sands.
It really has to be seen to be believed, and whilst it does get busy here as the day progresses, is very much worth visiting. It's also an excellent spot for watching the sunset. Do be aware that you do have to pay to visit the beach as access is through the L'Union Estate, which is privately owned.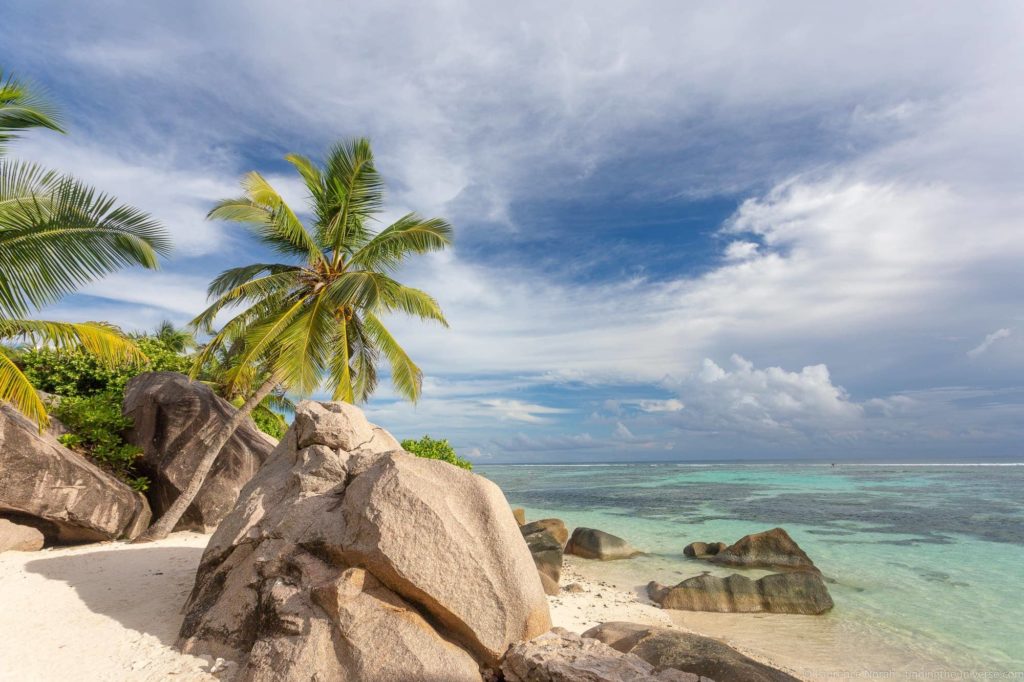 Since you have to pay to cross the L'Union estate, you might as well visit it as well. This was once a former plantation, and many crops, including vanilla, are still grown here today. Visitors can learn about the various products that were made here, visit the old plantation house, and see the La Digue graveyard, which is the last resting place of some of the earliest Seychellois – La Digue being the first island to be populated in the Seychelles.
If you don't mind a bit of a cycle, it's worth taking the road to the east side of the island to visit Grand Anse, another spectacular beach. It can be a bit busy here, but you can escape the crowds by heading to Petit Anse instead, one cove along.
Alternatively, head around the north end of the island, there's a road which leads past numerous beaches, one of which we're sure will take your fancy.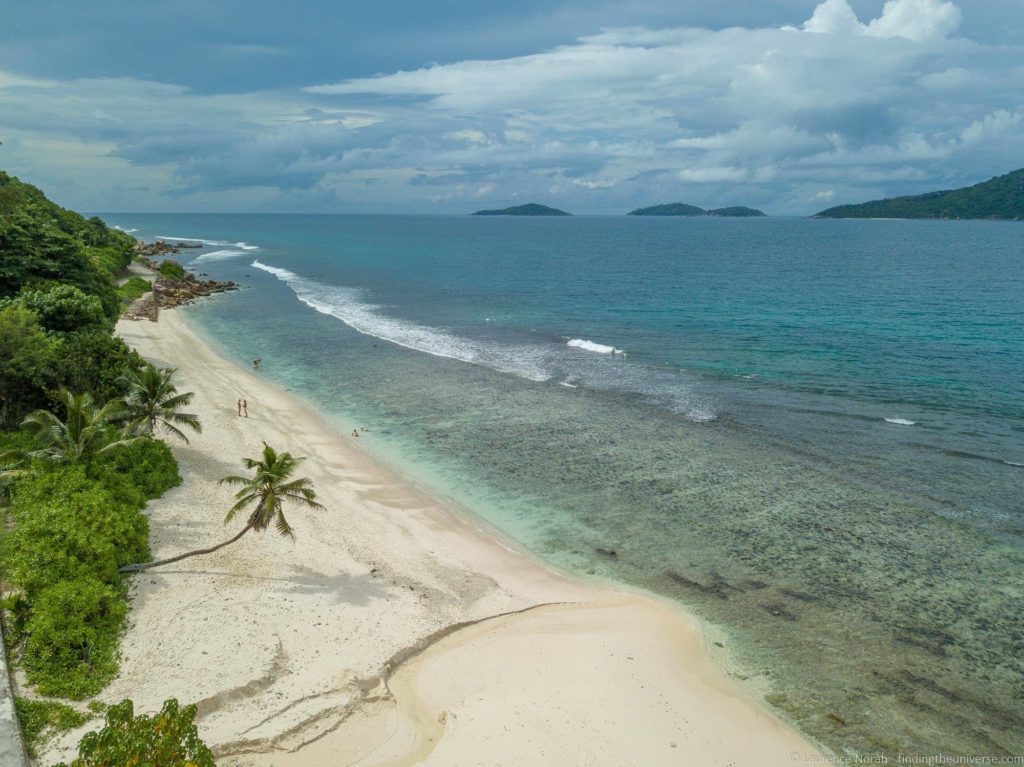 Finally, while you're on La Digue you should try to catch a glimpse of the Seychelles Paradise Flycatcher. This endemic bird is critically endangered and native to La Digue. The best place to spot one is in the Veuve Reserve, a tract of wilderness that is set aside for the protection of these beautiful birds.
Note that if you'd prefer to stay on Praslin, you can explore La Digue as a day trip too. You can either do this on your own, by taking the ferry over, or you can take a 1 day tour of La Digue from Praslin.
Day 7 – La Digue & return to Mahe
For Day 7, our suggestion is to return to Mahe – you can take the ferry directly from La Digue to the connecting Praslin service, with a total journey time of around an hour an a half.
Of course, it's up to you if you leave in the morning or afternoon, and this will depend on things like how much you want to see on La Digue, if you choose to stay on Praslin, and of course your flight time.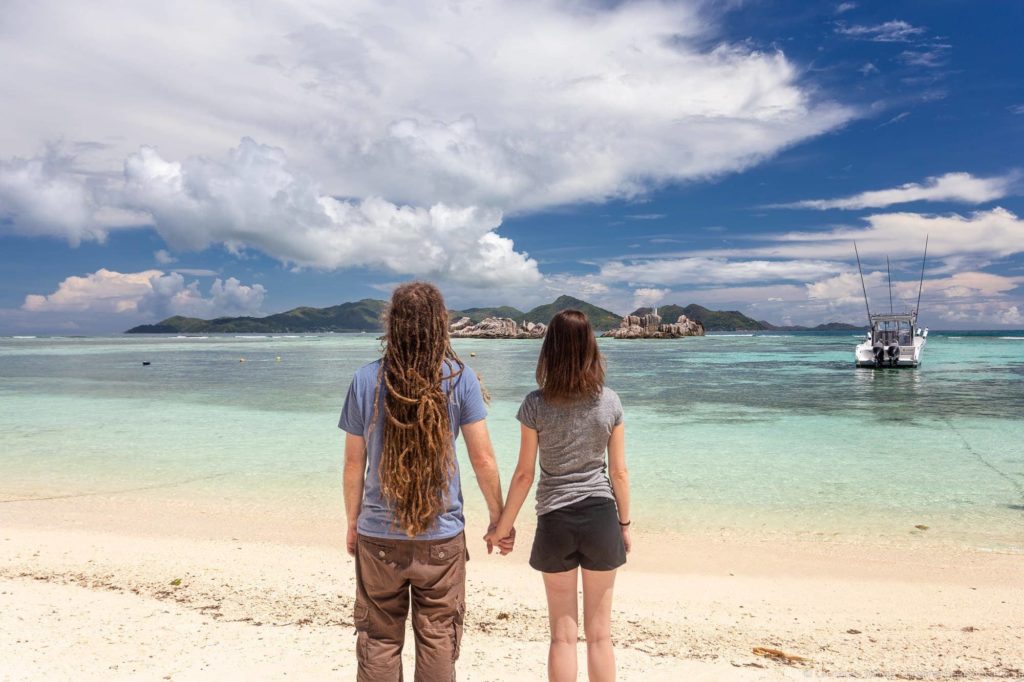 Our suggestion though is to return to Mahe and stay the night, so whatever time your flight is you'll have no trouble getting to the airport. Once back on Mahe you can spend your last day and night finishing off any souvenir shopping, visiting a favourite beach, exploring a museum or garden, or just lounging by the hotel pool!
1 Week Seychelles Itinerary Overview
Here's an overview of our Seychelles itinerary broken down day by day:
Day 1: Mahe. Arrive, check-in, acclimatise and hit the beach
Day 2: Mahe. Explore Victoria, drive Sans Souci
Day 3: Mahe. Explore the south of the island
Day 4: Praslin. Ferry from Mahe to Praslin, visit the Vallee du Mai
Day 5: Praslin. Day trip to the islands around Praslin
Day 6: La Digue. Explore the island
Day 7: La Digue / Mahe. Return to Mahe, relax!
When is the Best Time to Visit Seychelles?
Traditionally, the best time to visit Seychelles for the hottest and driest weather has been around April, however, changing global climates mean that this is not as predictable as it used to be. Rain is possible at any time of year, especially on Mahe, where even in the dry season you might expect to get a passing rain shower in the afternoon. However it is unusual for rain to set in, and most rain will clear up fairly quickly.
The Seychelles islands are situated around 200 miles south of the equator, and as a result of this, they do not have the four seasons that more northern or southern countries experience. There are two main seasons in the Seychelles, the "North West" and the "South East". These seasons refer to the directions that the wind is blowing from.
The North West runs from around the end of November through to March, and this time of year is particularly hot and humid. It's also more likely to rain during this time, particular in the months of December through to February. This is the so-called "rainy season".
The South East season runs for the rest of the year, with the driest part of the year typically from June through to September. The south east is a stronger wind, which means that it feels cooler on the islands, however this also means that the oceans are more disturbed, so the seas are a bit rougher, the water visibility for snorkelling and diving is reduced, and seaweed can wash up on the beaches as well.
Seaweed in the Seychelles
One of the most common questions I get from readers planning a trip to the Seychelles, is which beaches in the Seychelles get seaweed, and where to stay in the Seychelles to avoid seaweed.
For Mahe, the north side of the island tends to be more seaweed prone from November – March, which is during the "north-west" trade winds season. So if you visit during this time of year, you will want to stay on the south or east side of the island.
However, in general Mahe doesn't get so affected by seaweed at this time of year, it's Praslin that has more issues. If you are visiting Praslin between November and March, seaweed is common on the beaches on the north and west of the island. So head to the south and east coasts for a better experience.
The south east trade winds blow from around April through to October. At this time of year, beaches on the south and east of Mahe and Praslin are more likely to be affected by seaweed, so you will want to stay on the north and west side of the islands.
How to Get Around the Seychelles
There are two things to consider when visiting the Seychelles – how to get between the islands, and how to get around the islands. We'll start with getting around each island first.
Getting around the islands
On the larger islands in this itinerary, like Mahe and Praslin, you will find your trip a lot easier if you hire a car. There are lots of car hire companies to choose from, with prices in the region of $50 – $80 USD a day.
A hire car will make getting to all the sights and attractions on the islands at your own pace much more pleasurable. Car hire can be booked in advance, at rental counters at the airport, or many hotels and guesthouses will also offer car hire.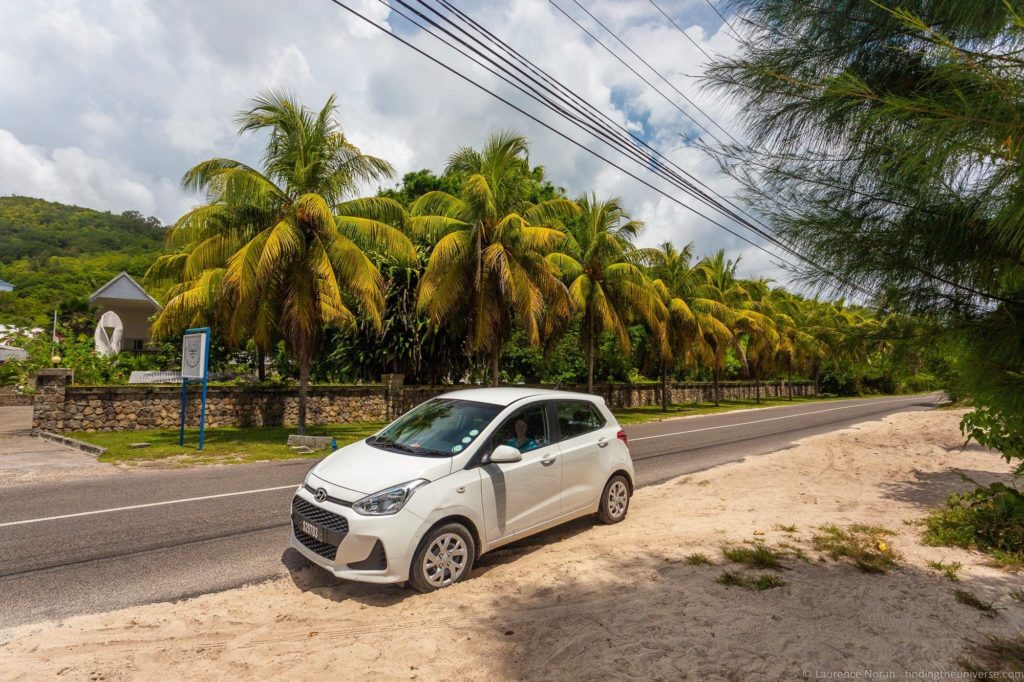 On Mahe and Praslin, there is also a regular public bus service which runs all around the island and covers the majority of destinations. This costs around 7 rupees per journey and is definitely going to be the cheapest way to get around, although it will take longer, and you are at the mercy of the bus service timetable of course. More remote locations, such as those off the beaten path beaches, might be harder to get a bus to.
Of course, there are also taxis available, which can be picked up at taxi stands or booked through your accommodation. You can also hire a private driver to drive you around for a half day or day, which may be a good deal if are traveling as a family or group. These will usually be the most expensive way to get around, but if you want speed and convenience, and don't want to drive yourself, this is a good option.
There are also a number of tours if you'd rather not drive yourself. For example:
On La Digue, there aren't many cars, and most visitors opt to rent a bike to get around. These can be hired at the jetty on arrival, or your guesthouse / hotel will likely have bikes for hire.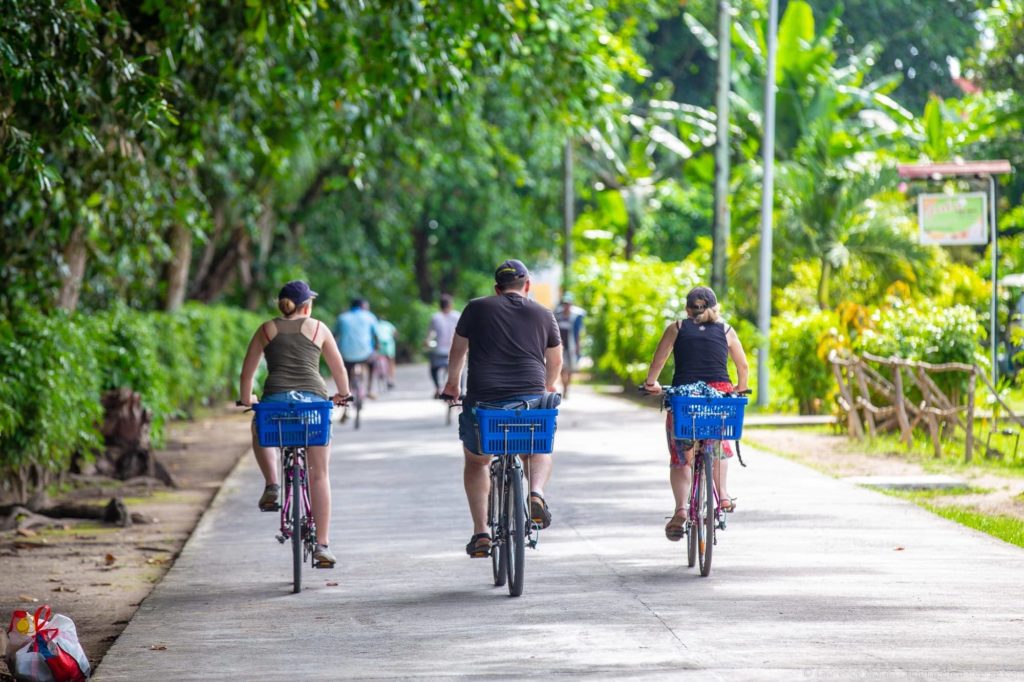 Expect to pay around 100 rupees a day for bike hire. There are also some golf carts operated by hotels, which offer transfer services.
Getting between the Seychelles Islands
There are two main ways to get between the islands in the Seychelles – you can fly, or you can take a boat.
For the islands in this itinerary, there are regularly scheduled flights between Mahe and Praslin operated by Air Seychelles, with a flight time of around fifteen minutes.
There is also a helicopter charter service operating between Mahe, Praslin and La Digue by ZilAir, although this is of course more expensive.
The other option for travelling between the islands is to take a boat, with a fast ferry service (Cat Cocos) operating between Mahe and Praslin (about 1 hour journey time), and Praslin and La Digue (15 minute journey time).
This is the most cost effective way to travel between the islands on our itinerary, and unless you are in a particular rush, is the option we recommend.
You can see prices and book in advance online for the boat here, flights here, and helicopter here.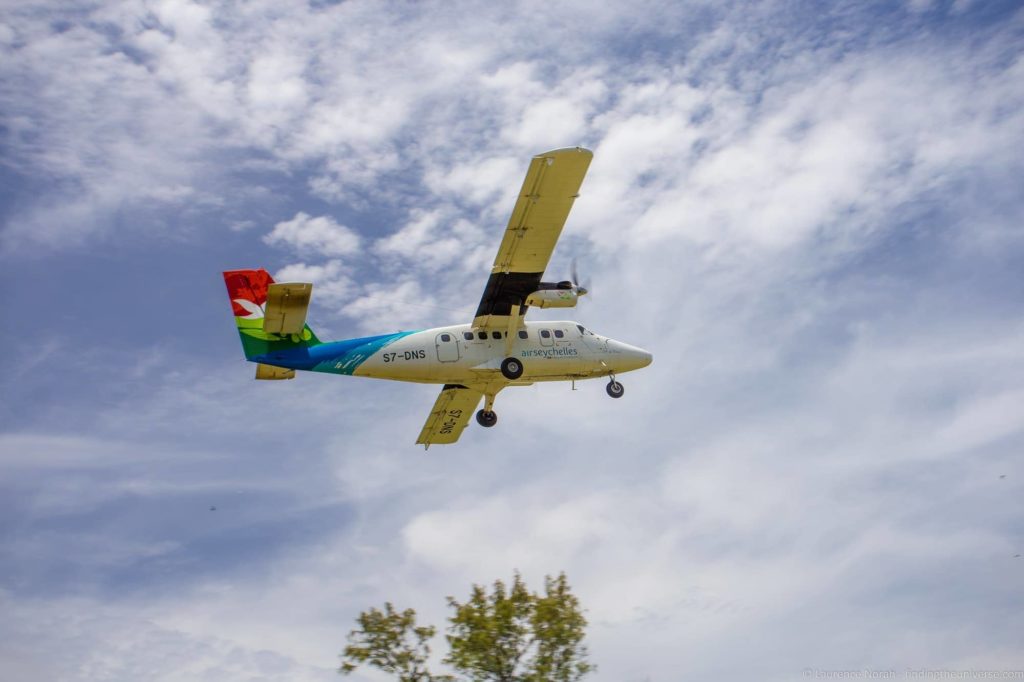 Practicalities for the Seychelles
Currency in the Seychelles
The currency in the Seychelles is the Seychelles rupee, which comes in note and coin form. Rupees can be widely withdrawn from ATM's around the country, and most locations will also accept credit cards. In some locations, especially higher end hotels, prices may be listed in USD or Euros, and these establishments will also usually accept payment in these currencies as well.
Electricity in the Seychelles
Seychelles uses a 240v standard, like Europe. Plugs are the same three pin plug as you find in the UK, so travellers from continental Europe and the US, as well as other countries that don't use the three pin system will need an adaptor such as this one.
Travellers from countries which use a 110v system, such as the USA, will need to check that their equipment is compatible with 240v. In our experience, electrical items like camera chargers and laptops are compatible, but higher power items like hair dryers, hair straighteners, and kettles are not.
Always check your appliance before plugging it in – supported voltages should be clearly marked on the plug or adaptor. You are looking for either 220-240v, or 110-240v.
Internet in the Seychelles
Internet in the Seychelles is a relatively expensive commodity. That said, all the properties that we stayed at in the Seychelles included free Wi-Fi, which varied in speed from relatively slow to quite fast.
It's also possible to pick up a SIM card if you have an unlocked device, and get data through one of the providers in the Seychelles. For an up to date list of prices and packages, check out this page which lists the best data sim packages for the Seychelles.
Safety in the Seychelles
The Seychelles are a relatively safe destination to visit, with violent crime being uncommon. In recent years there has been a rise in petty thefts however, and visitors need to be mindful of their belongings.
This is especially the case when visiting beaches or leaving your car unattended. Don't leave any valuables unattended on beaches, or visible in cars. If you are renting an apartment or house, be sure to keep doors and windows locked when you are out.
A number of popular beaches on Mahe in particular have police officers in attendance, and we were often advised not to leave bags alone on the beach when going for a swim. Our advice would be not to take valuables to the beach if you can help it – leave them in your accommodation. Many rooms include a safe where you can store valuables.
Drinking Water in the Seychelles
The tap water on the three islands in this itinerary, Mahe, La Digue and Praslin, is treated and safe to drink. On La Digue the water is quite hard and has quite a "hard" taste, however it is safe to drink.
We drank tap water during our whole stay on the islands and had no problem. If you don't like the taste, bottled water is widely available.
Note that on many of the other islands, the water is not drinkable. Tour operators will generally provide you with drinking water and other soft drinks, or of course you can bring your own.
Vaccinations & Health in the Seychelles
Unlike many African nations, the Seychelles has no tropical diseases to worry about like Malaria or Yellow Fever. If you are visiting from a country which suffers from certain diseases, or have recently travelled through these nations, you might need to show proof of vaccinations. This is particularly the case with Yellow Fever.
The main risk facing most visitors is dehydration and sunburn – being near to the equator means that the sun is especially strong, and many visitors get a bit of sunburn. We advise drinking plenty of fluids during your visit to minimise the risk of dehydration, and reading up on the signs of dehydration so you can recognise it.
We also highly recommend travelling with a packet of oral rehydration tablets and taking one a day to keep your salt levels up as you lose a lot of salt through sweat.
To prevent sunburn, we suggest packing the most protective sunscreen you can find (high SPF rating) and applying it liberally before you go in the sun, and also to re-apply after swimming or exercise. We'd also recommend wearing a hat and advise trying to minimize your exposure to the sun during the hottest hours, between 11am and 2pm.
Food in the Seychelles
Food in the Seychelles is a detailed topic that deserves its own post, which is why I created a guide to the best food in the Seychelles to help you out – this also includes some restaurant recommendations.
In general though, food in the Seychelles is a mix of Creole and Indian flavours, and heavily features fresh seafood, as well as chicken and pork. Naturally ther are also lots of fruits and fresh fruit juices to try, with availability depending on the season you visit.
If you can, we definitely recommend trying the bananas, mangos and papayas if you can, as well as the fresh lime juice.
Driving in the Seychelles
Vehicles in the Seychelles drive on the left, and the majority of vehicles use a manual transmission, although automatic vehicles can be rented if you specify this. The speed limits are fairly slow, but distances are not too great, so it won't take you too long to drive anywhere.
The exception to this rule is during rush hour, which tends to be from 7am – 9am in the mornings, and 3.30pm – 5.30pm in the evenings. This is mainly on Mahe, with traffic around Victoria and the airport often moving slowly as people travel to and from work.
Most of the roads are one lane each way with limited passing options, so the traffic during rush hour ends up going very slowly. We'd advise avoiding driving too much around Victoria and the airport at this time if you can!
Where to Stay in the Seychelles
There is a huge range of options when it comes to accommodation in the Seychelles, although this tends to fall into the midrange through to luxury category. Camping is illegal, and there are no hostel style accommodation options.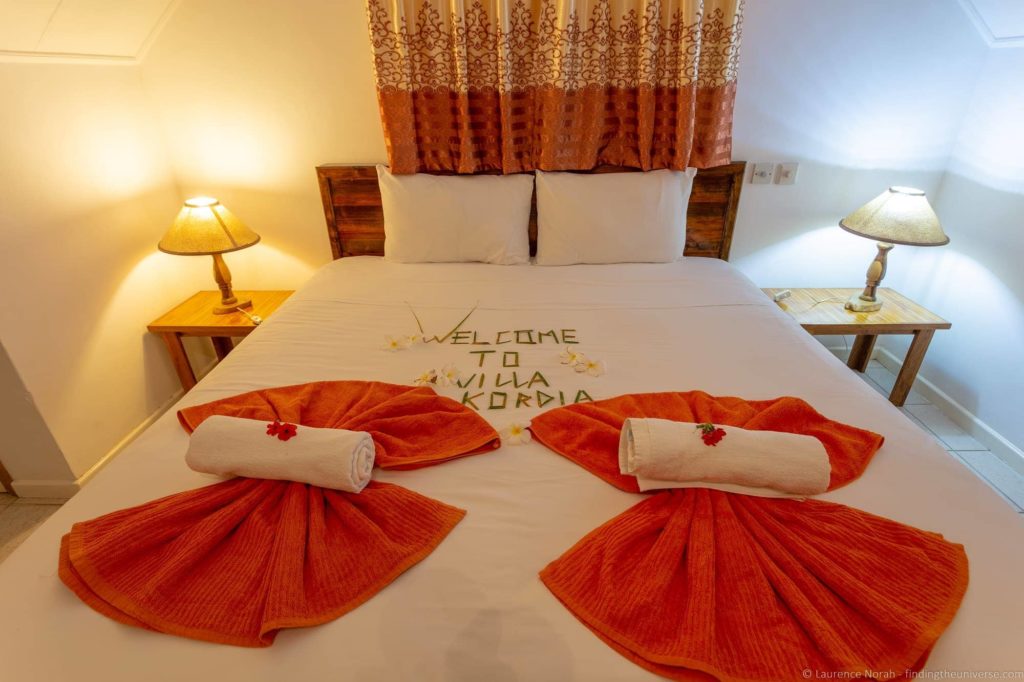 There are however lots of options, including various self catering options that are well priced in the budget to mid-range category, and there are some excellent high end properties on the islands.
Here are some options to consider for the three islands in this post, across a range of budgets.
Where to Stay on Mahe
Mahe is the largest island in the Seychelles, and there are a lot of options for accommodation around the island. These range from guesthouses through to mid-range and luxury hotels.
Some options we suggest you check out include the following. These are ordered approximately by price, from lowest to highest.
Where to Stay on Praslin
Praslin is the second largest of the islands in the Seychelles, but the population is much lower than Mahe – around 7,500 people, versus almost 80,000 on Mahe. As such, there are fewer hotels to choose from.
Here are some options to consider for accommodation on Praslin. Again, these are across a wide range of budgets, from least to most expensive.
Where to Stay on La Digue
Despite it's relatively small size compared to Praslin and Mahe, La Digue is very popular as a holiday destination and as such as a great many accommodation options.
The majority of these are in the budget to mid-range category, with a lot of self-catering and guesthouse style accommodation on offer. However, there are also some mid and high end properties to choose from as well.
Here are some accommodation options on La Digue to consider, again sorted approximately from least to most expensive.
Of course, there are lots of options when it comes to accommodation in the Seychelles. We usually advise looking on booking.com, as we find they have the best prices, most options, and they have everything from hotels through to apartments.
You can see all their Seychelles options here, which you can then filter depending on the style and budget of accommodation you are after.
Note that the government are clamping down on unlicensed vacation rental properties, and you'll be asked for the address of your accommodation when you arrive at the airport. We were even asked for a phone number to verify where we were staying.
So do make sure when you book a property that it's a licensed operator. You should be able to check this in the description or by messaging the property directly.
Where We Stayed in the Seychelles
We've stayed at a mix of hotels and self-catering properties during our visits to the Seychelles.
On our first trip to the Seychelles when Jess and I travelled together, we stayed at three different properties, one on Mahe, one on Praslin and one on La Digue.
On Mahe, we spent a week at Villa Kordia, which is a nice self catering property located at Pointe Au Sel, around ten minutes from the airport and fifty metres from the beach. They helped us to arrange our hire car, and they also offered meals, which is a fantastic way to sample the local Seychellois cuisine.
On Praslin, we stayed at the Palm Beach Hotel, right on the beach and with wonderful sunset views. This is only a five minute drive from the Vallee du Mai, the main visitor attraction on the island.
Finally, on La Digue, we stayed at Oceane Self Catering. This was five minutes walk from the jetty, and we had a lovely big room with self catering facilities. They also offered meals in the evening, and the Creole food on offer here was excellent value and very authentic.
If you're looking for a bit of luxury, then you might consider the Four Seasons on Mahe, which is located on Petite Anse – one of my favourite beaches on the islands. Visitors to Praslin will likely want to consider the Raffles Hotel, whilst those heading to La Digue should consider Le Domaine de L'Orangeraie Resort and Spa.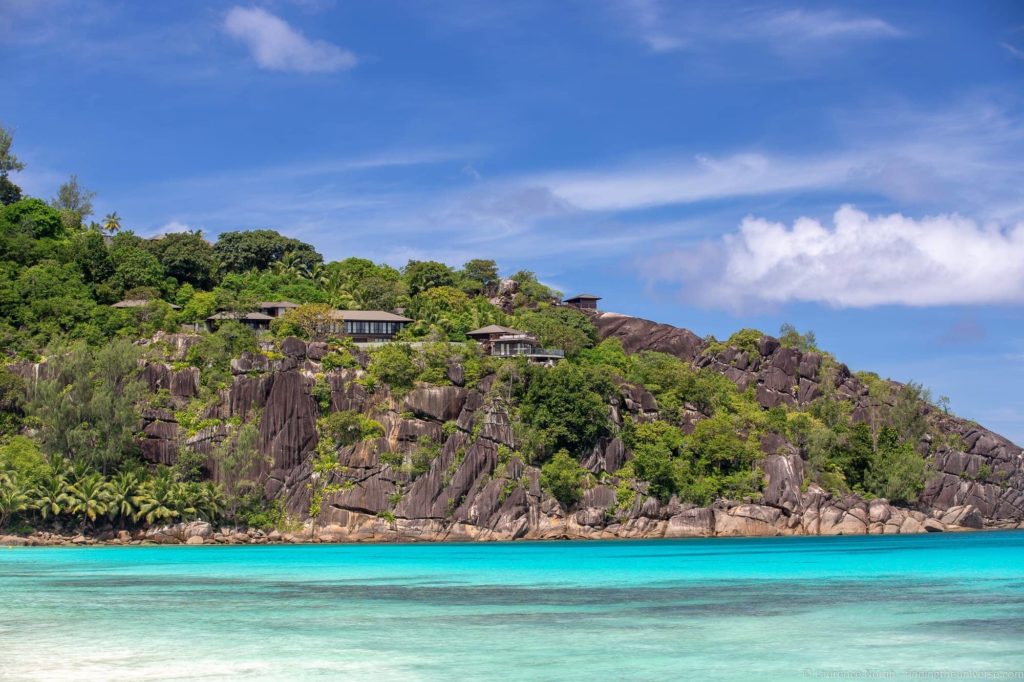 Tours in the Seychelles
Other than the day trip to the "other islands" such as Curieuse, all the activities in our itinerary can be planned and done on your own.
However, if you prefer to take a tour, and leave the hassle of driving and planning to someone else, then there are a few tours that we suggest that line up well with our itinerary. The ones we have chosen include hotel pickups and generally last a full day.
Tours definitely need to be booked in advance.
Further Reading for Visiting the Seychelles
Well, that pretty much sums up our guide to spending one week in the Seychelles! Hopefully you've found it useful. We're in the process of putting together more content to help you plan the perfect Seychelles trip, but in the meantime, you might find the following useful:
And that's it! We hope you enjoyed our guide to visiting the Seychelles for a week, and as always, if you have any questions or feedback for us, just let us know in the comments below!