If you're looking for the perfect winter wonderland destination, look no further than Finland.
We've had some incredible trips to Finland in winter. It was the first place I saw the Northern Lights, the snowy landscapes are spectacular, and there are loads of fantastic winter activities to choose from.
Finland is a fairly big country though, so you might be wondering how best to spend your time here when visiting in winter. Well, wonder no more. With our detailed 1 week Finland itinerary we've got you covered.
This itinerary will have you visiting many of the highlights of Finland, including Finnish Lapland and the capital city of Helsinki. It will take you deep into the Arctic Circle, give you the chance to sleep in a glass igloo, and even have you meeting Santa himself.
We've also put this itinerary together to offer you flexible transport options. Whilst we generally prefer to hire a car and self-drive, we appreciate not everyone will be comfortable driving in Finland in winter. So this itinerary can be done with or without a car.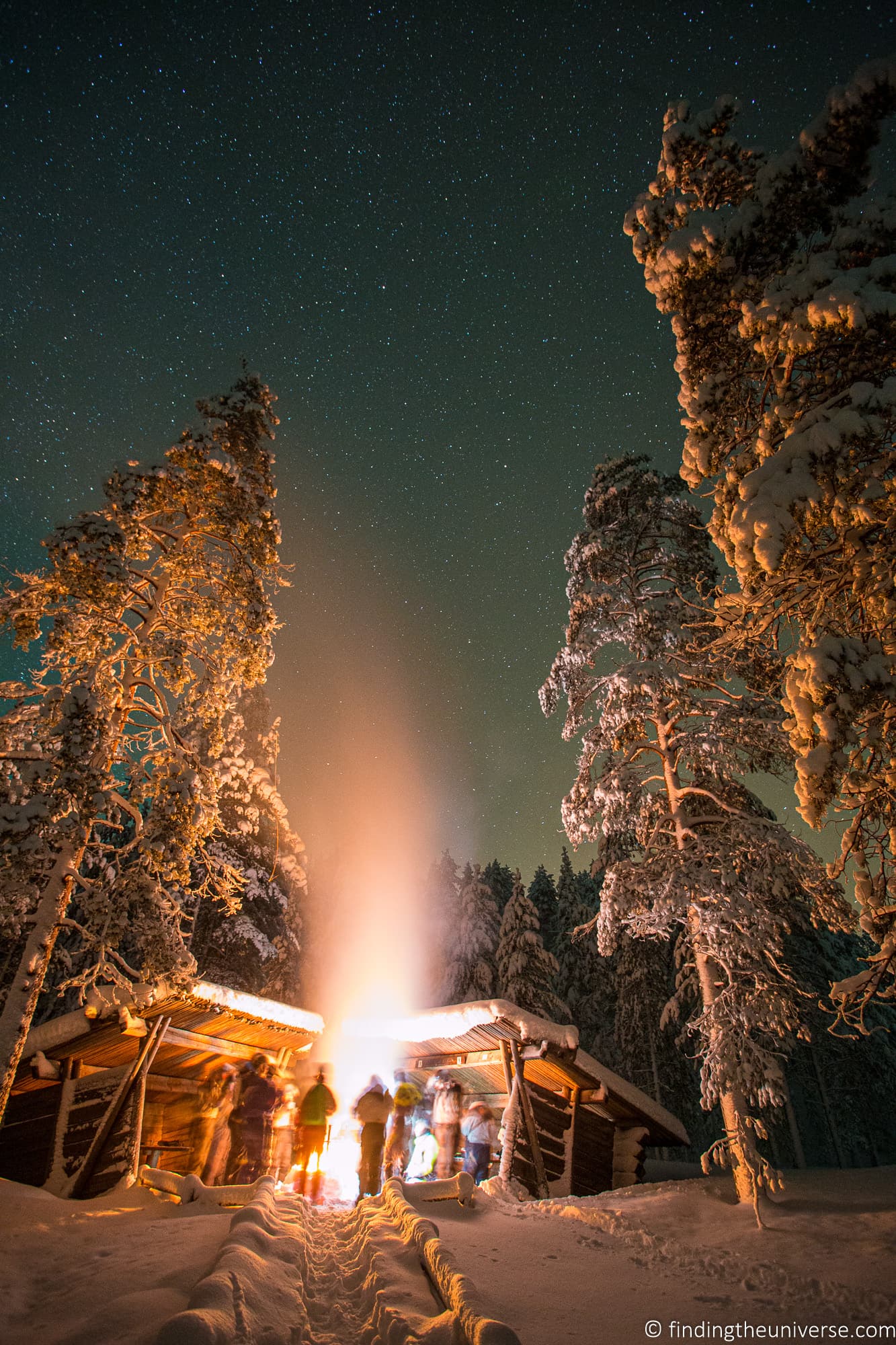 In terms of time, we've put this guide together for around a week in Finland. We think this is a good length of time to visit Finland in winter.
Of course, you can visit for as long or short a time as you want, but if you are hoping to experience phenomenon like the Northern Lights, giving yourself a bit of extra time will significantly increase the chances of experiencing them.
Ok, that's enough preamble. Let's take a look at our detailed day by day itinerary for visiting Finland in winter.
Finland Itinerary for Winter
This itinerary covers a range of activities and sights in Finland. Obviously everyone's interests will vary, so do please adjust it to suit your personal preferences.
Also, don't forget that it can be very cold in Finland in winter, with temperatures likely to be well below freezing throughout your visit. We have a detailed guide to what to pack for Finland in winter, which we recommend taking a look at so you are prepared for your trip.
Day 1: Helsinki
We recommend that you spend your first couple of days in Helsinki, the capital city of Finland. There's a huge amount to do in the city, which has a great many museums, restaurants, a historical sea fortress, and other attractions.
On your first day in Helsinki, we'd suggest getting acquainted with the city center and visiting some of the attractions. The city center of Helsinki is fairly compact, and you can get pretty much anywhere with public transportation and walking.
A great starting point is the Helsinki City Museum. Here, you will learn all about the history and development of the city. It's free, and open every day.
Just near to the city museum is Helsinki Cathedral. This large white building is one of the more recognizable landmarks of Helsinki. It's spectacular to view from the outside, but you can also go inside too of course. It's open every day, and free to visit.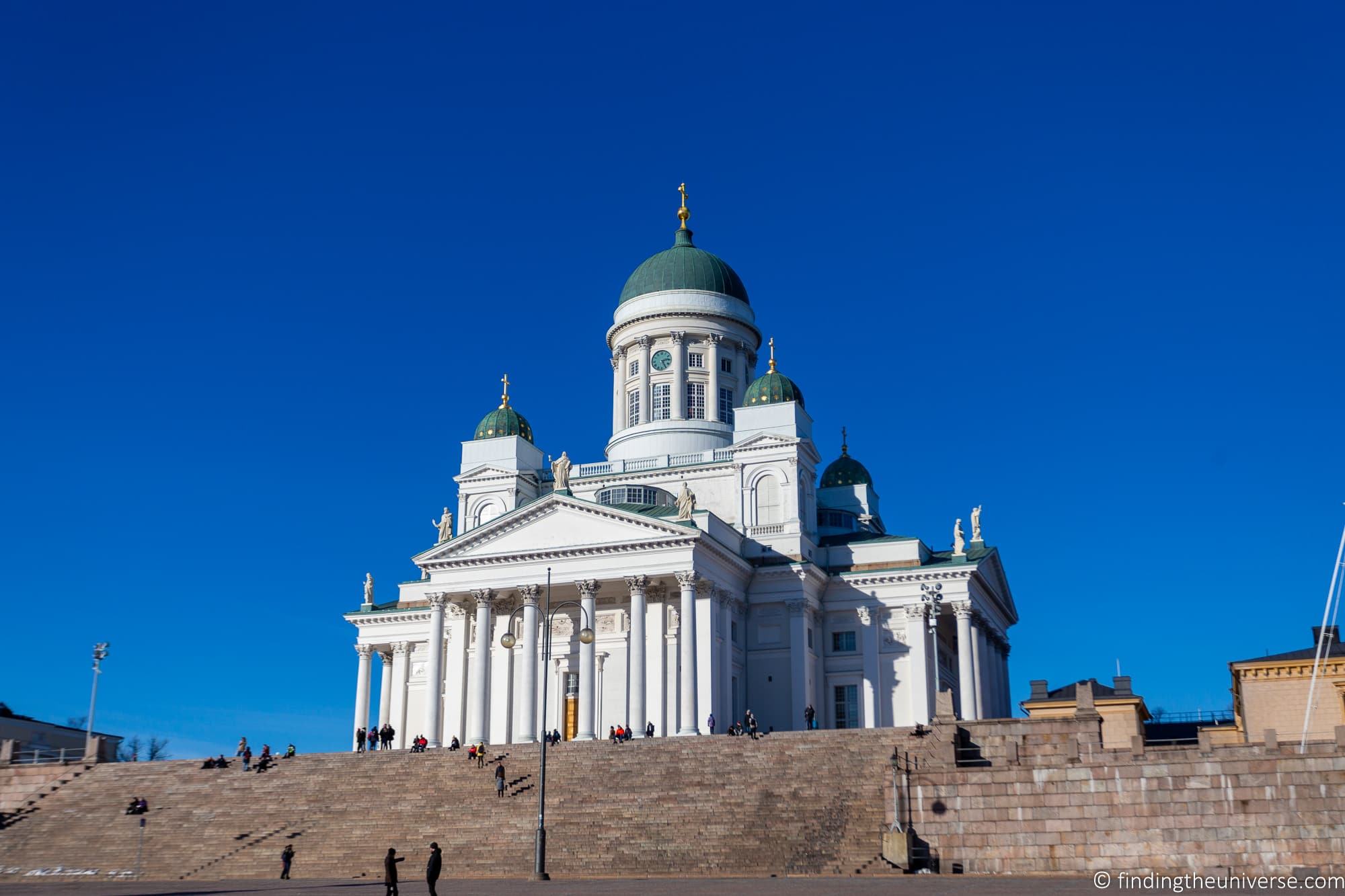 If you want a more in-depth overview of the history, culture and people of Finland, then we can recommend a visit to the National Museum of Finland. This covers a huge time period, from prehistoric times to the present day, and is an excellent way to learn a lot about the whole country. It's open Tuesday – Sundays, and there's an entry fee.
We could go on listing museums in Helsinki, as the city has a huge number to choose from, catering for almost every interest. From design, to contemporary art, to photography, to architecture, there's really an incredible choice. There's even a museum about hotels!
You won't have time to visit all of these of course, but we can definitely recommend visiting a few during your time in the city. There are lots of choices, so you can just choose a few that appeal to you.
If you do plan on visiting a number of the museums or other attractions in Helsinki, consider investing in either a museum card or the Helsinki Card (buy the latter here).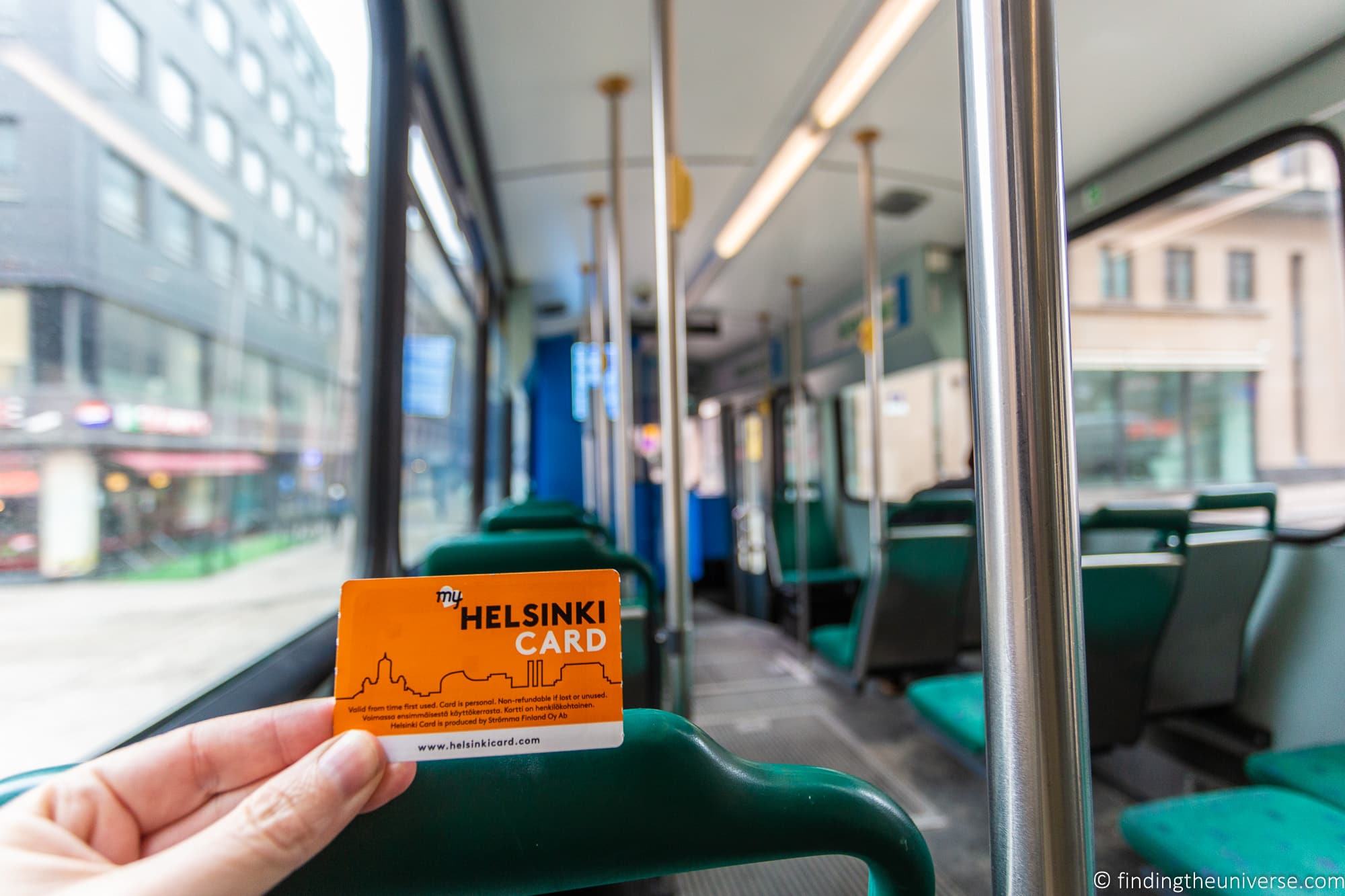 These cover a range of attractions, and the Helsinki card also includes transport around the city, which will save you walking around in the cold. The Helsinki card can be great value for money – see our full review of the Helsinki card to see if it's worth investing in for your trip.
Of course, there's also more to do in Helsinki than visit museums. We can suggest taking some time to go Christmas shopping (even if it's after Christmas, you can stock up for the next one!).
If you do visit in December before Christmas, then you will also definitely want to check out the Helsinki Christmas market and try some traditional Christmas foods and drinks. These include Glögi (a type of mulled wine) and star-shaped Christmas pastries.
Kankurin Tupa would be our recommended destination for Christmas shopping in Helsinki. This is a department store which specialises in Finnish items, and has a whole section dedicated to Christmas.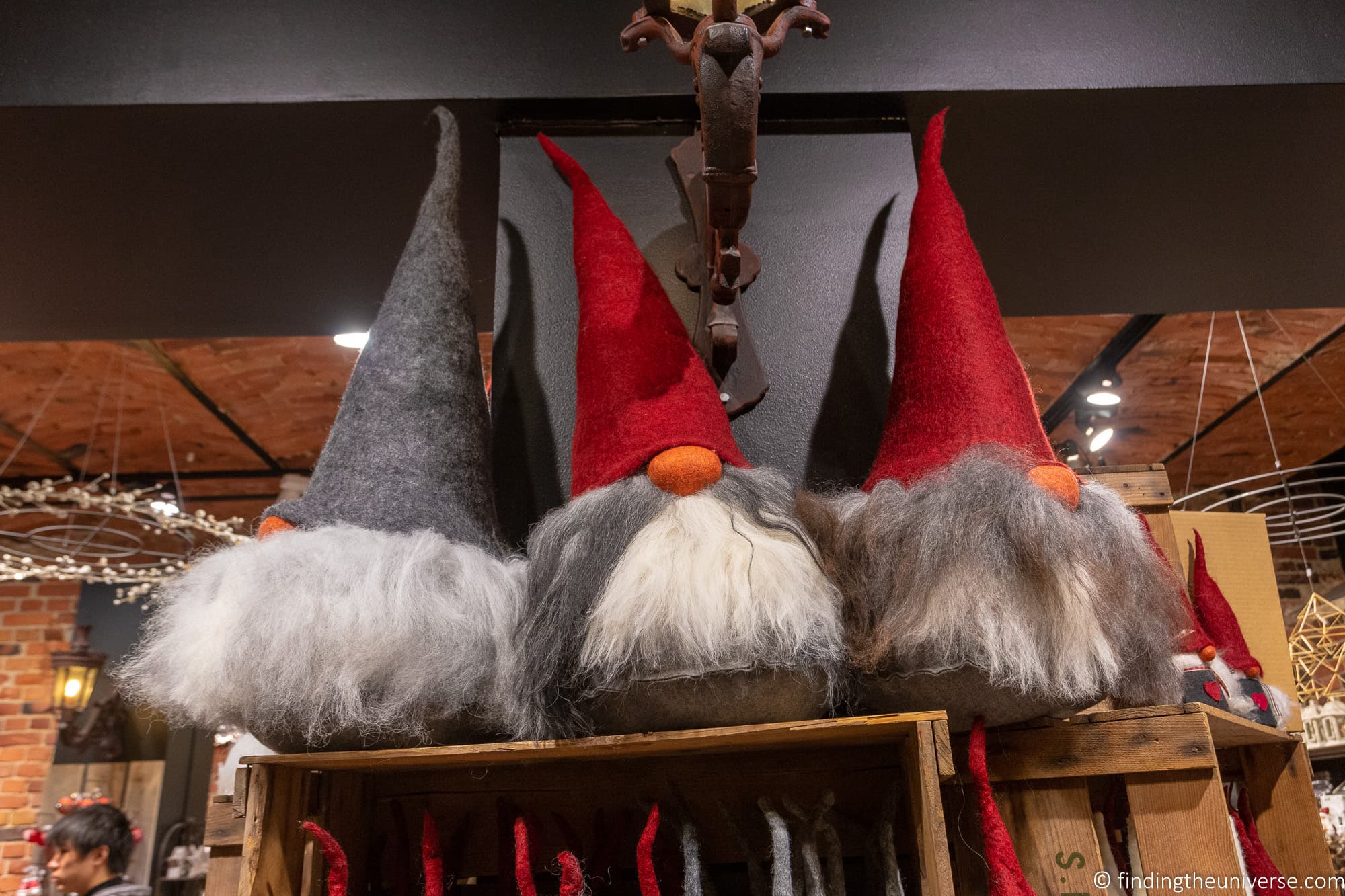 We can also recommend getting coffee and cake at one of Finland's best known cafes, Ekberg 1852. This has been in Helsinki since, you guessed it, 1852, and they have an excellent selection of Finnish delicacies which obviously include baked goods.
Finally, find somewhere for a delicious evening meal, and retire, having gotten your first day of sight-seeing in Finland under your belt.
Where to Stay in Helsinki
We have stayed at a number of accommodation options in Helsinki, including apartment rentals and hotels.
Some options we suggest you take a look at include:
You can also see listings for Helsinki on Vrbo here.
Day 2: Helsinki
For your second day in Helsinki our suggestion is to head out to the Suomenlinna Sea Fortress.
This is a UNESCO world heritage site, and in our opinion is a must-do attraction when visiting Helsinki.
There is a huge amount to see and do on the island, and you could easily spend from half a day to a full day here, depending on what you want to see and do.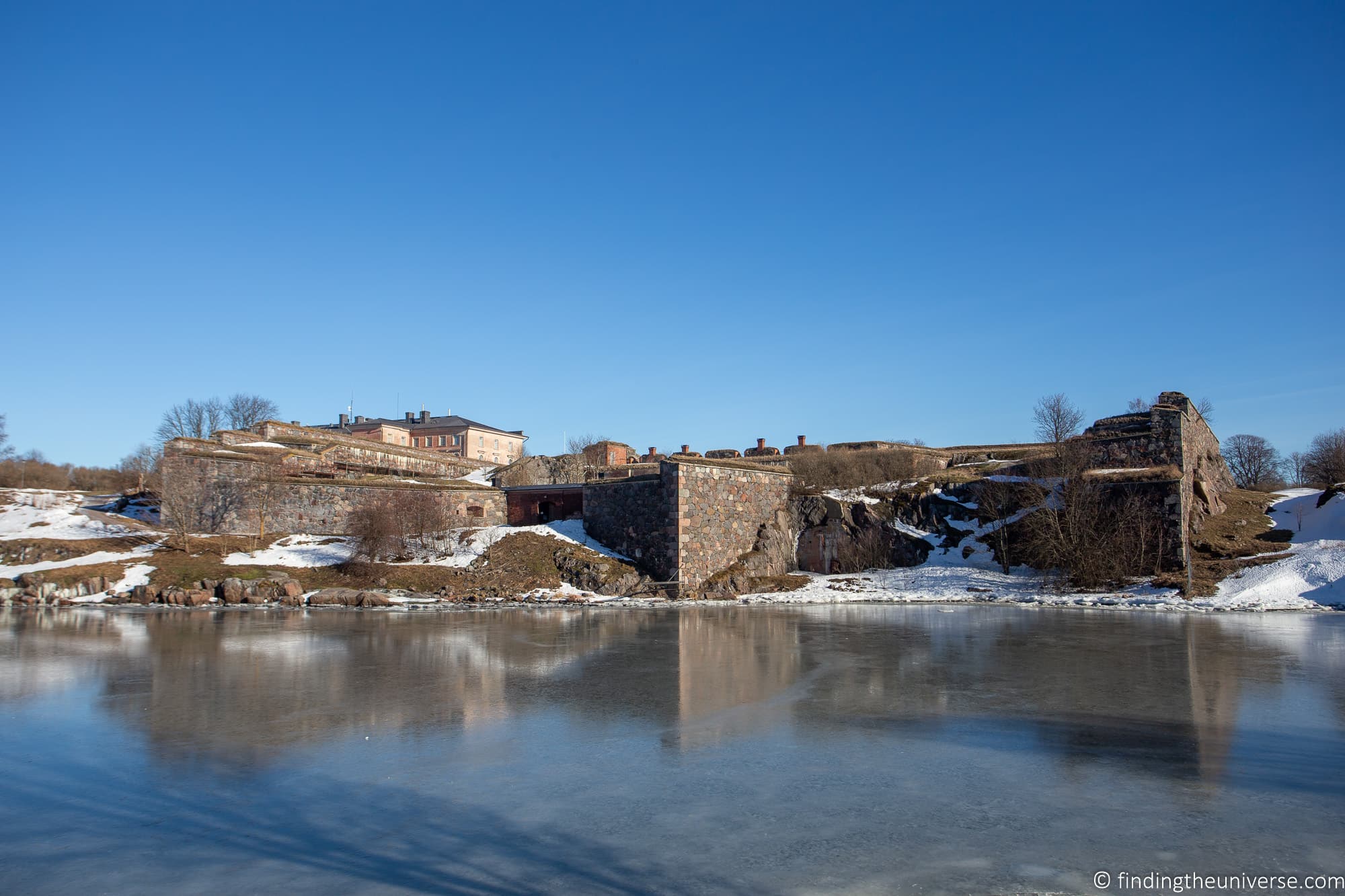 First, you can explore the six islands that the fortress spans on foot, admiring the impressive fortress construction. As you're visiting in winter, you will of course want to wrap up warmly and have good footwear. Be wary of icy ground which can make for slippery conditions.
There are also five museums on the island, although not all of these are open year-round. The ones that are open in winter are the Suomenlinna Museum and the Military Museum. I would definitely encourage you to visit the former at least, as this details the history of the fortress and the island.
Both of these museums have an entry fee, and they are also both included on the Helsinki Card. Holders of this card also get ferry transport to and from Suomenlinna Fortress, which otherwise costs €5. Ferries run every day, and you can see the schedule here.
After Suomenlinna Fortress, you might still have time to fit in a few more sights. Some other attractions in Helsinki we would suggest which are near the ferry point from the island include the Helsinki Skywheel for great views across the city, Uspenski Cathedral and the Old Market Hall for food.
Finally, a really popular activity that you must try while you are in Finland is to take a sauna. This is one of the most traditional Finnish experiences you can have.
There are a few options when it comes having a sauna in Finland. Most hotels and even some apartments will come with a sauna, which will often be the easiest way. There are also public saunas in Helsinki.
You can also take a tour which includes a sauna. From Helsinki for example, take a look at this tour, which includes a traditional smoke sauna and the chance to do a cold icy plunge – if you're feeling brave!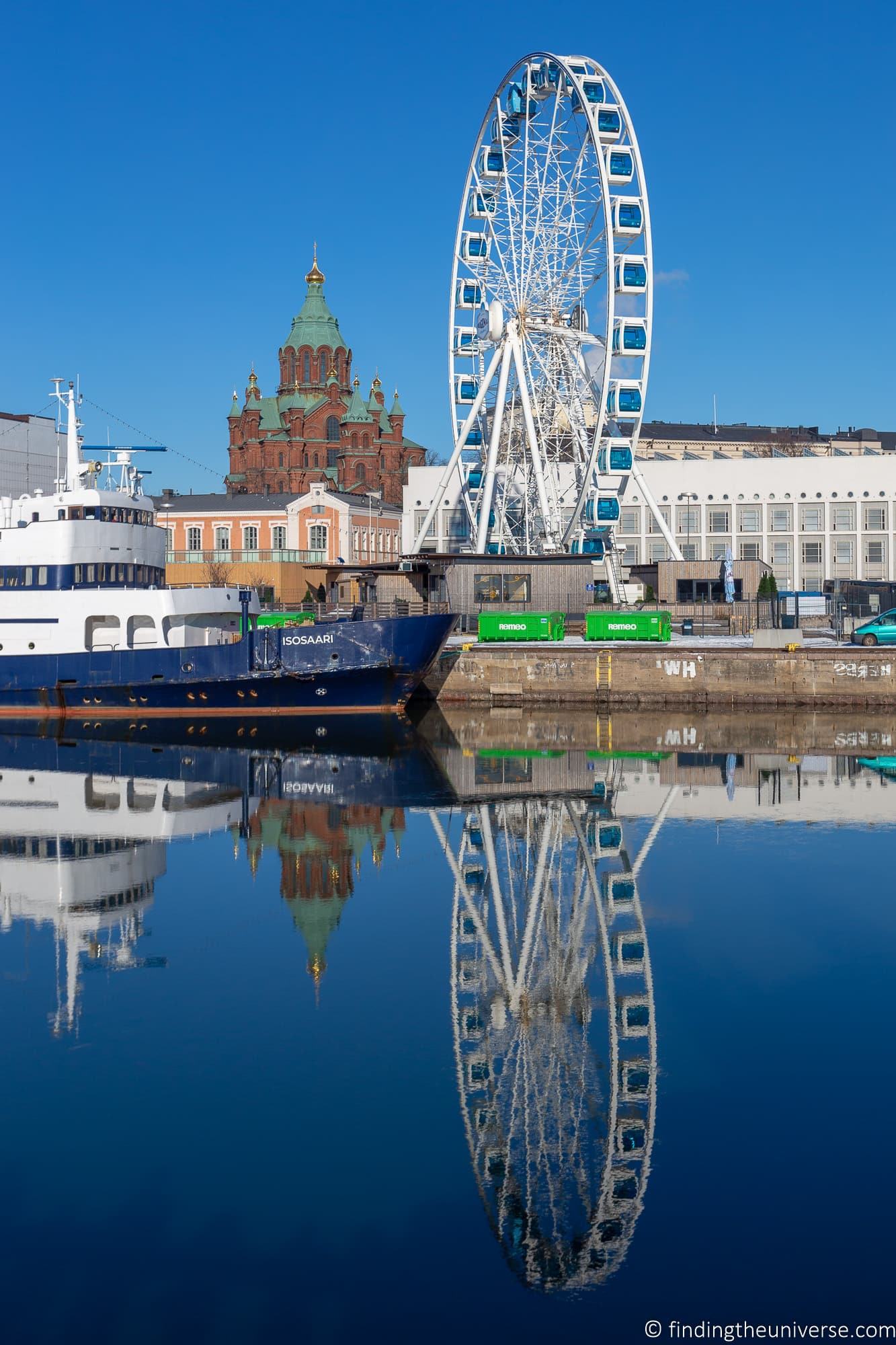 And that wraps up your second day in Finland and your last day in Helsinki. If you'd like some more ideas for what to do in the city, see our guide to things to do in Helsinki, which has many more ideas.
How to Get to Rovaniemi from Helsinki
Your next destination is Rovaniemi. You have a few options for getting from Helsinki to Rovaniemi. The fastest option will be to fly. There are a number of airlines offering flights from Helsinki to Rovaniemi, with the flight time being around an hour. Flights are relatively inexpensive and there are multiple departures a day.
If you fly, you can either depart on the evening of day 2 or early in the morning of day 3. You can check flight times and prices, and book online here.
You can also take the overnight sleeper train from Helsinki to Rovaniemi. This route is known as the Santa Claus Express, and the journey takes around 12 hours. If you choose to do this, you will need to leave on the evening on day 2. You can see timetables and book this train online here.
It's also possible to take a bus from Helsinki to Rovaniemi. This takes around 13 hours. Just note that taking the bus will eat up quite a bit of your day so is the least time efficient option. Check bus times and prices, and book tickets here.
You can also drive to Helsinki to Rovaniemi. This is around a 9.5 hour drive of 500 miles / 800km. Again, this is a long journey and we'd advise against this as well as it will be a tiring journey that will use up your holiday. However, if you want to do this, you can check car rental prices on Rentalcars.com here.
If you are planning your own trip and booking your own transport, our recommendation for getting from Helsinki to Rovaniemi would be to either fly or take the overnight train.
If you'd rather not have to worry about planning your own transport, you might also consider taking a guided tour. These will generally cover your transport and accommodation as well as some meals and activities, leaving you to focus on just enjoying yourself.
There are a few tours we suggest that have similar itineraries and activities to our itinerary, and include Helsinki, Rovaniemi and the Arctic Circle. Note that most tours from Helsinki use the overnight train service, and focus on activities in and around Rovaniemi.
If you take one of these tours, they will arrange all your transport and connections for you during your trip, which is definitely an option to think about.
Day 3: Rovaniemi
Welcome to Lapland! Rovaniemi sits right on the edge of the Arctic Circle, the most northerly of the lines of latitude. Above this line you can experience the Midnight Sun in summer, as well as days in winter when the sun never rises at all!
Rovaniemi makes an excellent base for a wide range of winter activities in Finland. These includes Northern Lights viewing, ice karting, snowmobiling, husky sledding, reindeer sledding, sleeping in a snow hotel, ice fishing – the list goes on!
For this itinerary, which I've put together on the basis that you don't need a car, the plan is to base yourself in Rovaniemi for three days and to do a number of winter activities from the city. There are also several attractions in and around Rovaniemi to visit.
This itinerary will of course also work perfectly well with a car. I've visited Rovaniemi in winter with and without a car on my two visits. If you plan to rent a car, you can arrange to pick up a rental car either at the airport or in the town center once you arrive. The only consideration if you do hire a car is to ensure that your accommodation includes free parking.
Now, on with the itinerary. Note that many of the museums and attractions in Rovaniemi are not open every day, with Monday being a popular day for them to close. So depending on your timings you might want to juggle this itinerary around a little bit.
First, I'm going to suggest you head to the Santa Claus Village in Rovaniemi. This is around a 10-minute drive outside the city. If you're arriving from the airport, it's between the airport and Rovaniemi, so makes for a logical first stop if you arrive in the morning.
You can get to Santa Claus Village by driving, taking the Santa's Express bus, a local bus, or by taxi.
There's a lot to do at the Santa Claus village, and it's a great place to check off a few of your winter activities. First though, you're going to want to actually meet the man himself.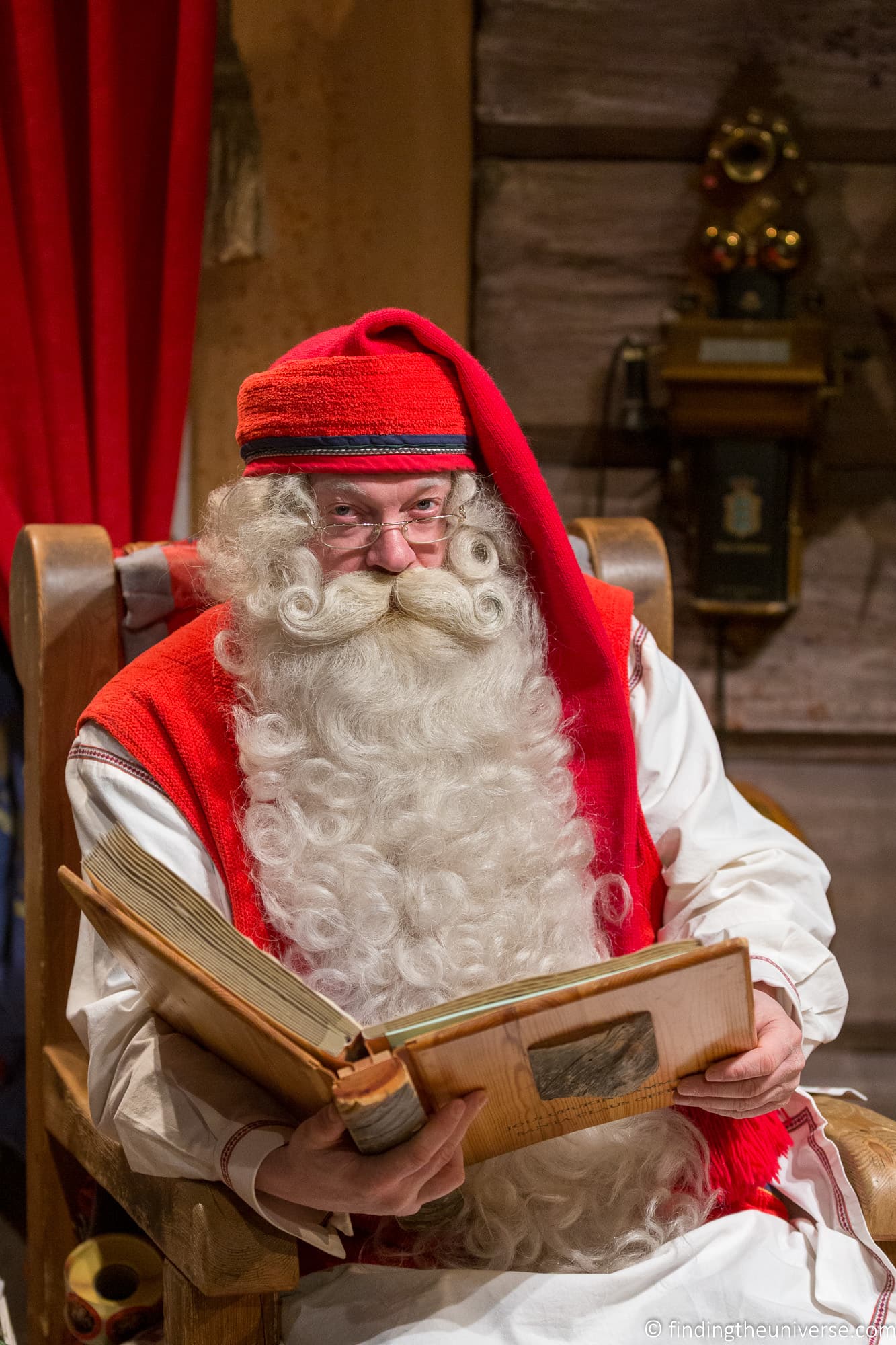 Yep, as the name suggests, the Santa Claus village is actually home to Santa Claus himself. He lives here year round with his elves, planning for the big day, and sorting and reading all the mail he receives.
It's free to visit Santa, although if you want a photo or video with him there's a fee for that.
As well as visiting Santa, you can also visit Santa's post office. A fun thing you can do here is mail a Christmas card that will be kept and posted at Christmas time. So even if you visit Rovaniemi in January, you can get all your Christmas cards mailed!
Beyond Santa, there's plenty more to see and do at Santa's Village. You can take a photo of you standing on the Arctic Circle marker, and can also arrange other activities such as a reindeer sled ride, a husky ride, or a snowmobile ride.
Of these, we'd suggest that a husky ride would be a great option. Bear Hill husky is our favourite husky operator in this region, and I actually took a two day husky safari with them. They operate a number of tours with pickup from Santa's village, including this one.
You can also book an experience like this which includes your visit to Santa Claus and a snowmobile ride to a reindeer farm.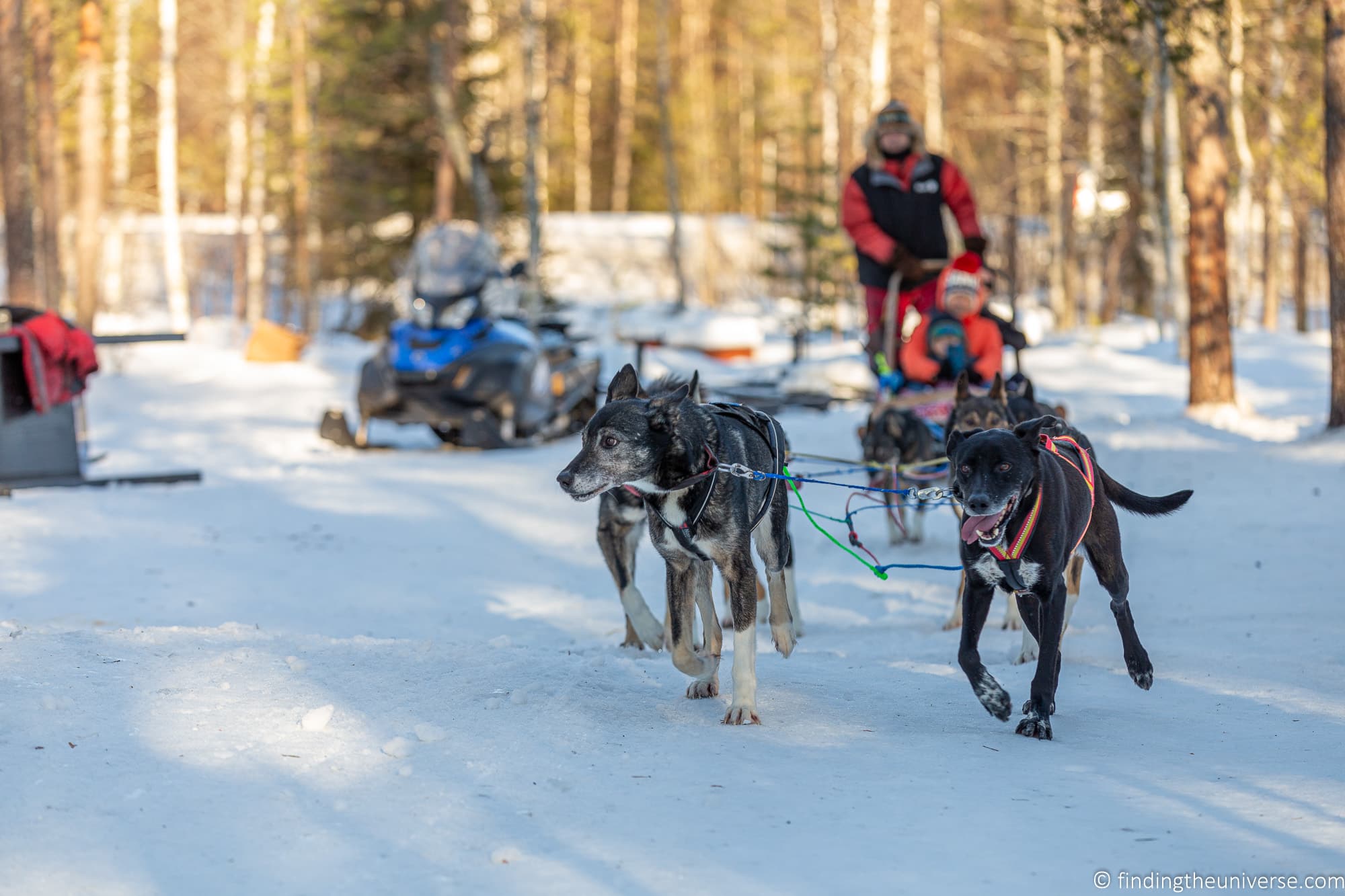 You can also do a longer 7 hour tour if you want a more complete experience.
Assuming you take the shorter tour, our suggestion for the rest of your day is to visit Rovaniemi and familiarise yourself with the town. There's plenty to do here. We'd particularly recommend a visit to Arktikum.
This museum and science center is perfect for learning all about the people, history and culture of the area. There are a number of permanent exhibits here, with the content on life in the arctic being my favourite.
Once you have explored some of the highlights of Rovaniemi, you will likely want to have your evening meal.
If you're still feeling adventurous, we can highly recommend scheduling some time to try and spot the Northern Lights. You can do this yourself by finding somewhere away from the city lights. If you don't have a car, the area by Arktikum is a popular spot.
Alternatively, you can take a dedicated Northern Lights tour. Some of these also include other activities like snowmobiling or a traditional Finnish sauna. These are a good option because the Northern Lights are definitely not guaranteed, so doing another activity will ensure you are occupied and having fun, with seeing the Northern Lights as a bonus!
Some options to consider for seeing the Northern Lights from Rovaniemi are:
This 5 hour tour where you look for the Northern Lights whilst having a traditional firewood sauna experience
There are lots more Northern Lights tours from Rovaniemi to choose from, which you can see here.
If you want to get photos of the Northern Lights, you will need to read up a little in advance as they can be quite challenging to photograph. I have a complete guide to how to photograph the Northern Lights, which I can definitely suggest you take a look at so you are prepared.
I also recommend you download an app for your smartphone that will notify you of aurora activity. I have tried a few of these, and have settled on My Aurora Forecast Pro.
I have found it to be the most reliable app that doesn't drain my phone battery, but has always reliably alerted me to aurora activity. This is available for both Android and iOS, and is available in both free (ad-supported) and paid versions.
We think that's enough for your third day in Finland! Of course, you can schedule a Northern Lights tour for any of your days in Rovaniemi, but we recommend popping out every evening if you can to at least try and see them yourself, as they can be fickle. If you have a car, driving a little out of the city will afford you the best viewing experience.
Where to Stay in Rovaniemi
You're obviously going to need somewhere to stay for your time in Rovaniemi. We've tried a few different accommodation options, and have shortlisted the following as our favourites.
We can also recommend checking out the options for Rovaniemi on Vrbo here.
Day 4: Rovaniemi
We're going to suggest a full day trip today out of Rovaniemi and down to the town of Kemi on the coast.
Here, you're going to take a truly unique trip – a ride on an icebreaker boat!
Launched in 1961, the Sampo is a genuine icebreaker built for serious arctic conditions. She had a long and distinguished career in the Gulf of Bothnia, where for thirty years she kept the shipping lanes clear of ice.
In 1987, the town of Kemi bought the Sampo, and since 1988 she has been operating as a tourist attraction from the town port.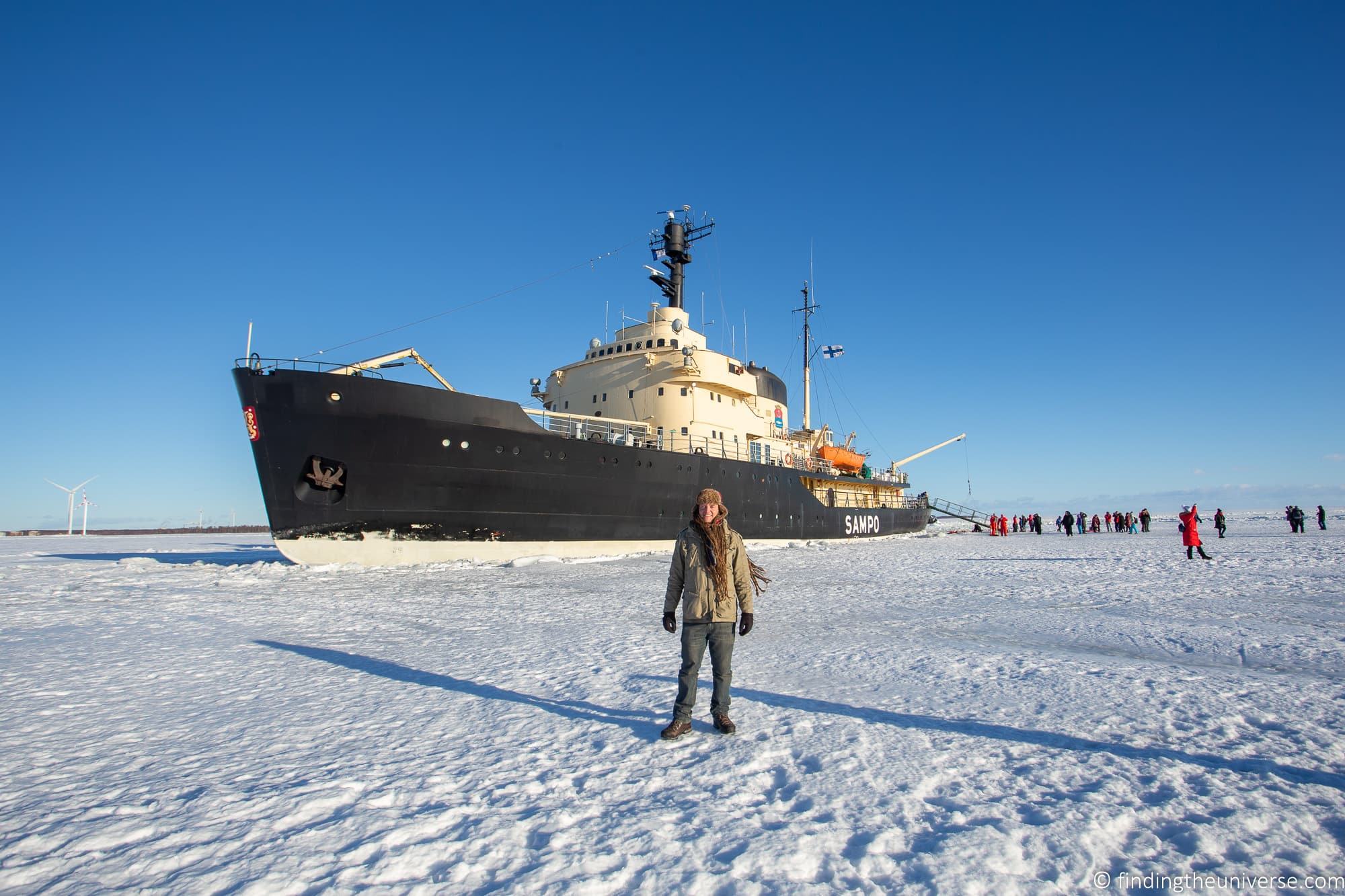 This was one of the most fun experiences that I had in Finland in winter. Riding an ice breaker across a frozen sea is a really amazing adventure that is quite unique. The sound of the breaking as the ship ploughs through it is incredible, and I could have just watched the ice breaking and the bow and the frozen sea stretching off to the horizon all day.
However, there's more to a trip on the Sampo than just watching the ship do her thing. You can also don a full dry suit, and go for a swim in the frozen sea! The ship creates a hole in the ice, and the passengers then take it in turns to don full dry suits and bob around.
This was a lot of fun, although it was definitely less like swimming and more like floating. During this time, it was also possible to take a walk on the snow covered ice, which was also a unique experience.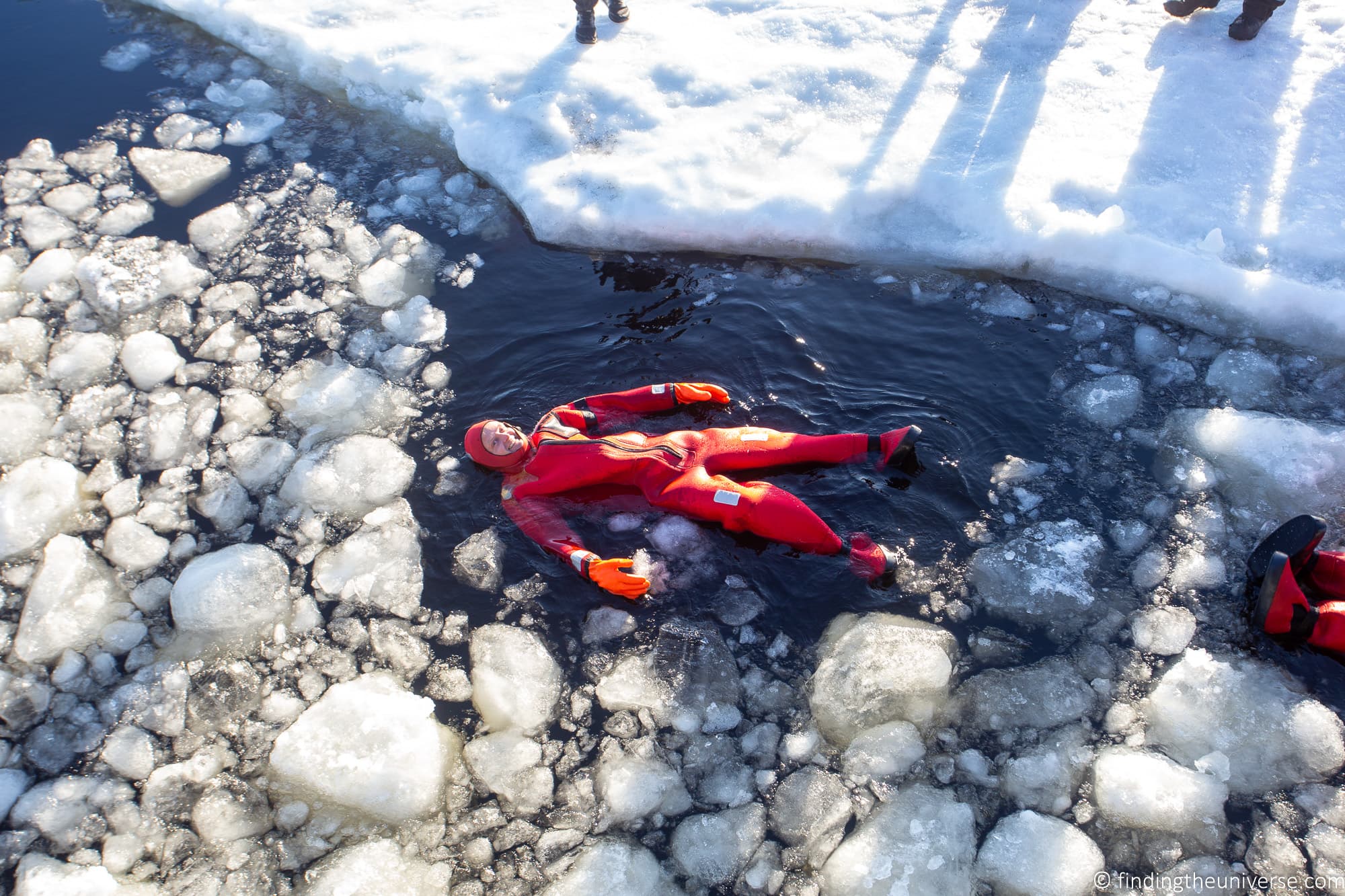 All in all, I can highly recommend the trip on the Sampo icebreaker. The ship is also very comfortable, and there's a restaurant on board. Depending on the ticket you choose, there's an option which includes a buffet meal on board as well.
It's worth checking the dates and times for the icebreaker well in advance of your trip as it doesn't sail every day, so if this is something you want to do you will need to plan your trip around it. It also often sells out in advance. You can see times and prices here.
If you are driving, it's around 90 minutes each way from Rovaniemi to Kemi. If you want to travel by train you can take the train from Rovaniemi to Kemi, and select shuttle pick-up from the Kemi train station to the harbor.
Or you can book a day tour which includes your round-trip transport directly from Rovaniemi to the ice breaker.
Some of the tickets on the Sampo icebreaker include a free visit to the SnowCastle. This is a resort / attraction in Kemi where you can visit a castle / hotel made of snow.
I visited here and even stayed overnight in the SnowHotel part of the castle, which was a fun experience. If you are driving yourself, this would definitely be an option too.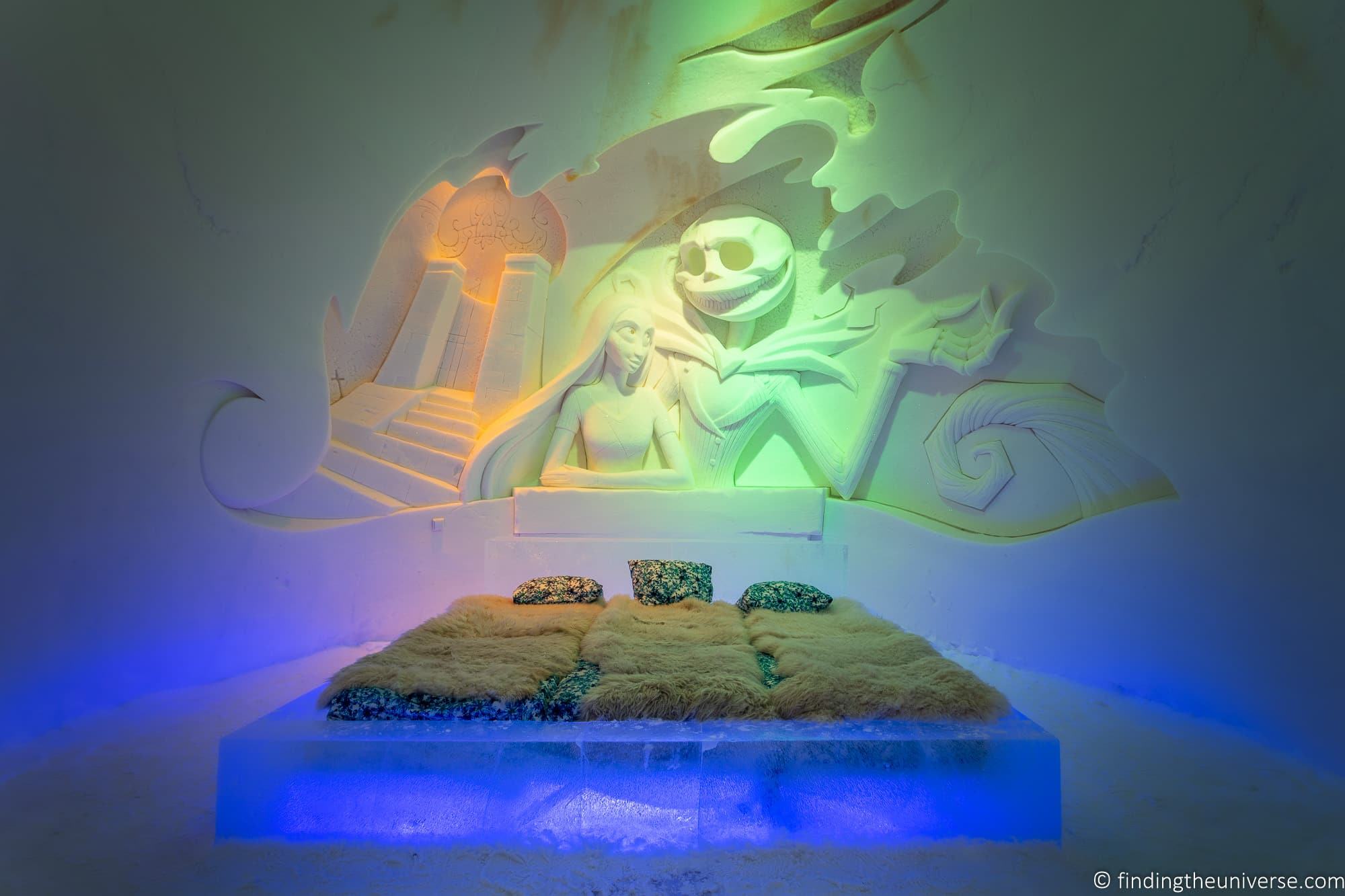 Finally, head back to Rovaniemi and get some dinner. Again, don't forget to check the Northern Lights forecasts!
Day 5: Rovaniemi
For your last full day in Rovaniemi I'm going to suggest you have a full day of winter activities. After all, you came to Finland in winter to have a winter adventure!
There's no shortage of choice when it comes to winter adventures, so I'll just provide some options and let you decide what you might enjoy the most. Some of these activities are shorter, so you could do more than one if you wanted, whilst others are full day trips.
Hiking / Snowshoeing
One of the best way to experience winter in Finland is to get out into the countryside and take a walk!
Of course, walking in snow can be a bit challenging, as we tend to sink in. The solution? Snowshoes! These are large and wide devices which clip onto your shoes, and spread your weight out on the snow. This lets you walk without sinking in.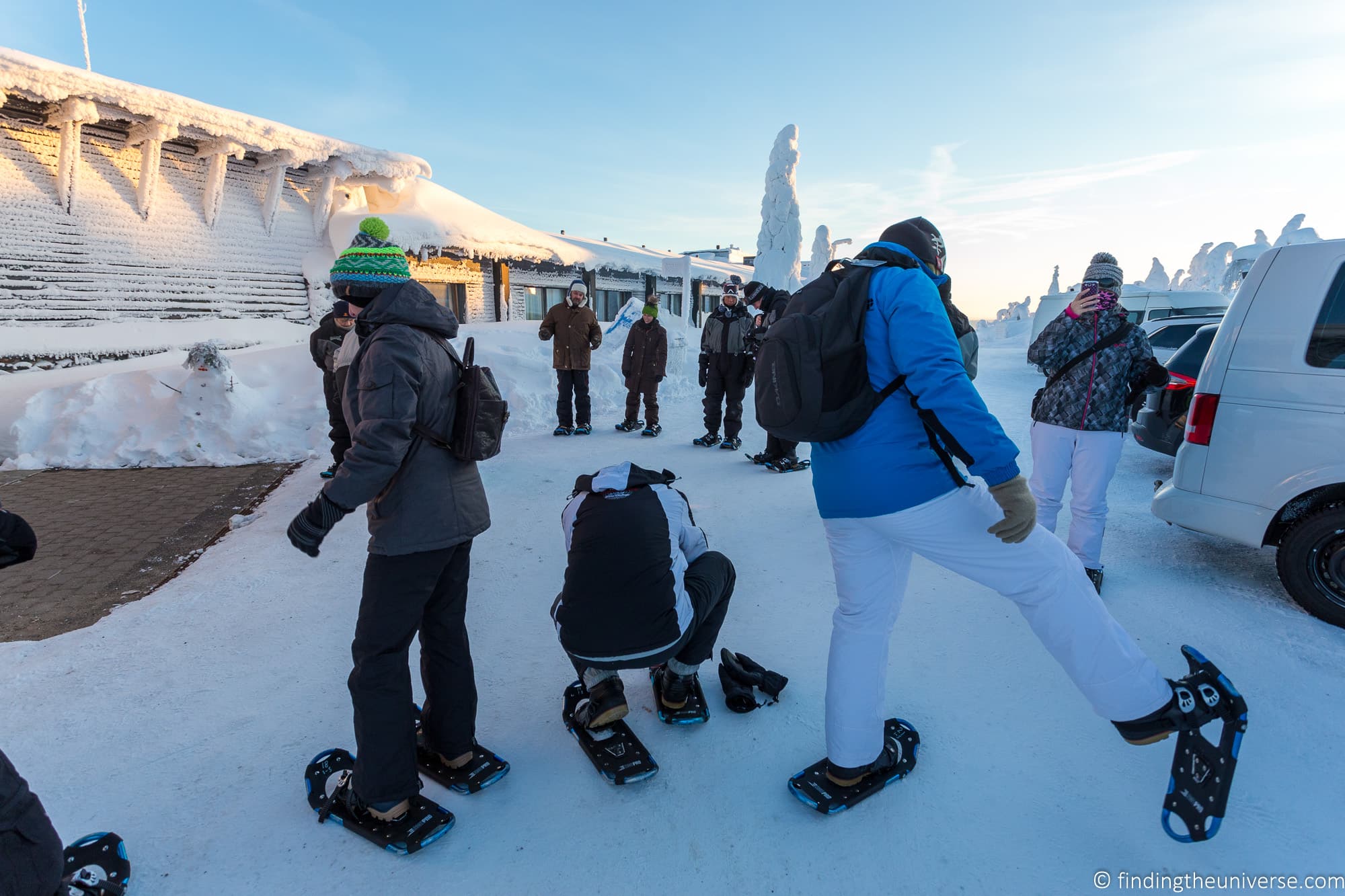 If you want to explore on your own, you can either buy a pair of snowshoes or rent them.
Another option is to take a tour. For example, this tour has you snowshoeing through the snow covered forests near Rovaniemi, before trying your hand at another popular Finnish winter activity – ice fishing!
There are some other great hiking tours you can take from Rovaniemi. I'd particularly recommend going hiking in the Korouoma National Park. This is found 160km from Rovaniemi, so will take a couple of hours to drive to. However, in winter the park is famed for its frozen waterfalls, of which there 14.
The best way to see these is to take a hike in the park. You can either drive yourself, or you can take a tour from Rovaniemi which should include an experienced guide and the correct outerwear and footwear.
We'd recommend either this half day hike or this full day hike.
Ice Fishing
A really popular activity amongst Finnish people in winter is ice fishing. This sport has you drilling a hole into the ice on a frozen lake or river, and then using special ice fishing equipment to try and catch a fish.
We have tried ice fishing a few times, and to be honest, we have never caught a fish.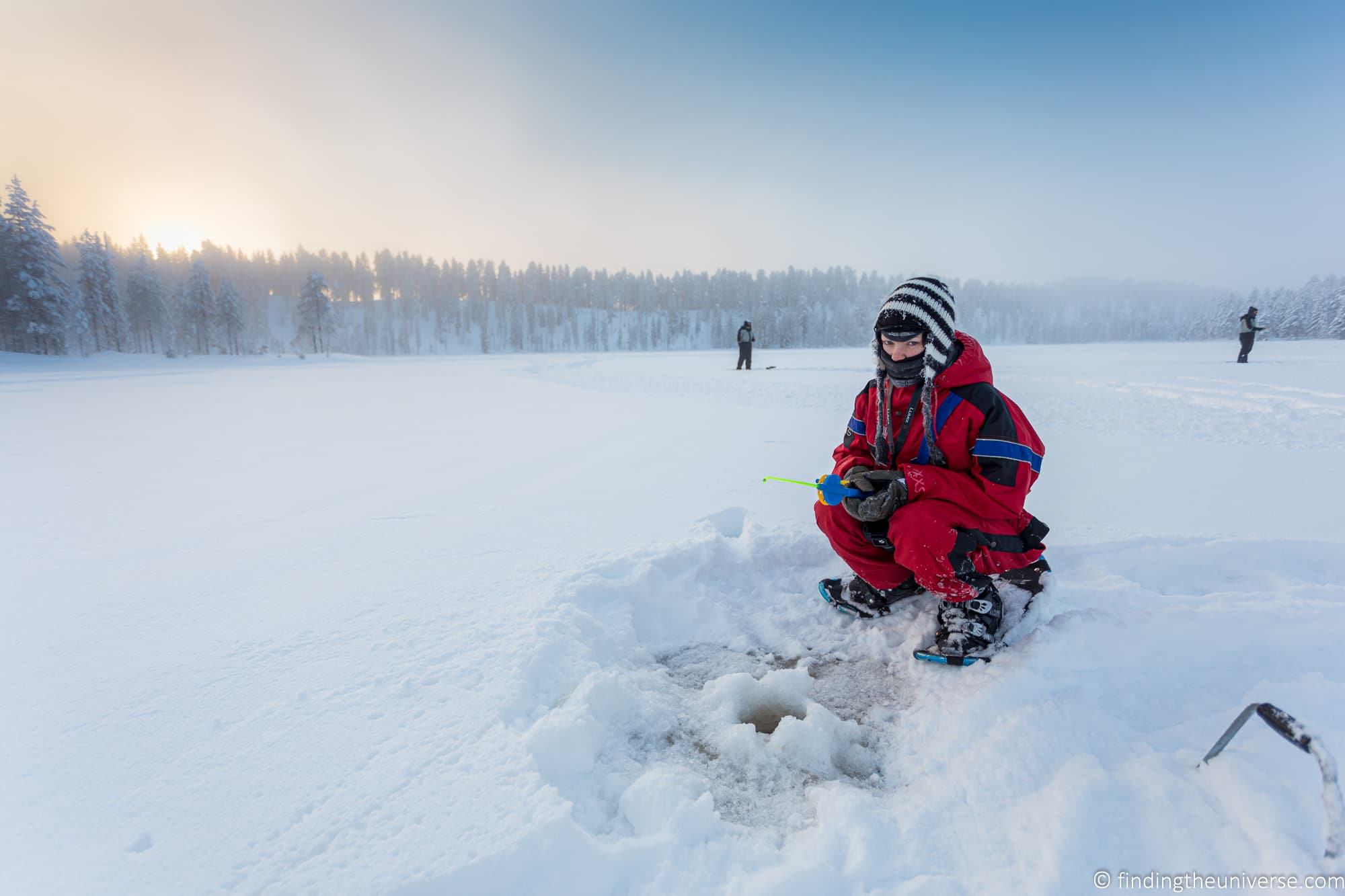 That said, other people on the tours we've taken have caught fish, as has our guide, so it is definitely possible!
Even though we've never caught a fish, we've always had a lot of fun ice fishing. It's a wonderful way to get out into the outdoors, and most tours include some kind of food or at least hot drinks cooked over a fire.
The best way to go ice fishing is definitely to take a tour. Whilst you could hire your own equipment and go yourself, it is definitely a lot safer to accompany a local expert when heading out onto frozen lakes and rivers!
There are a number of ice fishing tours that depart from Rovaniemi, including the following.
A 2.5 hour tour which focuses on ice fishing – great if you just want to get an idea of what it's all about without committing to a longer trip.
This 4 hour tour includes both snowshoeing and ice fishing
A 7 hour full day tour that includes ice fishing, a traditional Finnish sauna experience as well as a BBQ lunch – which will include your fish if you catch any!
You can also pair up an ice fishing experience with snowmobiling. For example, this is a 5 hour snowmobile and ice fishing day, whilst this is a half day tour with snowmobiling and ice fishing.
Snowmobiling
I love snowmobiling, and every time we've visited Finland I've done my best to go snowmobiling at least once.
Snowmobiling is, in my opinion, a huge amount of fun. It's also a great activity to pair with other activities, such as watching the Northern Lights or going ice fishing. You use the snowmobile to get to where you are going, do the activity, and then ride the snowmobile back.
Of course, you can also have a "pure" snowmobiling experience too, where you just ride the vehicle.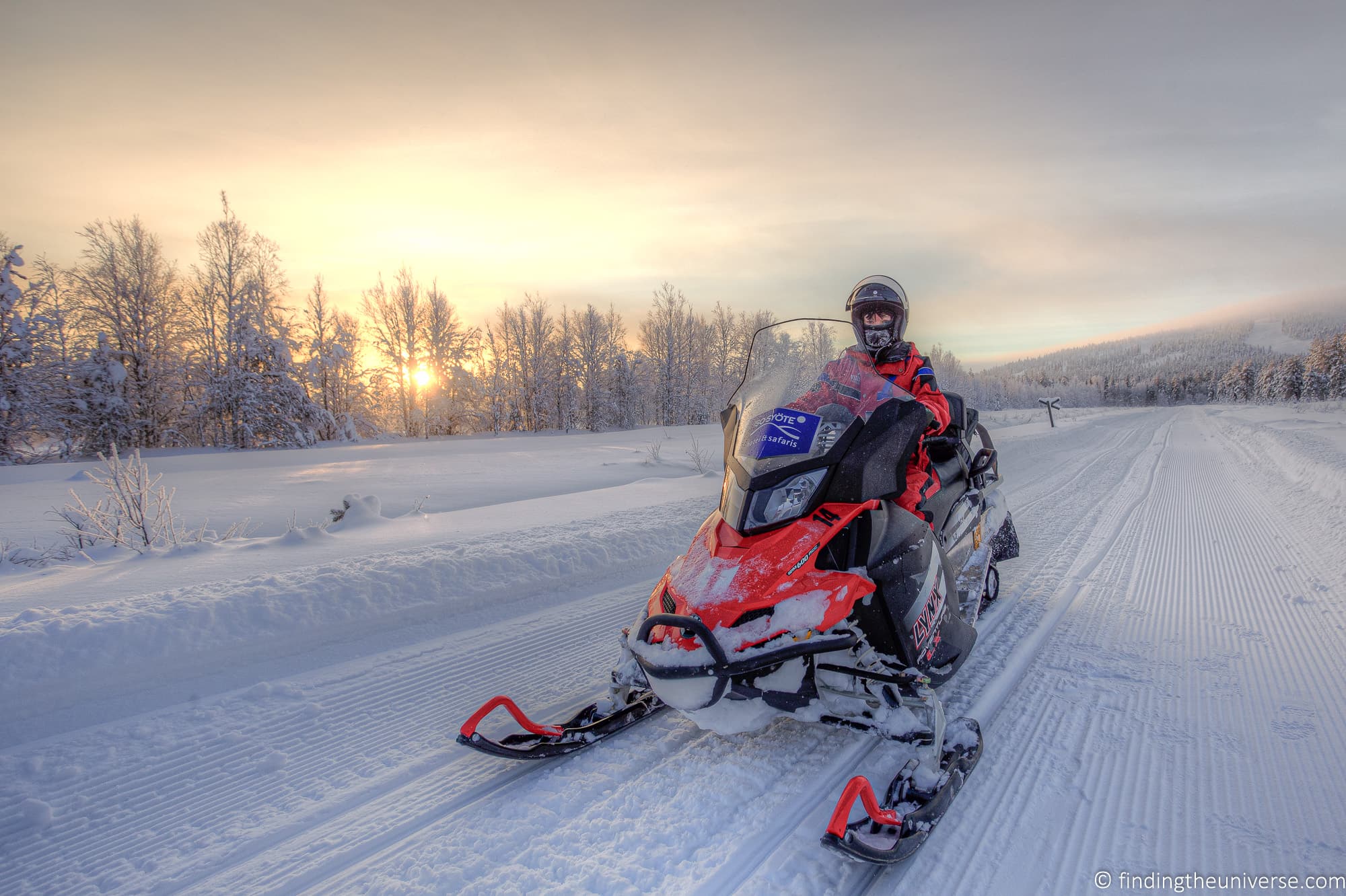 Snowmobiles are nearly all for two people, so when you go on a snowmobile tour there will usually always be one person driving, and one person as the passenger. On all the tours I've been on the guides have always ensured that people swap so both can have the experience of driving if they want. Additionally, it's usually possible to pay a supplement to ride on your own if you prefer.
If you are visiting Finland with children, you should be aware that most snowmobiles can't be operated by children under 15 years of age.
Some children can ride as passengers, but this isn't universal, so you will want to check the tour details and contact the company to be sure before booking. For example, this is a family friendly snowmobile tour.
Some snowmobiling tours from Rovaniemi to consider include the following.
Hopefully this gives you plenty of ideas for the types of snowmobiling tours you can do from Rovaniemi.
Husky Sledding
If you prefer your snow transport to be bit more traditional but still lots of fun, then husky sledding is likely going to be something you'll enjoy a great deal.
As the name suggests, husky sledding involves a team of huskies, and a sled. Huskies are a special breed of dog which are well adapted to long periods of intense activity as well as cold conditions. Put more simply, they love running in the snow.
Husky sledding has you harnessing a team of husky dogs to a sled. There are usually between six and eight dogs, and each sled will generally have a driver and a passenger. The driver will stand at the back of the sled to steer and brake, whilst the passenger relaxes and enjoys the view.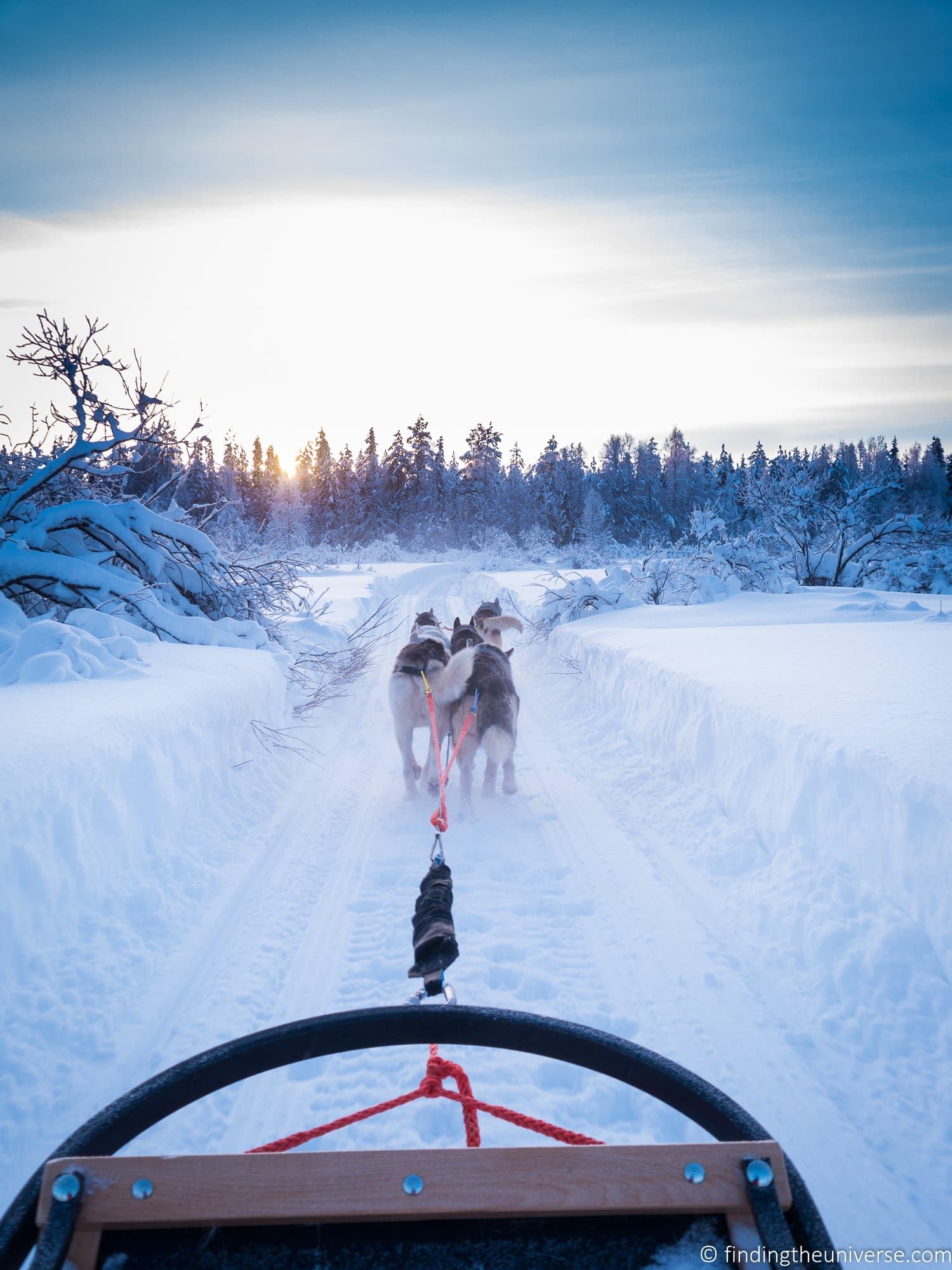 Husky sledding is a really popular activity when visiting Finland in winter, and one we highly recommend. I've written a whole post outlining my experience dog sledding in Lapland, which you should find useful.
Like most of the other activities on our list, there are lots of operators running husky sledding tours in Rovaniemi. We recommend and have used Bear Hill Husky, they really care about their dogs, and they have a range of sledding experience to suit everyone. Some examples to consider are as follows.
The offer shorter tours which usually include 45 minutes of actual dog sledding over a 2.5 hour visit. As well as the sledding, you also get the opportunity to learn about and meet the dogs – and get plenty of photos. For example, see this morning tour.
If you want a more immersive and complete experience, they also offer a longer full day tour which includes around seven hours of husky sledding as you cover a distance of 30-40km. This also includes a campfire lunch, hot juice, and cookies.
We think one of these options would be great for anyone looking for a wonderful husky sledding experience in Lapland.
Visiting an Amethyst mine
The final option we have on our list of things you could do on your last day in Rovaniemi is to visit an Amethyst mine.
There's one working amethyst mine in Finland, and it's found on the top of a hill in the Pyha-Luosto National Park.
This national park is home to the remnants of a mountain chain which is over two billion years old. It's a popular place for a range of outdoor activities, including snowshoeing, hiking and skiing.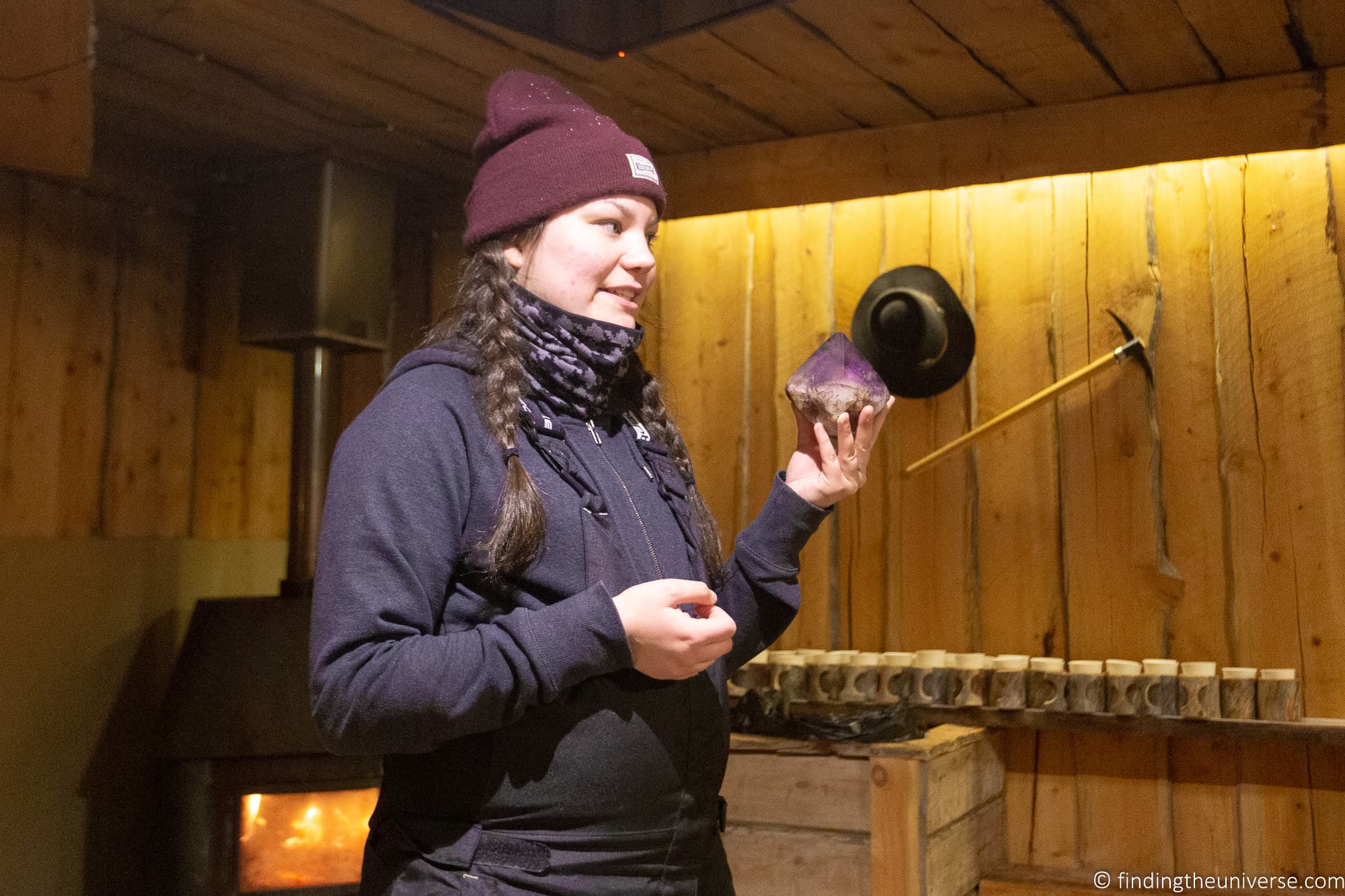 However, it's the amethyst mine that I think you should visit. This is found in Lampivaara, and here you can learn all about amethyst mining, as well as having a go at mining for amethyst yourself!
If you have your own vehicle it's around a 90 minute ride from Rovaniemi to Lampivaara. Here, there's a tracked vehicle which ferries people up to the top of the mountain to visit the mine. This experience needs to be booked in advance, which you can do here.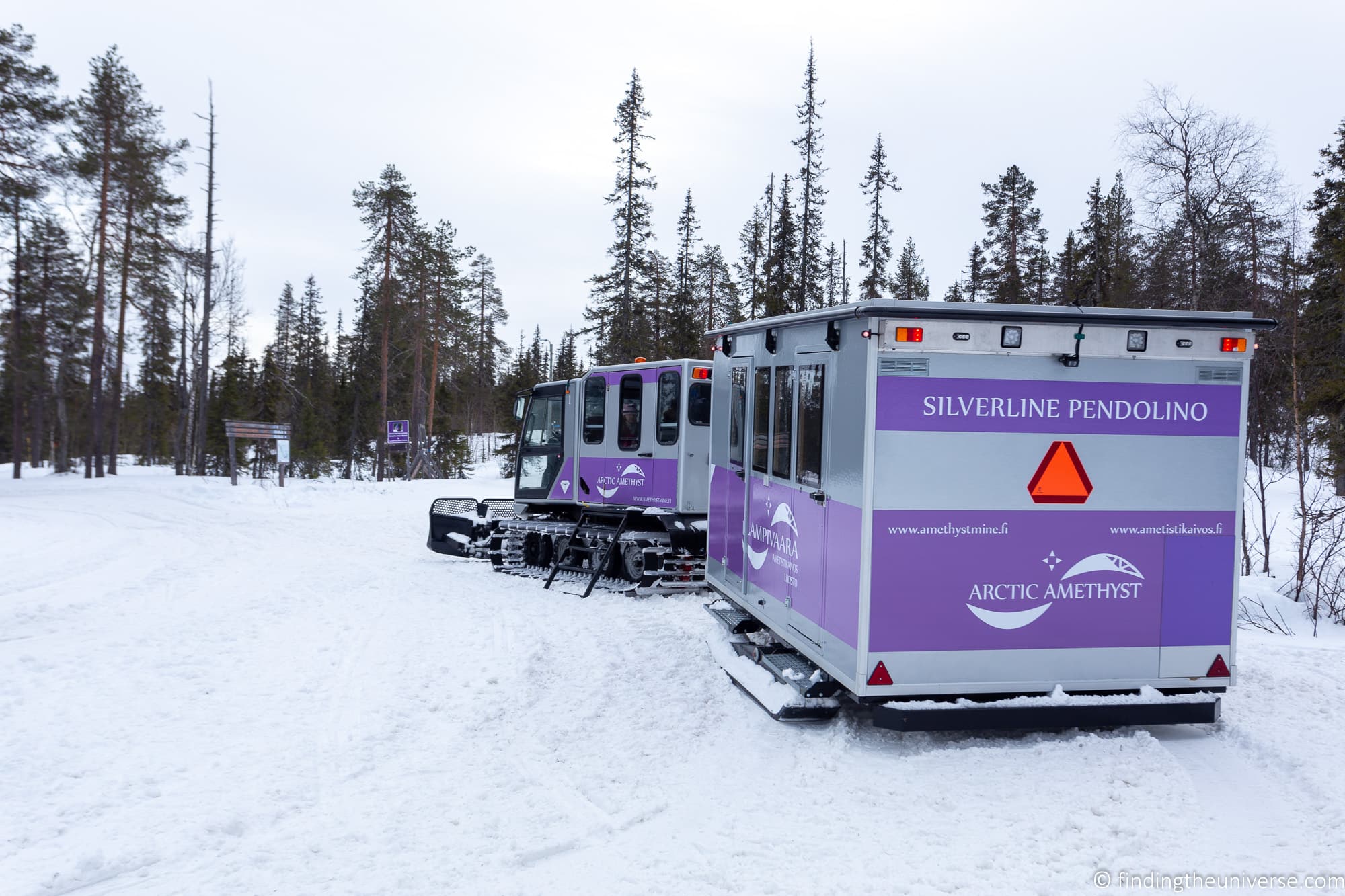 Of course, there's lots more to do be in Rovaniemi and surrounds beyond everything we've listed here, which is why we think it makes for a great base to explore. For more inspiration, see our guide to things to do in Rovaniemi.
Days 6 & 7: Head North
From Rovaniemi, my suggestion is to head further north into Lapland. This will give you even more chances to see the Northern Lights, as well as stay at some really unique and more remote locations.
You'll also have more chances to do lots of winter activities including dog sledding, ice fishing, ice karting, seeing Santa, staying in ice hotels, spending time in a Finnish sauna, snowmobiling, and skiing.
As always, you have choices for where you decide to go! Here are our three suggested options for you to choose from, depending on your interests. Of course, if you are driving yourself, you can visit more than one of these options.
Saariselka
The first option you have is to head north to Saariselka. This is found 250km / 155mi north of the arctic circle, making this an excellent place to see the Northern Lights.
You can reach Saariselka by car or public bus from Rovaniemi. There's also Ivalo airport, 25km to the north of the city, which has services to Helsinki and other European destinations.
When we visited Saariselka, we stayed in the Kakslauttanen Arctic Resort. This is one of the most popular places to stay in a glass igloo in Finland, and was where the concept of glass igloos first originated.
I stayed in a glass igloo at Kakslauttanen, and it was a night I will never forget.
Naturally there's more to Kakslauttanen than glass igloos. The resort has a wide range of accommodation options, depending on what you are interested in. I can definitely recommend staying in a glass igloo for one night on your trip just for the experience. There's also a range of winter activities available here.
You can see our full review of Kakslauttanen here.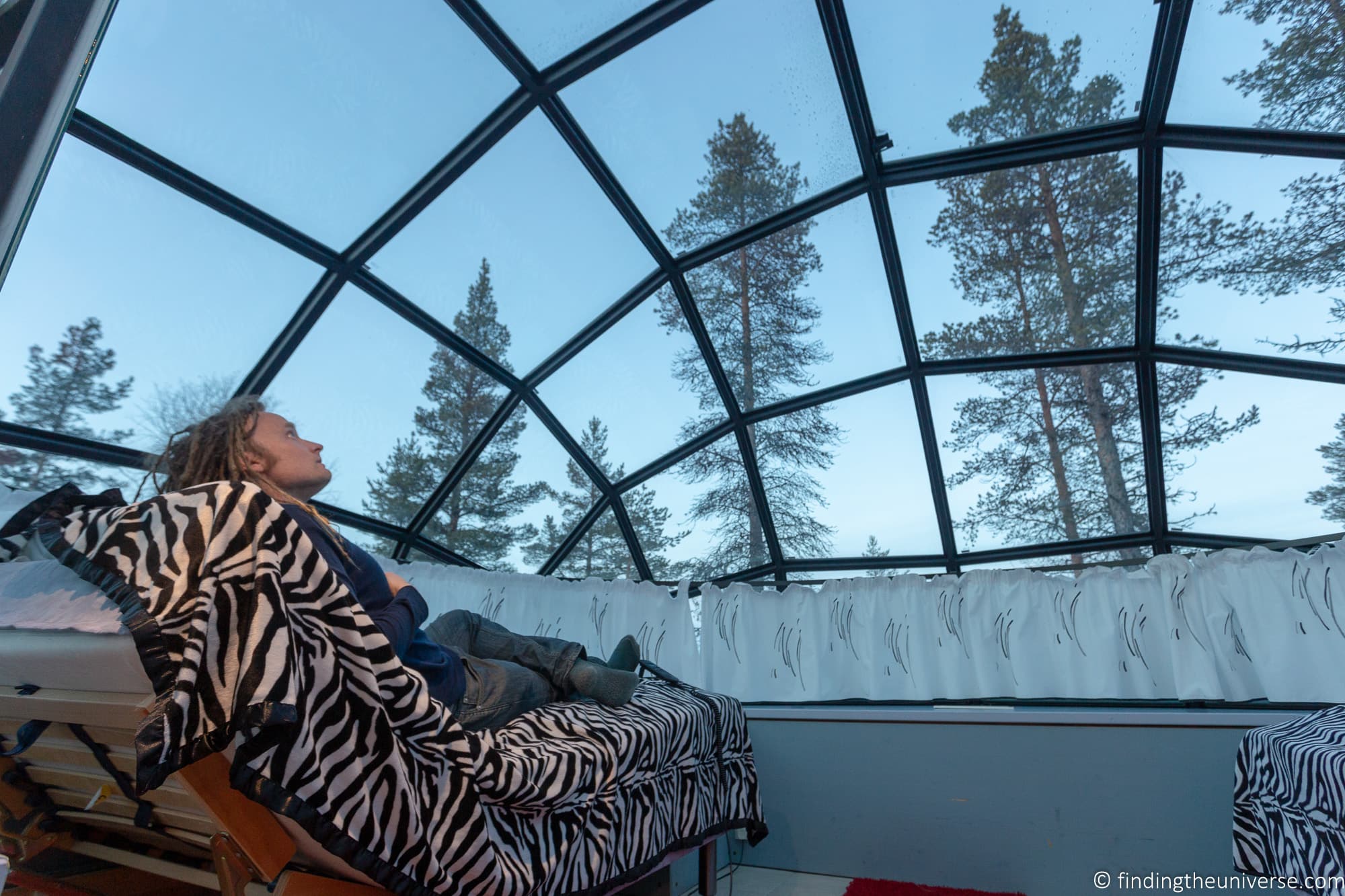 Where to stay in Saariselka
Whilst we very much enjoyed our stay at Kakslauttanen, it's not the only option in Saariselka. You might consider one of the following options:
During your time visiting Saariselka you'll find plenty to do to keep you occupied. If there are any winter activities you want to take part in, you can of course do them, including snowmobiling, ice fishing, husky sledding, snowshoeing and more. Naturally, you'll also want to spend time searching for the Northern Lights!
Most accommodation providers will be able to arrange these activities for you directly.
Another popular area you can visit from Saariselka, either as a day trip or overnight, is Inari. This is a little further north, and is in fact home to Finland's northernmost holiday resort.
This is a very sparsely populated region, and is a focal point of the Sámi culture. You can learn about this culture and people at Siida, home to the Sámi Museum and the Northern Lapland Nature Centre. This is open throughout the winter on every day except Monday, and there's a fee to visit.
Kittilä
Another option is to visit the Kittilä region. This is a particularly good option if you enjoy skiing or snowboarding, as it's home to Levi, Finland's largest ski resort.
So if you want to get some skiing or snowboarding in on your trip to Finland, this would be the best place to do just that.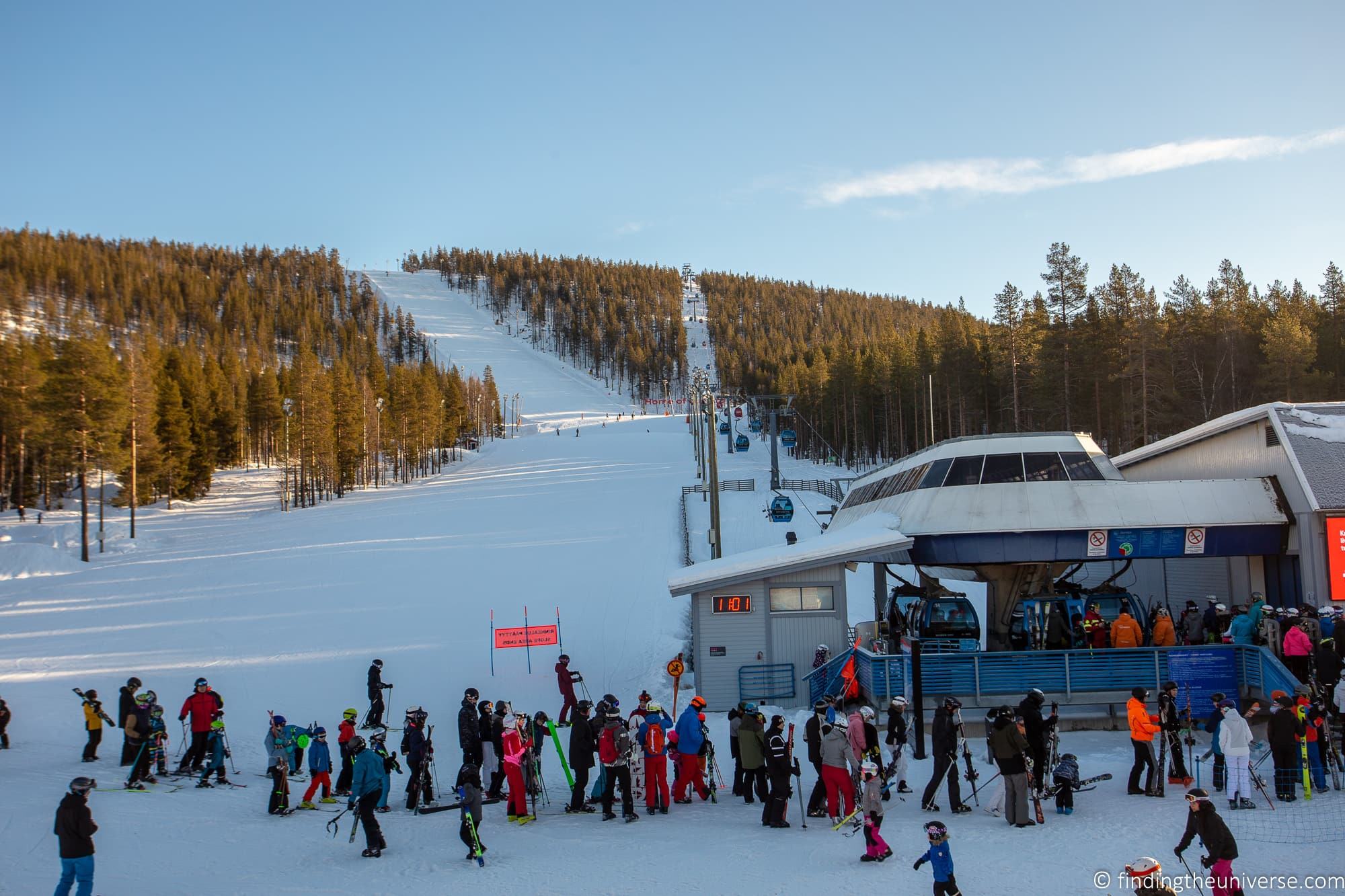 There's lots more to do in the Kittilä area than skiing though.
The area is popular for a range of winter activities, with hiking and cross-country skiing in Pallas-Yllästunturi National Park being a popular option. You can also go snowshoeing, ice fishing, ice karting, husky sledding and snowmobiling of course!
In Lanio, you'll find the Lapland Hotels SnowVillage. This village is made every year from thousands of tonnes of ice and snow, and features a hotel, restaurant, bar, and even a chapel. There are also log cabins on site. You can stay here overnight or just visit for the day. The theme varies each year, with 2018-19 having a Game of Thrones focus.
Another excellent attraction that we enjoyed visiting in Kittilä was Samiland. This is found at Levi Summit, which you can reach by taking a lift from the ski resort.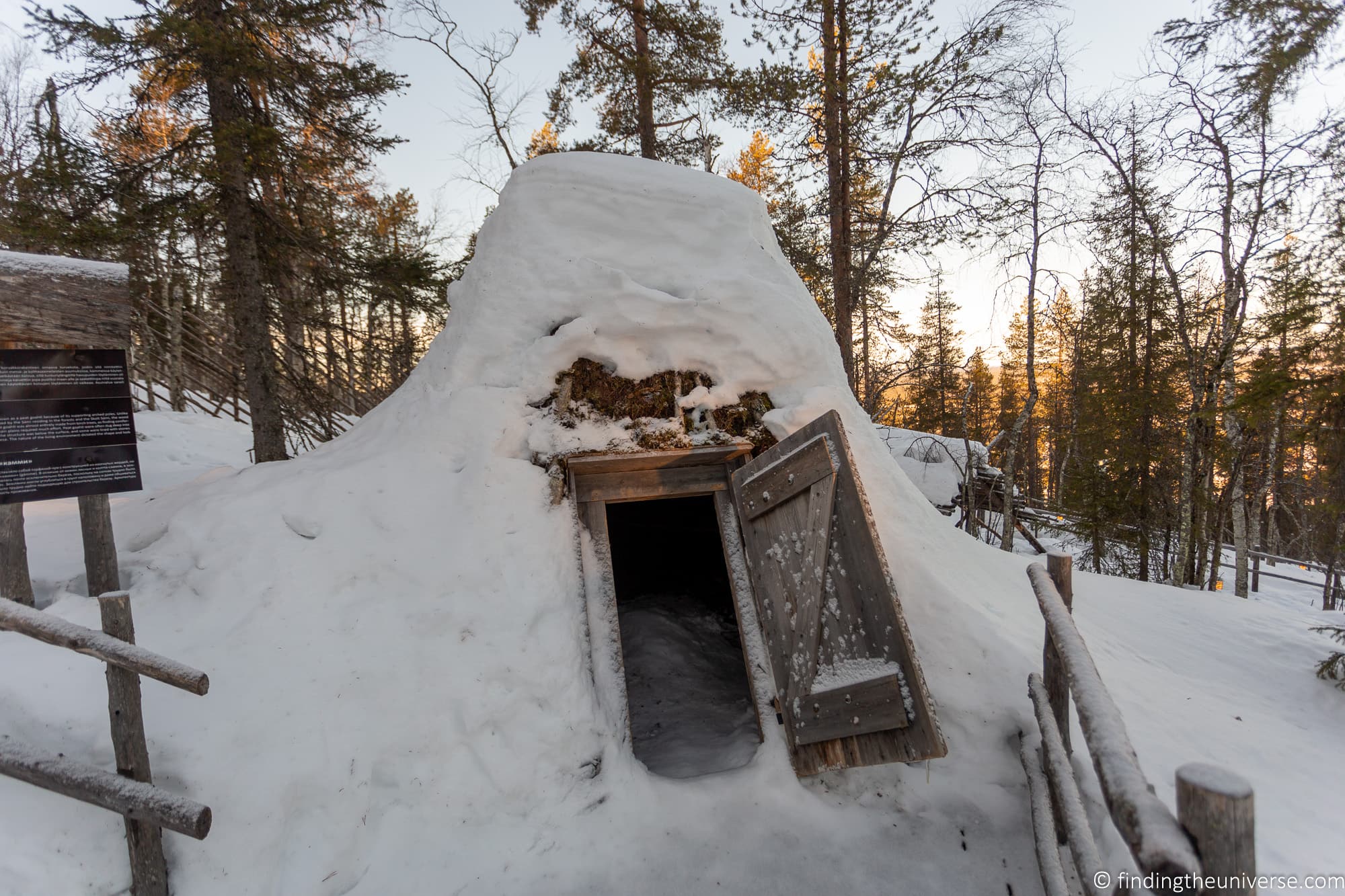 Samiland features an indoor and outdoor exhibit space dedicated to the Sami people, and covers the history, culture and mythology of the people, as well as their traditional building and mythology. There's a small entry fee which is well worth it.
You can reach Kittilä by car or bus from Rovaniemi. The distance is 150km / 93mi. Kittilä airport serves Kittila/Levi, with flights from Helsinki and a number of destinations across Europe.
Where to stay in Kittilä
There are a range of accommodation options in Kittilä. Some options to consider are as follows.
Wherever you choose to go from Rovaniemi, we think that spending your last couple of days deep inside the arctic circle, chasing the Northern Lights and taking part in more winter activities, would be the perfect way to end your trip in Finland.
Then, you can return to Rovaniemi, drop off your hire car if you have one, and fly home. Alternatively, there are flights available from Kittilä or Ivalo airports.
That's it for our winter itinerary of Finland! Now we want to share some practical advice to help you plan your trip.
Map of 7 Day Finland Winter Itinerary
To help you visualise this itinerary we've put together a map, which you can also see on Google Maps here.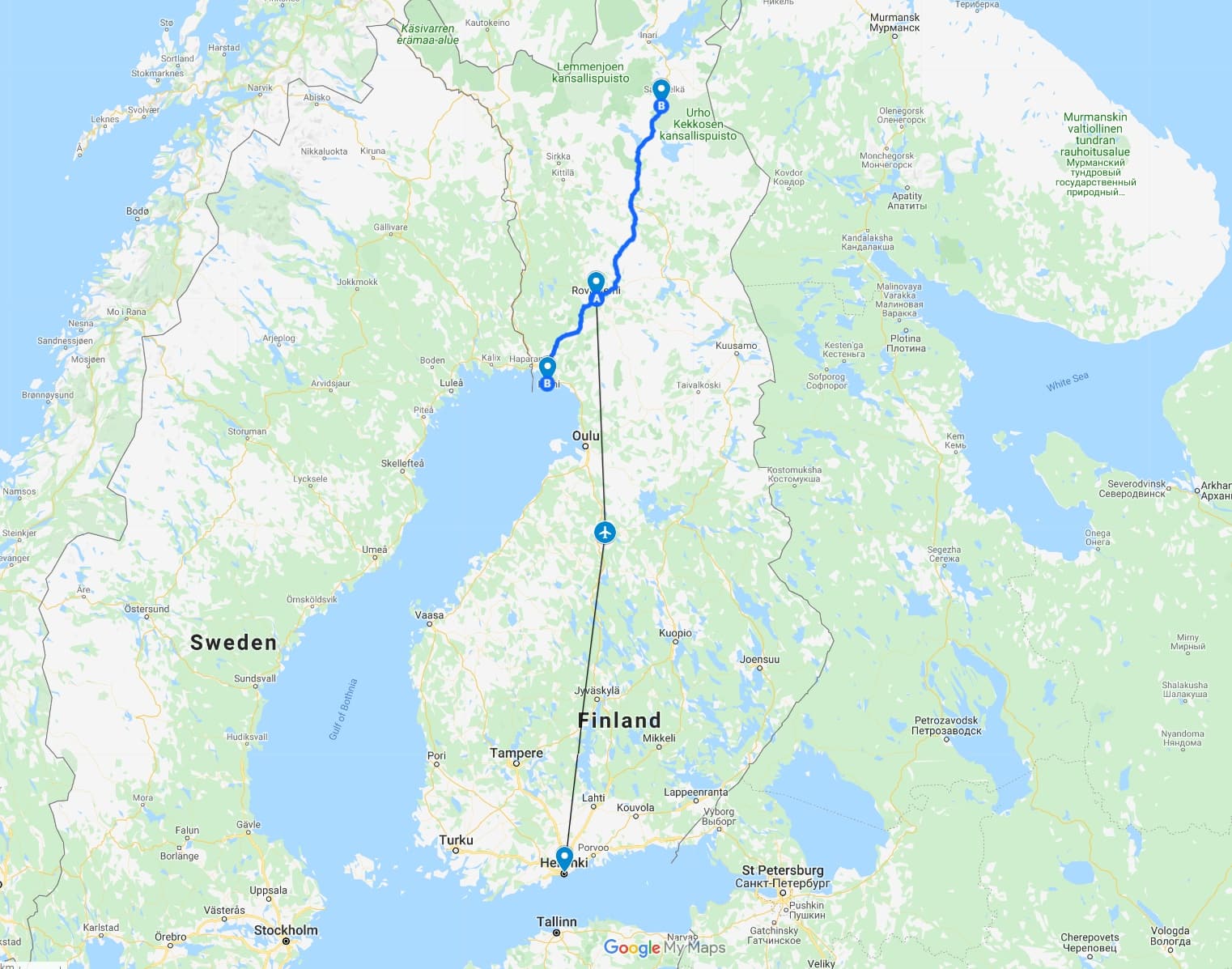 Finland Itinerary Overview
Here's an overview of this itinerary for quick reference:
Day 1: Helsinki – Helsinki City Museum, Helsinki Cathedral, National Museum of Finland
Day 2: Helsinki – Suomenlinna Sea Fortress, Helsinki Skywheel, Uspenski Cathedral, Old Market Hall
Day 3: Rovaniemi – Santa Claus Village, Husky Tour, Arktikum
Day 4: Rovaniemi – Day trip on Sampo ice breaker, Northern Lights
Day 5: Rovaniemi – Snowshoeing, ice fishing, snowmobiling, husky sledding, amethyst mine
Day 6 & 7: North Finland – Saariselka, Kittilä
How to Get Around Finland in Winter
You might be wondering what the best way to get around Finland in winter is.
Well, you have a number of options.
For longer distances, such as the trip between Helsinki and Rovaniemi, we would recommend either taking the train or flying.
Flying will be the fastest option, and is likely to be the cheapest as well if you book well in advance. You can check flight times and prices, and book online here. For the train, you can see timetables and book online here.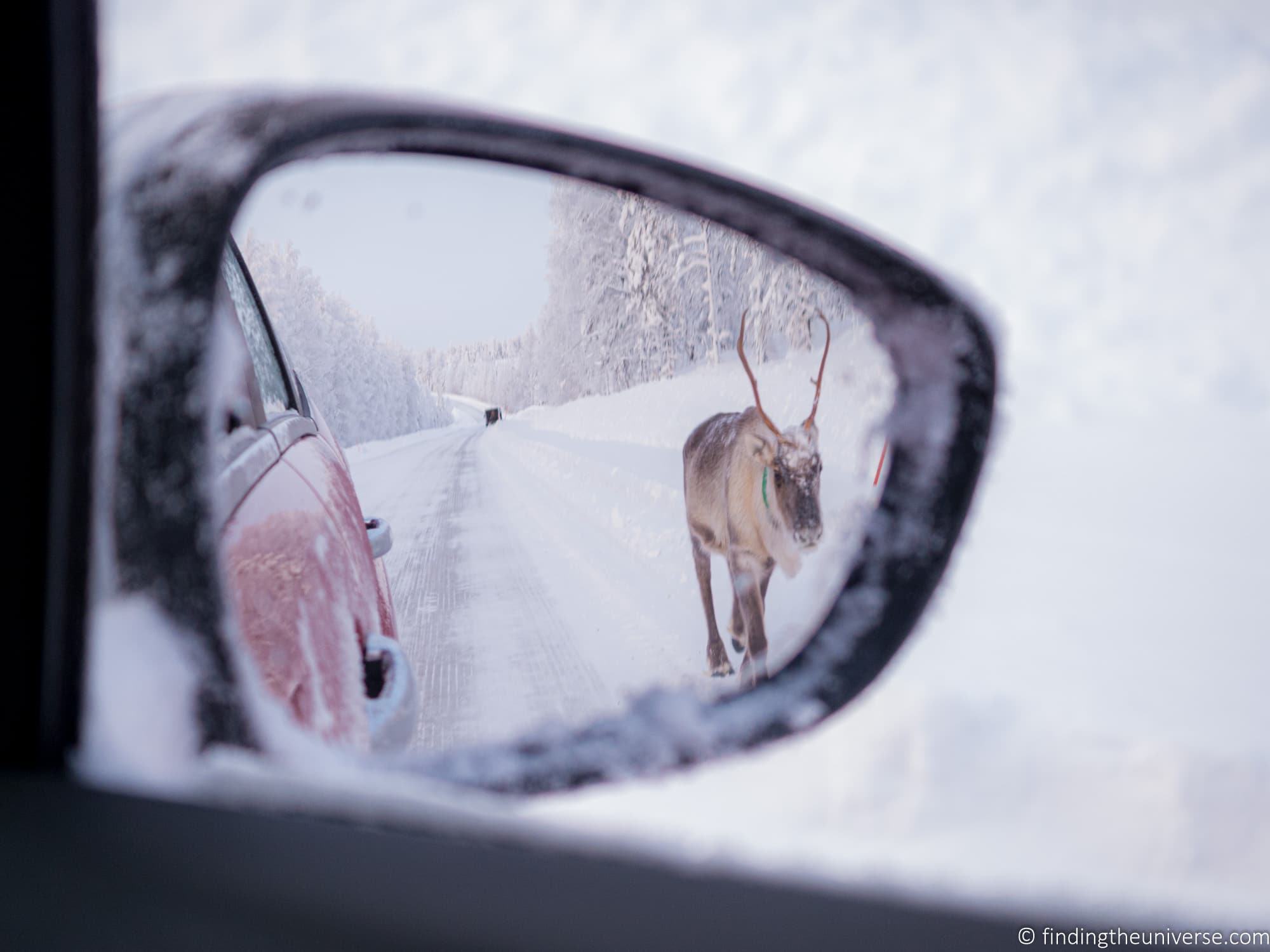 For shorter distances, such as exploring around Rovaniemi and getting between the sights on our itinerary, you have a couple of options.
First, you can rent a car and drive. We prefer to self-drive when we travel where possible as it gives us more flexibility with what we stop to see, where we go and when we leave.
Car rental in Finland is comparable to other parts of Europe. In winter, cars will come with studded tyres, and the roads are well maintained.
If you want to drive in Finland using this itinerary, we'd recommend hiring a car in Rovaniemi for pickup from the airport. You can compare car rental prices and book online here.
Of course, we appreciate that driving in the extreme winter conditions that Finland experiences is not going to be for everyone. With this in mind we have set this itinerary up so you don't have to drive if you don't want to.
By combining public transport and a variety of tours which include transport, you can absolutely experience Finland in winter without needing to hire a car or worry about driving.
Tours of Finland in Winter
If you love the sound of the trip I've put together, but don't like the thought of planning it all out, booking activities, hotels and transport, then you might consider taking a tour instead.
There are of many tour options to consider, which we have summarised as follow.
Hopefully one of these works out for you if you choose to take a tour of Finland in winter!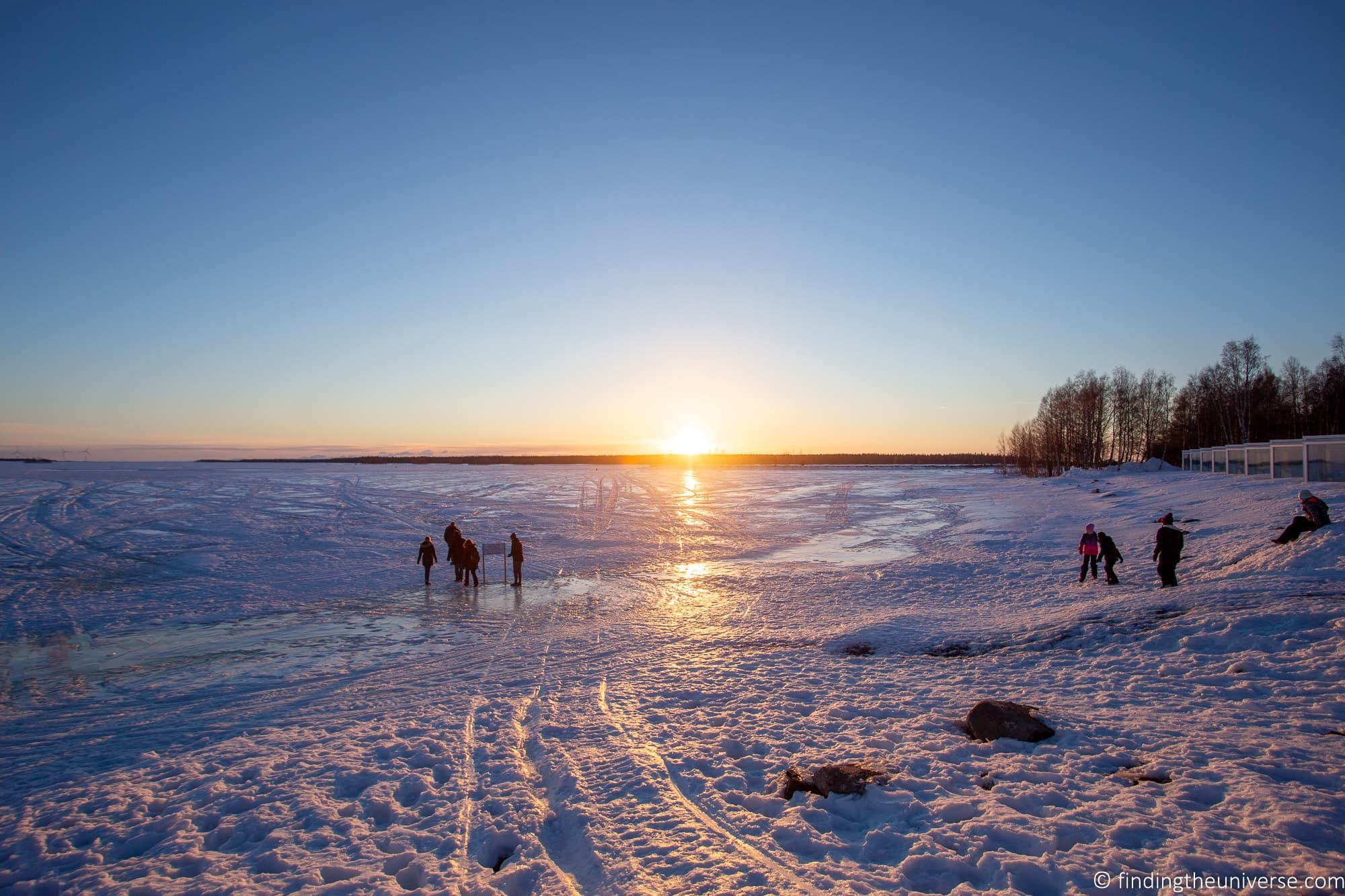 Further Reading for Visiting Finland in Winter
And that's it for our one week winter itinerary for Finland. We hope it's given you lots of ideas to help you plan your trip. Before you head off and start booking your adventure, we did just want to share with you some more resources we've put together on our time in Finland, to help you with your planning.
And that's it for our 7 day itinerary for Finland in winter. As always, we are happy to answer your questions – just pop them in the comments section below and we'll get back to you as soon as we can.