The city of Rovaniemi is found just within the Arctic Circle in Finland. This location makes it the perfect place for taking part in a range of winter activities in Finland.
Whilst it's popular in winter for things like Northern Lights watching, husky sledding, and snowmobiling, there's a lot more to Rovaniemi than just winter activities.
pri
There are some excellent museums and other cultural attractions as well as a great food and cafe scene. Being surrounded by nature means there's also plentiful opportunities for hiking and cycling throughout the warmer months as well.
We've visited Rovaniemi a number of times, and wanted to share with you some of our favourite things to do in Rovaniemi in both winter and summer to help you plan your own trip.
As well as things to do, we're also going to share some tips on where to stay, how to get here and away, and some suggested tours. This should give you all the information you need to visit Rovaniemi, whatever the time of year.
Things to do in Rovaniemi
This list of things to do in Rovaniemi covers a range of activities. Rovaniemi has for a long time been most popular as a winter destination. As a result a number of the activities in this list are winter specific.
However, there is lots to do year round, so don't count Rovaniemi out as a summer destination. Many of the activities and attractions below are possible at any time of year.
Visit Santa (Year Round)
Rovaniemi's most famous resident has to be Santa Claus. Yes, the man himself has his home base just outside Rovaniemi at the Santa Claus Village.
There is a lot to do at the Santa Claus Village. First, of course, you can actually Santa in the Santa Claus Office. And this is something you can do year round!
Wd did this and I have to admit it was a lot fun meeting Santa and his elves. You can meet Santa every day, and doing so is free of charge. However, if you want photos and/or video, there's a fee for this.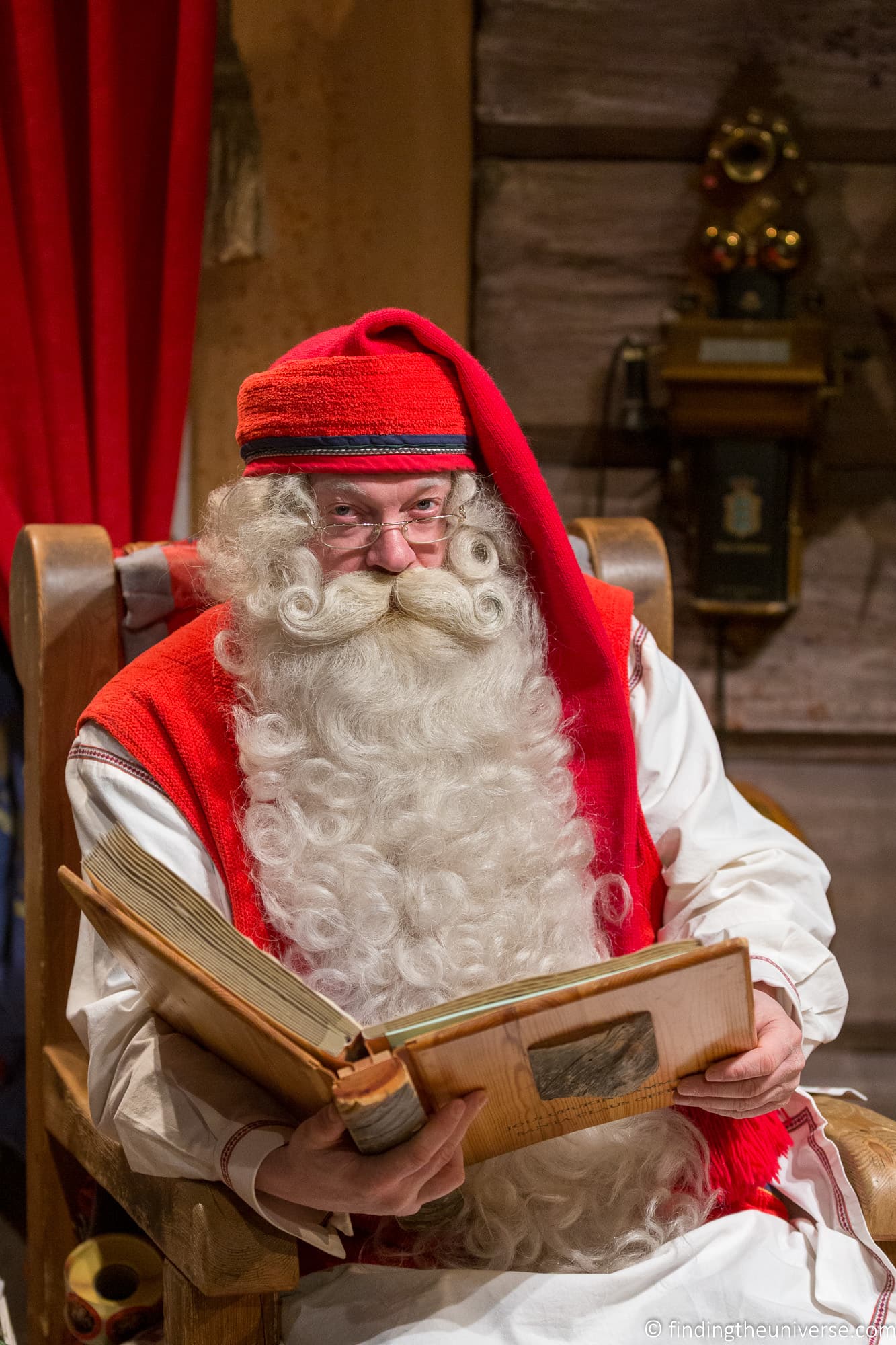 After meeting Santa, you will probably want to visit his post office. This is the heart of Santa's operation, and if you write a letter to Santa, this is where your letter is going to come!
Santa's post office has a range of cards, gifts and stamps. There were two things I really like. First, you can order a Santa Claus letter. This is a letter that Santa himself will send just before Christmas to any address in the world, and it makes for a really fun gift for a friend or relative.
You can also write your own Christmas cards and put them into the special red post box. These will be kept and mailed just before Christmas. So you can get all your Christmas wishes sent in advance!
Whichever option you choose, Santa's Elves will stamp it with the Arctic Circle postmark so the recipient will know where it came from.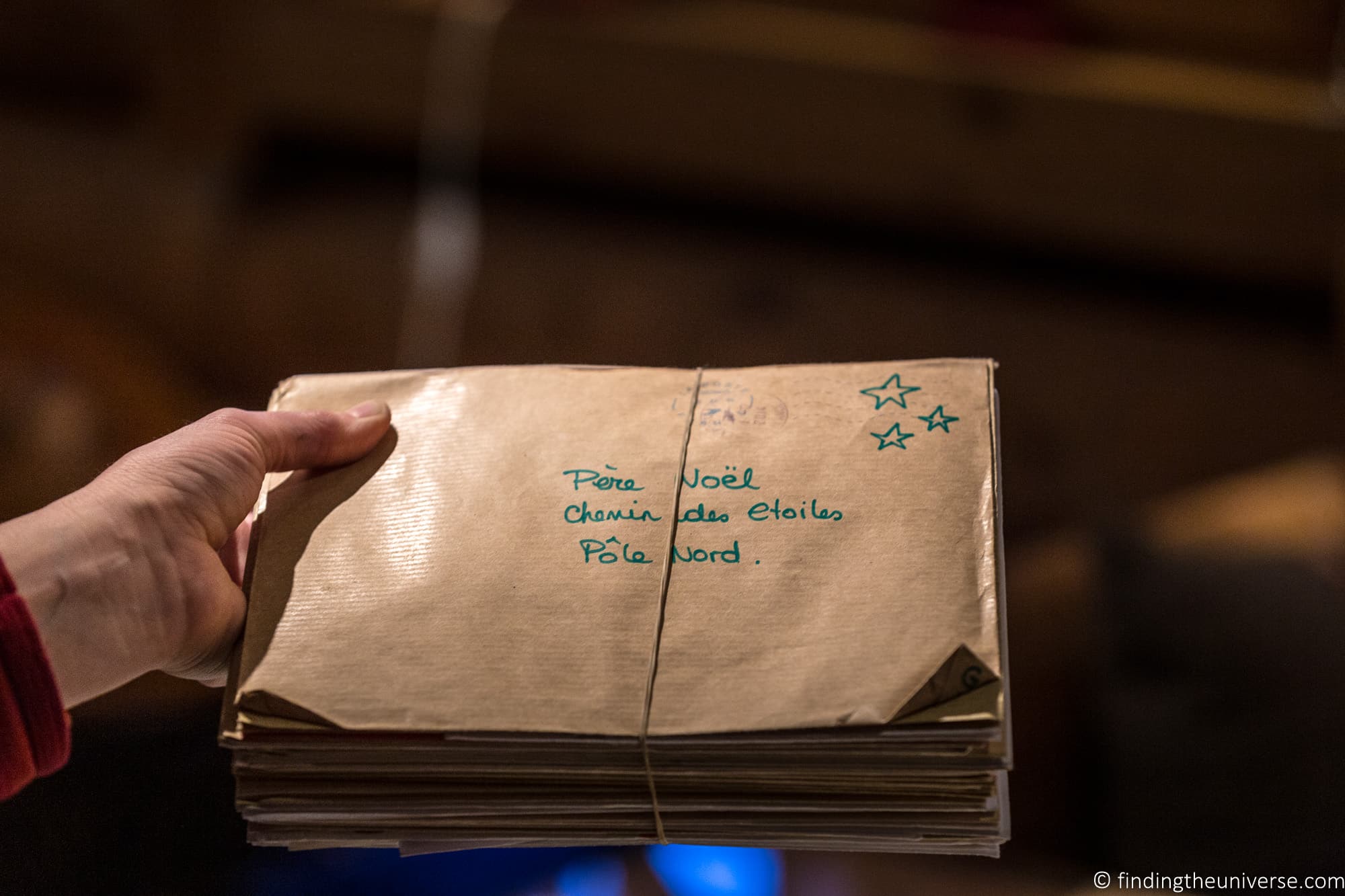 So what else can you do at Santa's Village? Well, quite a lot!
First, you can take your picture standing on the Arctic Circle marker, to show you made it to the Arctic Circle.
The Arctic Circle is a line of latitude which runs around the earth. Above the arctic circle you get the true midnight sun, meaning that in summer the sun will be visible 24 hours a day for at least one day of the year. Conversely, in winter you will get at least one day where the sun never actually rises!
Once you've had your photo taken, there are a few more activities you might be interested in.
Some of these will vary in availability depending on the time of year, but you can meet Santa's reindeer, have a reindeer ride, take a husky ride, or go snowmobiling.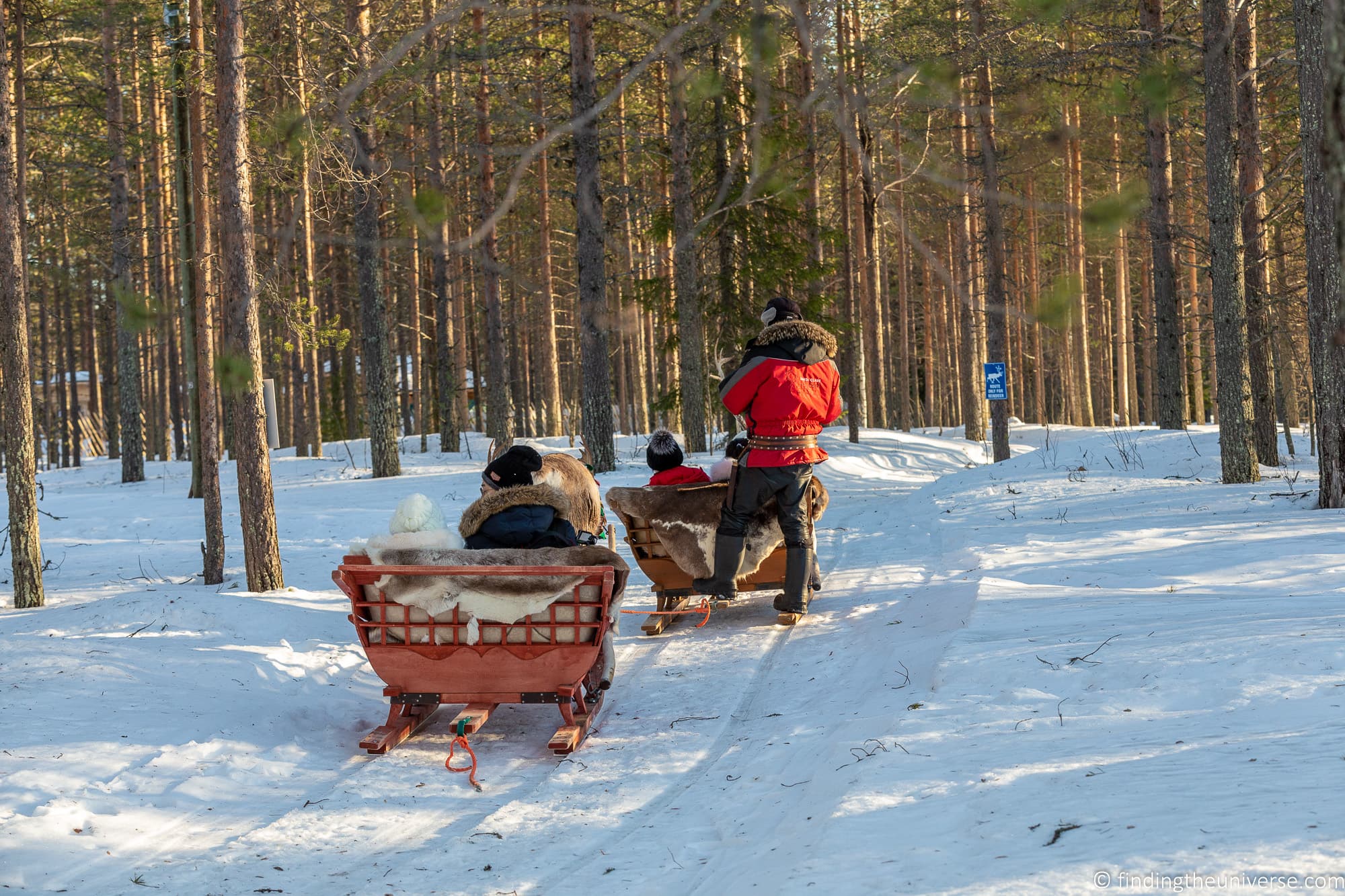 In summer, there are no rides but you can meet the huskies and the reindeer
There's also a small on-site snow play park called Snowman World, a snowmobile museum, shops and restaurants, as well as a number of accommodation options including glass igloos.
Suffice to say, there is a lot to do at the Santa Claus Village, and it's a good option for a base with plenty of activities on hand.
Northern Lights Watching (Winter Only)
If you visit Rovaniemi from late August through to mid April, then you are absolutely going to want to try and see the aurora borealis, also known as the Northern Lights.
This incredible phenomenon can be seen from all over Finland, but the further north you are, the better your chance of seeing them. Being on the Arctic Circle, Rovaniemi is an excellent place for Northern Lights watching.
To see the Northern Lights, you need a few things. You need a clear sky, you need recent solar activity, and you need to be away from man-made lightning.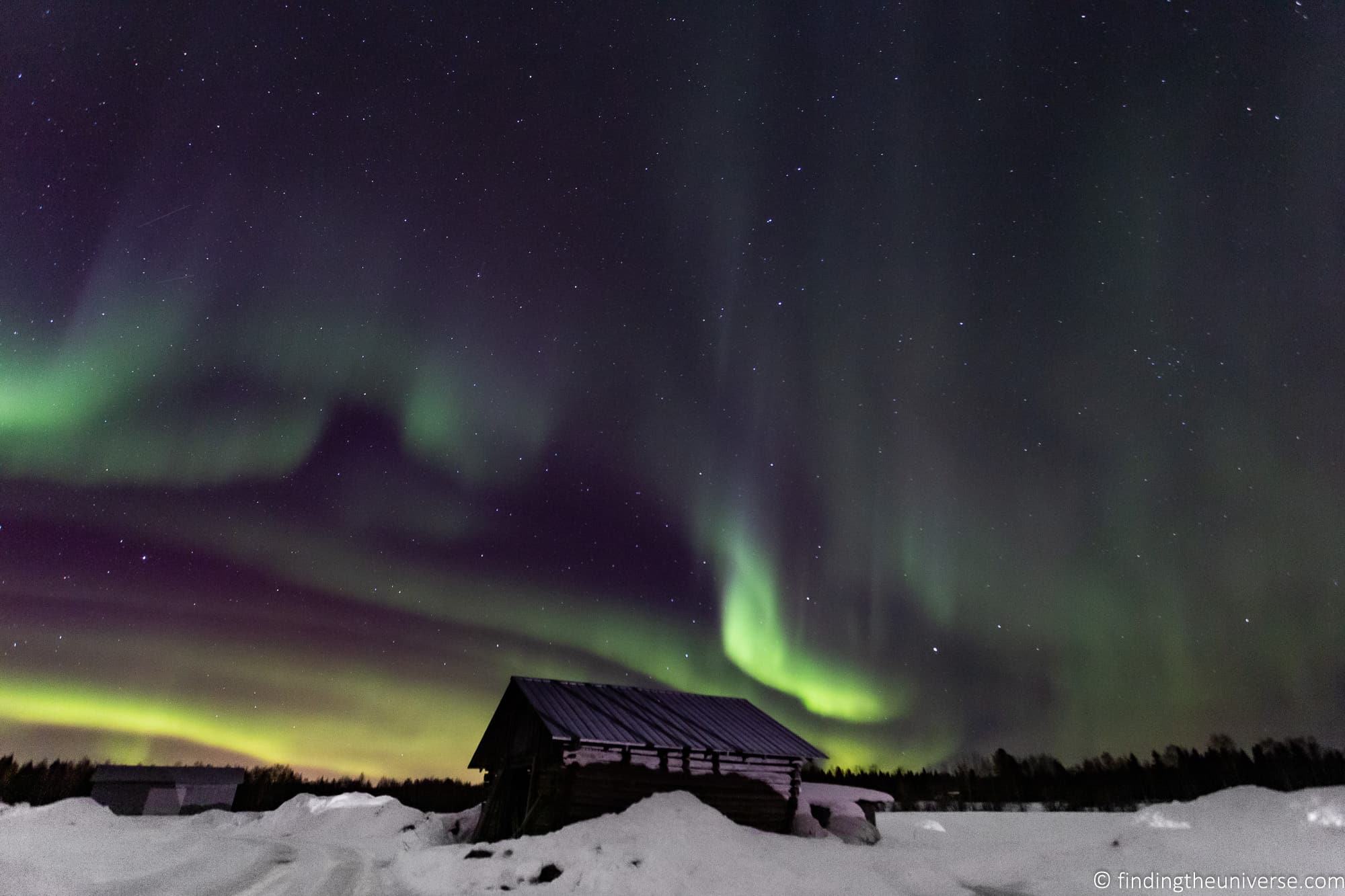 If you want to photograph the Northern Lights, you'll also want a camera that can take long exposures like a mirrorless camera or DSLR camera, and a tripod. I have a full guide to photographing the Northern Lights that will give you all the information you need to get great photos, including camera settings and suggested equipment.
If you are in Rovaniemi, you don't need to go far out of the city to see the lights. If you head down to the lake shore by Arktikum, this can be a good place to see them. Just be sure to wrap up very warmly as it gets very cold in Finland in winter. See our guide to what to pack for Finland in winter for some tips for what to bring to keep you warm.
A better option for seeing the Northern Lights is to take a specific tour. There are quite a few of these, but they should all get you to a good viewing spot away from the lights of the city where you can get a nice unobstructed view of the display. Some tours will include warm clothing as well.
I took a snowmobiling tour in Rovaniemi to see the northern lights, which was a lot of fun. Driving a snowmobile is really fun anyway, and using them to get to a great viewpoint for the Northern Lights is just a bonus.
It's also possible to take other forms of transport to see the Northern Lights, from snow shoes to reindeer sleds.
Here are some tours from Rovaniemi to see the northern lights that you might consider.
Finally, another popular way to see the northern lights is to stay in a glass igloo like these. These glass built buildings offer comfortable accommodation with a clear glass roof.
This means you can watch the northern lights whilst you're in bed! See the section of this post on glass igloos for options near Rovaniemi.
Whatever option you choose, even if you take a Northern Lights tour, it's worth bearing in mind that there is no guarantee of seeing the Northern Lights. You need the right conditions in terms of clear skies and good solar activity.
Some tours offer the option to take a second tour if the tour is unsuccessful, but this isn't always the case, especially for the tours which offer combined activities.
Experience the Midnight Sun (Summer Only)
If you visit Rovaniemi in summer, especially around the time of the summer solstice in June, then you will have a chance to experience the midnight sun.
This is the time of year when the sun doesn't actually go below the horizon, so even at midnight on the 21st or 22nd June, the sun will not set.
Even if you don't visit on these exact dates and the sun does go below the horizon, it will only be for a brief period and it won't get dark. So you'll be able to watch sunset and sunrise within minutes of each other. This is pretty cool, and makes for some nice light for photography as well.
One thing to be aware of when visiting Rovaniemi at this time of year is that sleep can be difficult. Not every accommodation you stay in is guaranteed to have black out blinds or curtains. If you find it difficult to sleep in a bright room, you will likely want to bring along an eye mask.
We love our eye mask from Manta Sleep which is the only one we've found that is both comfortable and actually blocks out all the light. However there are lots more options online.
Arktikum (Year Round)
Before I get carried away with all the winter activities in Rovaniemi, I do want to make it clear that there's lots to do in Rovaniemi in the other seasons as well. There are lots of excellent museums and other outdoor activities that you can experience too.
First of these that I'm going to recommend is Arktikum. This is both a museum and a science center, and the building itself is also impressive.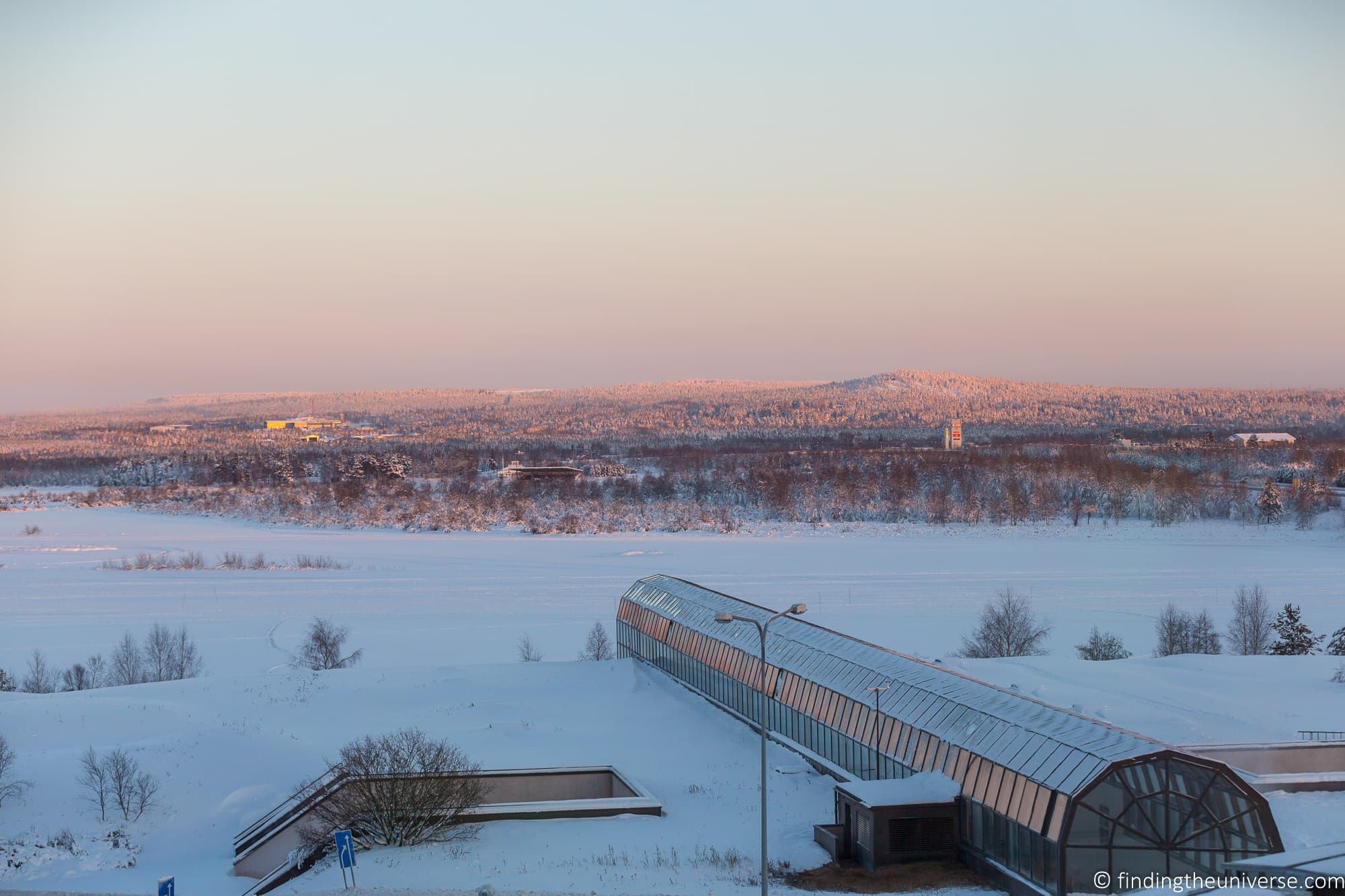 There are a number of exhibitions you can see in Arktikum. Permanent exhibitions include Northern Ways, which tells the story of the people and history of Lapland, as well as the animals and nature in this region.
Arctic Change is another permanent exhibition which focuses on the most northerly region in the world, and how life has evolved to live here. It also covers the challenges faced by this region such as climate change and globalization.
There are also other exhibits, both permanent and temporary, as well as a café. Arktikum is open throughout the year but opening hours vary depending on the month. In some months it's closed on Mondays. You can see opening hours and other information for your visit here.
There's a fee to visit Arktikum. If you plan on visiting a few museums in Rovaniemi, then you might consider the Rovaniemi Culture Pass which includes admission to Arktikum, Korundi and Science Centre Pilke. You can buy this from any of these three attractions.
If you're in Finland visiting more locations, including Helsinki, then you might instead want to invest in the Finland Museum Card. This covers access to 300 museums across Finland and is valid for a year, and it covers all the major museums in Rovaniemi.
Pilke Science Centre (Year Round)
The forests in Finland are a big part of life in the country, with forestry being a major part of the Finnish economy.
If you want to learn all about forestry in Finland, you will want to visit the Pilke Science Centre, which is just next door to Arktikum.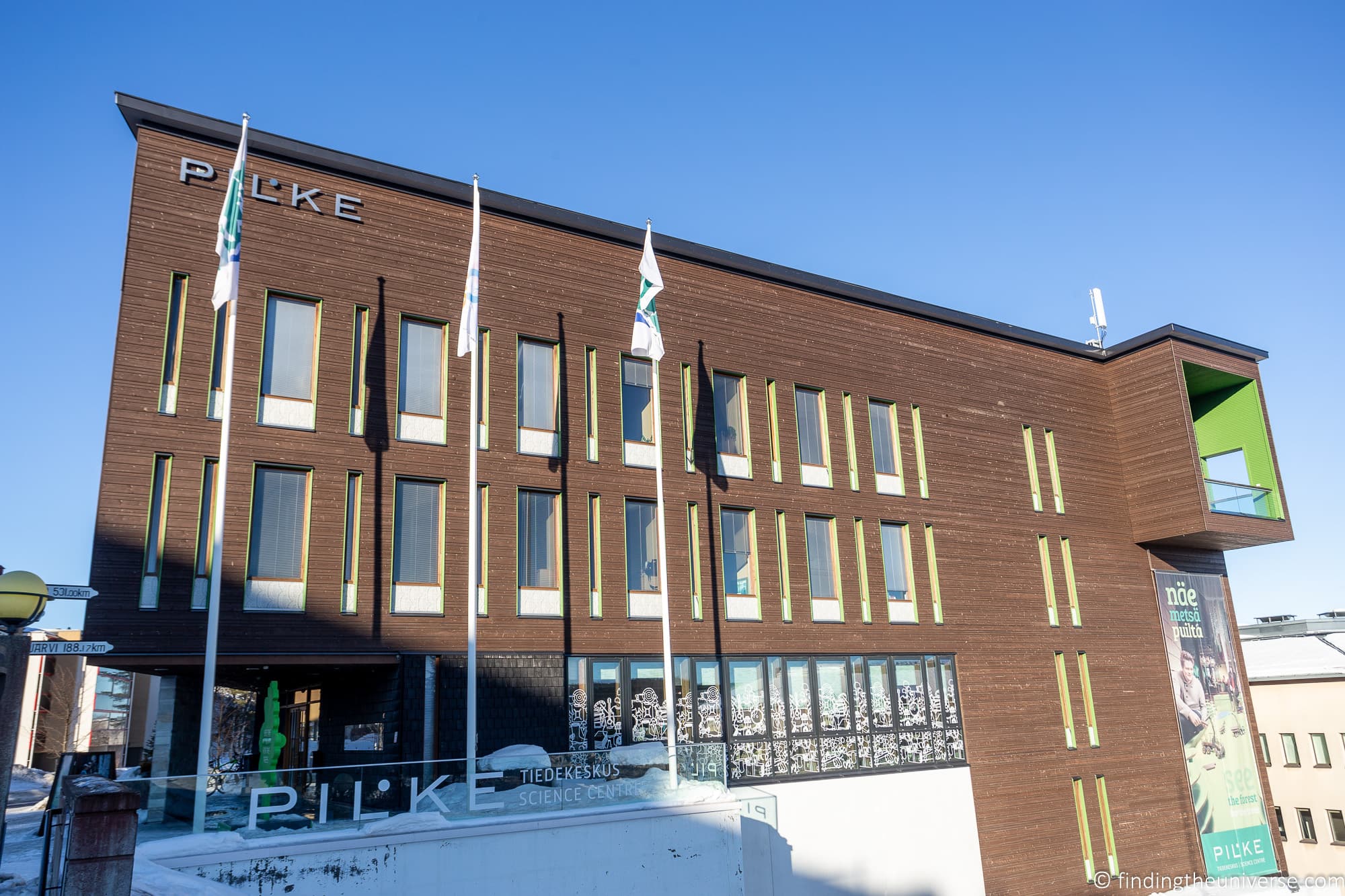 There's a lot to do here, with a focus on hands on activities. My favourite thing was by far the forestry machine simulator. This features an actual cockpit from the large forestry machines that are used to cut trees.
In the real world these take years to fully master, so they aren't exactly something you can normally have a go on. But the simulator was a huge amount of fun!
There's plenty more to see and do here, and this is a really family friendly experience. There's also a cafe on site.
The Pilke Science Center is open year round, but is closed on Mondays during parts of the year. You can see all the opening times and prices here. There's a fee to visit, and it's also included on the Rovaniemi Culture Pass and Finland Museum Pass.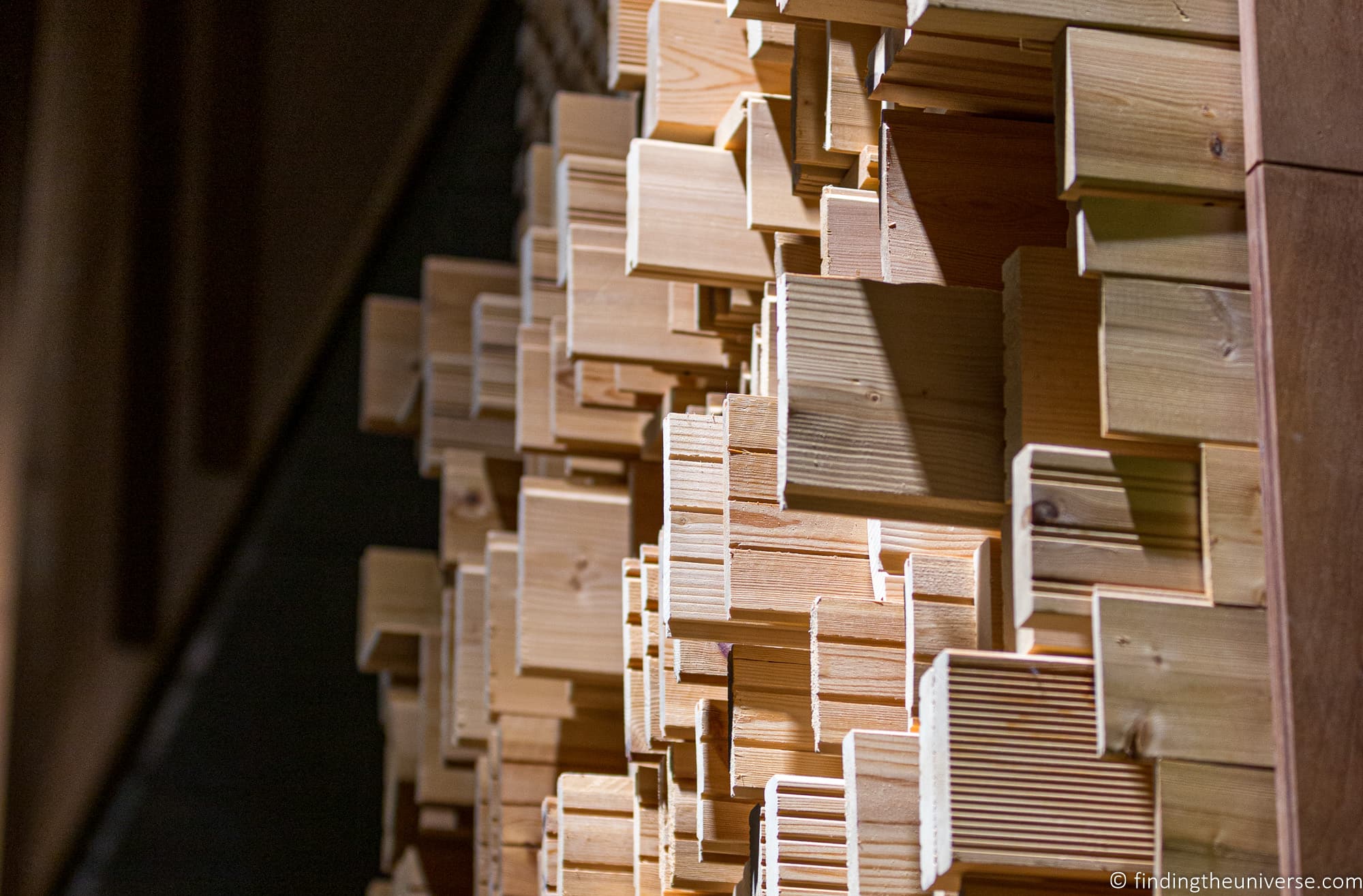 Snowmobiling (Winter Only)
One of my absolute favourite winter experiences in Finland was snowmobiling. The first place I tried snowmobiling was in Rovaniemi, where I took a night time snowmobiling tour to see the northern lights.
I then took more snowmobiling tours, including a number of day and night tours during our time staying at Iso-Syote.
Every time I thoroughly enjoyed the experience, and I am sure you will too.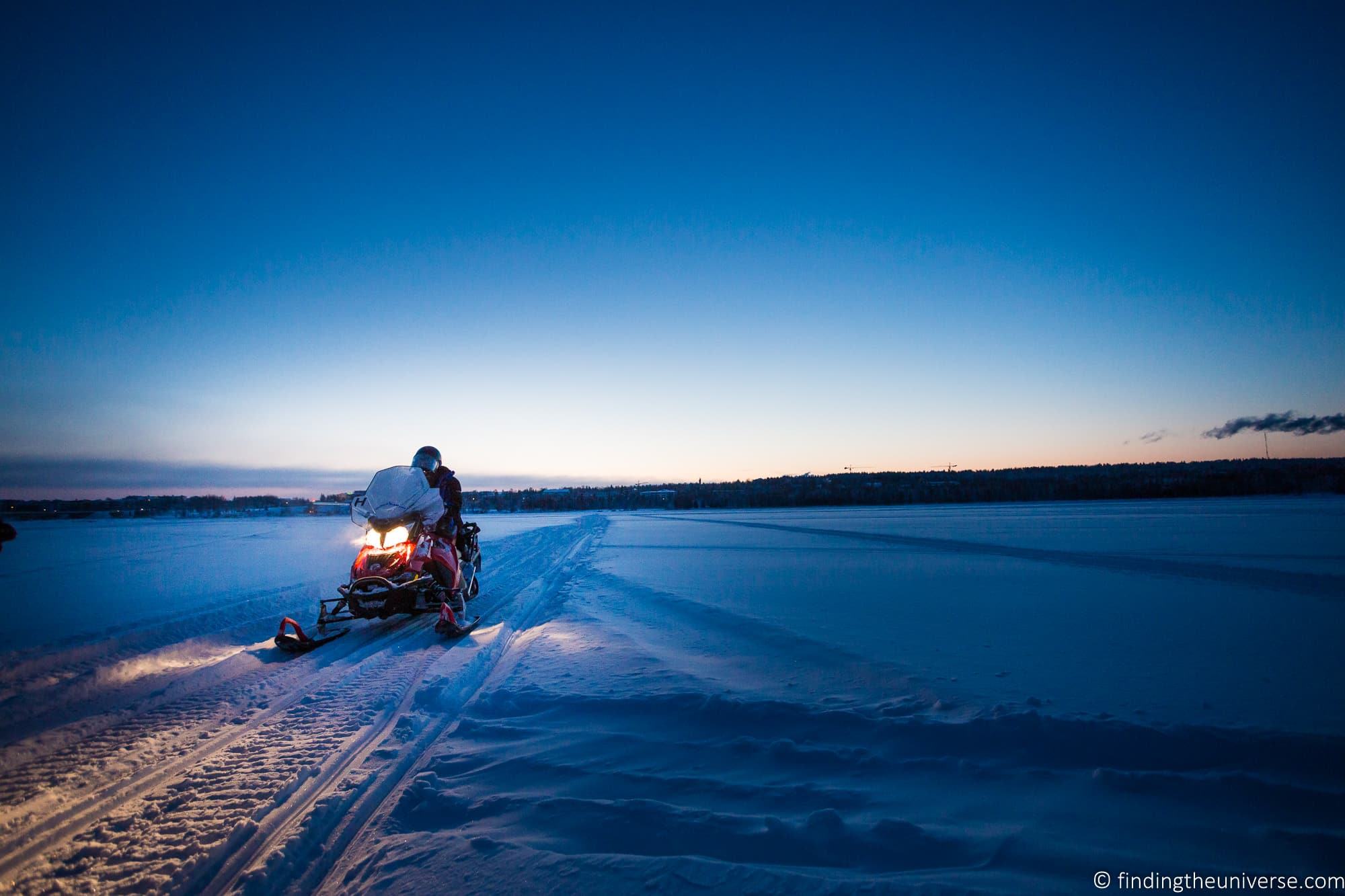 There are no shortage of snowmobiling tours to take in Rovaniemi. Many of them include other activities, like a visit to a reindeer farm, Northern Lights viewing, ice fishing or the opportunity to meet huskies.
So really the main decision is how long you want to go for, and which additional activities you are interested in. We'd recommend choosing a tour that runs for at least 2 hours so you can really enjoy the experience.
It's also worth bearing in mind that most snowmobiles hold two people, so obviously one will be the driver and one will be the passenger. So a longer tour will give you both plenty of chances to drive. Alternatively you can usually pay a supplement to have your own snowmobile without a passenger.
Here are some options to consider:
Note that generally snowmobiles can't be driven by children under the age of 15, and there are also restrictions on children as passengers. If you are travelling as a family, you will want to check that the tour allows children, like this one.
Alternatively, there's a child friendly mini snowmobile course at Santa's snow village, available for children from 4-13 years. You can see more information on that here.
Finally, snowmobiling isn't possible in the summer as there's no snow. However, you can still go quad biking on a tour like this, which is also a lot of fun!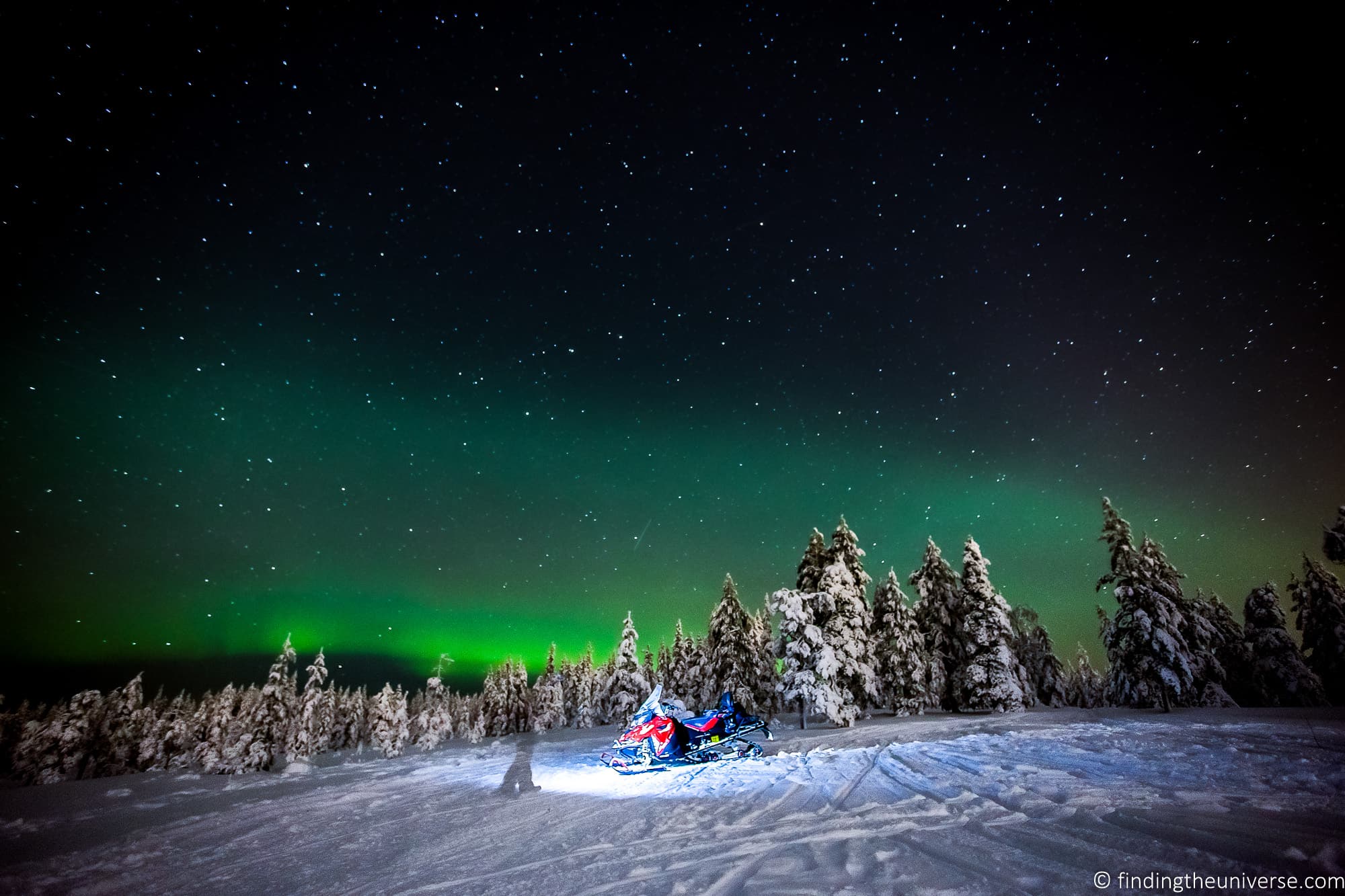 Architectural Highlights
Lovers of architecture will enjoy their visit to Rovaniemi. The city was almost razed to the ground during World War 2, but as a result of this destruction, there was scope for a new city to rise.
Many of the buildings and features that you can see today in Rovaniemi were designed by Alvar Aalto, one of Finland's leading architects of the 20th century. He was responsible for the Aalto Centre, which includes the City Hall, City Library, and Rovaniemi Theatre, amongst other buildings.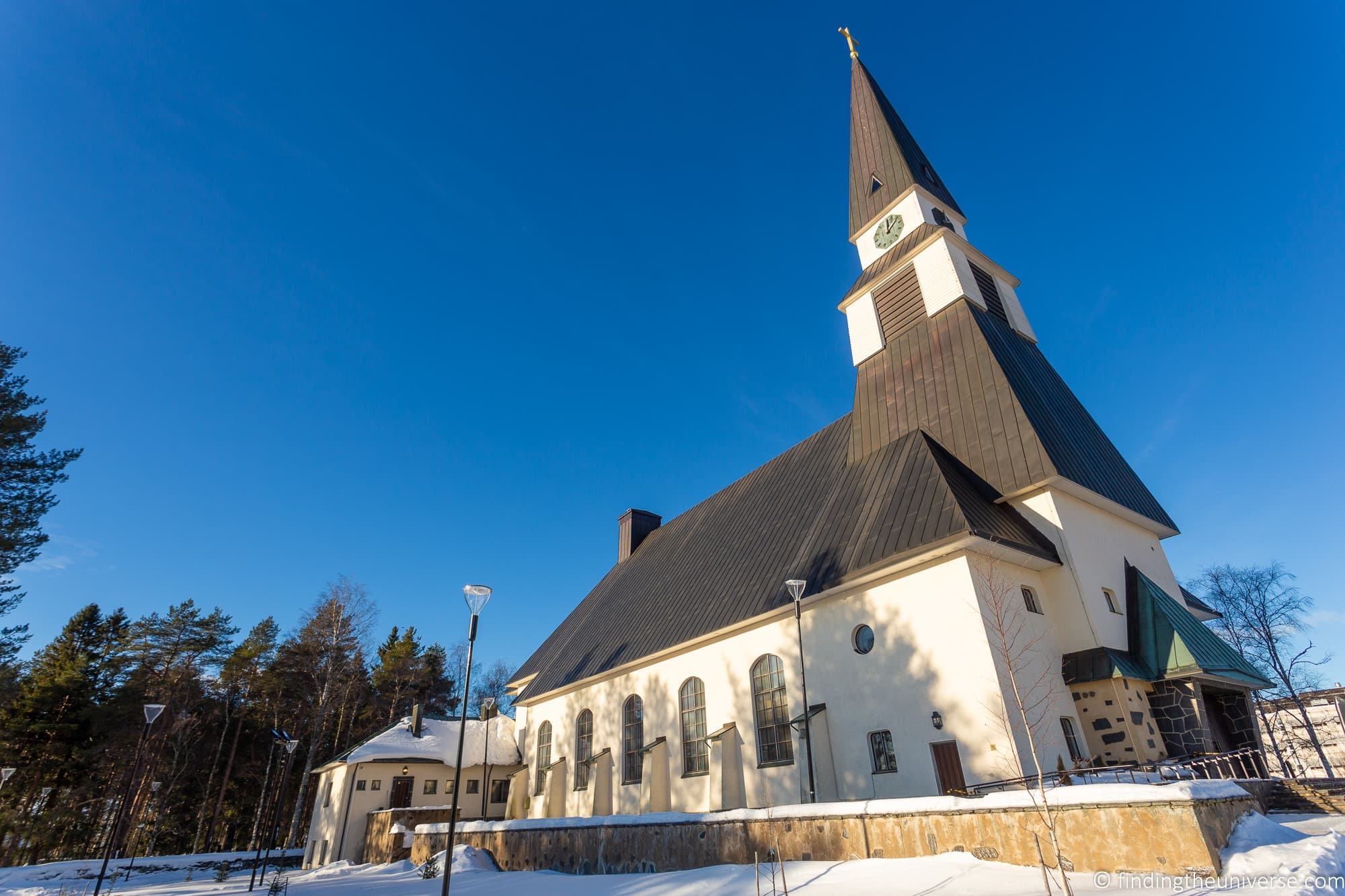 Other interesting building in the city include Arktikum, which is designed to symbolise the arctic itself, the Korundi House of Culture building, Science Centre Pilke, and the Lumberjack's Candle Bridge. We also liked Rovaniemi's church.
You can take a self guided tour of the architecture in Rovaniemi – just visit the Rovaniemi Tourist Information for a map and information. This can be found on Lordi's Square in the centre of town.
Ice Fishing (Winter Only)
A popular pastime in Finland in winter is to go ice fishing. This sport involves drilling a hole into a frozen lake and then using a special ice fishing pole to try and catch a fish.
These fish live underneath the frozen surface of the lake, with perch and pike being two of the more common fish you can catch.
We went ice fishing in Finland, and whilst we didn't actually catch any fish, we did have a great time learning about the process, drilling our little ice holes, and drinking large quantities of hot coffee to stay warm!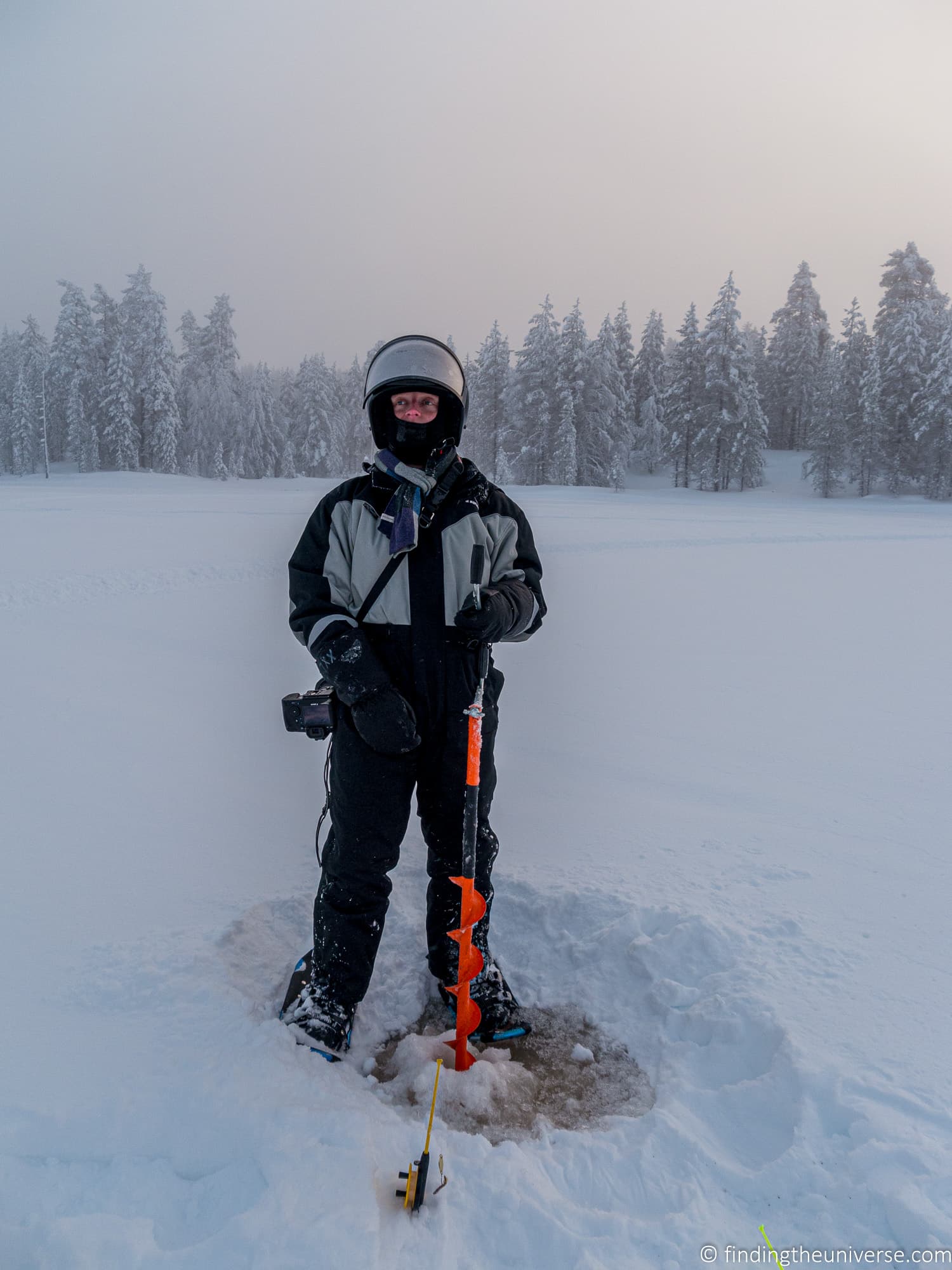 The Finns are very keen on their right to access the land, and ice fishing is actually classed as a public access right. This means anyone can go ice fishing without needing a license. All you need is an ice drill, fishing pole, and plenty of warm clothing.
In theory you could rent all these items and just head out onto a frozen lake, but we'd advise against this. Heading onto a frozen lake is obviously a potentially hazardous activity, and so taking a tour is going to be the safest way to go ice fishing.
There are a number of tour companies from Rovaniemi that offer ice fishing. As with other activities on this page, some of these combine a number of winter activities in Finland into one tour. When we did ice fishing, it was as part of a snowmobile tour for example.
Here are some ice fishing tours from Rovaniemi to consider.
As you can see, there's no shortage of choices when it comes to ice fishing in Rovaniemi!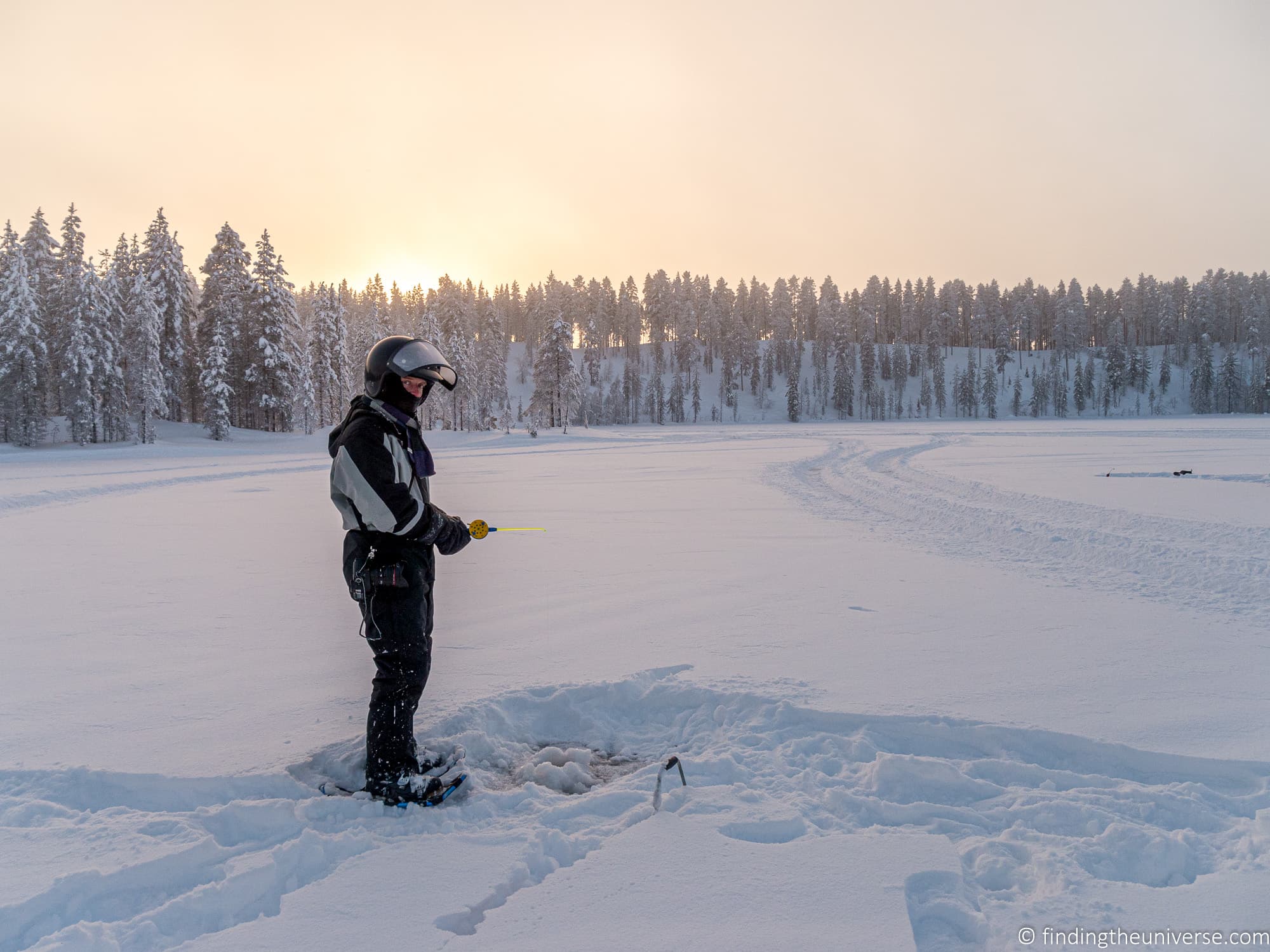 Forestry Museum of Lapland (Summer Only)
If you prefer you museums to be of the outdoor variety, then you will likely enjoy a visit to the Forestry Museum of Lapland. This is open throughout the summer, and is just 3.5 kilometres from the city centre.
Here you can learn about the history of forest work in Finnish Lapland, a story that is primarily told through a collection of artifacts and buildings from the forestry industry.
What is particularly nice is that you can go inside all the various buildings to learn what they were used for.
There's a small fee to visit the Forestry Museum, and it's included on the Finland Museum Card. You can see full opening times and pricing information on the Finnish Museum card website here.
Husky Sledding (Winter Only)
Next on our list of winter activities in Finland is another of our favourites – husky sledding!
Huskies are a special breed of dog which are very energetic. They love to run, and with the right training, they can be used in teams to pull sleds across the snow. They've been used in this way as a means of transport in subarctic communities for centuries.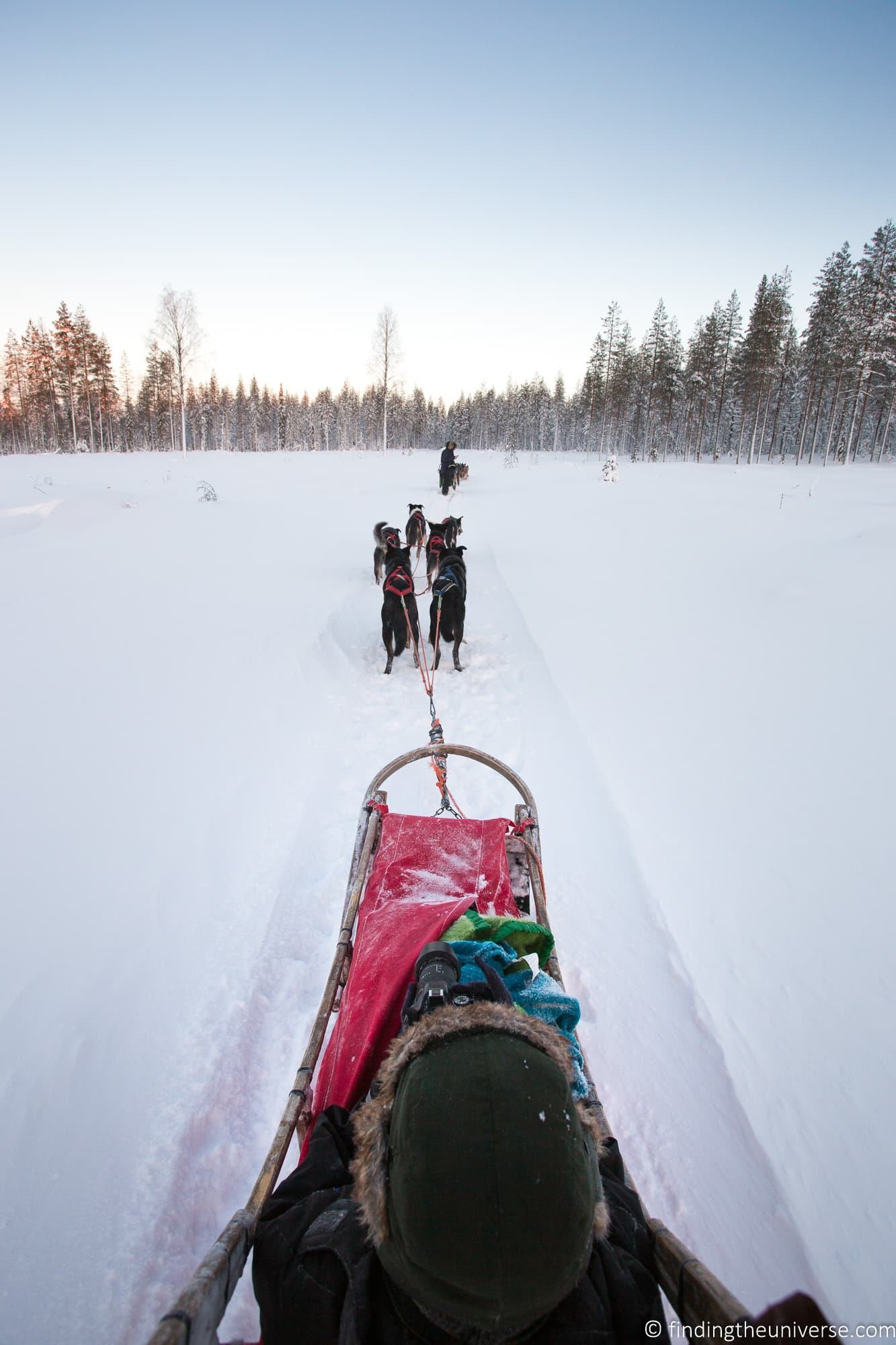 We've been husky sledding a number of times in Finland, and I've written all about my experience dog sledding in Lapland here.
In Rovaniemi, there's no shortage of husky sledding opportunities. The company I have used and can recommend is Bearhill Husky. These guys get excellent reviews and really care a great deal about the welfare of their dogs. They offer a number of tours, including:
There are also a number of other husky sledding operators running tours in and around Rovaniemi. Here are some other options to consider.
Hopefully one of these husky sledding options will work for you. Also, whilst husky sledding itself is usually only available in winter, you can usually meet the huskies year round!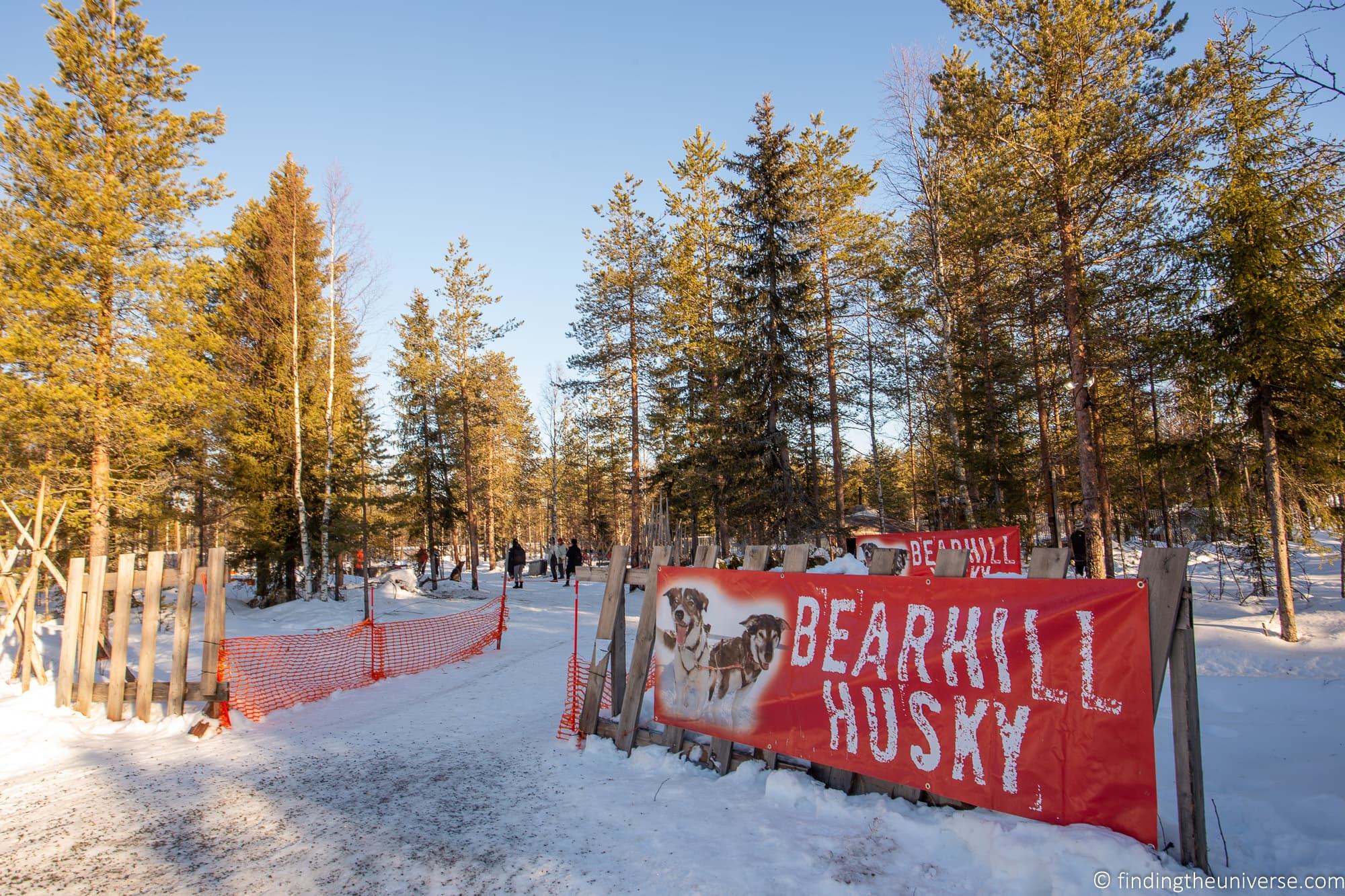 Food Scene (Year Round)
All of these activities and sights are bound to make you hungry. Well, the good news is that there are plenty of dining options in Rovaniemi where you can fill up on delicious food.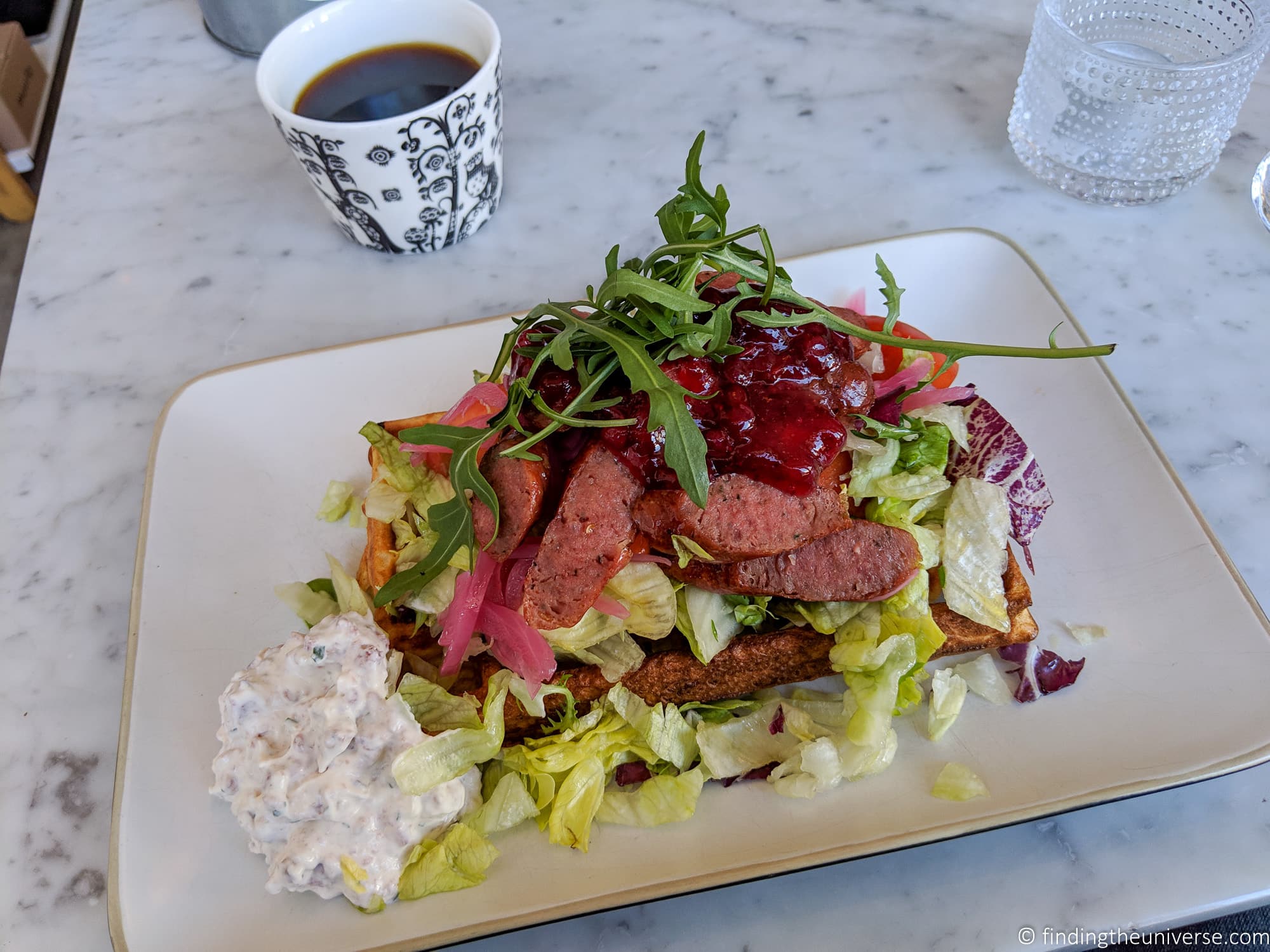 There are quite a few options to choose from, but here are a few to consider:
Another popular food based activities in Finland is to go foraging for food, including berries and mushrooms. Obviously this is something you'll want to do with an expert as picking the wrong types of mushrooms or berries can be deadly!
If this is something you are interested in, tours such as this one are run in the summer months, and have you exploring the woods for food, as well as eating a meal and partaking in other traditional Finnish activities like having a sauna.
Sauna (Year Round)
Whatever time of year you visit Rovaniemi, you might want to try a Finnish Sauna.
The sauna is pretty much at the heart of Finnish life. They are a social activity and a cultural institution, and they are believed to date back as far as 7000BC!
Historically, the sauna was the first part of a Finnish home to be built. This was quite practical if you think about it – saunas are warm, you can use them for a variety of hygiene purposes, and they were a sterile location for giving birth.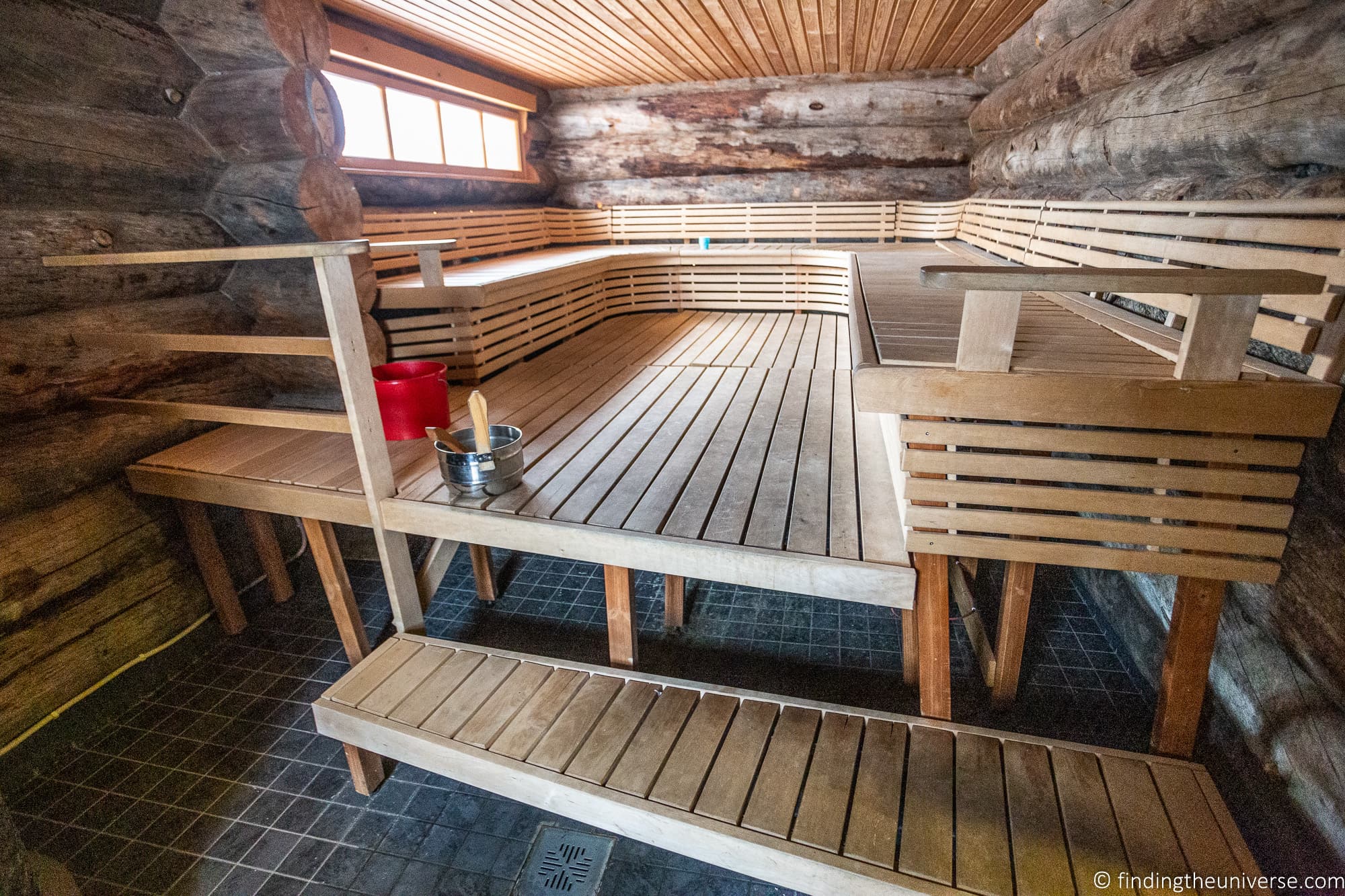 Whilst saunas today aren't utilized quite as much for all the purposes listed above, they are still a central part of life in Finland. In fact, there's estimated to be one sauna for every two Finns!
Suffice to say, having a sauna in Finland is definitely one experience you don't want to miss.
There are a number of different ways you can experience a sauna in Finland. Most likely, your accommodation provider will have a sauna, so that is an easy way to do it.
However, for the truly brave, a winter Finnish sauna experience also includes a dip in a frozen lake to really get the juices flowing. We've done this, and can confirm it is both rejuvenating and cold.
If that sounds like fun to you, then this tour from Rovaniemi includes a typical Finnish sauna, ice swimming, and a Lappish dinner. If you're lucky, you might even get to see the Northern Lights.
Korundi House of Culture (Year Round)
If you would like to experience art whilst you are in Rovaniemi, then you'll want to head straight for the Korundi House of Culture.
This is the home of two institutions, the Chamber Orchestra of Lapland and the Rovaniemi Art Museum.
The Lapland Chamber Orchestra is an 18 piece orchestra that performs across Finland and abroad. Naturally they also perform at Korundi, so if you want to see some local orchestral music, you can check their schedule and buy tickets here.
The Rovaniemi Art Museum is the main art museum in Rovaniemi. It focuses primarily on Finnish contemporary art, as well as art from the northern latitudes of the world.
It's home to one of the best collections of Finnish contemporary art in the world, with over 3,000 pieces in the collection.
The museum is open every day except Mondays, and you can see opening hours here. There's a fee to visit, and it's included on the Rovaniemi Culture Pass and Finland Museum Pass.
River Cruises and Fishing (Summer Only)
If you visit Rovaniemi in the warmer months (basically when the rivers aren't frozen over!), then you might want to spend some time on the water.
There are a variety of summer activities you can do that involve time on the water.
For example, you can take a Sauna Boat scenic river cruise, which lets you have two wonderful Finnish experiences in one, a scenic river cruise and a relaxing sauna.
You can also take a riverboat cruise to meet Santa and his reindeer, you can take a fishing trip, or you can canoe to a husky farm!
As you can see, there's no shortage of river based fun to be had in Rovaniemi in summer.
Sleep in a Snow Hotel (Winter Only)
Have you ever thought about sleeping in a hotel that's made entirely out of ice and snow? Well, in Rovaniemi you can!
There are quite a few ice hotels across Finland, and the experience is fairly similar for all of them. The hotels are built for the winter months only, and are usually sculpted from ice and snow.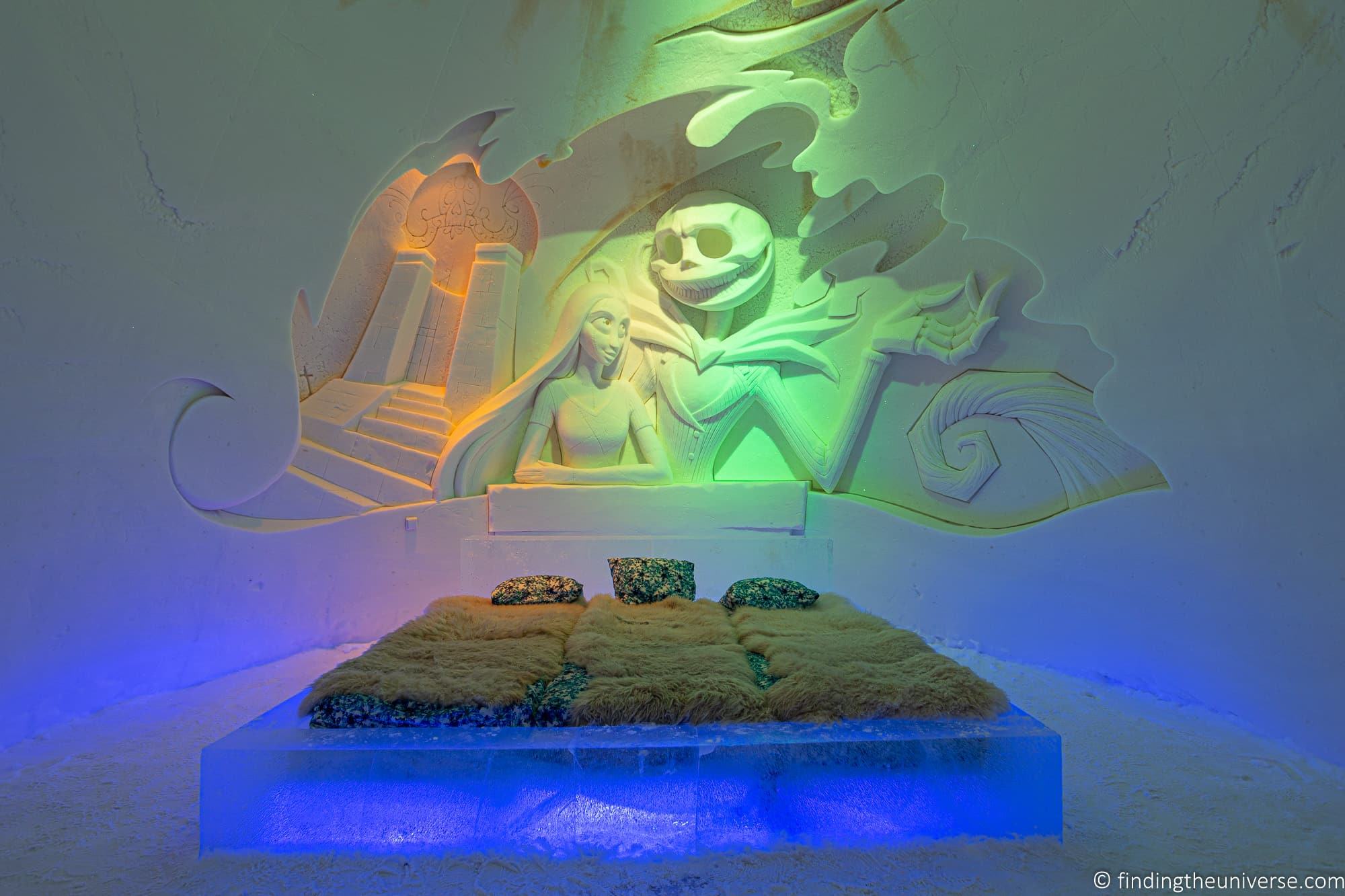 The beds are usually made from snow too, although there will be plenty of insulating layers between the bed frame and you, often reindeer hide or other warm layers. You'll also be provided with a very warm sleeping bag, and it's recommended that you sleep in thermals and a warm hat.
I have slept in an ice hotel (and a real snow igloo), and whilst it is definitely cold in the hotel (usually around -5C/23F), once you are in the bed and warmly wrapped up it's not too bad.
Obviously, this is a winter only activity as it needs to be cold so the ice hotels don't melt. In Rovaniemi there are a few snow hotel options nearby as follows:
Of course, many snow hotels are open for visitors, and for a fee you can usually tour the rooms before the guests check in. This tour from Rovaniemi includes a snow hotel tour and dinner, so you can see what the experience is like without having to get too cold!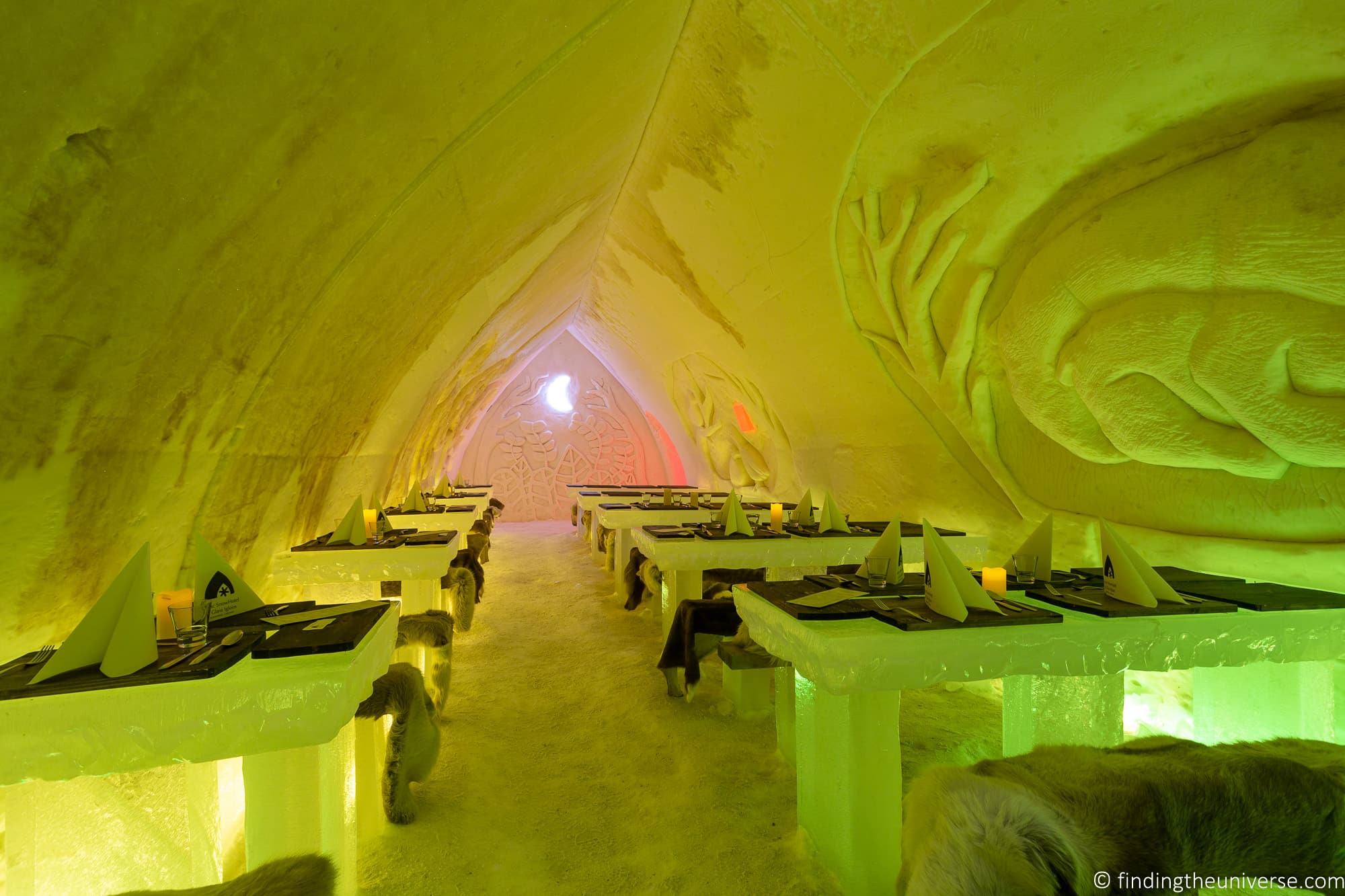 Sleep in a Glass Igloo (Winter Only)
If the idea of a snow hotel seems a bit cold, there's another way to get a unique nights sleep in Rovaniemi. This is to sleep in a glass igloo!
A glass igloo is basically a standalone hotel room which is constructed out of glass. This is perfect for watching the Northern Lights or star gazing, as you get a lovely view of the night sky.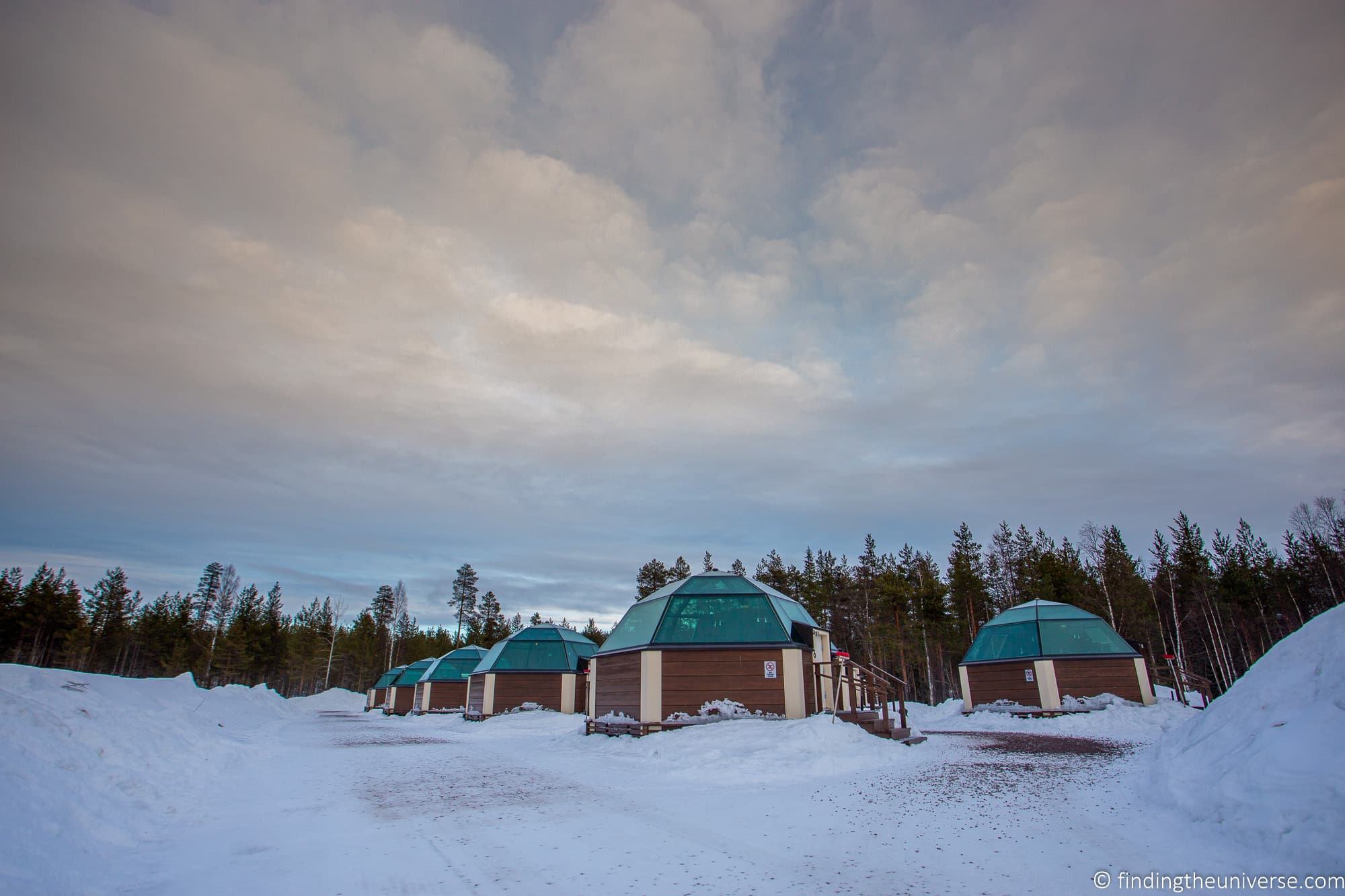 More importantly, glass igloos are not made of a substance that will melt, so they can be heated! Meaning you can be cosily tucked up in bed whilst looking up at the stars.
I've stayed in a glass igloo at Kakslauttanen Artic Resort, and it is definitely a worthwhile and unique experience.
There are many glass igloo experiences across Finland. They vary in design – some of them are full glass, whilst others may just have a glass roof above the sleeping area or another part of the building.
They can also vary in amenities and level of luxury. The full glass igloos tend to be more basic – just because it's challenging to include things like a shower and a bathtub in a glass igloo!
Here are a few glass igloo and similar style properties to think about that are in the Rovaniemi region.
Hiking and Cycling (primarily Summer)
I've listed this as a summer activity, but if you get snowshoes or a bike with fat tires, you can go hiking or cycling in the winter months as well.
Still, for the most part I think it's more applicable for summer as it's warmer and you don't need to prepare for the cold quite so thoroughly!
There are lots of hiking and cycling trails close to the city. A popular option is the Koivusaari nature trail for hiking, which is found on Koivu island. This is an easy hike, and is a nice way to see some of the local wildlife, especially bird species.
Another popular hiking destination is Korouoma National Park, 160km from Rovaniemi, which has lots of trails and waterfalls. It particularly popular as a winter hiking destination, as you can visit a number of frozen waterfalls – 14 in total!
If you want to visit the frozen waterfalls, we'd advise doing it as part of a tour so you have a safe experience with all the right equipment. Tours also include round trip transport from Rovaniemi.
For example this is a full day tour to the frozen waterfalls.
Another good destination for hiking in Finland that is within a 90 minute drive of Rovaniemi is the Pyha-Luosto National Park. This is popular for skiing in the winter, as well as for visiting the amethyst mine (year round).
Ranua Zoo / Wildlife Park (Year Round)
Whilst this isn't exactly in Rovaniemi, we think this wildlife park – the second most northern in the world – deserves inclusion nonetheless.
The Zoo is home to around 50 species of animal, which include the only polar bear in Finland as well as brown bears, grey wolves, reindeer and many more.
Ranau Wildlife Park is about an hour south of Rovaniemi. There are buses from Rovaniemi that stop right next to the zoo, so transport is easy. You can see timetables for the buses here. Alternatively, there are tours which run from Rovaniemi to Rauna, such as this one which includes transport, entry and a BBQ lunch.
Ranau Zoo is open year round, and there's an entry fee. You can see more about pricing and opening times on the official website here.
When to Visit Rovaniemi
The main question you have to ask yourself when planning to visit Rovaniemi is what sort of holiday you want to have.
If you're after a snowy adventure with activities like Northern Lights watching, husky sledding and snowmobiling, then you are going to want to visit Finland in winter.
Whilst snow is possible from October through to April, you will likely want to visit from late November to mid-March for the best guarantee of snow.
If you want to chase the Midnight Sun, visit outdoor museums, go hiking, and do water based activities like a river cruise, then you'll want to visit in summer. This period usually runs from June through to early September.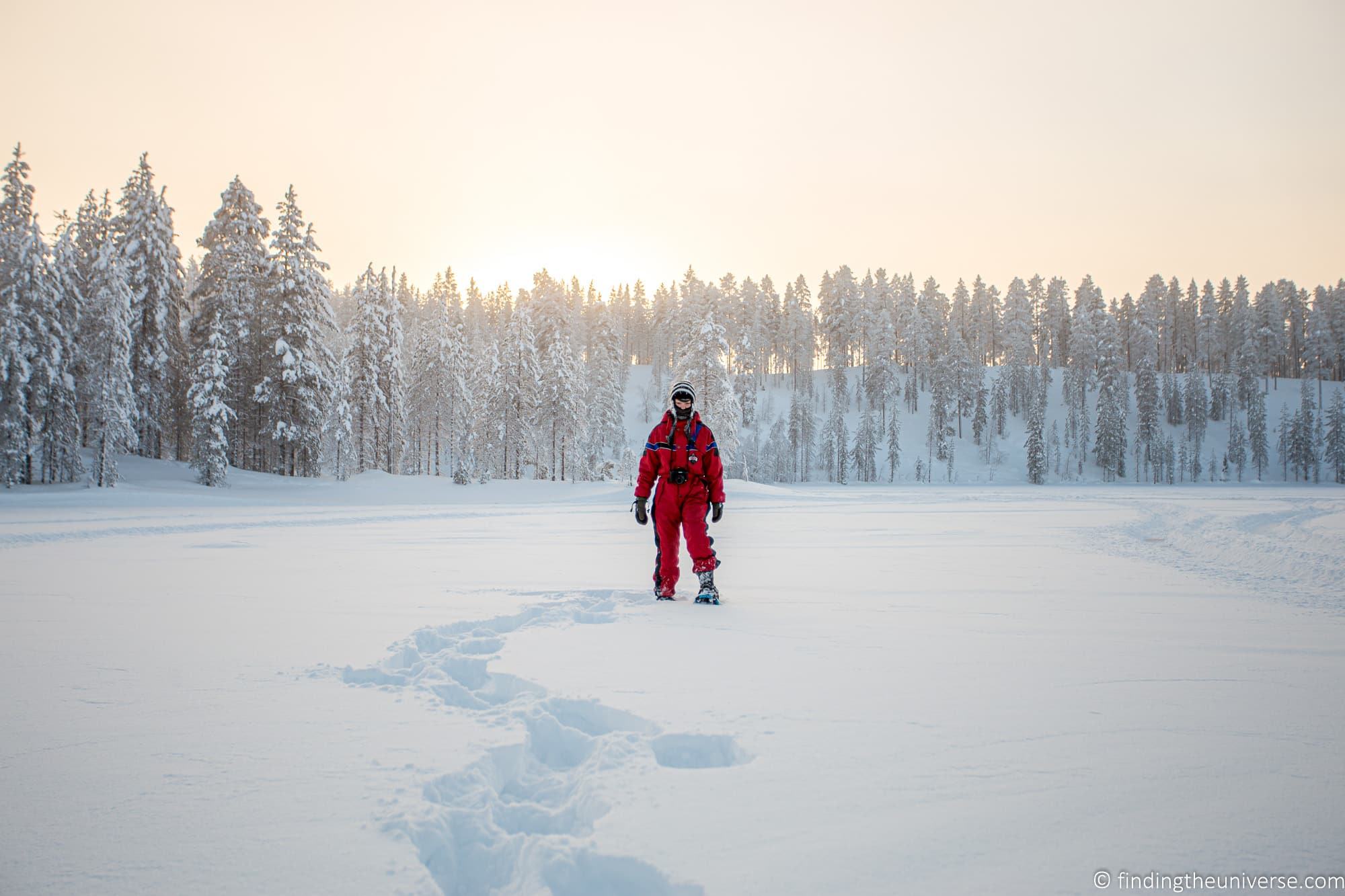 Where to Stay in Rovaniemi
Rovaniemi has a wide range of accommodation options, and we've stayed at both hotels and apartment rentals in the city.
We've already covered some of the more unusual accommodation options in the city, including snow hotels and igloos, so this list is more focused on slightly more traditional options. The following are ordered approximately from budget options through to more expensive choices.
Hopefully this list gives you a good idea of the accommodation options available in Rovaniemi. We can also recommend seeing what's available on Vrbo in the city if you're looking for more of an apartment.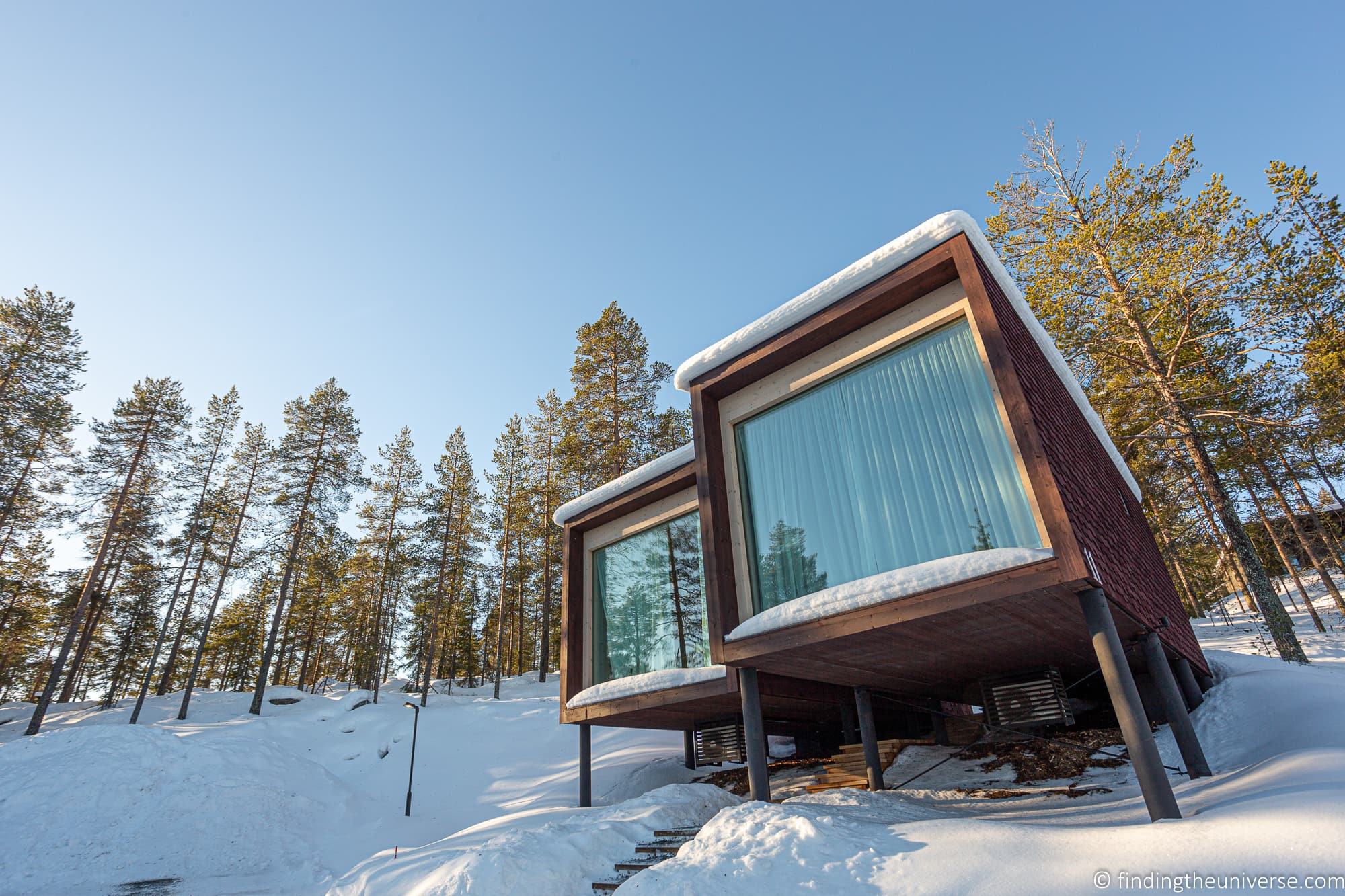 How to Get To Rovaniemi
Rovaniemi is a well connected city and is relatively easy to get to from both inside Finland as well as from other countries in Europe.
By plane, you can fly directly to Rovaniemi from Helsinki. There are usually multiple flights a day. You can also fly directly to Rovaniemi from a number of other countries including Ireland, Belgium, the UK, and Turkey.
Note that some of these flights may be seasonal, usually operating over the more popular winter months. You can check flight times and prices, and book online here.
If you are already in Finland, you can also take a train to Rovaniemi from Helsinki. This train route is operated by VR, the national rail company. There's an overnight train from Helsinki to Rovaniemi, known as the Santa Claus Express. You can see timetables and book this train online here.
Finland is also a country that is well-connected by public bus routes. You can reach Rovaniemi by bus from a number of cities in Finland. Check bus times and prices, and book tickets here.
Finally, you can also drive to Rovaniemi from various locations in Finland. From Helsinki, it's around a 9.5 hour drive.
Given the long drive from Helsinki and southern Finland, if you want a car while in Rovaniemi, we'd generally recommend flying or taking a train here and then renting a car. You can check car rental prices here.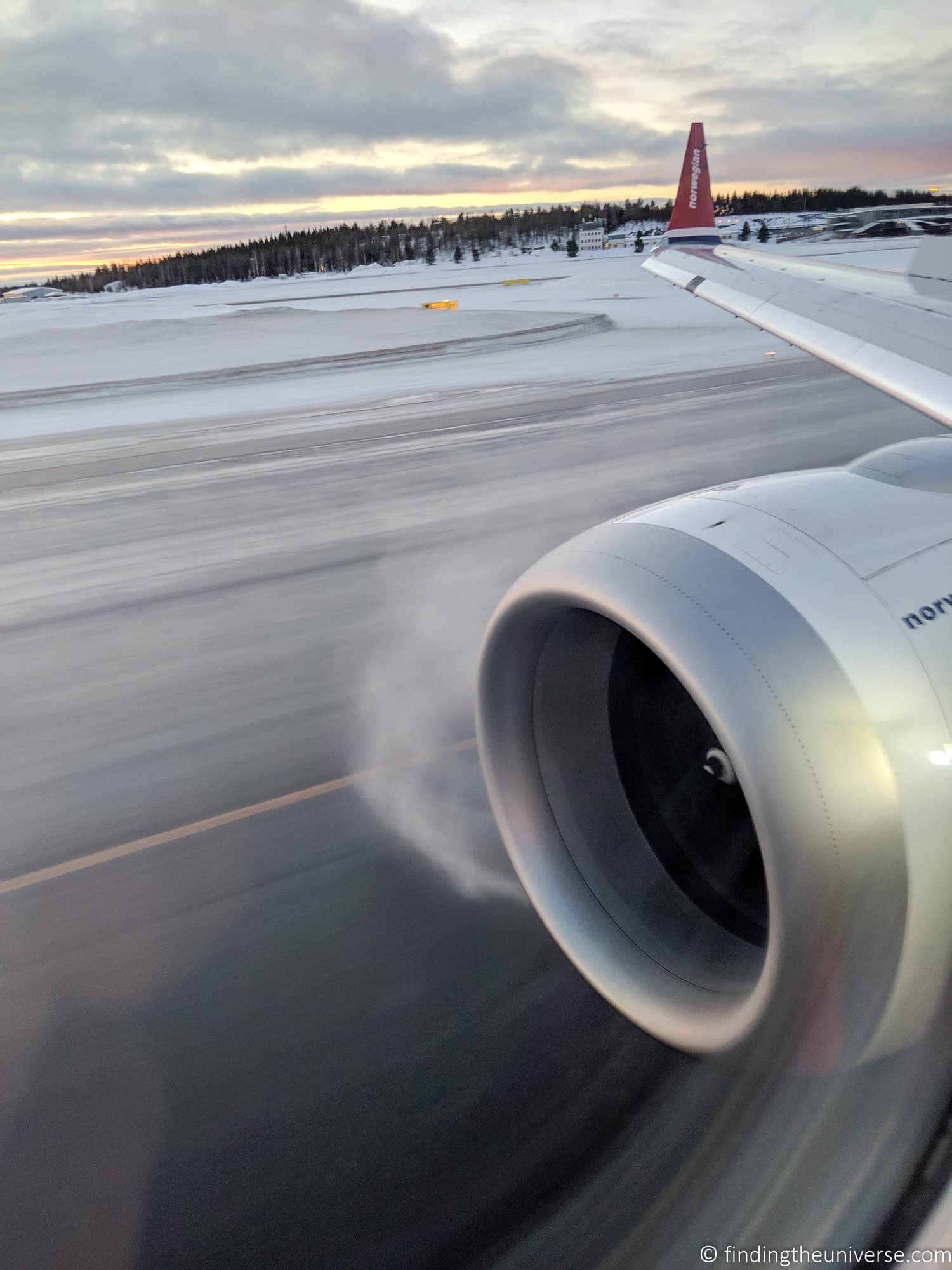 How to Get Around Rovaniemi
Despite its city status, Rovaniemi is not very big, and the centre of the city can easily be walked.
However, many of the attractions, such as the Santa Claus Village, are a little out of town. So you will need to drive, take public transport, a tour, taxi, or a shuttle to get to them.
There's an excellent public bus system, which will get you to many of the locations you might want to visit. You can see bus timetables here. There are also direct shuttle buses which operate to some places such as Santa Claus Village.
We aren't aware of any ride sharing services in Rovaniemi, however there are a number of taxi firms including Taxi Lähitaksi Rovaniemi and Rovaniemi Taxi Service.
For those planning to rent a car, be aware that there are parking charges to park in most areas of Rovaniemi. Some places also require the use of a parking disc, so be sure to pay attention to signs.
Tours from Rovaniemi
Throughout this post we have recommended a number of tours for various activities and adventures you can do in Rovaniemi. Here's a summary of some of those for your convenience.
That should give you plenty to do when you visit Rovaniemi!
Further Reading
Hopefully this guide has covered all the major things you might want to do in Rovaniemi. It's a really excellent base for visiting Finland, especially in winter, when there's a huge amount going on.
Now you know what to do in Rovaniemi, you might want some more information to help you plan your adventure in Lapland. We've written a few more guides to help you, which we think you'll find useful.
And that's it for our guide to things to do in Rovaniemi. As always, we are happy to answer your questions – just pop them in the comments section below and we'll get back to you as soon as we can.