It's list time! We spent three months in Thailand over the end of 2012 and the beginning of 2013, and saw a lot of what this fantastic country has to offer. We've sifted through our memories of our time there, poked at our photographs and decided to come up with our ten favourites in Thailand.
If you're looking for a short cut to some of the best that Thailand has to offer, this list should help.
Way out in the north eastern parts of Thailand, in Thailand's Buriram region, sits the temple of Phnom Rung, high above the surrounding plains upon a very extinct volcano. We loved the feel of this place, which is meant to represent the heavenly dwelling of Shiva.
There are Naga guardians, carved lintels, a fantastic paved walkway to approach it, and enough crumbliness to keep you entertained for a couple of hours. The informative visitor centre will also fill you in on the history of the place. Find out more about how to get here in our post dedicated to this temple!
Favourite Beach – Thai Mueang
Picking a favourite beach in Thailand is almost as hard as picking a favourite temple – there's no shortage to choose from and you're unlikely to be disappointed by any of them.
The winner for us was clear though – the entirely unvisited beach of Thai Mueang, about an hours drive north of Phuket. We liked it because it offered basically nothing – just sand, trees and water. No bars, no touts, nothing. Just pure beach. Lovely!
Favourite Accommodation – Kanchanburi
Our favourite accommodation in Thailand was also the first one we visited after leaving Bangkok. Not that it was all down hill after that, but it was tough to beat the river raft house with epic sunset views that we found in Kanchanaburi, particularly for the price (200 baht a night, or about €5).
Sure, it was a little, erm, "faded", and the risk of falling through the board walk was very real, but that all added to the charm in our view. If you're in Kanchanaburi, the River Guesthouse is very much worth your time to visit, and it's handily located near the central part of Kanchanaburi. Read more about our tips for getting the most out of your Kanchanaburi visit in this post.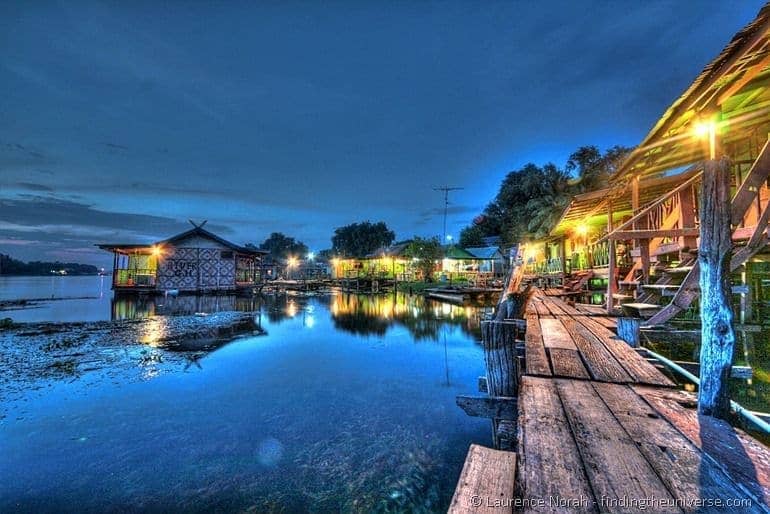 Favourite City – Songkhla
This laid back Thai town on the east coast captured our hearts with its old Chinese quarter, laid back vibe and acres of empty beach. i wrote all about it here.
There was plenty to see and do here too, from climbing the hill to the temple in the middle of town, to finding a giant sacred rock, to meeting the monkeys at monkey hill. Definitely worth a visit if you're heading to Thailand and want something a bit different.
Favourite Food – Any of the curries
Ah, Thai food. It is, frankly, fantastic. From noodles on the street, to tasty ice creams, to incredible curries, this is a country where you are unlikely to go hungry for very long.
And it was the curries that stole the heart of my taste buds, coming in all sorts of varieties, from red to green to yellow. The Massaman curry was my favourite though, with potatoes added to the yellow curry mix, but to be honest, I'd be happy with any of them!
Favourite National Park – Khao Sok
Who would have thought Thailand would be so full of incredible national parks? Certainly not me! Further proof that I am terrible at researching destinations before I arrive, wide eyed and hungry.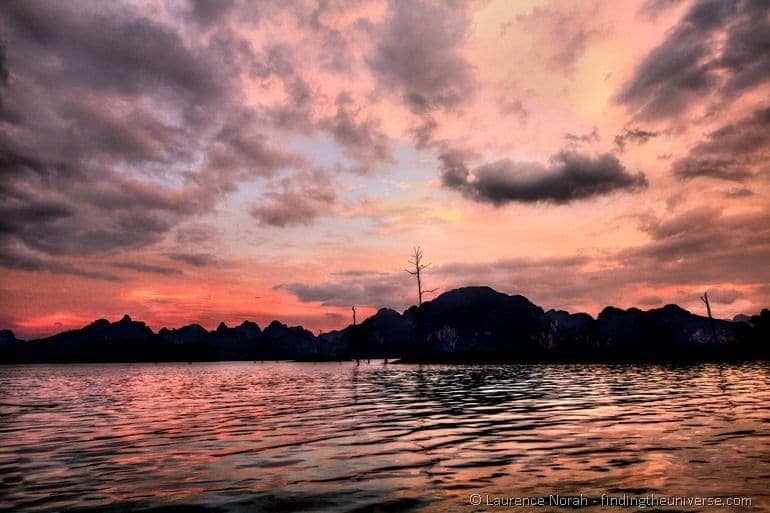 We hit up a whole range of national parks in Thailand, with those around Doi Inthanon, the Buriram region, Trang and Nakhon Si Thammarat being in our top five. After a great deal of exploring though, we decided that the gorgeous lakes, lush jungles and general beauty of Khao Sok National Park made that one our firm favourite. Even if we did get shipwrecked briefly.
Favourite Drink – Chang
Choosing what to drink in Thailand is tricky. Will you go for a cool refreshing beer, a classic cocktail, or, like the locals, hit up some Thai whiskey? After some sampling, my favoured option was a cool beer, with Chang being my beer of choice.
It turns out Chang is powerful stuff, weighing in at 6.4%, so you have to tread carefully when imbibing or run the risk or having to cope with the dreaded Changover. See what they did there? Clever.
Favourite Waterfall – Doi Inthanon
There were two national parks in thailand that vied for the title of waterfall champion, Doi Inthanon and Khao Luang, the former near the city of Chiang Mai and the latter near Nakhon Si Thammarat.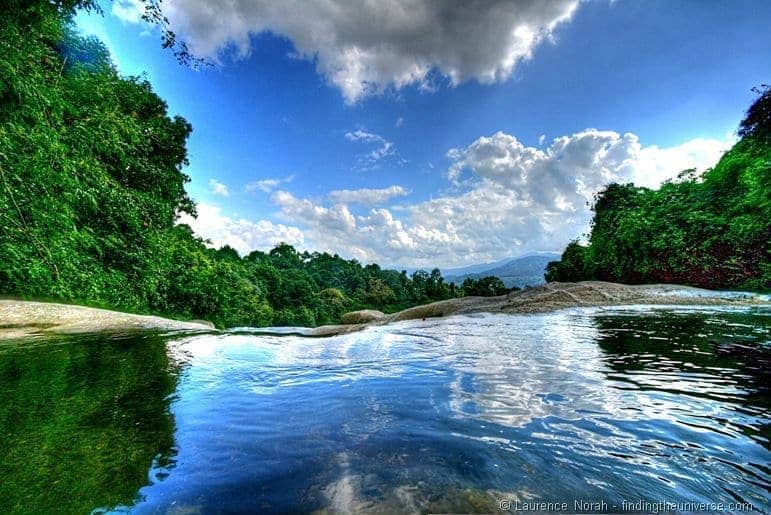 For me it was Khao Luang that edged out the competition, largely due to the incredible Namtok Karom waterfall, which consists of nineteen tiers spread out from the top of the mountain to the bottom. Seven of these are easily accessible, with the photo above being the view from the top of the highest of these before it starts to plunge.
Favourite Market – Trang
Night markets in Thailand are one of the best ways to get some cheap and tasty food. They're usually full of locals as well, out and about, hunting for a bargain on the latest movies or strange glowing electronics. Anyway, if you want to be fed, and fed well, you need to visit a night market.
We attended a lot of these, with the markets of Kanchanaburi, Chiang Mai and Hua Hin really standing out in our minds. But for really tasty flavours, the town of Trang was our favourite. Here the food is heavily curry based, with intense flavours bubbling out of the pots, providing you with a serious quandary as to what to pick!
Favourite Sunset location – Laytrang
Sunsets are by far my favourite natural phenomenon to photograph, and Thailand sure had some doozies, with the cloudy skies of northern Thailand throwing up some incredible examples.
But, whilst mountains are all well and good, my favourite place to watch a sunset has to be over the sea, and so our week on the beaches of Laytrang in the above mentioned Trang region were without doubt my top place to watch the sun set, throwing up examples like this: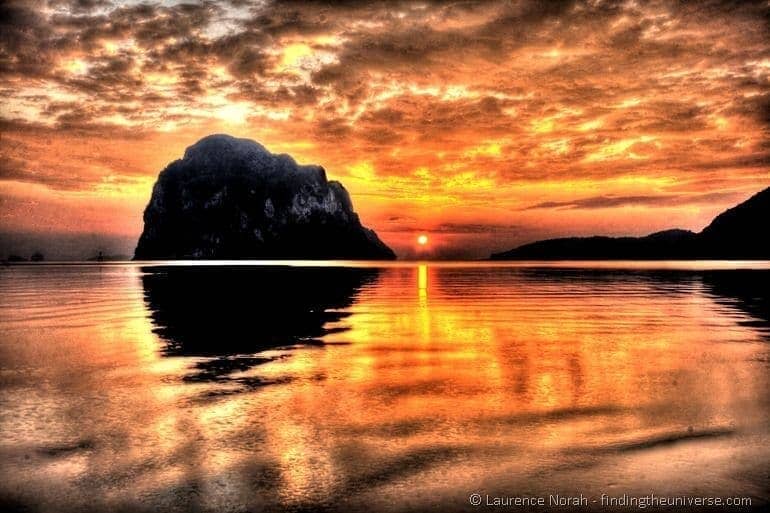 So those were ten of our favourites in Thailand, after three months of exploration.