The United States is pretty much the perfect country to road trip in, with great roads, cheap gas and hundreds of gorgeous destinations to choose from. It's no wonder that a California road trip is on many visitors to-do lists!
We've taken a number of fantastic US road trips, including Route 66, the Pacific Coast Highway, the Oregon Trail and a route through the Deep South, and have never failed to have an amazing time.
One of our favourite states to explore though has to be California. With a mix of an excellent climate, some of the best National Parks in the country, and world-famous cities to explore, you're never going to run short of things to do in California.
With this in mind, I wanted to put together a classic two week California road trip itinerary, taking in some of the best that the sunshine state has to offer. I did a trip almost exactly the same as this a few years back, so I know that it's a good one.
Two weeks is also a good amount of time for a trip like this, although you could of course extend it by a few days if you wanted to see a bit more, or wanted to go a bit slower.
California Road Trip Itinerary
This California road trip itinerary has you starting and finishing in San Francisco. As it's a loop, you could also start and finish at any other point. If you would prefer another starting location, LA would be the most logical.
The route runs anti-clockwise, but you are welcome to drive it in whichever direction you prefer!
San Francisco – 3 Days
We're going to start our California road trip with three days in San Francisco. San Francisco is home to the second largest airport in California, so there are plenty of opportunities for getting here for both domestic and international travellers.
San Francisco, and the surrounding San Francisco Bay Area is also an excellent city to base yourself for your first three days.
If you're arriving internationally, you're going to want a few days to adjust to the time zone difference before hopping into a car. For this reason, I'm going to recommend spending three nights in San Francisco, and picking up your hire car as you leave. You won't want (or need!) a car while you're in the city – parking is expensive and there are plenty of other options to get around.
You won't be short on things to do in San Francisco, and in fact, might feel a little overwhelmed by all the choices!
Our suggestions would be to take in the Golden Gate bridge (hire a bike to get here easily), explore Chinatown, pop across to Alcatraz, revel in the tourist trap that is Fisherman's Wharf, don't miss golden gate park, head to the top of Nob Hill for cocktails at The Mark, hop on a cable car and, if you still have time, take a stroll at Lands End.
To get yourself oriented, we can also recommend taking a walking tour with the excellent SFNative folks, they know the city backwards. Finally, if you're looking for some great photo opportunities, check out our guide to the best photography locations in San Francisco.
Accommodation wise, there are plenty of options in San Francisco. Here are some of our favourite picks for your stay, across a range of budgets.
See more options for hotels in San Francisco here, as well vacation rentals on Plum Guide here and Vrbo here.
Pacific Coast Highway – 2 Days
The drive down the section of the Pacific Coast Highway from San Francisco to Los Angeles is definitely one of the best road trips in the world. So it's really a no-brainer that this would be your first destination after you pick up your hire car and head out of the city.
There are numerous highlights along the way, from cute seaside towns to gorgeous wilderness areas. Don't miss Santa Cruz, Monterey, Big Sur and the Julia Pfeffer Burns State Park (camp here if you can!).
The latter is particularly famous for the waterfall that cascades onto the beach, a gorgeous photo opportunity.
From Big Sur head further south and take in highlights like the seals at Cambria, tasty food at San Luis Obispo, the gorgeous Pismo beach, Hearst Castle and more.
For loads more information on this stretch of highway and to help you plan the perfect coastal road trip, check out our super detailed guide to planning a Pacific Coast Highway road trip.
For the 2 days you'll spend on this part of your California road trip, we recommend stopping overnight around Monterey or Carmel on your first night, and San Luis Obispo, Morro Bay or Cambria on your second night.
There are plenty of accommodation options all the way down this stretch of highway, from campsites and B&B's to luxury hotels – it all depends on your budget and what you're aiming for. Here are a few options to consider in our recommended towns along the way.
For your first night, we recommend one of the following:
For your second night, we recommend one of the following:
Santa Monica, LA – 2 Days
Los Angeles can be a big, confusing place, particularly after your trip down the Pacific Coast Highway. That's why I suggest you head to Santa Monica and make that your LA base.
On the coast, and technically a separate city (it's kind of hard to tell as LA and its surrounds are part of a fairly vast urban sprawl), you'll have access to the wonderful beach and pier, as well as nearby Venice, most famous for its beach and people watching opportunities.
Again, there's no shortage of things to do in LA. If you're interested in film, you can visit the Hollywood sign, walk the Hollywood walk of fame or go on a tour of the backlot at Universal Studios.
Art lovers will find their thrills at the Getty Center, which also offers gorgeous panoramic views of the surrounding city. Other highlights include Sunset Boulevard, and of course, you can hop on one of those tours of the stars homes if you're so inclined.
LA also has plentiful accommodation options to suit all budget. Here are some of our recommended options:
See more LA listings here for inspiration, as well as LA listings on Vrbo here. For a more curated apartment rental option, check out Plum Guide. You can see their LA listings here.
If you're not excited about Los Angeles, you could also choose to skip it and head down the coast to San Diego County and the city of San Diego itself. This is a more laid back (and easily navigable!) experience compared to LA, and there's a great deal to do here as well.
For more reading on San Diego, check out this guide to things to do in San Diego we put together.
Joshua Tree National Park – 1 Day
Time to head out of the city, and the remainder of this itinerary is going to focus on exploring some of California's unbelievable wilderness areas and National Parks. We're going to start this off with a trip to the Joshua Tree National Park, home to those iconic shaped trees that the park is named for.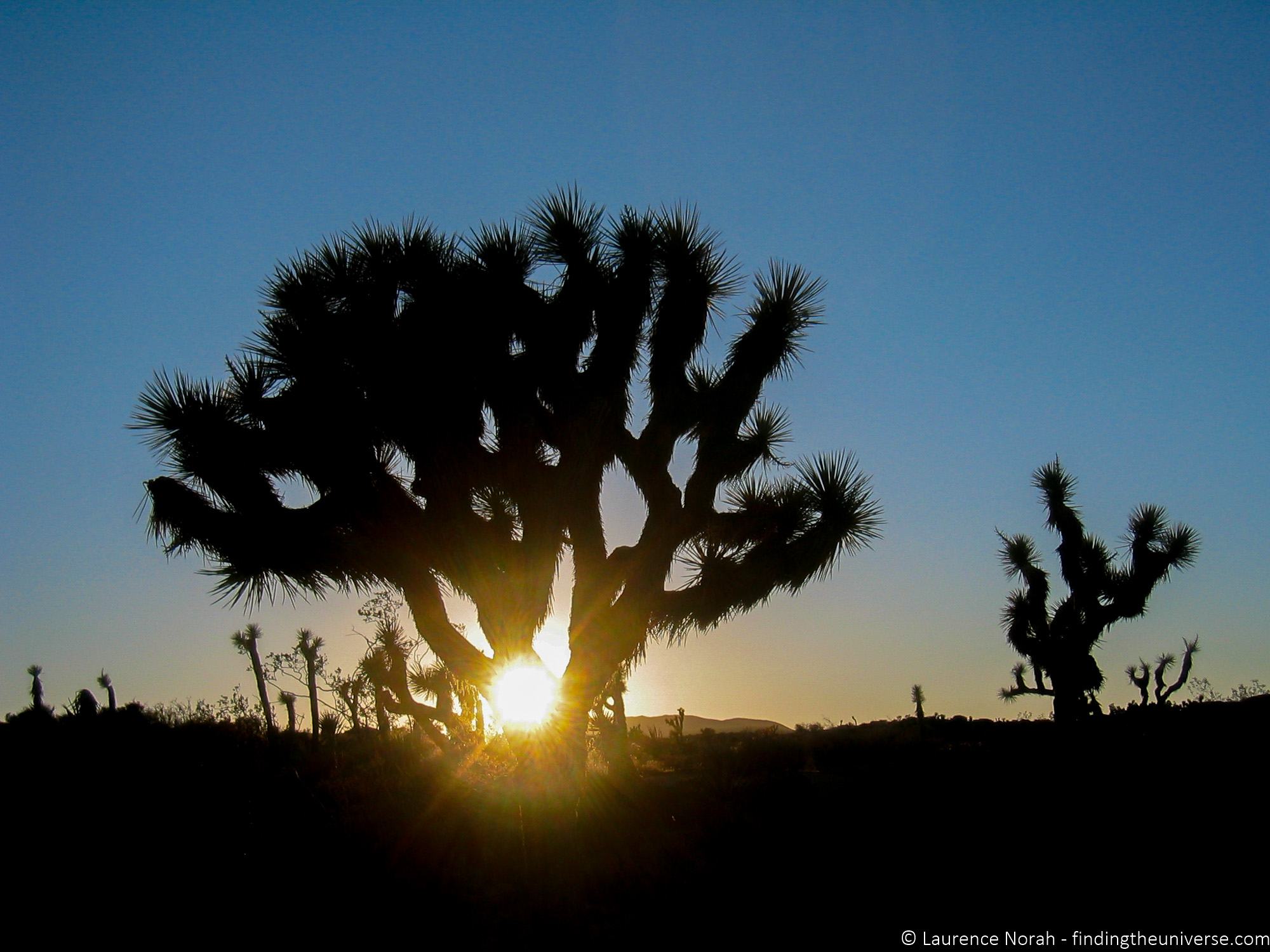 It's a wonderful place, the meeting point of two deserts, and offers good opportunities for camping, hiking and star-gazing.
The best way to experience the park is to camp overnight in one of its many campgrounds (you should definitely reserve a spot well in advance if this is your plan), otherwise, there are various lodging opportunities outside the park if you're not big into camping. You should also be aware that there is very limited water availability in the park (and no hookups for RV's), so make sure you bring plenty of water and food – this is a remote desert environment after all!
Here are some suggested accommodation options in nearby Twentynine Palms.
See more listings for Twentynine Palms and this general region on Plum Guide here.
Note, if you want to include a detour to Las Vegas, this would be the moment to do just that. We'd suggest adding a couple of days to your trip if you want to experience the city and its surrounds as there's a lot to see and do here. Then you can rejoin the trip at the next stop.
For more on that sort of trip, check out our two week USA road trip itinerary, which include Las Vegas and the Grand Canyon.
Death Valley National Park – 1 Day
Moving on from one desert environment to another desert environment – and the largest national park in the contiguous United States. Death Valley (the name was given by gold rush travellers who nearly perished here) is the hottest and driest place in North America, and has recorded the hottest ambient air temperature in the world.
So, overall, a hot place.
Other than making you want to crank up the AC then, what does Death Valley offer? Well, there's that sense of remoteness. The vast, unforgiving wilderness. The knowledge that you'd probably die fairly quickly if you happen to wander off and get lost (don't wander off and get lost folks).
Truth be told, there's plenty to do here. You can visit Badwater Basin, the lowest point in the entire North America, which actually sits 86 metres below sea level. Then there are sand dunes, salt flats, craters, colourful canyons and hiking opportunities galore.
Just be aware that this is a seriously inhospitable, and, in the summer months, unbearably hot, destination, so plan and pack accordingly. If you're looking for more ideas on spending a day in Death Valley, check out this excellent post.
Mammoth Lakes – 1 Day
From Death Valley we're going to head further north, up to Mammoth Lakes. This drive is quite incredible, along the Sierra Nevada mountains, and the scenery (and temperatures) will change dramatically as you ascend into this gorgeous part of the world.
Mammoth Lakes are an adventure lovers playground. You can go hiking, camping, cycling, rock climbing, horseback riding, fishing – the list goes on! There's also a ghost town, craft beer companies, shopping opportunities – basically, pretty much everything you could imagine.
Whilst you're here, you should also take the opportunity to visit Lake Mono. Now a state nature reserve, Lake Mono is a million year old lake notable for the "tufa" towers, calcium carbonate structures that stand above the lake like strange modern art installations. Definitely worth a visit, and particularly photogenic at sunrise and sunset.
Yosemite National Park – 3 Days
Finally on our awesome California road trip, I'm going to suggest you spend three days exploring Yosemite National Park before heading back to San Francisco to return your hire vehicle and head home.
Yosemite is without doubt one of my favourite places in the entire United States. It's a wonder of nature, a photographer's paradise, and somewhere I dare anyone to visit without falling instantly in love.
There's a lot to see and do here, which is why I'm going to suggest taking three days to get the most out of your visit. This will let you see all the highlights, as well as go for some longer hikes (or drives), and not feel too rushed.
I've got a full guide to the best photography locations in Yosemite, but in brief, don't miss Yosemite Falls, the hike up to Nevada and Vernal Falls, the drive (or hike) to Glacier Point, Tunnel View, Valley View and Bridalveil Falls.
If you love longer, more challenging day hikes, then Half Dome is a seriously challenging walk (permit required), as is the walk up to the top of Yosemite Falls.
There are a range of accommodation options in Yosemite National Park, ranging from campsites to canvas-sided tent cabins, through to luxury hotels.
There are 13 campsites available in the park, with a number of these available for reservation, and the rest operated on a first come first serve basis. If you want to camp, we highly recommend booking well in advance, which you can do here.
There are also nine lodging options operated by Yosemite Hospitality inside the park, which are the only other accommodation options available in the park itself. These can be reserved up to a year in advance, and range from simple canvas cabins through to a high-end luxury hotel. These can all be reserved online in advance here.
Important – As of 2022, Yosemite has introduced a reservation system for park entry. If you are visiting between late May and the end of September and planning on driving into or through the park between 6am and 4pm you will need to have a reservation. You can find out more and make your reservations online here.
California Road Trip Map
We've put together a map of our suggested California road trip itinerary, which you can see below, and also on Google Maps here. Note that depending on the time of year, access to Yosemite can be restricted due to snow, so you have to take the longer way round.
In addition, parts of the Pacific Coast Highway are often closed due to damage caused by landslides. As such, the map should be seen as an overview rather than a definitive route. You'll want to plan your own California road trip route that matches any current road conditions and closures.
You can check the status of the coast route (state highway 1), as well as all the other roads in the state, on the Caltrans website here.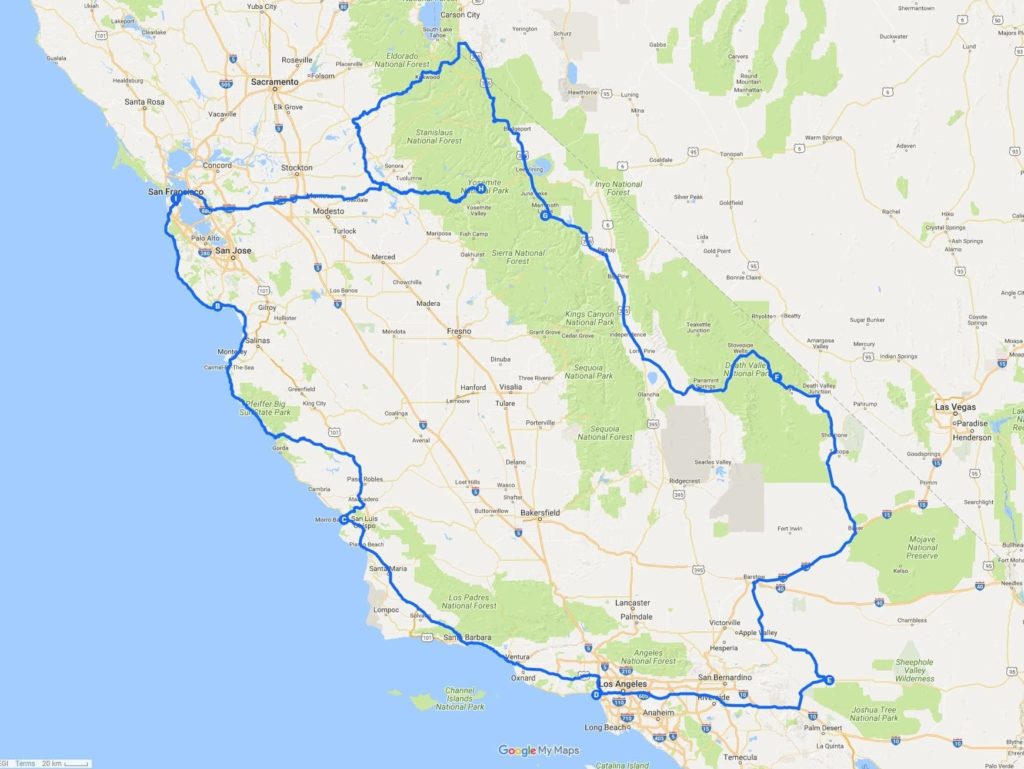 California Road Trip Itinerary Overview
Days 1 – 3: San Francisco
Days 4 – 5: Pacific Coast Highway
Days 6 & 7: Los Angeles
Day 8: Joshua Tree
Day 9: Death Valley
Day 10: Mammoth Lakes
Days 11 – 13: Yosemite National Park
Day 14: Return to San Francisco
When to Take a California Road Trip
California is a fairly good year round destination, but there are a few things to be aware of when planning your trip. In the Winter months, places like Yosemite can become accessible particularly from the east side, due to snow, as you can see in the map above.
The main road in to Yosemite is the Tioga Road, and this is usually closed from November through to May or even June. In addition, parts of the park, including Glacier Point road, are often closed for a similar timeframe.
If this happens to you, you'll have to take a serious detour to get in based on this itinerary. A better option might be to embrace the snow, and head up to Lake Tahoe for some fantastic skiing opportunities. Or, you can head east, out to Nevada and the pleasure city of Las Vegas.
In summertime, the heat can be quite intense, in particular in places like Death Valley, where in the summer months temperatures can exceed 100F, and it's not recommended to spend much time outside.
Where to Stay in California
California has a serious range of accommodation options to meet pretty much every budget, although larger cities and busier months do tend to increase the prices. We'd always recommend booking in advance for your trip if possible – in particular for national park campsites and hotels, and to get the best deals on city centre hotels.
For two people travelling together, you're looking at a budget range of $60 – $150 per night for comfortable private en-suite accommodation, although you can obviously spend far more than that!
Our preferred option for hotel booking is booking.com, as they usually have the best prices, regularly run deals, and many properties offer good last minute cancellation policies. See their listings for California, San Francisco and Los Angeles to get you started.
We also use and recommend Plum Guide and Vrbo for vacation rentals.
For more ideas, take a look at our travel resources page for helpful hints and tips on getting the best deal on accommodation when you travel.
How to Get Around California
This is a road trip, so obviously you're going to want a hire a car! We nearly always hire cars for our US road trips through Enterprise. We generally find they have the most competitive prices and widest choice of locations, plus if you're thinking of a one way trip they have reasonable fees for doing that.
If you'd prefer to compare prices across a range of providers, then we recommend Rentalcars.com.
Drivers with foreign licenses are allowed to drive, if your license is in a language other than English then you would be best with either an international drivers license, or a certified translation.
Another option of course is to hire a camper van or RV, which will let you stay in campgrounds and other, more out of the way areas. This can be a fun way to travel in a more self sufficient style. If this sounds like you, we recommend comparing RV rental prices at Motorhome Republic. They list all RVs from many of the major suppliers to help you find the right one for you. See their USA listings here.
We can also recommend checking out RVShare, who offer peer to peer campervan rental – a bit like the AirBnB of RV rental! Similar options include Outdoorsy and RVEzy.
If this is your first time in the USA, or you just want a reminder of what it's like to drive in the USA, check out our guide to driving in the USA for lots of tips!
Practicalities for a California Road trip
Travelling in the USA is relatively easy, but we wanted to share a few things to help make planning your California road trip a little easier.
Electricity
The USA uses a 110v electrical system, with plugs that are either two pin or three pin. The holes are flat, and sometimes the two pin plug holes will be different sizes, so the plug will only go in one way.
If you're coming from much of the rest of the world, including Europe, the UK or Asia, you will definitely need a travel adaptor like this. You will also need to check that your equipment supports the 110v supply, as much of the rest of the world uses a 220v supply.
In our experience, most electronics like laptops and phone chargers accept a universal voltage, whilst higher power devices like hairdryers do not. Always check the device itself, the voltage rating should be on your plug or adaptor somewhere.
Internet Access
Internet access is widely available across the USA in the form of WiFi, which can be found for free at most hotels, cafes, bars and restaurants. There are also a number of free WiFi hotspots in some of the cities on our list.
If your phone is unlocked you can pick up a pay as you go SIM in the USA. One of the better options is from Straight Talk, which you can buy in Walmart stores.
For more options on getting online when travelling, check out our guide to getting online when travelling to help you figure out the best options.
Currency
The USA uses the US dollar, and there are ATM's available throughout. In our experience though, you can pay for nearly everything with a credit card, so you will rarely need cash. Whilst it is worth having a few bills on you, for the most part you won't need them.
Instead, just make sure you have a credit or debit card that doesn't charge you any foreign transaction fees and uses a fair price for currency conversions, and you should be good to go.
Water
Water across the USA is safe to drink, unless otherwise indicated. There are drinking fountains in the majority of public locations, and we recommend you travel with a re-usable water bottle so you can just fill it up as you go.
One thing we always love about travelling in the USA is how drinking water is always brought to your table at a restaurant – something we wish was standard around the world!
Safety
For the most part, the USA is a safe destination to travel in, and we have never had any problems. Of course, every country has crime, and areas where you would be wiser to avoid, however if you practice basic safety precautions, keep your valuables out of sight and behave as you would at home, you should be fine!
Further Reading and Resources for a California Road Trip
California is a very popular destination, so there's no shortage of research material to help you plan your trip! Here are some of my favourite resources:
And that sums up my perfect two week California road trip itinerary! If you've got any comments, suggestions or additions, do pop them in the comments below. Plus, if you liked this post, do check out the rest of my itinerary series, which will help you plan the perfect trips all around the world!