We've all heard horror stories from people who've gone away on a trip and then returned home to a huge bill thanks to their mobile phone roaming on data networks when they're away.
The good news is, this doesn't have to be you. There are lots of options for getting internet access when you travel, ranging from entirely free through to more premium options.
In today's post I want to help guide you through the options available to you when you travel for getting online – both on your mobile phone, and on any other devices you might have with you, including tablets and laptops.
This guide will focus purely on internet access while travelling internationally, rather than texting or calling, although some of the solutions below will also work for texting and calling.
These are based on our personal experiences travelling through multiple countries each year, and are listed in order of our personal preference for how we get online when travelling. We've also included any discount codes that we've been able to find from suppliers for you guys.
The Best Options for Internet Access when Traveling
1. Use Your Mobile Provider
The first thing to do is check with your mobile phone company if they offer any form of roaming as part of your package for the countries you are visiting – often referred to as an international plan. This might be the easiest and cheapest way to get online when you travel.
For example, here in the UK, we use the Three network. They let us use our home data allowance at 3G speeds for no extra charge in over sixty countries, which is an excellent deal. The only restriction is that we can't share that connection when abroad with other devices. A number of other networks also include free roaming as part of their plans.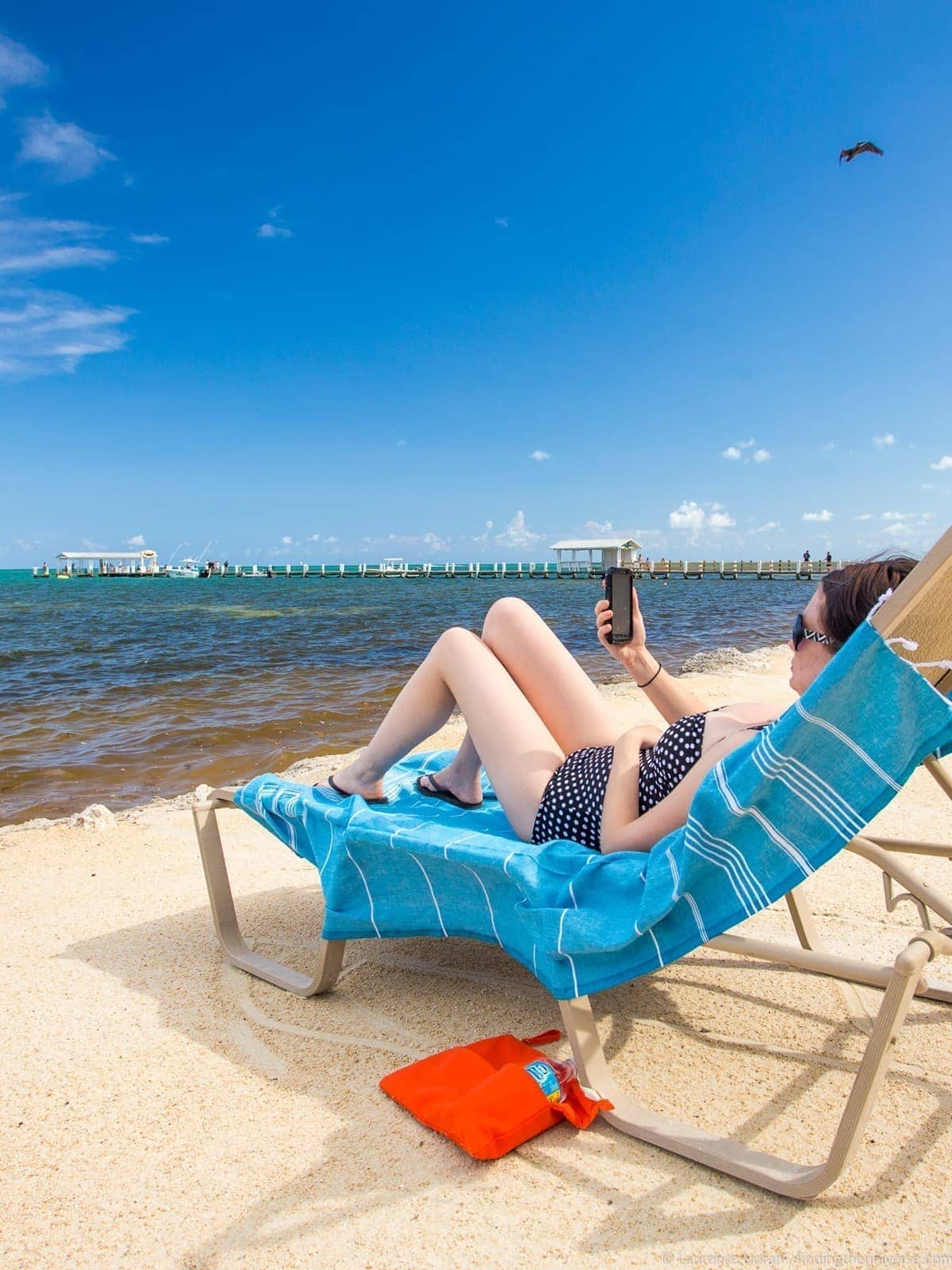 In the US, T-Mobile users on a qualifying plan have access to 2G speeds in over 140 countries with no additional charges. Whilst 2G isn't super fast, it's certainly good enough for the essentials like e-mail, messaging, and getting directions.
Some mobile providers also let you purchase overseas roaming packages, letting you get online on the days you really need to. This can be cost effective if you only need to get online on a small number of days, but can add up over a prolonged period, in which case you might want to investigate the other options below.
Note that if you aren't planning on using your provider's mobile data when you go abroad, it's really important to disable data roaming before you leave, to avoid running up hefty charges when you arrive in your destination country. Here's a guide on how to do that for Android, and one for iOS (Apple).
Advantages of using your mobile provider: If your provider supports roaming at no or minimal cost in the destination you are visiting, this can be the easiest and most cost-effective way to get online with minimum cost and effort.
Disadvantages of using your mobile provider: Even if your provider supports it, speeds may not be as fast as you would get with the other solutions below, due to throttling by your provider.
2. Buy a SIM Card in the Destination Country
Depending on the country you are travelling to, you might find it is cost effective to purchase a SIM card on arrival for your device, and use this for your data needs. For this to work you need an unlocked handset – you can check with your carrier if your handset is unlocked, and they should be able to assist you with unlocking it if you are allowed to.
If your device is unlocked, then you will be able to put any SIM card that you like into it. This has the advantage that you'll be able to get the maximum speeds available in that country as the provider will be local, and you'll also generally be able to do things like tether other devices to your handset.
Tethering allows you to set up your phone as a WiFi hotspot, meaning you can connect your laptop to the internet through your device connection. See this guide for instructions on setting up a WiFi hotspot on Android, and this guide for how to do it on Apple iOS devices.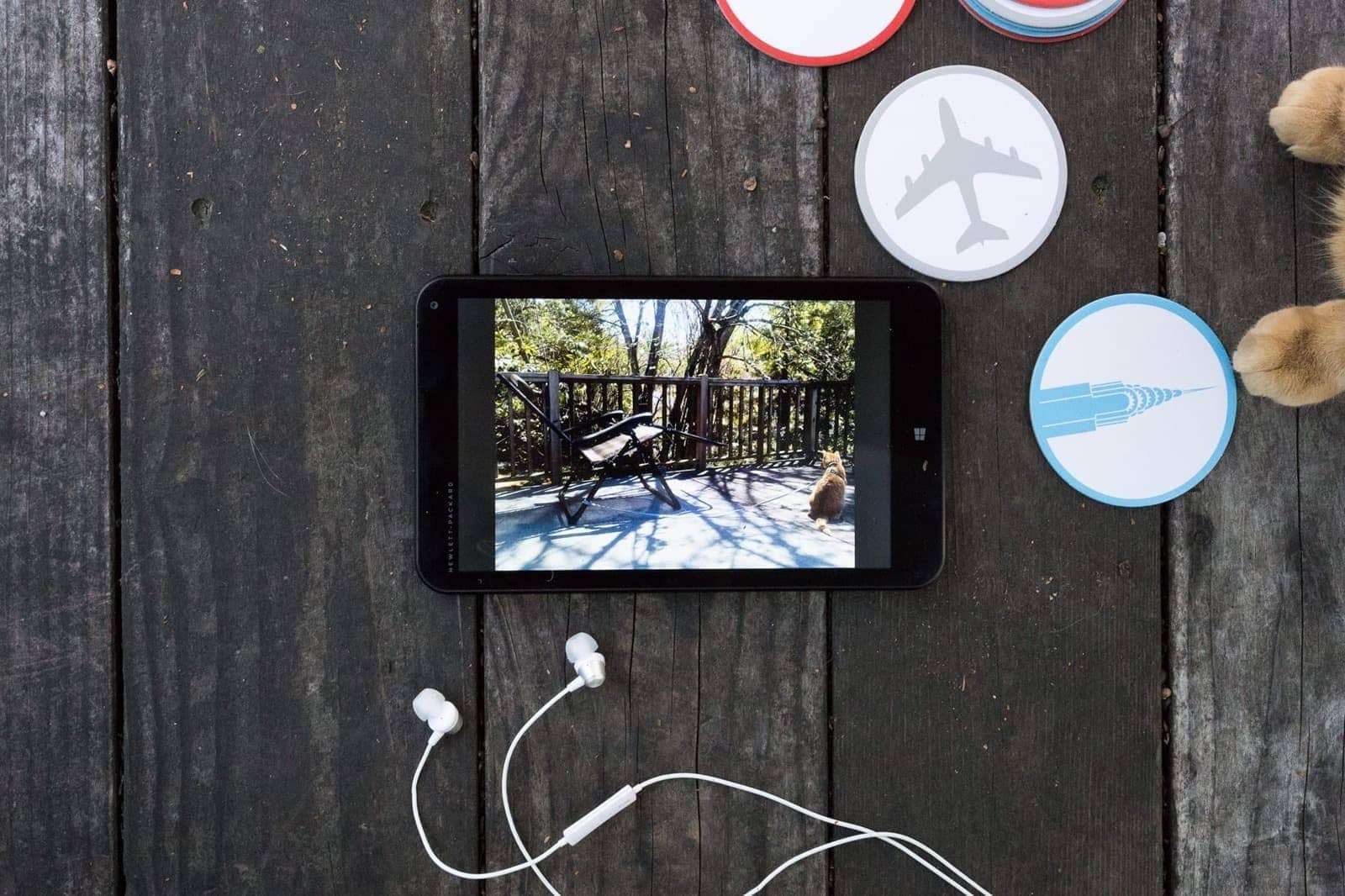 Depending on the country you're visiting there will be different packages and providers available. We're a big fan of Three for visitors to the UK – their Pay as You Go SIMS are great value for visitors, and they can be picked up on arrival in many stores as well as airport kiosks. Another option is GiffGaff – if you're outside the UK they'll let you order the SIM and have it shipped to your international address.
For travellers to the US, we recommend Straight Talk SIM cards. These can be purchased in Walmart locations across the US, with the current offer being $45 for a month of connectivity which includes 10GB of data, which is competitive for the US, especially on a 30 day plan.
For full details on SIM cards for a wide range of countries across the globe, take a look at the Pre Paid Data SIM Card wiki site, which has all the advice you could ever need on the best SIM card options for the majority of countries in the world.
For short trips, or for trips where you are hopping across many countries, purchasing a SIM card everywhere you go might be more hassle than it is worth. The exception is for travel in the EU – regulations introduced in June 2017 mean that providers can no longer charge for roaming in these countries, so a SIM card bought in one EU country *should* work across all other EU countries without additional charge.
Also be aware that some countries make it quite hard to purchase a SIM card, requiring you to have the equivalent of a social security number or other local government issued unique identifier in order to activate the service. In these countries, you're probably better off investigating other options.
Advantages of buying a local SIM card: Buying a SIM card abroad will usually give you the fastest local speeds available at the most cost-effective price, and is a great option if you have an unlocked phone, and will be in the country for more than a day or two.
Disadvantages of buying a local SIM card: A local SIM card will take a bit of effort on your part to find, depending on the country you visit, and activation can sometimes be tricky. It also requires an unlocked handset to work. For short stays, or multiple country trips (excluding the EU), it's probably not worth it.
3. Use a specialist roaming SIM
If your operator doesn't offer good roaming prices and you don't want the hassle of switching SIMs in and out of your phone as you travel, you might want to look into a solution that is designed for travellers – a travel SIM.
We have tried a few of these in our travels, and in our experience the best option is from a company called KnowRoaming.
They offer a number of products, but our favourite is the SIM sticker. This is a really neat solution, which involves you applying a sticker to your existing SIM card, which basically turns it into a clever dual SIM card. When you're travelling, you can activate this KnowRoaming SIM, for access to their rates.
KnowRoaming have two main models for payment. You can opt for pay as you go, and rates are very competitive compared to other world SIM suppliers, and certainly cheaper than the roaming fees your operator will charge you if you don't have some form of inclusive roaming deal. Alternatively, they offer unlimited data packages. For $7.99 / day, you can access truly unlimited data from your device, which you can also activate on a "per-day" basis, meaning you only use it when you need to.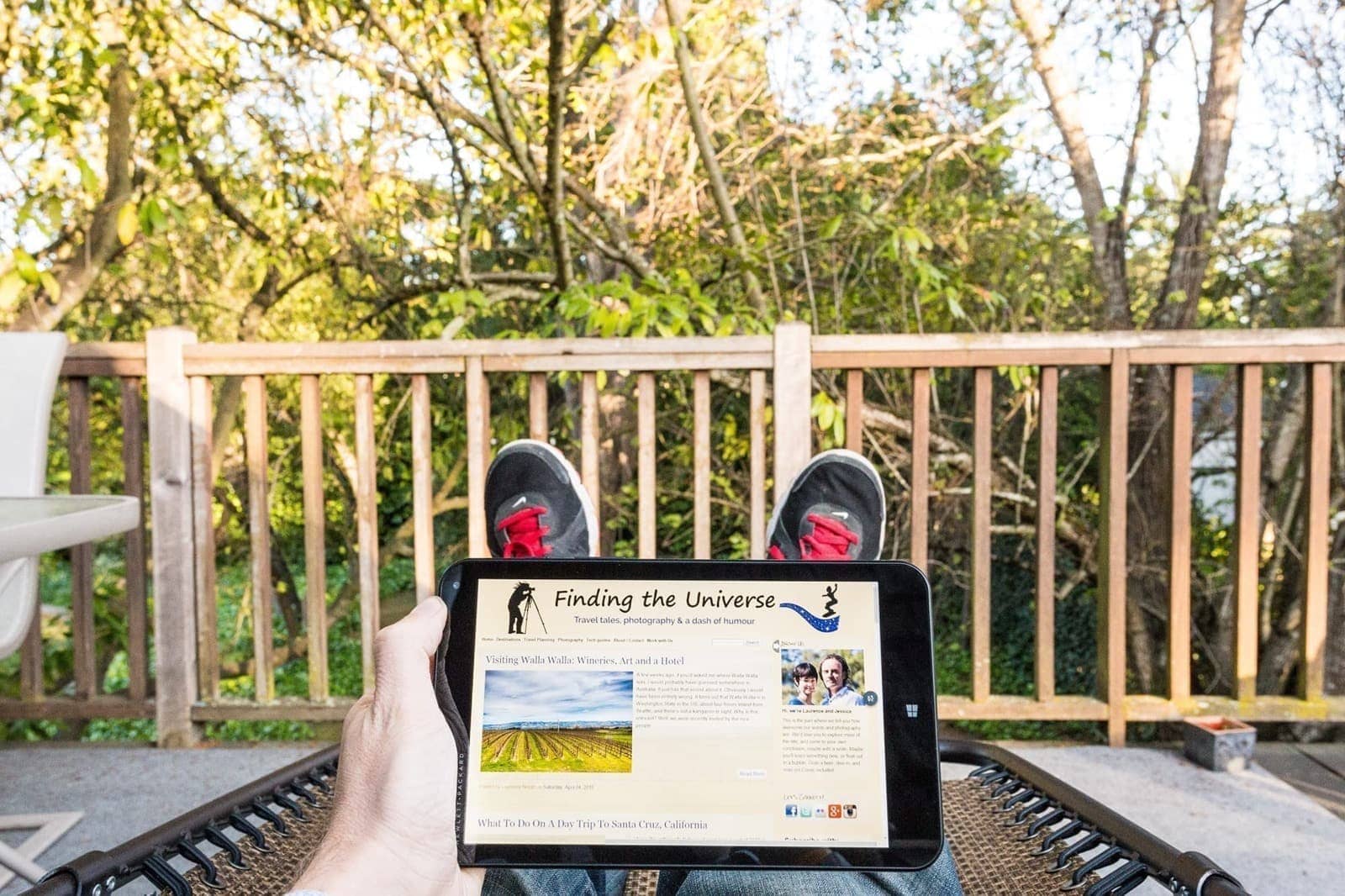 We've used KnowRoaming in a number of countries, both those not supported by our Three FeelAtHome network including Turkey & Canada, and also in countries where we wanted a faster experience than the throttled Three experience. In our experience the speeds are really fast, and the unlimited data allowances are not capped – unlike some competitors which throttle your speeds after a certain amount of data is used.
We've also been able to tether our other devices to the KnowRoaming SIM without trouble, and as a bonus, KnowRoaming includes free Whatsapp usage globally, which can be handy for staying in touch with visitors
If you do decide to go down the KnowRoaming route, we've got an exclusive discount code for you, which will get you 50% off your order. Just enter "JLSAVE50" at checkout for the discount to apply.
The KnowRoaming solution, and other SIM solutions like this, do require your device to be unlocked so you can use the other SIM options. If you aren't able to do this, or want a solution that lets you connect multiple devices at once, you'll need to:
Advantages of using a specialist SIM: A specialist travel SIM is usually a really simple option that will let you get online quickly and easily at high speeds, without having to worry about roaming fees. It's perfect for travelling across multiple countries, and will just work as soon as you arrive in the country. If you're looking for the easiest option, this is likely it.
Disadvantages of using a specialist SIM: A specialist SIM is one of the more expensive options for getting online, and you require an unlocked mobile.
4. Use a Mobile Hotspot like Tep Wireless or Hippocketwifi
A mobile hotspot is a standalone device which connects to a cellular network for data, and creates a local WiFi hotspot that you can connect your devices to. This lets you get all your devices online (handy if you have multiple people travelling together!), and means you don't have to worry about unlocking your phone. Some even offer 4G speeds, meaning you'll get super fast speeds as well.
The downside to all this awesome is that for connecting a single device, a mobile hotspot will usually work out to be more expensive than the other options, and they don't offer voice or text capabilities – just data. However, if data is all you are after, and you have multiple devices that you want to connect (if you're travelling as a couple or family for example), then these can be a cost effective option. Unlike something like KnowRoaming however, you usually have to pay for every day of your trip – in our experience they don't let you pay as you go.
Prices vary depending on where you are travelling and how much data you want to use, but in general you are looking at around $7 – $10 per day of travel for unlimited internet. Do check the terms and conditions on your rental though as many providers throttle speeds after a certain amount of usage each day.
If you are looking for a hotspot solution for travel, take a look at Tep Wireless. They offer free delivery of their device to your home before you travel, as well as very competitive rates. Plus, use discount code "tepon" for a 15% discount on their prices.
Another option for visitors to Europe is Hippocketwifi. They currently focus on Europe exclusively, and they have a number of competitive packages available, depending on how much data you need and for how long. We have a discount code that will give you 15% off your Hippocketwifi rental – just enter coupon code "TRAVELCATS15" at checkout in the coupon code section to claim.
Advantages of using a mobile hotspot: A mobile hotspot will let you connect multiple devices at high speeds, perfect for a family trip together.
Disadvantages of using a mobile hotspot: It's another device to carry with you and keep charged. You usually have to pay for every day rather than the days you want to use, making it the most expensive solution for individual use. In addition, you obviously need to be in range of the hotspot for it to work, so if your group splits up this could cause issues!
5. Just use WiFi for Internet Access
If all the above sounds like a lot of work, and you don't think you really need to be online every minute of the day, then our suggestion would be just to use free WiFi networks as you go. In many countries around the world you can find free WiFi all over the place. In the UK for example, most restaurants, bars, museums and many public spaces as well as public transport operators offer easy, hassle free connections.
The same can be said for the US and much of Europe. Reliable locations to find WiFi include McDonalds, Starbucks, and many others. Your hotel or lodging will nearly always include free WiFi as well – thankfully we're almost past the days when hotels feel they can charge for WiFi access.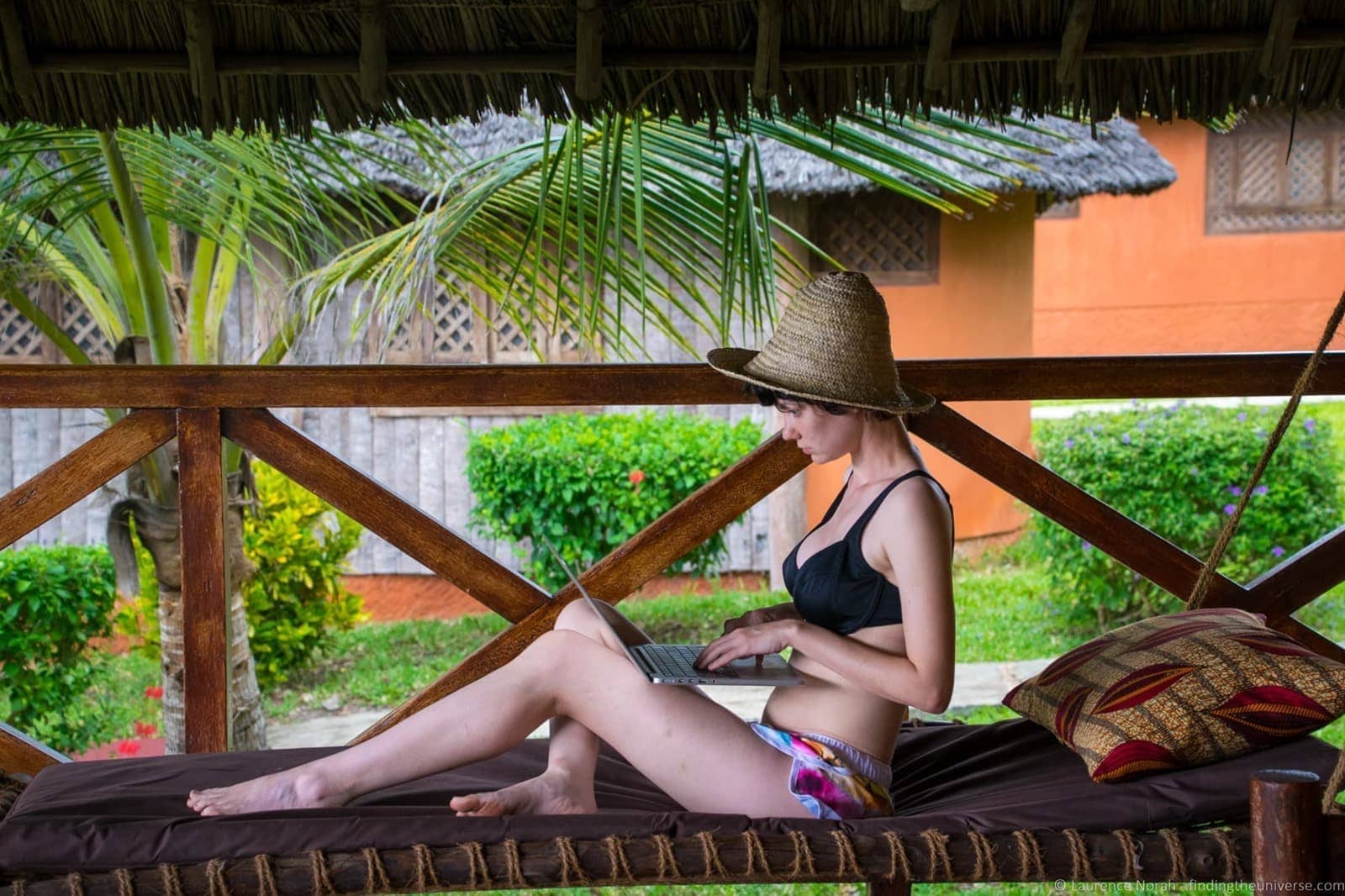 If this is a route you decide to go down, then we would highly suggest that you invest in a VPN service to keep your data secure. Wireless networks, in particular unsecured wireless networks (those you can connect to without needing a password), can be exploited and sensitive data like passwords can be stolen as you browse.
One of the most highly reviewed and respected VPN services in the world is NordVPN. They offer competitive pricing, especially on their 1 year plan, and by connecting through their VPN software on your devices you'll know your sensitive data is safe from prying eyes.
You might also want to consider investing in a wireless range extender, also known as a travel router. This is a small device that can boost a weak wireless signal, allowing you to connect your devices from further away to something like a hotel or coffee shop that you might not have been able to previously connect to.
We've done a round up of the best travel routers to give you an idea of what these devices do and how they work. Our current suggestion is the TP-Link N300 Nano Travel Router, which is well reviewed and very cost effective.
Advantages of using WiFi: This definitely one of the easiest option for internet access when traveling, because all you have to do is disable your phones data roaming and then just find WiFi as you go. It's also the cheapest option, and WiFi is usually faster than mobile data in many cases. If you don't urgently need the internet at every waking moment, this is a great option.
Disdvantages of using WiFi: WiFi is not yet ubiquitous, so you won't be online all the time. There are also some security risks to using unsecured wireless networks, so you are likely still going to have to pay for a VPN.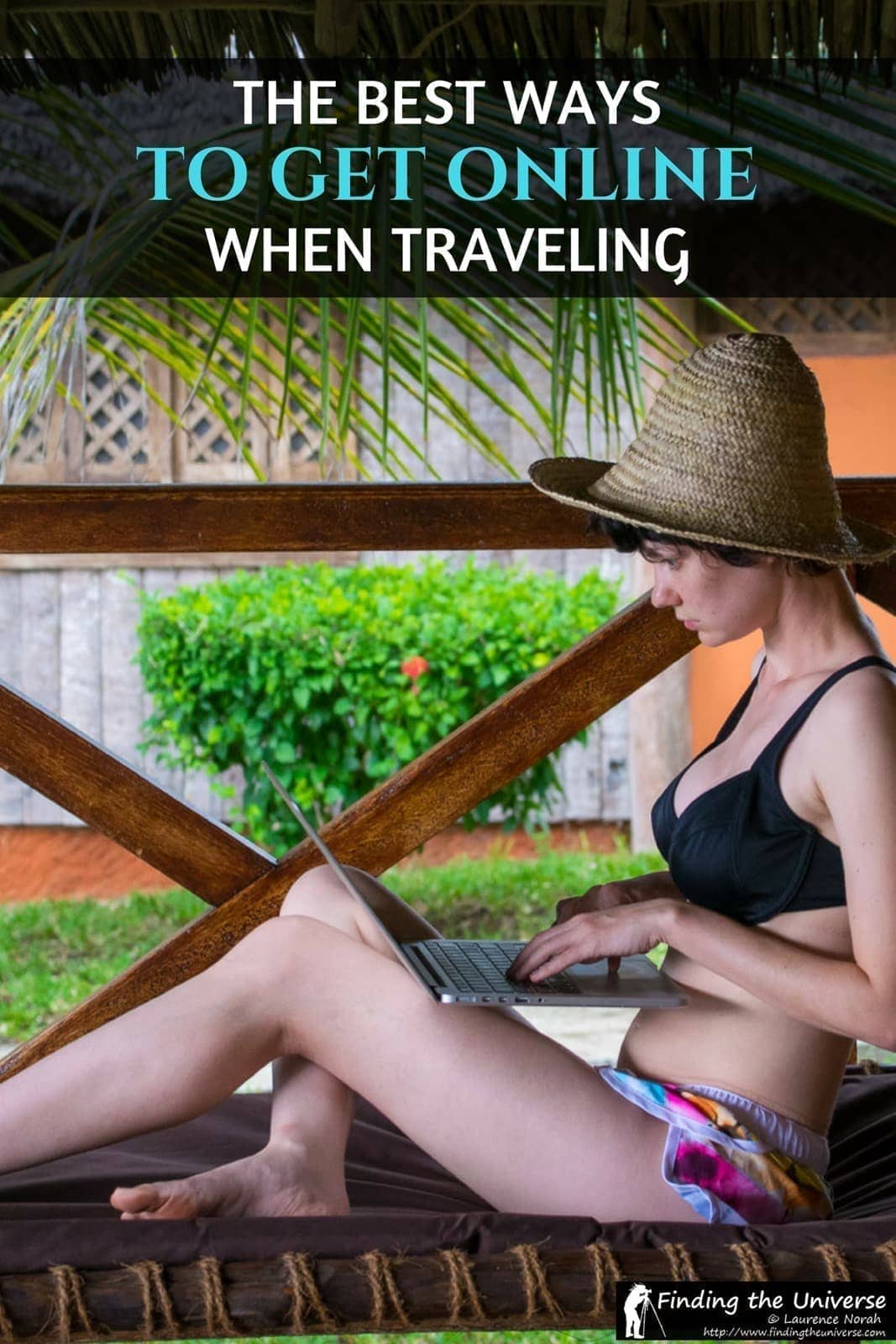 And that sums up our guide to getting online when traveling! As you can see, there are plenty of options for you, ranging from free through to more premium solutions. The best option for you will vary depending on your destination country, budget, and number of people travelling, but certainly we believe that one of the options above will help you get online and avoid nasty bill shock when you get home!
Home » Travel and Packing Tips » Travel Tips »