We've taken a lot of road trips in the USA, and it is our favorite country for taking road trips. From Route 66 to the Oregon Trail to the Pacific Coast Highway to the Deep South, we've had some amazing adventures by road across the states.
One of our most popular road trip itineraries for the USA is our two week California road trip itinerary. However, I'm often asked by readers how to adapt it to include some other popular destinations in the USA, specifically Las Vegas and the Grand Canyon.
In response to this request, I've put together this detailed two week USA road trip itinerary through parts of the southwest and western USA.
This itinerary includes highlights of California, such as Yosemite and Death Valley national parks, as well as the Pacific Coast Highway, San Francisco and Los Angeles. It also has you driving some iconic stretches of Route 66, spending time in Las Vegas, and taking a visit to the incredible Grand Canyon.
This is an extension to the popular "Golden Triangle" road trip, which usually features Las Vegas, Los Angeles, and San Francisco. Our road trip itinerary takes you across three states – California, Arizona and Nevada, and would suit trips of two to three weeks.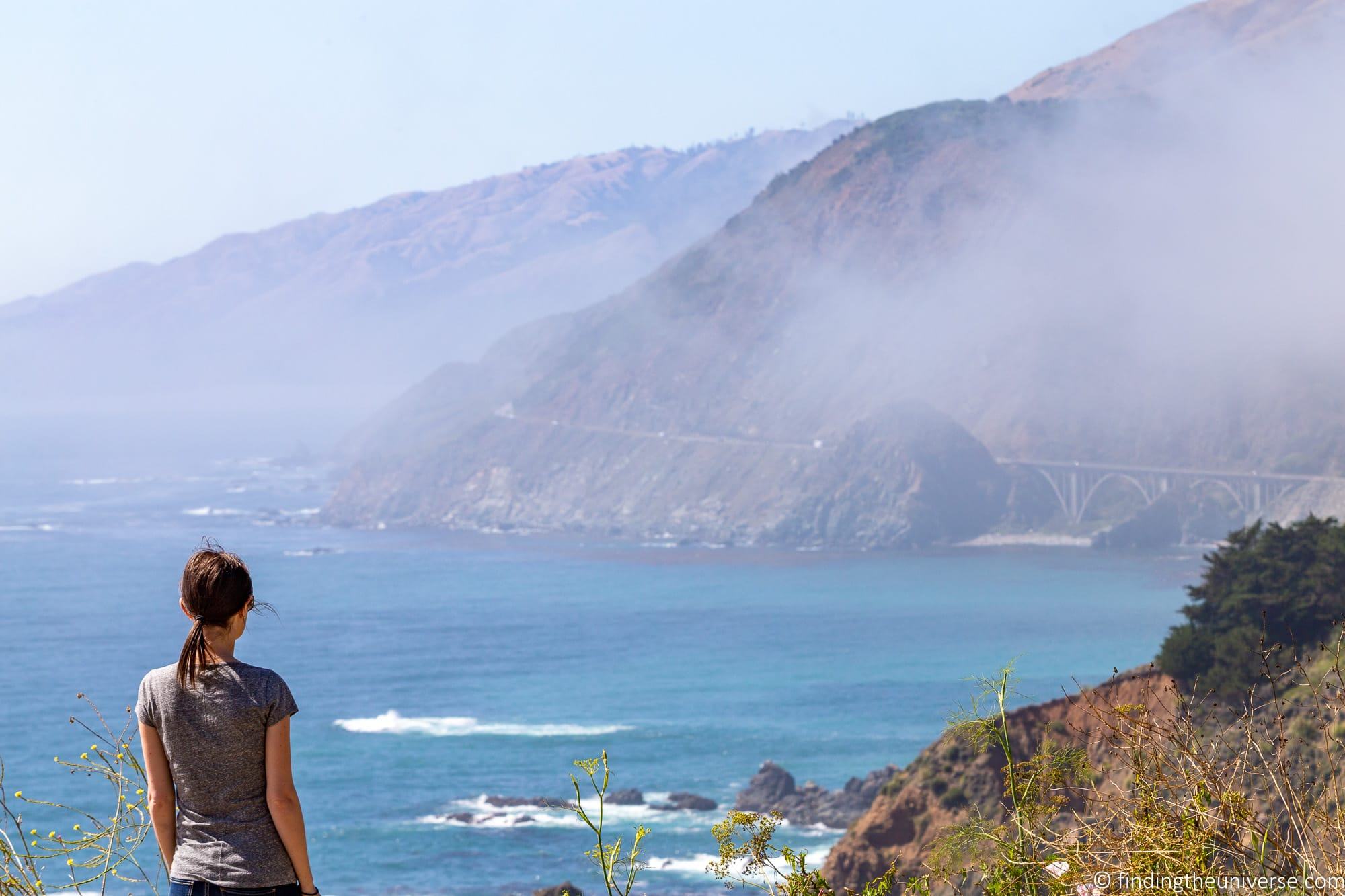 Obviously, as you are trying to see a fair bit in this itinerary, it does require quite a bit of driving, and you won't be able to see absolutely everything on offer. We'd suggest a minimum of two weeks for this trip, but if you have a little longer, then you could easily stretch it out to three weeks or more, and have a few more stops along the way.
For now though, let's take a look at this itinerary on a day by day basis to see what it looks like. As always, please just use this itinerary as a guide, and feel free to adjust it to your particular interests!
USA Road Trip Itinerary
I've designed this itinerary to be circular, so you start and finish at the same place. This makes things like car hire easier, as often there's a one-way fee if you rent a car in one place and leave it somewhere else. However, this isn't always the case, for example, we've rented in Las Vegas and dropped off in San Francisco and not been charged a fee.
Of course, if you are wanting to avoid driving in the USA, then you can also take tours that follow a very similar route to this one, such as this one. You can check out a list of tour options later in the post.
A circular route also means that you can start and finish at any point on the route, and you can do it in either direction. If you're flying to the start, cities with major airports include Las Vegas, San Francisco and Los Angeles. For now, we'll assume you're going to start in Las Vegas.
Days 1 & 2 – Las Vegas
We recommend starting your US road trip in Las Vegas. The city is world famous as basically an adults playground, with gambling, shows, restaurants and bars aplenty. It's an easy place to spend a lot of money very quickly!
However, there is definitely a lot more to Las Vegas than the famous Las Vegas Strip, both in town, and in the nearby area. The stunning Valley of Fire state park is a short drive away, and you can also visit the impressive Hoover Dam very easily. So whether you are into natural wonders or man-made delights, you should find something to do.
Our recommendation would be to spend your two days in Las Vegas. There is a lot to do in the city, and if you arriving from a different time zone, these two days will give you time to adjust and acclimatize. However, if you do want to head out of the city, we have included a couple of suggested trips to popular nearby attractions as well.
Things to do in Las Vegas
With around two days to explore, depending on when you arrive in the city, you should be able to see a good amount in Las Vegas.
Some of our personal highlights we recommend include the views from the top of the Stratosphere Tower, visiting the famous Welcome to Las Vegas sign for a photo opportunity, walking the Strip at night, watching the famous Bellagio fountains display and taking in the Mob Museum.
You will also likely want to take in one of the shows that are hosted every evening at venues across the city. There's a huge number of shows to choose from, you can see the options and book them online in advance here. Other popular activities in Vegas include dining. The city is home to a number of truly world class restaurants, as well as quite spectacular buffets.
There's also no shortage of shopping if you want to indulge in a bit of retail therapy. We'd also suggest taking a bit of down time and relaxing by your hotel pool as part of your acclimatization strategy. There's going to be a lot of driving and sight-seeing in the days ahead, so a bit time relaxing by the pool with a beer or cocktail will start your trip off on the right foot. Alternatively, there are also a number of fun rides you can take in the city, if you're more of a thrill seeker.
Finally, you will probably want to take part in the pastime that Vegas is most well known for – gambling. There's a huge number of casinos to choose from, with many of the hotels also running huge casino operations. Even if you don't wish to gamble, it is worth visiting a few of the casinos as the buildings themselves are so iconic.
In terms of getting around Las Vegas, the city has a lot of options. It's also relatively spread out, so whilst you can walk, it will likely take you longer than you think to get around on foot. The temperatures in summer also make walking very uncomfortable.
Instead, you might consider one of the popular rideshare services, taxis, or the monorail, which connects many of the key points of the city together. We would advise against driving in the Las Vegas – parking fees are high, and the roads are busy.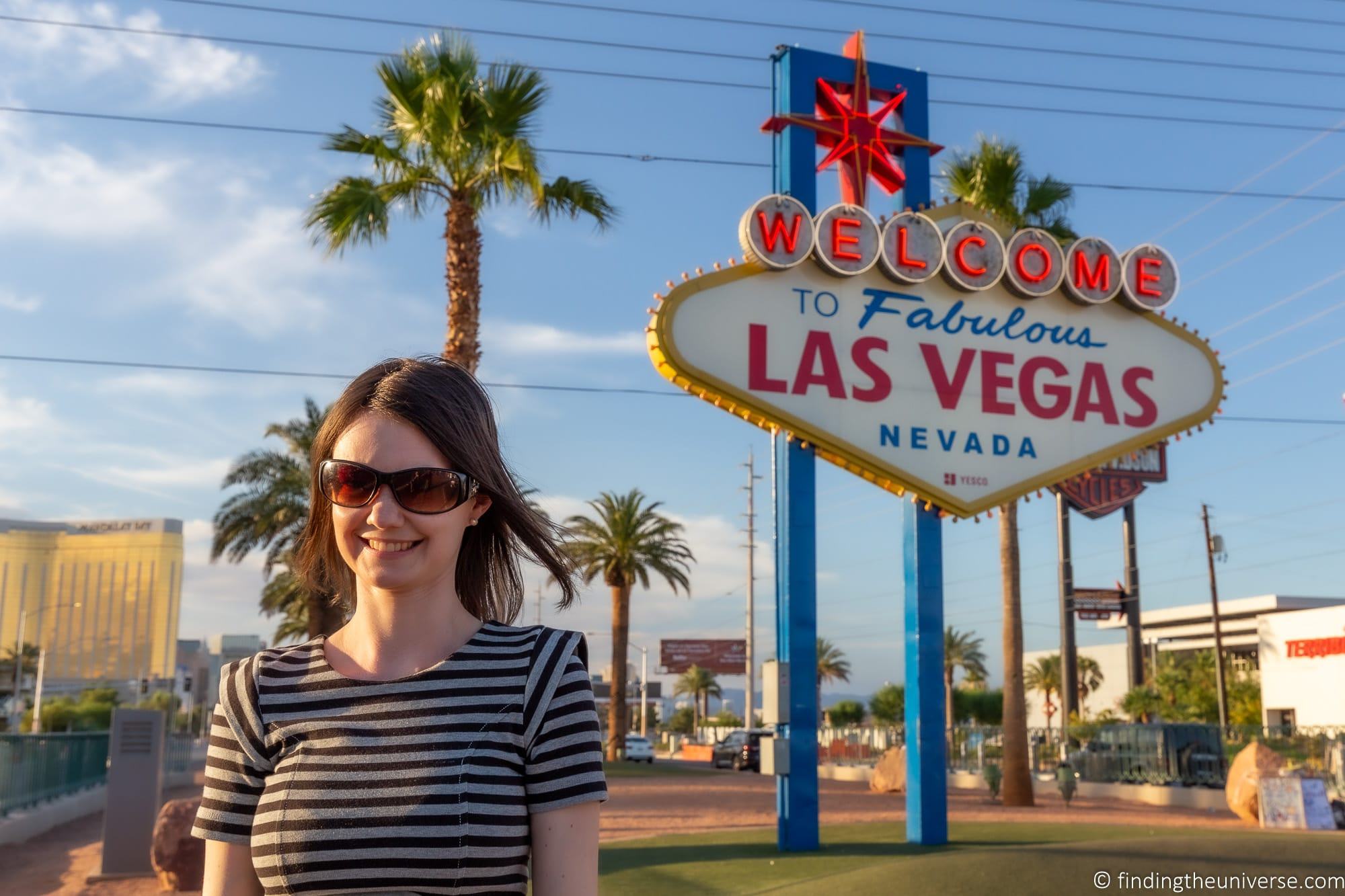 If you'd prefer to head out of the city for either part of all of one of your days in the city, we'd recommend visiting either the Hoover Dam and taking the tour there or heading out to the Valley of Fire State Park. If you head out early and have your own vehicle you can fit both into one day out.
The Hoover Dam is an incredible feat of modern engineering, and is regarded as one of the seven wonders of the industrial world.
The Valley of Fire State Park is home to spectacular landscapes, made up from wonderfully colored rocks which give the park its name
The Hoover Dam is a ticketed attraction, with different tours available. Some of these tours can be purchased in advance online, whilst others are only available in person. If you choose to take a tour that requires an in person ticket purchase you will want to arrive early as slots are limited and this is a popular attraction. See more on ticket types and prices on the official website here.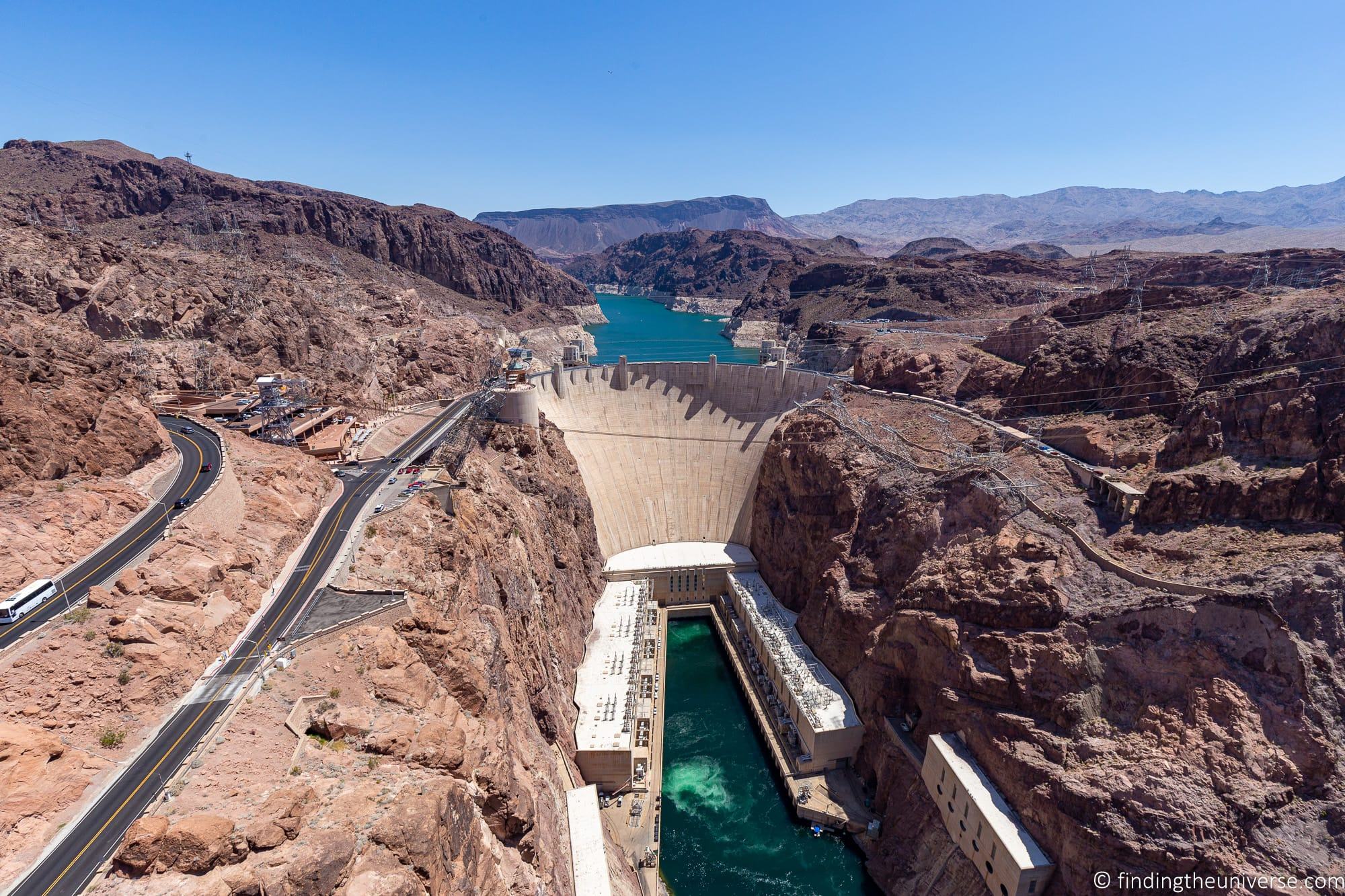 The Valley of Fire State Park also has a fee, which is charged per vehicle rather than per person, and you can see details of that here. There are a number of short hikes you can take to explore the park, or you can just drive to observation points and enjoy the views.
Note that if you are doing this road trip in the summer, hiking is generally not recommended as it gets very hot, often in excess of 100F / 37C. Visiting the Valley of Fire at this time of year is not as pleasant an experience as in the cooler months.
You can either take a tour to reach our suggested sites or you can drive yourself. If you don't want to pick up your rental car yet, or would just prefer the convenience of a tour, here are some options to consider:
Whether you decide to spend all your time in Las Vegas or take in some of the surrounding attractions, we're sure you won't run out of things to do here.
For more inspiration, see our guide to things to do in Las Vegas which has lots more ideas as well as tips on saving money.
Where to Stay in Las Vegas
There's no shortage of places to stay in Las Vegas. Our suggestion would be to try and stay on or near the Strip if possible, as this will make it easier to get to many of the sights. We'd also suggest staying in one of the casinos because that's part of the Vegas experience! Here are some suggested options to get you started across a range of budgets.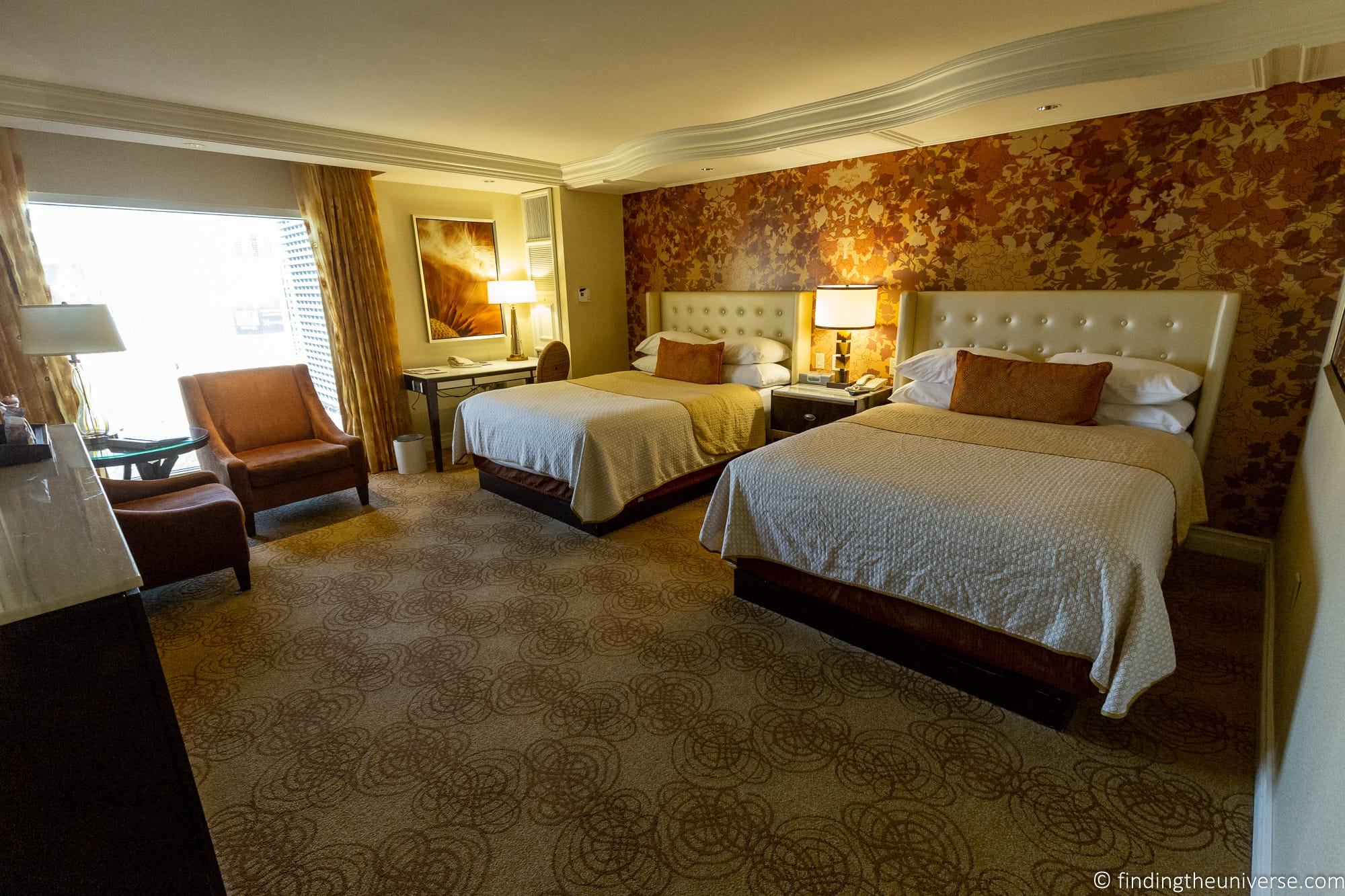 Day 3 – Grand Canyon
It's time to start the real road trip part of your adventure! If you're picking up your rental car, now is the time to do that if you haven't already.
For your third day you'll want to get an early start as you've got around 300 miles to go, or just under a five hour drive.
It's worth it though, for what is arguably one of mother nature's most spectacular sights in the world – the Grand Canyon.
You have a couple of options for your drive. First, you can drop down to Kingman, Arizona, and then take the I-40 all the way to Williams, Arizona, before turning north.
However, you might prefer to take the more scenic route along a stretch of the legendary Route 66 driving route. This runs from Kingman, Arizona, up to Peach Springs and back down to Seligman, where you join the I-40. This won't add much to your journey (around 20 minutes extra driving time), but will give you the opportunity to follow just over 80 miles of Route 66.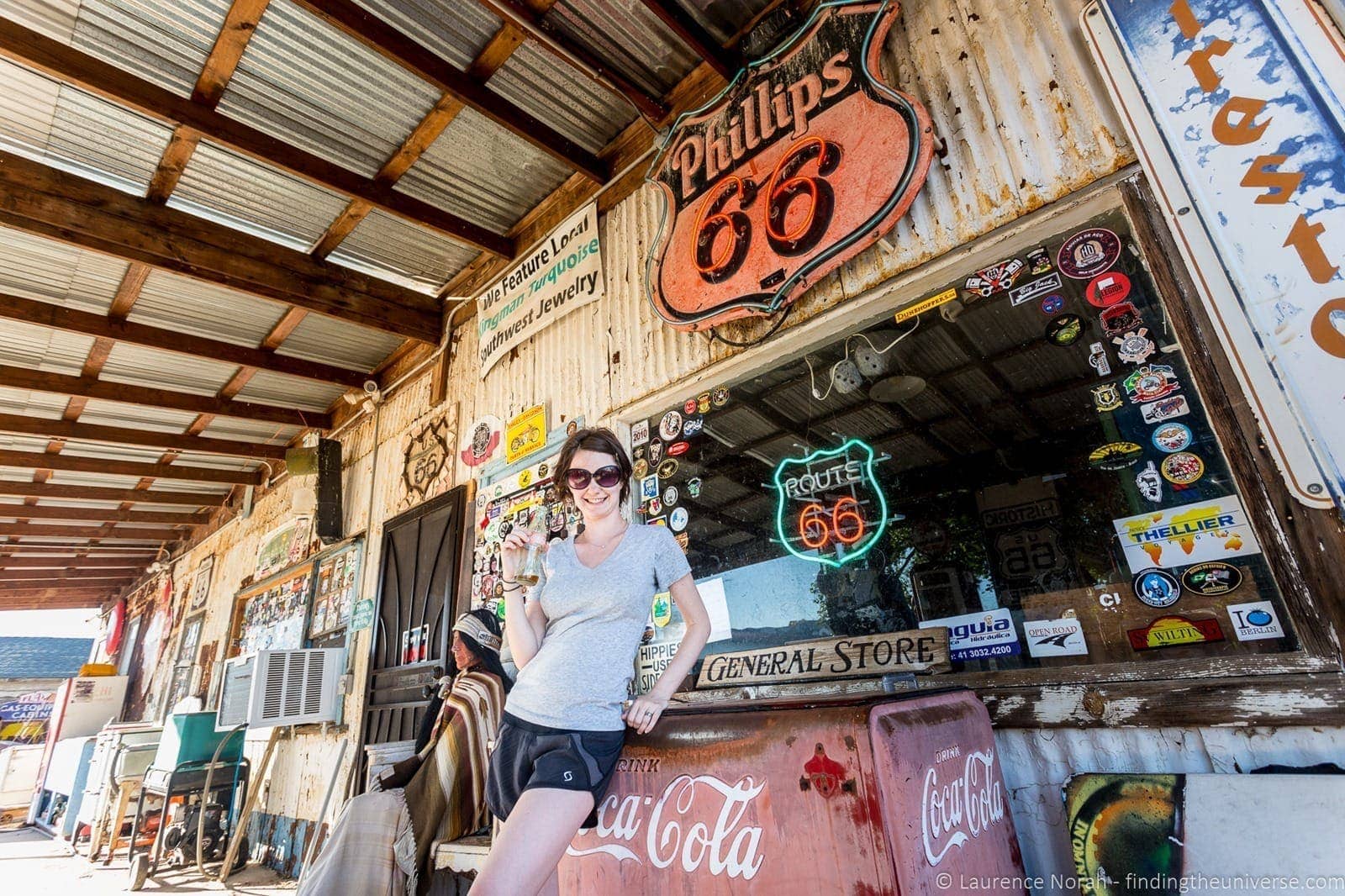 There are a few notable highlights along this stretch of the route which are worth stopping at, even if just for a quick photo opportunity. These include Hackberry General Store, a Route 66 era gas station in Truxton, and the Grand Canyon Caverns. You can see more options for this stretch of the route in this part of our 2 week Route 66 guide.
Now, onto the main attraction of the day – the Grand Canyon! This is a National Park with entry fees, which are charged per vehicle. You can see information on prices, opening times and concessions here.
You are basically going to have most of the afternoon, the evening, and the following morning to visit the park. Obviously, more time would be best, but we're on a schedule for this itinerary. If you do want to do more activities here though, including lengthier hikes, you will definitely want to extend your stay here.
Let's assume you are following this itinerary though, and have around 1.5 days at the Grand Canyon. I would recommend spending this as follows.
Things to do at the Grand Canyon
First, I suggest visiting the main Grand Canyon Visitor Centre in Grand Canyon Village. This has detailed information on the park, with exhibits on a range of subjects including the geology, geography, and wildlife of the park. There's also a 20 minute video you can watch to get acquainted with the park.
You can also talk to the rangers based here who can give you advice for everything related to your visit, from shuttle timetables through to great spots to watch the sunset and sunrise, and suggested short hikes that you can take to match your specific fitness.
From the visitor centre, it's a short walk to Mather Point which offers incredible views across the Canyon. You can also walk along the trail which follows the rim in both directions, for more views (and fewer crowds).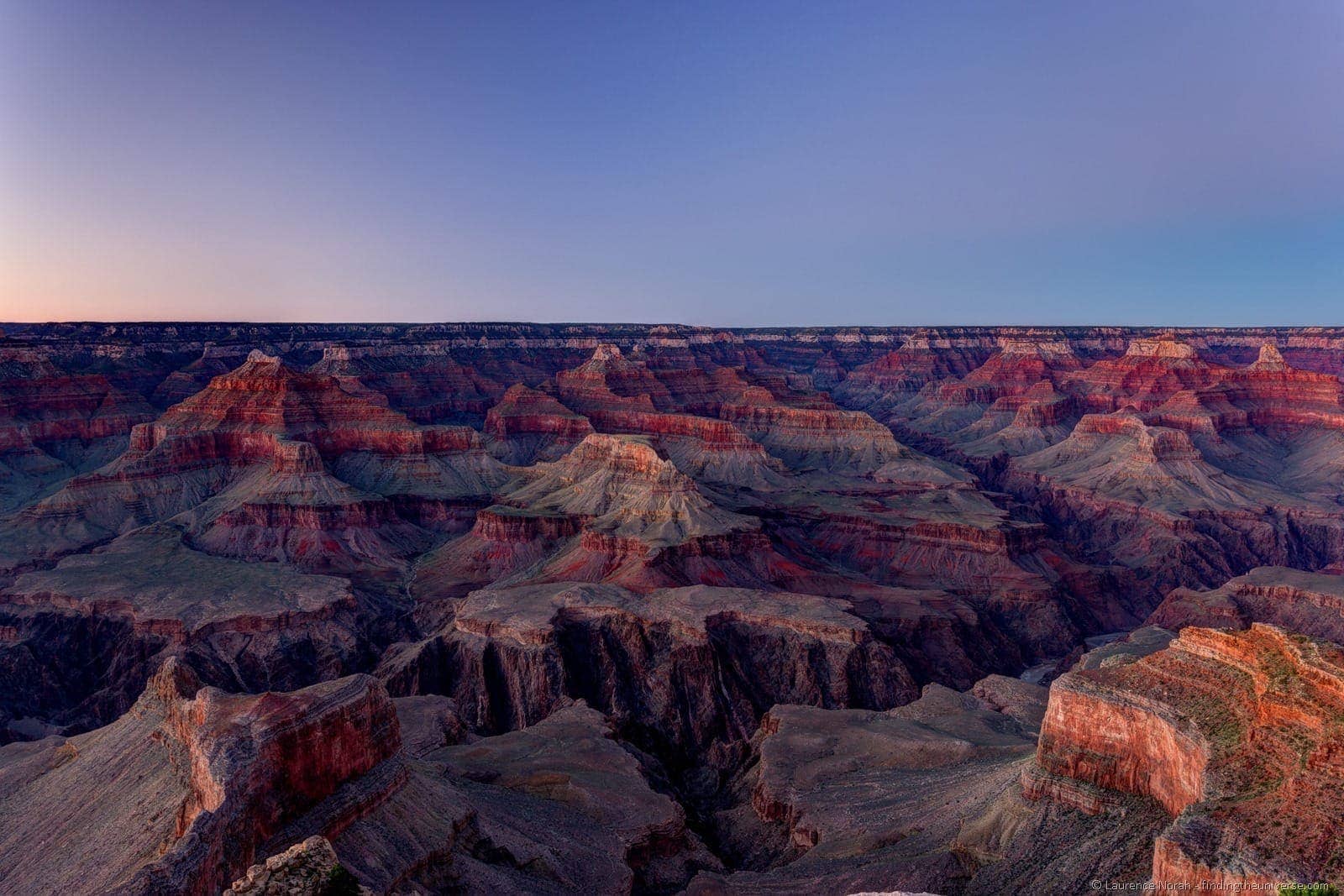 At this point you'll probably want to head to your accommodation and check-in, after which, depending on how much time you have, you may want to take the shuttle bus to one of the viewpoints along the rim. I'd definitely recommend ensuring you have a good spot to watch the sunset – I have a guide to the best places to watch the sunset and sunrise at the Grand Canyon here.
Finally, after a long day it's time to turn in. On the morning of your fourth day I suggest taking another short hike if that interests you, or driving to some of the many viewpoints along the rim as you exit the park.
Where to Stay at the Grand Canyon
You have a few options for staying at the Grand Canyon. My recommendation is to stay on-site at the south rim in Grand Canyon Village. There are five hotels to choose from, plus two campgrounds. They cover a range of budgets, but be aware you do pay a bit of a premium for the location. You can see all the options available here.
If you want to stay at any of these, you will definitely need to book online in advance as they are all very popular and do sell out.
The hotels are all operated by Grand Canyon Lodges, and can be booked online here.
The two campgrounds are Mather Campground (no RV hookups) and Trailer Village (full hook-ups available).
Mather Campground is operated by the National Parks Service, and can be booked online here. Trailer Village is a concession, which can be booked online here.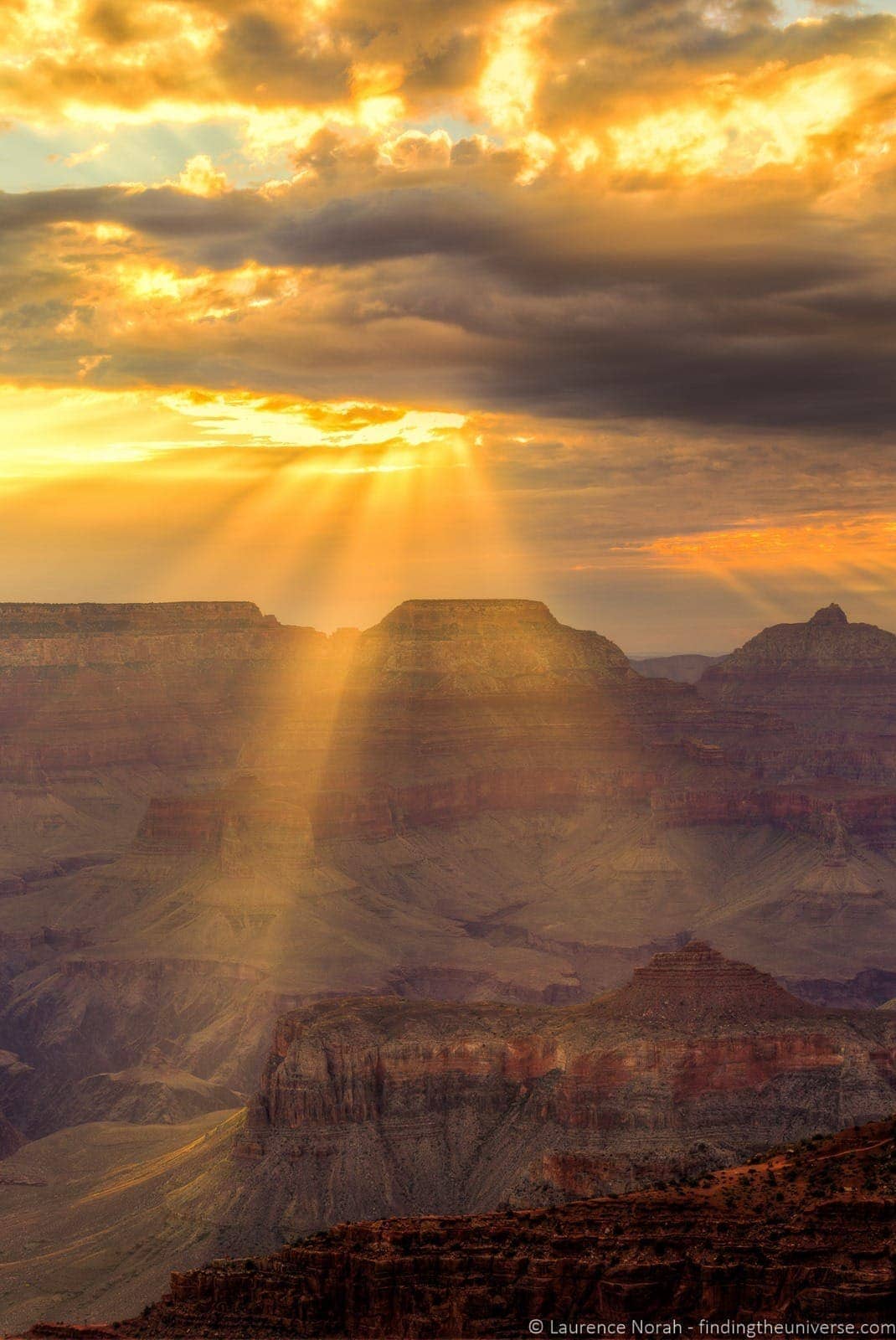 Day 4 – Route 66 to Joshua Tree National Park
Your fourth day of this itinerary has you heading to California, with your destination being the Joshua Tree National Park.
You have a decent amount of driving today, and again we're going to suggest you take the opportunity to take in stretches of iconic Route 66. Doing so will result in around a 6.5 hour drive, or around 375 miles of driving. If you would prefer a more direct route, it's around 5.5 hours / 361 miles.
We think the scenic route is worth it though, as this drive across the wild and rugged back country of California and parts of Arizona Is truly spectacular, and one we always enjoy. Specifically, you will follow I-40 to Kingman, then take the 10 out to Oatman. This town maintains the feel of a former wild west frontier town, and burros still roam the streets. There are even regular "gunfights" here, staged for the benefit of visiting tourists.
Just note, the traffic around Oatman can be quite slow (and even stop sometimes) as a result of the daily shows. In addition, the road up to Oatman is quite curvy, so you will want to take your time.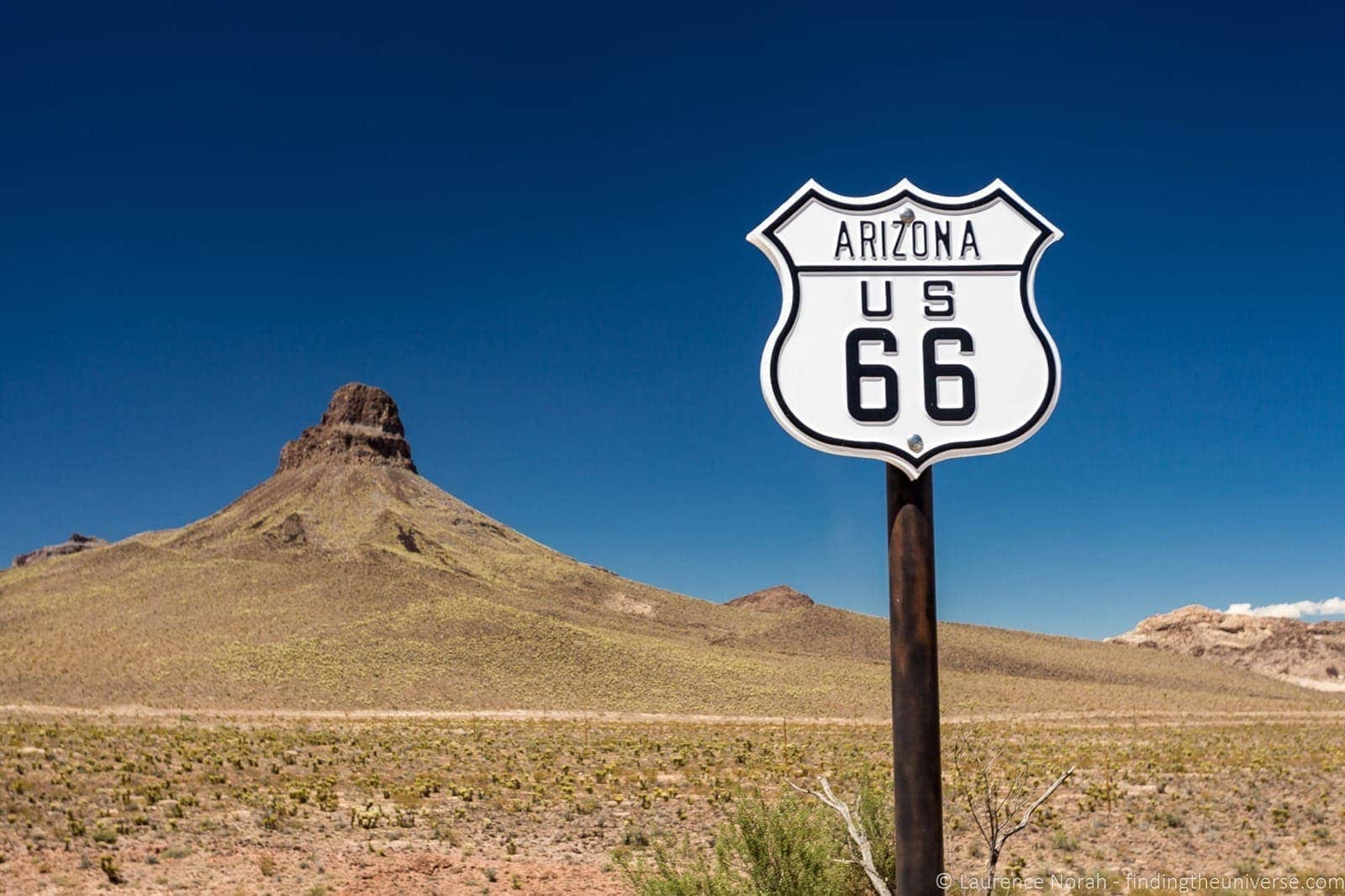 From Oatman, you'll head on to Needles, one of the hottest places in the USA, follow the I-40 for a short while longer, and then rejoin Route 66 to pass through Amboy. A photo stop and a purchase of Route 66 Route beer is essential at Roy's Motel in Amboy!
From Amboy, it's due south until you reach Twentynine Palms. This is where you can access the Joshua Tree National Park, which we suggest you leave until the following day.
Once you consider various stops for photo opportunities, dining and so on, you will likely have used up all your useful daylight by now, so we suggest stopping overnight in Twentynine Palms, and continuing your adventures tomorrow. Of course, if you're a fan of astrophotography, you might want to pop into the park, which has some excellent star gazing and astrophotography opportunities. But it's up to you.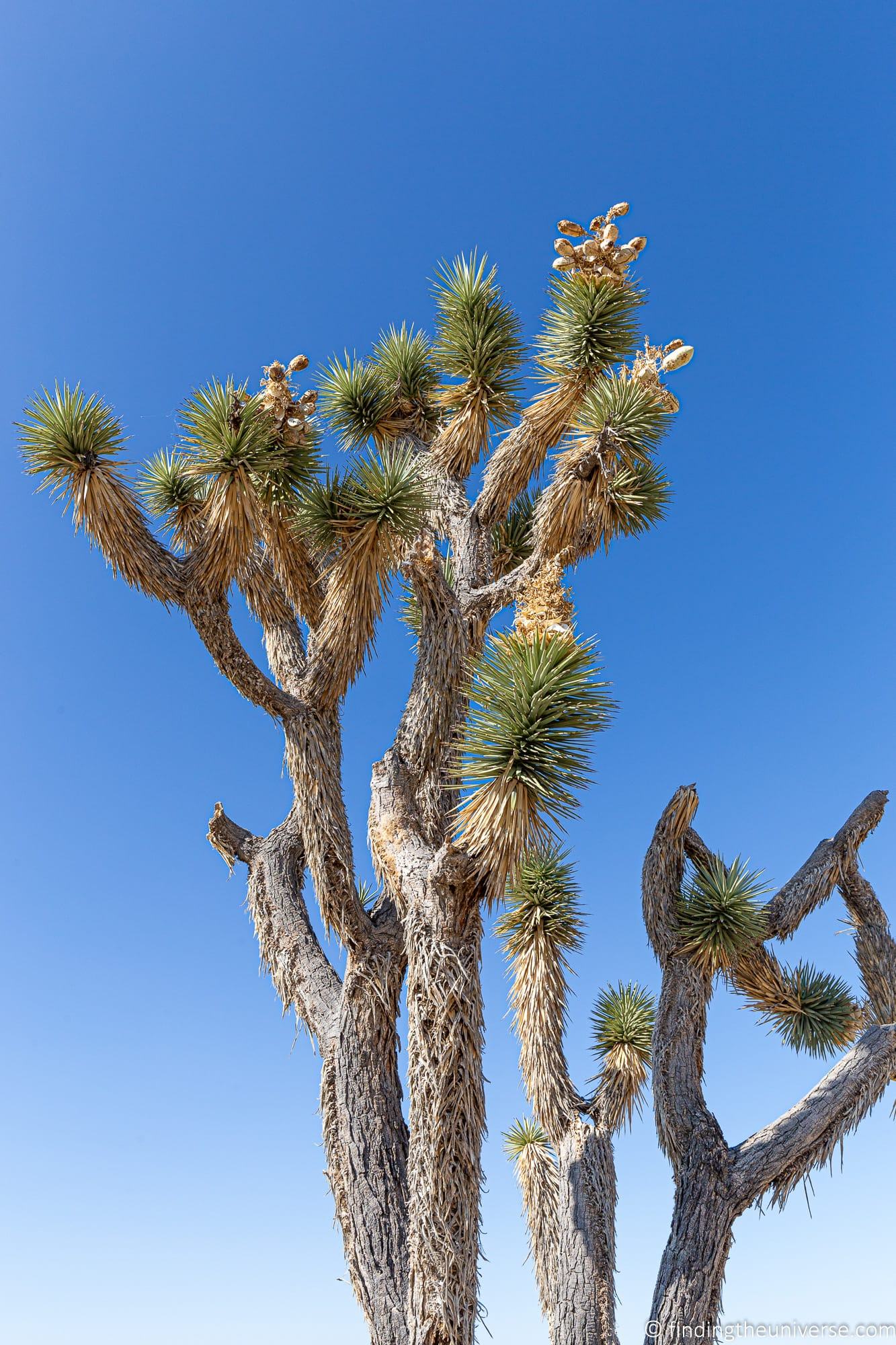 Where to Stay Near Joshua Tree National Park
There are no hotels within the park grounds, although there are nine campgrounds to choose from if you plan on camping. You can book these campgrounds online here. I've camped at the Jumbo Rocks campground and it was an amazing experience.
Otherwise, we would suggest staying in a property in Twentynine Palms. There is a good choice of 2 and 3 star properties to choose from, such as:
If you want a higher end experience, you would need to head on to Palm Springs, where there are a number of spa resorts and high end 4* hotels to choose from, such as The Palm Springs Hotel or the Alcazar Palm Springs.
Day 5 – San Diego or Joshua Tree
You have a couple of options for your fifth day, depending on whether you prefer nature or cities. You can spend the day exploring the Joshua Tree National Park, where there are plentiful hiking and wilderness activities. Or, you can press on to San Diego, where there are plentiful city and cultural attractions to choose from.
If you choose to spend the day exploring and hiking at Joshua Tree National park, we'd suggest visiting the Oasis Visitor Centre in Twentynine Palms, where you can learn about the park and get advice and information on your visit. Conditions can vary in the park depending on the weather and time of year, so obtaining up to date information is useful.
There's also an entry fee for the park, which covers one vehicle for a week.
If you decide to spend the day exploring Joshua tree, then we recommend spending another night near the park, and then heading to Los Angeles the next morning after breakfast, just under 3 hours drive away.
If you choose to spend the day exploring San Diego, it is about a 3 hour drive to San Diego from Twentynine Palms. If you wanted to, you could spend a few hours in the morning at Joshua Tree and then head into the city. We'd suggest you spend the afternoon of Day 5 and morning of Day 6 in San Diego, and you won't run out of things to do.
Here are some ideas:
Things to do in San Diego for a Day
We can recommend visiting the excellent USS Midway Museum, which is a fantastic museum ship found on what was, for a long time, the largest ship in the world. Built just as the second world war ended, this aircraft carrier saw service in the Vietnam War as well as the first Gulf War.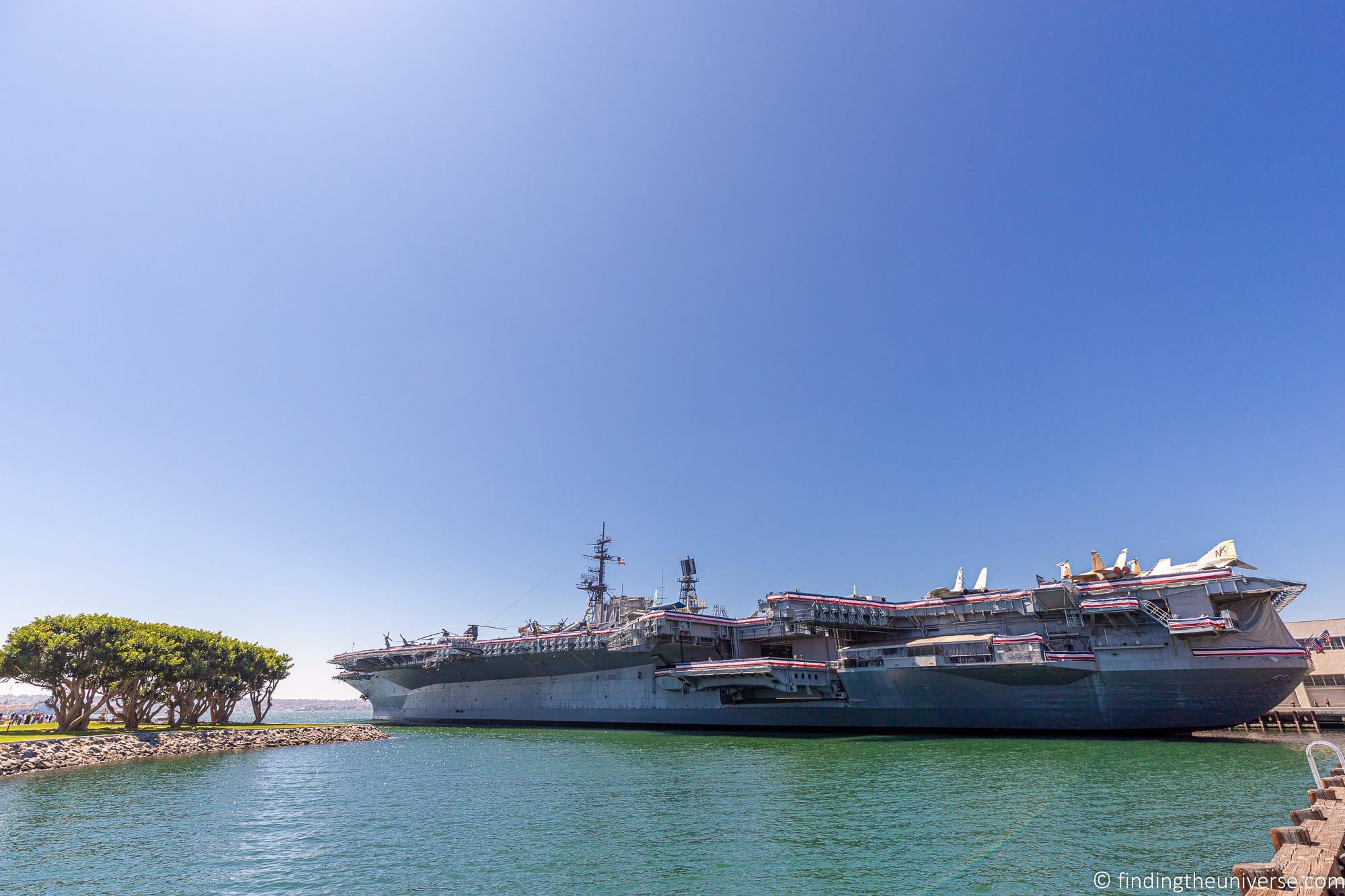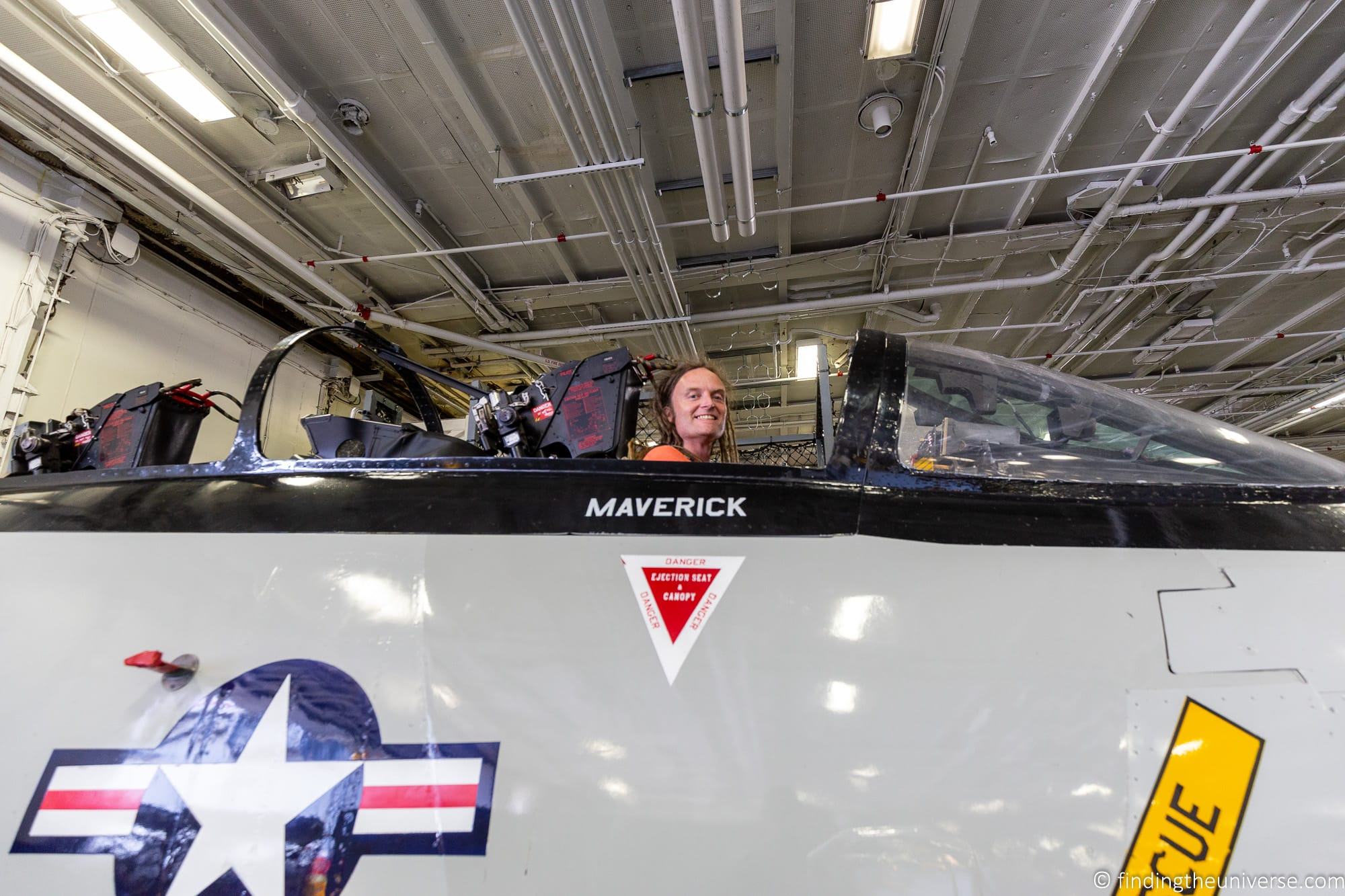 You can easily spend your whole afternoon here, and lovers of military or aviation history will definitely want to come here. There's also the nearby San Diego Air and Space Museum.
There are lots of other sights to choose from in San Diego. Don't miss a wander through the historical gaslamp district, and a visit to San Diego Zoo is a popular option especially with families. If you would prefer to visit the beach, Coronado Beach is well worth visiting.
See our complete guide to things to do in San Diego for more ideas!
Where to Stay in San Diego
San Diego is a major city and as such there is no shortage of excellent accommodation options to choose from. Of course, the flip side being that budget accommodations are a little harder to come by, although there are still some options. Here are our picks for your time in San Diego.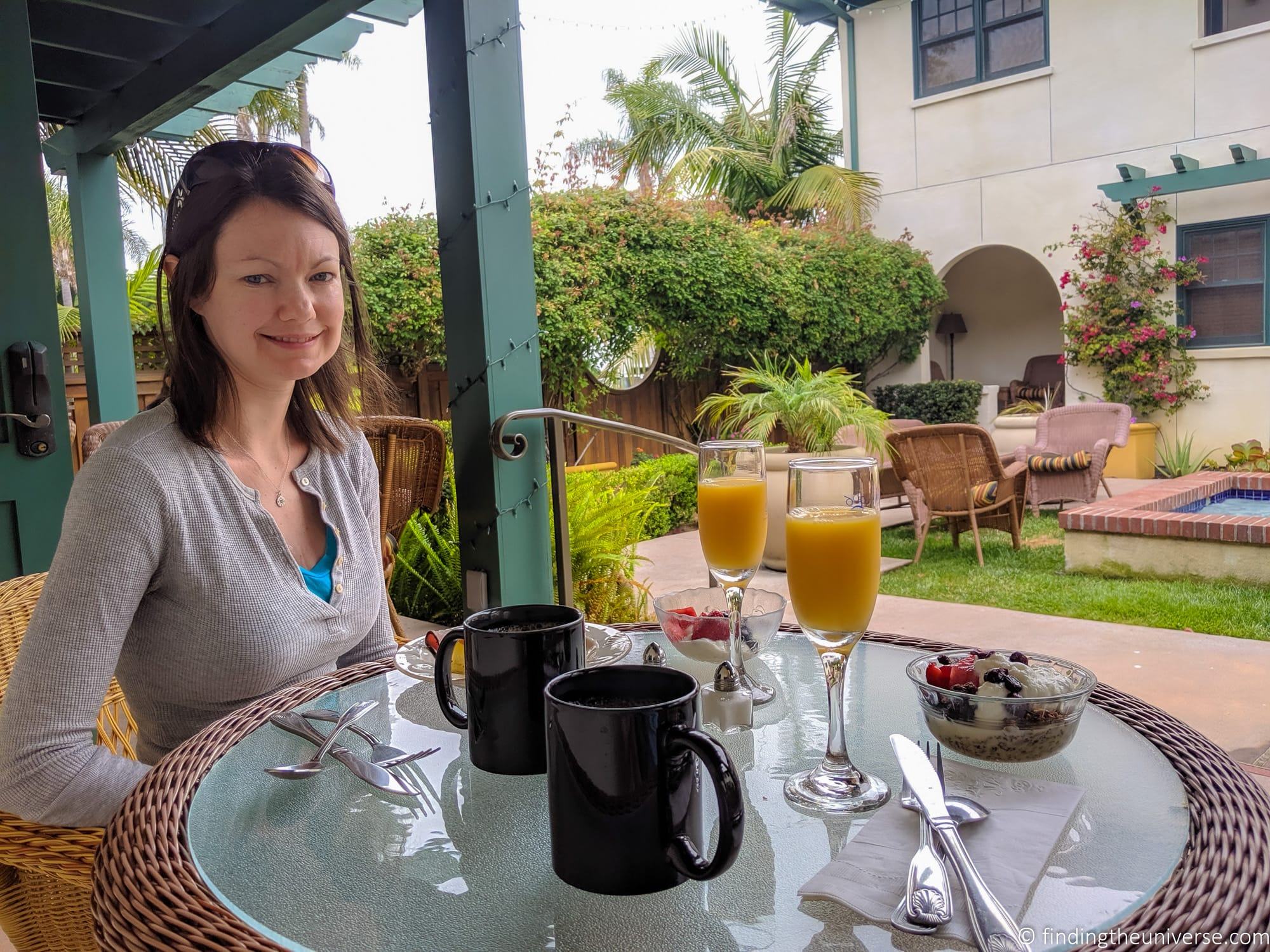 Days 6 & 7 – Los Angeles
From San Diego, it's time to turn north, and visit the sprawling city of Los Angeles, the largest city in California and the second most populous city in the USA. From San Diego, it's around a 2 hour drive up the coast to LA.
There is a huge amount to see and do in Los Angeles, and the city is quite spread out, so we feel you will want to spend a couple of days here to do it justice. Of course, if you aren't a city person, you can adjust this itinerary to spend more time at the outdoor attractions along the route instead.
Based on our itinerary though, you'll have one full day in Los Angeles (Day 7) and then half a day on Day 6, depending on what time you leave San Diego. Here are some ideas of how to fill that time.
Things to do in Los Angeles
There is a huge amount to do in Los Angeles, so you will need to pick and choose depending on your particular interests.
We think most visitors will enjoy visiting the Hollywood part of town, where you can see the Hollywood Walk of Fame. There's also a good view of the famous Hollywood Sign from the north-east corner of the Hollywood & Highland retail centre. Other attractions in this area include Madame Tussauds, Ripley's Believe It or Not! and The Hollywood Museum.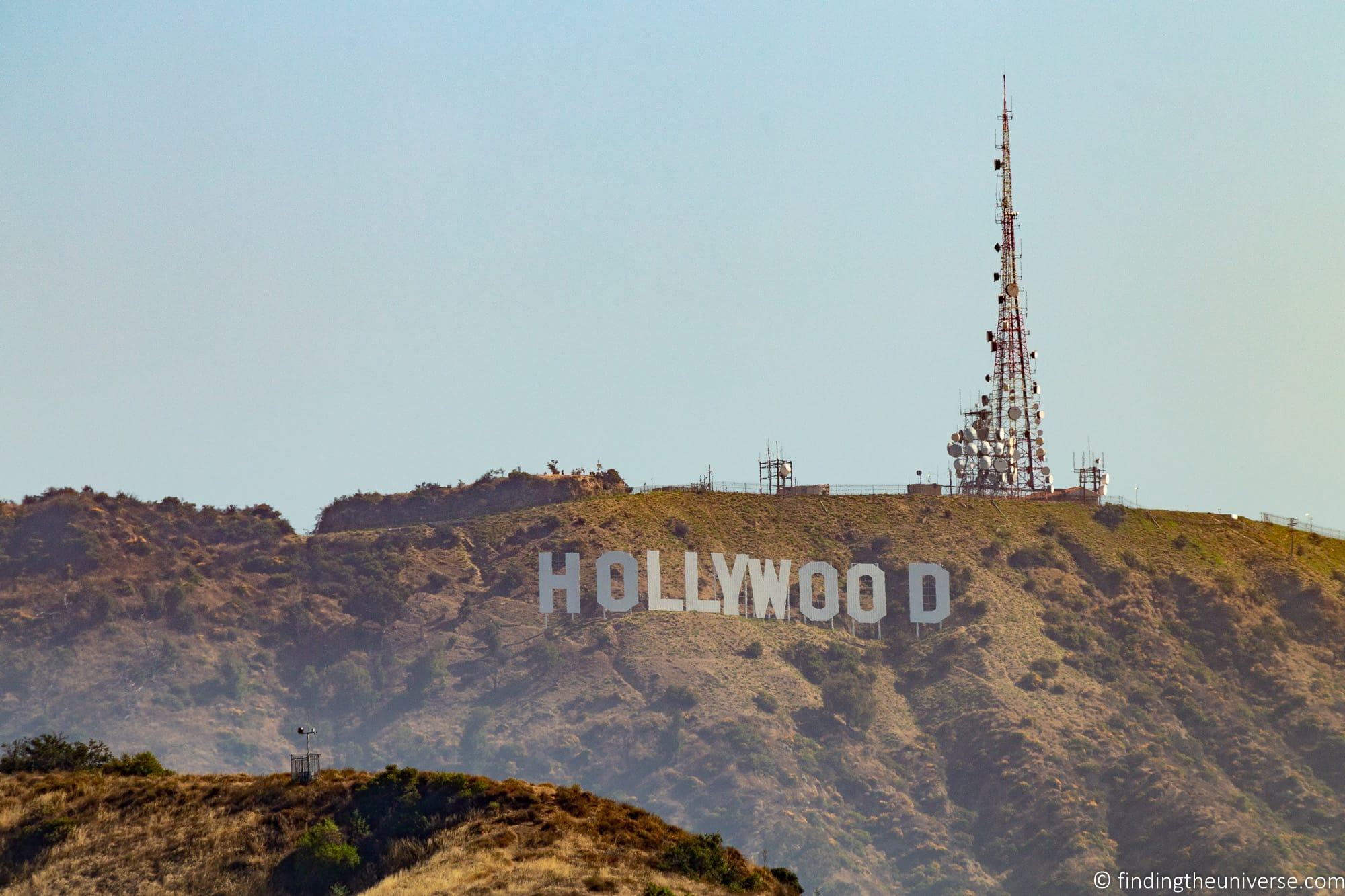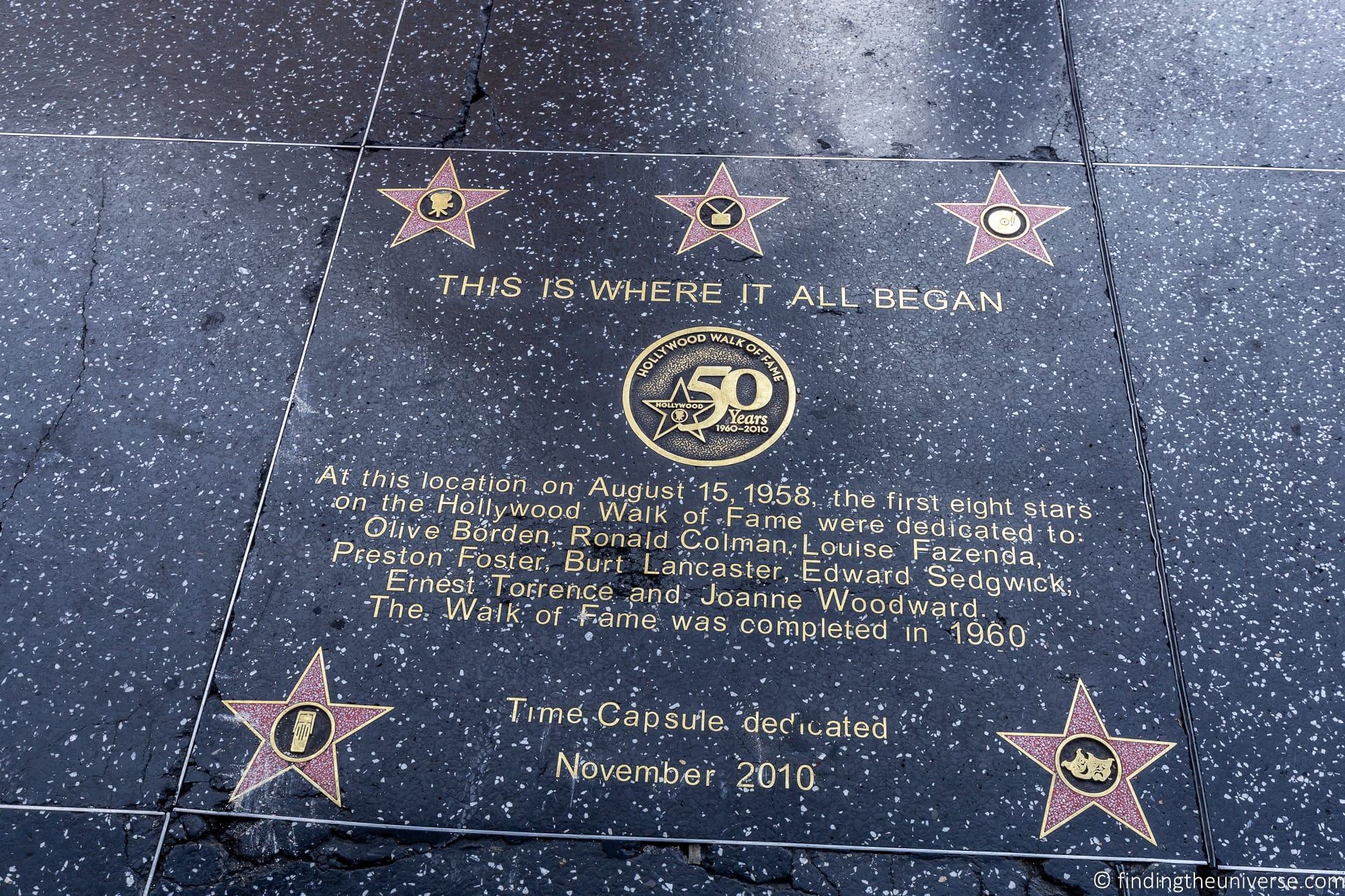 Another popular activity is to get a behind the scenes tour of a movie studio. A couple of popular options are the Paramount Pictures Studio Tour, and Universal Studios. Both are active movie studios where you can take tours of the working movie lots, with Universal Studios also home to a number of rides and other attractions.
Art lovers will want to take the time to visit the Getty Center. This free art museum is famous for its spectacular views, lovely gardens, architecture, and of course, art collection! The latter focuses primarily on pre 20th century European art, as well as photographs and sculpture. Note that whilst the Getty Center is free, there is a fee to park here if you visit by car.
If you are planning on seeing a sporting event or concert, or for the famous LA nightlife, you might want to stay in the LA Live area, where there are many venues for entertainment.
If you love the beach, then you'll want to head out to the coast and visit Venice Beach and Santa Monica, where a stroll along the pier is a must. Naturally there's plenty more to see and do in Los Angeles, and we're sure you won't run out of things to do. Just be aware the city is vast, and sprawls across a large area, so you will want to carefully plan your time so as to see everything you want.
In terms of getting around LA, the most popular option is to drive, although the traffic is legendary. If you would prefer not to drive, you have other options. We've use the ridesharing options, but also found the Hop on Hop off bus was a great option, as it took us all around the main sights we wanted to see, and even went all the way out to the beach.
There are also public transport options in LA, including an extensive bus network and a metro.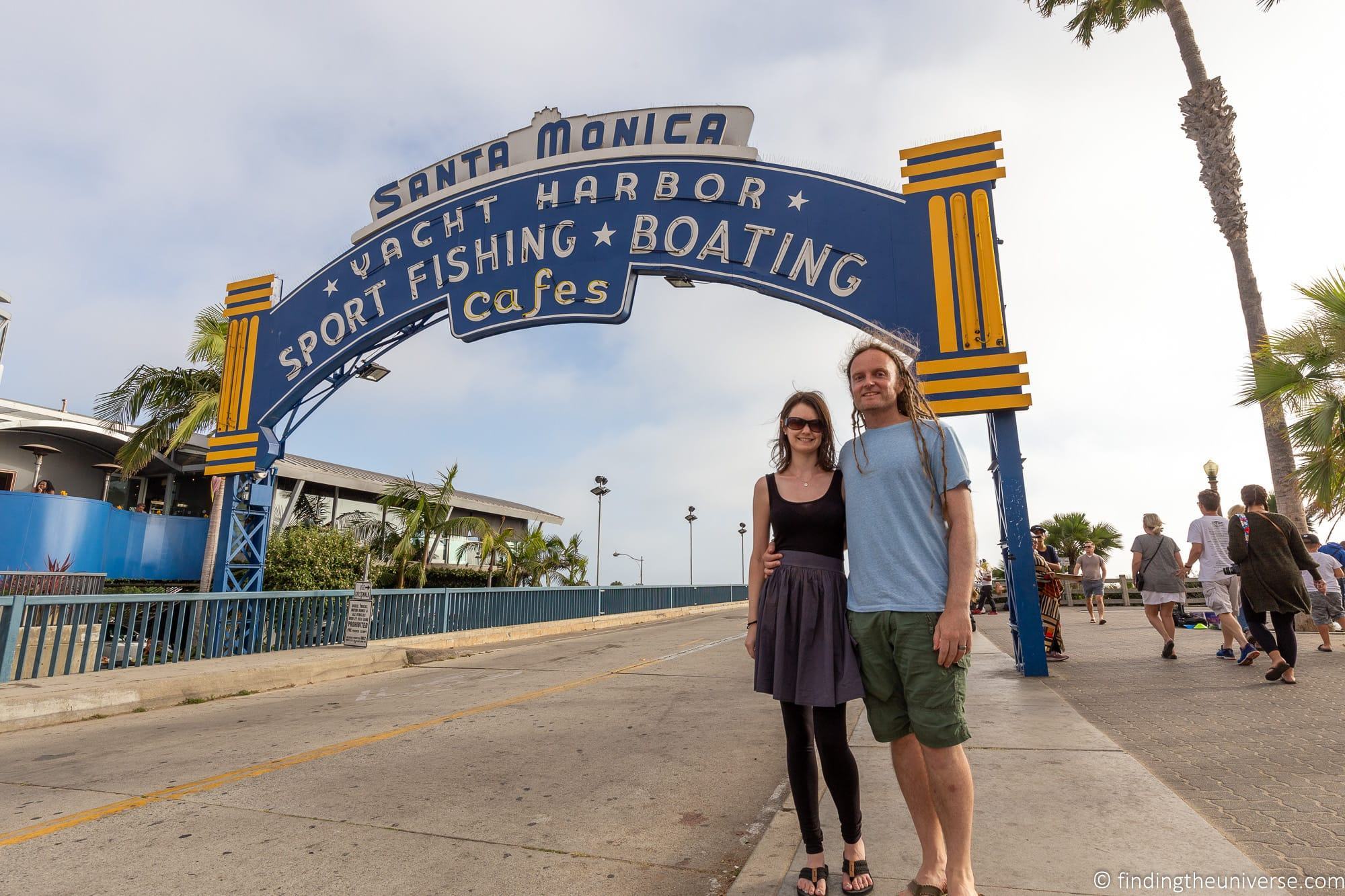 Where to Stay in Los Angeles
As the second largest city in the USA, there are a lot of places to stay in Los Angeles. One thing to bear in mind though is that the city sprawls across a vast area and is known for its heavy traffic. It can take a long time to get from one end of the city to the other, so do keep this in mind.
We'd suggest picking a hotel near the attractions you are most interested in. We tend to stay either in Santa Monica or the Hollywood area, both of which made for a good base for local exploration of those areas. Here are some of our recommended hotels in the city.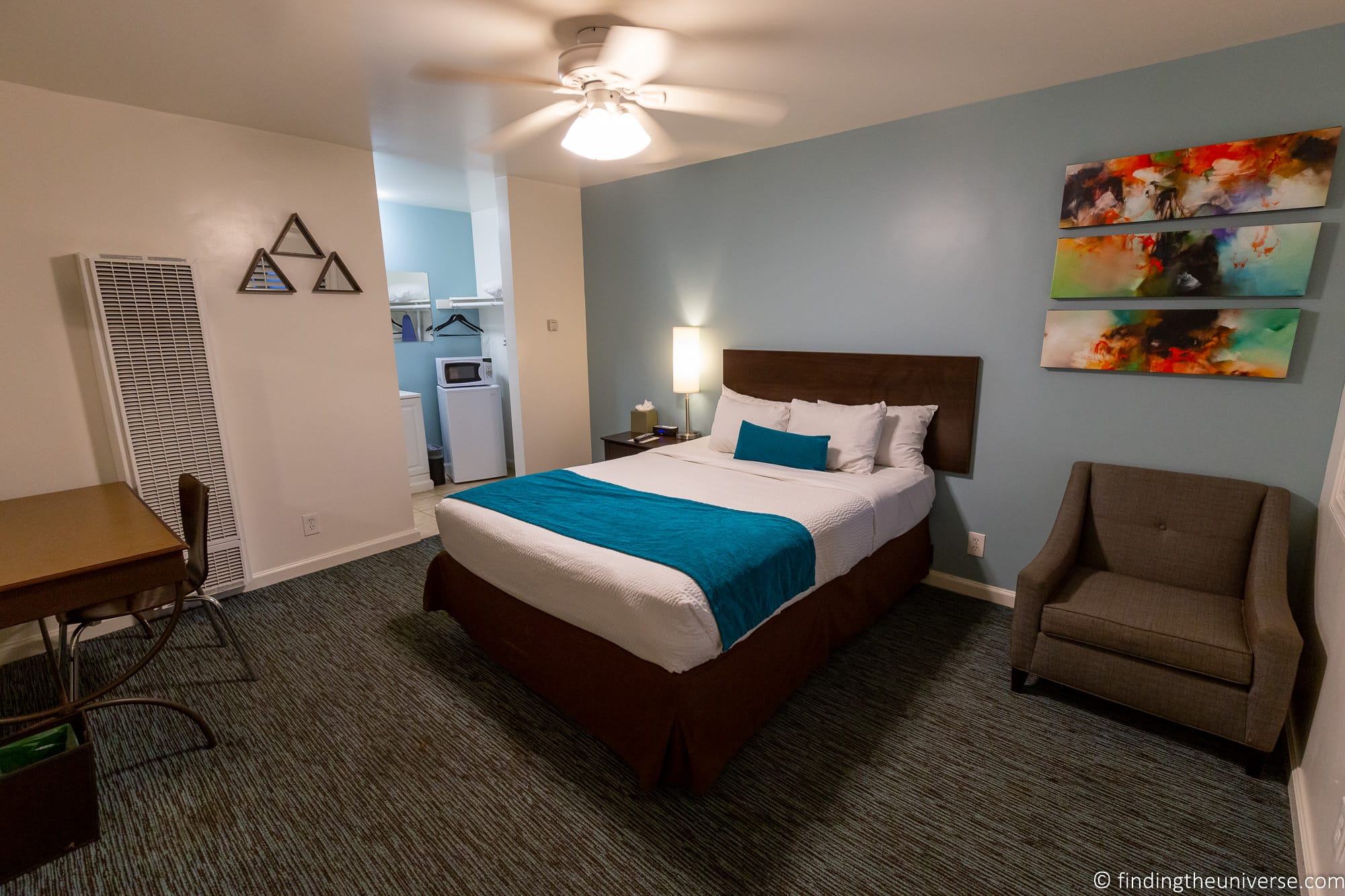 Days 8 & 9 – Pacific Coast Highway
Now it's time to head north on one of the world's most beautiful road trips – the Pacific Coast Highway. You'll follow this coastal route from Los Angeles all the way to San Francisco. The total drive is around 450 miles, which would take you about 9 hours if you drove it straight in one go.
Of course, we're not going to recommend you do it all in one go. We suggest you take two days and two nights to drive the route. We'd suggest stopping somewhere like San Luis Obispo, Morro Bay or Cambria for your first night on the route, and then in Monterey, Carmel, or Pacific Grove for your second night. You will then arrive into San Francisco in the morning of your 10th day.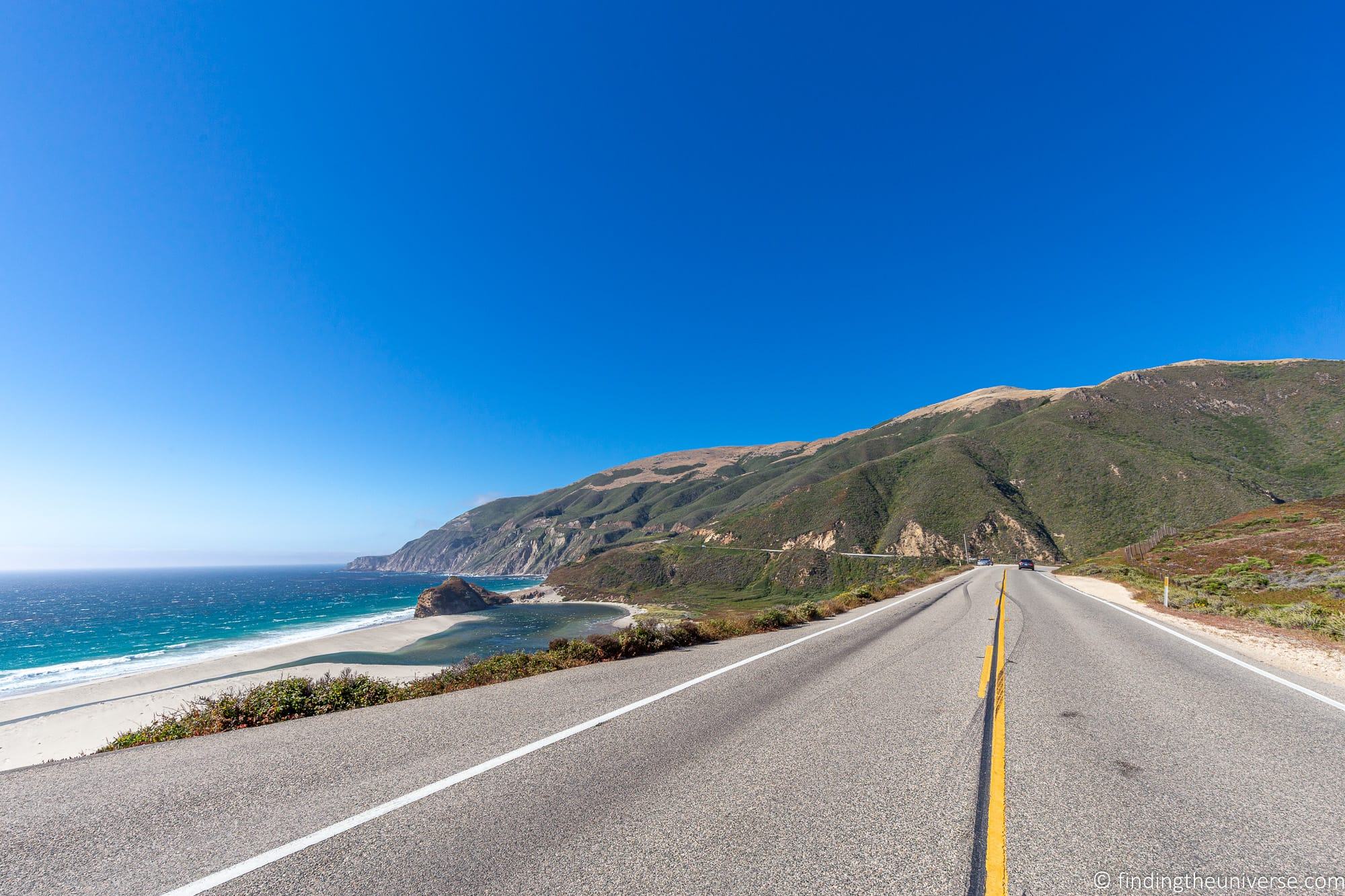 There is a huge amount to see and do along the route, as well as just taking in the spectacular vistas as you do so. We have a complete guide to driving the Pacific Coast Highway, which should give you lots of ideas. However, some suggested stops along the route would be as follows, in order from south to north.
Highlights of the Pacific Coast Highway
Soon after you leave Los Angeles you'll drive through Malibu, which is famous for its beach, and the home of many celebrities. There's also a pier you can walk along. As you continue along the coast you'll pass through numerous towns, many of which also have lovely beaches.
We can recommend visiting Santa Barbara and the Mission here. Founded in 1786, there's a museum for those interested.
Onwards again, you may want to detour off the 101 and heading to Solvang. This town is famous for its Danish-style architecture, and there are numerous sights and attractions here, including a motorcycle museum, Christmas store, and early 19th century Franciscan church.
It's also a lovely town to just wander around, and there are plenty of eateries here as well. You'll also find Pea Soup Andersen's in nearby Buellton, famous (as the name suggests) for their pea soup.
From Solvang, continue north to San Luis Obispo. You can choose to spend the night here, or you can head a little further along to Morro Bay or Cambria. All three make good stopping points.
On your second day on the Pacific Coast Highway, we'd suggest spending a little time exploring Cambria – we have a complete guide to things to do in Cambria for tips.
From Cambria, we suggest your next stop should be Hearst Castle. This sprawling hilltop castle estate was the home of William Randolph Hearst, an early 20th century media tycoon. The castle has an incredible location, offers amazing views up and down the coast, and is well worth a few hours of your time to visit.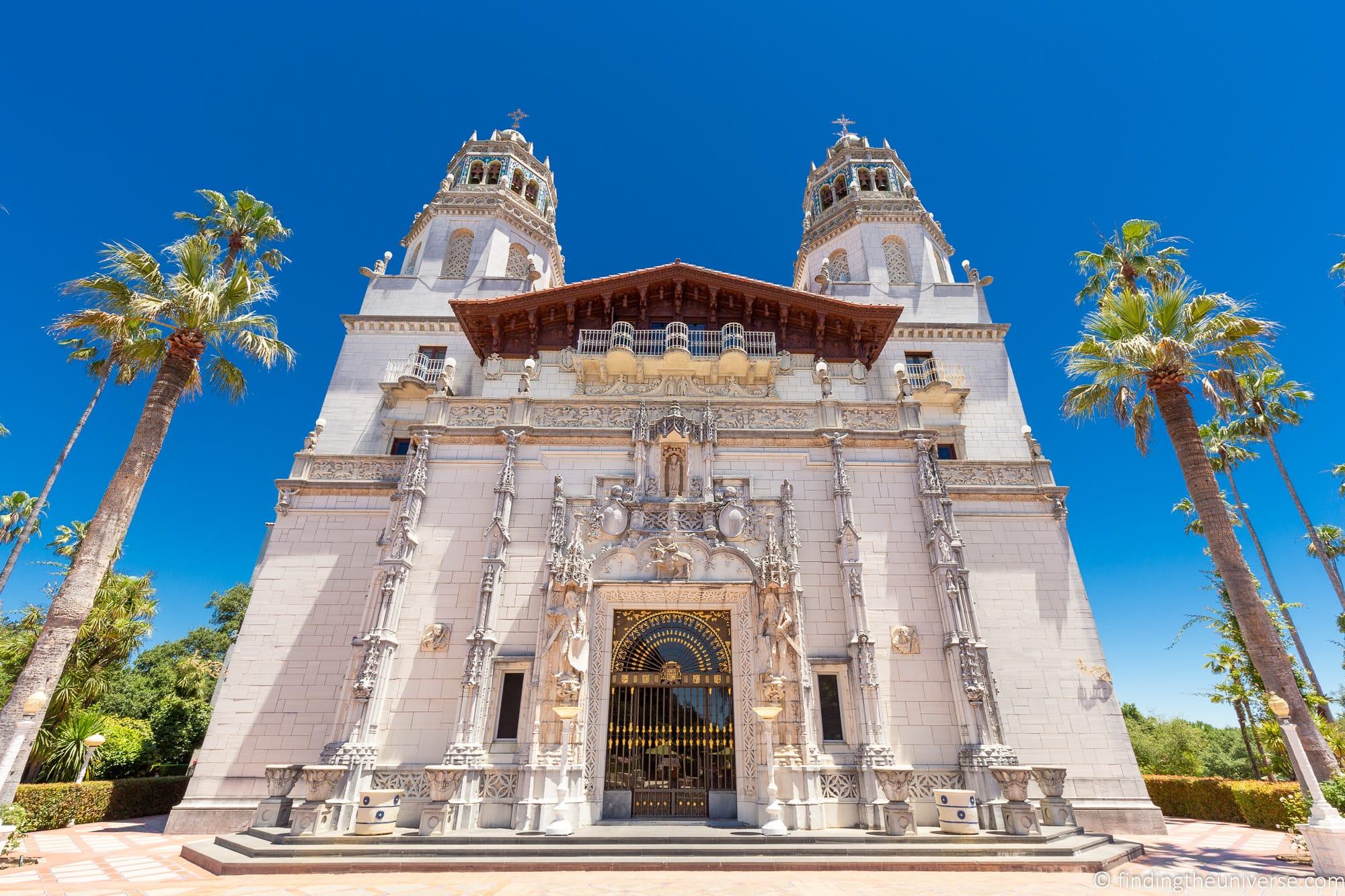 Just be aware that visits are by guided tour only, and it's best to book in advance to guarantee a time. See more on visiting in our complete guide to visiting Hearst Castle.
A little further north from Hearst Castle is the Elephant Seal vista point. Here, if you visit between November and March, you will see thousands of elephants seals on the beach, as they come to mate and give birth. If you visit outside these months, there will still likely be seals on the beach, but not in quite the same volumes.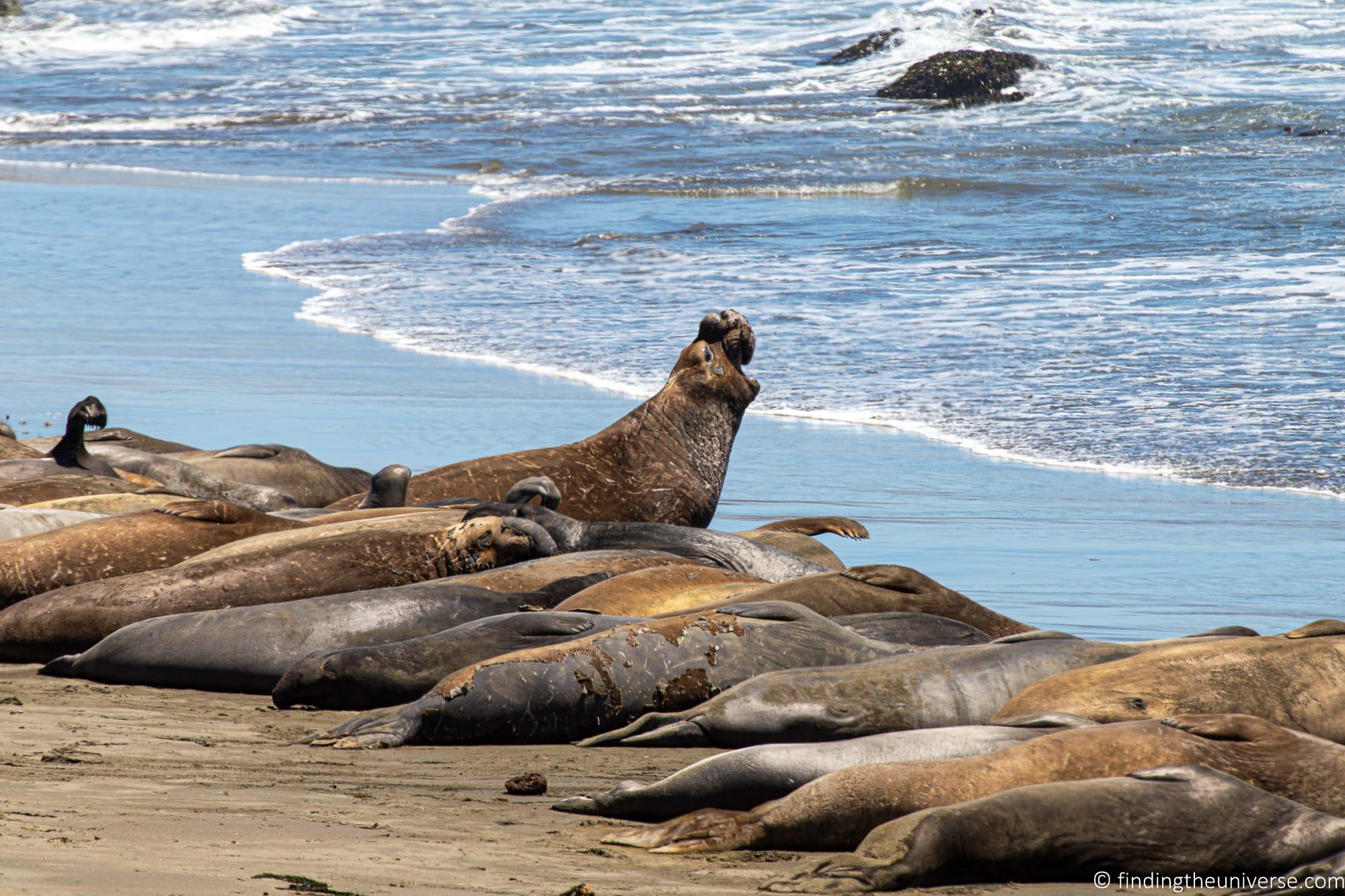 You'll now start to drive along some of the most rugged and beautiful parts of the route, as you drive through the Pfeiffer Big Sur State Park. The views along this stretch of the route are really lovely, and there are plenty of pull outs so you can stop and enjoy the view.
Don't miss stopping at McWay Cove, where you can see a waterfall plunging onto the beach below. Finally, you'll finish your day at Carmel By the Sea or Monterey, where you can spend the night. If you have time, you might enjoy taking a drive along the famous 17 mile drive in Pebble Beach.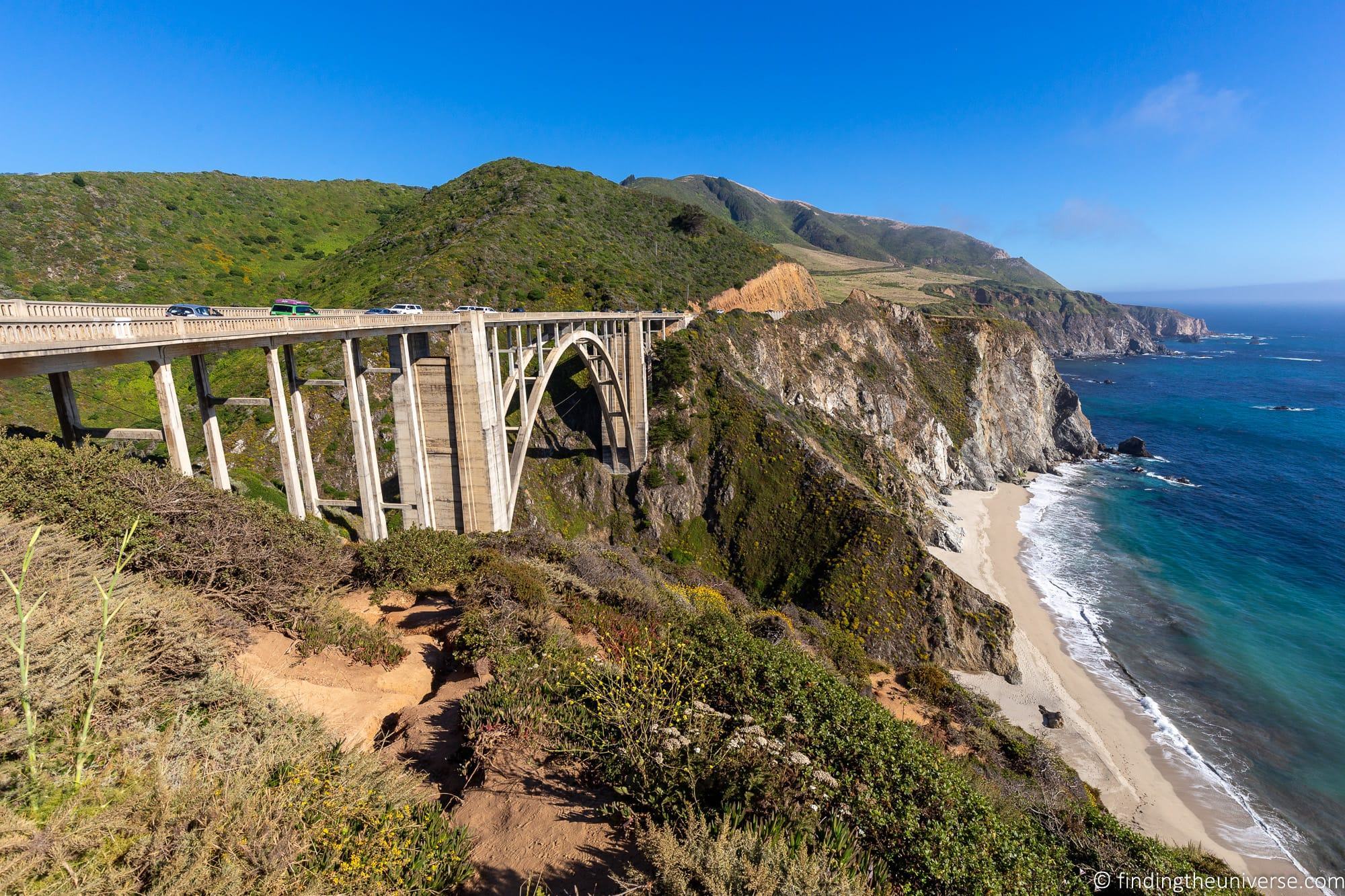 Where to Stay Along the Pacific Coast Highway
These recommendations are listed from south to north along your route, covering a number of locations we suggest you consider stopping. We love the smaller B&B style accommodation on this stretch of the route, and there are some really nice guesthouse style properties to choose from.
For your first night, we recommend one of the following:
For your second night, we recommend one of the following: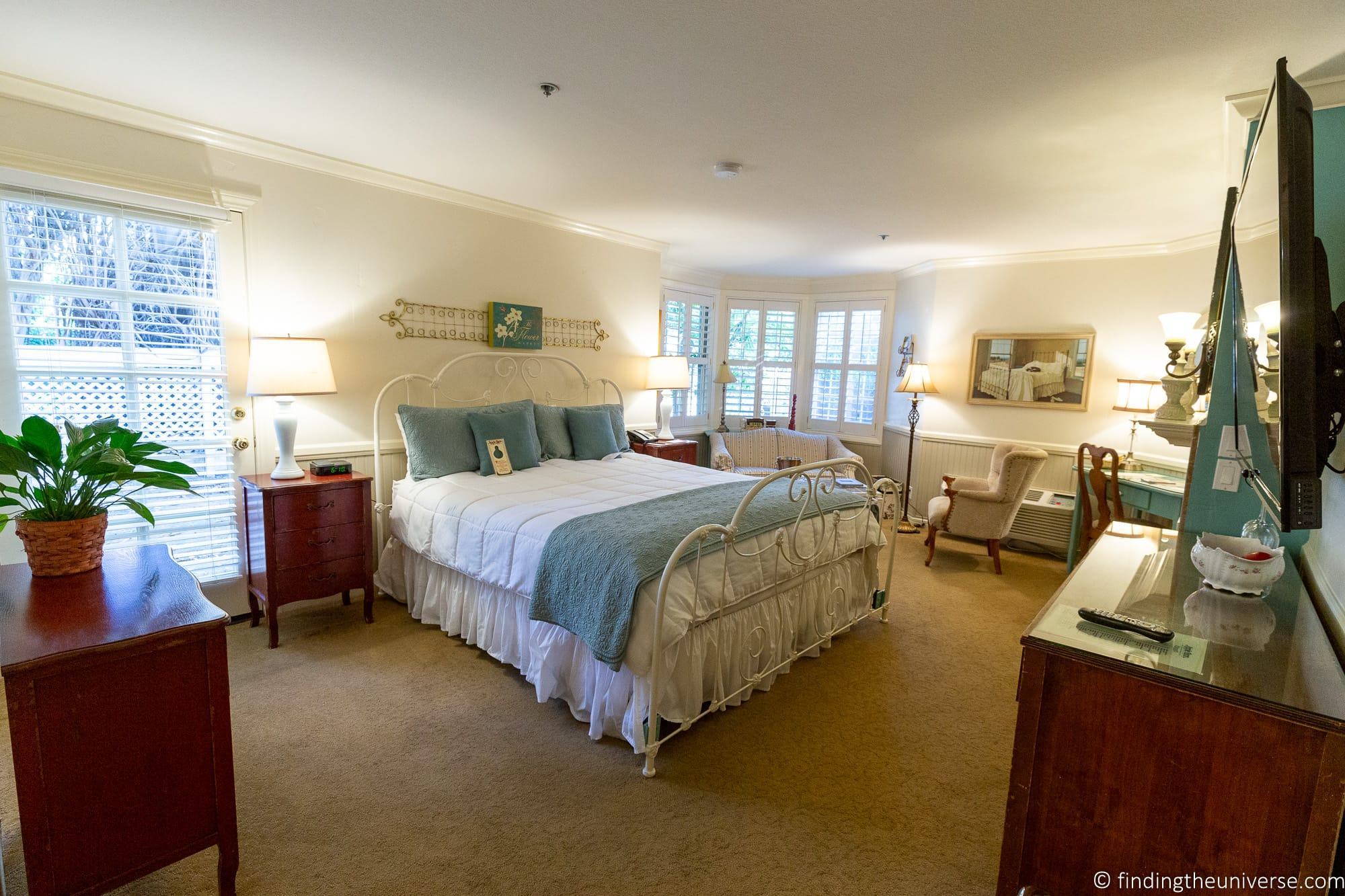 Days 10 & 11 – San Francisco
On your 10th and 11th days you're going to head to San Francisco, where you will have one full day, and one partial day, depending on what time you arrive.
From Monterey it's around a 2.5 hour drive along the coast to San Francisco. If you are not in a hurry, there are few sights to take in along the way. First, Monterey itself is home to the fantastic Monterey Bay Aquarium. This is an amazing attraction, but it is quite large and relatively expensive, so you will probably want to spend at least a few hours here to get value for money.
Next, Santa Cruz is well worth a stop. There's a lovely pier and beach, the surf here is legendary, and there are nearby redwood forests for a nice hike. See our guide to things to do in Santa Cruz for some ideas.
Ok, let's move on, and assume you're going to arrive into San Francisco in the early afternoon. There's a huge amount to see and do in the city, but here are some suggestions to fill your 1.5 days.
Things to do in San Francisco
First, on the afternoon you arrive we can recommend visiting Alcatraz. This island was home to one of the world's most famous prisons, commonly referred to "The Rock". For almost thirty years this was home to some of the most notorious criminals in the USA.
Today, Alcatraz is open for tours. These are very popular so you will want to be sure to book in advance as they often sell out. Make sure you only book from the official Alcatraz Cruises website, as these are the only ones that land on the island and let you tour the prison. Other sightseeing tours just take you around the island. For more on visiting Alcatraz, see our guide to visiting Alcatraz.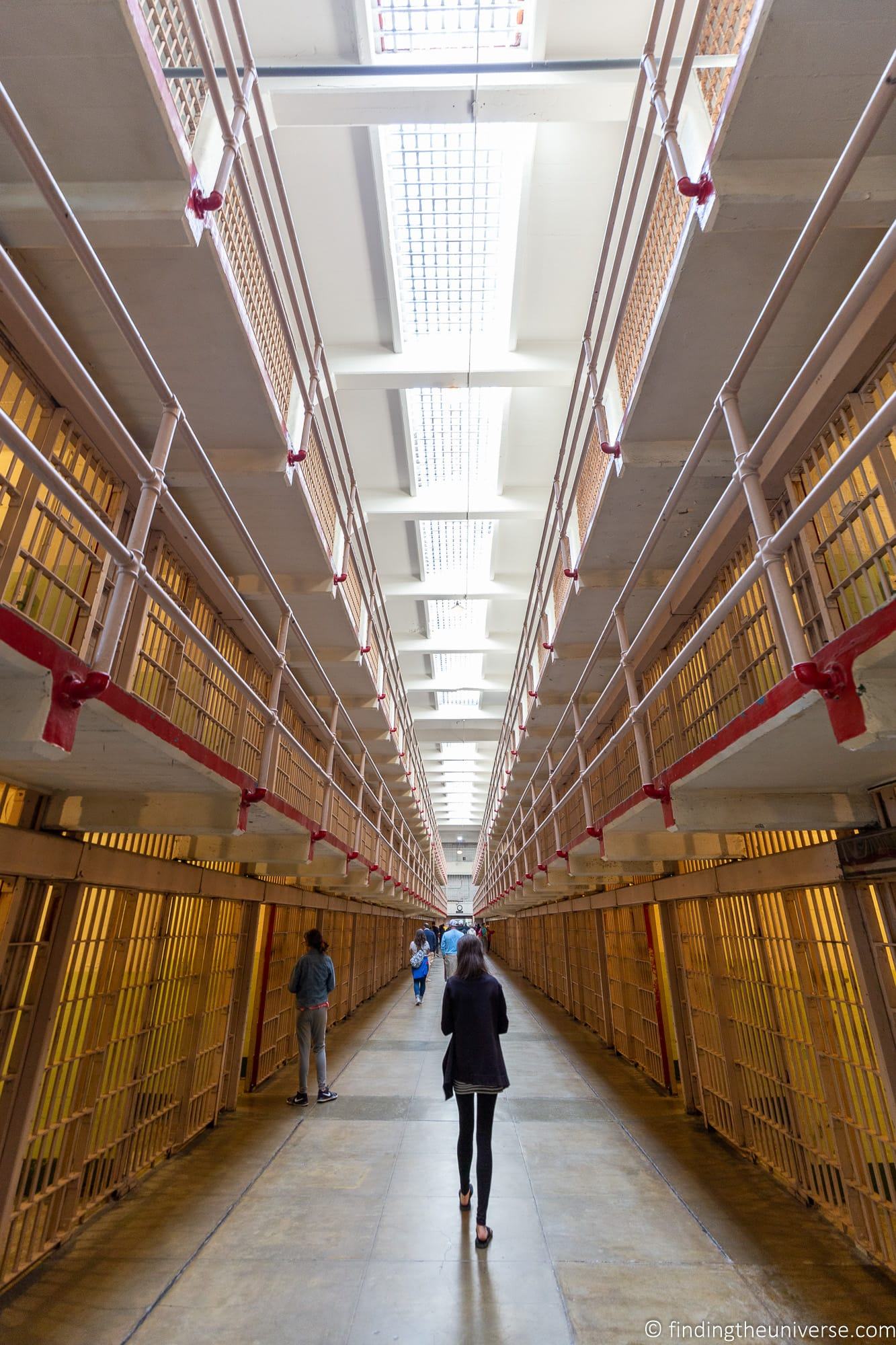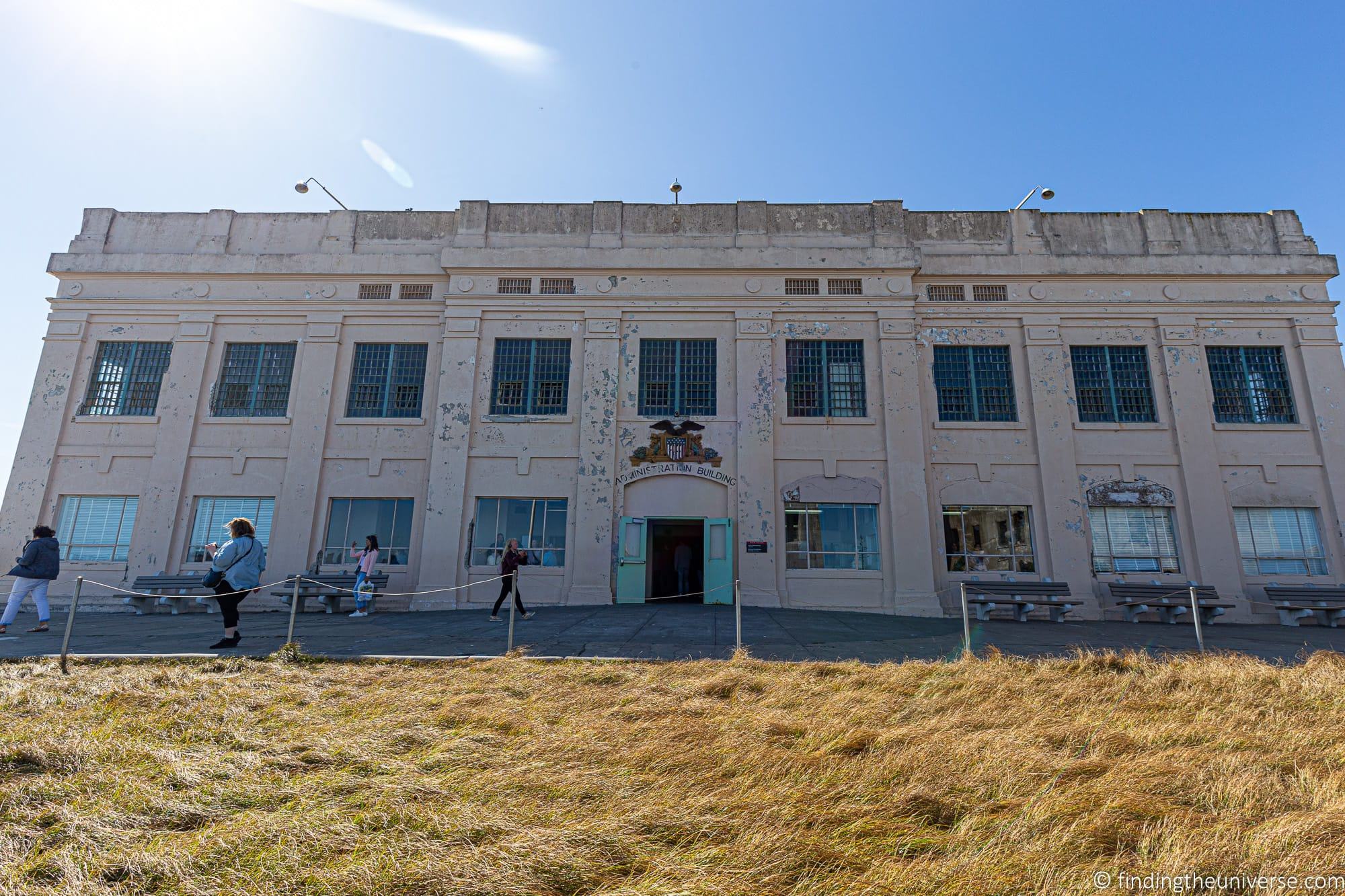 For your full day in San Francisco, we suggest starting off by taking in a view of one of the cities most iconic landmarks – the Golden Gate Bridge. Joining a bike tour or hiring a bicycle to cycle out to and over the bridge is a popular option. Although you can get also good views of the bridge from the city, particularly around the Maritime Museum area.
You'll also want to visit Fisherman's Wharf. It's spectacularly tacky, in a way that only seems to work in the USA.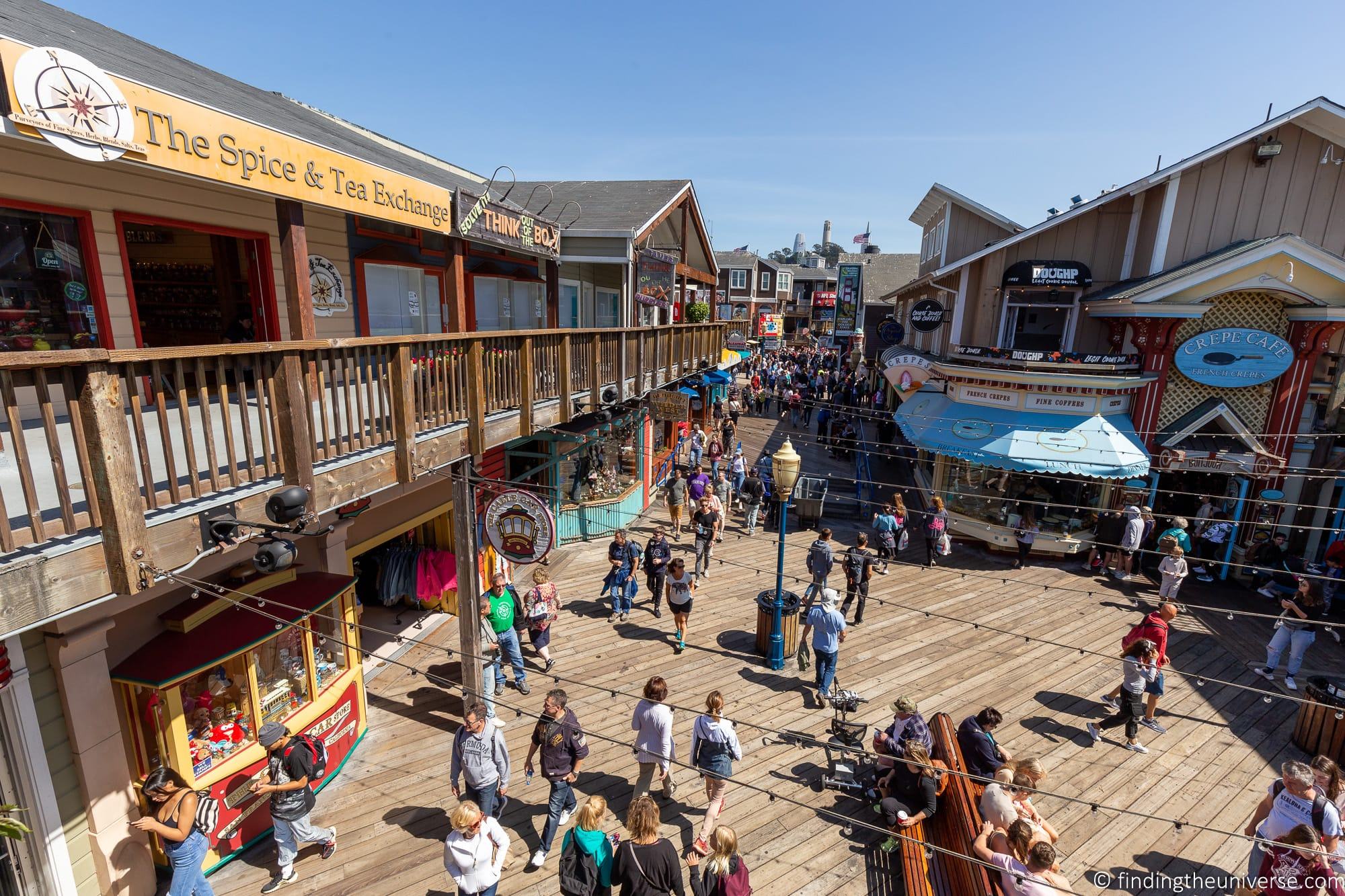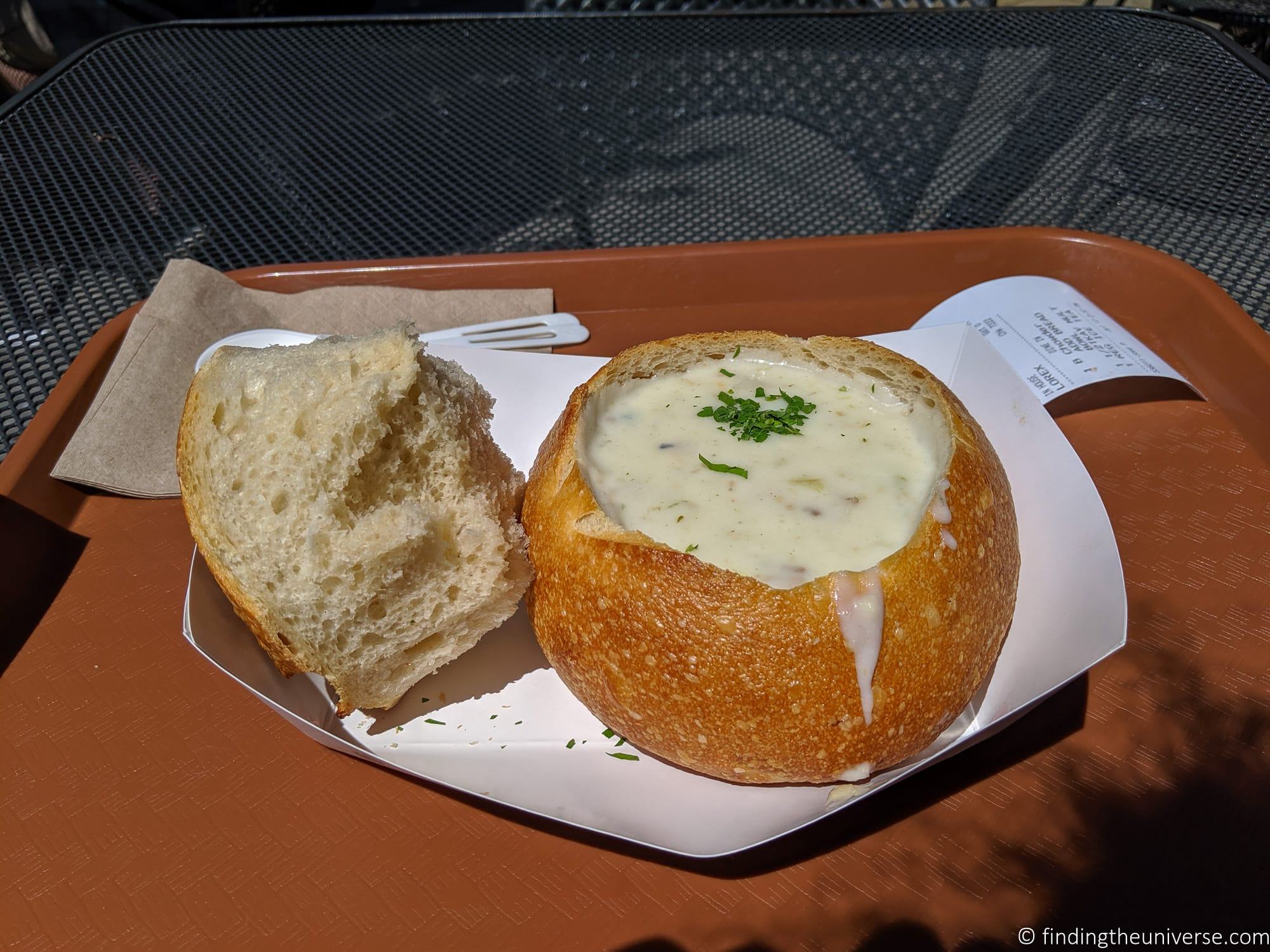 You'll find no shortage of dining options here – we can recommend the famous Clam Chowder filled sourdough bread bowls at the Boudin Bakery. You can also learn about their bread making process at the free museum, and watch the bakers making bread.
While you are at Fisherman's Wharf, don't forget to say hello to the sea lions who pass the time lazing in the sun on floats just by the pier.
Other unmissable highlights of the city include the famous curvy Lombard Street, said to be the most crooked street in the world. You should also try to ride the famous street cars, visit the Chinatown and Union Square area, wander around Golden Gate Park, and peer up at the Transamerica Pyramid.
There's loads more to do in San Francisco of course, from museums to art exhibits to cultural attractions, but hopefully we've given you some ideas to get you started. We have a guide to some great photo spots in San Francisco if you are looking for inspiration.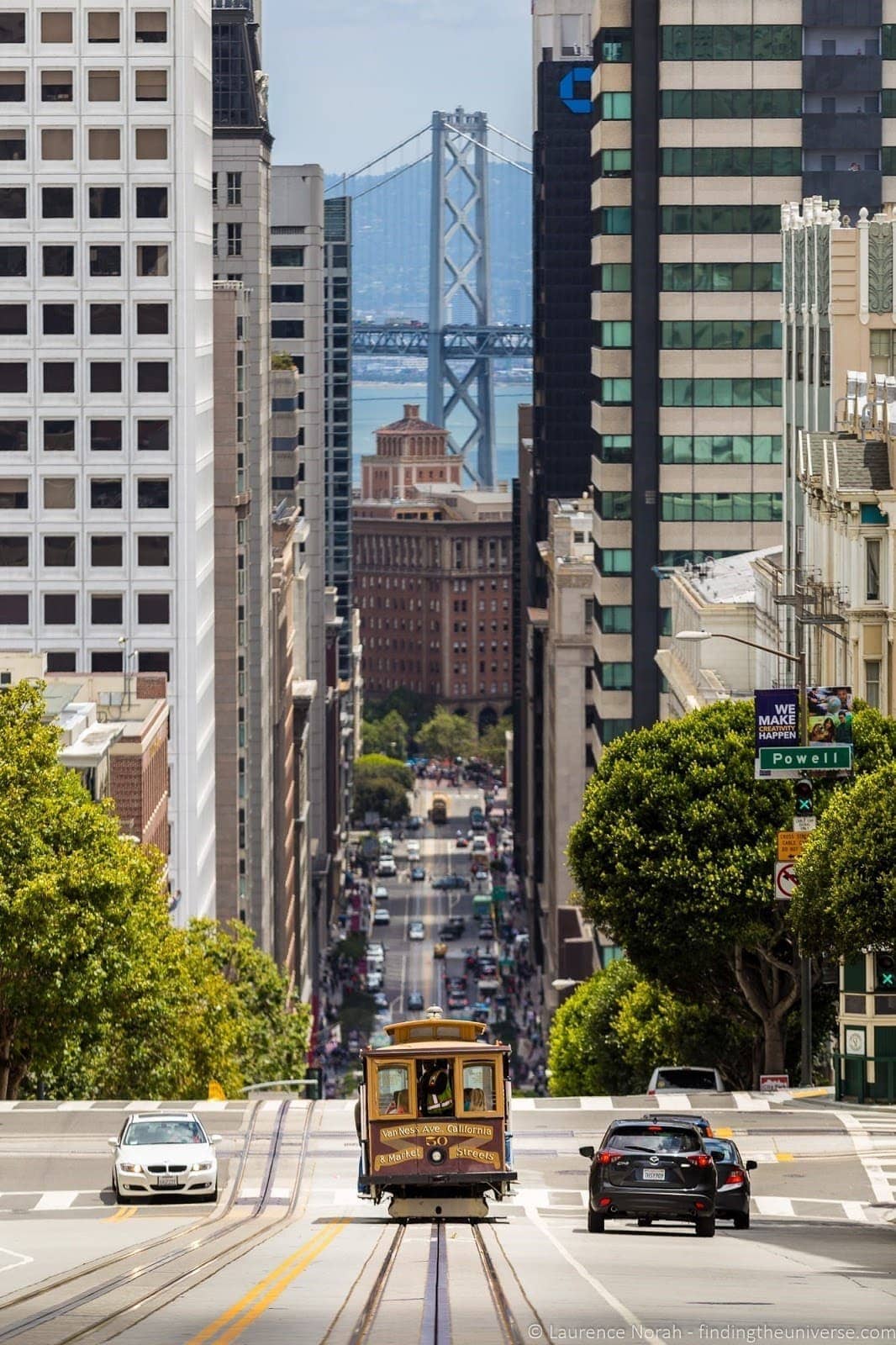 Where to Stay in San Francisco
San Francisco is another large city with a lot of accommodation options, however in our experience it's also one of the more expensive cities for accommodation in the USA. Parking is also at a premium, and hotels with free parking are fairly rare.
We've stayed at a number of hotels in the city, and here are our recommendation for your time in San Francisco.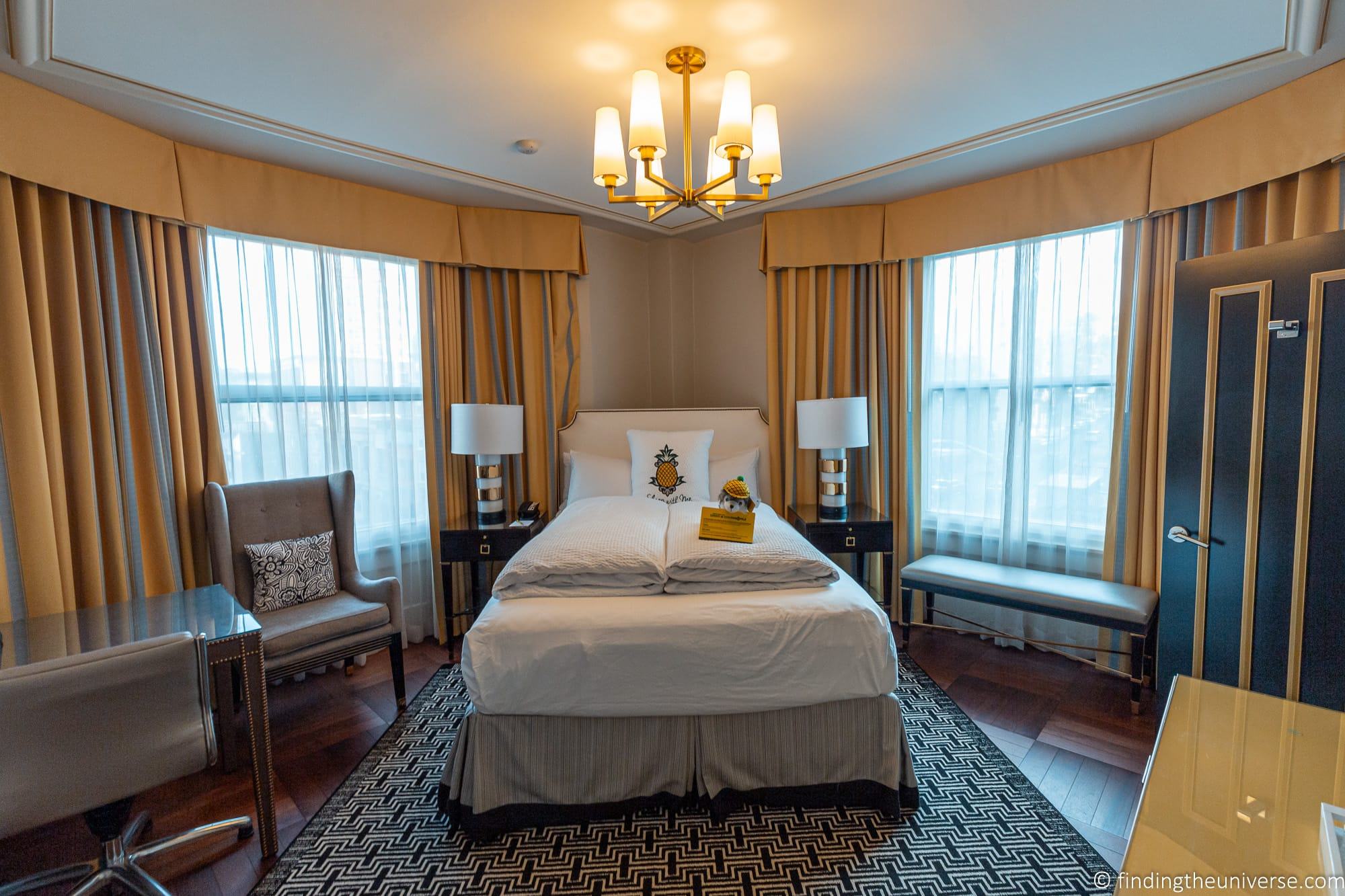 Days 12 & 13 – Yosemite National Park
You're into the final few days of your US road trip now, and it's time to visit some more of the spectacular scenery that the state is so well known for.
The plan is to spend your next couple of days visiting Yosemite National Park, which is home to some gorgeous natural scenery, including epic waterfalls and towering mountains.
From San Francisco it's around a four hour drive to Yosemite. We'd suggest planning to arrive in the early afternoon, checking into your accommodation where you'll stay for two nights, and then going sightseeing.
With a full afternoon on day 12, and all of day 13 to visit the park, you should be able to visit many of the highlights. On the afternoon you arrive, we would suggest visiting some of the highlights near the Yosemite Valley Visitor Centre to start with, including Yosemite Falls and Bridalveil Falls.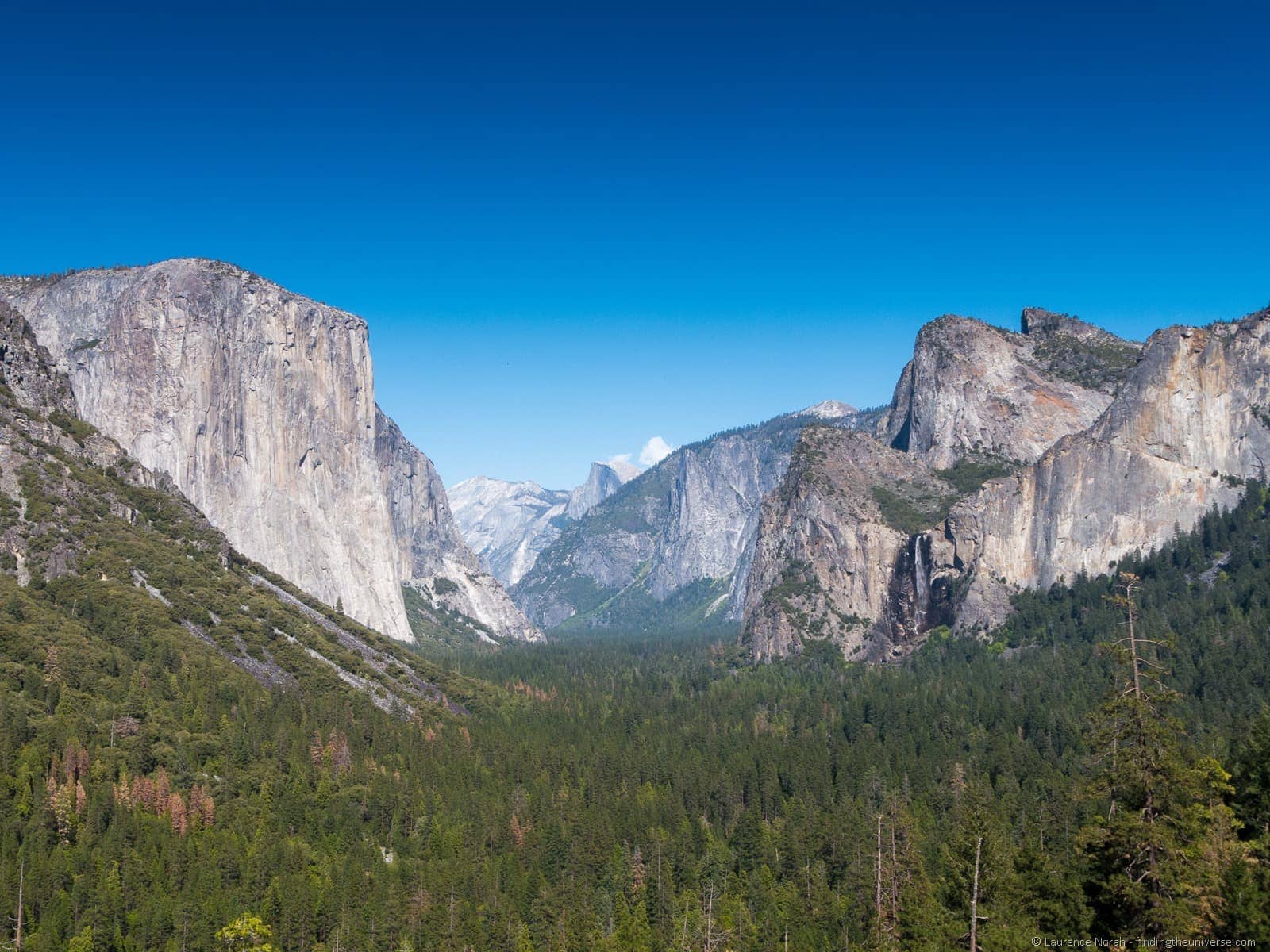 A visit to the visitor centre itself is also recommended, as here you'll be able to get up to date information on the park, as well as talk to the rangers about suggested walking routes.
For your full day in the park, you have a few options. First, you might want to take advantage of the free Yosemite shuttle, and visit the highlights that it goes to.
I would also consider a drive up to Tunnel View and then on to Glacier Point, where you'll be able to get amazing views across the park. These can also be done as part of a tour offered by the park if you'd rather not drive.You then might consider a shorter afternoon hike, such as that up to Vernal Falls.
Alternatively, if you love hiking, you might consider tackling one of the longer or more strenuous day hikes. There are plenty of these, such as the Yosemite Falls hike.
Just note that some hikes, like the popular Half Dome Hike, do require an advance purchase permit. These are distributed via a lottery system as they are so popular so are difficult to obtain. If you plan to explore the backcountry areas of the park, you will also need a permit.
For more inspiration for your visit to Yosemite, see our guides to what to do in Yosemite for a day, as well as our guide to photography locations in Yosemite.
Important – As of 2022, Yosemite has introduced a reservation system for park entry. If you are visiting between late May and the end of September and planning on driving into or through the park between 6am and 4pm you will need to have a reservation. You can find out more and make your reservations online here.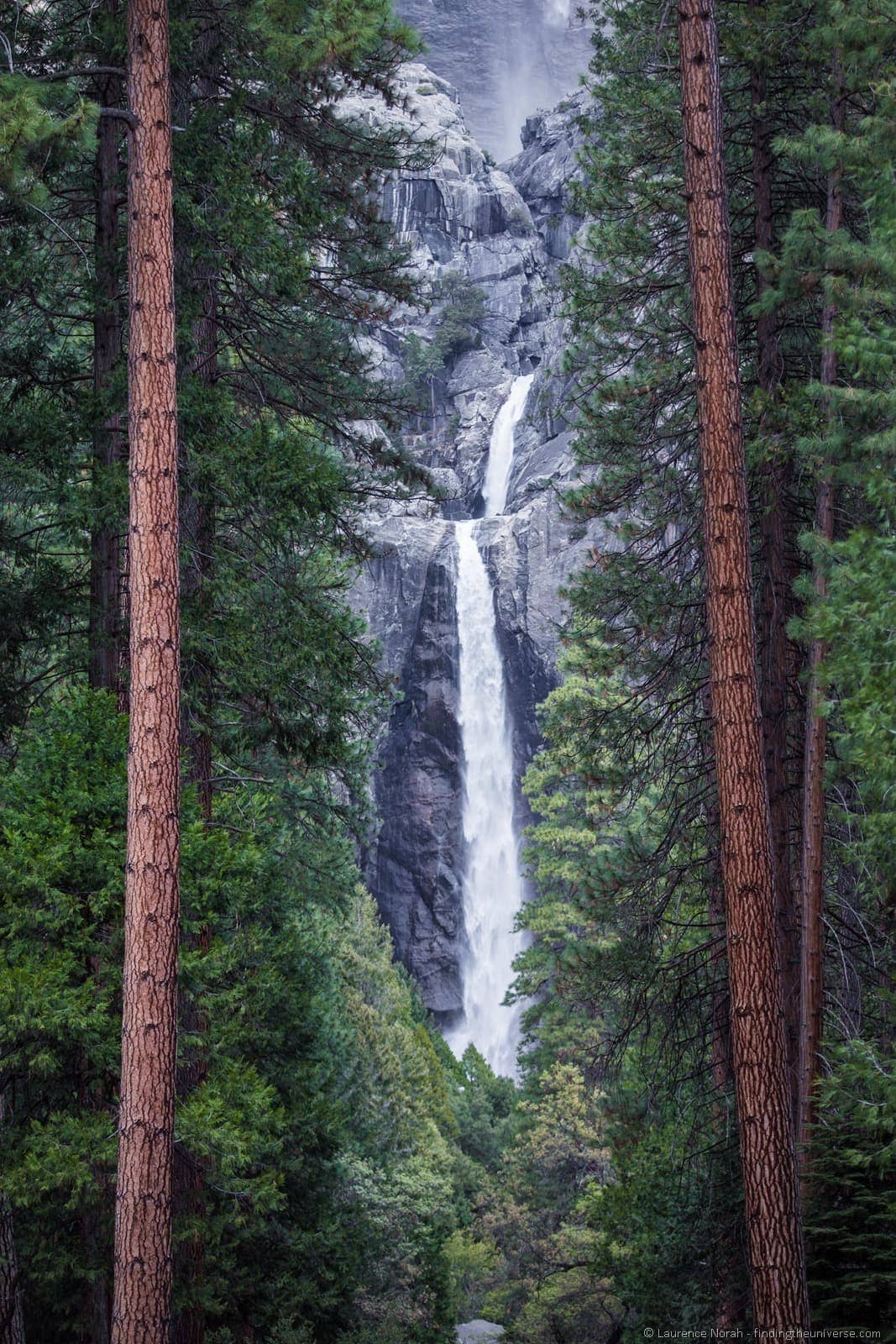 Where to Stay in Yosemite National Park
There are a range of accommodation options in Yosemite National Park, ranging from campsites to canvas-sided tent cabins, through to luxury hotels.
There are 13 campsites available in the park, with a number of these available for reservation, and the rest operated on a first come first serve basis. If you want to camp, we highly recommend booking well in advance, which you can do here.
There are also nine lodging options operated by Yosemite Hospitality inside the park, which are the only other accommodation options available in the park itself. These can be reserved up to a year in advance, and range from simple canvas cabins through to a high-end luxury hotel. These can all be reserved online in advance here.
We would definitely recommend staying in the park if possible, as this will put you close to the sights. However, if you struggle to find an option that works for you, some recommended lodging just outside the park is as follows. As a general rule, the closer to the park, the more expensive the property is likely to be.
Day 14 – Death Valley & Las Vegas
It's the final day of your road trip! Today you have a fair old drive ahead of you – around 6 hours in total. However, we're going to break it up a bit with some sights.
Before we begin, it's worth mentioning that this route has you exiting Yosemite on the east side of the park, which requires you to take Highway 120, also known as the Tioga Road. Due to its elevation and exposure to snow, this road is closed over winter, usually from November to late May. You can see the latest road conditions here.
If this road is closed, then you are looking at a significant detour to get to Death Valley, requiring you to exit the park to the south or west, and then to loop a long way south via Bakersfield to get around the Sierra Nevada Mountains. As such, you may prefer instead to skip Death Valley, or to visit it earlier in your trip as a day trip from Las Vegas (it's a 4 hour round trip). In this case, instead of driving all the way back to Las Vegas, you might prefer just to return to San Francisco.
Assuming you visit when the Tioga Road is open though, you will leave Yosemite and come to California's Highway 395, often referred to as California's backbone. We suggest taking a left onto the 395, and driving to the Mono Lake Tufa State Natural Reserve, a couple of miles up the road.
Mono Lake is a saline soda lake is home to many limestone columns, known as tufa towers, which are a popular visitor attraction. Definitely worth a photo stop.
You'll now head south on Highway 395, driving parallel to the incredible Sierra Nevada mountain range. You'll pass through lovely towns like Mammoth Lakes, and the views will definitely require you to stop for a few photos as you drive.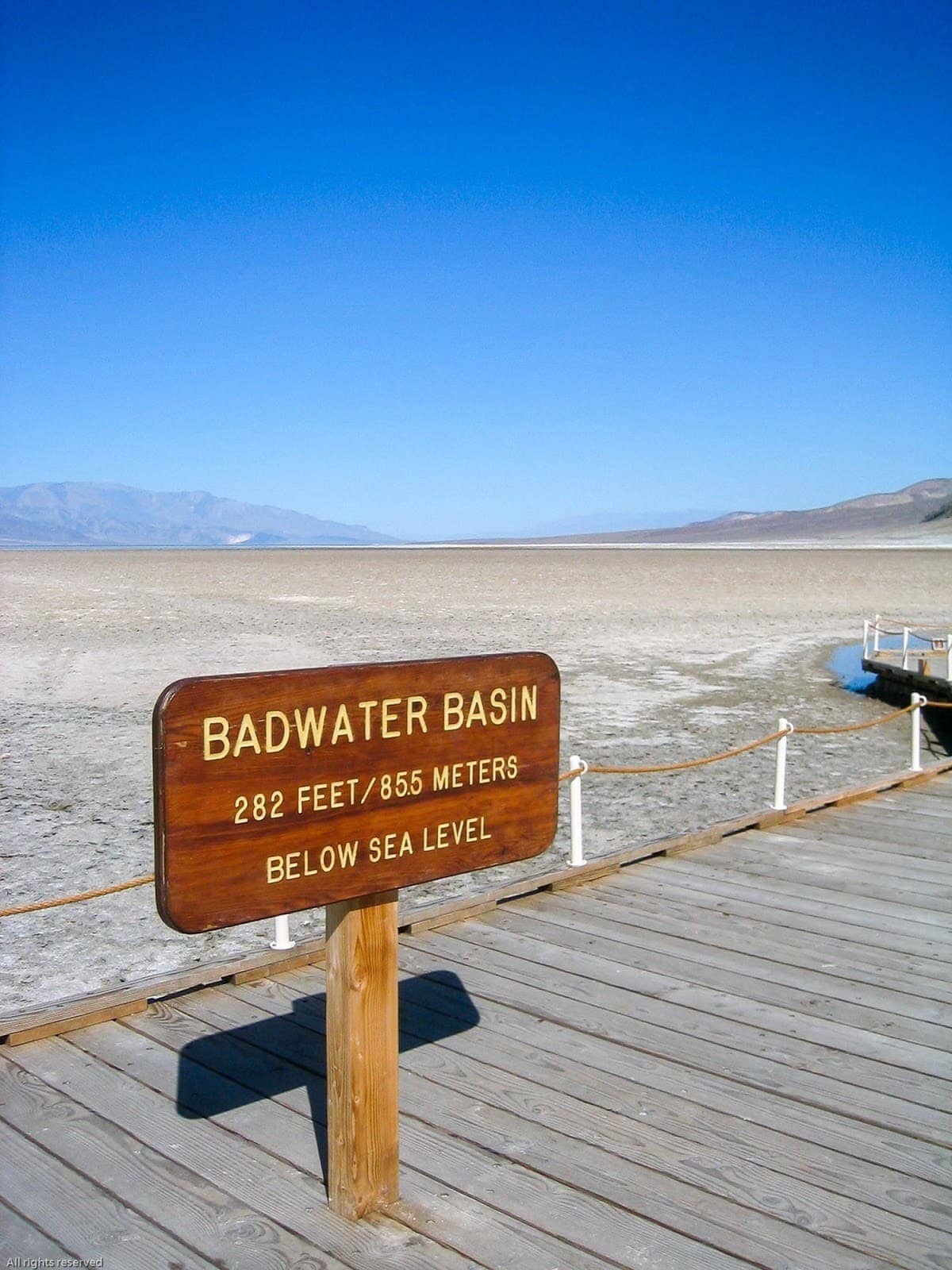 We suggest following Highway 395 until Lone Pine, and then heading on Highway 136 into the last National Park of the trip – the infamous Death Valley National Park.
This is home to over 3 million acres of desert and mountains, and was named during the California Gold Rush. During this time, a group of 100 wagons became lost in the valley, and though they eventually found their way out, it was only after they gave up their wagons and ate their oxen.
Today, Death Valley is a popular place for visitors to experience an extreme desert environment. There's plenty to see and do here as you pass through. We'd suggest stopping at the visitor centre and visiting Badwater Basin, which is the lowest point in the USA, at 279 feet below sea level.
One thing to note – if you visit California in the summer months, particularly late June to early September, it can be incredibly hot in Death Valley. Hiking is not recommended in these months due to the temperature, and you'll want to be sure the A/C in your car is working well!
Finally, you're going to arrive back in Las Vegas, complete the circuit, and finish your US road trip. We hope you had a great time! Now you can either fly home, or spend some more time in Vegas. Now, onto some practicalities for your trip.
2 Week USA Road Trip Itinerary Map
Here's a map of the route to help you visualise it. You can also see this on Google Maps here.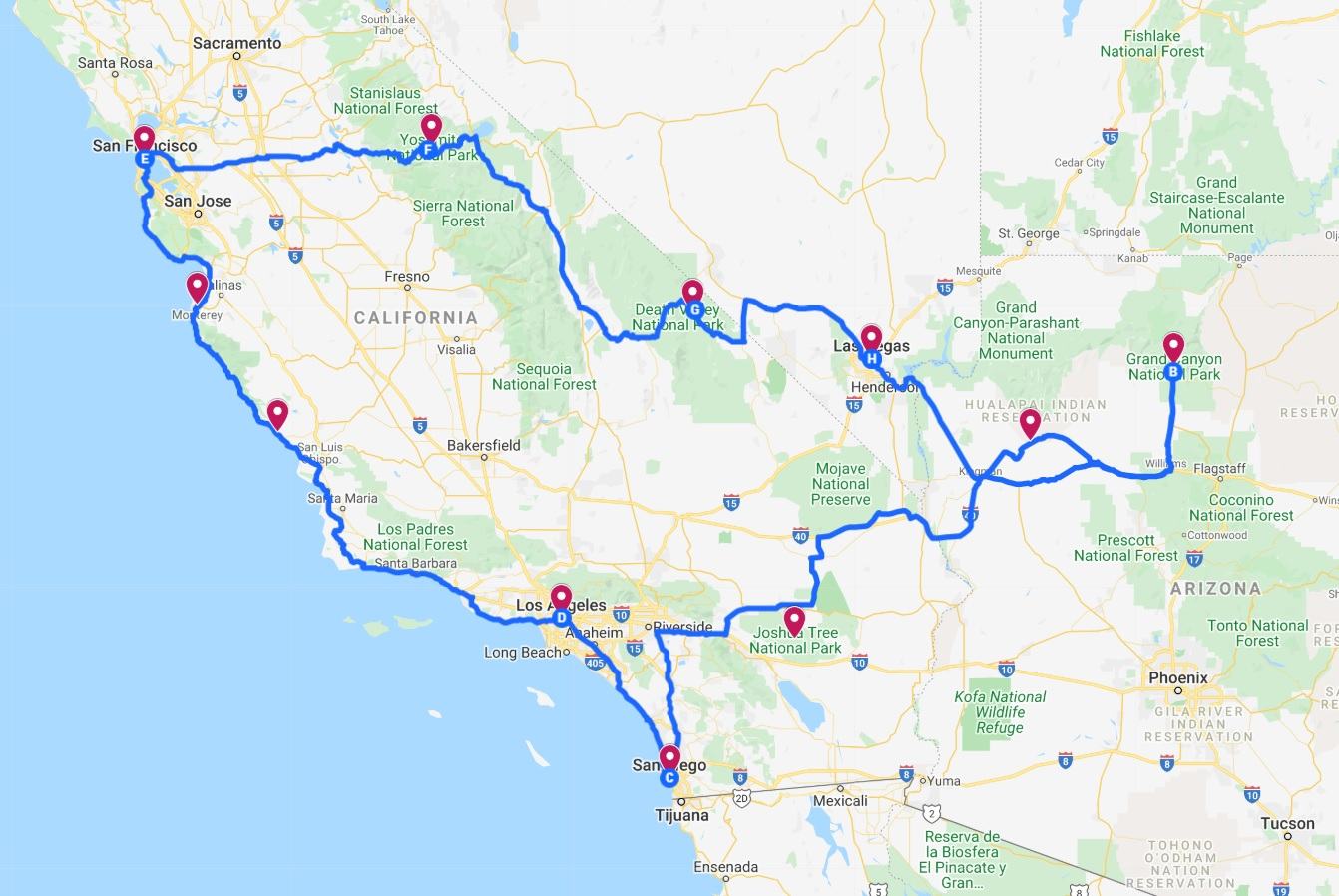 When Is The Best Time of Year to Road Trip the USA?
We would suggest that for this itinerary, the best time of year would be May through June, or September and October. At these times of year the weather will be warm but not too hot (although Las Vegas will definitely be hot in late May and June), and it won't be as busy as the summer months.
You could also do this trip in winter of course, but it will be a lot cooler. In addition, some of the national parks, and especially Yosemite, can have restricted access in winter if there is a lot of snow. In particular, the east exit from Yosemite, the Tioga road, is usually closed from November through May. In this scenario you would be looking at a lengthy detour to travel to Death Valley, and might instead prefer to return to San Francisco.
If you choose to visit in the hotter summer months, such as July and August, then you'd definitely want to avoid any sort of longer hikes in places like the Valley of Fire and Death Valley. Instead, maybe plan more time along the coast, at higher altitudes, and exploring city attractions.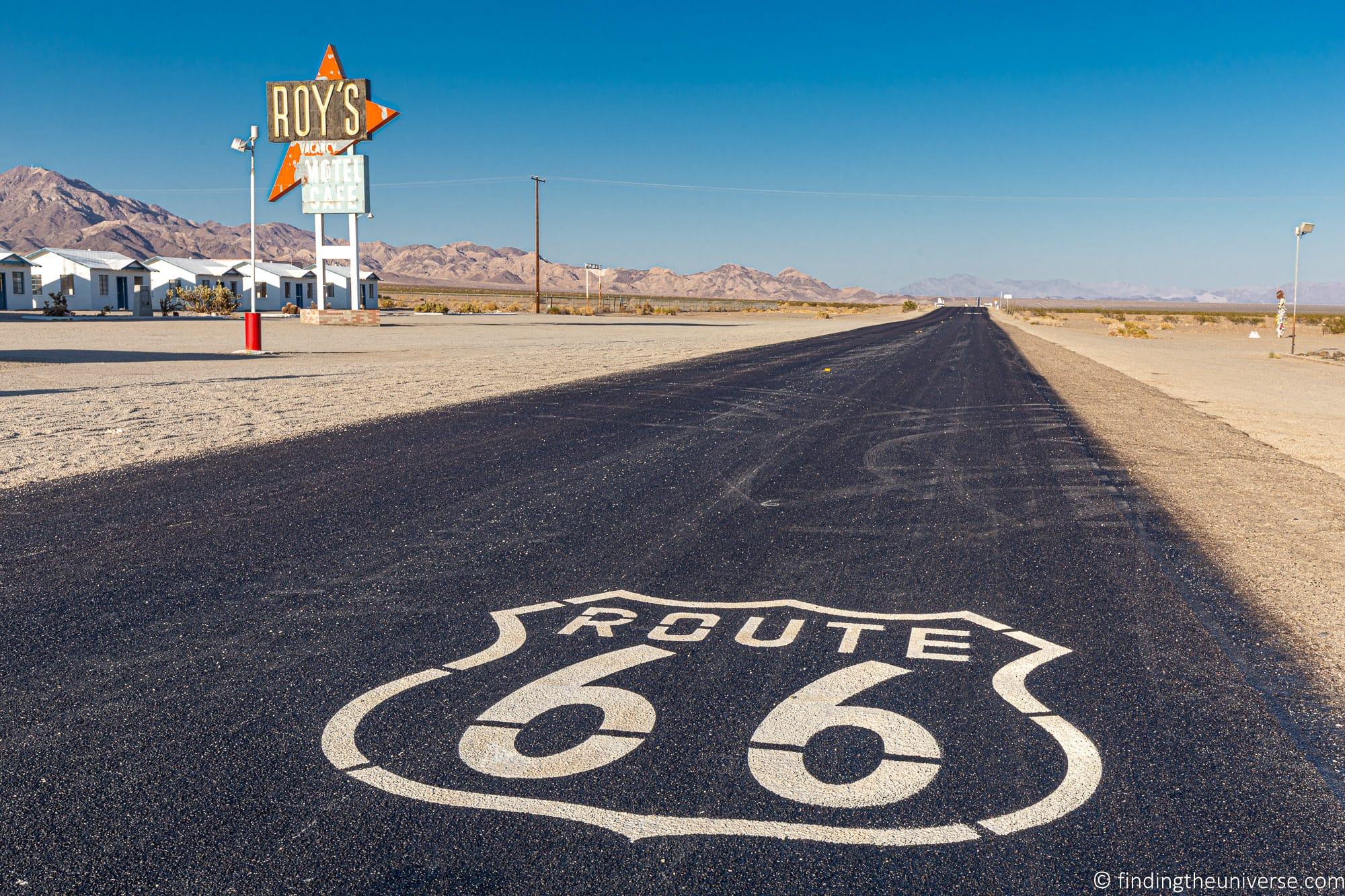 Western USA Tour Options
This is a road trip itinerary, and as such there's quite a lot of driving involved. However, I appreciate not everyone will want to drive. The good news is that there are a number of tours which follow a fairly similar route to our itinerary. The advantage of a tour is that you can let someone else handle all the logistics, from booking hotels to handling the transport, and you can just relax and enjoy the experience.
Here are some tours which follow a fairly similar route to our itinerary for your consideration.
Practicalities for Planning a USA Road Trip
If you are visiting from outside the USA, we wanted to share some tips that should help make planning and preparing for you US road trip a little easier.
Driving in the USA
In the USA , you drive on the right hand side of the road, and the majority of vehicles are automatic. Compared to Europe, fuel prices are low.
If you're coming from overseas, you'll likely be renting a car. To do so, you will need a valid drivers license, and many rental car companies also have a minimum age for renters, which can start as high as 25. Some visitors may also need an International Drivers Permit from to drive in the USA, which needs to be arranged in advance from your home country.
We have a complete guide to driving in the USA, which you might want to read if this is your first time driving in the United States.
Renting a Car or Motorhome for your Trip
If you are coming from overseas, then you'll need a vehicle in which to do this road trip. You have two main options – you can rent a car, or you can rent an RV/motorhome.
For this itinerary specifically we'd generally recommend a car as there are quite a few city stops which wouldn't be practical for a motorhome. However, if you decide to skip the cities and focus on the great outdoors, then a motorhome might be more practical.
For car rental in the US, we usually use either Rentalcars.com or Enterprise. For one-way trips, we've found Enterprise often has the lowest one-way fees, but it is always worth comparing on a site like Rentalcars.
For RV rental, we recommend checking out Motorhome Republic. They compare prices across all the major suppliers so you can find the right rental for you. You can see their USA listings here.
We can also recommend checking out RVShare, who offer peer to peer campervan rental – a bit like the AirBnB of RV rental! Similar options include Outdoorsy and RVEzy.
Money in the USA
The USA uses the US dollar, with notes available in denominations ranging from 1 up to 100. Coins are also widely used, which range from a cent to a dollar. There are ATM machines available throughout the country.
Credit and debit cards are widely accepted, however it is worth keeping some bills to hand for tipping. In addition, the 25 cent coin, known as a quarter, is widely used for short stay parking meters, so you will want to have some of these handy as well.
If you've not visited the USA before, and in particular if you are from a country where tipping is not normal, you might find the tipping culture a bit of a shock. Tips are expected for a great many service based roles, from restaurant service through to valet parking.
The percentage you tip will obviously depend on your personal preference, but tips in the region of 10 – 20% for restaurant service is common, whilst one to three dollars for bar service or valet parking is also expected.
Electricity in the USA
The USA uses a 110v electrical system. If you are coming from a country that uses a 220v to 240v system, this means that some of your electrical items might not work.
In our experience, the majority of smaller electronics, like laptops and cell phone chargers, are compatible with 110v – 240v and will work in the USA. You can check on the charger, it should tell you.
However, higher powered devices like hair dryers, flat irons, and electric kettles are unlikely to work, unless you have a dual voltage model specifically designed for international travel or have a voltage converter.
In addition, if you are visiting from outside the USA, you will likely need a travel adaptor like this. See our comprehensive guide to travel adaptors for recommendations.
Accommodation in the USA
There is a huge range of accommodation options in the USA across a wide range of budgets. From budget motels near highway intersections to five star luxury hotels, to campsites and apartment rentals – we're sure you'll find something to suit.
For this itinerary we've suggested a few options for each stopping point, across a range of budgets. As this is a road trip, we can recommend trying to find places which include free parking where possible, although in the major cities you are likely going to have to pay for a parking service.
In terms of whether or not you need to book in advance, we'd suggest that this is a good idea for the most part to ensure you get your choice of accommodation. This is definitely the case in and around popular national parks like Yosemite and the Grand Canyon, where even campsites can book out months in advance.
We generally use booking.com for our travel booking needs, they have a huge range of options, and most properties offer free cancellation in case your plans change.
Safety in the USA
For the most part, the USA is a safe destination to travel in, and we have never had any problems travelling here.
Violent crime against tourists is quite unusual, and the most common types of crime are opportunistic ones like pickpocketing, theft, and auto break-ins.
Of course, every country has crime, and areas where you would be wiser to avoid, however if you practice basic safety precautions, keep your valuables out of sight, and behave with some caution, you should be fine!
Internet Access in the USA
Internet access is widely available across the USA in the form of WiFi, which can be found for free at most hotels, cafes, bars and restaurants. There are also a number of free WiFi hotspots in some of the cities on our list.
If your phone is unlocked you can pick up a pay as you go SIM in the USA. One of the better options is from Straight Talk, which you can buy in Walmart stores.
For more options on getting online when travelling, check out our guide to getting online when travelling to help you figure out the best options.
Water
Water across the USA is safe to drink, unless otherwise indicated. There are drinking fountains in the majority of public locations, and we recommend you travel with a re-usable water bottle so you can just fill it up as you go.
One thing we always love about travelling in the USA is how drinking water is typically brought to your table at a restaurant – something we wish was standard around the world!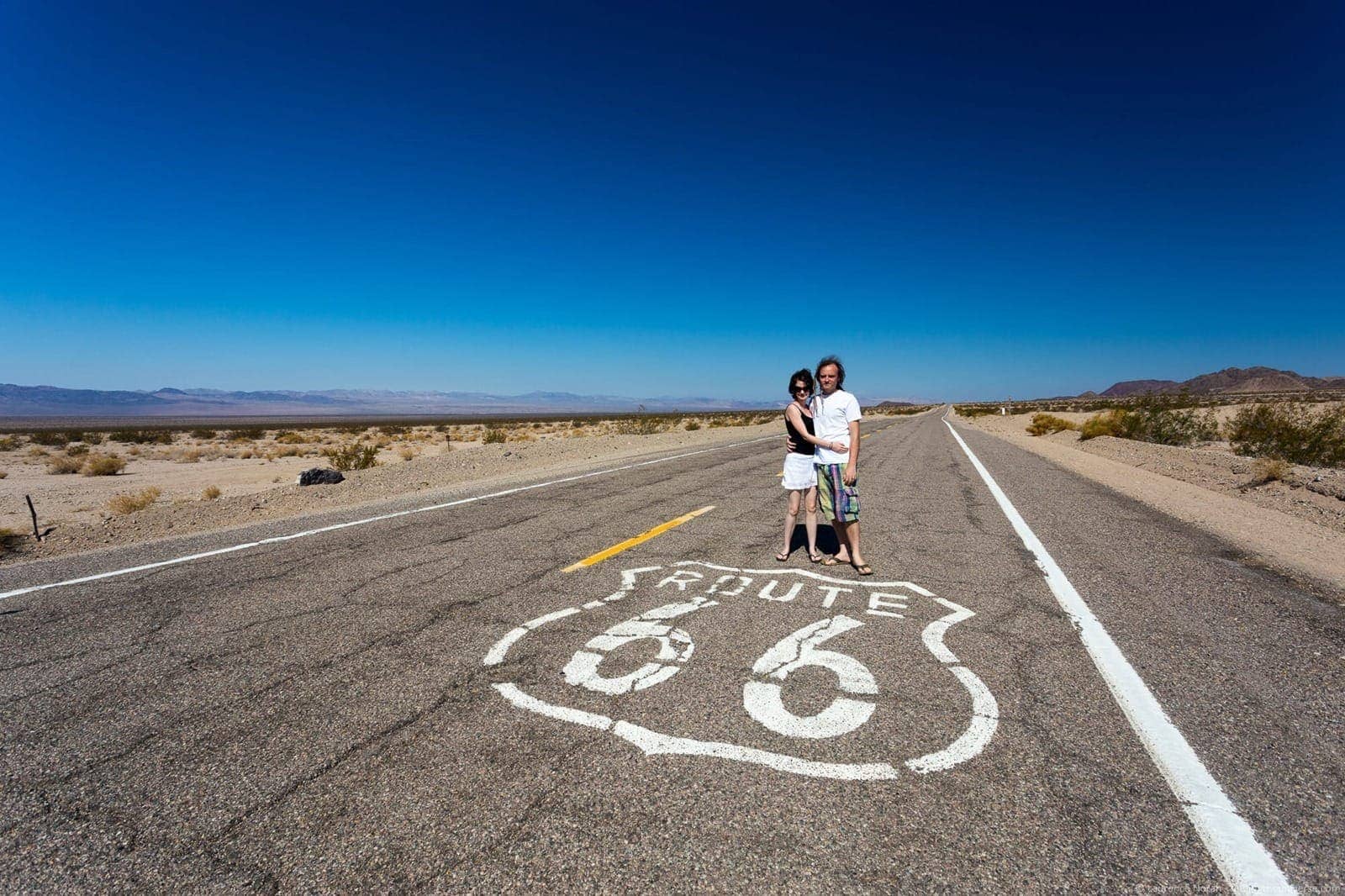 Further Reading
That's it for our two week USA road trip itinerary, which features some of our favourite destinations in this part of the USA. Before you head off though, I just wanted to share some more resources we've put together to help you plan your trip.
We hope you found this itinerary useful for your trip planning. As always, we're happy to answer any questions you might have, just pop them in the comments below and we'll get back to you as soon as we can.