When you travel, the chances are you are going to be doing a fair bit of walking. We usually spend many hours on our feet each day of our trips, whether that be hiking of just exploring city attractions.
Given how much time you will likely spend on your feet, having the right travel shoes is really important. You want shoes that will be comfortable for prolonged time, but that are also suitable for the rigours of travel.
Shoes can also be heavy, so you generally don't want to be bringing too many pairs with you as they can take up valuable luggage space. The key thing is to find the right kind of shoes for the trip you are going on. Ideally these will be versatile, and able to be used in a variety of situations.
For example, you might find a pair of shoes that are comfortable enough to walk around in all day, which are also smart enough for a nice evening out.
Based on my experiences travelling (and wearing many pairs of shoes!), I've put together this list of the best travel shoes for men. We also have a guide to travel shoes for women here.
This post covers a wide variety of men's travel shoes, from hiking boots to sandals, to versatile all rounders that are as comfortable in a nice restaurant as they are walking all day in a city.
I'm also going to share some of things you need to think about and look for when buying a pair of shoes for travel. Let's get started!
Things to Consider when buying Travel Shoes
Versatility
Versatility is important when it comes to travel shoes – ideally you want a pair of shoes that will fill a variety of roles, so you can minimize how many pairs you need to pack.
Having shoes that match and blend easily with the majority of your clothes is also useful. This means that whether you're wandering the city streets during the day, or heading out for a night on the town, your shoes will work.
We think that sticking to neutral colors, like black, tan, navy, grey or brown, will help ensure that your travel shoes will go with whatever clothes you wear each day.
Cost
It might not seem like it sometimes, but your choice of travel shoes really can make or break your holiday.
Sometimes you have to make the investment to ensure that your sightseeing itinerary goes as smoothly as it possibly can.
We know that the price tag can really take the shine off a great pair of travel shoes, so we've tried to include shoes across a whole range of budgets. However, do bear in mind that shoes can be a real investment. A good pair of travel shoes or hiking boots can last for many years!
Space (in luggage)
The amount of luggage you plan to take on your trip is really going to impact how many pairs of travel shoes you can take with you.
If you choose to travel with a backpack or carry-on suitcase, chances are you'll be limited to one pair, so it's important to pick the right ones!
Although more luggage space means you can carry more shoes, sometimes one or two pairs of high quality footwear is all you need if you pick the right ones.
Weight
With airlines cracking down on maximum weight allowance, less really is more when it comes to packing your travel shoes. The lighter the shoes, the more pairs you can bring with you, or alternatively, the more space you will have for clothes & souvenirs.
It becomes a little bit more difficult during the winter months when you are traveling with heavy snow and hiking boots, but you should still keep weight in mind and search for the most comfortable, lightweight footwear on the market.
Durability
You may be tempted to pick up a pair of cheap hiking boots, but the lower the quality the less enjoyment you will get from your trip, and your shoes in the long term.
Trust me, you don't want to be half way through a hike and suffering with wet feet or blisters because you cut costs on your hiking shoes.
Investing in your travel shoes is investing in your happiness at the end of the day. Look for qualities like grip, reinforcement around the toes, flexibility in the soles, and weatherproof features. A good pair of shoes from a well known manufacturer should last for many years.
Comfort
They might be the most stylish shoes you've ever laid eyes on, but if they are not comfortable, they certainly aren't worth the pain they will inevitably cause you during your trip.
I would argue that comfort is the most important point on this list.
Big adventures can take their toll on your feet, with hours of walking everyday, climbing endless flights of stairs, and rugged mountain terrains, your feet deserve to be as comfortable as possible.
Style
Once you've ticked the boxes for all of the above, it's time to think about the overall style of your new travel shoes. A comfortable pair of stylish shoes will go a long way!
The style of the footwear impacts how many different types of outfits you can wear them with and how easily you can take your shoes from day to night.
We've included some of the most stylish travel shoes below to cover you for any travel occasion, at any time of the year.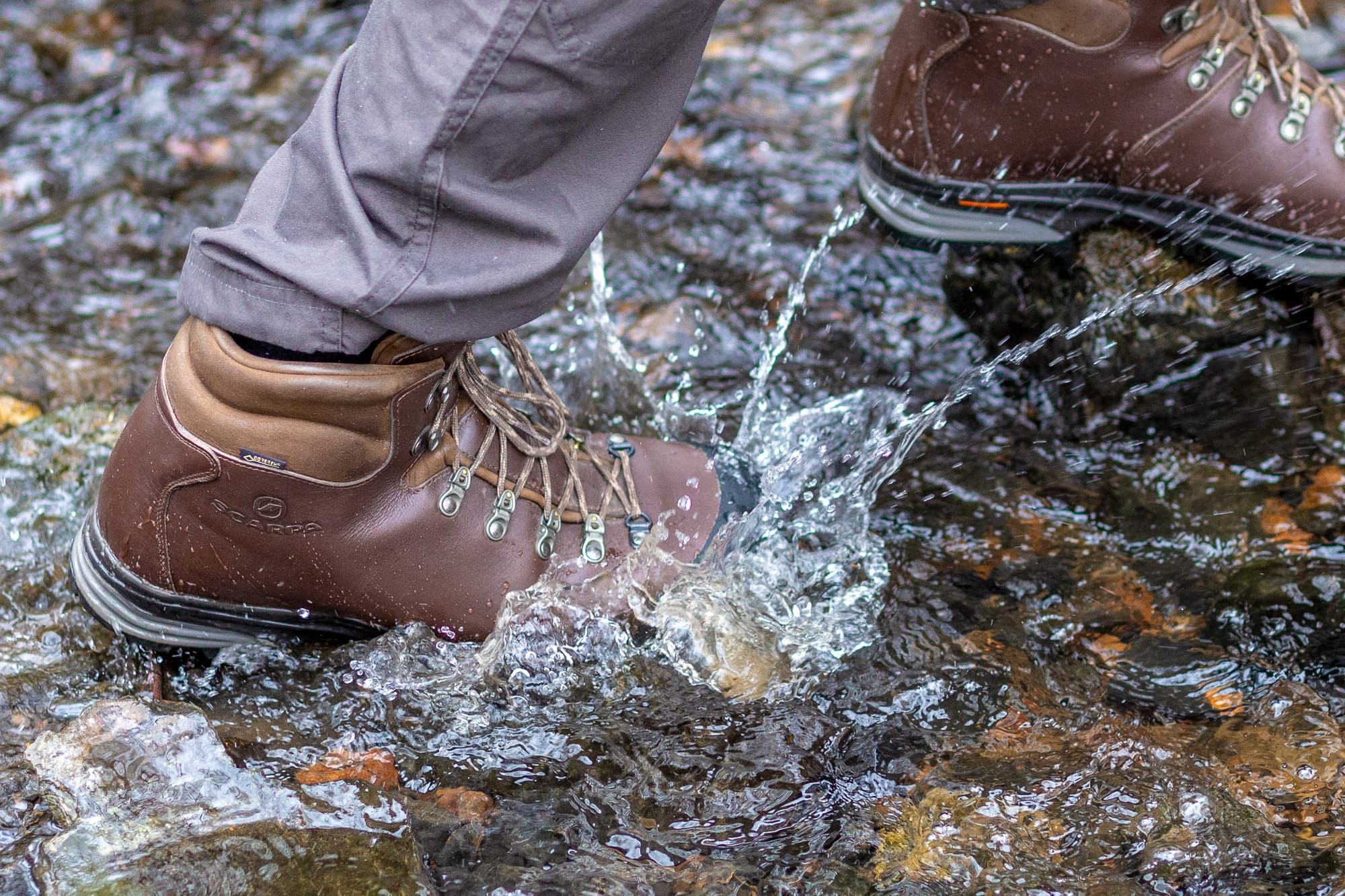 Best Travel Shoes for Men
We've split our guide out into the various types of travel shoes available for men. Depending on the type of trip you are going on, you will likely need shoes from one or more of these categories.
Generally, our trips include both city walking and backcountry hiking. So I will usually pack a good pair of versatile travel shoes, and then, depending on the hiking and likely weather conditions, I will bring a pair of hiking boots.
If we are travelling somewhere warmer, I'll also likely bring some sandals, which are lightweight and don't take up much space.
Of course, which travel shoes you bring will depend on a variety of factors, but hopefully the options below should give you lots of ideas!
Best Versatile Travel Shoes for Men
If you're simply looking for 'the one', the most comfortable, reliable, durable and stylish pair of shoes for many different types of travel, these are our go-to versatile travel shoes for men.
My favourite shoes for travel are a pair of Timberland's called the Men's Carter Notch, but unfortunately Timberland has stopped making them.
However, they have something similar called the Timberland Kendrick Plain Toe, which is what I'll be buying if my current pair ever wear out!
Despite their relatively formal appearance, Timberland has managed to make a shoe that is also comfortable for walking around in all day as well as being fully waterproof.
The anti-fatigue footbed works to keep feet comfortable all day, and these shoes are just as comfortable in the city as they are giving a presentation or going out for a meal at a nice restaurants. The sole is designed to give maximum traction, and I've happily walked countless miles in mine.
For trips where I really just want to pack one pair of shoes, and where I know I'll have some nights out at nicer restaurants, this would be my go-to pair.
Check price on Amazon here.
These stylish smooth suede sneakers are comfortable enough for all day walking and smart enough for an evening out. Their EVA midsole and air cushion insole are ideal for comfort and stability, while the rubber sole provide the traction you need to hit up as many tourist attractions as possible on your travels.
On top of all of this, they are super stylish and can be paired with a pair of shorts during the day, or with a pair of jeans for an evening meal out. They have it all, comfort, support and versatility.
The only downside is that suede can be susceptible to stains, and isn't waterproof. We would advise treating them with a suede waterproofing product like this.
Check price on Amazon here, and Zappos here.
If you're looking for all round versatility, it's hard to go wrong with the Tropicfeel Canyon shoe. This, and its sibling the Tropicfeel Monsoon, are my go-to shoes for casual wear and beachwear.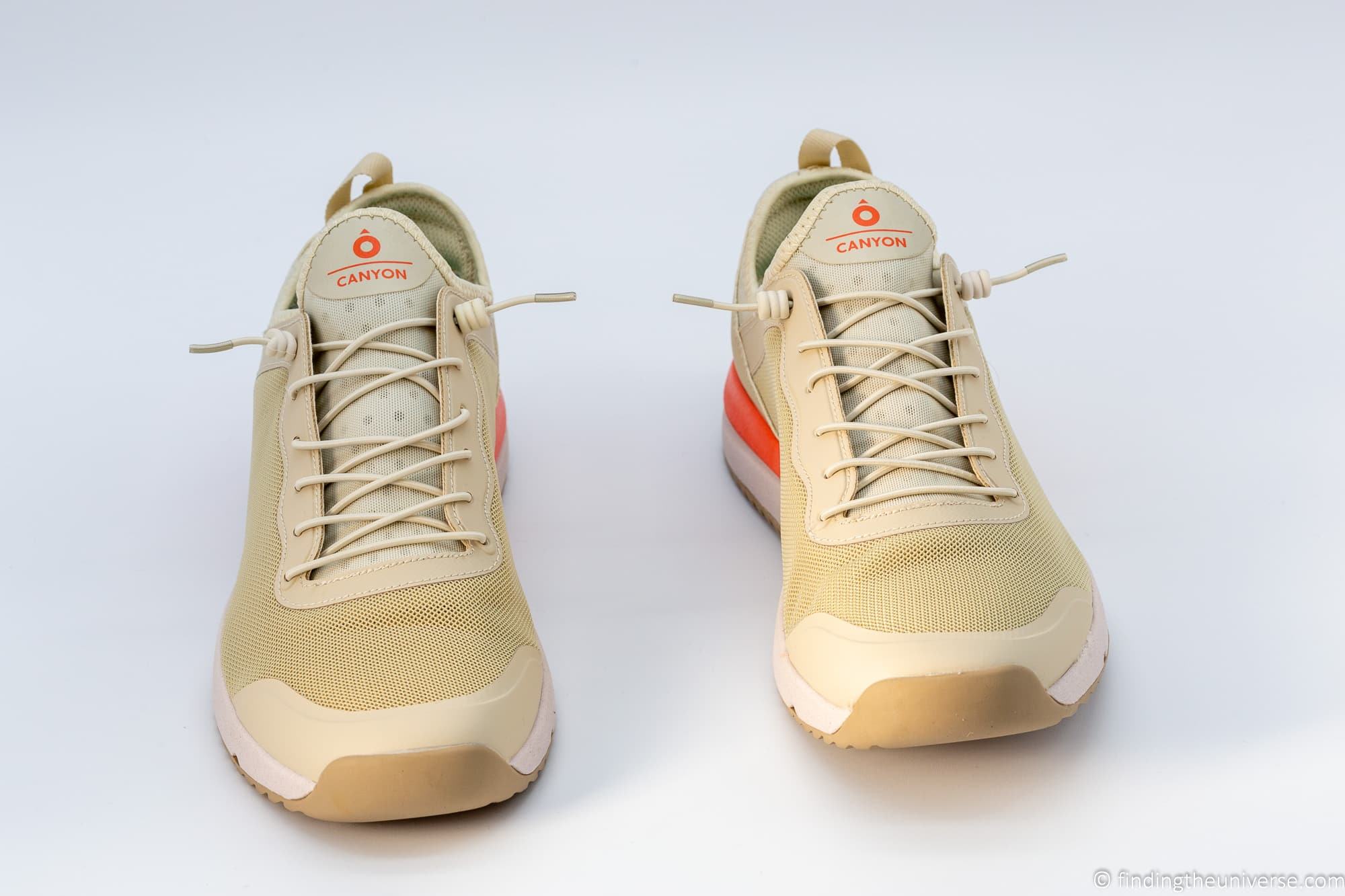 These shoes are incredibly versatile. I wear them around town, where they look like a good pair of sneakers. But they are so much more! They're designed to be quick drying, ultra-light, and they work great as a water shoe as well, as well as for general walking and hiking. You can wear them with socks or without, and they have a powerful odour control system built-in so you don't need to worry about them smelling.
I also love the elasticated lace system which basically means they slip on and off really easily, meaning they are my favourite shoes for air travel. Finally, the manufacturers are committed to sustainability – the shoes are actually made from recycled plastic bottles.
Ok, they might not be smart enough for every evening adventure, but these are a really versatile shoe for pretty much every other travel adventure.
Available direct from Tropicfeel here
To be mentioned as our 'best travel sports shoes' you need to combine durability, comfort and flexibility in one.
If they happen to be as stylish as the Adidas Duramo 9 Running Shoes, that's a bonus! These shoes are built with light mesh for breathability and a cloudfoam sole for extra cushioning during your activities.
On top of this, they are reinforced with ADIWEAR technology for extra resistance against wear and tear and the outsole grip is made with running and jogging in mind. They are a stylish all-in-one option for both sports and general sightseeing around the world.
Check price on Amazon here, and Zappos here.
Clarks have been creating high quality, reliable shoes for almost 200 years, so it's safe to say they know a thing or two about how to build the ideal travel shoe.
Their Ashcombe Bay range is a perfect example of this. With dark brown leather upper, a waterproof membrane, lightweight feel and a durable sole unit with great grip, they really encapsulate style and comfort. Finished with a lace fastening for a secure fit, these shoes are perfect for exploring.
Check price on Amazon here.
Best Travel Walking Shoes / Sneakers for Men
These shoes emphasise comfort for long periods of walking over anything else. They might not be quite as smart as some of our other options, but they will certainly keep your feet comfortable!
We've already mentioned this perfect pair in our 'Most Versatile Travel Shoes' section, so you can probably tell that we are big fans!
It doesn't get much more comfortable when it comes to travel walking shoes, as these stylish smooth suede trainers are renowned for their lightweight support. Their EVA midsole and air cushion insole are ideal for comfort and stability, while the rubber inserts provide the traction you need to get the miles in.
Check price on Amazon here, and Zappos here.
Skechers have really upped their game with their comfortable and affordable walking sneakers.
The Go Walk Max range is designed with athletic walking in mind, so you can be sure that their cushioned, supportive sole design will keep your feet going strong even after a long day of exploring.
Jess loves her Mary Jane Skechers for all day city exploration, and we are confident that these will be super comfortable for all day use too.
Check price on Amazon here, and Zappos here.
If you are looking for durability, these are a great option! Their GORE-TEX Upper ensures that the shoe is completely waterproof, while the snug fit and lace bungee helps to avoid awkward tangling so you'll never have to worry about your laces untying while you're on the go.
The ripstop fabric is light weight and excellent for durability, while the synthetic overlays provide extra support to the construction.
Check price on Amazon here, and Zappos here.
Best Travel Sandals for Men
If you're travelling somewhere warmer, you might consider some travel sandals to keep your feet cool. These can be really comfortable too, with models offering good support and soles that are suitable for hiking and more casual use.
You can always rely on ECCO when it comes to lightweight, supportive sandals. But you don't have to take our word for it – their Yucatan sandals currently have over 1,300 reviews on Amazon with a 4.5 star rating!
It also helps that they come in every colour you could ever want. If you are on a mission to tackle the terrain, you will love their dual density footbed, made for added comfort and performance.
Check price on Amazon here, Zappos here, and REI here.
Comfort is key when it comes to travel sandals, so the more cushion, the better. Skechers take their padding pretty seriously with their memory foam cushioned footbed and 360 padded straps!
The Louden Sandal is part of their new 'Relaxed Fit' series, which offers a roomier and more comfortable fit.
Check price on Amazon here, and Zappos here.
If your itinerary is jam packed with sporting activities, you'll want to find something that syncs up perfectly to your movement.
The Dockers memory foam insole shapes to your foot for instant comfort and a more personal fit. The fusion footbed adds and an extra layer of cushioning and the rubber outsole guarantees durability and grip for any outdoor activity.
Check price on Amazon here, and Zappos here.
If you just want a pair of relaxed flip-flops for beach use or for the pool, you probably don't want a full blown sandal.
Instead, I think this pair of beach ready flip flops from Teva would be a great option. They're available at a great price point and have thousands of happy customers, and they're small and light enough to be added to any bag without taking up too much precious space.
Check price on Amazon here, Zappos here and REI here.
Best Travel Hiking Boots for Men
If you're going to be doing any serious hiking on your travels, I highly recommend getting a good pair of hiking boots. These can definitely be pricey, but I urge you not to cut corners with good hiking boots, as they will last you for years.
These hiking boots are well built and designed to last for many years of hiking across a variety of terrains. I've worn Scarpa boots for decades, and these Kinesis Pro GTX boots are only my second pair!
This pair of Scarpa boots are waterproof with a full grain leather upper section, a Gore-Tex lining, an easy-lace system, excellent ankle support, and a comfortable Vibram sole. Hiking boots are definitely an investment, and this is a pair that we are sure will last you for years to come.
Check price on Amazon here.
Lowa are a well known brand for high quality travel footwear. These lightweight hiking boots have fantastic grip, a climate-control footbed and a outer layer of leather for warmth and weatherproofing.
It's difficult to find such a lightweight, versatile pair of boots like these. Their flexibility and comfort is next to none – foolproof for a day out on the hiking trails.
Check price on Amazon here, Zappos here, and REI here.
A pair of boots specifically for those of you in the UK. These boots do it all. They're durable, water-resistant, breathable, perfectly cushioned, shock absorbing for extra control and on top of all of this, they are pretty darn stylish.
Originally designed for walking the three peaks of Yorkshire, they are equally as good for pairing with a pair of jeans on a city break.
Check price on Amazon here.
Best Travel Water Shoes for Men
If you're going to be spending time on the beach or in the sea, you might consider a pair of water shoes. These are fast drying shoes specifically designed for water based activities, which will keep your feet protected.
I already mentioned the Tropicfeel Canyon in my round up of my favourite general travel shoes. Those are also very capable as water shoes, but I also wanted to give a shoutout to the other pair of Tropicfeel shoes I own – the Tropicfeel Monsoons.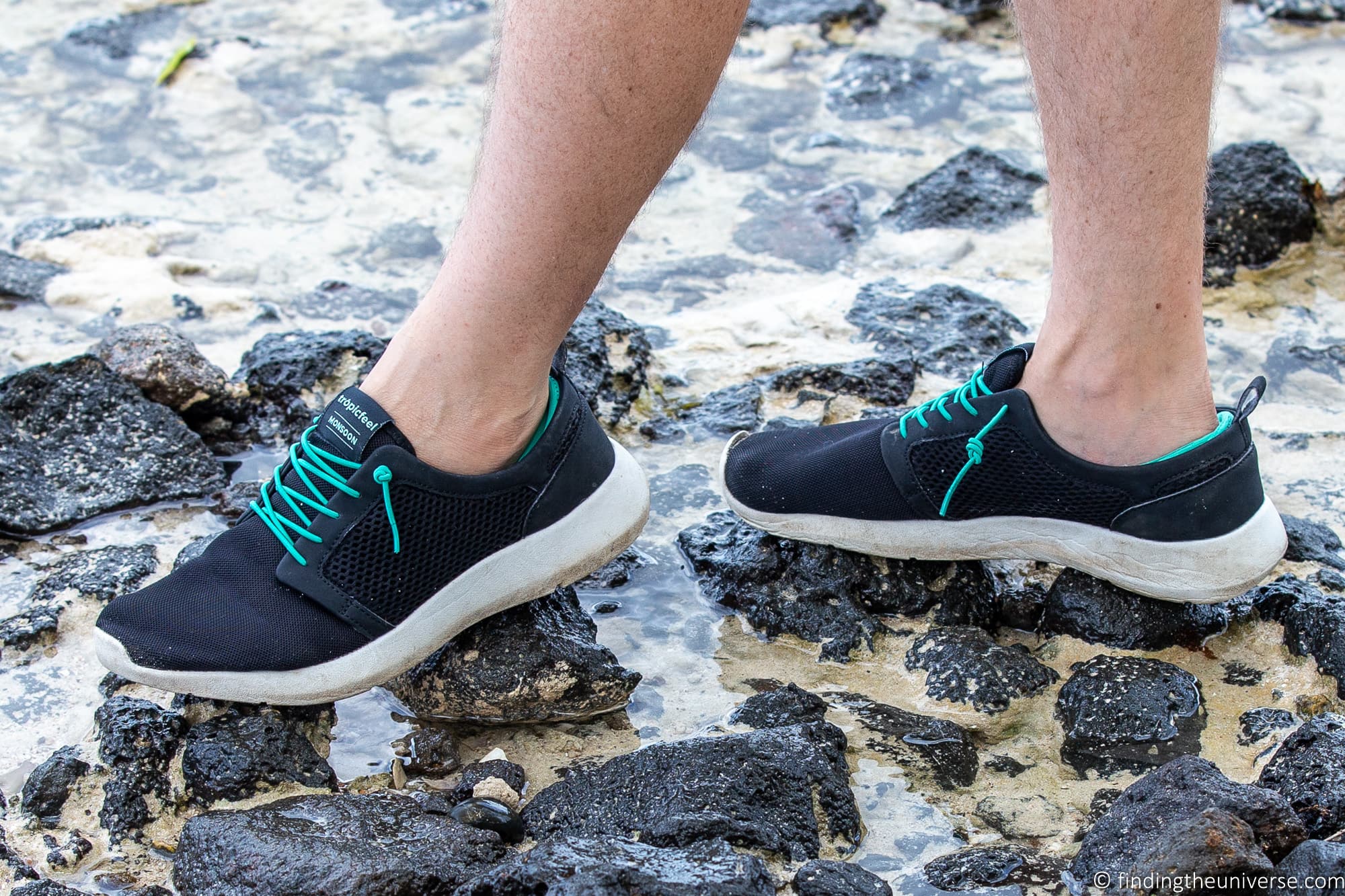 Essentially, if you want a pair of water shoes that are just as handy for trail hiking or city streets, you'll want to think about investing in a pair of Tropicfeel shoes.
These are also manufactured from recycled plastic bottles, and offer easy slip on and slip off comfort. They also have a quick dry system, so even after a day at the beach you shouldn't have to worry about packing wet shoes away.
Available direct from Tropicfeel here
These non-slip water shoes have all of the key features required for a great day out on the water. They are soft and lightweight, flexible, have a breathable upper mesh and protective soles.
They're ideal for all water sports, water based activities and beach time, but also comfortable for other uses.
Check price on Amazon here.
If you are looking for fast drying water shoes, that are easy to pull on and off, these are the ones for you. With tough padding around the sole, the Sixspace Barefoot water shoes protect you from sharp rocks and cuts while you're out at sea.
Their stretchy upper and removable padded insole provides maximum comfort and flexibility, so you can enjoy any water sport without worry.
Check price on Amazon here.
The Sport.z Barefoot water shoes are made to last, with breathable ultra light weight fabric for fast draining and cross ventilation. Not only can you can wear them as water shoes, but also for walking or hiking, which adds to their versatility on your next trip.

The lace-up system ensures a fast and secure fit, while the anti-slip rubber sole with eleven holes on each bottom allows proper drainage for a cooler and healthier environment for your feet.
Check price on Amazon here.
Best Travel Sports Shoes for Men
If you like to be active when you travel, or just want to some really comfortable shoes, these sports shoes might be ideal for you. They're also generally fairly light weight, so won't take up too much room in your bag, and can be useful for less challenging hikes in dry conditions.
The best travel sports shoes should combine durability, comfort and flexibility in one. If they happen to be as stylish as the Adidas Duramo 9 Running Shoes, that's a bonus!
These shoes are built with light mesh for breathability and a cloudfoam sole for extra cushioning during your activities. On top of this, they are reinforced with ADIWEAR technology for extra resistance against wear and tear and the outsole grip is made with running and jogging in mind.
They are a stylish all-in-one option for both sports and general sightseeing around the world.

Check price on Amazon here, and Zappos here.
Another option in the 'running' for most stylish sports shoe (I couldn't resist!), is the lightweight, yet incredibly sturdy Nike Revolution. With a combination of materials to improve comfort, support and breathability, these were created for anyone looking for versatility.
They shape to your feet, providing a cushioned but firm ride. The grip is good, the flexibility is good, the overall look and feel is good – you can't go wrong with these sports travel shoes.
Check price on Amazon here, and Zappos here.
Famous among the running community, you can always count on Asics to bring you high quality and durable sports shoes. The GEL-Nimbus 21 were actually created with Marathons in mind (which can be quite similar to sightseeing if you ask me!).
They have a visible gel in the back of the sole to make each step a little bit easier and much more comfortable. The 'FlyteFoam' bottom minimizes impact, and the mesh upper adapts to your foot for extreme comfort and excellent breathability.
It could be argued that these are the best on the market in terms of structure, support and affordability.
Check price on Amazon here, Zappos here, and REI here.
Best Travel Snow Boots
If you are going to be travelling somewhere where there is likely to be a lot of snow to walk through, you might consider buying a specially designed pair of snow boots rather than hiking boots.
Unlike hiking boots, these include additional insulation to keep your feet warm, plus they usually have protection against snow entering the boot from the top of the boot, which based on personal experience, is never a pleasant thing!
Mastering the perfect snow boot isn't easy, it takes the right combination of grip, comfort, warmth and breathability. These guys have hit the nail on the head.
With a focus on waterproof protection, the Merrell winter range has built an all-over defense from snow and rain to ensure all-around warmth in the coldest of temperatures.
Once you slip your feet inside, the insoles instantly mould around you to provide the flexibility, support and protected movement that you need.

Check price on Amazon here.
The North Face are famous for their high quality gear, and these boots will certainly make you understand why they have become one of the most trusted brands in the adventure travel world.
Lace them up right and nothing will be getting in or out of these snow boots! With features like the injection-moulded eva midsole along with their PU-coated, ballistic-mesh upper, these are the perfect travel snow boot to protect you from winter's worst.
With high quality insulation, your feet will stay toasty warm, whatever the outside conditions!
Check price on Amazon here and Zappos here.
If it's warmth you're after, these waterproof, cosy, cushioned Columbia winter boots will keep you warm and protected on winter days.

They have somehow managed to keep them relatively lightweight, while maintaining all the thermal insulation you need. With great grip in their rubber soles, a waterproof, seam-sealed exterior and their omni-heat™ reflective lining, you are guaranteed long lasting comfort.
Check price on Amazon here, Zappos here, and REI here.
Best Travel Dress Shoes
If you need smarter shoes to travel with, you'll want a pair of travel dress shoes. We've looked for shoes that are comfortable as well as being stylish, and also shoes that shouldn't take up too much space in your bag where possible.
If you're looking for comfort and durability you really can't beat a good pair of Clarks. Their Cotrell Edge Oxford shoes have a foam inlay, made from 'open-cell Ortholite technology' (yeah, we're not sure what that is either, but it can only be a good thing!) which helps with impact absorption with every step you take.
Treat them well and you will get years out of these shoes, as they don't flatten under pressure or with wear. Highly recommend!
Check price on Amazon here and Zappos here.
Ecco are known for their high quality mens shoes, and these slip on travel dress shoes are the perfect combination of comfort and style.
Wear them year round, from day to night, for a casual dressed up look. They are also lightweight, making them the ideal shoes to tuck inside your luggage.
Check price on Amazon here.
You can't go wrong with a pair of these Hush Puppies. Their soft leather uppers mean that they can be easily stored in your bag without taking up too much space.
They also feature breathable microfiber lining and wrapped sock lining for a comfortable fit no matter what the temperature. Their durable rubber outsole provides ideal traction for exploring new cities for hours on end.

Check price on Amazon here.
How Many Shoes Should I Pack for Travel?
I try to travel with no more than two pairs of shoes on most trips where possible, however, this varies depending on where we are travelling to and the types of activities we'll be doing.
Normally, most of our trips include a combination of city travel and hiking. On those trips, I'll wear my hiking boots to travel in as they are bulkier and heavier, and will pack my Timberland Oxford shoes in my bag. These are smart enough for use at more formal events like travel conferences and nice meals, but comfortable enough for days of city exploration.
Of course, sometimes you will need to travel with more shoes for more specific activities, but we advise trying to keep it to three pairs as a maximum.
Best Travel Shoe Accessories for Men
It's not all about the actual shoes of course. There are some accessories and items that we advise you also look into to improve your foot comfort when you travel.
A great pair of shoes won't get you far without a good pair of socks inside them. I don't know many people who put a lot of thought into their socks of choice, so don't worry – we've found some that tick all the travel essential boxes.
Comfort, breathability, washability (is there anything worse than only getting 1 or 2 solid wears out of your socks before they start to fall apart in the wash?) and odor control.
If you are planning on doing any hiking, I highly recommend a pair of good hiking socks. I prefer merino wool socks for hiking as they are good at controlling both moisture and temperature.
This pack of socks comes with four pairs, which should be enough for most trips, plus you can always do laundry as you travel. They also offer a reinforced heel and toe for longevity.
With all of the walking, Jess and I have suffered from arch pain during our trips, and these have been a life saver! They slot right into the arch of your shoe for maximum comfort – even sandals and dress shoes.
They instantly reduce the pressure from my forefoot and heel by redistributing the pressure evenly across my entire foot.
A big bonus for me is the fact that they are washable and reusable so one pack will get you a long way. Their medical grade gel is antibacterial, odorless, soft and flexible. I can't recommend them enough!
For ease of packing, and to save you the worry of having to get your shoes spotless before adding them to your bag, we recommend you pick up some shoe bags to travel with.
The Yamiu shoe bags are inexpensive, come in a set of 4 bags across two sizes, and are made of a waterproof material. When you're not traveling, you can use them to store your shoes in a dust free environment, and being waterproof you can even use them as a toiletry bag if you don't have four pairs of shoes to travel with!
If you buy an expensive pair of leather shoes or hiking boots, we can highly recommend buying a good after care product like this Nikwax Waterproofing wax.
This isn't necessarily something you will want to travel with, but we recommend using it regularly on your leather products to maintain their waterproof capabilities and keep the leather in top condition.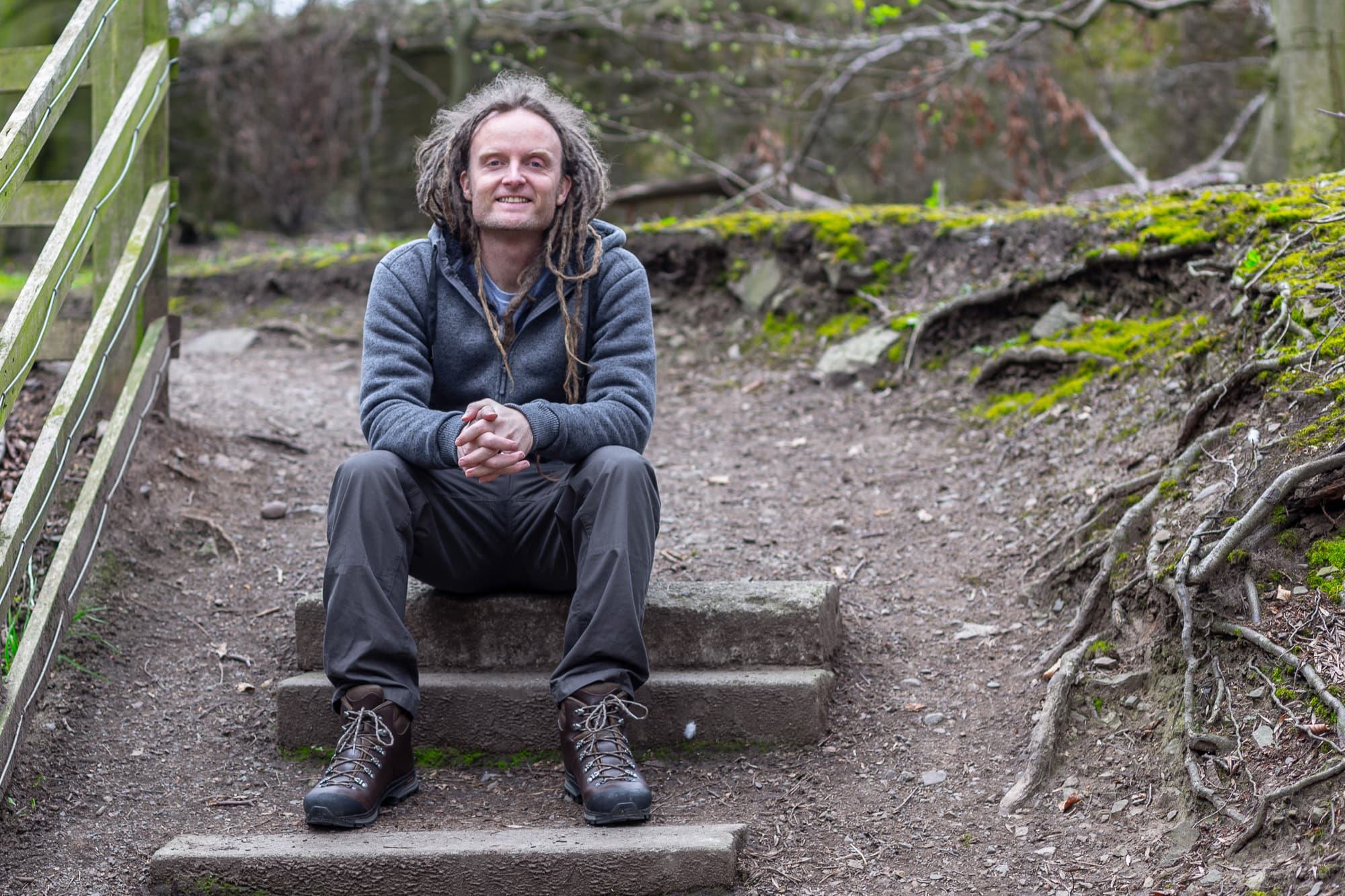 Further Reading
That summarises our guide to the best travel shoes for men! Hopefully you found it useful. We've also put all the items from this guide into a list on Amazon for easy reference.
We also have a number of other relevant posts that we think you will find useful for travel planning.
And that's it. We hope you found a pair of shoes you like, or at least some ideas for what to look for when buying your next pair of travel shoes.
Do you have a favourite pair of travel shoes you'd like to share, or a question about any of the above? As always, just let us know in the comments below!