We've spent a great deal of time travelling throughout the UK, plus we've taken many trips to London, a city we love to visit. I even lived in London for a number of years.
There's so much to see and do in London that we find ourselves returning time and again for new adventures – everything from seeking out Harry Potter sites to hitting the Winston Churchill trail.
Based on our experiences, we wanted to put together a guide to what to pack for London, to help you when planning what to bring.
This London packing list will also work for visiting other cities and parts of the UK and is designed for visiting London and the UK any time of year, with some items being more required in winter or summer, and noted as such.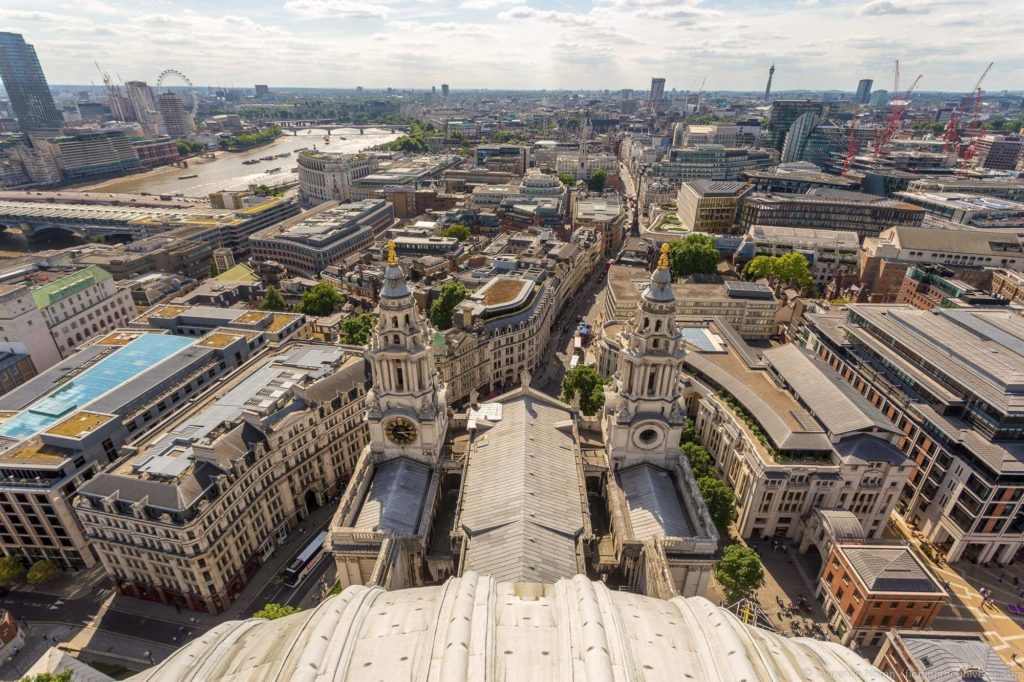 The climate does not vary too greatly across the country, although it is usually a little cooler as you get further north, especially up into northern Scotland.
The key thing with travelling in the UK is to be prepared for anything. The weather in the UK is famous for being fickle, and weather forecasts are notoriously unreliable. So even in summer you can expect cold, grey days, whilst winter can provide unexpected sunshine and even a little warmth!
Now we're going to go through our packing list in some detail, after which you'll find a checklist so you don't forget anything!
London Packing List
1. Clothing
Generally, for cities in the UK you will find that folks will tend to be fairly well dressed, so you will likely want to pack your nicer looking clothes – although you don't need to be super dressy for most occasions.
Just bear in mind that if your travel plans include fine dining, nice bars or trips to shows like the opera or the west end then you might want to bring some smarter clothes.
I normally pack a button up shirt and a light cotton jacket whilst Jess will pack a smart dress.
Clothes for London in Winter
When we travel to London in winter, we usually wear jeans or pants and Jess will wear layers with a warm sweater like this on top, while I will usually have a shirt and a fleece.
We will also both wear a warm winter coat. A warm scarf and good gloves are also essential winter items for London!
In terms of gloves, there are a number of options on the market. These are a good pair specifically designed for photography, with a warm merino wool lining and magnetic finger caps, and are the pair that I own.
However, you'll find plenty of gloves to choose from if you don't need a photography specific pair. Our main suggestion is to get a pair with touchscreen capability so you don't need to take them off to use your phone when navigating or looking up information.
For scarves, we love our cashmere scarves as they are really warm and look great, you can get them for women here and for men here. We have a guide to travel scarves here if you need some more inspiration!
If you suffer from the cold, you will also likely want a warm hat.
Clothes for London in Summer
For visiting London in summer, Jess will usually bring along a pair of pants, capris, and have a light dress with a shoulder wrap to wear depending on the weather.
I usually wear jeans, although on the odd rare hot day I can find that jeans become uncomfortably hot to walk in sometimes, so I will also pack light pants or shorts. For bright days (they do happen, we promise!), you'll also likely want a pair of sunglasses.
The key thing for either time of year is to bring a series of clothing you can layer so you can adjust to the climate accordingly.
As mentioned at the beginning of the post, if you are doing anything more formal such as a nice afternoon tea at a nice hotel, you should definitely check the dress code in advance so you are prepared.
You are unlikely to need outdoor gear such as hiking pants or boots for your London trip, although if you are heading out to the countryside for a little while, (perhaps following one of our UK itineraries), then a good pair of hiking pants will likely be a good addition to your UK packing list.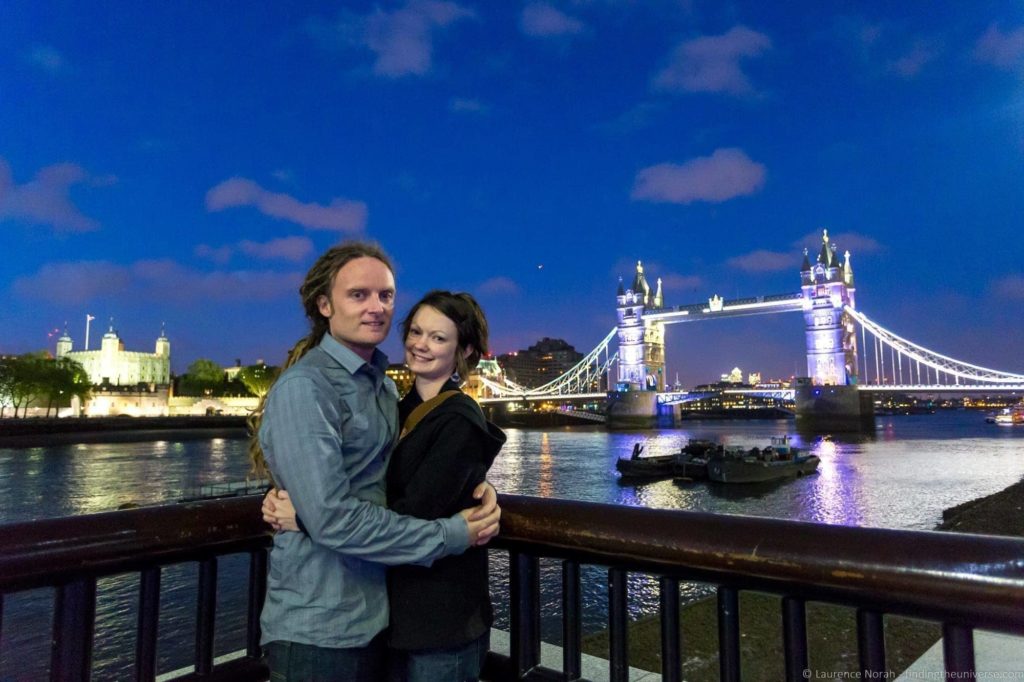 2. Shoes
A decent pair of shoes can make or break a holiday. You're going to be doing a fair bit of walking as you explore the UK and her cities, and the last thing you want is sore feet or blisters.
Recently, we've been loving travelling in our Allbirds shoes (see our detailed Allbirds review here). For cool weather, we like the Allbirds Wool Runner Mizzles, and for warmer weather the Allbirds Tree Runners. The Tree Runners are the most comfortable travel shoes I've ever worn, even in very hot weather exploring hot European cities in summer.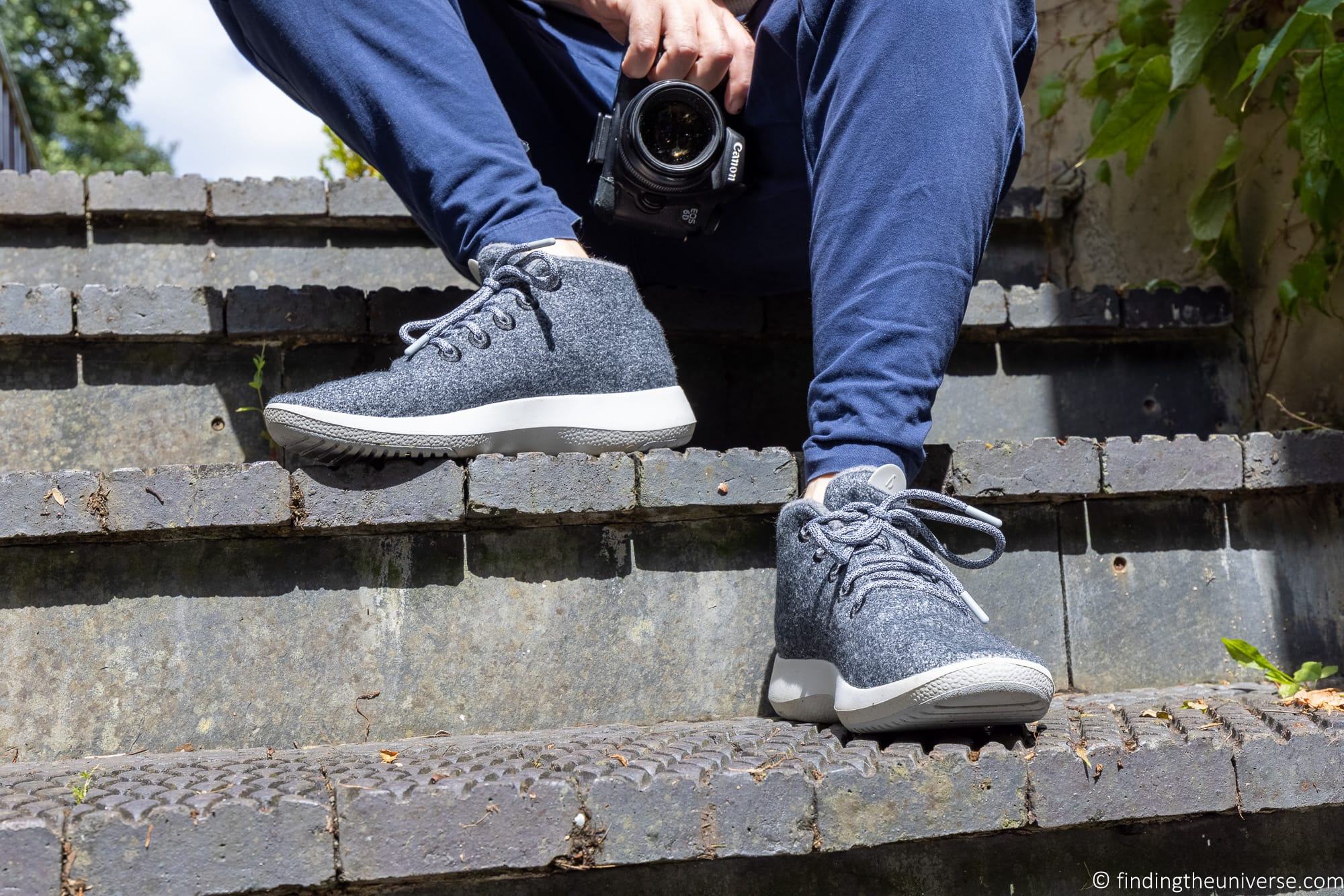 Of course, sometimes you want something a little bit smarter. In that case, I have a pair of Timberland shoes that I love. They are dressy enough for a night out or a nice meal, but also comfortable enough for walking in all day. They're also 100% waterproof, which can be a real benefit, as rain showers can happen at any time in the UK!
For slightly more formal situations, Jess loves her versatile black Rockport shoes. Whatever shoes Jess wears though, she finds she suffers from arch pain, probably because of high arches. After a lot of research, we settled on these cool insoles, which have solved that problem.
For more shoe tips, check out our guide to the best travel shoes for men and the best travel shoes for women for tips on picking a great pair.
3. Toiletries / Make up
Naturally you're going to want to bring your toiletries with you on your trip to London!
You don't need much different for London and the UK than anywhere else, so just remember your essentials – toothbrush, toothpaste, deodorant, moisturizer and any make-up or sanitary products that you might need.
Of course, all these things are easily available to buy in the UK as well, although as brands might differ slightly, if there is a product you love from home it is best to bring it with you to be sure. If you are on any medication, you should definitely bring this as well.
We'd also advise sunscreen for travel in the summer months, and a good Chapstick for travel in winter as the cold winter air can very quickly dry out your lips which isn't fun.
4. Electronic Gear
The UK uses a 220v three pin system, so if you're travelling from nearly anywhere else in the world you are going to need a travel adapter. We normally use an adapter like this and then pair it with an extension setup like this, which gives us all the plugs and USB ports we need to charge our all devices.
Note that if you are travelling to England from the USA, which uses a 110v system, not all your equipment will work.
Most laptops, phones and cameras will be fine, but in our experience, many hair dryers, curling irons, and hair straighteners don't support dual voltages. You can check on the plug or in the manual to find out.
Jess has a dual voltage hair dryer and a dual voltage hair straightener for just this reason.
See more on travel adapters and how to choose one for your trip in our guide to the best travel adapters.
You will also of course want your smartphone. If you have an unlocked phone, the cheapest way to get online will be to pick up a SIM card on arrival, or if you want to be fully prepared you can order one in advance. SIM cards are easy to come by in the UK and data is cost effective.
See our advice on getting online when you travel for tips on the best options.
If you're thinking of a new smartphone for your trip, check our guide to the best cameras for travel, which has a section on smartphones that are good for travel and taking photos.
We would also recommend you travel with an external powerpack to keep everything charged, and a set of decent noise cancelling headphones can be a life saver if you want to watch a movie or listen to a bit of music.
If you like to read, you may also want to travel with a table or e-reader like a Kindle. For most trips you probably won't need a laptop, but of course if you find it easier to travel with a laptop or tablet then bring one by all means!
5. Photography Gear
London is a very photogenic city (see my guide to the best photography locations here for some ideas), so you're definitely going to want to bring some kind of photography gear with you on your trip. Even if that's just a smartphone!
Our photography setup is likely overkill for most, but if you want to get the best photos, then we advise investing in a dedicated camera and ideally a tripod. See our guide to why you need a tripod for suggestions on the best travel tripods.
We also travel with a selfie stick to get nice photos of the two of us together if we don't want have time or space to set up the tripod.
Don't forget when travelling with your camera to bring a few accessories. We'd advise spare batteries, spare memory cards, a UV filter for the lens, and a decent bag or case to keep it all safe. If you don't get a dedicated camera bag, a camera insert that goes inside your daypack or carry-on is a wise investment.
We also travel with a number of large Ziploc bags which can be really handy to put electronics and wet clothes in should the weather turn bad.
6. Luggage & Backpacks
Picking the right luggage for you is a big decision. The right bag should last you for many years of travel, and suit your particular style – be that carry-on only or checked luggage.
We travel with a fair amount of gear, so we invariably have one checked bag each, and then one piece of hand luggage which has our high value items in. One tip I learnt from my mum's years of travel wisdom is to split our belongings across our two checked bags – that way if one of them doesn't make it, we still both have clothes!
For my camera and electronic gear, I currently use a Vanguard Alta Sky 49, which works well as both a carry-on and a day pack. Prior to that, I used an Osprey day pack with a camera insert, which was also super comfortable.
Jess loves her Eagle Creek bags, and has both a carry-on sized backpack and a larger wheeled backpack that we check-in. For a long time my main checked bag was an Osprey Sojourn 60. This travelled with me from 2013 until 2021 through multiple countries and countless baggage handlers, and never let me down.
Currently though, we travel with two main checked bags. We have a Level8 trunk bag, and a Delsey Hardside bag. We picked luggage with four spinner wheels as it's honestly so much easier to move around, and both these bags have survived the rigours of travel very well, including a five week African safari, which is tough on any bag!
If you're in the market for a new bag, we have no hesitation recommending Eagle Creek, Osprey, Level8, Delsey and Vanguard as great choices.
7. Reusable Water Bottle
We highly recommend bringing a reusable bottle for water with you so you can fill it in sinks and water fountains and not need to pay for drinks or purchase bottled water. Tap water across the UK is safe to drink, so there's no need to spend money on water.
If you need to get a water bottle for your trip, we personally like the Klean Kanteen bottles like these.
We have a few different sizes and find the anti-leak lids and easy washability make them perfect for travel. You'll be saving money and creating less plastic waste, which is always a good thing!
8. Miscellaneous
Obviously, there are a few items you need to bring with you when travelling to the UK, such as your passport. Depending on where you are coming from, you might also need proof of onward travel, a visa, and proof of funds for your time in the UK.
Check the UK government website here to get an idea of what documentation you might need.
We'd also advise having a note of your hotel address available in non-electronic format, as you may need this during immigration proceedings.
Beyond the documentation requirements, don't forget all the cables for your electronic devices. You are unlikely to need a towel for travel in London and the UK unless you are staying in particularly budget accommodation like backpacker hostels or some of the more budget hotel options that charge for add-ons like towels.
We would recommend you bring a travel umbrella or a travel poncho – these can be very useful in London and the UK as rain can happen at pretty much any time! You can also buy these at many shops in London although the quality might not stand the test of time.
If you would like to keep track of your adventures, we also recommend bringing along a travel journal. We always journal our travels so we can remember what we have seen and done. See our guide to the best travel journals for some ideas.
For London, we can also recommend the Streetwise Map, which is handy for helping you get around. We also recommend a physical guidebook, either the latest Rick Steves London guide, or the Lonely Planet London guide.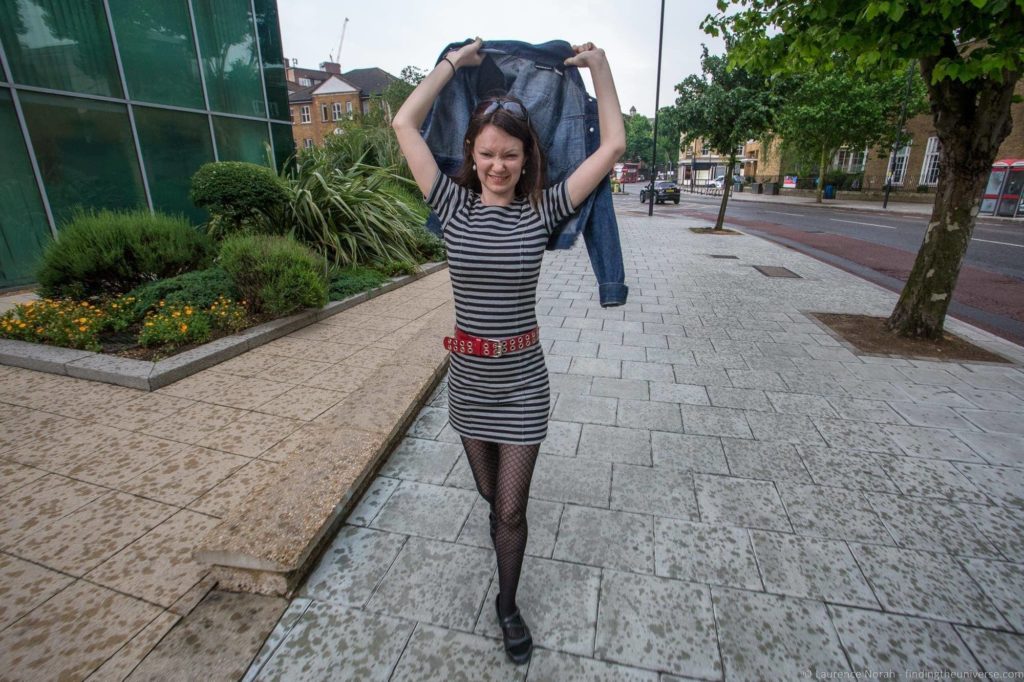 London Packing Checklist
Here's a full list for you to use as a reminder for your trip to London. You can also download this London packing list in PDF form to print off here.
Clothing

Shirts / t-shirts
Sweater / fleece for layering
Jeans / Pants
Underwear / socks
Shoes (bring a pair that is versatile so you can travel with just one or at most two pairs)
Swimwear (if needed, such as hotel has pool for instance)
More formal wear (if needed, such as planned fine dining or theatre experience)

Clothes (Cold Weather additional items)

Warm winter Coat
Gloves
Hat
Scarf
Additional Sweaters/ Fleece

Clothing (Warm Weather additional items)

Short sleeve t-shirts / tank tops
Spring/Summer skirts/dresses
Capris / Shorts
Light jacket / sweater
Sandals
Sunglasses / hat

Reusable water bottle
Toiletries

Toothpaste / toothbrush
Deodorant/Fragrance
Moisturiser
Chapstick
Makeup
Sunscreen
Medications
Hygiene Products
Other __________________

Photography Gear

Camera
Tripod / selfie-stick
Memory cards
Spare batteries
Camera accessories

Electronics

Smartphone
Headphones
Portable power pack
Travel adaptor
Extension lead
Laptop / tablet / e-reader
Cables
Other __________________

Luggage
Miscellaneous

Passport
Visa / proof of onward travel etc (if required)
Travel towel (backpackers only)
Jewelry / watch
Travel journal / reading materials
Cards / games
Travel umbrella or poncho
Other ___________________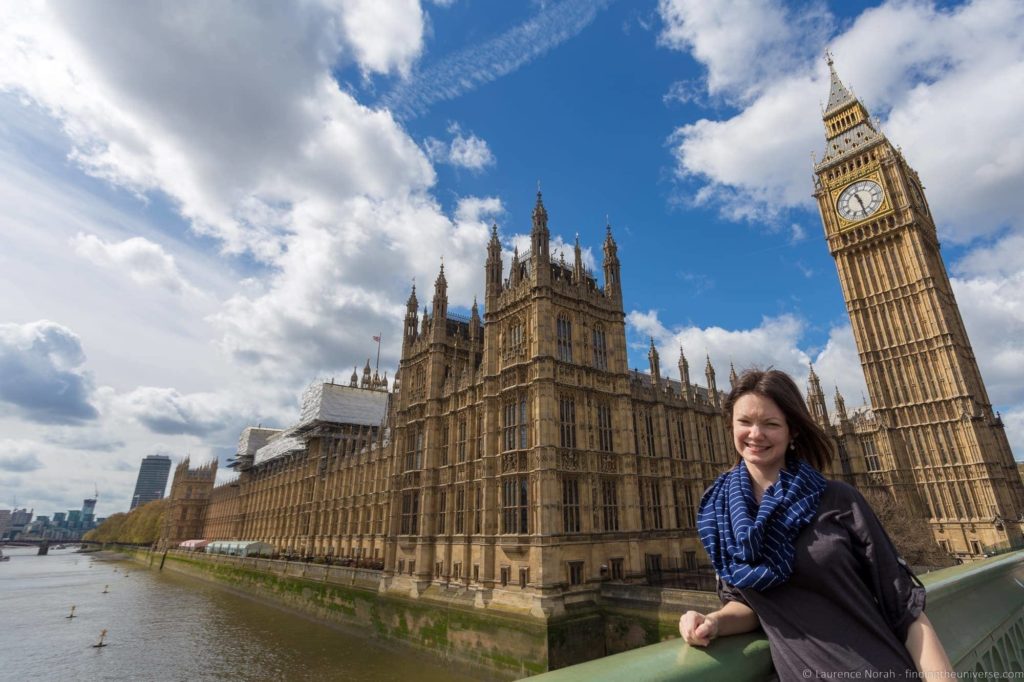 Further Reading for your Visit to London and the UK
We have written many guides that will help you plan and prepare for your trip to London, plus we have some other go-to resources we think you will find useful.
And that's it for our detailed packing guide for London, which hopefully covers everything you need to know for what to pack for London!
As always, we're happy to take your questions and feedback – just leave us a comment below, and we'll get back to you as soon as we can. Safe travels!