If you're planning a ski trip, you might be wondering what to pack. Well, with our guide to what to pack for ski trip we've got you covered!
We've been on many skiing holidays in countries around the world, including the USA, Austria, France, Spain and even Scotland! From all these trips, we've pooled our experiences of what you need to bring and what you should leave behind, to help you plan your ski packing checklist.
We're also going to give you tips for the actual packing process and making the most of your luggage allowance when going on a ski trip.
Packing for a ski trip is a little bit different to packing for a normal winter holiday, as you are likely going to be fairly active, and so you need to carefully consider your clothing choices. You're also going to be spending time off the slopes, and going in and out of warm locations, so planning for that is essential.
Finally, skiing (or snowboarding) is a specialist sport that often takes place in high altitude environments, and as a result, there are a number of specific items you may want to pack to make the most of your trip.
What To Pack for a Ski Trip
This list of what to pack starts with items specific to a ski trip, and then has a number of general items you'll also want to consider bringing along for both winter travel and general travel. There's also a checklist at the end you can use for easy reference.
Thermal Baselayers
I believe there are three components to a great ski outfit – a thermal baselayer, a fleece midlayer, and then a great ski jacket. Of course, you can then add or remove layers as the weather demands, but as a starting point, this is what we'd suggest.
The first layer you'll be putting on are the thermal baselayers. These are the ones you wear closest to your skin, and you want a material that is both warm and quick drying.
This is also going to be the layer that absorbs the majority of your sweat from physical activity, so depending on how long you are skiing for, this is the layer you'll want at least two pairs (two tops and two bottoms per person) of so you can wash one of them whilst wearing the other. See our guide to doing laundry as you travel for tips on that.
There are a wide range of thermal base layers available in a variety of different fabrics, which offer different capabilities. I personally like merino wool base layers like this, although there are other options including synthetic base layers and bamboo baselayers. Jess sometimes finds wool itchy, and so wears a top like this as well as wool ones.
Do not pack cotton thermals, as cotton dries very slowly and will just stay wet against your skin if you sweat.
Baselayer tops are available as long and short sleeve tops, we'd recommend the long-sleeved ones.
Fleece layers
The next layer we suggest is a fleece layer. Fleece is made from polyester, a synthetic fabric that is great for retaining heat and wicking away moisture from the body. It is softer and lighter than wool, and is fast drying if it gets wet.
A good strategy for fleece layers is to have two, a thicker fleece top, perhaps with a zipper front like this, and a thinner one like this, which you can interchange (or wear at the same time), to suit the weather conditions. One thing to remember though is that as you ski you will warm up, so it's best not to overdress.
There's a wide range of fleeces available in different styles at varying price points. The main thing is to be sure that whatever you get, it fits underneath the next item on our skiing packing list, your skiing jacket.
Ski Jacket
A Ski Jacket is a key component of your skiing outfit. Whilst a skiing jacket is similar to a hiking or other outdoor jacket, a good skiing jacket will offer a number of extra features uniquely designed for use on the snow slopes.
These will usually include a snow skirt, which is basically an elasticated waist band that fastens separately to the jacket, and prevents snow from entering underneath the jacket should you take a tumble, ski in fresh powder, or are in deeper snow.
Snow going inside your jacket will melt and turn to water, potentially making you wet and cold, and a snow skirt helps prevent this from happening. Some jackets feature detachable snow skirts, whilst others are built in.
There are a number of other features to look out for when shopping for a ski jacket. A dedicated pocket for your electronic ski pass can be very helpful. These are usually found in the lower area of your left arm, so you can quickly scan your pass without having to fish around for your lift pass.
Other helpful features include ventilation zips under the arms, to keep you cool as the exertion of skiing warms you up. For safety, you'll want to be wearing a helmet, so you'll want a jacket with a hood that is big enough to fit over the helmet if the weather is inclement.
Elasticated cuffs on the arms are also a useful feature, basically performing the same function as the snow skirt, that of stopping snow from entering where it shouldn't. A high collar is also a great feature, as you can tuck your face inside this – something that comes in especially handy when sitting on an exposed chairlift!
Finally, as with any good outdoor garment, you're going to want it to be waterproof, breathable, and feature taped seams and zips. You'll also want it to be a little roomy so you can add layers underneath it without restricting your movement.
There's a wide range of ski jackets available. Just make sure it has all the features you want. Examples we recommend include this one or this one for women, and this one for men.
Ski Pants / Ski Bibs / Salopettes
The next item we recommend you get are a pair of specialist ski pants, or a pair of Ski bibs (also called salopettes in Europe). Ski bibs are a higher waist version of ski pants, which can also have braces (known as suspenders in the USA).
Personally, I'd suggest going for ski bibs with the braces. The braces keep them more secure, and the higher waist means that if you fall, you are less likely to get snow in places you really don't want cold melting snow!
When buying salopettes, there are some features you should look out for. They are often padded to provide some comfort insulation against the cold, and they should be windproof and waterproof with taped seams. Pockets can come in useful, and they should be pockets that can be zipped or Velcroed shut.
They should also be fairly loose as you need a fair bit of movement so you aren't restricted when on the slopes. I also like the versions which have elasticated leg cuffs, which stop snow from getting in. These are also sometimes called ankle gaiters. Zips on the ankle area are also helpful, as they make getting in and out of ski or snow boots easier.
Again, there are lots of ski bibs to choose from. This pair for men is a good starting point, and check out this pair for women.
If you'd prefer standard ski pants, there are also lots to choose from, including this pair for men and this pair for women.
If you think you might fall a lot (this happens especially if you are learning to snowboard), then you might also consider a pair of padded shorts to wear underneath your pants to provide additional protection.
Ski Equipment
If this is your first time skiing, we would definitely recommend that you hire your ski equipment rather than investing in expensive gear. That way you can be sure that skiing is for you, and develop your skills on beginner equipment before upgrading to intermediate and higher end gear.
It's worth checking in advance with the resort before you go though to be sure that they have everything you would need. For items like helmets and boots especially, where fit is a very personal thing, you might still consider investing in your own equipment for comfort reasons.
Skis / Snowboards
There's a wide range of downhill skis, cross-country skis and snowboards available to buy. Again, these are nearly always available to rent, so buying will only make sense if this is a regular activity for you and you know what you want.
Ski Boots / Snowboard boots
Personally, I've not had a problem with fit when renting ski boots, however I know friends of mine who have had multiple issues getting a comfortable fit, and for them a purchased pair of ski boots resulted in a much more comfortable solution.
Again, you can buy ski boots and snowboard boots online, however this is definitely an item where fit is really important, so I would encourage you to visit a specialist store to find the right fit for you. Or if purchasing online, be sure that the items can be returned for a refund or exchange.
Also, if this is your first time skiing or snowboarding, bear in mind that the boots are very different between the two sports, so make sure you get the right kind for the sport you want to do!
Ski Poles
Ski poles are a handy tool, especially when you are walking on your skis, or trying to go uphill. These are definitely an item that you can rent, but if you prefer to have your own set, there's no shortage of options to choose from!
Helmet
The first time I went skiing, I recall a helmet being a novelty item that you would occasionally see someone wearing. Thankfully, times have changed, and a helmet is now an essential part of any skiing list.

Again, helmets can often be rented, but if you don't like the idea of you head being where many heads have been before, or you just want to be sure of a good fit and a high-quality product, then buying a helmet before your trip is a wise choice.
There are lots to choose from, this particular version comes highly reviewed and is made by the folks who supply the US ski team. Given the important of this item, it's probably not one to go for the most budget option!
Ski Goggles / Sunglasses
In my opinion, Ski Goggles are an essential skiing accessory. They protect your eyes from the UV light at high altitude, and keep the wind off the area around your eyes. They can cut the glare from the snow on a sunny day, and you can even get goggles that improve visibility when you're skiing in less favourable conditions.
Again, there are lots of options to choose from. Some even come with interchangeable lenses, so you can wear what is most appropriate for that day. Key features to look out for are UV protection as well as an anti-fog coating or other anti-fog feature. It's also possible to get lenses with a specific prescription, if you wear glasses.
Of course, if you prefer you can also ski in sunglasses, although this is generally best on those warmer, clear sky days. If planning to wear sunglasses, we'd recommend a strap like this to make sure they don't fly off when out on the slopes.
Face Mask / Balaclava
If you are skiing in poor weather conditions, and especially if it is windy, then a face mask is going to be an excellent investment. These generally come in two designs, one which is like a balaclava with a hood, and one which is designed to cover your face from your nose downwards.
Which you prefer will be a personal choice, and will also depend on the weather conditions and how much protection you want. The main features to look out for are that they are windproof.
Gloves
Our next few items are all about keeping your extremities warm when on the slopes, which is really important. First on the list – a good pair of gloves to keep your hands warm.
When it's cold, extremities like our fingers and toes will feel it first. A good pair of gloves will stop that from happening, and means you'll be able to enjoy your time on the slopes more.
For skiing and snowboarding, our suggestion is to get gloves that are windproof and waterproof like these. You might also like a pair that will let you operate a touchscreen device without taking them off, like this.
Thick Socks
Now you've got your fingers covered, it's time to look after your toes. A good pair of thick socks is a key part of a skiing packing list. As well as keeping your feet warm, thick socks will also provide some additional cushioning for your feet inside your boots. With ski boots especially this is important, as they tend to be fairly rigid and inflexible.
A good pair of ski socks should be moisture wicking, to help keep your feet dry as you exert yourself. They are usually also fairly high, coming up to just below the knee, and therefore providing warmth and protection for your lower leg (ski boots come quite high up your leg too).
In terms of material, socks are available in a range of fabrics, including merino wool and synthetic materials, so we suggest picking a pair that is most comfortable for you.
Hat
When you're on the slopes we definitely recommend wearing a helmet, however for extra warmth it is possible to get hats that you can fit underneath the helmet like this one.
When you're off the slopes, you're going to want a warm hat that you can wear for any time spent outside, for example when you are walking to a restaurant or heading out for other snow activities like building a snowman. There are lots of options, I like a hat like this which covers my ears, Jess prefers a hat like this. Generally, I'd advise something windproof at the very least, but it's up to you!
Scarf / Neckwarmer
Ideally, you'll want to minimise any areas of exposed skin when out skiing or snowboarding, and your neck area is somewhere you'll want to keep warm. Wrapping this area up will also help prevent cold draughts from penetrating your upper body.
Our suggestion for your neck is a neck warmer like this – a tubular construction that slips over your head and you can wear around your neck. We'd suggest one made from fleece material would be a good option.
But of course, a tightly wrapped regular scarf can always work just fine. We love our cashmere scarves as they are really warm and look great, you can get them for women here and for men here. We also have a guide to travel scarves here if you need some more inspiration!
Water Bottle / Insulated Flask
You're going to be out on the slopes for relatively long periods, and all that exercise can make for thirsty work. With this in mind, we recommend you pack a water bottle like this (if you are taking a backpack out with you on the slopes) so you can be sure to rehydrate as you go, without having to buy bottled water.
Another great option is to buy an insulated flask like this, into which you can put hot liquids like coffee or hot chocolate, which can make for a nice warm drink stop!
Hand / toe warmers
If you are particularly susceptible to feeling the cold, then you might consider picking up some hand and foot warmers for your trip. These usually take the form of small sachets, which generate heat for a number of hours when activated, and are great for keeping hands and feet warm.

There are a number of options for hand warmers on the market. For example, this option is single-use and well reviewed, but you can also get them in a re-usable format.
Note that some gloves even have pockets specifically for hand warmers like these, which may also be worth considering if you want to buy these.
Backpack
Now you have all your gear for the slopes, you are likely going to want something to carry it in. Having a day pack whilst on the slopes is really handy, as it'll give you somewhere to keep your water bottle and snacks, as well as any spare layers you might want, your camera, phone charger, and so on.
There's a wide range of backpacks on the market. Some are designed to carry everything including your helmets and boots, whilst others are more slimline daypacks, more suited to riding lifts.
To be honest, any daypack will likely do, as long as it is not too heavy and it has room for everything you want to carry. Ideally the bag will be water resistant or waterproof or you can purchase an inexpensive waterproof cover like this one.
Non-Ski Clothing
With all this talk of what you need to wear on the slopes – don't forget to pack clothing to wear off the slopes too!
Your ski jacket will double up as an all-purpose jacket, however you might prefer to wear something a little more fashionable like a warm winter coat.
Salopettes tend to be quite bulky for general wear once you're off the slopes, and so you will likely want to take some pants like jeans or whatever you feel most comfortable in.
Of course, this is a personal preference, and you should always take and wear what you are most comfortable with!
Snow Boots / Hiking shoes
When you're off the slopes you're going to need something to wear on your feet. As you'll likely be walking in snowy, potentially slushy conditions, you're going to want a good pair of snow boots like this, which should be water-resistant at the least.

Alternatively, a good pair of waterproof hiking boots or hiking shoes will also work. We both have a pair of Scarpa boots which we love.
We also have a guide to the best travel shoes for men and the best travel shoes for women which include snow and winter boots to help you choose the right pair.
Electronics
Whilst the electronic equipment you travel with will of course vary, we think there are a few items you should consider adding to your packing list.
External battery pack
Whilst you are probably won't be using your phone on the slopes a lot, you do want to make sure it's charged and ready when you do want to use it. For this reason, we always travel with an external powerpack for our phones like this, which ensures that we can always charge our phones, wherever we are!
Camera / Spare batteries
Obviously, you're going to want some photos of your ski trip, so you'll want to pack a camera. We have a wide range of travel camera recommendations to help you pick, which range from smartphones through to DSLR cameras.
For a ski trip though, we would recommend either using a smartphone or a compact camera like one of these. It will be easier to slip it in and out of your pocket to grab a photo. Having a DSLR round your neck when skiing is much less practical!
We'd also suggest picking up a tough carry case for it like this – just be sure to get a case that is compatible with your camera.
Travel adapter
If you are travelling abroad for your ski trip, you might need to take a travel adapter with you so you can power your electronic devices. We usually travel with one of these, which covers all our needs. See more on travel adapters and how to choose one for your trip in our guide to the best travel adapters.
Miscellaneous
Whilst that covers the majority of items that we think you should pack for your ski trip, there are a few more essentials we wanted to mention. Things like a Chapstick and a high factor sunscreen (we like this one) are must-haves for skiing, the high altitudes and dry air mean that sunburn and dry lips are real hazards.
You might also consider swimming clothes if your hotel or chalet has a hot tub or pool, and a waterproof case or bag for your phone and other electronics.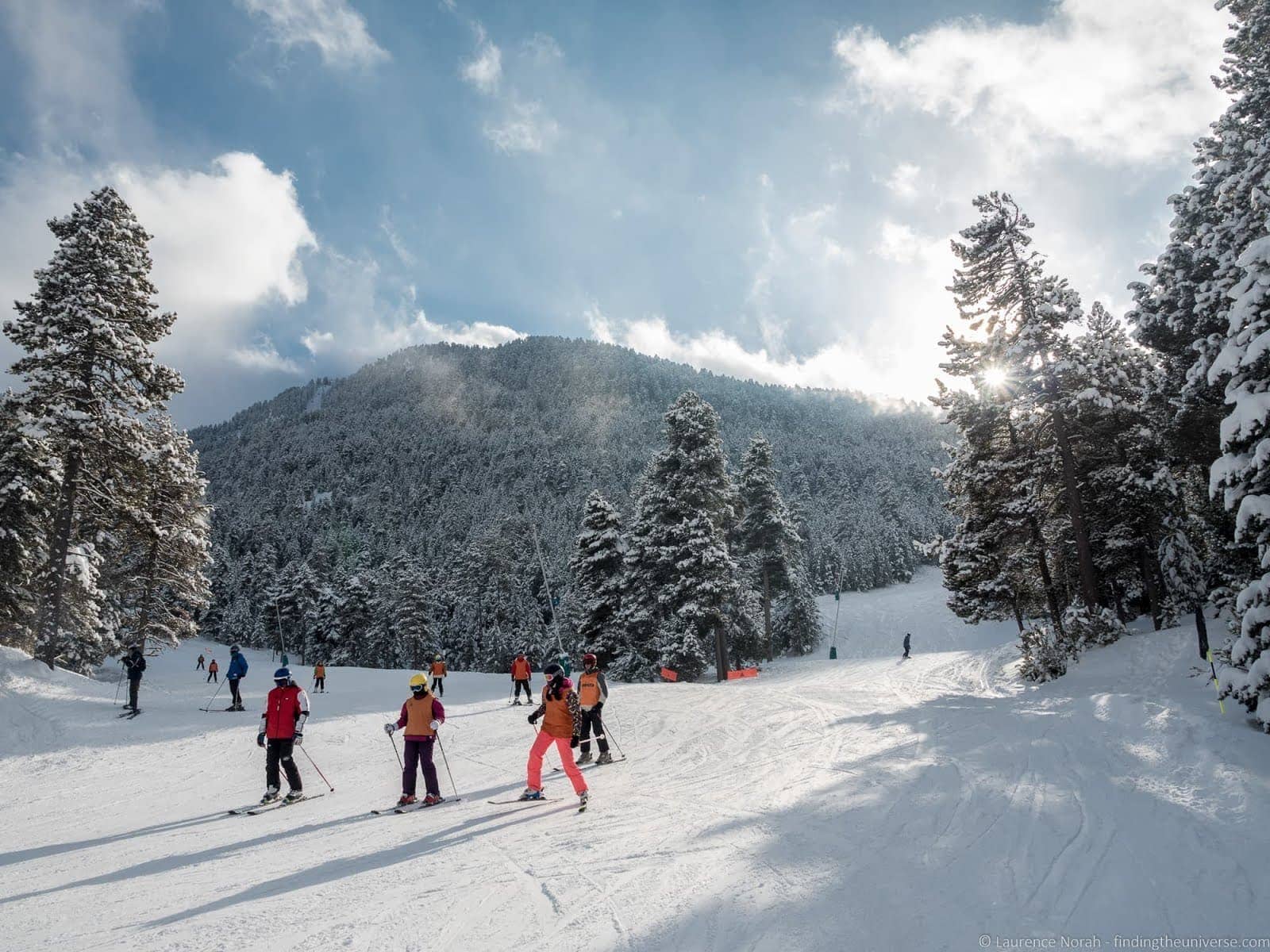 Ski Packing Checklist
As an aid to your packing, we've put all the above into this quick checklist to help you put it all together and as an aid to your packing. You can also download this as a PDF here, and see all the items in one place on Amazon here.
Ski Jacket
Thermal baselayers
Fleece layers
Ski Pants / Ski Bibs
Ski Equipment

Skis / Snowboards
Ski Boots / Snowboard boots
Ski poles
Helmet

Ski Goggles
Face Mask / Balaclava
Gloves
Thick Socks
Hat
Scarf / Neckwarmer
Snow boots / waterproof shoes
Non-ski clothing
Water bottle / insulated flask
Hand / toe warmers
Ski Backpack
Waterproof bag / case/ cover
Electronics

Smartphone
External powerpack
Travel adaptor plugs
Headphones
Chargers
Cables
Tablet/laptop/e-Reader
Other ______________

Luggage & Backpacks
Toiletries

Moisturizer
Chapstick
Sun protection
Deodorant/Fragrance
Toothpaste/Toothbrush
Cosmetics / Haircare
Hygiene Products
Medications
Other ______________

Other items

Guide books
Jewelery / Watch
Travel Journal
Reading materials
Cards/games
Eye-mark / ear-plugs
Other ______________
Tips for Packing for a Ski Trip
As well as the ski trip packing list, we wanted to quickly share some tips to help you actually pack for your ski trip.
As you will quickly notice when you come to start packing, winter clothing and ski equipment tends to be quite bulky and heavy. This means you can quickly use up your allowance when flying.
Our advice is to be frugal with your packing, and only pack what you absolutely are certain that you will wear and use. If you are flying, you can save on your precious packed luggage space by wearing your bulkier items like hiking boots or ski jacket on the flight itself.
You can make the most of your actual luggage space by using packing cubes like this, and don't forget to be efficient with your space where you can – stuffing socks inside your shoes for example.
If you are flying, you'll definitely want to check your luggage allowance in advance, and also if your airline allows for checking of any ski equipment (some airlines let you add this on when booking, either as ski equipment or as oversized items).
If you think you'll need more luggage than the amount allocated with your ticket, we recommend paying any additional baggage fees in advance as it is nearly always cheaper to do this rather than at the airport.
Further Reading
And that's the end of our guide to what to pack for a ski trip! We hope you found it useful! We also wanted to share some other posts that we've written that we think you'll find useful.
And that's it! Thanks for reading! As always, if you have any questions, just pop them in the comments below and we'll get back to you as soon as we can!