So you've decided to take a trip to Iceland in Winter! This is an excellent time to visit – fewer tourists, gorgeous winter landscapes and a chance to see the Northern Lights.
However, you're probably wondering what should be on your Iceland packing list for winter.
Well, we're here to help. Based on our various experiences travelling in Iceland in winter, we've put together a comprehensive guide to what you should pack for your winter trip to Iceland.
We're going to cover everything from what clothes you'll need to wear in Iceland in winter through to footwear, accessories, and suggested photography equipment.
Iceland is a country where the weather can change very quickly no matter what time of year you visit, so packing layers is always a smart option.
The layer system is designed to let you modify your clothing to meet a range of temperatures without needing to pack too much, with warm air generated by your body trapped between the layers to keep them warm.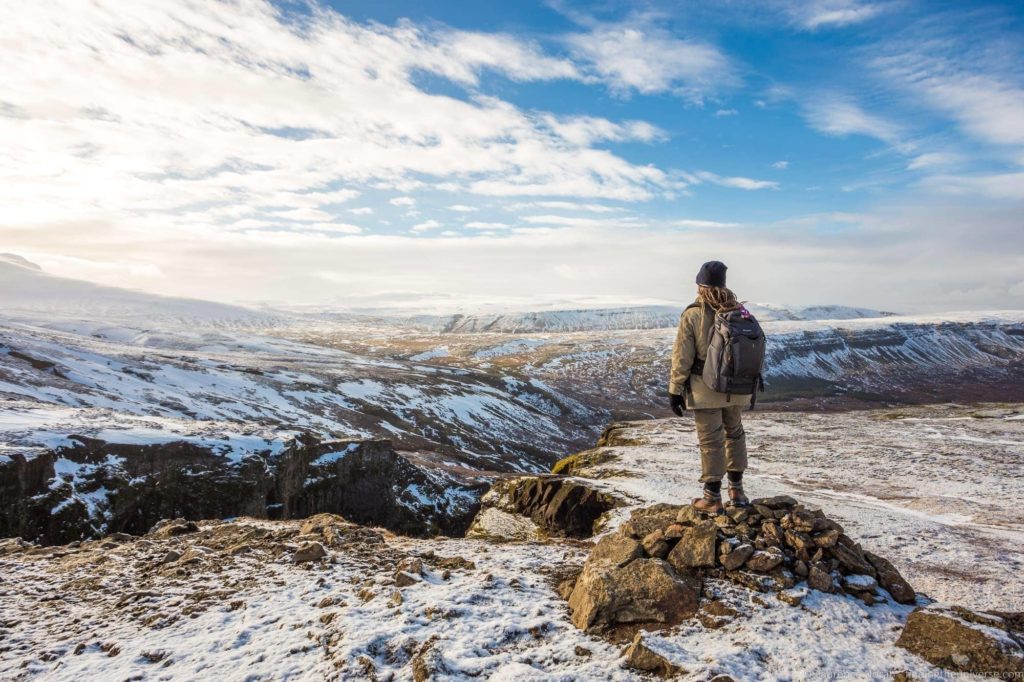 It's worth remembering that you don't have to pack like you are going to Antarctica, as despite what many people think, most winters are relatively mild in Iceland, especially the southern part, thanks to the Gulf Stream.
Essentially, all you need to do is pack for Iceland as you would for any cold weather destination, factoring in any activities you may be doing that may require special items (e.g., hiking, snowmobiling, diving, fishing, visiting hot springs).
We also highly recommend checking the weather forecast before you go so you are prepared. Also, we'd recommend packing and buying all the main things you'll need in advance of your Iceland trip as buying items (e.g., winter clothing, boots) in Iceland can be very expensive.
For some ideas of what to do when you get to Iceland, don't miss our seven day guide to visiting Iceland in winter for inspiration, as well as our guide to planning a trip to Iceland.
Now, let's get started with our guide to what to pack for Iceland in Winter.
Iceland Packing List for Winter
1. Windproof Gloves
You'll notice a theme with the first few items in our packing list. The wind in Iceland can be bitingly cold – even if it's not particularly cold outside, the windchill can make it feel like it is well below freezing. So, you will want a nice pair of warm, windproof gloves.
Water resistance is also nice to have, but not essential unless you are planning to do snow-based activities in Iceland (e.g., skiing, snowboarding, sledding, snowman building) or planning longer hikes where you might have prolonged exposure to rain, sleet, or snow.
I have a few pairs of gloves. To start with, I have a pair of Isotoner windproof gloves which do the job just fine, plus they let me operate my smartphone without taking my gloves off. They have style options for both men and women.
I also have a dedicated pair of gloves for photography in winter. These are a bit more expensive, but if you are looking for a good pair of gloves that will let you operate your camera equipment, they are the best I've found. I use their Markhof gloves, but they have a wide range available.
2. Windproof Hat
We think you are definitely going to want a hat for your winter adventure in Iceland. Ideally this will be windproof and warm, and will protect cover your head and ears from the cold weather.
We have a collection of hats depending on our moods, and there are plenty of warm hat options out there to keep your head toasty warm – in all kinds of styles! Here is one I personally like in a style that keeps my head and ears warm. If you'd prefer one that doesn't have a trapper style, try this one.
Jess likes this one, although there are plenty of great options including this one.
Whichever hat you go for, just make sure it fits snugly, and isn't liable to blow off your head in a gust!
3. Scarf
You may also want a scarf to keep your neck warm, we both like to use a nice warm scarf to keep the drafts out, something like this for me and something like this for Jess.
If you'd like something nicer, we have and love these cashmere scarves (also available for men here).
A scarf is easy to pack, and definitely helps to keep the heat in. We prefer wool scarves if possible. We have a guide to travel scarves here if you need some more inspiration!
4. Wind and Waterproof Jacket
Continuing the theme of staying wrapped up warm against the weather, a windproof and waterproof jacket is going to be your best friend in Iceland in winter.
You have a few options – you can invest in a lighter "shell" jacket that keeps out the wind and water, and then layer up underneath that with warm fleece layers that don't trap moisture.
Or you can buy a heavier jacket that provides warmth as well as wind and waterproofing.
Alternatively, you could also invest in a jacket like this that does everything by coming in multiple layers, so you can pick and choose. It's really up to you!
Note that down jackets are usually not waterproof despite being very warm. If you do choose a down jacket, we'd urge you to purchase one from a company that adheres to the Responsible Down code.
Jess and I have gone for the first route for our waterproof clothing, and for the last couple of years we've been wearing jackets from Trespass. These are reasonably priced and well made, plus we like how colourful they are. If you choose this option, make sure you buy a jacket that is a little loose, so you have plenty of room to add layers underneath.
5. Waterproof Shoes or Boots
Even if you're not planning on doing much hiking in Iceland, I'm going to suggest you have a good pair of hiking boots or walking shoes that are waterproof – especially for winter travel in Iceland.
You will often find yourself walking across snow or slushy ice, and the spray from waterfalls tends to blow everywhere! The worst thing is getting wet feet when it's cold, so investing in a decent pair of waterproof boots, be they hiking boots or snow boots is definitely a wise idea.
Personally, I have a pair of Scarpa boots which I love. My original pair lasted me fifteen years and thousands of miles of walks, and I've recently invested in a newer model which seem just as awesome so far. Jess has a pair of Merrell hiking boots which she likes very much. You might also consider a pair of snow boots.
When it comes to buying boots, it's definitely worth trying them out before settling on a pair. If you do decide to order online, make sure you do so through a company that lets you return or exchange them. Here's a full list of boots to get you started.
We also have a guide to the best travel shoes for men and the best travel shoes for women for tips on picking a great pair.
6. Thermal Baselayers
Now, onto your base layers, which are the layers you wear closest to your skin under your regular clothes.
You'll want a long-sleeved top and a set of bottoms. You are going to want thermal baselayers that are breathable and will wick the moisture away from your skin. So you definitely don't want cotton.
We like merino wool baselayers, as they are really warm and super comfortable. For example, check out this top for men, and this top for women. However, some folks find wool can be itchy, in which case you could look at either synthetic or bamboo baselayers, both of which will perform well. Jess finds wool to be itchy, so wears something like this.
If you are going to be traveling for more than a few days, you'll probably want to invest in at least two pairs of tops and leggings for your trip, so you can wash them as needed. Or get something that is quick dry (not wool) so you can wash it and then let them dry overnight in your hotel room. See our full guide to doing laundry while traveling for some tips.
7. Mid-layers
In between your base layer and your coat, you're going to want mid-layers. Our recommendations would be some fleece sweaters that you can layer up. Usually, you would wear a thermal baselayer, a fleece midlayer and a wind and waterproof outer jacket.
If you have a thick outer jacket, then you won't want too thick a fleece midlayer. On the other hand, if you are only investing in a thinner shell outer layer, you will probably want thicker midlayers, or even to wear two – one thinner, one thicker.
We think that for your lower half, a good pair of hiking pants will do. These will be comfortable and fast drying, which is the most important aspect.
If you suffer from the cold, then you might want some warmer pants, such as this pair for men or this pair for women.
Of course, jeans are an option if that's how you roll, but we find that they dry really slowly, and can be very uncomfortable if wet. You can always pack an extra pair of pants in your day bag or car though that you can change into as well.
8. Towel
We don't often travel with a towel any more, as most guest houses and AirBnB's have them available. But you are probably going to want to bring a towel to Iceland. There are so many fantastic hot-spring fed thermal baths and public swimming pools, and having your own towel will save you having to hire one each time.
It's worth noting that some thermal baths do include towel rental in their fees, such as the Blue Lagoon or Sky Lagoon. However, some do not, including the much cheaper Reykjavik city baths, and some locations don't even have the option to rent either.
We forgot our towel, and bought one in Ikea in Iceland when we realised we didn't have one. You can benefit from our mistake, and just pack one in advance. Ideally a nice big fluffy one, but if you're economising on packing space, a travel towel will do.
9. Swimming Clothes
Along with a towel, you're absolutely going to want to bring your swimming outfit to Iceland, even in the dead of winter. The naturally heated geothermal pools like the Blue Lagoon are open year-round and wonderfully warm, and taking a dip in one of these is a must for any Iceland trip. There are even snorkeling and diving opportunities year-round.
Your choice of swimwear is of course entirely up to you, there's no shortage of choice out there!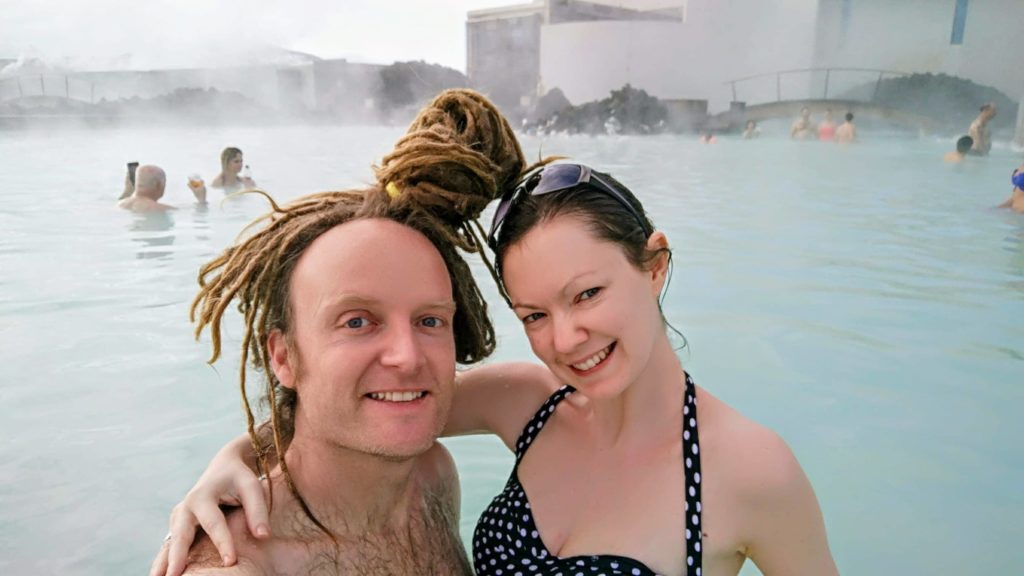 10. Hand / toe warmers
If you think you'll be outside for longer time periods, or you are particularly susceptible to the cold, you might consider getting yourself some hand warmers and some toe warmers.
These are inexpensive items that actually generate heat, last for a number of hours, and will keep your extremities warm. So, if you want to avoid cold toes or fingers, these are definitely a good idea.
11. Electronic Gear
That's the majority of the clothing covered. Now let's take a look at some electronic items you might want to take with you.
Smartphone
Obviously, you're going to want your smartphone when you go to Iceland. Iceland has a pretty good cell network, and you can buy SIM cards in Iceland if you have an unlocked phone – see a list of Iceland pre-paid SIM options here.
If you're thinking of upgrading your phone, I have a guide to the best smartphones for photography in this post, plus a full guide to getting online when you're travelling here.
External powerpack
Iceland can be cold in winter, and cold weather means that your smartphone battery isn't going to last as long as it would usually last. We recommend you invest in an external powerpack that you can use to recharge your smartphone on the go.
You can also prolong your smartphone battery life by keeping it in a warm place, like an inside pocket close to your body, and not leaving it in the cold for prolonged periods of time.
Travel adaptor plugs
Iceland has European style two pin plugs, so if you're travelling from the UK, the USA, or anywhere else with a different power socket, you'll need a travel adaptor like this.
Note that Europe uses a 220-240v system rather than the US 110v system, and travel adaptor plugs don't convert voltage. You will need to check your electronics to be sure they support the 220v system. In our experience, most laptops, camera chargers and USB chargers support everything from 110 – 240v, but items like hair dryers and hair straighteners might not. The adaptor for the device will usually have the supported voltage clearly labelled.
See more on travel adapters and how to choose one for your trip in our guide to the best travel adapters.
Then if you're like us and have a lot of electronic gear, we suggest you travel with a power strip like this, which you can plug into your adaptor. Many places we stay never seem to have enough sockets for all our chargers, so a power strip is usually invaluable.
Headphones
Sometimes you just want to chill out and listen to some music or watch a movie, and for that you'll need a pair of headphones. Laurence's absolute favourite headphones that he travels with everywhere are these, and they're the only pair which have survived countless years of travel abuse without failing. Which is quite impressive.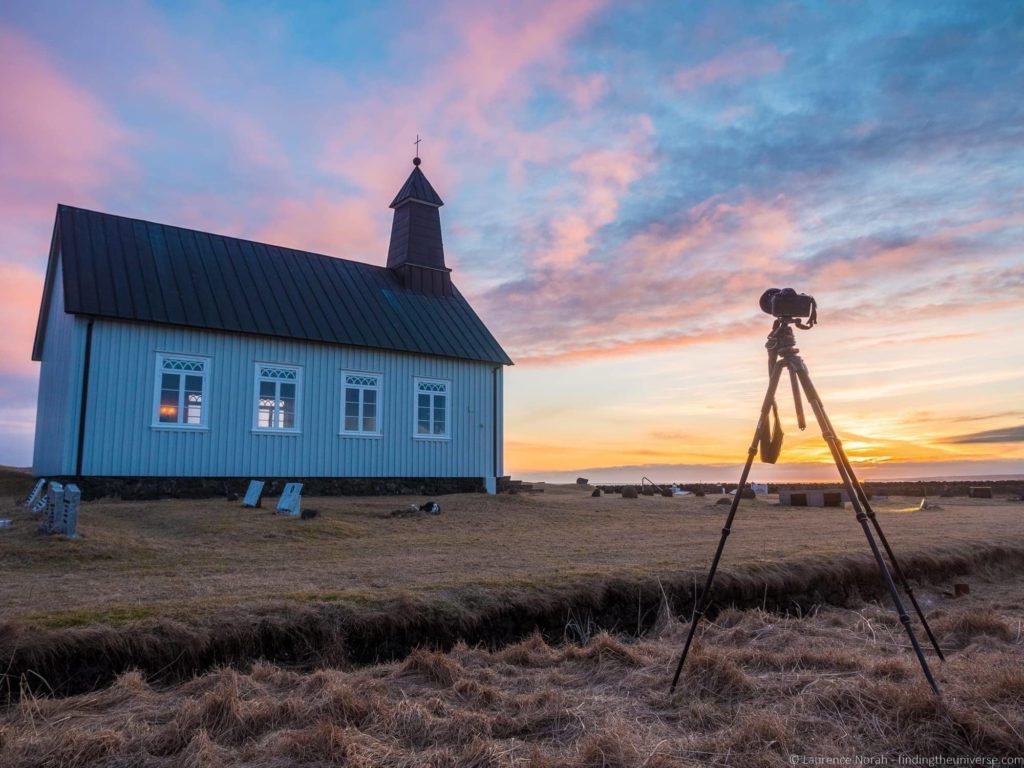 12. Photography Gear
Camera
You're going to want to take a lot of pictures when you're in Iceland, so some sort of camera is going to be a must. Going into what camera you should take to Iceland would pretty much be a whole post in itself though!
If you are looking for a new camera, I've already written a detailed guide to picking a travel camera, which should help you decide, with options on everything from smartphones through to DSLR's.
If you plan on doing any snorkelling or hiking, consider an action camera like this Akaso Brave 7 LE, which is designed for more extreme environments.
Tripod
When you're visiting Iceland in winter, there's a good chance that you'll experience the beauty that is the Northern Lights.
To get photos of the Northern Lights, you're absolutely going to want a tripod, as night time photography usually requires exposures that are too long for hand holding. See our full guide to northern lights photography for more information on getting great shots of the lights.
We also have a full post on why you might need a travel tripod and how to pick one here, which should give you some good options. You will likely find a tripod with spiked feet, as suggested by a reader in the comments, will be more stable in some situations.
Memory cards
You're going to take more pictures than you think, so we suggest stocking up on memory cards for your camera before you go. Memory cards are pretty cheap these days, so there's no reason not to.
Spare batteries
As previously mentioned, batteries don't like the cold, so you might find your camera battery doesn't last as long as normal. We'd advise picking up a spare battery for your camera before you go – there's nothing worse than being half way through a day of gorgeous landscapes and having your camera battery die on you!
Other Camera accessories
You will likely want a lens cleaning cloth to keep your lens clean and to remove moisture that will likely gather when you photograph waterfalls. If you're more serious with your photography, a set of neutral density filters will likely come in handy – read why you might want a neutral density filter here.
13. Luggage & Backpacks
There are so many incredible bag options out there. Jess and I use a number of bag brands. For my camera / electronic gear, I use a Vanguard Alta Sky 49, which works well as both a carry-on and day pack.
Jess loves her Eagle Creek bags, and has both a carry-on sized backpack and a larger wheeled backpack that we check-in. I have an Osprey Sojourn 60, which has been travelling with me since 2013 through multiple countries, and is yet to let me down.
We're happy to recommend all of those brands if you're in the market for a new bag.
14. Reusable Water Bottle
We highly recommend bringing a reusable bottle for water with you so you can fill it in sinks and water fountains and not need to pay for drinks or purchase bottled water. Tap water across Iceland is safe to drink, so there's no need to spend money on water.
If you need to get a water bottle for your trip, we personally like the Klean Kanteen bottles like these.
We have a few different sizes and find the anti-leak lids and easy washability make them perfect for travel. You'll be saving money and creating less plastic waste, which is always a good thing!
15. Guide Books
Whilst we hope to have provided you with a wealth of Iceland content to aid in your trip planning, we appreciate that having a guidebook can be really helpful when you're on the road.
With this in mind, we can recommend two guidebooks to consider, the Rick Steves Iceland guidebook, and the Insight Guides Iceland.
16. Miscellaneous
Well, of course you're going to want a few other things. Warm socks, USB cables and all the chargers your electronics need for example.
We'd also recommend some sort of face moisturiser, Chapstick and sunscreen, as the cold winter air in Iceland can be quite harsh.
For serious hikers and climbers, we'd also pack waterproof pants, a travel first aid kit, and waterproof covers for your packs and gear – we find large Ziploc freezer bags work really well for keeping electronics dry.
If you're visiting any of the thermal springs or pools, you'll also likely want a pair of sandals or shower shoes, and a waterproof case or bag for your phone and/or valuables.
If you are planning to do a specific activity (e.g., skiing, diving, hiking), then you may want to bring along some additional things like prescription goggles or a waterproof hiking pack.
If you would like to keep track of your adventures, we also recommend bringing along a travel journal. We always journal our travels so we can remember what we have seen and done. See our guide to the best travel journals for some ideas.
Finally, if you are staying in hostels or other shared accommodation, especially if this is your first time doing so, you might want to bring items like Pajamas, ear plugs, and an eye mask so you can get a good night's sleep.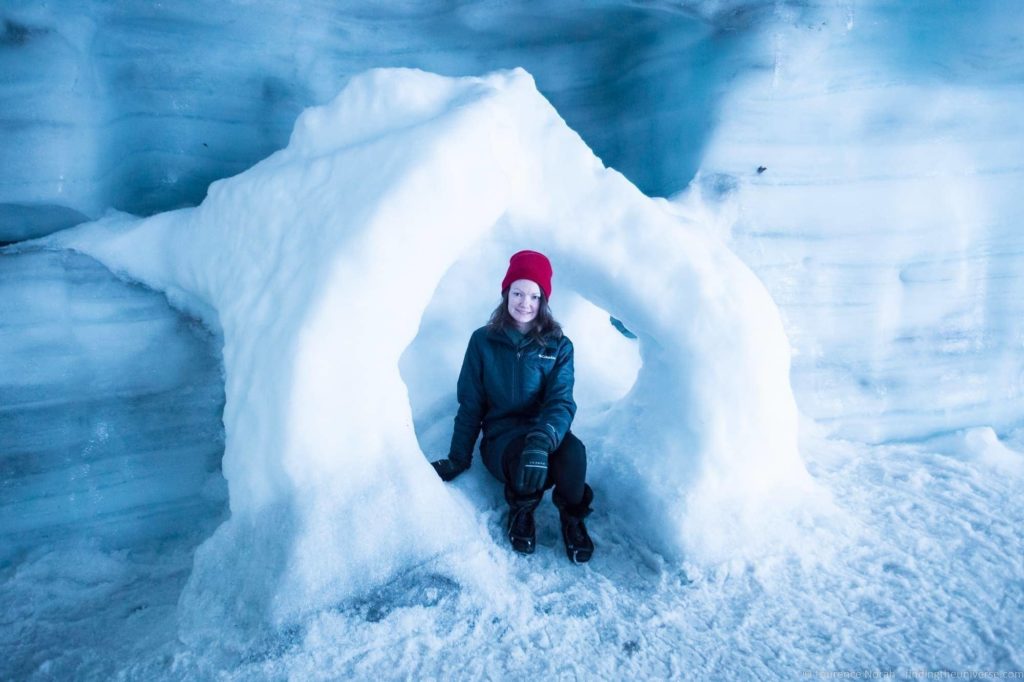 What to Pack for Iceland – A Checklist
To help you out, here's all the above in list form, plus we've included all the regular stuff you'll want to pack like underwear and toothpaste! We've also got a downloadable Iceland Winter Packing Checklist here for you to print out and keep.
You can also see the majority of the products we recommend in a complete list on Amazon here for reference.
Outer Layers of Clothing

Wind and waterproof jacket
Warm winter coat

Mid Layers

Fleeces, sweaters, hoodies
Pants

Base Layers
Waterproof Shoes or Boots
Reusable water bottle
Other Clothing & Winter gear

Wool socks
Underwear
Windproof warm gloves
Windproof warm hat
Scarf

Swimming Gear

Swimwear
Towel
Sandals/Shower shoes
Waterproof bag

Electronic Gear

Smartphone
External powerpack
Travel adaptor plugs
Headphones
Chargers
Cables
Tablet/laptop/e-Reader
Other ______________

Photography Gear

Camera
Tripod
Memory cards
Spare batteries
Camera Accessories (lenses, case, strap, chargers, etc.)

Luggage & Backpacks
Toiletries

Moisturizer
Chapstick
Sun protection
Deodorant/Fragrance
Toothpaste/Toothbrush
Cosmetics / Haircare
Hygiene Products
Medications
Other ______________

Other items

Guide books
Jewelery / Watch
Travel Journal
Reading materials
Cards/games
Eye-mark / ear-plugs
Other ______________

Hikers

Day pack
Snacks
Waterproof cover for bag
Medical first aid kit
Safety gear

Skiiers/Winter Activities

Waterproof pants
Waterproof gloves
Ski goggles
Ski boots

SCUBA divers

Goggles
Waterproof camera
If you're driving, you should also check out our guide to driving in Iceland in Winter which has a few other essentials you might want to consider packing for your Iceland trip.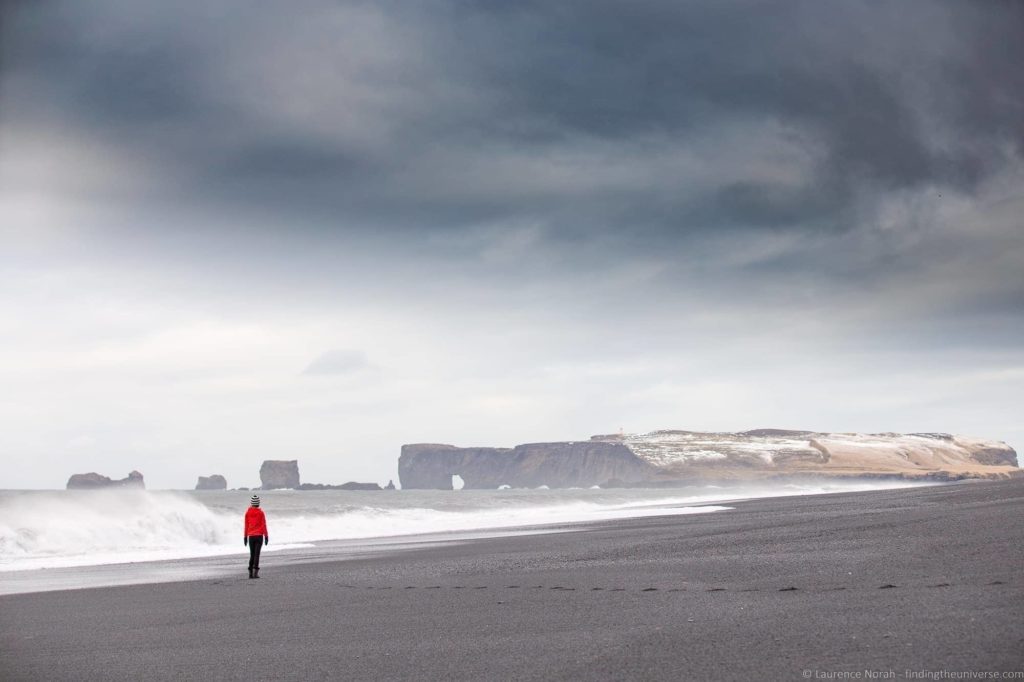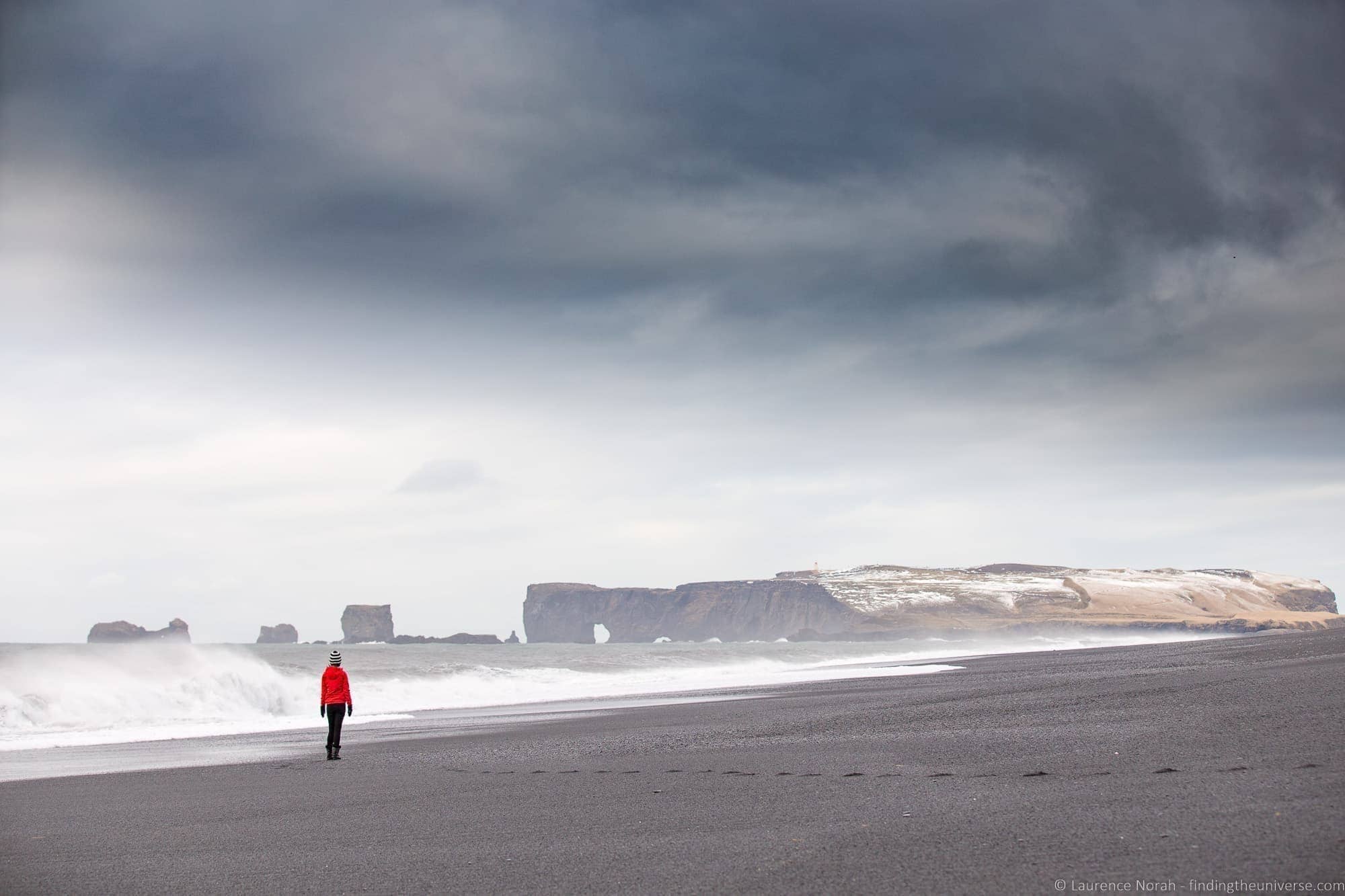 Further Reading for your Iceland Trip
Well, that brings us to the end of our guide to what to pack for Iceland in winter. Before you head on though, here's a summary of some of our best Iceland content to help plan the perfect trip to Iceland!
And that's it! We hope you found our guide to packing for Iceland in winter useful. As always, we're open to comments and feedback in the comment section below!