It's time for post seven in our photo essay series covering our Route 66 trip from California to Chicago, with Missouri being the seventh state on our adventure.
We followed as closely as we could the original route, and saw a lot along the way, from the high desert scenery of the west through to more rural scenery in the mid and eastern parts of the USA.
We've got some resources at the end to help you plan your own Route 66 road trip, but for now, lets focus on some of our favourite sights along Route 66 in Missouri.
I also have many of these photos available for purchase in my online Route 66 photo gallery here if you're interested in having a memory of your Route 66 trip to hang on your wall.
Route 66 in Missouri – Highlights
In no particular order, here are some of our highlights from our time driving Route 66 through Missouri.
Drive-In Movie Theatre, Brooklyn Heights
No Route 66 adventure would be complete without a drive-in movie theatre. We passed a few of these on our adventures, and stopped at one in Oklahoma for a double-bill. Definitely a must if you're driving the route! The image above is of the 66 Drive-In theatre in Brooklyn Heights.
Wall Murals, Cuba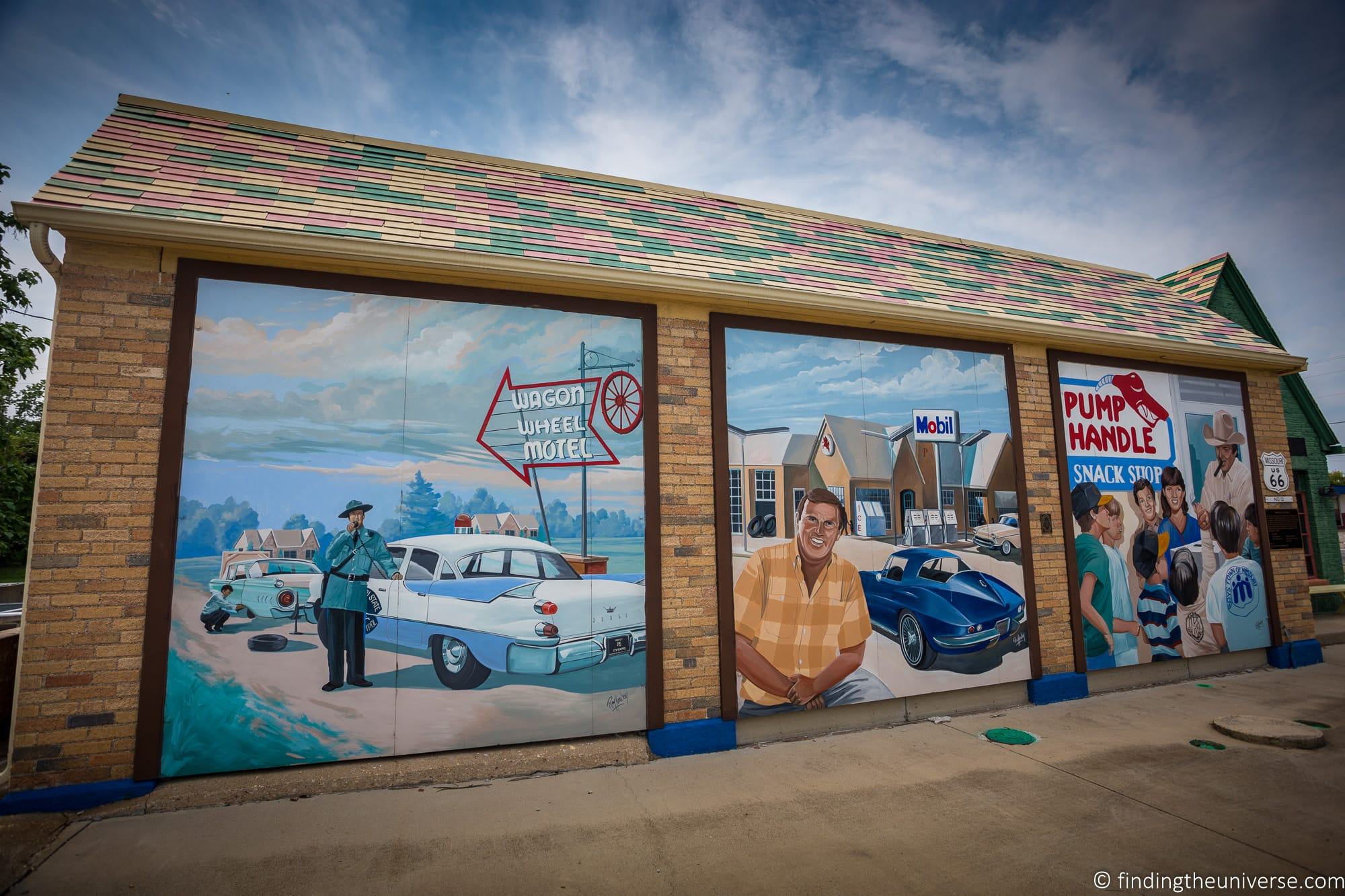 We also loved all the murals along the Route. These were in the town of Cuba, also known as mural city (thank to Scott in the comments for that!), where there are all sorts of murals depicting scenes from the past.
Boots Court Motel, Carthage
Boots Court in Carthage is a classic old Route 66 motel that has recently been lovingly restored to how it would have been during its heyday in 1949. We weren't able to stay the night here, but we were given a full tour. If you get the chance, we highly recommend you stay over.
If you're looking for accommodation along the route and want to stay in motels like this, see our full guide to Route 66 era hotels and motels here.
Route 66 Bowling
Bowling was (and still is!) a popular way to spend an evening on Route 66, so stopping at one of the many bowling alleys along the way is a great option. The one in the image, Route 66 Bowl, was in Joplin, but has since been turned into a gym.
Route 66 Diners
I couldn't do a Route 66 post without a photo of some diner food.
And the inside of a diner. Love these old style locations! This is in Carthage.
Abandoned Motel, Villa Ridge
Like every state, not all the businesses in Missouri have survived the coming of the interstates and the decline in Route 66 traffic, with plenty of abandoned buildings and properties to photograph.
Here, this motel in Villa Ridge seems to be not much more than a sign.
Hillbilly Sign, Rolla
Route 66 is all about quirky road side attractions, like this giant statue of a hillbilly. This is originally from the Hillbilly store, found along the route from the 1950's through to the 1980's (thanks to Angela in the comments for this information!). It's now found in Rolla.
Giant Rocking Chair, Cuba
And this giant rocking chair found in Cuba!
Meramec Caverns
One of Missouri's most famous attractions are the Meramec Caverns, a huge cave complex near Stanton.
The caverns were advertised all across middle America, primarily on barns, and they have now become a classic part of the Route 66 legend. A few still survive on the route, so keep an eye out.
And of course, once you've seen the barns, you'll want to check out the caverns themselves!
Motel Signs
Of course, no Route 66 photo essay would be complete without some more motel sign photos. The above is of Rest Haven Court in Springfield Missouri.
We stayed in this one in Lebanon, Mungers Moss Motel, so managed to get some photos of that Route 66 neon!
Red Oak II Ghost Town, Carthage
This vintage car is part of the Red Oak II ghost town in Carthage, MO.
It's not strictly a ghost town, rather, all the buildings have been brought here from around the country, to be restored and looked after. It's a really cool place to visit, and we loved wandering around. The next two pictures are also from Red Oak II.
Gateway Arch, St. Louis
The city of St Louis is particularly known for its Gateway Arch, signifying how this was the gateway to America's West. The arch is 192 metres high, making it the world's tallest arch, as well as the largest man-made monument in the western hemisphere.
Stonehenge, Rolla
Speaking of man made monuments, we also came across this scale replica of Stonehenge in the town of Rolla.
Ted Drewes Frozen Custard, St. Louis
Every state on Route 66 seems to have a must-try food stuff. In Missouri, that's frozen custard. You'll find it at Ted Drewes Frozen Custard in St. Louis. We tried it of course, and it was delicious.
There are also numerous dining options offering huge plates of great value food.
Sinclair Gas Station (Gary's Gay Parita), Ash Grove
Finally, our photo essay of the highlights of Route 66 in Missouri concludes with this wonderful old gas station, found in Ash Grove MO.
As you can see, Missouri has no shortage of photogenic locations along Route 66, and we loved driving through the state and exploring all of them.
Hopefully, this series has inspired you to want to do your own Route 66 adventure – if so, read on for our:
Tips for Planning your own Route 66 Adventure
If you're planning your own historic Route 66 adventure, we've got a bit of reading for you!
Enjoy your Route 66 trip, and let us know which has been your favourite state so far in the comments below!