Welcome back to our photo series depicting our epic Route 66 adventure. If you missed them, you'll find the photos from the previous states here.
I also have many of these photos available for purchase in my online Route 66 photo gallery here if you're interested in having a memory of your Route 66 trip to hang on your wall.
In this post we're heading through Oklahoma, home to everything from drive-in movie theatres to giant whales! Let's get started.
Route 66 in Oklahoma
Here, in no particular order, were some of our favourite Route 66 sights in Oklahoma. For much more detail and useful information, see the Oklahoma section of our 2 Week Route 66 itinerary.
Winchester Drive In Theatre, Oklahoma City
A road trip involves a car, and since you have a car, why not take advantage of a classic drive-in movie experience?
We had ours in Oklahoma City, at the Winchester drive-in. This is the oldest drive-in movie theatre in Oklahoma, and one of seven surviving in the state.
Drive-in's are a wonderfully nostalgic way to enjoy a movie, plus you usually get to see two movies at a great price. Recommended!
Route 66 Murals, Oklahoma City
Naturally Oklahoma has plenty of Route 66 themed murals.
Ann's Chicken Fry House, Oklahoma City
And there are Route 66 themed diners with appropriate theming.
Round Barn, Arcadia
Built in 1898, this is the only round wooden barn surviving in Oklahoma. Find it in Arcadia.
Desert Hills Motel, Tulsa
There's no shortage of classic motels either with that beautiful neon signage. Check out our guide to classic Route 66 era hotels and motels for options on where to stay along the route.
Old Route 66 Route, Tulsa
Not all the parts of Route 66 survived. This old road bridge was replaced by a more modern version capable of carrying today's traffic volumes.
Mickey Charles Mantle Statue, Commerce
I have to admit to not knowing much about sports – any kind of sports. This guy was obviously a pretty decent baseball player though, given that his hometown built a statue to him. Find out why, here.
Meramec Caverns Barn Sign
One of the big attractions of Route 66 in Missouri are the Meramec Caverns – a large underground cave system.
For Route 66 buffs though, the real attraction are the barns advertising the caverns. Once there were hundreds of these barns all across roads in America, including Route 66.
Not many survive, but you can still find a few if you keep a lookout! This one was between the towns of Warwick and Chandler.
Tulsa 66 Sign
Tulsa is famous for it's oil, and Route 66 runs right through it. This image pretty much sums that up!
Braum's Grocery Giant Milk Bottle, Oklahoma City
Oklahoma also has it's fair share of classic Route 66 properties. This is the "Milk Bottle Grocery", a 1930 building which operated as a grocery store for decades, and nowadays seems to vary with what it's operating as.
One thing that doesn't seem to change is the giant milk bottle up top serving as advertising for an Oklahoma staple – Braum's Ice Cream.
Pops 66 Restaurant, Arcadia
Another giant bottle, but this one is a modern Route 66 attraction. "Pops" restaurant opened in 2007, with walls decorated in soda bottles – all of which are available for purchase.
No Route 66 attraction is complete without a giant "something", in this case a 66ft tall four ton model of a soda bottle, complete with drinking straw. Definitely worth stopping for, and nice to see a modern business investing in the Route 66 dream.
Old Style Gas Pump, Afton
Moving on, and of course Oklahoma has it's fair share of old style gas pumps, such as this one in Afton.
Giant Flour Mill, Yukon
Yukon is proud of it's flour mill, and makes it plain.
Totem Pole Park, Foyil
There's a park in Foyil filled with enormous concrete totem poles.
Sign to Route 66 Highlights, Afton
A sign in Afton showing you how far you've come and how far you have to go to various highlights and destinations along Route 66.
Depew, Route 66
There are also towns that time forgot, like Depew.
Route 66 Gas Stations, Commerce
Many businesses still survive along the route.
Whilst many others do not.
Tulsa Route 66 Mother Road Tribute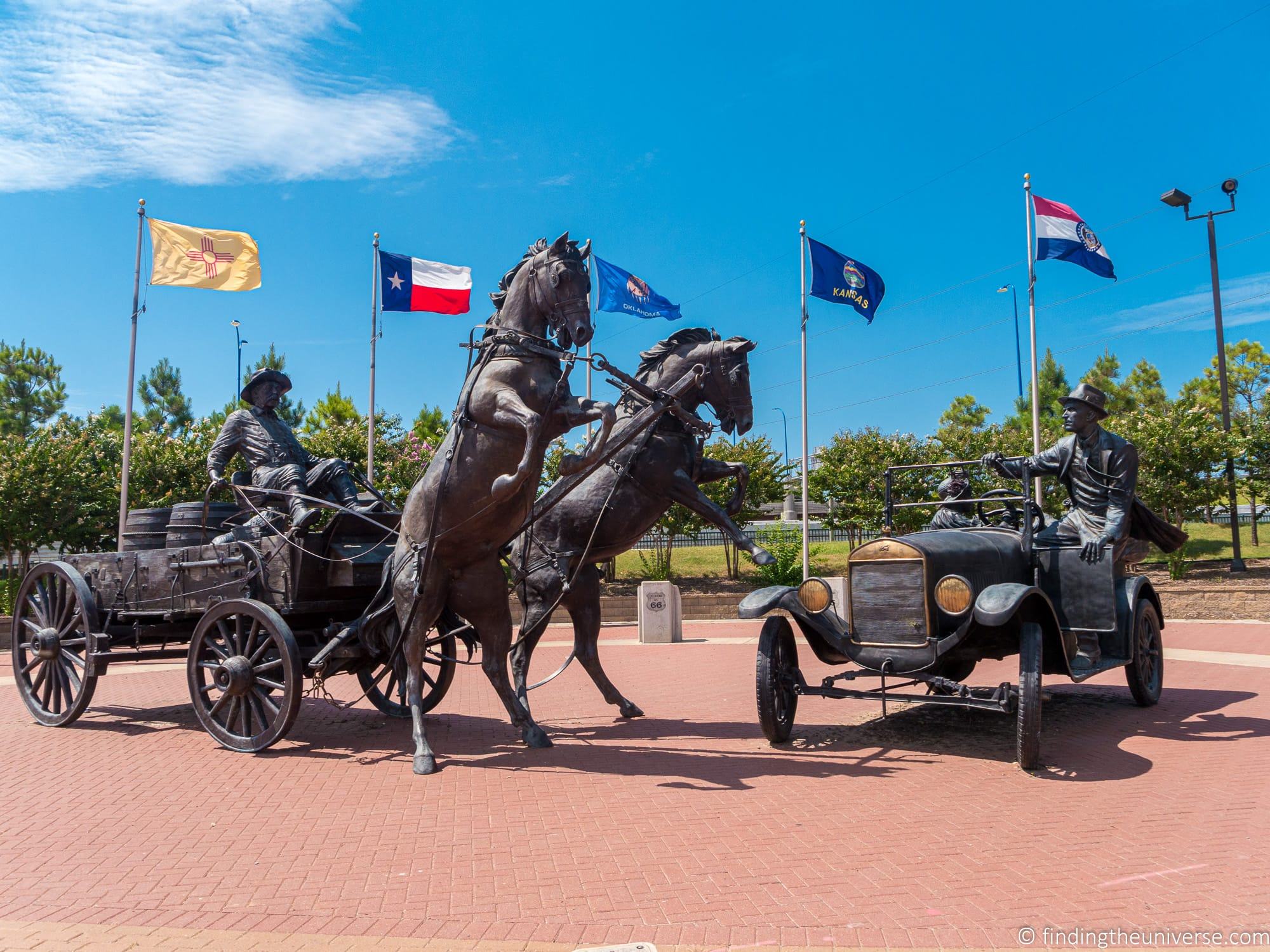 Tulsa has this lovely tribute to Route 66 – a large statue of a car and it's occupants tackling the route. Some of whom seem less impressed than others!
Blue Whale, Catoosa
Just outside of Catoosa is the famous Blue Whale attraction. If it's a hot day, a dip in the waters is recommended.
Road Bridges
There are of course classic road bridges to peer at. The above is Lake Overholser bridge on the way into Oklahoma City.
No longer open to road traffic, this is Rock Creek Bridge, outside Sapulpa.
Route 66 Road Marker
The Route 66 marker appears on the route from time to time, to help you find your way.
Route 66 Museum, Elk City
And like every other state on Route 66, Oklahoma also has it's own Route 66 museum!
Which of course, features a barbed wire collection.
And a giant sign! A handy way to end today's photo essay. Now for a few tips to help you out if you're planning your own Route 66 Adventure.
Tips for Planning your own Route 66 Adventure
If you're planning your own Route 66 adventure, we've got a bit of reading for you!
Enjoy your Route 66 trip, and let us know which has been your favourite state so far in the comments below!