I'm a professional travel photographer, and one of the most popular questions I'm asked by readers and students on my travel photography course is what the best travel camera is.
With that in mind, I wanted to put together a definitive (and regularly updated) guide to the best travel camera out there.
This guide covers everything you need to know to help you choose the best camera for travel, based on your needs and budget, as well as a guide to all my favourite cameras.
This is a detailed post, in which I'm going to cover my top picks for the best camera across a range of categories, including smartphones, compact cameras, mirrorless cameras and DSLR cameras, to name just some of the options.
These travel camera picks will suit a wide range of budgets, needs, and expertise levels. Our picks are ordered in approximate order of budget, from lower budget models through to higher end models.
I'm also going to go through in detail what you need to look for when buying a camera for travelling, and why each specification is important, so you can make the best choice for you.
Remember, the best camera for travel is going to be very dependent on your needs and situation, but after reading this post you should be able to pick the right camera for you – even if it's not one we suggest!
I also have a guide to the best cameras for hiking and backpacking which contains some different options specific to those requirements, as well as a guide to the best action cameras.
This guide will also work if you are looking to buy a camera for someone else, and I recommend taking a look at our photography gift guide for more ideas of what to buy a photographer too.
Now, before we dive into individual travel camera recommendations, let's get started by looking at what you need to think about when picking a camera for travel.
I think this is essential reading, as understanding what you are looking for when buying a camera will help you make a truly informed decision.
What To Consider When Picking A Travel Camera
Budget – How much do you have to spend on a travel camera?
This is an important one. Cameras vary wildly in price, from a couple of hundred dollars up to thousands of dollars. So you definitely need to think about how much you want to spend.
Also, this is a travel camera. Whilst you want to get the best shots, travel can expose you to risks, from loss to theft. Obviously, these are things that can be mitigated against with insurance, but it's something to bear in mind when making an investment – the more pricey the camera, the higher the insurance premium.
Finally, don't forget that the camera is only a part of the puzzle. You will also need things like memory cards, spare batteries, lenses – as well as possibly a tripod and filters. Your needs will vary, but don't forget to include them in your overall budget – I've written a post on travel photography accessories to give you some pointers, as well as a guide to picking the best lens for travel photography.
Weight – How much are you willing to carry around?
This is a really important question. If you're the kind of person who likes to travel light, then you're not going to want a bulky DSLR. Having the best travel camera that sits in your hotel room while you're out having fun isn't going to be much use.
Even a mirrorless system might be too much for you if you want something that will truly fit in your pocket or purse, and your best bet is probably a smartphone or compact camera.
On the other hand, if image quality and low-light performance are more important to you than weight, and you're happy carrying spare lenses, filters, and other accessories, then you'll likely be looking at a mirrorless or DSLR system.
Remember, as a general rule of thumb, the bigger the camera, the more room it has for a larger sensor. A larger sensor means the camera can capture more light, which means you'll get sharper, cleaner images even when shooting in darker situations.
Use – What are you going to be taking pictures of?
The type of photography you're going to be doing makes a big different to the type of travel camera you will be buying. If your main goal is to take nice travel photos for your albums, social media, and to post to friends and family online, then any of the camera types will likely do the job.
However, if you're going to be doing a lot of action photography, or need the camera to be fully waterproof, then something like a GoPro is going to be the best option.
If you like astrophotography, you're going to need a camera with a big sensor to let in plenty of light and you might want to invest in a DSLR. Conversely, if you just want a general purpose camera with plenty of flexibility for a variety of travel scenes, from food to landscapes to people, then something like a mirrorless system will most likely be best, offering the best performance for the weight.
Extra features to look for in a Travel Camera
A lot of cameras these days come with extra features that you may or may not care about. I'm talking about touchscreen interfaces, built-in GPS, WiFi, weather resistance, pivoting screens, and so on.
The main features you should be looking at in terms of actual image quality are the sensor size, aperture range, level of manual control, and, for cameras without an interchangeable lens, the optical zoom. Beyond that, which features you are interested in depend on your needs.
For example, you may also want to take videos with your camera. Some cameras are much better at video than others – notably Panasonic's range of Lumix cameras are known for their video performance.
Personally, I love having a camera with GPS and WiFi capabilities so I can easily remember where my shots were taken, plus I can remote control my camera from my smartphone. On the other hand, a touchable, pivoting screen isn't a deal breaker for me.
What works for me might not work for you though, so think about which features are important to you when making a purchasing decision. The best camera for travel photography definitely varies from person to person, but hopefully the information in this post will help you make the right decision.
Photography Terminology to Know When Buying a Camera for Travel
Like any subject, photography brings with it a raft of terminology – some of it is important to know about, other things are manufacturer buzzwords that don't really make any difference to your photography. Here are the important terms to look for when buying a camera for travel, and what they mean.
Aperture. The aperture is the hole in the lens that lets light in, and is one side of the exposure triangle. Aperture is measured in numbers, with an "f" preceding the number, for example, f/1.8, f/2.2. The smaller the number after the "f", the bigger the hole, and the more light that gets in. Look for smaller numbers, which will let you get better pictures even when there is less light available, and also allow you to better control depth of field.
Optical zoom. This represents the difference between the smallest and largest magnification that the camera's lens can achieve. So a camera with a 10x optical zoom can make objects seem 10x bigger in the image compared to when the camera is zoomed out.
Digital zoom. A totally pointless feature that some manufacturers add to their cameras. It's basically a software zoom – the same effect you get if you zoom in on your PC or smartphone when you have an image. Avoid using it.
Focal length. Focal length is the proper photography term for optical zoom, and is a standard across lenses and manufactures. Optical zoom is an easy to understand number that you will find in point and shoot cameras. Focal length, measured in mm, is the number you will find on cameras with interchangeable lenses. The bigger the focal length, the more magnification the lens offers.
EVF. An electronic viewfinder. This means that the camera has a viewfinder, but rather than being a glass based version that shows the scene in front of you as your eye sees it, instead there's a small electronic screen which shows what the camera sensor is seeing – the same as the display on the back of the camera. You generally only find these on high end mirrorless cameras.
Megapixels. Megapixels just refers to the number of pixels the camera's sensor has. Mega means million. So 12 megapixels is 12 million pixels, and would be an image 4000 pixels wide and 3000 pixels high. 4000 * 3000 = 12 million.
Thankfully, manufacturers are nearly over the megapixel war, which is a good thing, because as long as you have over about 12 megapixels, you're good to go. In some cases, such as smartphones, less megapixels is actually better, as you'll probably get better low-light performance as each pixel on the sensor might be bigger. But yes, unless you're planning on printing out your images on billboard sized canvases, you can essentially ignore the megapixel marketing.
OIS / EIS. These are image stabilisation technologies, either Optical Image Stabilisation (OIS) or Electronic Image Stabilisation (EIS). OIS is found in a number of camera and lens systems, and a small number of smartphones, and is a mechanical system that compensates for small movements of the camera system, such as your hand. EIS is generally only found in smartphones, and is a software solution for motion compensation. OIS generally achieves better results.
Sensor size. The size of the sensor inside a camera is one of the most important specifications to be aware of. The bigger the sensor, the more light it can capture, and so the better it will perform in conditions where there is less light.
Sensor sizes range from tiny, such as those found in smartphones, and generally increase in size as the size of the camera increases. Here's a diagram to show different sensor sizes, and you can read more about different formats here.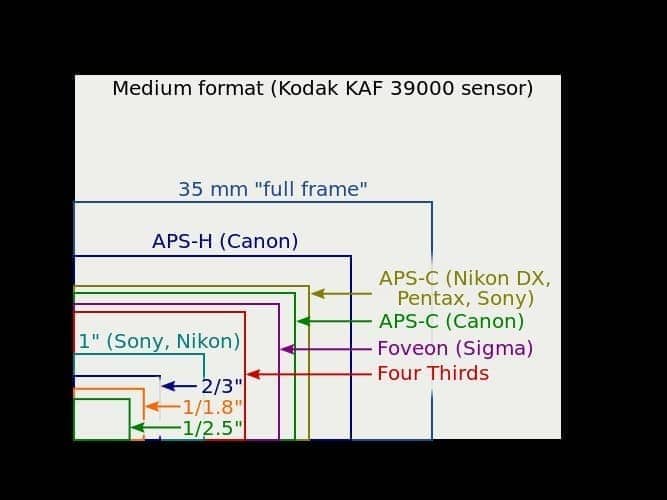 Do be aware that manufactures can be a bit sneaky when it comes to describing sensor sizes, particularly in compact cameras. They might for example, talk about having a "1-inch" sensor.
This refers to the type of sensor, rather than it's physical size. So whilst a 1/2.3 inch sensor is smaller than a 1-inch sensor, neither sensor is actually close to 1/2.3 inch or 1 inch. See more on how physical sensor sizes map to actual sensor sizes here.
RAW. RAW is a file format that more advanced cameras use, allowing you to save the unmodified image data that the camera has captured, rather than the edited JPG version.
This gives you much greater control over the final look of your images, with the downside that file sizes are much bigger, and you have to edit them on your computer in an image editing program before you can use them anywhere.
Many cameras give you the option to shoot in RAW, JPEG/JPG, or to shoot in both. We recommend shooting in both even if you plan only to use the JPG version for now – in the future as your photography skills develop, you'll be pleased to have the option to go back and edit the original RAW files. You can find out more about RAW in my guide to RAW in photography.
If you are interested in learning more about photography and understanding in detail all the terms above and how they affect your shots, check out my travel photography course, which has all the photography answers you need.
The Best Travel Camera
I've divided this list into the different types of camera for travel, with some information on what to look for in each category. I will keep this post updated with the latest travel camera options as they are released. You can see the last date of update at the top of the post.
Each section has a series of the best travel camera recommendations ordered approximately by price, from lowest to highest. Note that prices change and sales occur, which is why we link you to the relevant pages on Amazon and other camera retailers for up to date pricing information.
This should give you everything you need to know to help you make a decision on which would be the best travel camera for you to buy, based on your budget, usage scenario and luggage space.
Best Smartphones for Photography
Why pick a Smartphone for Travel Photography?
If you care about portability, ease of use, and not having to carry another device around with you, then my advice is to get a smartphone with a decent camera, and just use that.
A smartphone can certainly make for a good travel camera, and the latest smartphones take excellent photos in a wide variety of situations.
They also have more features than your average small travel camera – you can share the images directly from the smartphone to your favourite social media platforms, plus have them automatically back up to the cloud as you go using something like the Google Photos app.
In addition, since a smartphone is a device that nearly all of us will be travelling with anyway, choosing one which takes good photos is a cost-effective way of buying a camera.
The main disadvantages are the lack of lens options, reduced manual controls, and generally poor performance in low-light due to the small sensor. But if you want something you're always going to have on you, a smartphone is hard to beat.
Finally, I'd also add that it's worth picking a smartphone with a good camera even if you plan on buying a standalone camera. It will serve as a good backup, and you are likely to always have it on you.
What to Look for When Buying a Smartphone for Travel Photography
Manufacturers are fairly inventive when it comes to squeezing tech into tiny smartphone bodies, but obviously there's a limit to what can be achieved in such a small form factor.
Features to look out for include a wide aperture, which will let more light in, and let you capture shots in low light conditions. Another good feature is an optical zoom, which will let you capture images of further away subjects. This is usually achieved either with a clever nifty periscope zoom, or through the use of multiple cameras as different focal lengths.
Some smartphone manufacturers talk about having bigger pixel sizes. This relates to the physical size of the pixels on the sensor, a number measured in µm, or micrometers. Larger pixel sizes are good as they are more light sensitive and help low light performance.
Speaking of pixels, be wary of high megapixel numbers. In my opinion, anything above 16MP is a warning sign that the manufacturer is trying to win you over with high numbers – you really want less megapixels, as each pixel can then be bigger to capture more light.
Other features to look out for are some form of stabilisation, either optical or electronic, which will let you get photos in lower light and compensate for your hand movement. Better smartphones will have more manual controls to give you more options for your photos. There are different types of focusing system, but I've never found a lot of variation between them. Waterproofing can be a benefit, meaning you can get photos in the rain or at the beach.
Also if you plan to travel internationally with your phone a lot, try to choose an unlocked phone so you can put a foreign SIM card in, and that works on multiple frequencies so you still get 3G, LTE/4G and 5G (for more recent phones). That means you can still easily use it to call, text, and get online when travelling internationally. Here's an excellent resource for finding out which phones work on which networks in which countries.
The Best Smartphone for Travel Photography
Here are five suggestions for current phones which I think are some of the best smartphones for travel photography and should definitely at least get you started in your search. Prices are for the unlocked version of the phones, you might be able to get a better deal through a carrier on a contract.
Launched in late 2023, the Google Pixel 8 and Pixel 8 Pro offer a combination of reasonable price and excellent camera performance. They can take great pictures in the majority of lighting situations, including in low light, when it switches into a low light mode.
Most users will likely be happy with the Pixel 8 version. This comes with a 50MP wide angle camera (which outputs 12.5MP images) and a 12MP ultrawide camera, as well as an 8MP front facing camera. It comes with a 1/1.31" sensor and a f/1.7 aperture. The wide-angle camera has 1.2µm pixels, whilst the ultrawide uses 1.25µm pixels
You also get 4K video support as well as built-in image stabilization. The standard Pixel has no optical zoom, but it does support shooting in RAW. Being a smartphone, it has a touchscreen, and it's also water resistant.
You can also upgrade to the Pixel 8 Pro if you want an additional 5x telephoto lens, although it does cost a bit more.
This would be our pick for the best reasonably priced smartphone for travel photography.
Check latest price here.
Since 2013, Fairphone have been manufacturing smartphones that are fairly made. What does that mean? Well, the idea is that the production of their devices is made in a sustainable way, with practices that benefit everyone involved.
That includes the people involved in everything from the mining of the materials that go into the phone, through to you, the consumer. Over the years, smartphones have become increasingly hard for consumers to repair, with the industry moving towards a more disposable model.
Fairphone wants to change that, with phones that are user repairable and upgradeable, as well as relatively affordable.
Now, to be honest, the first few phones from FairPhone weren't class leading. Building a device that meets all their requirements is tough. But they have continued, and the latest iteration, the Fairphone 5, is actually solid performer when it comes to general use, and also as a camera.
You get two main cameras. The first is a 50MP f/1.9 aperture camera with a 1/1.56″ sensor, 1 μm pixels and optical image stabilization. The second is an ultrawide 50MP with an f/2.2 aperture, 0.7um pixels and a 1/2.51″ sensor.
Now, the image quality from other phones on our list will be marginally better, but the green and environmental credentials of the Fairphone are world leading for smartphones.
Samsung's flagship Galaxy phones are known for their superior photography capabilities, and the 2023 Galaxy S23 Ultra is no exception.
You get four rear mounted lenses, a boggling 200MP f/1.7 wide angle, a telephoto 10MP f/4.9, a second telephoto 10MP f/2.4 and an ultrawide 12MP f/2.2.
This range of lenses gives you a 10x optical zoom, as well as impressive digital zoom capabilities which go all the way up to 100x! The front facing camera is no slouch either, offering a 12MP f/2.2 wide angle.
Pair that with pixel sizes from 0.6µm-1.4µm pixels and OIS – all packaged in a water-resistant smartphone, it's no wonder that it is usually found at the top of the pile when people review cameras for smartphones. This is the smartphone I currently own and use for my mobile travel photography needs. Check latest price here.

If you're an Apple fan, you probably won't even be considering the other phones in this list, and will be making a bee-line for the latest iPhone, despite it being one of the priciest options in the list. It might be expensive, but at least Apple makes phones with great cameras.
The latest iPhone Max model offers a range of photography focused features that make it a worthwhile upgrade over previous iPhone models. You get 3 cameras in total.
There's a main 48MP camera which also offers a 2x 12MP zoom. Then there are 2 12-megapixel cameras, one which offers an ultra-wide lens, and one with a 5x telephoto zoom. This latter is the biggest optical zoom of any iPhone to date.
There's also a built in LIDAR scanner, which makes for wonderful night photos, as well as a RAW mode. A great choice if you're an Apple person. Check latest price here.
Best Compact Camera for Travel Photography
Why pick a Compact Camera for Travel Photography?
A compact travel camera offers a number of advantages. First, they offer larger sensors than most smartphones, so image quality and performance is usually improved. They are pocketable, so easy to take with you.
Compact cameras also tend to be designed to be more user friendly (hence the nickname point-and-shoot cameras) and are generally much less expensive than mirrorless and DSLR camera systems. Many models offer manual controls, and having a separate device means you can keep on taking photos even if your smartphone battery is on the way out.
One of the biggest advantages though, and the reason to pick a compact travel camera over a smartphone, is the optical zoom. All the compact travel cameras we feature have an optical zoom (except the GoPros), letting you get shots of distant objects that you wouldn't be able to get with a smartphone.
The main disadvantages are the smaller sensor sizes compared to a mirrorless or DSLR and the lack of interchangeable lenses.
If you're interested in buying a compact camera, see our detailed guide to getting the most out of a compact camera here for some tips and advice.
What to look for when buying a Compact Travel Camera for Travel Photography
There are a variety of features that compact travel cameras offer for travel photography. Key features to look for are the optical zoom, and specifically, how much optical zoom the camera offers. Other features include the size of the sensor – the bigger the sensor, the better the performance – the maximum aperture, and whether or not there is some form of image stabilisation technology built in.
Any camera with a long optical zoom needs excellent image stabilisation, as the more you zoom in, the more exacerbated tiny movements become.
Other features to consider depending on your needs include GPS, WiFi and touchscreen capabilities. Some more advanced compact travel cameras also include manual modes, which can really help you get the most out of them, and some even shoot in RAW. Let's take a look at our pick of the best compact travel cameras.
The Best Compact Camera for Travel Photography
Here are a number of my top suggestions for recent compact travel cameras which I think are some of the best options for travel photography:
With a 30x optical zoom lens, a 20.3MP 1/2.3 inch sensor, OIS, full manual controls and RAW support, this camera puts out some great shots at an excellent price for what you get. It even has an electronic viewfinder, which is rare in a compact camera and can make composing images in bright sunlight easier.
A newer model was released in 2019 – the ZS80. This adds Bluetooth and a higher resolution EVF but not much else. We're not sure that is a sufficient upgrade to justify the price difference, but it's up to you. If you find them at the same price, then you might as well get the ZS80, otherwise the ZS70 remains our pick while it's still available.
Check price on Amazon here, B&H here and Adorama here
Sony has an extensive range of RX100 cameras, with seven models released to date. This, the original version, was one of the first compact travel cameras to feature the large 1-inch type sensor, as well as full manual controls and RAW shooting.
It also has a fast f/1.8 aperture and a 3x optical zoom. It's a little long in the tooth now, but you can pick one up for a great price, hence the inclusion in this list. You can also get newer models with newer features at increasing price points.
We use and love the RX100 version V, which offers a number of upgrades over this model and is available at a reasonable price. You can see the bottom of this section for the latest and greatest version as well.
Check price on Amazon here
At 1/2.3in, the sensor is similar to other cameras at this price point. Also, as with other cameras with a long zoom, it comes with the tradeoff that the maximum aperture only goes to f3.3, and at maximum zoom, is all the way down at f/6.9.
Still, it's one of the best zoom cameras in our list of point and shoot travel cameras, especially at this price point, and the price is excellent for what you get.
Check price on Amazon here, B&H here and Adorama here
If you need a camera that will survive nearly everything you throw at it, including drops and being submerged in water, then this Olympus is a great option.
It's particularly focused on those looking for underwater photography, and unlike the GoPro mentioned below, it features a 4x optical zoom lens. This is also optically stabilized.
This camera also has RAW shooting, 4K video support, a fast f/2 lens and built in GPS, as well as a variety of dust, shock and waterproof features. Of all the cameras in our list, this is probably the one with the most survivability!
Check price on Amazon here, B&H here and Adorama here
Successor to our originally recommend G9 X, the Mark II features a faster processor, allowing for faster shooting rates than its predecessor. Compared to previous cameras in the list the G9X Mark II has a larger, 1-inch sensor type, helping you get better pictures in lower light.
It has more manual controls, allows for RAW shooting, and an aperture that starts at f/2. The optical zoom isn't too impressive at 3x, but you definitely get improved image quality from that larger sensor.
Check price on Amazon here

Sony bills this as the world's smallest zoom compact camera, and we can't argue with that.
With an excellent 28x optical zoom packed into a small body, the camera offers an 18.2-megapixel 1/2.3in sensor, flipping touch screen, 4K video support, electronic viewfinder, manual modes, RAW support, Bluetooth and 10fps shooting support.
It's an excellent choice for a compact zoom camera, with good image quality and solid features. It's also reasonably priced for what it offers.
Check price on Amazon here, B&H here and Adorama here.
Panasonic's 1-inch sensor camera model is no slouch, with an f/2.8 aperture lens and an impressive 10x optical zoom. It also has full manual controls, a touchscreen interface, EVF, OIS and RAW shooting.
It's a little more pricey than other options in our list, but that optical zoom is a definite bonus in the 1-inch sensor category. There is also a newer model, the ZS200, which costs a bit more and also has a 15x optical lens, although it has a narrower aperture as a result.
Check price on Amazon here, B&H here and Adorama here.
We're moving up a price point now with the Panasonic Lumix LX100 II. This is unique amongst the compact cameras in our lineup, as it uses a micro four thirds sensor.
This larger sensor results in better low light performance, but does mean the camera is larger and heavier. The sensor offers 17MP of resolution in a 4:3 aspect ratio. The camera comes with a 24-75mm equivalent lens (approximately 3x optical zoom) which offers a variable aperture of f/1.7 – f/2.8.
You also get a touch screen, electronic viewfinder, optical image stabilization, full manual controls, and RAW support. The screen however doesn't flip out.
Overall, this is an excellent option for those who don't mind trading absolutely portability for improved image quality. If you fall within this category, you may also consider the Canon PowerShot G1 X Mark III, which has an even larger APS-C sized sensor in an even larger body.
Check price on Amazon here, B&H here and Adorama here.
There's a big jump in price to Sony's latest RX100 model, the RX100 VII. Released in August 2019, in our opinion this is one of the best compact travel cameras money can buy. If your budget can stretch to it then this would be our pick for the best compact camera for travel.
Like the previous model in the lineup, the VI, this camera is a leap over previous cameras in the RX100 lineup as it has a far more impressive optical zoom, equivalent to 8x, with a 24mm – 200mm lens.
This compares very favourably to the previous optical zoom of models in the range (versions I – V), at 3x.
It still retains the 1-inch sensor, so you get better image quality than your average compact camera. It's also the first in the series to feature a variable aperture which is slightly slower – however we feel this is a reasonable trade-off due to the zoom capability. It also has image stabilisation, a tilting screen and an electronic viewfinder.
We would argue that this is the best small camera for travel photography, if you have the budget for it, although the improvements over the VI are not too significant, so if you can find that for a lower price, that might be the one to go for. We personally have the version V model which we got for a great price during a sale event.
Check price on Amazon here, B&H here and Adorama here
The Best Action Camera for Travel Photography
Why pick an Action Camera for Travel Photography?
If you are going to be spending time doing any kind of adventure activities, from snorkelling and swimming to skiing or snowboarding, an action camera is likely going to be the best option for you.
These tiny cameras are designed for use in more extreme environments, including total water immersion, and are perfect for capturing moments that other cameras simply wouldn't survive.
That survivability does come with a trade-off of course – most action cameras don't have manual controls, optical zoom or the ability to change aperture settings. However, when you're catching the perfect wave you are unlikely to be wanting to fiddle with that sort of thing anyway – you just want something that works.
We'd generally say that an action camera is going to be best as a secondary camera or if you plan on making a lot of video. It can work as your primary camera, if you are happy to live with the restrictions.
What to look for when buying an Action Camera for Travel Photography
Most action cameras are fairly similar in size and features, although there are a few things to look out for.
Obviously, the environments the camera can survive in are important to consider. Some action cameras are totally waterproof for example, whilst others will need a special housing.
The interface is also important. These cameras are very small, so having a simple interface is key so you aren't fumbling with setting when trying to get the shot.
Other features to look out for are image or video stabilization, size of the screen, if it has a touchscreen for control, additional features like voice commands and the resolution of the video and photo files. Support for 4K video for example should be the default for any action camera you buy for travel.
It's also worth checking to see what accessories the camera comes with, as this can add a lot to the price. Some cameras come with a lot of accessories out of the box, whilst others will require you to spend quite a bit on additional accessories to meet your needs.
Best Action Camera for Travel Photography
Here are some of our suggestions for the best action cameras for travel photography. We also have a more complete guide to the best action cameras if you want some more suggestions.

The Akaso Brave 7 LE is the action camera that we currently use. It has pretty much all the features of the GoPro line, but at a lower price point. It also comes with a number of accessories, a waterproof housing, remote control and two batteries in the box, making it a fantastic value option.
Despite the lower price, this camera doesn't skimp on features. It supports video at up to 4K at 30 frames per second, 20MP still image capture, voice commands, electronic image stabilization, a large touch screen for control, and a second front facing screen which is perfect for selfies. It's even water resistant without the case down to a metre, or 40 metres with the case.
Check price on Amazon here.
The most well-known brand in action cameras has to be GoPro, and specifically the GoPro Hero range of action cameras. Whilst they tend to be the more expensive option, they excel at action photography and video.
If you need something that's going to survive water and action, then the GoPro line is the best option out there.
Advantages of the GoPro are that it is waterproof without a housing down to 10 metres (with housings available deeper than this), and they have fantastic image stabilization. It also has voice activated commands.
The disadvantage is that to get the best shots you are going to need to buy a number of accessories so you can mount the GoPro wherever you want. These can add up a bit. You're also likely to need additional batteries.
Still, if you want the best action camera out there for image quality and features, the GoPro series is the one to go for!
Check price on Amazon here and B&H here
If you can't decide between an ultraportable action camera and one with a screen, then we'd highly recommend checking out the Insta360 Go 3, which offers the best of both worlds, and is one of the action cameras we currently use.
The camera itself is tiny, weighing around 35g (1.2oz). Despite the diminutive size it's still fully featured though, supporting 2.7K video. It's also waterproof without a housing and features a powerful magnet system which allows you to mount and attach it almost anywhere.
If you use the camera on its own then there's no screen. However, pop it into the "action pod" and it turns into a more traditional looking action camera with a full size tiling touchscreen, control buttons and additional battery life.
Check price on Amazon here.
Most cameras on the market today shoot what's in front of you. However, if you want to capture all the action, then you might consider a 360-degree action camera.
If that's the case, then the brand we recommend is Insta360. They've been making 360-degree cameras for a number of years, and we have used a number of their cameras on trips around the world.
Their latest 360 action camera is the Insta360 X3. It comes with two cameras, meaning it can capture a 360-degree view of the world at 5.7K. It's no slouch at photography either, able to capture a 72MP 360 degree photo.
That means that you can get the shot and then crop down as you wish to frame the exact action moment you want. Alternatively, you can shoot with a single lens if you want. Both front and rear facing cameras are equipped with a 1/2″ 48MP sensor. It also supports HDR mode and is waterproof to 33ft (10 metres).
Check price on Amazon here and B&H here
Best Mirrorless Camera for Travel Photography
Why pick a Mirrorless Travel Camera for Travel Photography?
A mirrorless travel camera is a relatively new development in the travel camera space. They are similar to DSLR cameras; however they do not have an internal mirror to reflect light from the lens to the optical viewfinder.
This means that they can be smaller, lighter and more portable – making them a top contender for the best camera for travel.
Mirrorless cameras also have all the other benefits of a DSLR – larger sensors, manual controls, excellent image quality and interchangeable lenses.
In terms of disadvantages, they are of course larger and heavier than smartphones or compact travel cameras and are more expensive, especially when you factor in one or two good lenses.
Compared to DSLRs, they generally have poorer battery life, and less lens choice – although this latter is improving as mirrorless systems mature.
What to look for when buying a Mirrorless Travel Camera for Travel Photography
Mirrorless cameras come with different sensor sizes, from the micro 4/3 format up to full frame. All of these are larger than those you will find in compact travel cameras or smartphones, and again, the larger the sensor, the more light the camera can capture in any given situation.
Another key factor to consider is the lens selection. Different manufacturers offer different lens systems, so it's worth investigating to be sure there are sufficient lens choices for the kind of photography you want to be doing. Also be aware that whilst most mirrorless cameras ship with a kit lens, you can also buy them without a kit lens and then buy a more suitable lens for your needs.
Other considerations include the screen type, if the camera has an EVF, WiFi, water resistance, type of focus system and so on.
Also be aware that all of the camera manufacturer's below have a range of mirrorless options – I've done my best to highlight those that offer the best combination of price and features for travel photography.
Best Mirrorless Camera for Travel Photography
Based on a few years of experience shooting with a variety of different mirrorless camera systems, and feedback from fellow travel photographers, we're put together our list of the best mirrorless cameras for travel.
If you choose one of these, we also recommend reading our guide to how to use a mirrorless camera to get you started!
With a large APS-C size sensor as found in their consumer DSLRs, the Canon EOS R100 is one of the best budget travel camera options to consider. It took Canon a while to get into the mirrorless camera game, but their "R" series is now a serious line-up of excellent cameras.
The R100 is the entry level model, launched in July 2023. You get an APS-C sized 24.1MP sensor, a superb autofocus system, support for a wide range of lenses as well as built in Wi-Fi, NFC and Bluetooth. The relatively large sensor offers good performance, and I've personally always found the Canon menu system to be the most intuitive to use.
There's no touchscreen, which is a logical omission at this price point, but other than that you are looking at perhaps the best entry-level mirrorless camera for beginners.
Check price on Amazon here and B&H here.
Olympus's mirrorless cameras use a micro four thirds (MFT) sensor, which is a bit smaller than the APS-C size sensor found in the Sony or Fuji cameras. This doesn't make a huge difference in my experience to image quality in most situations though.
The Olympus has an excellent in-camera stabilisation system, an EVF, a (fixed) touchscreen and WiFi connectivity. There's also a wide range of micro 4/3 lenses available.
Check price on Amazon here, B&H here and Adorama here.
Sony have been making mirrorless cameras for a long time, and the a6000 was our model of choice for a long time. However, the camera was released in 2014, and is now getting a bit long in the tooth.
Today, we recommend the a6100 which was released in 2019. This features an APS-C sized sensor (the same as you find in most DSLR's), fast autofocus, a tilting touch screen, EVF, and a wide range of lenses, plus WiFi, and is an excellent bit of kit for the price. The main omission is weather sealing, for which you'd want to consider the a6400 or a6600.
Sony have a number of models in the a6xxx range. These include the a6000 (2014, discontinued), a6300 (2016, discontinued), a6500 (2016, discontinued), a6600 (2019), a6400 (2019) our current recommendation, the a6100 (2019) and the a6700 (2023).
Each of these offers different features and capabilities over the a6100. Differences include battery life, autofocus, touch screen capabilities and image stabilization.
Depending on your budget, you might find one of these suits your needs better. The a6600 in particular is an excellent choice as it offers in camera image stabilization as well as a touch screen, weather sealing and much improved battery life.
However, as of writing we think the a6100 is one of the best budget mirrorless cameras for travel.
Check price on Amazon here, B&H here and Adorama here.
Nikon was late to the mirrorless camera game, but they've now released a number of mirrorless camera models including full frame and DX sensor models.
The Z50 is their more entry level mirrorless camera, which features a DX sized sensor, similar to the APS-C sensor in other cameras.
It has a 20.9MP sensor, 11fps burst shooting, 4K video support, a tilting touchscreen display and an OLED viewfinder. You also get Bluetooth and WiFi connectivity, with battery life rated to around 300 shots.
If you are an existing Nikon user looking to make the leap to mirrorless, this is an excellent option. It's a great lightweight alternative to something like the D7500, and has compatibility with most of Nikon's lenses via an adaptor.
If you'd prefer a full frame option, consider the Nikon Z6 II or Z7 II.
Price: Check price on Amazon here, B&H here, and Adorama here
The GX9 is the 2018 version of our previous favourite Panasonic Mirrorless Camera, the 2015 GX8. Like Olympus, Panasonic's mirrorless cameras use the micro 4/3 sensor. Whilst this camera is a bit pricey, there are a number of advantages.
To start with, Panasonic cameras are known for excellent video performance, and if this was a round-up of the best travel video camera, it would have many more Panasonic cameras in!
The GX9 also has the advantages of a fully tilting touchscreen, 4K video, excellent sensor based optical stabilisation, a wide lens choice (most micro 4/3 lenses will work). Unfortunately, unlike the GX8, this doesn't have a weather sealed body.
Check price on Amazon here, B&H here and Adorama here

Fuji makes an excellent range of mirrorless cameras and the X-T30 II (2022's successor to our previous recommendation, the X-T30) is one of the best value options.
The X-T30 II features an APS-C sized 26.1MP sensor, excellent build quality and a reputation for taking superb, sharp photos.
You also get an EVF, a tilting touch screen and WiFi.
If you want a more traditional mode dial interface, check out the Fuji X-S10 which offers similar specifications but with the addition of in-body stabilization.
Check price on Amazon here, B&H here and Adorama here.
This is the first full frame option in our list. I wanted to include full frame cameras in this list, despite them being a little larger and often more expensive than cameras with smaller sensors.
A full frame camera has a sensor that is approximately equivalent to a frame of 35mm film, and they generally offer the best image quality and low-light performance, at the downside of a higher price and larger physical size.
Canon's full frame mirrorless range launched in 2018 with the Canon EOS R, and the RP is the more budget friendly offering, which has an excellent feature set in a very compact offering.
For your money you get a full frame sensor in a lightweight, weather-resistant body. There's a flipping touchscreen, WiFi and Bluetooth connectivity, and a 26.2-megapixel sensor.
The best news though is that if you are an existing Canon user, there's a lens adaptor. This will let you use all your existing EF and EF-S Canon lenses with the camera, meaning you don't have to re-invest in all new lenses.
There are a few omissions – there's no in-body image stabilization, and burst rates max out at 5fps. However we think this is an excellent option, especially if you already have some Canon lenses.
If your budget stretches to it you might instead consider the more recent Canon EOS R8, but for the money I think the RP is a bargain full frame option.
Check price on Amazon here, B&H here and Adorama here.
Launched in 2022, this APS-C camera is packed with the latest technology. In fact, a lot of the technology in this camera, especially around autofocus, is borrowed from Canon's high-end EOS R3, a camera which retails in excess of $6,000 USD.
At the heart of this camera is a 32.5MP APS-C sized sensor. That is fully image stabilized, and it supports shooting at 15 frames per second (mechanical) and a staggering 30 frames per second (electronic).
Perhaps the most impressive feature though is the autofocus. This can identify and track a range of subjects, including animals and birds. I have used this system extensively and it is amazing how well it can lock onto even a fast moving subject to enable you to get sharp shots every time.
You also get a touch-enabled flip screen, weather sealing, Wi-Fi and Bluetooth connectivity, and compatibility with a massive selection of Canon lenses. Battery life is reasonable at 660 shots, and the weight without a lens is also good at 612g/ 21.58oz.
If the price is a bit much, consider instead the Canon EOS R10. The sensor has fewer megapixels and you lose image stabilization and weather sealing. However, it weighs a lot less and you still get a very powerful camera for your money.
Price on B&H here and Adorama here
If you like the look of the Sony A6xxx line but want something with a full frame sensor, look no further than the Sony A7C.
Somehow, Sony has managed to fit a full frame sensor into a body that is almost identical in size and weight to the A6600, making it one of the smallest full frame mirrorless cameras on the market today.
They haven't cut corners in terms of features either. You get a 33MP sensor, 10fps shooting, in body image stabilization, 4K video, WiFi, bluetooth, vari-angle touchscreen and weather proofing.
It even manages 540 shots on a charge. A fantastic option if you want something with a full frame sensor but in a relatively compact size.
Check latest price on Amazon here, B&H here, and Adorama here
In 2020, Canon launched two spectacular mirrorless camera options, namely the Canon EOS R6 and the Canon EOS R5.
These were the first full frame mirrorless cameras from Canon featuring in-body image stabilization, offering an amazing 8 stops of stabilization when used with a compatible lens.
In 2022, a new model of the R6 was released, the R6 Mark II. This features improved battery life, a slightly larger sensor, and a much faster burst shooting speed compared to the original R6. It also retails at the same original MSRP of the R6, so would be the camera we recommend.
Compared to the R5, the R6 Mark II is the lower priced version, and the one we would recommend for most travel photographers. The R5 is an amazing bit of kit, with 8K video support and a higher megapixel sensor. We personally use the R5 (see our full Canon EOS R5 review here), and love it.
However, the R6 Mark II offers a very similar experience with a much-improved price point, so unless you really need the 8K video support or higher megapixel count, we think the R6 Mark II is a great option.
Specs wise the Canon EOS R6 gives you a 24.2MP full frame sensor, autofocus that can track people, animals, and vehicles, up to a staggering 40 frames per second burst shooting, Wi-Fi & Bluetooth, 4K video, as well as a flip-out touchscreen. It's also dust and drip-proof.
As with the Canon EOS RP above, there's a lens adaptor which will let you use all your existing EF and EF-S Canon lenses with the camera, meaning you don't have to re-invest in all new lenses. If you have the budget, this would definitely be my camera of choice for travel photography.
You can see our full Canon EOS R5 review here, which covers a lot of the features of the R6 Mark II, to see if it might be the camera for you.
Check price on Amazon here, B&H here and Adorama here.
Sony effectively started the mirrorless camera revolution, and the Sony a7 IV, as the name suggests, is the fourth iteration in the excellent a7 range.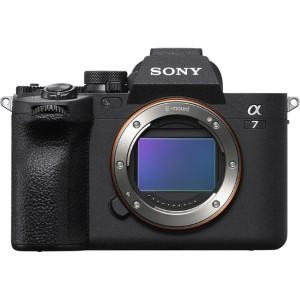 It comes with a full frame 33MP back side illuminated sensor, flip out LCD display, a high refresh rate EVF, WiFi, 10fps burst shooting and a fast autofocus system that includes animal and people eye tracking.
It also has excellent battery life at 610 shots per full charge, and includes weather sealing.
Of course, all these features do mean the price is relatively high. The good news is that you can still pick up previous models in the range, including the A7 III and A7 II. You lose some of the latest technology, but you still get great performance at a much lower price.
Check price on B&H here and Adorama here.
Best DSLR Cameras for Travel Photography
Why pick a DSLR Travel Camera for Travel Photography?
Honestly, if this is your first travel camera purchase, then I suggest that a mirrorless camera is a better choice for most travel photography use compared to a DSLR. They offer all the control you need in a smaller, lighter package, with an ideal balance of portability and image quality.
For a time DSLR's had a better choice of lenses and improved battery life over their mirrorless counterparts, but those areas have been significantly improved with modern mirrorless cameras and so this is no longer a good reason.
The main disadvantage of a DSLR is the weight – the weight in particular, especially when you add in some high quality lenses, is a real issue for many users.
That said, at the entry level especially, you can pick up some real bargain DSLR cameras. So if you are just starting out and want something to learn photography with, a DSLR can be a solid budget option, giving you full manual control over your photography.
Just be aware that the main manufacturers are almost exclusively focusing on mirrorless cameras going forward, which would appear to be the future of photography.
What to look for when buying a DSLR Travel Camera for Travel Photography
DSLRs tend to be the largest type of camera, so one thing that is important to look for is that the camera is comfortable in your hand. My suggestion is to visit a store and try the camera in hand, with a variety of lenses attached, to see how they perform before making a purchase. Canon and Nikon still rule the cameras in this category.
Features are fairly similar across most DSLR's in terms of capability. They'll either offer an APS-C sized sensor, or, more expensively, a full frame sensor.
Other features to look for include the ISO range, lens selection, weather resistance, GPS, WiFi, touch screen, autofocus system and number of control dials. More dials can be a good thing – letting you quickly set the camera up for different needs without having to dive into menu options.
If you do purchase a DSLR camera, do also take a look at our guide to using a DSLR camera to help you get the most out of it.
Best DSLR Camera for Travel Photography
We personally travel with both mirrorless camera's and DSLR's – for our work as travel photographers we still love our full frame DSLR – the image quality and lens selection still make these a great choice for us. Based on our experiences, here are the top five DSLR travel cameras available at the moment:

The latest entry level Nikon, the D3500 replaces our former pick, the D3400. It offers better performance in a smaller package, with significantly improved battery life.
For the money you get a 24.2 APS-C sized sensor, solid performance and an excellent selection of lenses. To be honest, there's not much between this and the more expensive Canon below other than this doesn't offer 4K video support. It really depends what works for you and your budget.
Check price on Amazon here, B&H here and Adorama here.
The Canon Rebel line is an excellent series of good value entry-level DSLR cameras (my first DSLR was a Rebel), and the SL3 is no exception.
It's one of the smaller SLR cameras Canon has made, and offers great performance for an excellent price. Specs include a touchscreen, 24.2MP sensor, WiFi, 1070 shot battery capacity, 4K video support, and compatibility with all of Canon's lenses (and a great many third party lenses.).
The SL3 was released in April 2019, and it's predecessor (and our previous pick), the Rebel SL2, is likely to be available at a good price as a result. It's a very similar camera, featuring the same sensor, but has around half the battery life and doesn't support 4K video.
Check price on Amazon here, B&H here and Adorama here.
Moving up into the "prosumer" category of DSLR camera's, and Nikon's version is the D7500. This is Nikon's high end APS-C camera, with a 20.9MP sensor, fast autofocus, a weather sealed body, and Wi-Fi. It also has a tilting 3.2″ touchscreen.
If you're looking to upgrade from an existing consumer focused Nikon to something a bit more professional from the Nikon range, this is a good choice. However, you might prefer the lighter and just as fully featured Nikon Z50 instead.
Check price on Amazon here, B&H here and Adorama here.

And now for Canon's high end APS-C camera, a logical upgrade from the Rebel line. The EOS 90D features a 32.5MP sensor, a very sensitive autofocus system, weather-sealing, WiFi, a movable touchscreen and WiFi. A great upgrade for any Canon user.
Check price on Amazon here, B&H here and Adorama here.
Finally, my favourite DSLR for travel photography – the EOS 6D Mark II. This is a full frame camera, offering excellent low-light performance from a 26.2MP sensor, weather sealing, as well as built-in GPS and WiFi.
Compared to its predecessor, and our previous favourite travel camera the Canon EOS 6D, the Mark II adds a touchscreen which swivels.
It's solidly built, and well priced, having seen some great discounts since it launched at $1800. For a full-frame travel DSLR, we think this is a great bit of kit.
Just be aware that it's only compatible with "EF" mount lenses – any "EF-S" mount lenses from other Canon bodies won't work. If it's a bit pricey, do consider the original 6D, which is still a fantastic travel camera and is very competitively priced nowadays.
Check price on Amazon here, B&H here and Adorama here.
What is the Best Budget Travel Camera?
As a bonus section – this is one of the most popular questions I'm asked when people ask me to help them choose the best travel camera, so I thought a section to help those of you with a fixed budget would help.
My suggestion for the best budget travel camera is one of the following cameras. Note that some of these are older and may no longer be in stock. As a result, you might want to pick them up second hand, see my guide to buying used cameras for tips on how and where to do that.

The Nikon D3500 is a formidable value digital SLR, and it's also great value, even with a lens.
It also comes with the advantage that you get access to all the Nikon and Nikon compatible lenses, which is a huge choice. If you're keen on an SLR, this is a great option at a fantastic price point.
Check price on Amazon here, B&H here and Adorama here.

Whilst the Mark 4 version of this camera makes the list above, the Mark III is still an excellent camera, and in my opinion the best budget mirrorless camera choice for travel photography.
It's also cheaper since the launch of the Mark 4, meaning you can pick it up with a lens and be right on budget!
Check price on Amazon here, B&H here and Adorama here.
If size is the key factor in your purchasing decision, we'd argue that this is the best budget small camera for travel photography.
With full manual controls and the ability to shoot in RAW, plus a 1-inch sensor and excellent image quality, this is far more than "just" a point and shoot.
As mentioned in the compact camera section above, there are various iterations of this model available, and you can pick up one of the earlier versions for a great price.
Check price on Amazon here, B&H here and Adorama here.
The Best Travel Camera
If you're looking for a quick summary of the best travel camera on the market today, these would be our picks, ordered by camera type.
Hopefully this summary helps with your purchasing decision! If I was purchasing a camera today with no previous lenses, I would likely go with the Sony Alpha 7c if I wanted something lightweight.
As a Canon user with lots of lenses though, I'd go with the Canon EOS R6 Mark II or Canon EOS R5. If you are a Nikon user with existing lenses, then I'd suggest the Nikon Z50, the Nikon Z6 II or Z7 II.
When upgrading, it's often easier to stay with the same manufacturer as the menu systems are usually going to be familiar, and your existing lenses might carry over.
Accessories for your Travel Camera
When budgeting for your travel camera, don't forget to think about any accessories you might need.
If you're planning to buy an interchangeable lens camera like a mirrorless or DSLR system, then you will obviously need a lens. Check out our guide to the best travel lenses here for some recommendations across a range of systems.
We'd also recommend considering some of the following accessories.
A Good Bag
Travel can be rough on your photography gear, and so I recommend investing in a good photography bag.
Camera bags are specially designed to provide padding and protection for your gear, and many of them also come with rain covers. This means that you have somewhere safe, protected and padded to put your gear.
Personally, I use Vanguard photography bags and I've been an ambassador for Vanguard for many years now. If you see something on their store that works for your equipment, you can save money using our exclusive Vanguard discount code. This will give you 20% off everything in the Vanguard store.
Just use the code FindingTheUniverse for your discount! This code works in the Vanguard USA, UK, Australia, Spain, and Germany stores.
There are of course a range of other camera bags available, you can see the options on Amazon here and B&H Photo here.
When you travel, it's important to be able to store your photos somewhere safe. To do this, we recommend investing in an external SSD.
The price of external SSDs has come down in recent years, so we would recommend one of these over a mechanical version as they are much faster, smaller, as well as being far less prone to losing data.
The external SSD we currently use by Adata is ruggedized and dust and water resistant. It also supports both Mac and PC users.
To get the best out of your photos you are going to want to edit them, and to do that you'll need a photo editing application!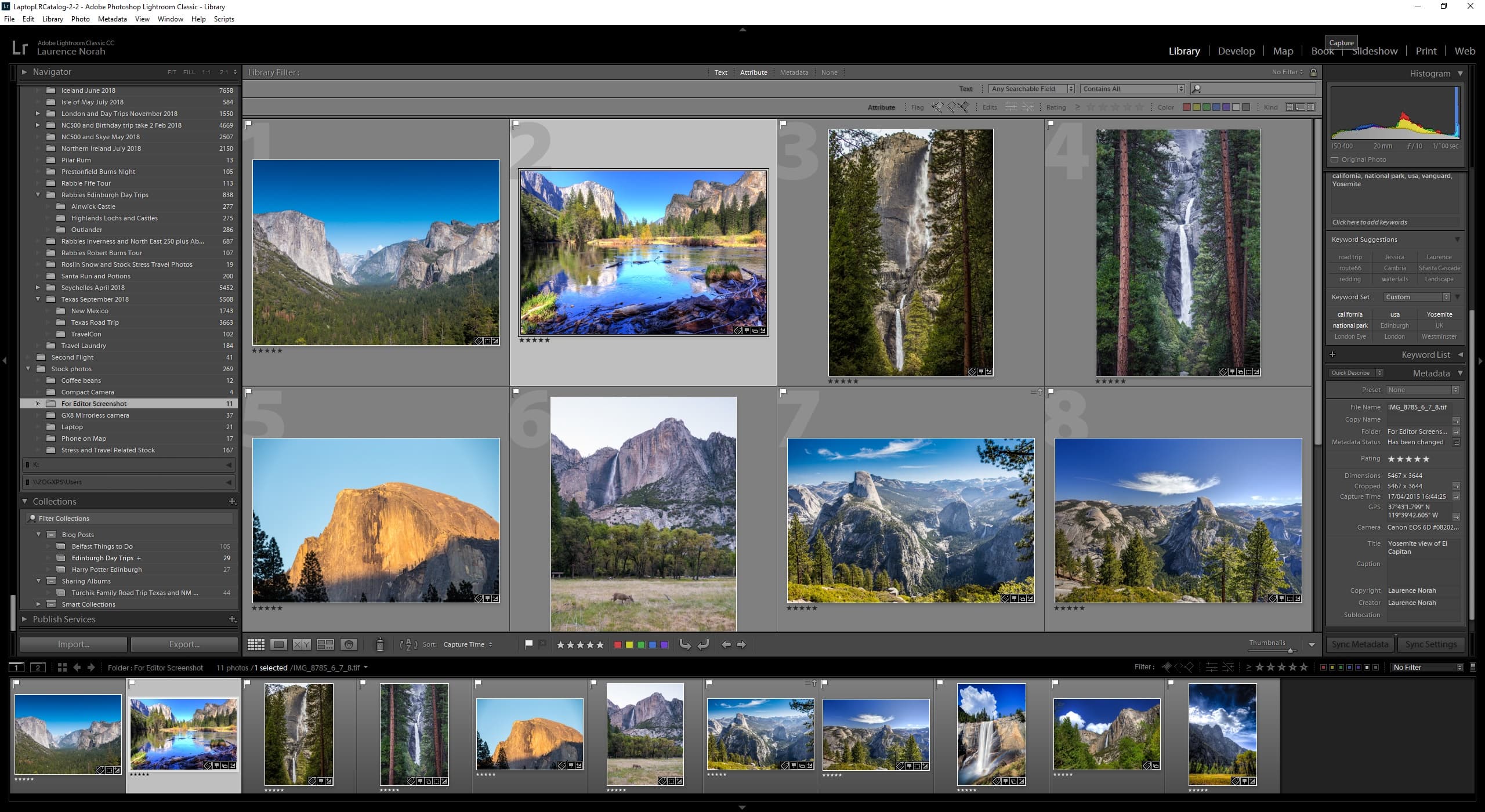 There are a number to choose from, including paid options like Adobe Lightroom Classic CC, Skylum Luminar AI, and ON1 Photo RAW, as well as free options like Darktable and Fotor.
Deciding which to go for is a whole other decision. To help you out, I've put together a guide to the best photo editing applications, which has both paid and free options.
A camera is a significant investment, and as such you might want to protect yourself from accidental damage.
The price of this varies depending on the cost of your camera gear, but a relatively small investment can provide peace of mind against a variety of common accidents, from liquid spills, to accidentally dropping it.
For some examples, here's a 3 year accident protection plan for electronics valued between $1500 and $1999.99, whilst this one covers products between $800 and $899.
Note that both of these are only valid for qualifying purchases from Amazon.com. If you are shopping elsewhere, or direct from the manufacturer, check what they have available before purchasing if this is important to you.
It's also possible to take out separate insurance, or that your homeowners insurance for example covers such things.
If you aren't already backing up your photos, now is the time to change that. There's no point having an awesome laptop to edit your photos on if you lose them all!
We have a complete guide to how to back up photos, which has a range of options and covers what to look for.
However, if you want an easy to use option with unlimited backups, then we use and recommend Backblaze. It's well priced and in our experience is just works. You can try it out for free here.
Further travel photography reading and resources
And that summarizes my guide to the best travel camera for travel photography! Hopefully you found it useful. I'll be keeping it up to date as new camera models come out and prices change.
In the meantime, if you're looking for more resources to help you make the most out of your travel photography, check out the following resources I've put together:
Looking to Improve Your Photography?
If you found this post helpful, and you want to improve your photography overall, you might want to check out my online travel photography course.
Since launching the course in 2016, I've already helped over 2,000+ students learn how to take better photos. The course covers pretty much everything you need to know, from the basics of how a camera works, through to composition, light, and photo editing.
It also covers more advanced topics, including astrophotography, long exposure photography, flash photography and HDR photography.
You get feedback from me as you progress, access to webinars, interviews and videos, as well as exclusive membership of a facebook group where you can get feedback on your work and take part in regular challenges.
It's available for an amazing one-off price for lifetime access, and I think you should check it out. Which you can do by clicking here.
And we're done! Thanks for reading – if you've got any comments, feedback or suggestions, just let me know in the comments below.