Are you looking for the best things to do in Dallas Texas? You're in the right place! We've thoroughly explored the city to find all the best attractions, and we're going to share them with you in this post.
As you'll discover, there's a lot to do in Dallas. You can learn about fine art, explore the set of one of the world's most famous '80s TV shows, discover amazing science museums, enjoy great food, and learn more about the tragic assassination of President Kennedy.
Beyond the attractions, we'll also share everything else you need to plan your visit to Dallas, Texas. We'll include tips on getting around, where to stay and how to save money on your visit.
20+ Things to Do in Dallas Texas
This guide covers some of our favourite attractions in Dallas. As you'll discover, there's something for everyone, whether you are visiting Dallas with family, as a couple or on your own.
When planning your trip, always check opening times and prices in advance as these can change. We've included links to all the relevant websites to make this easier for you.
Dallas Museum of Art
We'll start our tour of things to do in Dallas with a visit to the Dallas Museum of Art. This is found in the Art District of downtown Dallas, and it's one of the largest art museums in the USA.
The museum is home to a collection of over 24,000 objects which date from 3,000BC to the present day. The collection includes art from artists all around the world, and includes many masterpieces. So whether you are into European masters like Monet or Van Gogh, ancient America Art, or 2nd century Gandharan Buddhist art, we're fairly sure you'll find something to enjoy.
The Dallas Museum of Art is free to visit, although special exhibitions do charge an entry fee. You can see more about opening times and ticket prices here.
Speaking of art, if you love public art Dallas is an excellent city to explore. In addition to the art on feature in this museum and other museums and galleries in the city, you'll find hundreds of sculptures, street murals, mosaics, art installations, paintings, memorials, and other pieces of art spread out throughout the city.
A few we'll highlight in this guide, but a lot of public funding and donations have contributed to a large amount of art finding its way to this city, many of it free to see. You can se a full list of the current public art in the city here.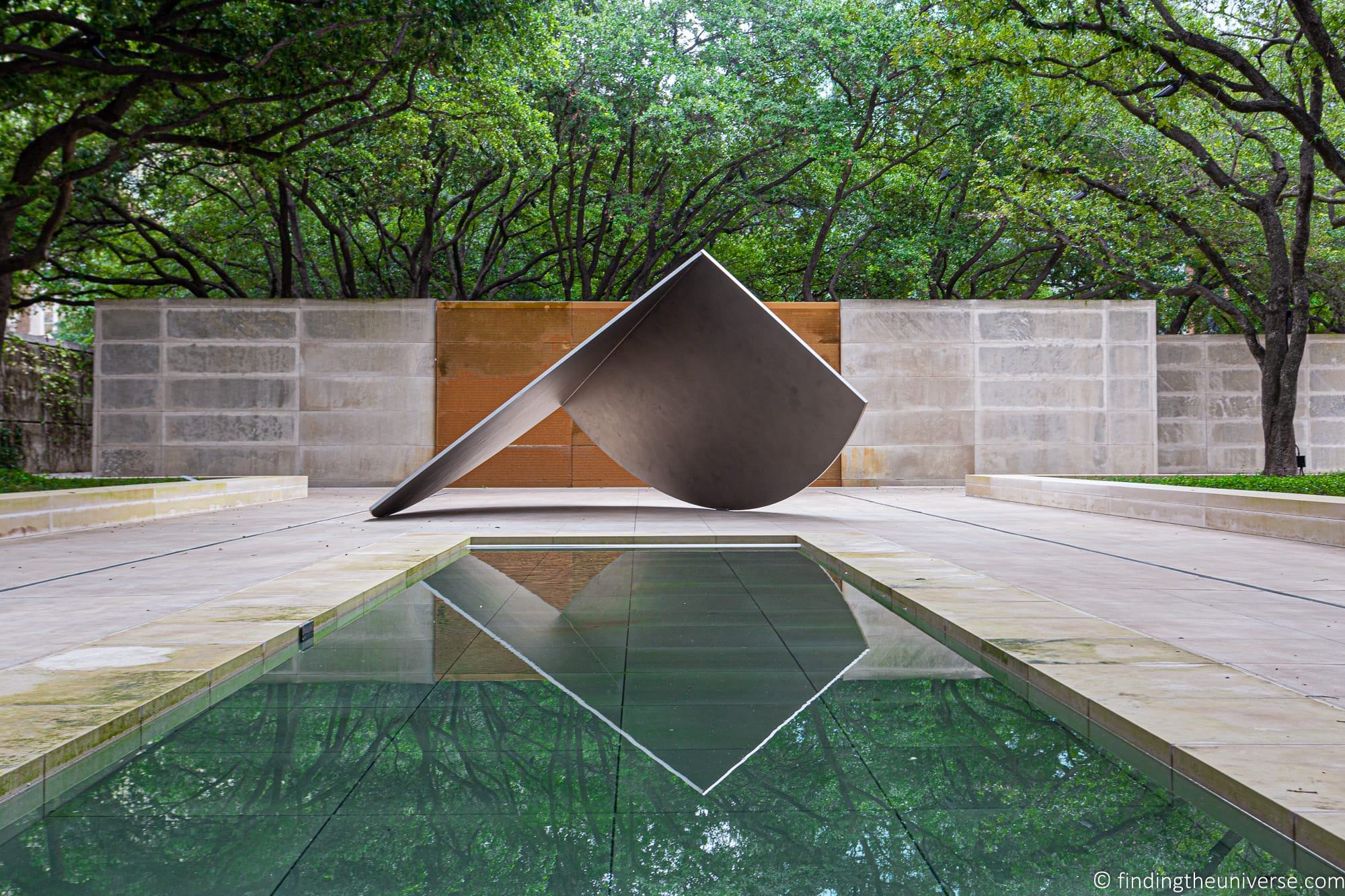 Perot Museum of Nature and Science
If you're visiting Dallas with family, or just people who love interactive science focused museums, then make sure to include the Perot Museum of Nature and Science on your to-do list. The museum was funded in part by donations from the family of Ross Perot and was named in their honor.
Note there are two Perot Museum campuses in different parts of the city. The main one I'm referring to in this Dallas guide is the Victory Park campus which opened in downtown Dallas in 2012. The other campus is found in Fair Park.
The massive Perot Museum at Victory park is a natural history and science museum which spreads out across five floor. It's home to 11 permanent exhibitions. These cover everything from local ecosystems, to interactive exhibits where you can "race" local sporting legends, to the full evolution of life on Earth over four billion years.
If you've ever wanted to see a 60lb gold nugget, experience the Big Bang or travel through a shale gas well, this is the museum for you. We had a lot of fun visiting here and can highly recommend it.
The Perot Museum of Nature and Science has an entry fee, with some discounts available. You can see opening hours and prices on the official website. We visited using our Dallas CityPASS, which includes this location as well as a number of others. Note that a ticket to the Victory Park campus also gets you in to the Fair Park campus museum which is much smaller.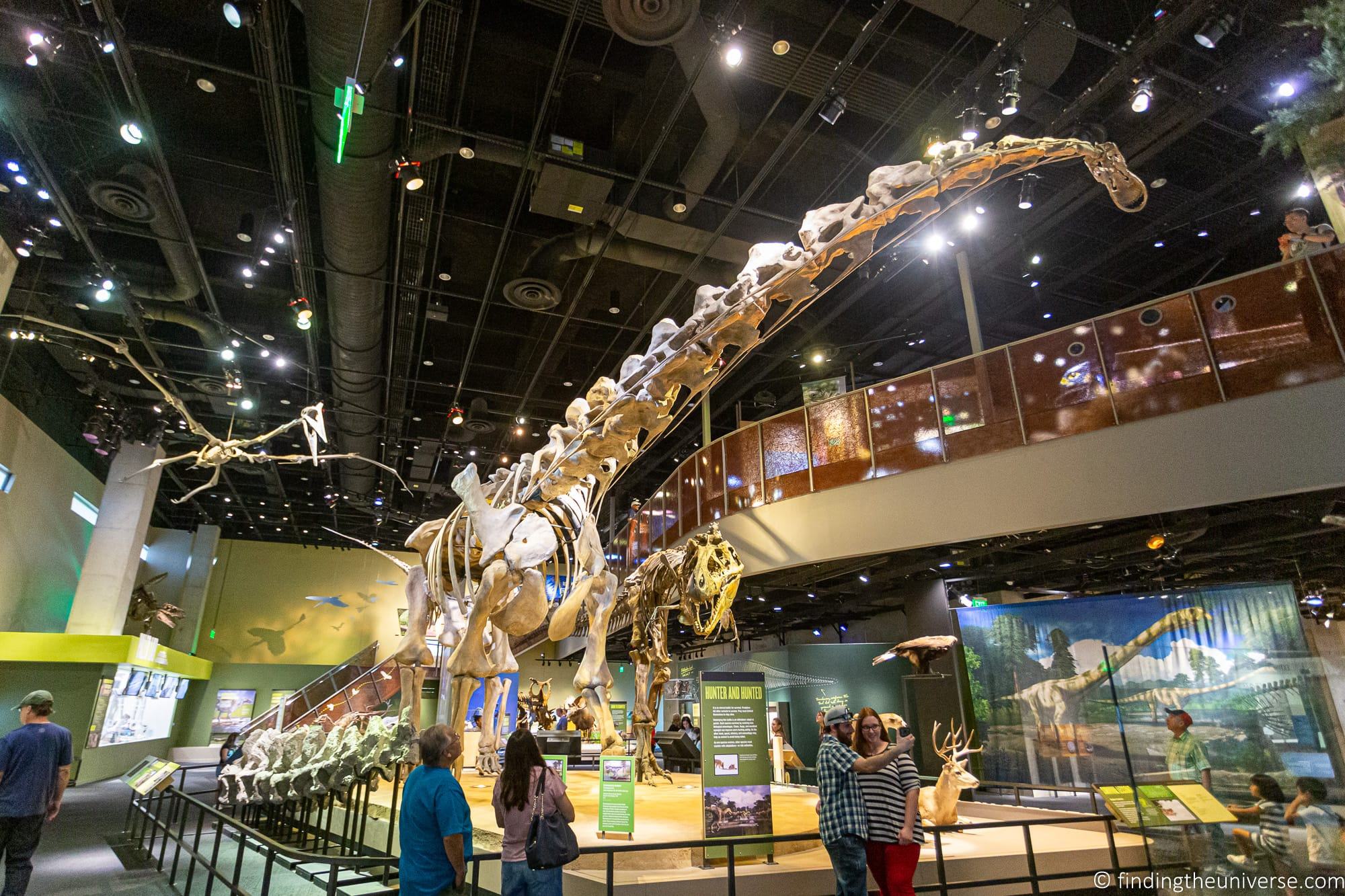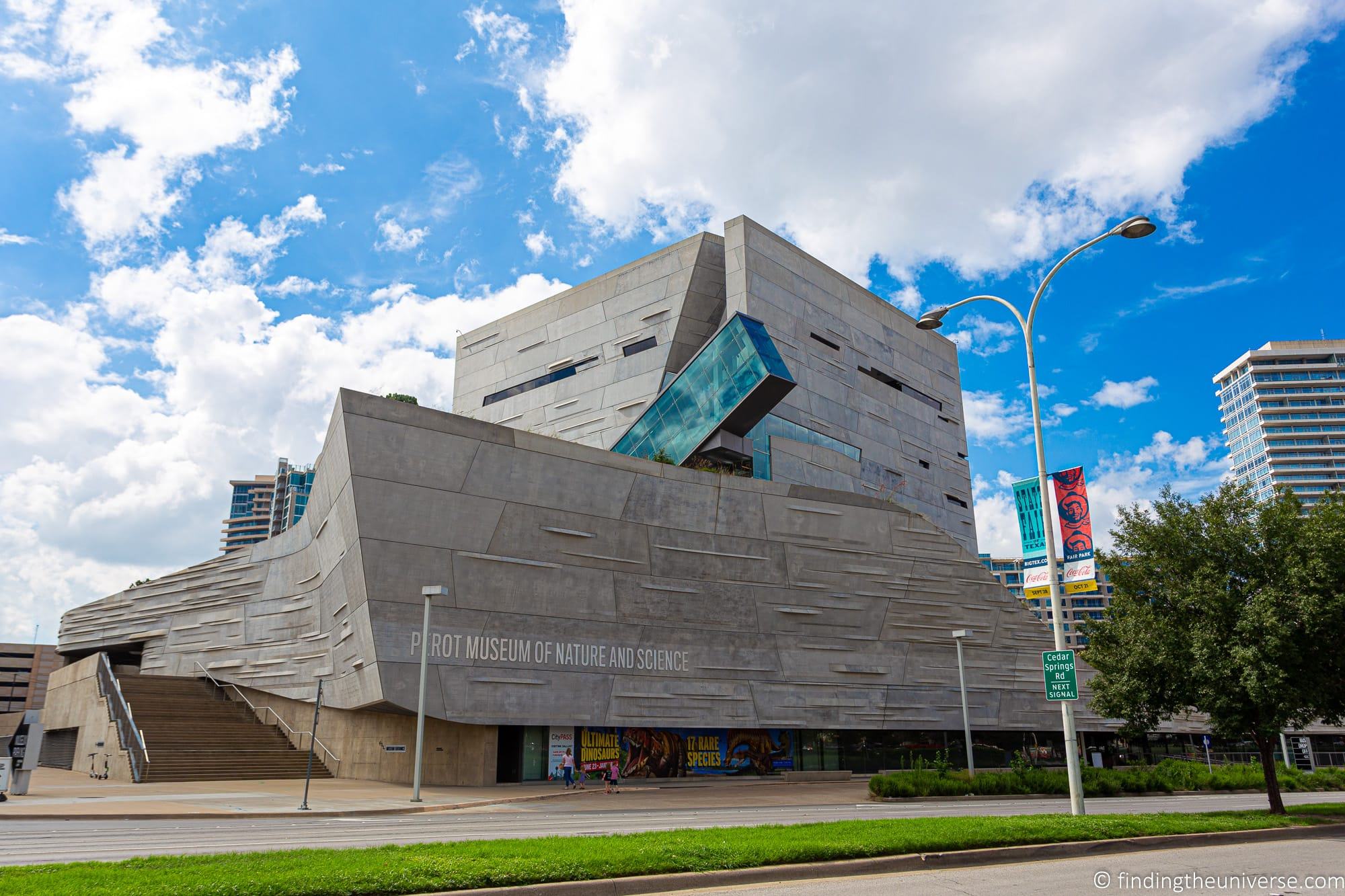 Sixth Floor Museum
Dallas is commonly known as the location where President John F. Kennedy was tragically assassinated by Lee Harvey Oswald on the 22nd November 1963. The shooting took place from the sixth floor of a Texas School Book Depository window, as the presidential motorcade drove through Dealey Plaza.
Today, people associate Dallas with lots of things, but from 1963 to the early 1980s many Americans' main association with Dallas was "that city where Kennedy got shot". This would only change in the early 1980s where it would become "the city where J.R. Ewing got shot"! More on that later.
Today, the sixth floor of the building has been turned into a museum which has a recreation of the area where Oswald fired from. This museum, known as the Sixth Floor Museum, also covers the life, death and legacy of President Kennedy, with films, photographs, artifacts and interactive displays.
There's also a nod to the many conspiracy theories surrounding the assassination, although if these are of interest you would probably prefer to take a tour that has more of a focus on these, like this one.
We found the museum very interesting, and highly recommend it if you're visiting Dallas. There's an entry fee, and you can see more about prices and opening hours on the official website here.
We visited using our Dallas CityPASS, which includes this location as well as a number of others. It's also included on this full day small group tour of Dallas, as well as this tour which focuses on the JFK assassination.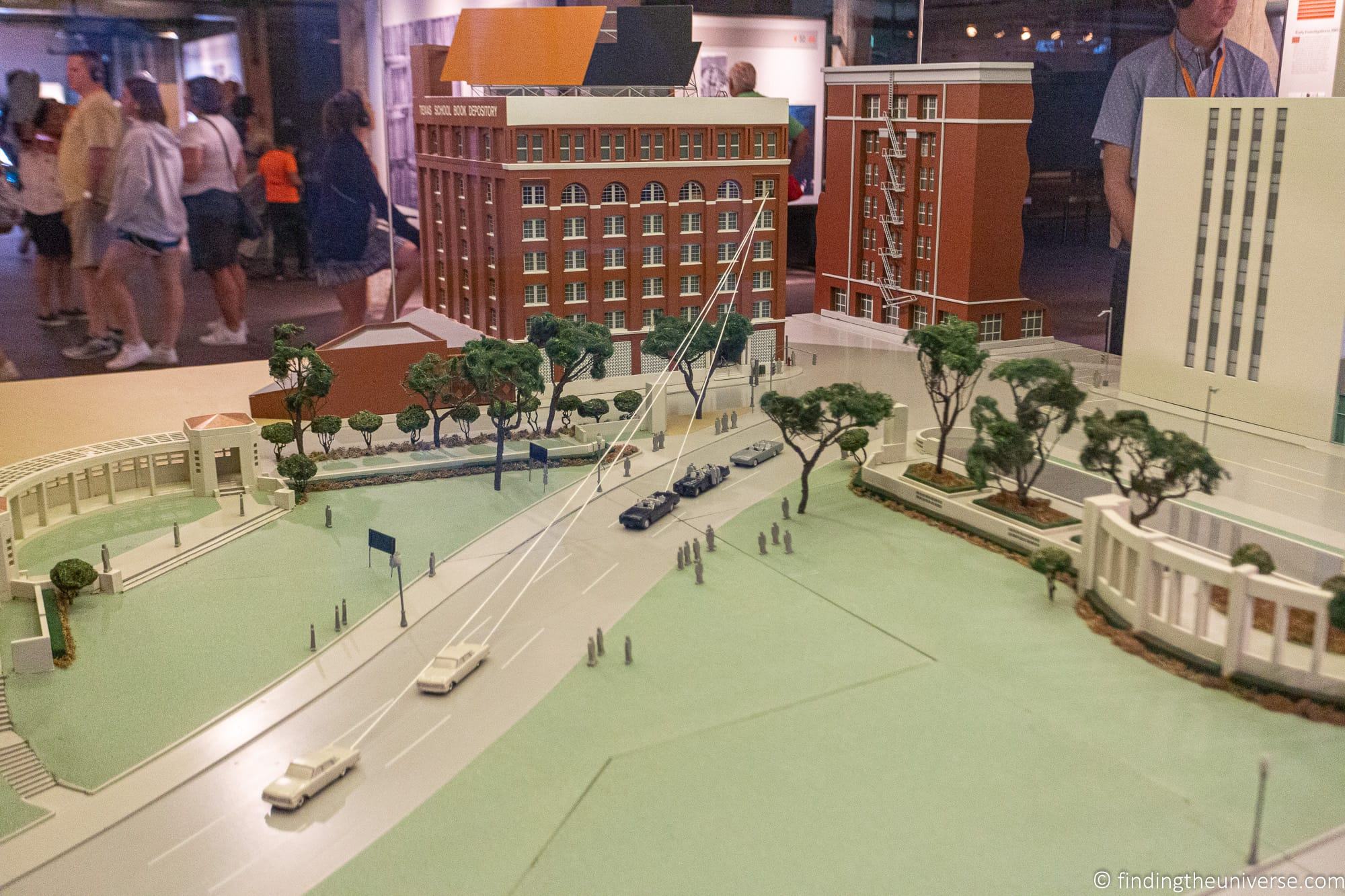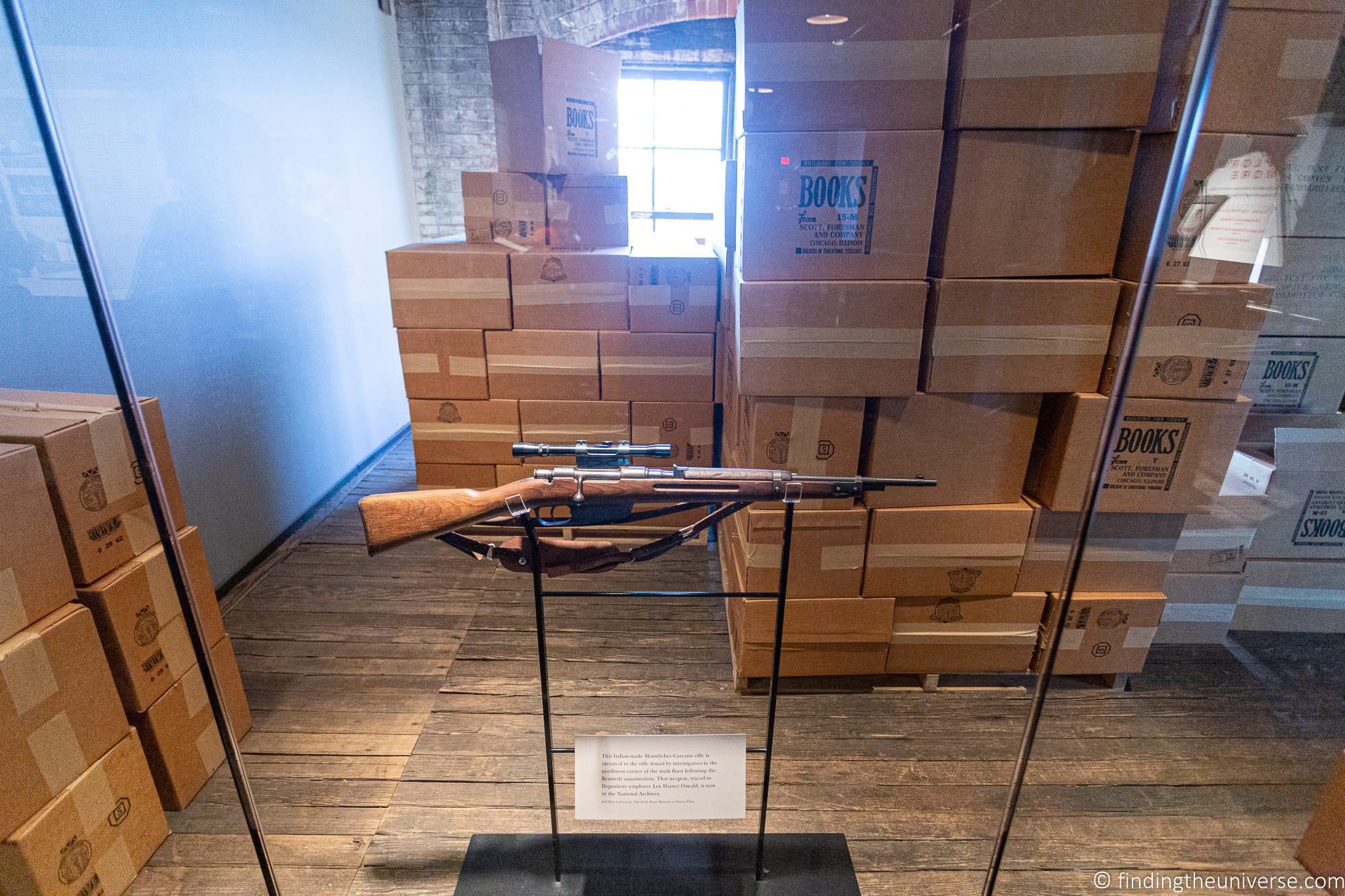 Dealey Plaza
Found in the West End district of downtown Dallas, Dealey Plaza is a city park which is often known as the birthplace of Dallas. It was here that the first home was built in Dallas in the mid-19th century, which later became the first courthouse and post office.
Dealey Plaza is also known as the location where President John F. Kenney was assassinated as his motorcade passed through here. The area is now a National Historic Landmark District, which is why the buildings here are older and in sharp contrast to the more modern office buildings nearby.
There's a plaque commemorating the assassination in the plaza, and there are two white "X" markings on Elm Street which mark the two locations where President Kennedy was shot. There's also a memorial plaza, which I will cover in the next entry.
There are also a number of fountains and reflecting pools, historic buildings, statues as well as two pergolas in Dealey Plaza.
Dealey Plaza is free to visit and open year round. Be aware that Elm Street is an active road, so please take care when visiting this area. We saw several tourists almost get hit by cars trying to take pictures in the middle of the road!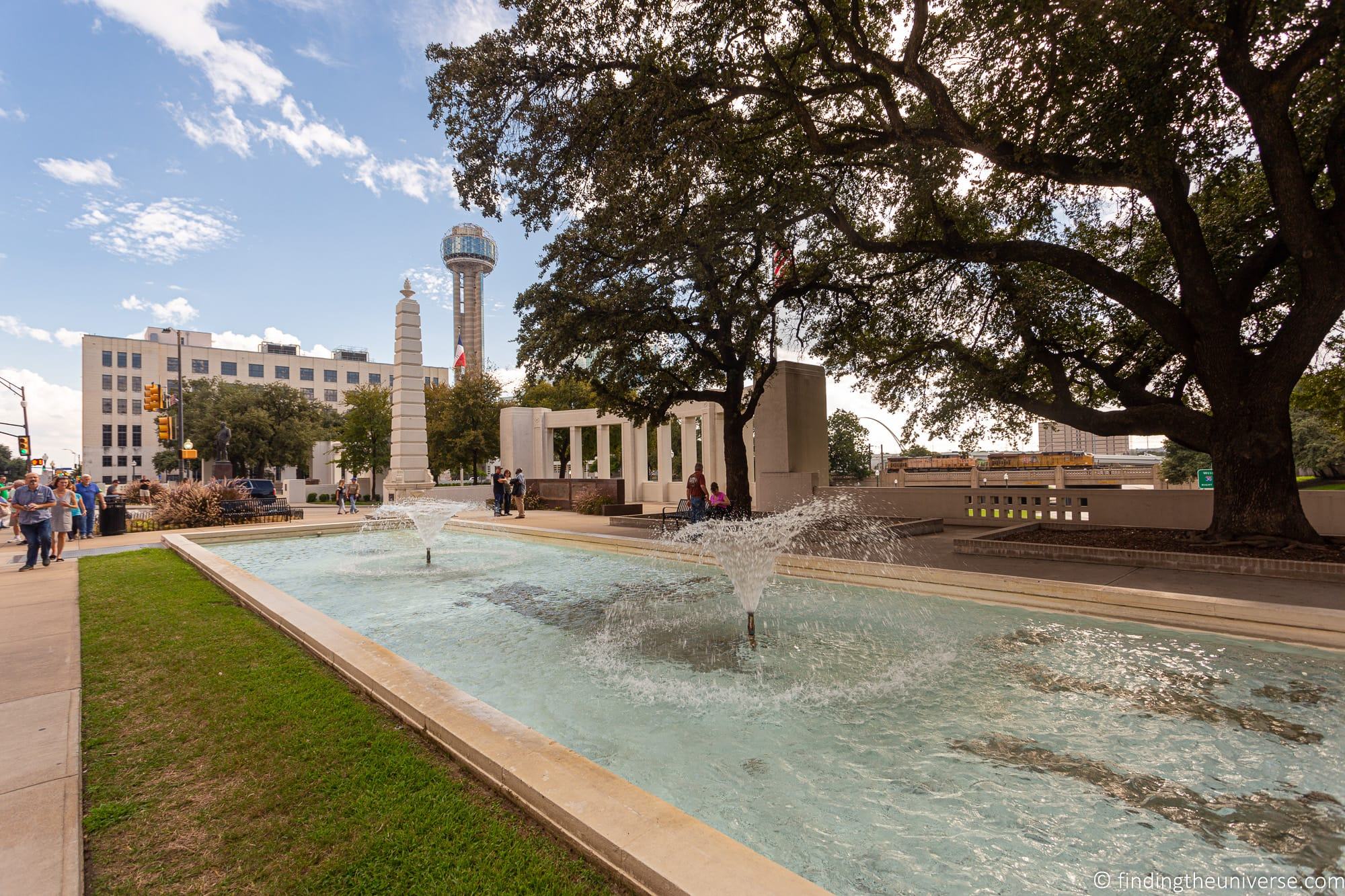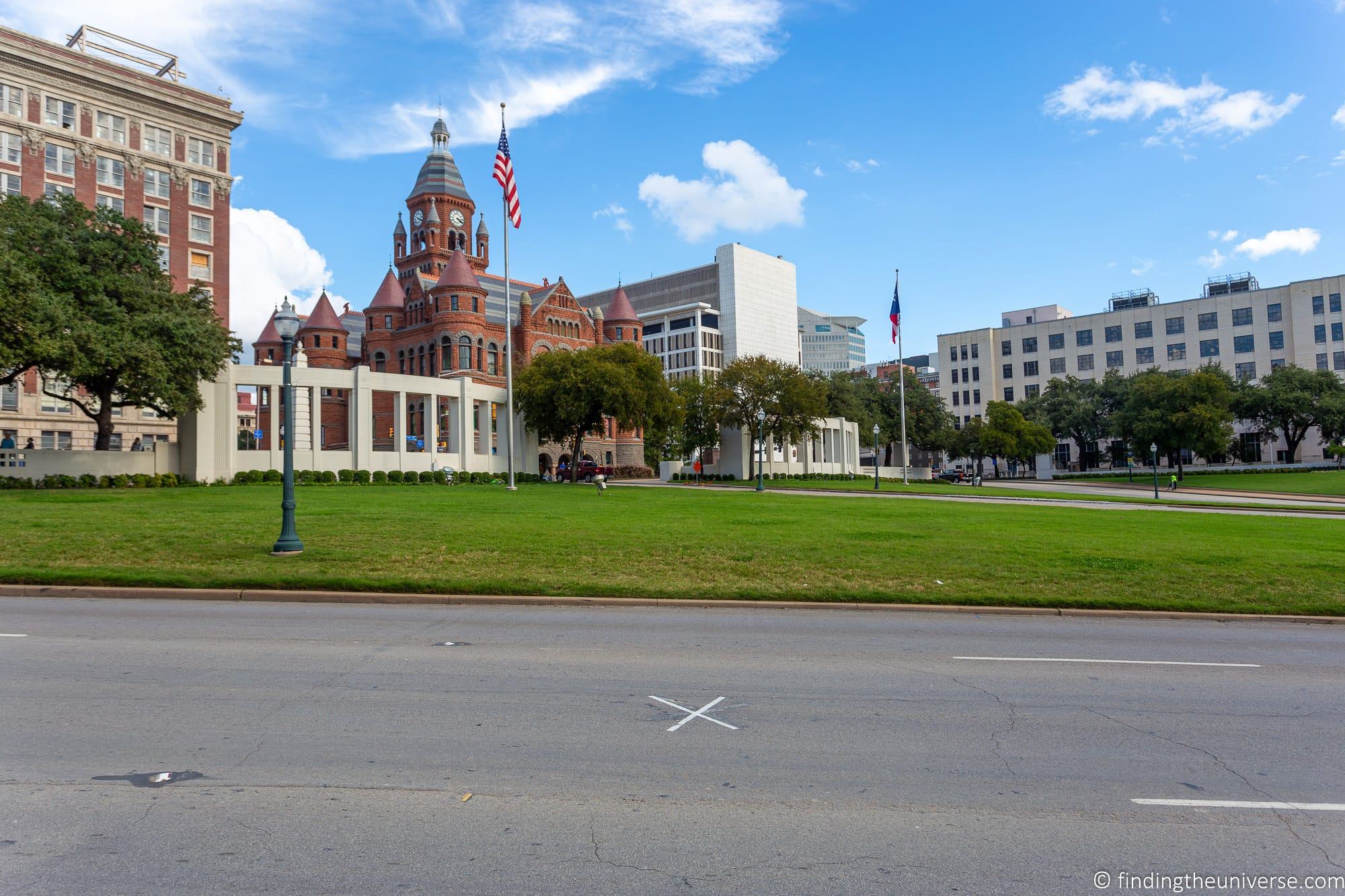 Kennedy Memorial and Plaza
Found within Dealey Plaza, The Kennedy Memorial and Plaza is a massive concrete memorial that was erected in memory of President John F Kennedy. Erected in 1970 and designed by architect Philip Johnson, the memorial serves as a cenotaph, or empty tomb, meant to symbolise Kennedy's free spirit.
The memorial is a couple of hundred yards from where Kennedy was assassinated, and is essentially a large roofless square room with two openings. Visitors are welcome to enter and walk around the room.
Other than the president's name in gold lettering on the north and south faces of the memorial, there are no other words or symbols on the memorial itself. There are two granite squares in the plaza, one near each of the memorial entrances, which are both inscribed with the same epitaph.
The Memorial is free to visit and open year round. At night, it is illuminated, and the design is set up to create the illusion that the large concrete structure is floating and supported by the beams of light.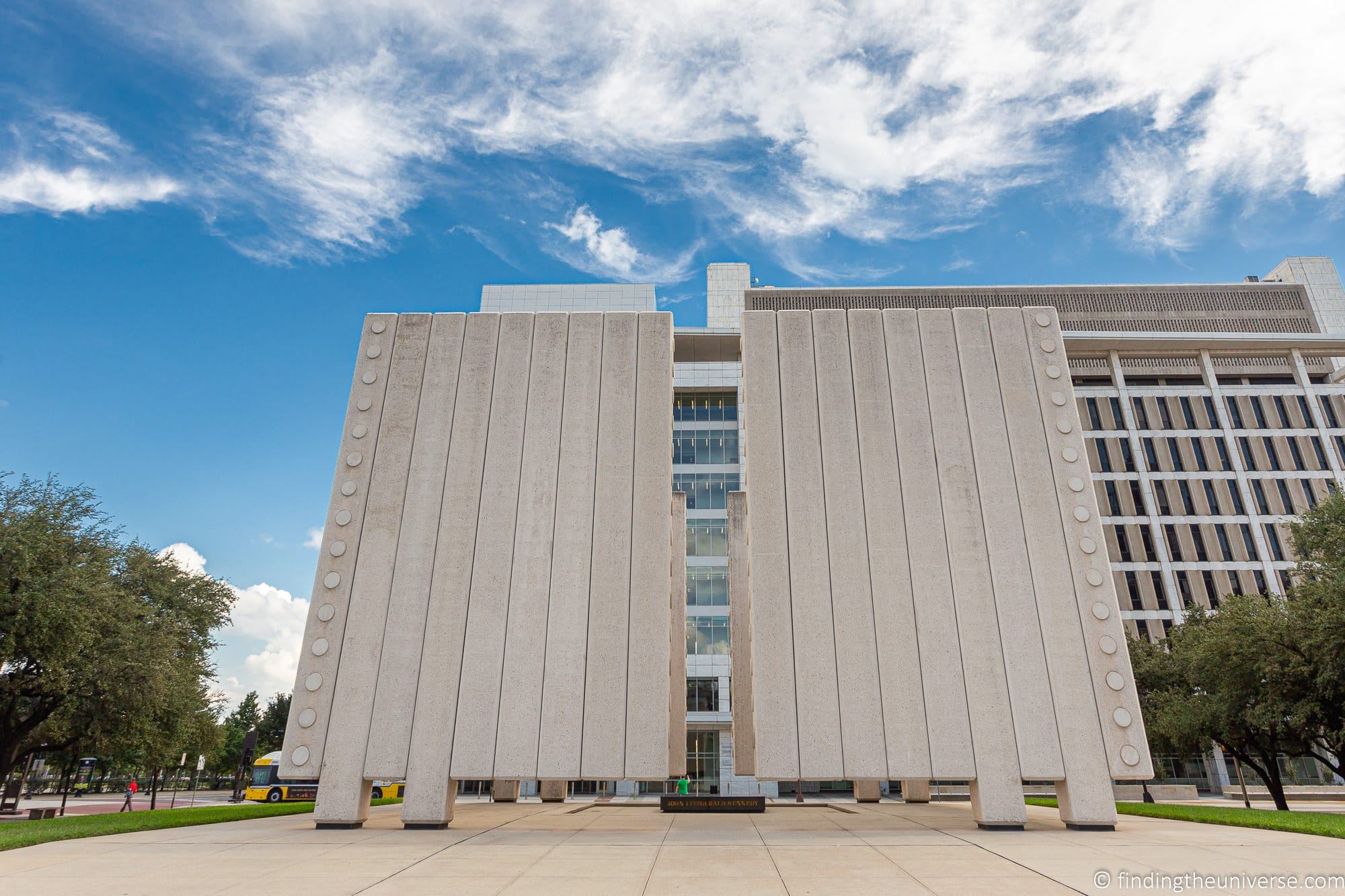 John Neely Bryan Cabin
Sitting somewhat incongruously in the Downtown area of Dallas is a little log cabin, which we happened upon by chance as we wandered around.
This is actually a replica of the first house in the city. John Neely founded Dallas in the 1840s, and built his first home near the river. This log cabin, located in Founder's Plaza, is a 1930s replica of the original. There's a plaque outlining the history, and it's fun to take a look and see what a pioneer home looked like back then from the outside.
Note that the house is locked, so you can't actually go inside. However it is free to visit and worth a moment of your time to take a look at and read the historical plaque. Jess is drawn by historical plaques!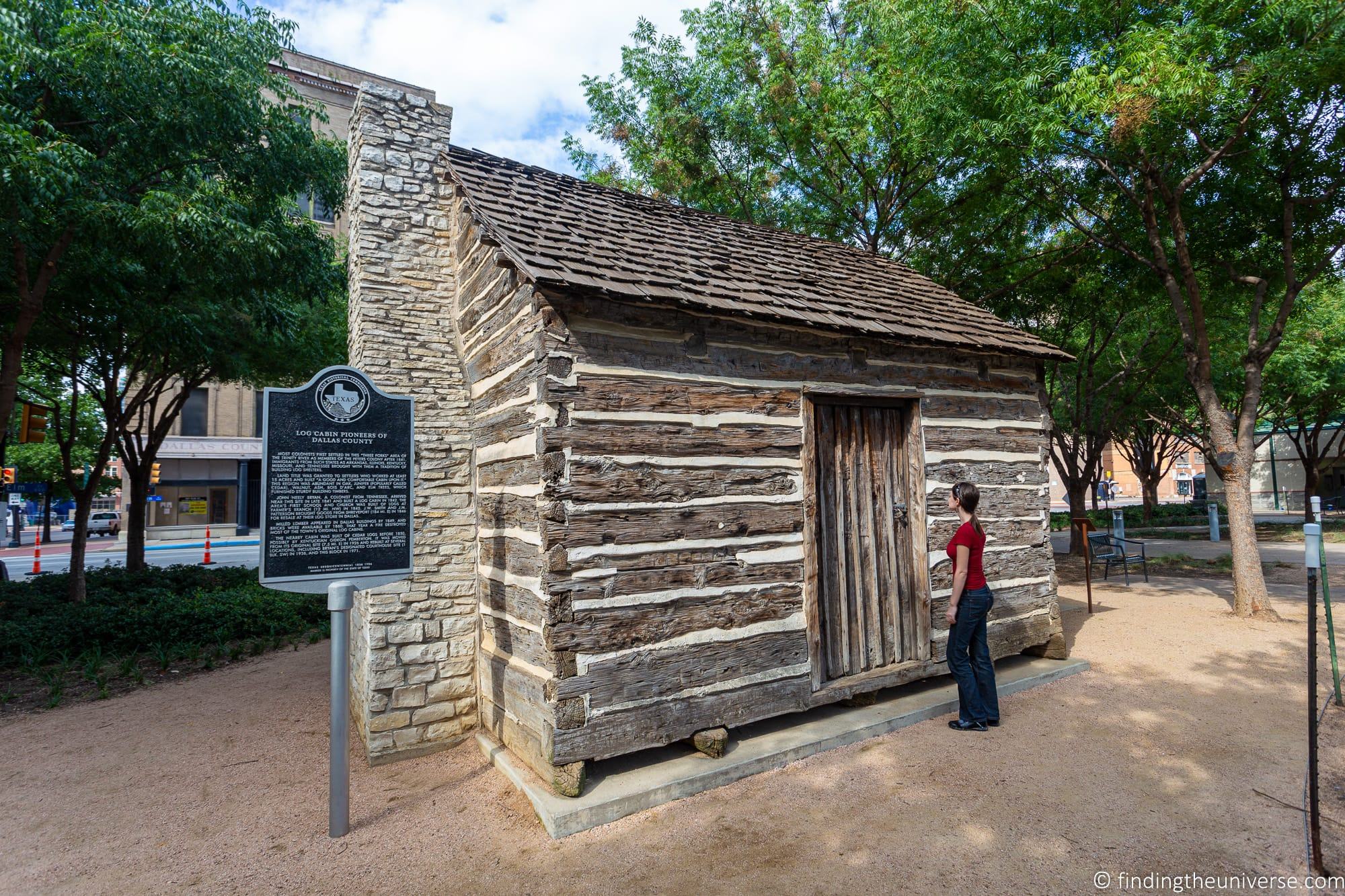 Belo Garden Park
If you're looking for some green spaces in downtown Dallas, consider heading to Belo Garden Park. Once a parking lot, this area is now a 1.7 acre public park which has trees, an interactive fountain, and a variety of seating areas.
It's a good place to relax and have a picnic in between visiting many of the attraction in our list, and kids in particular love to cool off in the fountain on a hot Texas day!
Nasher Sculpture Center
Found next door to the Dallas Museum of Art, the Nasher Sculpture Centre is a museum dedicated to modern and contemporary sculpture. It houses the collection of Patsy and Raymond Nasher, who started collecting sculpture in the 1950s.
The collection is home to a series of masterpieces which include sculptures by Rodin, Matisse, Picasso and Miró. The majority of the work is housed inside across two floors, but my favourite area was the outdoor garden which is also home to a number of interesting pieces and which is lovely for a peaceful wander.
The Nasher Sculpture Center has an admission fee. You can see prices and opening hours on the official website here.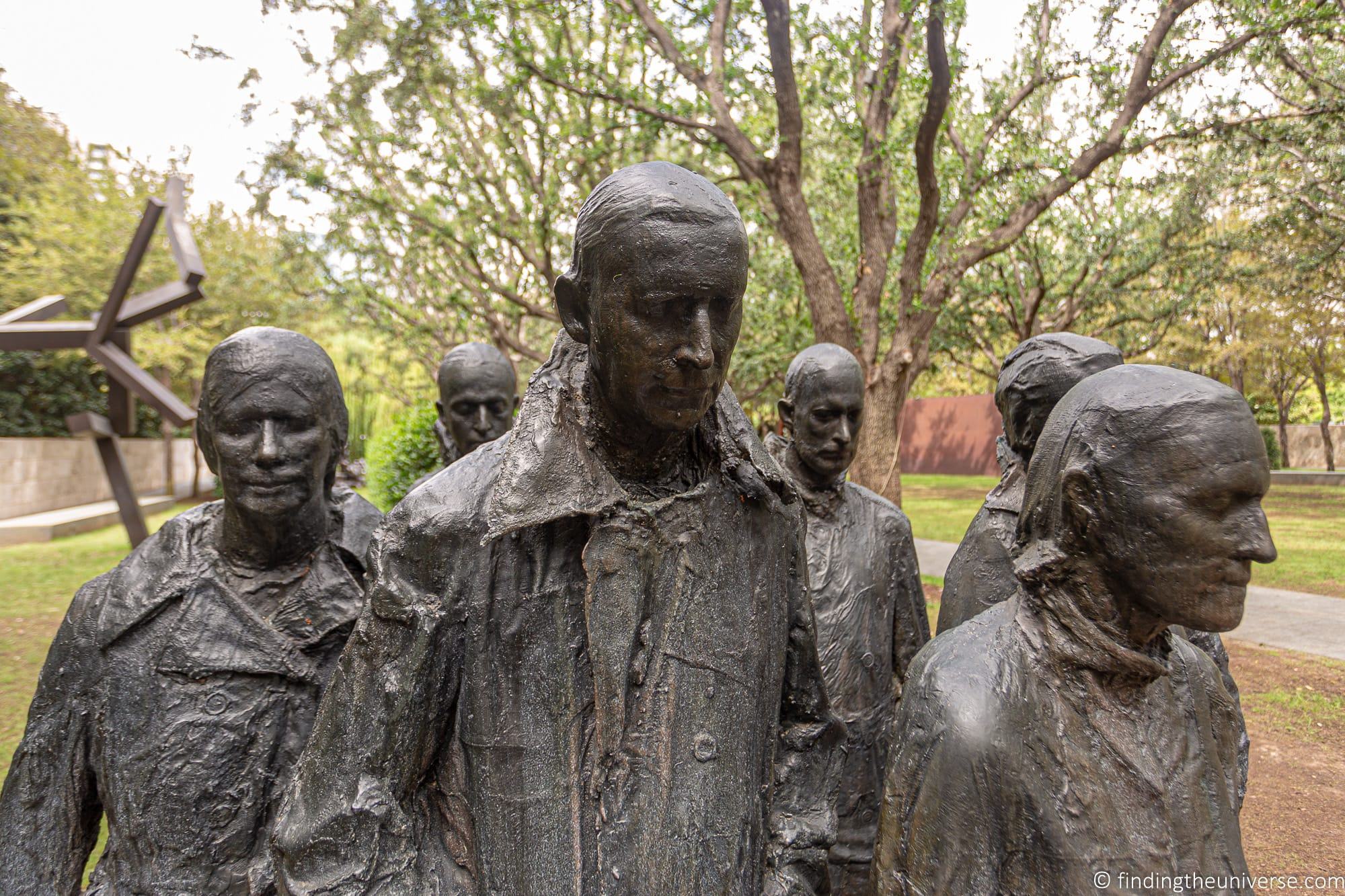 Dallas World Aquarium
Another attraction that may be of interest, especially if you're visiting Dallas with kids, is the Dallas World Aquarium. Found in downtown Dallas, this is both an aquarium and a zoo, with fish, birds, mammals and reptiles on display.
The Aquarium is spread out across two main levels. The lower level is home to a number of water tanks, which feature sea animals from around the world. There's also a tunnel you can walk through to get a view of the fish all around you.
The upper level is set out to recreate a part of the Orinoco rainforest, and is home to birds and a variety of animals, including the only public display of three-toed sloths in the USA.
The Dallas World Aquarium has an admission fee, and you can see opening hours and prices on their website here.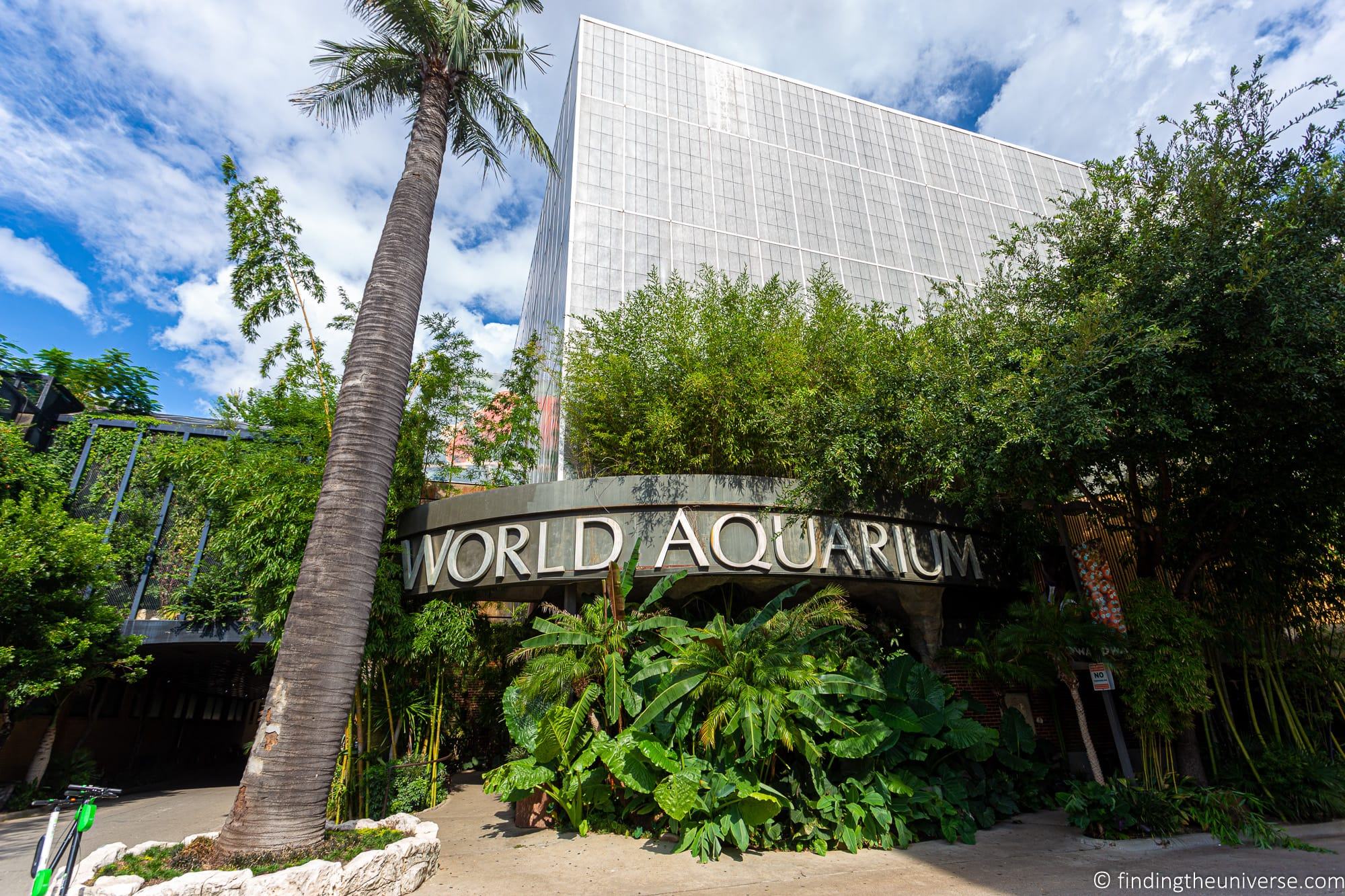 Old Red Museum
If you want to learn about the history of Dallas and Dallas County, then you'll want to head to the Old Red Museum. This is found in a large old red sandstone building (hence the name) which was originally the Dallas County courthouse.
The museum will take you on a journey from the prehistory and settlement of Dallas, right through to Dallas as a modern city. This story is told through artifacts and exhibits, with everything from Lee Harvey Oswald's handcuffs through to J.R Ewing's Stetson hat on display. There are also usually some special exhibits which change over time.
The Old Red Museum is open most of the year and has an admission fee. You can see more about pricing and opening hours on the official website here. It's also included on this full day small group tour of Dallas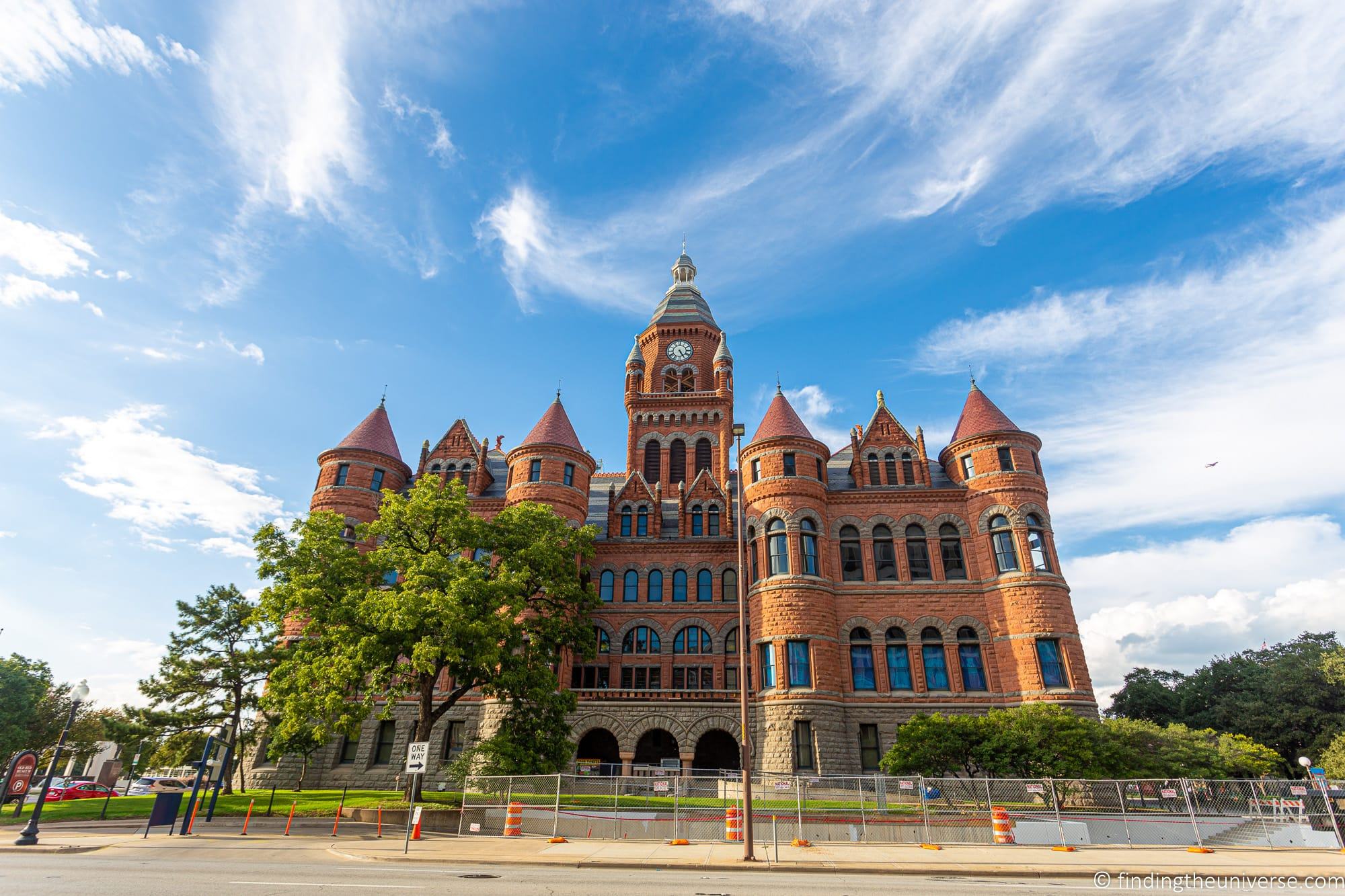 Reunion Tower
One of my favourite things to do when visiting a city for the first time is to go up to a high observation deck or other viewpoint, and get a view of my surroundings.
In Dallas, the best option for getting a stunning view of the city is to head up the Reunion Tower. This 561 ft / 171 m purpose built tower was built in 1978 and quickly became one of the mot recognizable landmarks in the Dallas skyline. It has a cafe and observation deck. There was also originally a revolving restaurant and a club, but these are not currently operational.
The observation deck, known as the GeO-Deck, is where visitors will head. Here you get spectacular views over the surrounding city. You can also explore an interactive digital experience and learn more about what you are seeing.
The Reunion Tower has an admission fee, and you can check times and prices online here. We visited using our Dallas CityPASS, which includes this location as well as a number of others. You can also buy tickets online here.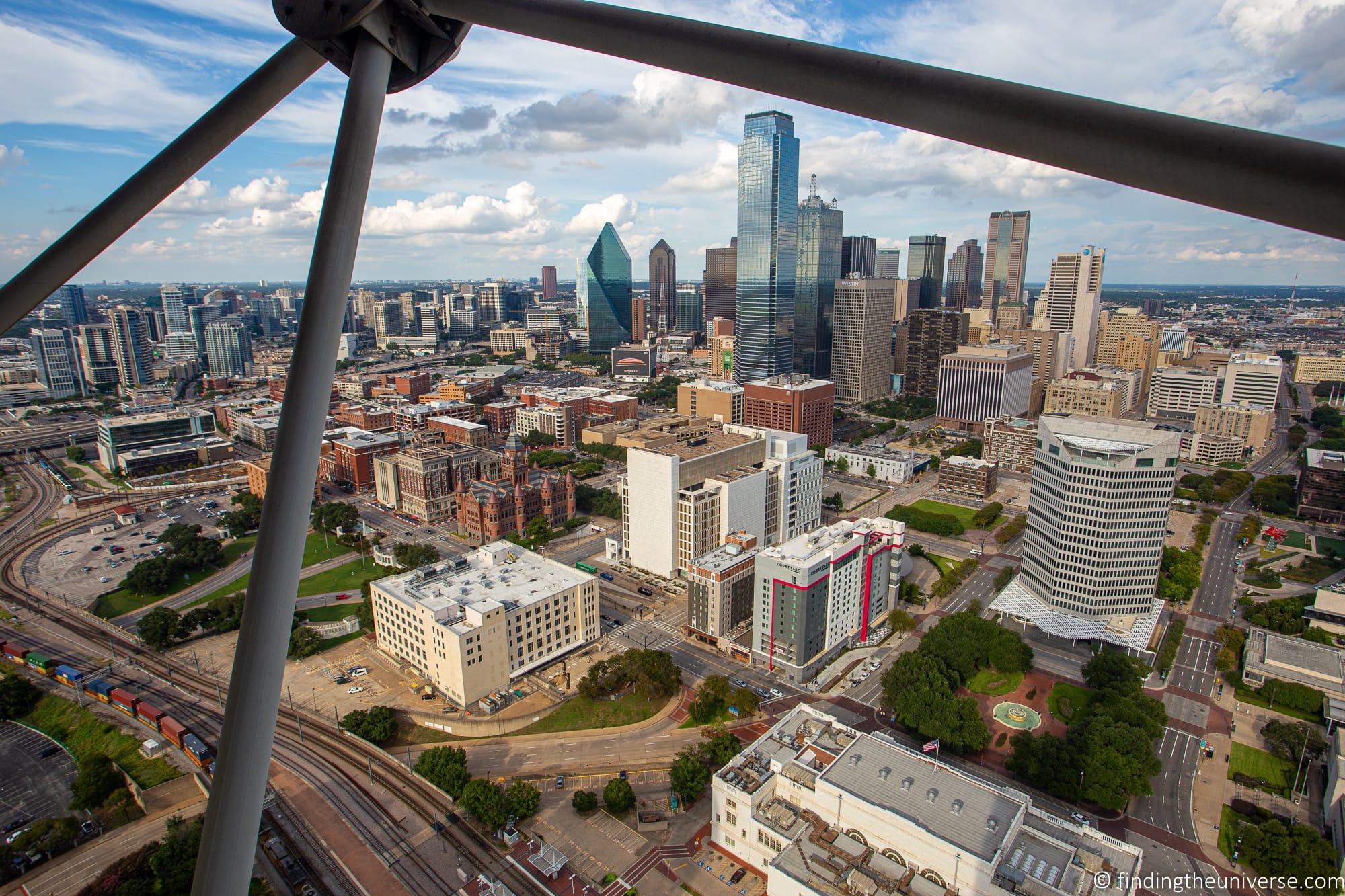 Giant Eyeball
If you love quirky public art, you'll definitely want to visit the Giant Eyeball. Found at 1601 Main Street in downtown Dallas, this is a 30ft tall realistic depiction of a human eyeball.
Titled "Eye", the artwork is the creation of artist Tony Tasset, and was originally made for a temporary display in Chicago in 2007. It was purchased by the Joule Hotel in Dallas, and since 2013 has been a main feature outside the hotel.
The Giant Eyeball is free to visit and makes for a fun photo stop as you're wandering downtown!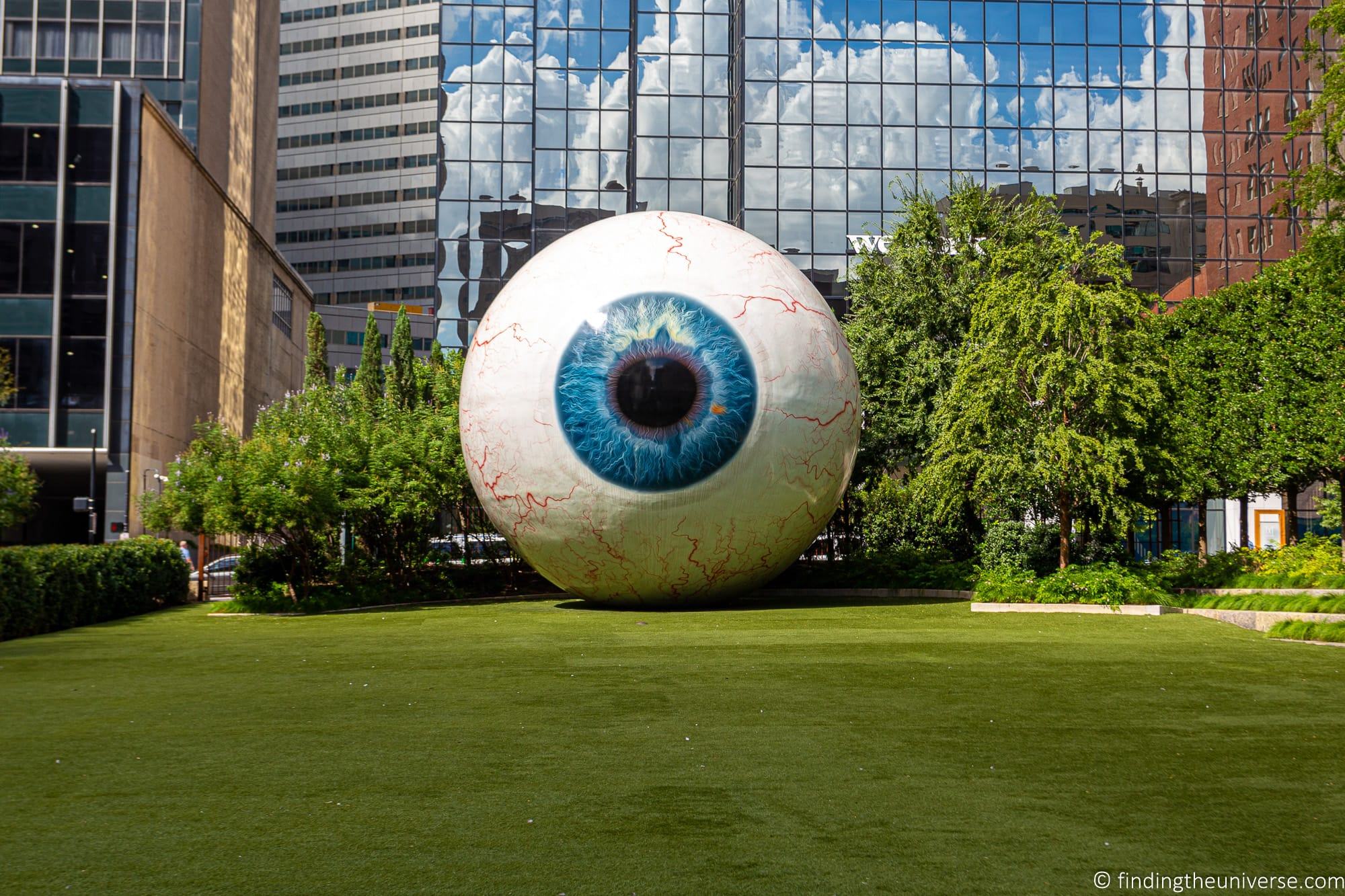 George W. Bush Presidential Library and Museum
Every US President from Herbert Hoover (1929-1933) through to George W.Bush (2001-2009) has had a presidential library established in their name in their home state, as a part of the official presidential library system.
Each library serves as the archival location for all the papers, records and artifacts from that President's terms of office. Each library also acts as a museum to its respective president, usually including information on key events during their term. In addition, many of the President's have chosen to be buried at their respective presidential library.
Texas is home to three Presidential Libraries, the Lyndon Baines Johnson Library and Museum in Austin, the George H.W. Bush Presidential Library and Museum in College Station, and the George H.W. Bush Presidential Library and Museum in Dallas.
We visited the Lyndon Baines Johnson Library and Museum in Austin, Texas during our time there, and enjoyed it greatly. So when we were in Dallas, we made sure to visit the George W. Bush Presidential Library and Museum.
This covers the eight years of Bush's presidency, which included the second Gulf War as well as the 9/11 terrorist attacks. There's also a full-size replica of the Oval office, and a selection of the 43,000 gifts that were given to the President and First Lady.
In addition to the presidential content, you can also often learn a lot about a president's more personal life at these libraries. Jess chatted with a staff member for quite a while and was surprised by things she didn't know. For instance things that stood out was his little sister's death from leukemia as a child, his struggles with being a wartime president, his veteran art project, and the current projects at their Prairie Chapel Ranch.
The museum has an admission fee, and you can see more about opening times and prices here.
We visited using our Dallas CityPASS, which includes this location as well as a number of others.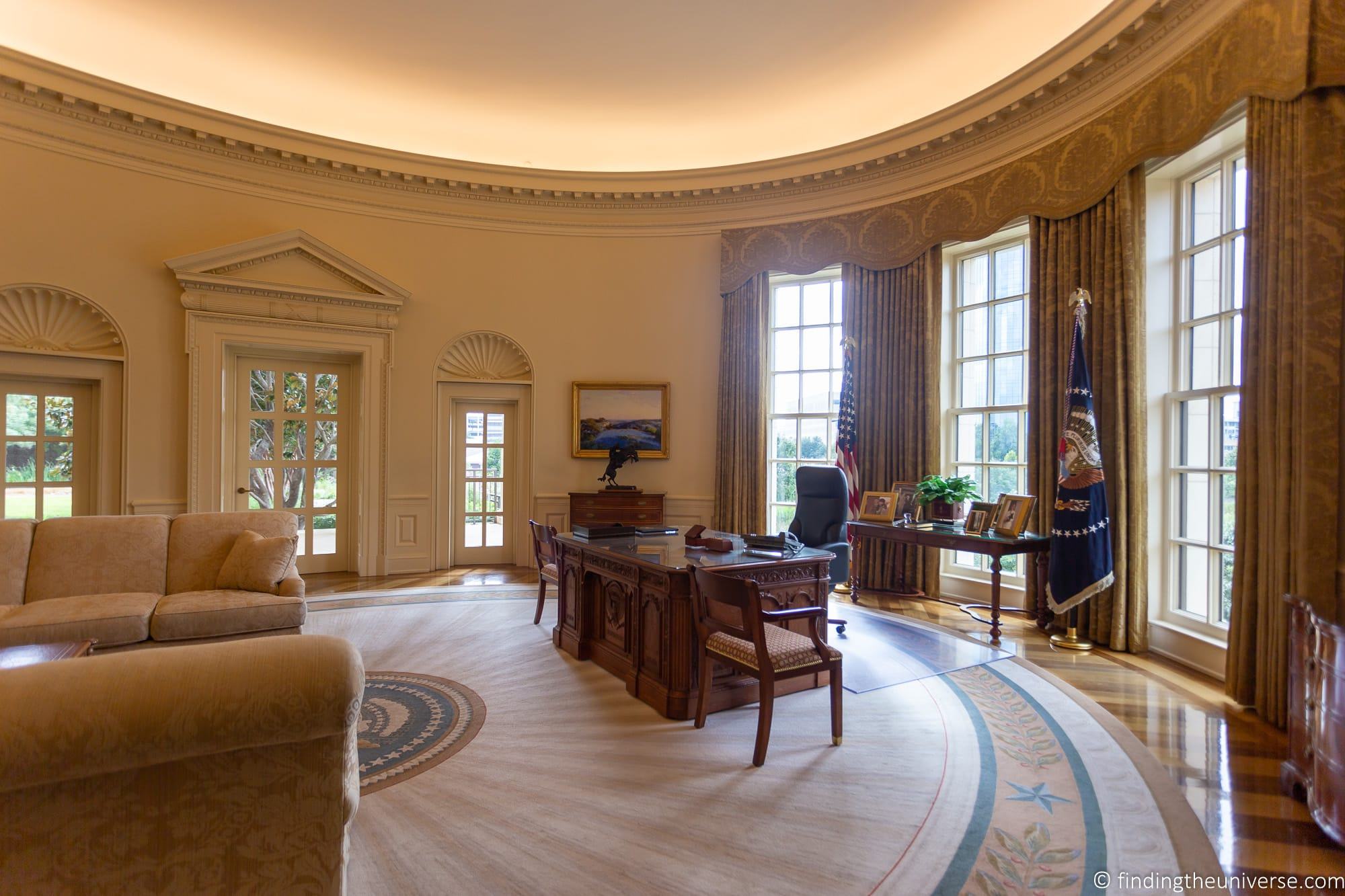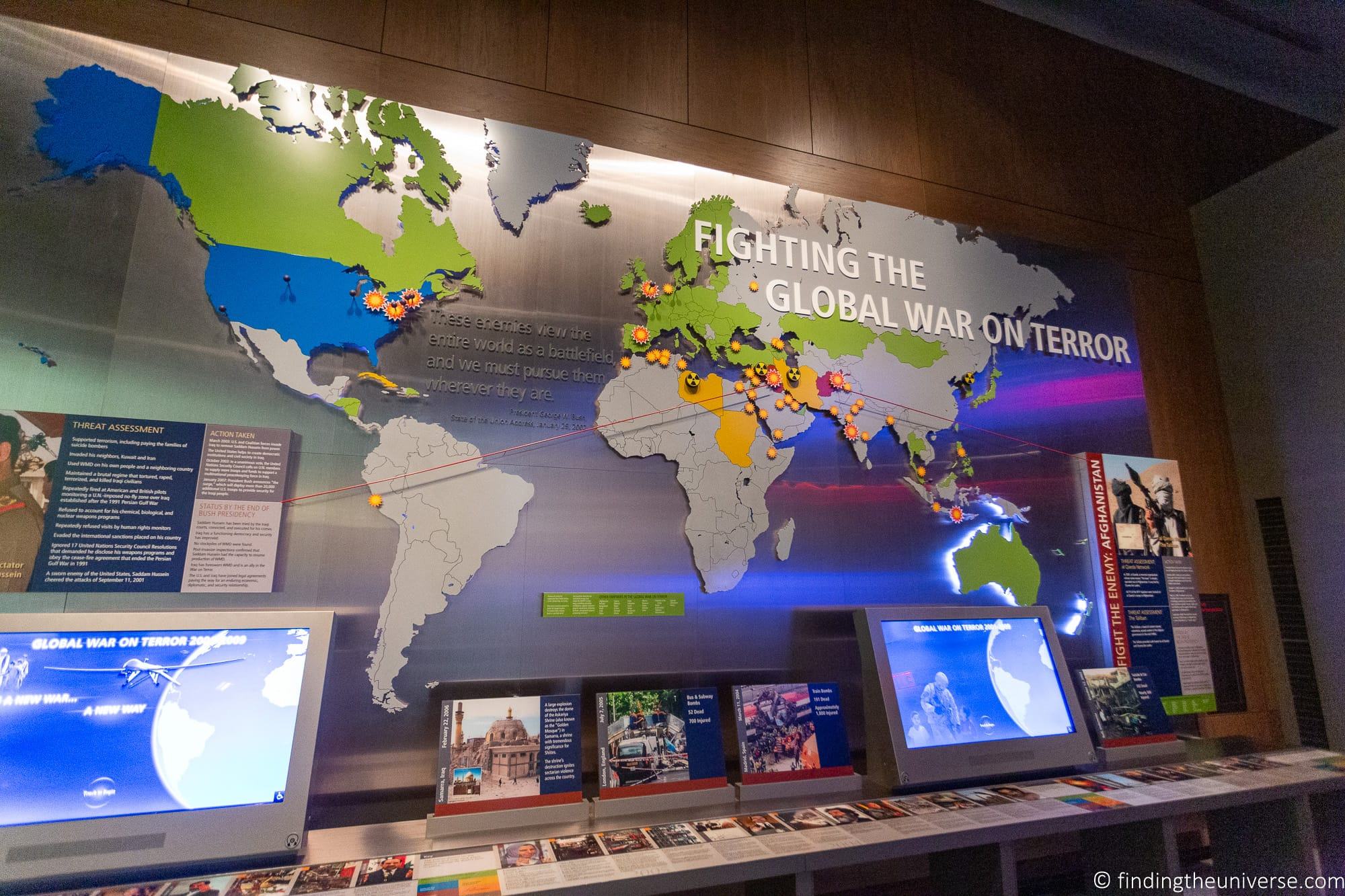 Dallas Arboretum and Botanical Garden
Dallas has a number of nice green spaces and city parks, but if you want to get lost amongst a larger expanse of greenery, you'll want to head to the Dallas Arboretum and Botanical Garden.
Found a little out of town on the shore of White Rock Lake, this 66 acre botanical garden is the perfect place for a walk amongst some beautiful gardens.
There are a range of garden areas to explore, which also include fountains, play areas, and picnic areas. There are also flowers, plants and trees from all around the world to enjoy. Regular themed events also take place – when we visited it was near Halloween, and there were pumpkins galore!
There's an entry fee to visit, and you can see more on opening times and prices on the website here.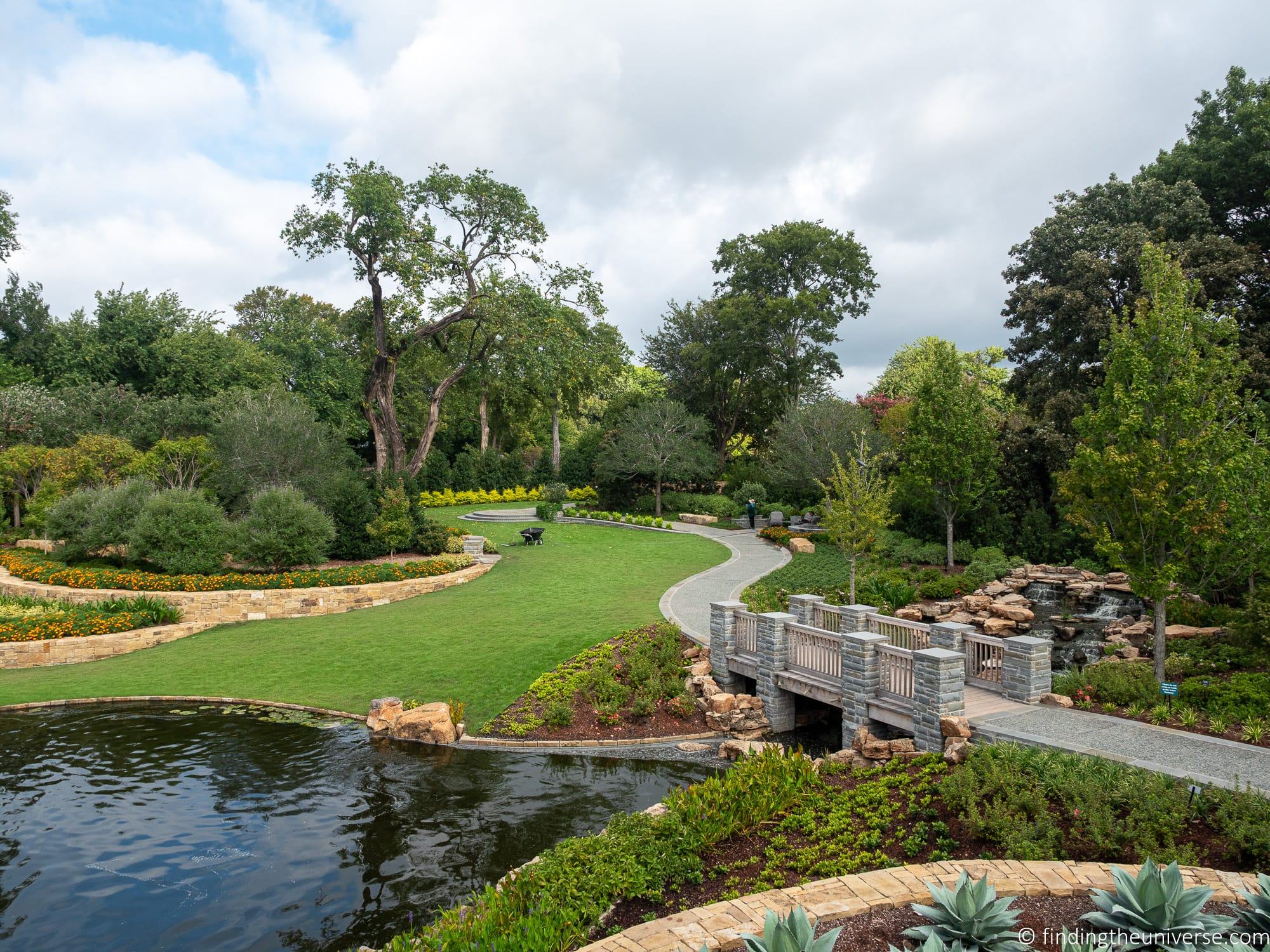 Thanksgiving Square
Right in the heart of downtown Dallas you'll find Thanksgiving Square. Here, people of all cultures and religions are invited to celebrate their thoughts, values, and spirituality, and find a moment of peace in an otherwise busy city environment.
The square is home to a a garden which features fountains, as well as various symbolic installations. Our favourite was the Ring of Thanks —a 14 foot diameter ring which is covered in gold leaf. Visitors are invited to walk through the ring.
There's also a 50ft high bell tower which features three bronze bells in the form of the Liberty Bell, as well as a non-denominational chapel where all are welcome to give thanks.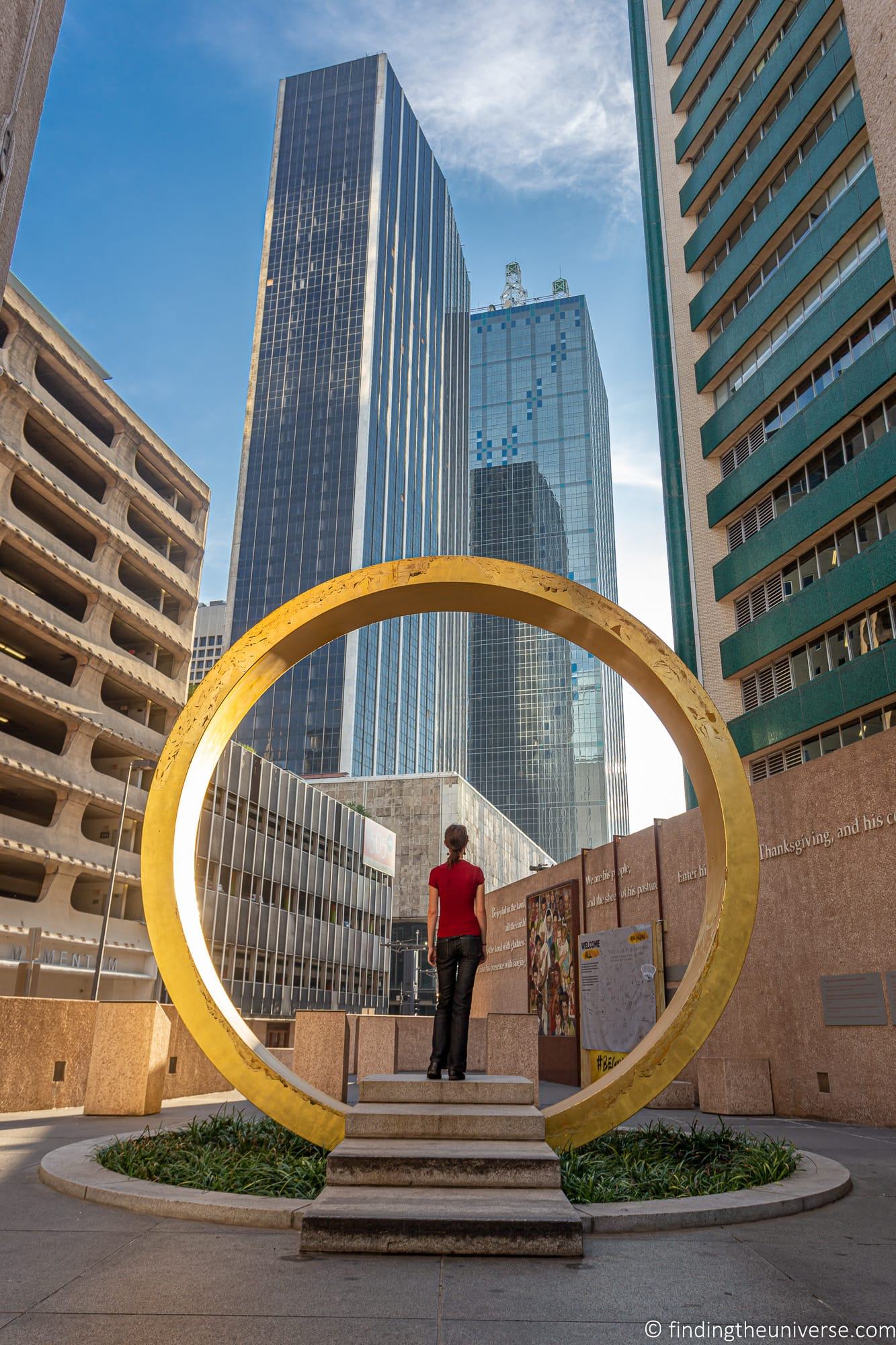 Dallas Zoo
Another good option if you're visiting Dallas with family and looking for things to do is the Dallas Zoo.
Found three miles south of downtown Dallas, this 106 acre zoo is the largest and oldest zoo in Texas. It's home to over 2,000 animals across over 400 species. There's a fantastic range to see, from Galapagos tortoises through to tigers, lions, penguins, chimpanzees, and more.
One of my favourite activities was the opportunity to get close with the giraffes at the giraffe feeding station.
You could easily spend most of a day at Dallas Zoo. There's so much to see and it is a wonderful family day out in Dallas. There's on-site parking, but it's also easy to reach by public transport.
The Dallas Zoo is also included on the Dallas CityPASS, although you have to decide between this location and the George W. Bush Presidential Library. Otherwise you can see opening hours and admission prices on the website here.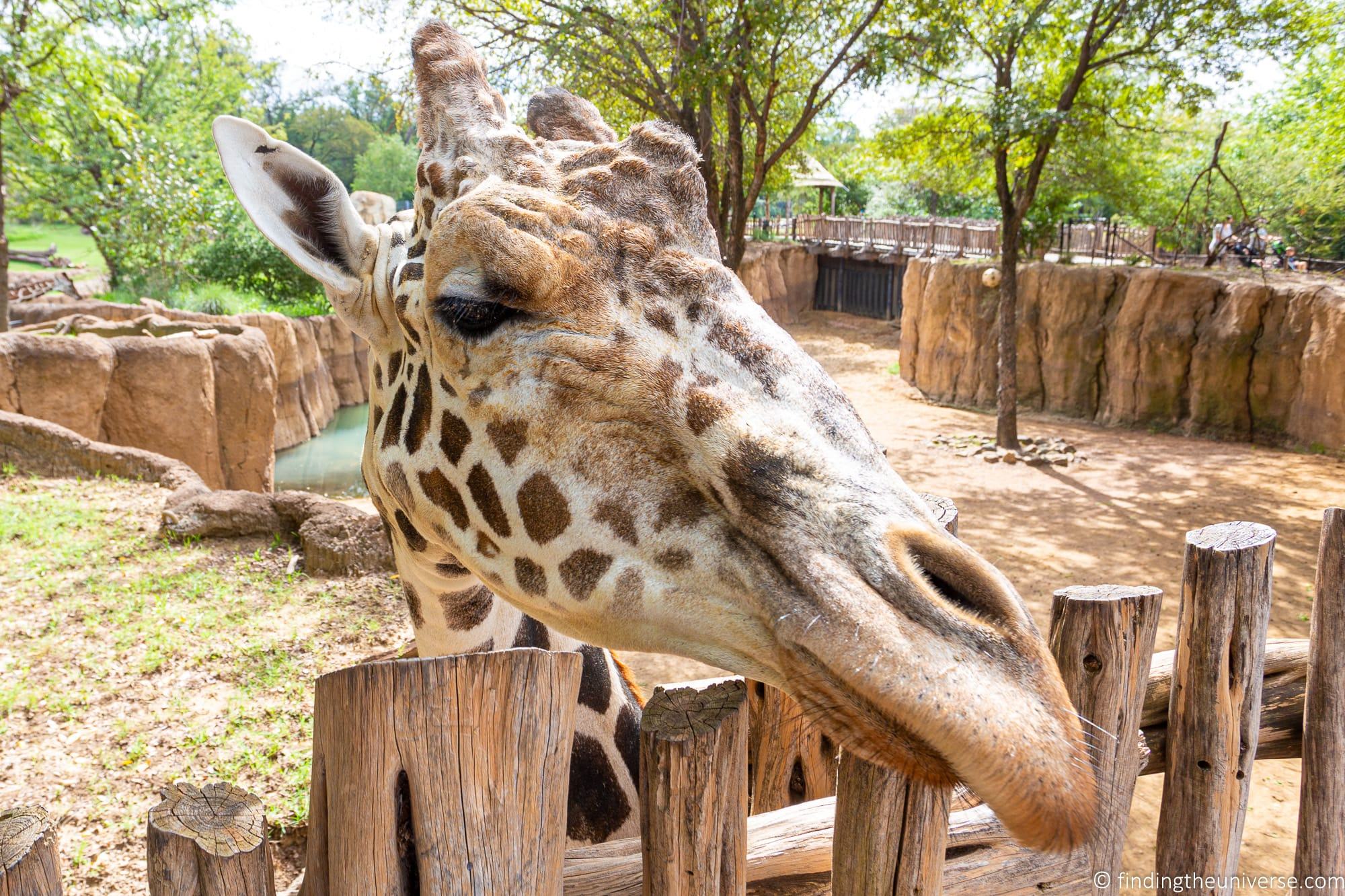 Bishop Arts District
If you'd like to explore a more eclectic part of town, then you might enjoy a visit to the Bishop Arts District part of town. Here you'll find a wide selection of locally run shops as well as dining, drinking, and entertainment venues.
This is a fun and quirky neighbourhood and a great place to shop and eat. We're sure you'll find something to enjoy, and possibly a souvenir or two from your visit as well. Lovers of street art will also enjoy the many murals that adorn the walls here.
The Bishop Arts District is open year round, with individual stores and venues having their own opening times.
Another option if you're looking for another district to explore is the Deep Ellum neighborhood. This is know for its live music scene, as well as its bars, clubs, and street art, etc. Just be aware that this area has had some issues with crime so do take normal precautions as you would anywhere else. Deep Ellum can also be visited on a tour like this.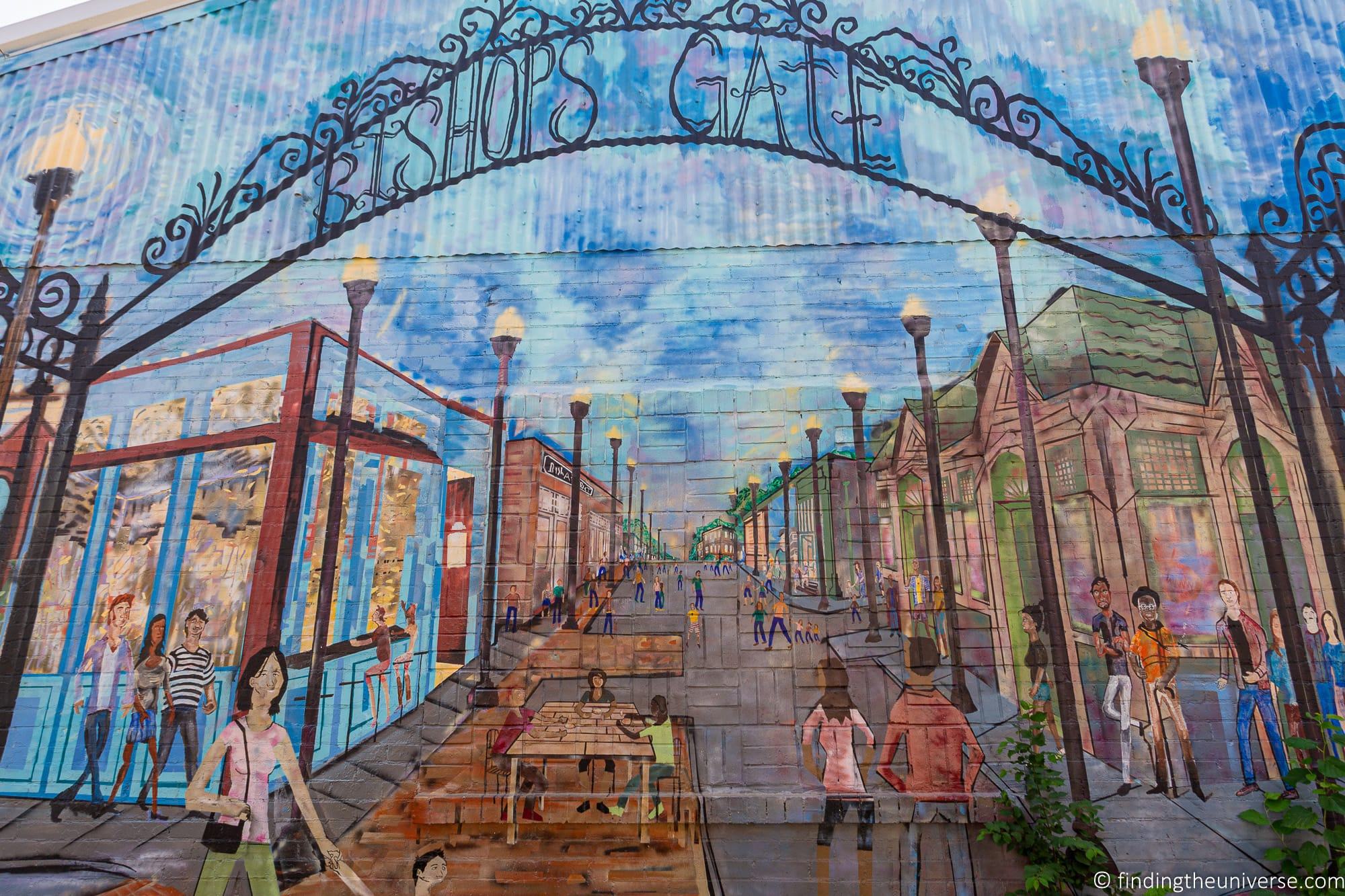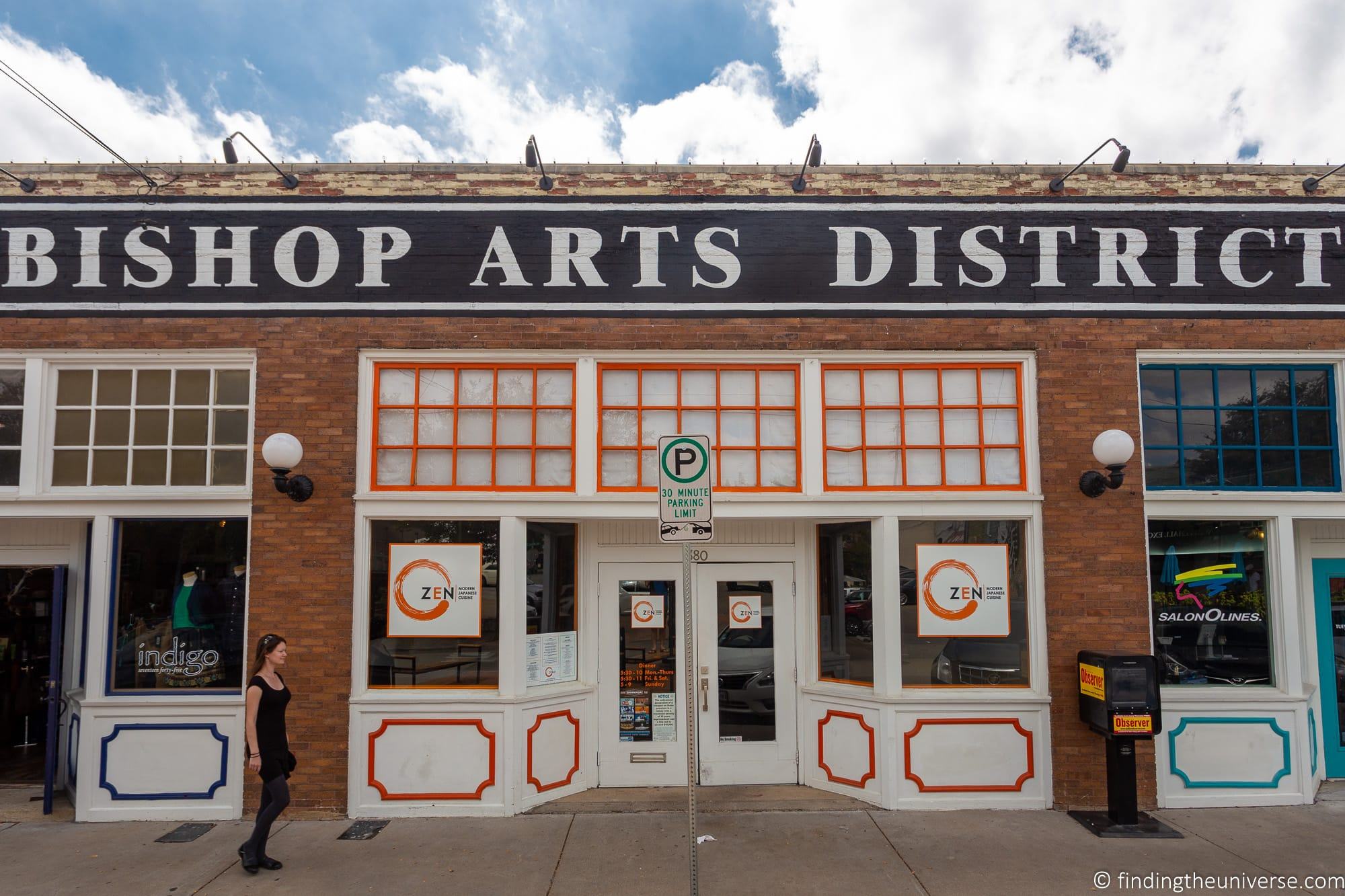 Dallas Heritage Village
If you'd like to travel back in time, then you should plan a visit to the Dallas Heritage Village. This is home to the largest collection of 19th century pioneer and Victorian homes and commercial properties in Texas.
Spread across 20 acres in Dallas' first city park, the heritage village has 21 authentic original buildings. The collection is also home to around 24,000 objects and materials that related to life in Dallas and North Central Texas, from the frontier days of the 1840s up to the early 1900s. These include tools for a range of crafts as well as furnishings, domestic accessories, and an extensive photographic collection.
We loved wandering around the Dallas Heritage Village, which felt just like stepping back in time.
There's an entry fee to visit, and you can see more about opening hours and prices on the official website here.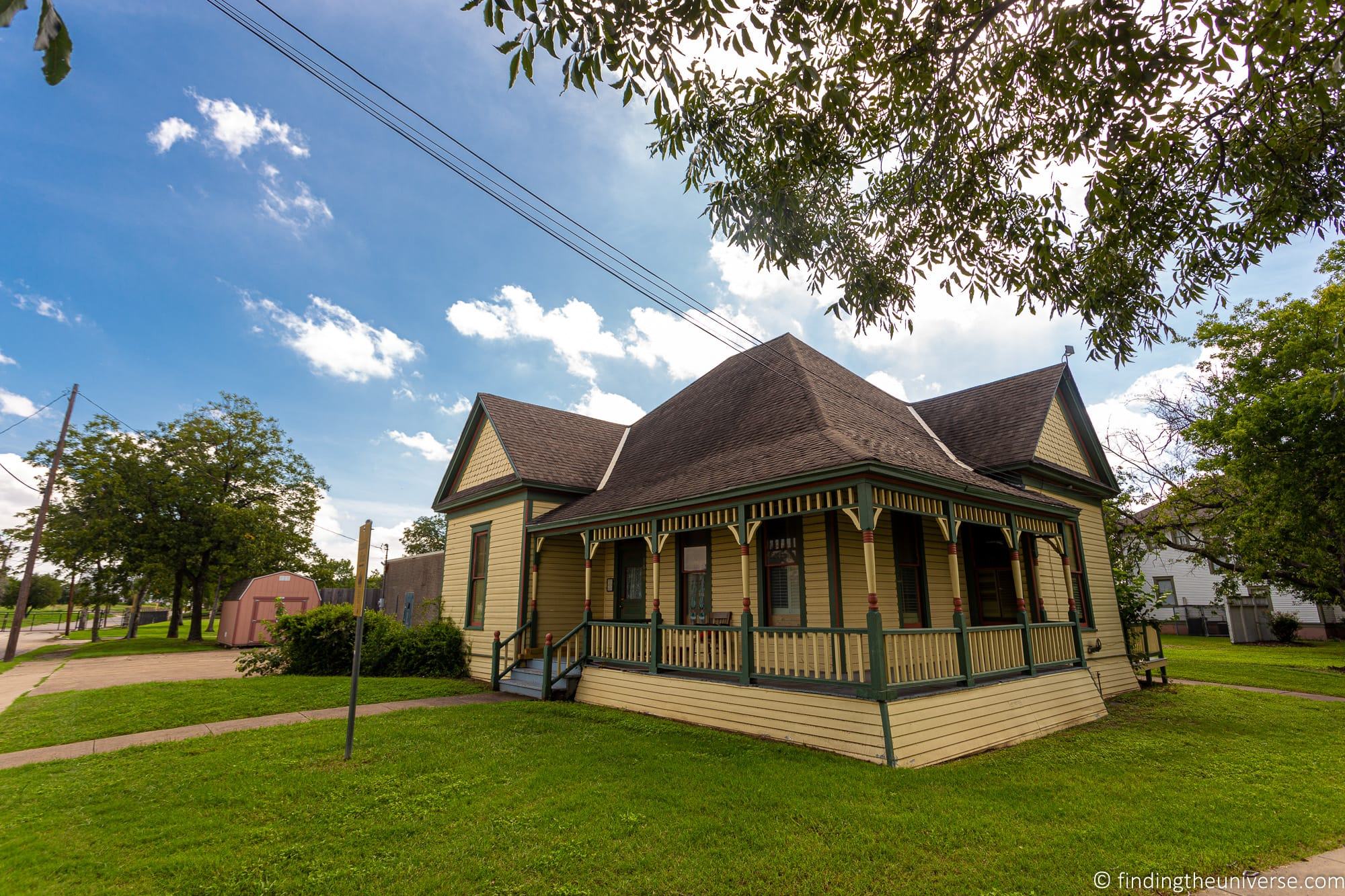 Pioneer Plaza
Pioneer Plaza is another public park in downtown Dallas, and at 4.2 acres is the largest public space in this part of the city. It's a popular place to visit, largely due to the very impressive set of sculptures that you'll find in the park.
A large sculpture group depicts one of the 19th century cattle drives that would have taken place through this area, as the Texas longhorn cattle were taken from southern parts of the state up to the railway lines in the north.
The sculpture consists of 49 bronze cast steers as well as three trail riders atop their horses, set against a man-made limestone cliff and even a stream replete with waterfall. It's the largest bronze monument of its kind on the world, and is very impressive to experience in person!
It's free to visit the Pioneer Plaza which is open year round. It's also included on this full day small group tour of Dallas.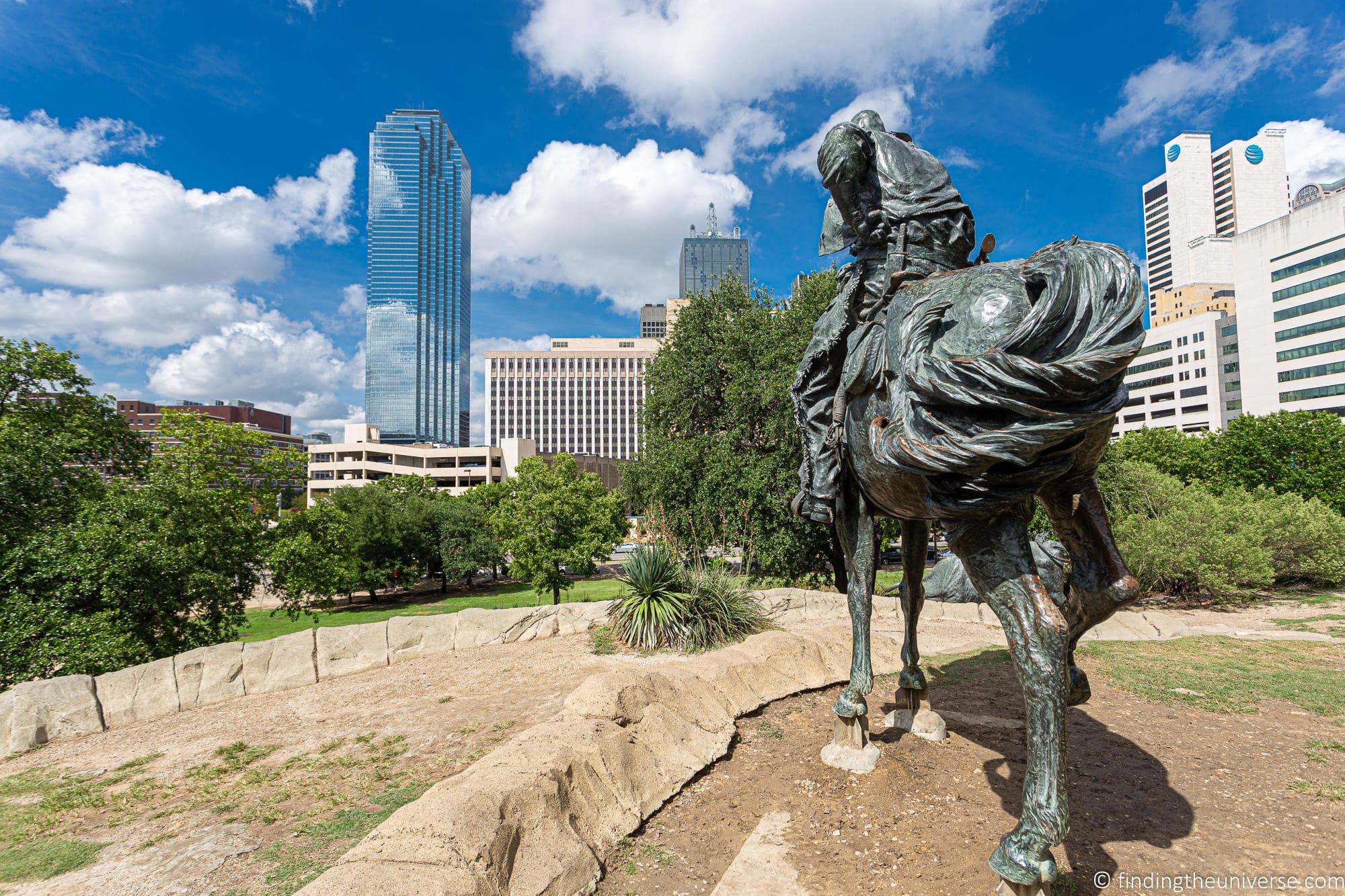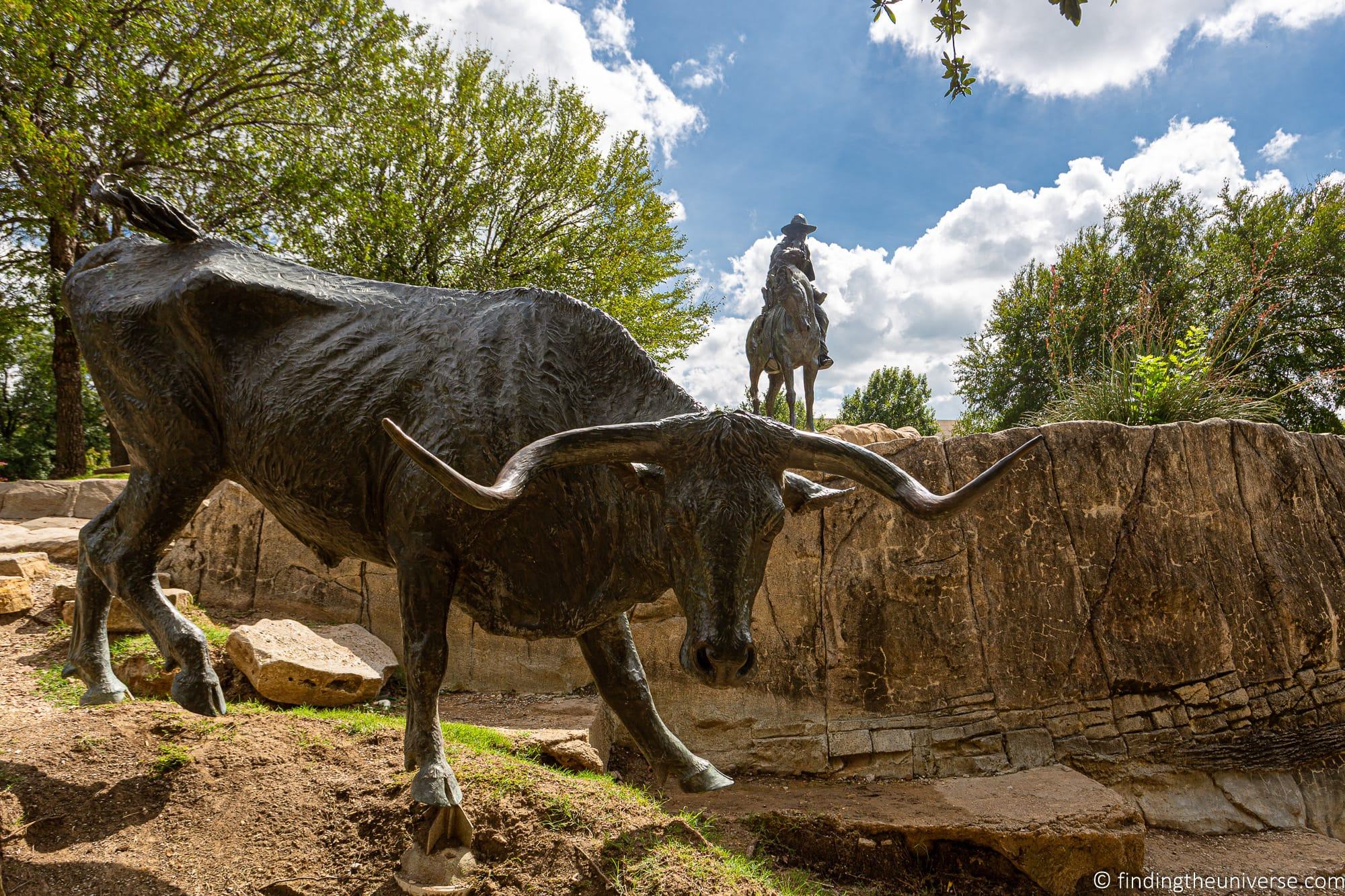 The Flying Red Horse
Basketball fans will likely know that the logo for the Dallas WBNA team (The Wings), is the mythical flying horse Pegasus. This flying horse is also used as the logo for a local brewery (Pegasus City Brewery), as well as appearing in some other artwork around the city.
Pegasus has been associated with Dallas since 1934, when a giant neon-lit sculpture of two back to back red horses appeared at the top of the Magnolia Building. This was the city's first skyscraper, and the logo was created for the Magnolia Oil Company.
The horses rotated, and being neon, were visible both day and night for miles around. Unfortunately, in 1999, the original statue was removed, with a new version added in 2000.
The good news is that the original statue can still be visited. Even better, it's not 450 feet in the air. Instead, it's on ground level just outside the Omni Dallas Hotel, who are the new owners. It's free to visit and worth a few minutes of your time for a photo of this Dallas icon.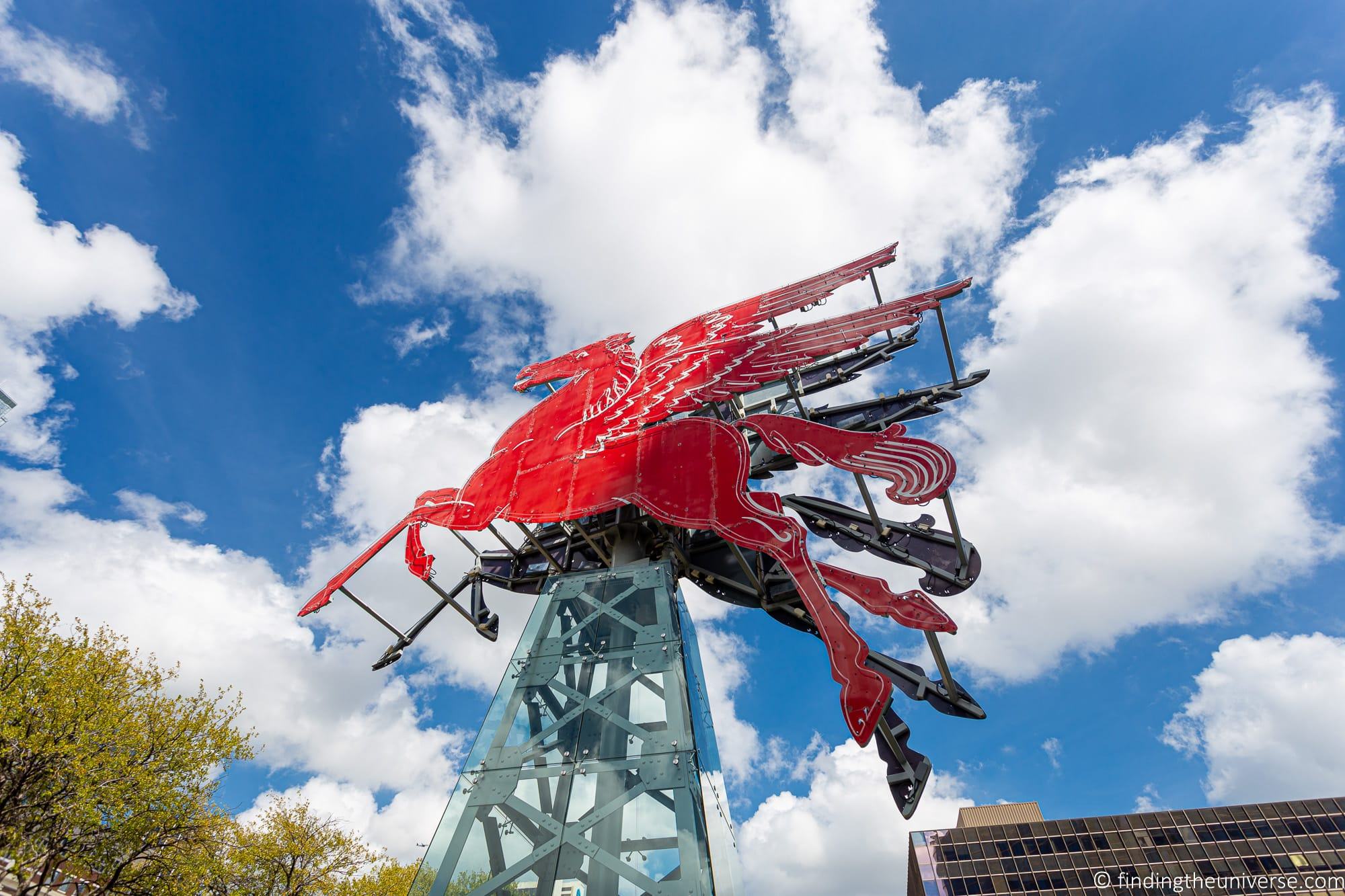 Go Shopping
If you enjoy shopping, then you will definitely want to allocate some of your time in Dallas to a little retail therapy. The city is home to a wide range of retailers, from luxury department stores like Dallas-based Neiman Marcus, to handcrafted artisanal boot stores like Miron Crosby.
With everything from small independent outlets through to massive malls like the Galleria, whatever your style of shopping or budget, you are sure to find something to suit!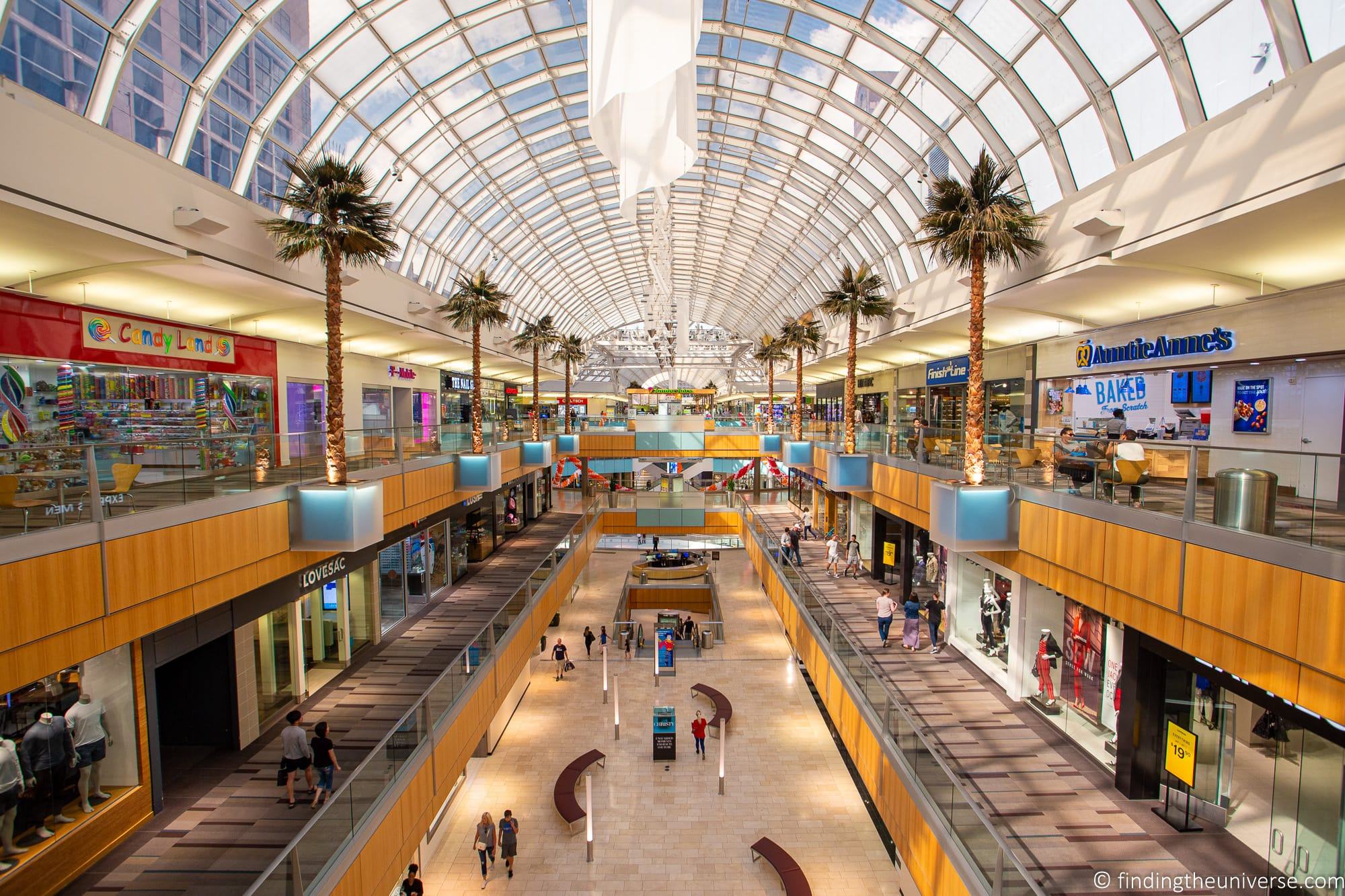 Dallas Cowboys Stadium Visit
The city of Dallas gives it name to the Dallas Cowboys, a professional American Football team who compete in America's NFL. The Cowboys are one of the most famous and valuable of the American football teams.
Home games are played at the AT&T stadium, which is found in the city of Arlington, also found in the Dallas-Fort Worth metroplex, around 20 miles west of downtown Dallas. Texans take football seriously and if you want to experience an American football game, this is an excellent place to do so.
The Stadium is also open for tours, and Cowboys fans (or those with an interest in the sport in general), can visit, see how a massive stadium like this works, and even practice throwing a football on the field.
As the stadium is a little outside Dallas, you'll need to plan your transportation. You can also take a tour like this which includes round trip transport.
Southfork Ranch
If you were alive back in the 1980s, and even if you weren't, there's a good chance you've heard of the TV show "Dallas". The original series ran from 1978 to 1991 and featured 357 episodes that told the story of the Ewing family and their oil empire, all set in and around the city of Dallas. The show was rebooted and ran for a further 3 seasons from 2012 to 2015.
A lot has changed in the city since the original series first aired; however, one thing has remained the same, and that is the location used as the Ewing Home for most of the show – Southfork Ranch.
This home, originally known as Duncan Acres, is found on 300 acres of Texas ranchland. It's around 25 miles north of Dallas itself, and is today open for tours.
Even if, like me, you aren't a huge "Dallas" fan, I'd argue that Southfork Ranch is well worth the visit. The tours are a lot of fun, you'll get to hear how the show was shot, and there are lots of props, photos, and memorabilia from the show to enjoy. If you were a "Dallas" fan like Jessica, then this is definitely an unmissable location.
As well as touring the ranch house itself, it's also possible to head out onto the ranch on horseback. Both novice and experienced riders are welcome, with trail rides and riding lessons available. There's even a 3 day educational camp where you can learn what it takes to be a cowboy or cowgirl!
Southfork Ranch is open for tours most of the year. They also host private events and concerts, so you'll want to check availability and book in advance to guarantee your spot. You can see tour times and prices online here.
As it's a little outside the city of Dallas itself, you'll need to either drive yourself, or arrange transportation. You can also book a tour that includes round trip transportation from Dallas, such as this one or this one.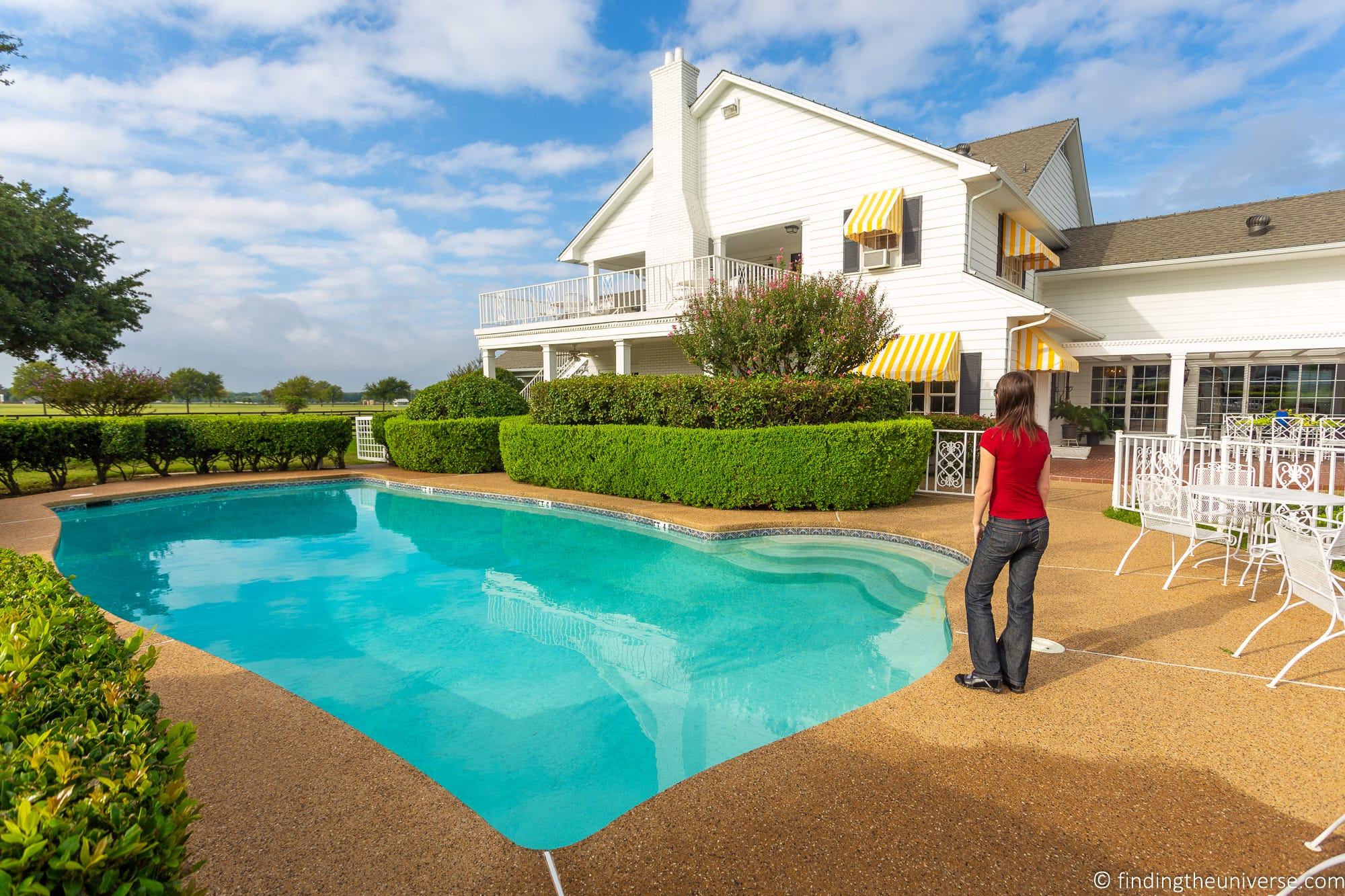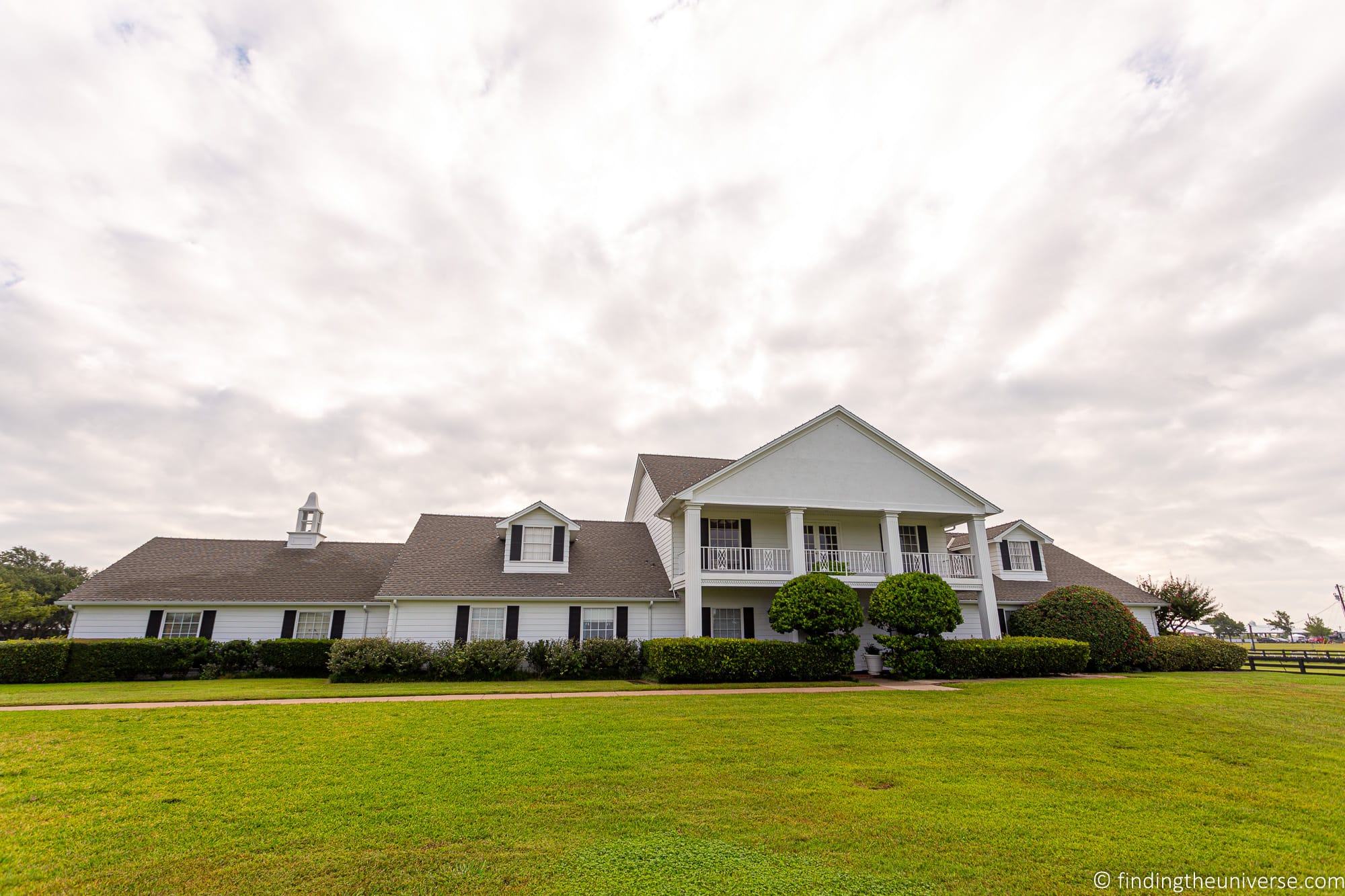 Attend a Festival or Event
Dallas plays host to a number of festivals and events throughout the year, including concerts, art festivals, sports games, and more.
One event to keep an eye out for if you are in Dallas towards the end of September or start of October is the State Fair of Texas. This has taken place most years since 1886, and is held in Fair Park just outside the downtown.
We happened to be in Dallas when the State Fair was on, and we loved seeing Big Tex, exploring the farm and craft halls, eating unhealthy fairground food, watching a couple of shows, and doing a few rides.
If you're from outside the USA, then a visit to a State Fair is an absolute must – you probably won't have experienced anything quite like it!
If you're not in Dallas for the State fair, check the city events calendar to see what else might be on when you do visit!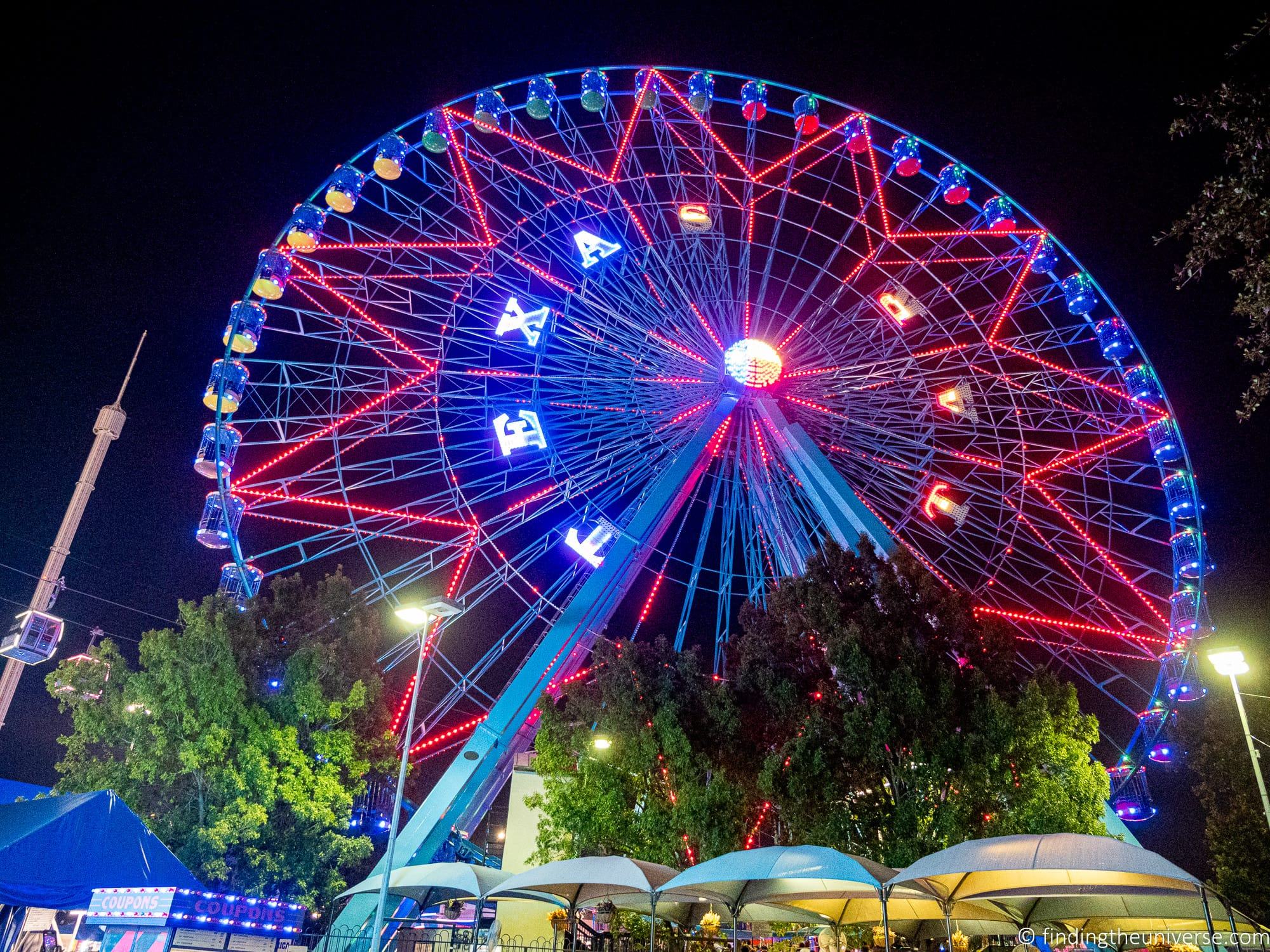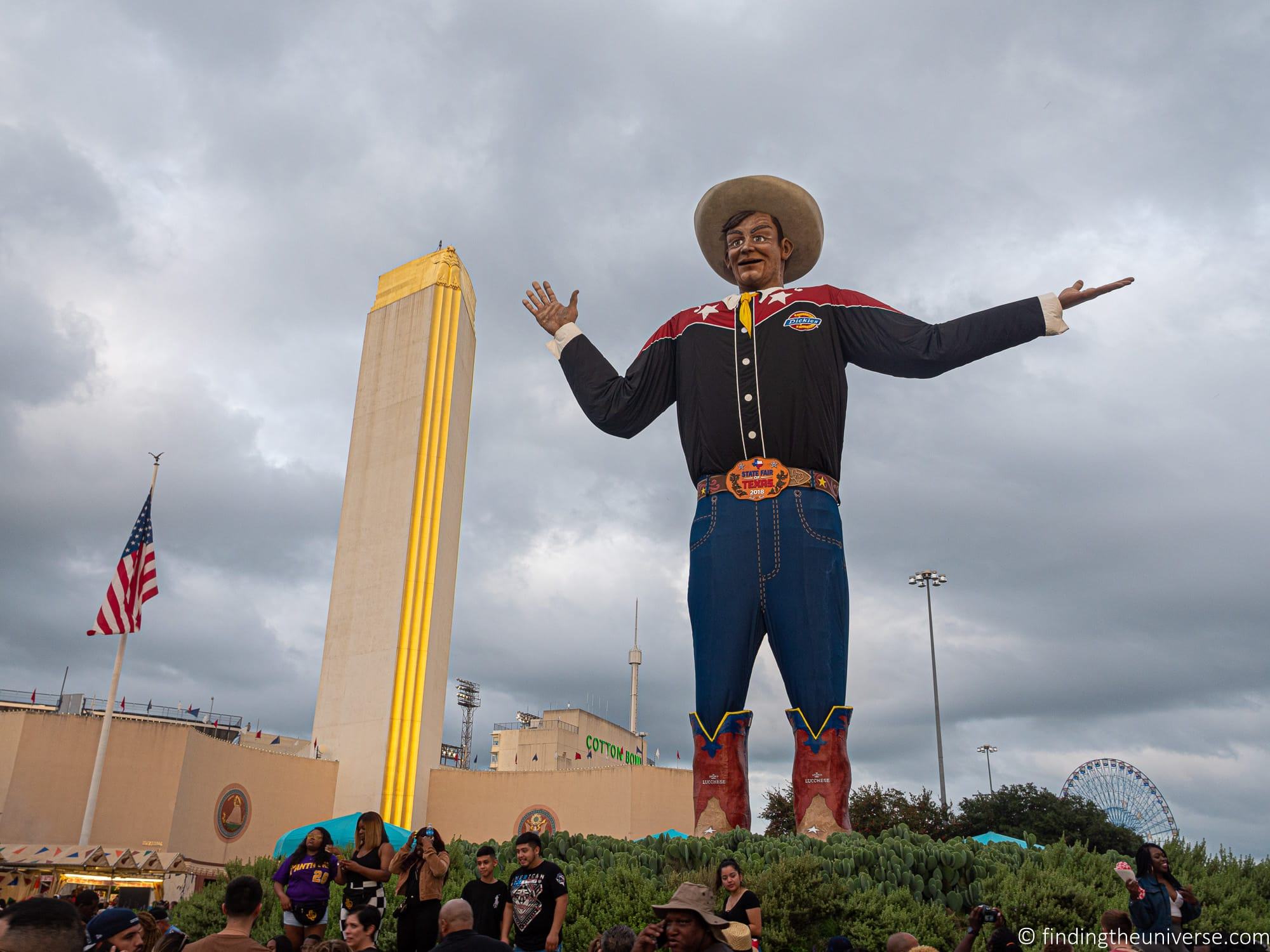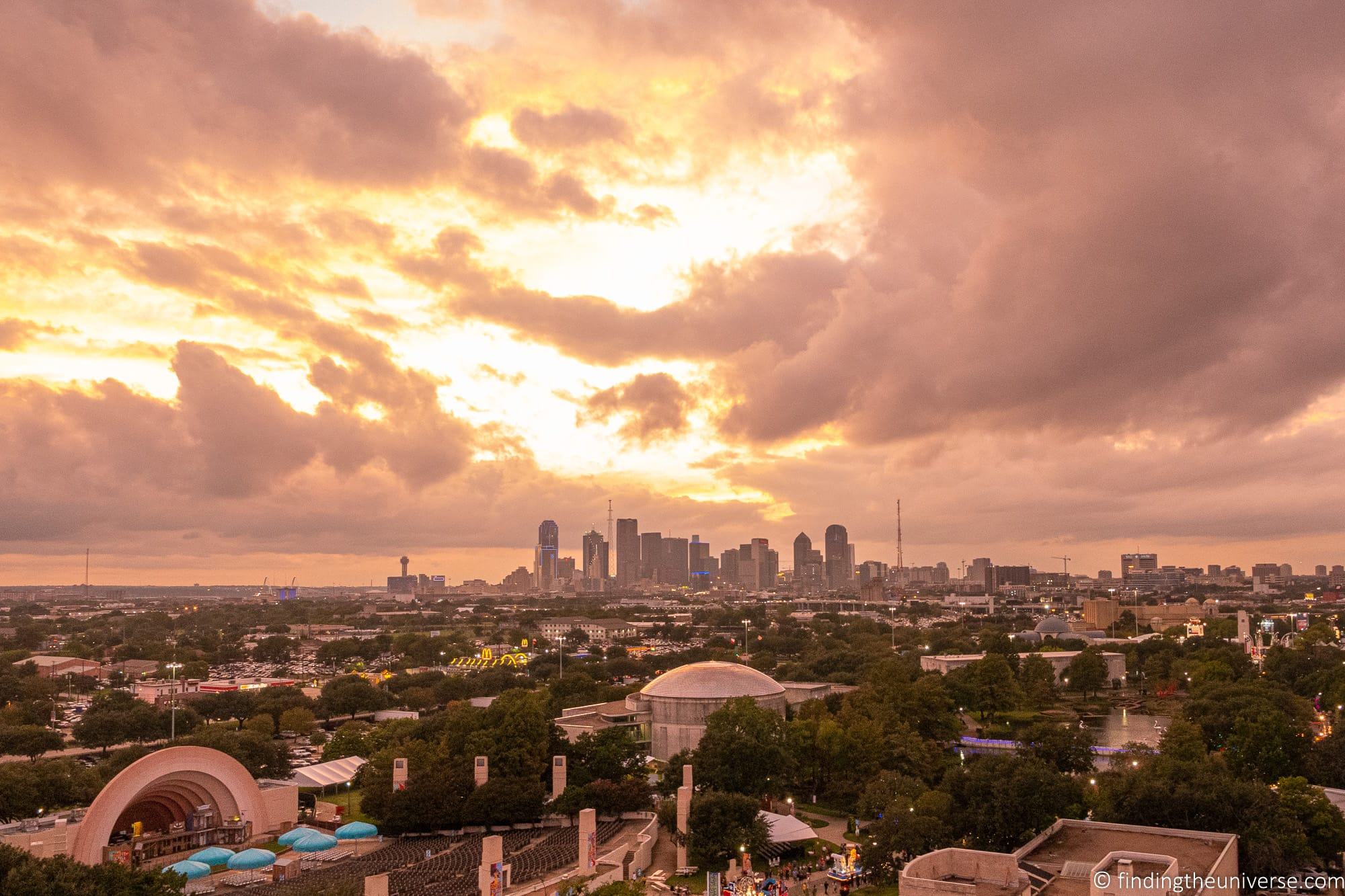 Map of Things to do in Dallas Texas
To help you plan your time in Dallas, we've put together this map of all the attractions we've mentioned. The image below covers the downtown attractions, but if you click here you can see a Google maps version with the out of town attractions as well.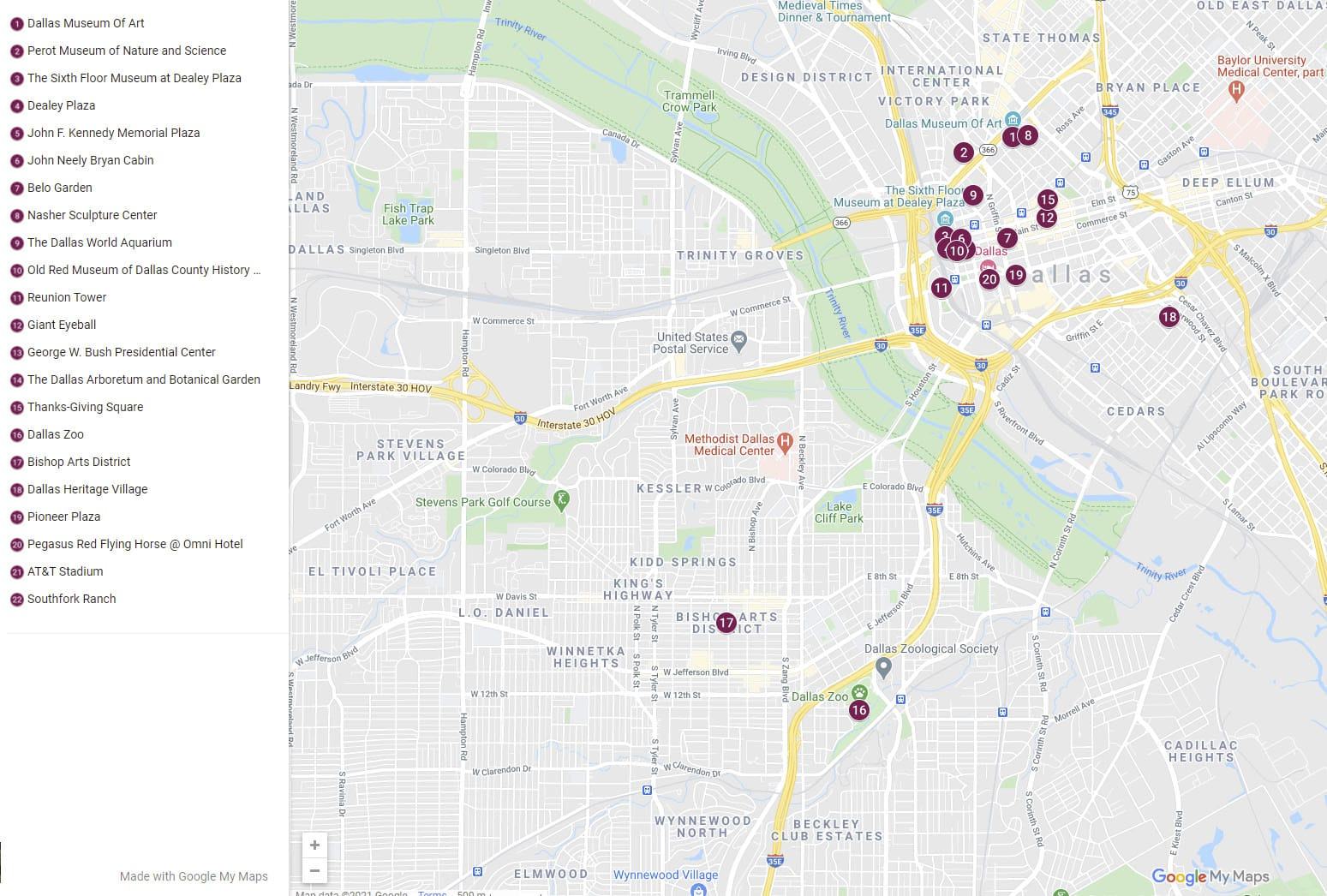 Where to Stay in Dallas
As a major city, there's no shortage of options for places to stay in Dallas, from more budget oriented options through to five star hotels as well as options like vacation rentals. We've picked some options that you might consider for your visit across a range of budgets.
We've stayed in both a budget-friendly apartment rental and a 5-star hotel in the city, so we're sure you can find something that will fit your taste and budget.
These are approximately ordered from low priced through to higher priced, but do always check for your dates as pricing can change.
There are of course more options. We've also stayed in an apartment rental in Dallas – you can see listings for the city on Vrbo here.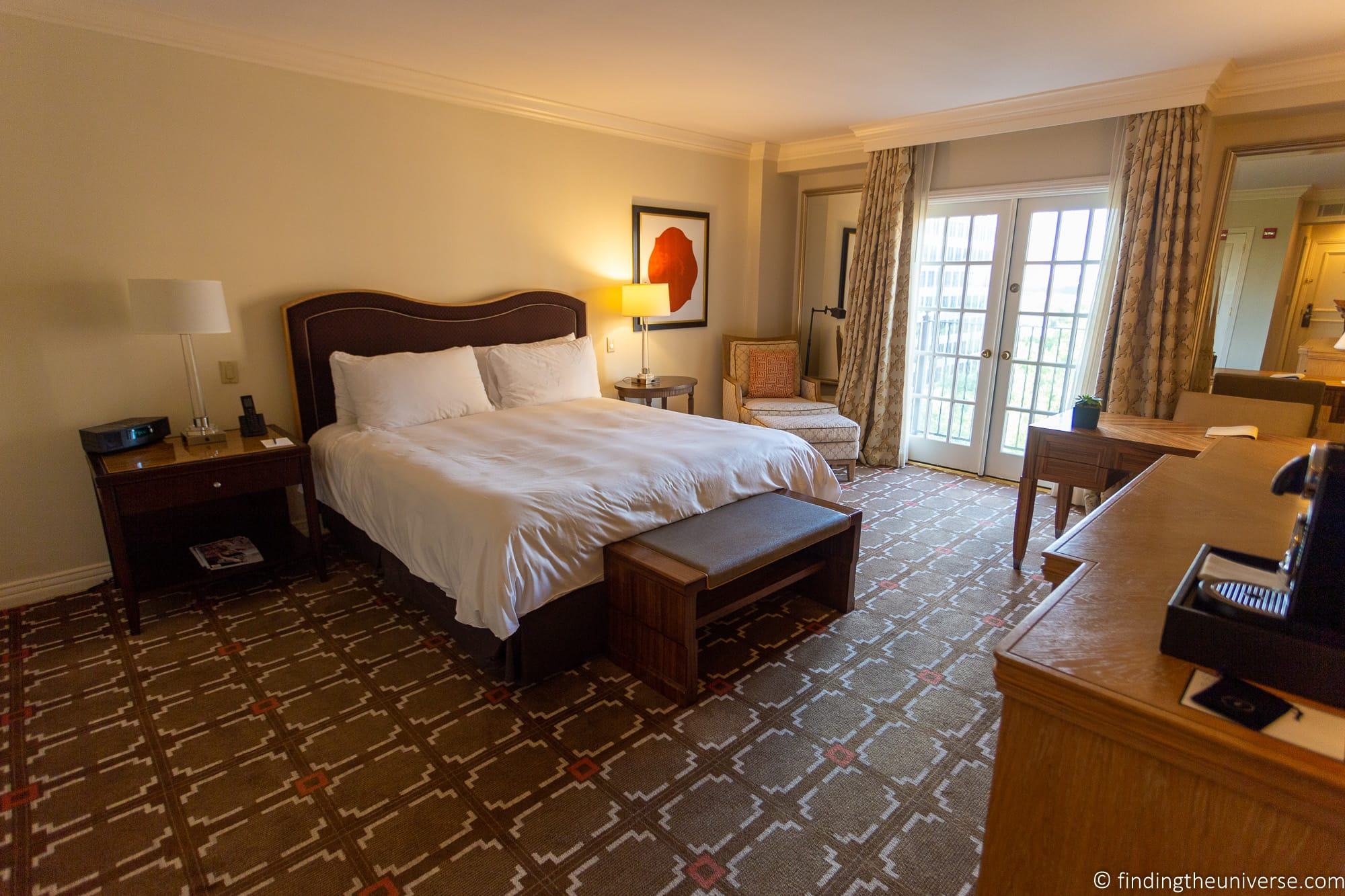 How to Get Around Dallas
Many of the attractions in downtown Dallas are quite close to each other, and as such, are relatively easy to walk between. However, you should be aware that in the summer months Texas gets very hot and humid, so you will likely not want to spend a lot of time outside in the heat.
Some of the attractions are a little outside the city centre, and for these you'll either need your own transport or to use the local public transportation options.
Public transport in Dallas is excellent. The Dallas Area Rapid Transit system, or DART, is a bus, train, and trolley system which links the majority of the downtown area with the surrounding suburbs.
With the exception of the Southfork Ranch and Cowboys Stadium, all the attractions on our list can be reached by public transport from the downtown area.
Of course, there are also taxis and ride-sharing apps, and you can also use your own vehicle to get around if you prefer. Most hotels and many attractions have on-site parking available, although this will often come with an associated charge.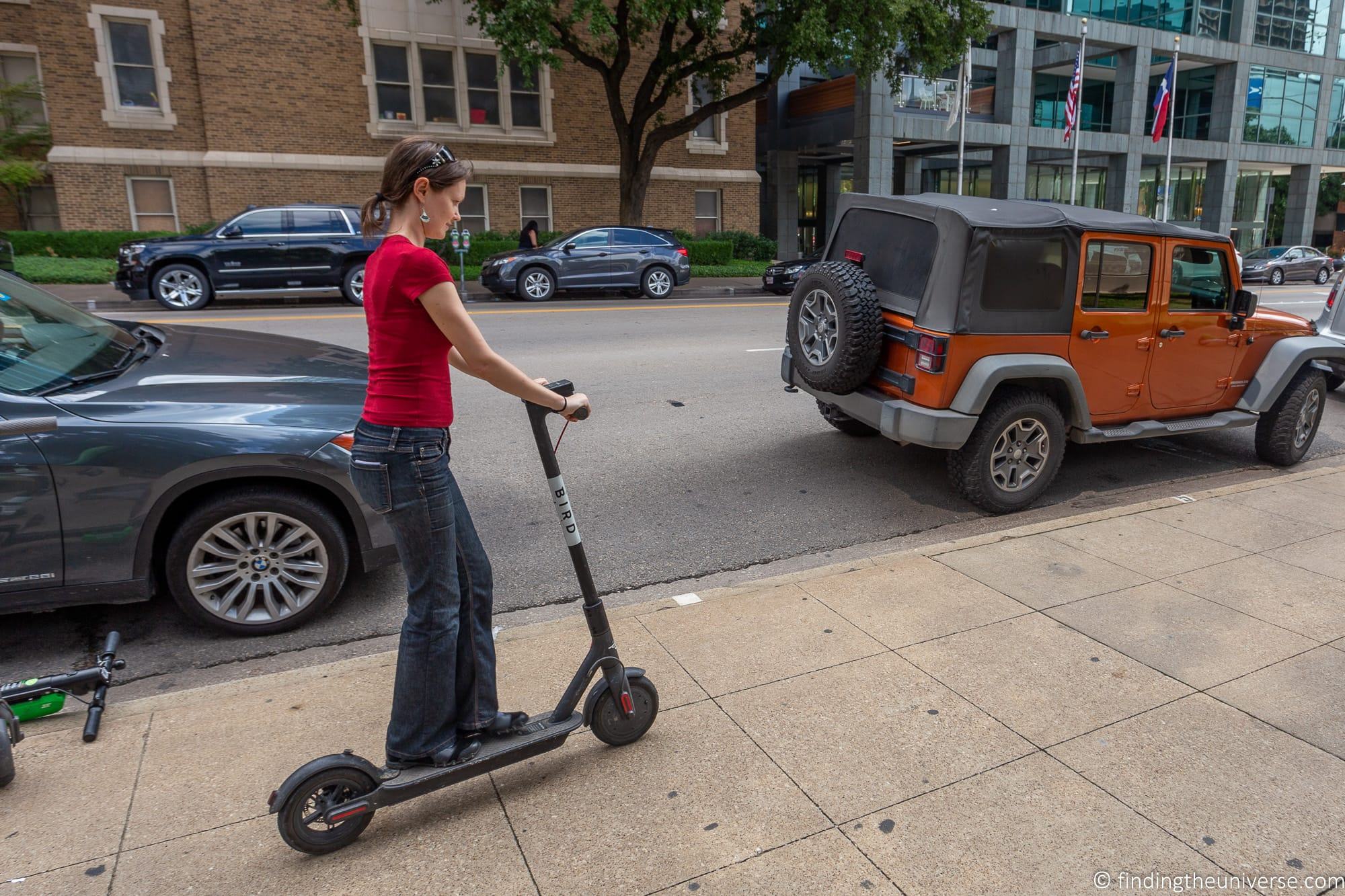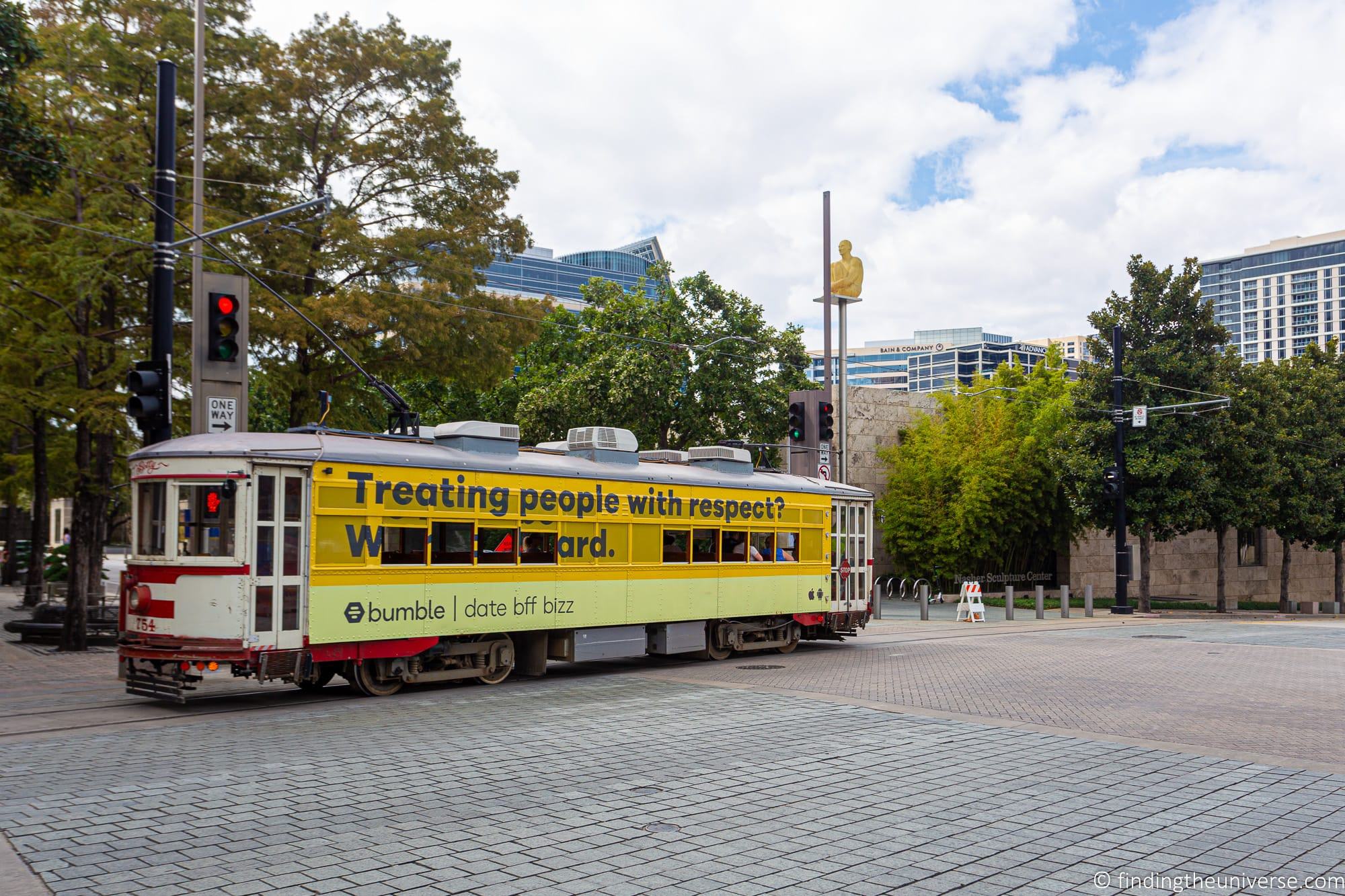 Tours in Dallas
As well as all the attractions we've listed, you might also consider taking a tour of Dallas or some of its attractions. There are a variety of tours available, from food focused tours, through to tours of popular sights as well as tours to out of town attractions. Here are some tours you might consider for your time in the city.
As you can see, there are plenty of options for tours in Dallas! You can see more Dallas tours on Viator here, and GetYourGuide here.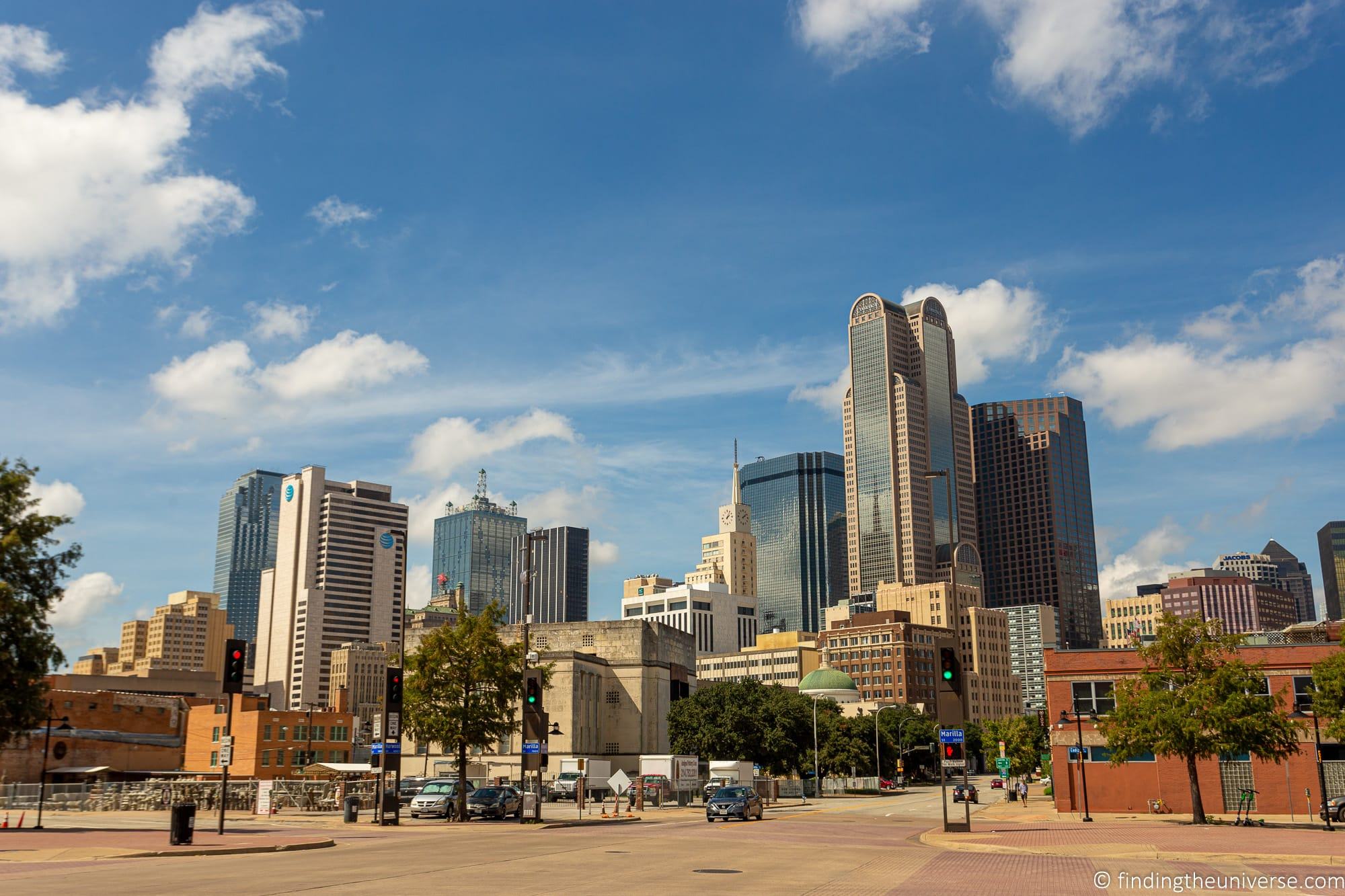 Save Money on Attractions in Dallas
One of the most expensive parts of travel is the cost of attraction entry. Whilst we're happy to pay for great attractions, we certainly don't mind the opportunity to save where possible.
Like many large cities, Dallas has an attraction pass. Whilst not as comprehensive as the attraction passes for a city like New York, there are still some significant savings to be had.
The main attraction pass for Dallas, and the one we used, is the Dallas CityPASS. This currently includes the following attractions:
Perot Museum of Nature and Science
Reunion Tower GeO-Deck
The Sixth Floor Museum at Dealey Plaza
Dallas Zoo –

OR-

George W. Bush Presidential Library & Museum
As you can see, the pass gives you entry to four attractions, and can save you 40% on entry. We think that's pretty awesome, and we used our pass to visit all the attractions on the list. You can check it out and buy yours in advance of your visit by clicking here.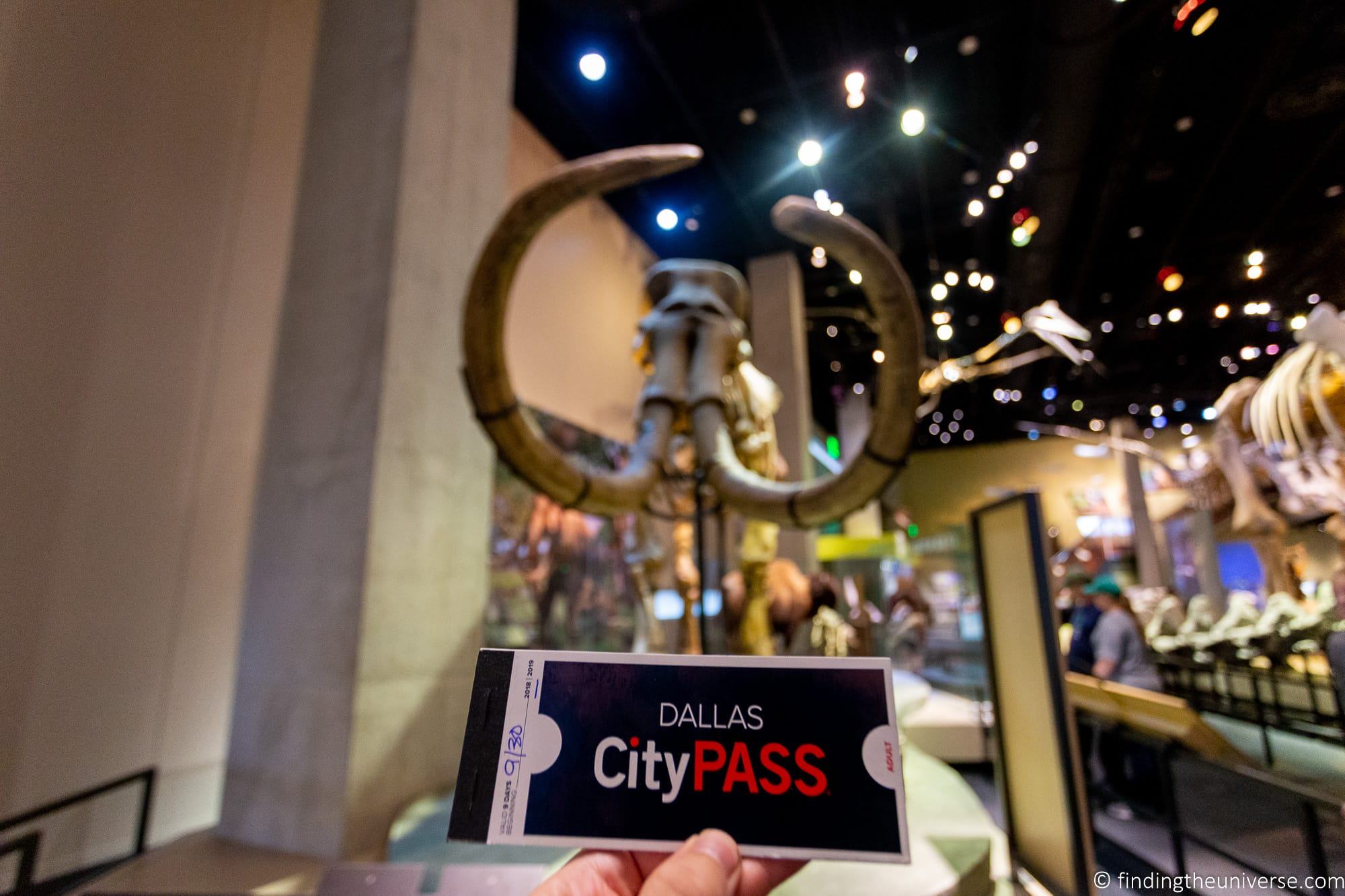 Further Reading
We hope this guide has given you lots of ideas for things to do in Dallas Texas when you visit. To help you further plan your trip, we have a number of other resources we think you might find useful.
And that's it for our guide to what to do in Dallas! As always, we're happy to hear your feedback and questions to help you plan your visit. Just pop them in the comments below and we'll get back to you as soon as we can.