If you are visiting Houston in Texas, one attraction we can highly recommend you spend some time at is the Space Center Houston.
Space Center Houston is the official visitor center of the NASA Johnson Space Center, which is the home of NASA's Mission Control and where U.S. astronauts are trained. It's also a Smithsonian affiliate museum.
There are two main parts to a visit to the Space Center. There's the large self-guided Space Center museum itself, which is home to numerous exhibits on space exploration and space in general.
Then there's the tram tour, which takes you onto the grounds of the NASA Johnson Space Center facility itself, where you can see actual working government facilities, as well as historic locations like the original Mission Control room.
In this post, we're going to share everything you need to know to make the most out of your visit to Space Center Houston, from getting there, to what to see and do, to how to save money on your ticket.
Let's get started.
A Guide to Visiting Space Center Houston
Where is Space Center Houston?
Space Center Houston is at 1601 E NASA Parkway. This is found around 26 miles south east of the city center, or approximately a 30 minute drive in light traffic.
How To Get to Space Center Houston?
From Houston, the easiest way to get to Space Center Houston is to drive. You can just follow the I-45 out of the city centre, and then take exit 24, following signs for NASA. It should take around half an hour, although of course traffic can slow you down. There is a large car-parking lot on site, with a reasonable daily fee of $5 per vehicle.
During the week it is also possible to take public transport to Space Center Houston, using Bus service 249. This takes around an hour and costs $3. You can see schedules and timetables on the Houston Metro site. Public transport is not available on the weekends.
There is a Hop-on Hop-off bus service in Houston, but it does not go to the Space Center.
You can also take a taxi or ride share service like Uber. Prices will vary, but will be in the region of $30 – $60 each way depending on traffic and time of day. You can also get these back from the Space Center.
Finally, it's also possible to take a guided tour from the city centre out to Space Center Houston. As an example, this tour includes a tour of Houston, transport to and from Space Center Houston, as well as entry to the Space Center. This is another tour which includes transport and entry but skips the Houston city tour component.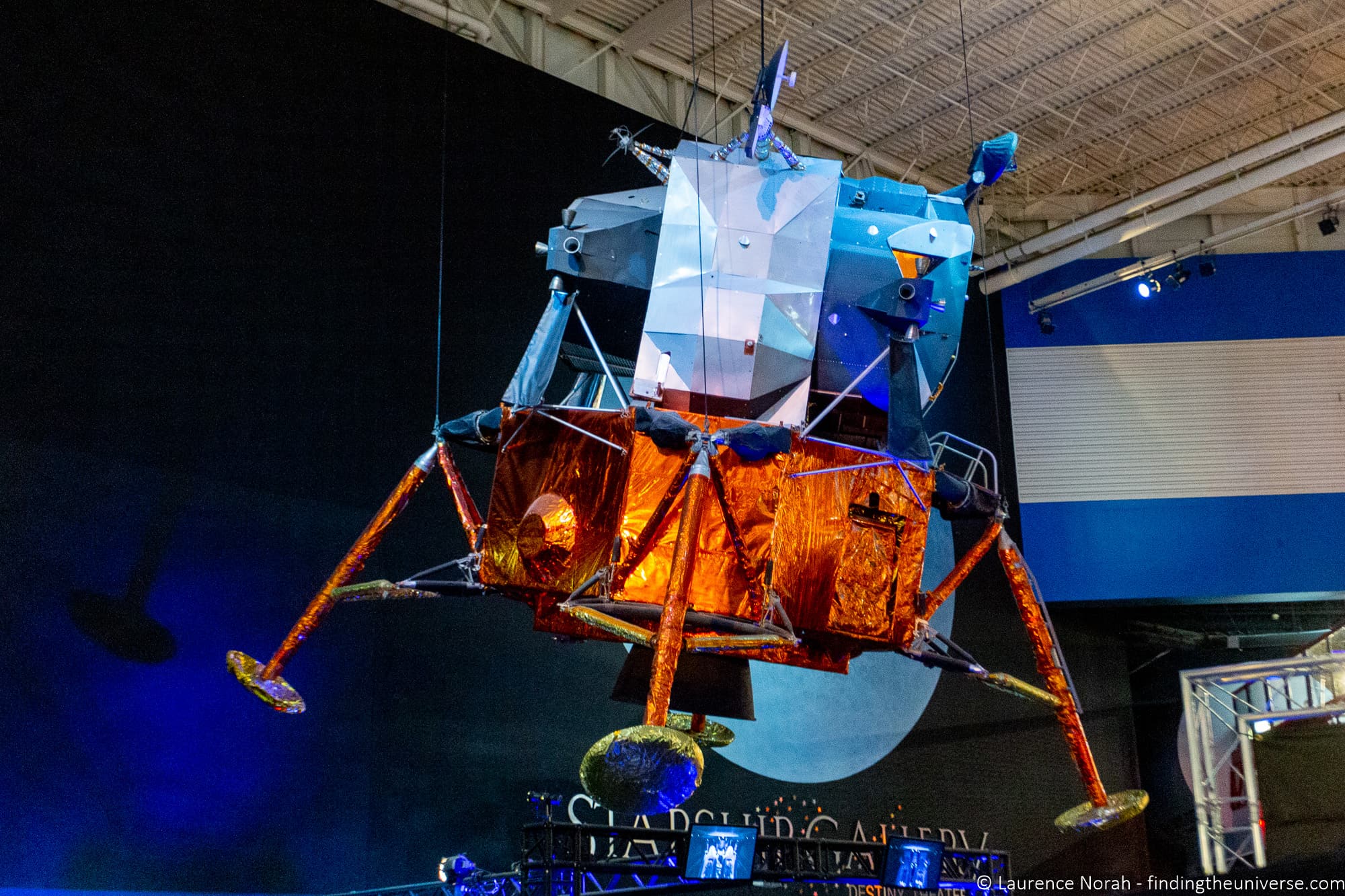 How Much Does it Cost to Visit Space Center Houston?
Standard entry to Space Center Houston for an adult (12+) is $29.95, and $24.95 for children (aged 4-11). Prices are correct as of April 2022.
There are a variety of discounts available for seniors, active and retired military with I.D., AAA members with I.D., and groups. Children 3 and under are able to enter for free.
You can see all the details of the pricing and discount eligibility on the official site here. Note, tickets bought on the official site are non-refundable. You can also buy your ticket online in advance here for the same price, with the option of free cancellation up to 24 hours in advance of your visit.
You can also buy tickets in person. The price is the same, but if you print your ticket at home or download it to your mobile device, then you can skip the ticket line and go straight to the entry turnstile. This can save you a bit of time on busy days.
Space Center Houston is also included on the Houston City PASS. This can save you significant money if you plan on visiting some of the other attractions that the pass covers – up to 50% savings in fact! We found the pass very useful for our trip to Houston.
The Houston City PASS includes entry to five of Houston's most popular attractions, but you only need to visit two or three of them for it to start saving you money. See what it covers and buy yours in advance here. You can also buy it here with the option to cancel up to 24 hours before your trip if you need the flexibility.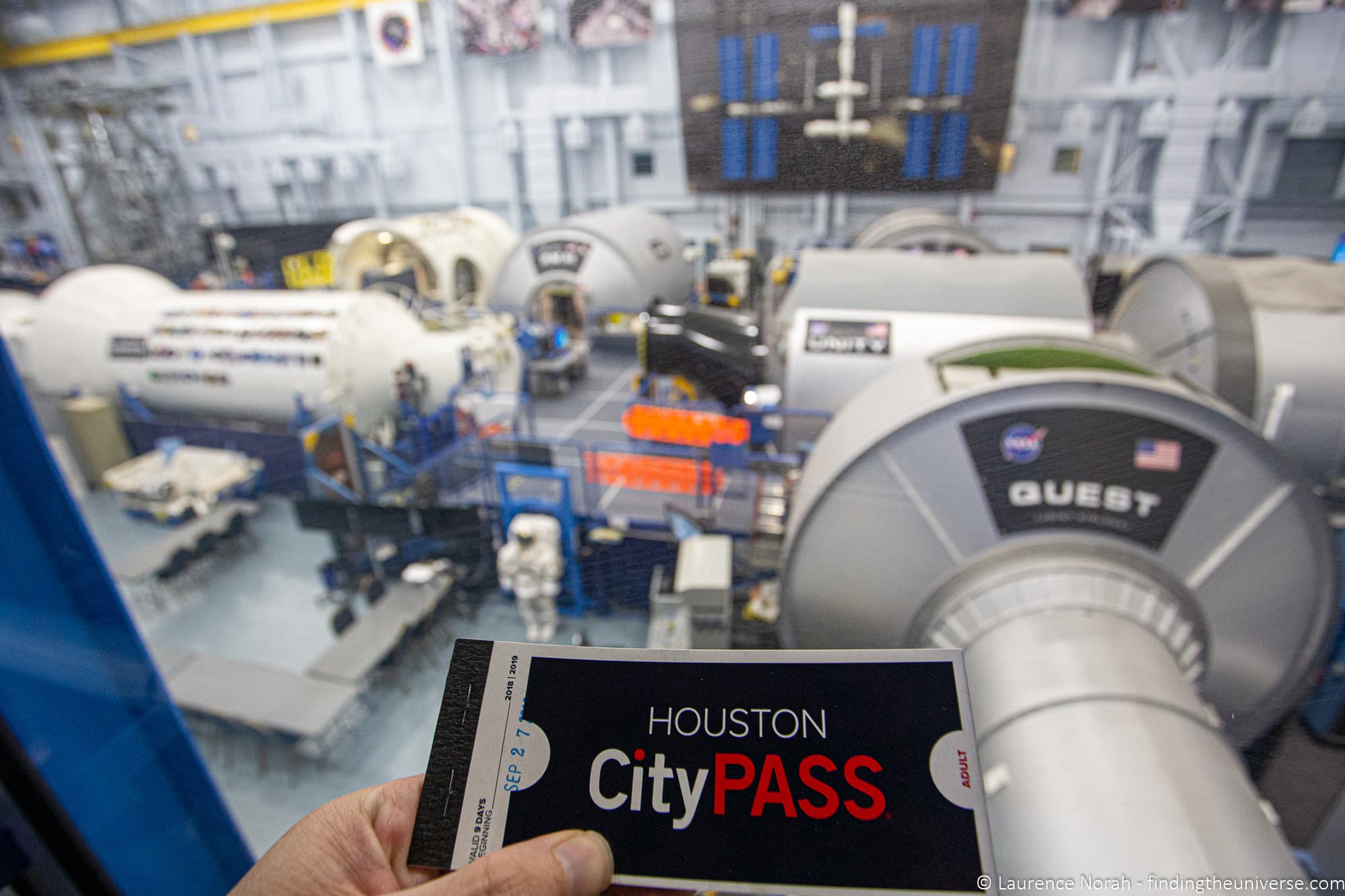 Are there different ticket types and experiences at the Space Center?
There are a number of different ticket options for Space Center. These are:
the standard ticket
the Lunch with an Astronaut experience
the Level 9 Tour
The difference between these tours is reflected in the experience you have as well as the price you pay. See below for more on what each of these tickets includes and the difference between them, as well ar pricing.
Ticket types for Space Center Houston
The standard entry ticket gets you access to all the exhibits in the Space Center as well as the tram tour of NASA Johnson Space Center. This is the ticket included on the Houston City PASS.
The lunch with an astronaut tour includes your standard entry, plus, as the name suggests, you get to have a meal with an astronaut. You'll hear stories and anecdotes from an actual NASA astronaut, plus have the opportunity to take photos.
This is only available once or twice a week, and it depends on astronaut availability. This experience needs to be booked in advance, and you can find out more here about availability and what it includes. It currently costs $69.95.
Finally, the Level 9 tour of Space Center Houston is the ultimate VIP experience, for those who want a truly unique and special experience. The highlight of this experience is a 4-5 hour guided tour of the NASA Johnson Space Center, giving you much more access than the tram tour.
The Level 9 tour costs $179.95, and the ticket includes 2 days of entry to Space Centre Houston, so you have plenty of time to see everything. The tour needs to be booked in advance, which you can do here. It is only available for those aged 14 and older.
Experiences at Space Center Houston
As well as the different ticket options, Space Center Houston also offers a variety of educational programs geared to families and children's organizations and groups (e.g., Boy Scouts, school groups).
For example, they offer a number of overnight experiences, including a family oriented overnight experience. This gives you the opportunity to actually stay overnight at the facility, either in your own tent outside, or inside amongst the artefacts.
The program also includes meals, briefings, hands on STEM activities and breakfast. We think this would make for an awesome family adventure. See more about this experience here.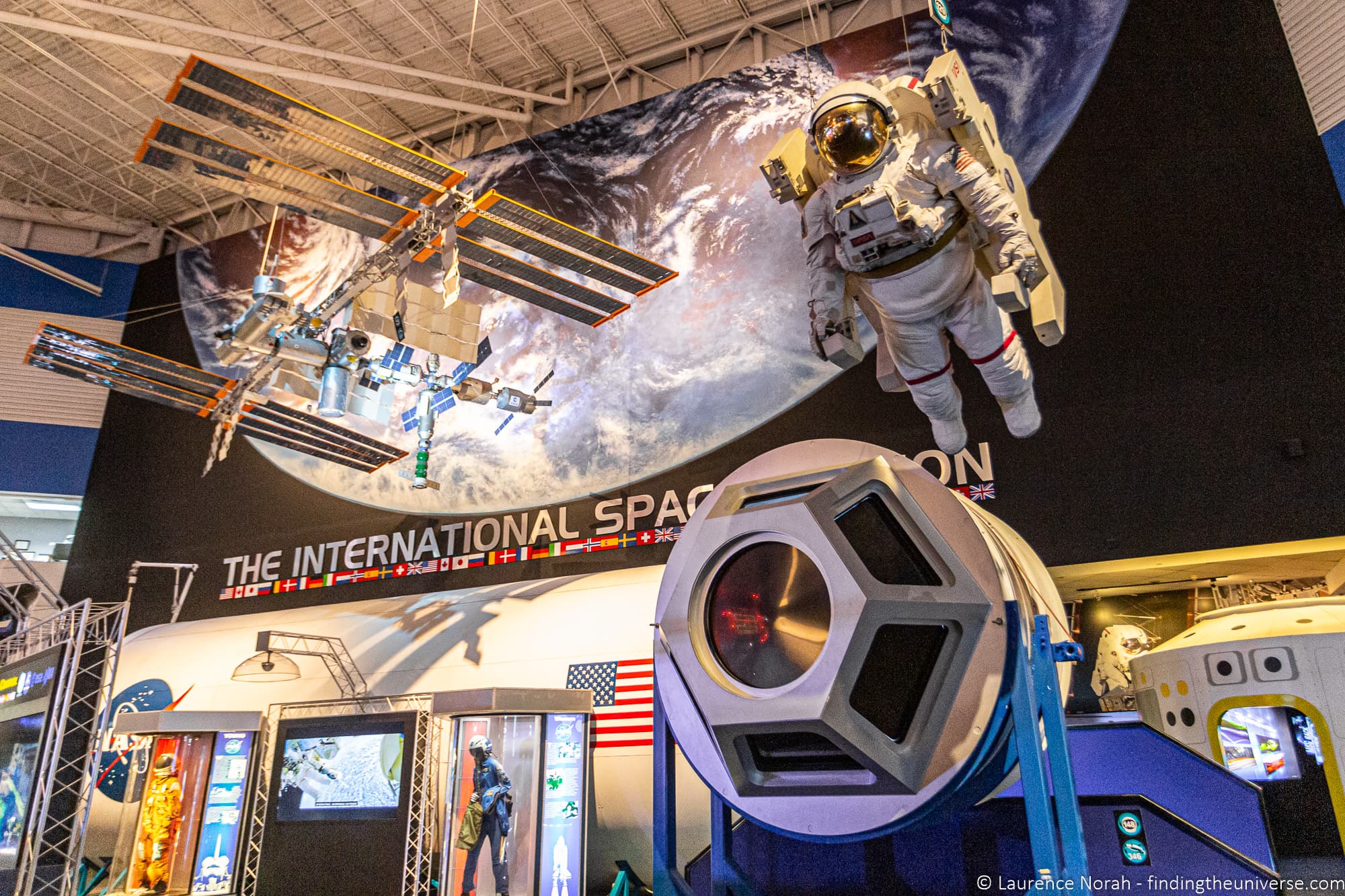 What can you do at Space Center Houston?
There is a lot to do at Space Center Houston, with over 400 space artifacts, a number of permanent and temporary exhibitions, learning experiences, theaters, and more!
Here's a quick overview of the major attractions and activities you can enjoy at Space Center Houston. It's not absolutely everything, but it should give you an idea of the scope of what's on offer!
The NASA Tram Tour at Space Center Houston
This tour of the NASA Johnson Space Center takes you to some of the highlights of the Johnson Space Center, and is one of the most popular parts of a visit to the Space Center.
The tour may change depending on what's happening at the facility and security considerations with active missions and programmes, but it normally includes the following, depending on the time of year:
The Mission Operations Control Room 2, commonly known as Mission Control, which was where the Apollo missions were coordinated from.

The Space Vehicle Mockup Facility, where astronauts train on replicas of space vehicles like the ISS.

Rocket Park, home to a Saturn V rocket (the size has to be seen to be believed) as well as a number of other rockets from different stages of the space program.
We have more detail on the tram tour in the section dedicated to taking the tram tour elsewhere in this guide.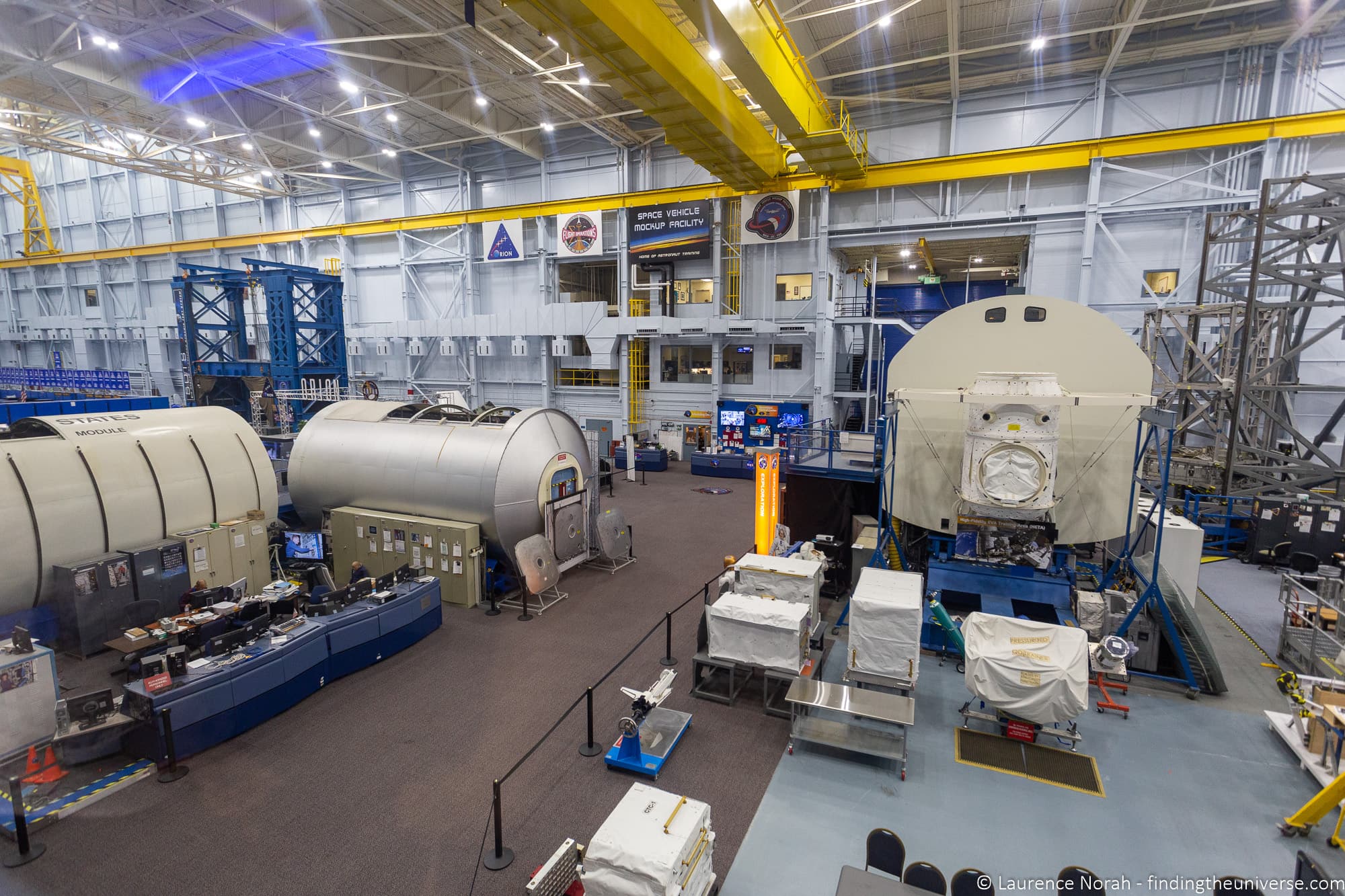 Independence Plaza
Independence Plaza is a large space outside the main Space Center building. It is home to an actual Boeing 747 aircraft, atop which is mounted a replica space shuttle.
The 747 in question was one of two Shuttle Carrier Aircraft developed by NASA to transport the space shuttle from it secondary landing site back to the main Shuttle Landing Facility at the Kennedy Space Center.
Often, bad weather would prevent the shuttle from landing at Kennedy, and so the 747 was developed to transport it back.
At Independence Plaza you can go all the way up into the replica shuttle, as well as through the length of the 747, where there are a variety of exhibits and interactive installations, telling the story of the vehicle.
Starship Gallery
Inside the main Space Center building, one of the most impressive galleries in our opinion is the Starship Gallery.
This is home to three actual spacecraft which have flown to space, the Mercury 9 capsule, the Gemini 5 capsule, and the Apollo 17 command module.
There's also a lunar module test vehicle, a lunar rover test vehicle, a full-scale Skylab trainer and more.
Finally, the Starship Gallery is home to an actual piece of lunar rock, which is one of only eight in the world that you are allowed to touch. Yes, you can touch a piece of the moon in the Starship Gallery!
Mission Mars
One of the newest exhibits at the Space Center is Mission Mars. This exhibit focuses on NASA's project to ultimately send manned space missions to Mars.
It covers the various challenges that need to be overcome for that to be successful, the vehicles that are being developed to take us there, and an overview of humanity's relationship with the red planet.
There are also galleries explaining what life on Mars might be like when we finally send people there, including the habitats, clothing, and equipment that might be used.
This is a very interactive exhibit, with lots of touchscreens and hands on opportunities. You can also touch a Mars meteorite here.
Astronaut Gallery
The astronaut gallery is a display of astronaut clothing and spacesuits that have been on real-life missions.
Some of the highlights of this gallery include Pete Conrad's Apollo 12 suit, Michael Collins' Apollo 11 garment, and Wally Schrira's Apollo 7 suit.
However, there are a great many wonderful exhibits here, spanning all of NASA's space flight programmes. There is also the crew wall, which features portraits of every NASA astronaut who has flown in space, from Alan Shepherd and Neil Armstrong up to those currently in orbit on the International Space Station.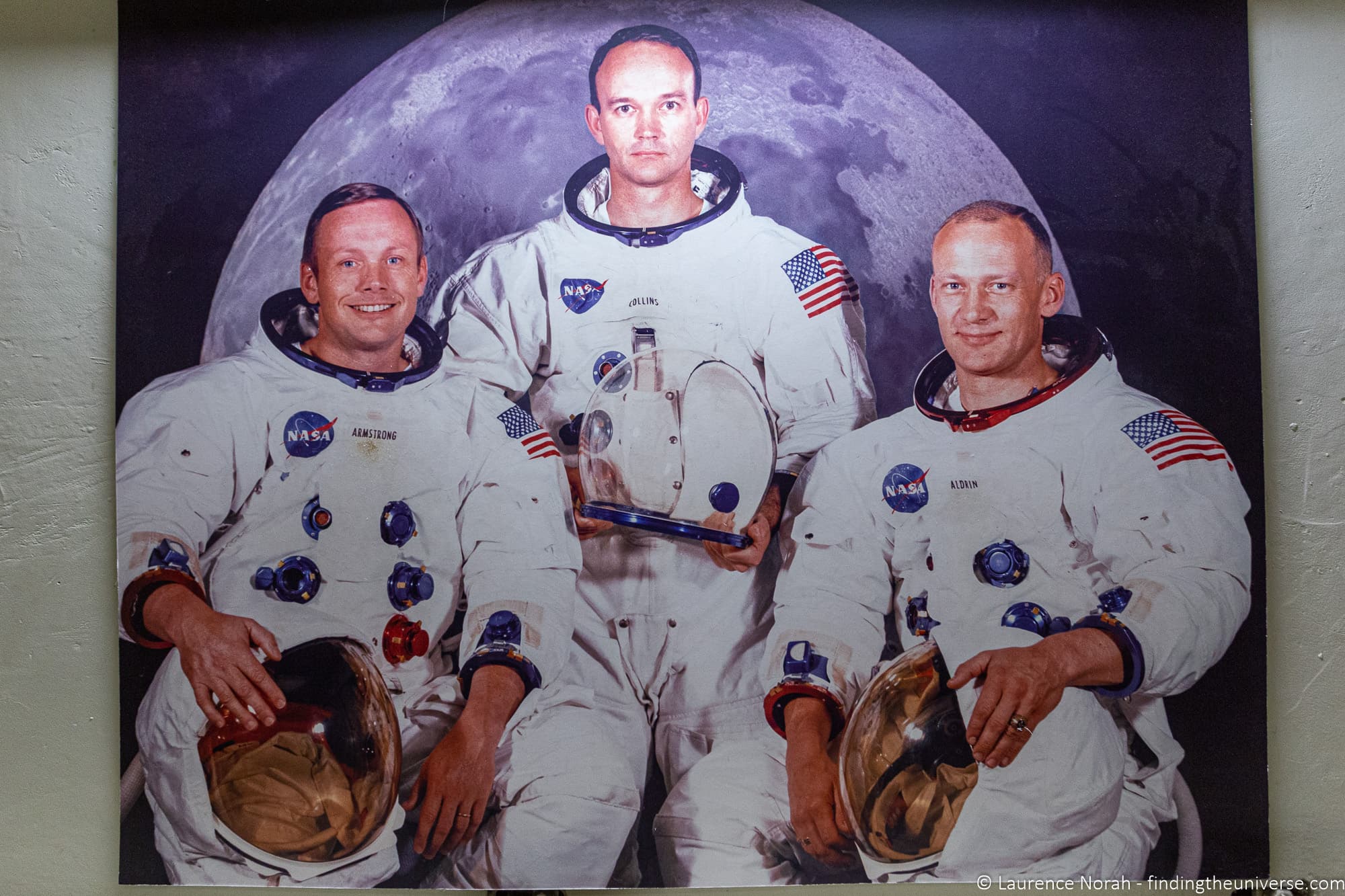 International Space Station Gallery
The International Space Station (ISS) is one of mankind's most impressive space achievements. This massive science laboratory, which orbits the earth at over 17,000 miles per hour, is the largest structure ever built in space. It is home to astronauts from all over the world.
The ISS gallery is designed to give you a sense of what life on the ISS is like, as well as to give an insight into the sort of research and experiments that take place on the ISS.
There's also a live daily interactive show, Living in Space, which uses the latest projection mapping technology to explain what day to day life on the ISS is like. This usually takes place 3 – 4 times a day, and you can find out showtimes for the day of your visit from the Guest Services Desk on site.
Theaters
There are two main theatres at the Space Center, the Destiny Theater and the Space Center Theatre.
The Destiny Theater shows the "Human Destiny" film, which uses NASA archival footage to tell the story of how NASA was formed, followed by the story of key NASA events and accomplishments. This is around 15 minutes in duration, and plays throughout the day continuously.
This theater is also home to the lectern used by US President John F. Kennedy when he gave his seminal speech announcing his intention to land an American on the moon.
The Space Center Theater is a state of the art 4K theater, and at time of writing, is the largest 4K theater in Texas. This plays a variety of space related films, documentaries, and animations.
The best way to see what is showing in the Space Center Theater when you visit is to download the official Space Center Houston app. You can also check with the Guest Services desk when you arrive for showtimes.
Entry to both theaters is included with your standard admission ticket.
Mission Briefing Center
If you want to know what's happening in the world of space exploration right now, you'll want to head to the Mission Briefing Center.
Here, there are daily presentations on current NASA missions, with real-time updates on progress and events, both in space and on earth.
This is a wonderful way to find out what's happening right now in NASA, plus the live briefing finishes with a Q&A with the mission briefing officer, so you can ask your own questions and find out about the things that really interest you.
The content of the briefings changes, but they usually run three times a day and last for 30 minutes. Times for the briefings are displayed at the entrance to the Mission Briefing Center, as well as on the daily schedule in the map and guide you will receive. You can also ask at Guest Services for timings.
Gift Shops
Ah yes, the gift shops! You definitely don't want to leave the Space Center without picking up some sort of memorabilia of your trip, be that a t-shirt, a toy, or some astronaut ice cream.
There's one major gift shop at the Space Center, as well as a smaller gift shop near the tram departure area. We noticed that these do carry slightly different items, so do check both of them.
One tip – don't leave your shopping until the last minute. A lot of people do this, as we did, and there tends to be a mad rush for the tills right at the end of the day. So perhaps head over to the gift shop at least an hour before closing so you can browse and check out at a more leisurely pace.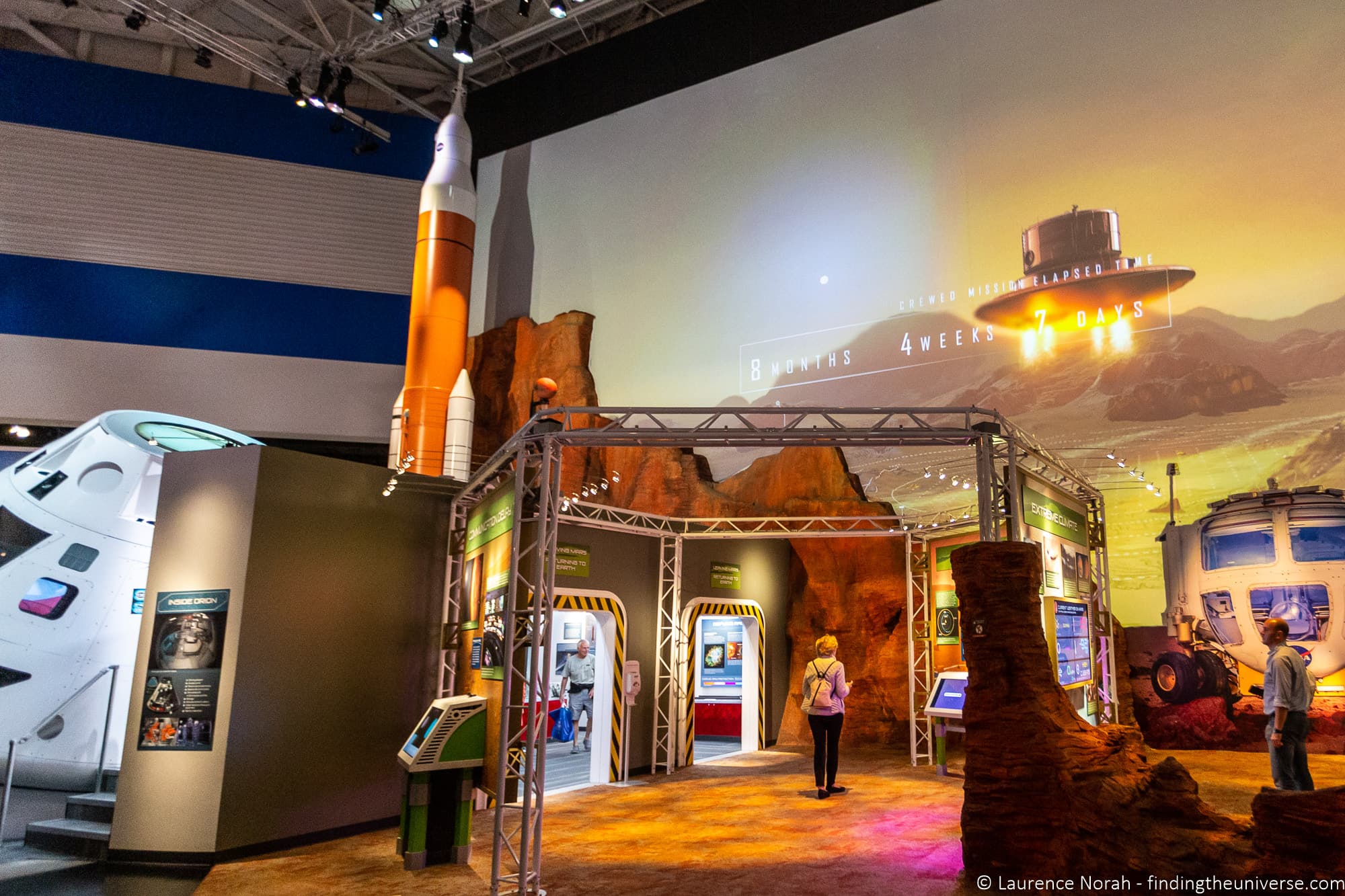 That's just some of what is on offer at the Space Center Houston. As well as all the above, there are also regularly changing and updated temporary exhibits. So you definitely won't run out of fun things to see and do!
How Long do you Need at Space Center Houston?
As you can see from all the things to do at Space Center Houston, you could easily spend a full day here.
We would suggest spending a minimum of 3 – 4 hours here, which will give you time to see some of the highlights and take a tram tour.
However, ideally you would plan to spend the full day here so as to have time to see and do everything without feeling rushed.
There's a huge amount to see and do, especially when you consider the tram tour, films, interactive exhibits, and so on, and you should make the most of your ticket.
Do you Need to do the Tram Tour at Space Center Houston?
The tram tour at Space Center Houston is not mandatory and you can spend your time just exploring the museum.
However, if you have not visited the Space Center before and taken the tram tour, we would definitely recommend doing it as it is one of the highlights of the experience, plus it's included on your ticket.
Normally there are two options for the tram tour, depending on your interest. Both tram tours visit Rocket Park, where the Saturn V rocket is to be found.
Then, you have to decide between visiting the original Mission Control, or the astronaut training center. The former is the more popular tour and tends to have more trams, but both are good tours. Personally, I would pick the Mission Control tour as it's such an iconic location.
Note that when we visited Mission Control it was being done up for the 50th anniversary of the Apollo landings, so this image isn't representative of the experience you will have, however I did want to share it as I still though the consoles looked pretty cool – even in plastic wrap!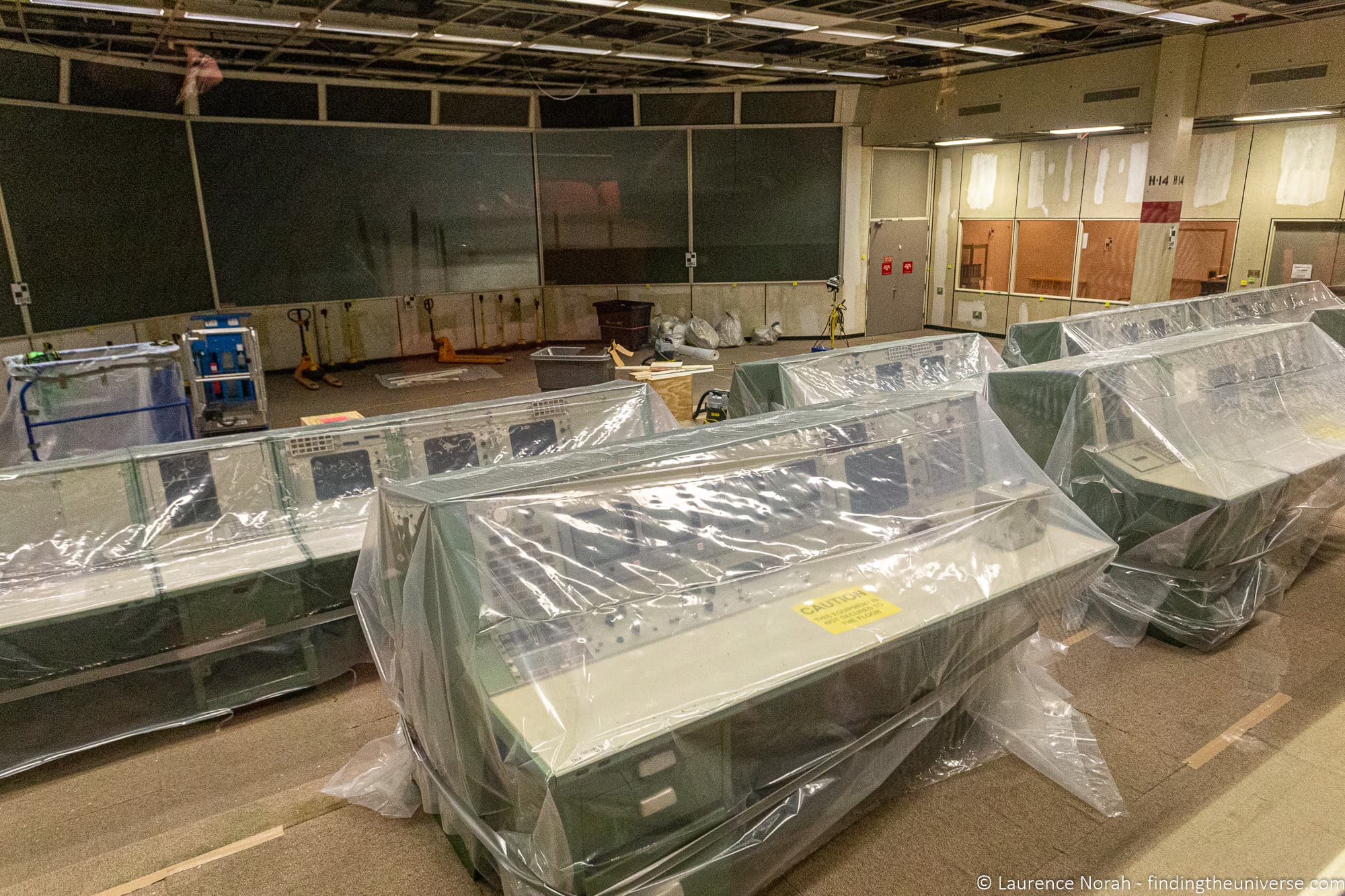 If you want, you can actually take both tram tours. However, as the tours last 90 minutes to 2 hours, plus queuing, this will use up a lot of the day.
If you visit during a quieter time of the year (see the section below on when these are), the two tram tours are combined into a tour that lasts around 2 hours, and visits Rocket Park, Mission Control and the Astronaut Training Center.
Note also that the locations the trams visit can vary depending on operational schedules and other factors.
We would suggest that you make the tram tour the first thing you do, as it is the experience that is likely to develop longer lines as the day progresses.
The tram tour is on a first come first served basis, and you cannot reserve a time for the tram in advance. Note that if you take the Level 9 tour, you have your own private minivan tour of the NASA Johnson Space Center. These tours are limited to 12 guests at a time and there are no lines. However you can also take a tram tour on your second day if you want!
Tram tours normally run from fifteen minutes after the Space Center opens, and run every 20 minutes, until 2 hours before closing. For example. if the Space Center closes at 5pm, the last tram will depart at 3pm.
We highly recommend checking times for the tram as soon as you arrive, so you can be sure not to miss out.
Once you have done the tram tour, you can explore the remainder of the museum at your own leisure.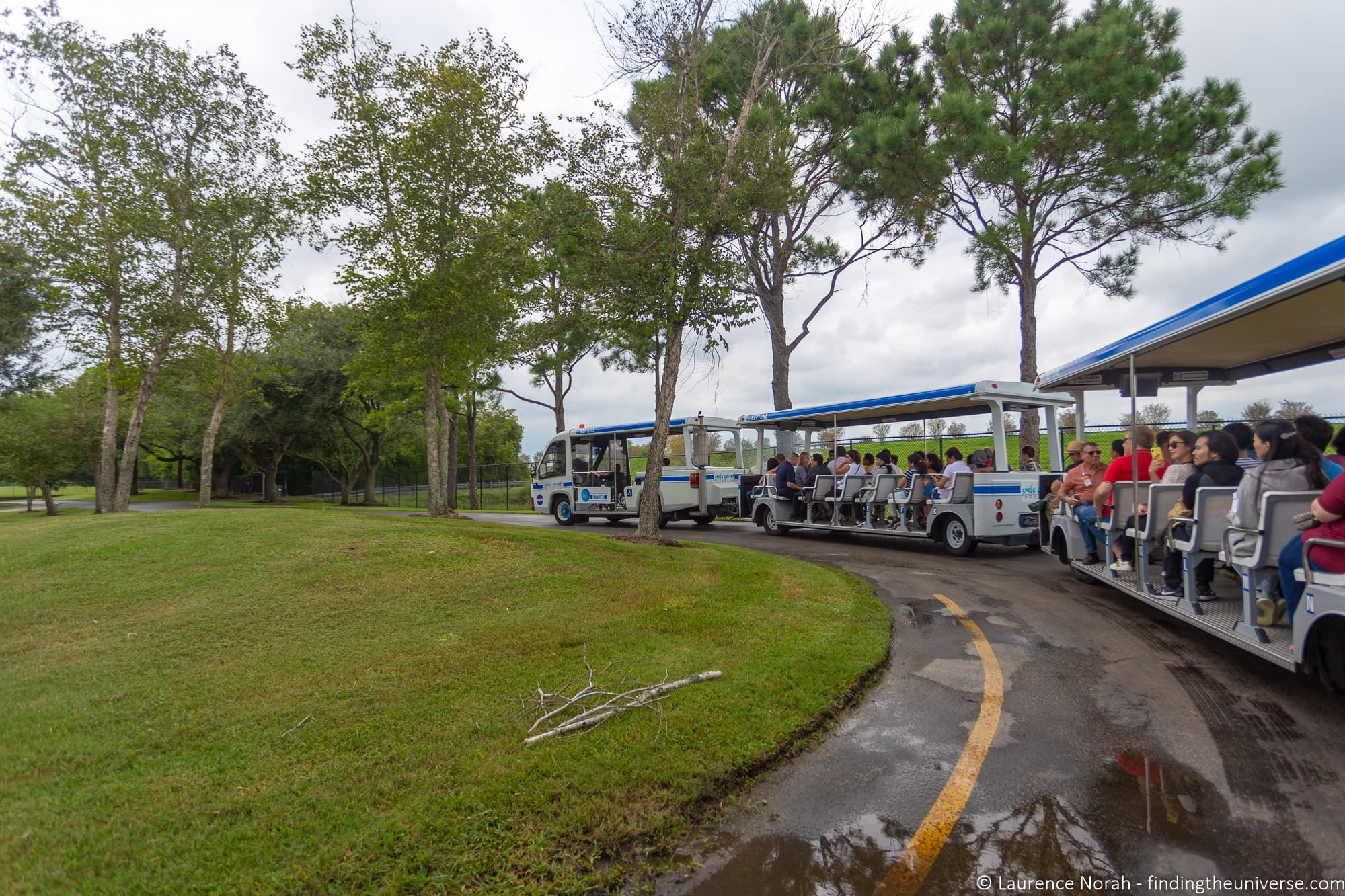 What are the Highlights of Space Center Houston?
If you are visiting the Space Center for a limited amount of time, you might be wondering what the best way to make the most of your time would be.
If it was me, my priority would be to take the tram tour over anything else. That's because this is a really unique experience that you can't get anywhere else. On that tour, you'll visit Mission Control and Rocket Park, home to one of the original Saturn V rockets.
The museum and all the exhibits are also excellent. However, if we had to pick some favourites for your visit, we's suggest you visit:
Independence Plaza, home to the world's only shuttle replica, which is mounted on an actual shuttle carrying 747 aircraft
The original Apollo 17 Command Module, which has flown to the moon. This is in the Starship Gallery
The moon rock exhibit where you can actually touch a piece of moon rock. This is also in the Starship Gallery
The gift shop, because it's awesome!
Ideally though you will be able to see and do a lot more than the above.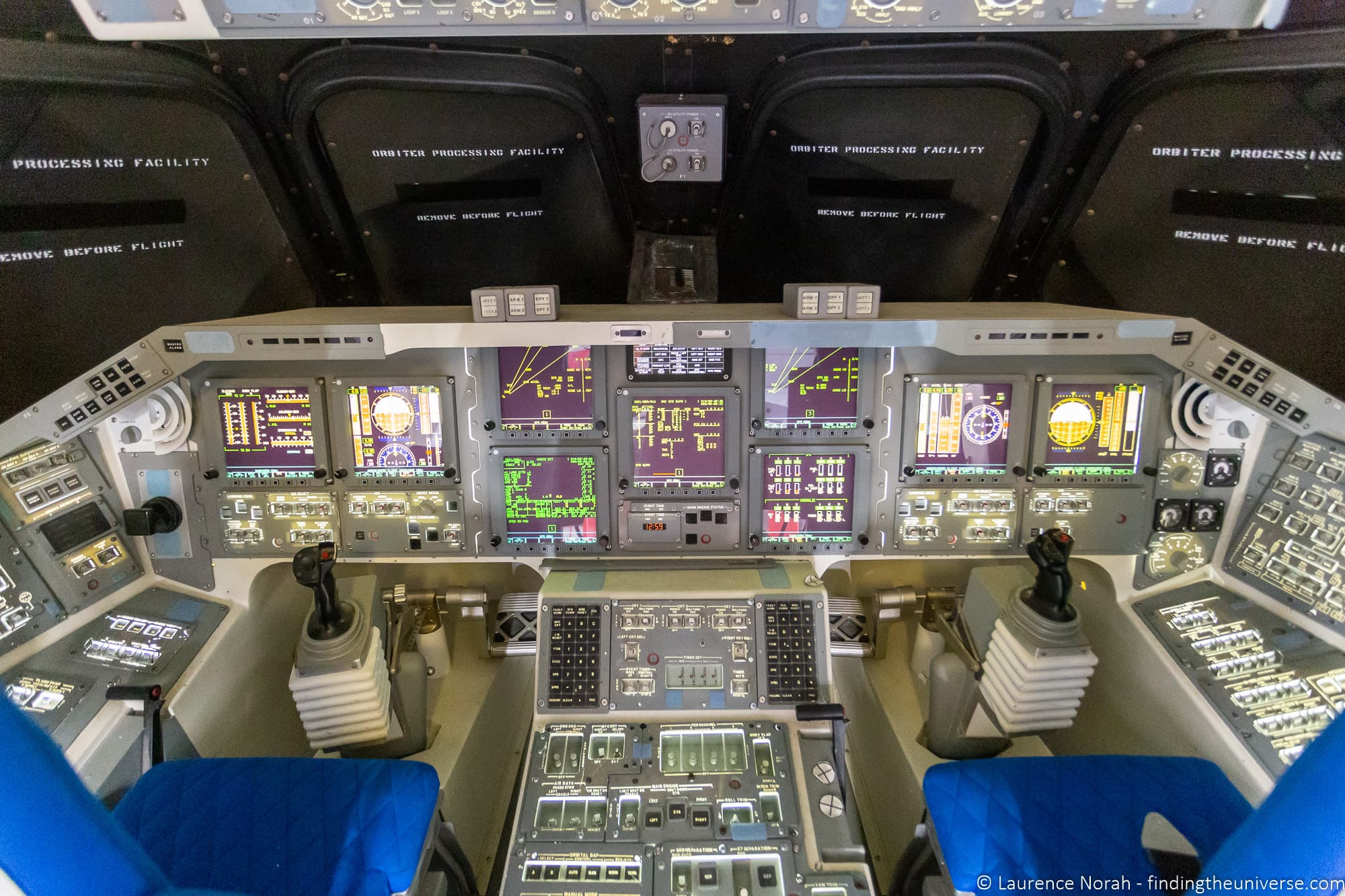 Is Food Available at Space Center Houston?
Yes, food is available for purchase at the Space Center. The dining area is called the Zero-G diner, and it has a range of food options from sandwiches and vegetarian options through to grilled food, burgers, and pizzas.
Food is not included on your entry ticket unless you have the lunch with an astronaut tour pre-booked, in which case you will have lunch served in a different location.
The Zero G diner does offer a 10% discount to Space Center Houston members, members of the U.S. military, and senior citizens. Be sure to present your I.D. before ordering to claim any discounts.
Is there an Audio Tour of Space Center Houston?
Space Center Houston offers the Space Center App for smartphones. This includes an audio tour, GPS maps of the location, AR experiences, and more.
This is available as a free download for both Android and Apple smartphones. You can find the correct link here.
We'd highly recommend getting this in advance of your visit, and remembering to bring a pair of headphones so you can take full advantage of it.
Up until 2018 there was a separate audio guide that was purchasable for a fee, however this is no longer offered as an option.
Is Space Center Houston Accessible?
Space Center Houston has made great efforts to provide a fully accessible experience across a range of accessibility needs.
In terms of general physical accessibility, all the exhibitions, theaters and tours are fully accessible to wheelchair users. There are also wheelchairs available on site on a first come first served basis.
Beyond physical accessibility, there are a number of other accessibility features, including events and programs for autism and sensory accessibility, deaf and hard of hearing accessibility and visual accessibility. Service animals, as defined by the ADA and Texas laws, are also permitted.
There's an excellent page on the official Space Center website here, all about the various accessibility options and programmes available. We'd also recommend you reach our directly to the Space Center with any accessibility questions or needs you may have prior to your visit if you have any further queries.
Other Attractions near Space Center Houston
Space Center Houston is around 30 – 40 minutes drive south east of Houston, so you might be wondering if there are other attractions in the area.
The closest attraction which is popular with visitors to Houston, which is also covered on the Houston City PASS, is the Kemah Boardwalk. This is a large boardwalk which is home to a number of amusement rides, games, restaurants, and attractions. A great place for families.
You can either visit here yourself with a car, or you can take a tour from Houston that includes both the Space Center and Kemah Boardwalk like this.
For more inspiration on other things to do near the Space Center and in Houston in general, see our guide to things to do in Houston.
How Busy is Space Center Houston?
The Space Center is one of the most popular attractions in Houston, and as such it does get quite busy. The busiest times are on holidays, weekends, and during the summer.
If possible, we'd advise visiting outside of these times. During the busiest times, there can be long wait times for the tram tour in particular.
In addition, the Space Center is popular with school groups. These visit throughout the year, but the main months are March, April, and May.
These can definitely raise the volume level in the Space Center, and make it much busier, so bear this in mind if visiting during these months.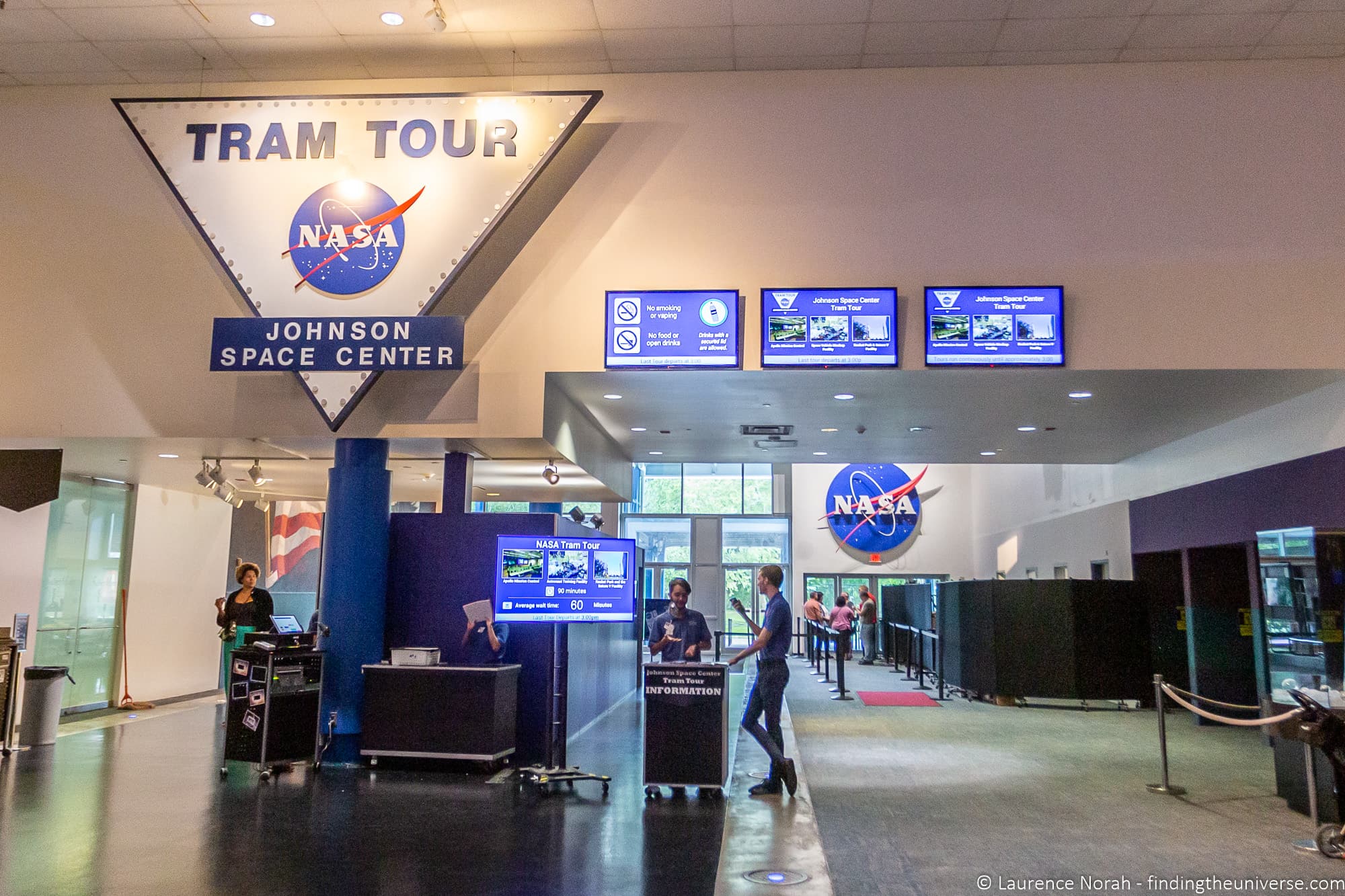 Opening Hours for Space Center Houston
Space Center Houston is open year round except on Thanksgiving and Christmas Day. Standard opening times are from 10am – 5pm, however during busy times they can open at 9am, and close at 6pm.
You can see a full day by day schedule of opening hours on the official website here. Note that opening hours are subject to change due to unforeseen circumstances, although this is rare.
Contact Information for Space Center Houston
If you want to contact the Space Center, you have a few options. First, most of your questions should be answered on their website, which you can see here.
If you still have questions about your visit, you can contact the Space Center by e-mail or phone.
Contact e-mail addresses are schinfo@spacecenter.org or reservations@spacecenter.org. The phone number is +1 281-244-2100.
In my experience, e-mail was the fastest way to reach them for specific queries. The phone line has a number of automated response options with ticketing information and prices, but I wasn't personally able to reach a human. E-mail responses on the other hand were fast and accurate.
Our Experience Visiting Space Center Houston
We visited Space Center Houston mid-week in late September, which turned out to be a great option as it was not too busy. The first thing we did was visit the tram tour info point, where we learnt the tram schedule for the day.
It was obvious when we visited the info point that there weren't going to be major lines for the tram on the day of our visit.
This isn't always the case of course, and at busy times the lines for the tram can be much longer – we were just lucky!
In addition, as we were lucky to be visiting on a quieter day, the tram was scheduled to visit all the highlights, so we didn't have to pick a tram route.
We decided to come back to around 15 minutes in advance of a departure and spend some time exploring some of the exhibits. We visited the ISS display, the Starship Gallery, and the Mission to Mars exhibit.
Then, it was time for the tram ride. As previously mentioned, there are usually two separate tram routes to choose from, but the day we visited it was less busy and so they were running a combined tour. This means we got to visit Mission Control, the astronaut training center, and the Rocket Park.
The tram ride took just under two hours, and was the definite highlight of our experience. Seeing the historic Mission Control room, which was home to so many important moments in the space programme, was really something special. And this was despite much of it being covered in wrapping due to a refurbishment!
We also enjoyed seeing the huge astronaut training center, but I have to say, the Rocket Park was something else. There's nothing quite like being up close to a Saturn V rocket to give you an idea of the scale of these vehicles.
We were lucky enough to visit the US Space and Rocket Center whilst attending Space Camp in Huntsville Alabama, which is home to two more Saturn V rockets, and they were just as impressive!
Finally, after the tram tour, we visited the remainder of the main sights we wanted to see. The Independence Plaza was definitely a highlight – being able to get up inside one of the actual 747 shuttle carrier aircraft was a real experience, and seeing the scale of the shuttle against the 747 was amazing.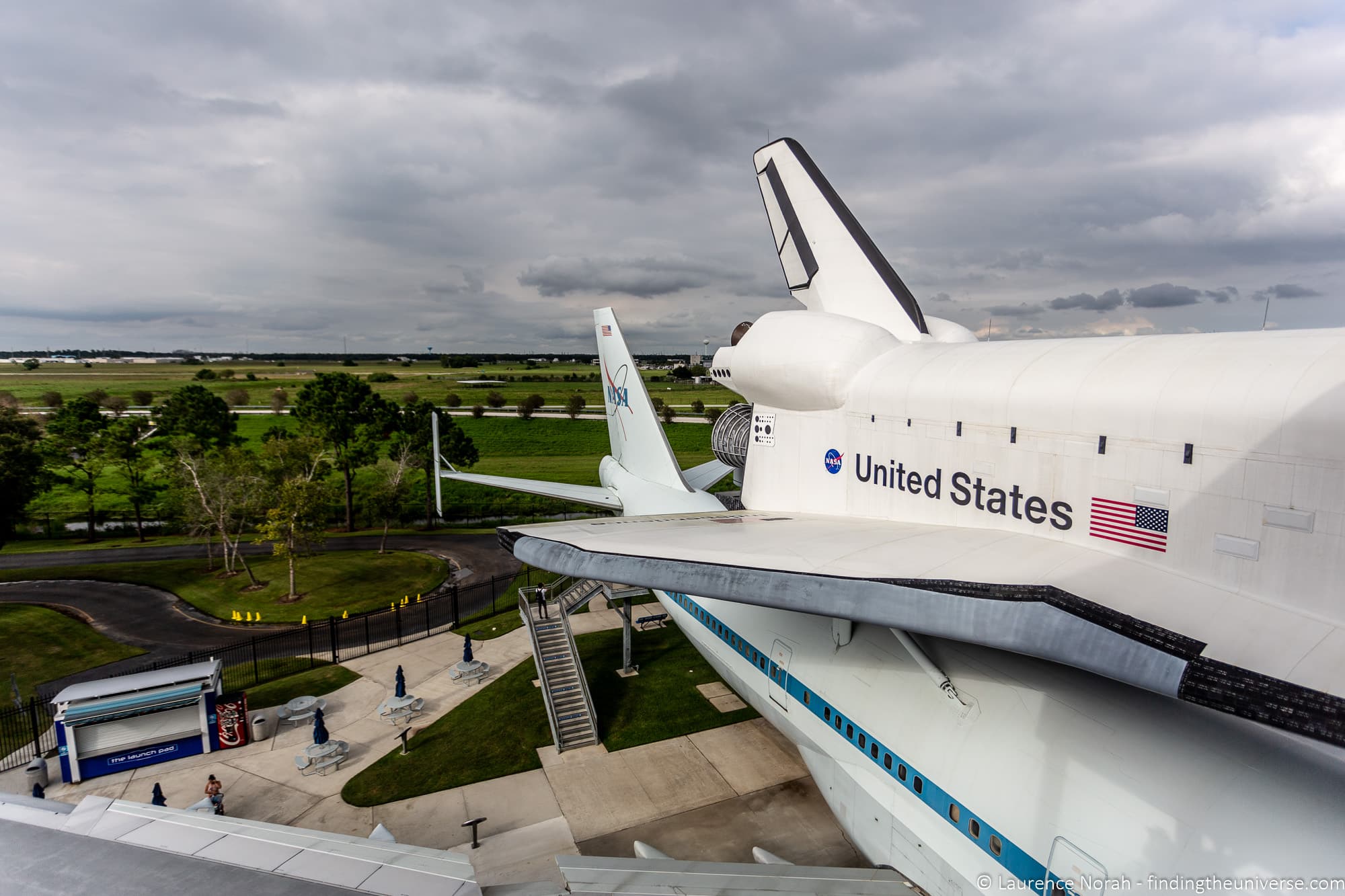 Tours of Space Center Houston
If you are visiting Houston and would prefer to take a tour that includes the Space Center, we've found the following two options for you to consider. These both include entry to the Space Center, return transport, plus some time exploring Houston itself.
The first option is this 6 hour tour of Houston which also includes transport to and from Space Center Houston, as well as entry and a tour of the city
The second option is this longer full day tour which includes a 1.5 hour tour of Houston, as well as time at the Space Centre and the Kemah Boardwalk.
Hopefully one of those tours might work for you!
Where to stay near Space Center Houston
If you plan on spending a full day at Space Center Houston, as we recommend that you do, then you might prefer to stay near the Space Center. This means you can be first in the door when it opens, and maximise your time.
We've found a number of accommodation options near the Space Center, at a variety of price points.
Between these options we hope you will find something to suit your needs and budget.
Further Reading
Well, that's it for our guide to visiting the Space Center in Houston, Texas. Before you go, we wanted to share some other content that we think you'll find useful in planning your trip.
We hope you've found our guide to the Space Center in Houston useful! As always, we're happy to hear your feedback and answer your questions. Just use the comments section below, and we'll get back to you as soon as we can.