As we discovered recently on a road trip around Texas, there's no shortage of things to do in San Antonio Texas. This city is home to all sorts of activities, from excellent museums through to thrilling theme parks and, of course, the UNESCO listed Alamo.
If you're visiting San Antonio, and wondering what to do, we've got you covered! This guide goes through some of the best things to do in San Antonio, and also includes tips on where to stay, how to get around, how to save money, and other practical information for your visit. Let's get started!
Things to do in San Antonio
As you would imagine from a relatively large US city, there's lots to do in San Antonio. In our guide we've focused on some of the major highlights and our favourite attractions. There's certainly more than enough to do here for two or three days, and even more if you visit some of the out of town attractions!
The Alamo
One of the most popular attractions in San Antonio, and definitely a must-visit for when you are in the city, is The Alamo. This was the site of a major battle during the Texas Revolution, when Texas battled for independence from Mexico.
The Alamo was built in the early 18th century as a Mission building in San Antonio, one of a number in the city and surrounding area. After falling into disuse as a mission building in the late 18th century, it was turned into a fortress.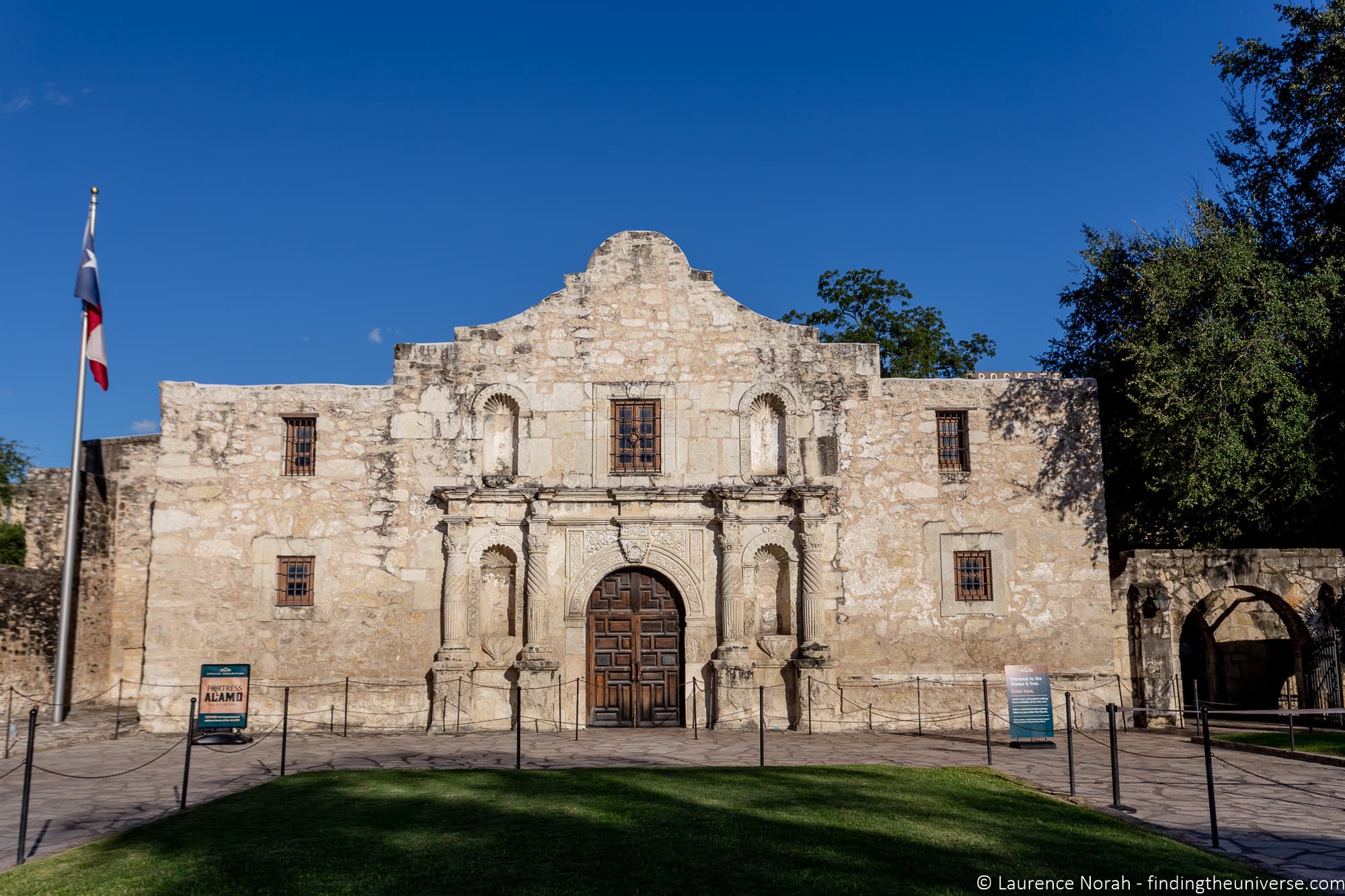 The Alamo is famous as being the site of the Battle of the Alamo, which lasted for 13 days in 1836. The siege ended when Mexican troops overran the heavily outnumbered Texian defendants, leaving only two survivors.
This battle, although comprehensive in its defeat of the Texians at the Alamo, did not have the intended effect of crushing the Texan uprising. Instead, it motivated many more Texians to take up arms, with the popular battle cry "Remember the Alamo!" spurring them on.
The full quote was actually "Remember the Alamo, remember Goliad!", in memory of the massacre of the 300 surrendered troops at Goliad which happened three weeks after the fall of The Alamo, but today the quote is usually shortened to just The Alamo part.
Today, The Alamo is the most popular attraction in San Antonio and is one of the most popular historic attractions in the United States. It can be found right in the centre of the city, and so is easy to get to.
Whilst the original walls of the fortress are gone, the main central area is still standing. This includes the chapel, the Long Barracks, and a number of other buildings.
The Alamo is free to visit, although there is the option to take a paid guided tour or to hire an audioguide. Both of these are well worth doing, as they'll help you understand a lot of the history of what you are seeing. We opted for the audioguide. There are also many displays with information and artefacts.
The Alamo is open year round except Christmas Day, and you can enter from 9am. Closing times vary from 5.30pm September – May, and 7 pm from May – September. You can see the full opening times on the official website, as well as a guide to some ground rules for your visit.
We also have a complete guide to visiting the Alamo, which has everything you need to know, including the history and tips for your visit.
San Antonio River Walk
One thing we absolutely loved about San Antonio was the River Walk. This city park is formed of a series of canals that wend around the city centre, creating a beautiful water filled escape from the hustle and bustle of the main city streets.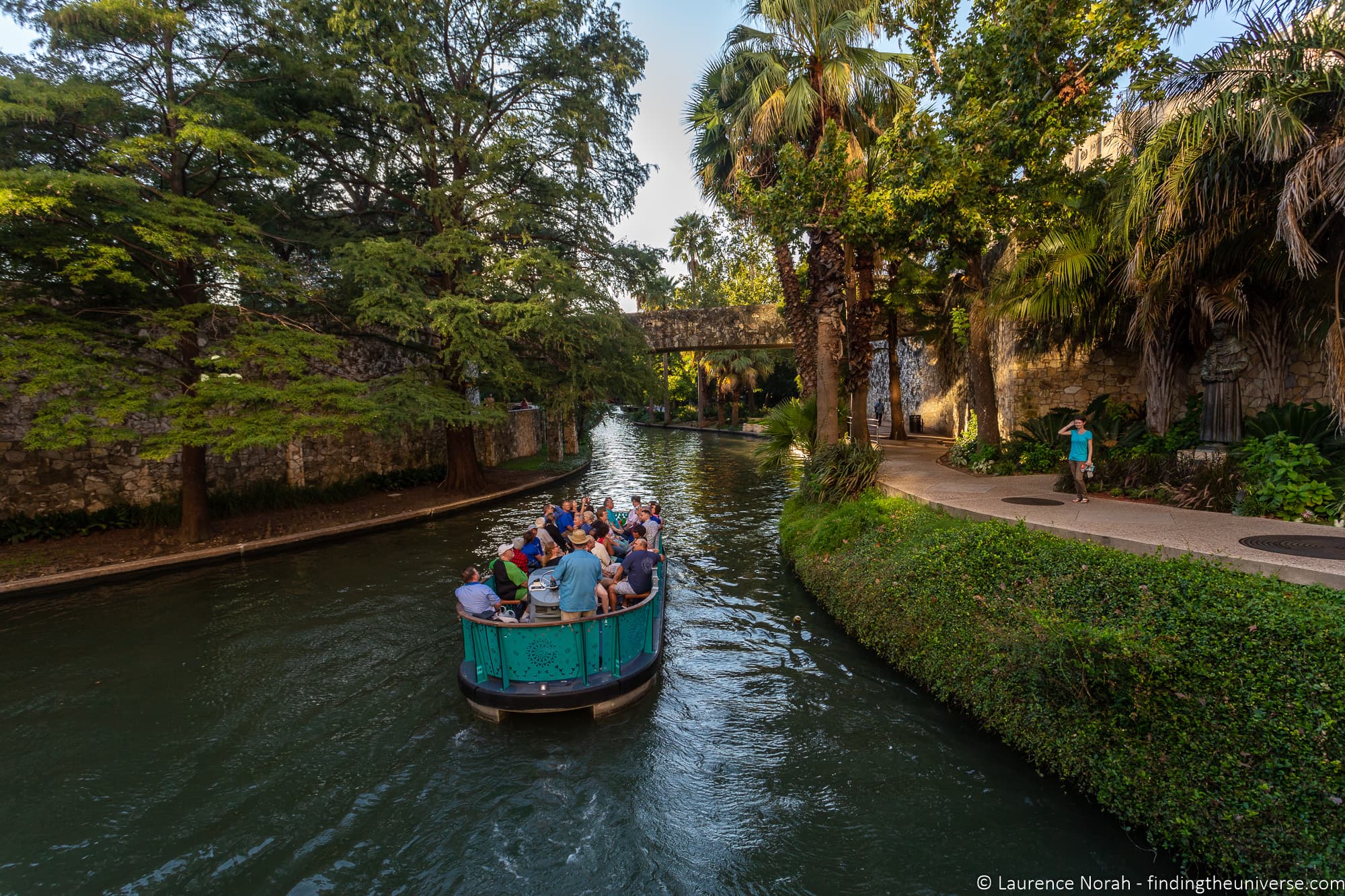 The River Walk is a pedestrian zone that sits one level below the main city streets. It has restaurants, bars, shops, public artwork, and it allows you to get around the city and between many of the city's major attractions without having to worry about traffic and crossing roads.
As well as foot access to the 15 mile length of the River Walk (which goes as far as the Missions), you can also take boat rides. These come in a number of forms. Two of the more popular options are the sightseeing boat rides with guided commentary, which usually last around 35 – 45 minutes.
You can also buy a ticket for the Go Rio River Boat taxis, which will usually be valid for a day and allow for unlimited rides. Tickets can be purchased in advance here. You can also get a combination river boat ride and hop on hop off bus ticket here.
For more about the River Walk, see our complete guide to visiting the San Antonio River Walk, which has tips on what to see and do, where to eat, and how to get around.
Wacky Attractions around Alamo Square
Directly across from The Alamo there are a number of popular family-friendly, wacky, and funhouse sort of attractions that you might also consider visiting, depending on your interests and time.
There are a number of attractions available (all within a short walking distance of each other), including Ripley's Believe it or Not!, Ripley's Haunted Adventure, Guinness World Records museum, Tomb Rider 3D interactive adventure ride, Louis Tussauds Waxworks, and The Amazing Mirror Maze, all of which offer fun experiences.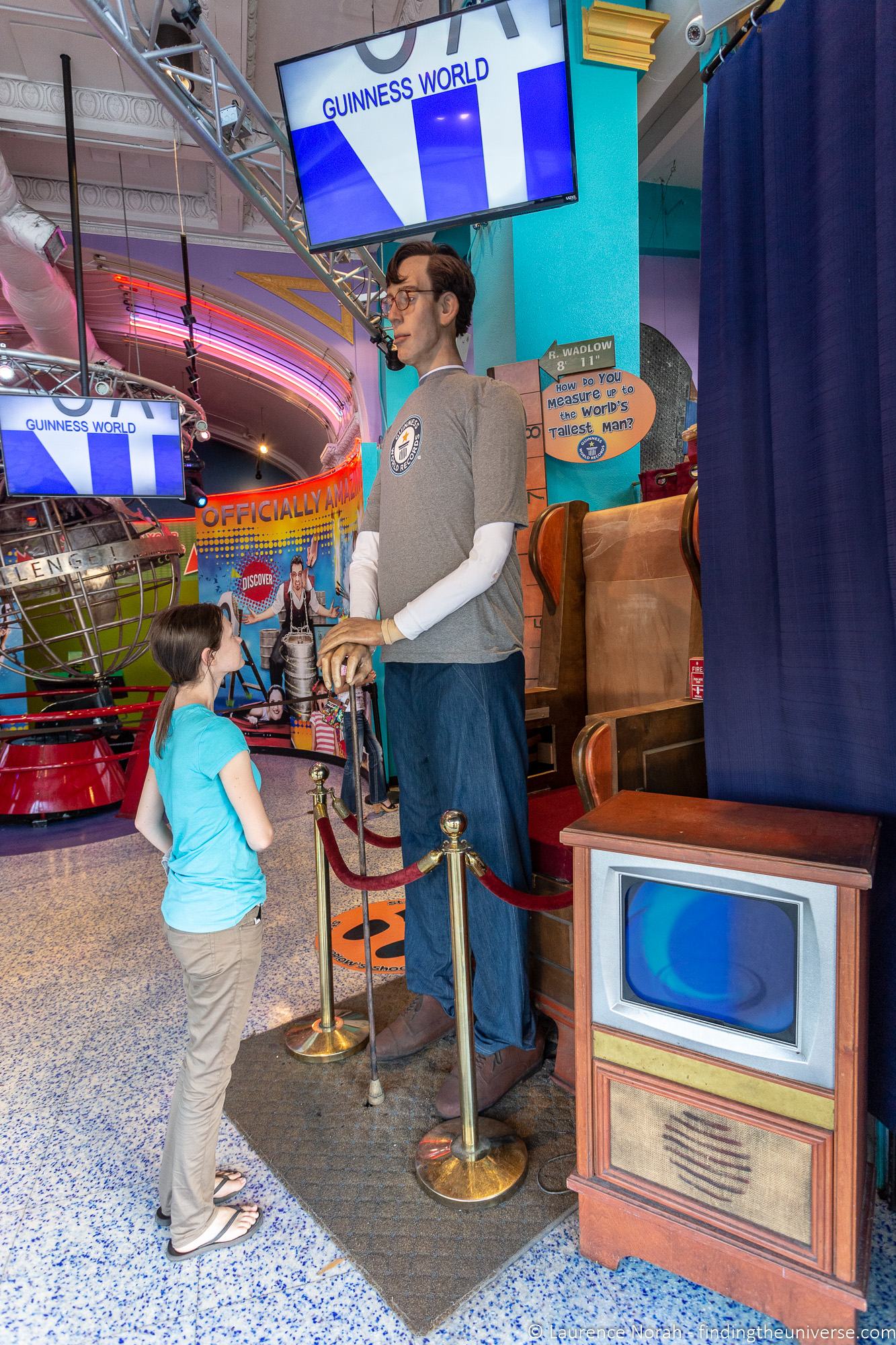 These attractions are a lot of fun, but are definitely fairly pricey if purchased individually. Our advice if you decide to visit them is to consider a combo ticket which will cover many of them, or use something like the Go City Card which also includes most of these attractions.
For example, the Guinness World Records, Tomb Rider 3D and Ripley's attractions are available as Combo tickets, which can save you up to 59% over individual tickets.
As well as this, all these attractions are available on the Go City San Antonio Explorer Pass.
We'd highly recommend one of these two options for these attractions rather than buying individual tickets, which will be fairly expensive.
San Antonio Museum of Art
Art lovers will want to make a beeline for the San Antonio Museum of Art, housed in the former Lone Star Brewery complex.
Whatever time period or art type you are interested in, the odd are that the SAMA will have you covered, with art ranging from Ancient Egyptian, Greek and Roman, European, and ancient and modern American art.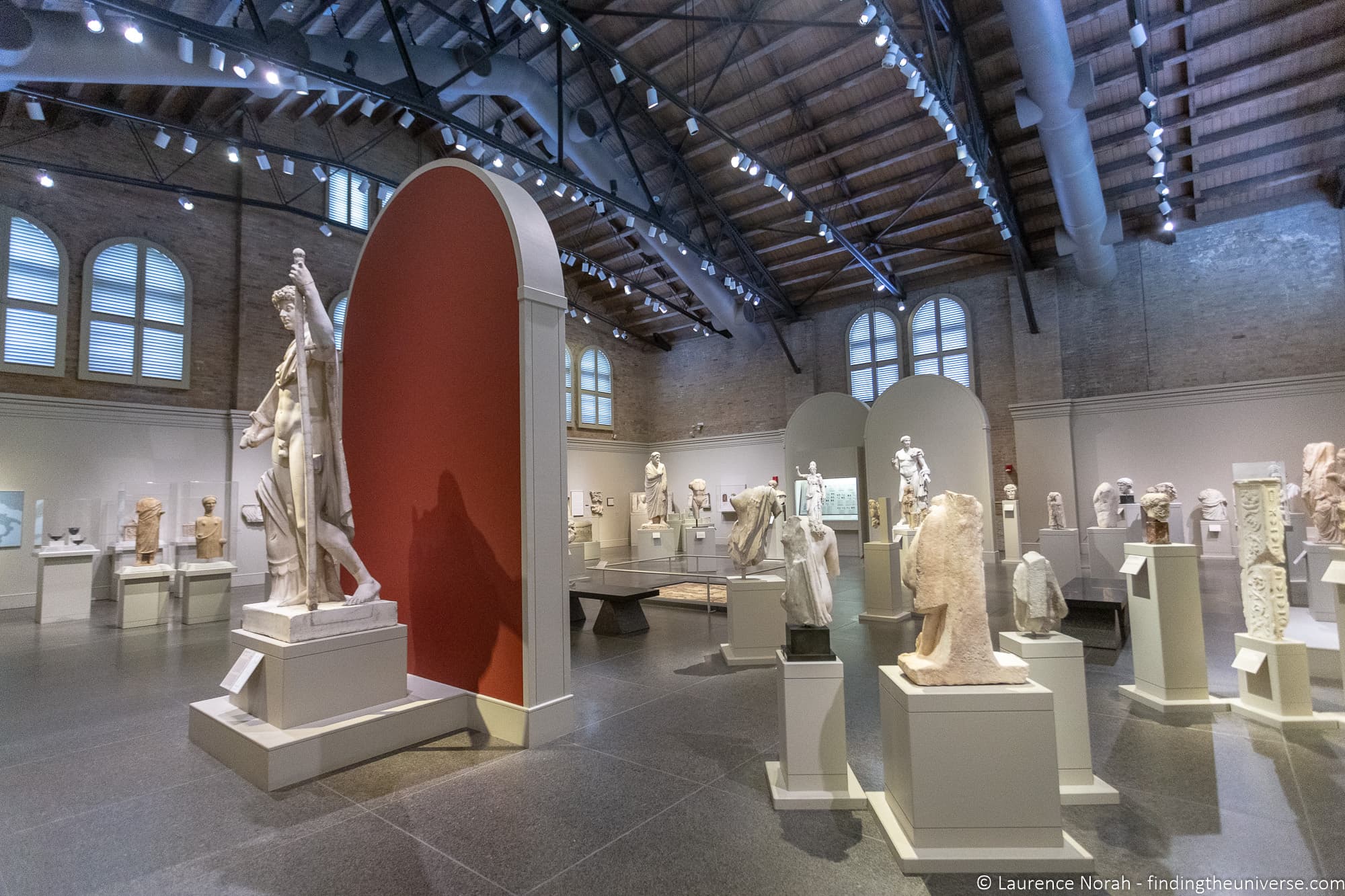 As you might imagine, the museum is fairly large, and the collection is home to over 30,000 objects that span 5,000 years of history. You could easily spend a few hours here browsing the collection!
Free parking is available on site, and you can also get to the museum via the River Walk. There is an admission fee of $15 with concessions available. There are also free entry times on some days of the week, check the official website for more information, as well as opening times and details of special exhibitions.
It's also possible to buy an entry ticket with a 2 day hop on hop off bus ticket.
Pearl Brewery
Before you get too excited about a brewery tour, I have to break it to you that the Pearl Brewery is no longer an actual brewery. There was a brewery here from 1883 through to 2001, but operations shifted to other regions of Texas, and this brewery closed.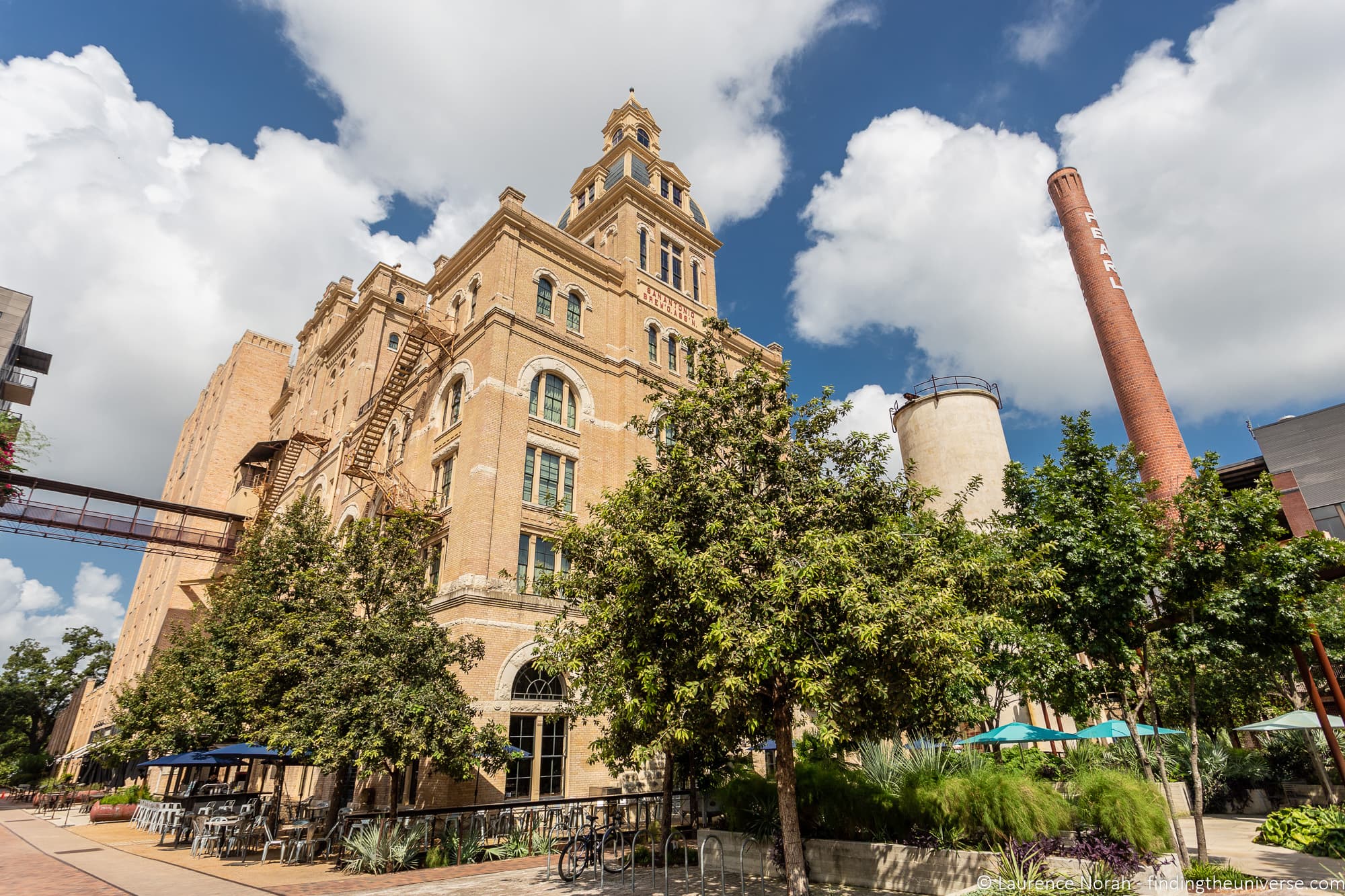 However, all is not lost! The Pearl Brewery has undergone a massive regeneration project, and is now home to numerous culinary and cultural attractions. Even better, many of the original buildings were sympathetically restored, to give the area a unique feel and vibe.
There's plenty to see and do here, from visiting independent book stores, restaurants and shops, through to shopping at the year-round Pearl Farmers Market.
Pearl Brewery has a number of on-site parking options, and it can also be reached by the San Antonio River Walk, which was extended to the Pearl Brewery in 2013.
Buckhorn Saloon and Museum and Texas Ranger Museum
The Buckhorn Saloon and Museum is a San Antonio institution, but it definitely won't be for everyone. The Saloon itself is bar, which is free to visit, but the highlights here are definitely the two museums – one which primarily houses the collection of Albert Friedrich, and one which focuses on the history of the Texas Rangers.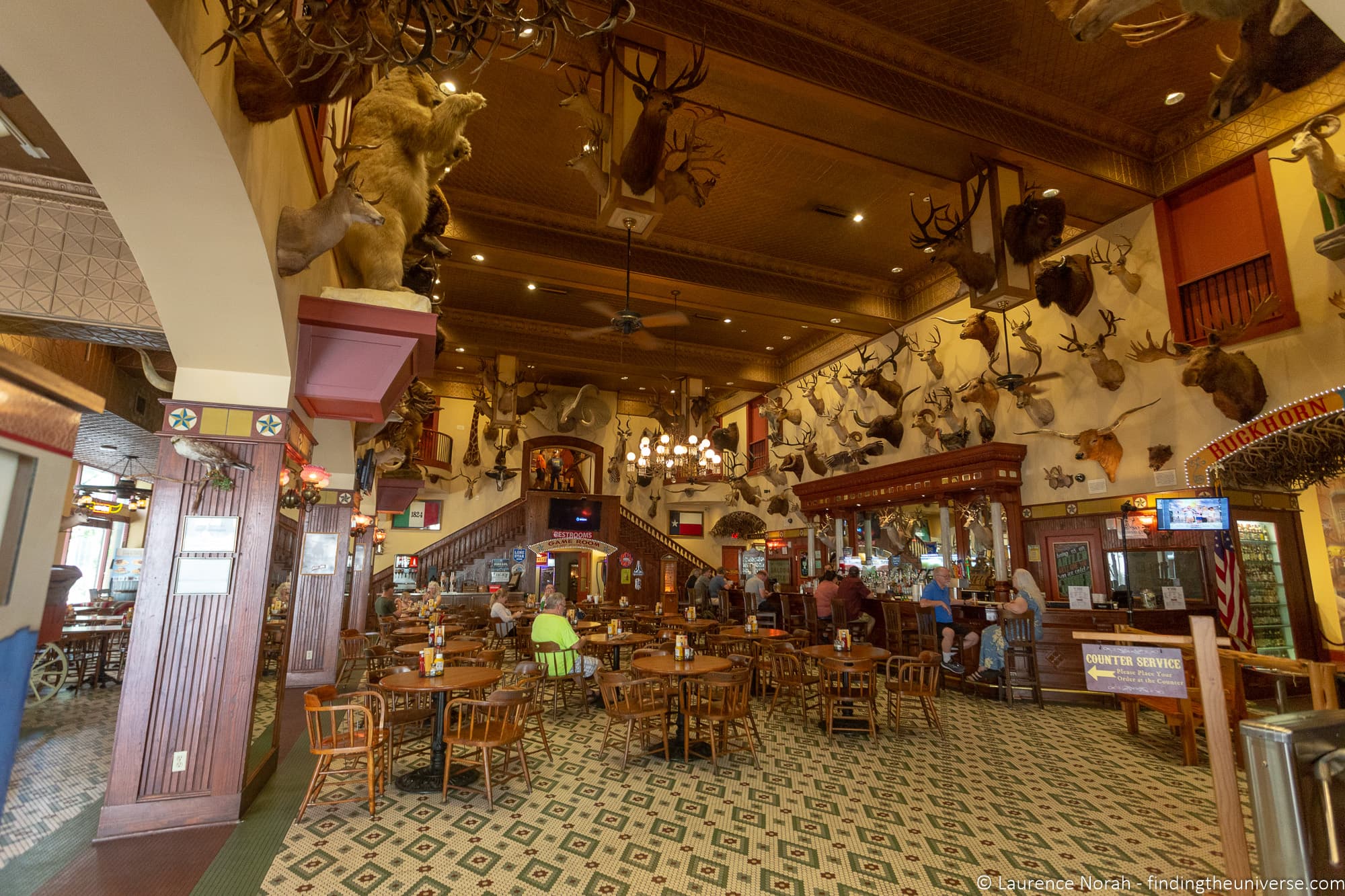 Albert Friedrich was a cabinet maker, born in 1864, whose creations were owned by notable turn of the century figures including Queen Victoria and Kaiser Wilhelm. In 1881 he started a private collection of mounted wildlife, which rapidly became a tourist attraction in its own right. The collection moved over the years, and is now found in downtown San Antonio at 318 E. Houston Street.
The Buckhorn Museum has expanded over the years, and now represents over 520 species of wildlife, including fish from all seven seas and animals from every continent.
It is quite the display, and animal lovers may find it disturbing. Certainly, when the collection was started, attitudes towards shooting and mounting wildlife on a mass scale were somewhat different!
The Buckhorn Museum is more than just wildlife though. There's also the Carnival of Curiosities and the American Sideshow. The former offers fun optical illusions and interactive displays, whilst the latter focuses on the sorts of exhibits you might have found in early 20th century carnival sideshows.
On site, and also included in the entry ticket, is the Texas Ranger museum. This contains hundreds of authentic Texas Ranger artifacts from the history of this uniquely Texan law enforcement agency, including weapons, badges, and a recreation of turn-of-the-century San Antonio.
Overall, the museums and saloon take up over 40,000 square feet of space. It's much larger than we were expecting from the outside, and we ended up spending much longer here than we anticipated as there was so much to see!
The Buckhorn Saloon and Museum is open 10am – 5pm on most days, but check the website for full times as these vary. There's an entry fee for the museums, although you can visit the Saloon Cafe and gift shop for free.
San Fernando Cathedral
Dating from 1750, making it the oldest church in Texas (and one of the oldest in the USA), the San Fernando Cathedral is an impressive twin towered Roman Catholic Cathedral that serves as the seat of the Archbishop of San Antonio. The dome on top of the cathedral is the geographical center of San Antonio, with the Cathedral itself sitting on the city's main plaza.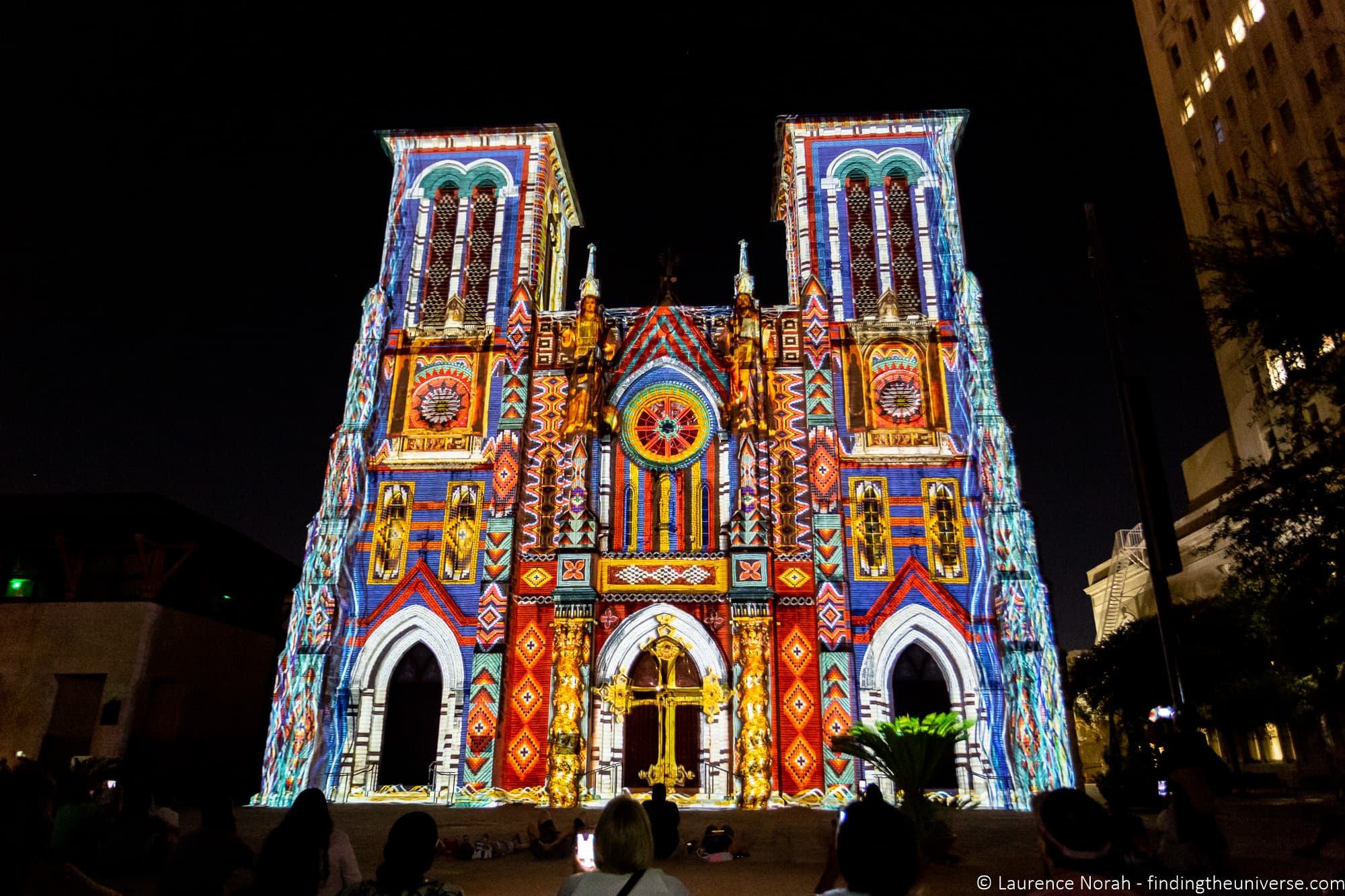 The cathedral is free to visit, and mass is celebrated through the week. You can see times on the official website here.
Whilst the Cathedral is certainly worth visiting at any time of day, it is particularly popular in the evenings. This is because the front facade of the Cathedral plays host to a spectacular sound and light show.
This show, which runs on Tuesday, Friday, Saturdays and Sundays at 9pm, 9.30pm and 10pm, tells the story of San Antonio through a 24 minute video. This video is projected onto the cathedral, making for a 7,000 square foot light spectacle that really has to be seen to be appreciated.
The show was created by French artist Xavier de Richemont and first started showing in 2014. The cathedral was chosen for the display as it is the historic heart of San Antonio, and so is the perfect location for a story about the history of the city. Following very positive feedback, it was scheduled into a regular event, and is currently due to run until at least 2024.
The event is free and open to anyone. We suggest arriving a little before it starts to get a good spot, although as it's projects onto the side of the cathedral and is 7,000 square feet in size, it's pretty easy to view from almost anywhere on the square!
Mission Trail
San Antonio is home to a number of other missions beyond the well visited Alamo Mission, and these can be found on the San Antonio Mission Trail. This trail, which encompasses four missions, is actually a national park, known as the San Antonio Missions. Along with the Alamo, these form a UNESCO World Heritage site.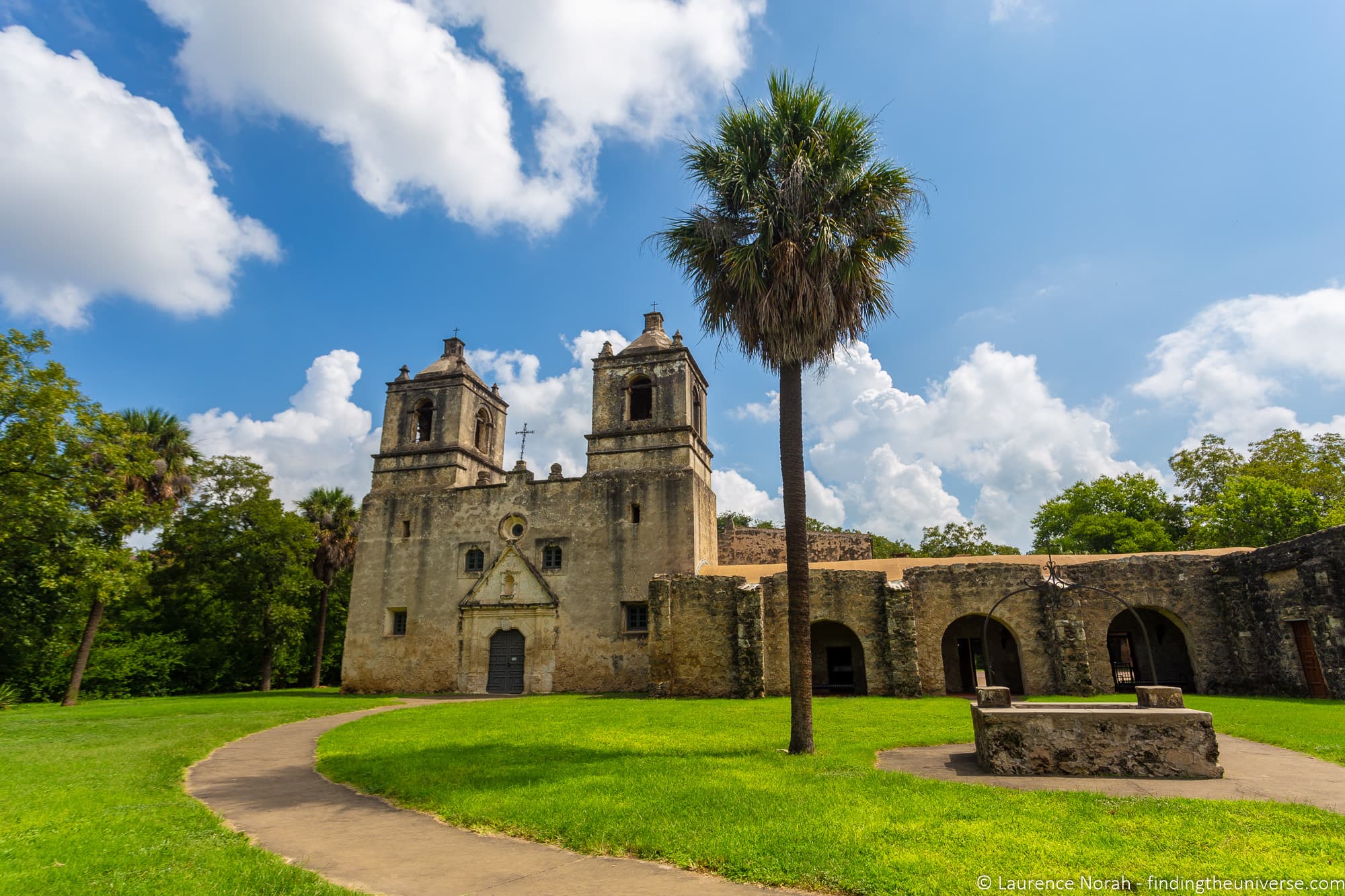 The four missions, which were built between 1690 and 1720, are found to the south of the city along the San Antonio river. They are in various states of preservation, with Mission Concepción, the northernmost of the missions, being in the best state of preservation.
Visiting these missions gives you a sense of what the Alamo might have been like as a mission, and is also a far less busy experience. We found them to be very peaceful places, and well worth the small effort required to visit.
The four missions are spread out, with around 2 – 3 miles between each one, and the first one, Mission Concepción, is around 3 miles south of the city center. As you would imagine, the best way to get between the missions is to follow the mission trail, which is a driving route.
However, you can also get between the missions on foot if you fancy a long walk, and this pedestrian route is also open to bikes. This trail actually links the missions from the Alamo all the way down to the southernmost mission, Mission Espada. If you don't have your own bike, you can rent them from the B-Cycle stations in the city, or at each mission.
Note that summer days in San Antonio are generally very hot and humid, so unless you are used to walking or cycling in these conditions, we'd generally advise choosing another option.
The missions are also accessible by public transport, by bus line 42 or 40. See the Via website for more information on times and ticketing.
Another option is to take a tour that focuses on the Missions like this one. We have a section towards the end of the post with some recommended tours you might consider for your time in San Antonio.
Visiting the Missions is free, and they are generally open from 9am or 10am until 5pm every day, with some holiday exceptions. You can see full opening times on the National Parks website here.
The Guenther House
The Guenther House, which is found in the attractive King William neighbourhood to the south of the city centre, is a house museum and restaurant. It's registered on the National Register of Historic Places, and is notable as being the home of the founder of the Pioneer Flour Mills, Carl Hilmar Guenther.
The Guenther House is just one of many interesting houses in the King William neighborhood and you can walk around the area and visit a number of others, such as the beautiful Villa Finale.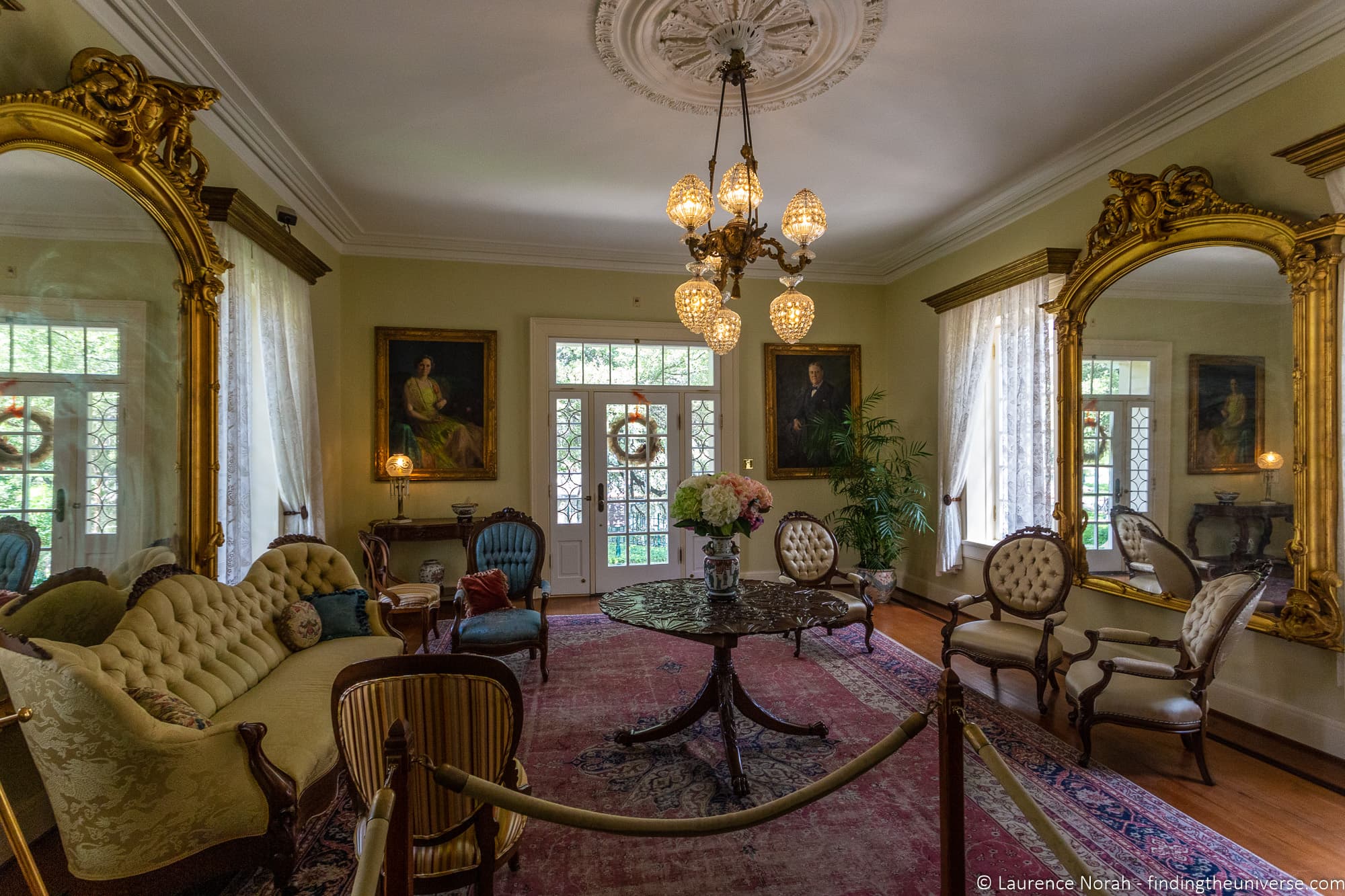 The property still stands on the grounds of the Pioneer Flour Mills, which is still in operation today as a producer of flour and baked good products.
The house is open for tours, and contains artifacts related to life in the 19th century, as well as family keepsakes and items related to the milling and baking history of San Antonio.
The cafe and restaurant, which is found downstairs in the house, is also good, and we had a nice lunch here. Menu items are influenced by various Pioneer flour blends and products, but there's lots to choose from, and the signature house blend coffee in particular is excellent.
Open seven days a week, entry to the house is free. The restaurant is open from 7am – 3pm daily. See the official website for details of any special events or closures.
Casa Navarro State Historic Site
Housed in his original adobe and limestone property, Casa Navarro celebrates the life of José Antonio Navarro, one of only two native-born Texans to sign the Texas Declaration of Independence.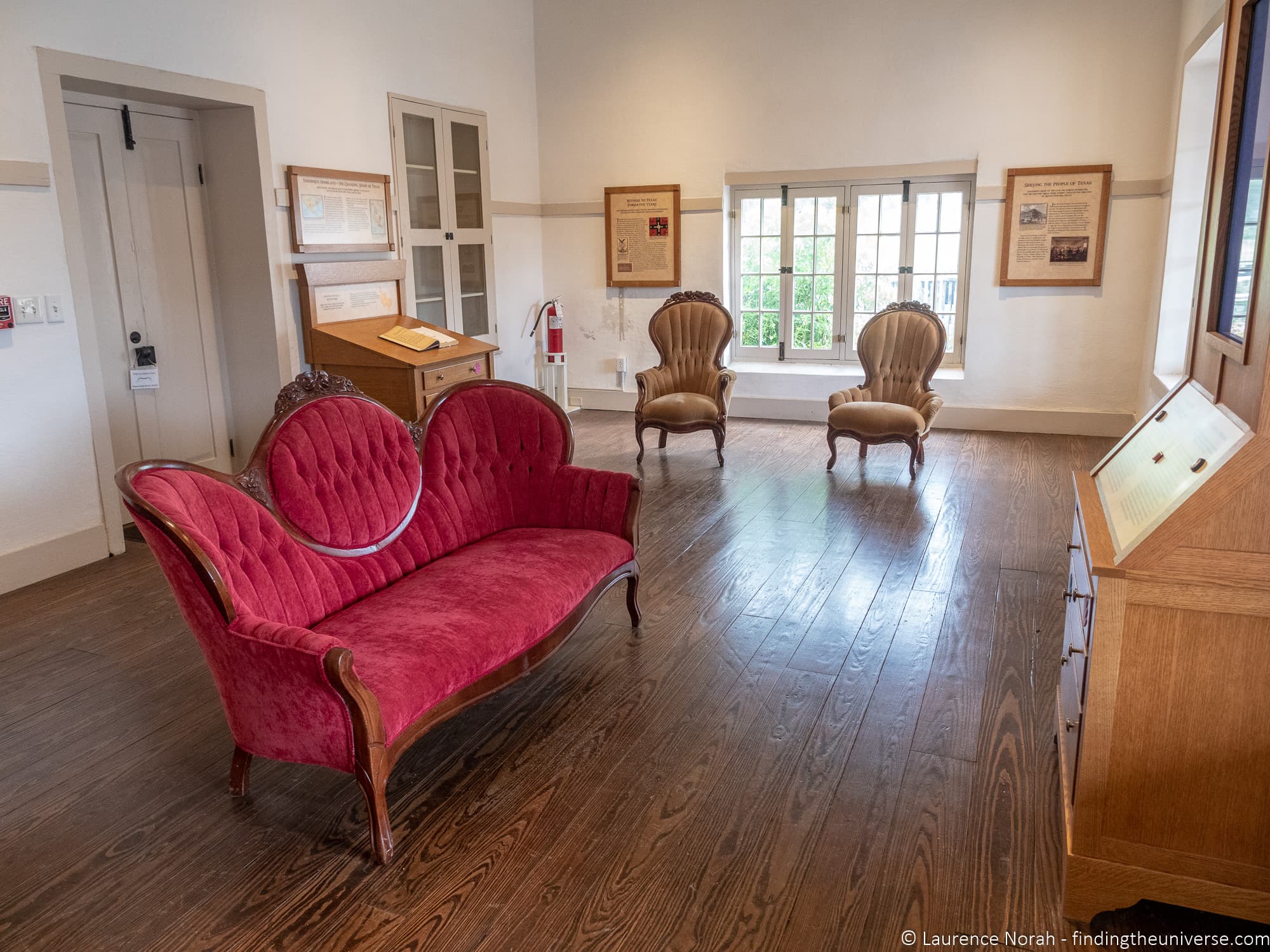 This is a lovely property to visit if you want to get a bit of insight into the life of an individual 19th century Texan. You'll see what his home was like, as well as learn all about the man himself, who served as a leader of the people and an influential politician.
From a historical San Antonio perspective, the property is also fascinating, as it is the only surviving property of the historically Mexican west side of San Antonio. It's also a rare example of an adobe and limestone property, and is one of the oldest remaining adobe structures in the whole city.
There's a small fee for entrance, and it's open every day except Mondays and some holidays. See the official website for more information.
Spanish Governor's Palace
Just a five minute walk from Casa Navarro is the Spanish Governor's Palace, another historical 18th century Adobe structure. This building is all that remains of the Presidio San Antonio de Béjar, the residence and working office for the military garrison Captains at the time.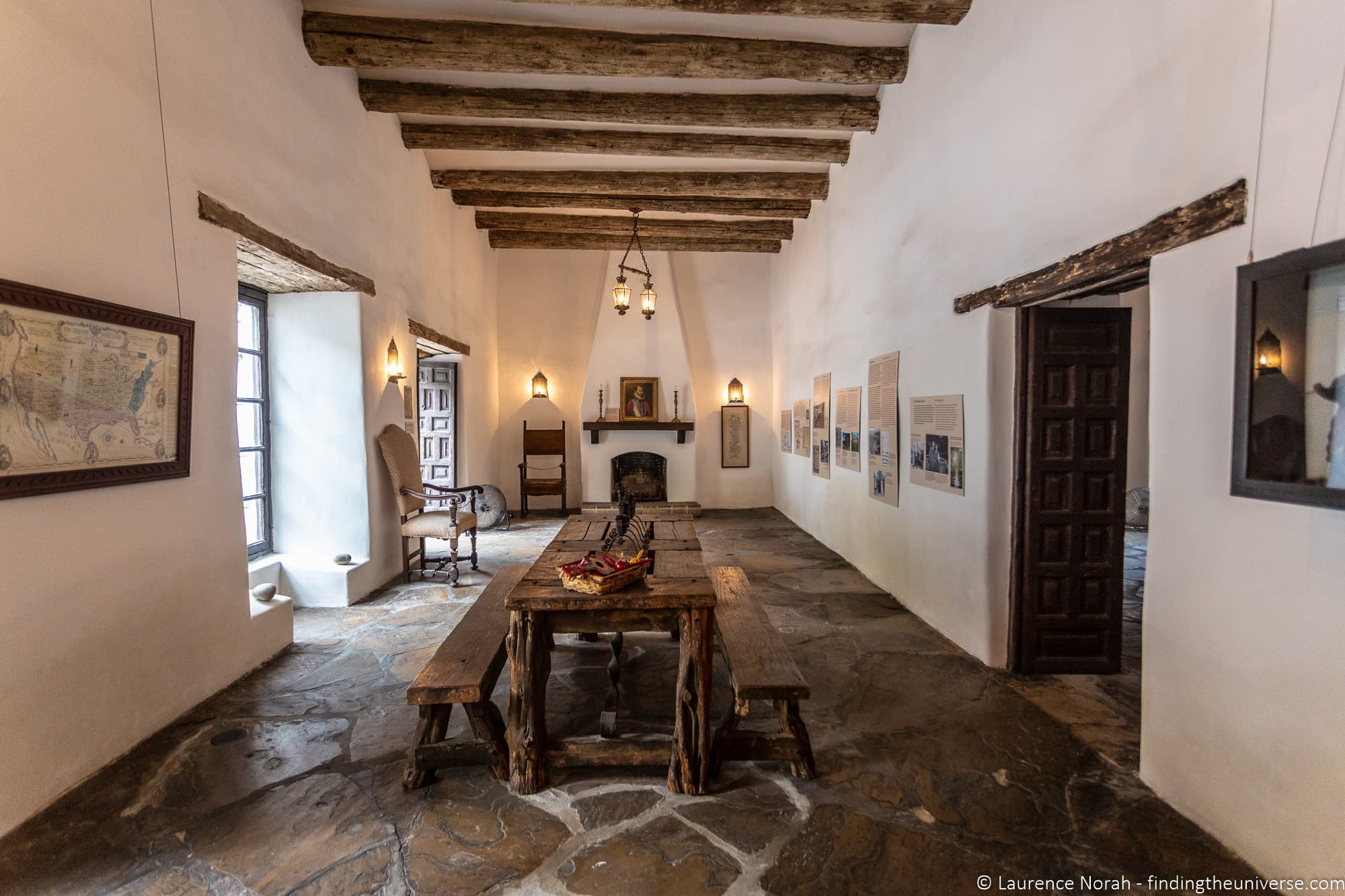 National Geographic named this the most beautiful building in San Antonio, which we think is reason enough to visit.
If that's not enough to entice you to visit though, you should also know that the building is open as a museum, where you can explore the ten rooms, learn about its history, from colonial years to the present day.
The museum is open year round every day except Mondays, and there's a small entry fee. You can see more on the official website.
Tower of the Americas
If you want a good view across San Antonio, you're going to want to head up the Tower of the Americas in southeastern downtown San Antonio.
This 750ft high tower was originally built for the 1968 world fair, and was the tallest observation tower in the US for nearly thirty years – a title it lost to the Las Vegas Stratosphere tower in 1996.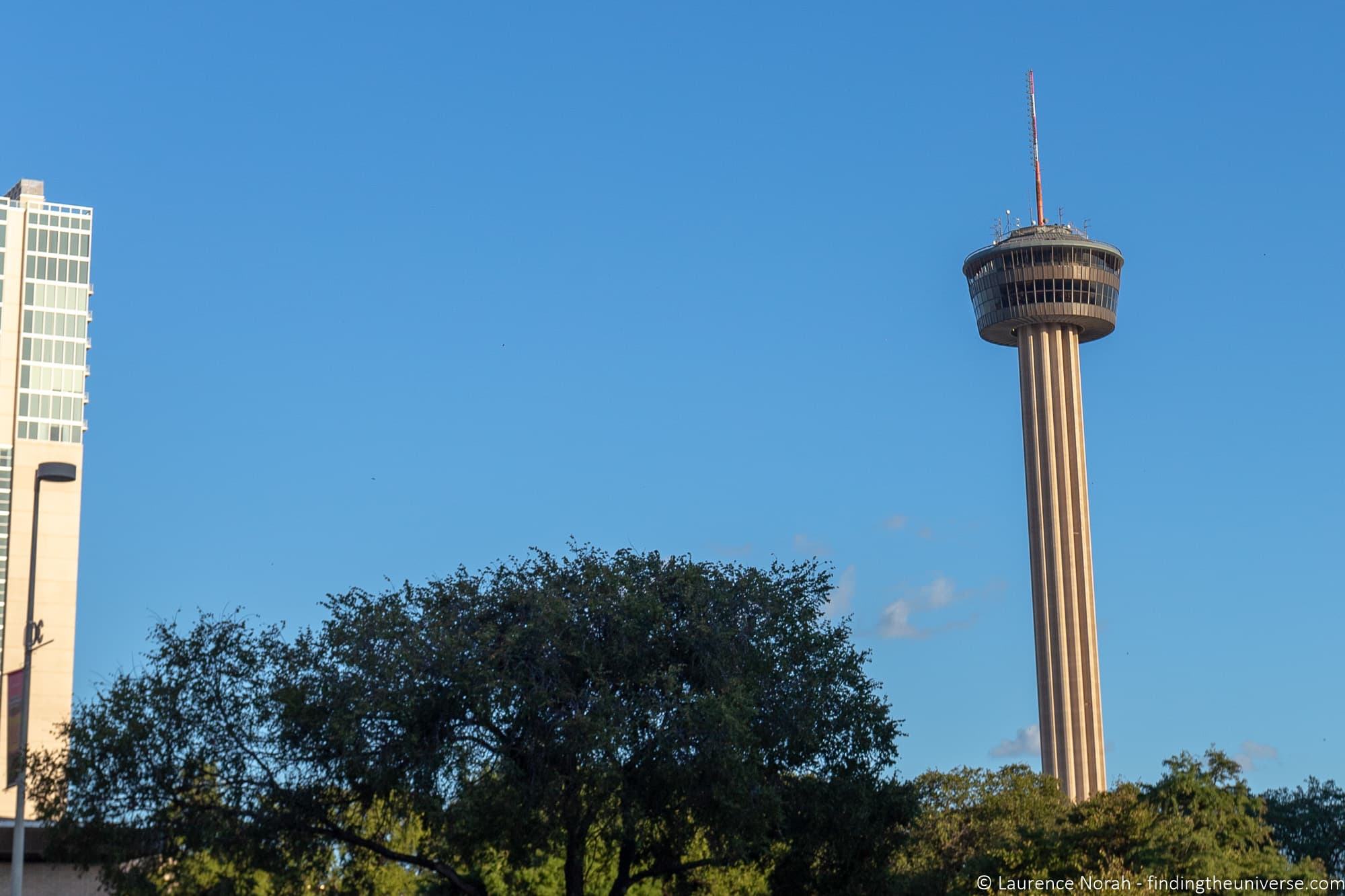 Still, it's certainly the tallest structure in San Antonio, and the observation deck offers sweeping panoramic views of the city. There's also a lounge and revolving restaurant at the top of the tower, if you want to enjoy a drink or a meal with your view.
Access to the viewing areas and restaurant is via an elevator, and there's a fee, which includes elevator access as well as a 4D Theater Ride. The tower is open year round, and opens late into the evening, so also makes for a good place to watch the sunset in San Antonio.
You can check opening times, prices, and make reservations for the restaurant on the official website here.
Japanese Tea Garden
If you want to just relax a bit and enjoy some beautifully laid out and calming gardens, you'll want to head to the Japanese Tea Garden, which is found in Brackenridge Park.
This is found on the site of a former limestone quarry, which was where the building blocks for many historic San Antonio buildings was mined, most likely including Casa Navarro.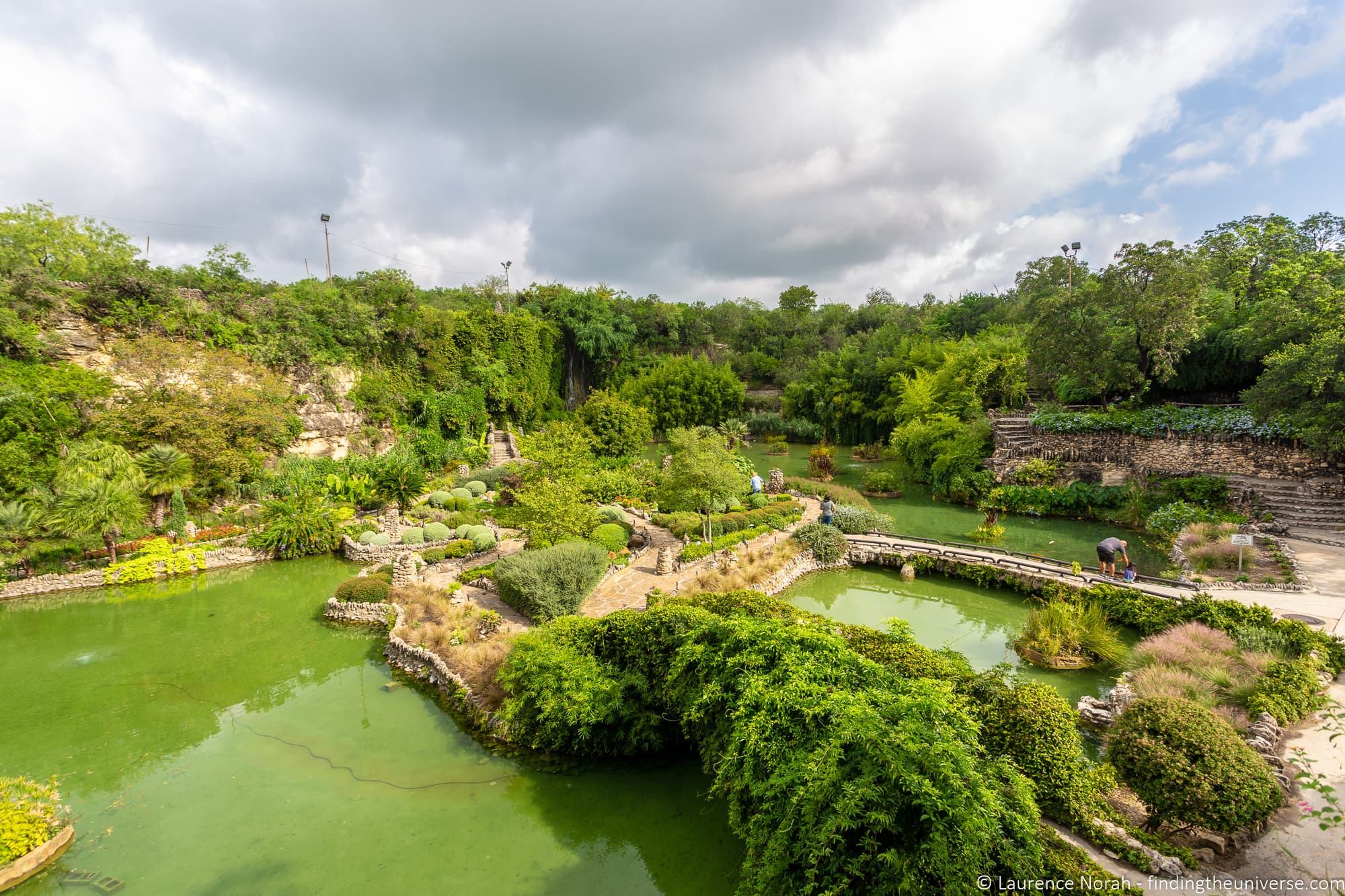 A Japanese Garden was originally opened on this site in 1918, and it went through various guises through the years, including being renamed to the Chinese Garden during the period of anti-Japanese sentiment in World War 2.
Following many years of neglect, a restoration project was launched, and the garden was re-opened in 2008. Now fully open, the garden features a cafe which also serves Japanese dishes, amphitheater for events and beautiful water features and trails. It's a lovely space to come and get away from the hustle and bustle of the city.
Entry is free, and the garden is open 365 days a year from sunrise to sunset. You can also visit as part of a tour like this.
San Antonio Botanic Garden
Speaking of gardens, we couldn't do a post of things to do in San Antonio without mentioning the San Antonio Botanic Garden. This is the city's official botanic garden, operated as a non-profit, and it spans 33 acres of grounds.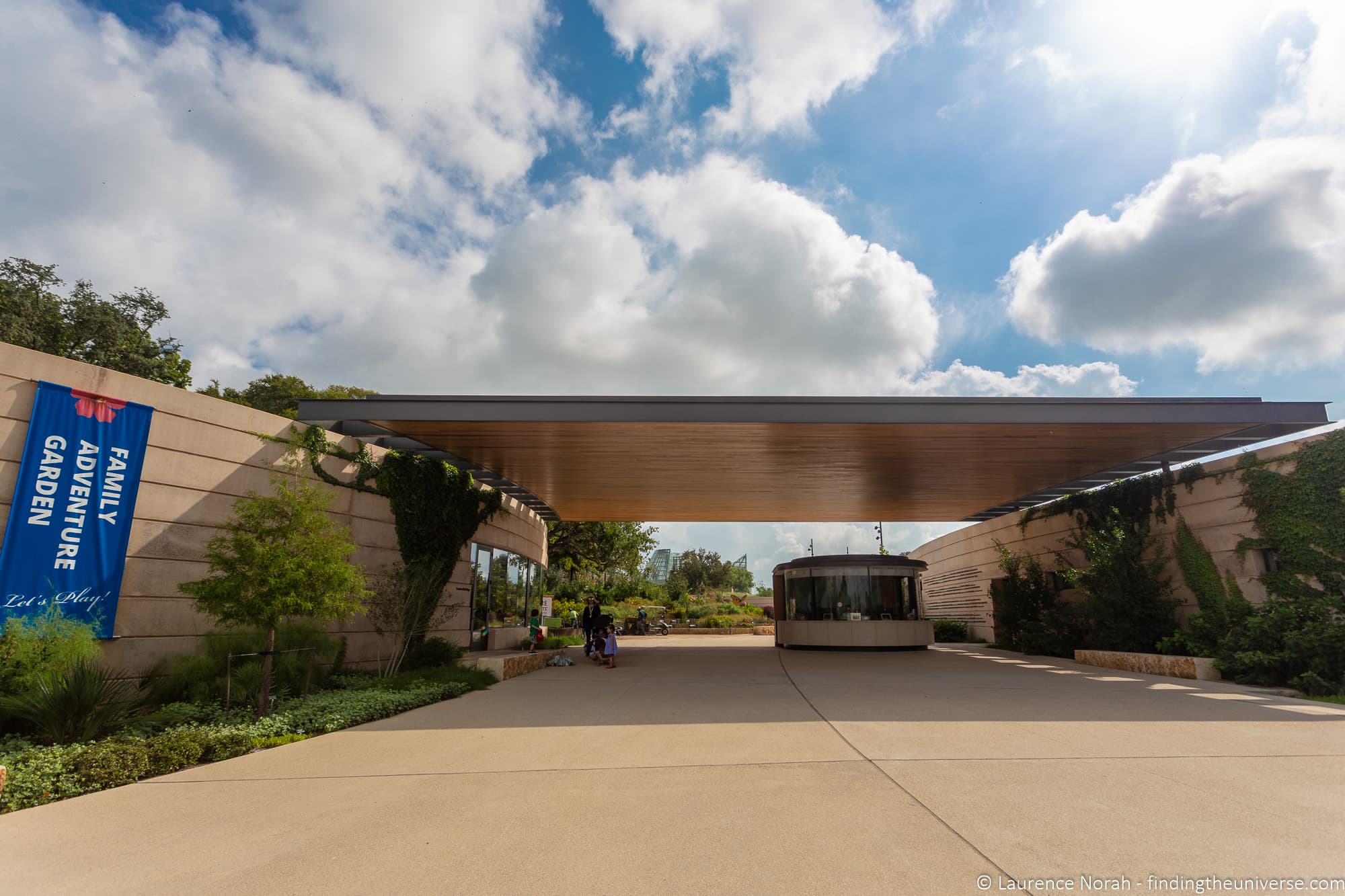 There are a number of areas to explore, including the subterranean Lucile Halsell Conservatory, various formal gardens, the Sullivan Carriage House, an Ornamental Grass garden and Kumamoto En, a Japanese Garden.
There's a fee to enter the garden, and it's open from 9am – 5pm daily, with some closures on holidays. There's also free parking on site. See the official website for full ticket prices and opening information.
Witte Museum
Opened in 1926, the Witte Museum is the place to head if you want to learn about the culture and history of the state of Texas.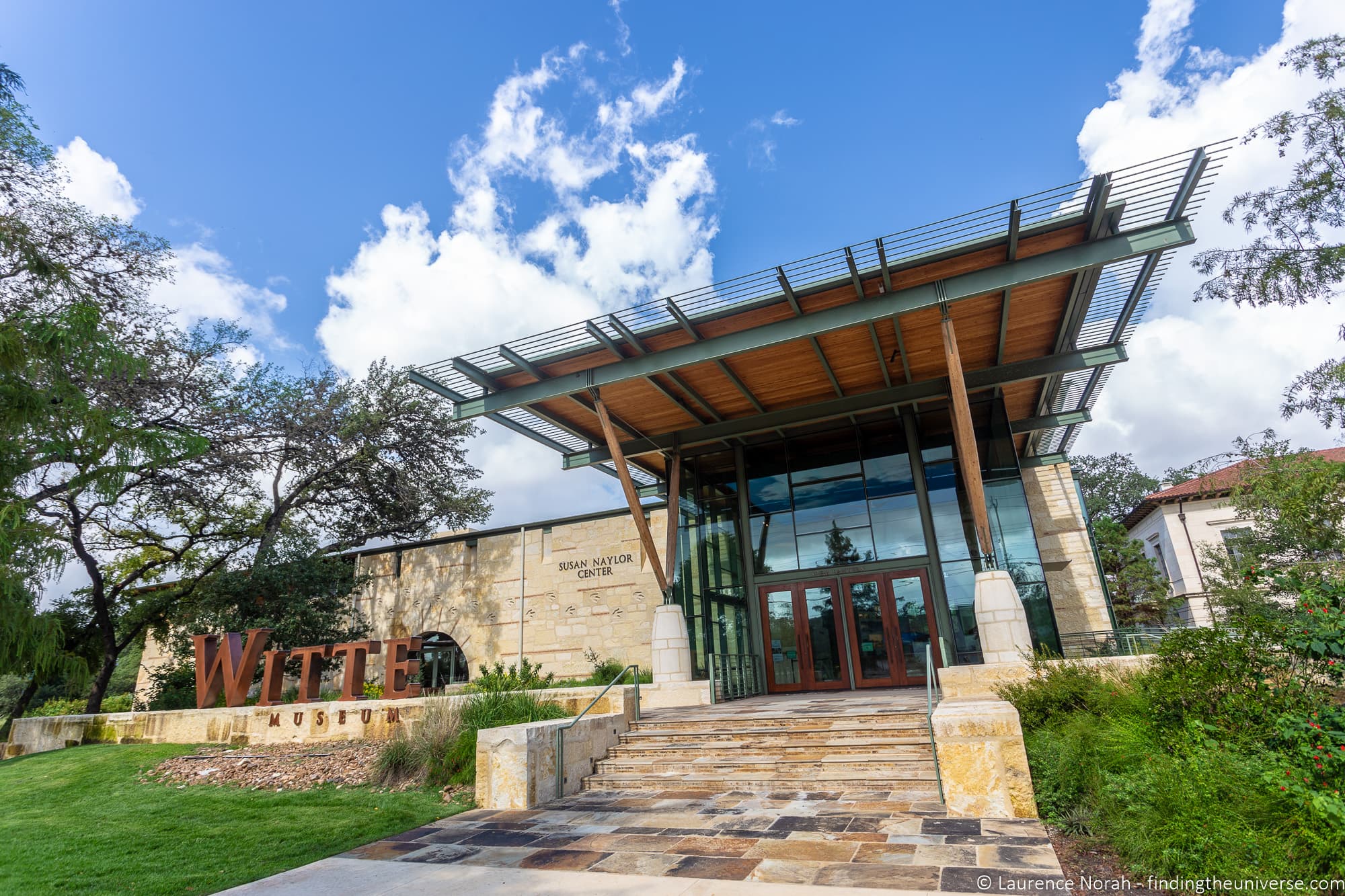 This tale spans from prehistory right up to the modern day, and features everything from cave paintings and dinosaur bones through to a four storey high interactive body adventure which will have you cycling through virtual landscapes, strolling the San Antonio River, and learning all about how your body works.
There's plenty to see and do here, with free parking available on-site. There's an admission fee of $12, and the museum is open year-round every day, with a few holiday exception. Check their website for full details as well as information on special exhibits.
The DoSeum
If you are visiting San Antonio with children, you definitely need to add the DoSeum to your things to do list! The DoSeum is San Antonio's museum for kids, with a focus on interactive education.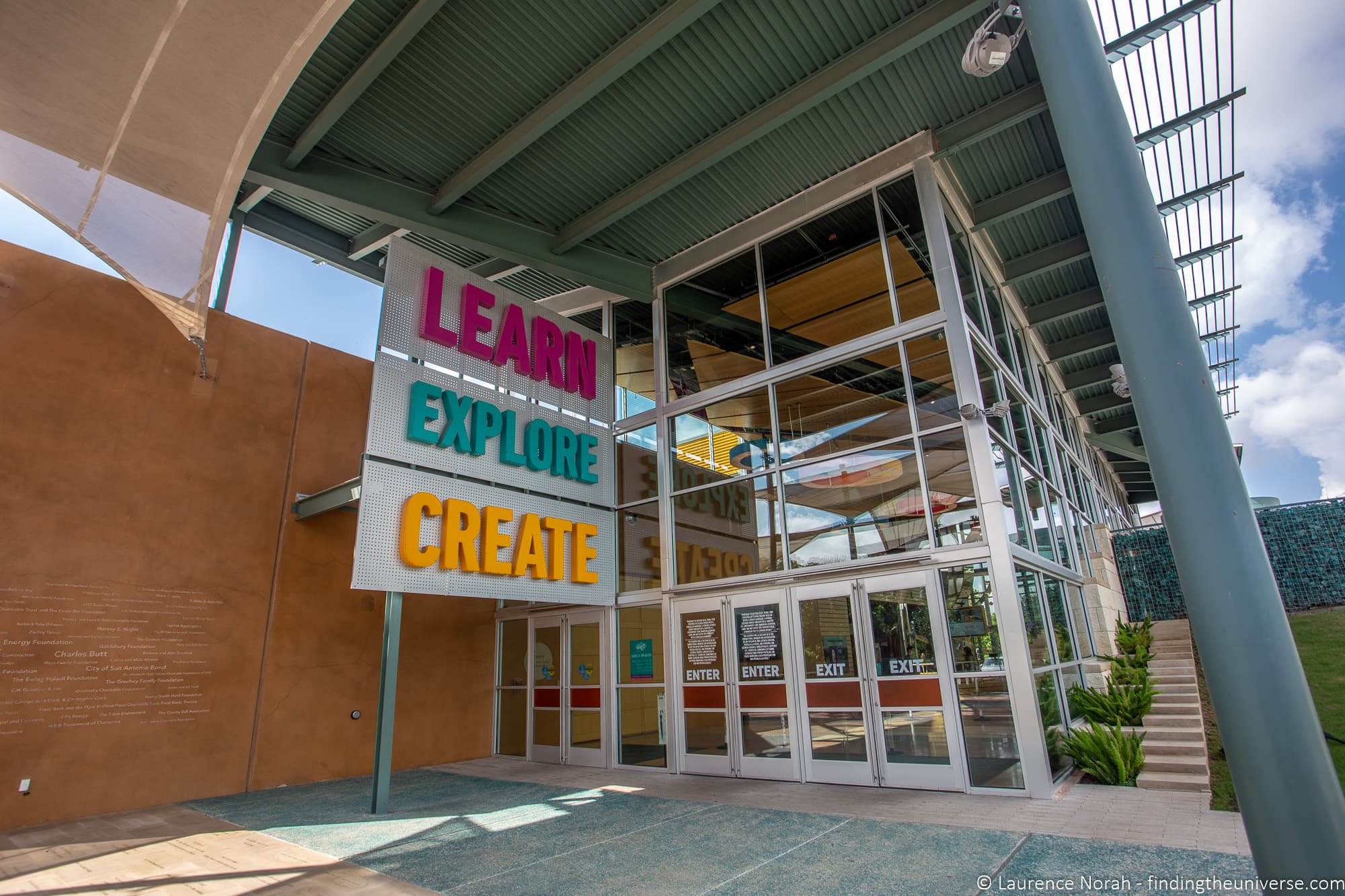 Here you'll find everything from an interactive robot to a spy academy to a musical staircase. There's loads of fun to be had, with a focus on science, technology and mathematics based experiences. Essentially your kids will end up learning through fun, which has to be the best way to learn!
The DoSeum is open through the week although hours vary depending on the day, and there are some holiday closures. There's an admission fee, and children must be accompanied by an adult. Note that due to the nature of the museum, adults visiting without children need to provide ID and pass a background check to gain admission. For more information on visiting, see the official website.
San Antonio Zoo
Another family favourite, the 35 acre San Antonio Zoo is home to 750 species and is one of the most visited attractions in the city.
The zoo is home to all sorts of popular species, from lions to giraffes and elephants, as well as numerous other species. There's also a narrow gauge train ride, an Aquarium, and amphibian display, and much more on offer.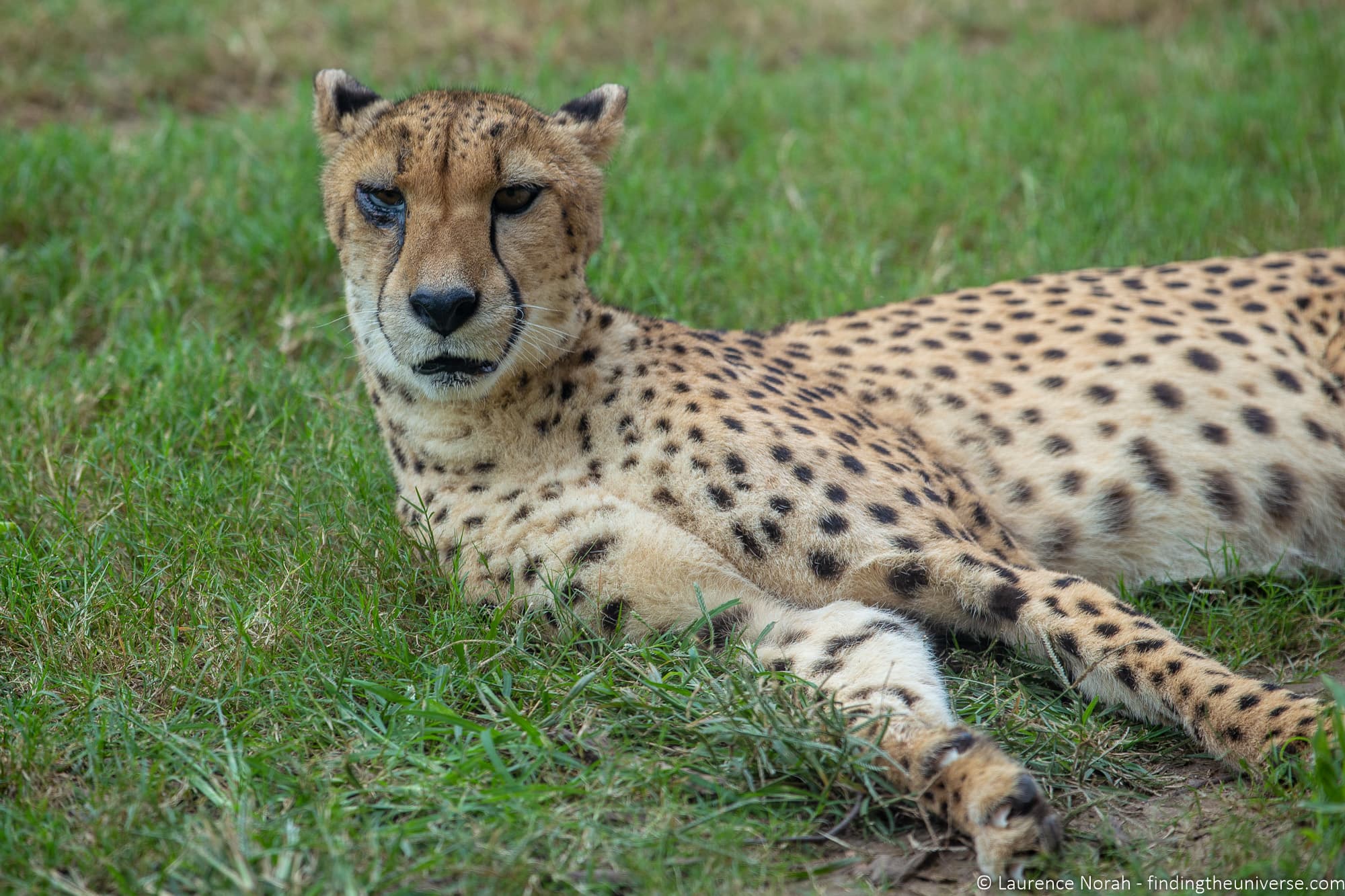 As with many attractions of this nature, the Zoo can easily fill up half a day or more, so if you do plan a visit here, make sure to allocate enough time.
The Zoo is found in the north of the city in Brackenridge Park, and is open year round. There's free parking available, and the zoo has an entry fee. Other nearby attractions include the Japanese Tea Garden, Witte Museum, and the DoSeum. You can reach the zoo by car or public transport from the city center.
The Historic Market Square
If you're looking for Mexican themed souvenirs, you're going to want to head to the Historic Market Square. This huge indoor market spans three blocks to the west of the city plaza, and is home to almost 100 locally owned shops and stalls that focus on Mexican goods.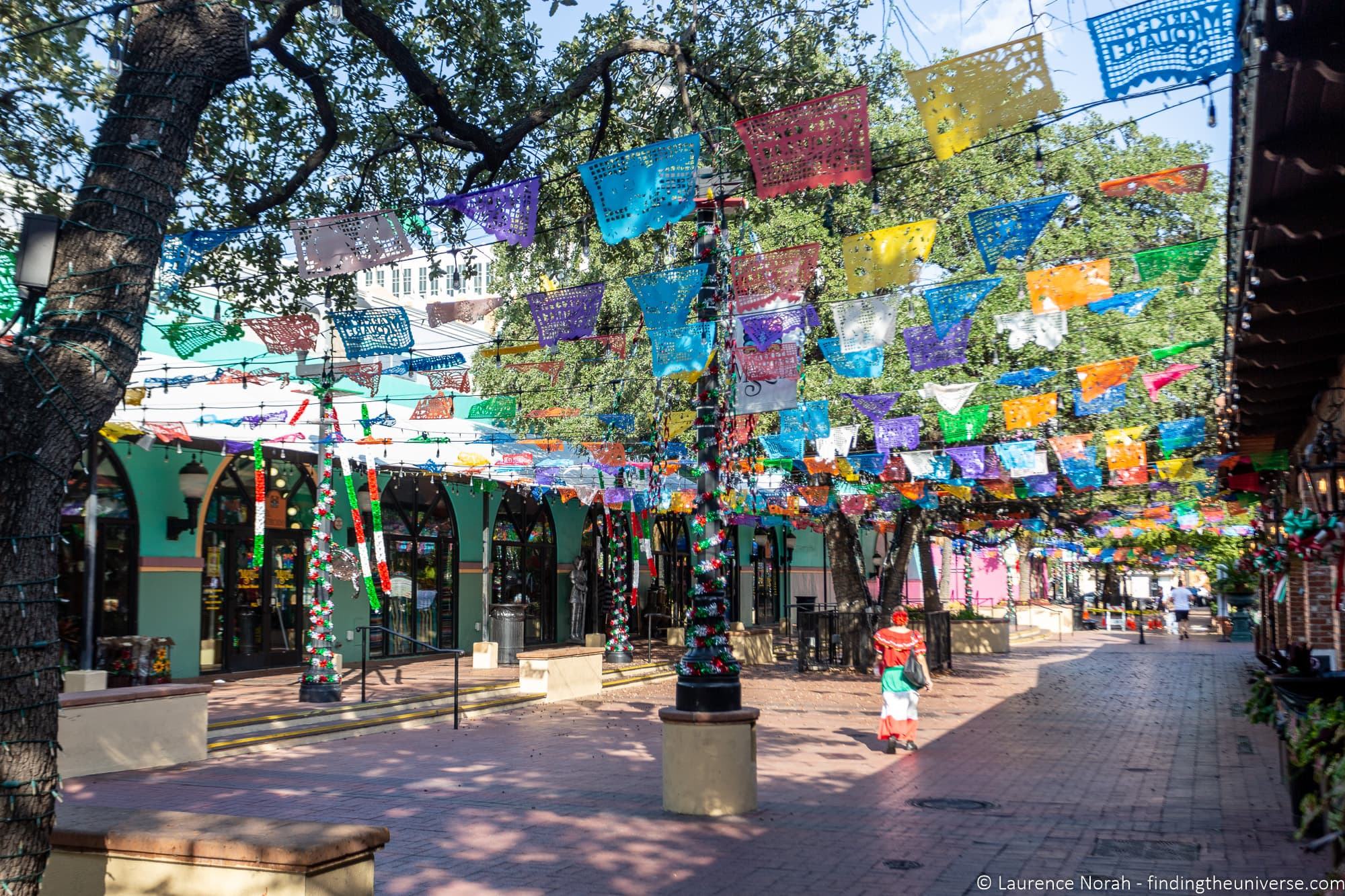 As well as the stalls, there are also a number of places to dine (naturally, Mexican food is available) and drink, and there also also regular events happening here.
We had Margaritas at the popular Mi Terra Mexican Cafe and Bakery, which were delicious, and we also had a lovely dinner at the nearby Pico de Gallo, which is a very popular Mexican eatery.
For a full listing of events, as well as the shops and dining options, visit the official Historic Market Square website here.
Go Shopping
If you like shopping, as well as the previously mentioned historic Market Square, San Antonio has a number of other excellent shopping options for you.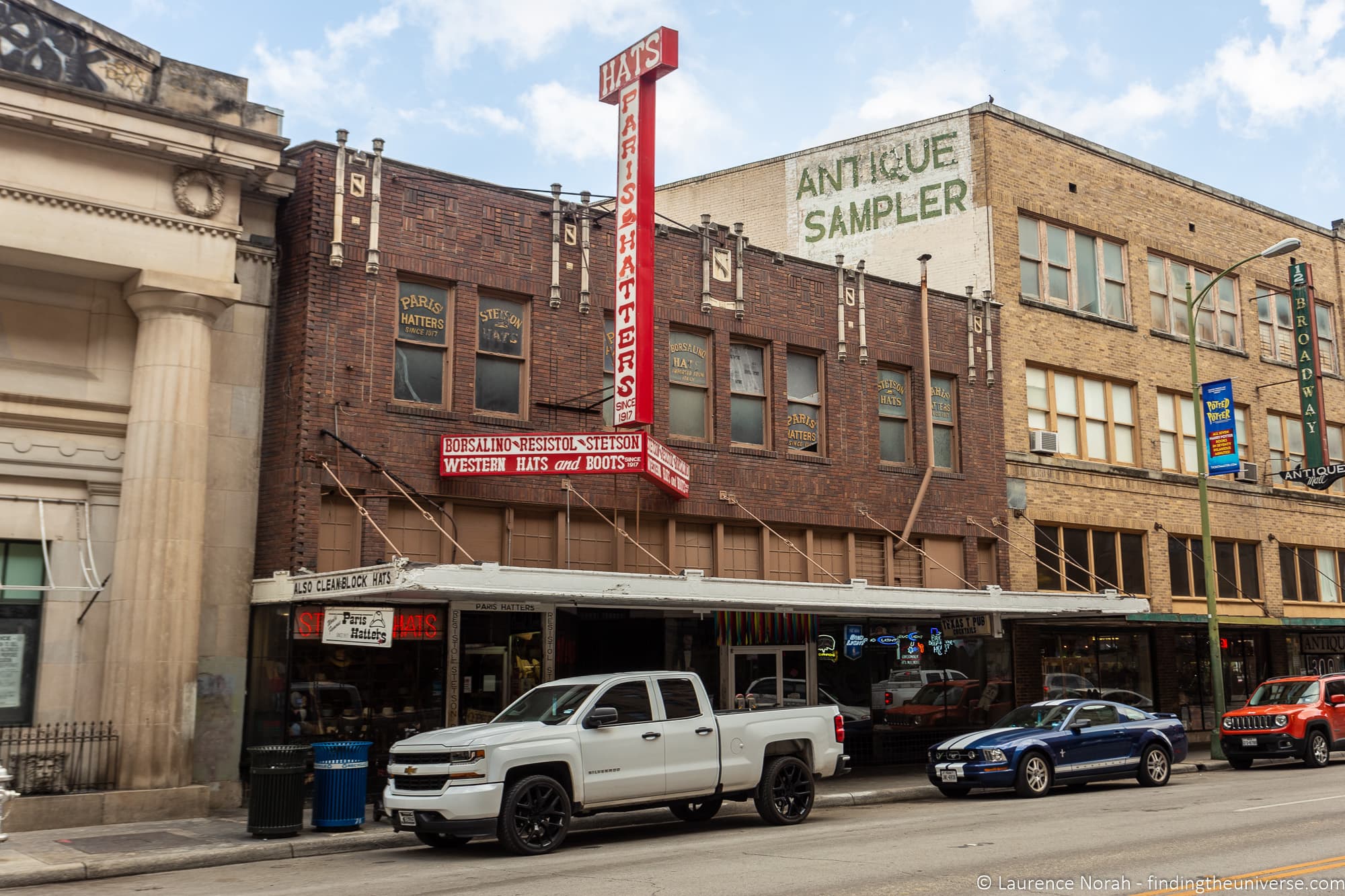 These range from the large Rivercenter Shopping Mall which is on the River Walk, through to more specialist and well known shops.
For those looking for cowboy and western wear, some good places to visit include:
This is just an idea of what is available. We're sure that if you love shopping, San Antonio will have a shop for you, with everything from traditional sweet shops to the latest fashion trends on offer!
LBJ Ranch
If you're interested in learning about one of America's President's, Lyndon B. Johnson, then you will want to head to the ranch where he spent around 20% of his time as President, earning it the nickname "The Texas White House".
This ranch is known as the LBJ Ranch, and can be found in the Lyndon B. Johnson National Historic Park. This is right next to the Lyndon B. Johnson State Park and Historic Site.
The LBJ ranch includes the first school the President attended, a reconstruction of his birthplace, the "Texas White House" and the cemetery where both Johnson and his wife Lady Bird Johnson are buried.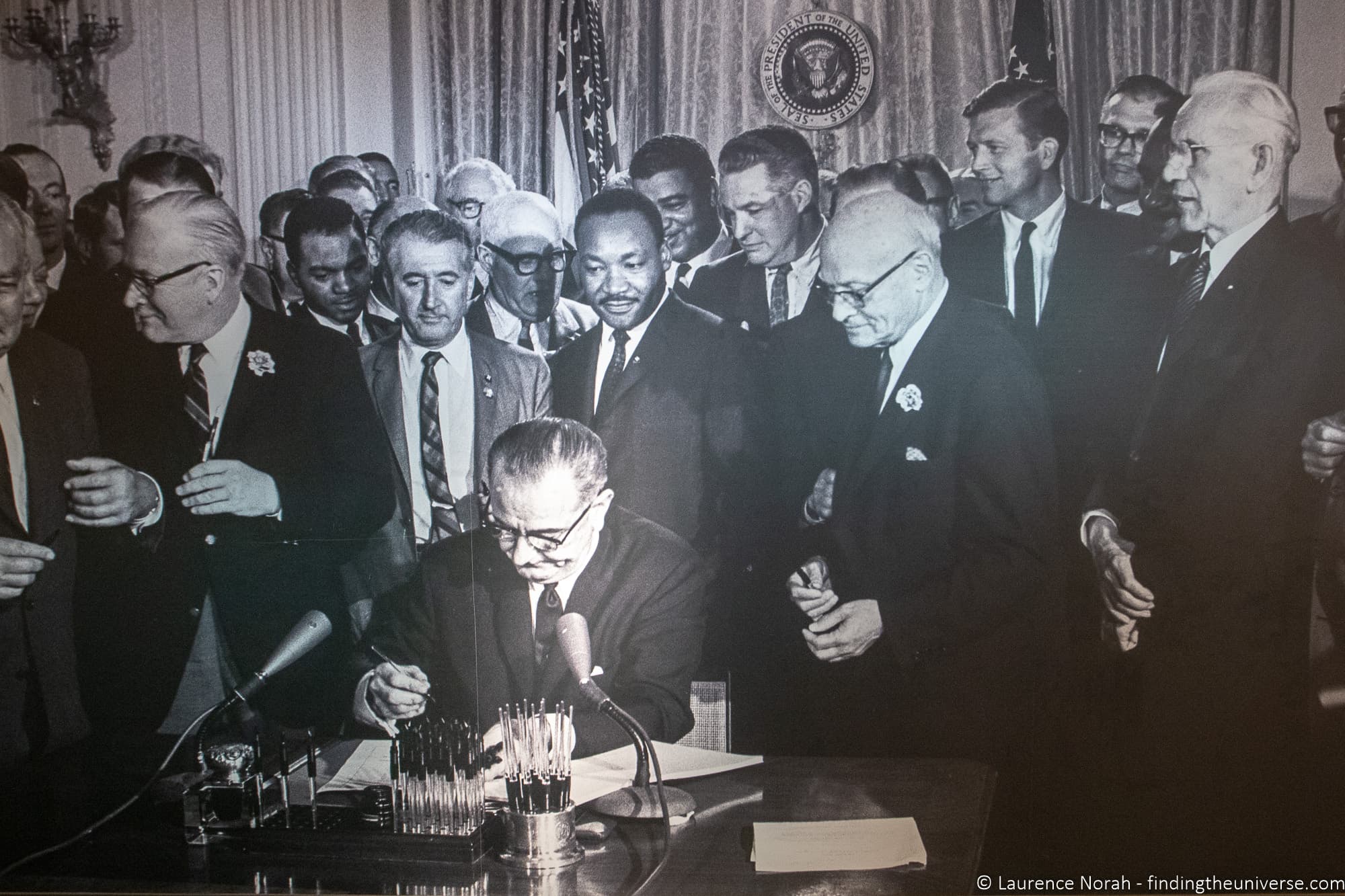 The State Park and Historic Site is home to a visitor center, which has a lot of memorabilia and information about the President, and is where you should start your visit. The visitor center is where the self-guided driving tour of the ranch begins. There's no fee for the tour, but you do need to visit the visitor center to get a self-drive permit. There's a $3 fee for the tour of the Texas White House.
The ranch is about a 70 mile drive north of San Antonio, or around a 90 minute drive, depending on traffic. If you don't have a car, or prefer not to drive yourself, a better option is to take a tour. You have a couple of options for doing this.
This is definitely a worthwhile day trip from San Antonio if you have the time!
Six Flags Fiesta Texas
Saving one of the most popular things to do in San Antonio for last- Six Flags! Found about a 20 minute drive north-west of the city center, this 200 acre theme park is home to five themed areas that include shops, dining and, of course, lots and lots of thrilling rides!
Rides on offer include the Iron Rattler, a 55 metre high roller coaster, a 61 metre high StarFlyer, and Kidzopolis, a whole section of the park with attractions for kids.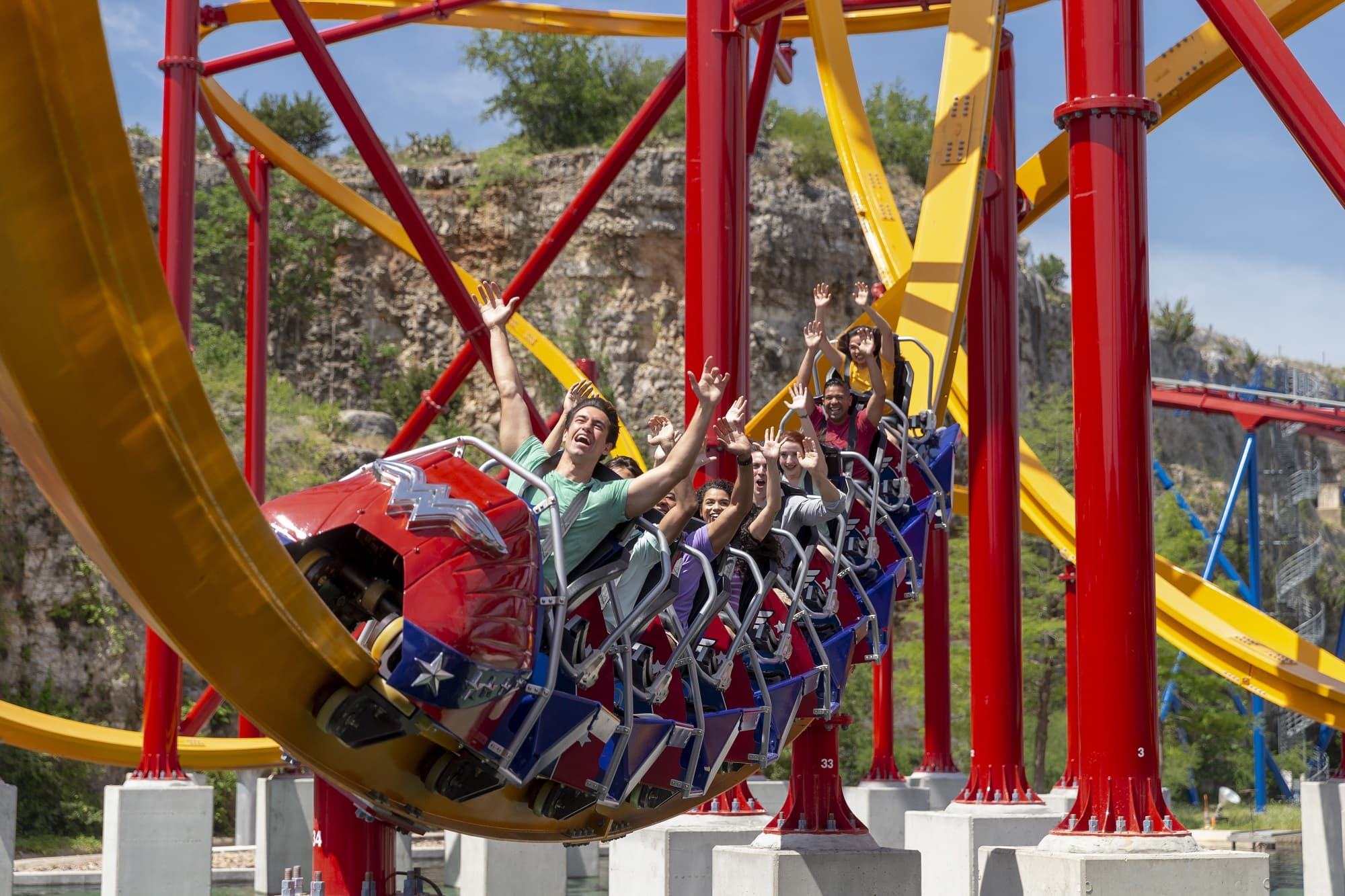 Given that Six Flags is the most expensive attraction on our list, we'd definitely suggest that this is somewhere you should plan to visit for the whole day to make the most of your entry. You can see pricing and opening hours on their official website.
To get here, you can either drive and park on site. Parking is $25 per car per visit. Alternatively, you can take the bus, with Route 94 from downtown San Antonio running right by the park entrance.
If you are interested in major attractions like Six Flags, it's also worth mentioning that the water theme park Splashtown and the marine animal park SeaWorld are also located within a short drive of the downtown, and both would offer a full day of entertainment for a family.
Both of these are also included on the attraction passes mentioned further down in the post.
Map of Things to do in San Antonio
To help you plan your time in San Antonio, we've put together a map of all the major attractions we mention. You can also see this map on Google maps here.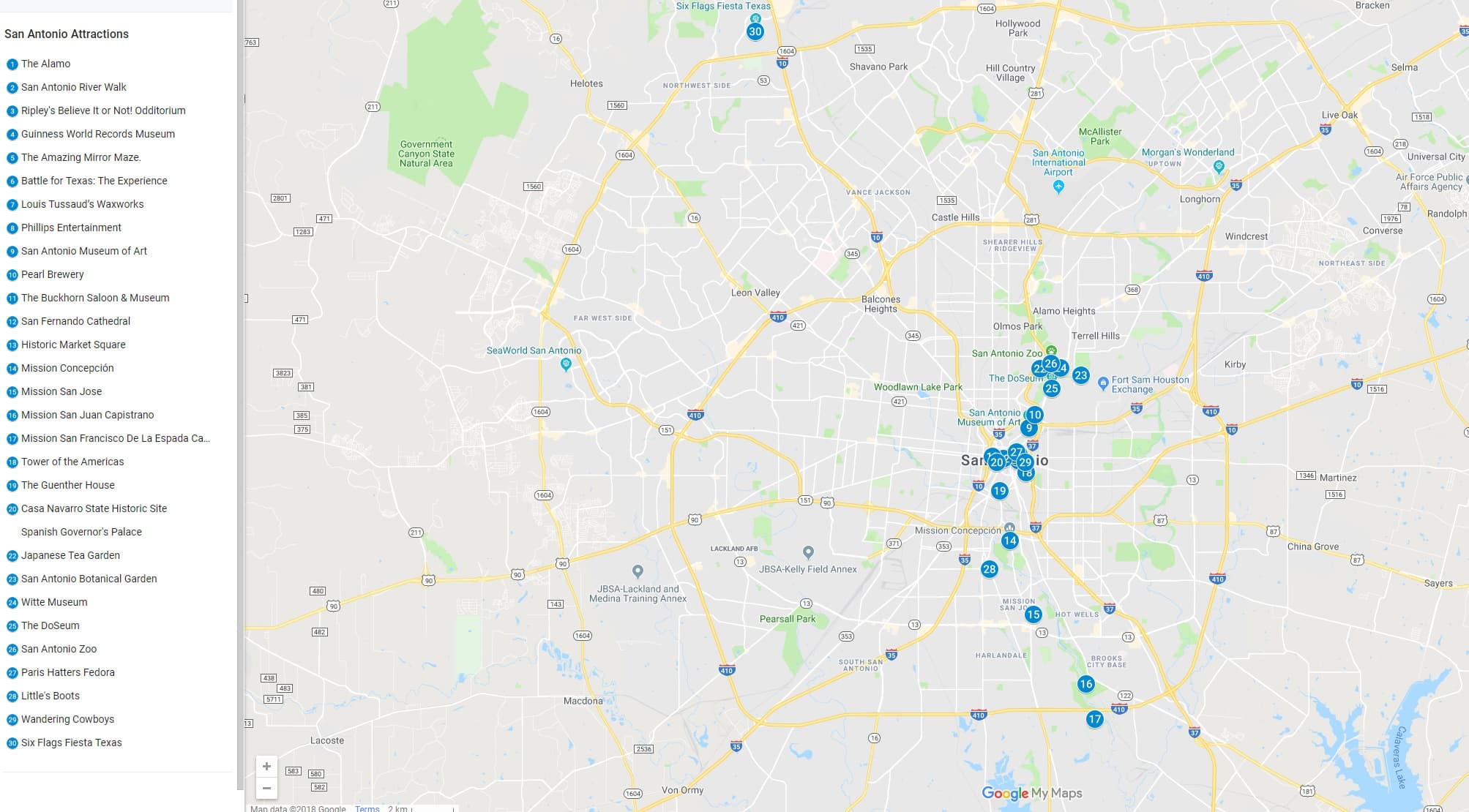 Where to stay in San Antonio
San Antonio has no shortage of accommodation options to suit every budget, from budget and mid-range hotels through to high end properties. Here are a few options to consider, including the property we stayed at.
Of course, there are lots more options for accommodation in San Antonio to meet your specific budget needs and room requirements.
We recommend checking out the listings on booking.com for San Antonio to start with, we usually find they have the widest range of properties, from high end luxury hotels through to apartments and hostels.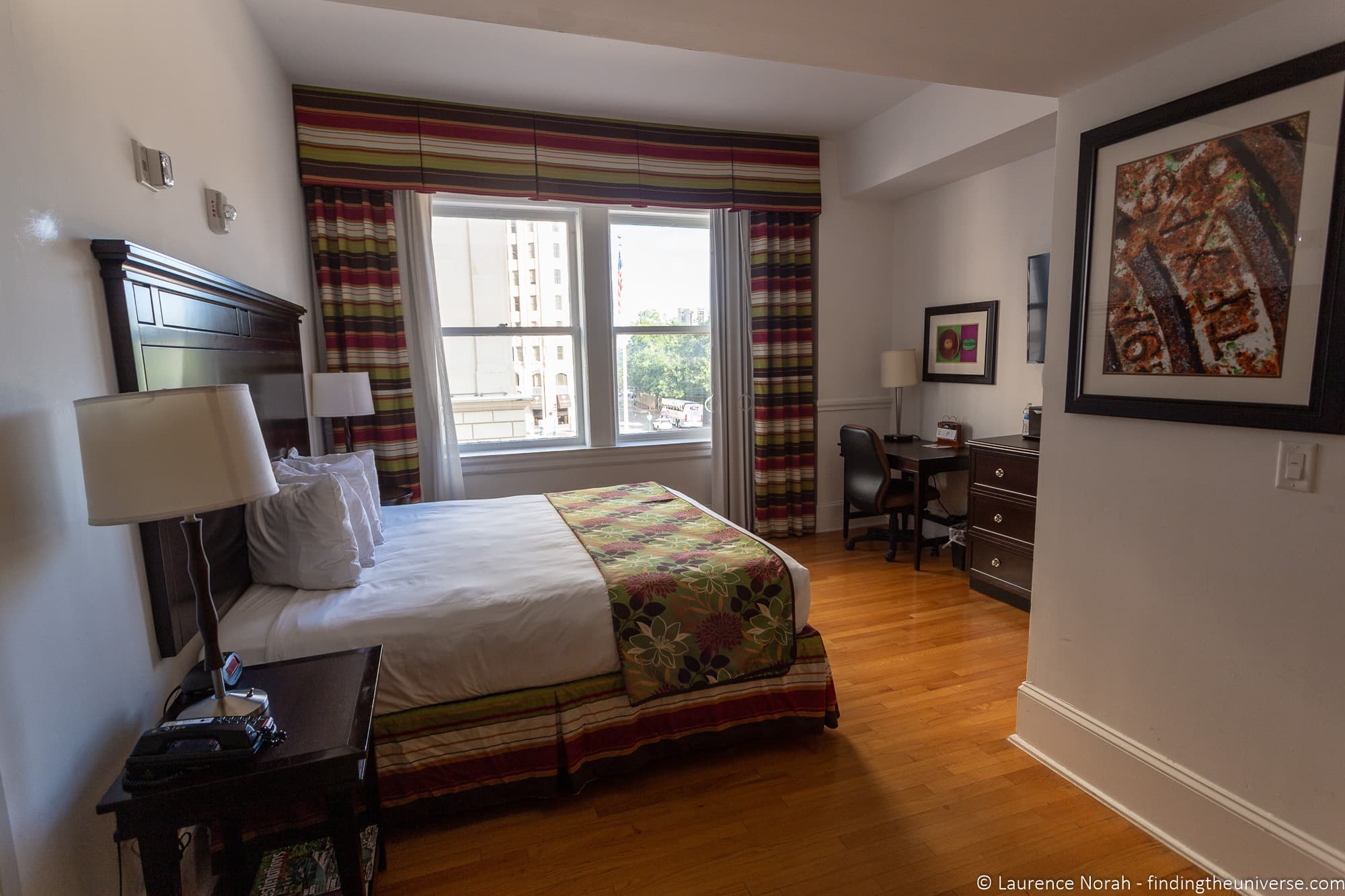 Getting around San Antonio
Downtown San Antonio is very walkable, with many of the attractions in the city center easy to navigate to on foot, either along the pedestrianised River Walk, or on the main city streets.
Another option for getting around is to take the River Taxis, which run around the main sections of the River Walk.
A city wide cycle scheme, BCycle, is also available. This costs $12 for 24 hours of use, although bikes need to be checked in at a station every sixty minutes. There are also rentable electric scooters from both Bird and Lime.
The city is well served by public transit, with various bus routes available, some of which like the "Viva" services are specifically designed to reach tourist attractions like the Missions or Museums. See the Via Metropolitan transit website for more information, ticket prices and schedules.
There's also a hop on hop off bus in San Antonio, which will get you to all the major tourist sights and hotspots in the city, as well as provide you with audio commentary.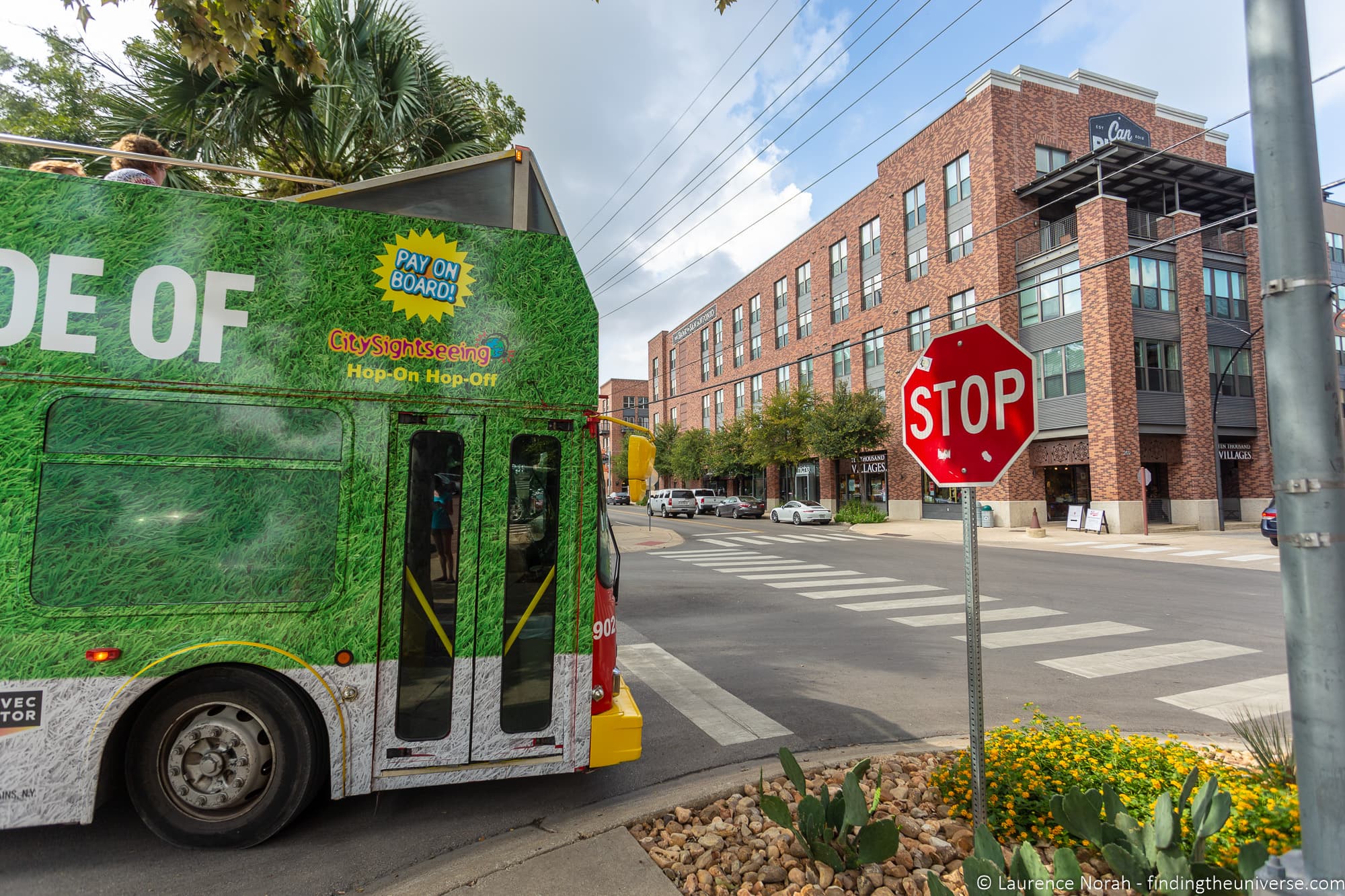 It's also possible to travel by car in San Antonio, although be aware that in the central downtown parking lots and structures will charge a fee, as will hotels. Attractions a little out of the downtown however, such as the Pearl Brewery, Zoo and Museum of Art have free parking. Always check in advance before driving to an attraction to ensure parking is available!
Tour Options in San Antonio
If you'd like to do some kind of tour in San Antonio, there are a variety of options, depending on what you are interested in doing, and the duration of tour you would like to take. Here are some examples:
Discount Passes in San Antonio
As with many cities around the world, San Antonio has a city discount card that can help you save money on many of the attractions.
In San Antonio, the card we recommend is the San Antonio Explorer Pass from Go Gity.
San Antonio Explorer Pass
The San Antonio Explorer Pass lets you save up to 45% on admission to some of San Antonio's top attractions, including premium attractions like Six Flags.
This pass lets you choose to visit 2, 3, 4 or 5 attractions in the city. One of those attractions can be a "premium" attraction, which includes Six Flags Fiesta Texas, Seaworld San Antonio, Texas Hill Country & LBJ Ranch Tour and the San Antonio Missions UNESCO World Heritage Site Tour.
Then, you can use your remaining choice at locations like the Buckhorn Saloon and Museum, Witte Museum, San Antonio Zoo, Tower of the America and more. See all the inclusions and buy your Explorer Pass here.
This is definitely a good pass to consider if you are definitely going to be visiting one of the premium attractions like Six Flags.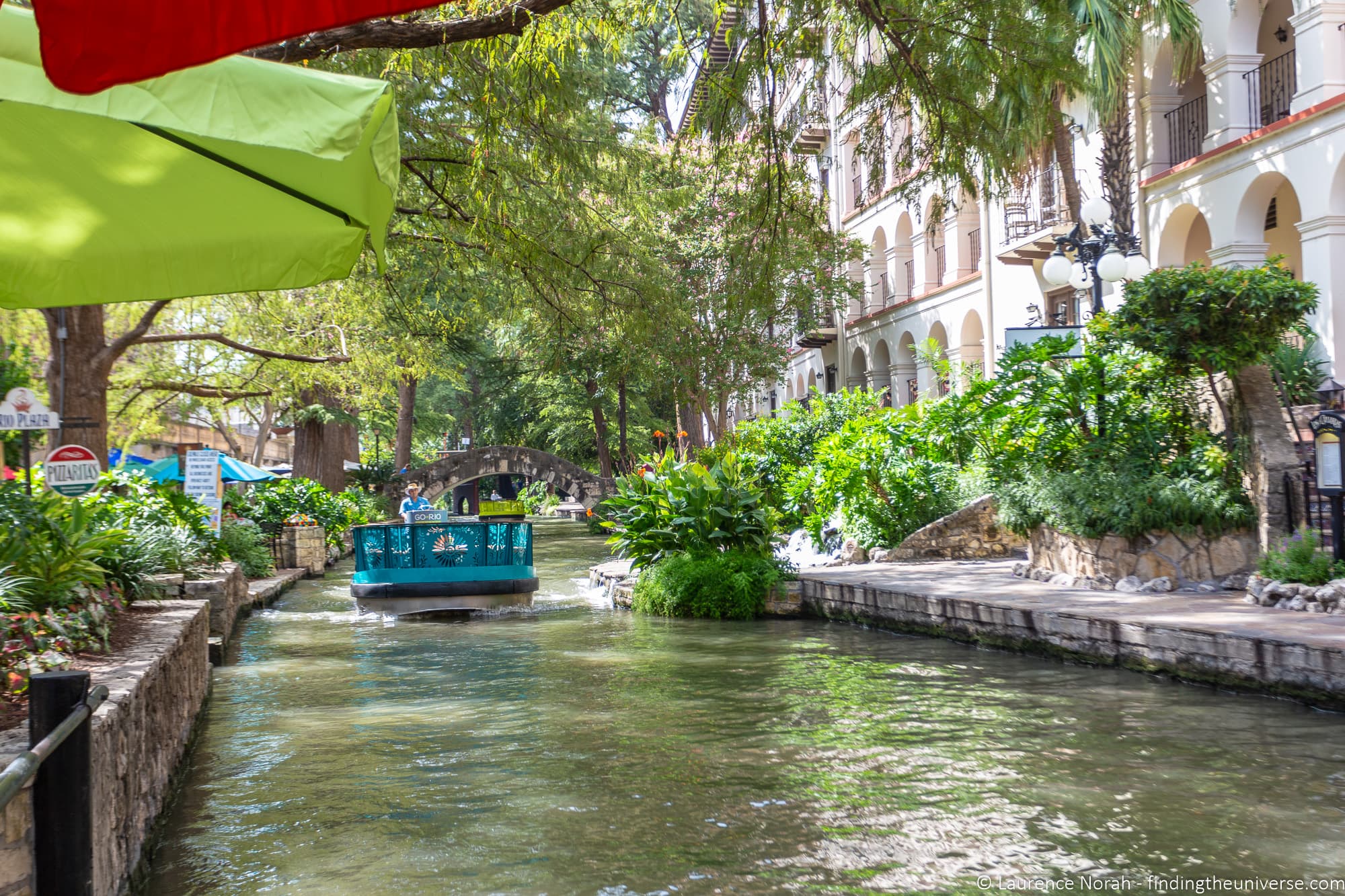 There are a couple of other options for saving money in San Antonio. For example, this combination ticket includes a San Antonio River Walk Cruise, a Hop-On Hop-Off Bus Tour and access to the Tower of the Americas, whilst this option includes those plus the Buckhorn Saloon.
Further Reading
That summarizes our guide to things do to in San Antonio! As you can see, there's plenty to do in this beautiful Texan city, which was one of our favourite stops as we road tripped through Texas.
We're going to be writing more about our adventures in Texas, including our visits to Austin, Houston, Dallas, Fort Worth and Big Bend National Park, so do sign up to keep up to date with our latest posts. In the meantime, here are some other posts we think you might find useful to help you plan trips within the USA.
And that's it! As always, we'd love to hear your feedback and questions – just put them in the comments below and we'll answer them as soon as we can.