If you love fire festivals, you're going to want to consider adding the annual Up Helly Aa festival to your to-do list.
Having lived in Scotland for a number of years, we've attended a range of festivals, from Edinburgh's Hogmanay through to the Big Burns Supper, some Highland Games and the Jazz Festival in Aberdeen.
However, one festival that we hadn't made it to was the Up Helly Aa festival in Shetland. We've now rectified this oversight, and I'm pleased to say this incredible Viking themed fire-filled festival was everything we hoped it might be.
In this post, we're going to share with you everything you need to know to visit Shetland to attend the Up Helly Aa festival yourself.
We'll give you an overview of the festival, tips on where to stay and how to get to the festival, and also provide some information on other things you can do in Shetland around the time of Up Helly Aa.
First though, let's answer the question of what Up Helly Aa actually is.
What is Up Helly Aa?
Up Helly Aa is the general term for a series of festivals held in Shetland every year. Shetland, or the Shetland Islands, are a group of islands that sit around 100 miles off the north coast of mainland Scotland, and they are the most northerly inhabited islands of Great Britain.
Today the islands are a part of Scotland and therefore the UK. Historically, they were originally colonized from the Scandinavian countries in the 8th and 9th centuries, and there is still a great sense of connection between this region and the islands.
The Up Helly Aa festivals take place across various towns and villages in the 15 inhabited islands, with the largest festivities in Lerwick, which is both the capital and the largest town in Shetland.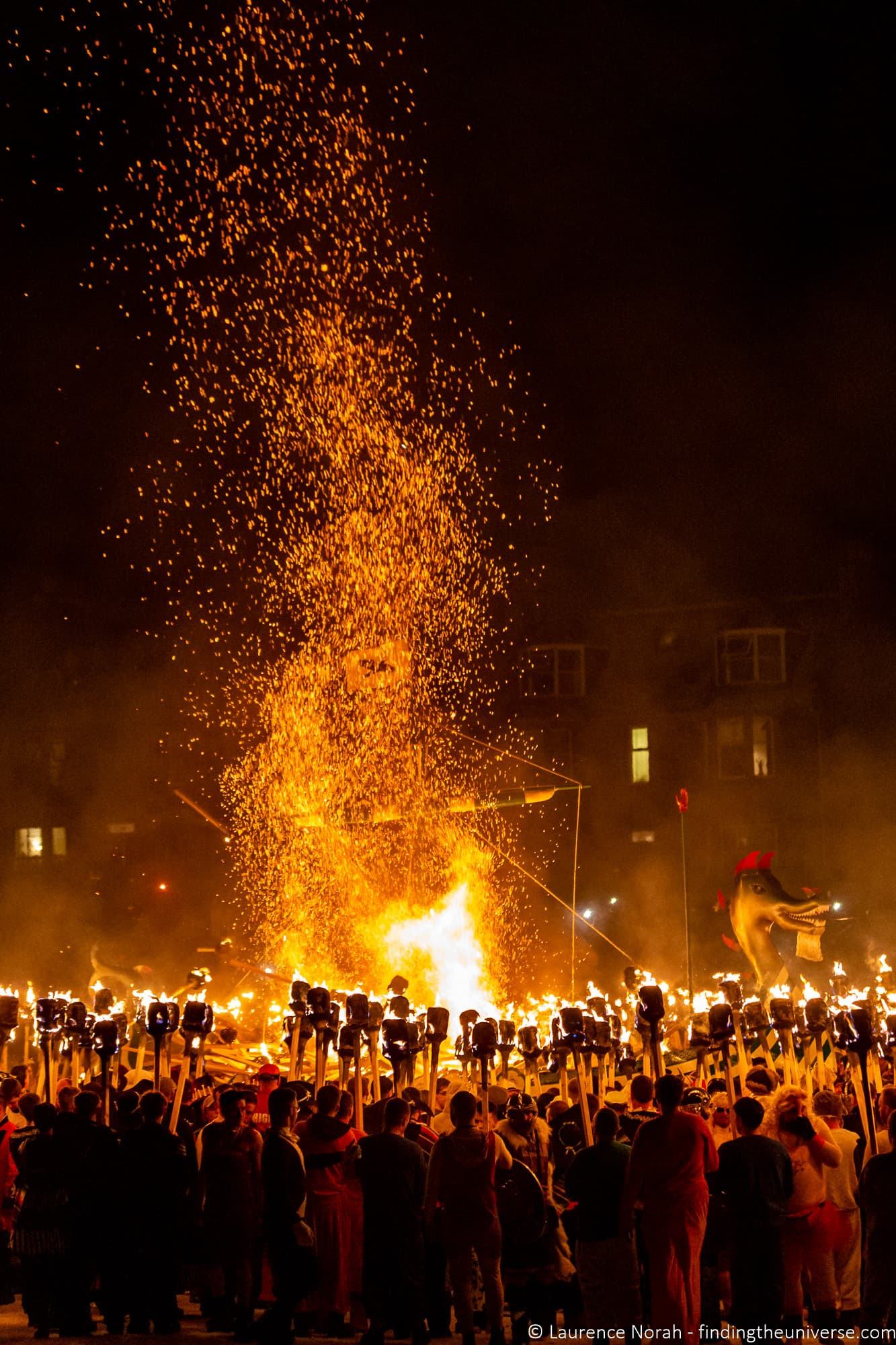 The Up Helly Aa festival marks the end of the Yule season, a Germanic and Nordic celebration, that roughly corresponded to the end of Christmas in Scotland.
The festivities vary from location to location, but generally involve various processions through the town, including a spectacular evening torchlit procession of up to 1,000 "Guizers", who dress up in a variety of themed outfits.
The leader of the procession is known as the Guizer Jarl, who will dress up as a figure from Norse legend. The Guizer's supporters, known as the Jarl Squad, will dress in similar outfits, which will be Viking in appearance. The other squads in the procession, of which there are many, will pick their own costume theme, and these can vary from amusing to historical.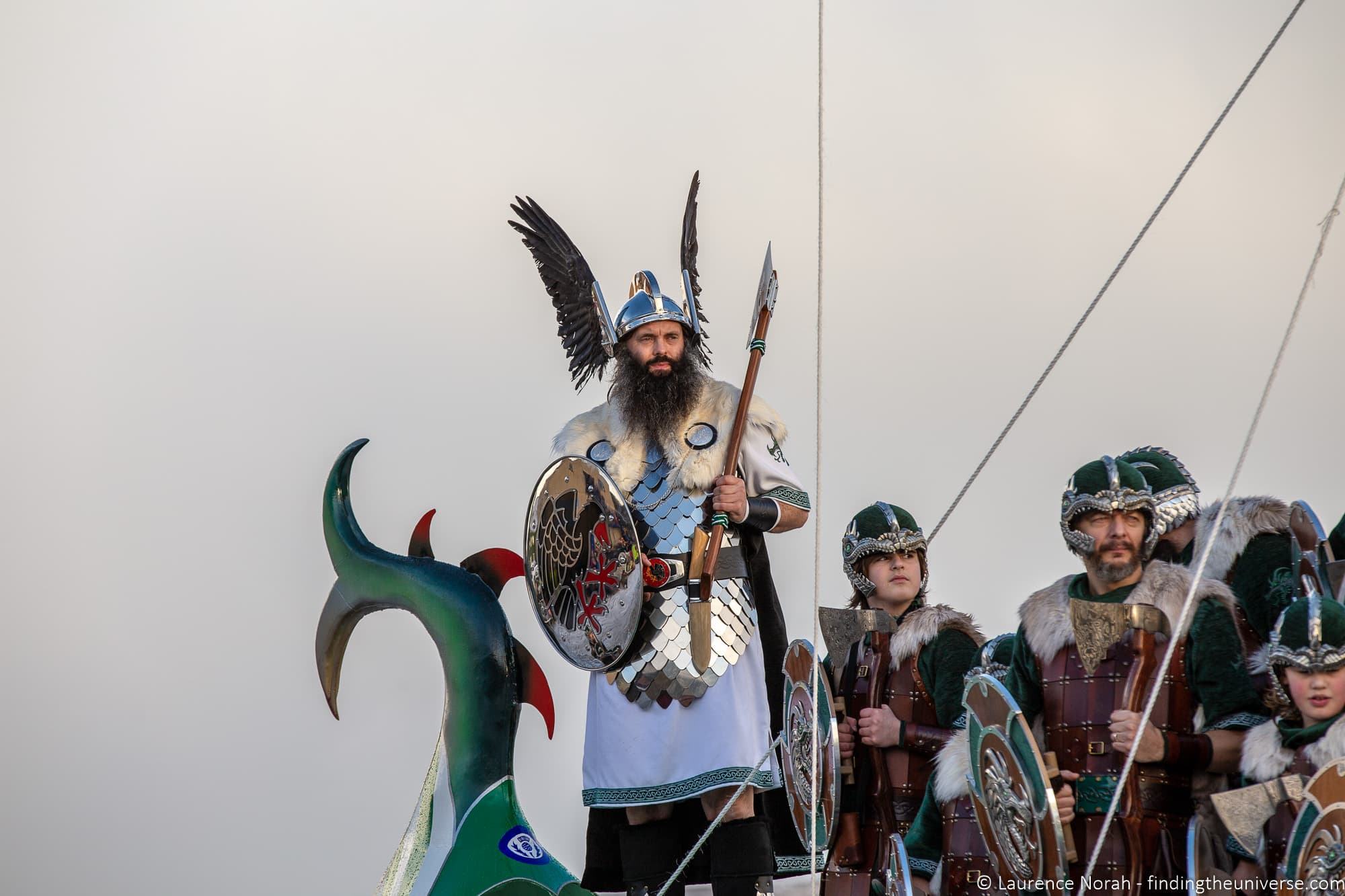 Despite the Norse theme, the festivities date from Victorian times, and the festivities were originally designed as a way to encourage abstinence. Some of the halls continue this tradition today, with the focus being on dancing, catching up with friends and fun rather than drinking.
When is Up Helly Aa 2024?
The largest Up Helly Aa festival is usually held in Lerwick on the last Tuesday in January. In 2024, that will be Tuesday 30th January. Future years should be as follows:
30th January 2024
28th January 2025
27th January 2026
26th January 2027
It's worth noting that there are 11 separate Up Helly Aa festivals across Shetland. These are held annually from January through to March. Since Up Helly Aa celebrates the end of the Christmas festivities, the majority of the events are held in January.
As mentioned above, the largest Up Helly Aa celebration is in Lerwick, and this takes place on the last Tuesday in January.
However, you could plan to visit more than one as they take place across Shetland on different dates. You can find the latest schedule for the Up Helly Aa celebrations when they become available here.
What Happens at Up Helly Aa?
I will describe the main events that make up the Up Helly Aa festival in Lerwick. The other Up Helly Aa festivals will be similar, but there may be some variations. Note that this is a general overview, and activities may vary year to year, so do check the official website for more information.
The event takes place over a few days; however the main ceremonies take place over one day, with events starting in the morning.
The Guizer Jarl and their squad parade around Lerwick, accompanied by a pipe band. The procession will go through much of the town, before culminating at the Galley for a photo opportunity. This Galley, or Viking longship, is built every year for this purpose.
The year we visited, the Galley was located at Alexandria Wharf on Commercial Street, with good views available both at the wharf itself and from the walls of Fort Charlotte above the street.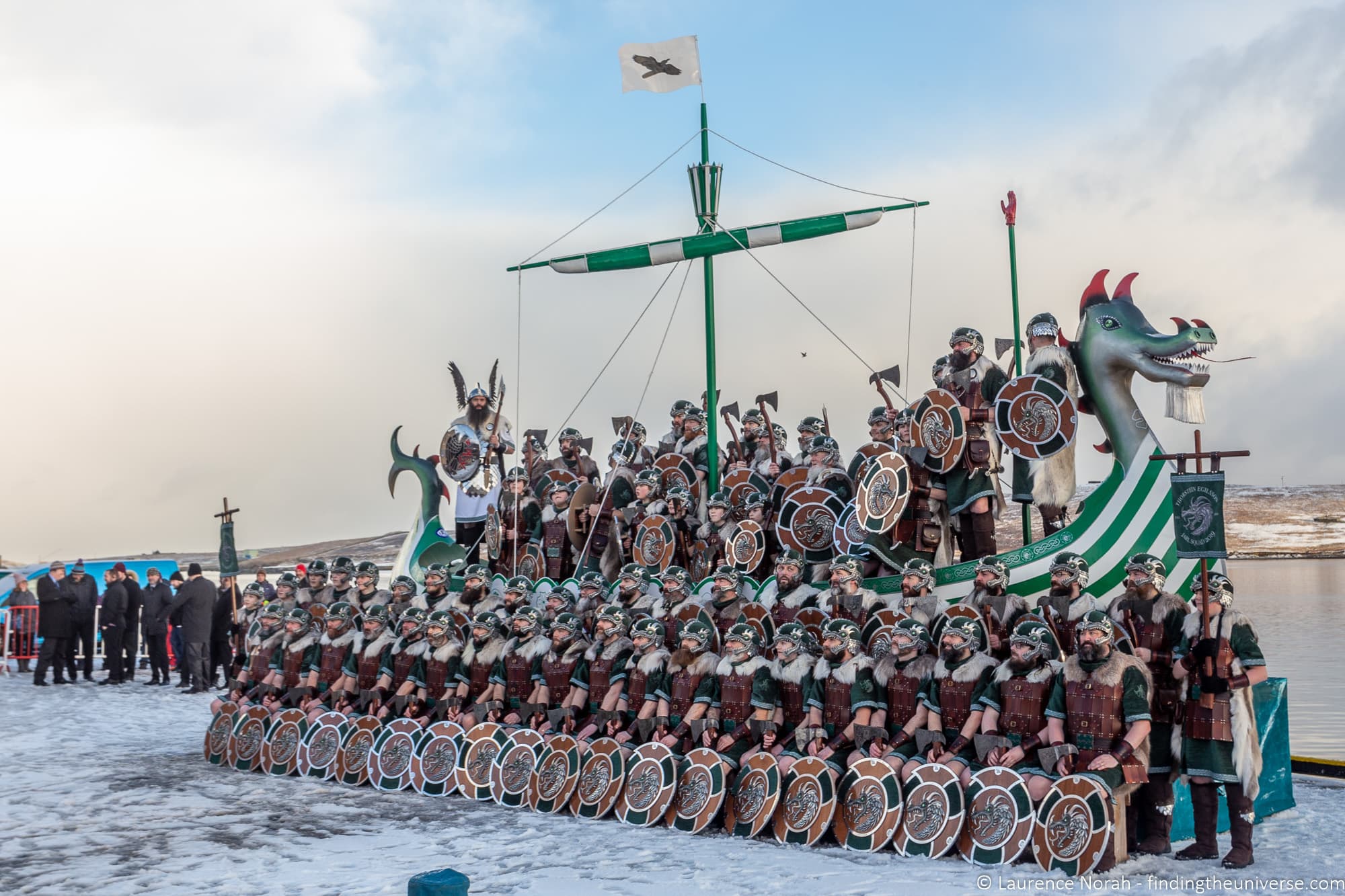 Following the morning procession, a number of private events take place, with the Jarl and their Squad visiting schools, museums and civic buildings around Lerwick.
These are primarily invitation only, and not for the general public, although it does also visit the Shetland Museum. You can see the schedule on the official site.
The next major event is in the evening. There are usually two main processions – a youth procession for younger squads, followed by the main procession. This starts at 7.30pm, however the crowds start to gather to pick a viewing spot around 6:00pm.
The burning site is in the King George V playing field, and the squads march up and down the streets in this area, carrying large flaming torches and parading the galley with them. There is also much music and shouting, and the street lights are switched off during the parade to add to the drama.
Following the procession, the Galley is led into the field, and the squads process into and around the field, before forming a huge circle of flaming torches around the Galley. Finally, the torches will be thrown into the Galley, which will be burnt to ashes.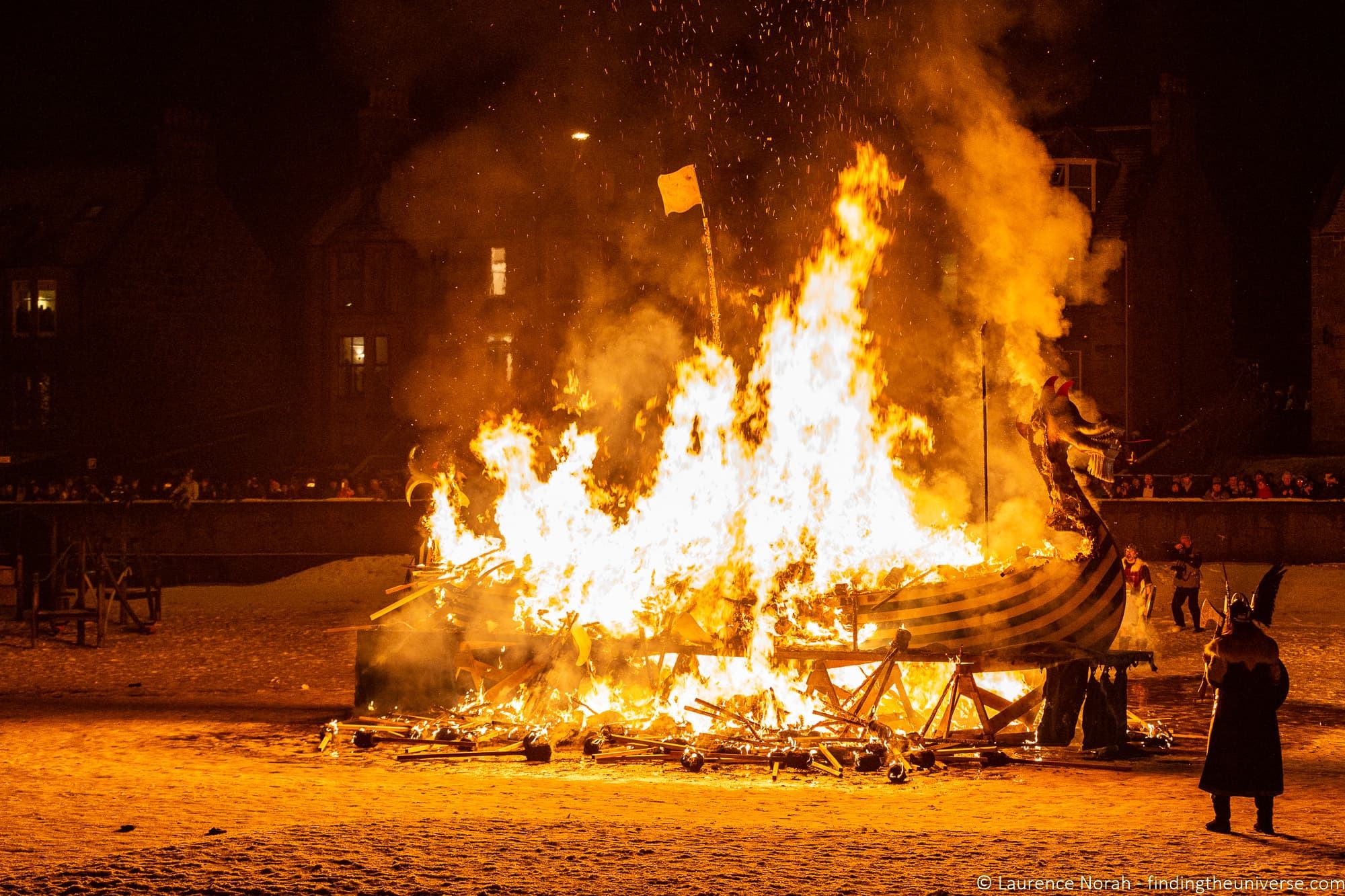 The next stage of the events are the Halls. These are ticket only events, hosted and run by local volunteers, which involve performances by the Jarl squad as well as a great deal of fun, merriment, dancing… and drinking!
These events are legendary for their duration, often lasting well into the next morning, and in fact the Wednesday after Up Helly Aa is a public holiday to give attendees time to recover.
Hall Tickets are primarily reserved for locals, who will look to secure tickets months in advance, and the majority are by invitation only.
If you want to attend a Hall at Up Helly Aa your best option is to contact the Shetland Tourism Board, who are often able to source tickets from Halls which have had tickets returned, and they can also put you on the waiting list for tickets.
Local press will also have information on ticket availability. You can also try and contact your accommodation provider, who might be able to help out.
There are a number of halls, with the Town Hall party being regarded as the best ticket in town. Tickets for this are hard to come by, however, they are advertised in the Shetland Times towards the end of each year, so this is a good place to check prior to your visit.
If you are not lucky enough to get your hands on one of these you can call the Shetland Tourist Board in January (+44 (0)1595 693434) and they will put you on the waiting list for tickets.
Another option is to book a specific Up Helly Aa tour like this, which will either include hall tickets or be able to help you source them.
Do you need Tickets for Up Helly Aa?
You do not need tickets for the main processions in the morning or evening, you can just turn up and watch them, and they are free to attend.
If you want to visit the Halls, these are ticketed and primarily invite only events, so you will need to try and arrange tickets well in advance if this is something you want to do.
As previously mentioned, this can be challenging, although with perseverance and forward planning it is certainly possible for visitors to get tickets.
Where to Stay for Up Helly Aa?
If you are visiting the Up Helly Aa festival in Lerwick, then our recommendation is absolutely to stay in Lerwick as you'll be able to walk to and from the festivities and not have to worry about finding parking, getting a taxi, or picking a designated driver.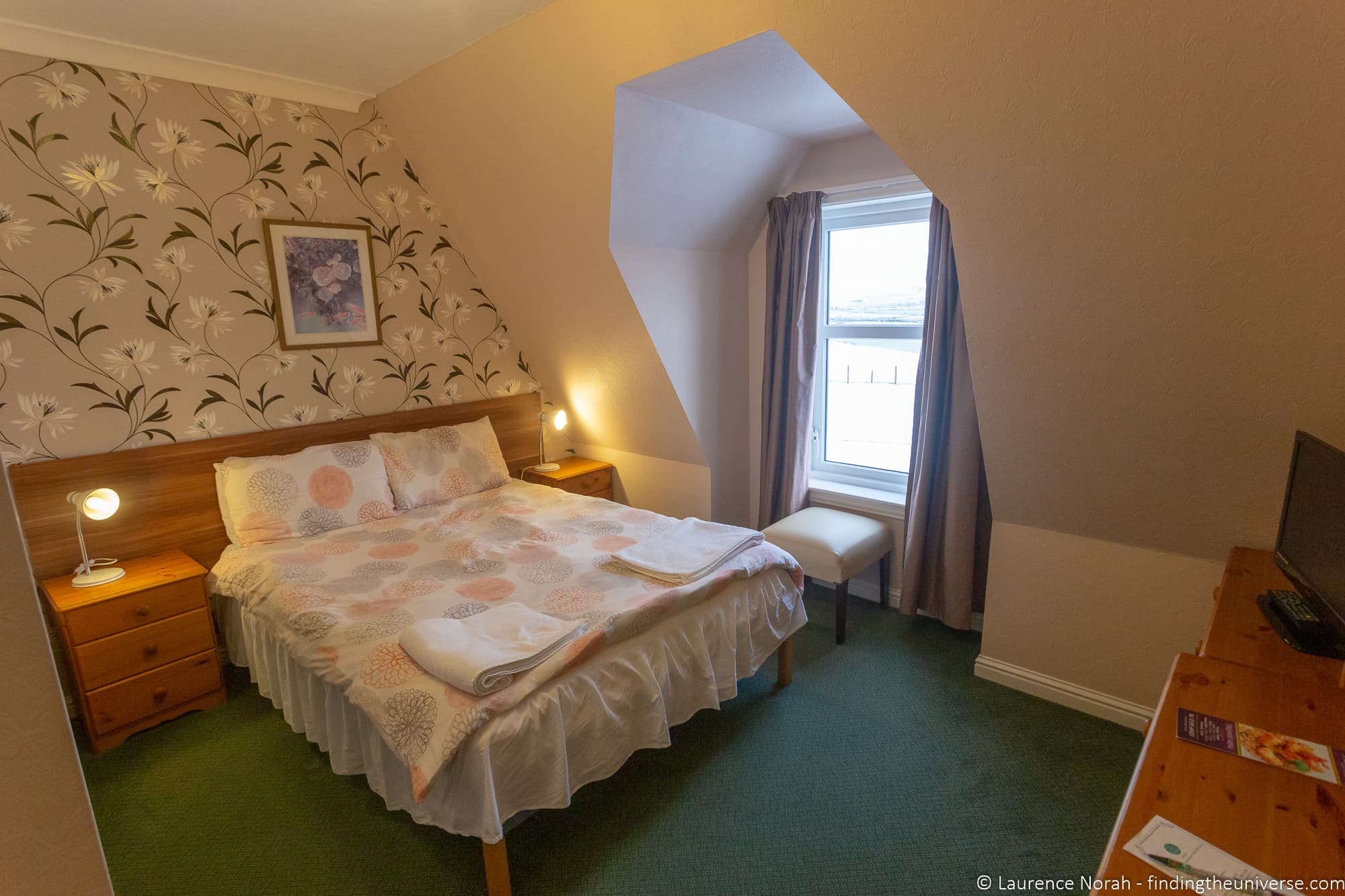 It's worth pointing out however that Up Helly Aa is a very popular festival, and one of the busiest times of year to visit Lerwick. As such, accommodation books out far in advance, and you'll want to plan and book well ahead in order to find a spot.
Note that prices will generally be higher at this time of year, and some properties put a minimum stay duration of two or three nights as well.
Here are some options to consider in Lerwick, from the full listings for Lerwick on booking.com.
If you can't find anything on booking.com take a look at sites like AirBnB as well our guide to websites for booking holiday cottages in the UK.
How to Get to Up Helly Aa
There are two main ways to get to Shetland – you can fly or you can take the ferry.
Flights to Shetland generally take between an hour and 90 minutes, with daily departures from the major Scottish cities of Aberdeen, Edinburgh, Glasgow, and Inverness. Flights are operated by Loganair, and are generally cheaper the further in advance you book.
Note that the main airport (Sumburgh) is around a 30 – 40 drive south of Lerwick, so if you choose to fly, you will need to either take a bus to Lerwick (see bus timetables here, currently this is operated as Route 6 by Leask and Sons), or hire a car to get around.
The other option for travelling to Shetland from mainland Scotland is to take the ferry from Aberdeen, which is operated by Northlink Ferries. This is a 12-hour journey which departs every evening from Aberdeen and Lerwick, arriving into the destination the following morning.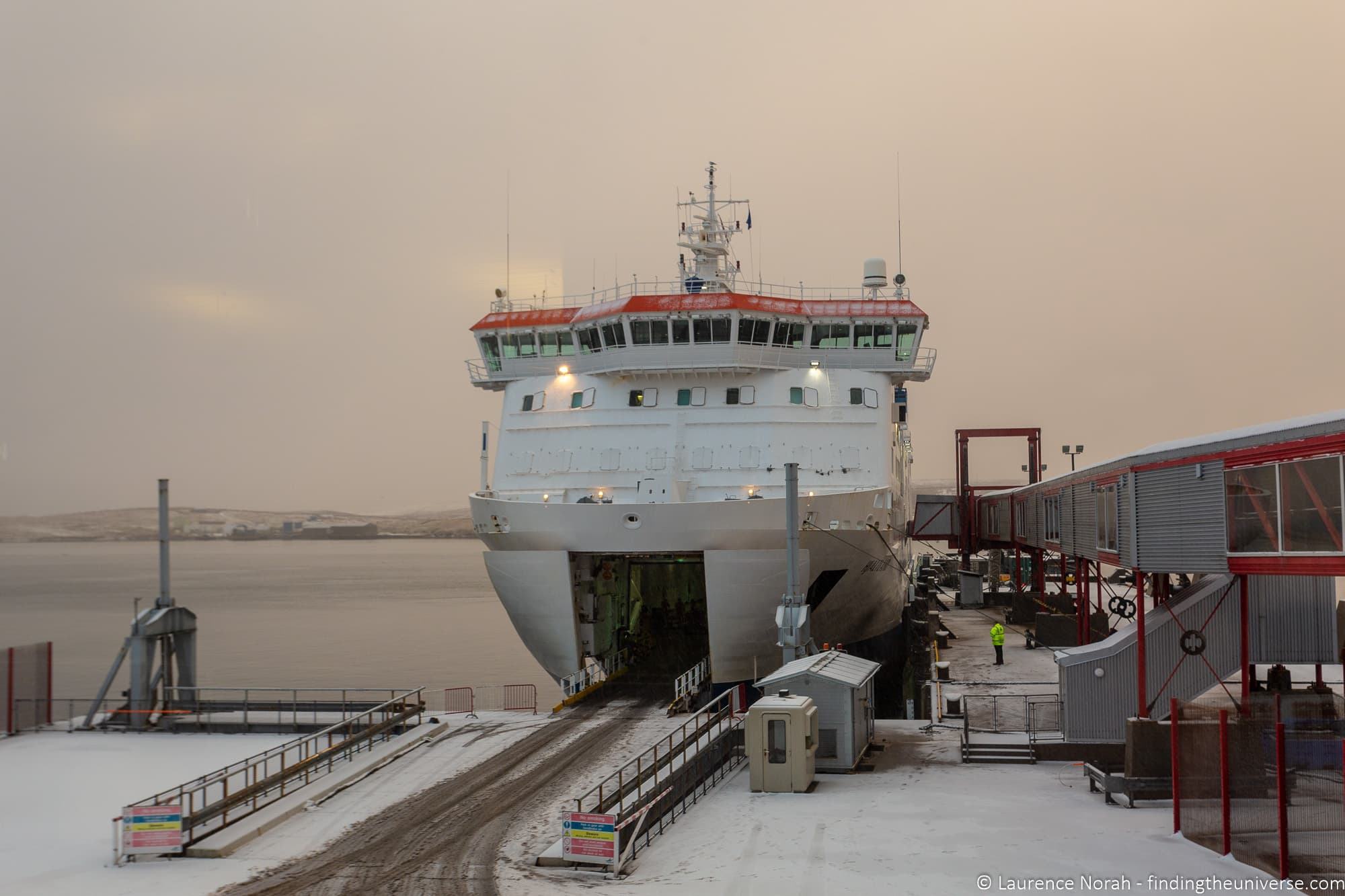 Prices for these ferries do not change depending on when you book, but rather depending on the level of accommodation you want, and if you want to take a car. We took the ferry from Aberdeen with our car, and opted for a twin room with en-suite.
We found the journey to be very pleasant, and if you opt for this option, we would definitely urge you to consider booking a room as we think a sleeper seat is a bit of false economy, as you'll likely arrive tired and not ready to fully enjoy your time on Shetland. We were also impressed by the onboard meals, which although not gourmet, were well priced and used locally sourced products.
What to Pack for Up Helly Aa
It is likely to be cold and either snowy or wet during Up Helly Aa. It's also likely you'll be standing around for long periods of time, so you'll definitely want to be well prepared!
We'd suggest at a minimum that you bring the following:
You'll also want good waterproof boots or shoes. An umbrella or poncho is also good to have. We can recommend reading our guide to what to pack for Hogmanay in Edinburgh, as many of the recommendations are similar.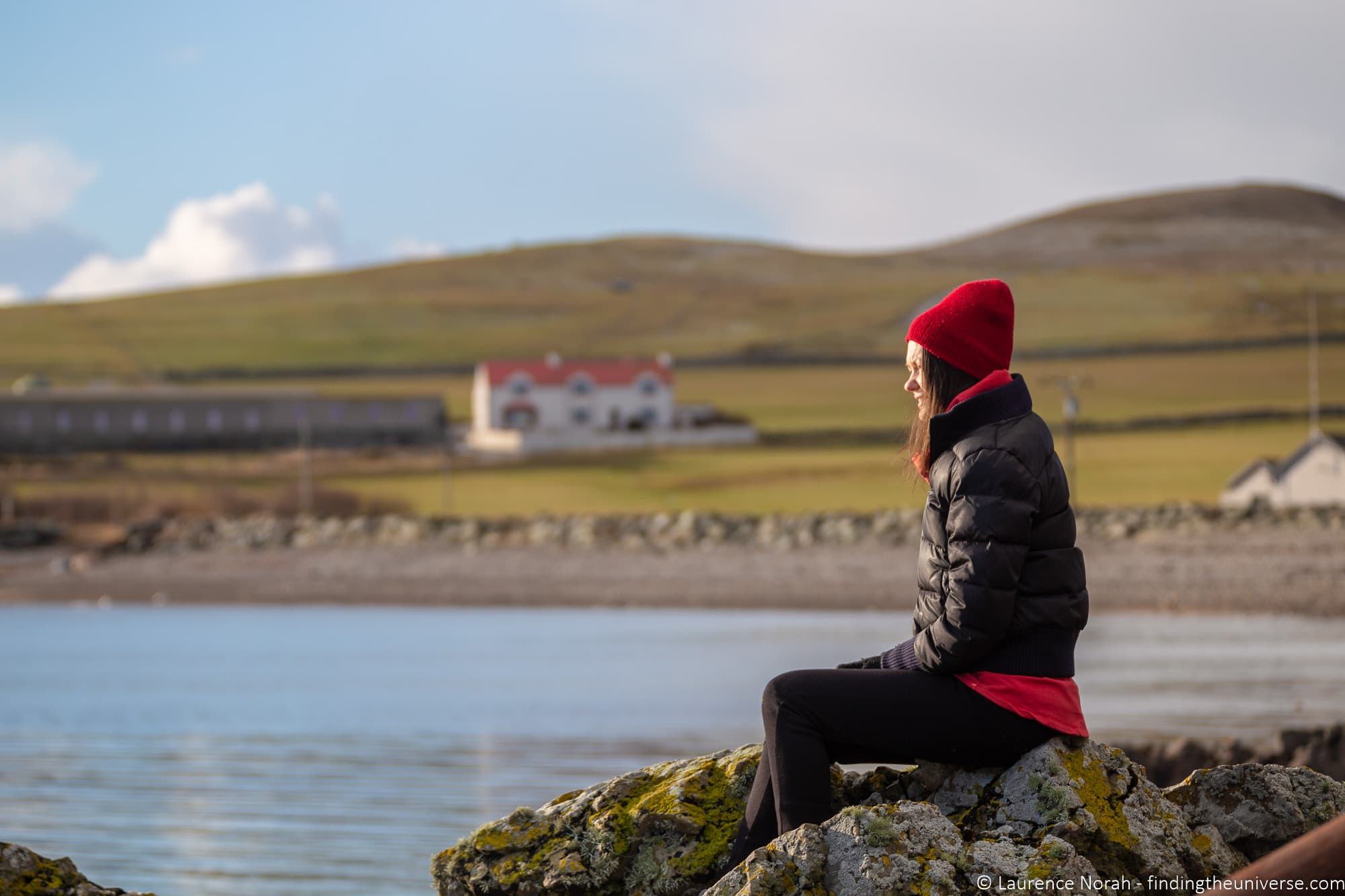 Are there Up Helly Aa Tours?
There are a small number of tours available for Up Helly Aa, the majority of which include some time sight-seeing on Shetland as well as transport, accommodation, and your ferry from Aberdeen. The tours we suggest you look at are as follows:
This party focused six day tour from Edinburgh includes time in St. Andrews, a visit to spectacular Dunnotar castle, time exploring the Shetland highlights, and lots of Up Helly Aa partying.
This six day tour from Edinburgh, which includes time exploring Fife and St. Andrews, as well as many of the highlights on the mainland of Shetland – and Up Helly Aa itself of course!
Our Experience attending Up Helly Aa
We first learned about Up Helly Aa several years earlier as some of the Up Helly Aa Vikings often take part in the Hogmanay festival in Edinburgh.
We decided to visit Up Helly Aa as a fairly last-minute experience. This meant two main things – one, finding accommodation was definitely a challenge and we didn't get tickets to the Halls (although to be honest we didn't try very hard either).
We took the overnight ferry from Aberdeen, which arrived into Lerwick at around 7am. Whilst we had to take the car off the ferry on arrival, we didn't have to check out of the room on the ferry until 9.30am. This meant we could have breakfast on board, and after taking the car off I was able to reboard. Which I thought was very civilized.
In Lerwick, our guesthouse (the Glen Orchy House hotel) let us check-in as soon as we arrived, which we did. Then we headed out into the town centre for the morning festivities. Ideally we would have preferred to have arrived the day before the festival, to give us a bit more time, however the ferry was fully booked that day.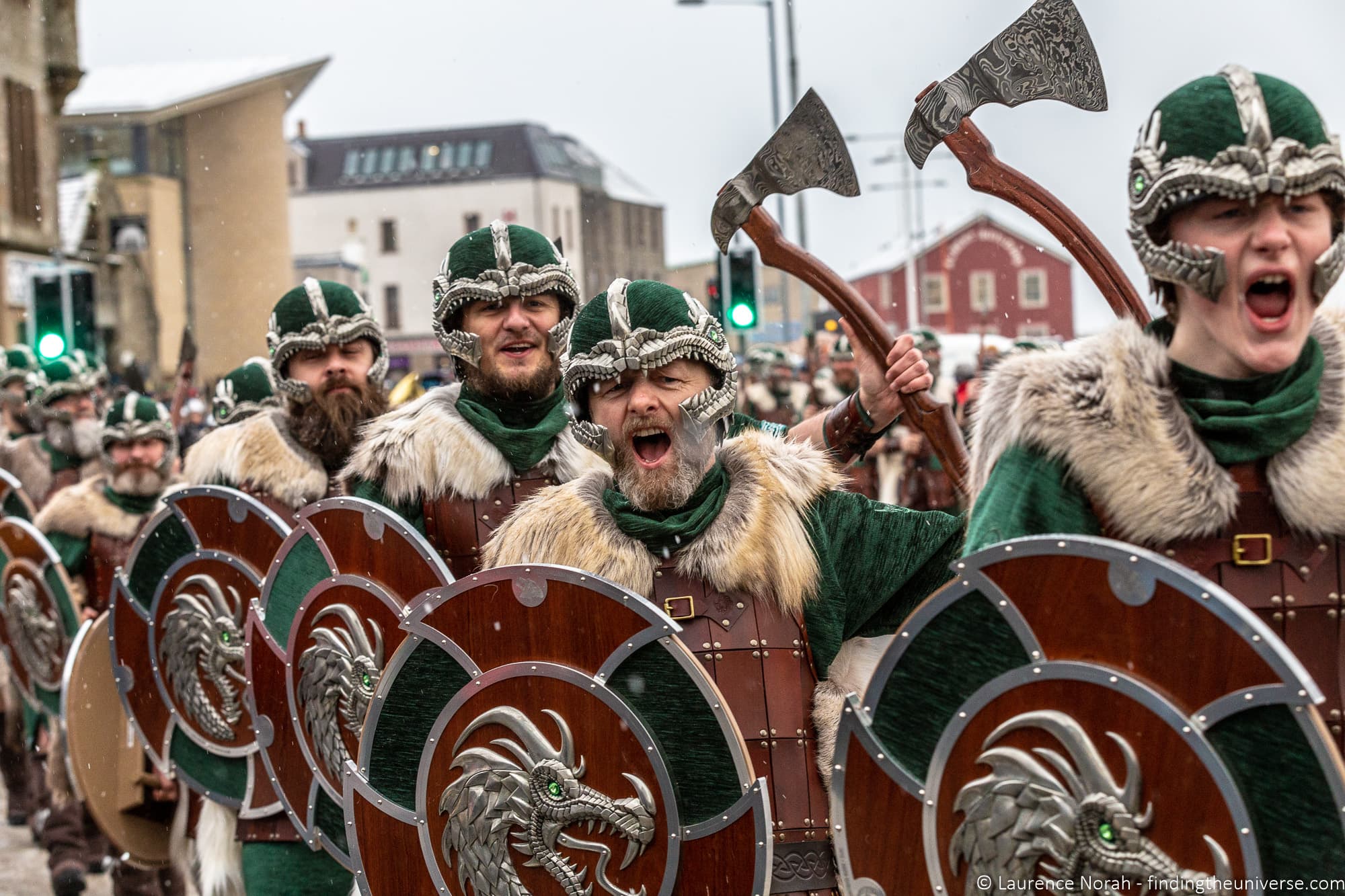 In the morning, the Up Helly Aa Jarl Squad parades around the Lerwick town centre, including along the Esplanade and Commercial Street. Good viewpoints for this parade include Fort Charlotte, and at most points along the Esplanade.
We had snow at this point in the day, and we weren't optimistic about the weather improving, but we were lucky in that regard as the rest of the day was fairly fine by January standards!
The culmination of the parade had the Jarl Squad, who are traditionally dressed in Norse Viking styled garb, gathering at the Galley. This was at the Lerwick – Bressay ferry terminal off Esplanade street. The longboat is newly constructed each year, and burnt at the end parade.
Following the morning parade, the Jarl Squad makes a number of visits throughout the day to schools and other locations, although these are not generally spectator events. The next main event is in the evening, so we spent the day sight-seeing in Lerwick, taking in the Shetland Museum and Archives, town hall, harbor, and various other attractions.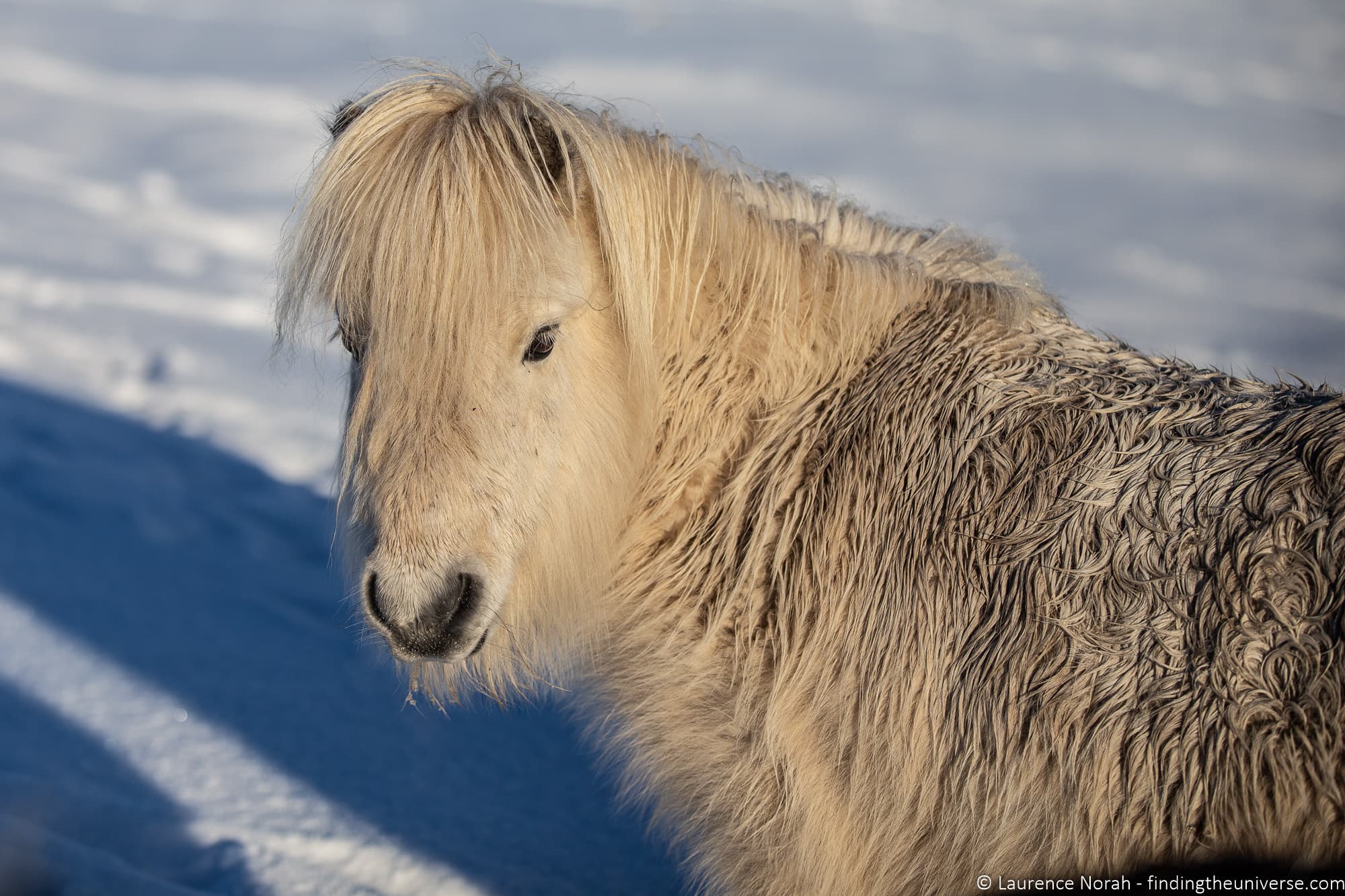 Then, as the evening arrived, we headed out to find a spot to watch the evening's main event – the torchlight procession and burning of the Viking longboat!
The evening procession follows a route near the town hall, and finishes with all the torch-wielding marchers in a huge circle around the Viking long ship, which is placed in the playground that is found just near Lerwick Town Hall, between King Harald St, St. Olaf St, Harbour St and King Erik St.
This playground is off-limits to the public during the evening, but there is a low wall surrounding it, which affords excellent views, with great views available from St. Olaf St, King Harald St and King Erik St. The war memorial outside the town hall also makes a good viewing area as it is slightly elevated.
We spoke with some locals during the day for tips, and they suggested that it would be wise to arrive by 6:00pm in the evening to secure a good spot. We did this, and found ourselves a nice spot by the wall on St. Olaf Street, directly opposite the burning area. I also think King Harald St would have been a great choice.
The procession itself started with a large flare being fired off, which was the signal for the Guisers to light their torches. This happened at around 7.30pm, so we did have to wait for around 90 minutes in the fairly cold Shetland winter.
Wrapping up warm was key to this part of the event. As time passed, the crowd grew, until it was around six people deep behind us, which made us thankful we had arrived early to get a good spot for photography.
After the flare was lit, the procession began, and the street lights of Lerwick were extinguished. The glow of the 1,000 burning torches created more than enough light, and the procession started to wind around the streets, accompanied by shouting, singing and music. The variety of outfits on parade was quite impressive – if you come, expect to see far more than Vikings!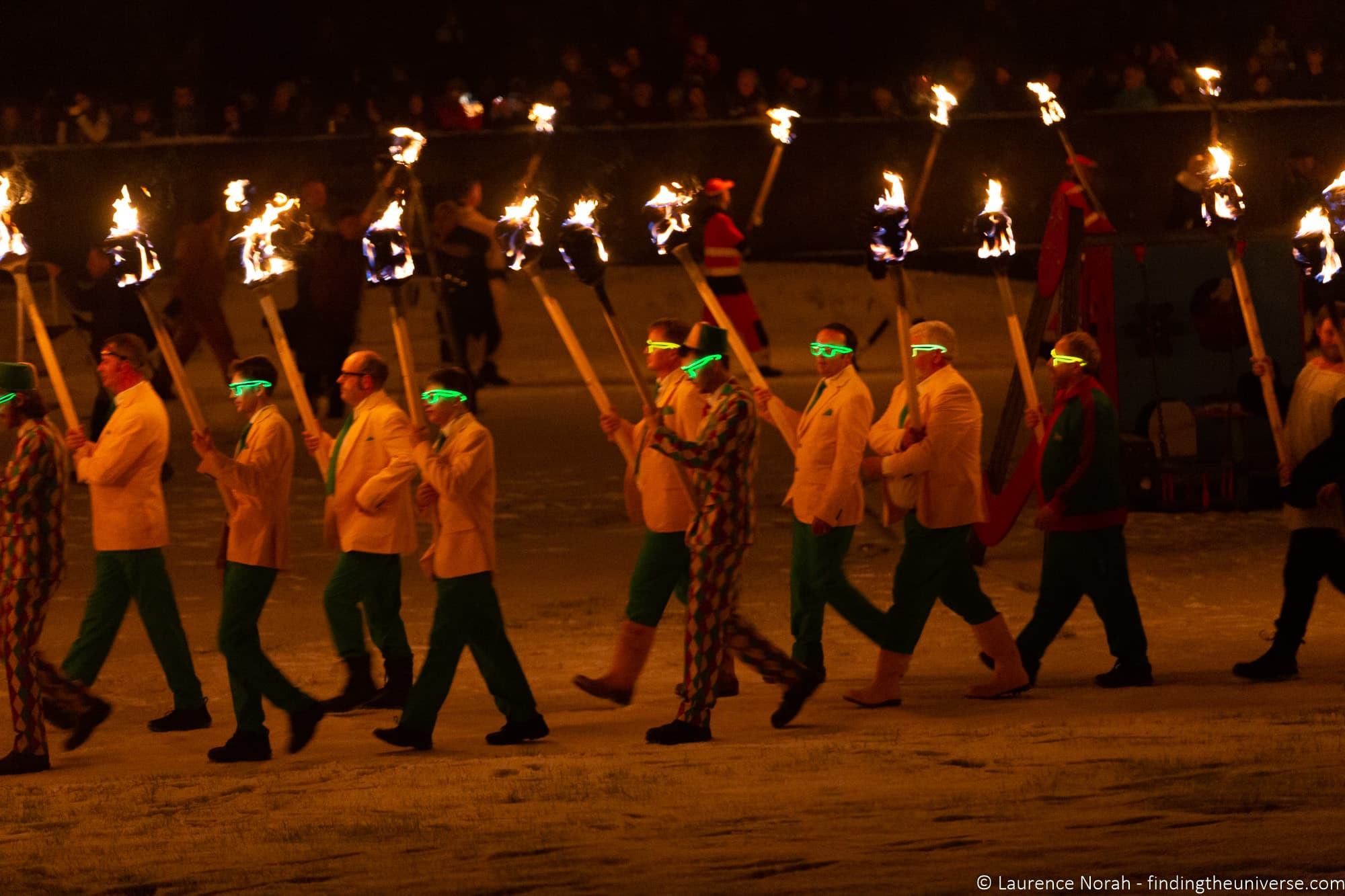 Finally, after the street parade, the 1,000 guizers led by the Guizer Jarl paraded into the area in the centre where the Viking ship was awaiting its fiery fate. The guizers surrounded the ship, and after a signal, the flaming torches were tossed into the ship, which created a mighty bonfire.
There was then a fireworks display, after which the crowd started to disperse, with the main parties of the night at the Halls getting started.
It was an incredible experience, and one we were definitely thrilled to be a part of!
Where to Learn About Up Helly Aa
If you're visiting Shetland in summer, then you can learn all about the festival by visiting the Up Helly Aa Exhibition in Lerwick.
This is found in the Galley Shed (where the Galley is kept prior to being burnt!), and there's information on the history of the event, a film from the most recent years festivities, and various other items relating to the event.
If you are visiting during Up Helly Aa, the exhibition is not open. However, the excellent (and free) Shetland Museum and Archives in Lerwick also has a number of displays relating to Up Helly Aa.
Other Things to do in Shetland During Up Helly Aa
Up Helly Aa is held in January, which is generally not regarded as the best month to visit Shetland weather wise. The days are relatively short, and cold temperatures, snow, and freezing winds mean you need to be properly prepared
However, during the time of the main festival in Lerwick, we learnt that some of Shetland's major attractions, which traditionally close through the winter, are opened especially for the influx of visitors.
As such, there is plenty for visitors to experience in Shetland during Up Helly Aa. We'll be writing a more complete guide to things to do in Shetland, but we can recommend taking time to visit the excellent Shetland Museum and Archives in Lerwick, the Iron Age Broch and Village at Old Scatness and the Scalloway Museum and adjacent castle as a starting point.
If you're lucky, you might even get a glimpse of the Northern Lights as we did!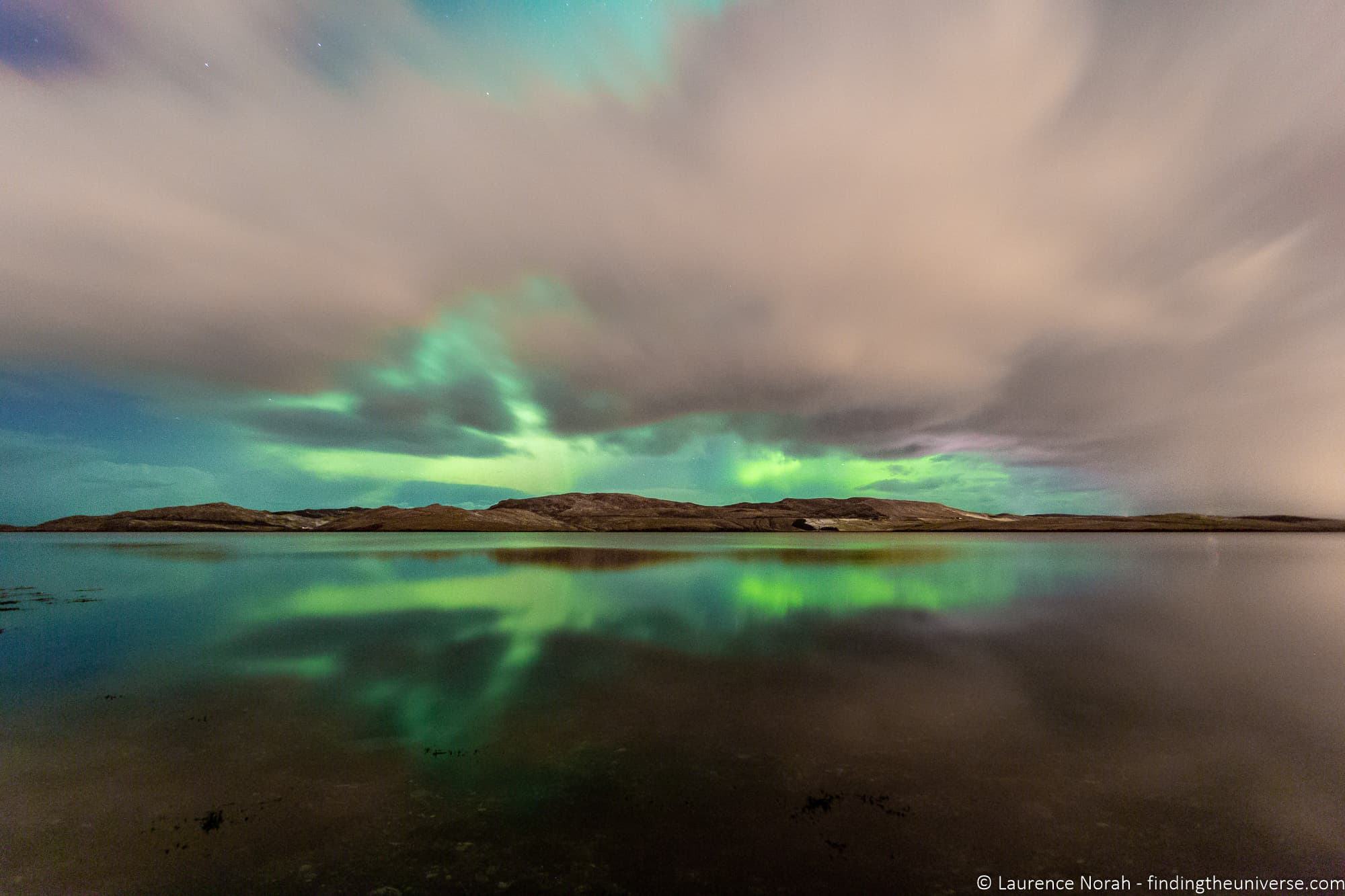 Further Reading
That sums up our guide to Up Helly Aa in Shetland, as well as our experiences attending this wonderful festival.
Before you go, we wanted to share some more content we've created from our time living and travelling in Scotland, to give you more ideas for your time here.
And that's it! We hope you found our guide useful, and maybe that you learnt a thing or two about Up Helly Aa as well. Had you heard of this festival? Is it on your to-do list? As always, let us hear your questions and feedback in the comments below!