Today I'm delighted to be hosting a post by Sofia von Porat of travel blog AsWeTravel. The post is particularly timely given our upcoming European focused adventure, where we're going to be spending a few days in Stockholm. Now, thanks to this post, we've got more of an idea of how to fill our time! Over to Sofia:
Stockholm is one of the most beautiful capital cities in Europe, and once you visit it's easy to see why.
Built on 14 islands with water surrounding you in every direction, it's a very unique city, and it feels like everything but a bustling cosmopolitan capital:
Locals fish in the canal in front of the parliament, swim in the middle of the city and park their boats outside their apartments.
Here are a few of the best things to do and places to check out on a visit to Stockholm…
Exploring Gamla Stan
With a history dating back to the 13th century, Gamla Stan (the Old Town) is one of the oldest medieval towns in Europe.
It is the prettiest area of Stockholm, with narrow cobble stoned streets, old medieval houses and tiny squares.
I would definitely recommend spending some hours getting lost in the alleys, shopping in the boutiques, and sitting down at one of the many cafes for a "fika".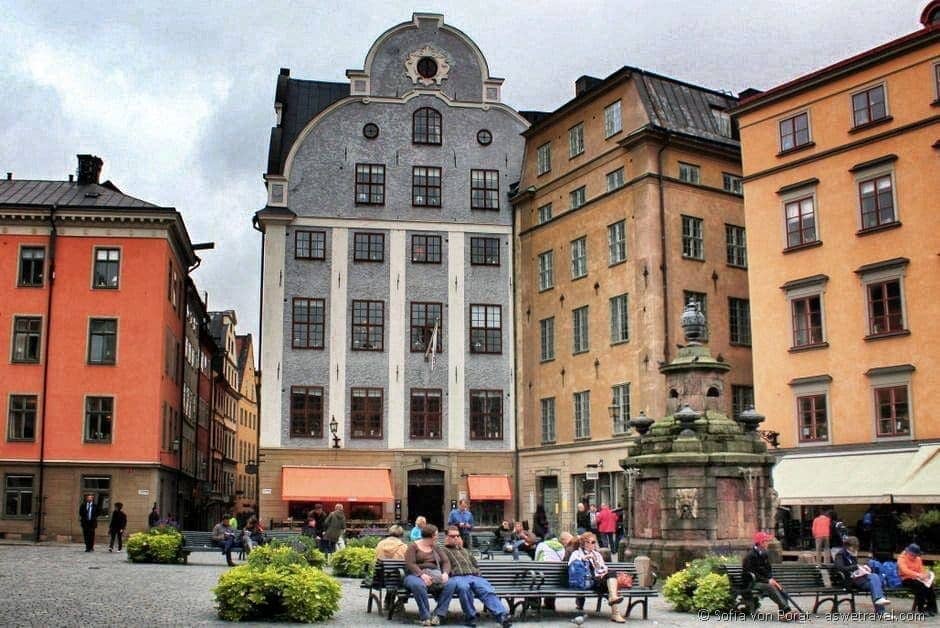 Going for a "Fika"
Having a "fika" is mandatory when you're in Sweden, as it's a big part of Swedish culture.
Fika is similar to tea time in England, where friends, family or work colleagues get together for a cup of coffee with "fika bread" (a tray of biscuits, sweet bread or buns, often all of it together).
Swedes can have fika several times per day, and in some families (like mine) it's almost like a ritual..!
Island-Hopping in the Archipelago
To get a typical Swedish experience I highly recommend exploring the islands in Stockholm's archipelago.
During summer, locals take the ferries to their summer cottages that are dotted on the 30,000 islands in the archipelago, and others take a day trip to go swimming and relaxing in the sweet and salty waters.
Unlike in the city, life on the islands is still very much the same as it always has been, with typical Swedish red wooden houses and quiet atmosphere.
Dinner with a View
Perched on top of a hill overlooking Gamla Stan and the harbor, Hermans has the best view in town, and their terrace is awesome.
They only serve organic vegetarian food made from scratch in their kitchen – every day there is an all-you-can-eat buffet both for lunch and dinner.
Every weekend there is a different theme on the buffet: Tex Mex, Indian, Asian, Middle Eastern, Scandinavian etc – the food is very filling, so make sure you're starving before you visit!
Address: Fjällgatan 23b on Södermalm.
Open hours: Mon – sun 11 am – 10 pm
Royal Djurgården Park
A walk in Royal Djurgården park will make you feel as though you're miles from the city.
It's a great place to relax and have a picnic, and the famous Vasa museum (the only preserved medieval ship from the 13th century, it sank 20 minutes after being put on water and was found 300 years later), the National museum and the museum of Eastern Asian history are all located there.
It's a huge area with an amusement park (Gröna Lund) and an open-air historical museum called Skansen, depicting Swedish life in the past by recreating real-life Sweden of the 1900s.
I hope you found these tips useful and that you take the opportunity to explore Stockholm!