Edinburgh is definitely one of our favourite cities in the UK, and it's one where we lived for a number of years.
There is a lot to do here, so much so that we've already penned a detailed post on how to spend two days in Edinburgh, as well as some of our favourite things to do in Edinburgh.
But, as with any city, there's a lot more to do than one blog post can cover, with attractions and activities seemingly around every corner – plenty to fill many days of sightseeing.
In today's post we want to go over some of our favourite ways to spend some time in Edinburgh, beyond the obvious highlights like Edinburgh Castle, Arthur's Seat and the Whisky tasting.
The best bit? Many of these unusual things to do in Edinburgh are free, or very low cost. So your wallet will be happy too.
Without further ado, let's take a look at some of our favourite:
Unusual Things To Do In Edinburgh
1. The Museum of Edinburgh
We're going to start this post with a number of museums. Scotland is not always known for having the best weather, so having a great collection of museums that you can drop into should the weather turn inclement is always handy.
Not that bad weather should be your only reason for visiting these museums, which are all excellent! First on the list is the Edinburgh Museum.
Set in a bright yellow building on the Royal Mile, we were particularly impressed by the Foundation Edinburgh Exhibition, a fantastic short video which takes you through the history of the city from its earliest beginnings in prehistoric times, right up to the modern day.
This is a brilliant way to get up to speed with the history of Edinburgh.
Then of course there's the museum itself, spread over a number of floors in a series of buildings, the oldest of which dates from the 16th century. On display are all sorts of items relating to the history, art, notable people and culture of Edinburgh as well as changing exhibitions such as the Foundation film that I mentioned above.
Definitely worth a couple of hours of your time – and entry is free!
2. The Writers Museum
The second museum that is worth a visit is the Writers Museum. This is just off the Royal Mile and focuses on the lives of three of Scotland's most famous writers – Robert Burns, Sir Walter Scott and Robert Louis Stevenson.
A bit of context for you. Edinburgh was the world's first UNESCO City of Literature, and these three chaps had a great deal to do with it. Edinburgh is also home to the world's only train station named for a book – Waverley was the first novel by Sir Walter Scott.
Suffice to say, a museum dedicated to these three greats of Scottish literature seems only appropriate.
Different parts of the building are allocated to each of them, with information about their lives and writings, as well as objects and artefacts from the writers themselves.
A must for anyone with even a vague interest in writing. Also – it's free!
3. The People's Story Museum
On a roll with the free museums here! Edinburgh really does have an excellent selection of free museums. One that is also worth a visit is the People's Story Museum, which is basically just over the road from the Museum of Edinburgh.
This free museum, housed in the 15th century Canongate Tollbooth building, focuses on the lives of the people of Edinburgh, from the 18th century to the present day. Displays give insights into the lives of all sorts of Edinburgh's inhabitants and their belongings, and there's also a former jail which you can take a peek at.
4. Gladstone's Land
Moving back up the Royal Mile towards the Castle, and we find ourselves at the National Trust for Scotland's Gladstone's Land property.
One thing that people often don't realise about Edinburgh is that in the 17th century it was home to some of the tallest residential buildings in the world – essentially the first skyscrapers were built in Edinburgh.
This was a result of the city walls restricting the size of the city, which meant that to accommodate the burgeoning population, properties had to be built upwards.
Unfortunately, engineering and materials didn't quite meet the requirements, and a number of these early "skyscrapers" came tumbling down, with associated loss of life.
In addition, they were overcrowded and unsanitary. Still, if you wanted to be protected by the city walls, this was the place to live.
One of the best preserved examples of these buildings that you can visit today in Edinburgh is Gladstone's land.
Here you can visit six rooms across two levels, and learn a little about how it might have been to live in one of these high-rise tenements.
There are some well-informed staff on site to help answer any question, and we particularly enjoyed the tasting room, where we got to try some old-fashioned coffee and oatcakes!
Entry is free if you're a National Trust for England or Scotland member, otherwise you can find the latest prices here.
As an addition to this, since you're in the area and learning about living conditions, you might also want to visit Real Mary Kings Close.
This is actually one of the most popular attractions in Edinburgh, so was a bit of an obvious addition.
Here you'll be able to go underneath Edinburgh to one of the old streets that used to run down from the Royal Mile, and learn about the lives of people 17th century Edinburgh.
Spoiler alert, life wasn't easy in these times, with residents battling plague, filth-covered streets, and generally dire living conditions!
5. Gin and Tonic
On to something a little less grim. In the last few years, Edinburgh has seen a surge of interest in small, hand-crafted beverages. One of the most famous of these is Pickering's Gin, the first exclusive gin distillery to be created in Edinburgh for over 150 years.
The distillery is located at the wonderful Summerhall, which also houses an excellent pub, a beer brewery, all sorts of spaces (many of which are used for the various Edinburgh Festivals) and a café.
We took a tour of the distillery, something anyone can do by appointment, and learnt all about how gin is made, what goes into it, and, most importantly, we sampled various gins.
We also had a Pickerings and Tonic in the Royal Dick, the Summerhall pub, which has a direct line from the distilleries gin tank through to the bar! It doesn't get much fresher than that.
Of course, Pickering's are well known but they are far from the only gin option in Edinburgh at this point. You might also consider visiting 56 North for a gin tour and tasting. There's also the Holyrood Distillery which has both gin and whisky!
Suffice to say, you have plenty of choice when it comes to gin tasting in Edinburgh.
6. Stand Comedy Club
Edinburgh is world famous for comedy, not least because it is home to the Edinburgh Festival Fringe, the world's largest arts festival of which comedy takes centre stage.
The good news is that you don't have to be in Edinburgh during the Fringe Festival to experience great comedy. You can just head to the Stand Comedy Club, and experience fantastic comedy whilst having a few drinks. What's not to love?
Even better, if you're on a budget, you're still in luck. On Monday nights in Edinburgh, the Stand hosts their "Red Raw" event, where beginner comics come to try their hand, whilst big names sometimes drop in to test out new material.
We witnessed this first hand as we happened to be attending on a Monday, and we saw ten acts over the course of the evening, some of which were, well, not great, but the majority of which were excellent.
We even saw Frankie Boyle, one of Scotland's most well known comics, turn up and practice some of his Fringe material. Not bad for the £2 we paid!
One tip if you're heading to the Stand – get there early. It's a small venue, and there's only so much seating, so if you want a good spot and don't want to be standing, you need to be in the queue before the doors open.
We turned up just after the doors opened, and only just managed to get a seat, so keep that in mind!
7. Go Inside Nelson's Monument on Calton Hill
Climbing up Calton Hill should definitely be on every visitor's Edinburgh to-do list. And I've been up plenty of times, as I think it offers one of the best views of Edinburgh available in the city, with minimal effort required.
But, despite having been up it many times, one thing I've never done is climb Nelson's Monument, which sits on top of the hill.
So on our recent Edinburgh adventure, we did just that. It turns out that Nelson's Monument is more than just a tower with a pretty view. It's also home to a small museum, where you can learn about the history of the building, which was, as the name suggests, erected to honor Admiral Lord Nelson.
Over its lifetime, the building has served a number of purposes, many with a suitably naval theme, including being used as a signalling tower for ships in the harbor, and as a means to indicate the accurate time.
Even today, the time ball atop the tour drops at 1pm, in synchronization with the One O'Clock gun that fires from Edinburgh castle.
In times before GPS and other accurate timekeeping and navigation aids, these two devices were critical for Edinburgh's ships to ascertain the correct time for their navigational timekeeping.
There's a small fee to enter the museum, which is well worth it, and the tower is accessed by 143 steps. It's a bit of a climb, but the views are very much worth it!
8. City Arts Centre
Back to museums quickly. Edinburgh's City Arts Centre, right in the heart of the city by Edinburgh Waverley train station, is one of the best places in the city to see Scottish art.
Exhibitions here are always changing – when we visited we saw a gallery dedicated to art created on paper – but the six floors cover the old, the new, and everything in between. There's a café to refresh you should it all get too much and entry is also free. Worth popping in.
If you're into art, you should also definitely check out the Scottish National Gallery, on the Mound, and the quite fantastic National Museum of Scotland, which covers all sorts of Scottish focused collections, including art.
9. Window Shopping
I'm not going to lie, I'm not a massive fan of shopping. Still, I don't mind a bit of a wander around some shops with Jess (as long as there's a coffee thrown in somewhere), and Edinburgh has some fantastic locations for shopping if that's what you're into.
A couple of places to bring to your attention that you might not be aware of. First, the very recently opened "The Arches" series of shops.
These shops are built into the arches that support the road above, which is a pretty neat use of space, and there are some really funky little stores here to explore. Including a coffee shop, of course, which also has some quite magnificent donuts.
The other shopping area you should check out is in the area of Stockbridge, about a twenty-minute walk from Edinburgh city centre (or a quick bus ride).
As well as an unbelievable collection of coffee shops, Stockbridge also has a gourmet cheese vendor and numerous vintage clothing shops. Head to St. Stephen street for some of the highlights.
10. Eat!
All of this exploration has probably made you a little hungry, so you're going to want to eat. Edinburgh has become a real foodie paradise, with plenty of excellent choices at all budgets.
If you would like recommendations for eating in Edinburgh, we have had absolutely fantastic meals at Wedgwood the Restaurant, The Printing Press, La Garrigue and the Tower Restaurant, which Jess will be talking about over on her blog.
You won't go wrong with any of these options! You might also consider a food walking tour of the city to try a variety of delicacies.
11. Botanic Gardens
Into the home run with your list of extra Edinburgh activities! This one is perfect if you're looking for a bit of nature – you can't go wrong with Edinburgh's Botanic Garden.
Open every day except Christmas and New Year, and with free admission (the glasshouses do have a small, and very much worth paying, entry fee), these gardens have a history dating back to 1670!
There's plenty to see and do here, with 70 acres to explore, and over 273,000 plants to see, which represent over 13,000 species. If the city is getting a bit much, they offer a wonderful escape, with spots for relaxation and enjoyment of nature.
12. Walk along the Water of Leith
Last on my list of activities in Edinburgh that you might not have thought to do is to take a walk along the Water of Leith, specifically between the beautiful villages of Stockbridge and Dean Village.
You'll find it hard to believe you're still in Edinburgh as you wander along this lush green path by the quiet water of the Leith.
This section of the Water of Leith walkway is not too long – less than a mile – but is very peaceful and worth doing. If you feel like going a bit further, the whole walkway runs for just over twelve miles, and finishes up in the port town of Leith itself – also worth a visit.
Don't miss Dean village though, this cute little village (now officially a part of Edinburgh), set down in a steep valley, is truly picturesque, and worth a bit of your time to explore.
Well, that about sums up some of our favourite activities in Edinburgh that you might have missed! Now, let's take a look at where we stayed when we visited Edinburgh.
13. Eat Chocolate
You're probably aware that Scotland is well known for its whisky. What you might not know is that craft chocolate making is also quite a thing in Scotland as well.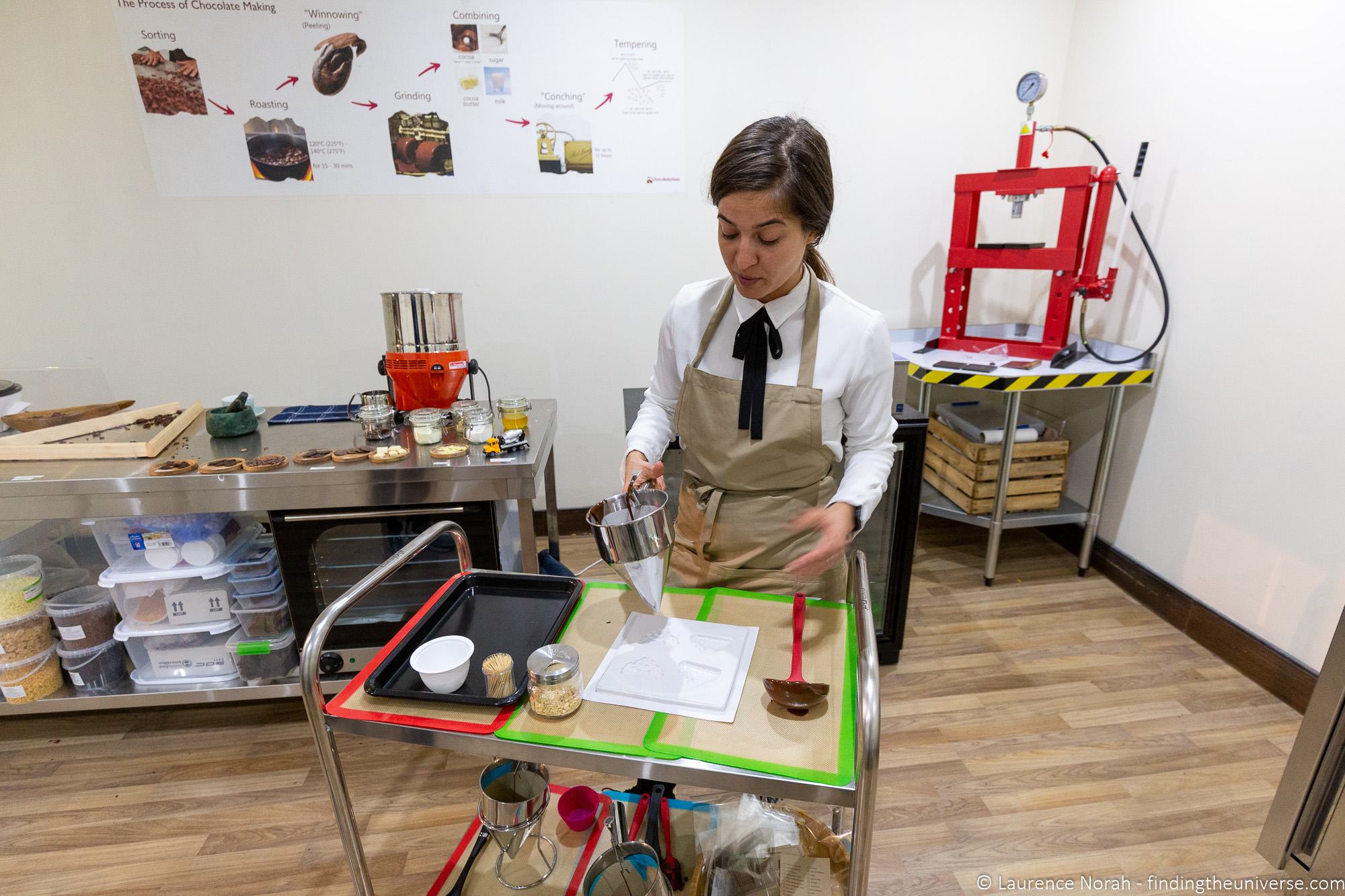 If you like chocolate (who doesn't like chocolate?), you will definitely want to head along the Edinburgh Chocolatarium. As well as stocking a wide range of Scottish made chocolate from some of the best chocolate makers in the country, they also run regular tours where you can learn all about the chocolate making process.
This includes plenty of chocolate samples, information on the history of chocolate, and a guide to how to taste chocolate. We really enjoyed our visit here, and think it should definitely make it onto your list of things to do in Edinburgh! You can read our experience visiting the Chocolatarium here.
Advance booking is recommended, which you can do here.
14. Take a Ghost Tour
Edinburgh in the middle ages was, to put it bluntly, not exactly a wonderful place to live. It was overcrowded, smelly and down right dangerous. From the black death to the witch hunters, to just general murderers, there were a multitude of ways to meet a grisly end.
As you might imagine therefore, there's no shortage of ghost stories in the city. We've taken a number of these, and can recommend either the Ghostly Underground Vaults Evening Vaults Tour with Whisky, or the Edinburgh Murder & Mystery Walking Tour.
The former has you going into the underground world beneath the streets of the city, to learn about the subterranean existence of Edinburgh in the middle ages. It also includes a shot of whisky (or a beer / soft drink),
The latter is more of a traditional walking tour around the streets of the city, with plenty of spooky tales from the costumed guide, as well as a souvenir book of ghost stories.
We really enjoyed both of these tours when we did them and are happy to recommend them both.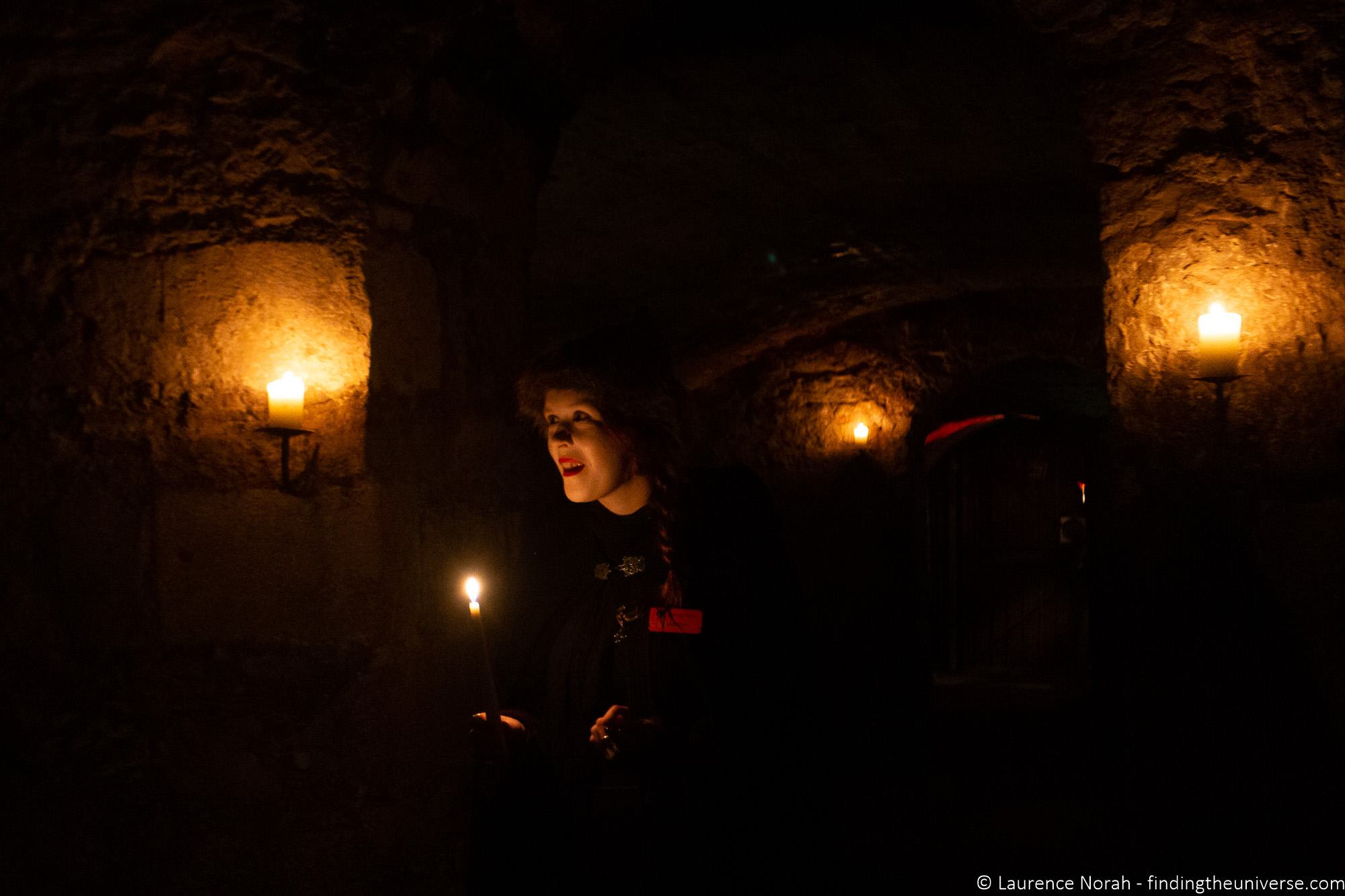 Where to stay in Edinburgh
Edinburgh has a wide range of accommodation options from hostels to mid-range hotels to luxury properties. We'd advise finding a city centre hotel, that way you'll be able to walk to all the attractions in this list and save on taxis or public transport fares.
If you're travelling in the busier time of year, such as during the August Festivals or around New Years Eve, you'll definitely want to book as far in advance of your trip as possible to be sure you find somewhere that suits.
There are lots of options in Edinburgh to suit all budgets. For some inspiration:
Our favourite way to find the best deals on accommodation when we travel is booking.com. We find they usually have the best deals across a wide range of properties, including hotels and apartments, and are really easy to use. Check out their Edinburgh listings here.
We can also recommend apartment rentals as an option. You can see the Edinburgh listings on Plum Guide here, but do also see our list of AirBnB alternatives for lots more options.
Further Reading for your Edinburgh Trip
As you'd expect, we've written a lot of content about visiting Edinburgh and the UK in general, plus we have other resources we think you'll find helpful. Here they are:
And that sums up our guide to getting off the beaten path in Edinburgh! If you've got any ideas of your own to add to the list, do pop them in the comments below!