Edinburgh is one of our favourite cities in the UK, and was where we called home for almost four years. Based on our experiences living in the city, I wanted to share our tips and ideas for what to get up to with 2 days in Edinburgh.
We think two days is a great amount of time to spend in Edinburgh – perhaps as a weekend break in Scotland. It's also a great addition to a longer trip exploring the UK and Scotland, such as that outlined in our 2 week UK itinerary.
Of course, you could spend much more time getting to know the city, but two days will certainly let you see many of the highlights of Edinburgh.
In this guide we're going to go over a step-by-step itinerary for Edinburgh, after which we're going to share some practical information for your visit.
This includes tips on where to stay, when to visit, how to get around, and how to save money when you're in Edinburgh.
Let's get started with our 2 day Edinburgh itinerary.
2 Days in Edinburgh: An Itinerary
This itinerary is laid out to be fairly logical in progression, with two full days of exploration in the city, covering the main attractions in the city.
There's lots more to see and do in the city of course, meaning you could easily extend your trip to spend more time here. Check out the resources at the end of the post for more ideas and to help you plan your perfect trip to Edinburgh!
Edinburgh Itinerary: Day 1
Edinburgh Castle
We're going to start our two day Edinburgh itinerary with a visit to the stunning Edinburgh Castle, which perches fantastically above the city, and offers a wonderful panoramic view of the city and surrounds.
The castle is home to a variety of exhibitions and artefacts from Scottish history, including the Scottish crown jewels. The castle is also where the 1pm gun is fired every day, so if you do have a chance to be there for this then do, as it's quite an experience.
You can save money and skip the line by buying your tickets for Edinburgh Castle in advance here. With your advance purchase tickets, which you can buy on the day, you both save money, and can walk straight to the ticket check where they will scan your QR code for entry.
Alternatively, you can book a tour which includes Edinburgh Castle, like this one. Edinburgh Castle is also included on the Royal Edinburgh ticket.
Whisky Tasting
Scotland and Whisky are intractably linked. Don't make the mistake of referring to the Scottish version as "Whiskey" though, that's from the folks across the Irish Sea.
Scottish whisky is my favourite spirit, and whenever I'm in Edinburgh I'll always find time for a drop. You can do this of course just by popping into pretty much any pub in the city, but if you want to learn about the process of making whisky, as well as the various regions of Scotland and the flavours available, then the Scotch Whisky Experience is where you need to head.
Here you'll journey through the Whisky creation process, as well as learn about why Whisky from different parts of Scotland tastes different. Finally, you'll be given the opportunity to taste one of four whisky flavours, before taking a look at the largest Scotch Whisky collection in the world. You can book your tickets in advance here.
Find out more about Scotch whisky with our definitive guide to whisky in Scotland.
If you're not into whisky, or want more food and drink-based activities, you might want to head a bit further down the Royal Mile and visit the Edinburgh Chocolatarium.
Here you'll learn all about the history of chocolate, make some chocolate of your own, and go on a chocolate tasting adventure. This opened in 2019, and we really enjoyed our visit.
Advance booking is recommended, which you can do here. You can also read our experience visiting the Chocolatarium here.
Camera Obscura
Almost opposite the Scotch Whisky experience is Edinburgh's Camera Obscura, also home to the World of Illusions attraction. Being a photographer I was particularly interested in the Camera Obscura at the top of the building, but I have to admit to finding the World of Illusions a lot of fun.
These take up the first four floors of the building, and are a series of interactive exhibits which focus on optical illusions. There are holograms, a mirror maze, a vertigo inducing tunnel, and all sorts of other optical illusions to entertain and amuse. We spent a lot longer in here that I thought we would!
The Camera Obscura right at the top of the building is also interesting, although as it was a cloudy day when we visited, the effect was not as pronounced – you need a sunny day with lots of light to get the most out of the experience.
Still, it was an interesting look into how light and prisms work, and the view from the top of the Castle and the Royal Mile is excellent.
St. Giles' Cathedral
Also on the Royal Mile, about a third of the way down from the castle, is St Giles' Cathedral. Both the interior and exterior of the cathedral are stunning, but the highlight in my mind is the little Thistle Chapel, home to the Most Ancient and Most Noble Order of the Thistle.
These were essentially a group of sixteen Knights and Ladies, plus the British Royal Family, set up by James II of England in 1687, who was the Sovereign of the Order.
The Order still exists today, and is overseen by the current British Queen, Elizabeth II.
All that aside, the Thistle Chapel is just gorgeous, stuffed full of lovely wooden panelling, and very much worth taking a little bit of time to see, as is the rest of the Cathedral.
Edinburgh's Royal Mile
All the recommendations so far have been along the Royal Mile, the lovely stretch of interconnecting streets which run from Edinburgh Castle down to Holyrood Palace.
It's not exactly a mile long, but it's near enough, and is filled with a variety of attractions, from the above-mentioned, through to souvenir shops, restaurants and pubs.
There are also a number of gorgeous buildings, churches and monuments along the length of the street, all of which contribute to making this a worthy way to spend half an hour or so of your day.
Free Museums in Edinburgh on the Royal Mile
Since you're on the Royal Mile, you should definitely take advantage of the many free museums that you can find along its length.
Some of our favorites include the Museum of Edinburgh, the Writers Museum, the People's Story Museum, and the Museum of Childhood.
You can read much more about what is in each of these museums and why you might want to visit them in Jess's excellent post on the highlights of Edinburgh.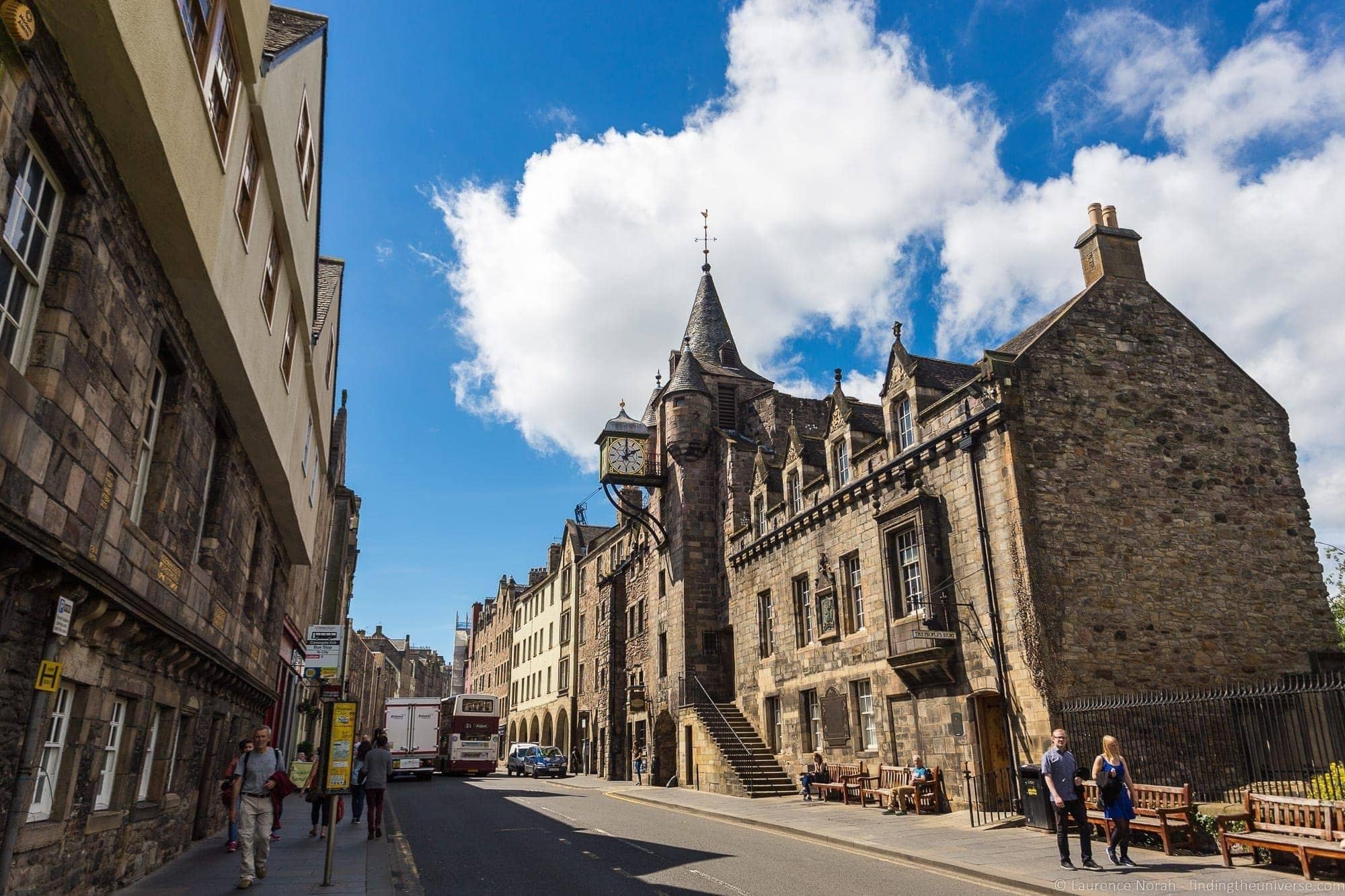 Calton Hill
Towards the end of the day, I'd suggest you head up Calton Hill. This is a wonderful spot for a view of the city, and is one of our favorite photography locations in Edinburgh. It can be found at the east end of Princes Street.
This hill is home to a series of monuments, including the National Monument of Scotland, which bears more than a passing resemblance to the Parthenon in Greece. Which makes sense, because that's what it was modelled on.
Up on the hill you will also find Nelson's Monument and the Royal Observatory, amongst other things, but the highlight for me, really, is the view up here at sunset.
From here you can watch the sun set across the city, with the mountains in the background, which is ample reward for the effort required to climb up.
Traditional Scottish Show
If you want to take in a number of traditional Scottish experiences as part of your visit to Edinburgh, we highly recommend the Spirit of Scotland show. Here you'll be entertained by local performers, who will do everything from the Highland Fling through to playing the Bagpipes.
All whilst you sit back and enjoy an excellent four course Scottish meal which, of course, includes the opportunity to try haggis!
Jess and I had a really fun time when we visited the show, and it's both central and good value for what you get. If you have the time and budget, we think it's an excellent way to finish off your first day in the city!
Tickets need to be booked in advance, and you can do that here.
Edinburgh Itinerary: Day 2
Holyrood Palace
At the opposite end of the Royal Mile from Edinburgh Castle is Holyrood Palace, which is where we're going to start the second day of our two-day Edinburgh itinerary.
Holyrood Palace is the official residence of the British monarch in Scotland. although the Queen herself only spends a week a year here – most of her time in Scotland is spent up at Balmoral.
When the Queen isn't here, the Palace is used for visiting dignitaries, other members of the royal family, and of course, as a tourist attraction, being open daily.
It's worth checking however that there isn't someone of importance staying, as the palace closes to visitors when fulfilling its main role as an official residence. Check the official website for information.
You can buy tickets in advance here, and it's also included on the Royal Edinburgh ticket.
Scottish Parliament
Right over the road from Holyrood Palace is the Scottish Parliament building, a relatively new addition to the city, from where the governing of Scotland takes place.
It's possible to visit the Scottish Parliament, either as part of a guided tour, or you can pop in yourself and see government at work. It's free to visit, both on a guided tour or self-guided, although you need a ticket (free) if you want to watch a debate in the chamber.
Dynamic Earth
If you like fun, interactive science museums, then Dynamic Earth is a must-visit. Right next to the Scottish Parliament building and underneath the stunning backdrop of the Crags and Arthur's Seat, Dynamic Earth tells the story of the history of the Earth.
This is a really fun museum, with an emphasis on interactive and entertaining rides – although the science is certainly not dumbed down.
We really feel it has something for everyone. From a time machine ride into the past, to a spaceship simulation that takes you right to the Big Bang itself, this is an educational and fun experience that we think is fun for the whole family.
Definitely worth checking out when you're in Edinburgh, especially if you are visiting with kids.
Arthur's Seat
One of my favorite things about Edinburgh, other than how magnificently walk-able the city center is, is that just a stone's throw from Holyrood Palace, the Parliament Building and Dynamic Earth is the ancient volcano of Arthur's Seat, part of the 640-acre Holyrood Park.
This 251 meter high peak offers spectacular views of the city and surrounds, as well as nice hiking, sunset and sunrise views, and the walk is easily manageable right from the city center.
HMY Britannia
The Royal Yacht Britannia was, for over forty years and a million miles of sailing, the floating residence of the Royal Family. She shuttled them to formal events, retreats and even honeymoons in luxurious style over many years of service, and was the only ship in the world to demand no less than an Admiral as her Captain.
After all that service, she was retired, and never replaced, ending the line of six Royal yachts to bear the name Britannia.
The good news is that she is now a permanent visitor attraction, and you can visit and tour every part of her, from the sumptuous royal quarters through to the Admiral's cabin, and the rather less upholstered bunks of the crew. It's a fascinating insight into life as a Royal, and if you have even the slightest interest in boats or the British monarchy, is worth a visit.
Money saving tip: If you plan on visiting the Royal Yacht and the other Royal sights in Edinburgh, including the Castle and Holyrood Palace, you can save money by picking up a Royal Edinburgh ticket, which gets you into all the aforementioned attractions and also includes a Hop on Hop off bus ticket. Using our link also gives you a special discount on the Royal Edinburgh ticket. See our full review of the Royal Edinburgh ticket here.
Learn about Harry Potter
If you are visiting Edinburgh with Harry Potter fans, then instead of heading out to the Royal Yacht you might prefer to learn about Edinburgh's connection with Harry Potter.
Whilst none of the books or films actually take place or were filmed in the city, Edinburgh has a strong connection to the series as it is where J. K. Rowling lives, and also where she wrote many of the books.
So there are many locations in Edinburgh that are said to have served as inspiration for characters and locations in the books. You can read all about those in our guide to Harry Potter in Edinburgh.
You can also take a guided walking tour like this of Edinburgh Harry Potter locations, which can be a fun way to see the city in a different way!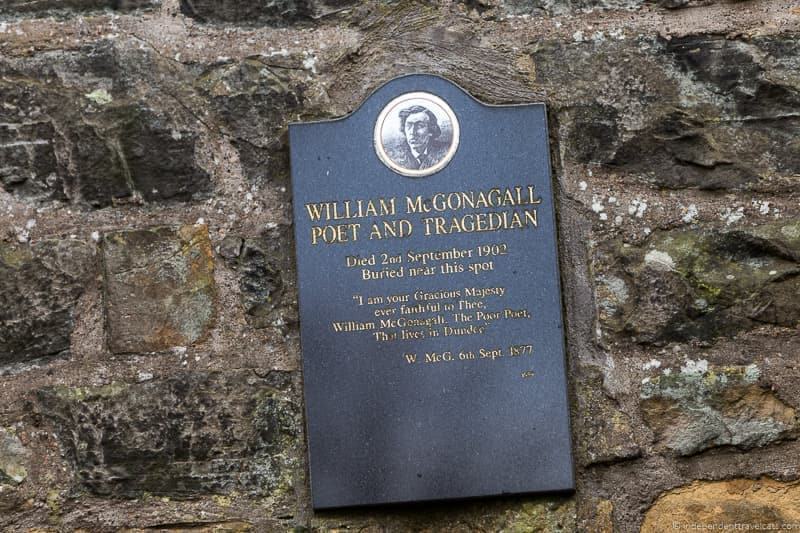 Take in a festival
If you have time on your second day, and you are lucky enough to be in town for one of Edinburgh's twelve official festivals, then I'd highly recommend finding time to take some of it in.
Edinburgh is an incredible city for festivals, with the most famous likely being the Edinburgh Fringe Festival.
Held for three weeks in August, this is the world's largest performing arts festivals, with a firm focus on comedy. Over the three week period the festival runs there are thousands of acts and performances, ranging from unknowns looking for their big breakthrough through to international comedy stars.
At the other end of the festival season, Edinburgh plays host to one of the world's most celebrated New Year's Eve parties – Hogmanay.
We have attended four times, and can honestly say it's the best New Year's Eve festival we've ever attended, with everything from Torchlight Processions through to international singers and incredible fireworks.
Definitely one to add to your list. Read more about some of Edinburgh's fantastic festivals and how to plan your visit in this comprehensive guide to the Edinburgh Festivals.
And that sums up my two day Edinburgh itinerary! Now, let's get on to some practicalities for your visit.
Map of 2 Day Edinburgh Itinerary
To help you visualise our 2 day Edinburgh itinerary we've put together the below map, which you can also see on Google Maps here.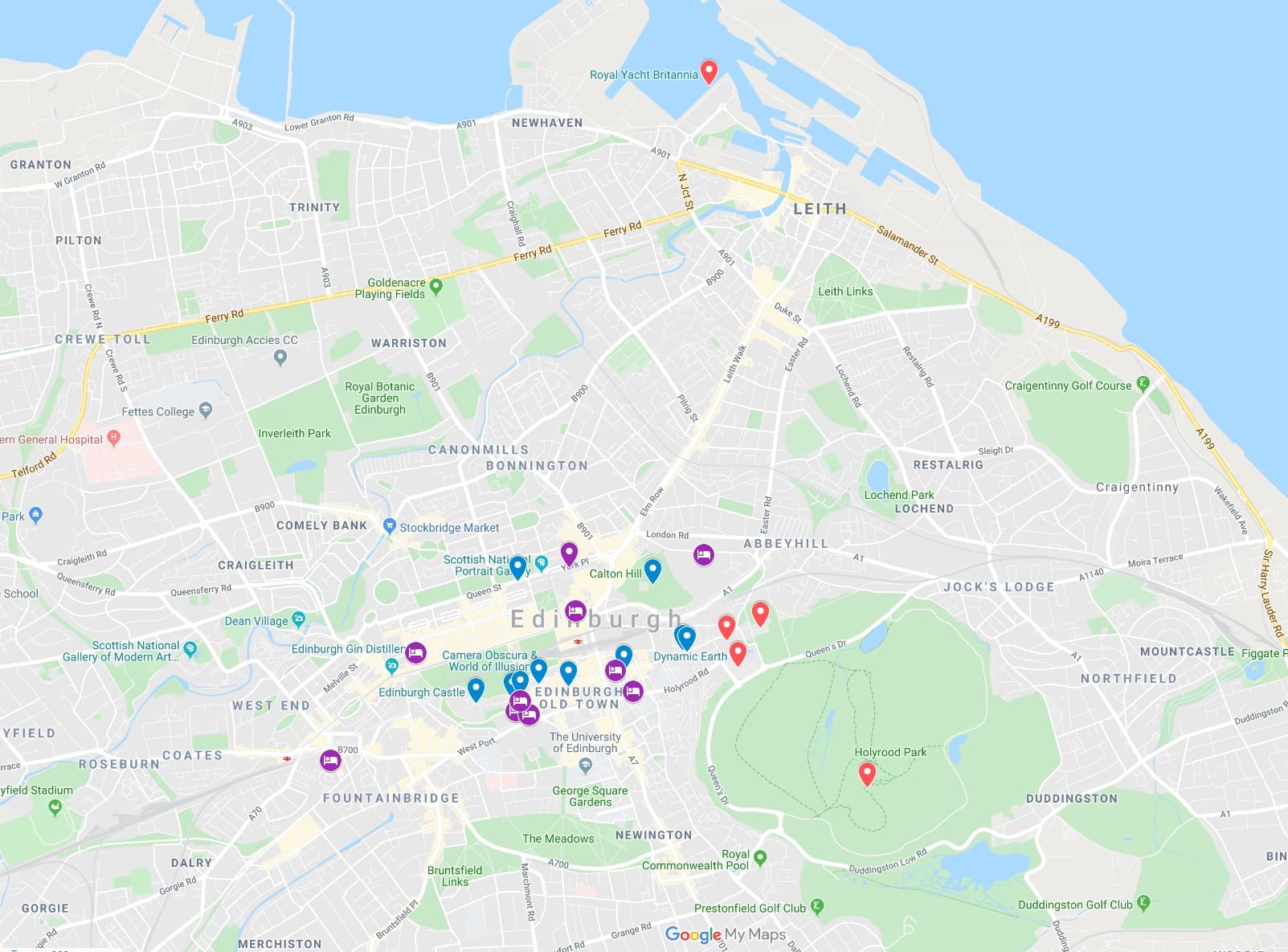 2 Day Edinburgh Itinerary Overview
Day 1: Edinburgh Castle, Scotch Whisky Experience, The Royal Mile, Camera Obscura, St. Giles' Cathedral, Museum of Edinburgh, The Writers' Museum, Calton Hill, Spirit of Scotland Show
Day 2: Palace of Holyrood, Scottish Parliament Building, Dynamic Earth, Arthur's Seat, Royal Yacht Britannia
When to Visit Edinburgh
Like much of the UK, Edinburgh has variable weather, so you need to be prepared for everything from rain to sunshine. Layered clothing is the key to a successful trip.
Be aware that being fairly northerly, Edinburgh has generally cooler weather than the southern cities in England, although it does rain less than Glasgow.
There's not really a bad time to visit Edinburgh as there is so much going on throughout the year, but if you prefer better weather and longer days to explore by daylight, then visiting in the summer months is preferable.
Of course, visiting outside of these months will mean it's quieter, and if you're not interested in the fringe festival, avoid August as accommodation can be harder to get and more pricey.
If you're visiting in winter, and you should check out out guide to what to pack for Edinburgh and Hogmanay, which will give you ideas for what to bring. We also have a full guide to visiting Edinburgh in winter and visiting Scotland in winter.
Getting to and from Edinburgh
Edinburgh is very easy to get to. Flights operate to Edinburgh airport, both nationally and internationally, and the airport itself is around six miles outside the city centre.
Getting from Edinburgh to and from the airport is easy. There's an airport bus (buy your tickets in advance here) as well as a tram service. There are also taxis, and ride sharing service Uber does pickups from the airport.
The best option for you will vary of course. If we're travelling with luggage we generally use Uber as it's cost effective and takes us door to door. If you've not used them before, you can save on your first ride with this link!
The train station in Edinburgh has fast rail services to London (around four and a half hours), and is magnificently located below the castle. Emerging from the rail station and being confronted by the beauty of Edinburgh for the first time is something you'll never forget.
You can also drive to Edinburgh, which is how you'd get here if you are following my suggested 2 week UK itinerary. Parking is possible in the city centre, and a car will let you get to attractions outside of the city, but isn't generally needed for day to day sight seeing as Edinburgh is very compact.
If you're coming from London, see our guide to getting from London to Edinburgh, which covers multiple transport options. It also works from Edinburgh to London of course!
How to Get Around Edinburgh
As you will see from our attractions map, the majority of Edinburgh is easy enough to get around on foot. You will want good sensible footwear though, as many of the streets are steep and uneven, and there are lots of hills and steps to navigate.
The furthest attraction is the Royal Yacht Britannia. You can reach this either by taxi or public transport. Alternatively, if you get the Royal Edinburgh Ticket, this includes a Hop on Hop off bus pass which will take you from the city centre to the yacht.
Day Tours from Edinburgh
If you have a bit more time in Edinburgh, or just want to get out into the surrounding Scottish landscapes during your time here, there are a great many day tours that you can take.
In fact, Edinburgh makes for a pretty good base for exploring much of Scotland and even northern England.
Here are some of the more popular tours that we'd suggest you look at.
As you can see, there are plenty of options for tours from Edinburgh, so you won't have a shortage of options for your trip if this is something you want to do! See a full guide to our favourite day trips from Edinburgh here.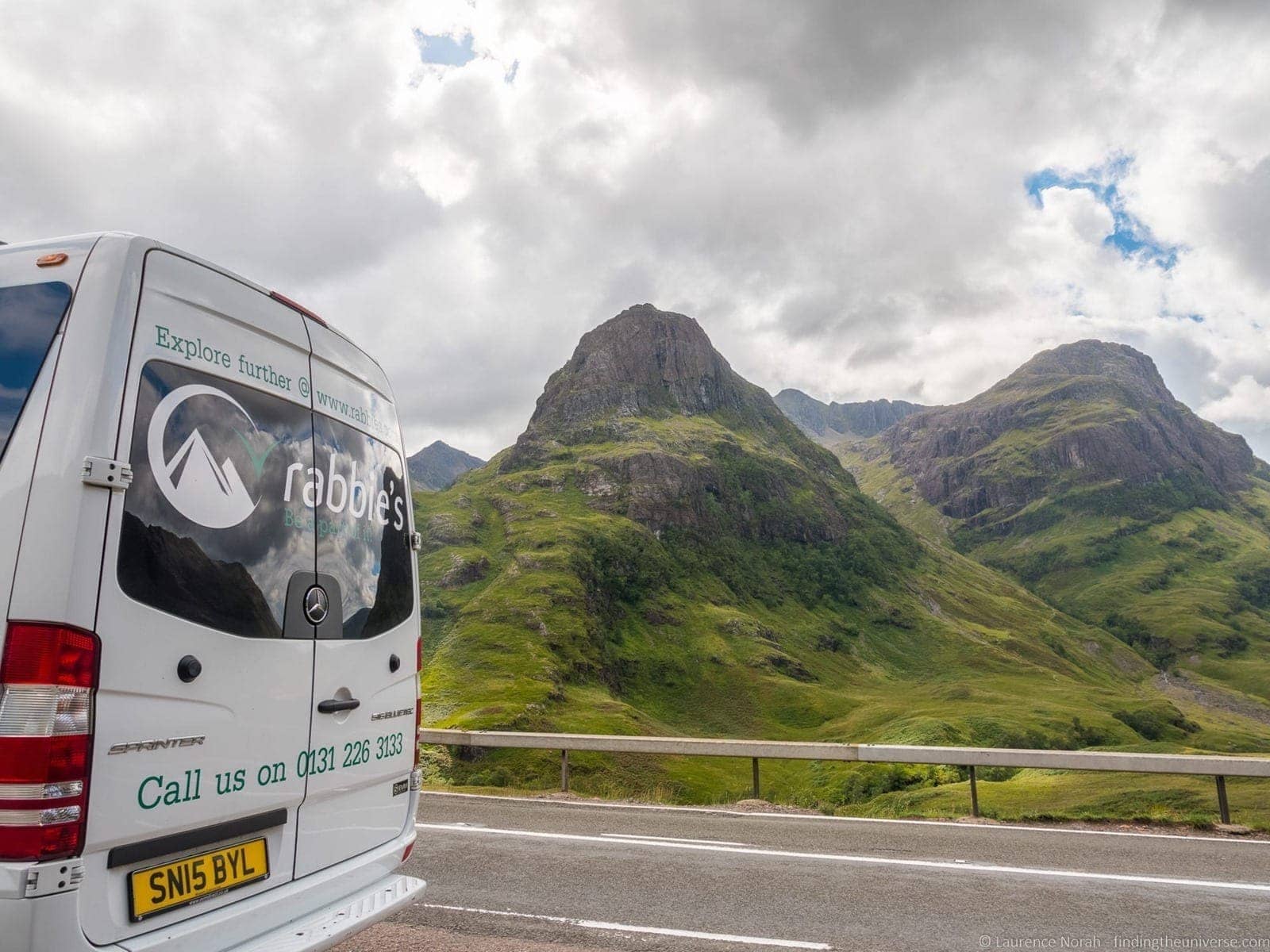 Save Money On Edinburgh Attractions
Whilst Edinburgh unfortunately doesn't have a comprehensive attraction pass like the London Pass, there is still a way to save on some of the attractions in this post. These are:
The Royal Edinburgh Ticket. This gets you into the key Royal attractions in Edinburgh – Holyrood Palace, Edinburgh Castle and the Royal Yacht Britannia. It also includes a Hop-on Hop-off bus pass, which is perfect for getting around all the sights in this post. This pass will save you up to 25% on admission fees, so is definitely worth getting if you plan on visiting at least two of these attractions. Jess wrote a full post about the Royal Edinburgh Ticket here. You can get yours in advance here.
If you only want to visit Edinburgh Castle, buying your ticket online here will save you a bit of money and also let you skip the line. Tickets are mobile, so you don't need a printer.
The Historic Scotland Explorer Pass. This pass is a good investment, but only if you're planning on exploring Scotland beyond Edinburgh. It gives access to 77 attractions across Scotland, including Edinburgh Castle. However, if you're only going to be in Edinburgh, the Royal Edinburgh Ticket is going to be more useful.
Hopefully these two options will help you save a bit of money on your trip to Edinburgh. If you choose not to pick either of these up, then we still recommend buying your Edinburgh Castle ticket in advance as this will save you a bit of money on the gate price, and allows you to skip the entry line.
Where to Stay in Edinburgh
Edinburgh has a wide range of accommodation options from hostels to mid-range hotels to luxury properties. We'd advise finding a city centre hotel, that way you'll be able to walk to all the attractions in this list and save on taxis or public transport fares.
If you're travelling in the busier time of year, such as during the August Festivals or around New Years Eve, you'll definitely want to book as far in advance of your trip as possible to be sure you find somewhere that suits.
There are lots of options in Edinburgh to suit all budgets. For some inspiration:
Our favourite way to find the best deals on accommodation when we travel is booking.com. We find they usually have the best deals across a wide range of properties, including hotels and apartments, and are really easy to use. Check out their Edinburgh listings here.
If you prefer an apartment, then we recommend either Plum Guide or Vrbo.
Plum Guide doesn't have quite so many choices, but they carefully curate their listings so their options tend to be of a very high quality whilst still being available at a range of price points. See their listings for Edinburgh here.
If you can't find what you want from the above choices, or you want some new options to try out, we wrote a whole post on the best alternatives to AirBnB as well as a guide to our favourite holiday cottage accommodation in the UK, which you should check out!
We also have a page full of travel resources, which includes our tips for getting the best deals on accommodation, which you can find here.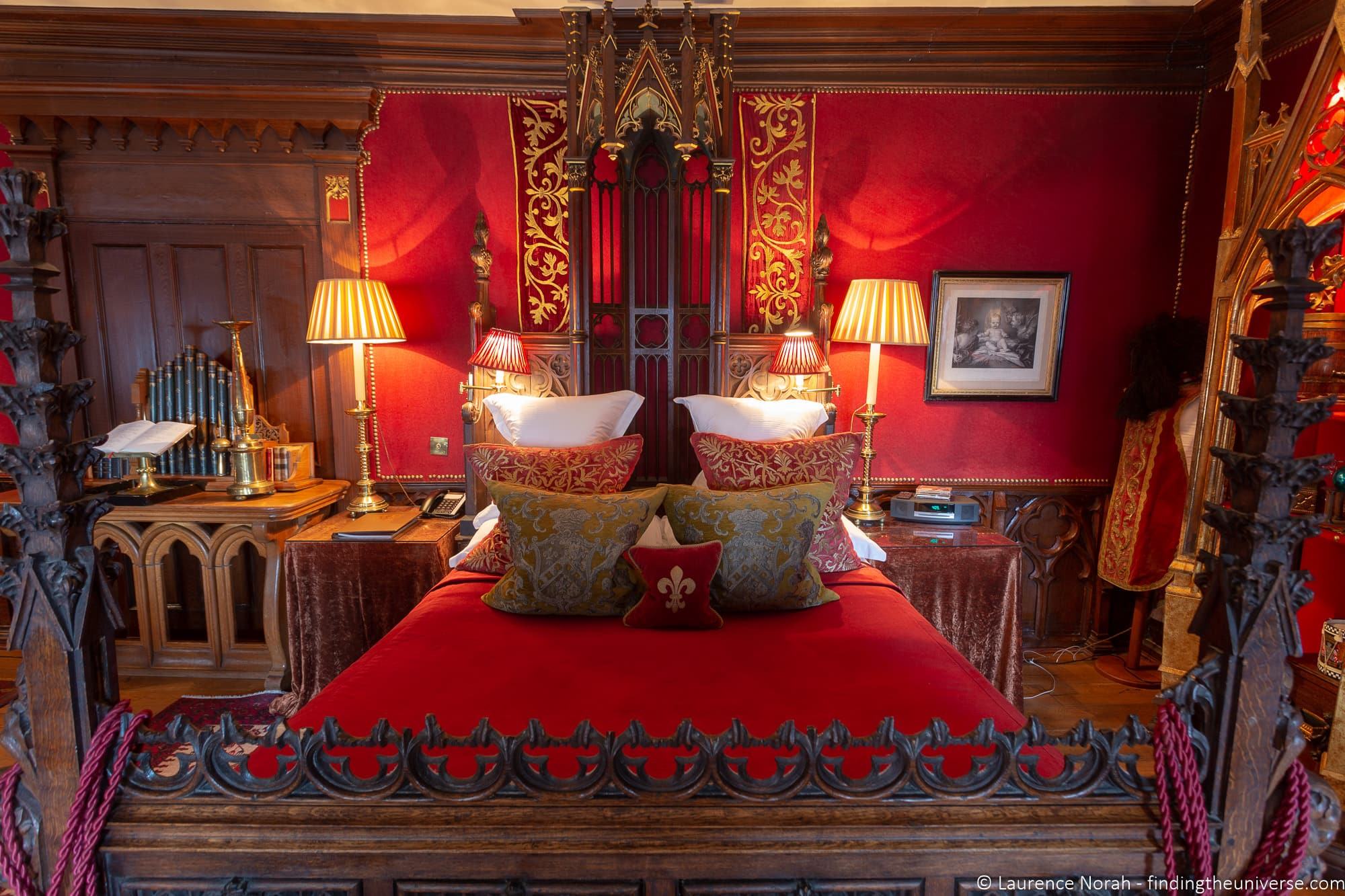 Further Reading for your Edinburgh Trip
As you'd expect, we've written a lot of content about visiting Edinburgh and the UK in general, plus we have other resources we think you'll find helpful. Here they are:
Hopefully these resources will help you plan your trip to Scotland's capital Have a great time, and as always, if you've got any questions or comments, just get in touch!