Are you looking to travel to a country with amazing food, fantastic beaches, warm and friendly people, and a range of accommodation options to suit every taste? Well, you have pretty much described Thailand.
In this guide, I'm going to share with you a detailed 10 day Thailand itinerary. I've spent months travelling in Thailand, and I've been lucky enough to visit many parts of this wonderful country. Based on my experiences, I wanted to share my highlights. These are the places I would recommend to first-time visitors to Thailand who are planning to spend around 10 days in Thailand.
I wanted this itinerary to cover a range of what Thailand has to offer, which includes ancient temples, gorgeous beaches, spectacular jungle scenery, and cultural attractions. I also wanted to make sure that you spend more of your time sightseeing and less time just travelling from Point A to Point B. With that in mind, the itinerary doesn't have you rushing around too much. After all, you want to spend your Thailand trip seeing attractions rather than the inside of a train, bus, or plane!
This guide starts off with a detailed idea for how to spend 10 days in Thailand. I'll then cover a number of practicalities for your visit so you can plan the perfect Thailand adventure! Let's get started.
10 Day Thailand Itinerary
Bangkok – 3 Days
Our Thailand itinerary starts in Bangkok. This is the capital city of Thailand and where most international travelers will arrive in the country.
I recommend you allocate 3 days to explore. This will give you time to adjust to the climate and any time difference. It will also give you time to sightsee in the city itself, and also to take a day trip to a nearby UNESCO world heritage site. More on that shortly. First, let's look at what you should get up to in Bangkok.
There's a huge amount to see in the city, which has excellent nightlife, a wide range of restaurants and street food vendors, and of course, a great many temples.
My first suggested stop for your time in Bangkok is the city's most popular attraction: The Grand Palace. From the 18th century this was the official residence of the Kings of Siam, which later became known as Thailand. Today the palace isn't home to the monarch, but it is still used for a number of official ceremonies and events.
It's a good starting point to learn a bit about the history and culture of Thailand. There is a lot to see at the Grand Palace, however, one location you mustn't miss is Wat Phra Kaew. Also known as the Temple of the Emerald Buddha, this is the most sacred Buddhist temple in the country. It is home to an image of the meditating buddha which is made from jasper.
I'd recommend allocating half a day to visiting the Grand Palace. It's open every day, and you can either buy tickets on the door, or in advance from the official website.
Another highlight I'd recommend in Bangkok would be a visit to a floating market. Here you'll find local vendors selling a range of products, with some delicious street food on offer as well.
There are quite a few floating markets to choose from in the Bangkok region, and some of them are quite far from the city centre. Khlong Lat Mayom is a good option which is relatively easy to visit by yourself. There are also tours like this which will take you to some of the more popular floating markets and provide transport.
One of my favourite locations in Bangkok is Wat Arun. This is a temple, of which there are of course many to choose from in Bangkok. However, I think Wat Arun (full name Wat Arun Ratchawararam Ratchaworamahawihan), which means Temple of Dawn, should be on your short list.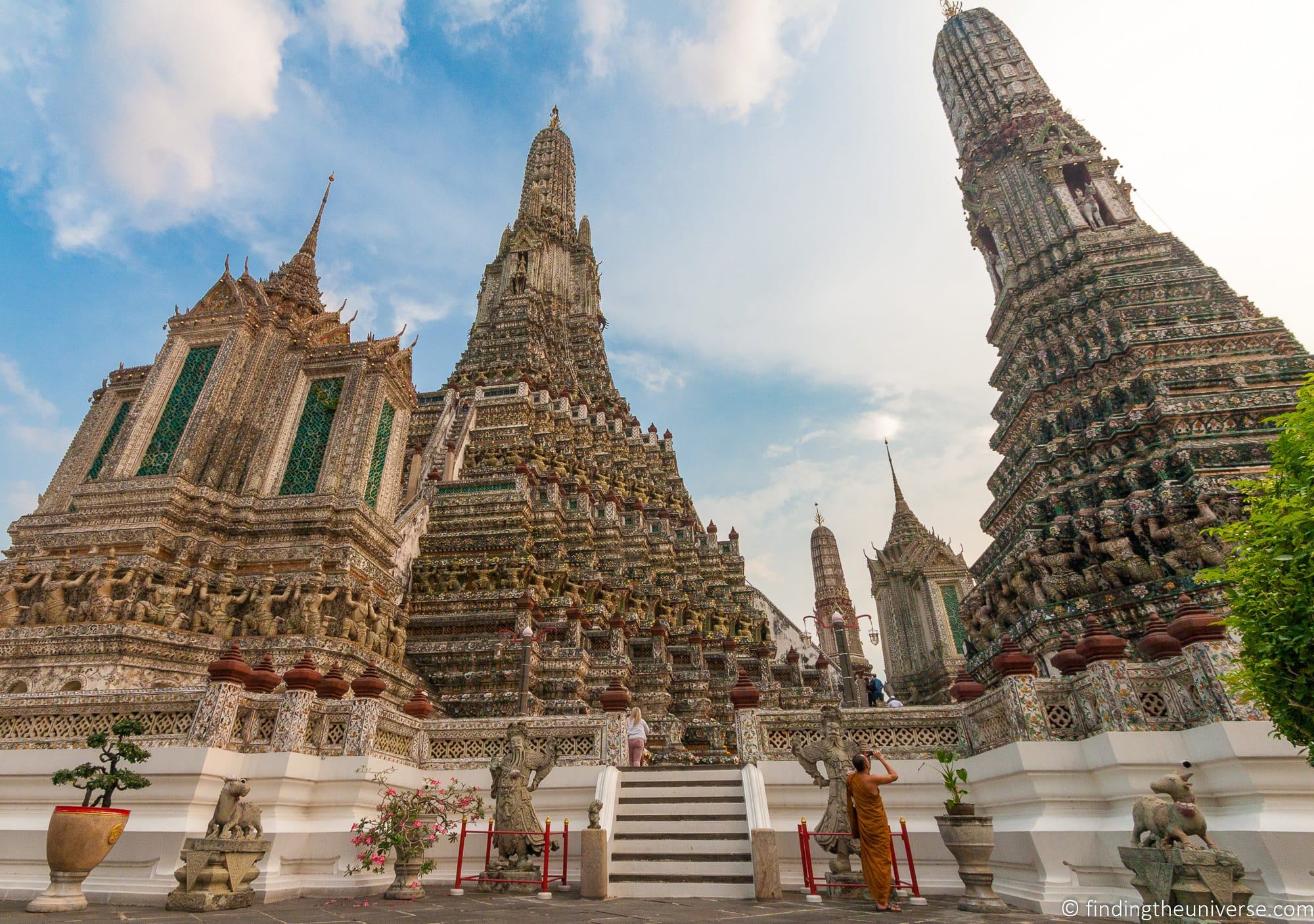 There's been a temple on this location since at least 1656. The temple is known for its large central "prang", a large tower which is originated from the Khmer architecture. This is covered in white porcelain tiles, and at sunrise and sunset in particular, the light striking it is quite beautiful.
The temple has a small fee for visiting. You can find out more about opening hours and pricing on the official website here.
For your final day in Bangkok, my recommendation is to take a day trip out to the nearby UNESCO world heritage listed city of Ayutthaya.
Found around 90 minutes north of Bangkok by car (2 hours by train), Ayutthaya was once the largest city in the world. At its height, it had over a million inhabitants, and the city was the capital of the Ayutthaya Kingdom, a precursor to modern Thailand which existed from 1350 to 1767. This Kingdom fell in 1767 when the Burmese invaded, and burnt the majority of Ayutthaya to the ground.
The good news is that parts of the old city survived, particularly the large temple complexes which were primarily built from stone. The new city of Ayutthaya arose around the ruins of the old, and a visit today offers an interesting glimpse across two time periods of Thailand's history.
There are many sights to see in Ayutthaya, and I have a guide to the highlights of Ayutthaya here. In short though, be sure to visit Wat Phra Mahathat, Wat Phra Si Sanphet, Wat Chaiwatthanaram, and Wat Buddhaisawan.
Getting to Ayutthaya from Bangkok is easy. You can either do it yourself by public bus or train, you can hire a private driver like this, or you can take a tour. A tour is definitely the easiest way. Most tours include pickup from your accommodation, tickets to a number of the temples, and some also include soft drinks and meals.
The tour we'd recommend is this one, which also includes a boat cruise back from Ayutthaya to Bangkok. However there are lots of options to choose from, you can see more here.
Another option is to pick up a Go City Bangkok Pass. These include a number of attractions in Bangkok, as well as a tour to Ayutthaya. Worth checking out to see if it might save you money.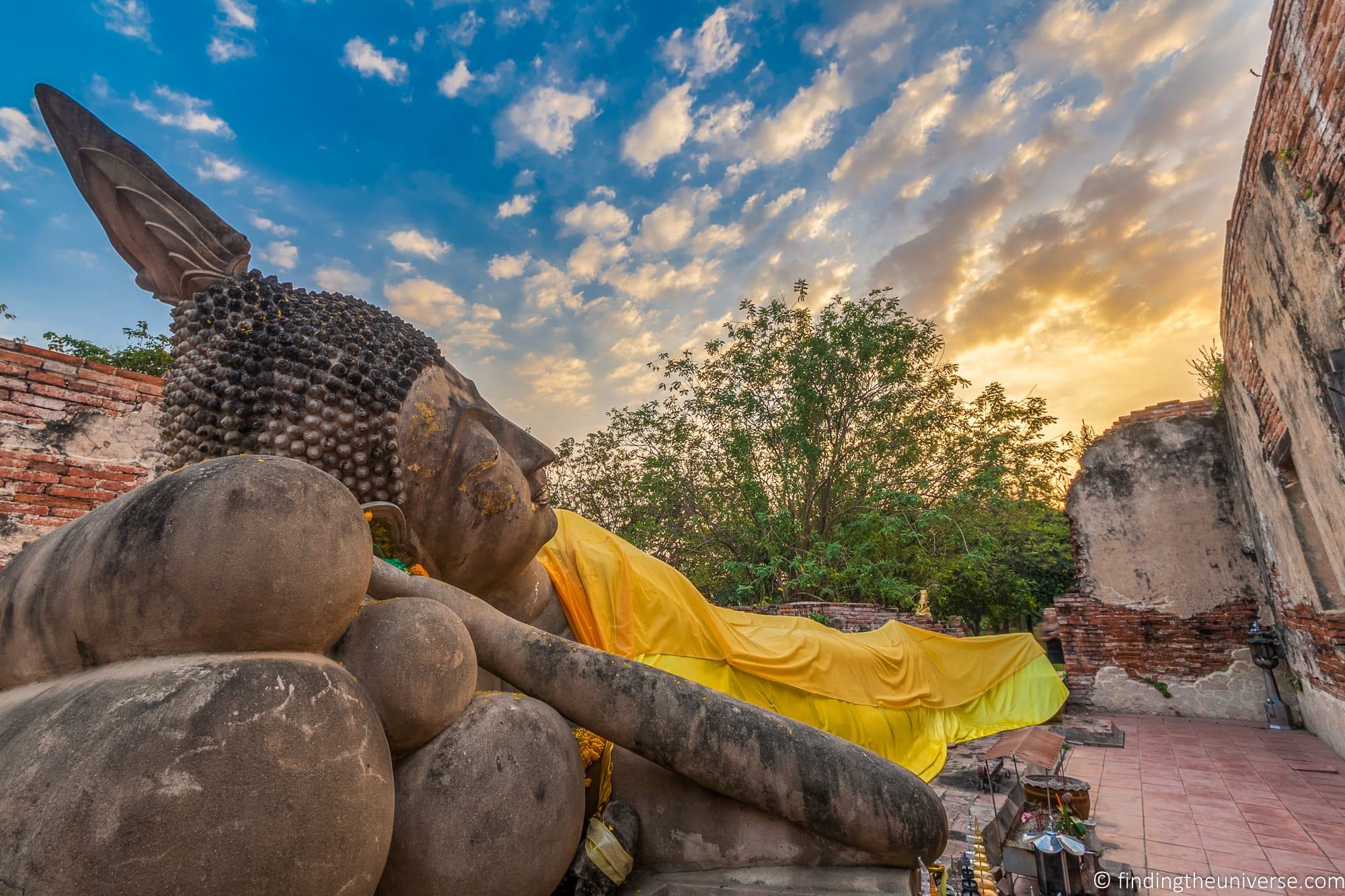 A quick side note on scams in Bangkok, which you should be wary of on your first visit. The two most common that you'll likely encounter are the "closed temple" trick and the "tuktuk scam" trick. Read more on these scams in the section on "Safety in Thailand" which I cover later on in the post.
That rounds up your three days in Bangkok. Now we'll provide some tips on where to stay, and how to get to your next destination.
Where to stay in Bangkok
Bangkok is a large city, and there are a huge range of accommodation options to choose from. These range from budget friendly backpacker hotels through to five star luxury hotels, and everything in between.
Here are some suggestions to get you started across a range of price points, which are approximately ordered from budget to high end.
Of course, there are a great many more options in Bangkok to choose from! You can see listings for Bangkok on Booking.com here, Hostelworld here, Agoda here, and Vrbo here.
Getting to Kanchanaburi from Bangkok
Your next stop on this 10 day tour of Thailand is the town of Kanchanaburi. This is around 100 miles west of Bangkok, and you have a few options for getting here.
First, you can take public transport. A train runs from Bangkok's Thonburi station, and takes around 3 hours to Kanchanaburi. This was my preferred option as the scenery is lovely. Alternatively, you can take a public bus, with both minibuses and larger public buses making the route. These take around 2 hours, although it will vary depending on traffic.
You can also hire a private transfer that will take you from your accommodation in Bangkok to Kanchanaburi. This is obviously less hassle than navigating the public transport system and will save you time, with the downside that it will be slightly more expensive.
Another option is to take a tour from Bangkok. For example, this 2 day tour includes your transportation, overnight accommodation and visits all the major attractions in the area. A good option if you'd like everything to be arranged for you.
Finally, you might prefer to drive. It is possible to rent a car in Thailand, usually all you need is a valid driver's license and an international driving permit. The traffic in and around the cities can be quite hectic, but outside of the cities the roads are usually pretty good, with road signs in both Thai and English.
For this itinerary though, I'd suggest that driving wouldn't be my first choice, as the public transport system is easy to use and works well.
Kanchanaburi – 2 Days
Your next overnight stop is the town of Kanchanaburi. This was made famous by the 1957 film The Bridge over the River Kwai , which tells the story of the hardships faced by civilian labourers and prisoners of war who were forced to build the Burma railway by the Japanese military.
Whilst the characters in the film were fictional, the story behind them was very much real. It's estimated that 100,000 civilians and 13,000 prisoners of war lost their lives building what became known as the Death railway.
As a result of the movie, the Bridge over the River Kwai (River Kwae in Thailand) became a popular location for visitors, and there is a lot to see and do here. I have more detail in my guide to things to do in Kanchanaburi, but I've outlined some highlights below.
First, of course, there's the bridge over the River Kwai itself. The titular bridge built during the war was destroyed by Allied forces before the war's end, and was in fact in a a different location. However there is a bridge that carries rail traffic which you can walk across, so this is where visitors go.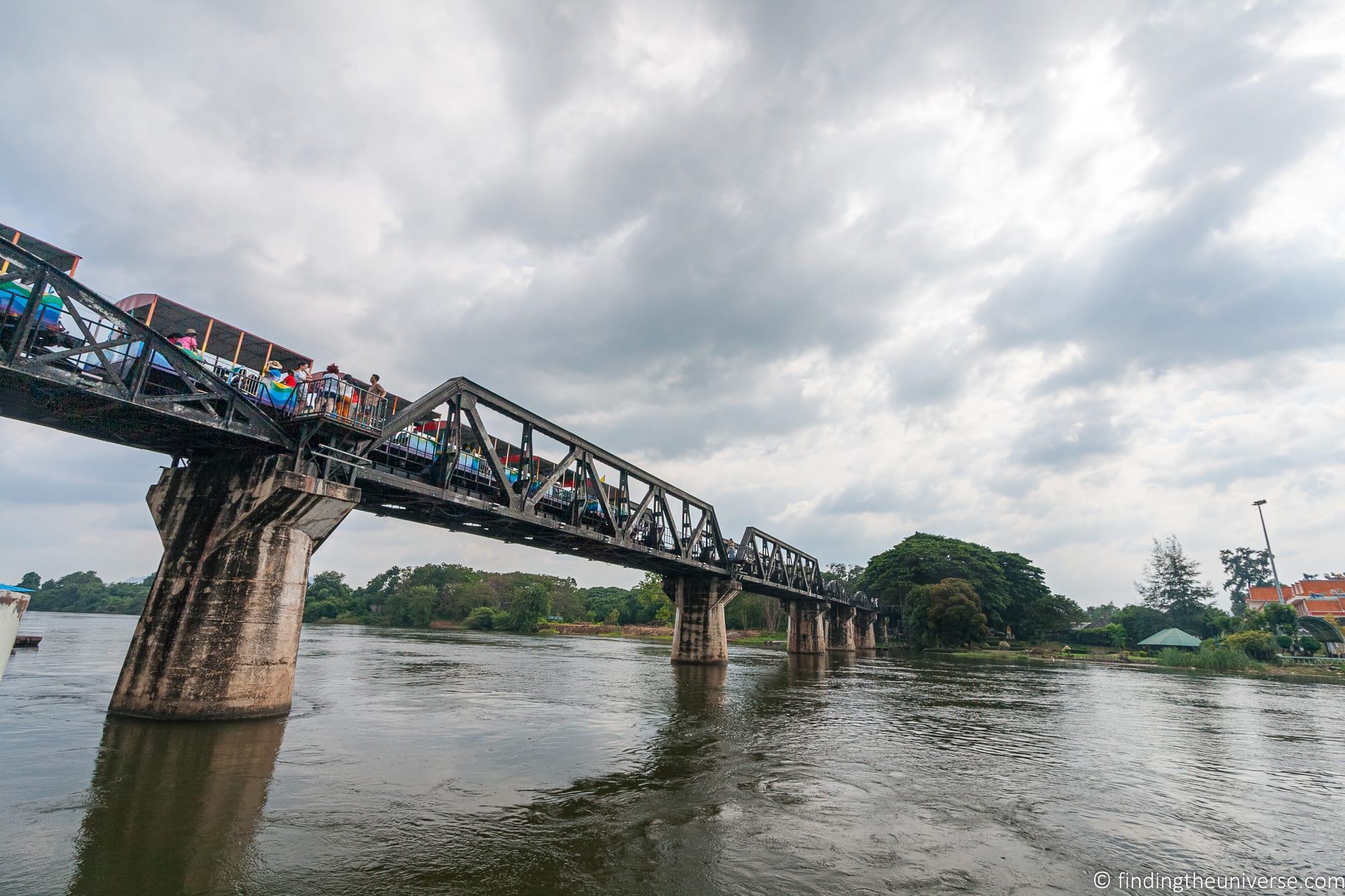 There are also some museums that tell the story of the war and the railway's construction. These include the JEATH War museum and the Thailand-Burma railway centre. There is another museum, the WWII Museum and Art Gallery which is close to the bridge, but this museum has fairly poor reviews so probably one to skip.
Next, many of those prisoners of war who died in the construction of the railway were buried in Kanchanaburi. There are two cemeteries in Kanchanaburi, which are the final resting place of almost 9,000 souls.
If you stay in our recommended location near the Kanchanaburi railway station, you'll be within a mile's walk of most of the attractions in the area. Alternatively, there are plenty of local buses to get around, and bicycle hire is another popular transport option. We hired bicycles and explored the local area thoroughly, which was a lot of fun.
There are a number of other attractions in and around Kanchanaburi. One we highly recommend is Erawan Falls. This is a series of stunning waterfalls, arguably the most beautiful in Thailand, which cascade down through the jungle and create a number of wonderful swimming pools.
Erawan Falls are found in Erawan National Park, which is around a 90 minute public bus ride from Kanchanaburi. From the park entrance (a fee is charged) it's around a two hour round trip hike to see the full extent of the falls, which are spread out across seven tiers. You'll want to bring water, sunblock and a bathing suit. Expect to spend at least half a day making the trip.
You can do this trip yourself using public transport, or you can take a tour like this which includes Erawan Falls as well as some other attractions in the area.
Finally, there are also a number of temples in and around Kanchanaburi, and the night market is also excellent for delicious food.
As you can see, there's plenty to do in Kanchanaburi and the area, and we've only scratched the surface. This is why we feel two full days is very much justified! Now, let's look at where to stay and how to get to your next stop on this itinerary.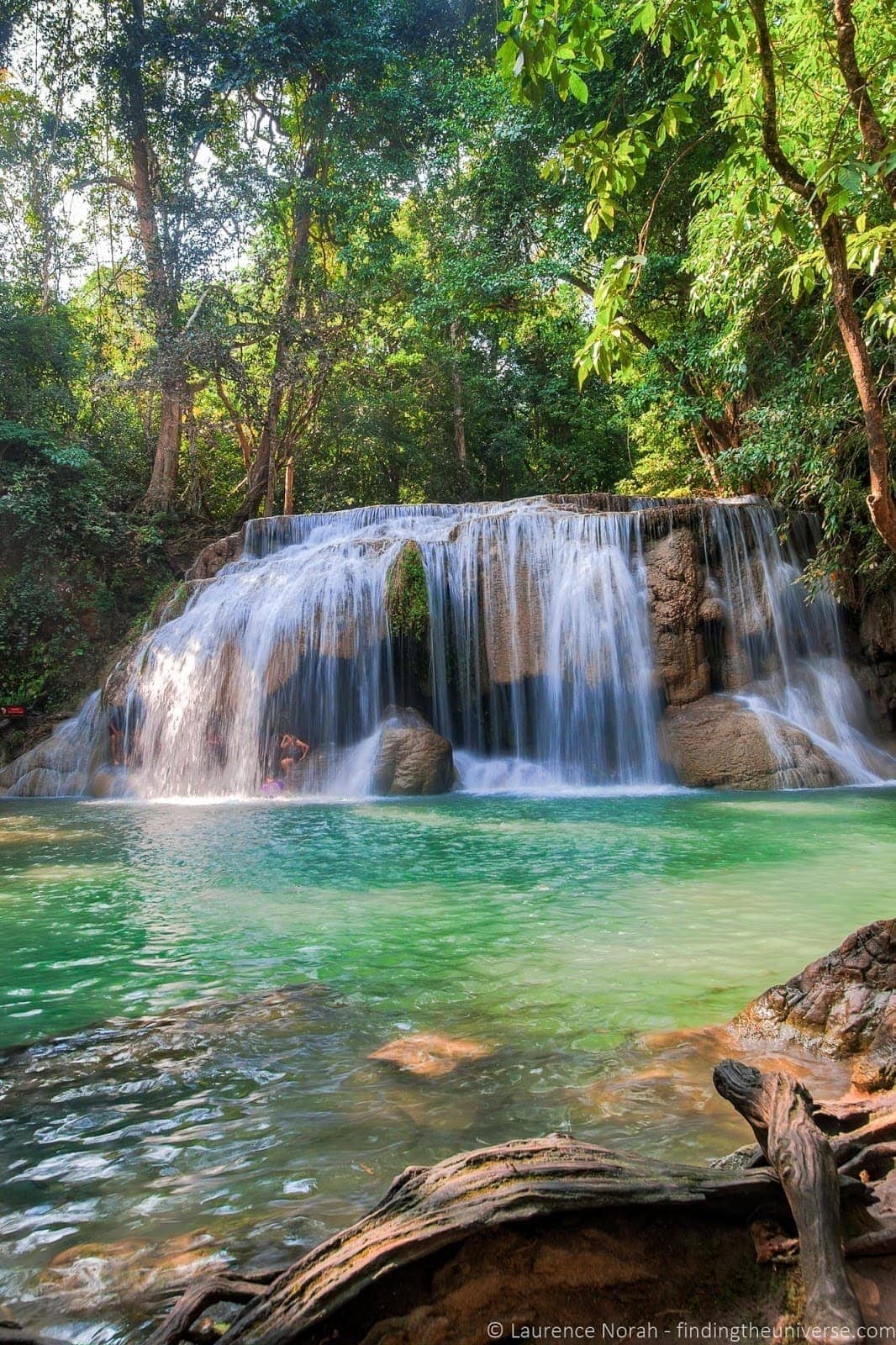 Where to stay in Kanchanaburi
Kanchanaburi is not a huge town in terms of population, but it is geographically spread out. There are three main locations – the northern area around the famous railway bridge, the area near the main train station which is around 1.5 miles along the bridge, and then the main part of the town which is 3 miles along the river from the bridge.
My recommendation is to stay in the area near the train station on the river. This puts you within an easy 30 minute walk (or short bike ride) of the main attractions, and you'll also be near the night market that happens in the vicinity of the train station.
Here are some suggested accommodation options in this area, again ranging from budget to more expensive.
Again, there are lots more options beyond the above. You can see listings for Kanchanaburi on Booking.com here, Hostelworld here, Agoda here, and Vrbo here.
Getting to Khao Sok from Kanchanaburi
Your next stop is the Khao Sok National Park, which is in the Surat Thani province. This is around 300 miles / 500 km south of Bangkok, and will be one of the longer journeys you make on this trip.
First, you will need to get back to Bangkok as there's no direct route from Kanchanaburi to Khao Sok. So you can follow the previous instructions in reverse.
Then, to get from Bangkok to Khao Sok you have a few options. The nearest transport hub is the city of Surat Thani, from where you can take a local bus, or arrange private transport to Khao Sok.
The fastest option for getting from Bangkok to Surat Thani is to fly. Good value direct flights are available, with a number of flights operating each day.
Another option, which was what we did, is to take the overnight train from Bangkok to Surat Thani. These depart at varying times, and arrive at Surat Thani in the morning. This is quite a popular route, so you will want to book this well in advance, especially if you want a first class ticket (which includes a bunk bed).
Finally, you can also take a bus from Bangkok to Surat Thani. This takes around 10 hours, and a number of routes are available. We'd advise against taking a daytime bus though as this will use up a lot of your sightseeing time—instead we'd recommend an overnight bus. Our overall preference would be an overnight train though as they tend to be more comfortable.
Khao Sok – 2 Days
When people ask me for tips on where to visit in Thailand, I always tell them that they must visit Khao Sok National Park, and specifically Cheow Larn Lake within the park. You can read my experiences visiting here if you need some convincing.
The National Park was established in 1980, and covers 739 square kilometres, much of which is made up of virgin rainforest which predates the Amazon.
Naturally, there is a lot to see and do in the park, with popular activities including trekking and caving. There's a huge number of species of both flora and fauna in the park as well, with the massive endangered Rafflesia kerrii plant being the most well known.
To get around the park you can take public transport, or you can take a tour which includes transport. Most of the hotels and hostels in the park can also arrange private transport.
My favourite area of the park is Cheow Lan lake. This is a man-made lake which was created after the construction of the Ratchaprapha Dam in 1982. The dam created the 165 square kilometre lake, which sits amongst the stunning karst limestone formations.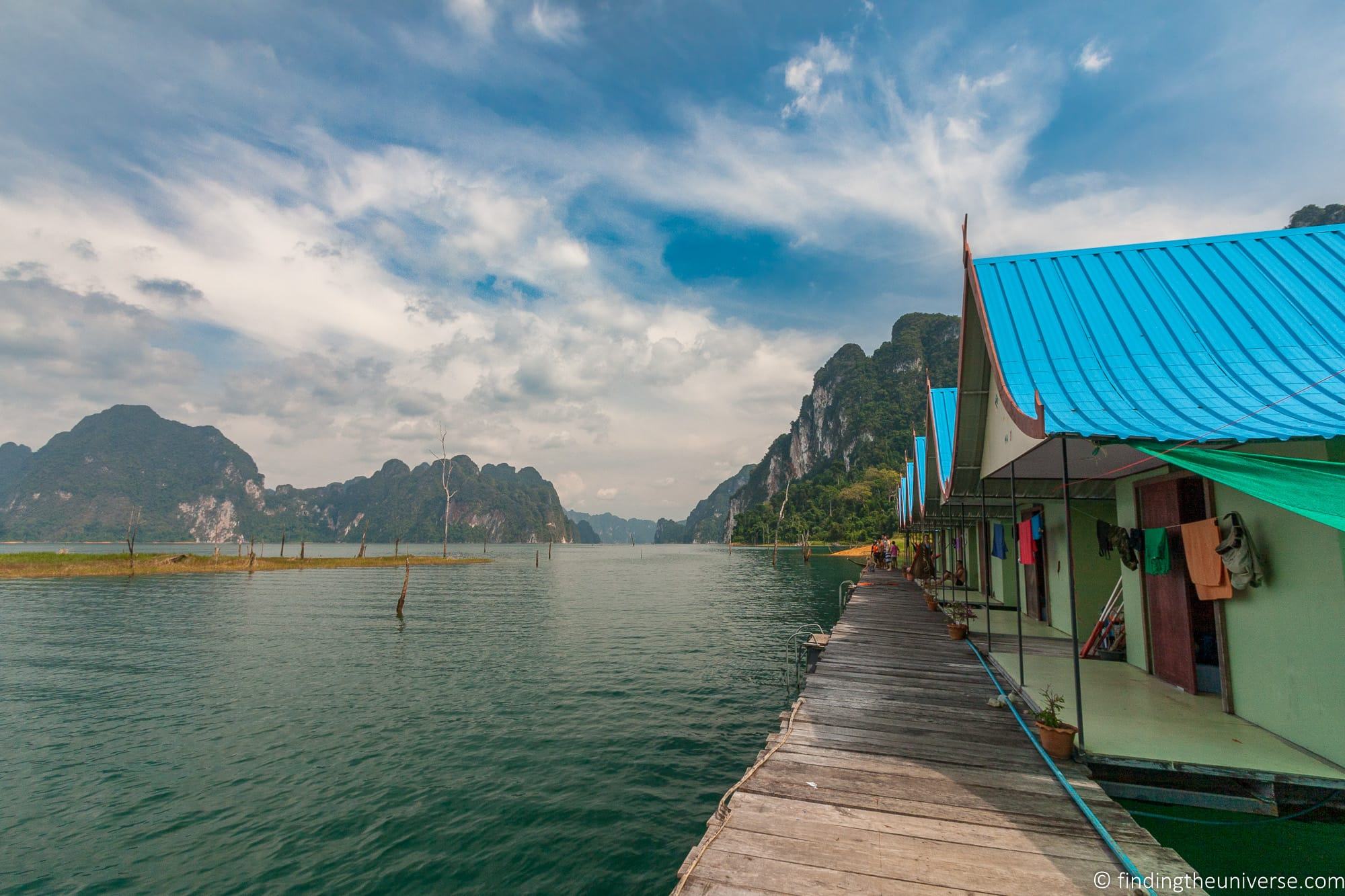 Spread out across the lake are a series of lake house hotels. These floating hotels offer beautiful views of the surrounding scenery and the opportunity to disconnect from the world. A stay at one of these hotels is, in my opinion, a must for any visitor to this region.
Because the lake house hotels are floating on the lake, and therefore only accessible by boat, you will need to book your stay in advance of your visit. There are a number of lake house hotels to choose from across a range of styles and budgets. Many of these offer round-trip transport options from nearby locations, including Surat Thani.
Of course, if you would prefer to visit other parts of Khao Sok National Park instead of the lake, this is also an option. There are a number of hotels within the park, most of which are clustered around Khao Sok village near the National Park headquarters. From here you can take advantage of the plethora of hiking opportunities.
I have stayed both on the lake, and at a hotel in Khao Sok village. If I was on a limited timescale, I would definitely choose the lake option, but of course the choice is yours!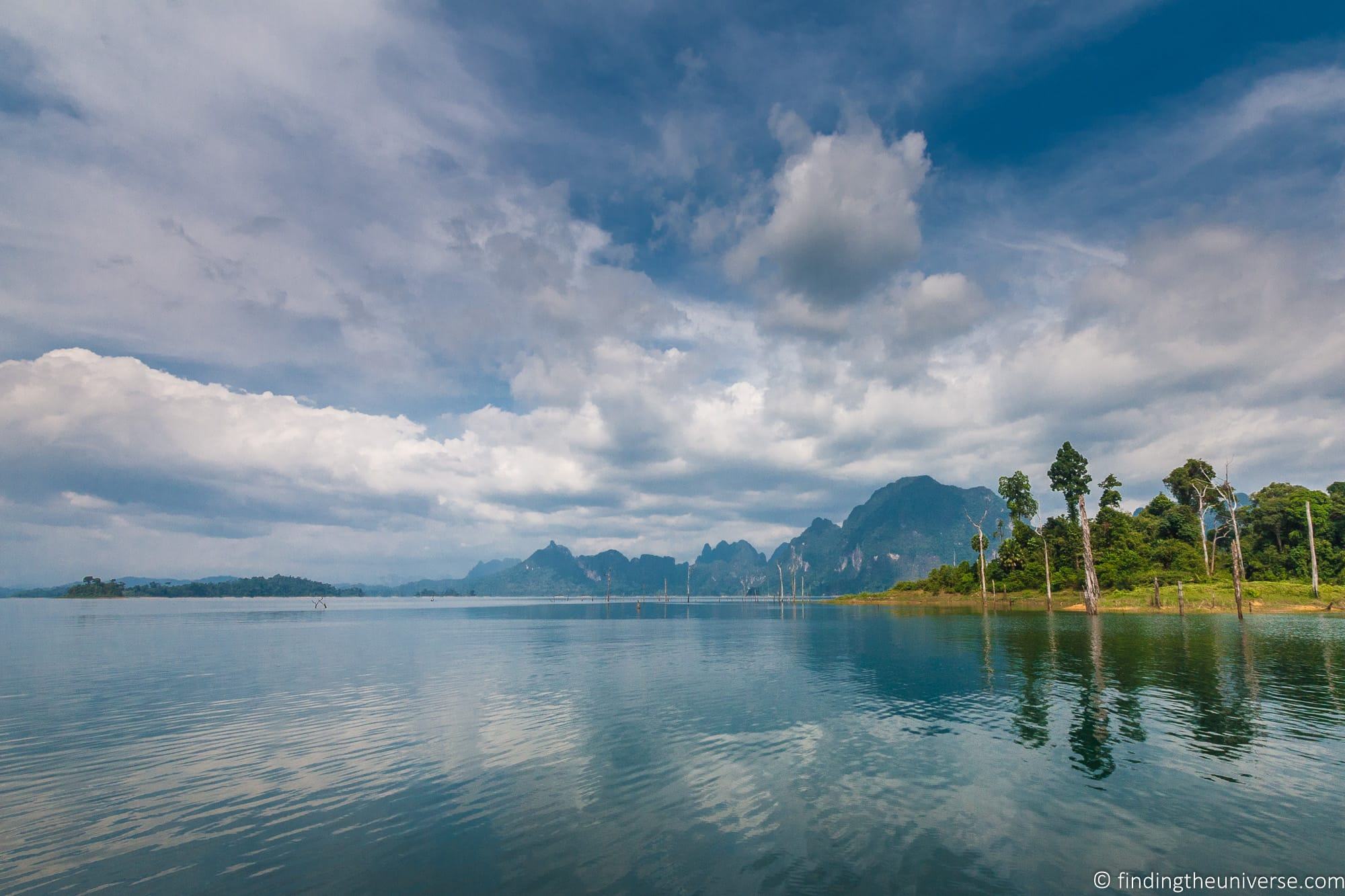 Where to stay in Khao Sok National Park
There are two main locations for accommodation in Khao Sok National Park. There's Khao Sok village, which is home to a range of hotels, guesthouses and restaurants. This is also where you'll find the Khao Sok National Park headquarters. Here are some options in Khao Sok.
The other main area where you can stay is around Cheow Lan Lake, where you'll find the lake house resorts. This would be my recommended place to stay. The scenery is beautiful, staying in a floating lake house is a unique experience, and it's a wonderful opportunity to disconnect from the world.
There are around 15 lake hotels where you can stay the night and these need to be booked in advance. Here are some options to choose from.
They vary from very basic through to more luxurious options, and as always, we'd advise reading reviews before booking to avoid disappointment. It's also worth being aware that many properties do not have cell coverage or WiFi reception, and might require payments in cash.
Getting to Phuket from Khao Sok
The next stop on this Thailand itinerary is the city of Phuket. This is around 110 miles / 150km south of Khao Sok. Phuket doesn't have a train connection, so for public transport you'll be looking at either a bus or minibus. The trip from Khao Sok to Phuket by bus takes about 4 hours.
You can also arrange a private transfer, which most hotels will be happy to arrange for you. This will cost you more, but should save you a couple of hours of driving time.
Phuket – 3 Days
It's time for some time on the beach and in the sea! For this, I recommend you head to the island of Phuket. This is Thailand's largest island, and also one of the most popular destinations in the country for beach goers.
If you'd rather not be amongst the crowds, then you might prefer to head further south, perhaps down to the Trang region, which you can reach by train from Surat Thani. The coastal region near the town of Trang is lovely, as are the nearby islands of Ko Muk, Ko Libong and Ko Ngai.
Anyway, back to our recommended destination of Phuket, which is popular for a reason. It has many beautiful beaches, a plethora of tourist services, and some of its own local attractions.
Phuket is also an excellent base from which to explore two wonderful locations in Thailand. These are the Similan Islands and Ao Phang Nga National Park, both of which are easy to reach as a day trip from Phuket.
So my suggestions for Phuket would be to spend your three days as follows, in any order you prefer.
One day spent on Phuket discovering its beautiful beaches (most of which are on the west coast), as well as local attractions such as the Thai Hua Museum, Chinpracha Mansion and Big Buddha Statue.
Then, spend two days doing day trips to nearby spots such as the Similan Islands and Ao Phang Nga National Park.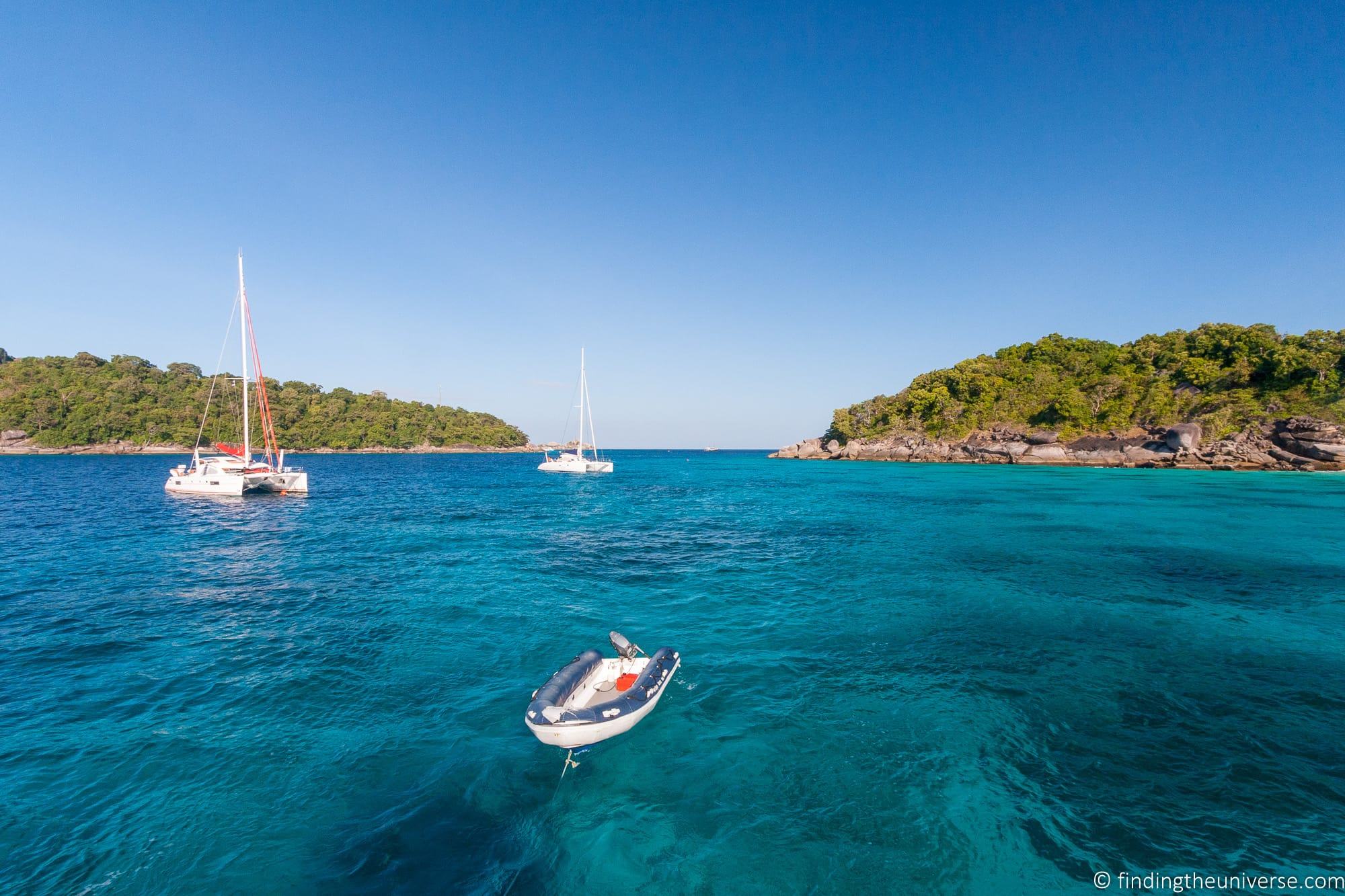 Of course, if you just want to hang on the beach and not spend money day tripping, some days on the beach are a good plan too!
If you want to do day trips from Phuket, I'd plan and book in advance any day trips you want to do. If you want to do two day trips, I'd recommend taking tours to visit the Similan Islands on one day and Ao Phang Nga National Park on a second day.
The Similan Islands are a group of islands found about 60km / 40 mi off Thailand's west coast, slightly to the north of Phuket. They are a world famous snorkelling and diving location, and also have some absolutely spectacular white sand beaches ringed with turquoise waters.
Obviously, as these are islands you need some kind of boat to get to them. Basically, you have to book a tour. The best option is to take a tour which includes a transfer via high speed speedboat, as otherwise you lose a lot of the day on the transfer.
My suggestions are this tour or this tour. These both feature hotel pickup from Phuket, your national park fee, snorkelling equipment, meals, and soft drinks. I actually did an overnight tour to the Similan Islands, and it was a highlight of our time in Thailand. You can read about that here.
The other day trip I recommend is to Ao Phang Nga National Park. This is a huge national park which spans the Strait of Malacca, and is filled with beautiful limestone karst islands.
The most famous of these is the so called James bond Island (Khao Phing Kan), which appeared in the James Bond movie "The Man with the Golden Gun". The island is particularly recognisable for the tall but narrow karst tower (Khao Ta Pu) that is just offshore.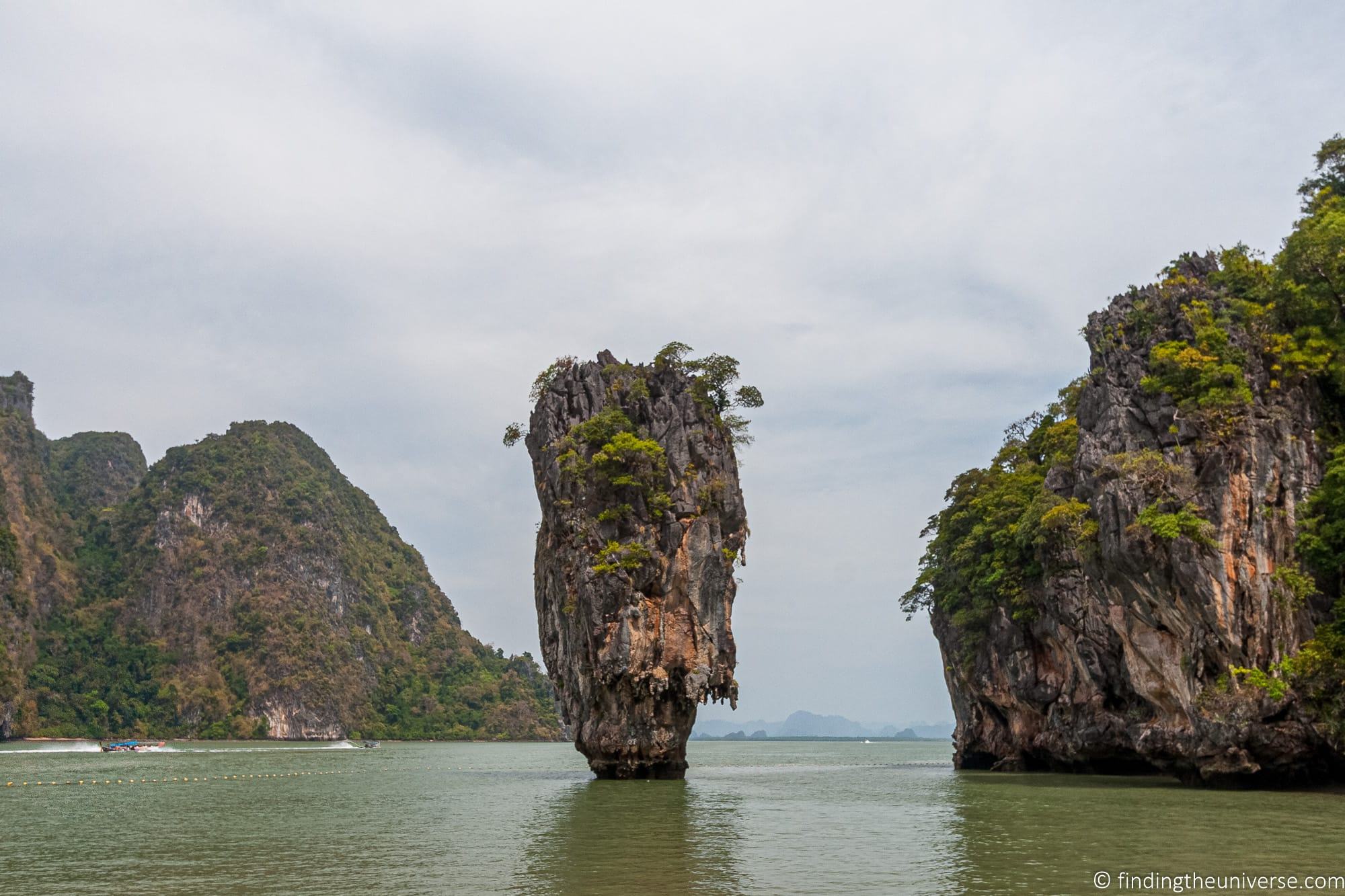 Again, as this is a trip that requires a boat, you'll want to take a tour. there are a number of tours from Phuket to Ao Phang Nga National Park, most of which style themselves as tours of James Bond Island.
My recommendation is to pick a tour which includes time canoeing around some of the rock formations in the park, as well as your meals, soft drinks and your national park fee.
This is an early-bird tour which aims to skip the crowds. It can get busy in the park and on James Bond island in particular, so this is a good option. This is another option which uses a longtail boat. Finally, if you want a private experience, this is a private tour option.
Of course, it's up to you how you spend your three days in the area. You might choose to relax on the beaches, take different tours, visit the attractions or buy souvenirs. It's up to you!
Where to stay in Phuket
Phuket is a popular destination, and as such there is no shortage of places to stay. For ease of transport I'd recommend staying in Phuket Town itself. Alternatively, if you would prefer to be close to a beach and have access to more evening entertainment, then consider Patong which is the island's main resort town.
Here are some suggested places to stay on Phuket, ordered from budget to higher end.
Again, there are lots more options beyond the above. You can see listings for Phuket on Booking.com here, Hostelworld here, Agoda here, and Vrbo here.
Getting from Phuket to Bangkok
Now all you have to do is return to Bangkok from Phuket. I'm going to suggest you fly as there's no direct train. There are multiple direct flights a day from Phuket Airport, which take around 90 minutes. From Bangkok, you can fly home.
You can of course also take a bus to return to Bangkok, but it's a 10 – 12 hour trip, and not one I'd recommend unless you really love long bus rides! If you do want to take the bus, you can book tickets in advance here.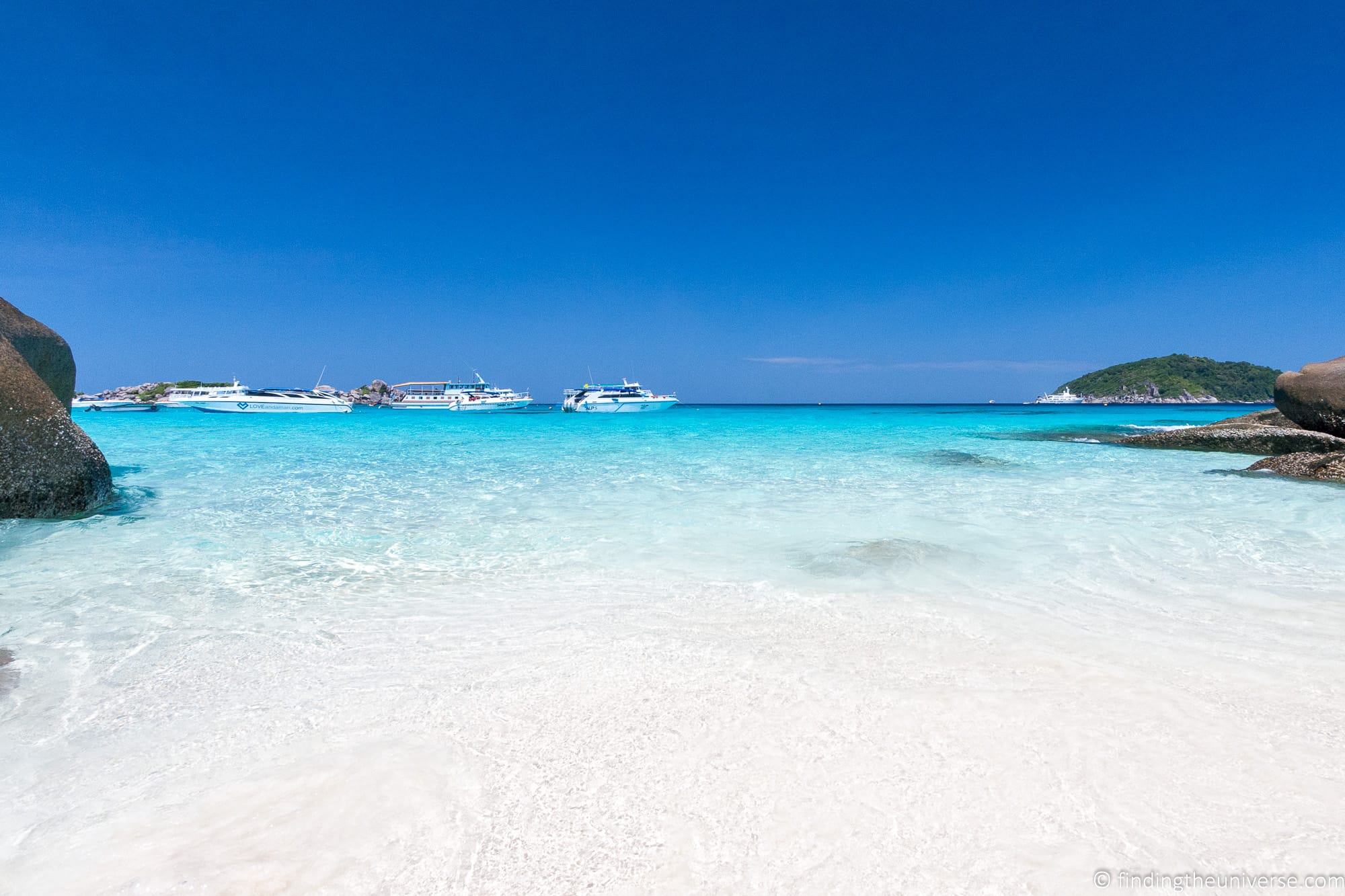 10 Day Thailand Itinerary Summary
Here's a quick summary of this itinerary for easy reference.
Days 1 – 3: Bangkok
Days 4 & 5: Kanchanaburi
Days 6 & 7: Khao Sok
Days 8 – 10: Phuket
10 Day Thailand Itinerary Map
To help you visualise this trip, here's a map of Thailand with the key locations marked. You can also see this on Google Maps here.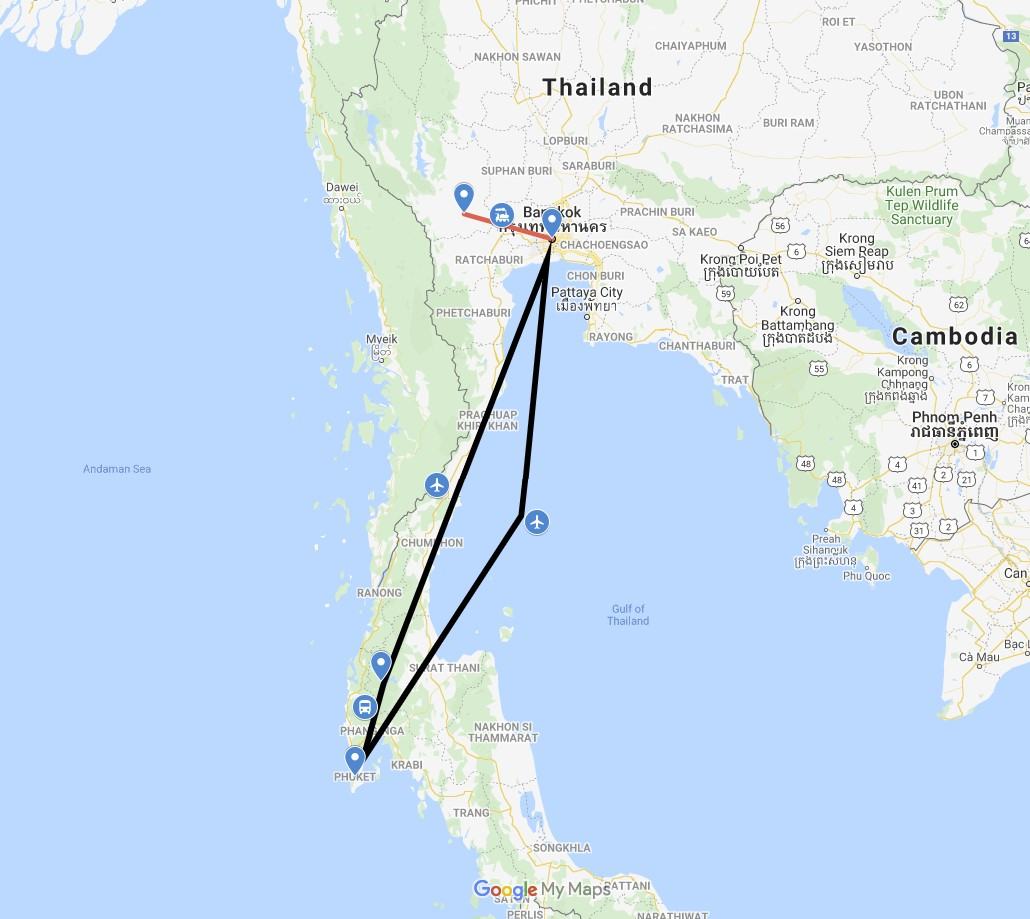 Tips for Travel in Thailand
Now that you have an idea of where to go for your Thailand adventure, I wanted to share some tips on travelling in this wonderful country.
Getting to Thailand
Most visitors to Thailand arrive by plane into Suvarnabhumi Airport (code BKK), which is also often referred to as Bangkok Airport. Bangkok does have another airport, Don Mueang International Airport, which despite the name is primarily used for domestic flights.
From Suvarnabhumi Airport there are a number of options for getting into the city, with the easiest and fastest being the Airport Rail Link. This special purpose train connects the airport with the centre of Bangkok.
Getting Around Thailand
I've provided some recommended options for getting between the stops on this itinerary. I also just wanted to share in general the options you have for travelling around Thailand. I'll cover both travel inside the destinations as well as travel between the stops.
Transport within Cities and Towns in Thailand
Like most other countries, the cities in Thailand have a range of transport options. For the smaller towns, you might find you can easily get around on foot or bicycle. Bike rental is quite easy, and many guest houses and accommodation providers will be able to arrange this for you.
However, for the larger cities like Bangkok, you will likely want to use some form of transport as distances might be too far to easily walk.
Different options are available. Bangkok has the widest range, from the excellent metro system, through to taxis, tuk-tuks, and ride hailing firms like Uber and Grab. If you hail a taxi, make sure they put the meter on. Some drivers may be reluctant to do this, if so, just wave them on and get another taxi.
Transport between Cities in Thailand
First, there are the bus services. There are two types of bus in Thailand. The first are the large and comfortable long distance buses. These are usually air-conditioned and run to a schedule, and they connect many of the major cities in the country. You can buy tickets from the major bus stations (make sure to go to a ticket counter), or online in advance here.
The second type of buses are the small minibuses. These tend to run on an ad-hoc basis on shorter routes. In my experiences, they are faster than the larger buses, although the ride can be slightly hair-raising and sometimes uncomfortable depending on the number of passengers the driver tries to squeeze in.
After the bus is the train. Thailand has a fairly extensive train network which covers quite a lot of the country. The trains are usually slower than the buses, but make for a good overnight option if you can get a sleeper bunk. You can book tickets online in advance from the official Thai railways website here (you need to click the option to put it in English).
For longer distances, we'd usually recommend flying. Thailand has a number of domestic flight routes between a number of towns and cities, and they are both inexpensive and quick. You can see flight times and prices and book online here.
Private transfer services can also usually be arranged to take you from one place to another, such as from Bangkok to Kanchanaburi. These can be more comfortable ways to get round but are also going to be more expensive.
Another option is to rent a car and drive yourself. It is possible to rent a car in Thailand, usually all you need is a valid driver's license and an international driving permit. The traffic in and around the cities can be quite hectic, but outside of the cities the roads are usually pretty good, with road signs in both Thai and English.
For this itinerary though, driving wouldn't be my first choice, as the public transport system is easy to use and works well.
Finally, if you'd rather not plan and book a trip like this yourself, you can also take a tour. The next section has some recommended tours that you might enjoy.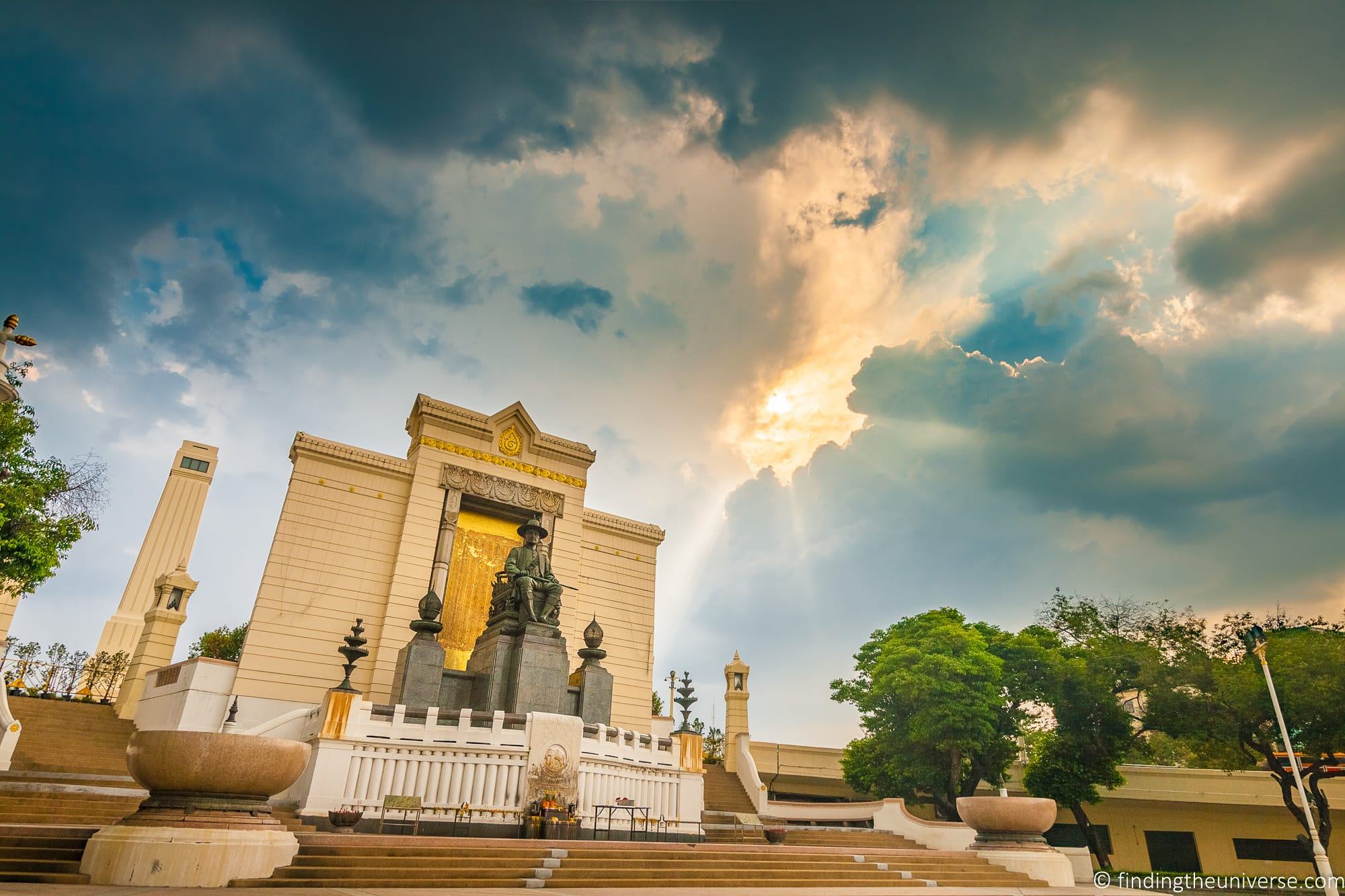 Tours of Thailand
If you would prefer to take a tour rather than plan your own trip, we've put together some suggestions. Tours have the advantage that you can relax and know someone else is handling all the logistics, so you can get on with having fun.
You'll also get to meet and hang out with some fellow travellers, and the tour leader will be on hand to share information about the culture and history of Thailand as you travel.
Here are some tour options to give you an idea of what is available in Thailand.
This 8 day tour of Thailand with G Adventures includes Bangkok, Ko Tao, Ko Phangan, and Khao Sok
This 8 day National Geographic Journeys small group tour of Thailand with G Adventures includes Bangkok, Ko Samui, Khao Sok, and Krabi
This 12 day tour of Thailand with G Adventures includes Bangkok, Kanchanaburi, Ayutthaya, Chiang Mai, and Phuket, and is designed for families
If you do decide to book a tour and are comparing different options, don't forget to check all the inclusions and exclusions. Some tours might seem more expensive, but might include more comfortable accommodation options or extra meals and activities that make it worth it for you.
When to Visit Thailand
Thailand can be visited year round, however there are times of year where the climate is more pleasant than others.
Thailand has a tropical climate, with a wet season and a dry season. The dry season is between November and March. Temperatures will be pleasant at this time of year, and it won't rain so much.
The rainy season is April through October, with the hottest part of the year between March and May, when the rain can make rural areas more inaccessible, and the temperatures can be hot and humid.
If you're travelling more on a budget, then be aware the prices will be higher in the November – March time as this is the most popular time to visit, and prices will be a little lower in the off-season.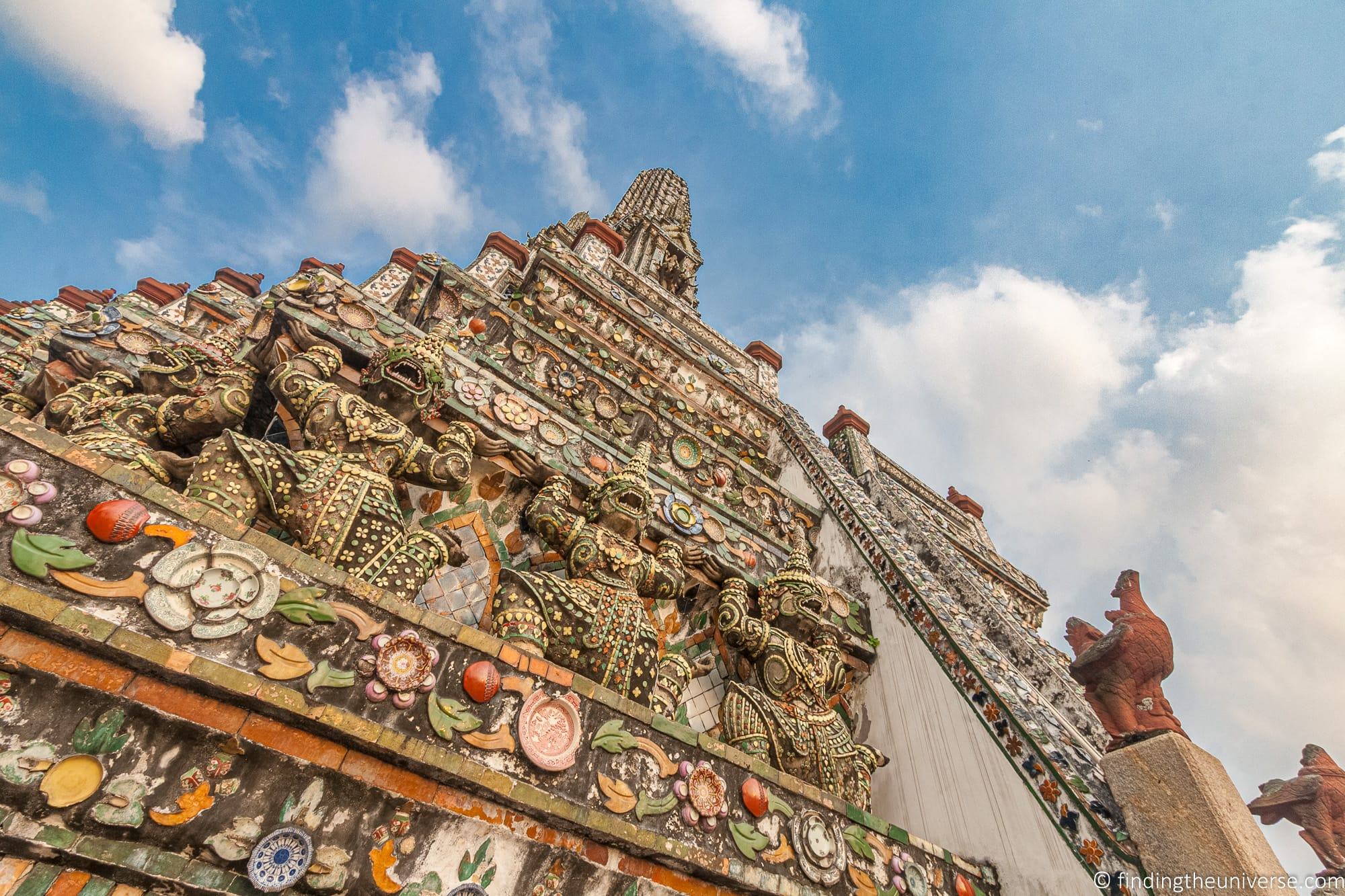 Safety in Thailand
Thailand is overall considered a safe and welcoming place, with friendly people. The most common problems that tourists are likely to encounter are similar to those elsewhere in the world. There are some common scams to be aware of, and of course, in popular locations you'll want to keep a close eye on your belongings from opportunistic pickpockets and thieves.
The most popular scams in Thailand are the "closed temple" scam and the "cheap tuktuk" scam.
The closed temple scam usually involves a helpful person outside a temple, who will inform you that the temple you are trying to visit is closed. This often happens at the temple's back gate or emergency exit, which will obviously look closed. Luckily, the helpful person will know of a much better nearby temple, which he can take you to.
On the way to this temple, if it even exists, you will take a detour via a range of stores and tour operators. If you buy anything at these locations, which will often be at inflated prices, the person guiding you will get a commission. Ultimately, you will generally just lose time in this scam. If a temple looks closed, make sure you are at the right entrance, and if it really is closed, I'd recommend finding another temple yourself.
The cheap tuk-tuk trick will feature a helpful tuk-tuk driver who will promise to take you anywhere you want to go for some ridiculously cheap price that seems too good to be true.
Ultimately, you might get to your destination. However, on your way you will stop at a series of, you guessed it, shops and tour operators! Again, generally you'll just lose time, but it's best to avoid this altogether.
Overall, just practice the same sensible behaviour you would when you are at home, like not exploring unknown locations late at night, letting someone know of your location and trip plans, etc. Overall, I never had a problem in Thailand, and would expect the majority of travellers to have a similarly safe experience.
There is a low risk of malaria in parts of Thailand, particularly in the forested and hilly areas of the country. It is generally not recommended that most tourists take anti-malarial medications, because the risk is so low in most tourist spots, but those planning to travel into more malaria prone areas or may be particularly at risk should check with a medical professional before traveling.
Internet Access in Thailand
Thailand is a very well connected country with free WiFi available in most locations all across the country.
There's also excellent 3G and 4G coverage across much of the country, and if you have an unlocked device you can buy pay as you go SIM cards for very reasonable prices.
To get an idea of what's available, take a look at this page, which lists all the pay as you go options for Thailand, with a focus on data prices. For more on information on connecting to the web when you travel, see my guide to getting online when travelling.
Of course, internet access and WiFi is not totally universal. Some of the National Parks and islands might not always have connectivity, so do keep this in mind.
Food in Thailand
Thai food is seriously amazing (in my opinion anyway!), with different regions offering different cuisines and cooking styles. The food features a range of flavours and fresh ingredients, with spicy curries and flavourful stir fries being popular options. You'll probably recognise many favourites such as Pad Thai, Red & Green Curries, and spicy soups.
In my experience, the southern cuisine was spicier than the northern cuisine, with the yellow curry in the far south being eye wateringly hot.
Some of my personal highlights of Thai cuisine include Pad Thai, Khao Soi (unique to the north), green, red and yellow curries, Som Thai, and my absolute favourite, mango sticky rice. In reality though, it's hard to go wrong, pretty much all Thai food is fantastic!
Budget in Thailand
Thailand is popular amongst budget travellers, and it very easy to travel in the country on $10 – $50 USD a day. However, Thailand is not just for budget travellers, with plenty of high end hotels, restaurants, and private tour options also available.
When planning your budget, think about your accommodation, transport, food and tour / entry costs.
Power Outlets in Thailand
Thailand uses a 220v system, so if you are travelling from the United States or other countries which use a 110v system then you need to be sure your devices support this standard.
In my experience, most low power electronics like smartphones and cameras automatically switch voltages and you don't need to buy new chargers, just check it's rated for 220v on the label.
Higher powered items like hair dryers usually don't support dual voltages unless you have a specific travel model. You can read more about this topic in my guide to travel adaptors for travel.
Plug socket wise, Thailand confusingly has two types of socket, one with round holes that matches most European style plugs, and a two pin flat plug that will match a US two pin plug. So sometimes you may have the right plug and other times you won't, so it is best to bring along some plug adaptors no matter where you are coming from for your electronic devices.
A good option, and what we do, is travel with a universal travel adaptor and a power strip, thus ensuring you don't have any power issues.
Further Reading and Information for your Thailand Itinerary Planning
We have a lot of content about Thailand on our site. Here are some of our more relevant posts to check out.
And that just about sums up my guide to visiting Thailand for 10 weeks, as well as everything you might need to know to make the best of your trip!
If you've got any thoughts on feedback on this post, or ideas for where you'd recommend, do pop them in the comments below!
This post was written by me in collaboration with the Tourism Authority of Thailand (TAT), as part of a paid campaign to help promote travel to Thailand. You can read more about travel in Thailand here. All opinions are my own, and you can see how we work with companies and what that means for our content in our code of ethics.