I've travelled extensively in Thailand, and it's easily one of my favourite countries in Asia – the friendly people, the excellent food, the relaxed vibe all make for a fantastic country to travel in.
I've written a great deal on Thailand already, but haven't put together a suggested Thailand itinerary post, as I've done for other many other countries like Sri Lanka, the UK and New Zealand.
Time to change that! Here's everything you need to know for the perfect 2 weeks in Thailand, including information on getting around, the food, cultural considerations, budget, where to stay in Thailand – and lots more! Enjoy, and pop any questions in the comments at the end. Let's get started.
2 Weeks in Thailand: A Detailed Thailand Itinerary
Days 1 – 3: Bangkok
Bangkok is one of those cities that seem to divide opinion. Personally, I love it. It's vibrant, chaotic, and a feast for the senses. It's a heck of an introduction to the country though, so prepare yourself. And, if you're coming from somewhere a bit cooler, give yourself time to adjust to the humidity and heat, and be aware of the signs of dehydration.
So, what to do in Bangkok? Well, lots! At the top of your list should be Wat Phra Kaeo and the Grand Palace. This is the number one sight in Bangkok, and for good reason. The walled compound contains both these sights, with the 19th century Grand Palace a fascinating mix of Western and Thai styles. Wat Phra Kaeo, which houses the Emerald Buddha, is generally regarded as the most important Buddhist temple in the country.
My favourite sight in Bangkok though is Wat Arun. Particularly beautiful at sunset, this temple consists of a huge prang, or tower, which soars to nearly 300ft in height – a part of which you can climb (although the stairs are fairly steep and terrifying!). It's covered in porcelain and seashells, and is quite beautiful to behold.
There are many more temples in Bangkok, so you won't be short of temples and Buddha statues. Some notable highlights include Wat Pho (the temple of the reclining Buddha) and Wat Saket (wonderfully situated on a mountain above the old city).
And, of course, there's more to Bangkok than temples. Bangkok has fantastic nightlife and shopping, with some of the best rooftop bars in Thailand. I'm also a huge fan of the street food, which is plentiful, cheap, and generally safe to eat. If you're want some tips on staying healthy when eating street food, check out this excellent guide to eating street food without getting sick from my friend Jodi.
Another attraction in Bangkok is the floating market – which is basically a street market without the streets, held in the canals and rivers of the city, with vendors plying their wares from their boats. Many of these markets have become tourist traps now rather than a place that locals go to do their shopping, but there are still some worth visiting. There's an excellent list here to some of the floating markets worth visiting in Bangkok.
Other than that, my advice for Bangkok is to spend some time getting acclimatized, meeting people, wandering the streets, checking out the street vendors, and immersing yourself in the vibrant chaos that is this city.
You might also want to check out the Go City Bangkok Pass. This includes a number of attractions in Bangkok, as well as a tour to Ayutthaya. Worth checking out to see if it might save you money.
One last tip for Bangkok – taxis are generally reliable and widely available, as well as cost effective. You need to insist on the meter being put on before you get in though, and don't be upset if they drive off – just wait for another taxi to turn up. Finally, be aware of the classic cheap tuk-tuk scam – it IS too good to be true, I assure you. You can read more about avoiding the common Thailand scams at the end of the post.
Where to stay in Bangkok
Bangkok is a large city, and there are a huge range of accommodation options to choose from. These range from budget friendly backpacker hotels through to five star luxury hotels, and everything in between.
Here are some suggestions to get you started across a range of price points, which are approximately ordered from budget to high end.
Of course, there are a great many more options in Bangkok to choose from! You can see listings for Bangkok on Booking.com here, Hostelworld here, and Agoda here
Getting to Kanchanaburi from Bangkok
Your next stop on this 2 week tour of Thailand is the town of Kanchanaburi. This is around 100 miles west of Bangkok, and you have a few options for getting here.
First, you can take public transport. A train runs from Bangkok's Thonburi station, and takes around 3 hours to Kanchanaburi. This was my preferred option as the scenery is lovely. Alternatively, you can take a public bus, with both minibuses and larger public buses making the route. These take around 2 hours, although it will vary depending on traffic.
You can also hire a private transfer that will take you from your accommodation in Bangkok to Kanchanaburi. This is obviously less hassle than navigating the public transport system and will save you time, with the downside that it will be slightly more expensive.
Another option is to take a tour from Bangkok. For example, this 2 day tour includes your transportation, overnight accommodation and visits all the major attractions in the area. A good option if you'd like everything to be arranged for you.
Finally, you might prefer to drive. It is possible to rent a car in Thailand, usually all you need is a valid driver's license and an international driving permit. The traffic in and around the cities can be quite hectic, but outside of the cities the roads are usually pretty good, with road signs in both Thai and English.
For this itinerary though, I'd suggest that driving wouldn't be my first choice, as the public transport system is easy to use and works well.
Days 4 – 6: Kanchanaburi
From Bangkok, my next recommended destination is Kanchanaburi. Whilst the name of the town might not instantly ring any bells, the river it sits on probably will, it's the River Kwai, famous for its bridge, the story of which was turned into a film.
It was here during the second world war that thousands of allied prisoners of war were held by the Japanese and forced to construct a railway that was to link Thailand with Burma. This included the construction of the bridge and 415km of railway. The construction of the railway was very costly in terms of civilian life, both of Asian civilian labourers and Allied civil wars, with estimates of over 90,000 civilians and nearly 13,000 POW's losing their lives.
Today there are a number of museums dedicated to the story of the railway, with the best in my opinion being the JEATH war museum, located in downtown Kanchanaburi, a few kilometres from the bridge itself. There are also the war cemeteries, home to the many who lost their lives here. Finally, you can also walk across the bridge itself, and take a ride on the death railway itself.
You might be wondering why I've scheduled three days in Kanchanaburi. Well, this was actually one of my favourite parts of Thailand, and one that is often overlooked – folks pop here for the Death Railway, but then don't explore the other attractions. I've written a whole post to visiting Kanchanaburi, but in brief, make sure you take a day trip to the spectacular Erawan Falls, hit up the night market, visit the giant tree and visit a temple inside a cave.
I'd also recommend staying at a guest house on the river. The sunsets are gorgeous, and as long as you're not visiting over a weekend or other festival, it can be a very peaceful and relaxing experience.
Where to stay in Kanchanaburi
We stayed at the River Guesthouse (here on Google Maps) which was quiet, a short walk from the train station, and a bargain. We can't find a website or a way to book this property online (we just turned up), although a phone number is listed on the Google Maps entry that you can try. It is quite "rustic" and definitely a budget option, but we enjoyed it.
Kanchanaburi is not a huge town in terms of population, but it is geographically spread out. There are three main locations – the northern area around the famous railway bridge, the area near the main train station which is around 1.5 miles along the bridge, and then the main part of the town which is 3 miles along the river from the bridge.
My recommendation is to stay in the area near the train station on the river. This puts you within an easy 30 minute walk (or short bike ride) of the main attractions, and you'll also be near the night market that happens in the vicinity of the train station.
Here are some suggested accommodation options in this area, again ranging from budget to more expensive.
Again, there are lots more options beyond the above. You can see listings for Kanchanaburi on Booking.com here, Hostelworld here, and Agoda here.
Getting to Ayutthaya from Kanchanaburi
There's no direct connection from Kanchanaburi to Ayutthaya. Your best option is to return to Bangkok. From here, there are a number of bus and train options, which will take around 2 hours to reach Ayutthaya.
Days 7 & 8: Ayutthaya
From Kanchanaburi I'd suggest heading to one of Thailand's old capital cities. There are two main options to choose from, Ayutthaya and Sukhothai, and on a shorter trip like this, I think picking just one of these two will suffice.
They are slightly different in style – Ayutthaya consists of a series of temples and structures which exist inside today's city, which is still vibrant and bustling. Sukhothai is more of a preserved city complex, with the old city remains standing around 12km from where the new city is.
Ayutthaya is also closer to Bangkok, being only a couple of hours or so north, so it's a little easier to get to, with frequent buses and trains. Sukhothai is a seven hour bus ride from Bangkok, so requires a bit more effort. That's why, for this itinerary, I'm recommending Ayutthaya.
There is a lot to see in Ayutthaya. At a time, this was the largest city in the world, with over a million inhabitants, and despite the city being burnt to the ground by the Burmese in the 18th century, a lot has survived.
Again, I have a whole post on the highlights of Ayutthaya, which should give you plenty of ideas for your visit as well as tips on accommodation and getting around. As a quick summary though, be sure to visit Wat Phra Mahathat, Wat Phra Si Sanphet, Wat Chaiwatthanaram and Wat Buddhaisawan.
For your accommodation in Ayutthaya, see listings on booking.com here.
Days 9 & 10: Khao Sok
Now it's time to head south, to one of my favourite spots in Thailand – Khao Sok National Park. This place is, for some reason, not well visited, but it is truly unlike anywhere else I visited in the country.
Set up in 1980, the park consists of a large man made lake, surrounded by Thailand's largest virgin rainforest.
This forest is home to all sorts of creatures, from elephant to bear – although sighting them in the wild is quite the challenge! It's also famously home to the Raffelsia Kerrii, one of the largest flowers in the world, which can have flowers up to a meter in diameter! They also smell absolutely terrible in order to attract flies, which carry the pollen.
Sighting one of these flowers is a definite highlight of a visit, although as they only flower for a week or so, you have to be fairly lucky.
My highlight of Khao Sok National Park though was the visit to the lakehouse. At time of writing, there are around 16 properties to choose from, all of which offer roughly the same sort of thing – a series of floating bungalows on the gorgeous Cheow Lan lake, where you'll be surrounded by limestone karsts and beautiful jungles, with the lake being the perfect temperature for a swim.
I'd say that Cheow Lan lake should be the number one priority for any visitor to Thailand, that's how much I enjoyed it there. To visit, you need to book in advance as you need to get a boat to the lakehouse. We stayed at Smiley's Lakehouse which offered reasonable accommodation including en-suite facilities. There are quite a few lake house options to choose from depending on your budget, so take a look and see what works for you.
We also stayed in the jungle, at Smiley's Bungalows, who arranged the lake house and transfers. Here we went trekking in the jungle, learnt all about leeches, and relaxed. Also, when at Smiley's Bungalows, do try the Jungle Massaman curry – it's excellent!
Getting to Khao Sok can be a bit tricky – the train line can get very busy so you definitely need to book in advance. Many guest houses will pick you up from the nearest station (Surat Thani). There are also minibuses here from various locations around Thailand, and both a bus and plane service from Bangkok. Read more on the options from around Thailand here, and be sure to book in advance for whichever option you choose.
You can read more about my thoughts on visiting both the Cheow Lan Lake in Khao Sok National Park and Khao Sok jungle.
Where to stay in Khao Sok National Park
There are two main locations for accommodation in Khao Sok National Park. There's Khao Sok village, which is home to a range of hotels, guesthouses and restaurants. This is also where you'll find the Khao Sok National Park headquarters. Here are some options in Khao Sok.
The other main area where you can stay is around Cheow Lan Lake, where you'll find the lake house resorts. This would be my recommended place to stay. The scenery is beautiful, staying in a floating lake house is a unique experience, and it's a wonderful opportunity to disconnect from the world.
There are around 15 lake hotels where you can stay the night and these need to be booked in advance. Here are some options to choose from.
They vary from very basic through to more luxurious options, and as always, we'd advise reading reviews before booking to avoid disappointment. It's also worth being aware that many properties do not have cell coverage or WiFi reception, and might require payments in cash.
Days 11 – 14: Beaches
Ok, from Khao Sok it's time to hit up the gorgeous beaches of Thailand for your last four days. Where you go next is really up to the sort of style of beach you're looking for. If you're into resorts, people, and partying, then hop on the four hour minibus down to Phuket and go nuts.
Or, for a quieter experience, head to Thai Mueang, about an hour north of Phuket, where the beaches are generally silent and the guesthouses quiet.
You could also head further down the coast, either to somewhere like Krabi or Ko Lanta, or head even further down to Trang, which is more popular with Thai tourists and offers gorgeous beaches, easy access to quieter islands and fantastic sunsets. Read more about my Trang experiences here.
As you can see, plenty of options, and something to suit everyone!
2 Week Thailand Itinerary Map
Here's a map of the destinations visited for reference, which you can see on Google Maps here.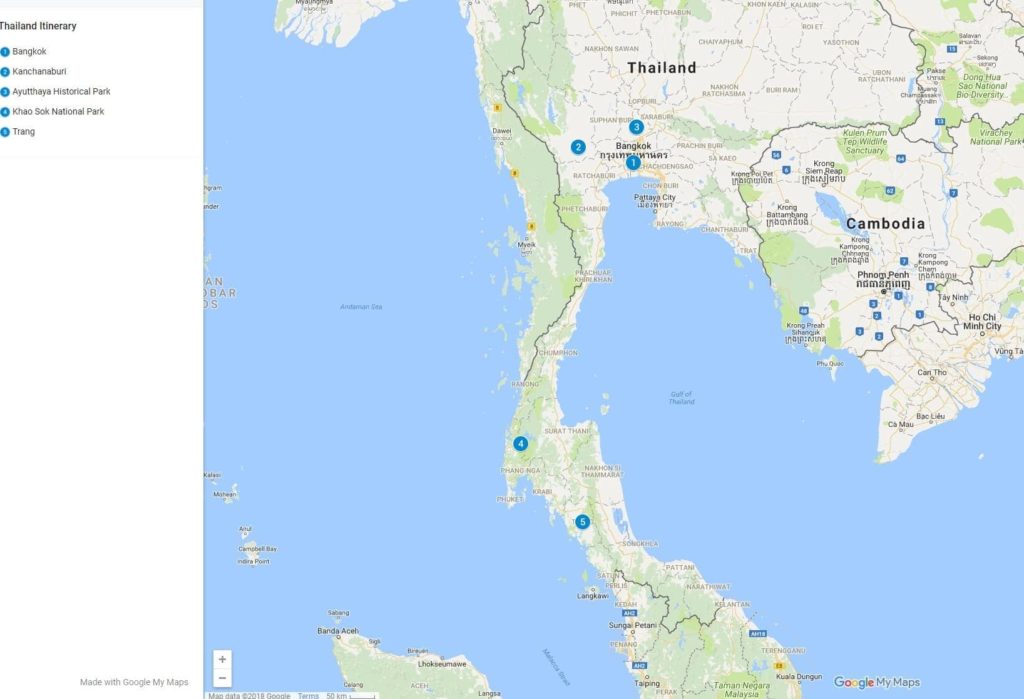 Thailand Itinerary Summary
3 Days : Bangkok
2 Days: Kanchanaburi
2 Days: Ayutthaya
2 Days: Khao Sok
4 Days: Beaches in the south
Locations to consider adding to your Thailand Itinerary
There is a lot to do and see in Thailand, even if most folks do seem to gravitate towards Phuket and surrounds. Not that there's anything wrong with this – Thailand has fantastic beaches and gorgeous weather – but there is a lot more to the country than many see.
In case the above Thailand itinerary doesn't check all your boxes, or you were looking for a longer itinerary (or you just want to try and pack more in!), here are some more of my favourite Thailand destinations for you to think about adding to your itinerary.
Chiang Mai, Chiang Rai and Pai
If you're looking for less of a beach experience and more mountains, forests and temples, then head north to Thailand's hill country. Here you'll find the town of Chiang Mai, where many foreigners base themselves long term thanks to the nice climate, sizeable community, fast internet and low cost of living. There's a fantastic night market here, arguably the best smoothie cart in the world, a gorgeous temple on the hill, and if you like national parks, Doi Inthanon isn't far away.
Head even further north and you'll find Pai. This is a gorgeous little mountain town that many a traveller has fallen deeply in love with.
Finally, right near the top of the country is Chiang Rai, inside the infamous golden triangle. Chiang Rai is particularly noteworthy – as well as for the opium trade – for two temples: the White Temple of Chiang Rai, and the Black Temple of Chiang Rai. These are two different but entirely epic temples / art installations, both of which are very much worth the journey north alone.
Buriram
This one is going to take you to the East of Thailand, where far fewer visitors head. It's worth the effort though, because this part of Thailand is quite different, with more influence from the Khmer empire, meaning the temples here have more in common with places like Angkor Wat than the rest of Thailand. In fact, Phanom Rung, my favourite of all the temples in Thailand, was built by the Khmer empire before they built Angkor Wat.
There's more to do than visit a temple on a volcano though. There's the lotus pond enclosed Prasat Muang Tam, the silk weaving village of Amphoe Na Pho and the Lower Northeastern Cultural Centre, where you can learn all about the history of the region.
You can read more about visiting this part of Thailand in my post on Buriram, plus you should read about Khao Yai National Park, which is in a similar direction and is one of the better places in Thailand to see elephant in the wild.
Sukhothai
As I mentioned earlier, Sukhothai is one of Thailand's ancient capital cities, and a UNESCO world heritage site. The old city is separate from the new city, and you can wander the ruins and explore the temples, trying to imagine what it must have been like in its heyday.
The complex is large, so you can easily spend at least a day here, and as it's quite a way north of Bangkok (7 hours by train), is worth adding to your itinerary only if you're already heading to somewhere like Chiang Mai – it makes a handy stopping point on the way.
Sukhothai is particularly popular during the Loi Krathong festival, when thousands of people come to see the city in all its splendour. We visited during Loi Krathong, so check out the post on visiting Sukhothai during Loi Krathong for more information.
Similan Islands
Thailand is famous for its islands, and rightly so, with an overwhelming collection of paradise like palm fringed options to choose from.
So, to say that the Similan Islands are arguably some of the best islands that Thailand has to offer is high praise indeed. Rated as one of the best dive sites in the world, the real draw here is the snorkelling and diving. The water has unbelievable visibility, is lovely and warm, and there's a plethora of marine life to see.
You can also stay on the islands, which is what we did, meaning you can experience them when they are a little quieter and the day trippers have left. Or, you can do a live aboard option on a boat, which tends to be more suited to divers. Read a fellow bloggers experience of diving the Similar Islands here, and check out my thoughts on our two day Similan Islands visit here, which includes tips on getting there, where to stay, and approximate costs.
Songkhla
Last but not least in my list of options to consider is the city of Songkhla. This was my favourite of all the cities we visited in Thailand, despite it not being that well known to tourists. It's on the south east coastline of Thailand, around 1000km from Bangkok, and has strong Malay and Chinese influences.
It has gorgeous beaches, a free tram tour of the town, giant statues of a mouse and a cat, an excellent night market and a really laid back vibe. If you're looking for somewhere a bit different, away from the well trodden path, then Songkhla is definitely worth a visit. You can read in detail my experiences and advice for visiting Songkhla in this post.
How Much Does it Cost to Travel in Thailand?
Thailand really is a country where you can spend as much or as little as you like. It's not the cheapest of the countries in the region, but it certainly isn't expensive by any stretch of the imagination. You can get a private room in the region of $5 – $10 per day, food shouldn't cost more than $1 – $3 a meal, and then you've got transportation, water, sight-seeing and beer (around $1 – $2 a beer generally).
Of course, you can go crazy and spend a lot more, and if you're on a tighter timetable, you might find yourself flying rather than using slower buses, but overall, Thailand can easily be achieved on a budget of $30 – $50 per day. I could go on, but my friend Matt has put together an incredibly detailed guide to budgeting for Thailand, which you should definitely read.
Why Should You Visit Thailand?
Thailand is a fantastic country to visit, particularly if this is your first trip to Asia. It's an easy country to travel in, with friendly and welcoming people. It's also relatively easy on the wallet – perhaps not as cheap as other parts of Asia, but certainly very much in the budget category.
In terms of sight-seeing, Thailand has attractions to suit all manner of tastes. There's everything from jungles and lake houses, through to snorkelling opportunities, extinct volcanoes, wild elephants, mountainous national parks, war memorials, incredible temples, and of course, unbelievable beaches and islands.
And I've not even mentioned the food!
The other thing about Thailand is that despite it being a very popular destination, the majority of tourists tend to visit a small number of hotspots, like Krabi, Phuket, and a few of the islands. This means that you can still visit Thailand and not feel overwhelmed by visitors if you pick your locations wisely. I'll be going through a host of options in this post to give you ideas for your trip, but first:
When Should You Visit Thailand?
Whilst Thailand can be visited year round, there are times of year where the climate is more pleasant than others.
Thailand has a tropical climate, with a wet season and a dry season. The dry season is between November and March. Temperatures will be pleasant at this time of year, and it won't rain so much. The rainy season is April through October, with the hottest part of the year between March and May, when the rain can make rural areas more inaccessible, and the temperatures can be hot and humid.
If you're travelling more on a budget, then be aware the prices will be higher in the November – March time as this is the most popular time to visit, and prices will be a little lower in the off-season.
How To Get Around Thailand
There are a number of options for getting around Thailand. I predominantly travelled on long distance buses, which are very reasonable priced and often end up being faster than the train. These go from major transport hubs in cities and towns around the country, and usually run to a schedule.
There are also minibuses. These can be faster than the scheduled buses, but can also be more cramped, so I'd suggest using these for shorter journeys. Do be careful when at transport hubs as the minivan companies keep an eye out for tourists looking lost and will try to "help" you by selling you a ticket on their service rather than the long distance bus you were looking for.
This happened to me on the way north from Trang to Phuket, and whilst I didn't pay any more, and I suspect it was quicker, the journey wasn't very comfortable. If you want to take a long distance bus, go to a ticket counter at a bus station to be sure!
Trains also run throughout the country, with the overnight trains up to Chiang Mai, and down the east coast to Hat Yai and beyond being particularly popular. Trains are generally reliable and good value, with various classes available – check out this excellent guide to train travel in Thailand for more information.
You can also fly around Thailand, which is particularly suitable if you're on a tight timetable and want to see as much as possible with minimal travel downtime. It's obviously the more expensive option, but if your time is important, is definitely going to get you places quicker. Options include AirAsia, Bangkok Airways, Nok Air, Thai Airways and Thai Smile. You can check and compare prices on flights in Thailand here.
If you're looking to plan your travel around Thailand, I've found that the planning tool Rome2Rio does a great job of comparing all the options available to give you ideas of times and costs.
What to Eat in Thailand
Ok, to be honest, this would be a whole post in itself. Thai food is seriously amazing, and varies wildly across the country. In my experience, the further south I went, the spicier the food became, with the Yellow curry in the far south being eye wateringly hot.
Some highlights of Thai cuisine include Pad Thai, Khao Soi (unique to the north), green, red and yellow curries, som thai and my absolute favourite, Mango Sticky Rice. In reality though, it's hard to go wrong, pretty much all Thai food is fantastic.
Here's a bit more reading to give you some more ideas (I told you the food of Thailand would be a post in itself!).
Those should give you some ideas of what lies ahead!
Where to Stay in Thailand
Thailand has accommodation options to suit everyone, from swish luxury hotels through to backpacker hostels – and everything in between. Prices vary depending on the popularity of the location, with Bangkok generally being more expensive than the rest of the country. You can start your property search here.
In Bangkok, we enjoyed the private rooms and atmosphere at the Lub D hostels, and tried out both their Siam Square and Silom locations. These aren't the cheapest options in Bangkok, but they are both excellent. Across the rest of the country we stayed in everything from river houses to resorts, to homestays to more upmarket properties. Generally, prices were excellent, and the quality was high.
If you're looking for accommodation in Thailand, you will have plenty of choice, whatever your budget. Here are our tips for getting the best prices:
We usually use booking.com when travelling to get the best deals – they have a wide range of listings and usually have great prices. You can see listings for Thailand here.
If you can't find what you want on booking.com, or you want some new options to try out, we have a post to help you find the best alternatives to AirBnB.
Between these options, you should find the best prices and places to stay for your trip, as well as a good selection of reviews and feedback to help you make an informed decision.
Plenty of ways to save money right there. Now, let's look at some:
Other Practicalities for Travelling in Thailand
Cultural considerations in Thailand
Thailand is not a particularly tough country to travel in, and the people are very friendly, but there are a few cultural considerations to bear in mind.
Firstly, feet are considered very dirty, and you should never put your feet up on something, move objects with your feet, or touch anyone with your feet.
On the flip side, the head is considered the most sacred part of someone's body, so touching someone's head is also not considered polite.
Speaking of bodies, Thai people are generally quite modest. If you visit a beach popular with Thai people, it's not unusual to see them swimming in jeans and a t-shirt – western swimwear is considered fairly immodest, and going topless or nude is definitely frowned upon.
The Royal family is almost a taboo subject in Thailand, as insulting the King or the family of the King is a reason to be jailed. Overall I found it was best not to bring up the royal family at all. In addition, as with icons of the Buddha, imagery of the King is also to be treated with respect. Don't forget that the Thai currency has images of the King on it, so you have to treat it with care as well.
In terms of handling situations when things go wrong, it is considered seriously impolite to cause a Thai person to lose face, and aggressiveness is not welcomed. So if you have any problems, you need to try to stay calm and polite throughout – this will likely get you a much more positive result.
I've only ever experienced one incident of a Thai person losing their cool, and that nearly ended quite badly. You can read all about that experience here. Overall though, we had a fantastic time in Thailand, found the people friendly and welcoming, and didn't have any negative experiences. For more do's and don't in Thailand, check out this excellent article.
Internet Access in Thailand
Thailand has ubiquitous internet access, with good WiFi hotspots available throughout the country, usually at blazing fast speeds. There's also excellent 3G and 4G coverage across the country, with pay as you go SIM cards available for very reasonable prices.
To get an idea of what's available, take a look at this page, which lists all the pay as you go options for Thailand, with a focus on data prices. For more on information on connecting to the web when you travel, see my guide to getting online when travelling.
Power Outlets in Thailand
Thailand uses a 220v system, so if you are travelling from the US you need to be sure your devices support this standard. Most chargers these days automatically switch voltages and you don't need to buy new chargers, just check it's rated for 220v on the label.
Socket wise, Thailand confusingly has two types of socket, one with round holes that matches most European style plugs, and a two pin flat plug that will match a US two pin plug.
Your best bet is to pick up a universal travel adaptor and a power strip, thus ensuring you don't have any power issues.
Vaccinations and Health in Thailand
Thailand is a generally safe country to travel in, but there are a few vaccination requirements you should be aware of. The majority of tourist illnesses in Thailand tend to be from contaminated water, so it's generally wise to only drink bottled or sterilized water, and to avoid salad and ice cubes (either of which may have been washed or made with tap water).
Rabies is present in Thailand, although mostly only in remote areas. It exists in bats and dogs, and Thailand has no shortage of street dogs. Check out our guide to keeping safe around street dogs in Thailand, but generally, you should have no reason to be vaccinated against rabies unless you're travelling or working in a high risk area.
Malaria and other insect borne diseases like Zika and Dengue Fever also exist in Thailand. The best way to avoid getting these diseases is to use bug spray, and to cover up at dusk and dawn when mosquitoes are likely to be present. You should also consult with a doctor as to whether or not your trip will warrant taking anti-malarials.
For more health advice on Thailand, including a run down of the vaccinations you should require, take a look at the UK's health service guidance, and the US CDC guidance. And finally, don't trust a blog post as the definitive guide for your health advice – go to a qualified medical practitioner and get them to advise you!
Common scams in Thailand
Like every country in the world, Thailand has a few common tourist scams to watch our for. These aren't particularly complicated, and are mostly in Bangkok or other major tourist destinations.
The two most popular scams are the tuk tuk scam and the closed temple scam.
The tuk-tuk scam will involve a tuk tuk driver offering to take you anywhere you want to go for a mind bogglingly low price, say 20 baht. After you get in, you'll find yourself being taken on a tour of all sorts of second-rate temples, jewellery shops, tour companies, clothing shops and so on, where various sales tactics will be used to try and sell you generally overpriced and poor quality goods and services.
In a worst case scenario, you'll find yourself left far away from where you started, with a challenging route home, and a day of your time wasted. This is an easy one to avoid – just don't take a tuk tuk offering you some incredible deal!
The other regular trick attempted on tourists is for someone to stand outside of a perfectly open temple or other attraction, and tell tourists that it's closed. Conveniently, the person will know another temple, a short tuk-tuk ride away, that is open! Once on the tuk tuk, you'll find yourself taking a familiar sounding tour of various jewellery shops, clothing shops.. well, you've heard this all before. Yes, attractions close, but be sure it's actually closed by going to the entrance before believing the helpful local.
For more on a scam like this, how it works and what to look out for read this fellow bloggers account of being scammed in Thailand, which should give you all the information you need to stay safe.
Overall though, Thailand is a very safe country to travel in, and despite my best efforts, I was never scammed. Just apply some common sense, and remember, if it seems too good to be true, it probably is.
Further Reading and Information for your Thailand Itinerary Planning
There's a wealth of information on visiting Thailand on our site. Here are some of our more relevant posts to check out.
And that just about sums up my guide to visiting Thailand for two weeks, as well as everything you might need to know to make the best of your trip! If you've got any thoughts on feedback on this post, or ideas for where you'd recommend, do pop them in the comments below!