Following on from my two week UK itinerary post, I wanted to put together a slightly shorter itinerary for those of you with less time, but who still wanted to explore more of the UK than the capital city. And so, I present, our suggested itinerary for one week in the UK.
The idea of this 1 week UK itinerary is to take in some of the essential highlights of the UK, but also throw in a few curveballs – spectacular places that you would find hard to visit without your own wheels.
If this is your first time driving in the UK, I can also recommend checking out our guide to driving in the UK for tips.
Without further ado, here's my guide for an awesome:
One Week UK Road Trip Itinerary
We're going to kick off this itinerary in the UK's capital, on the assumption that this is where you're going to fly to when you arrive. There are flights from all over the world to London's airports, so the chances are pretty high that this is where you're going to be arriving.
Note that as with any itinerary, this one should be adjusted to your travel style. The itinerary as laid out is very busy, and has you moving quite quickly so as to take in the highlights. So feel free to adjust it to your specific preferences. It could easily be adjusted to accommodate a longer trip for example.
Days 1 & 2: London
In general, having a hire car in London is A Bad Idea. What with the congestion charge, antiquated road system, and the fact that the traffic moves slower now on average than it did when horses and carts plied the roads – well, you get the idea.
This isn't to suggest writing it off though. You have two options – pick up a hire car after your time in London, or stay a little outside the centre in a hotel with parking near a public transport hub. Now, on to London itself.
For your first day of exploration in London, I'd suggest spending your day seeing the essential London sights. London is an eminently walkable city, and you'll be able to take in the majority of the key highlights, from the Houses of Parliament and Buckingham Palace through to Tower Bridge and the Tower of London.
Then, on your second day, you can either continue to explore London, or you might consider heading out to some of the attractions outside of London.
Popular locations outside the city centre include Windsor Castle, or Hampton Court Palace – both eminently explorable, and easy to reach with a car or by public transport from the city centre.
If you want to save money on the above attractions, and will be visiting a few, then you should definitely consider investing in a London Pass. Available in 1, 3 and 6 day versions, the savings can really be quite impressive if you plan on visiting a few locations. You can read a full break down on if the London Pass is worth buying here, and buy one yourself here.
Finally, London has no shortage of accommodation options, something to suit pretty much every budget. Check out the options for London at booking.com, and here for Plum Guide if you're looking for an apartment. We also have a guide to where to stay in London.
Day 3: Stonehenge, Bath and the Cotswolds
From London, I'm going to suggest you head west, and take in one of Britain's most recognisable old monuments – the incredible Stonehenge. Visiting Stonehenge is a popular day trip from London, and I have a guide to visiting Stonehenge from London here.
Every year new evidence comes to light as to how these got here, and you can't fail to be impressed at their massiveness, as well as their seeming impervious nature. Since the motorway was shifted a few years ago, and the fence around the stones moved, this has become a far more pleasant attraction to visit.
From Stonehenge, head along to the old town of Bath. A favourite of the Romans, this place has, as you would imagine, some baths to explore, where you can see how the Romans kept themselves clean, plus try some of the waters yourself.
It's also worth taking the time to check out the Georgian architecture, including the Royal Crescent and the Circus.
You can either overnight in Bath, which might be preferable to driving any more today, or you can head into the Cotswolds. If you do the latter, find yourself a cosy little B&B in the countryside – somewhere you'd likely struggle to get to with public transport – and really take advantage of having your own wheels!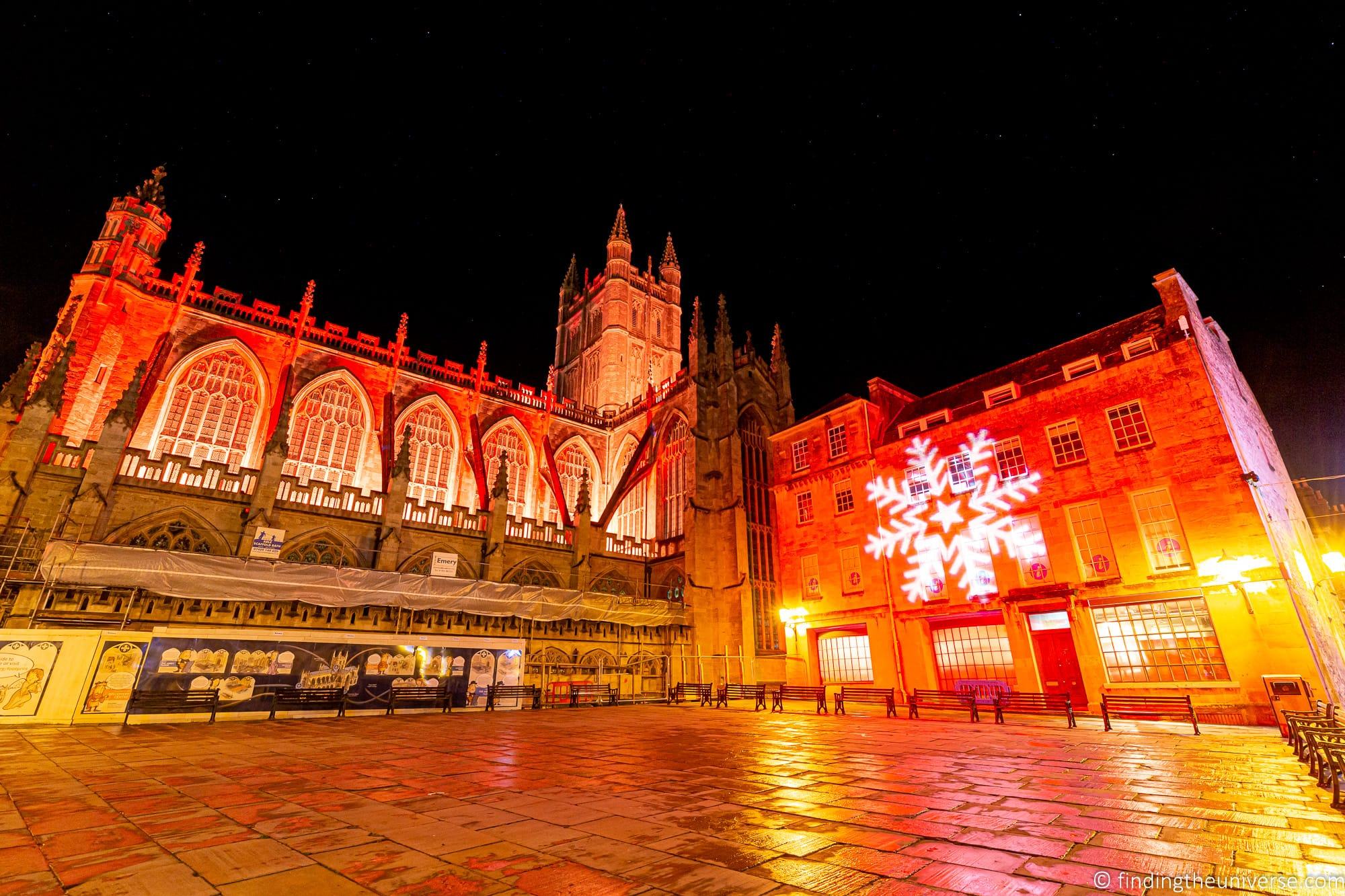 Days 4 & 5: Warwickshire, The Peak District & Yorkshire
After a pleasant overnight in Bath or the Cotswolds, it's time to turn North, and head up towards Yorkshire. This will be a bit of a drive, but there are some highlights on the way that I'd recommend stopping at to break up the journey.
First, I'd suggest stopping off at Baddesley Clinton, a moated manor house just outside of Warwick. This is a spectacular property, over 500 years old, which will give you an insight as to how the British aristocracy lived in the middle ages.
Highlights include the glorious moat that surrounds the building, and the priest-holes in the house itself, where the Catholic priests of the time would hide from persecution and execution.
If you'd prefer to explore an interesting town, then I can recommend dropping in to Warwick. There's enough to do here to fill a day (especially if you decide to visit the Castle!), but I'd suggest at least visiting the Lord Leycester Hospital, and St. Mary's Church.
The former isn't, and has never been, a hospital, instead, for over 400 years it has housed military veterans of Britain's various wars. It's a fascinating cluster of houses, dating from the 14th century, and is basically everything you could hope for in a medieval construction.
St Mary's Church is one of the largest churches (I thought it was a cathedral when I first spotted it) in the UK, home to a gorgeous medieval chapel, a magnificent view from the top of its tower, and 1000 years of worshipping history.
Alternatively, you could also choose to visit Stratford-upon-Avon, the birthplace of Shakespeare.
Once you're done with the above, it's time to leave Warwickshire behind, and head on up to the Peak District, where I'm going to suggest you spend the night – there are some really fantastic accommodation options on hand, to suit every budget.
After your night in the Peak District, set aside a morning for visiting Chatsworth House. Often voted the UK's favourite country house – if you're going to take in a stately home on a spectacular scale, then this is an excellent choice.
Still home to the Duke and Duchess of Devonshire, the property has 126 rooms, with a number of these open for public viewing. Surrounding the property itself are 105 acres of magnificent garden, constructed across six centuries, and reflecting changing times and fashions. You'll easily be able to lose a morning at Chatsworth!
From Chatsworth, it's a 2 hour blast up to the next stop on our itinerary – the gorgeous ruined remains of Fountains Abbey, a UNESCO World Heritage Site set in Studley Royal Park.
As well as the well preserved ruins of the giant 12th century Cistercian monastery, you'll also find the rather impressive 18th century water garden, generally recognised as the most important in the UK.
If you can, I'd suggest exploring right through until the sun sets, which should afford you some wonderful photography opportunities. There's lots of ground to cover, and if you find yourself tiring, there's an excellent tea room.
When you're done, find yourself somewhere to stay in the nearby area.
Day 6: Northumberland
You'll be starting your sixth day of exploration bright and early in Yorkshire, and continuing northwards, this time to the country of Northumberland, home to the city of Newcastle, the island spanning Hadrian's Wall, and some of England's finest medieval castles.
It's the latter that I'm going to suggest you focus on in Northumberland. You're unlikely to be able to do all of the following in the time available, but I'd definitely suggest that you visit at least two of the following four sights when in Northumberland, starting with:
Alnwick Castle. Home to the Duke of Northumberland, and dating from 1036, this is the sort of castle that you probably think of when you think of medieval fortress castles.
It's also the sort of castle you might think of if you're a Harry Potter fan, as a number of the scenes from the earlier Harry Potter movies, including the Quidditch training scenes, were filmed here. If you're more of a Downton Abbey fan, well, the last two Christmas specials of the show were filmed here.
It would be easy to spend a day here, particularly as the gardens are also very picturesque, so you're welcome to do just that. But, if you're keen to see some more of England's incredible castles, head along to:
Bamburgh Castle. I absolutely love the coastal location of Bamburgh Castle, which is just perfect for photography, atop a rocky outcrop by a golden sand beach. The native Britons of the area thought so too – with a fort housing the original Kings of Britain located here. Of course, that all came to an end when the Vikings popped over in 993 and presumably burnt the place to the ground.
The castle that's on the site today was built by the Normans, in the 11th century, and is another imposing fortress like construction, designed to withstand brutal assault and siege warfare.
Since you're in the area for Bamburgh, you might also take the time to take a look at either Dunstanburgh castle, a few miles to the south, or Holy Island, a few miles to the north. The former was a 14th century fortification that fell into ruin by the 16th century – the latter is an island, accessible at low tide, and where you'll find the still inhabited Lindisfarne Castle, which you can also tour.
If you're more interested in Roman history than castles, then I'd suggest you visit Hadrian's Wall. Built during the time of Emperor Hadrian (122AD if you're not up to speed on Roman timelines), this wall stretched from one side of England to the other, and marked the northern limit of the Roman empire. The precise reason for building a 73 mile wall is still unclear, I suspect it was largely just because they could.
There are multiple locations where you can visit the wall, with my favourite being Sycamore Gap, near Housesteads Crag, where a lonely tree sits amongst the remains of the highest part of the wall.
From Hadrian's Wall, head north, to the Scottish capital of Edinburgh, either overnighting in the Scottish Borders, or Edinburgh itself.
Day 7: Edinburgh
This trip finishes off in Edinburgh, one of my favourite cities in the UK, and where you'll have no shortage of things to do. However, since you have a car, I have two suggestions that you might want to add to the list. First – head to the Pentland Hills. A few miles south of the city, these offer excellent walking, sheep spotting opportunities and iron age hill forts.
I'd also suggest you make the time to head out to an icon of the Edinburgh surrounds – the Firth of Forth bridges, and in particular, the UNESCO World Heritage Listed Firth of Forth Rail Bridge.
This is a mighty red cantilevered bridge construction spanning the Firth of Forth, opened in 1890, and still operational today. At it's time of construction it was the longest single cantilever bridge in the world, and despite now being the second longest, is still mighty impressive.
Finally, of course, I'd recommend spending some time exploring Edinburgh, which has no shortage of attractions, fine dining, shopping and places to stay. Whether you're into Harry Potter or festivals, you're bound to find something to do.
Then – turn your car in, and head home – Edinburgh airport is easy to drive to, has all the main car hire operator's, and you should be able to fly from here to anywhere you like. Whew! I hope you enjoyed that tour!
1 Week UK Itinerary Map
To help you visualise this driving route of the UK, we've put together this map of the route. You can also see this on Google Maps here.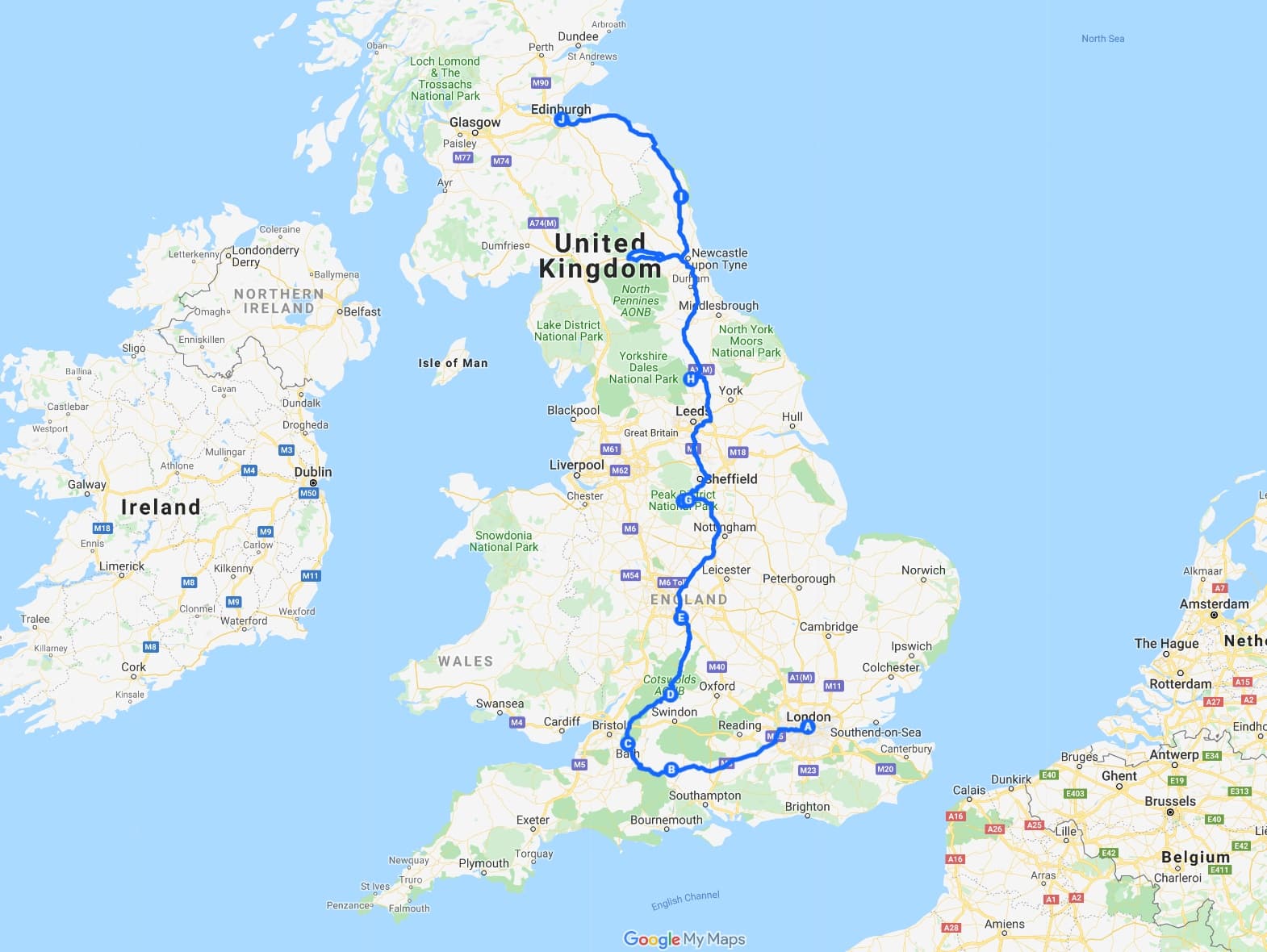 1 Week UK Itinerary Summary
Days 1 & 2: London
Day 3: Stonehenge, Bath and the Cotswolds
Days 4 & 5: Warwickshire, The Peak District & Yorkshire
Day 6: Northumberland
Day 7: Edinburgh
As mentioned at the start of the post, this itinerary is quite busy. If you have limited vacation time, then you can definitely do a lot in a short time and see the highlights, but be aware you will not be able to explore every location in great depth.
If you prefer to travel more slowly, you'll definitely want to tweak this itinerary for your own travel style, either by adding more time, or changing the route.
How to Get Around the UK
Well, this one should be pretty obvious! I'm going to suggest a rental car of course. This itinerary is really only do-able if you drive yourself.
We're big fans of Enterprise when it comes to car rental. Especially on a on a trip like this, where you pick up and drop off the car at different locations, you can incur a one way surcharge.
We've found that Enterprise Car Rental tend to have the best prices for one way rentals, and we've used them for road trips all around the world. We also recommend comparing car prices using a service like Rentalcars.com, which compares prices across a range of providers to help you find the best deal.
When To Visit the UK
The UK has what could best be described as "variable" weather. The good news is that you don't really get extremes of weather. The bad news is that being surrounded by water, it tends to rain a lot, throughout the year.
Obviously, the summer period is likely to be warmer than the winter period, but the climate is generally mild, so whenever you visit, plan for the gamut of weather conditions, from rain to sunshine. Layers are key to your clothing, meaning you can adjust as the weather changes.
My main piece of advice for a trip like this is to avoid popular weekends and school holidays if you can. The UK has a number of public holidays throughout the year, when the roads (and attractions) get very crowded. If you can avoid these times, you'll have a far more pleasant experience.
Time of year wise, there's no "bad" time to visit, but I'd advise perhaps May / June might give you the best shot of decent weather, whilst avoiding the summer school holiday period.
Where to Stay in the UK
The UK has loads of accommodation options, from cosy B&B's through to upscale hotels, as well as all the chains you'd expect.
We've tried a lot of booking sites, and nearly always find ourselves using Booking.com. They have an extensive selection of properties, many with no-fee cancellation policies, and often run discounts and special offers. Click on each city title to see their listings: London, the Cotswolds, the Peak District, Yorkshire and Edinburgh,
If you prefer an apartment or more of a hosted stay, then we recommend Plum Guide. We've tried all the others, and Plum Guide consistently has the best quality in all the locations we've used them in.
If you can't find what you want on Plum Guide, or you want some new options to try out, we have some alternatives we also use. We suggest trying Vrbo to start with. For even more ideas to help you save money and get the best choice, we wrote a whole post on the best alternatives to AirBnB, as well as a guide to our favourite holiday cottage accommodation in the UK, which you should check out!
Between these options, you should find the best prices and places to stay for your trip, as well as a good selection of reviews and feedback to help you make an informed decision.
What about a Tour of the UK?
We're often asked if a trip like this can be done as part of a tour instead of driving yourself. The answer is – yes it can, and you have a few options for doing so.
First, you could take a group tour of the UK. This will take you to a wide variety of sights, with someone else handling all the logistics, and letting you just relax and chill out.
We have used and can recommend Rabbie's Trail Burners for group tours – they're a small group tour operator with lots of experience and great guides, and they have a wide range of tours of varying lengths covering many parts of the UK. This 8 day tour they offer for example runs from London to Edinburgh and gives you an idea of what can be done in that time period.
You can also arrange a private tour. This will usually be a more expensive option, but will mean you can put something totally customised together. This is a service offered by a number of companies, we would again recommend Rabbie's Trail Burners who offer a customised tour service.
Another option we are happy to recommend is professional driver-guide Robina Brown, who is a blue-badge guide offering tours across the UK. See her website here.
Further reading for your UK trip
And that sums up our guide to the perfect 1 week UK itinerary. Before you go though, we've got lots of resources to help you plan your trip to the UK, from posts we've written ourselves to third party content we're happy to recommend. Here it is: