If you like chocolate and you happen to be visiting Edinburgh, then I can highly recommend taking the time to visit The Chocolatarium.
This city-centre Edinburgh chocolate experience will teach you everything you ever wanted to know about chocolate, from where it's grown through to how it's made.
A visit also includes the opportunity to try your hand at being a chocolatier and make your own chocolate bar. You'll also get the chance to try a range of delicious chocolates from around the world.
We had an awesome time when we visited The Chocolatarium in Edinburgh. In this post, we're going to share with you everything you need to know to plan your own visit to this fun family-friendly visitor attraction in Edinburgh.
What is The Chocolatarium?
The Chocolatarium is a city-centre visitor attraction in Edinburgh, Scotland. A visit includes a 90 minute guided tour where you learn all about chocolate and how it is made. You'll also make your own chocolate bar with your choice of toppings, and have the opportunity to taste chocolate from around the world.
When the tour is finished, there's a small shop on site with a range of delicious hand-crafted chocolate available to buy. This includes chocolates made in Scotland and the rest of the UK.
We think The Chocolatarium makes for a fun and interesting visit for both visitors to Edinburgh and locals looking for something fun to do in the city.
Where is The Chocolatarium?
The Chocolatarium is found just off the Royal Mile in Edinburgh, Scotland. The full street address is 3-5 Cranston Street, Edinburgh, EH8 8BE.
It's around a 10 minute walk from Edinburgh Castle, approximately half way down the Royal Mile between the castle at one end and Holyrood House on the other end.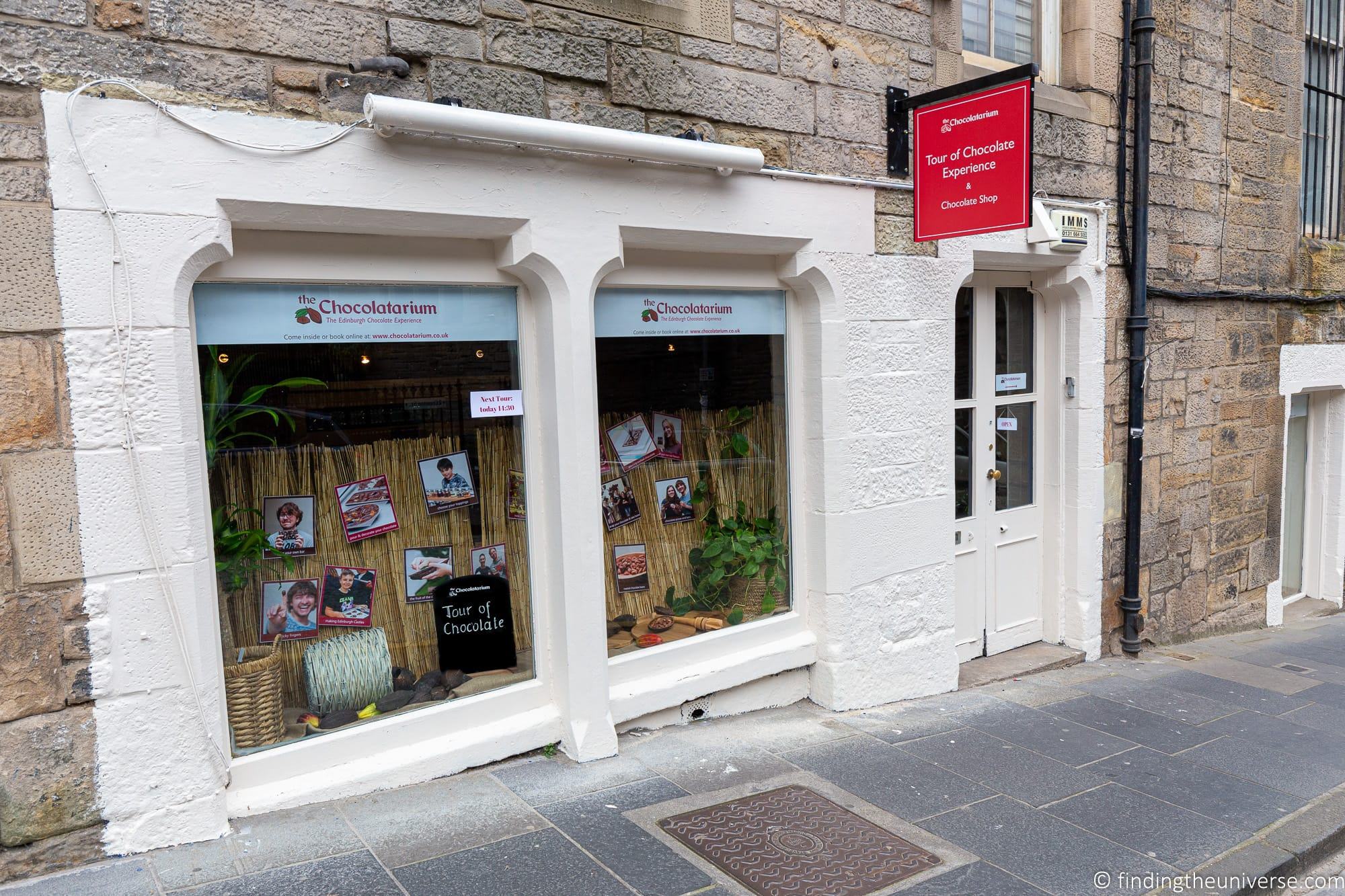 How to Get to The Chocolatarium?
Being in central Edinburgh The Chocolatarium is easy to walk to from most parts of Edinburgh's city centre. It's around 10 minutes on foot from Edinburgh Castle for example, and within 20 minutes of most other parts of the city centre.
It's also conveniently located just a five minute walk from Edinburgh Waverley train station if you are arriving by train.
A number of the city's public bus stops are also located near The Chocolatarium if you are traveling to the centee by bus.
If you're using a Hop on Hop off bus to get around Edinburgh, The Chocolatarium is within a couple of minutes of one of the main stops on the Royal Mile.
If you are driving, the closest secure parking is this multi-storey carpark on Blackfriars street, which is where we normally park when visiting Edinburgh by car.
Chocolatarium Opening Times
The Chocolatarium is open year round, seven days a week, with the exception of the 25th and 26th December. It is usually open from 10.30am through to 3pm.
All visits are by guided tour, and the first guided tour is at 10.30am. Following the first tour, tours run at different times depending on the day of the week.
But be sure to always check opening dates and times before your visit as they may change. We recommend booking your ticket in advance to ensure you get the time spot you want.
How Long to Visit The Chocolatarium For?
All guided tours at The Chocolatarium last for 90 minutes, so this would be the minimum amount of time you'll need to set aside for a visit.
However, following the tour you will likely want to peruse the shop, so we'd recommend planning to visit The Chocolatarium for a bit longer, perhaps an hour and 45 minutes.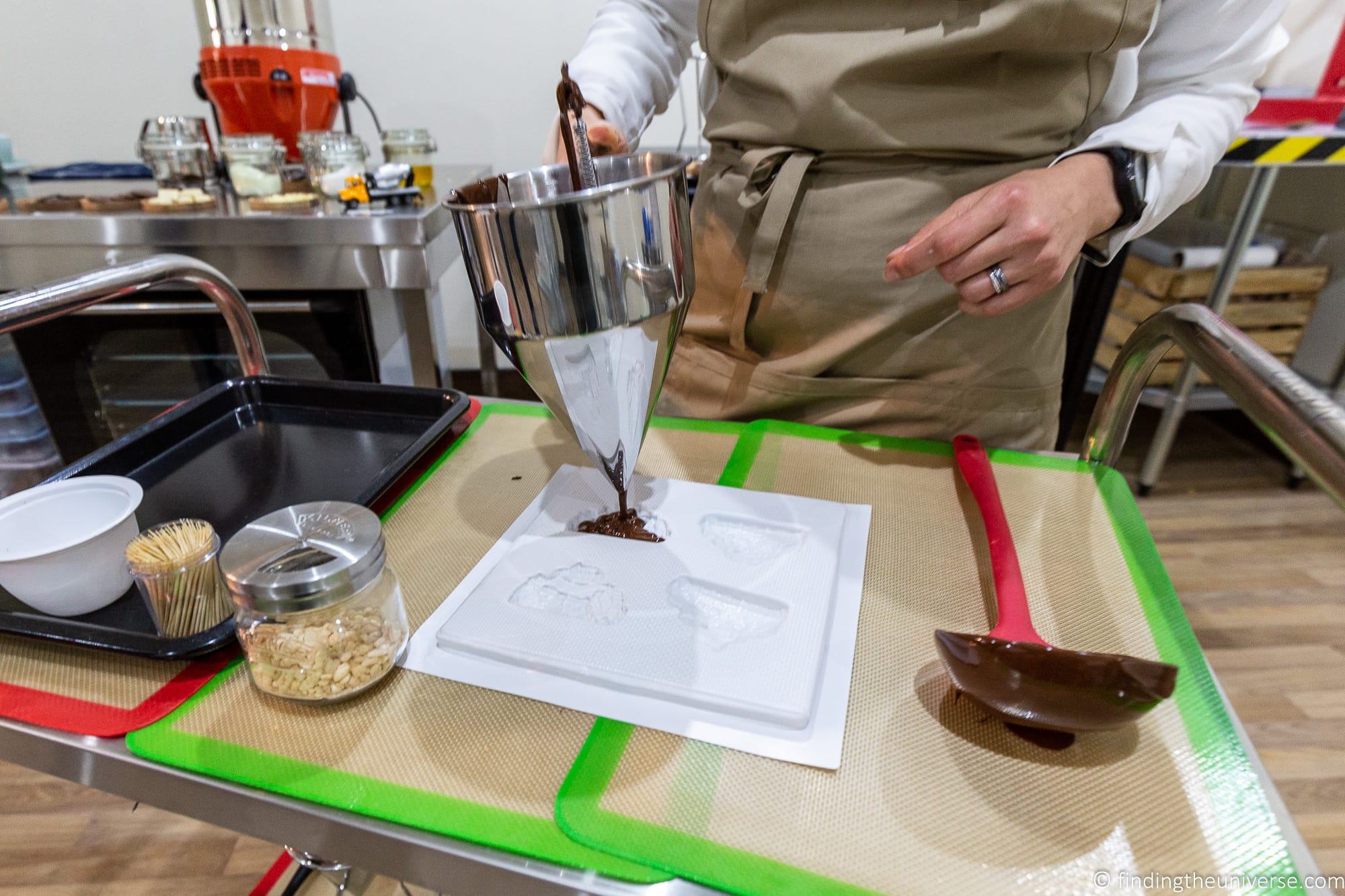 Where to Buy Tickets for The Chocolatarium?
You can buy tickets in person if they are not sold out, but we highly recommend booking your tickets for The Chocolatarium in advance so as to guarantee your spot on a tour. You can book your tickets online here.
How Much Does it Cost to Visit The Chocolatarium?
As of April 2013, The Chocolatarium costs £22 for adults (16+) and £15 for children (ages 6-16).
Note, that children must be aged 6 or older to visit due to the nature of the tour.
This ticket price includes a 90-minute interactive tour with included chocolate making and chocolate tasting.
Food Allergy & Diet Considerations
The Chocolatarium is vegetarian and vegan friendly. It is also allergy sensitive. If you have any diet or allergy concerns, please contact The Chocolatarium in advance.
Accessibility at The Chocolatarium
Currently, The Chocolatarium is not wheelchair accessible due to the entrance steps and the historical narrow doorway.
However, other needs, including visual, hearing, and other impairments can be catered to. Carer discounts are also available.
If you have any questions, just contact The Chocolatarium in advance of your visit. You can see more about accessibility and age limits on the official website here.
What to See and Do at The Chocolatarium?
A visit to The Chocolatarium takes the form of a 90-minute guided tour. This takes place across three main rooms, each of which covers a different topic.
The so-named Tour of Chocolate includes the Cacao Jungle, the Chocolate Kitchen, the Chocolate Tasting Room, and the Chocolate Store.
To start, you'll learn about the history of chocolate, and how it went from a drink popular with the Aztecs through to being one of the most popular foodstuffs in the world.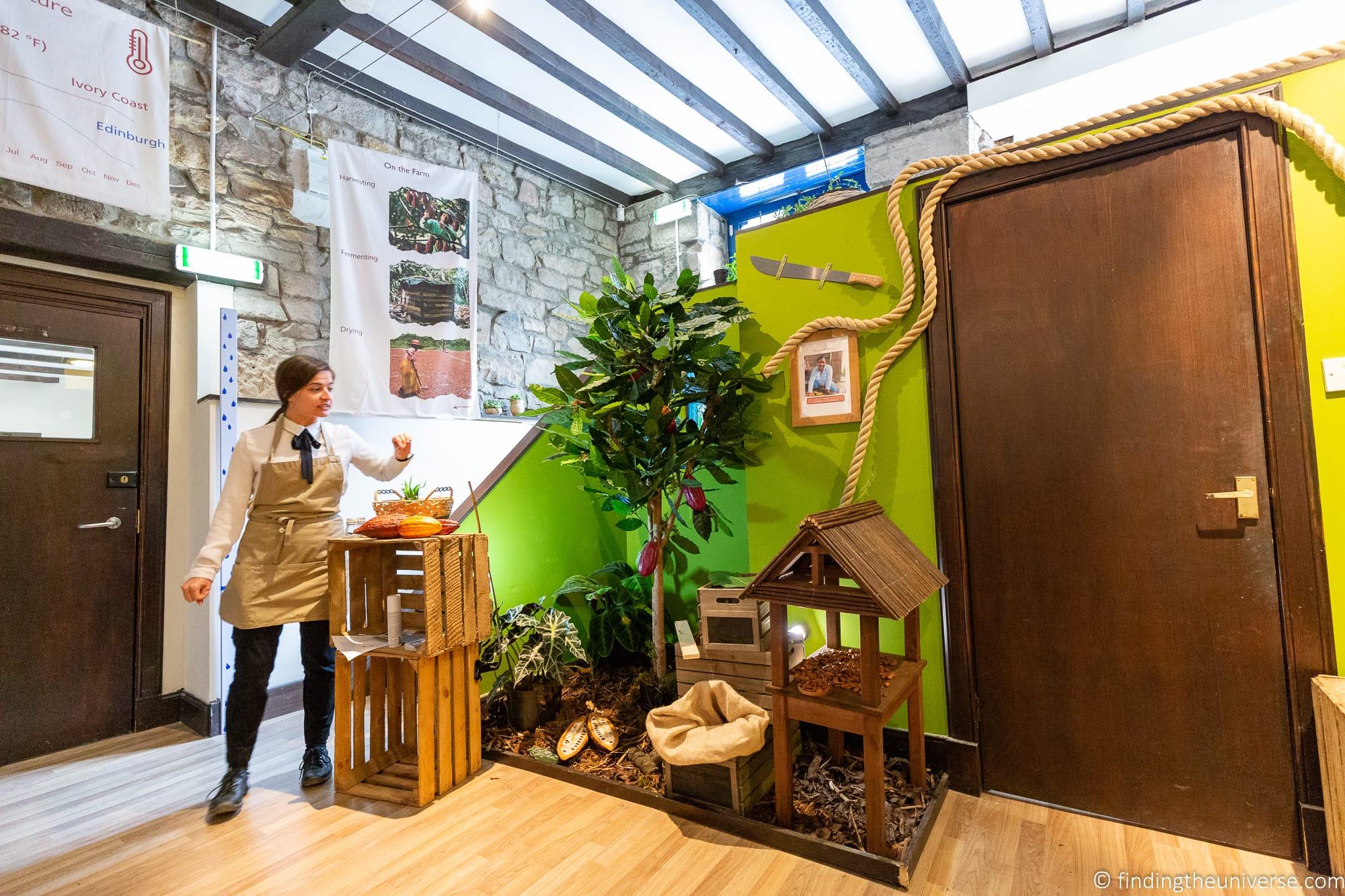 This first part of the tour lasts for around fifteen minutes, and is delivered by a knowledgeable guide. They'll teach you everything you ever wanted to know about chocolate, from how it is grown through to its impact on local economies. Concepts like Fairtrade are also discussed and you are shown things like cacao pods.
I found this part of the tour really interesting, and I learned a lot about chocolate! It also made me rather hungry. Thankfully the second part of the tour helped with that.
The second part of the tour takes place in the Chocolate Kitchen. This is where you'll learn the process of how chocolate is actually made.
The Chocolate Kitchen has all the equipment required to turn cacao beans into chocolate, and you'll be able to see (and taste!) the different stages of chocolate production. You'll also learn how different types of chocolate, like white, dark, and milk, are produced.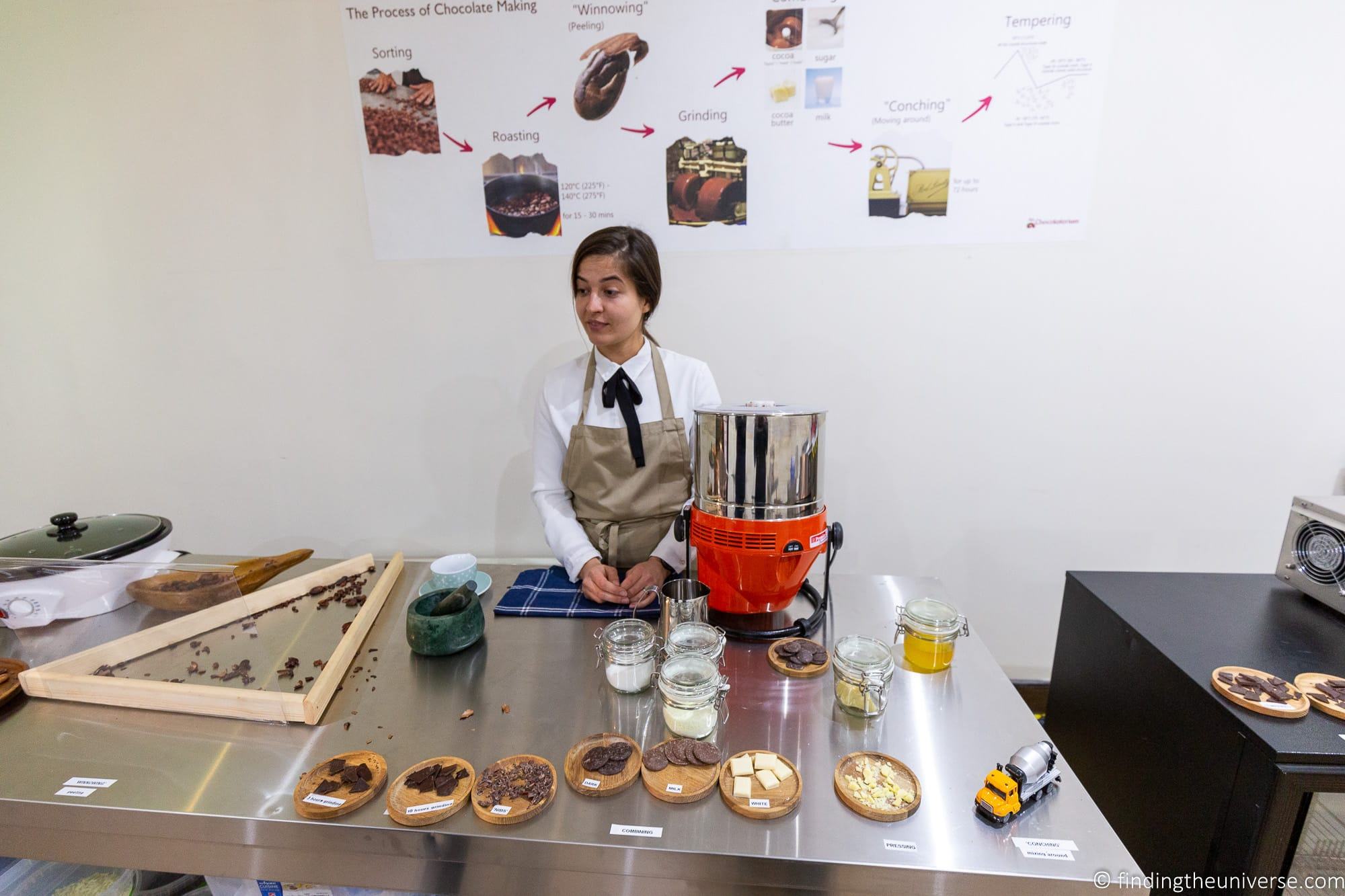 Once you've learned how chocolate is made, you get to make your own chocolate bar! This was definitely my favourite part of the experience.
You get to choose from a number of different themed moulds, including a number of Scottish themes and add your own toppings to make them unique. There's a huge range of toppings available, including mint, dried fruit, chili, honeycomb, and marshmallows. The only challenge is choosing what flavours to go for!
Depending on the size of the mould you choose, you'll make a different number of chocolate bars. The amount of chocolate is the same. I went for an Edinburgh Castle mould, which gave me four chocolate bars which I applied different flavours too.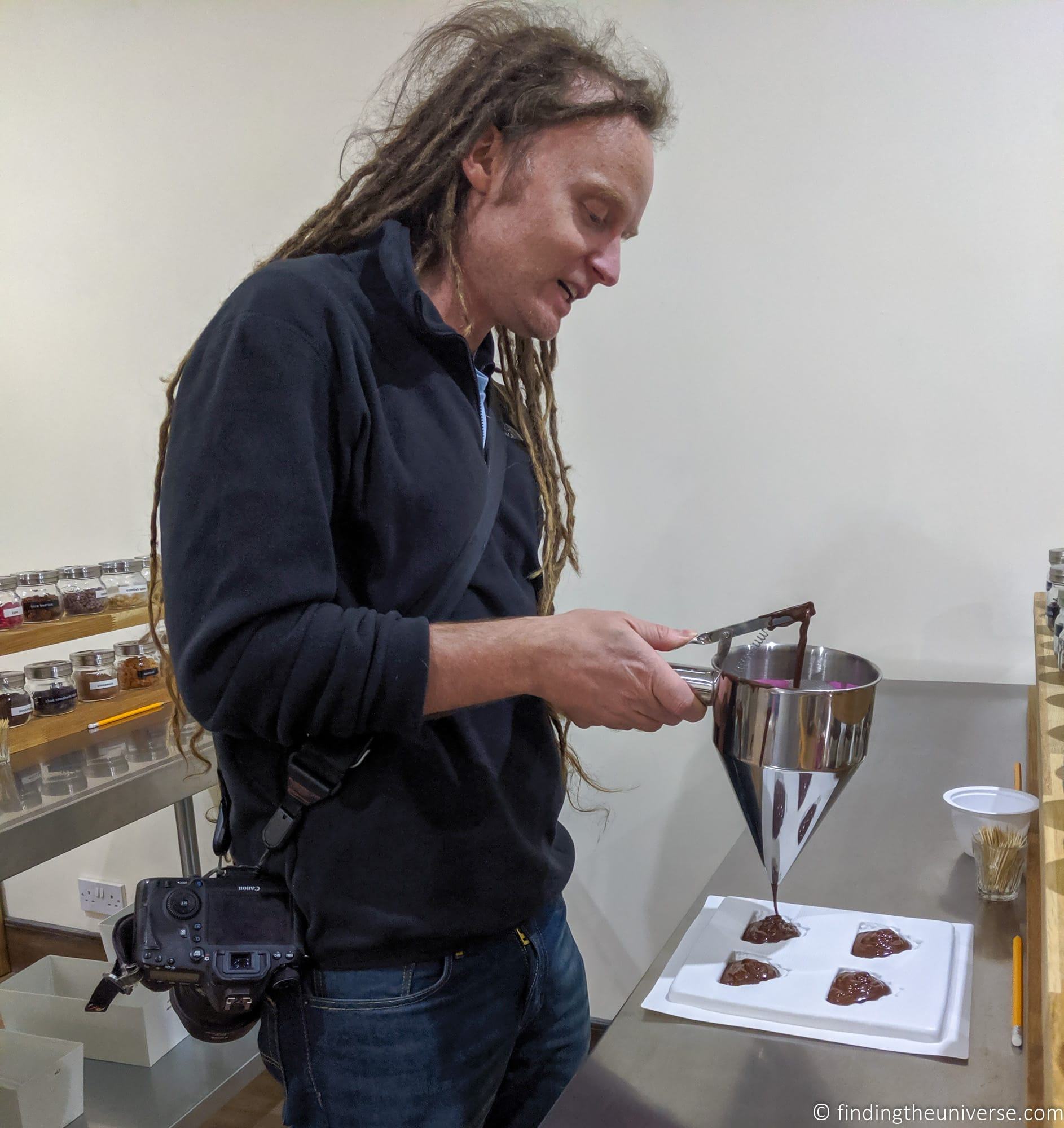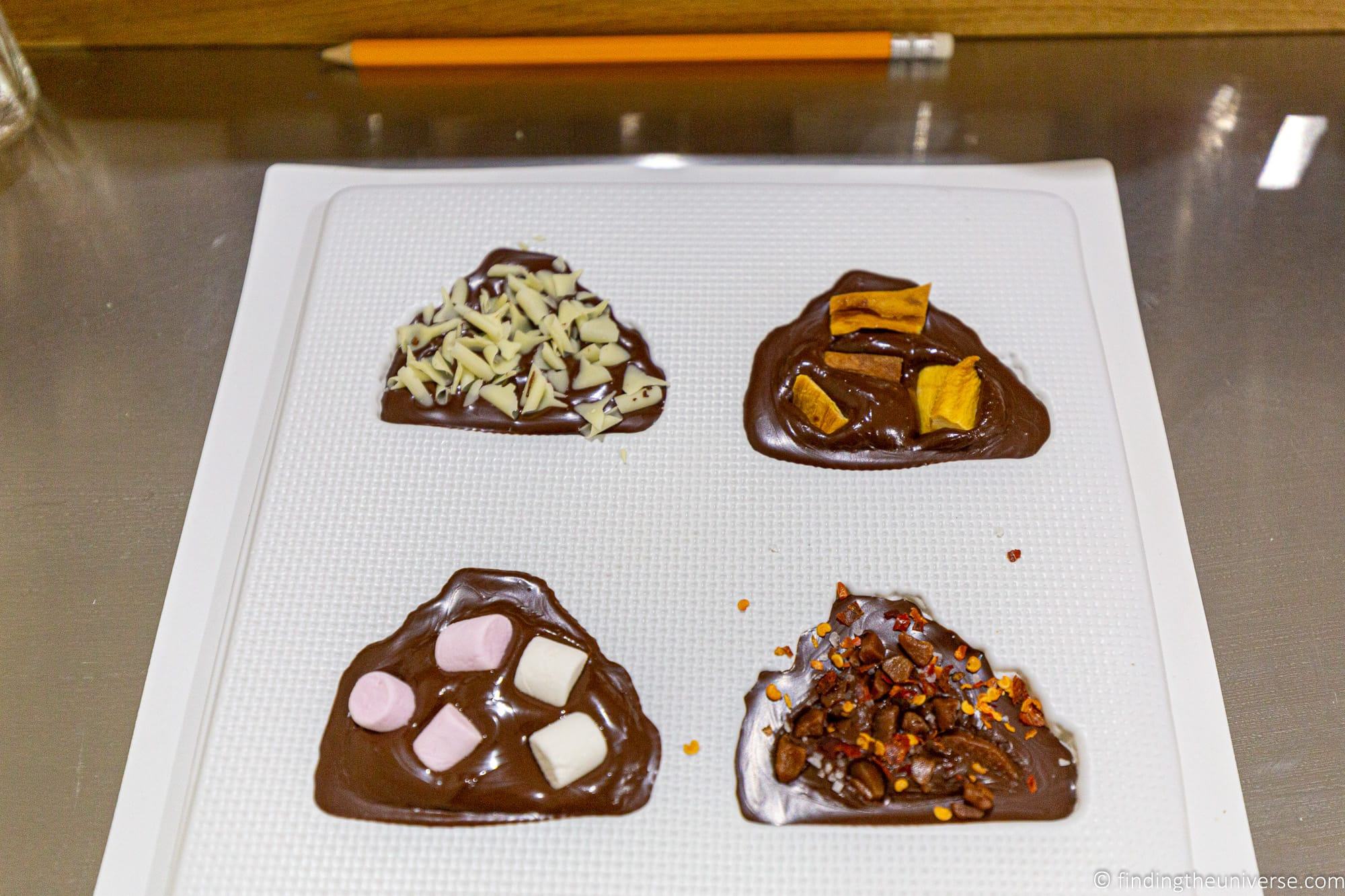 Once you've finished with your toppings, your chocolate bar will be left to harden whilst you move to the final part of the tour, the chocolate tasting room.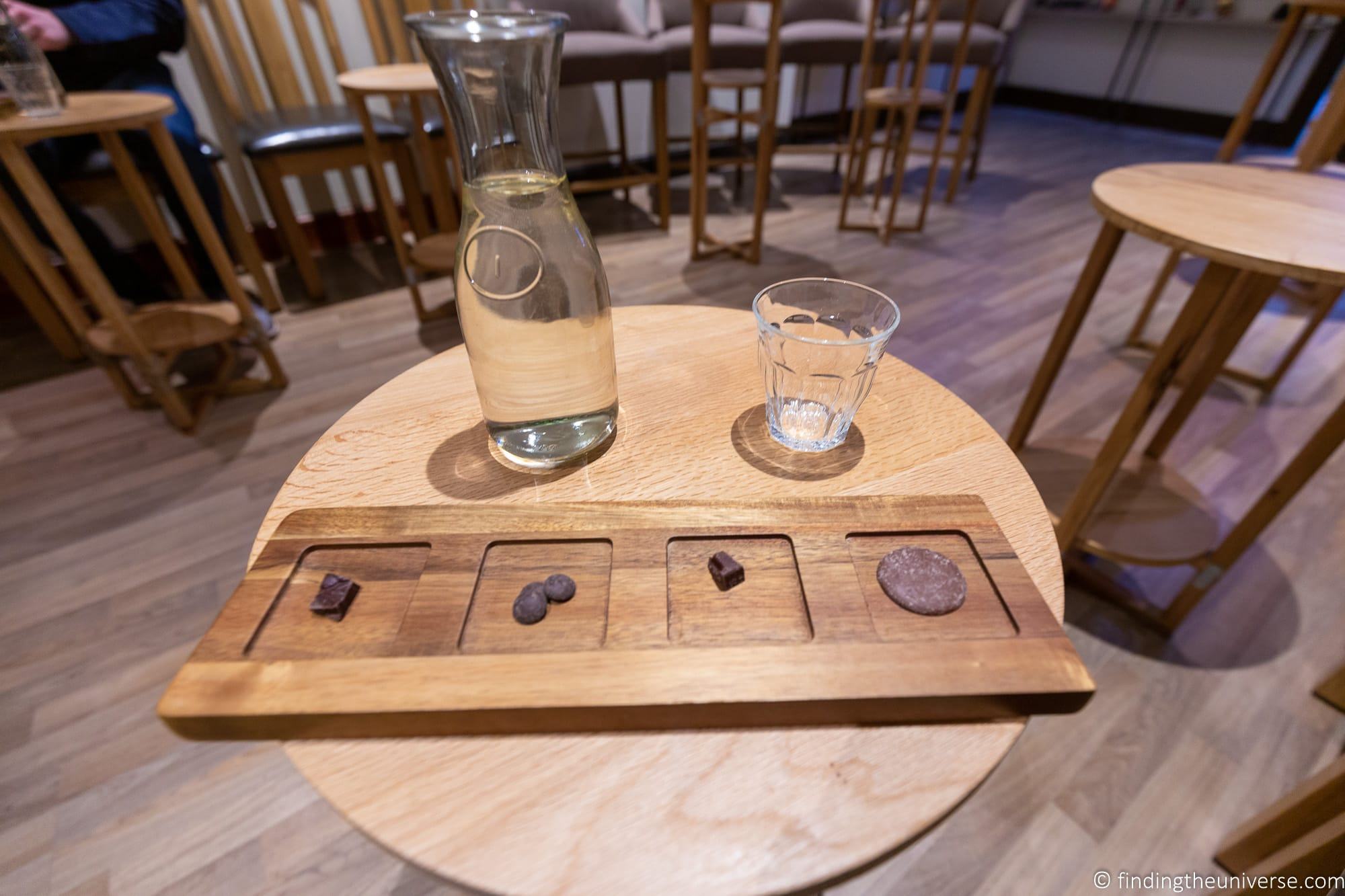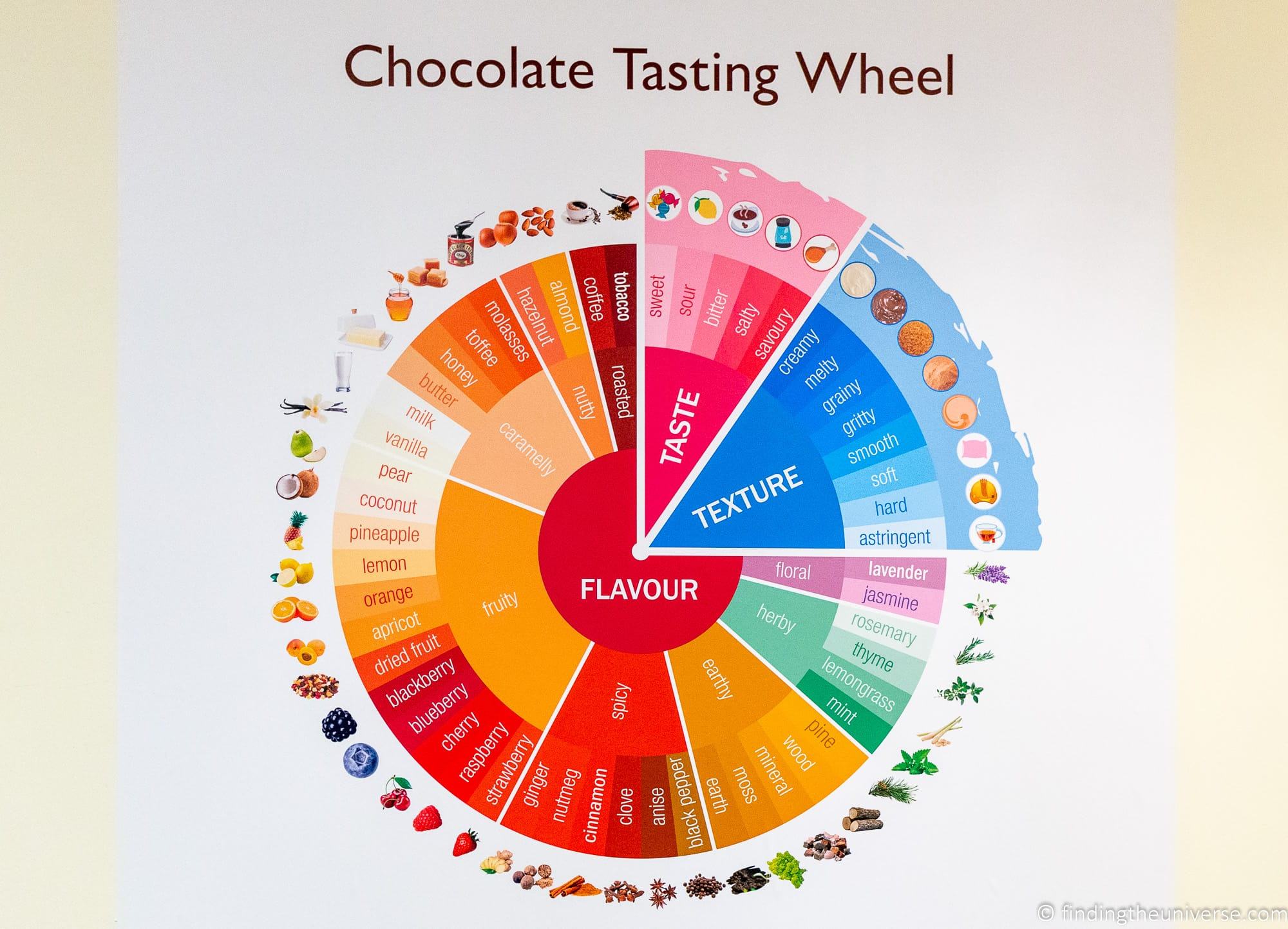 This will likely be a highlight for many visitors. You get to choose from over 30 varieties of chocolate. These include staples like dark and milk chocolate, through to more exotic flavours like haggis chocolate and gin & tonic chocolate. We're sure you'll find something to love.
Having learnt about all the incredible chocolate flavours on offer, you will be presented with your beautifully gift wrapped chocolate bar that you made earlier, and you'll have the opportunity to buy some chocolate in the store.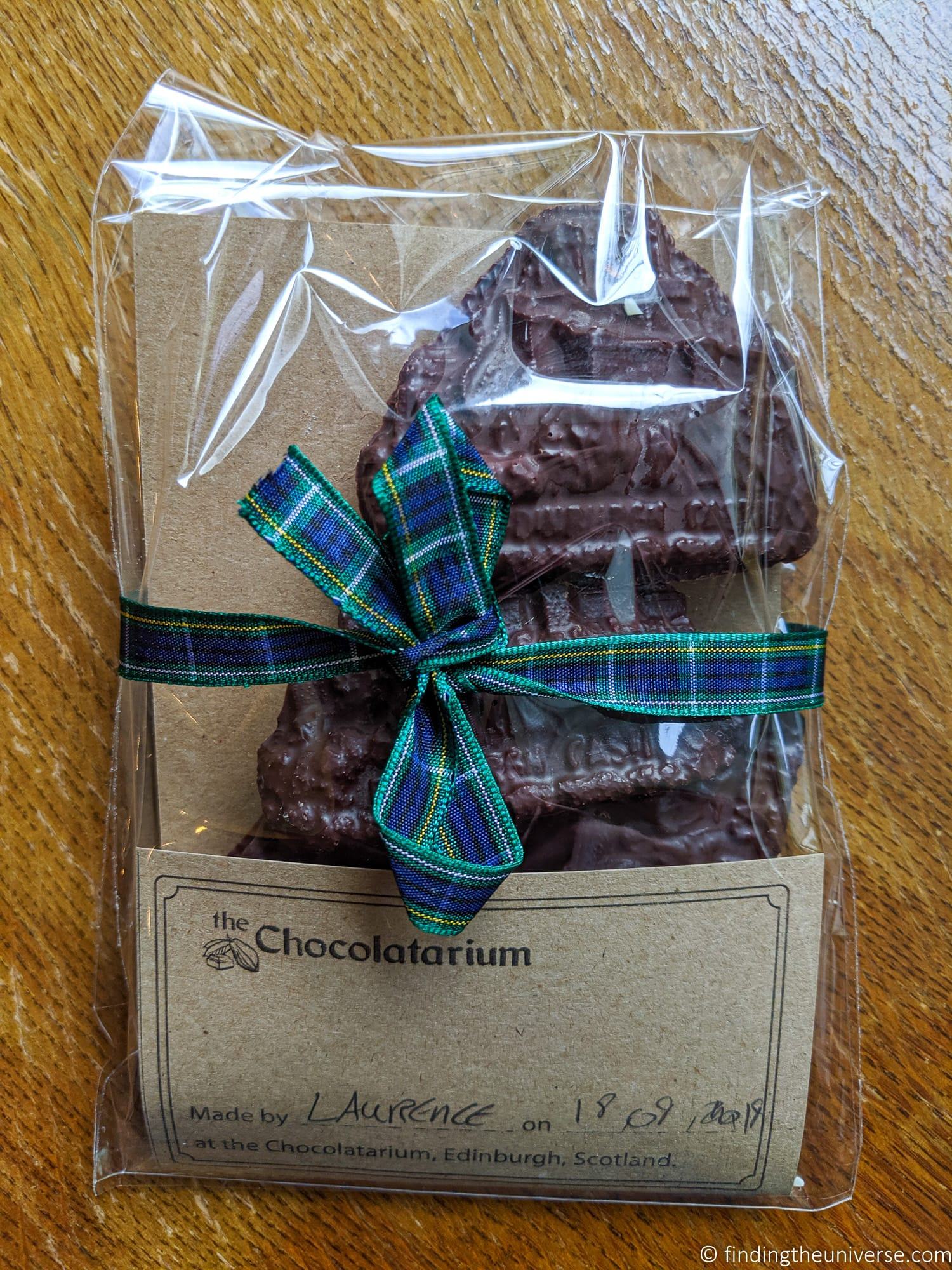 I would definitely recommend taking some time to peruse the store. The chocolate bars on offer here are not your standard. The Chocolatarium prides itself on sourcing some of the finest hand-crafted chocolate from around Scotland and the world, and you will definitely find some unique products here.
These would likely make for a great gift, if you can manage to get them home before you eat them that is!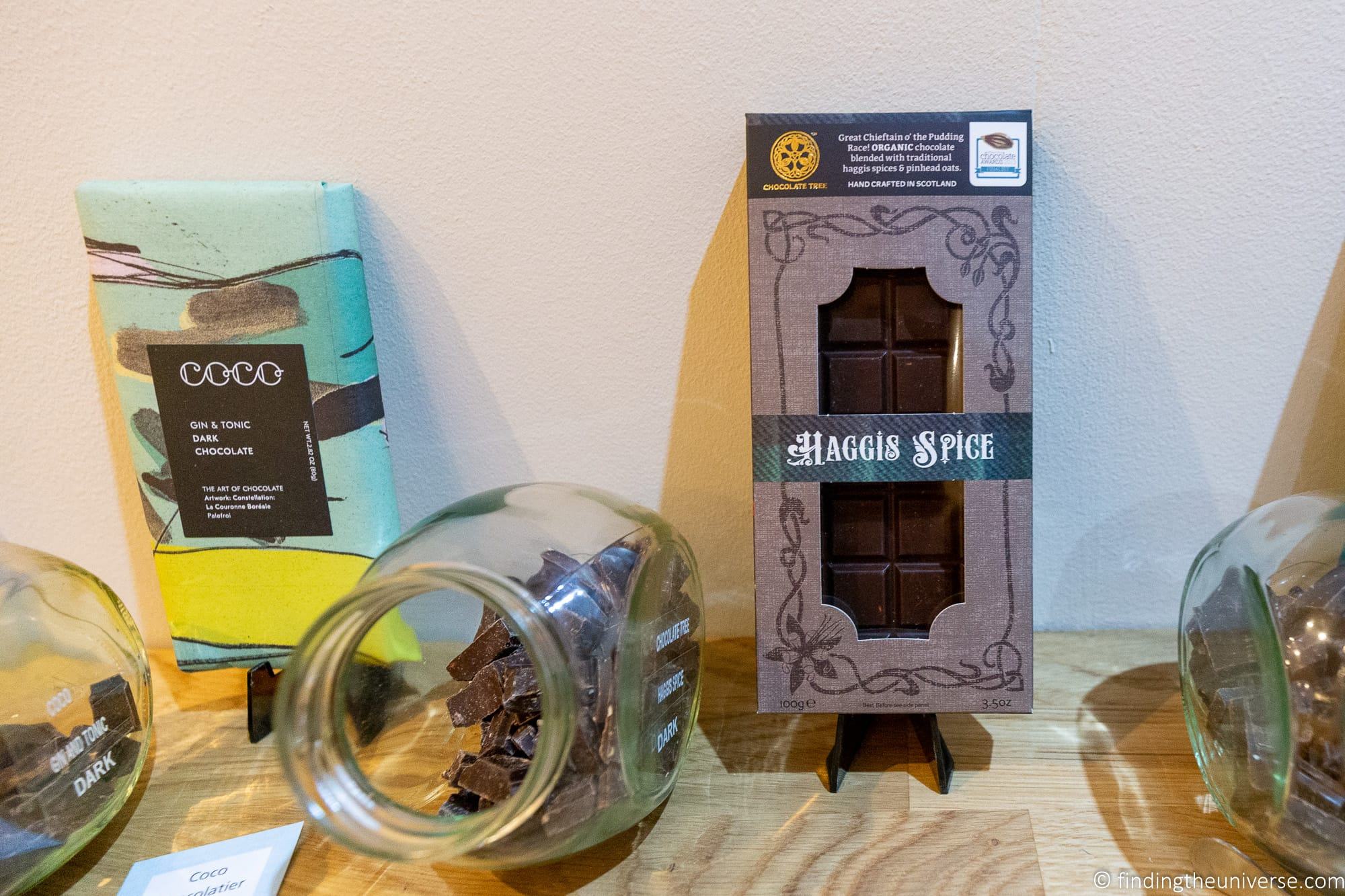 And that summarises The Chocolatarium experience! Hopefully that gives you all the information you need to decide if this is the experience for you and how to book it. This is definitely a unique experience in Edinburgh, with chocolate tasting, chocolate making and chocolate education all included!
I feel it's worth pointing out that The Chocolatarium is not a huge venue with a lot to see and do. Instead, it offers a more intimate experience. Part of your time will be spent learning about the history of chocolate, and then you'll spend some time getting hands on and making your own chocolate. Finally, you'll learn how to taste chocolate.
It is a lot of fun and you'll learn a lot, but like every attraction, it's not going to be for everyone. In particular, if you prefer a self-guided experience that goes at your own pace, or you are travelling with children who prefer a lot of excitement, this might not be the best fit.
Attractions Near The Chocolatarium?
Being found in the heart of Edinburgh, there are a lot of other attractions nearby that you can visit either before or after your Edinburgh chocolate experience. Some of our favourite nearby attractions include:
Edinburgh Castle
St. Giles Cathedral
John Knox House
The Writers' Museum
Museum of Edinburgh
Dynamic Earth
We can also recommend checking out our guides to things to do in Edinburgh, as well as unusual things to do in Edinburgh for some more ideas!
More Food and Drink Activities in Edinburgh
If visiting The Chocolatarium has made you wonder if there are other food and drink based activities in Edinburgh, well, the answer is yes there are! Here are a few that we suggest you check out.
As you can see, there are plenty of other food and drink experiences as well as chocolate tasting in Edinburgh!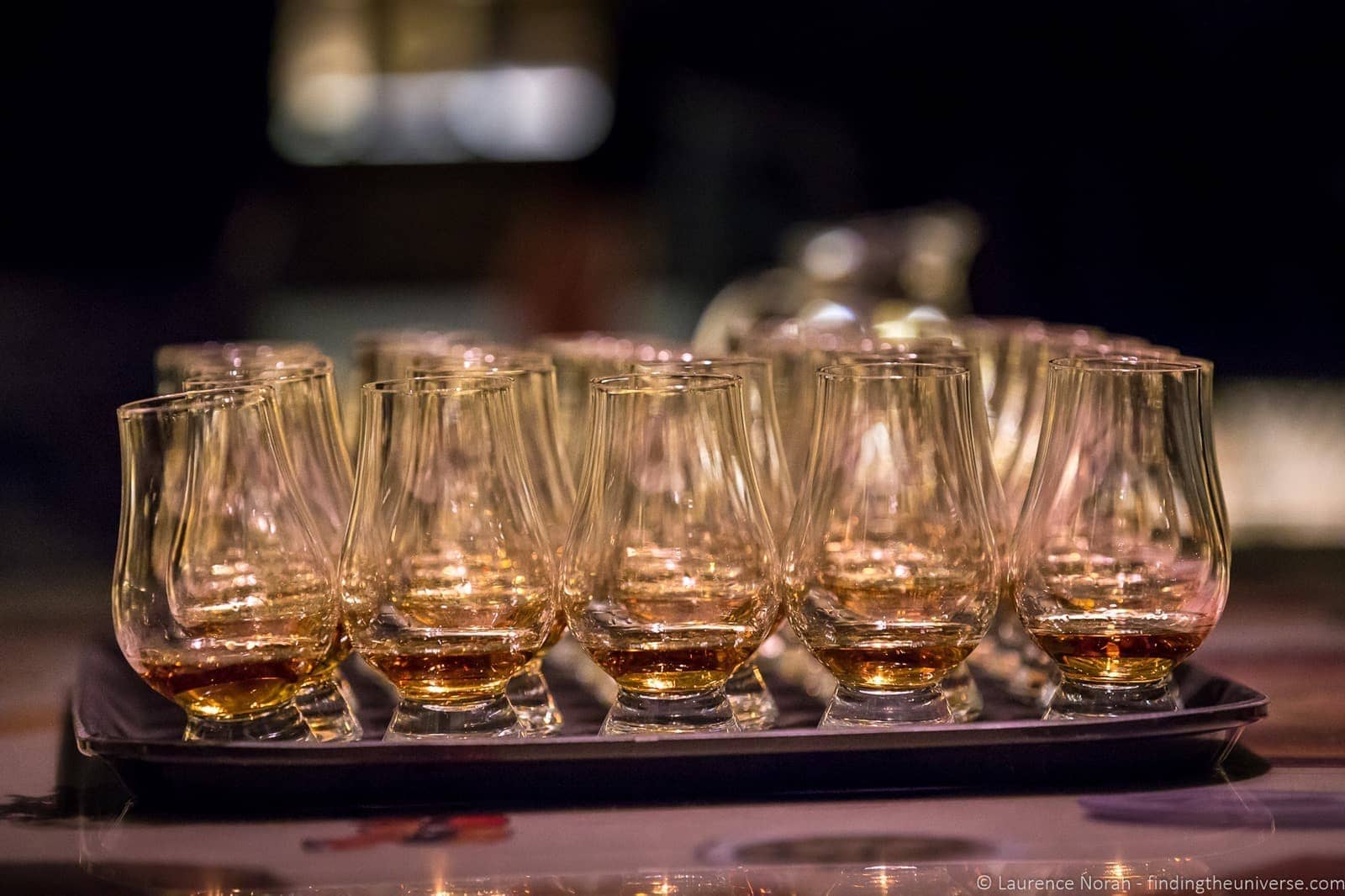 Where to Stay Near The Chocolatarium?
Edinburgh has no shortage of choice when it comes to accommodation. Here are some of our favourite accommodation options in Edinburgh, across a range of budgets, which are all within walking distance of the city centre attractions and The Chocolatarium.
Our favourite way to find the best deals on accommodation when we travel is booking.com. We find they usually have the best deals across a wide range of properties, including hotels and apartments, and are really easy to use. Check out their Edinburgh listings here.
If you prefer an apartment, then we recommend checking our either Plum Guide or Vrbo.
Plum Guide doesn't have quite so many choices, but they carefully curate their listings so their options tend to be of a very high quality whilst still being available at a range of price points. See their listings for Edinburgh here.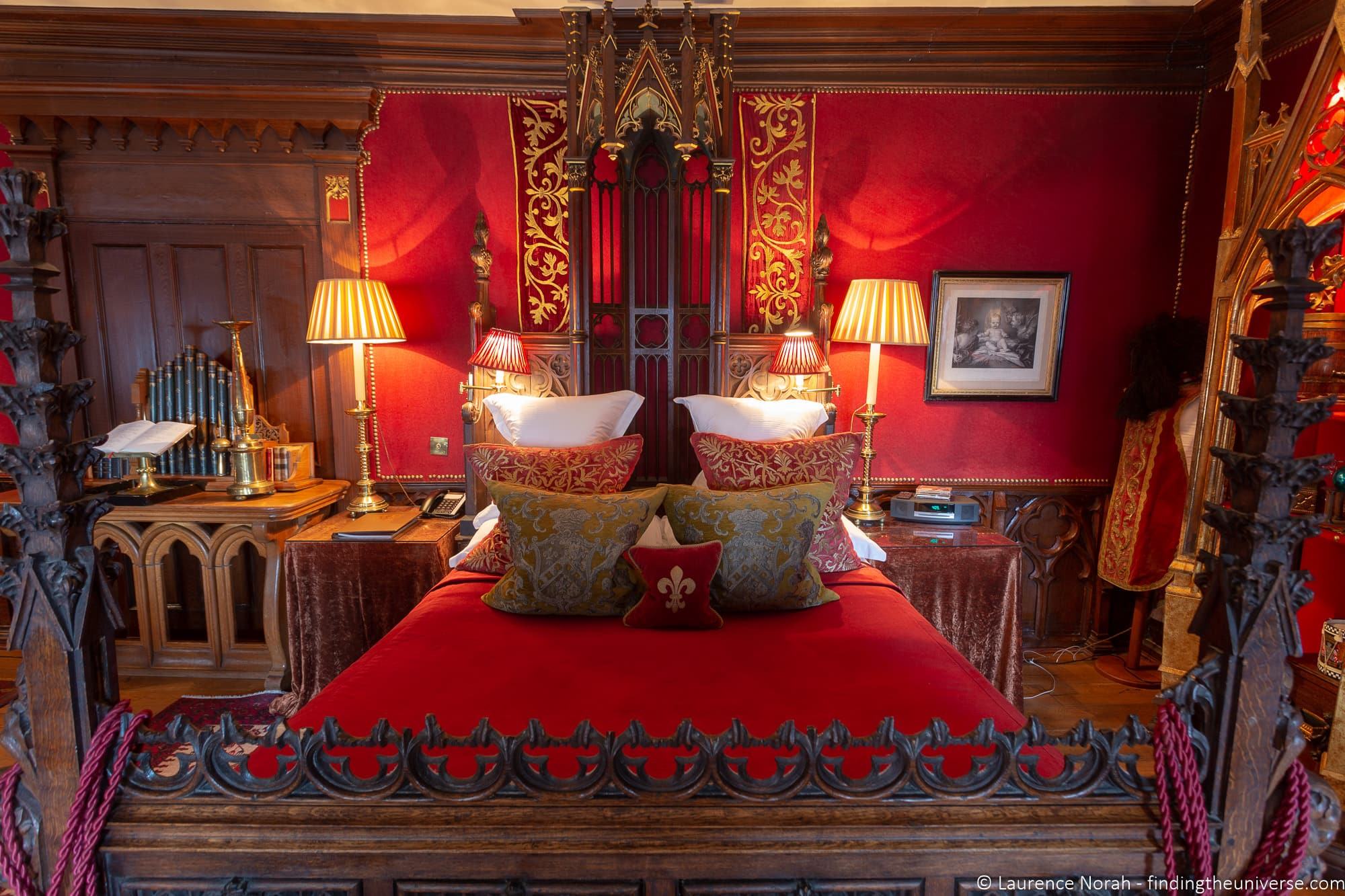 Further Reading for Visiting Edinburgh
And that is it for our guide to visiting The Chocolatarium, which as far as we know is the only chocolate experience in Edinburgh! As we lived near Edinburgh for a number of years, we've also written a lot of other content about visiting the city, and Scotland in general. Here are some guides we think you'll find useful.
Hopefully these resources will help you plan your trip to Scotland's capital Have a great time, and as always, if you've got any questions or comments, just get in touch!