With airlines like Icelandair offering the opportunity to stopover in Iceland as part of a trip from the USA to Europe, we think there's no better time for a short visit to this stunning country. With that in mind we've put together what we think are some of the best day trips from Reykjavik, for visitors who want to just based themselves in Iceland's capital city and explore from there.
This means you can find the perfect place to stay in the city, not have to re-pack every day, and then explore the highlights of Iceland every day for as long (or as short!) as you are stopping over.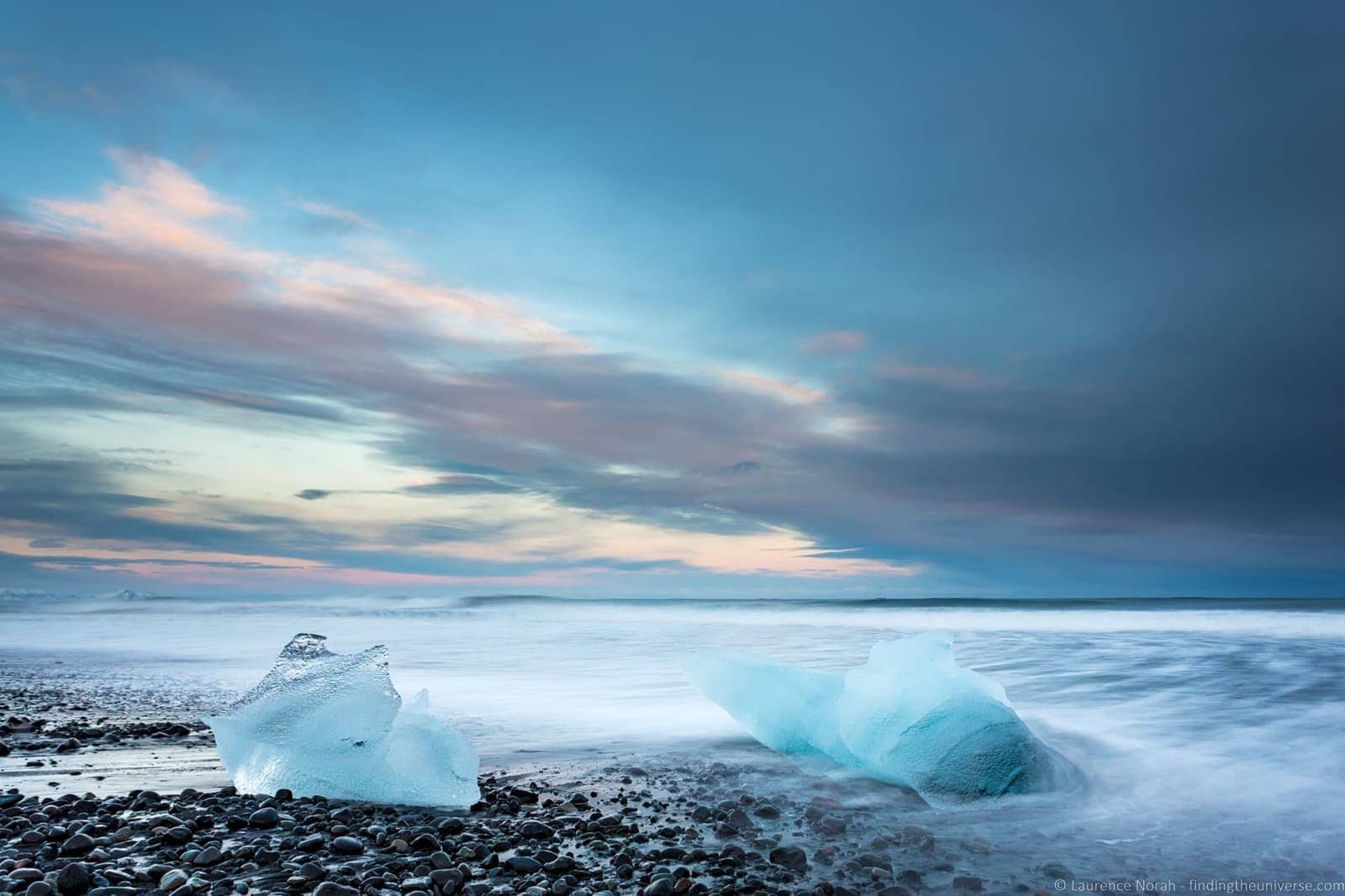 All of the day trips we recommend can be done either on your own with a hire car (check prices and book here), or via a tour company.
For the latter, we have used and are happy to recommend Iceland Travel who offer day trips, group tours and multi-day self drive road trip itineraries. They've been running trips in Iceland for decades, and have a lot of local experience to help ensure you get the best experience.
For further planning, we've also written a number of posts about Iceland, including sharing some of our favourite photography locations in Iceland, our tips for planning a trip to Iceland, and detailed 5 day and 7 day self drive Iceland Itineraries.
Let's take a look now at our favourite day trips from Reykjavik in Iceland.
Day Trips from Reykjavik
1. Snaefellsnes Peninsula.
Whilst these aren't in any particular order, I would definitely put a visit to the Snaefellsnes Peninsula near the top of your Iceland wishlist. Situated about a two hour drive to the north-west of the capital, this is a very achievable destination to visit as a day trip from Reykjavik.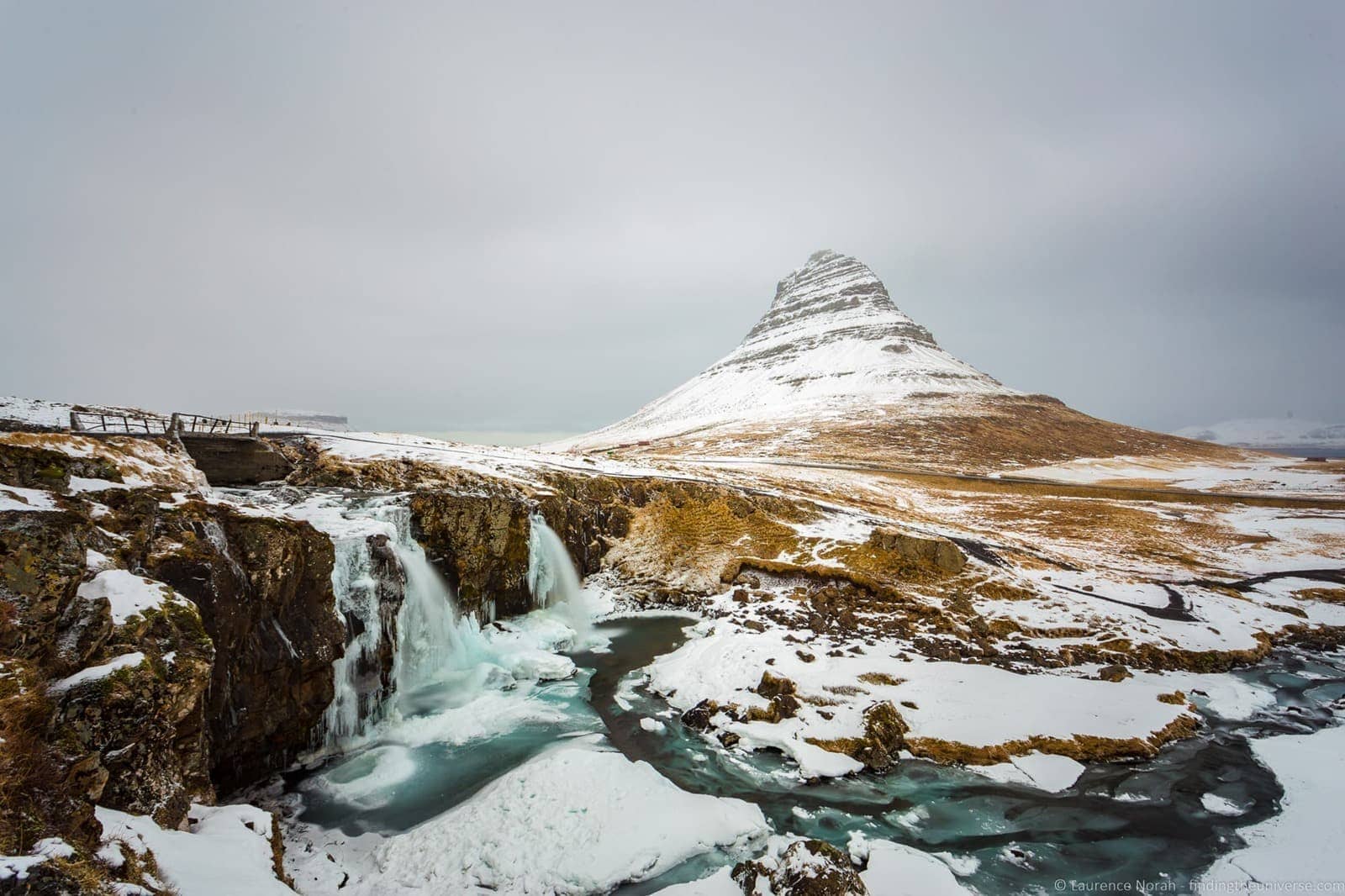 Here you will find the incredible and fantastically photogenic Kirkjufell mountain, which sits as the backdrop to the Kirkjufellsfoss waterfall. This is a unmissable photographic opportunity in Iceland, and made the top of my list of photography locations in Iceland.
There's more to the Snaefellsnes Peninsula than Kirkjufell though. Other highlights include the incredible Snæfellsjökull Glacier, which can actually be hiked on in the right conditions. There's the 19th century wooden Búðir Church. There are the Gerðuberg basalt columns – 14 metre high columns that just jut up out of the landscape. There's the opportunity to spot seals at Ytri-Tunga beach.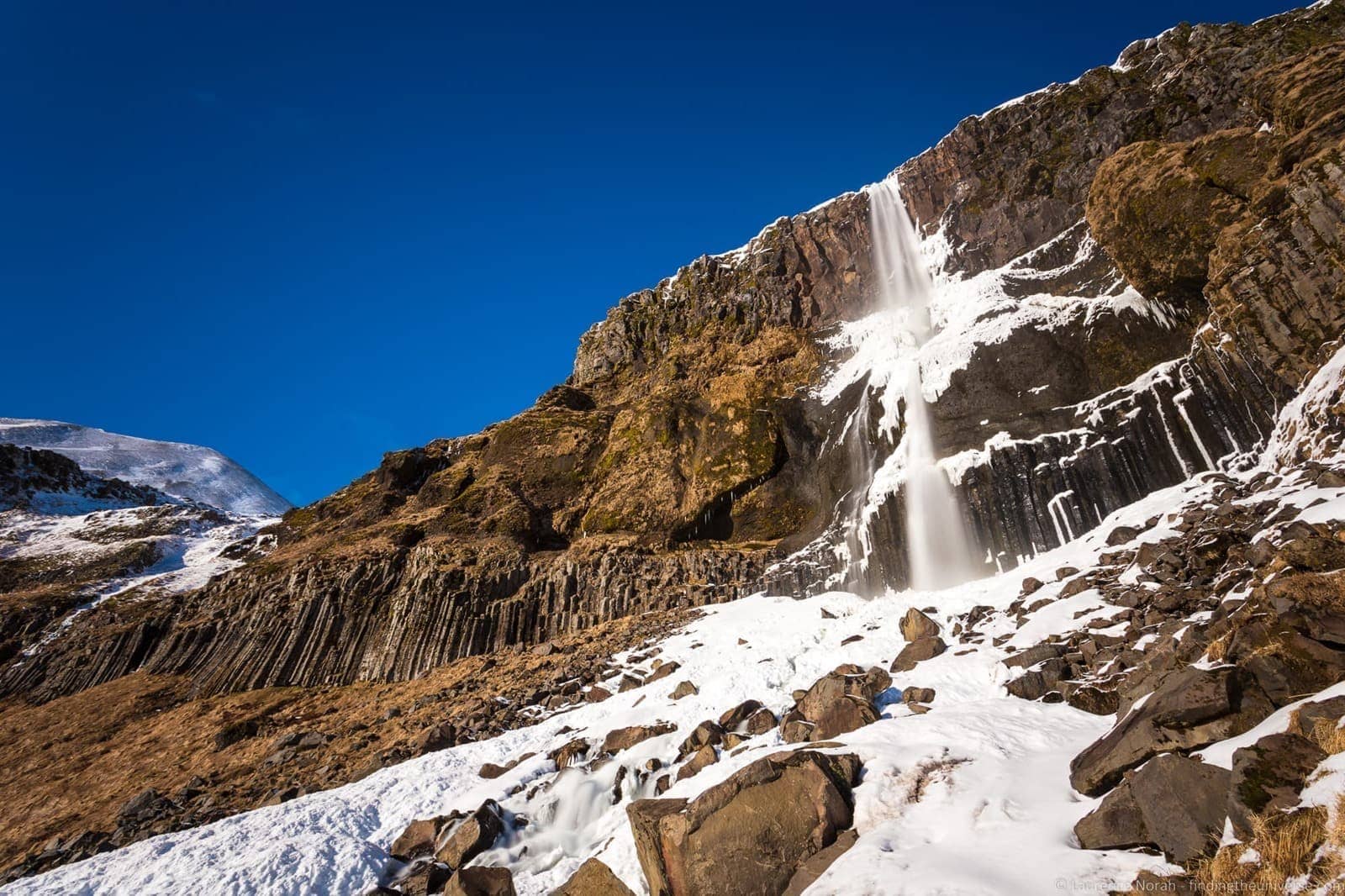 And there's lots more – including a landscape that inspired Jules Verne's Journey to the Centre of the Earth, more incredible waterfalls, fantastic golden beaches, the Bjarnarhöfn Shark Museum where you can try fermented shark meat – the list goes on!
You can easily drive here yourself with a hire car and tour around, and there's certainly enough to do here to allocate two days if you have the time. Otherwise, Iceland Travel offers an excellent 1-day Snaefellsnes Peninsula tour which leaves from Reykjavik and covers the majority of the highlights in a small group tour.
2. The Golden Circle
One of the most popular day trips from Reykjavik is the Golden Circle trip, which follows a route to the north east of the city and visits three of Iceland's most popular attractions, Thingvellir, Gullfoss waterfall, and the Geysers.
Thingvellir (Icelandic: Þingvellir), is a National Park (the first in Iceland in fact) and a UNESCO World Heritage Site. It's interesting for a number of reasons. First, it was the site of Iceland's first parliament, and meetings were held here as far back ago as 938. There's a museum you can explore, and a number of sites you can visit on a self-guided walking tour.
Thingvellir is also interesting for its tectonic and volcanic activity, and you can clearly see the action of the continental drift between the North American and Eurasian tectonic plates here, which has resulted in huge rifts and cracks in the ground. There's also a stunning waterfall, Öxarárfoss, which you can visit.
After Thingvellir, the next stop on the Golden Circle tour is Geysir. This geothermal area is home to geysers, bubbling mud posts and steaming landscapes, and is in fact the home of the original "Geysir", where the English word for geyser comes from.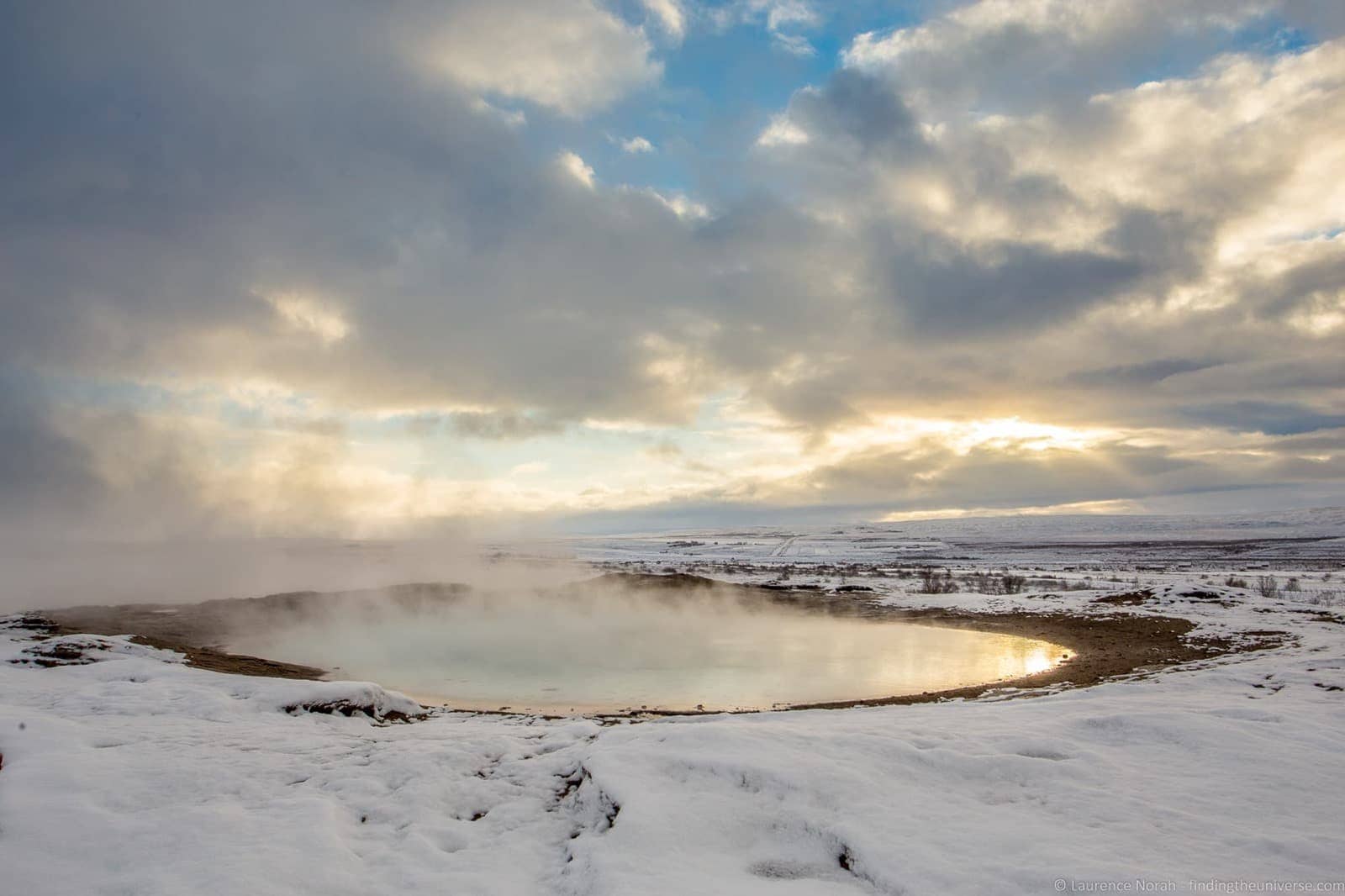 Finally, your Golden Circle adventure will take you to Gullfoss, one of Iceland's most spectacular waterfalls. With an average of almost 5,000 cubic feet of water tumbling over the two stage falls every second, it's an incredible sight that you are not likely to forget.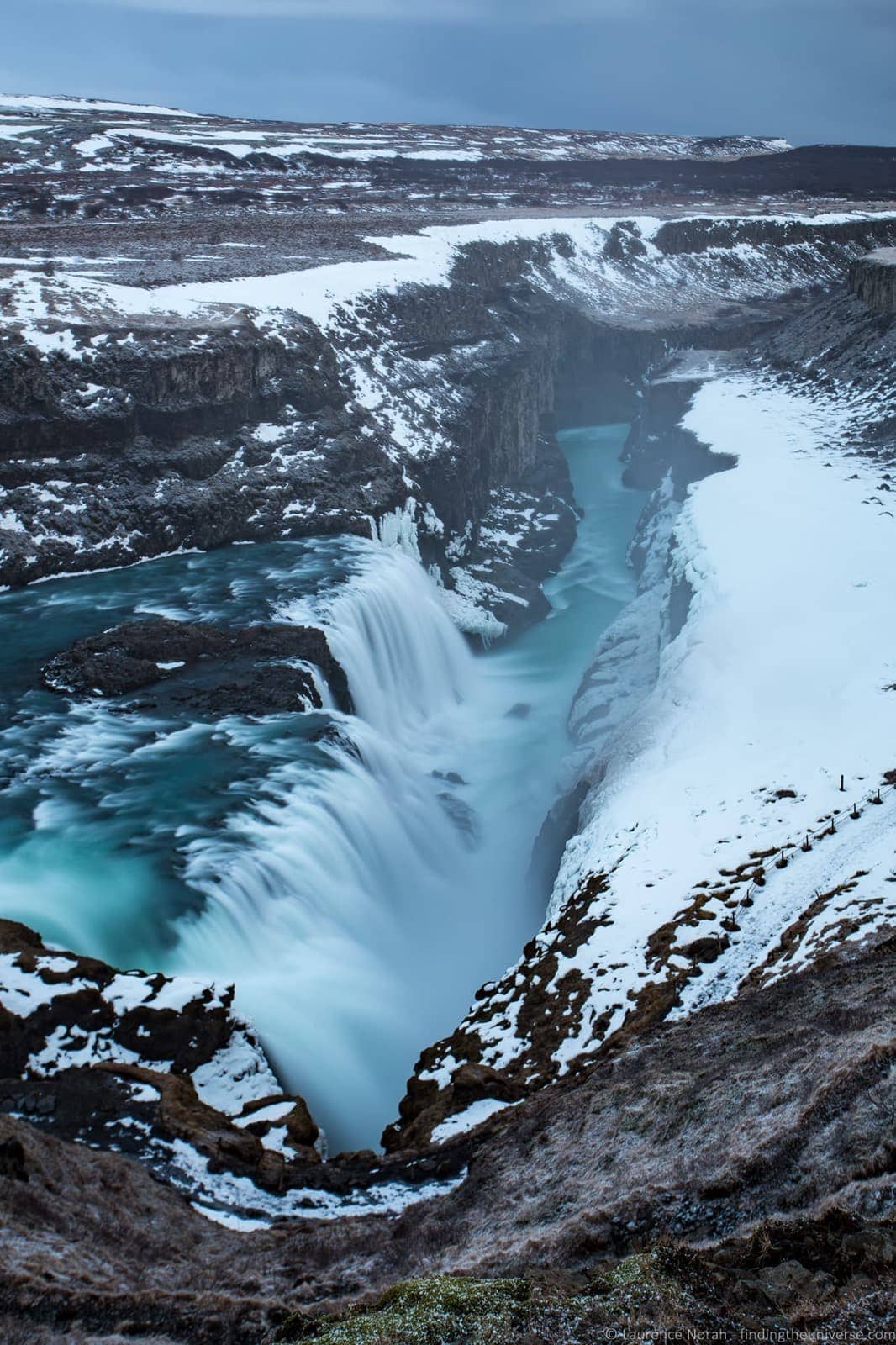 As you can see, there's good reason that the Golden Circle is a popular day trip from Reykjavik. Again, you can drive yourself, or you can take a Golden Circle tour with Iceland travel, which departs from the city. They offer a number of variants of this popular tour, including a private Golden Circle tour and a Golden Circle Food Tour, which combines sight-seeing with traditional Icelandic delicacies!
3. The South Coast
Iceland's South Coast is home to some of Iceland's most iconic sights. It's here you'll find the sixty metre high waterfall you can walk behind (Seljalandsfoss), the absolutely spectacular Skogafoss waterfall, and the beautiful black sand beach and basalt columns at Reynisfjara, near the picturesque town of Vik.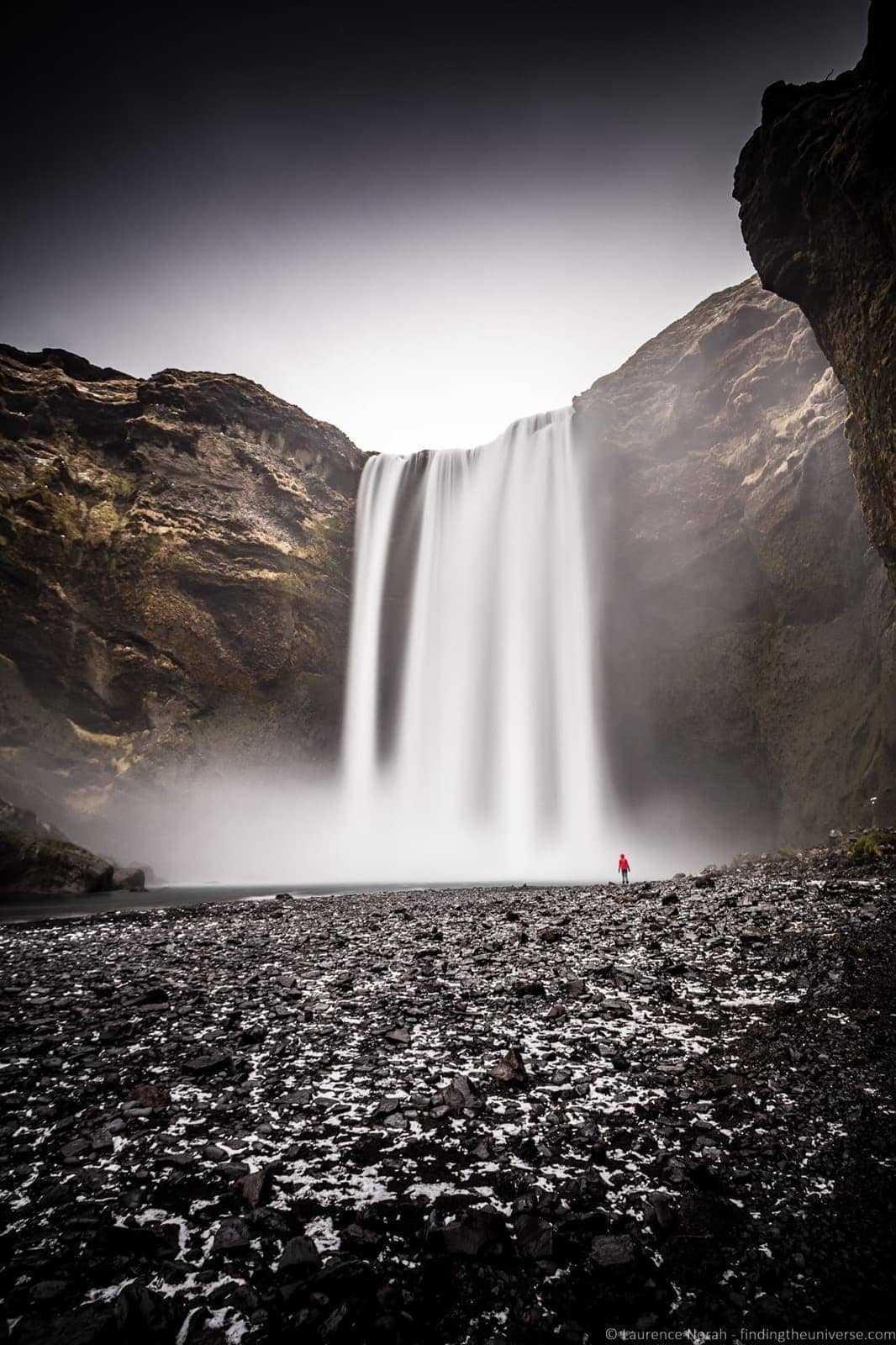 Continuing beyond Vik you'll find the unusual Svartifoss Waterfall which tumbles over black columnar rock formations, the Svínafellsjökull Glacier that you can get so close as to almost touch, and the otherworldly Jökulsárlón Lagoon.
It is certainly possible to do all of the above as a day trip from Reykjavik, just be prepared for a very long day (it's about five hours driving each way from one end to the other in a car, not counting any stops!). If you are keen on seeing the highlights of the south coast, then we would suggest trying to stretch it over two days if possible.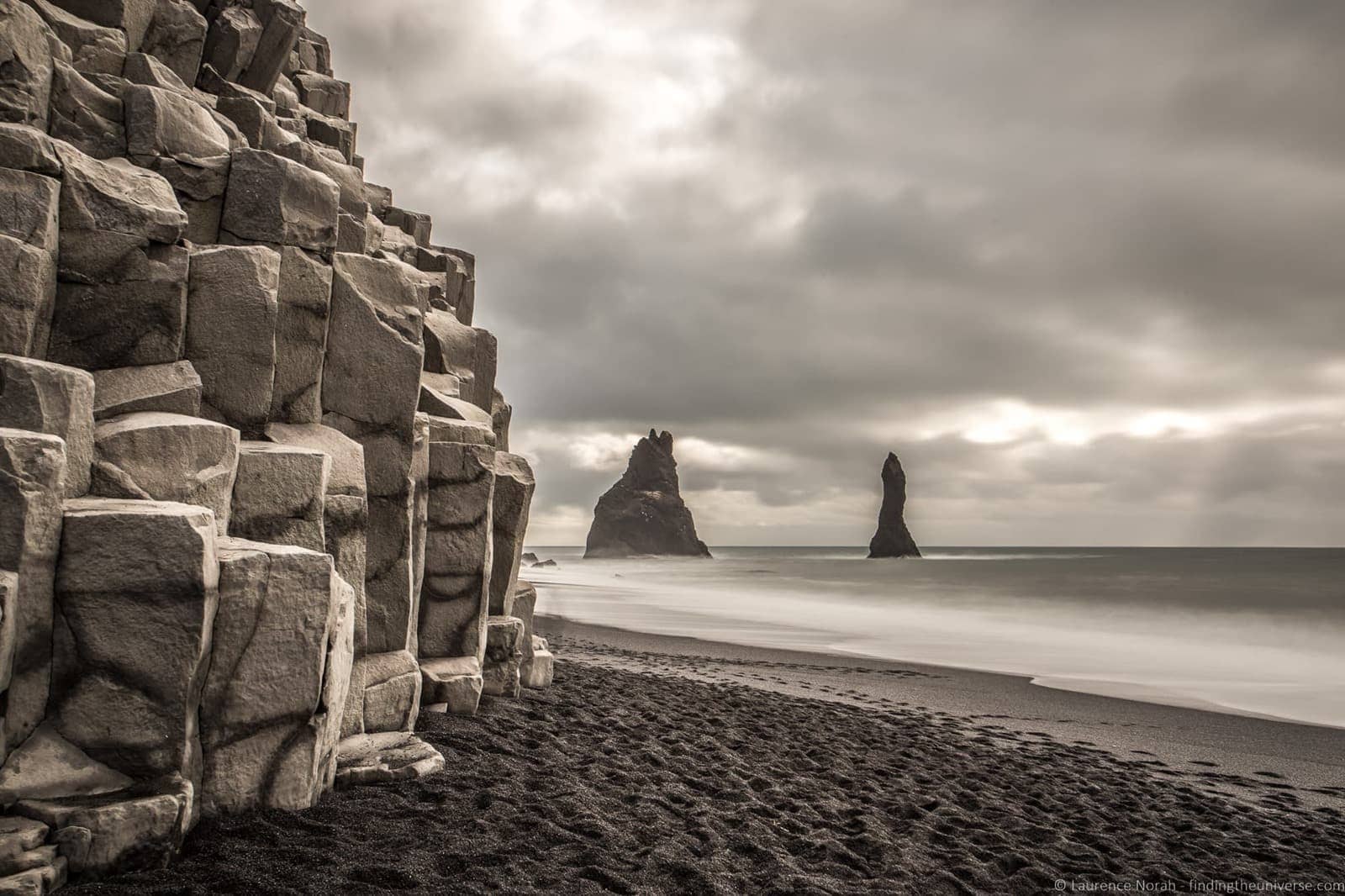 Of course, there are group day tours that offer the south coast in one day. We have three suggestions for you to consider, depending on your stamina and group size preferences.
First, the full Glacier Lagoon and South Shore tour. This takes around 14 hours, and covers all the highlights all the way out to the glacial lagoon. During summer, you can do a tour which includes a boat ride on the lagoon itself, something that isn't possible in winter.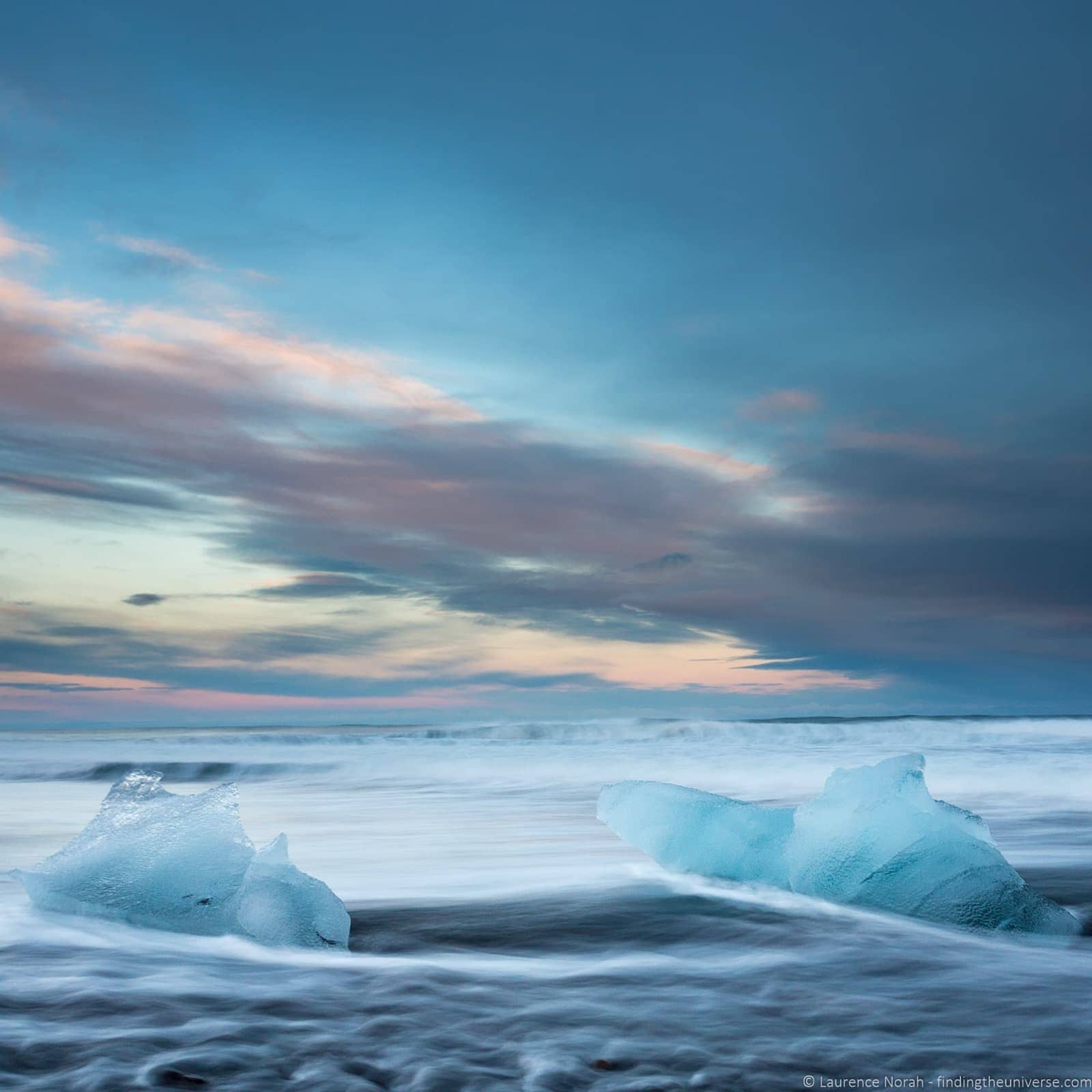 If you just want to hit up the main waterfalls and black sand beach, then there's a shorter version of the above tour available year round, the "South Shore Adventure". This goes as far as Vik, and takes ten hours.
Finally, if you would prefer a smaller tour and the opportunity to actually get on a glacier, check out the super-jeep tour that covers the south coast and Eyjafjallajokull glacier. This has a number of extra stops and the super jeep means you'll be able to get off road and up close to some of those wild Icelandic landscapes.
4. The Blue Lagoon
If all of the exploring has taken it out of you (or just sounds like too much work), then a day trip to the Blue Lagoon might be exactly the cure for you.
Situated relatively close to Iceland's main airport, this is a popular stopping point for visitors who are arriving or departing Iceland, but it also easily accessible from Reykjavik.
The Lagoon is a large complex, with the main draw of course being the huge, geothermally heated outdoor lagoon itself, which is a beautiful blue colour. Here you can relax all your cares away, enjoy a drink at the swim up bars (the smoothies are excellent!), and enjoy smearing mud on your face.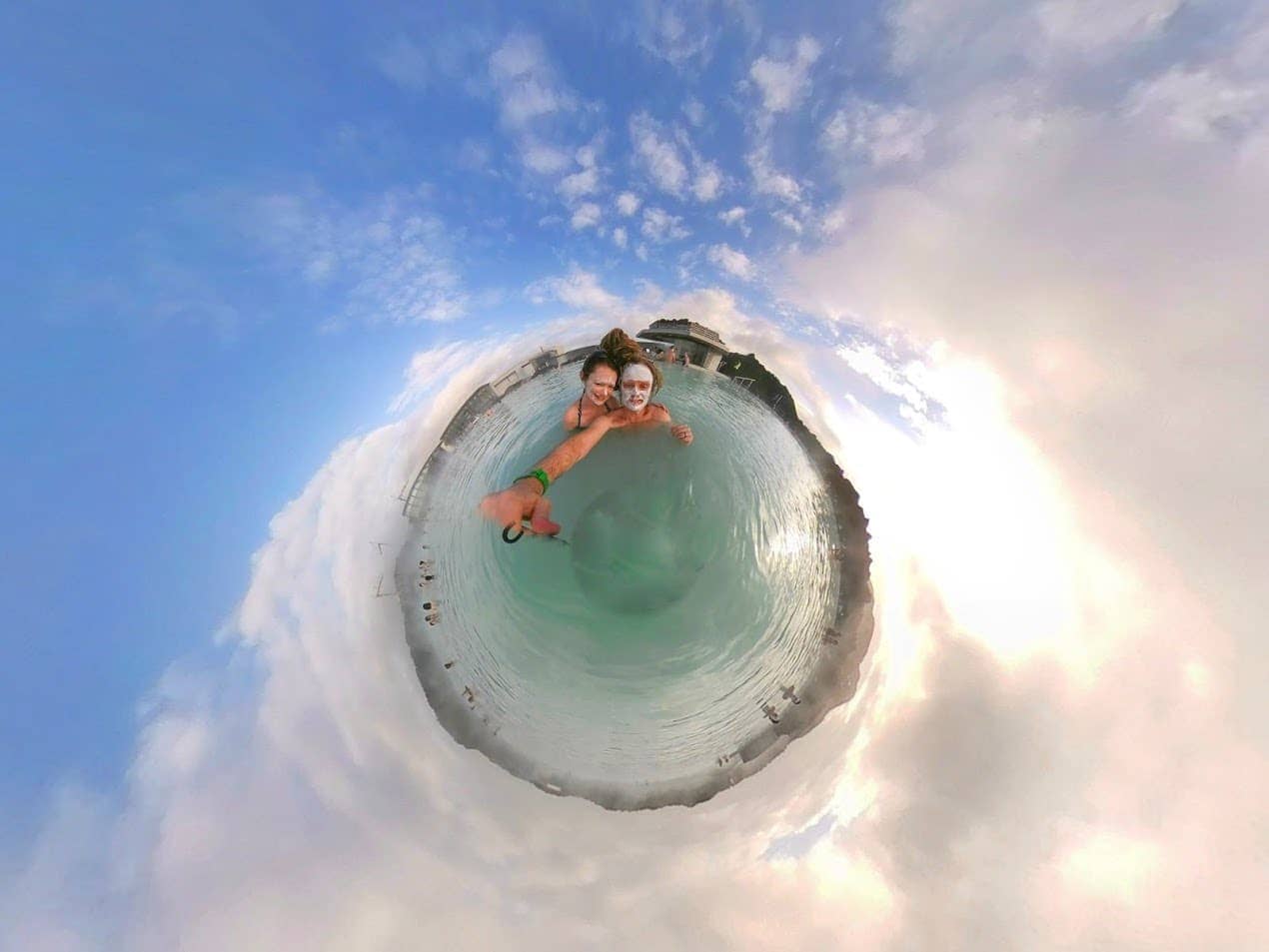 As well as the lagoon itself, there are spa facilities and on-site restaurants, so you could make a day of it, although we think about half a day would probably work for most people, with the average visit lasting a couple of hours.
Pre-booking your visit is required, with various packages available. We'd recommend the Comfort level as this includes a towel and a drink, which is definitely convenient. You can also arrange transport to the Blue Lagoon as part of the ticket booking, or you can drive yourself.
There are also a number of tour companies, including Iceland Travel, that offer transport to the Blue Lagoon, although you still need to book tickets to the Lagoon itself. There are also options for stopping at the Blue Lagoon either on arrival or departure from the airport, which makes sense as you go right past the Blue Lagoon when travelling between Keflavik Airport and Reykjavik.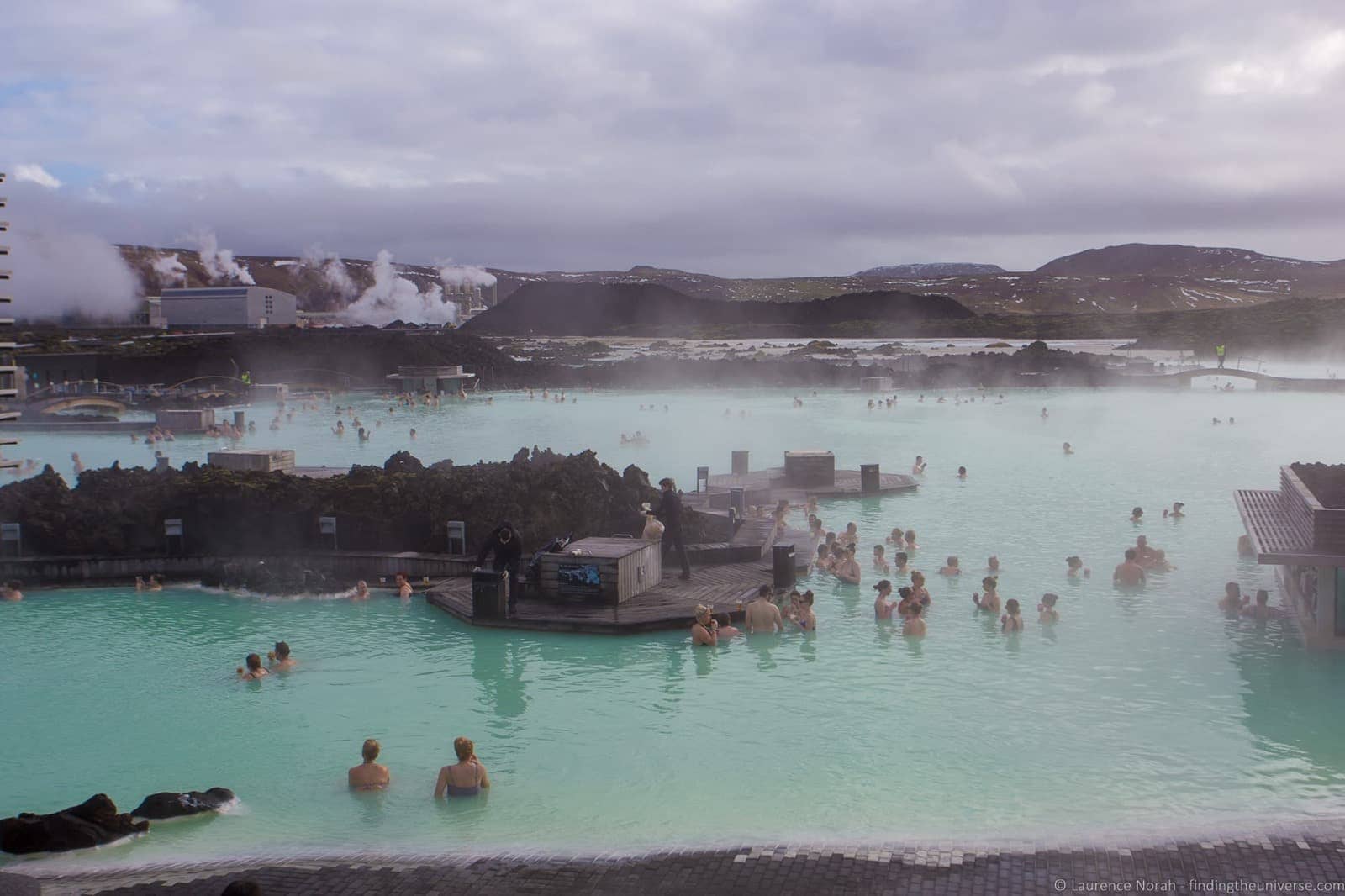 Finally, if you really want to have a full day, you can combine a Golden Circle tour with a trip to the Blue Lagoon, thus killing two birds with one stone. If you're on a shorter timescale, this might be a good option.
One last tip if you're on a tight budget but still want to experience the wonders of the Icelandic thermal waters .Why not visit one of the city pools in Reykjavik instead of the Blue Lagoon? These have the same geothermally heated water as the Blue Lagoon, but are available at a fraction of the price. Plus, if you pick up a Reykjavík City Card while you're in the city, these can be visited entirely for free!
5. Reykjavik Itself
We think it's a shame that so many visitors come to Iceland and spend their time exploring Iceland but not really experiencing Reykjavik – a city which has plenty to offer. We would definitely recommend that you spend at least half a day, if not a full day, seeing some of the many sights that the city has on offer.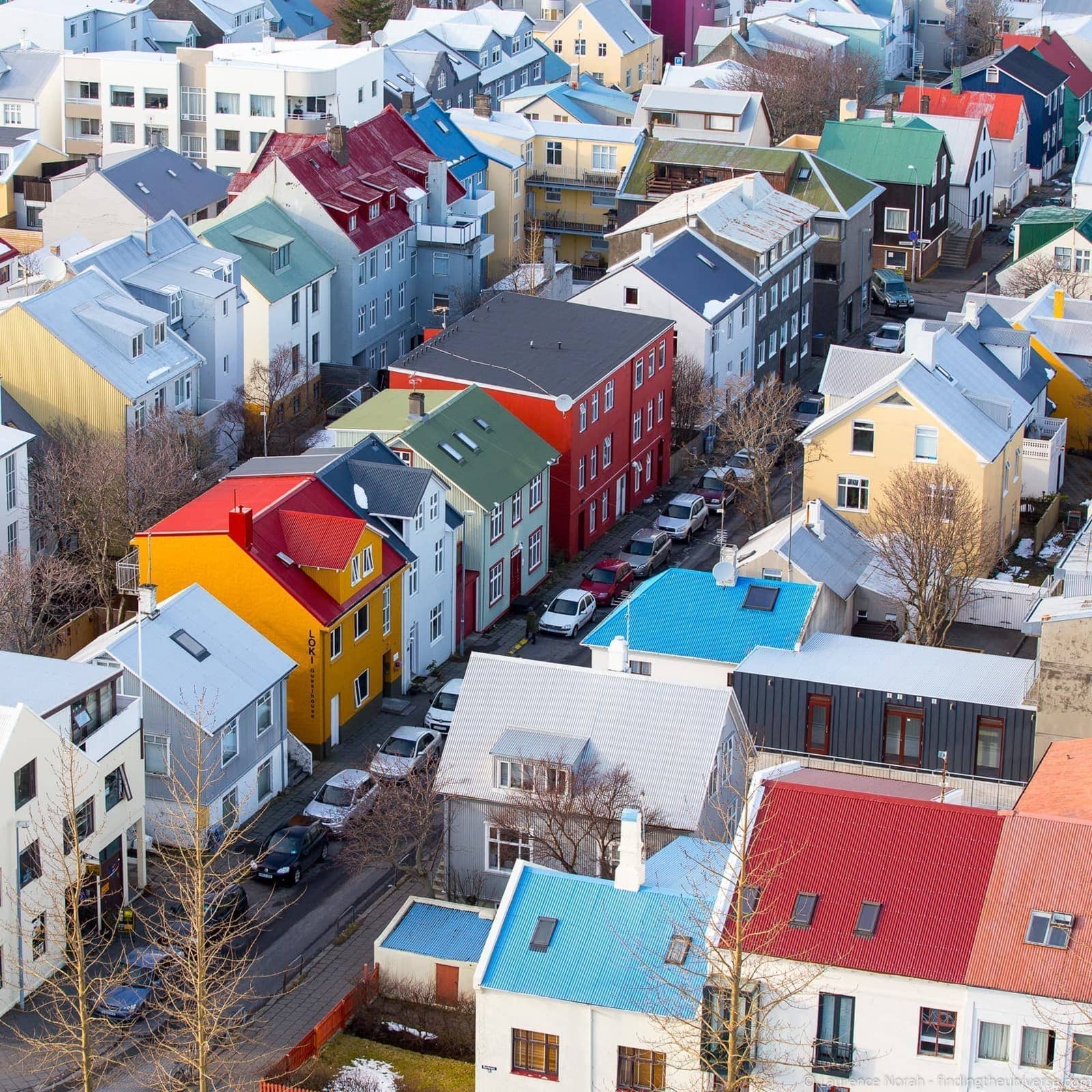 Jess will be writing a full post about sight-seeing in Reykjavik over on her blog, but in the meantime, we would definitely recommend taking in Hallgrimskirkja, Iceland's tallest church and the beautiful Sun Voyager statue.
Then, depending on your interests, you may also want to visit the National Museum of Iceland, The Settlement Exhibition, The Saga Museum, The Árbaer Open Air Museum, to name but a few of the many worthwhile attractions in the city. There are also numerous shops, bars and restaurants, plus the city itself is picturesque for wandering in.
This is definitely something that is easy to do on your own, but if you would prefer a guided experience, check out this Reykjavik Sightseeing Tour.
6. Game of Thrones locations
Unless you've been living under a rock for the last few years, the chances are that you will have heard of the Game of Thrones TV show. What you might not know is that the fantasy land of Westeros, and in particular the snowy scenes shot "north of The Wall", are actually filmed for the most part in Iceland.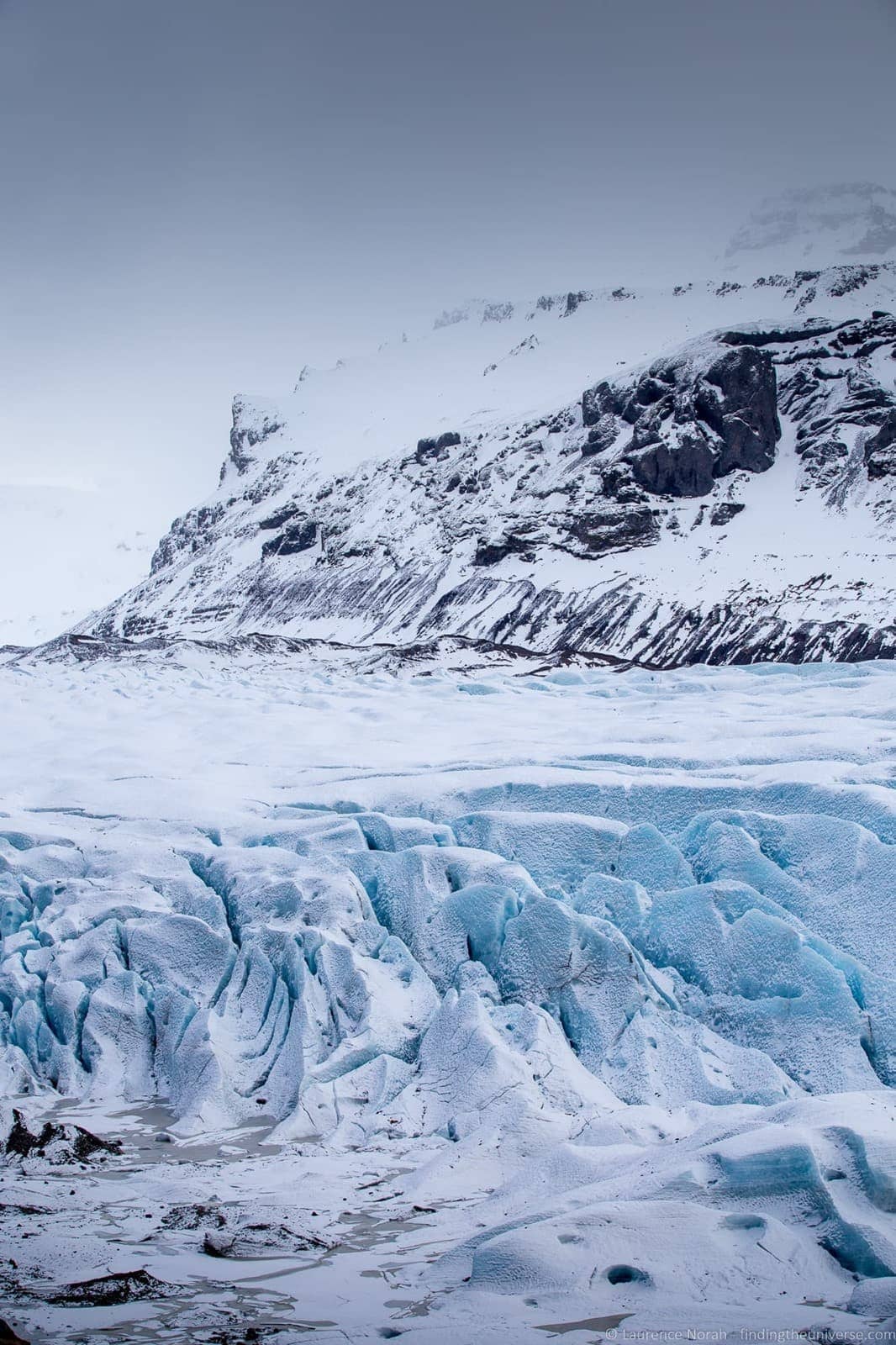 This is excellent news for fans of the show, as it means you can visit many of the key locations from the show as part of your Iceland visit, including one of the wildling camps and the pass to the Eyrie, both of which were filmed at Thingvellir national park.
As locations were found all over Iceland, there are only so many you can visit from Reykjavik itself. You'll want to take the Game of Thrones revisited tour to visit the key sites within a day of the city. Other tours are also available, including an epic four day Game of Thrones guided tour, which is for serious fans with a bit more time on their hands!
7. Into the Glacier
One of our favourite experiences in Iceland was a tour called "Into the Glacier". This involves driving across Europe's second highest glacier (Langjokull) on a monster 8 wheeler former NATO missile launch truck, followed by a walk inside the Langjokull ice tunnel.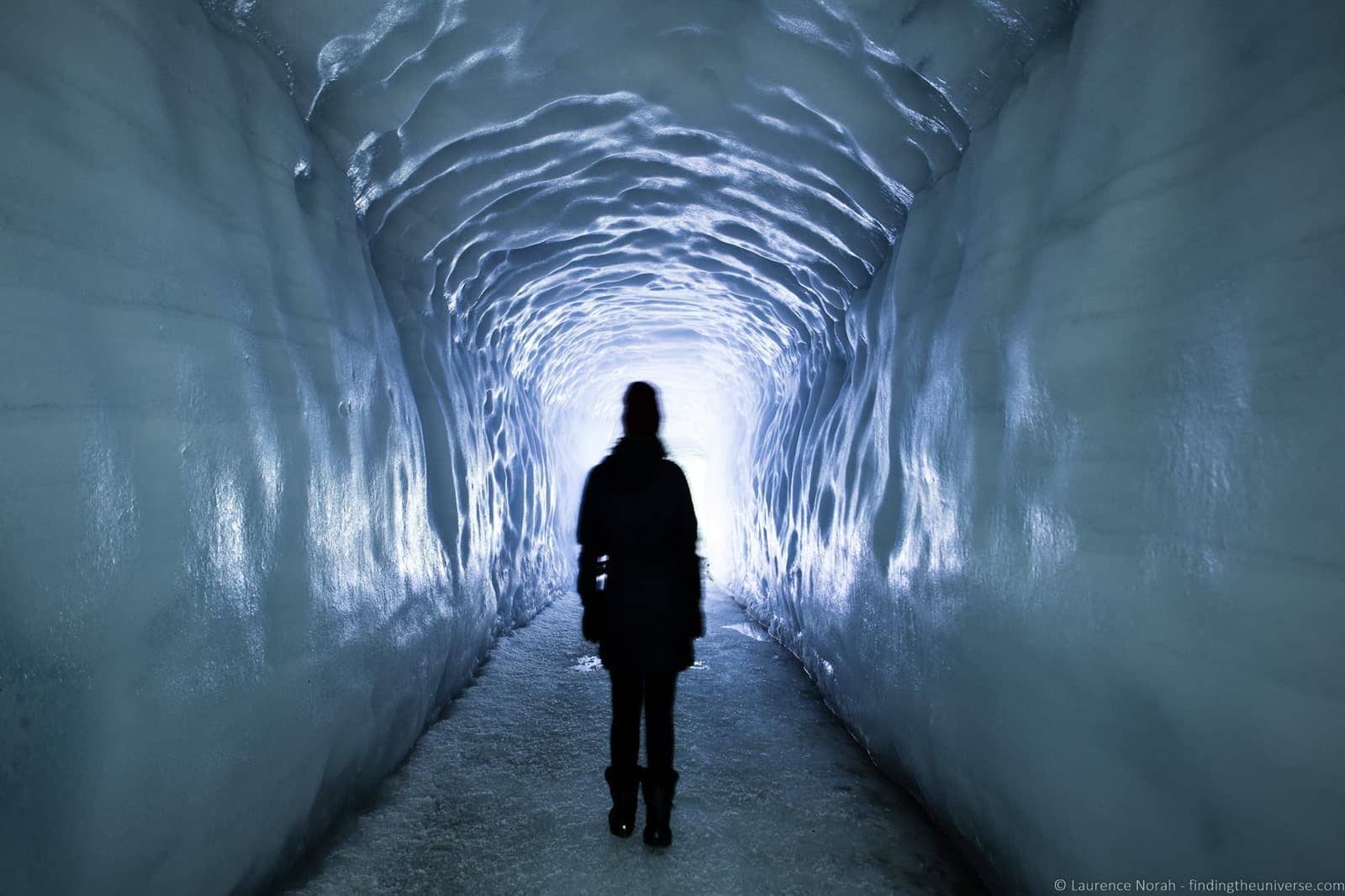 Even though the weather wasn't fantastic when we did this, it was still a lot of fun.
This tour is an excellent way to experience a glacier from the outside and inside and see those eerie icy blue colours. In addition, if you do this as a day trip from Reykjavik, the tour also affords you the opportunity to visit other highlights of this less visited area, including the incredible Hraunfossar waterfalls, Europe's largest hot spring area (Deildartunguhver), and, in the summer months, the Iceland Travel version of the tour includes a trip to Thingvellir national park.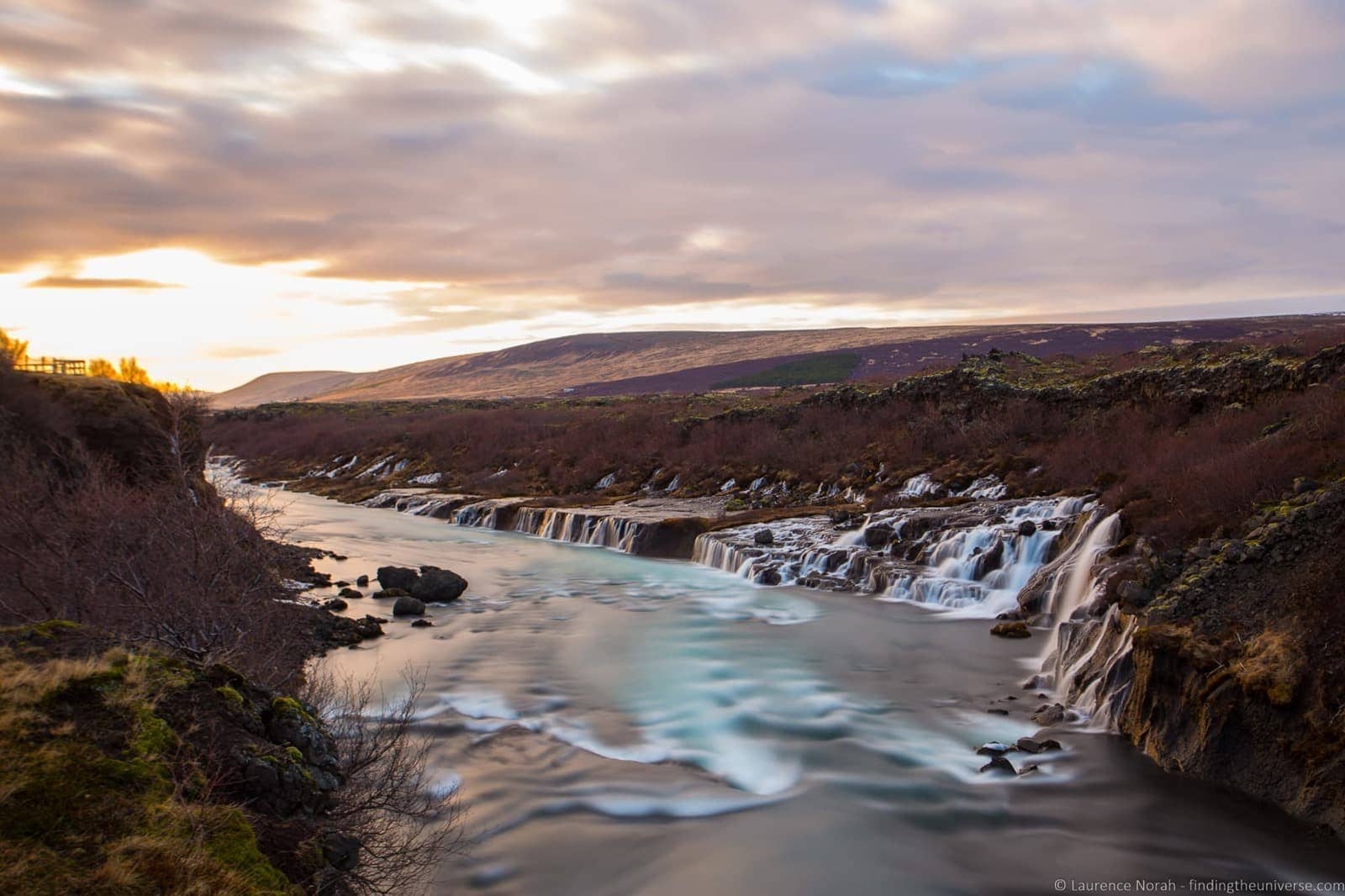 Of course, you can also make your own way out here and book the tour directly with Into the Glacier, should you prefer to travel under your own steam.
8. Northern Lights (autumn to Spring)
Last, but not least on our round-up of some of the best day trips from Rekjavik, would be a trip to see the Northern Lights. Ok, so calling this a day trip might be a stretch, as obviously you're going to want to do this one at night!
Taking a guided tour to see the northern lights is going to give you the best chance to see them, as local guides will have the best idea of the local weather conditions as well as the best spots to see them without light pollution. Iceland Travel offers three Northern Lights tours departing from Reykjavik. These are a coach based tour, one that offers the opportunity to see the lights from a boat, and finally, the more private super jeep tour.
Obviously, all of these tours are offered subject to the weather, and can be cancelled if conditions are not good. They also all come with a guarantee that if the tour goes ahead but no northern lights are seen, then you will be issued a free ticket for another attempt. So with that in mind, we highly recommend you book your tour as early in your trip as possible.
And that summarises some of our top suggestions for day trips from Reykjavik! If you're interested in more day tours from Reykjavik, beyond the list above, then do check out all the day tours that Iceland Travel operate here. Also, note that discounts are available if you book more than one tour with Iceland Travel, so make sure to fully explore their website before booking.
Where to Stay in Reykjavik
Since you're going to be basing yourself in Reykjavik, you're going to want somewhere to stay. We've stayed at a couple of hotels near the city centre which we are happy to recommend, the Grand Hotel and the Reyjkavik Natura Icelandair Hotel.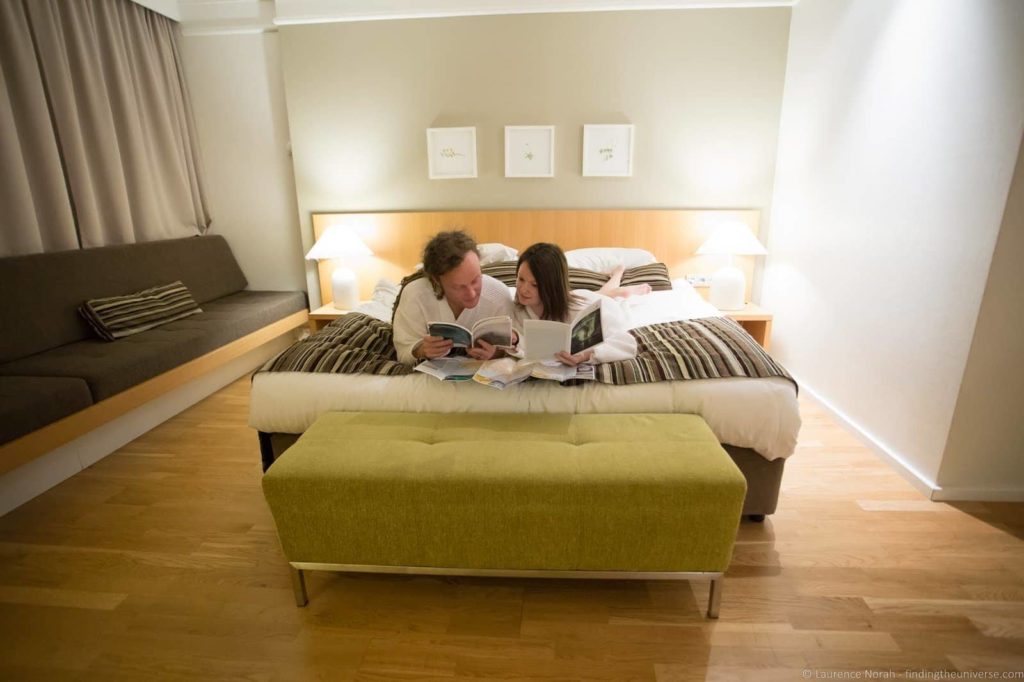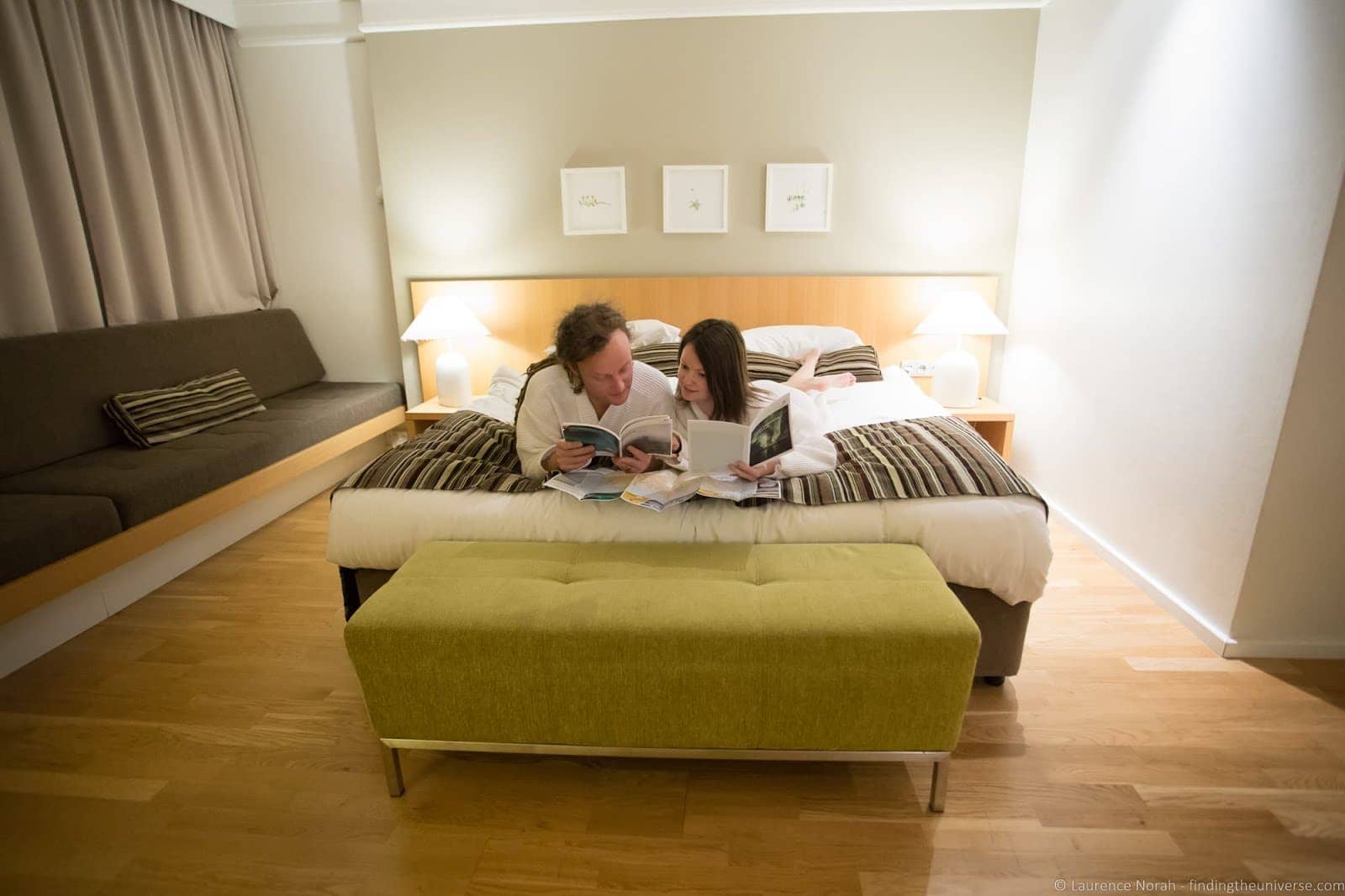 There are however lots more options for accommodation  See more lodging options in Reykjavik on booking.com here. We recommend Booking.com as they have pretty much everything from hostels to hotels to apartments, and they offer very competitive pricing and usually a great cancellation policy.
We also spent a few days at an AirBnB in the city centre which was a good option.
When to Visit Iceland
Iceland is a country that you can visit year round, but there are various considerations to think about when visiting.
If you choose to visit in winter, you need to be aware that there is much less daylight, and wintry weather has the potential to adversely affect your plans, as it can cause road closures. It will also, obviously, be a lot colder in winter, and you'll need to plan your Iceland packing list accordingly. Some tours are also not offered in winter.
However, winter does bring advantages. It is a much quieter time of year to visit the country, prices are generally lower, and it's the only time of year for viewing the northern lights. So if a northern lights experience is on your list, you'll definitely want to visit in winter.
Summer is a much busier time of year to visit, and offers warmer weather, long hours of daylight, and many more tour options. Prices also tend to be higher, and you'll definitely want to book your tours well in advance to be guaranteed a spot.
Further Reading to Help you Plan your Trip to Iceland
We will continuously be updating our Iceland content in the coming months, so this list will be updated as we go. In the meantime, here are some great resources to get you started with planning your trip to Iceland, however long you are visiting for.
First, we've written a detailed planning guide for Iceland, which covers everything you need to know for visiting this beautiful country.
We've also put together a list of some of our favourite photography locations in Iceland from trip to give you some ideas of where to aim to get the best photos – always important!
If you have longer and want to explore more, Jess has put together a detailed post outlining a seven day Iceland itinerary to give you some route ideas for an epic adventure. We also have a guide to spending five days in Iceland.
We have a detailed guide to help you decide what to pack for Iceland in Winter
We travelled with and recommend Iceland Travel if you're looking for a tour company in Iceland– check out their website for tour options and prices
If you're looking to drive yourself, this is probably the best place to check car rental prices in Iceland
The weather in Iceland can be fickle – the best website for real-time cloud cover is this one from the Icelandic Met Office.
Iceland is not a budget destination, but here are some excellent tips on saving money on your Iceland trip from a budget travel expert
Whilst Iceland is a safe country to travel in when it comes to things like crime, the country itself is home to extreme conditions and all sorts of seismic activity. So to stay safe as you go, check out the safetravel Iceland page
If you're not sure what camera gear to take with, take a look at both our guide to picking a travel camera, and our personal travel photography gear
Finally, if you're visiting in winter, you'll want to read through my tips for cold weather photography.
And that finishes up my guide to the best day trips you can take from Reykjavik! I hope you enjoyed it. Is Iceland on your list? Do you have a favourite day trip from Reykjavik you want to share? Let us know in the comments below!