Heading to Iceland and planning on driving the Ring Road? You've come to the right place! Our detailed Iceland Ring Road itinerary will get you to all the sights you want to see, giving you all the information you need to tackle this epic Iceland road trip, including a day by day breakdown of the adventure.
We've spent a great deal of time exploring Iceland's Ring Road in its entirety and we have also visited Iceland in both summer and winter. We've already written a number of comprehensive guides to visiting Iceland to help you plan your trip, but this is our first detailed Ring Road itinerary.
During our time exploring Iceland's ring road we've seen the majority of the highlights along the route. Based on these experiences, and our other travels in Iceland, we've distilled the adventure down into the perfect Iceland Ring Road itinerary for a one-week ring road trip, starting and ending in Reykjavik.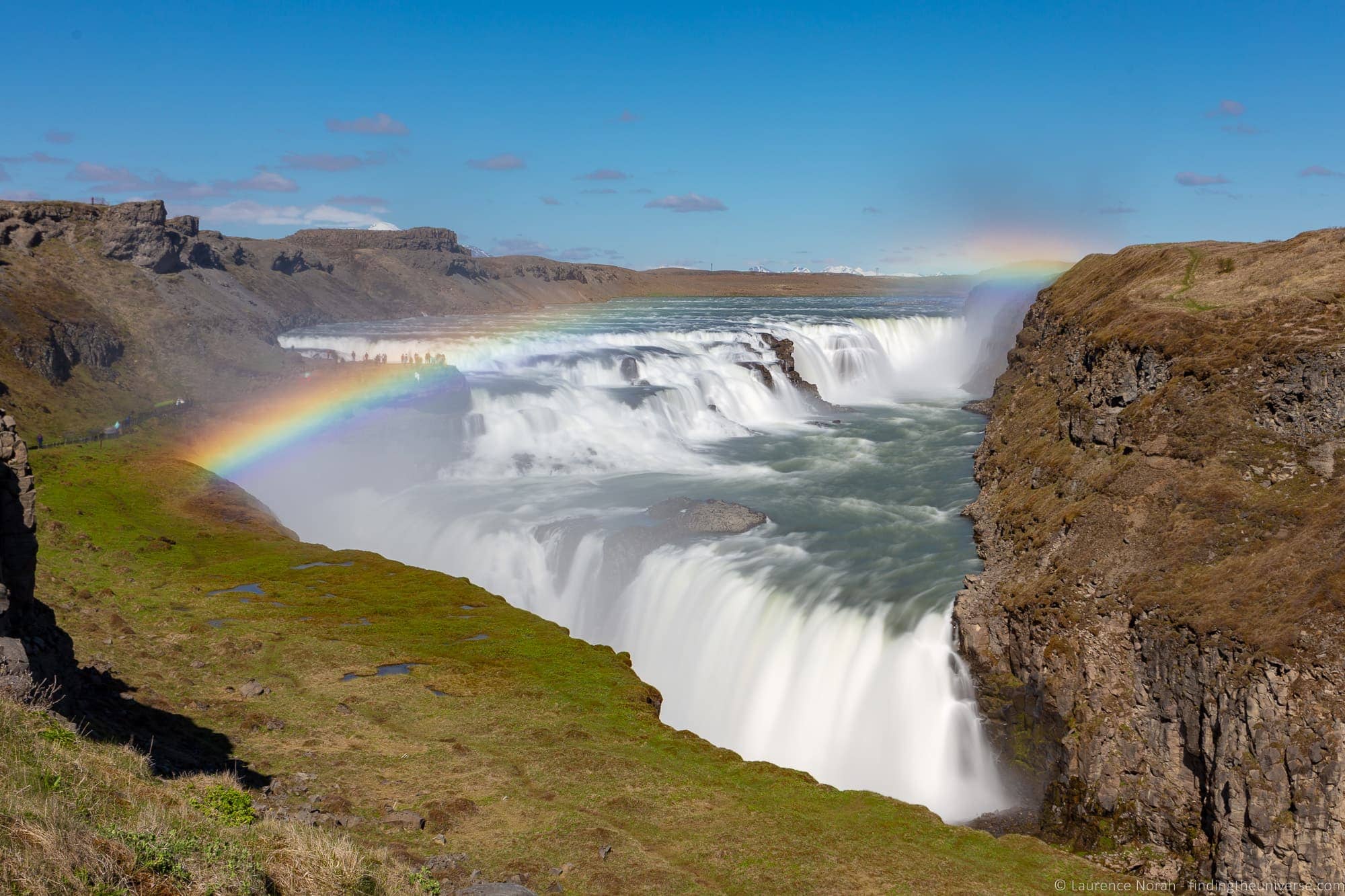 This post contains everything you need to know to plan your trip, including a detailed day-by-day breakdown of the route, where to stay, what to see along the way, driving distances, and a full route map as well as all the planning information you need!
Let's get started, first by answering some questions you might have about the route.
What is the Iceland Ring Road?
The Iceland Ring Road, also known as Þjóðvegur 1, or Route 1, is a national road that runs all around the country, connecting all the major towns and cities. The Ring Road is 828 miles long (1,332 kilometres), making it the longest road in Iceland.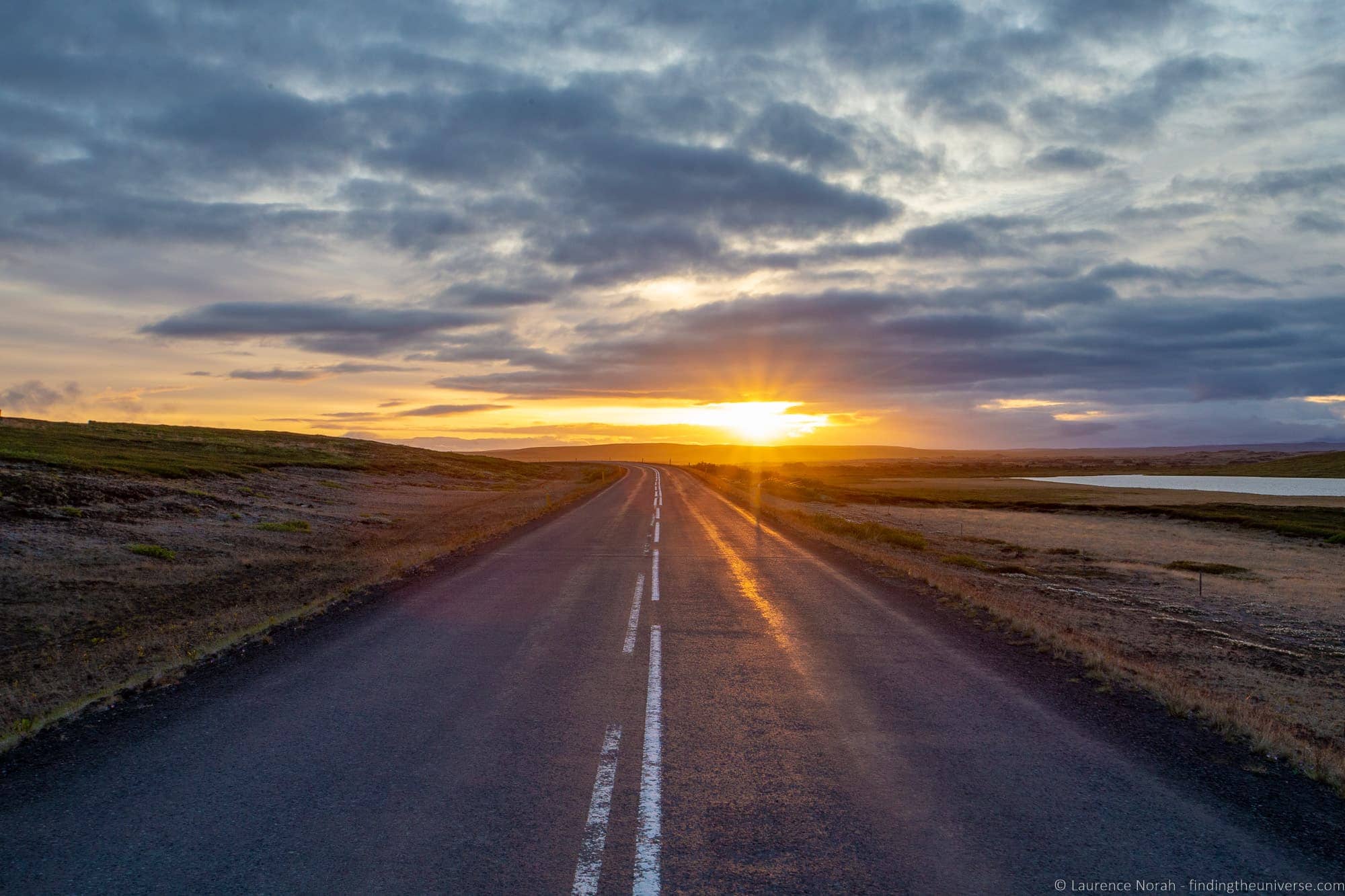 The Ring Road is primarily two lanes wide and paved, although some sections are wider than this, and in some cases, particularly for bridges, it may only be a single lane road
Why Road Trip on the Iceland Ring Road?
Iceland's Ring Road makes for the perfect Iceland road trip because it covers a great deal of the country, and passes right by, or very close to, a great many of Iceland's most famous and noteworthy attractions, including natural attractions such as waterfalls, epic viewpoints and gorgeous towns and villages.
In addition, as the Ring Road passes through the major towns and cities of Iceland, it's easier to find accommodation along the route if you follow the Ring Road. Finally, being the main route around Iceland, navigation is easy.
How Long Does it Take to Drive Iceland's Ring Road?
As mentioned above, Iceland's Ring Road is 1,332 kilometres long. For the majority of the route, the speed limit is 90km/h, so in theory you could drive the entire Ring Road in 15 – 20 hours.
Of course, we'd advise against that. We'd suggest that one week would be the minimum amount of time to do a Ring Road tour and take in all the sights in this itinerary. This will give you time to do plenty of sight-seeing along the route and not be too rushed. Of course, more time is better – on one trip we spent four weeks doing the full route, with lots of detours and diversions!
If you have less time in Iceland or don't want to be too rushed, we'd suggest focusing on a specific region so you get the most out of your trip. Take a look at our itinerary for 5 days in Iceland for inspiration.
Which Way Should I Drive the Iceland Ring Road?
Being a circular route, you can drive the Iceland Ring Road in either direction. Our preference would be to drive it in an anti-clockwise direction, tackling the south of the country first.
In our experience, the south of Iceland is the busiest part of the country in terms of visitors, so as you travel, you will go from more busy places (the south) to less busy places (basically everywhere else). We think this will be an easier transition to manage than driving from relatively quiet to more crowded spots.
Of course, you are welcome to drive this route in any direction. Our road trip itinerary is set up in a counter-clockwise direction, but you can reverse it.
Can I Drive the Iceland Ring Road in Winter?
Whilst you can drive Iceland's Ring Road in winter, we would generally advise against it. Road conditions can change very quickly, and sections of the Ring Road often close in winter, meaning you might have to retrace your route to get back to where you started. A storm can really negatively impact your trip.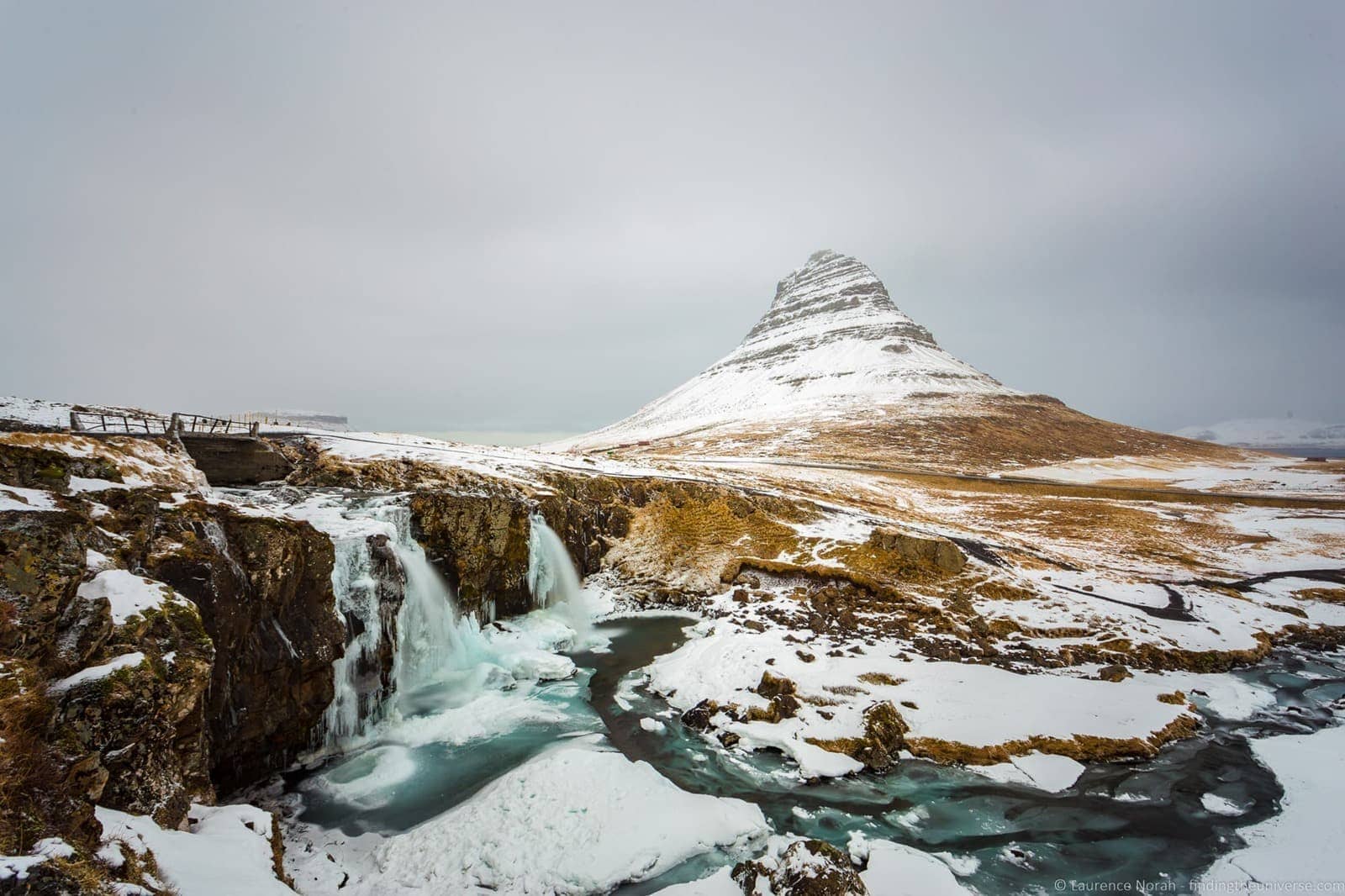 In addition, the limited hours of daylight in the winter months mean you won't have so much time for sight-seeing as you might want. In summer, you will have so many hours of daylight thanks to the midnight sun that you can really pack the sight-seeing in!
Ideally you'd want to do this trip between late April and October.
If you travel in late September or October you will also have the chance to see the northern lights. You won't have to do anything special to see them – just find somewhere with no artificial light sources, hope for good weather and look up!
Of course, we don't discourage coming to Iceland in winter in general! It's the time of year when you have a great chance to see the northern lights, and the landscapes are quite wonderful when covered in ice and snow.
Instead of driving Iceland's entire Ring Road in winter, we'd suggest you look at our 7 day Iceland winter itinerary, which we think is the best option for visiting Iceland in winter and driving yourself.
We also suggest taking a look at our guide to driving in Iceland in winter, and our guide to what to pack for Iceland in winter.
Another option is to take a guided tour like this. Let someone else handle all the logistics of planning and driving, and you can just enjoy your journey without worrying about driving in poor conditions.
Do you have to self-drive the Iceland Ring Road?
The road trip in this post is based on a self-drive itinerary which means you drive yourself. Driving in Iceland gives you the most flexibility in terms of your itinerary hiring a car; however, it's not the only option!
One popular option would be to take a group tour of Iceland instead. This means someone else will handle everything for you, including the driving, itinerary and accommodation, and you get to just enjoy the sight-seeing.
If that sounds good to you (we know not everyone wants to drive in Iceland), there are a number of options, which we outline in the following section.
Tours of the Iceland Ring Road
The Iceland ring road is a popular road trip, and as such there are a number of tour companies offering trips, ranging from a few days to a number of weeks. We'd suggest 6 days as being the absolute minimum for a ring road tour, and ideally more like 7 days to 2 weeks.
We recommend this either 8 day tour, this 8 day tour or this 8 day tour with G Adventures.
If you are really pressed for time, this is a 6 day tour that will let you see the highlights. This is a similar 6 day tour.
Do be aware when comparing tours that you need to look carefully at what is included and what isn't. Even if a tour has a higher price, if it includes all the meals then it might be better value than a cheaper tour without meals as food can be very expensive in Iceland.
Other things to consider include what attractions or experiences are included in the price.
For example, tours might cost more but the price might include higher quality accommodation, wildlife watching tours, Blue Lagoon entry and glacier lagoon boat ride, as well as many other activities.
For more inspiration on tours in Iceland, check out our guide to the best guided tours of Iceland, which will give you loads of ideas for what else you can do in the country for trips between 2 days and 2 weeks!
You can also see a selection of guided tours of Iceland on TourRadar here and on Guide to Iceland here, both of which offer a variety of tours from different companies in Iceland.
Now, having hopefully answered many of your questions about driving the Ring Road, let's share our week-long Iceland ring road itinerary!
Iceland Ring Road Itinerary
Now, let's take a look at a suggested itinerary for one week driving the Iceland Ring Road. This covers 8 days and 7 nights of travel, and we have tried to lay it out so each day has a similar amount of driving, although of course this isn't always possible.
We'd also advise that you adjust the itinerary to suit your own interests and needs, as well as your arrival and departure times of course!
Day 1: Arrive, Blue Lagoon, part of Golden Circle.
On your first day you'll arrive in Iceland at Keflavik International Airport. This is around a 40 minute drive to the south west of Reykjavik.
For this itinerary, we're going to assume you arrive into Iceland in the morning. If you arrive in the late afternoon or evening, you'll want to tweak this day a little bit.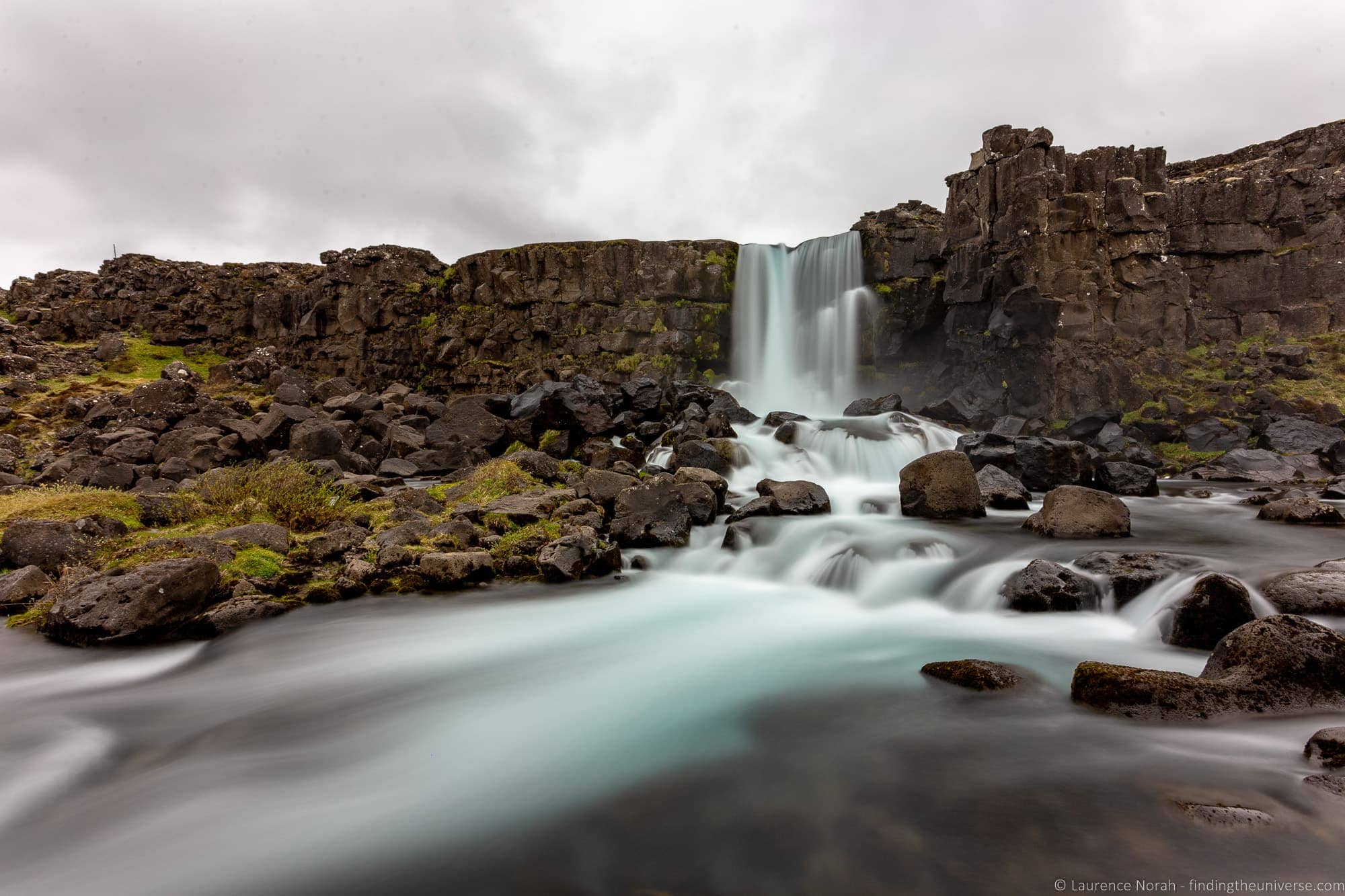 On arrival, pick up your hire car (compare prices here) at the airport and consider heading straight for the famous Blue Lagoon if it is on your must-visit list. This is Iceland's most well-known geothermal lagoon, and is a huge outdoor bathing area where the water is a funky shade of blue.
As well as the main lagoon (which has a swim up bar), you can also get treatments here and have a meal, as there's an on-site restaurant. If you plan to visit the Blue Lagoon, you'll need to pre-book a timeslot on their website. This is a very popular place, so don't expect to be able to turn up and buy a ticket. See our full guide visiting the Blue Lagoon for more.
It's only a short drive from the airport, but you'll want to factor in the time it will take you to get through immigration and baggage claim as well as collect your hire car, which can take a while if the airport is busy. If you arrive in the afternoon or evening, you can either just do the Blue Lagoon and then stay nearby, or skip it and head further along the route towards the Golden Circle – our next adventure.
Another option to consider which is closer to Reyjavik city centre is the Sky Lagoon. This is a newer attraction which offers a similar hot springs experience, and is worth checking out too. You can book tickets for the Sky Lagoon here.
If you choose not to do the Blue Lagoon or Sky Lagoon on your first day, don't worry, you can also do it at the end of your trip instead. There are also a number of other thermal baths all around the country, and we actually personally prefer the Lake Mývatn Nature Baths in the north of Iceland.
After the Lagoon, our suggestion is to get going on the road trip straight away. A week is not a massive amount of time to drive the Ring Road, so a head start is a good idea. With this in mind, we recommend you head out onto the Golden Circle.
The Golden Circle is one of the more popular short road trips in Iceland. Its proximity to Reykjavik makes it easy to do in a day, and it is a quick way to see some of the best of the country, from cultural attractions to waterfalls and geothermal activity. We have written a full guide to the Golden Circle to help you fully plan your time here.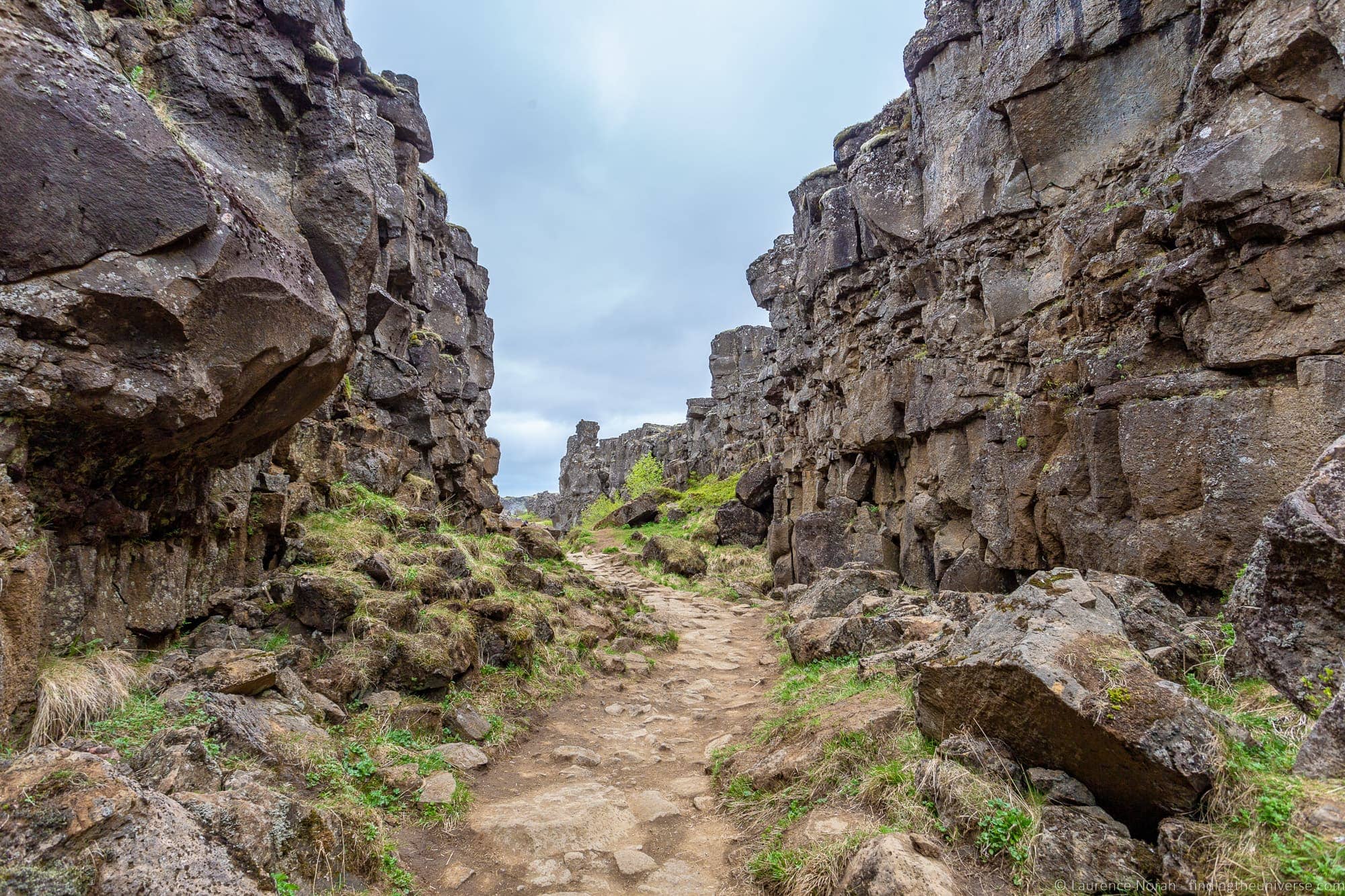 If you've arrived in Iceland in the morning, you'll have time to see Thingvellir National Park on your first day. Thingvellir, or Þingvellir, is one of the most important cultural sites in Iceland, and is on the UNESCO world heritage list. It's where Iceland's parliament met from the 10th to the 18th centuries.
As well as the cultural significance, the national park is interesting for it's geological features. The Eurasian and North American tectonic plates have their boundary here, and you can see the rifts between these plates in the form of obvious canyons. It's really interesting to see geography up close like this.
You can even go snorkelling to experience these plates. This is done in dry suits with specialist operators, as the water temperature hovers just above freezing year round. You don't need to bring any special equipment, but booking in advance is definitely recommended. Here's a tour booking link if you want to do that.
There's also a beautiful waterfall here, Öxarárfoss, which is around a 10 minute walk from the car park. Game of Thrones fans will also enjoy visiting Thingvellir National Park as it was used for the filming of a number of Game of Thrones scenes, including the Gates of the Moon. This is found in Almannagjá gorge which is just near Öxaráfoss waterfall.
Once you're done with Thingvellir, we'd suggest calling it a day, and heading on to your accommodation for the night. We recommend staying somewhere between Laugarvatn and Flúðir. If you have arrived early however and skipped the Blue Lagoon, you will likely have time to also do the Geysir Park and visit Gulfoss waterfall. For this itinerary though, we will describe these on our second day.
Day 1 Highlights: Blue Lagoon, Thingvellir
Start Point: Keflavík Airport
End Point: Laugarvatn / Flúðir
Distance driven: ~140 kilometres / 90 miles
Where to Stay
For your first night we recommend booking accommodation somewhere near Fludir Here are some options to consider.
See more lodging options in this area on booking.com here.
If you arrive later and want to overnight near the airport, we stayed at the Northern Light Inn, which is right next to the Blue Lagoon and about twenty minutes from the airport. See more Reykjavik options at the end of the itinerary.
Day 2: Golden Circle and South Coast
For the second day in our Ring Road trip we're going to finish off the highlights of the Golden Circle, and start along the south Iceland coast, taking in some of the most famous attractions in Iceland.
First, we're going to finish the Golden Circle. There are two more main attractions to see: Geysir and Gullfoss.
Geysir is a geothermal park which is home to the original "Geyser" – a geological feature whereby steam and boiling hot water are regularly ejected into the air. Today, we know this phenomenon as a "geyser", which was the name given by the Icelanders to the geyser in the Geysir park.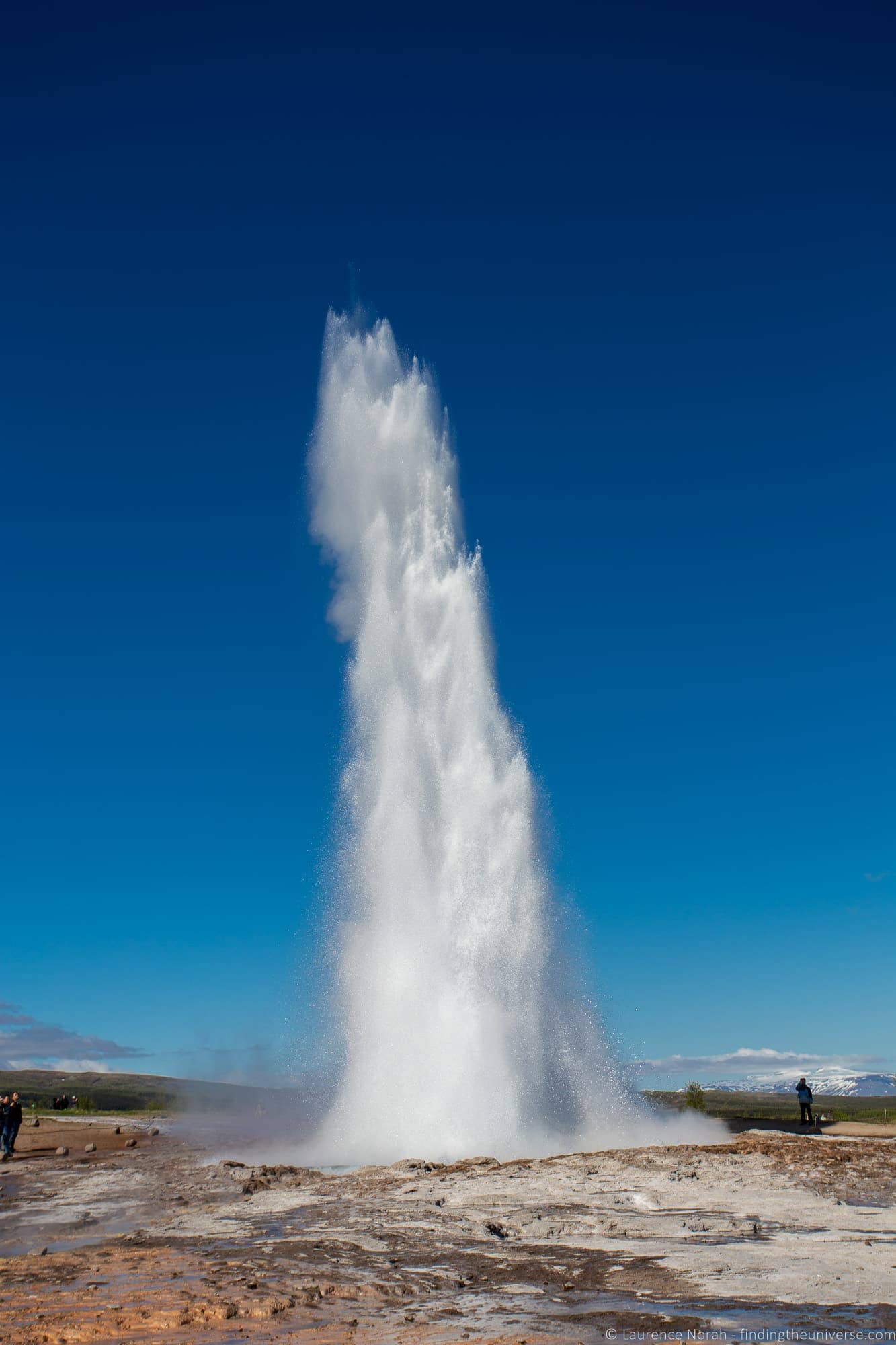 The original geyser is now mostly dormant, but there are a number of other geysers in the park, one of which is regularly active, shooting into the air every few minutes. This is quite a spectacular thing to see, and well worth stopping for. Expect to spend around 20 to 30 minutes visiting this park.
From Geyser you're going to drive on to Gullfoss. Foss, incidentally, is Icelandic for waterfall, and you're going to see that word a lot in Iceland, as there are a lot of waterfalls!
Gullfoss is one of Iceland's most spectacular waterfalls, with two tiers conveying a massive volume of water down a total of 32 metres. There are a number of good viewing areas, and a great deal of parking here, as well as an on-site cafe.
From Gullfoss, it's time to start heading south where you'll join the Ring Road, and which you will stay on for the majority of the rest of your road trip.
The first stop on your trip is going to be the Lava Center. This is a relatively new attraction in Iceland, which is well worth visiting if you want to learn about the volcanic activity in Iceland, and get an idea of what it's like to experience massive geological activities like volcanoes and earthquakes.
The Lava Center is really interesting, and the exhibits here have already won a number of awards. There is a free part as well as a paid part, plus an on-site cafeteria-style restaurant so a good place to get some food. It's definitely worth popping in to, even if you don't tour the museum, just to get an understanding of some of the features you'll be seeing on the rest of your trip.
If you do decide to visit, you can book your tickets online in advance here. Using our link gives you a small discount on the normal Lava Centre ticket price.
The next stop on your trip is Seljalandsfoss. Seljalandsfoss is the first of the major waterfalls on the south coast you're going to want to stop at and try to pronounce.
Seljalandsfoss is pretty cool because you can actually walk behind it (although it is sometimes closed due to safety issues). Note that you are very likely to get wet doing this, so make sure you are prepared with with right clothing, sturdy shoes (it can be slippery), and that your camera or phone is suitably protected! It's also a pretty waterfall in its own right.
Note that parking charges apply at Seljalandsfoss, when we visited it was 700 krona per car. These can be paid using a credit or debit card, and apply 24 hours a day, 7 days a week. We did see parking officials enforcing these, and as these funds help maintain the facilities and parking here, we definitely recommend you don't try to avoid paying them.
Whilst you're at Seljalandsfoss, you might want to walk along the path here to Gljúfrabúi. This is about a ten minute walk north from Seljalandsfoss (it's signposted and the path is paved).
Gljúfrabúi is a waterfall hidden inside a canyon, and you do have to walk a few metres up a river to access it. It's worth doing if you have the right footwear and waterproofs, as it's pretty cool. It's really wet and slippery inside the canyon, as you might imagine given there's a waterfall in here!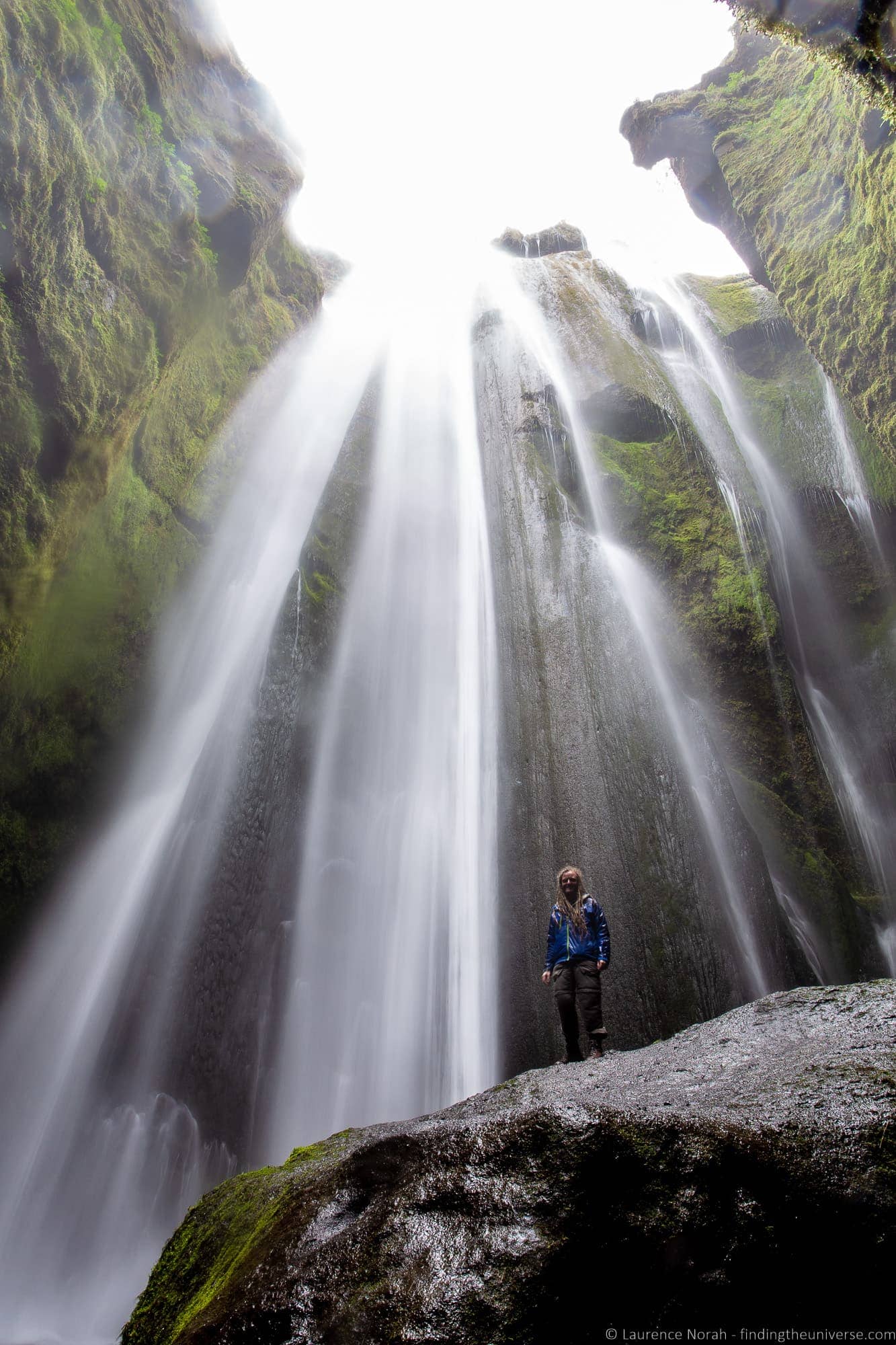 From Seljalandsfoss, it's less than half an hours drive to the next location on our itinerary: Skogafoss. As you drive, if you have a clear day, you'll also be able to admire some of Iceland's volcanoes, including Eyjafjallajökull, the volcano which erupted in 2010 and caused worldwide air transport chaos!
Skogafoss is another beautiful waterfall, with a massive volume of water cascading over a sixty metre drop. It's also 15 metres wide, with a sheer drop, so is quite mesmerising to behold. We also like that you can get very close to the crashing base, to really experience the power of nature. Although, be warned, if you get close, you'll soon be soaked by the spray!
Before you worry that this itinerary is focusing just on waterfalls, fear not. Right next to Skogafoss is the Skogar Museum. This museum, which focuses on the cultural history of Iceland, has over 15,000 artifacts on display across 3 museum buildings. There's also a large open-air area with six historic buildings, including some beautiful traditional turf houses. The museum complex is large so you can easily spend 2 to 3 hours here.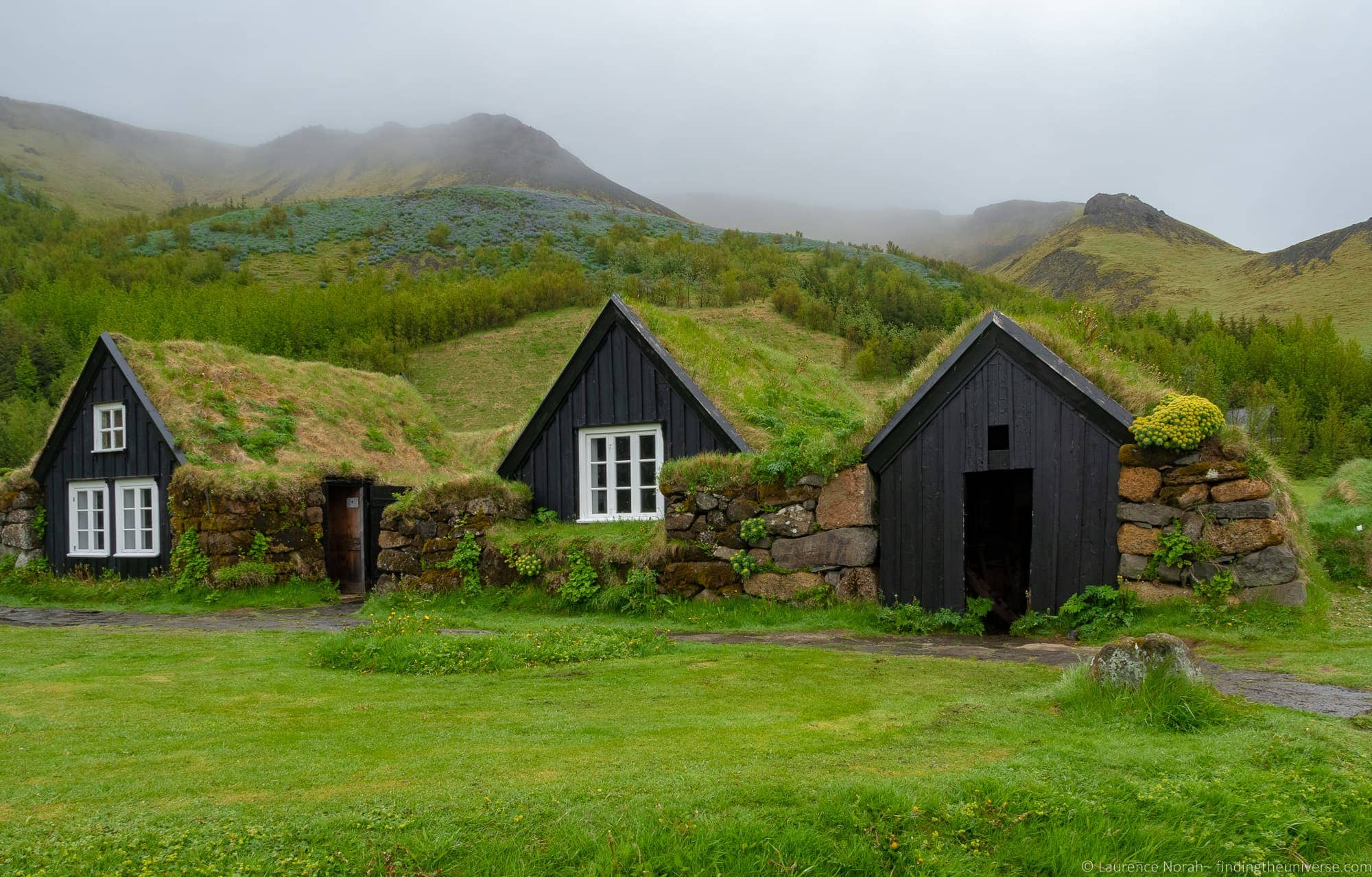 From Skogafoss, you're going to continue your journey eastwards along the Ring Road. Depending on your stamina and the time of day, you might want to stop at the Sólheimasandur plane wreck.
This is about a ten minute drive from Skogafoss, and there's a large marked parking area here. Be aware though that it's a 40 minute walk each way to see the crashed plane and nothing much to see along the way.
If the plane wreck is of interest, read our full guide to visiting the Iceland plane crash at Sólheimasandur. Otherwise, continue east!
Our last stop on the second day of this itinerary is Reynisfjara black sand beach. This is one of Iceland's beautiful black sand beaches, which is particularly notable for having stacks of basalt columns running along the edge of the beach. There are also sea stacks off shore which are pretty.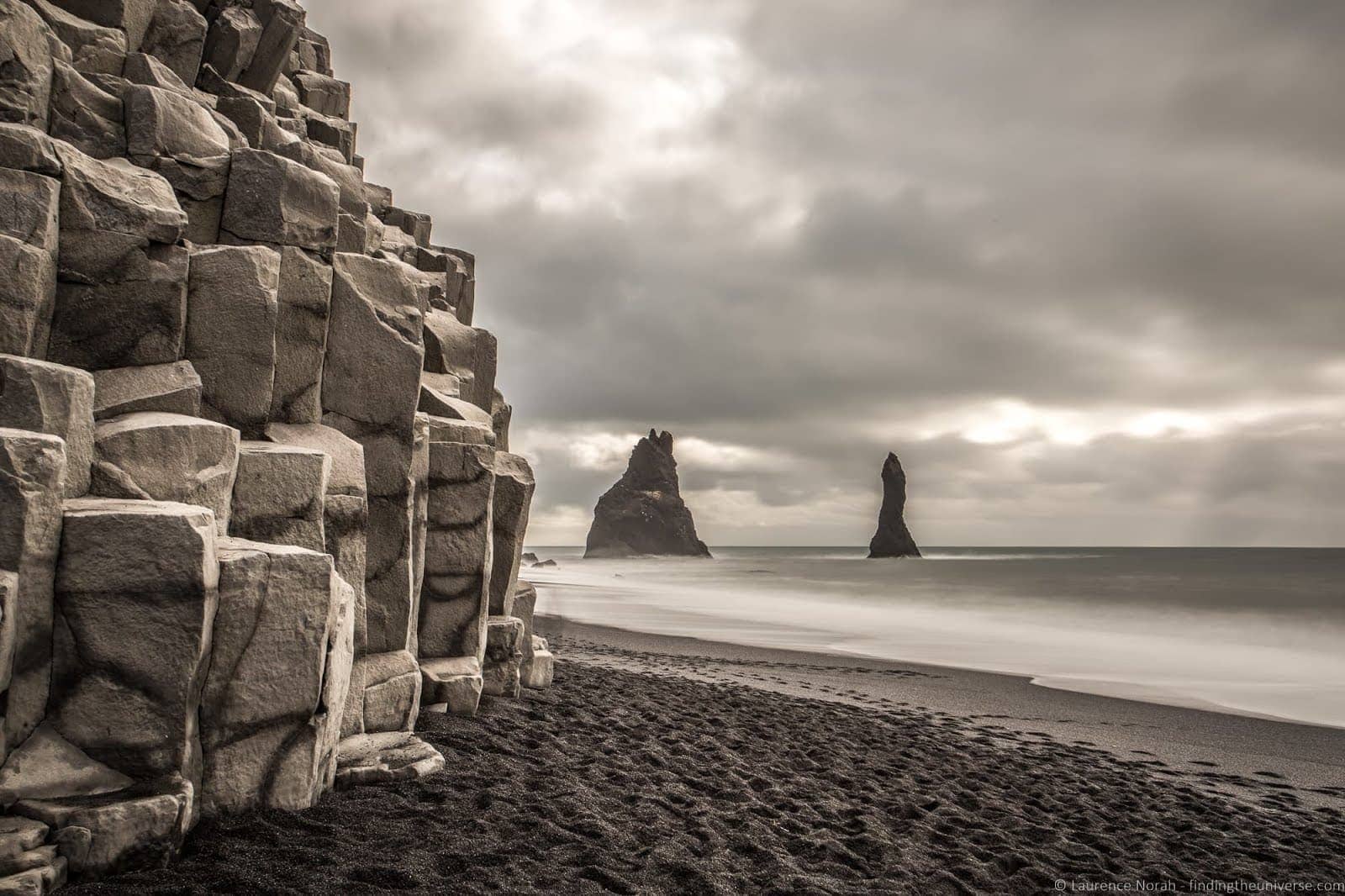 This is a popular (and often crowded) location, but do be careful here, as the area is known for "rogue waves" – large waves which can appear without warning, and sweep visitors off the feet and, in worst case scenario, out to sea. So just watch out for that.
Finally, we suggest you overnight at either the town of Vik, or head on a little further to Kirkjubæjarklaustur.
Day 2 Highlights: Geyser, Gullfoss, Seljalandsfoss, Skogafoss, Plane Crash, Reynisfjara Beach
Start Point: Efstidalur II / Flúðir
End Point: Vik
Distance driven: 207 km / 128 miles
Where to Stay
Our suggestion for your second night is to stay either in Vik or Kirkjubæjarklaustur (also called Klaustur). Some options to consider include:
See more options in Vik here and Klaustur here.
Day 3: South Coast
On your third day driving the Ring Road in Iceland we're going to finish the highlights of the south coast, and start to head up the east coast.
First stop on your third day is Fjaðrárgljúfur, a 2 million year old river canyon which has carved an incredible path out of the landscape here, making for a seriously photogenic location. It's about a five minute drive off the Ring Road just before the town of Kirkjubæjarklaustur.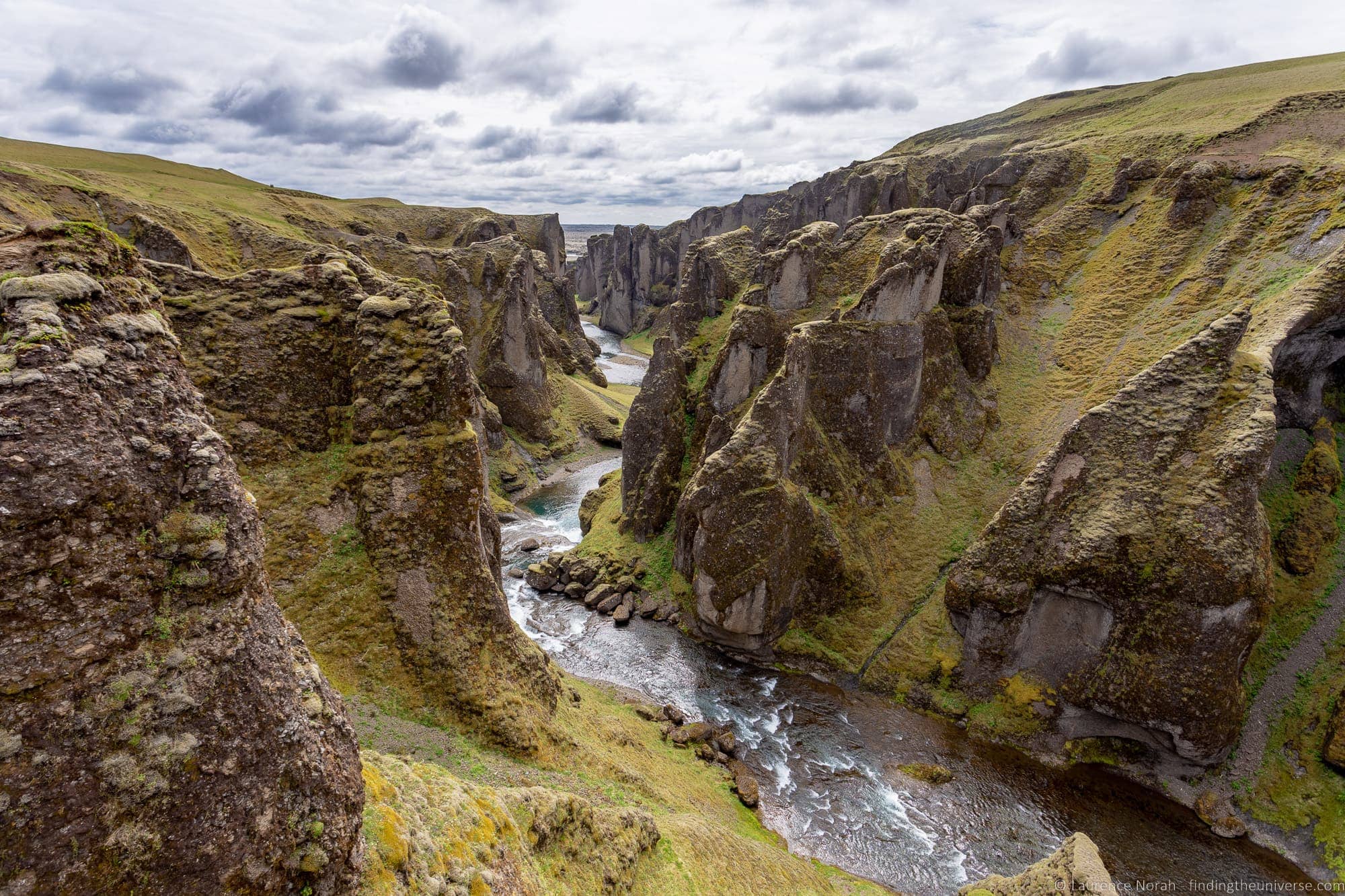 Whilst you can see the canyon from the bridge at the parking lot, we would urge you to take the 15 minute hike up to the main viewpoint, which is a metal viewpoint overlooking the canyon. Here you can see down the length of the canyon for a wonderful view.
From Kirkjubæjarklaustur, continue along the 1. At this point in your journey, you are on the Eldhraun Lava Field. This is the largest lava field in the world, caused by a massive eruption in the 18th century that lasted for a year, and nearly resulted in the whole country being evacuated.
Today, this vast 565-kilometre square site is known for the green moss that has grown over the lava field, which makes for a popular photograph. Just please be aware that it's taken the moss a couple of hundred years to grow, and it is super sensitive to being stood on. There are dedicated parking areas with marked trails to follow, and sticking to these will help preserve this remarkable environment for future travellers. There are also some picnic tables along here if you are in the mood for a snack.
Continuing on through Eldrahaun, you will notice the massive Vatnajökull glacier in the distance before you. This is the largest glacier in Iceland, covering a staggering 9% of the whole country. This is protected as part of the Vatnajökull National Park.
Naturally, visiting parts of this national park is the the next thing on your itinerary for today!
The first stop in the national park is the Skaftafell region, which has its own visitor center and facilities. There's a large parking area here, which does charge for parking. Fees when we visited were 700 krona per car, paid at the visitor center using automated machines.
Most people stop here to do a hike or two. One of the most popular is the hike up to Svartifoss, or the Black Falls. This is a 30 – 45 minute hike each way (it's quite steep) to a beautiful waterfall that tumbles over black basalt columns. It's fairly unique in this respect, so we think is worth the h
If you don't want to hike up though, there are other walks in the area, including a flat walk that's around 90 minutes total, which brings you close to the base of one of the glaciers as well. The visitor center has plenty of maps and staff who can give you assistance with choosing the best walk for you.
This would also be a good location to do a glacier hike or ice cave hike. Availability for these varies depending on the time of year, and you would have to plan accordingly as these guided activities usually last for around 3 – 4 hours. Most departures are from Skaftafell, and you definitely need to book these in advance, which you can do here.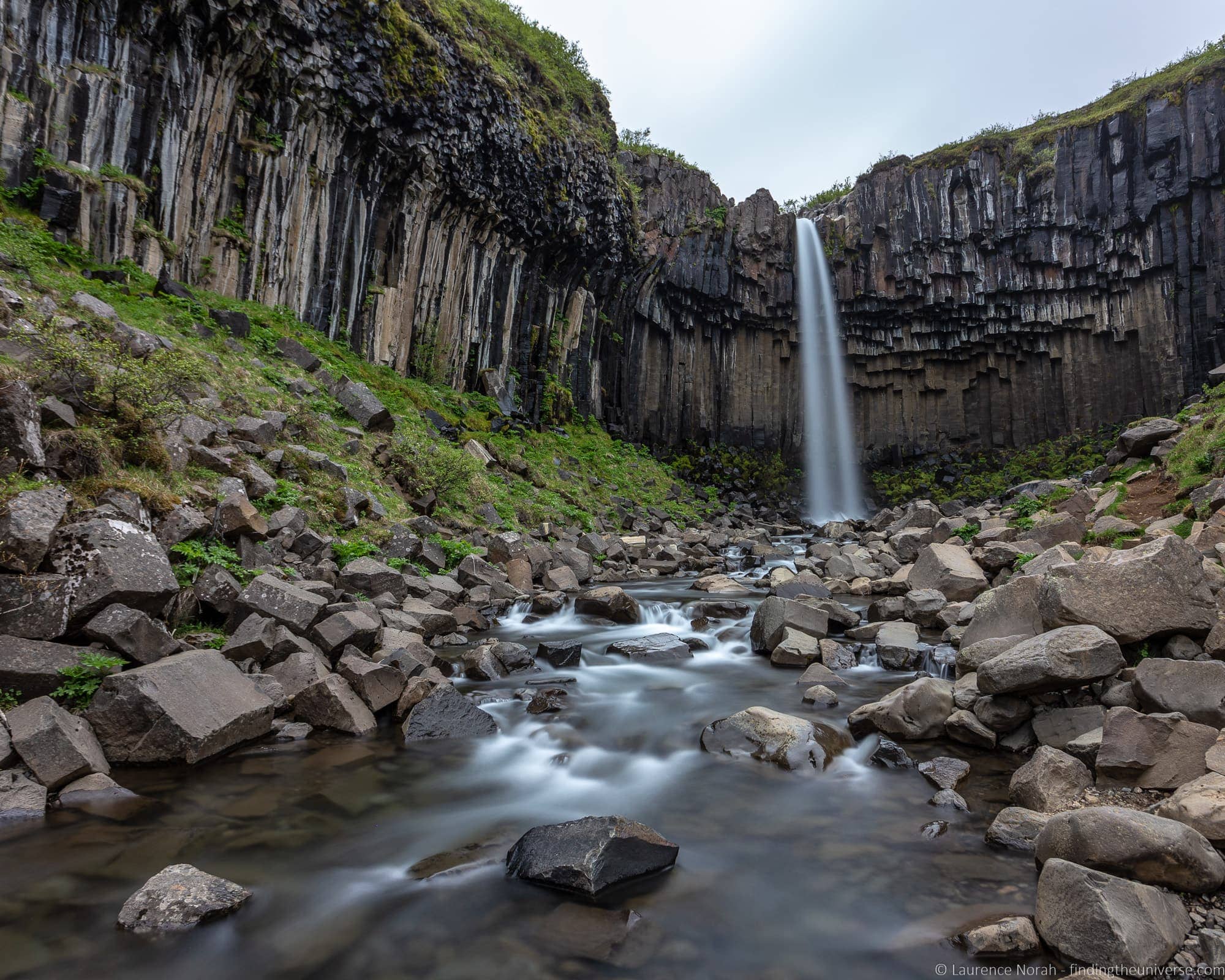 The next stop is a five minute drive further along, to the Svínafellsjökull Glacier. Here there's an excellent viewpoint from where you can see the tongue of the Svínafellsjökull Glacier – one of the outlet glaciers of the main Vatnajökull glacier.
Continuing further along, and you will come to the well known Jökulsárlón Glacier Lagoon. This lagoon is formed off the run off from the Breiðamerkurjökull outlet from Vatnajökull, and is a popular spot for taking a boat tour (seasonal), which will get you out between the icebergs and up close to the glacier itself, an experience you won't quickly forget.
Directly across the road from Jökulsárlón Lagoon is the Diamond beach. This is where the icebergs which float out of the lagoon wash up on the shore, creating the impression of a beach littered with giant diamonds. Depending on the time of year you visit, you will find more or less of these (more in winter, less in summer!), but it's worth five minutes to check it out whenever you visit.
Finally, the last section of the day has you driving on to Hofn, where we recommend you spend the night. If you prefer, you can also drive further, and overnight in Djúpivogur.
Day 3 Highlights: Fjaðrárgljúfur, Lava Fields, Vatnajökull National Park, Glacial Lagoon, Langoustines
Start Point: Vik
End Point: Hofn or Djúpivogur
Distance driven: 272km / 170 miles
Where to stay
For your third night on Iceland's ring road we suggest staying in either Höfn or Djúpivogur. Options to consider include:
See more options in Djúpivogur here and Hofn here.
Day 4: East Coast
It's time to tackle Iceland's east coast! Jökulsárlón Lagoon, which you visited yesterday, is the last stopping point for the majority of one and two day trips from Reykjavík, so from there onwards you should find that the roads and attractions will be a little less busy.
Your first stop today is the Vestrahorn, a fantastically photogenic mountain. In contrast to the flatter, glacier coated mountains of the south coast, the Vestrahorn is a spikey affair, in fact it is named for it's "horns". This is just one of a series of these mountains along the east coast, which makes for a seriously spectacular drive along the coast.
Note that you can see Vestrahorn from Route 1, but if you decide to drive off the 1 do come off the 1 and drive to Stokksnes for more views of the Vestrahorn, this is across private land. The landowner here charges a small fee to vehicles to manage the road and access.
You then are going to continue your drive along the coastal road, which is a really fabulous drive, and you are going to find yourself stopping regularly to take photos of the scenery here. Just be sure to stop at the actual pullouts and marked parking areas.
The first major stop is going to be the small fishing town of Djúpivogur. Here there are a few highlights, including an art installation of stone eggs (Eggin í Gleðivík), with each egg representing a bird you would find in Iceland. Djúpivogur is a popular spot for bird watching too and you can find a couple of hides in the area.
There are also local artists who have opened their quirky studios to visitors, and these are definitely worth a visit.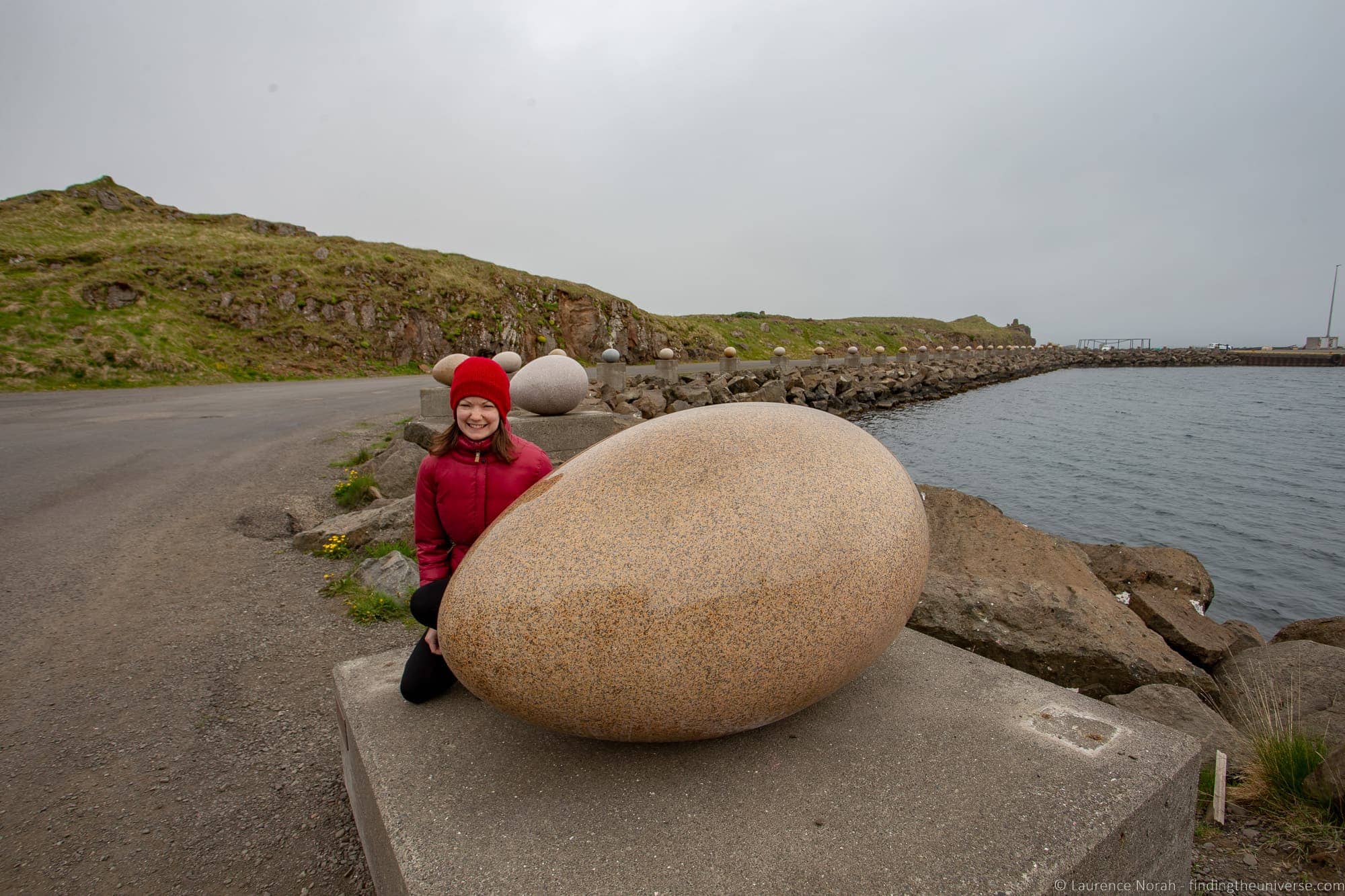 If you want to see something a little unusual (for Iceland at least), you can take a 15 minute hike from the east end of town to Búlandsnes, where you can see a lovely white sand beach. For more on what to do in Djúpivogur, see the official website here.
From Djúpivogur, continue northwards on Route 1. There are two waterfalls next on your route, Sveinsstekksfoss & Folaldafoss. The first is just off the road, with the best views found if you drive up the steep track a little way to the parking at the top, from where it's a 1 minute walk to a viewpoint.
Folaldafoss is a five minute detour off the 1 on Route 939, and is viewable both from the car park, or you can walk down to be closer to the falls, which takes about five minutes. Both waterfalls are worth stopping at.
Note that GPS units will often recommend you continue on the 939 if you set your destination as Egilsstaðir. We'd suggest against doing this – the road is a windy mountainous pass, and you are unlikely to save any time. It also often closes in bad weather conditions. Instead, return to the 1 and continue onwards.
Another benefit of continuing on the Ring Road is that you will be able to stop at Petra's stone collection.
Petra was a lady who lived in the village of Stöðvarfjörður, and who had a real passion for collecting stones. Her stone collection attracted visitors from all over the world, and it grew to take over her house and garden.
Petra died a few years back, but her family have maintained her collection – and it is truly impressive. A great stop if you want to learn all about the minerals of Iceland, plus get an insight into a locals' life and hobby.
From Petra's stone house, continue your journey to the town of Egilsstaðir. The stretch of Route 1 from near Reyðarfjörður into Egilsstaðir takes you through a truly stunning valley, which when we drove it seemed to have waterfalls crashing down the valley walls every few hundred meters. A wonderful sight to behold as you head into Egilsstaðir.
Egilsstaðir is the largest town in East Iceland, and a good place for shopping if you need to get any supplies. It's also home to the largest forested area in Iceland, which you might find surprising after seeing so much barren and treeless landscapes!
For a culture fix, Egilsstaðir is where you'll find the East Iceland Heritage Museum, which tells the story of the history and culture of this region of Iceland specifically.
You can overnight in Egilsstaðir, but, depending on time, you may also consider taking the half hour drive out to the town of Seyðisfjörður on Route 93.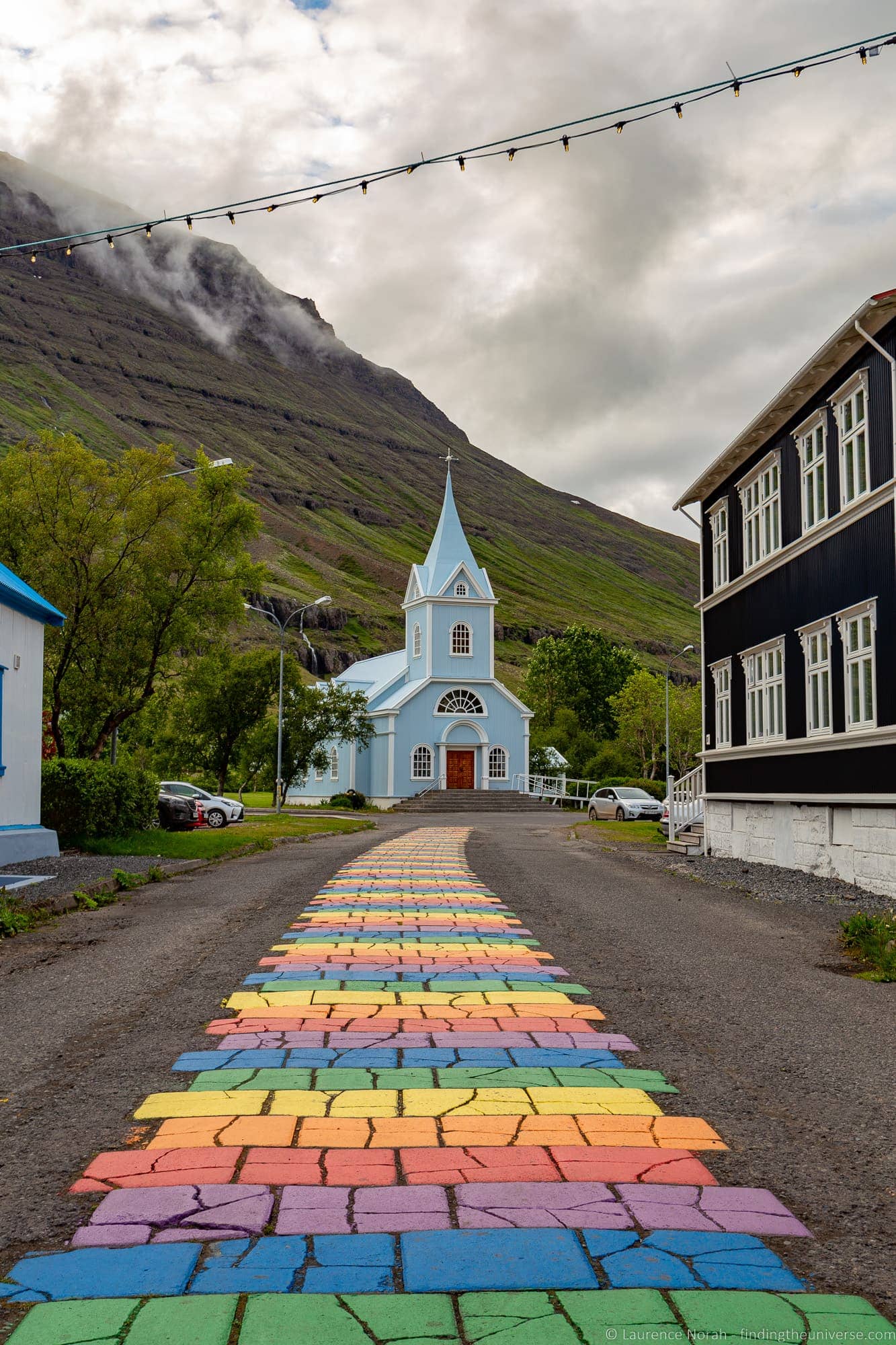 The road out to this coastal town is truly spectacular, and fans of the movie "The Secret Life of Walter Mitty" will recognise this road as the one the character Walter rides his long board down.
On the way there are a number of spectacular waterfalls – we'd definitely recommend stopping at Fardagafoss and taking the time to hike up to it (around 45 minutes round trip).
The town itself is also very pretty, with the rainbow painted high street that leads to the local church being particularly photogenic.
Day 4 Highlights: Vestrahorn, Djúpivogur, Sveinsstekksfoss, Folaldafoss, Petra's Stone Collection, Egilsstaðir, Seydisfjördur
Start Point: Hofn
End Point: Egilsstaðir or Seydisfjördur
Distance driven: 281 km / 173 miles.
Where to Stay
For your fourth night on Iceland's ring road we recommend staying either in Egilsstaðir or Seydisfjördur.
See more options in Seydisfjördur here and Egilsstaðir here.
Day 5: North Iceland
The fifth day of our Iceland road trip itinerary takes us out of east Iceland and into northern Iceland. Before you leave this area though, you might consider a Reindeer Safari, as this is the best part of Iceland (well the only actually as all the reindeer live in East Iceland) to see the wild reindeer. We did one of these trips, and were lucky enough to spot two large reindeer herds!
After leaving Egilsstaðir, your first stop on day five will be the Rjukandi waterfall. This is right by the road, around a 40 minute drive outside Egilsstaðir. There's a parking lot here and it's a five or ten minute walk up a relatively gentle incline to the best viewpoint.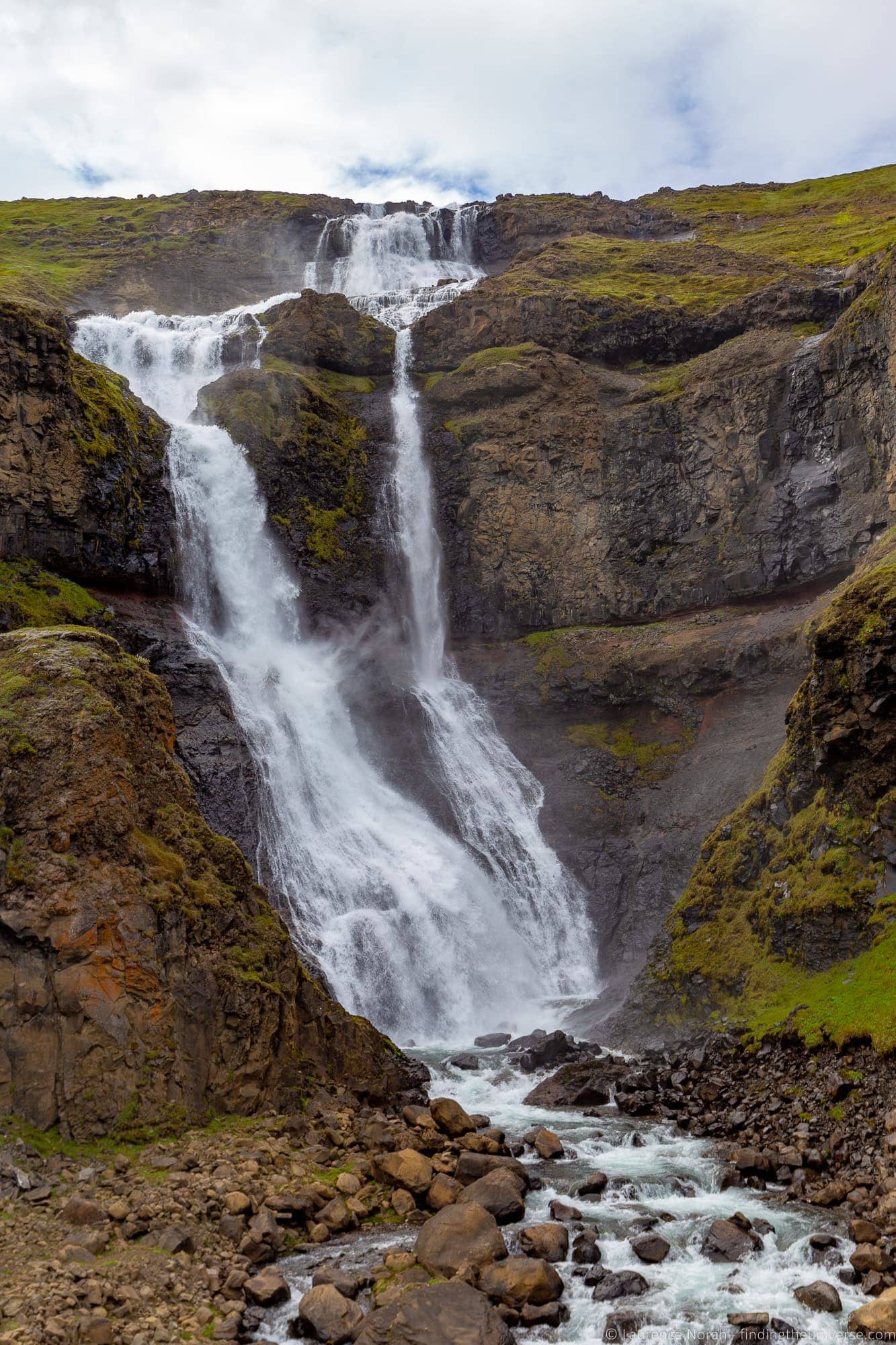 Not long after the Rjukandi waterfall, you'll come to a turning signposted for Sænautasel and Möðrudalur. This follows the F970 unpaved mountain road. If you have time and a proper 4×4 vehicle with high clearance, and if the road is open, then we can suggest a detour on this route, which will give you the opportunity to visit these two locations.
Sænautasel is an old restored turf farm house where you can now get coffee and pancakes in an authentic turf house. Möðrudalur also has a number of turf houses, and is a larger village. This detour will add more time to your trip today, but if you do have the time and a suitable vehicle, then we think it is a fun experience.
Our next stop is the waterfall of Dettifoss, which is one of the highlights of Iceland's Diamond Circle – a popular circuit of attractions in the north of Iceland. Our Ring Road itinerary will cover some of these, but not all, just for reasons of time.
Dettifoss though should definitely be on your list. This is Europe's most powerful waterfall by volume of water, with around 500 cubic meters of water passing over the falls every second. The falls are 100 meters wide and 45 metres high, and as you can imagine, are quite the sight.
You can access Dettifoss by taking either Road 864 or 862 off the Ring Road. These two options bring you to different sides of the falls, which offer slightly different views. Route 862, on the west side, is a tarmac road, whilst Route 864 is a gravel road. The views differ, so you should do a little research so you can decide for yourself which will be better for you. Also these roads may close in bad weather.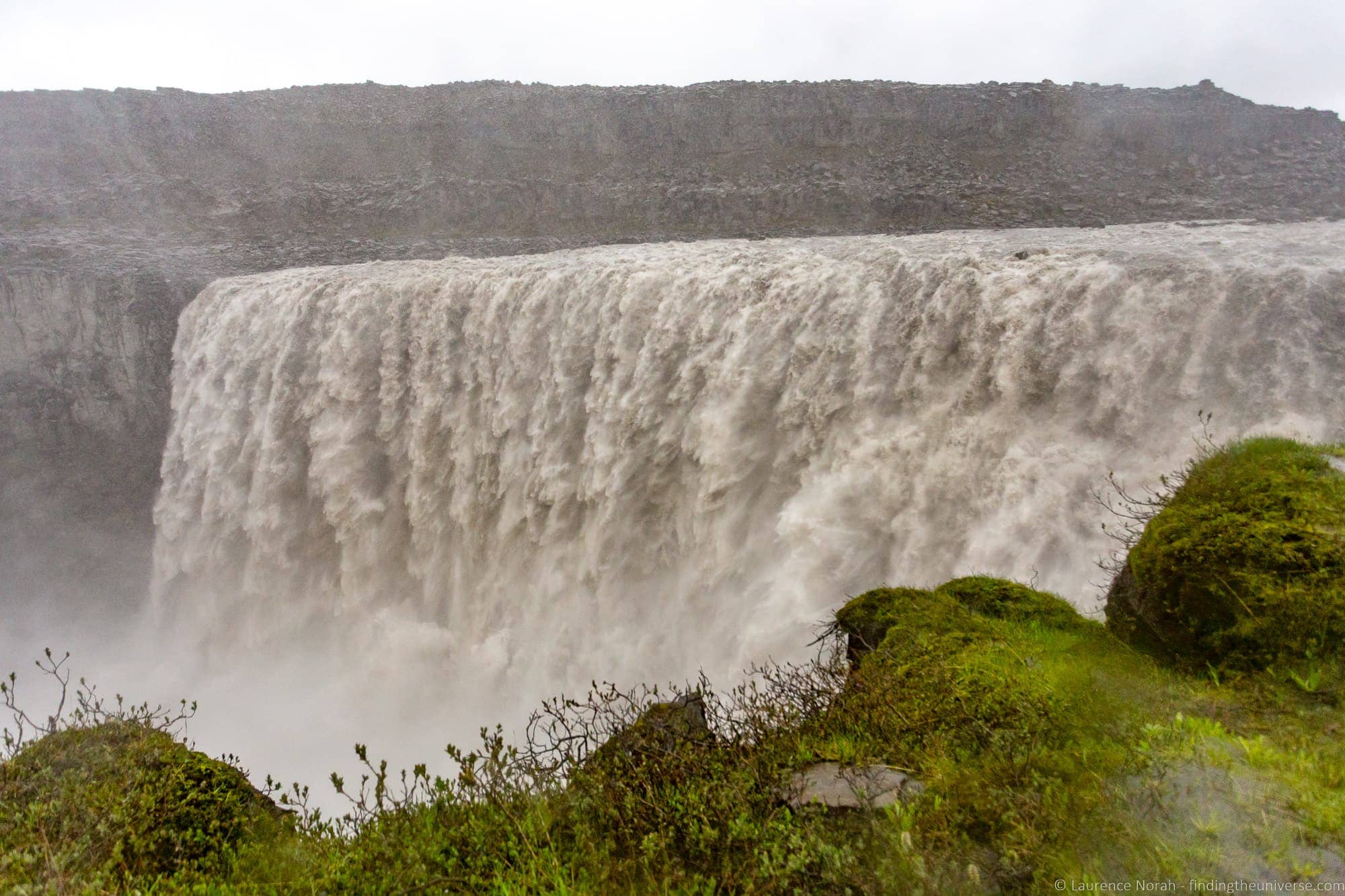 You can of course continue to explore the Diamond Circle if you wish. North from Dettifoss on the west side is Hljóðaklettar, home to some seriously funky columnar rock formations, which take around an hour to explore.
You could go further north and complete the Diamond Circle, even visiting Húsavík – one of the most popular places for whale watching in Iceland, and then rejoin the Ring Road at Lake Myvatn. If whale watching is high on your list, you might want to do that instead.
For the purposes of this itinerary, we're going to assume you return to the Ring Road after Dettifoss, and continue to follow it.
You will now approach the Lake Myvatn area of northern Iceland, which is full of attractions, and where you could easily spend a few days exploring. The lake, which was created by a massive volcanic eruption a couple of thousand years ago (practically yesterday in geological terms), is a particularly popular spot for bird watching and is home to a large number of rare duck species.
There are also numerous attractions, from volcano craters to lava fields to areas of geothermal activity.
We would suggest that you split the attractions in the Myvatn area between your fifth and sixth day in Iceland. On this day, we'd advise stopping at Hverir, a geothermal spot which is known for its bubbling pools of mud and steam fumaroles, which is quite an impressive site.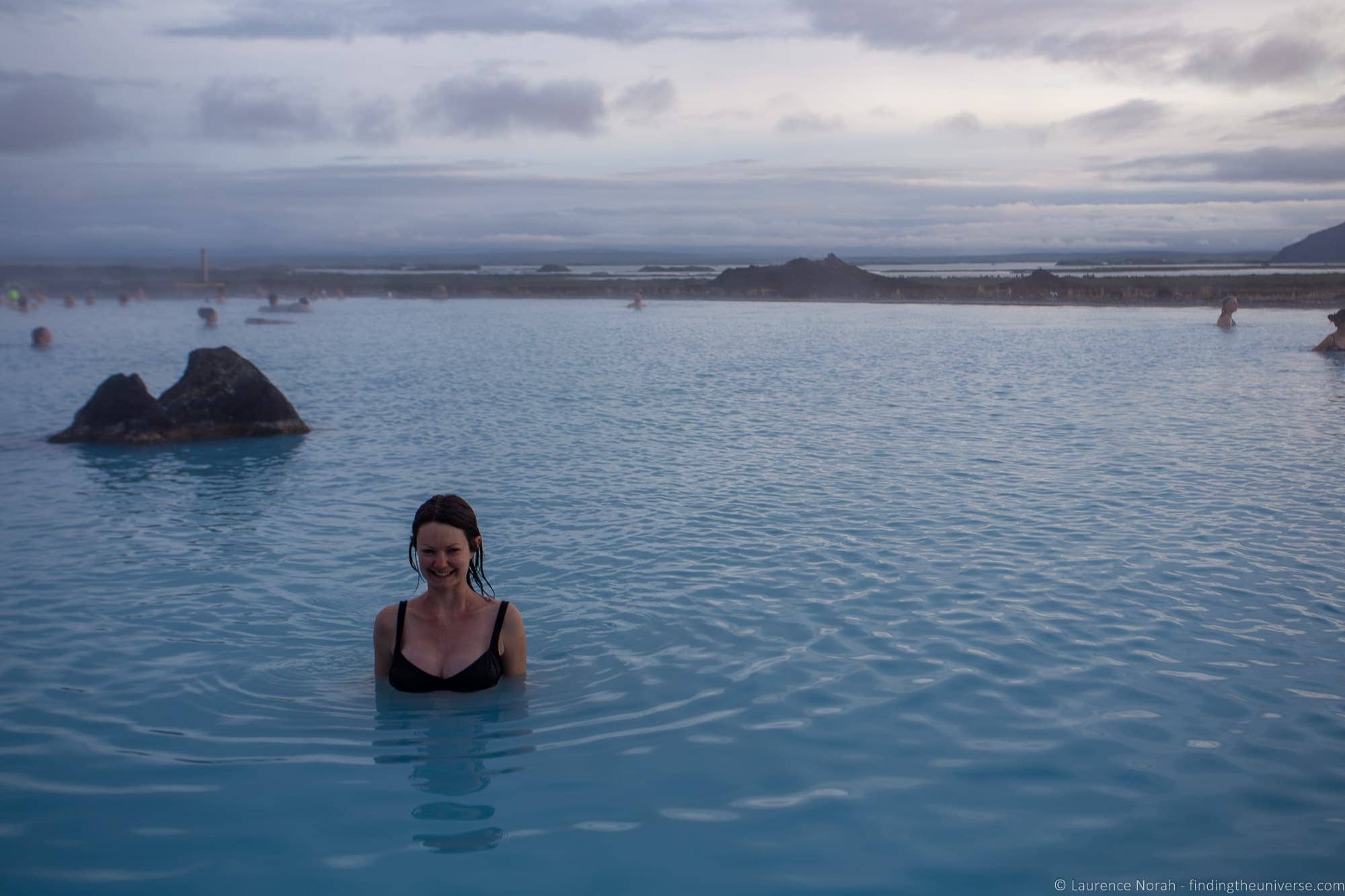 We'd also highly recommend the Lake Myvatn Nature Baths. These baths are some of our favourite geothermal baths in Iceland. They have a similar outdoor feel to the Blue Lagoon, with that beautiful blue colour, but we thought that the view from the bathing area was just perfect. It's a little way up a hillside here, and you can see right across the whole Lake Myvatn area.
You'll want to book your ticket in advance, and we can recommend bringing a towel as towel rental is not included, and is a little bit expensive.
Day 5 Highlights: Rjukandi waterfall, Dettifoss, Hverir, Lake Myvatn Nature Baths
Start Point: Seydisfjordur
End Point: Lake Myvatn
Distance driven: 262km / 162 miles
Where to Stay
We recommend spending your fifth night in the Lake Myvatn area. Some options to consider include:
Laxá Hótel – this is

a nice design hotel with great views, just 2km from the lake. We had a lovely stay here.

Skútustadir Guesthouse – set on a farm, this well reviewed guesthouse offers a shared kitchen as well as rooms with either shared or private bathrooms
Vogafjós Farm Resort – this well reviewed family-run guesthouse offers rooms with private bathrooms and on-site dining
Fosshótel Mývatn – this is a very well reviewed hotel offering comfortable rooms and an on-site restaurant
Dimmuborgir Guesthouse – this farm stay offers self-catering cottages as well as rooms with access to a shared kitchen.
See more options in the Lake Myvatn area here.
If you decide to do the Diamond Circle drive instead, we'd recommend staying in Húsavík . We stayed at the Kaldbakskot Cottages, but there are lots of options, you can see listings here.
Day 6: North Iceland
Wow, day 6 of the road trip already! Today we're going to continue to explore northern Iceland, starting with some more of the attractions around Lake Myvatn.
Lake Myvatn has a great many attractions to choose from, ranging from geological attractions through to bird watching and fishing. We've put a few of our favourite geological attractions here, but there is a great deal to do in this area, depending on your interests.
Depending on where you choose to stay in this area, the order you visit these attractions will vary. However, these are the attractions we'd suggest you visit.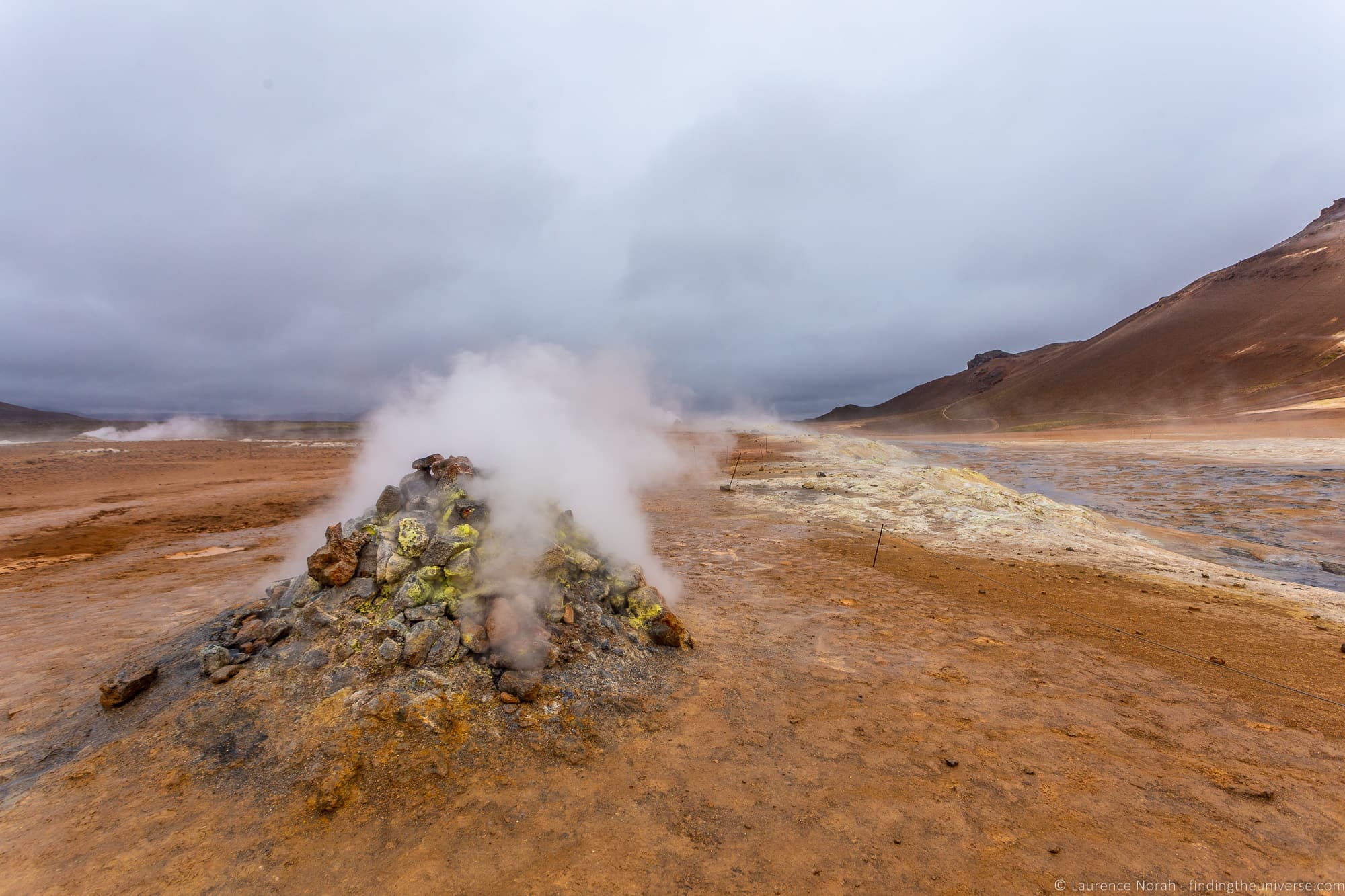 The first attraction along the route is Grjótagjá Cave. This is a hot water filled natural cave which was once a popular bathing area, until a change in the water temperature made it too hot to bathe in.
It was also used as a Game of Thrones filming location, which led to its current popularity.
Unfortunately, due to vandalism by visitors in 2018, the landowner closed all access to the cave;. However, as of 2021 it was open. As it's on private land and access is down the landowner, just check before your visit to see if it is open. If not, or if you want a cave you can actually swim in, check out nearby Stóragjá Cave.
If you want to climb a volcano crater whilst you're in Iceland, you're going to love the next stop on the itinerary: Hverfjall Crater. This is a kilometre wide volcano crater which is a steep 15 minute walk up, and the views from the top are magnificent.
From Hverfjall, you'll want to head to Dimmuborgir. This is home to an incredible lava field full of interesting rock formations. There are a variety of walks you can take around the area, of varying length, and the paths are easy to follow and well marked. Or you can just get a good look from the viewpoint next to the parking lot. This was also a Game of Thrones filming location.
There's a cafe and gift shop here, as well as toilets for customers of the cafe.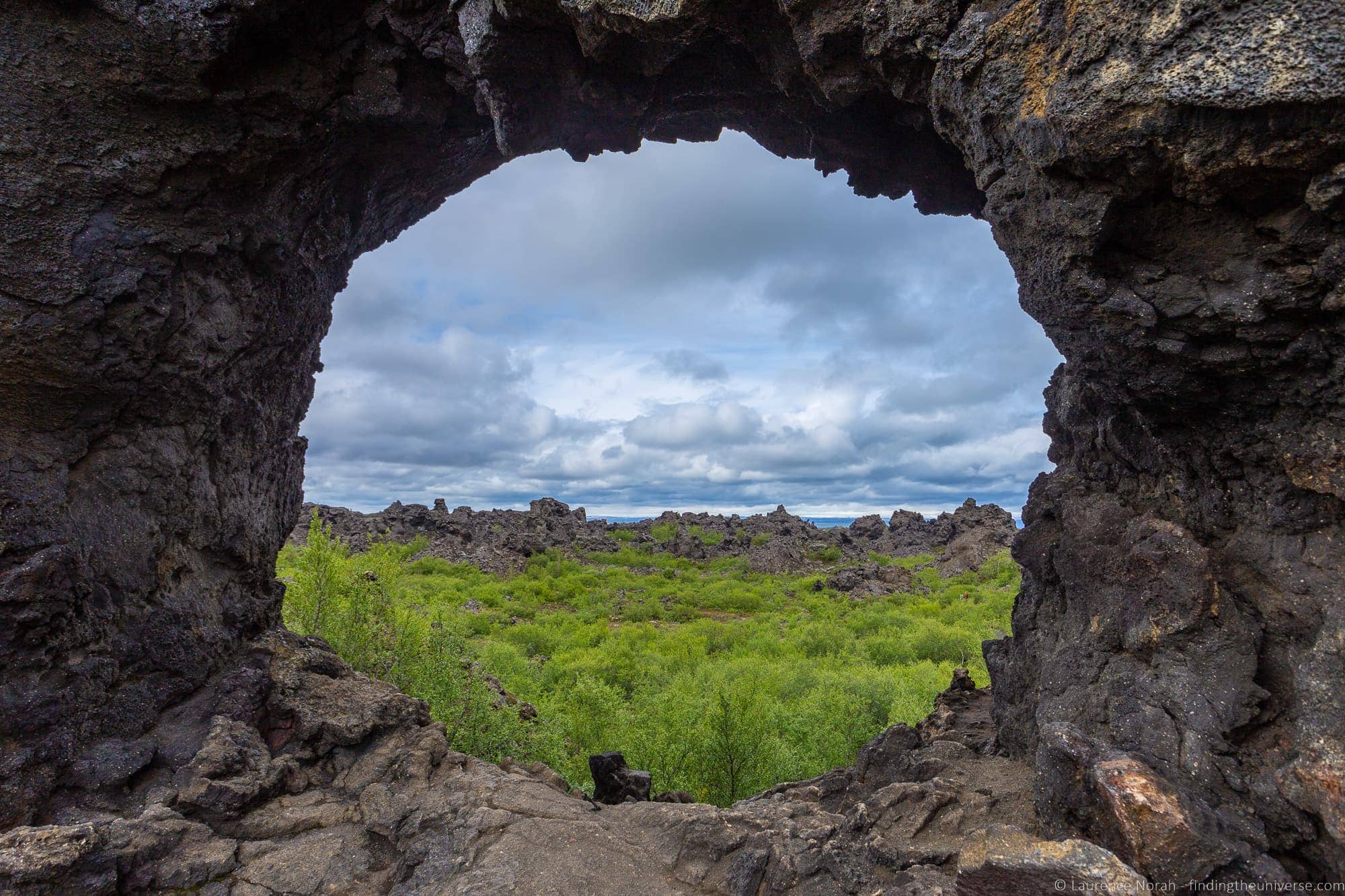 After Dimmuborgir, we can recommend a stop at Hofdi, a small nature reserve where you can walk near the lake and see rock formations jutting out of the water. Finally, head to Skútustaðagígar, where you'll find a series of "pseudo-craters".
These aren't craters from eruptions, but rather that formed when gas in flowing lava exploded. There are a series of them here, and they are of different sizes. This is also one of the most popular spots for bird watching in the area.
You've now seen the major highlights of this area, so it's time to head on. It's worth mentioning Aldeyjarfoss, a waterfall around an hour detour to the south of Lake Myvatn, but as this is a fairly lengthy detour (2 hours!) we'd only recommend it if you're a really keen waterfall hunter. Otherwise, head west on to the one to our next stop: Goðafoss.
Goðafoss is a spectacular horseshoe shaped rainbow which has good viewing options from both sides, and it's only a couple of minutes drive between the two sides, so it's not hard to get from one viewpoint to the other. It's also right off the Ring Road, so you can't miss it. Short walk from parking areas.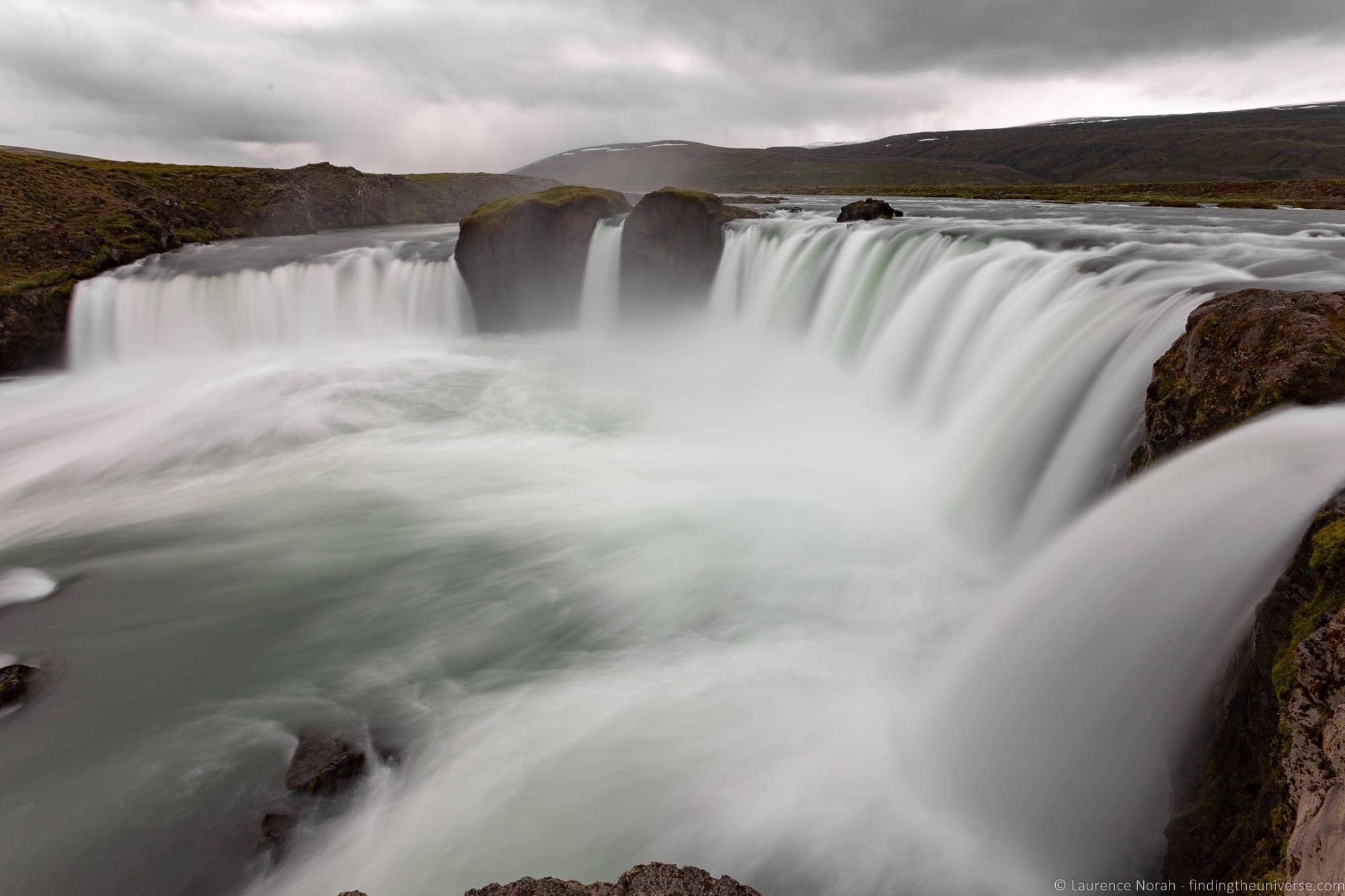 After Goðafoss, your journey will bring you to Akureyri, the largest town in northern Iceland, and where we suggest you spend your sixth night in Iceland. There's plenty to see and do here, which we'll cover on the next day.
Day 6 Highlights: Lake Myvatn, Hverfjall Crater, Dimmuborgir, Skútustaðagígar, Goðafoss
Start Point: Lake Myvatn
End Point: Akureyri
Distance driven: 110km / 70 miles
Where to Stay
For your sixth night on Iceland's ring road we recommend staying in Akureyri. Some options include:
See more options for Akureyri here.
Day 7: North and West Iceland
We're now going to explore the town of Akureyri, and then head across to west Iceland and almost back to Reyjkavik. Time limitations on this trip mean we can't do things like visit the Trollskagi peninsula or Snæfellsnes peninsula, but if you have a bit more time to spare, these would be worthy additions to your trip for sure!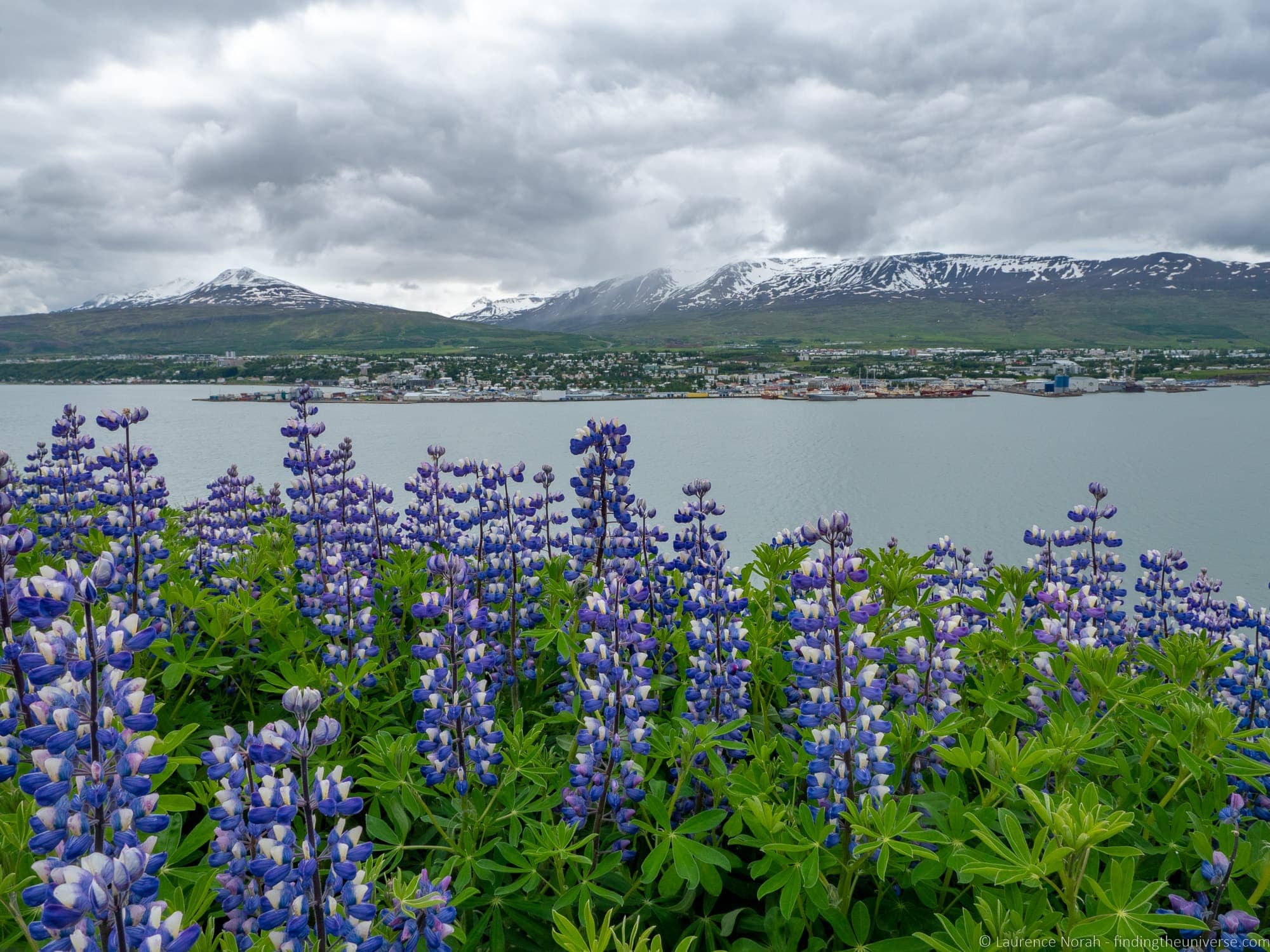 Akureyri has a lot to offer, particularly if you're interested in visiting some cultural attractions. The town is home to a large number of museums, including the Motorcycle Museum of Iceland, the Industry Museum, the Akureyri Art Museum, Nonnahús and Safnasafnið, the Icelandic Folk and Outsider museum.
We took the time to visit a few of these for some indoor time, which is a great option when the weather is not so good outside.
Akureyri is also a good place for horse riding tours or a food tour, if these activities are of interest.
From Akureyri, it's a bit of a drive back to Borganes, although along the way there are a number of worthy stops.
One suggestion, depending on time, is to take a detour to drive the Vatnsnes peninsula (or a section of it). This will take an extra 2 – 3 hours depending on stops, but will give you the opportunity to see the impressive Hvitserkur rock formations. There are also a number of other interesting rock formations and some beaches.
This area is also a great place for a chance to see seals in the wild. If you are interested in seals, stop off in Hvammstangi, where you can visit the Icelandic Seal Center, and learn all about these lovely creatures. Depending on the weather conditions and time of year, you can also take a boat tour to see seals and other wildlife.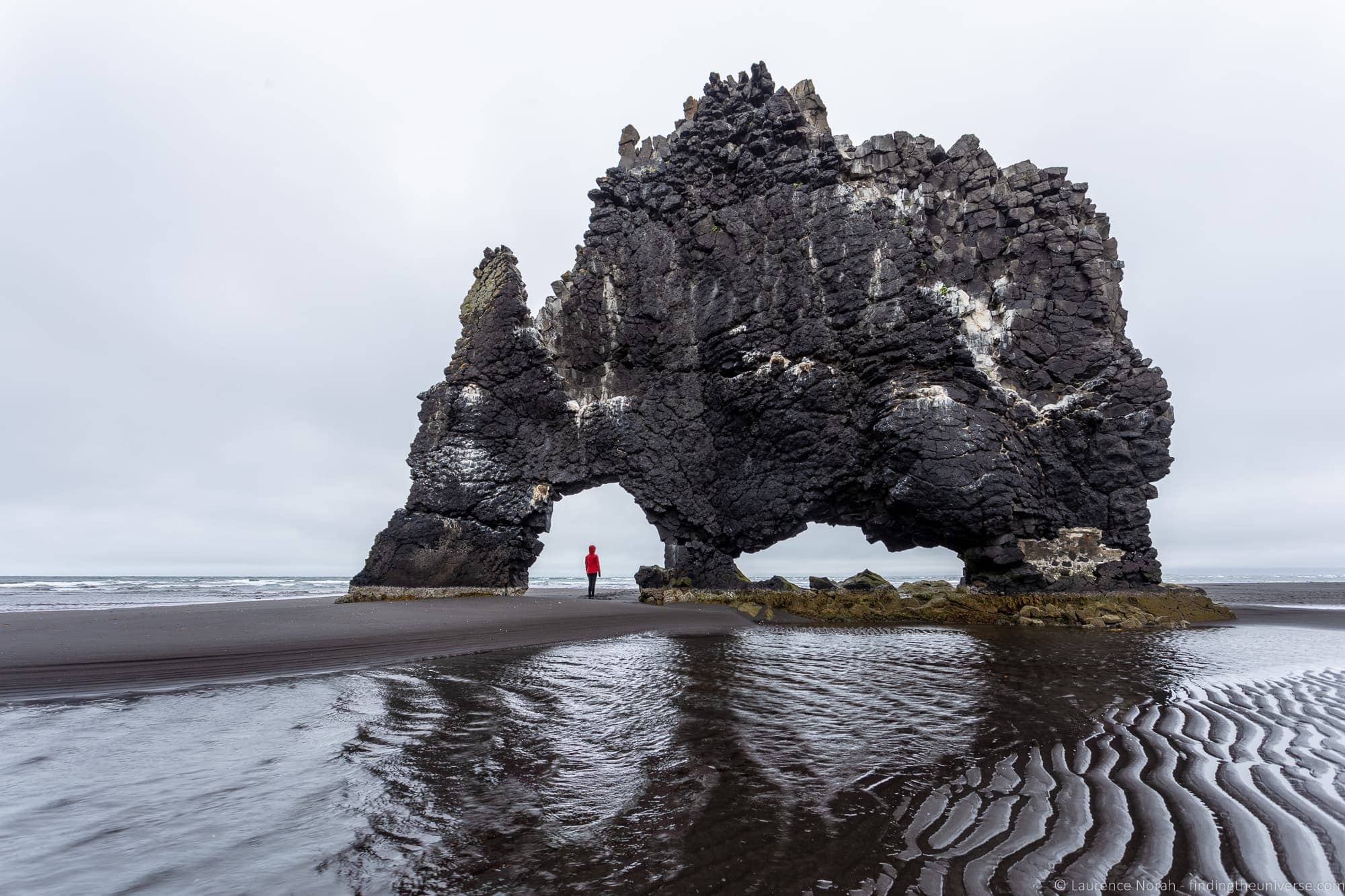 If you choose not to do the Vatnsnes Peninsula, then Kolugljúfur Canyon is a beautiful canyon and series of waterfalls just a short drive off the Ring Road. You can also do this if you drive the peninsula, it will just require you to double back on yourself a little.
Finally, finish your day be heading on down to Borgarnes. In Borgarnes you might consider a visit to the excellent saga museum. Or, if you prefer, you can drive all the way to Reykjavik for your final night in Iceland!
Day 7 Highlights: Akureyri, Hvitserkur, Vatnsnes peninsula, Icelandic Seal Center, Kolugljúfur Canyon, Borgarnes
Start Point: Akureyri
End Point: Borgarnes
Distance driven: 370 km / 230 miles.
Where to Stay
For your final night we'd suggest staying in either Borgarnes or Reykjavik.
We've stayed at a number of hotels near the Reykjavik city centre which we are happy to recommend, and we've included some other popular options as well.
If you'd prefer to stay near the airport, we've also stayed at the Northern Light Inn. This is conveniently located right next to the Blue Lagoon and is about a 17 minute drive from airport. Travellers on more of a budget will like The Base by Keflavik airport, which offers both hotel and hostel style accommodation, as well as an airport shuttle.
We've also stayed in the Icelandair Hotel Hamar near Borgarnes. See more lodging options for Borgarnes here, and Reykjavik here.
Day 8: Reykjavik
For your final day, we'd suggest heading back to Reykjavik and doing a little bit of sight-seeing in the town. This would also be a good day to visit the Blue Lagoon or Sky Lagoon if you didn't come here on your first day.
There's a lot to see and do in Reykjavik – from visiting attractions like the Hallgrímskirkja church and the city's many museums, through to taking whale watching or puffin watching tours.
Finally, it'll be time to head back to the airport, return your hire car, and head home! You have successfully driven the whole Iceland Ring Road!
Iceland Ring Road Itinerary Map
To help you visualise the road trip route we've put it together as a map. This includes the suggested route, attractions and recommended lodging options. You can see this on Google Maps here.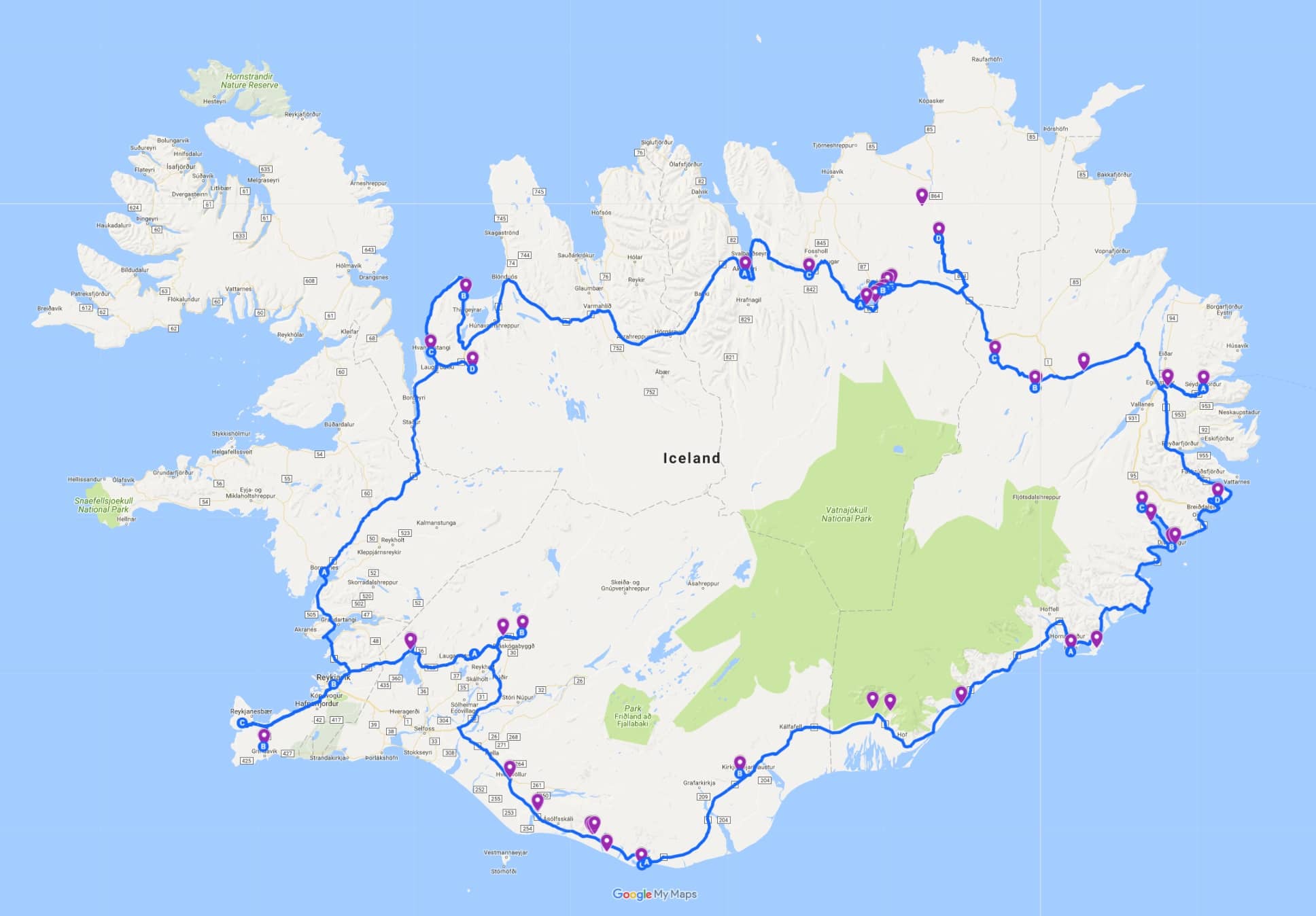 Iceland Ring Road Itinerary Overview
Here's a summary overview of each day of this Iceland ring road itinerary.
Day 1: Blue Lagoon, Thingvellir National Park
Day 2: Geysir, Gullfoss, Lava Center, Seljalandsfoss, Gljúfrabúi, Skogafoss, Sólheimasandur plane wreck, Reynisfjara black sand beach
Day 3: Fjaðrárgljúfur, Lava Fields, Vatnajökull National Park, Svartifoss, Jökulsárlón Glacial Lagoon, Langoustines
Day 4: Vestrahorn, Djúpivogur, Sveinsstekksfoss, Folaldafoss, Petra's Stone Collection, Egilsstaðir, Seydisfjördur
Day 5: Rjukandi waterfall, Dettifoss, Diamond Circle, Hverir, Lake Myvatn Nature Baths
Day 6: Lake Myvatn, Hverfjall Crater, Dimmuborgir, Skútustaðagígar, Goðafoss
Day 7: Akureyri, Hvitserkur, Vatnsnes peninsula, Icelandic Seal Center, Kolugljúfur Canyon, Borgarnes
Day 8: Reykjavik
Planning A Self-Drive Ring Road Trip
We have written a whole guide to planning a trip to Iceland, so we would definitely recommend you take a look at that.
For this trip, if you want to drive yourself as we suggest, you have two major options.
First, you could take a self-drive tour. This is what we have done on all our Iceland adventures. The tour company handle everything for you, from booking the hire car and accommodation, to putting together a suggested itinerary.
This is definitely the easiest way to do a self-drive trip, and saves you the hassle of planning all your hotel stops, finding the hire car and so on.
You can see self-drive trips on Tour Radar here and on Guide to Iceland here, both of which offer a variety of tours from different companies in Iceland.
The other option is of course to book everything yourself. First, you'll want a hire car, and you can check prices here on Rentalcars or here on Northbound.
Rentalcars compare a number of providers in the country so you can find the best price for you.
Northbound is based in Iceland, and they also search a range of providers with the added advantage that you can add the various insurances that are unique to the country should you so choose. This can help avoid the hard sell that you will otherwise likely get for these insurances at the checkout counter when you pick up your car.
Once you have your car arranged, you'll want to book your hotels. We've got some tips for booking tools further on the in post, and we have also included suggested hotel stops for each night as part of the route plan.
Finally, if self-driving seems too much, you can also of course do the ring road as part of a guided tour like this.
Where Can You See the Northern Lights in Iceland
You can see the northern lights from pretty much anywhere in Iceland. If you're driving yourself, you just need to find a spot away from city lights with a good view of the sky, and hope for clear conditions and high solar activity. The Icelandic Met Office website has an excellent tool to help you find the northern lights in Iceland.
The northern lights are viewable from September through to March – basically, you need dark clear skies to see them. In summer, the days are too long for it to be dark enough to see them.
If you're in Reykjavik, there are lots of tour operators who offer northern lights tours. This is a good way to see the northern lights, as the drivers will know the best places to go, and the tours will usually only go if there is a high chance of seeing the lights.
If you are planning on seeing the lights, see our guide to how to photograph the northern lights so you are fully prepared to get some great images.
Where to Stay in Iceland?
Iceland has a wide range of accommodation options, to suit a variety of budgets, from backpacker hostels through to more luxury properties.
It's worth noting that Iceland is far from a budget destination (read our Iceland budget tips for money saving advice), but we found that especially for the mid-range properties, value for money was good.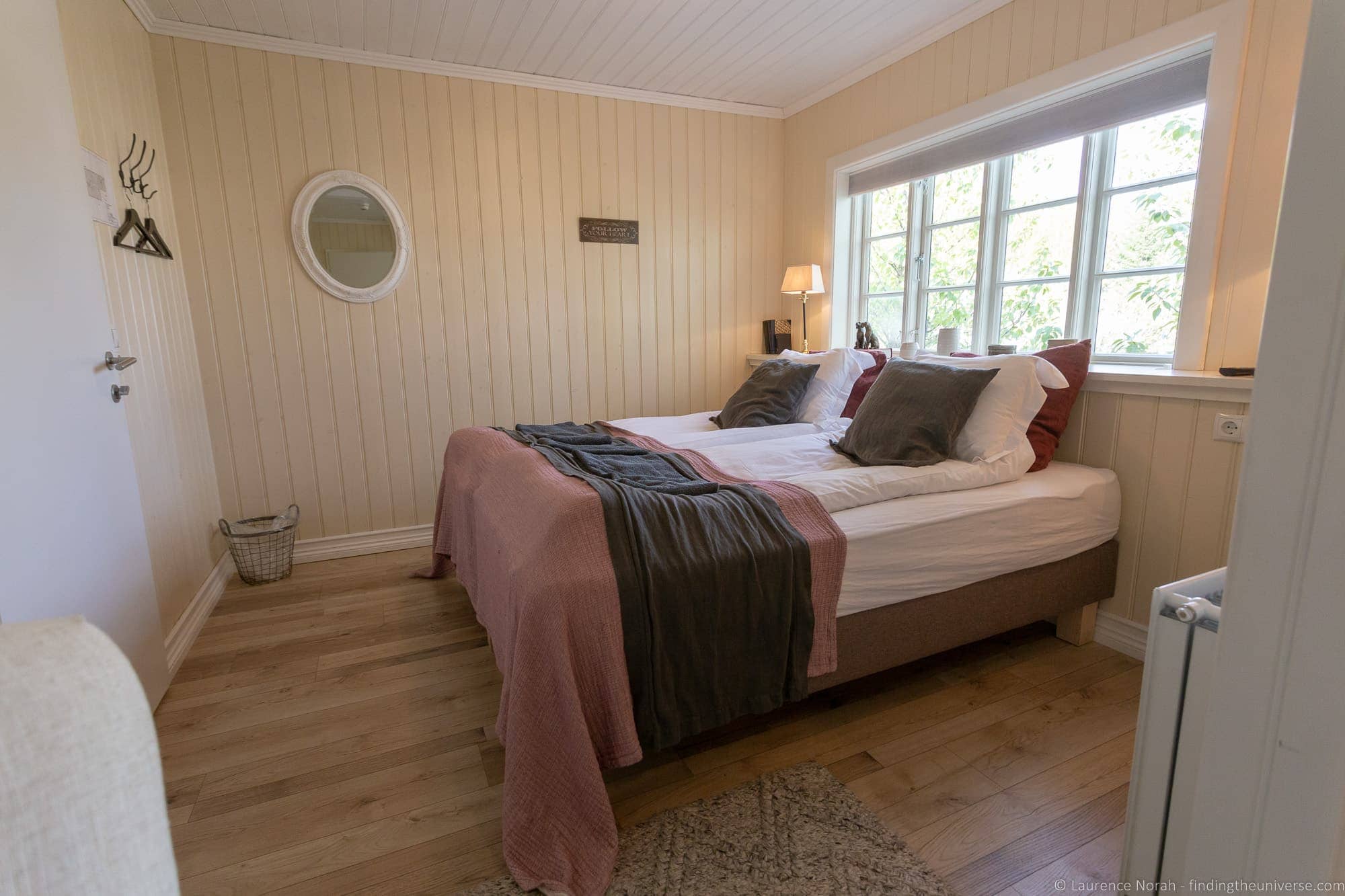 For our self-drive road trips, our hotels were arranged for us. You can see a selection of self-drive tours like this here.
For the majority of the rest of our accommodation in Iceland, we use Booking.com. We find that they are usually the best option when we travel, as they have everything from hotels to apartments and hostels, with a massive choice, and the user review system makes it easier to find good properties.
We have also used apartment rentals platforms like Vrbo in Iceland. We prefer to use these for longer stays though, we think that for short one-night stops, especially on a road trip where arrival times can vary, the requirement to sometimes arrange arrival times with a host can be a problematic. Still, it can be an option.
Power in Iceland
Iceland uses a 220v system with the same two pin plugs as most of Europe. If you are travelling from the UK or US, you will need some form of travel adapter like this – see our Iceland packing list for suggestions.
See more on travel adapters and how to choose one for your trip in our guide to the best travel adapters. We highly recommend you pick anything up before you come as Iceland is not cheap.
Internet Access in Iceland
WiFi is generally easy to find in Iceland, and all the hotels and guesthouses we stayed in had good, free WiFi access. In addition, on our road trip with Iceland Travel, we were provided with a pre-paid SIM card which came with data, meaning we could get online easily.
If you want to get online with your phone, a SIM card from a local provider will likely be the cheapest option, and these can be picked up at Keflavik airport when you arrive.
If you don't have an unlocked phone, take a look at my guide to getting online when you travel for more options.
For more practicalities for your trip to Iceland, including currency and safety, see our guide to planning a trip to Iceland.
Further Reading for Visiting Iceland
And that finished our detailed 7 day Iceland Ring Road itinerary! Hopefully it has everything you need to start planning your own epic road trip in Iceland.
As mentioned at the start of the post, we've travelled a fair bit in Iceland, and have written a number of guides to help you put together your trip and plan effectively. We think you'll find them useful.
And that's it! If you've got any questions or feedback on the above, just let us know in the comments below, and have an awesome trip in Iceland!