Iceland is a popular destination for a stopover on flights from the US to Europe, especially because IcelandAir offers a free stopover option of up to seven days. We think that if you want to stopover in Iceland, you should do so for at least 3 days, and with that in mind we've put together this guide to spending 3 days in Iceland on a stopover.
This Iceland stopover itinerary is good for any time of year, and we've provided options for both a self-drive itinerary and options if you'd prefer not to drive in Iceland. Both are very viable options for an Iceland trip!
As well as the suggested itineraries, we also go into some practicalities for your Iceland visit, discuss the pros and cons of visiting Iceland at different times of year, and give you all the information you need to plan the perfect Iceland stopover! Let's get started.
Is 3 Days in Iceland Enough?
The first question we wanted to answer, before diving into the itinerary, is whether or not 3 days in Iceland is going to be enough.
We think that three full days, or even 2.5 days, depending on your flight schedule, will be enough to see a number of Iceland's highlights.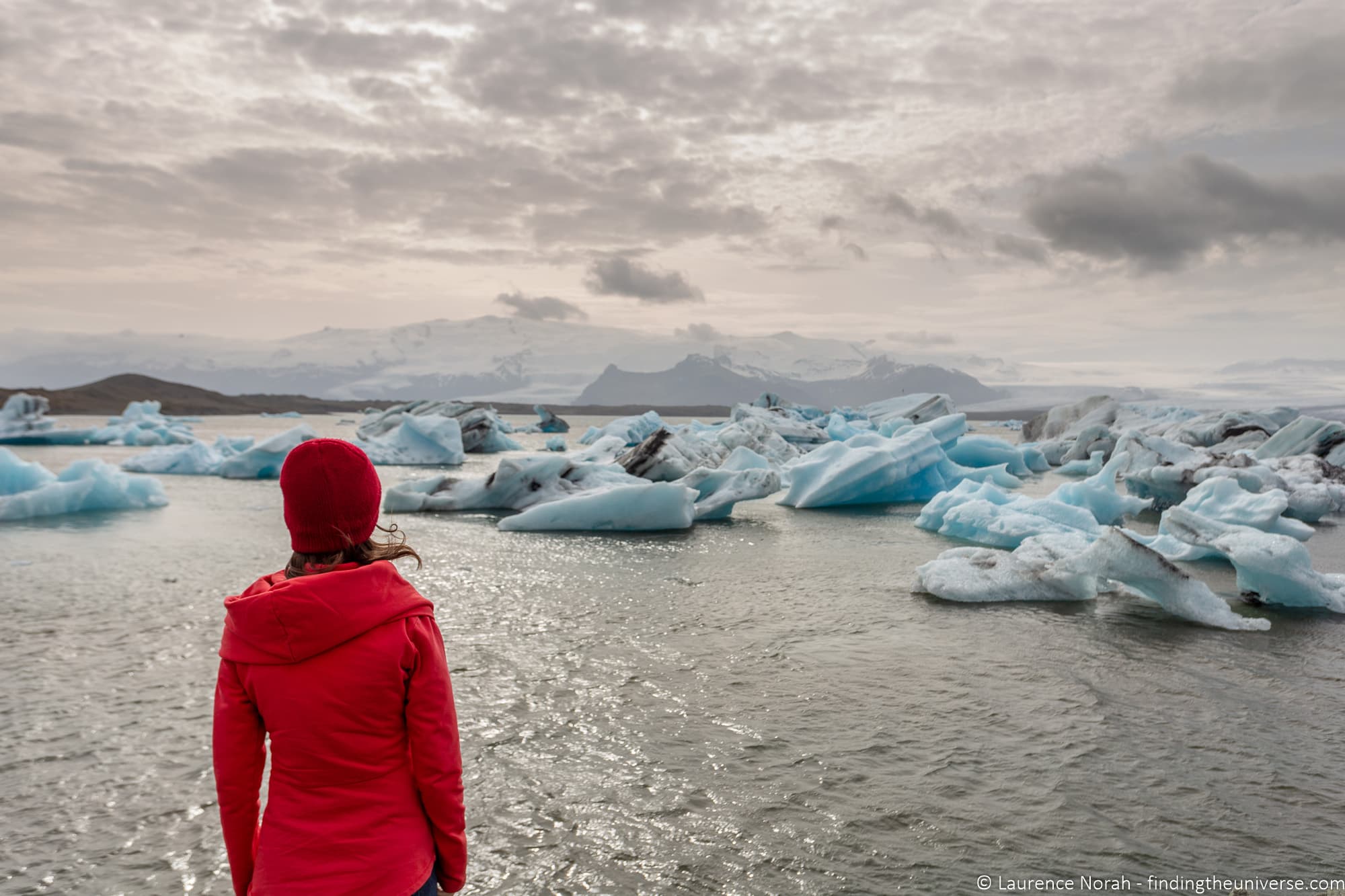 Certainly it's not enough to see everything, and for a trip like the Iceland Ring Road for example, we recommend at least a week. However, three days will give you a great sense of what Iceland is all about, whilst being more economic than a longer trip.
Of course, as with any country in the world – the longer you stay, the more you will find to do. Our last trip to Iceland was over four weeks long, and we still felt there was loads more to see, despite us filling every day as full as we could!
If you do decide to visit for longer, check out some of our longer Iceland guides and itineraries, including our Iceland Ring Road itinerary, our seven day Iceland road trip itinerary, and our guide to spending five days in Iceland.
A 3 Day Iceland Self-Drive Itinerary
Our 3 day Iceland itinerary is for three full days in Iceland. It would work for either two nights or three nights, assuming you have an early morning arrival and an evening departure. It could also be adjusted slightly to work for 2.5 days if you can't make the flights work.
If you don't have quite so much time, our suggestion would be to either base yourself in Reykjavik and do some day trips, or plan a two day trip that doesn't include so many sites, either by dropping the Golden Circle, or only going as far as Vik on the south coast.
For now though, let's look at how we suggest you spend three days in Iceland, driving yourself.
Day 1: Golden Circle
On your first day, we'll assume you arrive in the morning at Keflavik airport, where you'll pick up your car rental.
A quick note if you are looking for car rental providers in Iceland. We recommend you either check out Rentalcars here, or Northbound here.
Rentalcars compare a number of providers in the country so you can find the best price for you.
Northbound is based in Iceland, and they also search a range of providers with the added advantage that you can add the various insurances that are unique to the country should you so choose. This can help avoid the hard sell that you will otherwise likely get for these insurances at the checkout counter when you pick up your car.
See more on insurance in Iceland, plus general advice for driving in the country, in our tips for driving in Iceland post. Back to the itinerary!
If you want to visit the Blue Lagoon or Sky Lagoon, this is an option now, as they are both fairly close. You need to book your reservations in advance to enjoy either hot spring.
However, there's a lot on the itinerary (including a free hot spring), so don't worry if you don't have time on your first day.
From the airport, (or lagoon) we're going to head straight for the Golden Circle. This is a popular circular route that takes in a number of Iceland's big attractions. The name Golden Circle derives from the name of the major waterfall on the route, Gullfoss, which means gold waterfall in Icelandic.
The Golden Circle route contains a number of highlights that you'll want to stop at.
The first of these is Þingvellir National Park, pronounced Thingvellir in English. This is an important cultural and geological site, and is one of Iceland's UNESCO world heritage sites.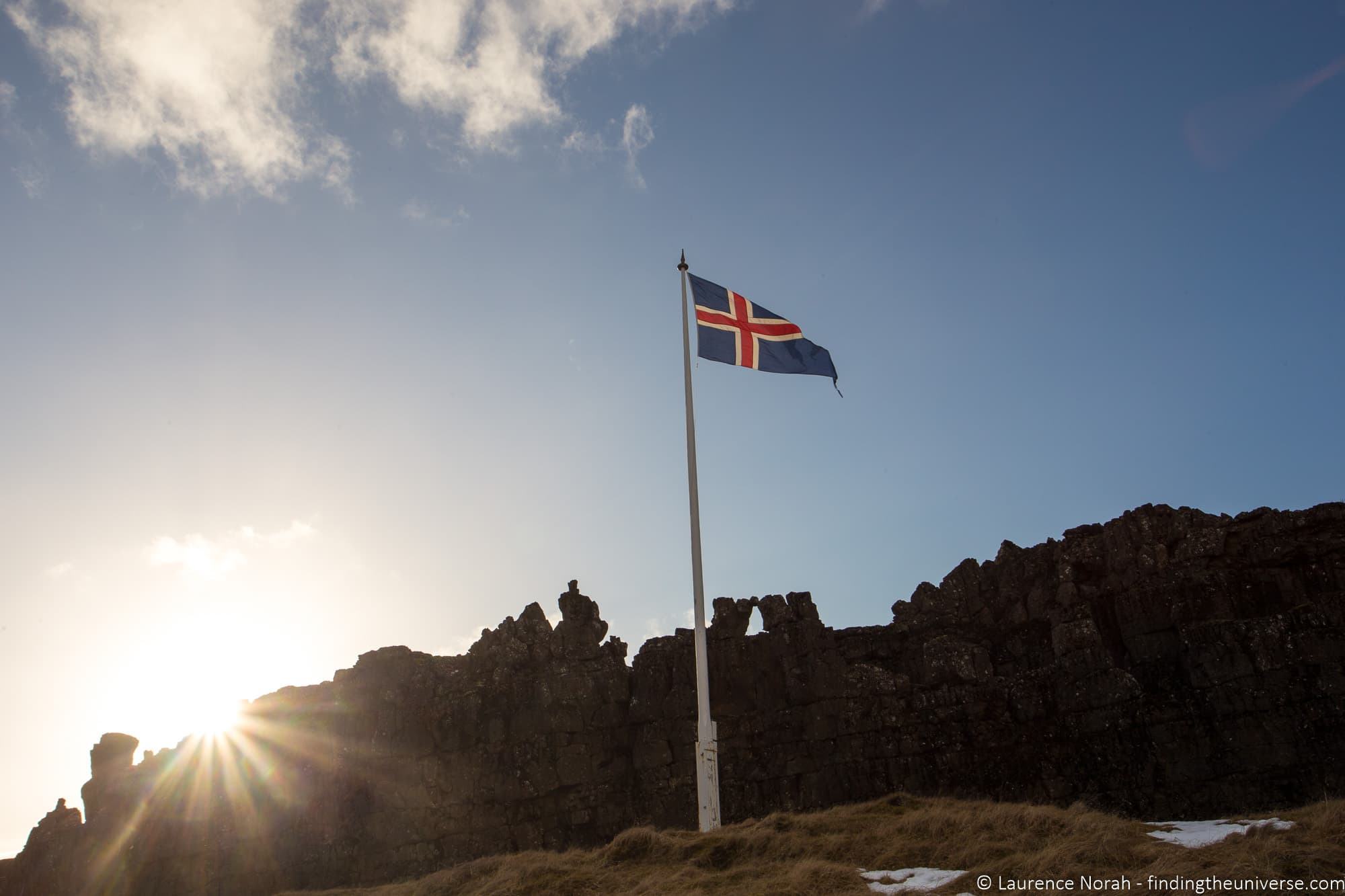 The national park has a number of attractions. First, it was the location of Iceland's first parliament, and for hundreds of years Icelanders would convene here to discuss laws and politics. It's also geologically interesting, as the continental divide can be seen here, with two continental plates moving apart from each other. You can actually walk (or snorkel!) in these rifts, which is a pretty cool geological experience.
Another attraction here that's worth seeing is Öxarárfoss, which will be the first waterfall you see on this three day trip – but by no means the last! Near Öxarárfoss is a rift through the rock, which was used as a Game of Thrones filming location.
From Thingvellir your next stop will be the Geysir thermal area, home to bubbling mud pots, steaming earth, and geysers that shoot boiling hot water and steam into the air on a regular basis. The geothermal area here is also home to a Geyser called "Geysir", which is where the word for Geyser in English actually came from.
On the way to Geysir you'll pass the Efstidalur II farm restaurant, which has excellent food and ice-cream options. You'll also go past the Laugarvatn spa, where you can enjoy the waters and can also pick up geothermally baked "lava" bread, which we found to be very tasty!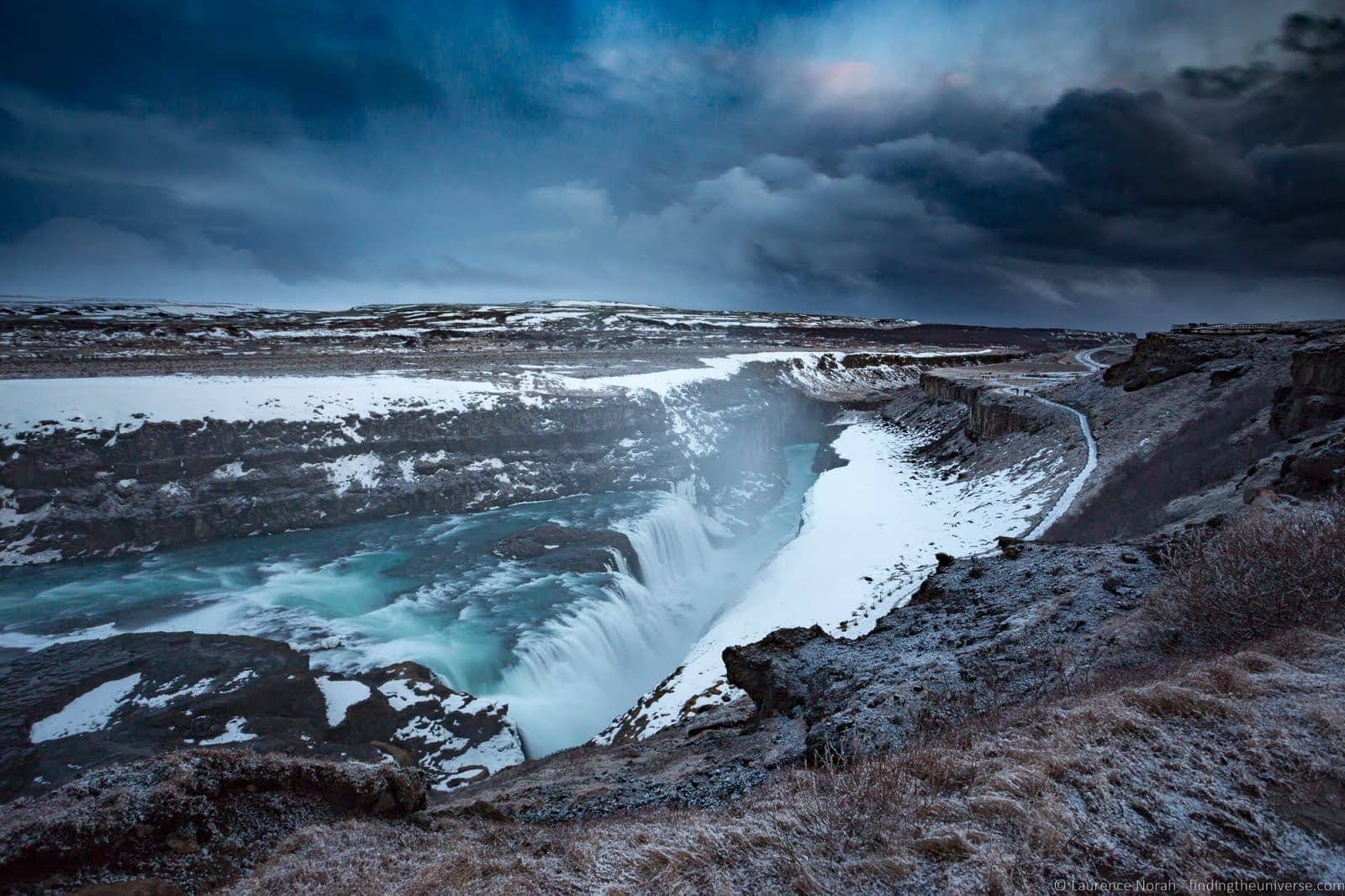 The last major attraction on the Golden Circle is Gullfoss, the aforementioned "Gold" waterfall.
This is definitely one of the most impressive waterfalls in Iceland. It's a wide, two-tiered waterfall that plunges a total of around 105 ft. It's quite the sight to behold, and there are a number of viewpoints that you can enjoy the falls from, as well as an on-site gift shop and cafe.
From Gullfoss, we suggest you head towards your accommodation for the night.
Where to stay
Our suggestion for your first night is to book accommodation somewhere between Fludir and Hvolsvollur, depending on how far you want to drive and accommodation availability. Here are some options to consider.
You can see more options in this region on booking.com here.
Day 2: South Coast Highlights
For your next two days in Iceland, we're going to focus on the south coast, primarily following Route 1, which is also known as the Ring Road.
Whilst this can be done in one day if you skip things, we think a better option is to go a bit slower and take in more of the attractions – of which there are many!
The trip out to Jökulsárlón Glacier Lagoon, which is the end point of our route, will require you to drive the same route there and back. We're going to take advantage of this, and split the sightseeing across the two days so you don't feel you have to see everything in one day.
Our first stop is going to be the Lava Center, in Hvolsvöllur. This is a relatively recently opened award-winning museum, which will teach you everything you need to know about the volcanos and the geology of Iceland. There is also a cafe here.
We think this is a worthwhile stop as you're going to be seeing a lot of volcanoes as you drive out to Jökulsárlón, and the landscape around you has been shaped by massive geological activities. The Lava Center will help you understand all of this, plus the exhibits are really well put together.
If you do decide to visit, you can book your tickets online in advance here. Using our link gives you a small discount on the normal price.
From the Lava Center, you're going to head to some of Iceland's most iconic south coast sights, including waterfalls and black sand beaches.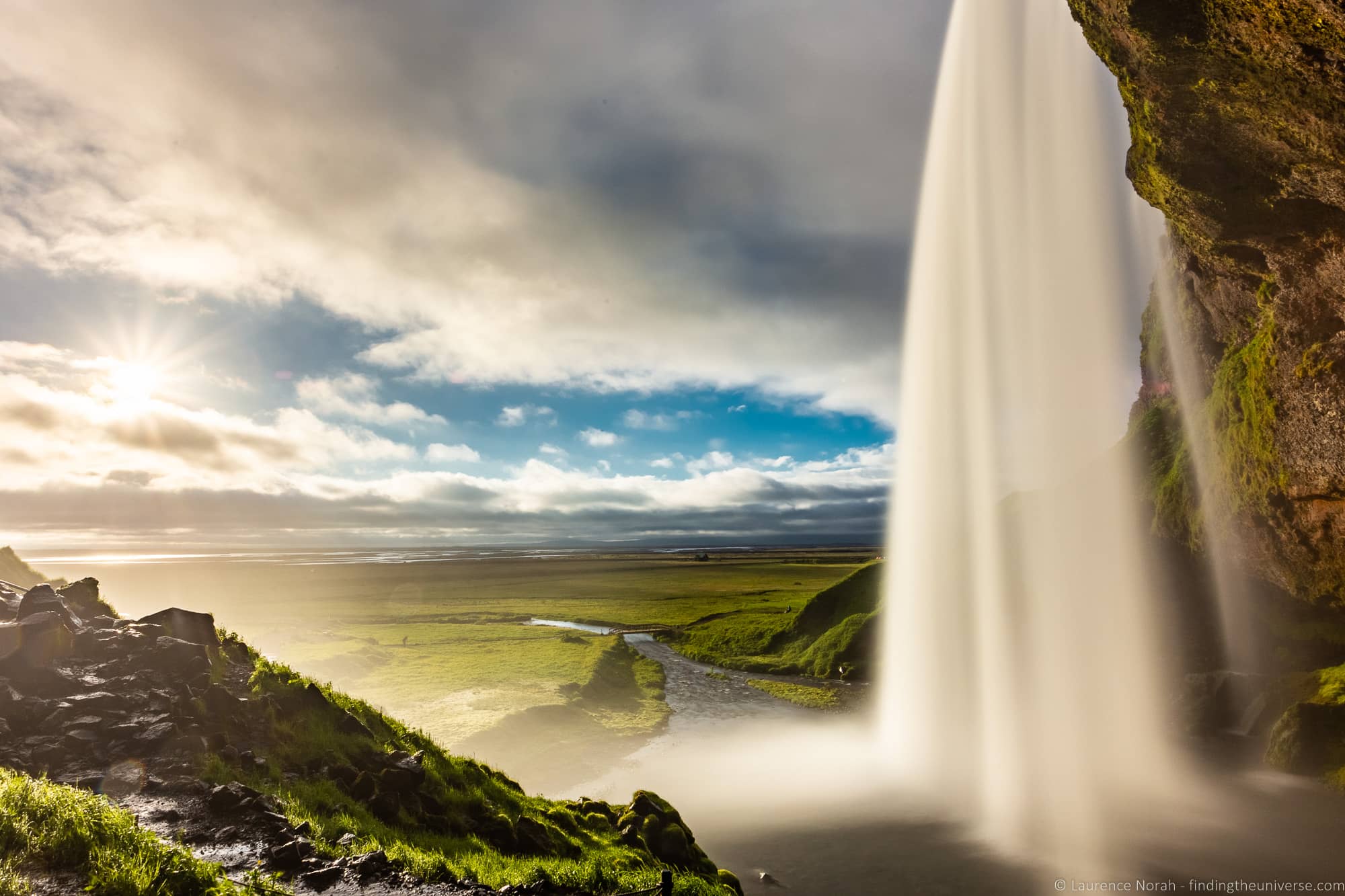 The first of these is Seljalandsfoss. This is an impressive waterfall found just off Route 1. Seljalandsfoss is one of the few waterfalls in Iceland you can actually walk behind. A word of warning – you will get wet when you do this, so dress appropriately, and if you take your camera equipment with you, make sure you prepare it for the water spray with some sort of protective cover.
Note that Seljalandsfoss is one of the few attractions in Iceland with a parking fee. This fee is payable by credit card 24 hours a day, 7 days a week, and is enforced by attendants, so definitely make sure you pay.
As a bonus, there's actually another waterfall near Seljalandsfoss – Gljúfrabúi. Note that this does require a short wade up a stream through a canyon to view, so don't do this if this doesn't sound like something you would be comfortable with, and ensure the stream is not too high before attempting it!
To get to Gljúfrabúi from Seljalandsfoss you head along the path (there's a little sign pointing the way) to the right of Seljalandsfoss as you look at it (away from the Ring Road). A short 5 -10 minute walk will bring you to a stream coming out of a narrow canyon in the rock.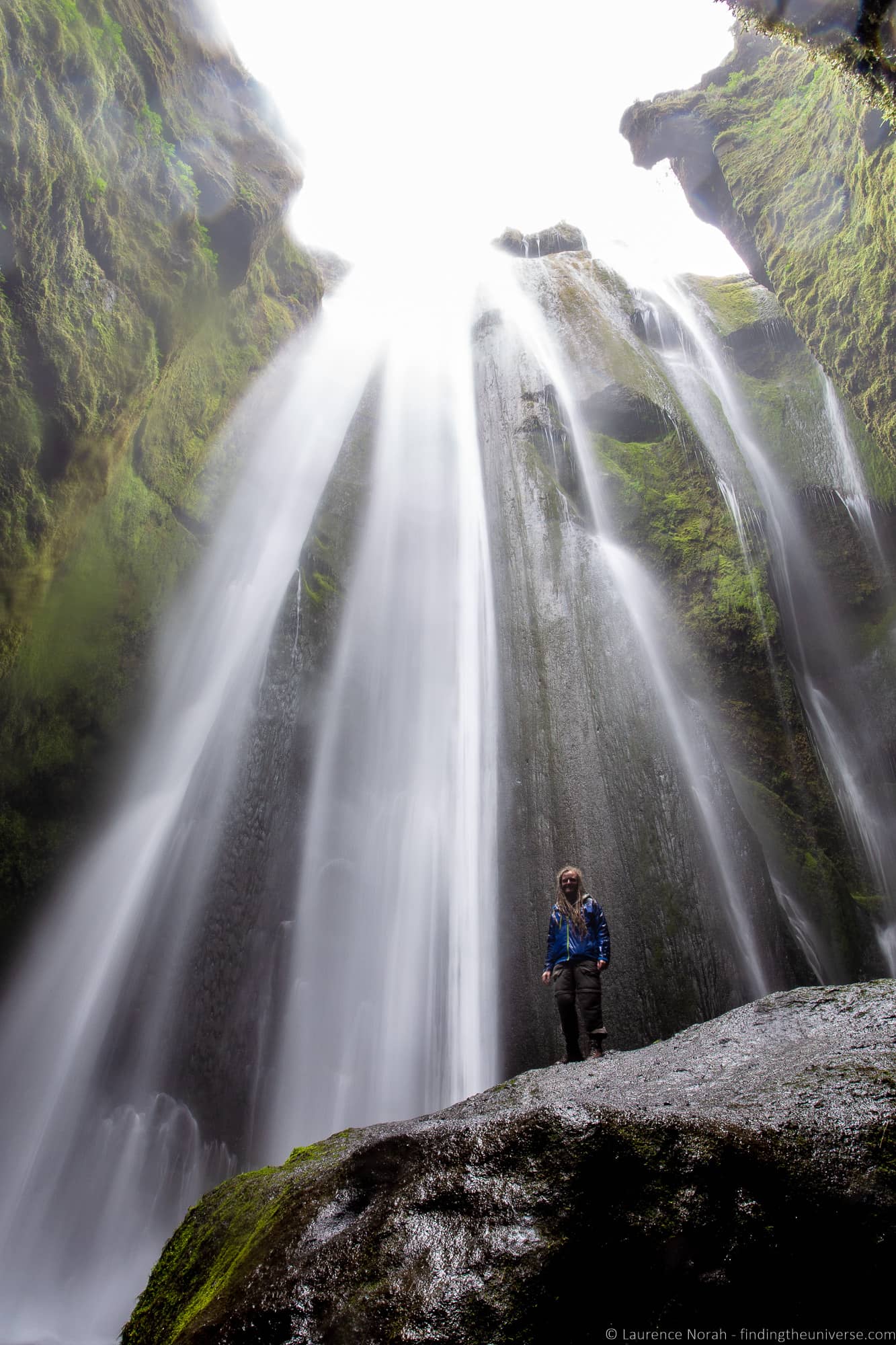 If you are feeling brave, have waterproof boots on, and the stream is not too high, you can head up this stream a few meters, where you'll be rewarded with the gorgeous Gljúfrabúi waterfall, which tumbles into the canyon, and is quite spectacular.
Next, you'll continue along the Ring Road to another of Iceland's incredible waterfalls – Skogafoss. This is notable for its width and height. At 15 metres wide and with a drop of sixty meters, the amount of water thundering over these falls is an amazing sight to behold.
You can admire this from ground level, and you can get very close to the base here (although the spray will likely get you very wet!), or you can hike up the staircase to the viewpoint for a different perspective.
Near Skogafoss is the Skogar Museum which is a lovely region museum focused on the cultural heritage of the area that has three large sections: Icelandic culture, Icelandic technology and transportation, and an open-air museum complex that includes old traditional turf buildings.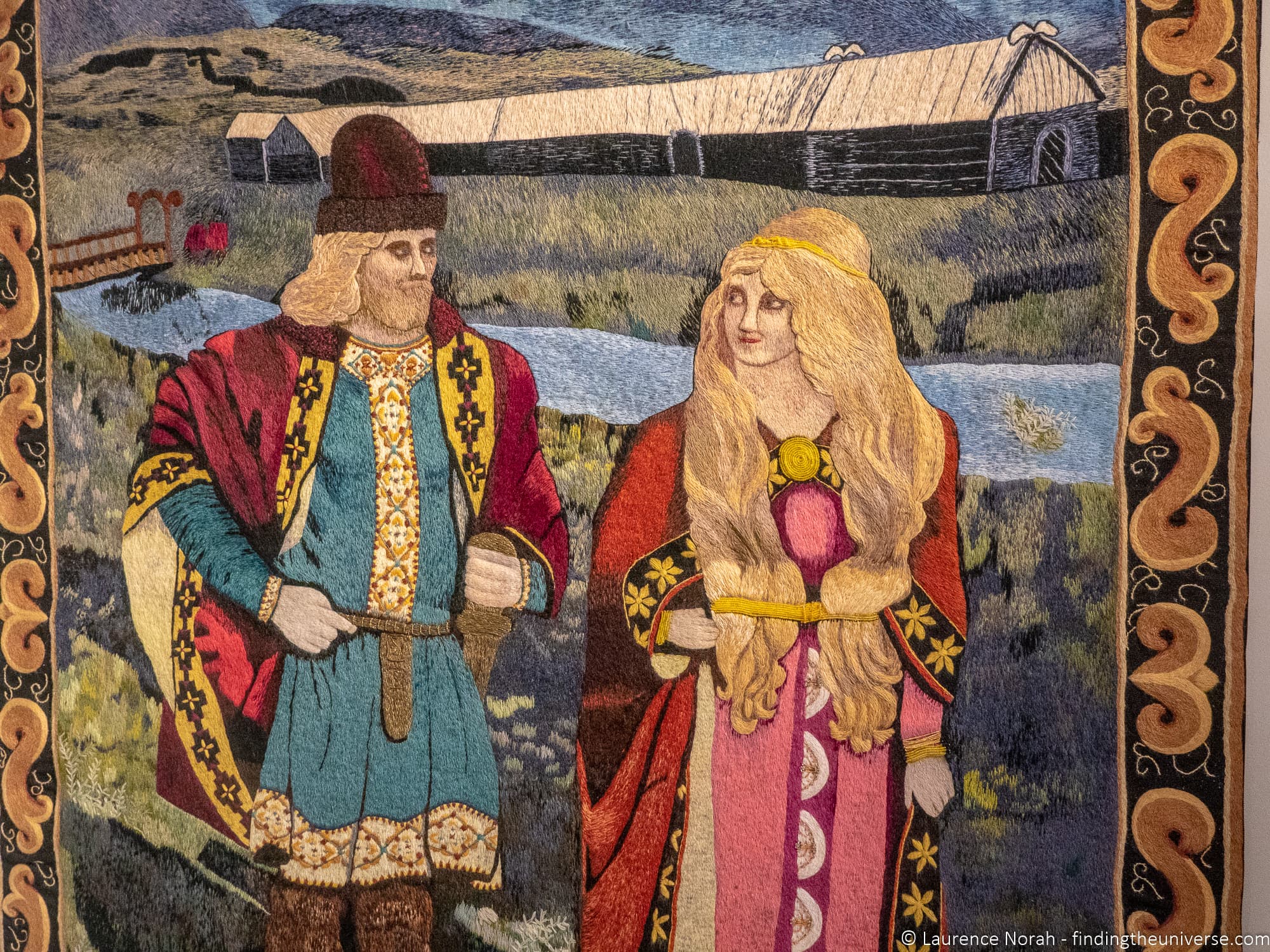 Your journey now continues to one of Iceland's famous black sand beaches. The first stop though will be at Dyrhólaey – a rocky peninsula that is home to a massive black lava arch which juts out to sea. From atop the 120 metre high Dyrhólaey there are absolutely spectacular views, especially to the west, where a black sand beach stretches out for miles upon miles.
This is also one of the few spots on this three day tour from where you will be able to spot puffins. Every spring Iceland is home to millions of these cute little seabirds, who come here to nest and raise their pufflings. If you're interested in seeing them, see our guide to puffins in Iceland, which has lots of information on the best places to see them.
Note that Dyrhólaey is normally closed to visitors during the early part of the puffin nesting season each year, usually from mid May to mid June.
From Dyrhólaey it's a short drive down to the beautiful Reynisfjara Beach. This stretch of black sand is famous for it's black basalt columns, which appear to rise out of the beach itself. There are also caves, and sea stacks in the distance.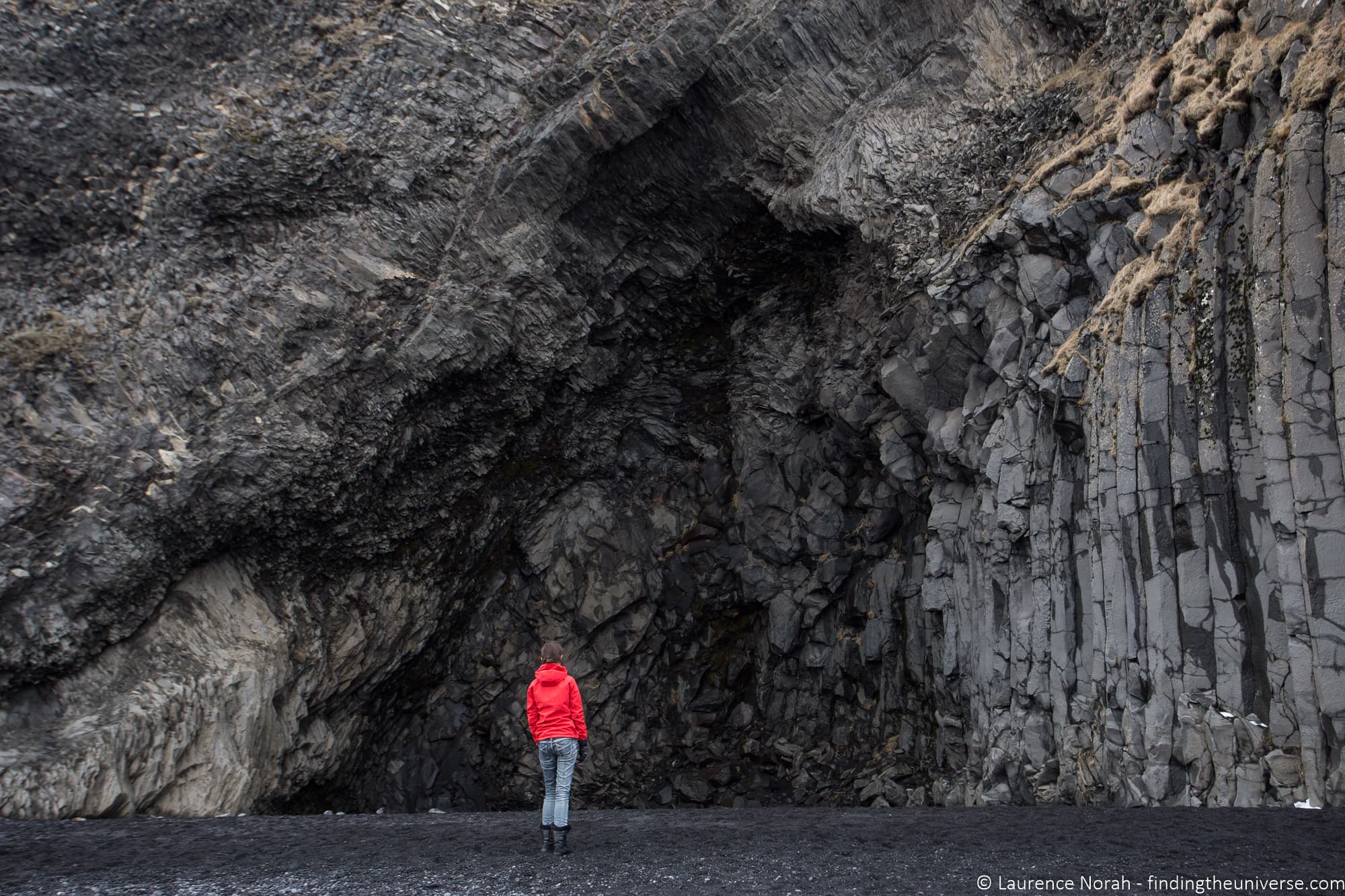 One word of caution here – this beach is known for its large "stealth" waves, which can sweep up the beach quickly and without warning, and knock you off your feet. In a worst case scenario they can even drag you into the freezing waters, which can be very dangerous, and tourists die here every year. So keep far from the waters edge here.
From Reynisfjara you will continue along Route 1 through the cute town of Vik (a good spot for refuelling and getting lunch) and then onwards across the Eldhraun lava field.
This is the largest lava flow in the world, covering an areas of 218 square miles, and it was formed when the Laki volcano erupted in 1783. The eruption lasted eight months, and 42 billion tons of lava was spewed forth. The eruption had far-reaching global consequences, with the ash in the air affecting the climate across Europe and causing crop failures and famine.
Today, the moss covered Eldhraun Lava Field is a unique and beautiful site, and there are a number of spots you can stop to admire its vastness. Just be sure to stay to the marked paths and not to walk on the moss, as it is very fragile and takes decades to regenerate.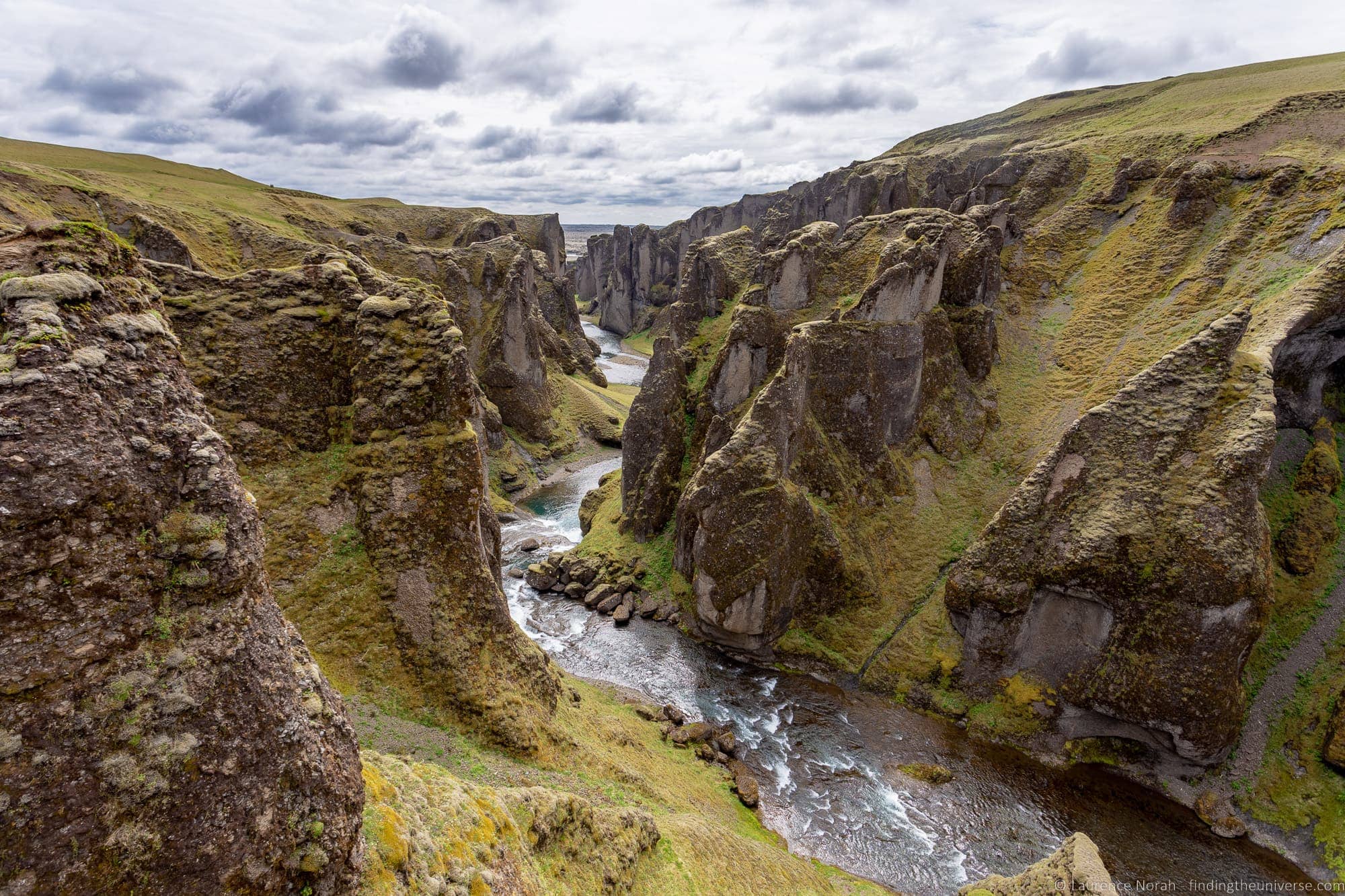 Our last stop on day two of your three day Iceland road trip adventure is at the impossible to pronounce Fjaðrárgljúfur Canyon. This relatively short, 100 metre deep canyon has formed over the last 10 millenia or so, with glacial melt off carving its way through the landscape.
The walls are steep, and the canyon is remarkably winding in shape, making for wonderful photography opportunities. For the best views, you'll want to walk to the lookout platform, around a ten to fifteen minute walk from the parking area.
That finishes up our second day of our 3 day Iceland itinerary. Now for some suggestions on where to stay!
Where to stay
Our suggestion for your second night is to stay somewhere between Hof and Jökulsárlón, which will set you up nicely for your third day of activities. Some suggested accommodation options are as follows.
You can see more options for this region on booking.com here.
Day 3: South Coast Highlights & Reykjavik
For your third day, you're going to start at the Jökulsárlón glacier lagoon. This is a huge lagoon formed by run-off from the melting Breiðamerkurjökull glacier. It's currently around 7 square miles in size, and is the deepest lake in Iceland.
The lake is filled with eerily blue icebergs, which break off the glacier and float around in the lake. After a long period of doing this, they become small enough to float out to sea, where many of them end up on the so-called Diamond Beach – named because all the washed up icebergs look like diamonds strewn across the sand.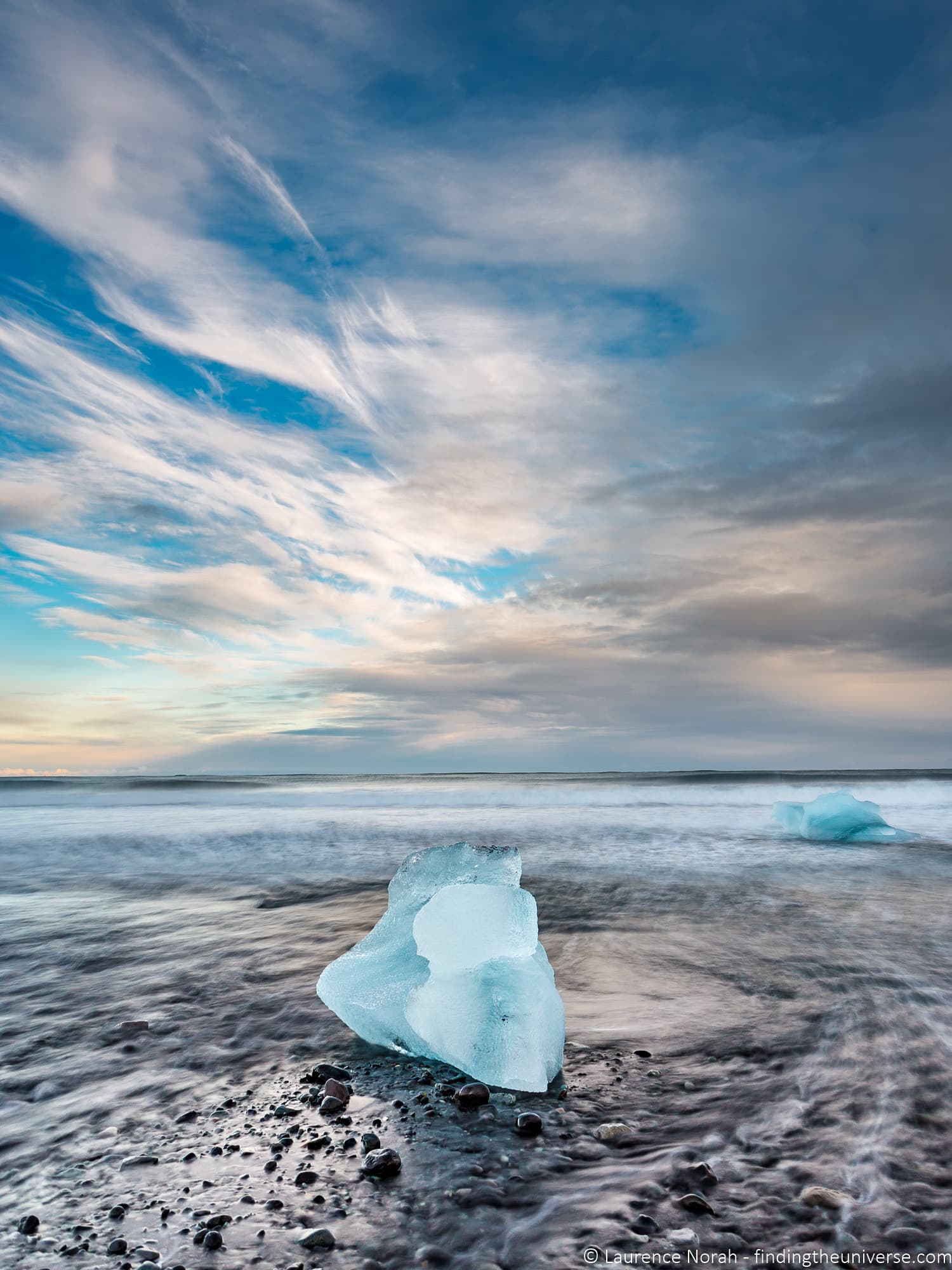 At Jökulsárlón you have a couple of options for activities that we recommend, depending on the time of year you visit. In summer, you can take a boat tour on the lagoon, which will let you get up close to the glaciers edge, have a chance to see seals, and learn all about the geology of the lagoon and glacier. This tour only operates from May to October as the lagoon has too much ice on it in winter.
In winter, you can do an ice cave tour instead, with departures from Jokulsarlon. These tours, which last around three hours, take you up onto Vatnajokull Glacier where an experienced guide will take you inside a beautiful ice cave. An ice cave tour is a popular activity, so definitely book this one in advance. Also be aware that it will take some time, so you might need to adjust the remainder of your days activities to accommodate it.
From Jokulsarlon, you're going to start heading back to Reykjavik. However, there's still lots to see on the way back.
The first stop is Svartifoss, or the black falls. These waterfalls are found in the Skaftafell areas of the Vatnajökull National Park. Note that the parking area here has a parking fee, payable at the national park station after you park.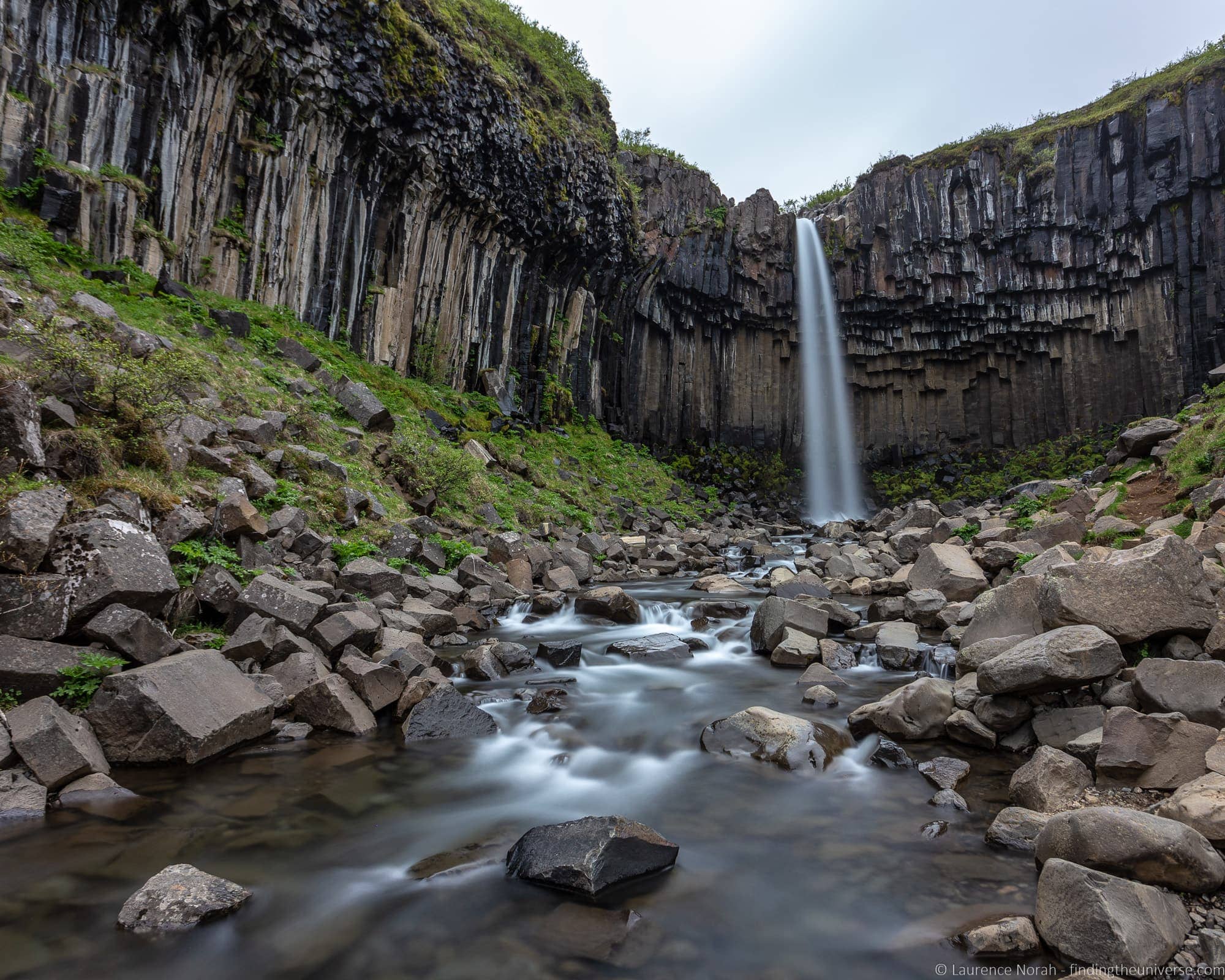 The hike up to the falls is fairly steep, and will take 50 – 90 minutes round trip, depending on your fitness levels. We think it's worth it though, the water cascades of beautiful black basalt columns, and it's certainly a unique look amongst the other waterfalls you'll be seeing on this three day road trip!
Continuing along the south coast, our next stop is the DC-3 plane wreck. This is a popular stop off the Ring Road, with a hike leading you to the wreck of a DC-3 that crashed here some decades ago.
The walk out to the plane and back takes about 2 hours, and this is a very popular stop. It's not for everyone, but if you do decide to head out here, make sure you are properly dressed and prepared for it.
See our full guide to finding the Iceland plane crash, so you know what to expect.
Again, this walk takes a bit of time, so make sure you consider this as part of your whole day and what else you want to see before committing to it.
Now as you head back, we have three options for what to do for the final part of your last day in Iceland: bathe in the Seljavallalaug swimming pool, visit the Blue Lagoon or Sky Lagoon, or explore Reykjavik, Iceland's capital city.
The first option is Seljavallalaug swimming pool. Having done a bit of walking on your trip, we thought that maybe it was time for a dip in a free hot spring! Iceland has a wide range of geothermally heated pools around the country, which range from fairly pricey experiences like the Blue Lagoon, through to entirely free options.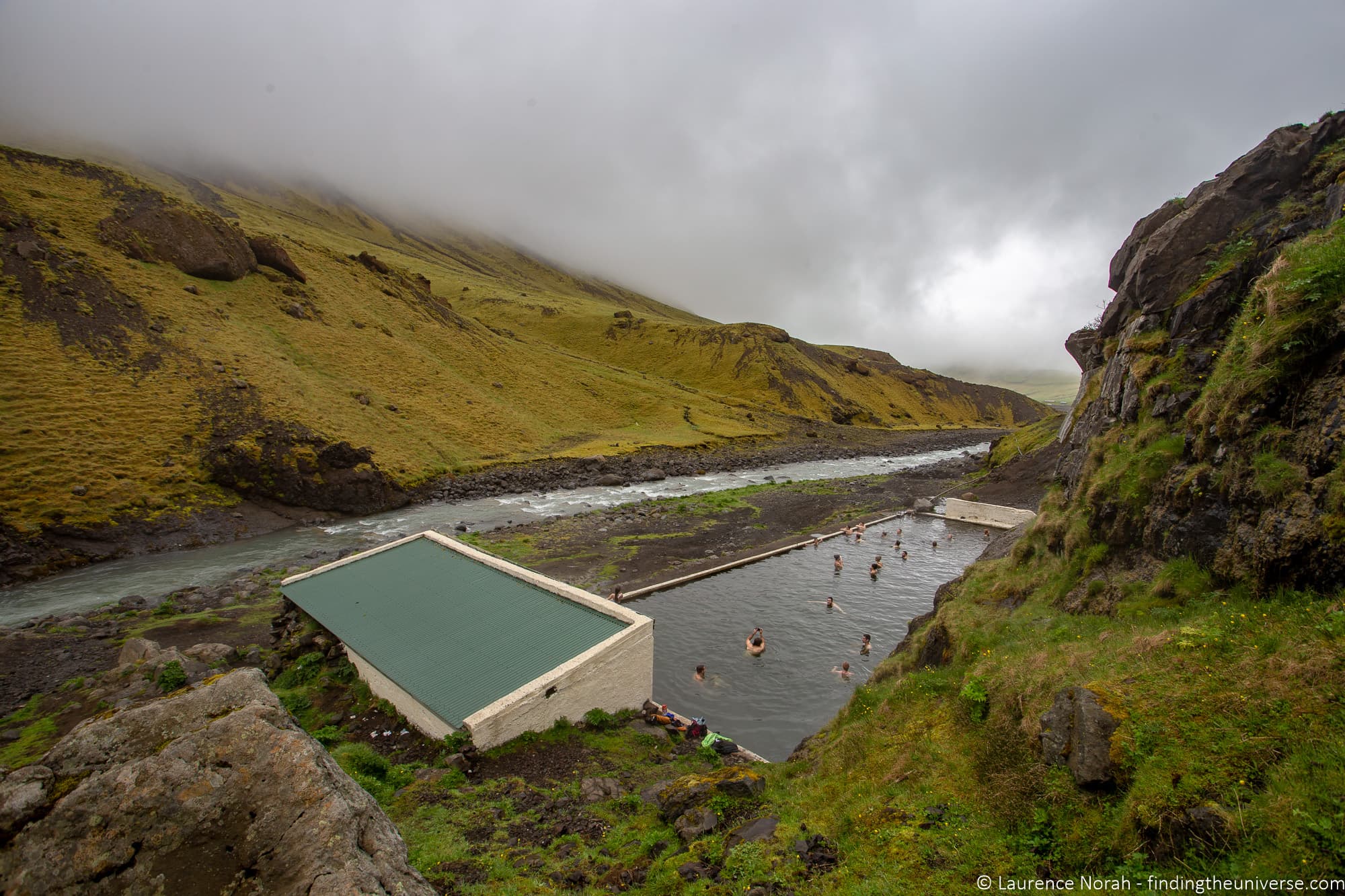 The Seljavallalaug Swimming Pool falls into the latter category. This 25 metre long 10 metre wide pool is about a fifteen minute walk from the parking lot (which you'll find here on Google Maps), and there are changing rooms here so you can get in and out of your bathing clothes. We think visiting a geothermal pool whilst in Iceland is a must-do activity, and this is an excellent free option!
Of course, if you prefer, you can head straight back towards Reykjavik or Keflavik, depending on what you want to do. If you choose to stop off at the famous Blue Lagoon or Sky Lagoon (mentioned on Day 1) instead, you'll want to head to Keflavik.
The Blue Lagoon is open until at least 8pm (hours vary by time of year, and run as late at 11pm in summer) so you can go for an evening soak. If you do this option, we'd recommend staying near Keflavik. You will also need to book in advance as you can't just turn up here. See our guide to visiting the Blue Lagoon for more information.
The Sky Lagoon is closer to the city and is a newer option. It's not quite as famous, but has been getting great reviews. It's also open late. You can book tickets in advance here.
A third option is to skip both pools, and head back to explore a bit of Reykjavik. We'd suggest checking out the beautiful Hallgrimskirkja, the Sun Voyager statue, and the pretty town center. This would also be a good opportunity to have a nice meal if your budget will stretch to it.
If you have a bit longer in town, and want to do some more sightseeing, consider a Reykjavik city card. A 24 hour card is good value and gets you free access to many of the cities top attractions, as well as free public transport on the city bus services.
And that finishes off the last day of our 3 day Iceland road trip itinerary. Now let's go over where to stay, followed by some more information to help you plan your trip.
Where to stay
You'll be overnighting in Reykjavik tonight, or, if you have an evening flight, you can head straight to the airport. There are also some accommodation options closer to the airport if you have an early morning flight.
We've stayed at a number of hotels near the Reykjavik city centre which we are happy to recommend:
If you'd prefer to stay near the airport, we've also stayed at the Northern Light Inn. This is conveniently located right next to the Blue Lagoon and is about a 17 minute drive from airport. Travellers on more of a budget will like The Base by Keflavik airport, which offers both hotel and hostel style accommodation, as well as an airport shuttle.
3 Day Iceland Itinerary Road Trip Map
To help you visualise this 3 day Iceland itinerary, we've put it into a map form, with the route and highlights marked. You can also see this on Google Maps here.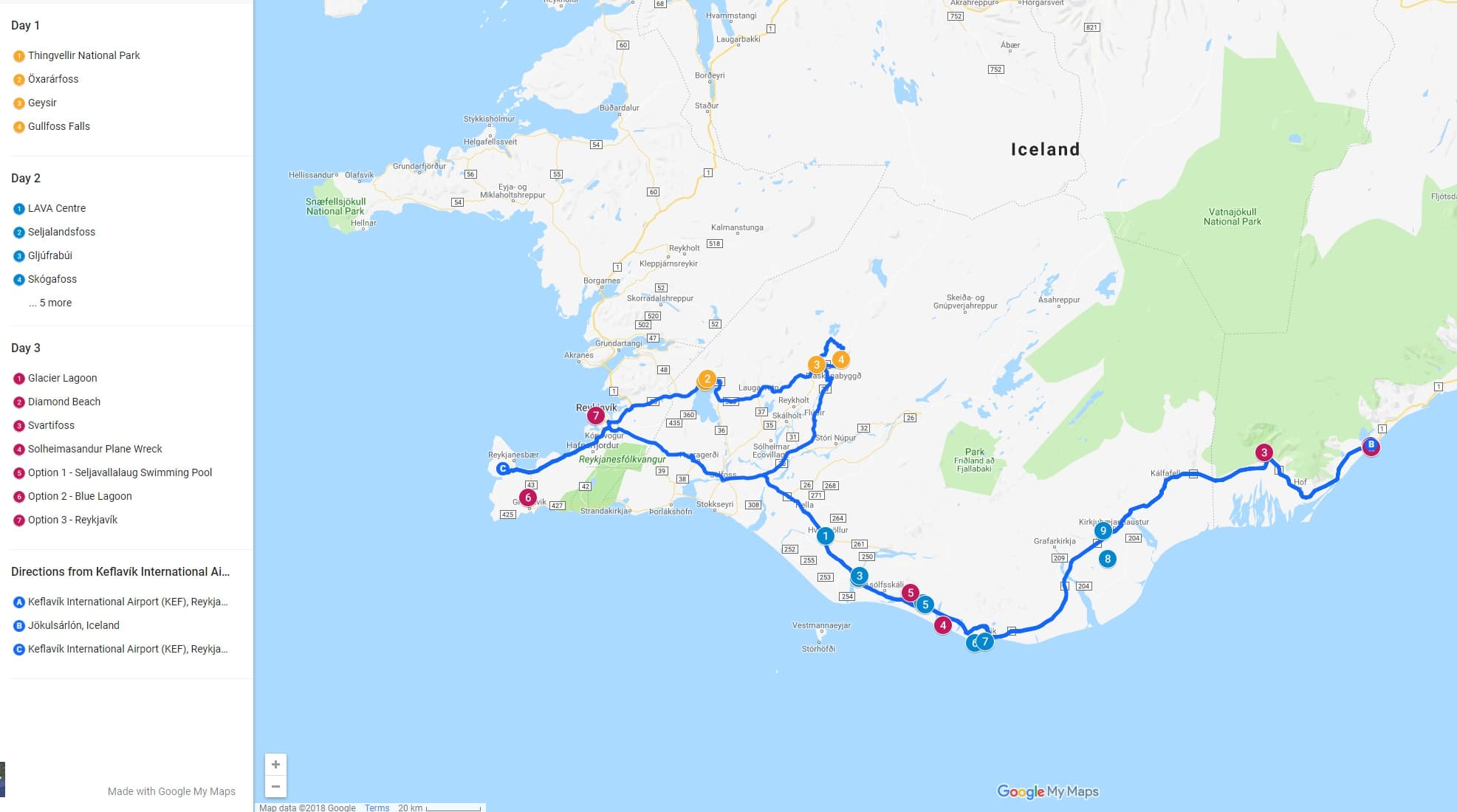 3 Days in Iceland: Overview Itinerary
Here's a summary of our 3 day Iceland itinerary for quick reference.
Day 1: Golden Circle. Thingvellir, Geysir, Gullfoss
Day 2: South Coast Highlights. Lava Center, Seljalandsfoss, Skogafoss, Dyrhólaey, Reynisfjara black sand beach, Eldhraun lava field, Fjaðrárgljúfur Canyon
Day 3: South Coast Highlights & Reykjavik. Jökulsárlón glacier lagoon, Diamond Beach, Svartifoss, DC-3 plane wreck, Blue Lagoon
3 Days in Iceland Basing Yourself in Reykjavik
We appreciate that not everyone wants to drive in Iceland as car rental is relatively expensive and the various insurance options are fairly complicated to deal with (not to mention expensive!). Also those who are used to driving on the left side, may not feel comfortable driving on the right.
The good news is that it's very possible to see the majority of the highlights from our 3 day self-drive itinerary by basing yourself in Reykjavik, and taking tours from the city. This also has the advantage that you can find somewhere to stay for three days, and not have to be packing or unpacking. You'll also have time to explore the city, either on one of your days, or in the evenings.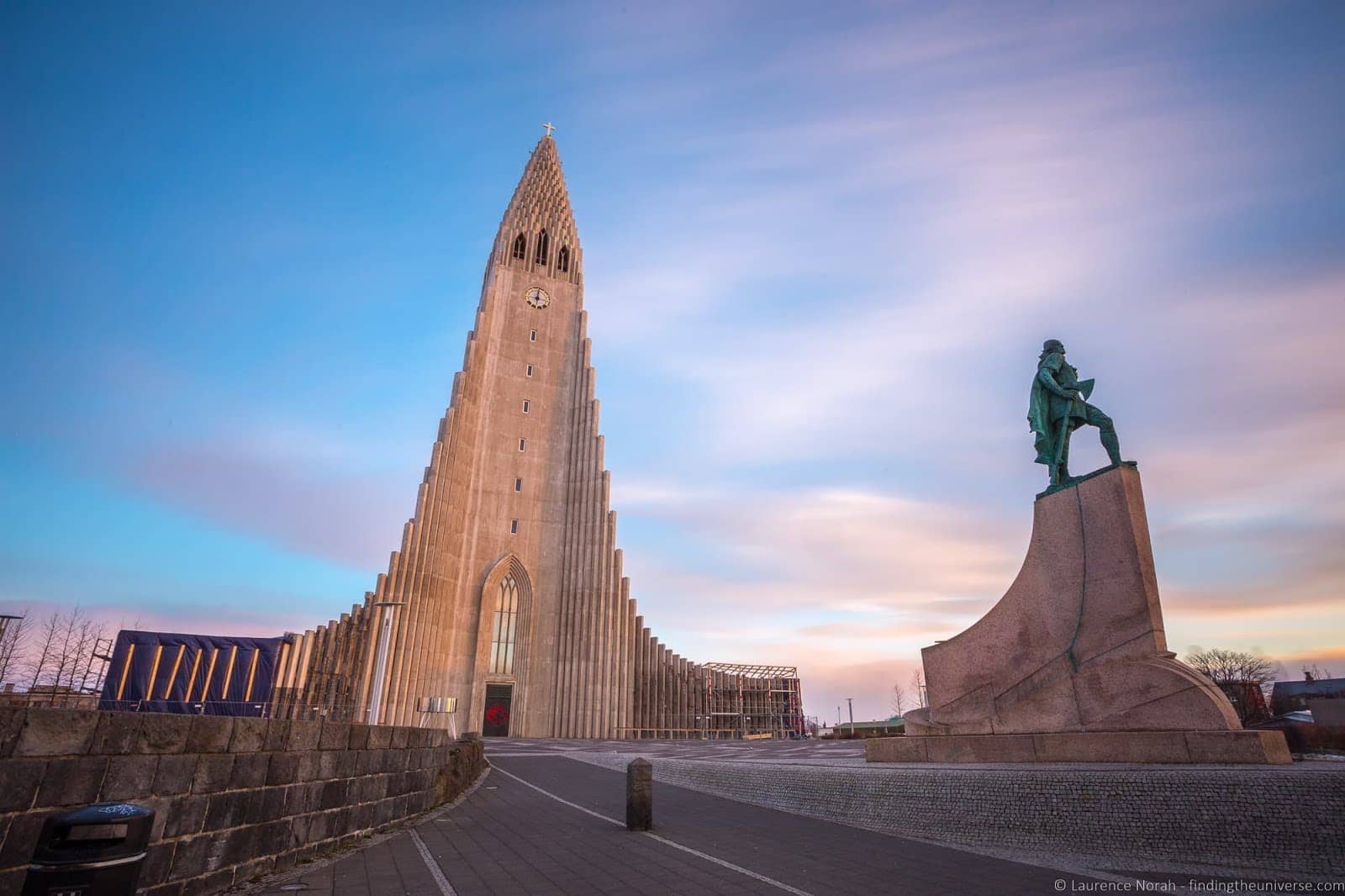 We have a detailed guide to the best day trips from Reykjavik, which we definitely recommend you take a look at. However, in summary, here's are suggestion of which tours we think would be the best options for your 3 days.
A day trip to the Golden Circle.
The Golden Circle is relatively close to Reykjavik, and thus makes for a popular day trip. There are a wide range of operators offering Golden Circle day trips from Reykjavik, including:
A day trip along Iceland's South Coast
In our itinerary we suggest you take two days to visit Iceland's south coast, however, it is also possible to do this as a long day trip from Reykjavik.
Whilst these don't see absolutely everything, they do cover the major highlights, including the black sand beaches and the most popular waterfalls.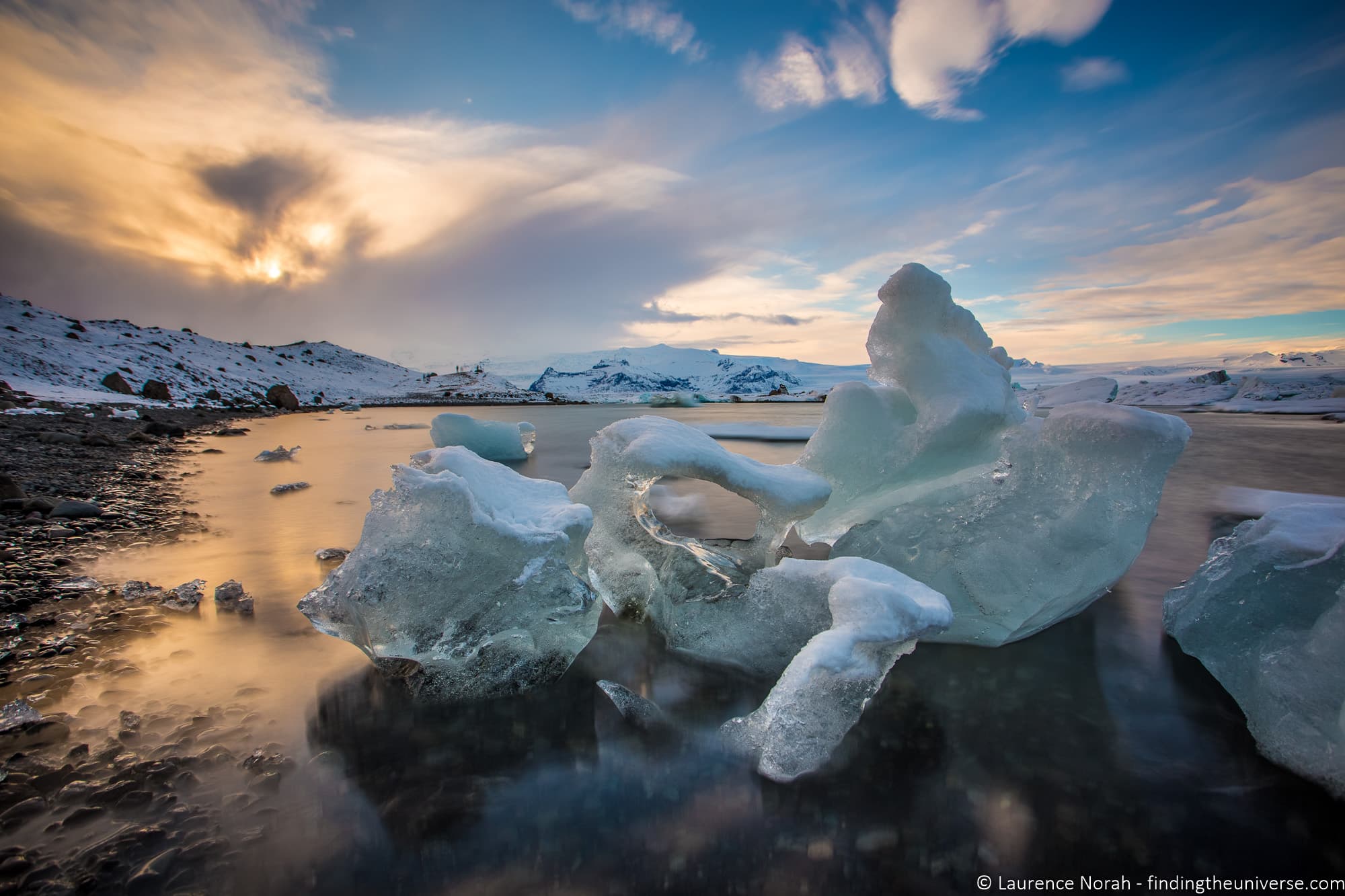 Some day tours also go as far as the Jökulsárlón glacier lagoon, although as this is a fairly long round trip from Reykjavik, those versions usually only run in the months of the year with longer daylight hours.
Here are some options to consider.
The year round South Shore adventure tour. This tour takes around 10 hours, and covers all the highlights all the way out to Vik, including the main waterfalls and the black sand beach. This is a similar tour.
A summer-only south shore tour that goes all the way to the Glacier Lagoon, and includes a boat ride on the lagoon. This is a long 14 hour long tour.
Snaefellsnes Peninsula
Whilst we haven't included the Snaefellsnes Peninsula on our 3 day self drive itinerary, we did want to include it here as an option.
The Snaefellsnes Peninsula is around a two hour drive from Reykjavik, making it very accessible as a day trip. It has a number of attractions, including a massive glacier, the beautiful Kirkjufellsfoss waterfall, basalt columns, seal watching opportunities, the Shark Museum, and more!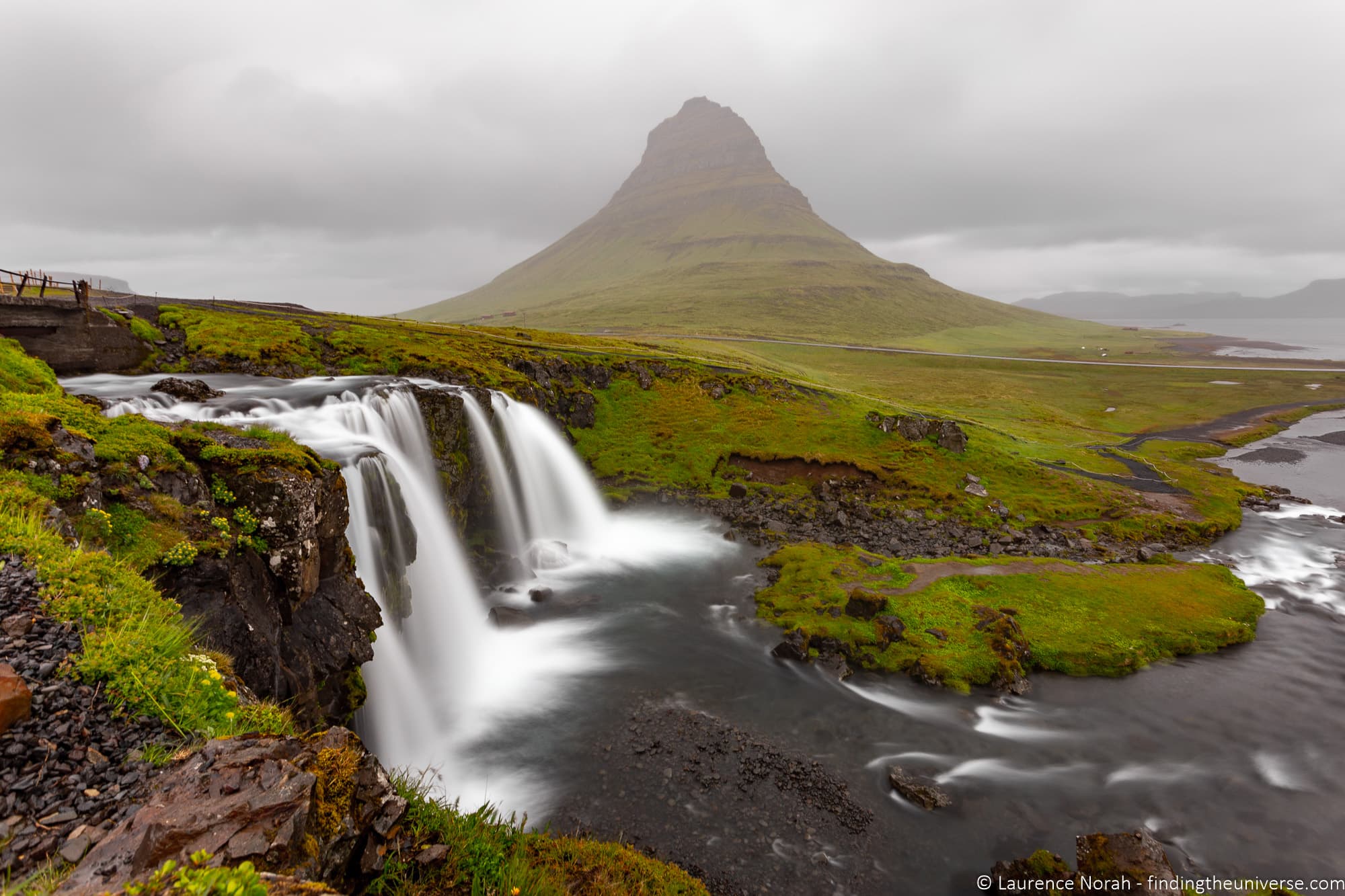 It makes for a great alternative to the Golden Circle or South Coast, and is a day trip we can highly recommend.
Take a look at this Snaefellsnes Peninsula small group tour as well as this tour to the Snaefellsnes Peninsula which includes a home cooked meal.
Northern Lights Viewing from Reykjavik
If you're visiting Iceland in winter, you absolutely must try and see the northern lights. This magical display in the sky is an unforgettable sight, and one that is high on visitors wishlists when coming to Iceland. See our guide to how to photograph the northern lights for some tips on getting great shots.
Being based in Reykjavik will mean that the city lights will get in the way of good viewing opportunities, but the good news is that there are multiple tours available, at a wide range of price points. Many also offer a guarantee that if you don't see the lights, you can take another tour, so we suggest booking one of these tours for one of your first nights in Iceland.
There are a lot of tours to consider. Some we suggest you include in your shortlist are this small group tour, this well reviewed and good value coach option or this private super jeep tour.
For more ideas don't forget to check out our guide to the best day trips from Reykjavik!
3 Days in Iceland as a Group Tour
If you don't want to drive, but also don't want to base yourself in the city, we've got another option – take a group tour! We've put together a detailed guide to a number of guided tours of Iceland, which range from a couple of days to a couple of weeks and more, but we wanted to share a few of our favourite shorter options here for you to consider.
This 2 night / 3 day tour includes the Golden Circle, five waterfalls, amphibian boat ride on the glacier lagoon and a glacier hike. It also includes free WiFi on the bus.
This 2 night / 3 day tour includes the Golden circle, an ice cave, glacier lagoon and black sand beach. Free WiFi is also included.
A 1 night / 2 day tour that focuses on the south coast. This tour includes the famous black sand beach at Reynisfjara and goes all the way to the incredible Jokulsarlon glacier lagoon. It also includes ice caving and northern lights watching. This shorter tour would be a great option to combine with a night in Reykjavik, where you could take in some of the city's sights, or head out to the Blue Lagoon, or even take a day trip to the Golden Circle.
See more group tour options on GetYourGuide here, TourRadar here, Viator here and Guide to Iceland here.
When to Visit Iceland
Iceland has very distinct seasons, and visiting at different times of year will give you very different experiences. We've visited in both summer and winter, and loved them both, but you should definitely be aware of the differences as they will affect your planning and what you can see.
In Winter, or at least, the period from October through to March, temperatures will be colder and the days shorter. In December and January in particular the days will be very short, which will impact your sight-seeing. If you are visiting in these two months, you will want to adjust your daily itinerary as you won't be able to see as much given the fewer hours of daylight.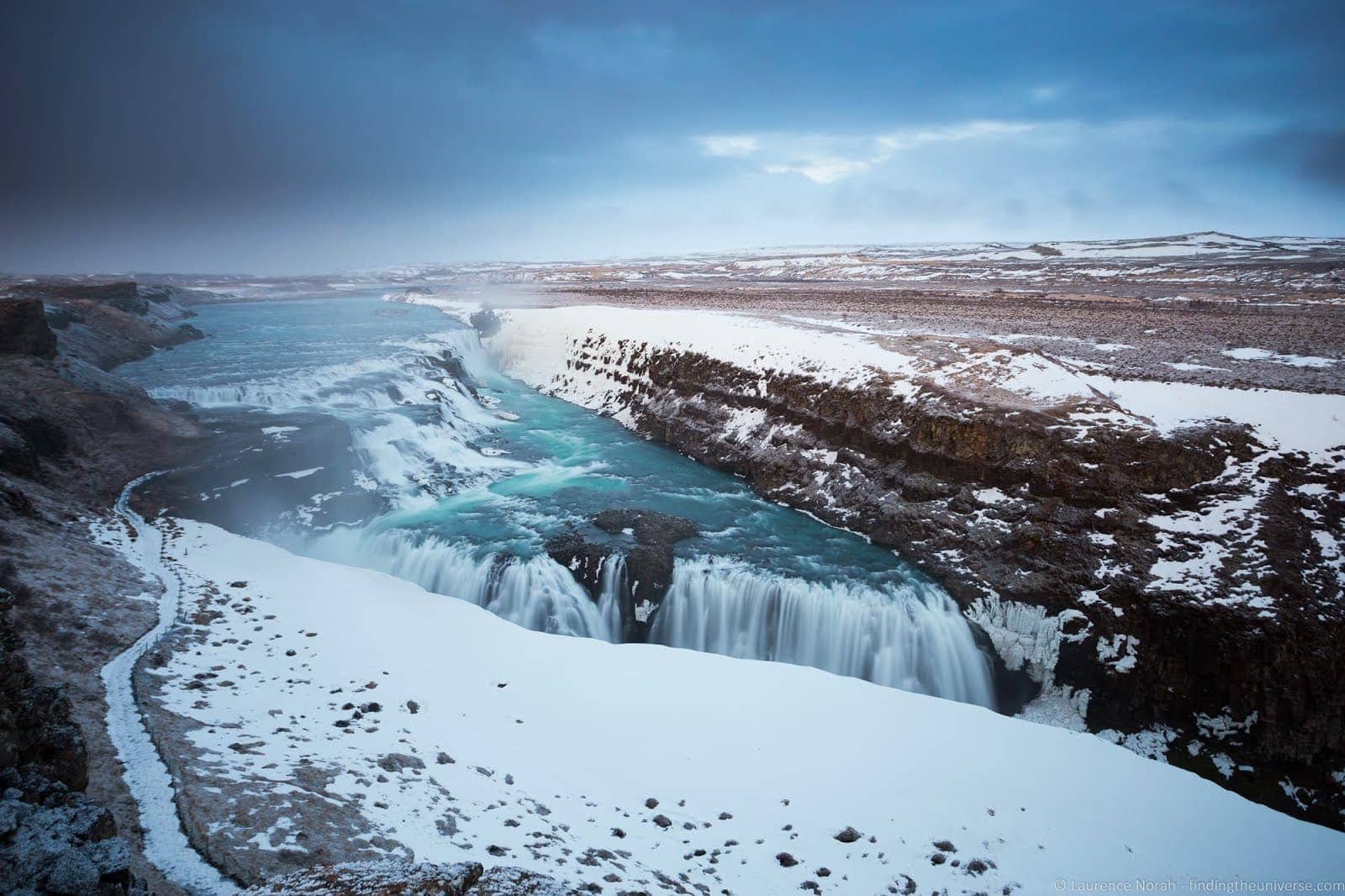 Winter is however the best time of year for a number of popular activities. If you want to see the Northern Lights for example, you'll have to visit in winter, as this is when they are active. The best months are usually September / October and February / March.
In winter you can also go ice caving, skiing, and take part in many more winter activities such as these. However, the weather will definitely be colder, and snow is likely. You'll want to read up on our guide to what to pack for Iceland in winter, and if you choose to drive, our guide to driving in Iceland in winter.
The months between March and October are the more "summery" time of year. Whilst it won't ever be a tropical destination, and you're still going to want to bring warm clothes, there is a much greater chance of sunshine and temperatures around 20C are not uncommon. This time of year, and especially from June to August, there is a great deal of daylight available, so you can sightsee for much longer on each day.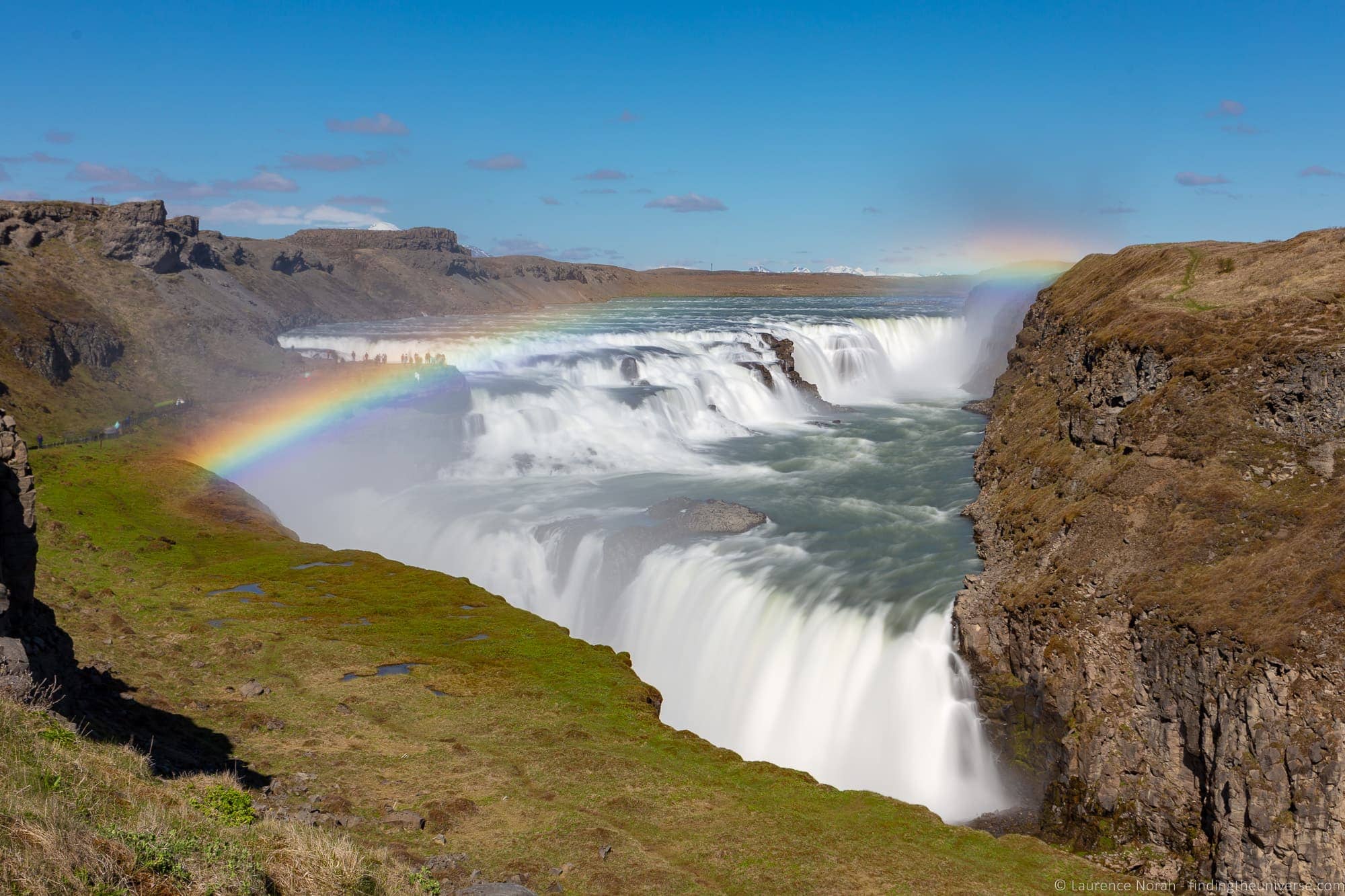 The summer is a much busier time of year in Iceland, so there will be more people. Prices will also be higher, and accommodation might be harder to come by. We recommend booking everything in advance and checking out our Iceland budget tips.
To be honest, we don't think there's a bad time of year to visit Iceland, as long as you are prepared and know what to expect you will have a great experience!
Where to Stay in Iceland
Iceland has a variety of accommodations options, from self catered apartments through to hostels and hotels. Prices vary, but Iceland is far from a budget destination, so expect prices to be relatively high even for hostels.
For the self-drive trip we've included links to some recommended hotels on each day. If you choose to base yourself in Reykjavik, check out our recommended options under day 3 of the trip, plus you can check out more options in Reykjavik on booking.com here.
We usually recommend Booking.com as they have pretty much everything from hostels to hotels to apartments, and they offer very competitive pricing and usually a great cancellation policy.
Practicalities for Visiting Iceland
To help you plan your Iceland trip, we've put together some information that we think you will find helpful. We also suggest you read our detailed guide to planning a trip to Iceland, which has loads more practical information.
Driving
One of the concerns we often hear from readers is around driving in Iceland. Driving in Iceland isn't too difficult – the roads are well maintained and not too busy. Winter conditions can be more challenging though, as snow and ice are common.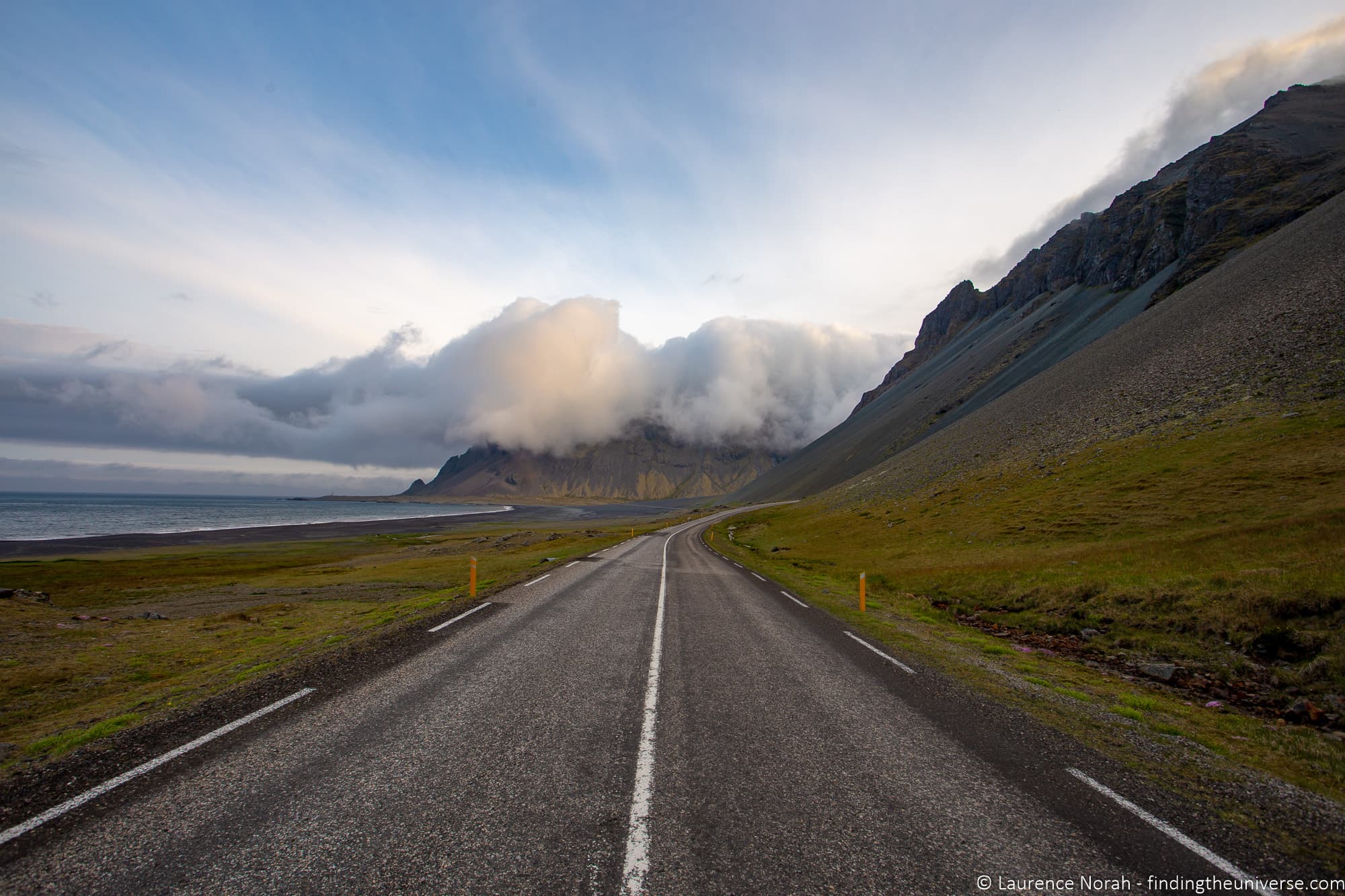 For the 3 day road trip we suggest, 99% of the driving is going to be on paved roads. There will be some shorter sections of unpaved roads, such as those leading to the parking lot at Seljavallalaug Swimming Pool, however these are very short sections (no more than a mile or two), and would be fine in a two wheel drive car, provided you drive sensibly.
We have lots more information about driving in Iceland – see our guide to things to know before you drive in Iceland, as well as our guide to driving in Iceland in winter for lots of helpful advice, tips on renting a car, the right insurance for you, and more resources.
Electricity / Power
Like Europe and much of the world, Iceland uses a 220v system. It uses two pin plugs as you would find in much of Europe. If you are coming from the UK, the USA, or anywhere else that has a different shaped plug system, you will need a travel adaptor like this.
See more on travel adapters and how to choose one for your trip in our guide to the best travel adapters.
If you have a few devices, we also suggest you pick up a travel power strip so you can charge everything.
If you are coming from the USA or Canada (and several other countries with 120 V systems), you also need to be aware that the voltage in Iceland is different, so you'll need to check your devices are compatible. Devices will have their voltage compatibility written on the power adaptor in most cases.
In our experiences, low power electronics like laptops, battery chargers and smartphones support a range of voltages, whilst higher power equipment like hair dryers, curling irons, and hair straighteners will not, unless they are travel specific dual voltage models. If you need one – check out dual voltage appliances such as this travel hairdryer.
Cost of Travel in Iceland
Iceland is definitely one of the more expensive countries to travel in. Everything from accommodation to car rental to food is relatively expensive, and there is definitely the potential for price shock if you visit unprepared for this fact.
Our suggestion if you want to visit Iceland on a budget is to plan ahead as to how to achieve this. Travelling as a group, booking low cost accommodation, going grocery shopping, and avoiding expensive restaurants are some tips – for more, check out our detailed guide to visiting Iceland on a budget.
Internet Access
Internet access in Iceland is fairly widely available, with free WiFi offered at most hotels, restaurants, and coffee shops.
If you want data on your phone, you can either pick up a SIM card on arrival in the country (if you have an unlocked phone), or you can investigate the options your home network provider has for roaming. For example, in the UK we use the Three network, which includes free data roaming in Iceland, meaning we don't have to pay any extra and can just use our UK data allowance in Iceland.
We have lots more tips for getting online when you travel in this guide, which goes through all the options you have and the various price points for those.
Safety
Our final point is safety. Iceland is rated as one of the safest countries in the world to travel in, but this doesn't mean you should be complacent. In particular, petty crime has started to rise, so you will always want to be vigilant with your belongings, and don't leave anything on view in your car when you park it. Otherwise, practice basic safety precautions and be sensible, and you should be fine.
The greatest dangers are usually presented by the landscape and changeable weather rather than other people, so if you just use common sense and don't put yourself in any unsafe situations, you should be fine!
Further Reading
And that's the end of our guide to spending 3 days in Iceland on a stopover! However, we have more content to help you plan your trip, based on our travels in Iceland.
And that's it! If you've got any questions or feedback on the above, just let us know in the comments below, and have an awesome trip in Iceland!