There are some activities in Paris that are just so quintessentially Parisian that you can't imagine doing them anywhere else. And one of those essential activities in our mind is to attend a cabaret show, and arguably the most famous cabaret show in Paris, if not the world, is the show at the Moulin Rouge.
This was where the Can Can dance was born during that magnificent period in French history – the Belle Époque.
In this post we're going to share with you everything you need to know to visit the Moulin Rouge in Paris yourself, from how to get here, through to how to get tickets, the dress code, and more.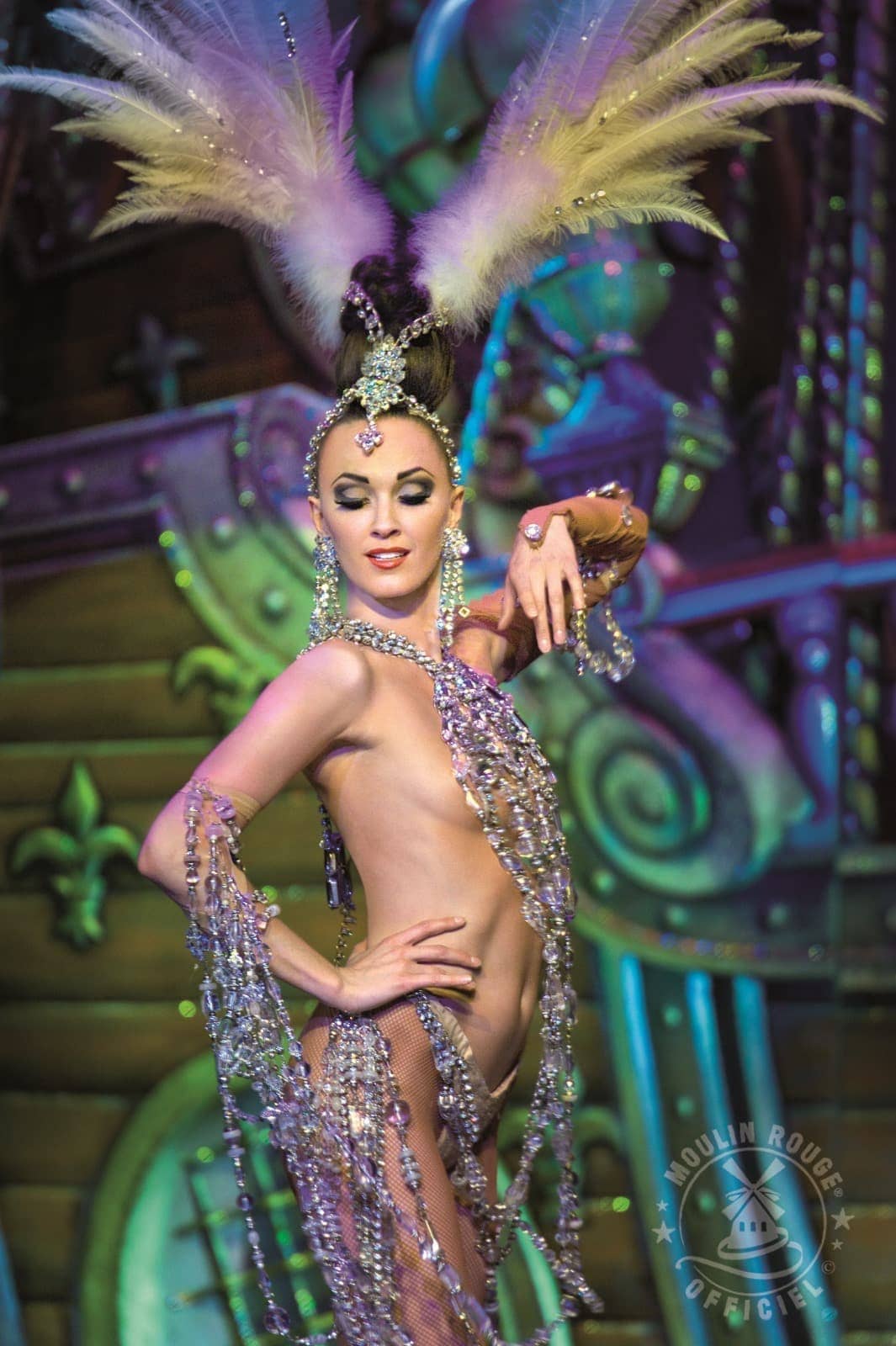 This is based on our own experience visiting the Moulin Rouge.
Who is the Moulin Rouge Show For?
The Moulin Rouge show is really for everyone, although there is a minimum age of six required to attend. We think that all ages will enjoy the spectacle on stage and the acts of the dancers – we certainly did!
Note, the show does feature a lot of topless women. So if public nudity bothers you, this is not the show for you!
Does the Moulin Rouge have a Dress Code?
There is a dress code for the Moulin Rouge, but it is not a black-tie affair! The requirement is for smart dress, which essentially means that shorts, flipflops, sportswear, leisurewear, and sport shoes are not permitted.
You can find more information on the dress code, age limit, and other questions you may have at the official site.
When is the Moulin Rouge show?
The Moulin Rouge has two showings every night, at 9PM and and 11PM. Shows run every day of the week. If you want to have dinner with your show, this is served at 7PM, and you will watch the actual show at 9PM after your meal is complete and has been cleared away.
There are also some Matinee shows throughout the year, although these are not regular occurrences. Check the official website for times and dates for these.
How to Get to the Moulin Rouge in Paris
The Moulin Rouge is in the district of Pigalle, which is just down the hill from Montmartre, meaning you have a number of options for getting here.
The closest Metro stop to the Moulin Rouge is Blanche, which is directly over the road, and gives you access to Line 2.
Another option is to get a taxi. Note that there is a taxi rank across road from the Moulin Rouge. If you want to get a taxi from the Moulin Rouge you will need to go to the taxi stop rather than flagging down a taxi, as in Paris it is illegal for taxi drivers to pick up customers near a taxi rank.
Alternatively you can book an Uber. If you've not used Uber before, get a discount off your first ride with this link.
The 11pm show is scheduled to finish at 1am, although can run later depending on timing. Most public transport in Paris stops running at 2am, so just keep on eye on the time, and if you are not staying within easy walking distance, you will want to plan your transport in advance.
Your options will usually be a taxi, Uber, or to have scheduled a private transfer like this one in advance. A private transfer is likely to be the best option so you aren't joining the hundreds of other show attendees in a battle for the available taxis!
Is there Parking at the Moulin Rouge?
There is no on-site car park at the Moulin Rouge, however if you choose to drive you can take advantage of the arrangement they have with the Clichy Montmartre car park (see it on Google Maps here).
This will get you a good rate for the time you park, and you can book online on the website – just choose the "Forfait Moulin Rouge" option when choosing the booking time in the dropdown. The car park is just a couple of minutes walk from the Moulin Rouge.
Is Photography Allowed at the Moulin Rouge?
No. Photography or filming of any kind is not permitted at the Moulin Rouge. All the photos of the show in this post were provided by the Moulin Rouge press office. All camera bags must be checked.
If you are caught taking a photo, you may be asked to leave and your photos will be deleted. We saw this happen during our visit and it was super distracting so keep your phones and cameras in your pocket.
Is there a Cloakroom / Luggage Storage Facility at the Moulin Rouge?
Yes, there is a cloakroom at the Moulin Rouge for coats and small bags. Items such as backpacks, larger bags and camera cases cannot be taken into the show, and will need to be checked. Note that larger bags such as travel bags and luggage cannot be checked or brought into the show for security reasons, so don't turn up with these.
There is a fee for the cloakroom service of around 2 euros, but it is included for free with the VIP ticket.
Is Food / Drink Available at the Moulin Rouge?
Yes, you can opt to have a show with a full meal. You can also purchase a Moulin Rouge ticket for the show which includes half a bottle of champagne per person, which was the option we took. Alternatively, you can buy drinks separately during the show.
How Much is a Moulin Rouge Show?
Prices for the Moulin Rouge vary depending on if you want food or not, who you book through, the date you go, whether you want drinks included, whether you want the VIP experience, and the time of your show. So as you can tell, quite a few factors to consider!
Prices start at around €87 per person for a show with no drinks, and go to over €400 for the VIP experience with food. There are limited VIP seats available, so definitely book in advance if you are interested in that experience, these are available both with a meal and without.
Our research indicates that the 11pm mid-week show without dinner tends to be the best value option, so if you want to save money on the Moulin Rouge, these are the times to go.
How to Get Tickets for the Moulin Rouge in Paris
There are a variety of options for purchasing tickets for the Moulin Rouge. It's definitely worth checking each of these individually as they often run special offers or have discounted Moulin Rouge tickets.
There are also options through some of the tour booking sights to bundle a Moulin Rouge show with another popular Parisian experience like a Seine River Cruise. We've included some of these options as well as options which include transport to and from the Moulin Rouge to make life easier for you.
Note that various sites add different booking fees, and prices are subject to change, so always compare the final price before making a decision.
As you can see, there are quite a few options depending on what you are interested in doing. We definitely recommend comparing a few of these to find the best one for you.
Are there Discount Tickets available for Moulin Rouge?
Yes, you can buy tickets cheaper than the official price for the Moulin Rouge, usually through third party booking sites. Whilst the prices are fairly similar, you can often save by not paying the booking fee, or by combining a number of activities in one.
In our research, the best price at time of writing are the offers available through GetYourGuide here, Viator here and Tiqets here. We suggest checking all three sites as prices and offers vary, and there are different bundles as well.
Prices and offers change all the time, so do check across the various online ticket booking sites and the official website to see what offers are available for your visit.
Are there VIP tickets available for the Moulin Rouge?
Yes, VIP tickets are available for the Moulin Rouge. These give access to a VIP seating area (there are only 24 of these seats per show), complimentary coat-check, macarons or chocolates and half a bottle of champagne per person. If you book the dinner VIP experience, you also get a full three course meal and additional wine or champagne.
Is there Skip the Line Access to the Moulin Rouge?
Yes, if you buy a VIP ticket for the Moulin Rouge this comes with skip the line access to the Moulin Rouge. Note you will still need to go through any security checks.
Accommodation Options Near Moulin Rouge?
If you want to stay near the Moulin Rouge, we'd suggest either the Pigalle or Montmartre regions of Paris, which will be within walking distance. Here are some options to consider.
Visiting the Moulin Rouge in Paris
But what was the Moulin Rouge like you ask? Pretty spectacular, as you'd hope.
As neither of us had been, the whole experience was new to both of us. There are two shows per night, a 9pm and an 11pm show. The Moulin Rouge experience that we booked included half a bottle of champagne per person, but no other food.
As mentioned above, dining at the Moulin Rouge is possible but it's a more premium option. Dinner is served before the show at 7pm, and then leading into the show at 9pm.
There are also two types of ticket available for visiting the Moulin Rouge, the normal ticket, and the VIP version.
The VIP package adds improved seating, a show programme, priority access, some Macarons, free use of the cloakroom and a gift. It is however significantly more expensive, usually costing around twice as much as the standard show.
Back to our experience.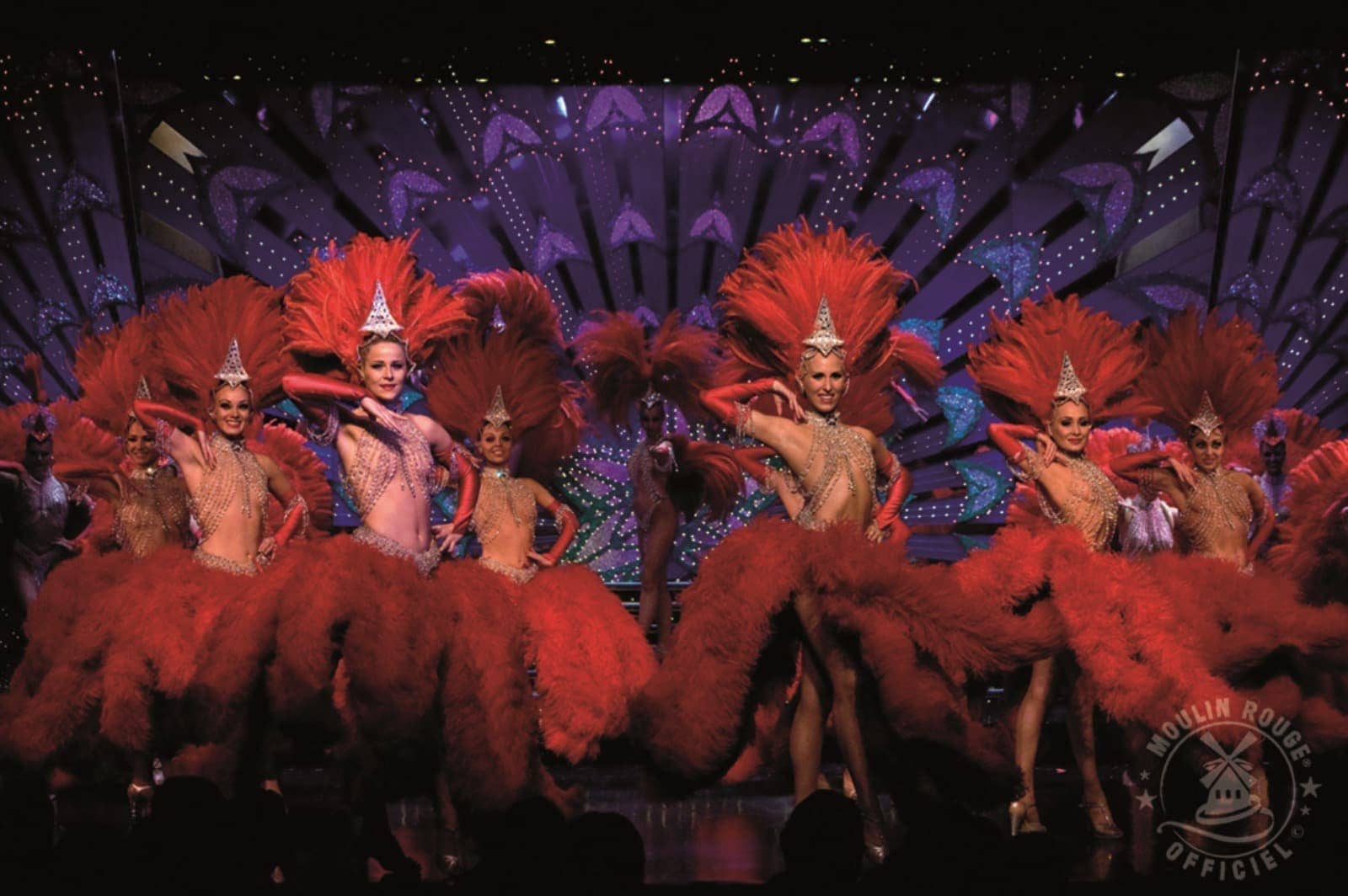 After queuing and going through some security measures, we were shown to our table. This was on a raised area to the back of the seating area, around 50-70ft from the stage. This offered good views, although we were sharing a table of four with another couple.
They had come in for the 7pm dinner, and had finished that (it had all been cleared away), and were also watching the 9pm show. We were a little surprised to be sharing a table, and having people in front of us had the potential to obstruct our view a little, but we arranged our chairs to solve that issue, and had excellent views of the stage once we'd sorted ourselves out. We also chatted with them, and they were a lovely couple from the US, so it all worked out well in the end.
The included bottle of champagne helped too of course.
And then the show began, and any concerns about seating arrangements or visibility floated out the window.
The Moulin Rouge show is an amazing spectacle featuring beautiful performers and stunning costumes, not to mention set pieces and lighting. With up to 100 artists on stage, we were transported from Paris to four separate adventures, including a Circus and an Indonesian Pirate adventure, all part of the "Féerie" show, which was the cabaret performance when we visited.
Note that the shows do change from time to time. The Moulin Rouge originally opened in 1889, with the Féerie show running since 1999.
Naturally, during the evening the girls performed the Can Can, the most famous of the dances.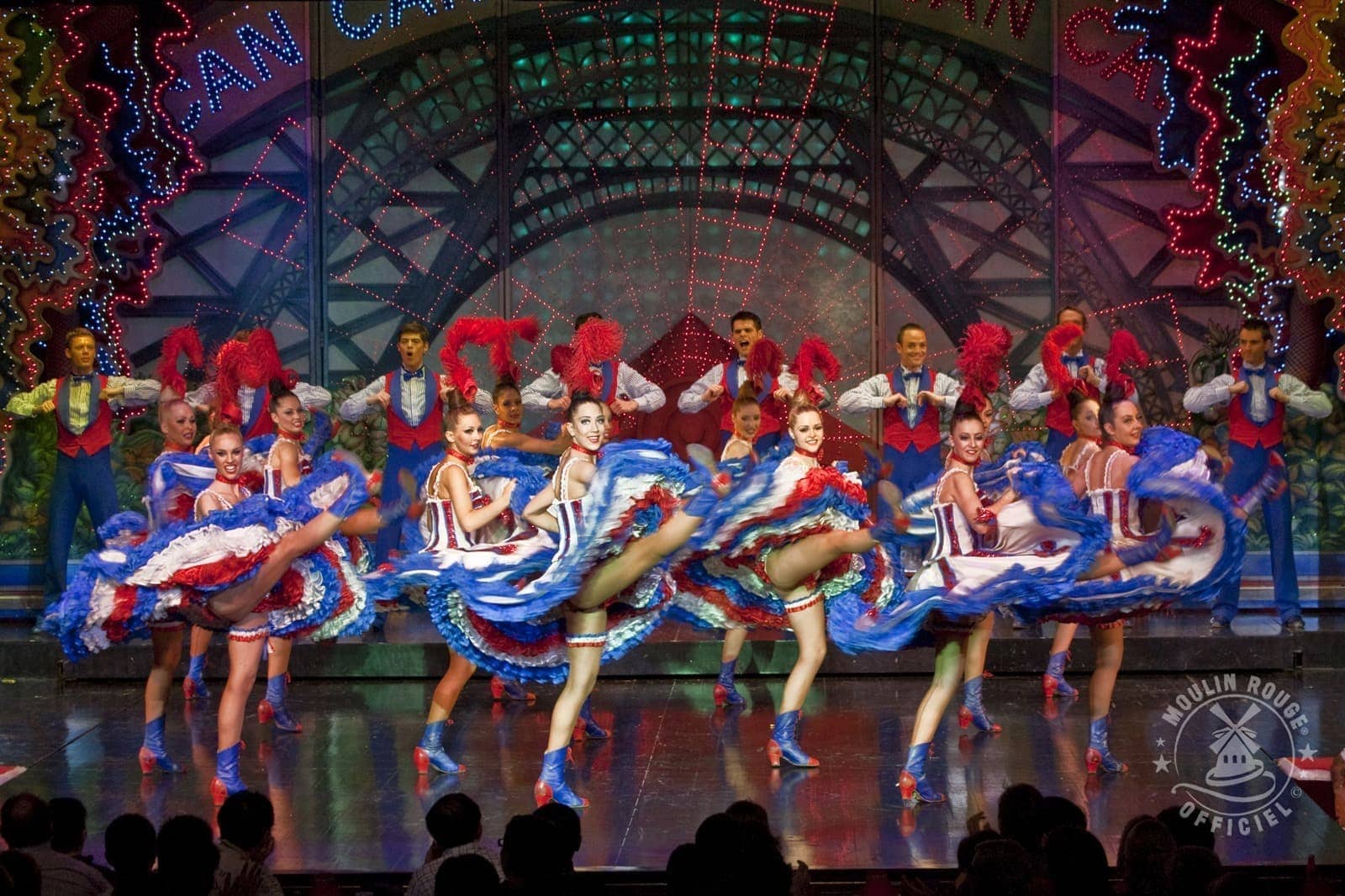 As well as the main four set pieces, there were smaller performances which allowed for major set changes to take place. Jess was particularly taken by these – featuring one to four people performing amazing acts of acrobatics and daring. Very circus like!
You aren't allowed to take pictures of the show during the performance, which meant I could focus on enjoying the approximately 90 minute performance (all photos of performers in the show were kindly provided by the Moulin Rouge press team). And enjoy it I did – I mean, watching talented people in stunning costumes over a bottle of champagne with the woman I love in one of our favourite cities was never going to be a disappointment, was it?
We can of course recommend the Moulin Rouge if you're visiting Paris – it's a great show and a lot of fun to attend. It is a little risqué – many of the scenes do involve topless ladies – but there is no full nudity as with some of the other cabaret shows.
Further Reading for your Paris Visit
That sums up everything we think you need to know in order to visit the Moulin Rouge in Paris! Before you go though, we have a number of other posts we think you'll find useful for planning the perfect Paris experience.
And that's it for our guide to visiting the Moulin Rouge! As always, we're happy to help out with any questions or feedback you have about the above – just let us know in the comments below!