Paris is easily one of our favourite European cities, and one that we return to time and again. It has so much to offer, from beautiful views to world class museums to fabulous food. We've visited a number of times, both for short breaks like the 2 days in this Paris itinerary, as well as for more prolonged stays as part of a longer European itinerary.
Speaking of a shorter visit, we wanted to share with you an itinerary for 2 days in Paris that will get you to all our favourite sights.
Fair warning, this is a busy itinerary that covers a lot, so feel free to adjust it accordingly. However if you want to see as much as you can – this will help you do that. If you have slightly longer, you might want to check out our guide to spending 3 days in Paris.
This Paris itinerary is perfect for a first-time visitor, or even a returning visitor looking for a quick 2 days in Paris that includes most of the major attractions.
After the itinerary itself, we'll share some tips and advice for visiting Paris, as well as some ideas for saving money on your trip. Now onto our suggestions of how to spend the perfect 2 days in Paris.
2 Day Paris Itinerary
Paris Itinerary: Day 1
Sainte Chapelle
I have to admit, it took multiple visits to Paris before I actually visited Sainte Chapelle. Suffice to say, my mind was blown. This is without doubt one of the prettiest churches I've ever visited, and I can't believe it took me so long to actually go inside.
With almost floor to ceiling stained glass windows, this 13th century gothic chapel will literally take your breath away when you walk inside. Don't feel bad if you stand there, mouth agape with wonder. I certainly did, until I remembered myself and got to taking some pictures. It's a truly wonderful place, and an absolute must in Paris.
Sainte Chapelle normally opens at 9am, and we highly recommend you get here by 9am sharp, if not a little earlier, in order to get in before the queues. It's a relatively small attraction, and the security and ticket lines can be long, so arriving here when it opens will save you a lot of time.
There's a fee for visiting, and it's included on the Paris Museum Pass (see our review of the Paris Museum Pass here). You can also buy your ticket online in advance from GetYourGuide here, which is highly recommended as the ticket line can be very long.
A quick note on buying tickets online – you can normally do so via the official site or via a third party like GetYourGuide. We nearly always opt for GetYourGuide because the tickets usually come with free cancellation, unlike tickets sold via the official sites. This is very handy for peace of mind. However, you do always need to check and compare prices and policies for each ticket to be sure.
Cathédrale Notre-Dame de Paris
Just near Saint Chapelle is one of Paris's most well know religious buildings – Notre-Dame Cathedral. With two huge towers and mighty flying buttresses, it's not hard to see why this has become one of Paris's iconic attractions, not to mention one of the most famous churches in the world.
Completed in 1345 after nearly 200 years of construction, Notre Dame is a beautiful building that is well worth the visit.
Unfortunately, on April 15th 2019 a devastating fire seriously damaged Notre Dame. The cathedral will be closed for the foreseeable future as a result of this tragic incident. Whilst you can still see the inside, the interior is not currently accessible.
We would suggest that instead you add a nearby attraction like the Conciergerie to your list. This an excellent place to learn all about the French Revolution, and was where Marie Antoinette was imprisoned prior to her execution.
You can get a combined ticket that includes Sainte Chapelle and the Conciergerie here which will save you a bit of money.
Louvre
From Notre Dame it's a 20-minute walk (or 15-minute metro ride) to one of Paris's most famous museums – the Louvre.
This is of course home to the Mona Lisa (which many visitors make a bee-line for!) and the Venus de Milo, but the largest and most visited art gallery in the world has a great deal more to offer than these two sights, from Islamic art to Greek antiquities.
You could spend a whole day (or more!) just exploring the Louvre, but that would restrict the rest of your Paris sightseeing, so try and limit yourself to two or three hours if you can!
Also, you should be aware that the Louvre is one of Paris's most popular attractions, and lines can get long. Usually there are two main entry lines outside the glass pyramid, one fast track security line for those with advance tickets, and one slower line for people without an advance ticket.
On some exceptionally busy days, entrance is only permitted with an advance purchase ticket, and we definitely recommend you buy yours in advance of your visit so as not to miss out. This will also normally save you time as the line for those with tickets is normally a lot quicker.
We'd definitely encourage you to save money and time by either getting a fast-track ticket in advance, or buying a pass that gives you access to the fast-track line. For example, the Paris Museum Pass offers free entry to the Louvre with fast-track access. It's also included on the Paris City Card. See more at the end of the post on which pass is going to best for this two-day itinerary.
Note that in the busy times, which tend to be the summer periods especially, the Louvre gets very busy. In fact, the museum often sells out, and only holders of advance purchase tickets or timed reservations were able to enter the museum.
If you have a Paris Museum Pass, you need to reserve your entry online on the official website. This is mandatory for holders of these passes in order to guarantee entry, and we highly recommend you do this in advance. If you do not reserve your slot in advance, you are not guaranteed entry even with the pass.
If you have a Paris City Card, you'll book the timeslot you want when you book the card.
If you do not have a pass, you can buy your ticket and reserve your entry time either on GetYourGuide here (where we normally get our tickets ), or online on the official website here.
We've sometimes found that GetYourGuide has availability even when the official site is out, so it's always worth checking if you want to visit and can't find tickets on the official site.
Finally, you can also book a walking tour of the Louvre like this. This is a great option if you want to learn more about what you are seeing, as well as if you can't get tickets any other way!
We'd suggest using Take Walks for this – we've taken a lot of walking tours with them in cities all around the world, and love the knowledgeable guides and small group sizes. See our suggested Louvre walking tour with Take Walks here.
Note the Louvre is closed on Tuesdays. See opening times and more on the official site here.
Wine Tasting
Depending on how much time you spend at the Louvre, you might have time for a spot of wine tasting afterwards. Note that this activity is one that we suggest you skip though if you feel this itinerary is a bit busy for you.
France is known the world over for wine, so after you've sated your cultural curiosity at the Louvre, why not relax a bit over a glass of wine whilst learning all about the art of French wine making. Sound good?
Well, conveniently, right next door to the Louvre you'll find the "Caves du Louvre", a relatively new wine tasting experience set in an 18th century wine cellar, formerly home to the wine collection of the King of France himself.
Here, over the period of about an hour, you'll try three different French wines, whilst learning all about grape varieties and the factors that go into the making of a French wine.
It's a fun experience, and you can either do it as a self-guided tour using an app, or with a tour leader. There's a charge for the tour, but it is free for holders of the Paris Pass. You can also book online here.
If you're not keen on drink, or you're travelling with children, you might instead want to pop along to the nearby Angelina Café for a divine cup of hot chocolate. Or if you're into tea, check out Jess's guide to the best afternoon tea locations in Paris.
Eiffel Tower
This entry is an absolute must when in Paris – the Eiffel Tower. You will have already seen this magnificent construction looming over the skyline as you wandered around Paris, but I promise you, nothing really compares to standing underneath her and looking up.
You can experience the Eiffel Tower in a number of ways. Good views can be had from the Trocadero, on the opposite bank of the Seine. You can also get a lovely view of the Eiffel Tower at sunset from the Champ de Mars – the landscaped gardens that run to the southeast of the tower. This is a popular spot for the sunset in Paris, and many people bring a picnic to sit outside and enjoy the view in the warmer months, often with a glass of wine in hand.
If you want to climb the tower, we very much recommend that you book your tickets in advance. This will save you from queuing in the often very long lines at the ticket offices. Tickets can be purchased directly from the official website, which usually has the best prices although note that they are non-refundable.
Another option is the Go Paris Explorer Pass or the Paris Pass, both of which include the Eiffel Tower. It's also included on the Paris City Card, with a choice of timeslots. These passes can be a cost-effective way for sight-seeing as well – see our guide to saving money in Paris further on in the post for more information.
We would say that going to the top of the Eiffel Tower is definitely something to experience, and something everyone should do at least once.
There are also restaurants in the tower, which would make for a romantic spot for your evening meal. If you do choose to do this, we'd definitely recommend researching which restaurant you want to visit (prices vary), and booking in advance so as not to be disappointed. Alternatively, you can do an evening river cruise on the Seine with a meal!
See our complete guide to visiting the Eiffel tower for more tips, and to help you plan your visit.
Seine River Cruise
One thing many people look forward to when visiting Paris is taking a Seine River Cruise. These let you see a good many Parisian sights from a unique perspective, often whilst listening to a commentary.
Most tours last around an hour, and are a nice way to see a lot without too much effort. Just sit back, relax, and let the views roll on by.
Jess has written a detailed post to choosing a Seine River Cruise to help you decide between the various operators. There are a lot of options, and even though the view and route will largely be the same, various factors like commentary and boat size should be considered.
Some also offer a meal, which would be a lovely way to end your day! If that's of interest, see our guide to the best Seine River dinner cruises which has lots of great options at various price points.
One tip – if you buy the Paris Pass or Paris City Card, a Seine River Cruise is included. This is a good option, and we nearly always use a pass like this when we visit Paris as it usually saves us money.
Alternatively, you can buy a Seine River Cruise ticket in advance here, and one with dinner in advance here.
There are a number of operators offering Seine River Cruises with departure from right next to the Eiffel Tower, which would be our recommendation for this itinerary.
Arc de Triomphe
There are a number of places in Paris that I think offer fantastic views of the city, and the Arc de Triomphe is one of my favourites. Found at the western end of the Champs Elysees, this fifty metre high monument to those who died for France in both the French Revolution and the Napoleonic Wars is a must-see when visiting Paris.
You can of course admire the arch from below, and be amazed at the efforts of the traffic to get around this monumental roundabout. But to be honest, for the best experience, you need to climb the steps to the top (or take the lift) and enjoy the magnificent views of the city. Note – to cross to the Arch, take the pedestrian underpass. Don't try and cross the traffic roundabout!
From the top of the Arc de Triomphe you get wonderful views of the Parisian skyline, including the Eiffel Tower, and the business district La Défense.
I'd also add, if you take the stairs on your way out, there's a nice photo opportunity as you look down the stair well from the top of the stairs spiralling down. If you're interested in more good photo opportunity ideas in Paris, check out my guide to the best photography locations in Paris.
Climbing the Arc de Triomphe does incur a fee. It's included with the Paris Museum Pass. Alternatively, buy your skip the line ticket in advance here. The Arc de Triomphe is open late, so those of you who still have the stamina for sightseeing will be able to visit this too!
Paris Itinerary: Day 2
Sacre Coeur
Your second day in Paris has you starting at the Sacre Coeur in Montmartre. This beautiful basilica is found at the summit of Montmartre hill, the highest summit in the city. As you would imagine therefore, there are excellent views on offer from up here.
The Basilica is relatively new, with construction being completed in 1914. Its white domes are instantly recognisable, and you can climb to the top for a fantastic view of the city. Entry to the Sacre Coeur itself is free, although there is a fee for accessing the towers.
Montmartre itself is an area which has long been popular with artists, and many famous artists of the Belle Époque era had their studios in this area. Today, you can get your portrait, caricature or silhouette painted at the famous Place du Tertre, a short walk from the Basilica.
Note that the steps of the basilica are particularly popular with "bracelet makers", folks who will try to encourage you to accept a free bracelet from them. Except once they've starting tying your wrist with the free bracelet, they'll expect some money in return. For tips on avoiding this and other common Paris scams, check out our guide to avoiding scams in Paris.
Dalí Museum
Whilst you are up in the Montmartre area, we suggest you might want to take in the Dalí Museum – Dalí Paris. For fans of the artist, who was a part of the Surrealism group that was headquartered in Montmartre in Paris, this museum is a joy.
This isn't an essential visit though, so if you would prefer to just get on with your day, this one can easily be skipped.
With over three hundred original artworks on display, this is the only permanent museum in Paris dedicated to the artist. There are sculptures, drawings, watercolours and more on display, and the attached gallery even has some of his artwork for sale.
There's an entry fee, and it is included for holders of the Paris Pass.
Opera Garnier Tour
From the Dali Museum it's around a half hour stroll, or half an hour by public transport, to the next stop on our two day Paris itinerary – the Opera Palais Garnier.
We're not actually going to the Opera though, although that is of course an option for an evening activity. Instead, we suggest that you take a self-guided tour of this spectacular building, which served as the inspiration for the play "Phantom of the Opera".
The self-guided tour will give you full access to many parts of this gorgeous building, including the 2,000 seat theatre, the gorgeous grand staircase, the incredible seven tonne chandelier, and the balcony. You can book a self-guided tour here.
If you'd prefer a guided tour, these are also available. These tours last for approximately ninety minutes, and are offered in English. You can check times and availability and book on the official website here.
If you are interested in attending a performance at the Opera Garnier, read Jess's detailed post to booking tickets for the Paris Opera here.
Musee d'Orsay
From the Opera Garnier we're going to head to another of Paris's famous museums – the Musee d'Orsay. Found in a former train station on the south bank of the River Seine, this spectacular building picks up where the Louvre finishes off, with a focus on artworks dating from 1848.
We think that the building itselfmakese this museum worth the visit alone. What was formerly the main platform area is now a huge exhibition space which looks stunning, and the beautiful station clocks are seriously photogenic.
Of course, the museum has no shortage of art either, with works from Monet, Van Gogh, Cezanne and Renoir all on display, to name but a few.
Free entry with skip the line privileges is provided to Paris Museum Pass holders. You can also purchase a skip the line ticket online here or on the official site here.
Stroll along the Left Bank
Paris is a romantic city, and one of our favourite romantic things you can do in Paris is take a wander along the "Left Bank".
In case you were wondering where the left bank is, it's the south side of the river Seine. It's called the Left Bank because it's the left side of the river as you look downstream.
From the Musee d'Orsay, it's a nice stroll along the left bank, if you head in an easterly direction, with views of the Louvre, the Pont des Arts and ultimately, if you keep going, spectacular views of the soon to be restored Notre Dame.
Sunset at Tour Montparnasse
The last two entries on our two-day itinerary can be switched around, depending on what time of year you visit. This is because sunset will vary depending on when you visit, and I'd suggest that the Tour Montparnasse is absolutely best experienced at sunset.
The Tour Montparnasse is the second tallest skyscraper in Paris, and from its rooftop observation deck you get what we think are the best views of Paris. From here you can see all the way to the Eiffel Tower, Montparnasse and La Defense.
At sunset, the view is truly magical, as the sun lights up the sky, and the city lights start to come on. Then – the pièce de résistance – the twinkling lights of the Eiffel Tower herself.
Access to the Tour Montparnasse viewing deck is free for holders of the Paris Pass. You can also buy a ticket online in advance here.
Centre Pompidou
Last on our list of attractions for our two-day Paris itinerary is the Centre Pompidou. This is home to a number of things, but we think you'll be most interested in the Musée National d'Art Moderne – Europe's largest Museum of Modern Art.
This completes the trilogy of art museums in Paris – the Louvre spanning up to 1848, the Musée d'Orsay covers the 19th and early 20th century, with the Centre Pompidou holding the the masters of modern twentieth century art. I'm talking Picasso, Warhol, Kandinsky, and Duchamp.
Conveniently, the museum is open until 9pm, which means you'll be able to visit either before or after your sunset at Tour Montparnasse. Don't miss the "view of Paris", a balcony which offers one of the better view of Montmartre in the city.
There's a fee to visit the Centre Pompidou and you can book tickets online here. It's free for holders of the Paris Museum Pass.
Again, this is not a "must-see" in Paris, so feel free to skip this one if you don't want to feel rushed.
2 Days in Paris Itinerary Map
To help you visualise all the above, we've put the attractions onto a map so you can see where you need to be for each day of your Paris visit. You can see this map here on Google.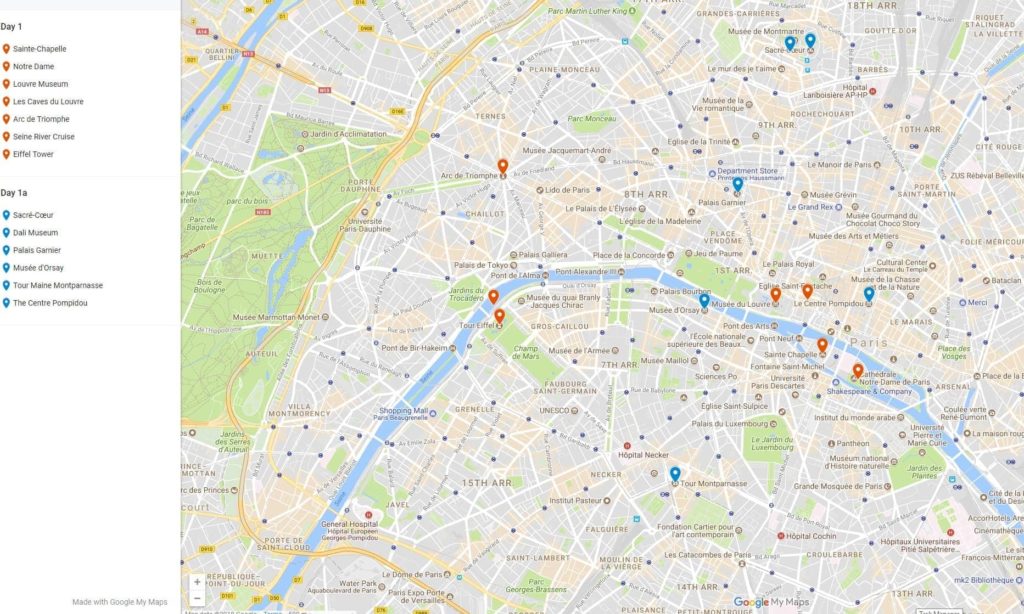 2 Day Paris Itinerary Overview
When to Visit Paris
Paris is a city that is good to visit throughout the year. As with most European cities, it is particularly busy in the summer months, and lines for attractions in July and August can be long. The summer months do however promise the best weather.
If you want reasonable weather with less people, then the months of May and September will offer some solace. We also love visiting Paris in both fall and winter, when the leaves on the trees turn golden, and the city lights itself up for Christmas.
Basically, we think you'll have a good time whenever you visit Paris, but just bear in mind that some months are much busier than others.
How to Get Around Paris
Paris is very easy to get around, with a comprehensive underground (the Metropolitan) as well as buses and local trains. Naturally there are also taxis and private hire cars available.
There are currently two main ways to buy tickets for public transport in Paris as a visitor. The traditional cardboard tickets as shows in the image below, and then there's the new Navigo Easy plastic system.
The Navigo Easy system was introduced in the summer of 2019, and is a rechargeable plastic card that can be pre-loaded with tickets. The goal is for this to replace the cardboard version of the tickets at some point.
The Navigo Easy card costs €2 to buy, and you then top it up with single tickets or as packs of 10, known as a carnet.
Currently, the most cost-effective way to buy tickets in Paris is to buy tickets in packs of 10 on the Navigo Easy system, which represents a fairly significant discount on buying them individually.
Tickets can be bought at pretty much every metro station from the ticket machines, which accept cash and cards, as well as coming with an English language option.
For more on getting around Paris, see our detailed guide to how to get around Paris, which should help you plan all your transport in the city.
How to Save Money on Your Paris trip
The Paris itinerary above packs a lot into two days, and many of the sights and activities have an associated fee. At time of writing, if you chose to do everything in the above list, you'd be looking at spending just under €200 per person.
The good news is that you can save money on your visit to Paris. The answer is to invest in a Paris city passes, like the Paris Museum Pass, Paris Pass, Go Paris Pass, or Paris City Card.
Calculating if a pass is worth it for you will of course depend on exactly which attractions you want to visit.
From our itinerary, here's what's included on which passes, as well the cost of individual tickets as of June 2023 and links to book each attraction directly.
Total attraction entry for all the above would cost you around €215.
As you can see, none of the passes we recommend include all the attractions in our itinerary.
Assuming you planned on visiting all the attractions in our itinerary, then a 2-day Paris Museum Pass would definitely save you money on the attractions it covers. Buy this from the official site here or on GetYourGuide here.
Then you might consider either a Paris Pass or a Go Paris Pass. The latter lets you pick a number of top attractions in Paris, and covers many of the attractions listed in this post.
The former includes things like the Seine River Cruise, wine tasting and guided Eiffel Tower visit, however at €114 per person for 2-days it is unlikely to save you a lot.
If you aren't planning on visiting every attraction in this list, then the Go Paris Pass might be a better option, as you can pick from 3, 5 or 7 major attractions, and save on visiting those.
Finally, consider the Paris City Card. This includes a guided Eiffel tower ticket, Seine River cruise and access to the Louvre. It also comes with an audioguide to Paris, as well as a further 10% discount on other Paris attractions.
This is a good option if you aren't planning on visiting everything in our itinerary. It also has the advantage that you book the timeslots for the Louvre and the Eiffel Tower when you book the card, so can be convenient.
As well as the above, you should be aware that on the first Sunday of every month, access to most museums in Paris is free – although be aware that popular museums like the Louvre get incredibly busy on these days.
In addition, some locations will give you free entry if you are an EU citizen under 26 – you'll need ID to prove this of course.
Finally, always check opening days for attractions before buying a pass, as you don't want to be disappointed to discover a museum is closed on the day you plan to visit it.
Where to Stay in Paris
We've stayed at a variety of locations in Paris, from hosted apartments through to hotels and homestays.
There's a massive choice, and prices are generally reasonable considering this is a capital city. We'd advise picking somewhere within easy walking distance of a metro so that you can easily get around all the sights in this itinerary.
Our favourite way to find the best deals on accommodation is booking.com. They're easy to use, usually have the best prices, and have everything from hotels to apartments.
If you prefer an apartment, then we recommend Plum Guide or Vrbo.
Plum Guide carefully curate their listings so their options tend to be of a very high quality whilst still being available at a range of price points. We've stayed at a number of their properties around the world, including a beautiful apartment in Paris with spectacular Eiffel Tower views. See their listings for Paris here.
If you can't find what you want from the above choices, or you want some new options to try out, we wrote a whole post on the best alternatives to AirBnB which you should check out!
We also have a page full of travel resources, which includes our tips for getting the best deals on accommodation, which you can find here.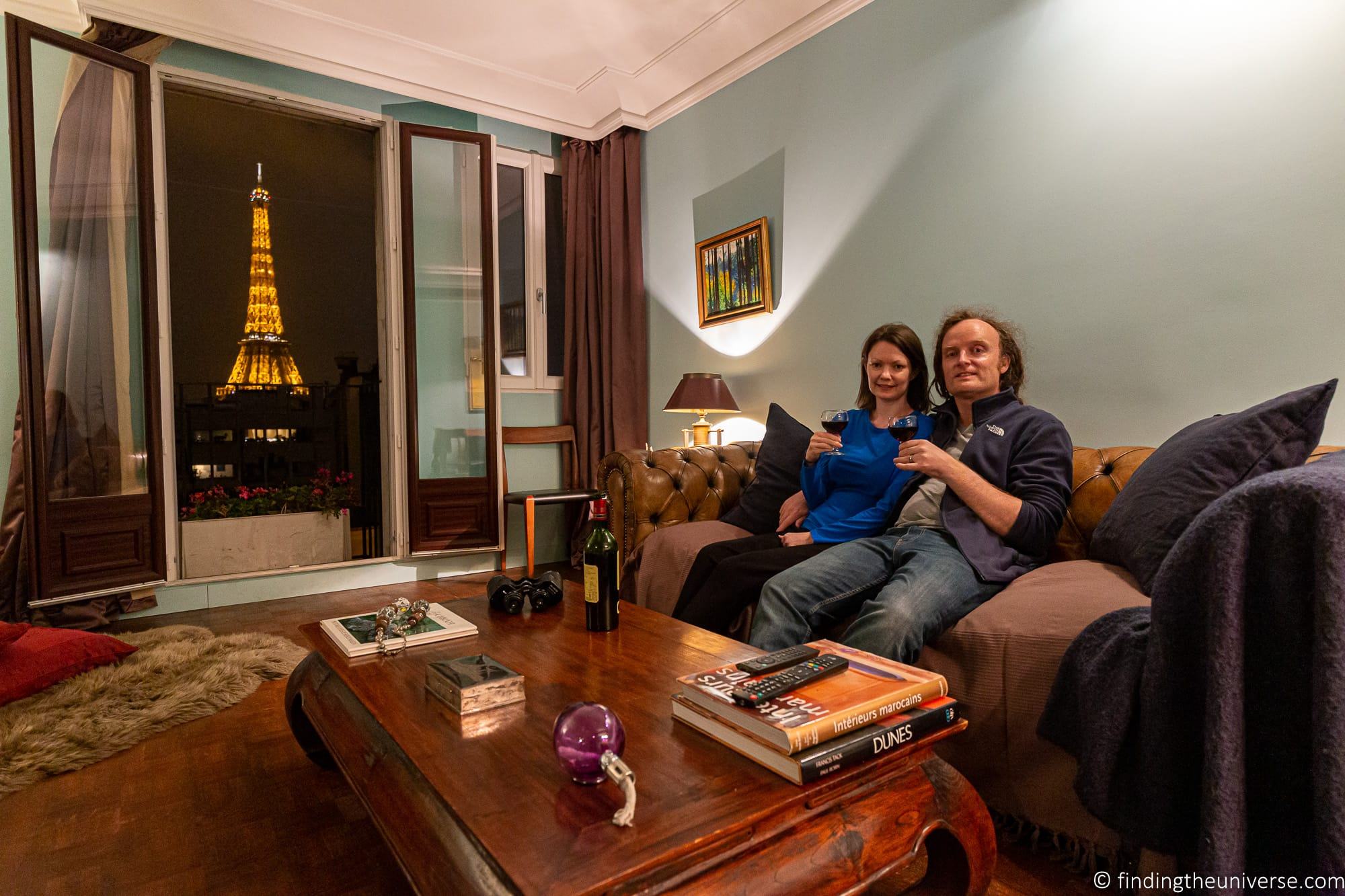 Practicalities for visiting Paris
Safety in Paris
We've not had any problems in Paris, although there are a few scams to be aware of – check our guide to avoiding common Paris scams so you are prepared in advance.
Power in Paris
Electricity is of the 220v standard, with the 2 pin European style plug. Travellers from countries like the UK and the US will need an adapter like this, and US travellers need to check their equipment supports the 220v standard – it will be written clearly on the power adapter.
See more on travel adapters and how to choose one for your trip in our guide to the best travel adapters.
Currency in Paris
Paris is part of the Eurozone, so the currency is the Euro. You can get these from ATM's, banks and currency exchanges, although credit cards are of course widely accepted.
Internet Access in Paris
Internet access is widely available in the form of WiFi all around the city and in hotels and coffee shops, so you shouldn't have any trouble getting online. You can also pick up local SIM cards if you have an unlocked phone. If you are travelling from the USA, consider a Google Fi package which lets you use your data overseas.
Alternatively, consider an eSIM service like Airalo.
For more options on getting online when travelling, check out our guide to getting online when travelling to help you figure out the best options. We also have a guide to picking the best travel router, which can help you extend a weak WiFi network and share it across multiple devices.
Drinking Water in Paris
The water in the taps is safe to drink unless otherwise posted. If you don't like the taste, bottled water is widely available. We usually recommend you travel with a re-usable water bottle like one of these to save on having to buy water bottles.
We love our Klean Kanteen water bottles for travel as they are lightweight, easy to clean and the company is a certified B-Corp.
Eating in Paris
Paris has no shortage of excellent dining options to choose from. Whilst we generally don't recommend specific restaurants as they can change so quickly, we do have a guide to some of our favourite restaurants in Paris here for inspiration.
We suggest that if you do want to eat at one of the more popular restaurants in Paris that you consider booking in advance.
We recommend and use La Fourchette (the fork), which is the most popular online restaurant booking website in France. It's easy to use and makes booking a breeze, especially if you don't speak French. Check it out here to find reviews, sample menus and book a table.
Walking Tours of Paris
If you would like to do a guided tour in Paris for part of your stay, then we suggest you take a look at Take Walks. We've used them for walking tours in cities around the world, and have never been disappointed. They focus on small group tours, led by experts, and they have a number of walking tours in Paris we can recommend. These are:
Of course, there are other operators running tours in Paris, such as this delicious looking food tour, this in-depth tour of Hemingway locations in Paris or this tour of Montmartre.
As you can see, there are lots of good options for walking tours in Paris, whatever your interests!
Further Reading for your Paris trip
And that's pretty much it for our guide and itinerary to spending the perfect 2 days in Paris! Before you go though, we wanted to share some resources to help you further plan your trip to the French capital. These are:
And that's it! How would you spend two days in Paris? Do you have anything to add to the above, or any questions? Let us know in the comments below!