We love visiting Paris. The city has so much to offer, from iconic sites like the Eiffel Tower, through to world class museums like the Louvre and famous shows like the Moulin Rouge.
Then there are all the fun neighbourhoods to explore, the fantastic dining options, the cafes – the list goes on!
Paris isn't exactly compact though, so when you visit you are going to need a plan for how to get around. While you certainly can walk, you will be able to fit more sights in if you take advantage of one of the many transport options available to you.
There are quite a few of these in the city. In this guide, I'm going to share with you all the options you have for how to get around Paris. This will cover all the transport options in Paris, including public transport (e.g., metro, bus, tram etc.) and private hire (e.g. taxi, ride-share etc.).
This guide accompanies our other Paris content, which includes itineraries for Paris, guides to where to eat in Paris, and many other posts. See more of these in the resources section at the end of the post.
Public Transport Zones in Paris
Before jumping into the individual transport options for Paris, I will share a quick overview of the zone system in Paris so you have an idea of how this works.
Like many cities in the world, the public transport system in Paris is divided into zones. There are five transport zones in Paris, which are formed as circles.
Zone 1 is the inner zone and covers the centre of the city, and the zones then radiate outwards to Zone 5.
Zones 1 to 3 cover the majority of the city centre and most attractions that visitors will want to visit.
There are some locations that are outside of zones 1-3. For example, Versailles and Orly Airport are in Zone 4. CDG Airport, Disneyland Paris, and Château de Fontainebleau are located in Zone 5.
Unlike a city like London, the fare zones in Paris do not affect individual metro ticket pricing. A single metro ticket in Paris is good for any journey, regardless of zones covered. Instead, the zone system is primarily for pricing transport passes.
For example, you can buy a Paris Visite transport pass which covers all your public transport journeys in Zones 1-3, or Zones 1 – 5. The latter will be more expensive.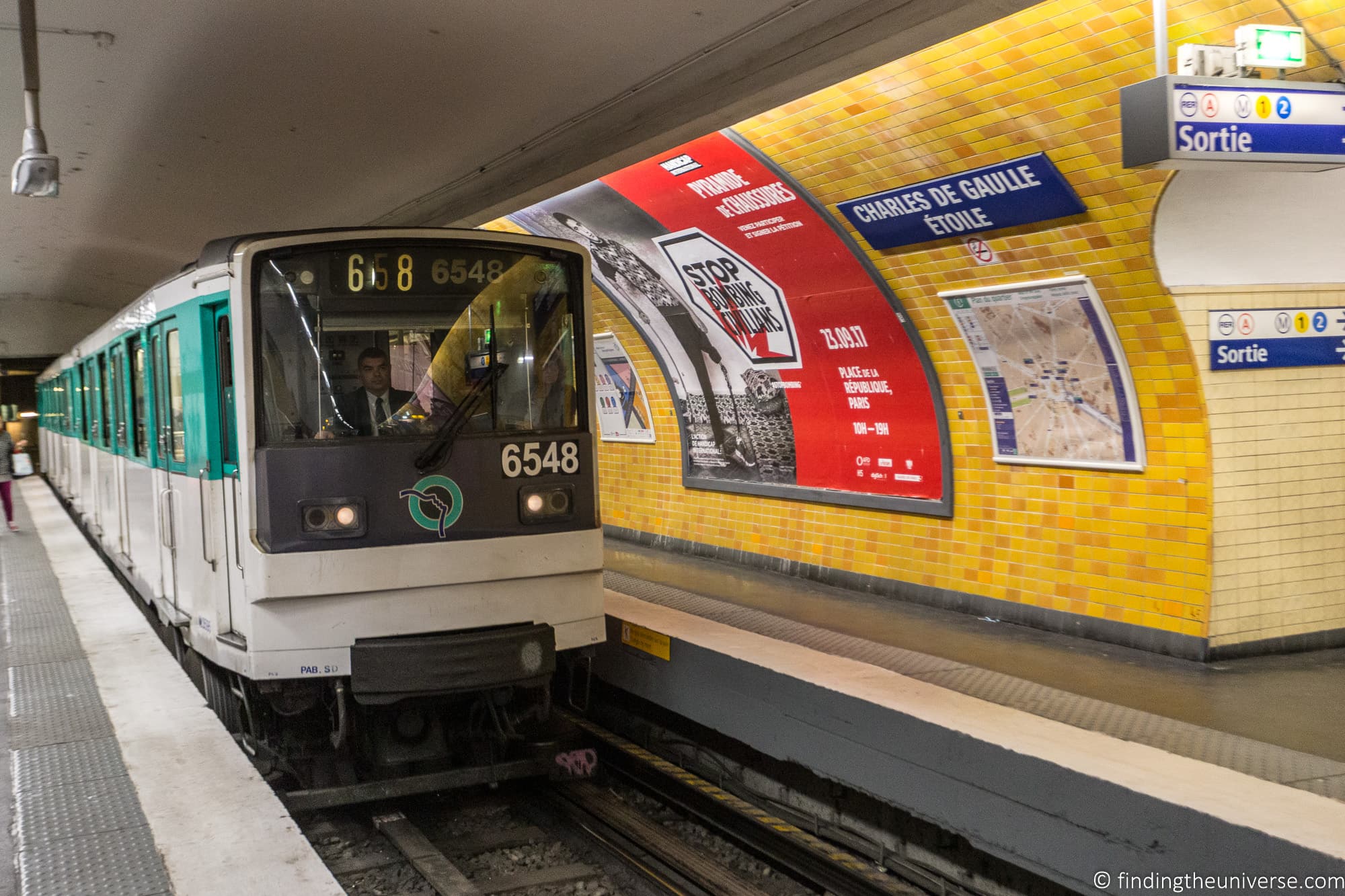 How to Buy Tickets for Public Transport in Paris
There are a number of ticket options for using the public transport in Paris, which includes the Paris metro, bus, tram and RER trains. These transport options are all operated by RATP, and you can see the English version of the RATP site here for more information.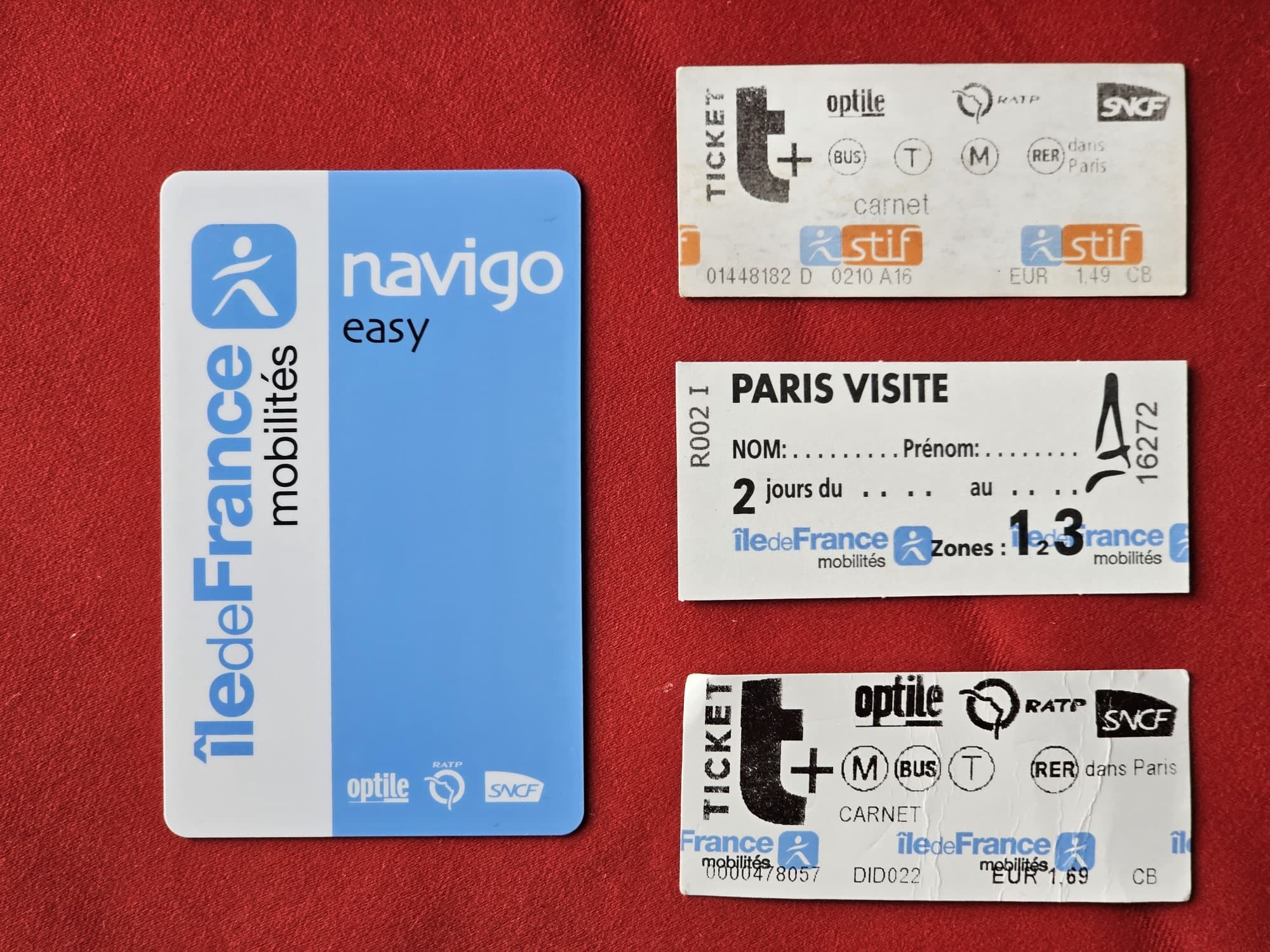 Tickets for Travel in Central Paris
For a single journey, you can buy an individual ticket known as a t+ ticket. This currently costs €2.10 when bought in advance (price valid as of April 2023). These can be bought from any station, and can be used for any of the following:
a single journey on the metro in any zone (you can transfer lines and travel for up to 90 minutes from validation). You can also transfer to the RER for Zone 1 travel.
zone 1 travel on the RER
a bus journey of up to 90 minutes from the first to last validation, including bus changes and change to the tram
a tram journey of up to 90 minutes fro the first to last validation, including changing to another tram.
a single ride on the Montmartre Funicular
It is also possible to purchase a single t+ ticket when boarding a bus, this costs €2.50.
If you will be doing more than one journey, it will generally be more cost effective to buy a packet of 10 t+ tickets, known as a carnet. You can also buy a pass that covers multiple journeys over a period of time.
A carnet of 10 t+ tickets used to be available as a pack of physical tickets, however Paris is transitioning from a cardboard based ticketing system for single tickets to an electronic card system known as Navigo Easy.
Now you need to buy a Navigo Easy card onto which you can load a pack of 10 t+ tickets for €16.90 (as of April 2023). You can also load it with individual t+ tickets for €2.10.
The only downside to a Navigo Easy carnet of 10 t+ tickets compared to the former cardboard system is that you can no longer buy a pack of 10 t+ tickets to share between a few people as each person needs their own Navigo Easy Card.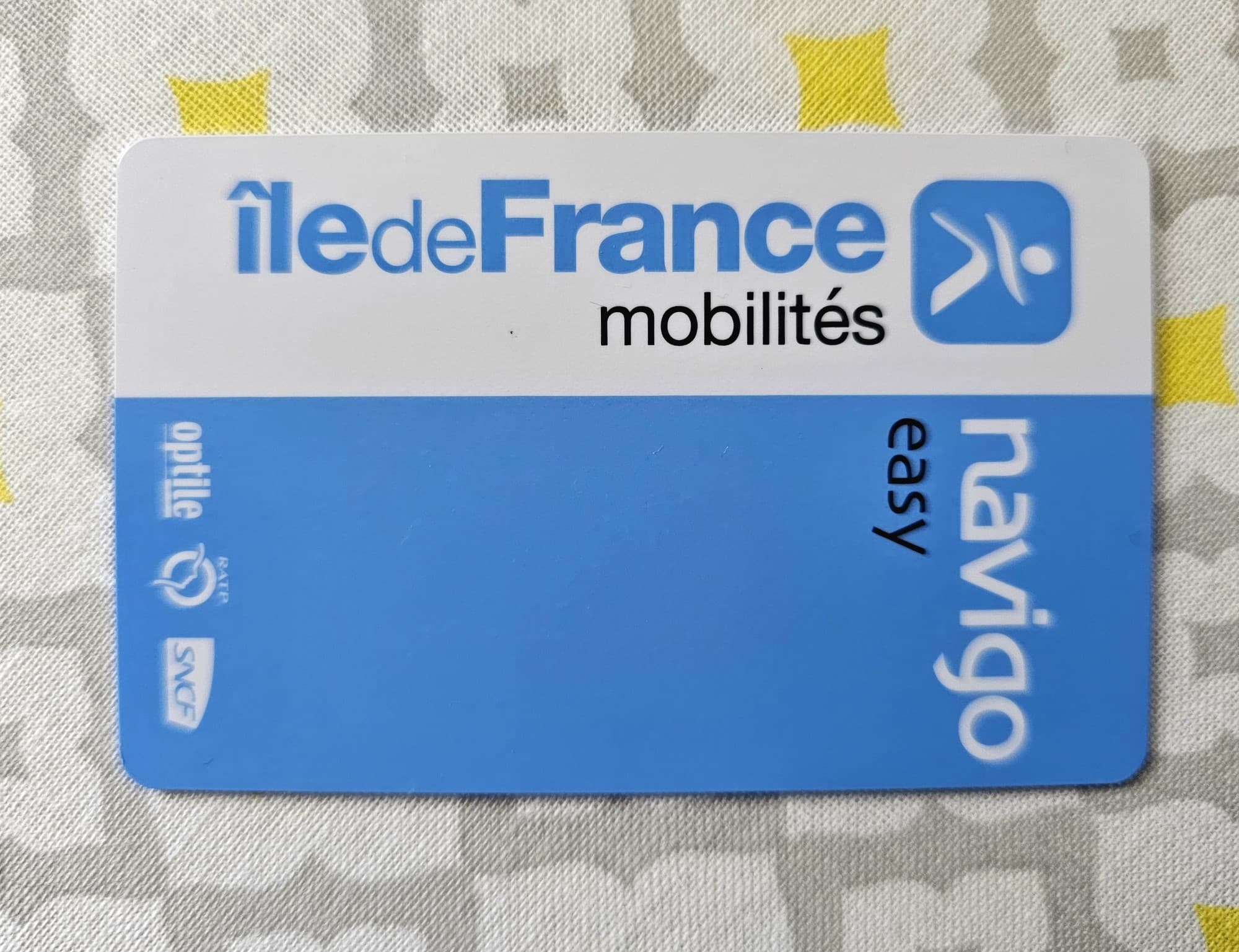 A Navigo Easy card costs €2 to buy, and can be purchased from ticket offices at most metro stations. It's about the same size as a credit card. Once purchased, you preload it with tickets.
Both the Navigo Easy cards and single t+ cardboard tickets can be purchased from metro stations, as well as some bus stations, tram stations, train stations and tabac stores.
At metro stations, there will be vending machines selling paper tickets, and these accept both card and cash payments. The machines also allow you to top up your Navigo Easy card. There will also often be machines solely for recharging the Navigo Easy card. These are purple and say "Rechargement Navigo".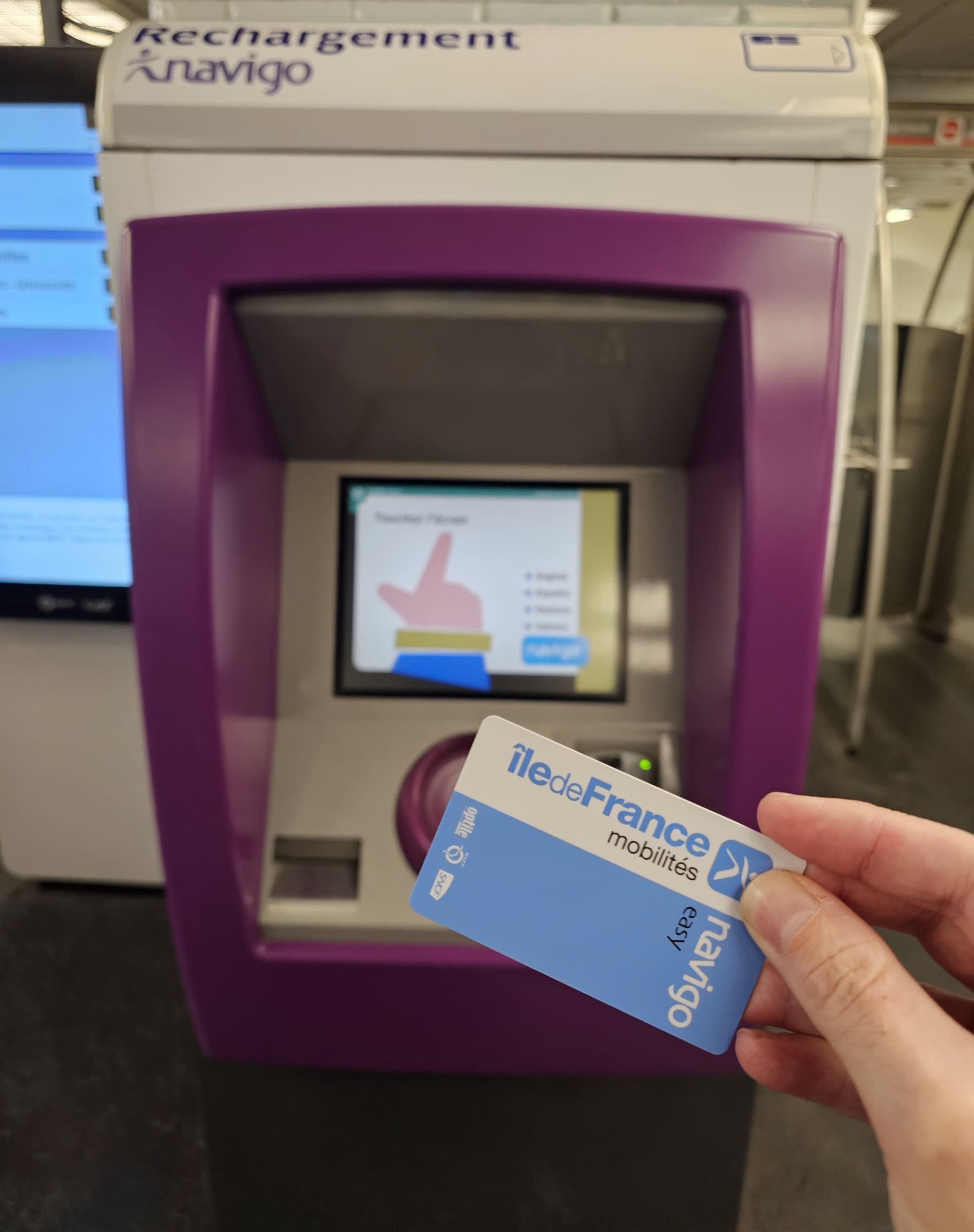 For the Navigo Easy card, these need to be purchased at ticket offices.
These machines are also multilingual, so you can choose your preferred language when you buy the ticket.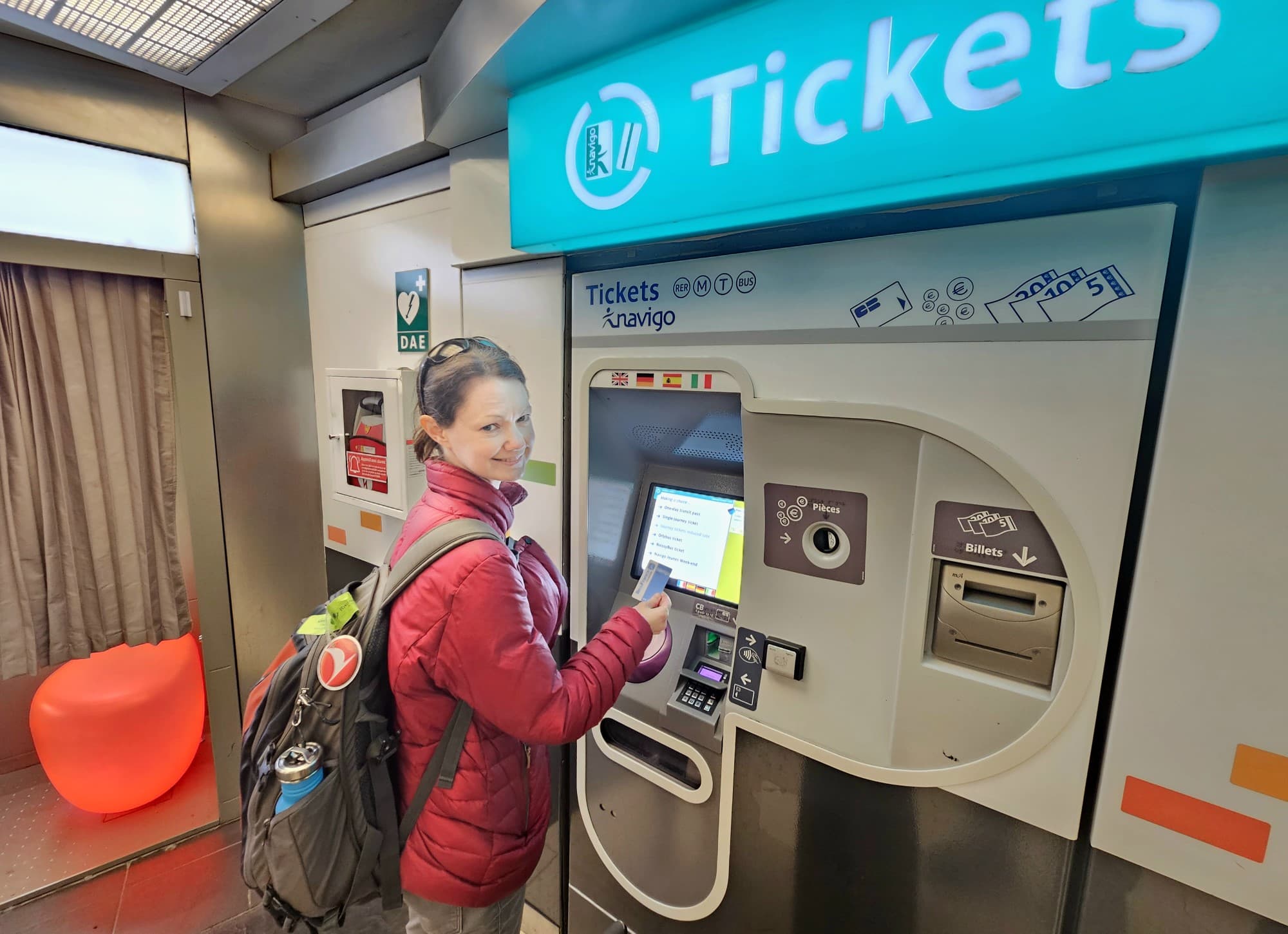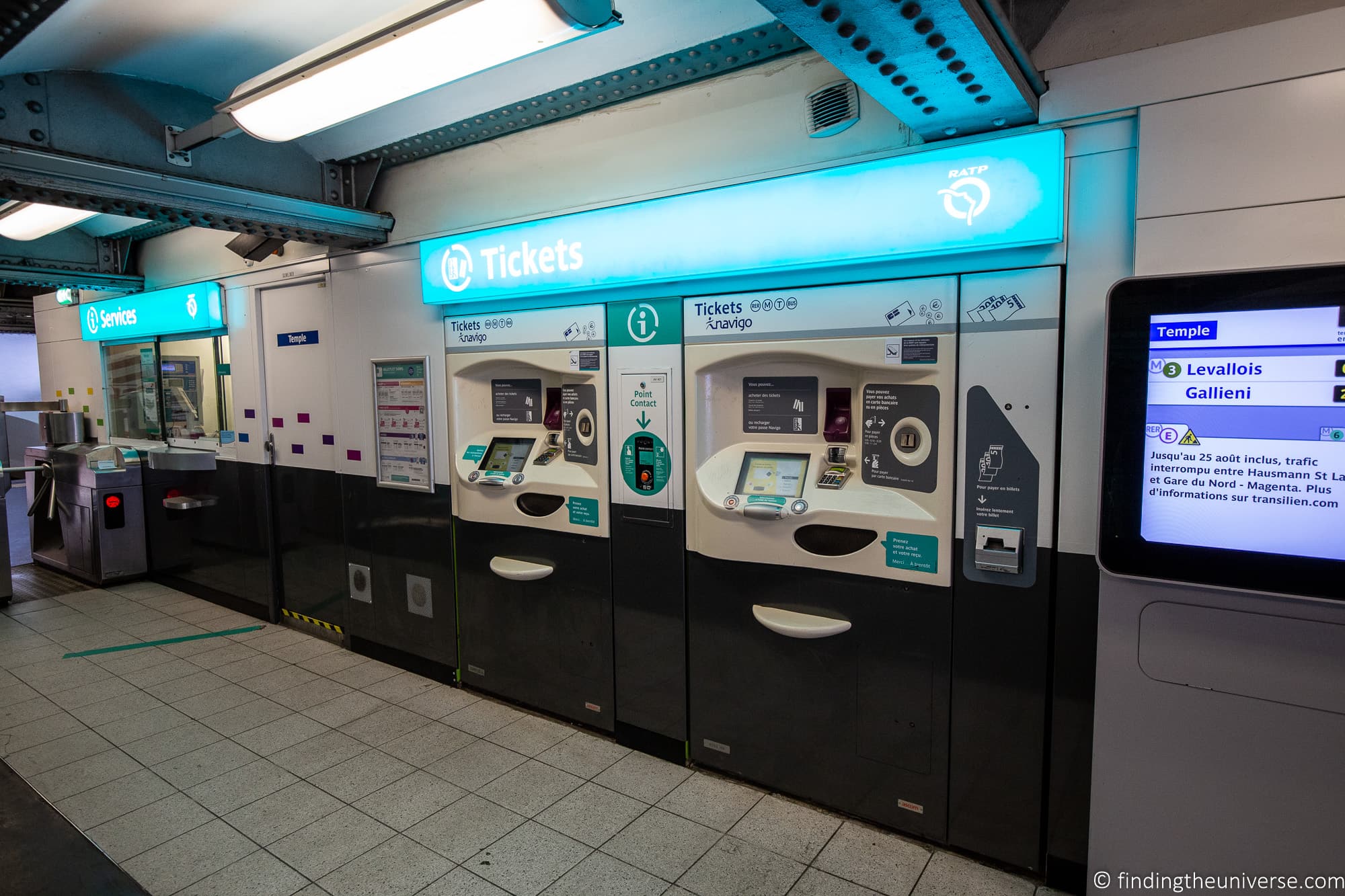 Often there will also be a ticket window where you can purchase tickets. This is also where you will need to go to buy a Navigo Easy card.
If you would prefer to use your smartphone to pay for your travel in Paris, this is an option. You can use the Bonjour RATP app on your smartphone. This can be used instead of a Navigo Easy card, and saves you the €2 fee for the Navigo Easy card.
The app is available in English, however you do need a compatible smartphone and some users do report difficulties getting it to work. Most modern smartphones should work, although sometimes you need to install an additional app like Mes Tickets Navigo and / or Ticket Sans Contact.
Once you have the Bonjour RATP app up and running though you can preload it with t+ tickets and a carnet for the same price as preloading a physical Navigo Easy card. You can also use the app to manage physical Navigo Easy cards, you can check the balance of tickets on a Navigo Easy card by holding it to the phone for example, or reload a carnet.
Note that to top up cards and purchase tickets your device will need an internet connection.
The Bonjour RATP app also includes journey planning capabilities as well as offline mapping.
Passes for Travel in Paris
There are also other ticket options for using Paris Public transport, including day passes and multi-day passes.
Passes to consider that include transport in Paris include the following:
Navigo Jour 1 Day Card (loaded onto a Navigo Easy or Navigo Decouverte Card, can buy online here if you have one of these cards already)
Which of these is best for you will depend on the types of transport you intend to use in Paris, and how often you will use them.
Tickets for Travel to Charles de Gaulle Airport and Versailles from Paris
If you plan to travel outside of central Paris, you will need a different ticket. Common destinations from central Paris that visitors want to get to include Charles de Gaulle Airport, Versailles and Disneyland Paris. These are all accessible via the RER train lines.
Versailles can be reached via RER line C, Paris CDG airport is on RER line B and Disneyland Paris is on RER line A.
Ticketing for the RER varies depending on where you are going. For travel inside Zone 1 only, you can use a standard t+ ticket as discussed in the previous section.
If you want to travel outside Zone 1, you will need a different ticket, marked "iledeFrance". You can see the difference between a metro ticket (left) and an IledeFrance ticket (right) in the image below.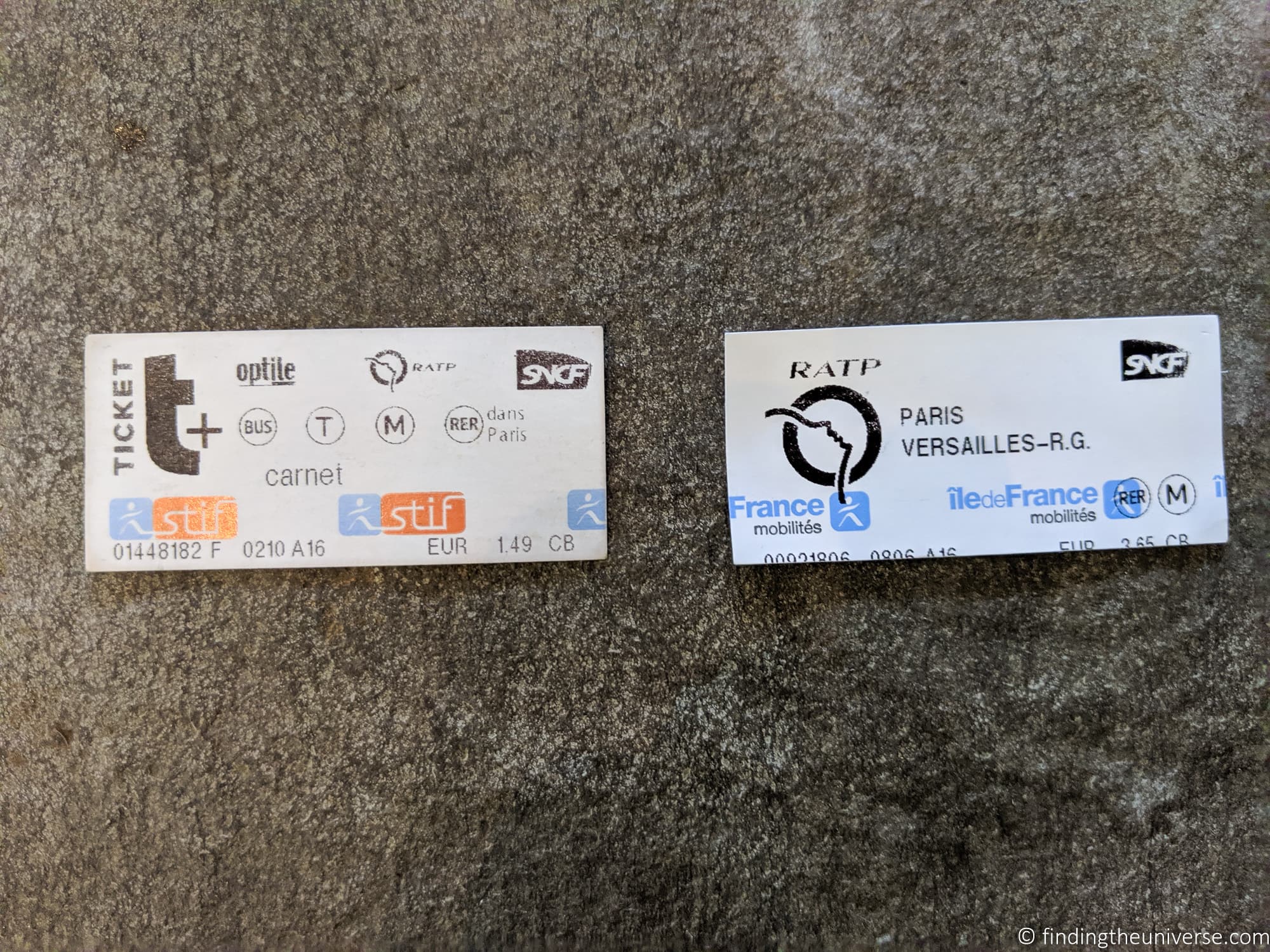 You can also use the Paris Visite card for travel on RER trains. However it is very important to check the zones you are travelling through when using these cards.
Paris Visite cards come in Zones 1-3, or Zones 1-5.
You can also buy individual tickets to specific destinations. The ticket machines at all metro and RER stations are capable of issuing both RER and Metro tickets. If you put in Versailles as your destination, it will give you the correct IledeFrance ticket for the journey.
This IledeFrance ticket can be used across the metro and RER system to get from your starting point to your ending point.
Summary of Ticket Options for Travel in Paris and Recommendation
We usually find that the 10 pack of t+ tickets work fine for us when visiting Paris, with the Navigo Easy card on a smartphone being the most cost-effective way of buying these tickets, and the physical card being a bit easier to use in our opinion.
We then buy individual tickets when travelling to Paris CDG airport or Versailles.
If you think you will be doing a lot of travel on public transport, then a Paris Visite card might work out to be better value.
How To Get Around Paris
There are many options for getting around Paris. Below I will go through each of these options so you can pick the right one for your needs.
Some of these are public transport options, such as the Metro, bus and RER. These are operated by RATP, and you can see full fare information and schedules for these services here.
Other services include taxis, ride shares, and bicycle hire. I will link to the relevant websites for these under each entry.
Metro
The Paris Metro is our preferred way to get around the city when we travel around central Paris. This is because it is fast, affordable, has a regular service, and it covers the majority of the attractions in the city centre.
The Paris metro system is currently made up of 16 lines and 302 stations. It primarily covers transport zones 1 and 2. Basically wherever you are in central Paris you shouldn't be too far from a metro stop.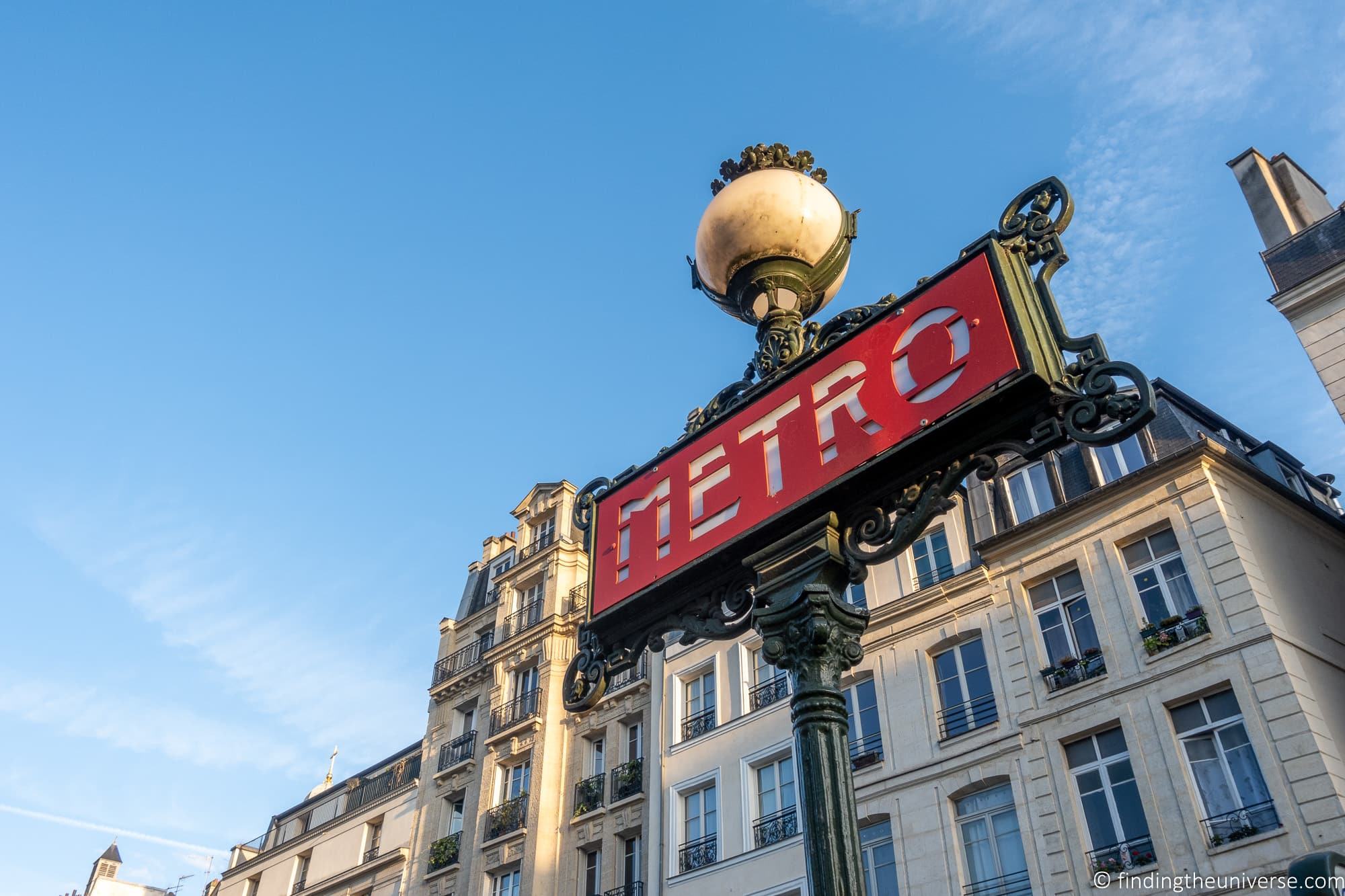 Each line has a number, from 1 to 14. The two extra lines are labelled 3bis and 7bis – these were originally branch lines that have since become separate lines.
As well as a number, each line also has its own color. The street level entrance to each metro stop will usually have signs denoting which line or lines the station serves. The number of the line will be surrounded by a circle that denotes the line color.
When you enter the station you will need to know which direction to take the line in. The direction is indicated by the station at the end of the line. So you need to know which end of the line you want to move towards when searching for the platform.
Let's look at an example. To travel from the Arc de Triomphe to the Louvre by metro, you would take metro line 1. This is indicated in yellow.
You would enter the closest metro to the Arc de Triomphe, which is called Charles de Gaulle – Étoile. Line 1 runs from La Defense in the west to Chateau de Vincennes in the east.
If you check the metro map, you will see that to go from the Arc de Triomphe to the Louvre, you need to take the train in the direction of Château de Vincennes. So you will need to follow signs for Line 1, direction Château de Vincennes.
To enter the platform you will need a valid ticket, either a physical ticket or a Navigo Easy card which you will scan on the turnstiles on your way through the station.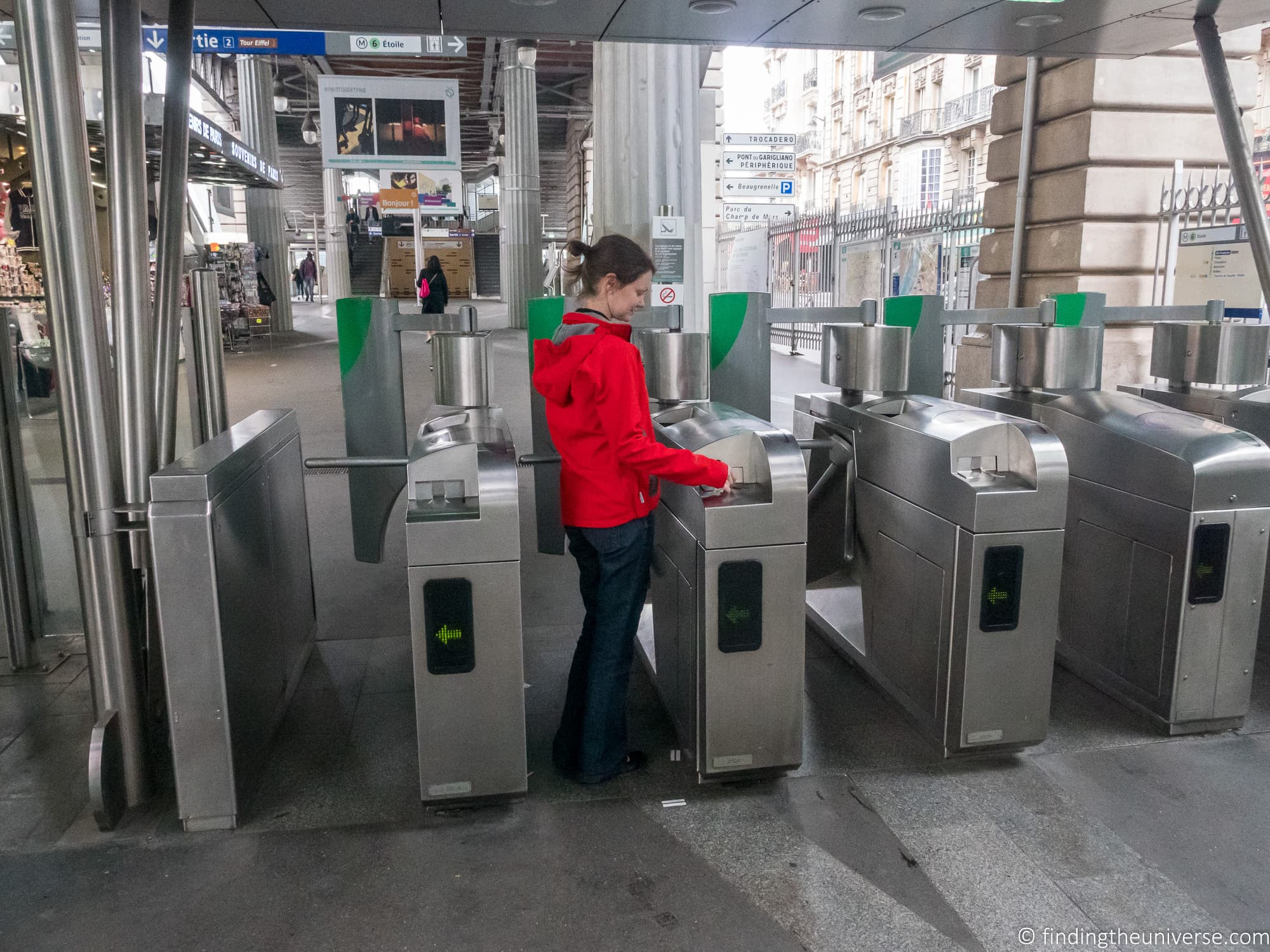 The metro in Paris operates from around 5.30am through to 00.40am Sunday to Thursday, and 5.30am through to 1.40am on Fridays and Saturdays. Of course, this will vary by station, so I would advise checking the official timetables here.
Note that due to the age of the metro network in Paris, there is limited accessibility for those with reduced mobility. You can see information on accessible travel in Paris, and download a map of accessible stations here. The RATP website also has a guide to accessibility across their network here.
Bus
There are around 70 bus routes across central Paris. These are primarily found across zones 1-3. You can see a full map of the bus network operated by RATP here.
The labelling for Bus routes is similar to the metro routes, in that they have both a number and a colour. As there are so many bus routes, not all the colours are unique, but each number is unique.
Depending on the route you want to take, you might find that the bus is faster than the metro, especially if you can find a direct bus route that replaces an indirect metro route.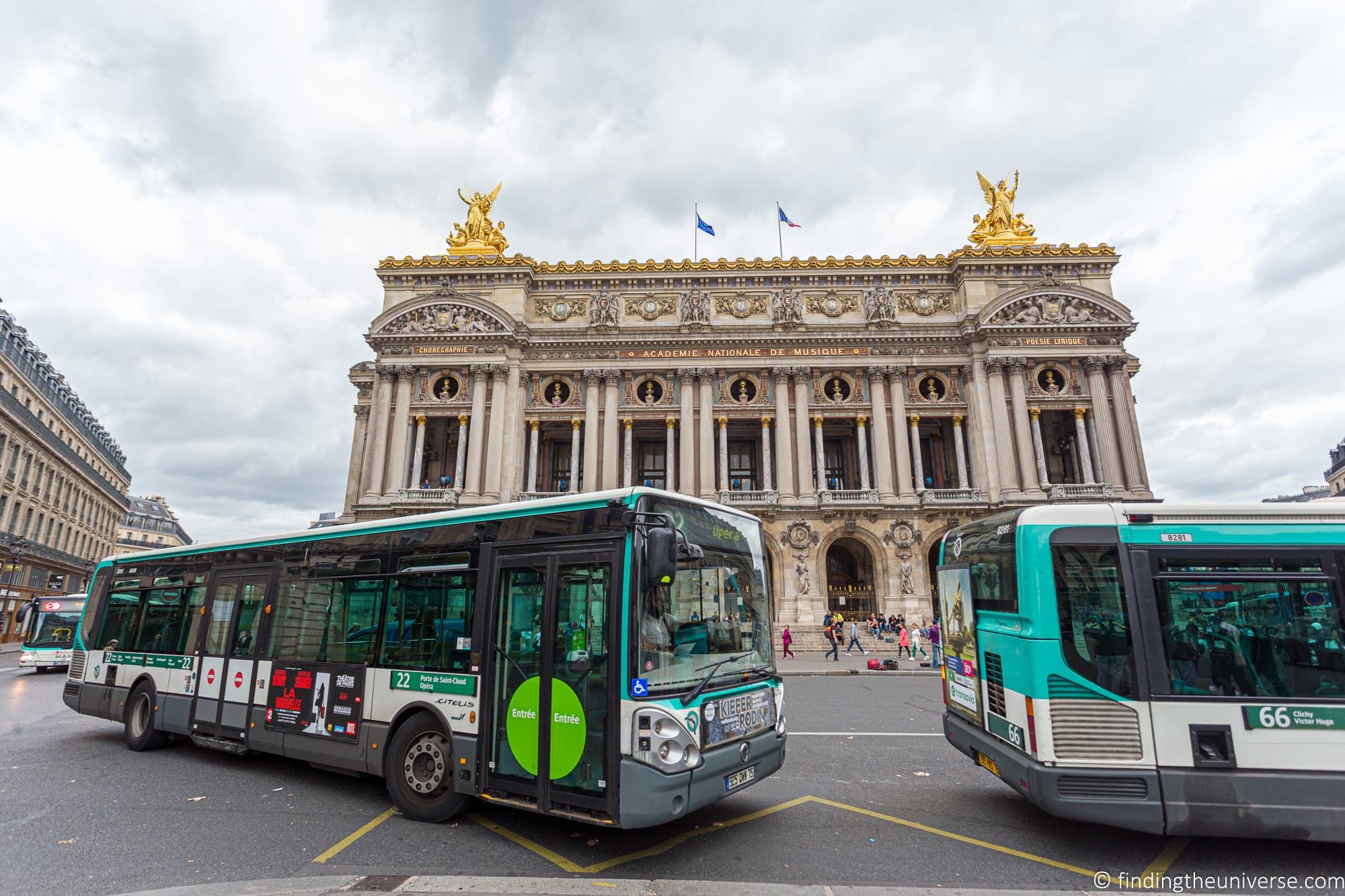 However, obviously traffic plays a factor, even though many roads have dedicated bus lanes.
There are other advantages to using the bus. In terms of accessibility for example, nearly every bus is wheelchair accessible with roll on roll off electric ramps. You can see a list of accessible bus routes here.
You also get a much better view of the city if you travel by bus versus underground on the metro.
To use the bus, you just need to find a bus stop. Each bus stop will have a sign indicating which bus routes service it. They may also have an electronic information board showing upcoming bus arrivals.
Note that many bus stops are request only, so when you see your bus approaching be sure to indicate you wish to board by signalling at your drive. A raised arm will usually suffice.
The Paris bus system uses the same tickets as the metro, and so fares are the same. Again, you can use paper tickets or a Navigo Easy card.
With single paper tickets, when you board the bus you must validate your ticket on the machine, and then hold onto it as proof.
If you are using the Navigo Easy card, you must validate it on the round purple Navigo reader on the bus.
You can also use the Paris Visite pass on buses. You do not validate these cards, instead, show them to the driver when boarding.
If you are not in possession of a ticket when boarding the bus, you can usually buy a single ticket from the driver for €2.50 – slightly more than the price if you buy it from the machine. You will need to have the exact change.
Otherwise, tickets can be purchased from metro stations or tabac (tobacco) stores. We recommend having tickets or a pass before boarding so you don't have to worry about buying a ticket from the driver.
The bus service in Paris generally runs from 5.30am until midnight. There are also night buses, known as "Noctiliens", which continue a limited service throughout the night. These can be a good option if you are out late and the metro has stopped running, assuming you can find a route that goes where you are going.
RER & Train Lines
As well as the metro service, there is also a rail network across Paris.
The Paris rail network is divided into RER (Réseau Express Régional) trains, and a series of other train lines.
Both the RER and other trains primarily connect the suburban parts of the city with the city centre. In the city centre they run underground and some of them share some of the same stations as the metro, so it is important to be able to differentiate between the metro and the train lines.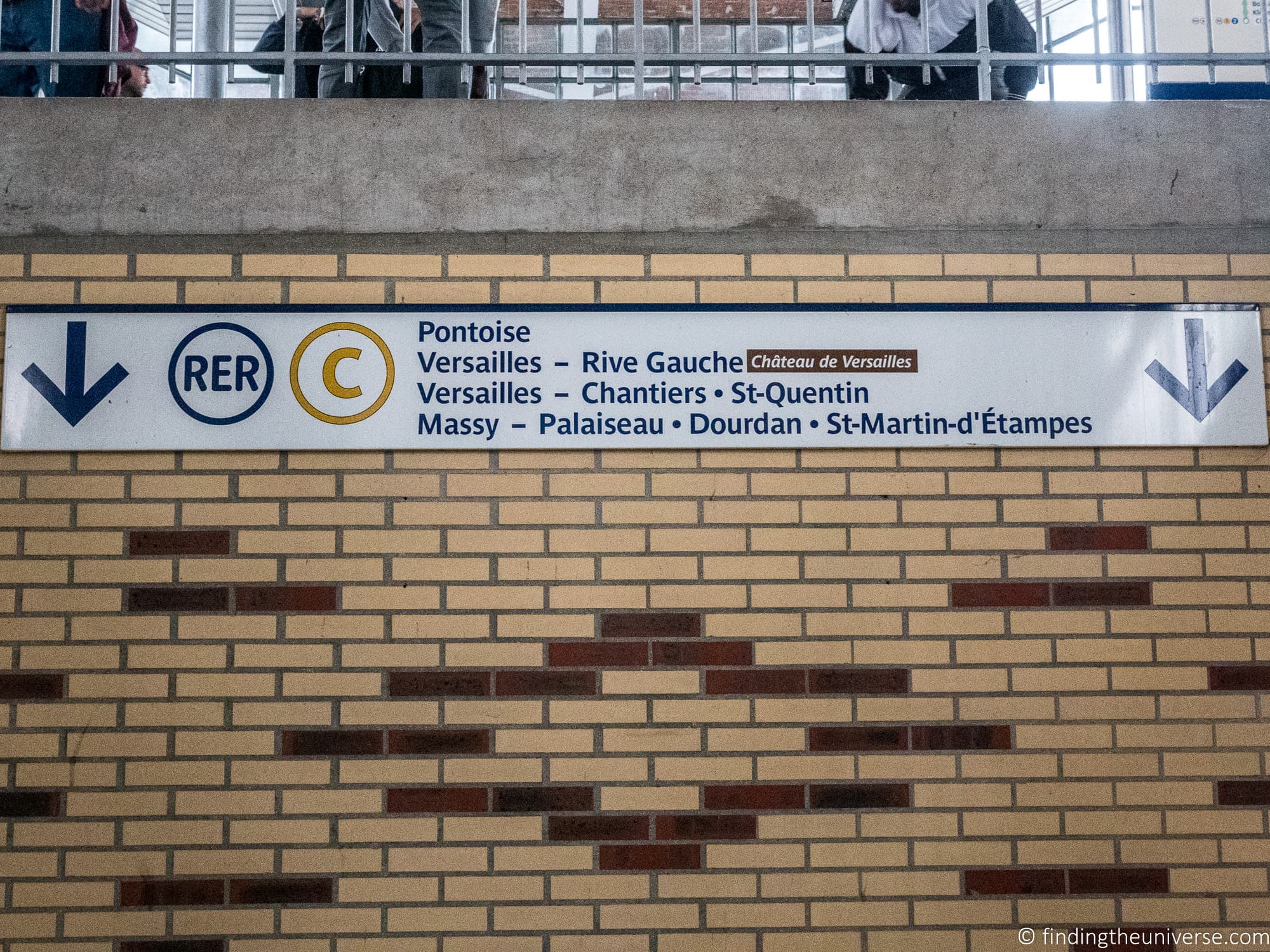 There are five RER lines, which are labelled from A to E. There are 8 non RER train lines, which are lines H, J, K, L, N, P, R and U.
The RER lines have a letter inside a circle, with both the outline of the circle and the letter sharing a unique color. For example, RER line A features a red letter A inside a red circle with a white background.
This is usually accompanied by the letters "RER" in blue inside a blue circle, to really make it clear this is an RER line. Here's an example of what you will likely see.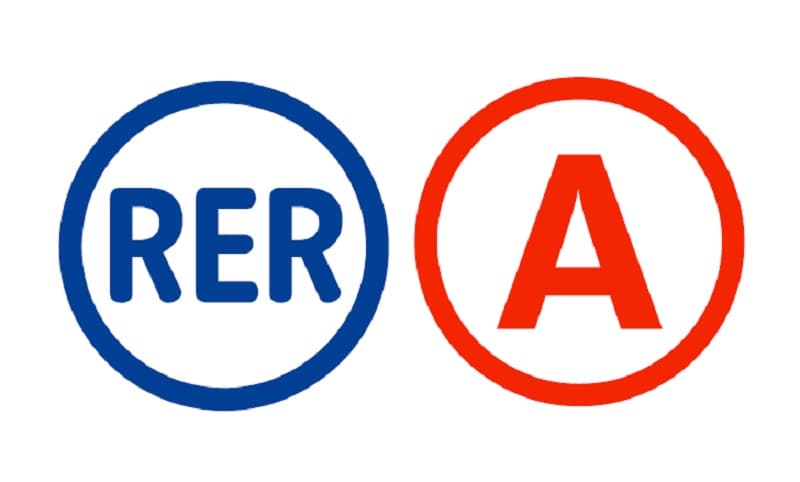 The other, non RER train lines in Paris are similar in design, but have a square outline instead of a circle.
There are far fewer train stops in central Paris than metro stops, so most journeys by visitors will likely take place on the metro rather than the RER or other train lines.
However, there are scenarios when visitors to Paris will use one of these train lines. For example, the easiest way to get to Versailles from the city centre is to take RER line C.
Other popular destinations for the RER are Paris CDG airport (RER B) and Disneyland Paris (RER A).
RER trains run to a scheduled service. Most trains start at around 5am and run until just after midnight. You can see a detailed timetable for all the RER routes here.
In terms of accessibility, many of the train stations and trains on the RER and Transilien network are fully accessible. You can see a map of the accessible routes here.
Tram
Paris sure has a lot of rail based transport options! As well as the metro, RER and standard suburban rail lines, there are also 10 tram lines.
The tram is actually the oldest public transport rail network in Paris, and dates from 1852. Back then it was pulled by horses, although by 1914 there was a fully electrified tram system in place. This covered the whole city, and there were in excess of 100 tram lines in Paris!
Unfortunately, the rise of the automobile meant the end of the tram, which was discontinued in 1937.
However, I'm not writing about a discontinued service. A resurgence of interest in environmentally friendly public transport options meant that the tram reappeared in Paris in the 1990s.
Today there are 10 tram lines across Paris, the majority of which operate in the suburbs. As such, most visitors to the city centre are unlikely to use the tram, or even be aware that there is a tram system.
The tram system is operated by RATP, and accepts the same tickets as the metro. So you can use the single t+ tickets, Navigo, or travel passes.
Tram stops are located above ground, and the tram system using a similar marking system as the RER. Tram lines each have their own number and color, which is displayed in a circle matching the line color. This will be prefixed with a blue circle containing the letter T. For example, Tramway 7 would have the following symbol.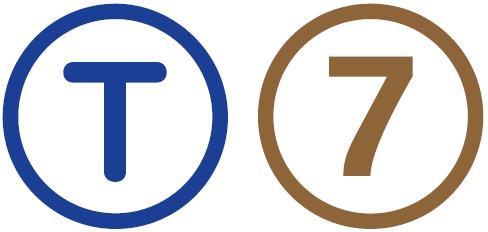 Tickets for the tram, which are also valid on other RATP services, can be bought at tram stops as well as metro stations, some bus stations, and RER stations.
Using the tram is like using the bus. For T+ tickets you need to validate them on board. Navigo Easy users can validate their tickets on the purple readers. Holders of the Paris Visite card will need to show this to the driver.
Funicular
Ok, I'm including this one for completeness, because Paris actually only has one funicular. And technically, whilst it was originally a proper funicular service, today the system is actually a double inclined elevator.
Anyway, the Montmartre Funicular is, as the name suggests, in the Montmartre region of Paris. Those of you familiar with the geography of Paris will know that Montmartre has a large hill, atop which sits the beautiful Sacre Coeur.
Since most standard forms of rail would struggle to ascend such a hill, in 1900 a funicular was opened to serve the residents of Montmartre.
Today this is still operated by RATP, although the version in operation today was fully rebuilt in 1991. It's a popular option for getting to the top of the hill, as you avoid the steep steps.
There are two stations for the funicular, the lower station and the upper station, with a vertical distance of around 40 metres / 131ft between them. These are served by two cabins which operate independently of each other.
The funicular works much like the Paris metro in terms of ticketing, and so all the tickets that you can use on the metro will work here. These include the T+, Navigo passes, and Paris Visite pass.
There is a turnstile you have to pass through where you validate your ticket before accessing the platform. You can also buy tickets on site, there is a machine and a service window. However, there are not many ticket machines, so you will likely want to have picked up tickets in advance in case it is busy.
The only thing to bear in mind is that you can't "transfer" to the funicular from another metro line. So if you have a carnet of T+ tickets, or a Navigo Easy card, the funicular will use up a whole ticket.
Taxi
As with most other cities in the world, Paris has an extensive taxi network. Taxi services in Paris fall into two main categories – the taxis that you can hail on the street or at taxi ranks, and private hire firms.
The former operate a metered service across the city, with fixed pricing available for some routes such as from the Paris airports into the city.
For example, in 2019 the fare from Paris CDG to anywhere in Paris north of the river Seine has a flat fee of €50, whilst it's €55 to the south bank. From Orly Airport to the south bank is €30, and €35 to the north bank.
Licensed taxis in Paris are officially marked and have a taxi light on the roof. If the light is green, the taxi is available for hire, if it is amber it is not.
Be wary of unsolicited offers from anyone claiming to be a taxi driver, especially at popular public locations like airports and train stations. At venues like this, if you want to hire a taxi, always go to the official taxi stand.
We have found pricing to be reasonable for both the fixed price and metered routes in Paris.
For private hire, there are a number of services offering pre-booked private hire rides. For example, Taxi2Airport lets you book a private transfer to or from the airports in Paris. You can check prices and book in advance online here.
Rideshare Options
Paris also has rideshare firms, including popular global ridesharing apps like Uber.
The ridesharing service that we have found to offer the best value in Paris is called Free Now. This gives you a fare up front, so you know what you are going to be paying, and is the service we usually use when travelling in Paris.
Hop on Hop off Bus
One popular way to get around a new city is to take a Hop on Hop off sightseeing bus service.
These are usually open top buses that operate a route or routes which visit the major attractions in the city. The best part is that you normally get a ticket which is valid for at least 24 hours, and in the time period you can get on and off the bus as many times as you like.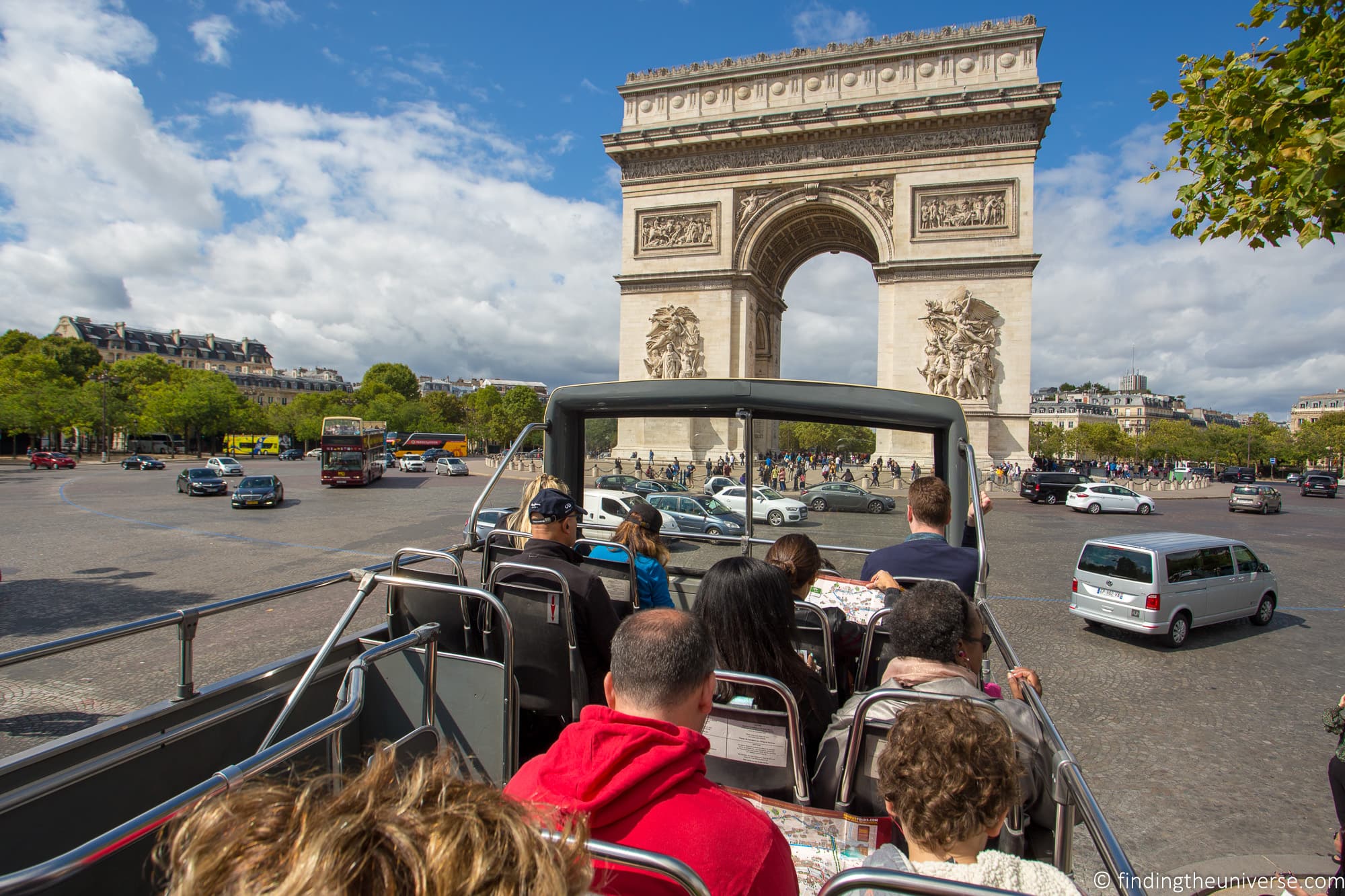 This means you can get between the sites you most likely want to see, without having to worry about navigating the public transport system or buying tickets.
Most hop on hop buses come with an audio narration, which is sometimes pre-recorded and sometimes done with a live guide. This makes the ride an attraction in itself, as you learn all about what you are seeing as the bus travels around.
On a nice warm day, riding an open top bus, seeing all the sights and learning about them is a great way to spend a couple of hours – even if you don't get off!
Of course, the Hop on Hop off bus model isn't perfect. Buses can be slower than if you took public transport or a taxi, and you don't generally have a wide choice of routes. They are also more expensive than normal forms of public transport.
There are a number of hop on off bus services in Paris, including Big Bus Paris, which is the one we've used.
A hop on hop off bus pass is also included with the Paris Pass, which you can buy here.
Riverboat
The River Seine runs right to the centre of Paris, and goes directly by a number of the cities major attractions, including the Eiffel Tower, Musee D'Orsay, the Louvre and Notre Dame.
As such, you can actually get around Paris by river boat.
There are two options for doing this. The first is to take a sightseeing river cruise. The majority of these are round-trip excursions where you stay on the boat and get off where you got on. These aren't necessarily a great way to get around Paris, but they are certainly a lovely way to do some sightseeing!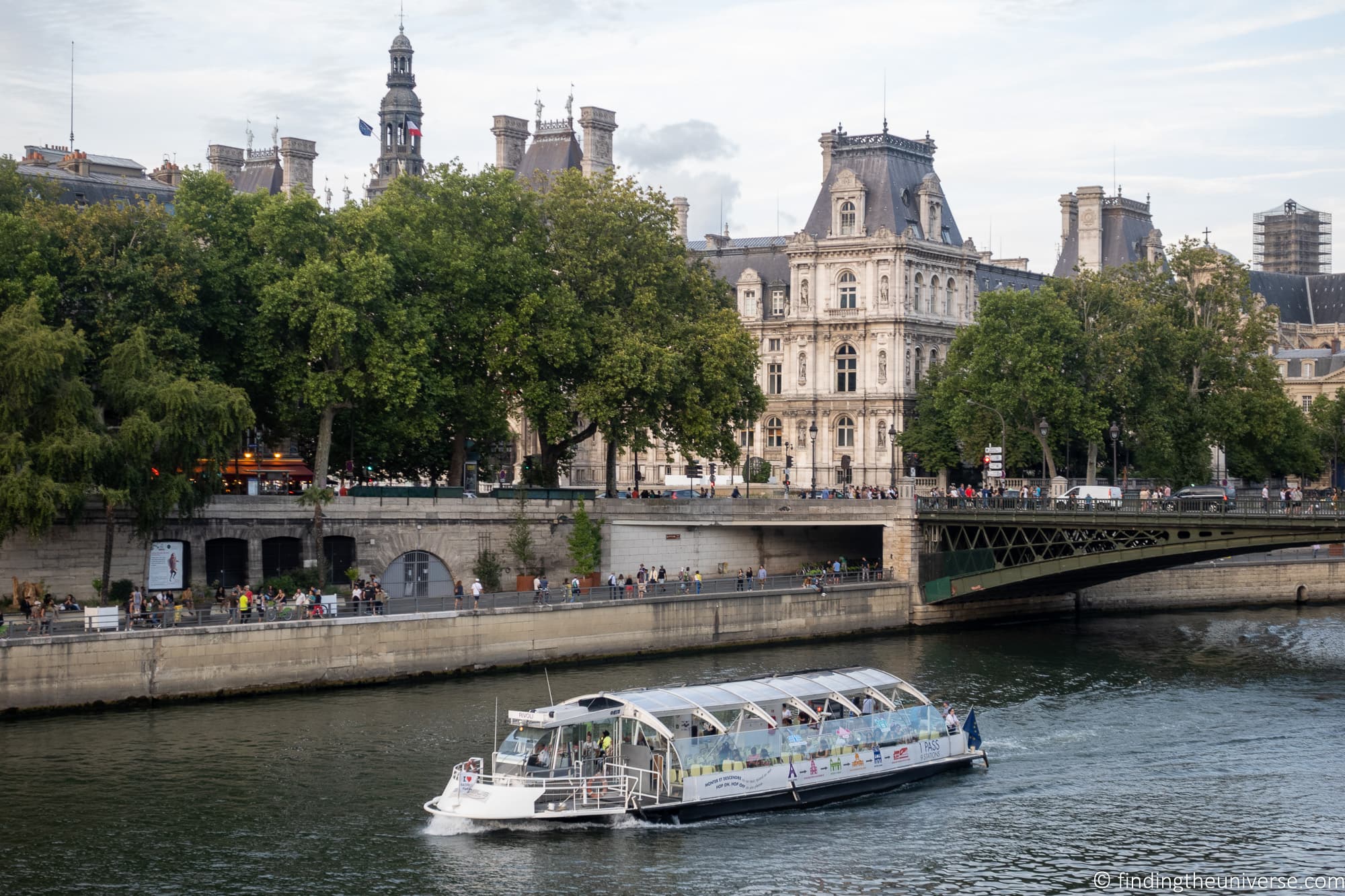 If you are interested in this, see our guide to taking a Seine River Cruise for a full guide to all your options. A Seine river cruise is also include with the Paris Pass, which you can buy here.
If you actually want to use the river as a means of transport rather than just sightseeing, then we recommend the Batobus service. This is a Hop-On Hop-Off sightseeing cruise which has 9 stops around the city.
It's a great way to combine a river cruise with a means of transport, and it's also quite an efficient way to get around as you skip the traffic on the roads. Boats run approximately every 30 minutes, but there's no audio commentary as with most of the other Seine river cruise options.
You can buy hop on hop off tickets for the Batobus here.
Cycle
One of the cheapest options for getting around Paris, other than walking, is to cycle.
There are a number of bicycle hire schemes in Paris, with the largest being Vélib' Métropole. This has been in operation since 2007, and tens of thousands of bikes are used via this scheme every day. Some of these are standard bikes, whilst some are electric.
There are a range of pricing options for the Vélib' service, depending on how often you want to use the service. For occasional users, the basic service fee is €1 for a 30 minute hire of a standard bike, and €2 for 30 minutes with an electric bike.
They also have 1 day and 7 day passes. These offer a fixed up front fee, after which the first 30 minutes of standard bike hire is free, or electric bike hire is €1. Following the first 30 minutes pricing reverts to the standard model of €1/€2 per 30 minutes.
For occasional bike riders the basic service will likely be most cost effective. If you think you will be riding quite a bit, and don't mind switching bikes every 30 minutes, the 1 or 7 day passes offer good value for money.
There are also subscription versions, but you have to commit to an annual charge. These are more suited to long term residents of the city.
There are Vélib' bike stations all around the city. You will need a credit or debit card to rent a bike, and you will need to register and pay a security deposit at the Vélib' machine. These can be found at the Vélib' stations around the city.
You can also sign up and register using the iOS Vélib' app, the Android Vélib' app, or the Vélib' website. The apps also allow you to find a bike, and will give you the necessary access code and PIN number to actually rent the bikes.
Vélib' is definitely the biggest cycle network in Paris, but it is by no means the only one. You can also rent electric bikes using Jump by Uber (look for the bright orange bikes), and there are also a range of electric scooter rental companies available.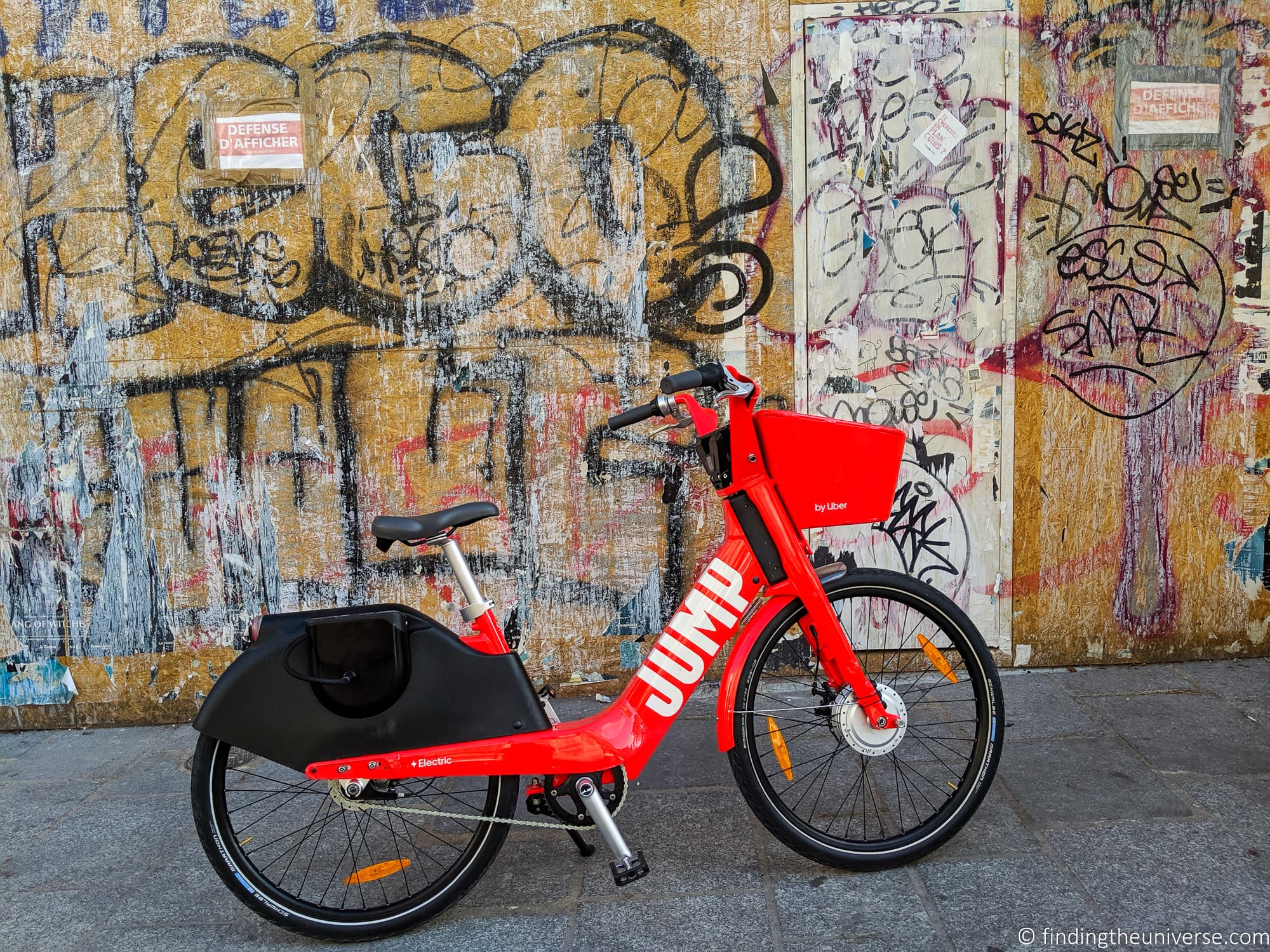 These are going through a period of regulation, and companies are appearing and disappearing quickly, so a list would likely go out of date quite quickly. However, all these services are app based, so all you have to do is find a scooter or bike and then download the relevant app to rent it.
Please be careful when riding a scooter or bike in Paris, as cycle lanes are not available everywhere and drivers are not always looking for cyclists or scooter riders. You will also want to read up on the laws regarding where you can and cannot using bikes or scooters.
Bike tours are also a popular option in Paris, and they can be a great way to see the city and enjoy the fresh air. Some options to consider are as follows:
Car
Yes, you can, of course, also get around Paris by car. You can drive you own car (if in Europe) or rent a car at the airport or from central Paris.
However, I would suggest you don't! The roads are busy, parking is expensive, and it's going to end up being a far more stressful experience than pretty much any of the other options on our list.
In addition, if you have your own car, you need to make sure it means the Paris clean air standards, and has the right sticker in the window to prove it. You can read more about this here.
If we travel to Paris by car, we usually park it in a long term parking lot outside of the city centre, and then use public transport for our time in the city. We use the popular Parclick service to find parking, you can see car parks in Paris on their site here.
Foot
One of our favourite ways to get around any city if we can is on foot. Paris is a fairly walkable city for the most part, with plenty of sidewalks and features that make walking in the city safe and enjoyable for pedestrians in most areas of central Paris.
Distances are also not too great, although if you want to expedite your visit, public transport will of course be quicker in many cases.
However, nothing beats wandering along the Left Bank, exploring the Tuileries Gardens, or getting lost in the backstreets of Montmartre. If you can, we definitely recommend spending at least some of your time in Paris getting around by foot.
If you are looking for guided walks, two of our favorite walking tour companies in Paris are Take Walks and Context (10% discount on Context walks with our link). You can also find many more options here.
Some examples to consider include:
Where to Stay in Paris
Paris has no shortage of options when it comes to accommodation. We've stayed in a variety of places, from hotels to homestays to apartments.
Ideally you want to be fairly central if you can, to minimise your travel time. Our suggestion is to take a look at the listings for Paris on booking.com. They're our favourite booking engine when we travel, `usually giving us the best choice and the best prices. They also have everything, from apartments and hostels to high end hotels. Here are some options we suggest, depending on your budget.
If you prefer an apartment, then we recommend Plum Guide.
Plum Guide carefully curate their listings so their options tend to be of a very high quality whilst still being available at a range of price points. See their listings for Paris here.
If you can't find what you want on Plum Guide, or you want some new options to try out, we wrote a whole post on the best alternatives to AirBnB which you should check out!
We also have a page full of travel resources, which includes our tips for getting the best deals on accommodation, which you can find here.
Further Reading
That's it for our guide to how to get around Paris! We've visited the city a number of times, and we hope our experiences have helped inform you how to get around when you visit.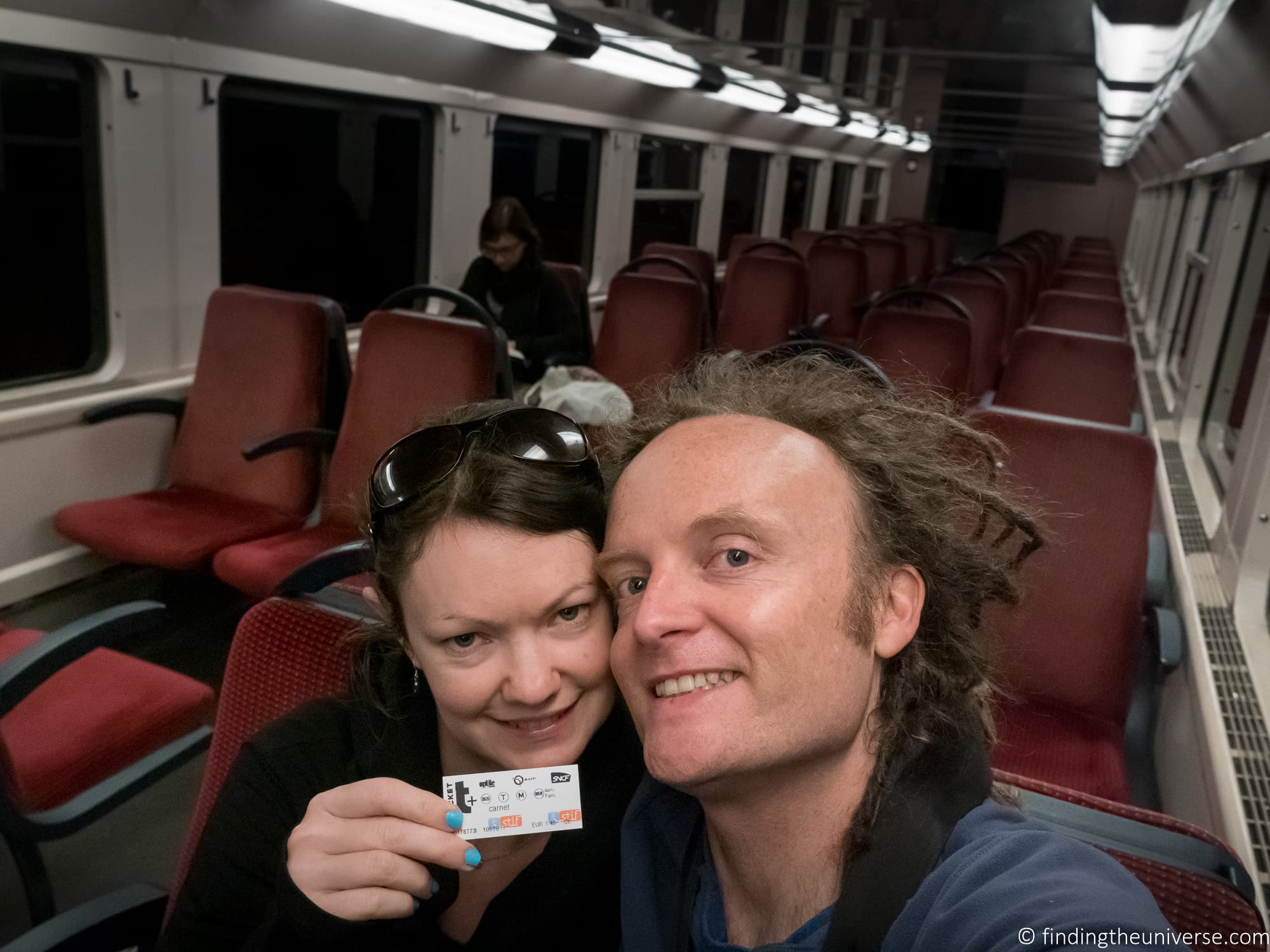 We've also written lots of other Paris content, which we think you will find useful for your trip. There are also some third party resources we recommend.
And that's it! As always, if you have any questions or comments about this guide to getting around Paris, just let us know in the comments below. We'll get back to you as soon as we can!