Thinking about spending 3 days in Paris? Great choice! We think that's the perfect amount of time to spend in one of our favourite European cities, giving you the chance to see many of the top sights and attractions and really get a feel for the city.
Of course, if you have longer, that's even better, but three days in Paris is certainly enough to see a lot, and works well either as a long weekend, or as part of a longer Europe trip itinerary like this.
To help you with your planning, we're going to share with you everything we think you need to know to spend three days in Paris. We're going to give you a suggested itinerary, tips for getting around, advice on where to stay in Paris, our thoughts on when is best to visit and even some suggested ways to save money in Paris.
Let's get started!
3 Day Paris Itinerary
This three-day Paris itinerary has you hitting all the major sites and attractions in the city. Naturally we suggest you use this as a guide, and add to or remove from it as necessary.
We also suggest you check the opening times and days for each attraction. For example, the Louvre is closed on Tuesdays, so depending on when your trip to Paris is, you might need to re-order the days to get everything in.
Paris Itinerary: Day 1
Eiffel Tower
What better way to start off your trip to Paris than with a visit to the Eiffel Tower. This is without doubt the most iconic landmark in Paris (if not France!), and a visit here is a must for any visit to Paris. When we visit Paris, we always visit at least once, and every time we are amazed at the sheer scale of this beautiful building.
There are a number of ways to enjoy the Eiffel Tower. First, you can just enjoy the views of the tower, which we think are particularly good from the Trocadero Gardens across the river, or the Champ de Mars gardens behind the Tower.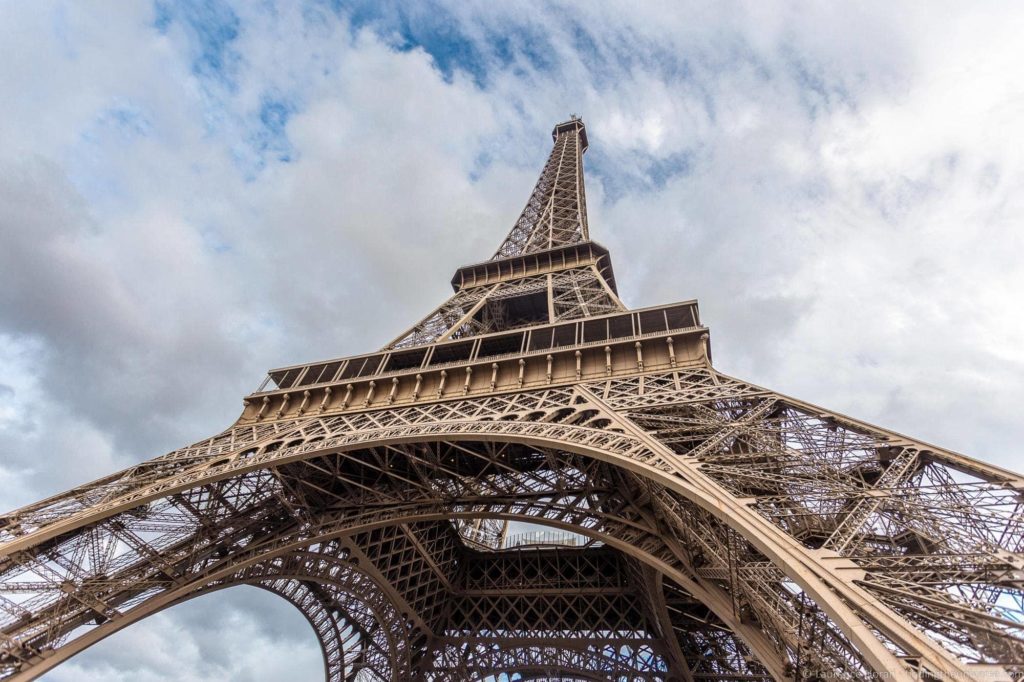 You can also go up inside the Eiffel Tower to one of the different floors, for expansive views of the city. We do like the experience of going up inside, but we don't think it offers the best view of the city – because the view from inside the Eiffel Tower is missing the most famous part of the skyline – the Eiffel Tower itself!
Still, if this is your first visit to Paris, we highly recommend the experience. We do suggest that if you want to go up the Eiffel Tower, that you book your tickets in advance from the official website. The queues here for tickets can be very long, and with a pre-booked ticket you can skip the wait.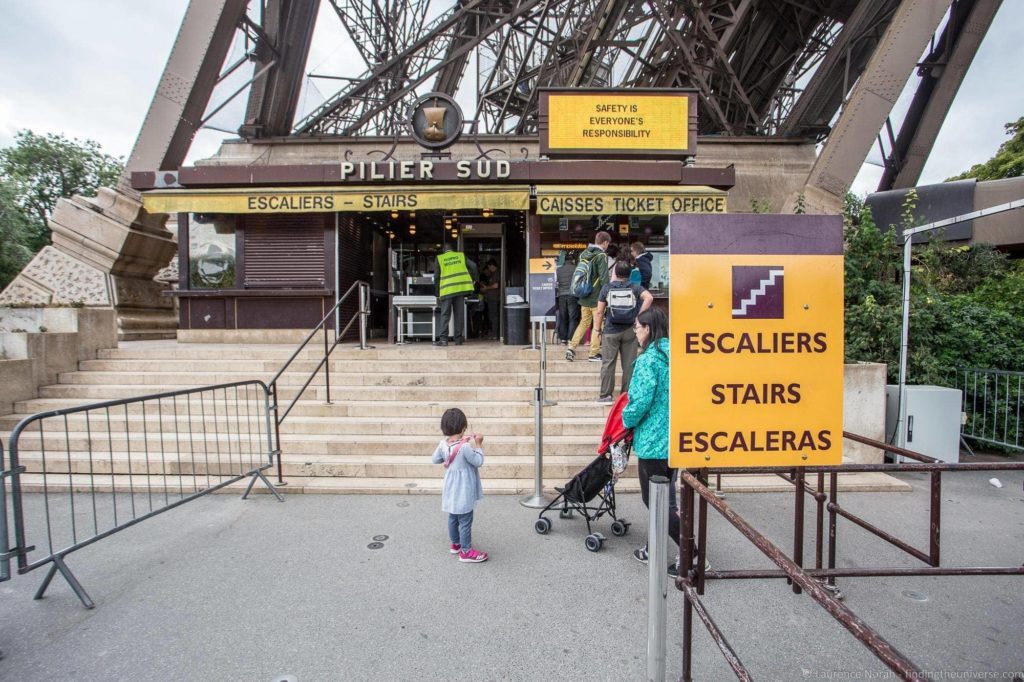 Alternatively, if you are feeling fit, you can also take the stairs up to the first level. There is not usually a very long queue for the stairs, which have their own ticket line, and it is also slightly cheaper. See our guide to visiting the Eiffel Tower to help you plan your visit.
There are other options for visiting as well. A guided climb of the Eiffel Tower is included on the Paris Pass. This runs in the middle of the day, so if you want to take advantage of this, you will likely want to switch the Eiffel Tower and Seine River Cruise around in this itinerary. It's also included on the Paris City Card, with a choice of timeslots.
Finally, this tour includes a guided visit (with elevator) to the second floor with the option to visit the summit if you want. It also includes free cancellation, which the official ticket does not.
Seine River Cruise
Another must-do experience in Paris is a river cruise on the Seine. This is a very popular activity, with multiple operators offering cruises up and down the river.
We've actually written a post about the various Seine River sightseeing cruise options which goes through the majority of the operators. If you'd prefer a dinner cruise, check out our guide to the best Seine River dinner cruises.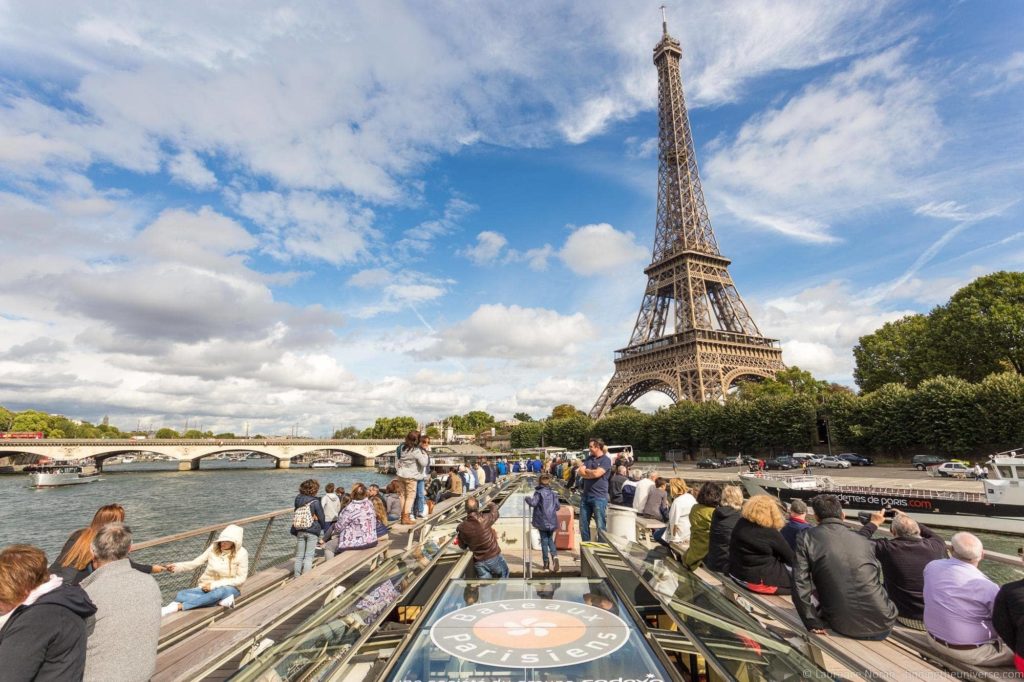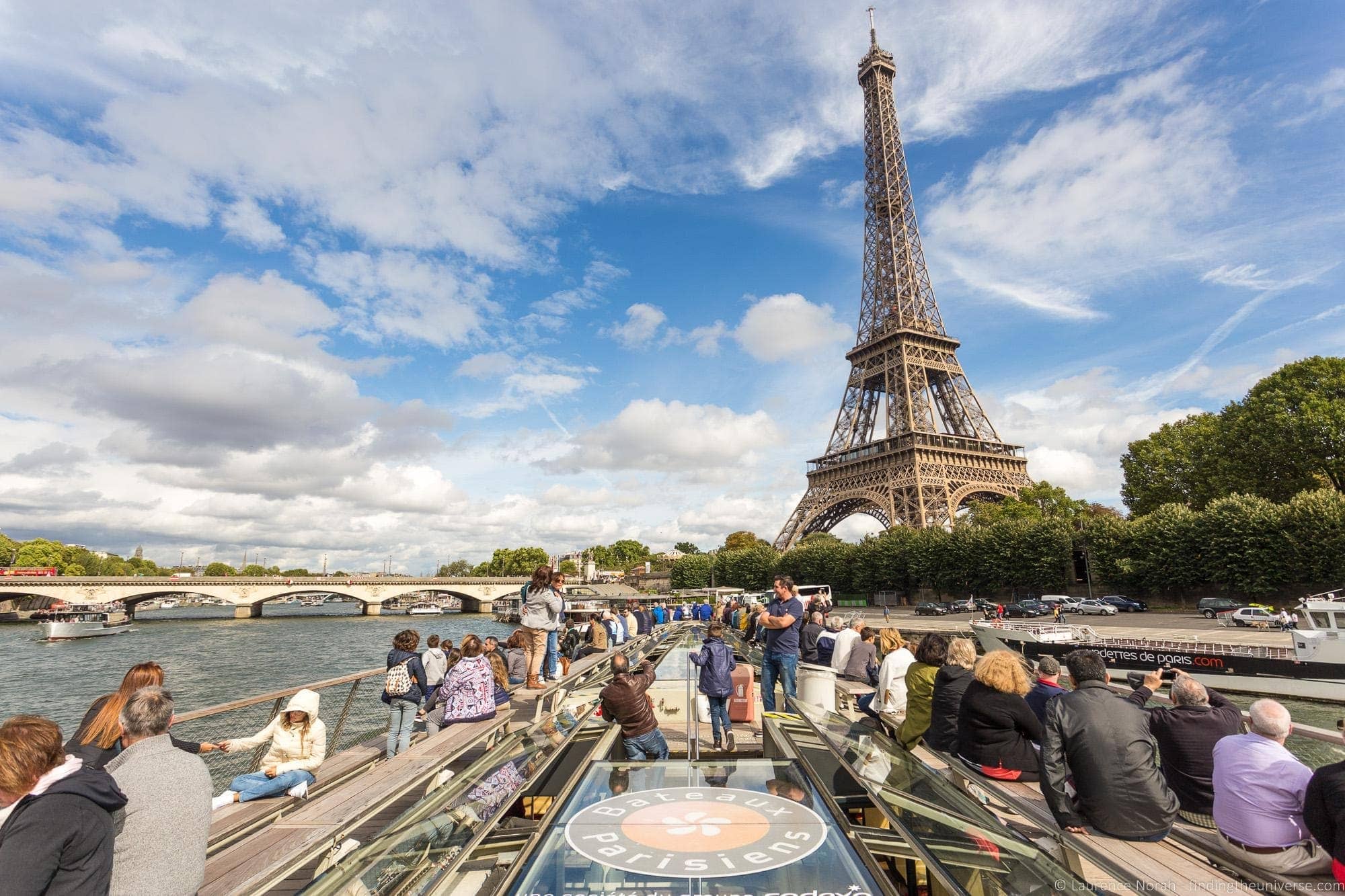 We can definitely recommend the Bateaux Parisiens River Cruise. These depart from just next to the Eiffel Tower, so fit in nicely with this itinerary, and they are included for free if you pick up a Paris Pass or a Paris City Card.
The cruise takes in all the highlights from the Eiffel Tower to Notre Dame, and there's commentary included. So sit back, relax, and let the scenery roll by.
Hop on Hop off Bus
Talking of sitting back and relaxing, we find that a great way to get oriented in a new city and get an idea of the sights we want to see is to take a Hop On Hop Off (HOHO) bus tour.
Paris is no exception to this rule, and you can pick up a HOHO bus in Paris from right next to the Eiffel Tower, which will then take you around Paris's key attractions.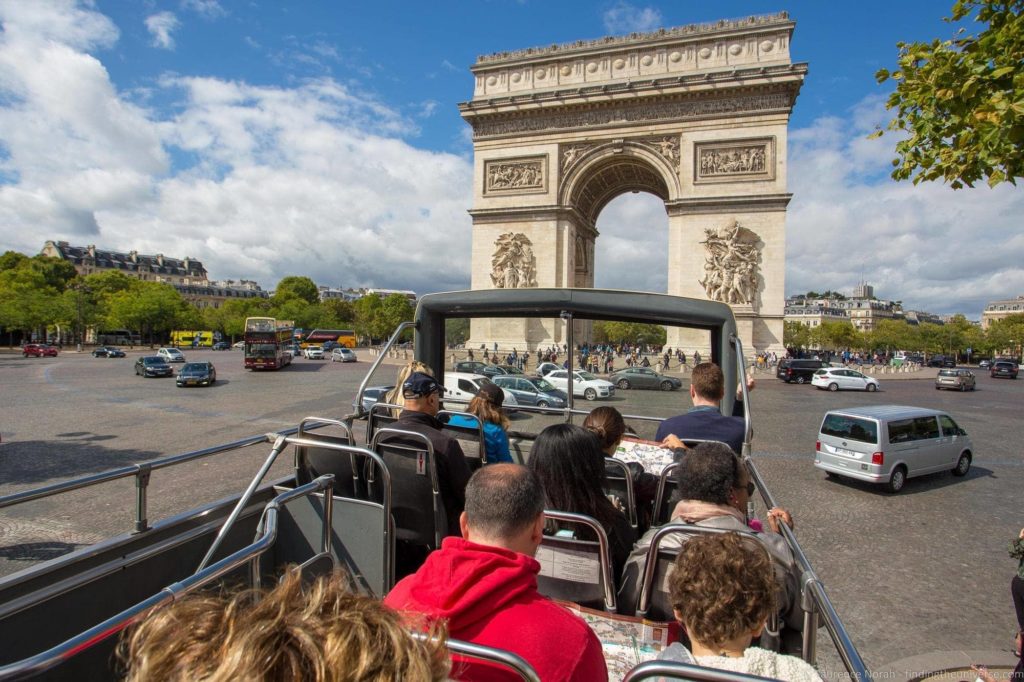 There are multiple operators running different routes around the city. If you pick up a Paris Pass, it includes a 1 Day Big Bus Tour. We took this tour and enjoyed it – it's both an easy way to get around the city, plus you can learn about many of the sights as you go.
However there are a few different HOHO options in Paris, so pick the one that works for you!
Paris Walking Tour
All this sitting around on buses and boats is great for getting oriented, but at some point you're going to need to put your feet on the pavement! Paris is a wonderful city to explore on foot, and a guided walking tour is an excellent way to do that.
We think that if you are going to do a walking tour in a city, the first day is the best, as you can ask your guide for local recommendations such as their favourite places to eat or get a coffee, as well as get suggestions for hidden gems you might not find in the guidebooks.
There are lots of operators offering tours in Paris. We've taken a number of walking tours with Context Travel, and have always loved their detailed tours. They have a number of tours available in Paris, and you get 10% off with this link. We particularly enjoyed their Hemingway themed walking tour of Paris.
We also love Take Walks walking tours, and they have recently launched a number of Paris Tours. For example, they have a full day Paris tour, although this would require you to significantly alter this itinerary.
If you have a Paris Pass, it comes with a choice of free walking tours, which is worth looking into.
Tour Montparnasse
Last on our list for your first day in Paris is a trip up the Tour Montparnasse. I recommend this to everyone going to Paris, as it is, in my opinion at least, the location with the best view of Paris and the Eiffel Tower.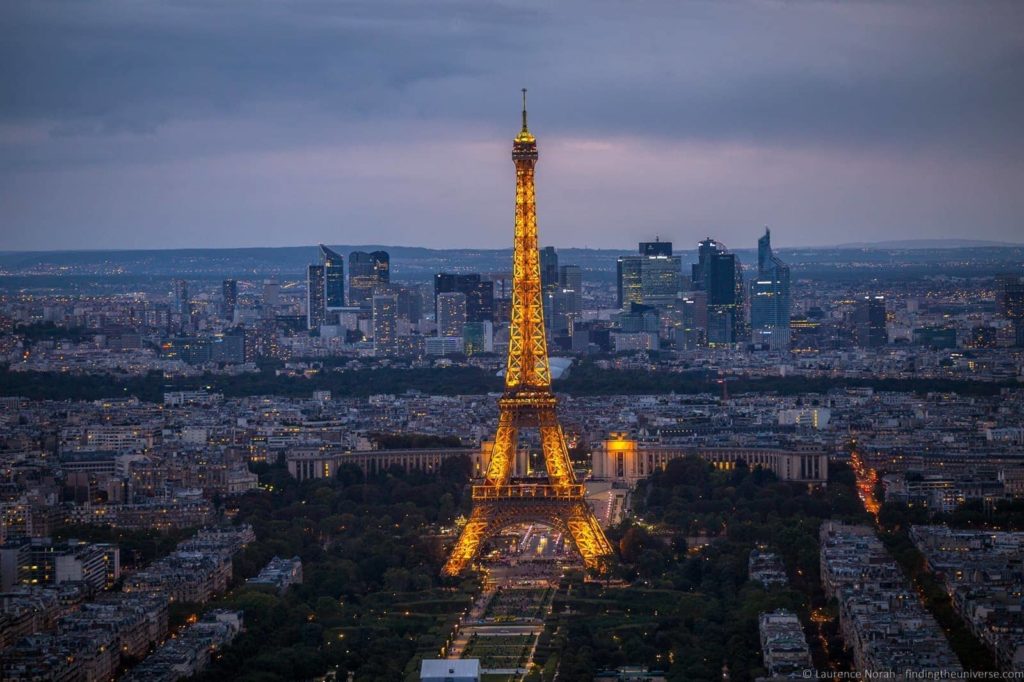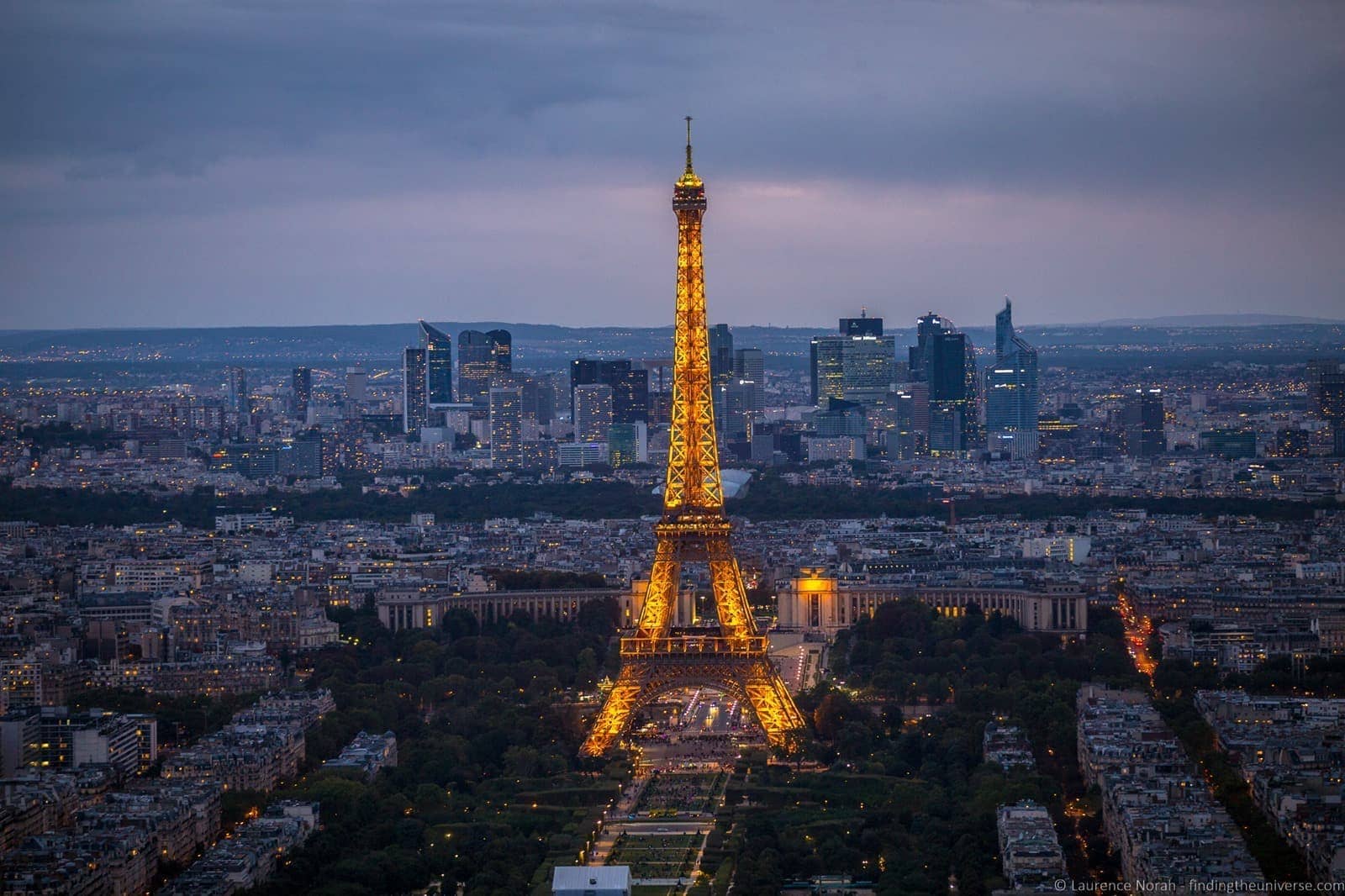 This is particularly the case at sunset, so if you can time your visit for sunset, you will get to witness a wonderful sunset across the Eiffel Tower, and then watch the city lights come to life.
The observation level is across two levels, one is inside and one is outside. The outside area is surrounded by glass, but there are cutouts so you can get reflection-free shots of the view. You can also bring a tripod up here! No wonder therefore that it's on my list of favourite Paris photography locations.
There's a fee to go up Tour Montparnasse, but it's free for holders of the Paris Pass. You can also buy individual tickets online in advance here.
Paris Itinerary: Day 2
Our second day in Paris takes in some more iconic sites including some of Paris's most famous museums and churches. It's quite a full day, so do feel free to edit the itinerary to suit your particular interests, pace and needs!
Sainte Chapelle
It took me multiple visits to Paris before I finally made it to Sainte Chapelle. Now I urge everyone to make it a priority on their trip to Paris!
This is a relatively small chapel that is not too far from Notre Dame, but the interior, which consists of almost floor to ceiling stained glass, is absolutely outstanding. It will definitely take your breath away.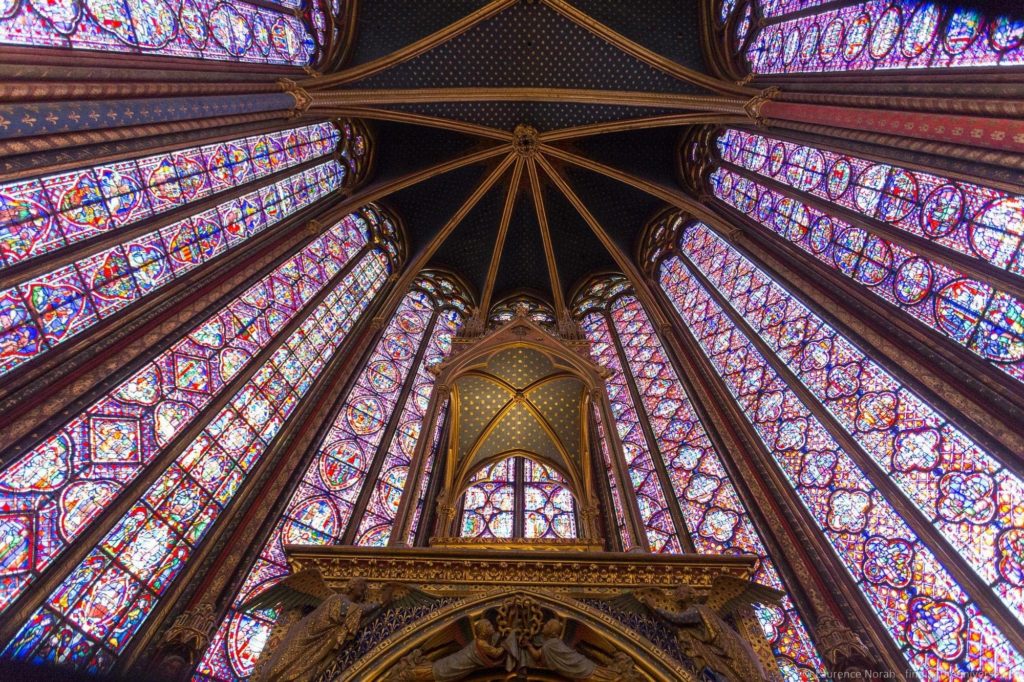 The 13th century Saint Chapelle is quite popular, and the small size and mandatory security checks mean that the line to get in can be long. This is why I have put it on my list as the first thing for your second day in Paris – you want to get here early, ideally get in line ten – fifteen minutes before the opening time. After all, no-one wants to spend their time standing in lines.
There's a fee to enter Saint Chapelle, which is free to holders of the Paris Museum Pass. You can also buy tickets online in advance here, which is highly recommended as it can get busy here. There's also a combination ticket for Sainte Chapelle and the nearby Conciergerie here, which is worth visiting.
Notre Dame
No more than ten minutes' walk from Sainte Chapelle is Paris's most famous religious building, known for her flying buttresses, twin towers and, of course, hunchback resident.
You will definitely see two out of those three when you visit Notre Dame, the major Catholic cathedral in Paris. Construction of this magnificent building took nearly two hundred years, and was completed in 1345.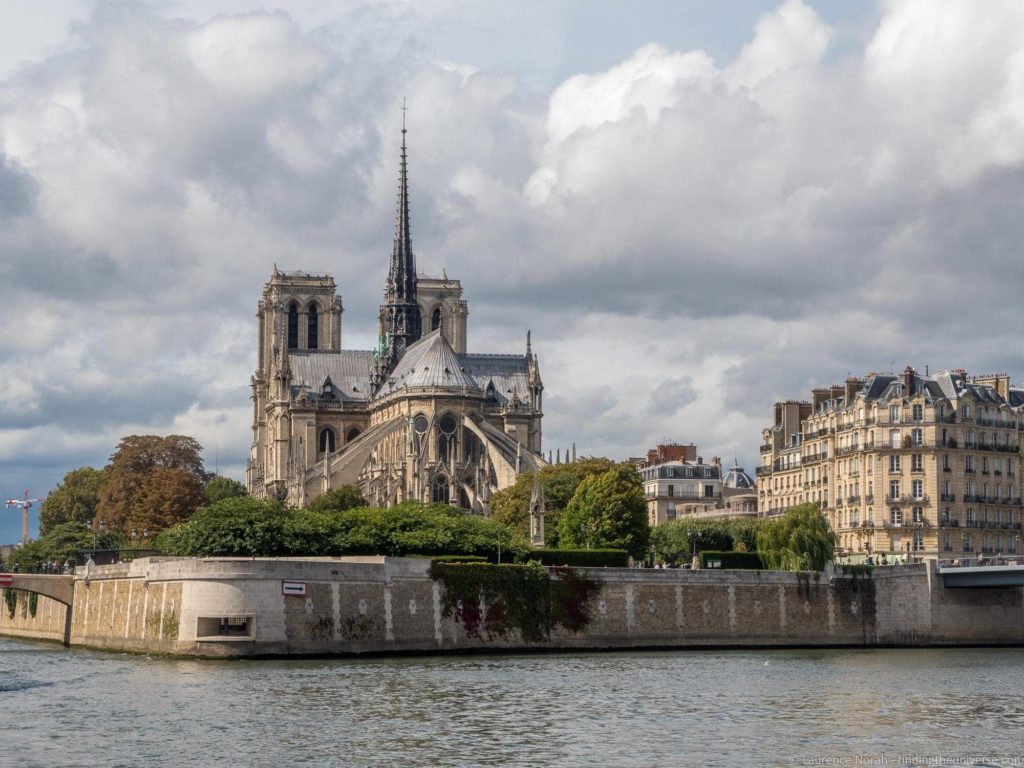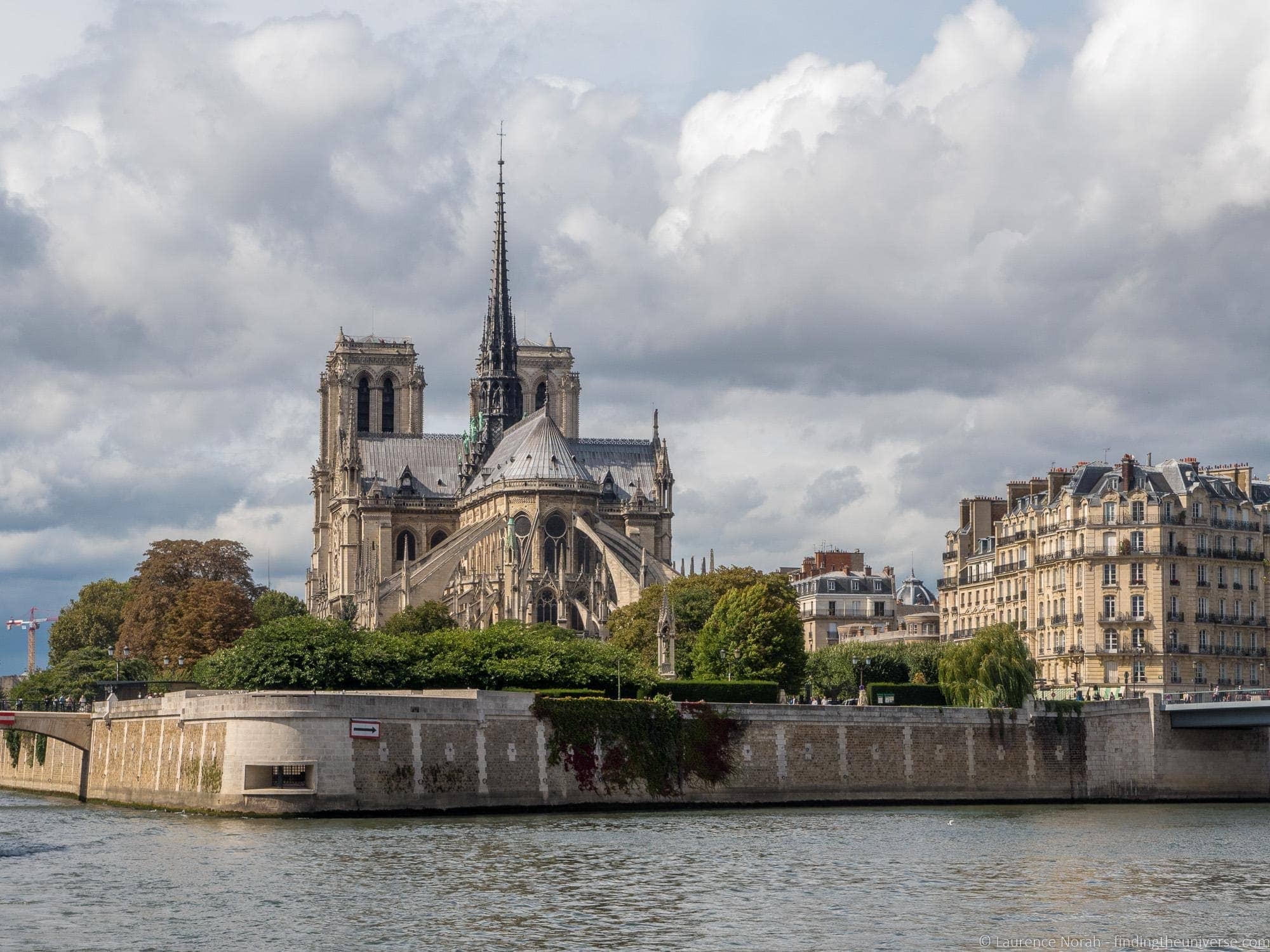 Unfortunately, on April 15th 2019 a devastating fire seriously damaged Notre Dame. The cathedral will be closed for the foreseeable future as a result of this tragic incident.
We certainly think it is worth visiting the facade, but as you can't go inside at the moment, you might wish to visit another nearby attraction like the Conciergerie (where Marie Antoinette was imprisoned) as well. You can get a combined ticket for that and Sainte Chapelle here
Musee d'Orsay
If you like museums, Paris has definitely gotten you covered. Our next stop is the Musee d'Orsay, but before you get here, you're going to take a walk along Paris's iconic left bank, from Notre Dame to the Musee d'Orsay. This isn't too far, but you'll see the booksellers and get a feel for this part of town.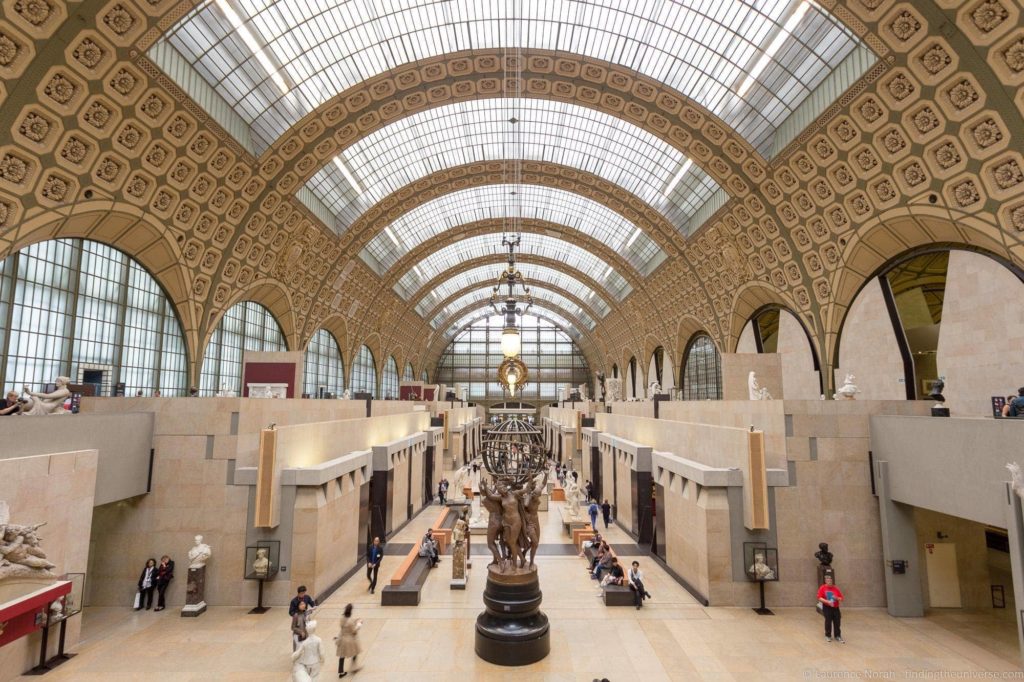 Paris's museums are quite logically set up, with three main art museums covering three distinct time periods.
The Musee d'Orsay, first on our list, covers art dating from the middle of the 19th century up to the early 20th century, and is home to masterpieces from the likes of Duchamp, Kandisky and Picasso, to name but a few.
The Louvre (see below), covers the time period before this, whilst the Centre Pompidou covers the time period afterwards, right up to the modern day. The Centre Pompidou isn't on this itinerary, but you could fit it in if you wanted to of course!
The Musee d'Orsay is absolutely stunning. It's set in what was once one of Paris's main train stations, and the grand central atrium is gorgeous – almost worth visiting in of itself.
There's a fee to get in here, but holders of the Paris Museum Pass get free entry as well as skip the line privileges. You can also buy tickets online in advance with free cancellation here or on the official site here.
The Louvre
If you only visit one museum in Paris, I can highly recommend making it the Louvre. This is one of the world's most famous museums, and is home to an incredible collection of art, including Da Vinci's Mona Lisa, the Venus de Milo and Michelangelo's Dying Slave, to name but a few.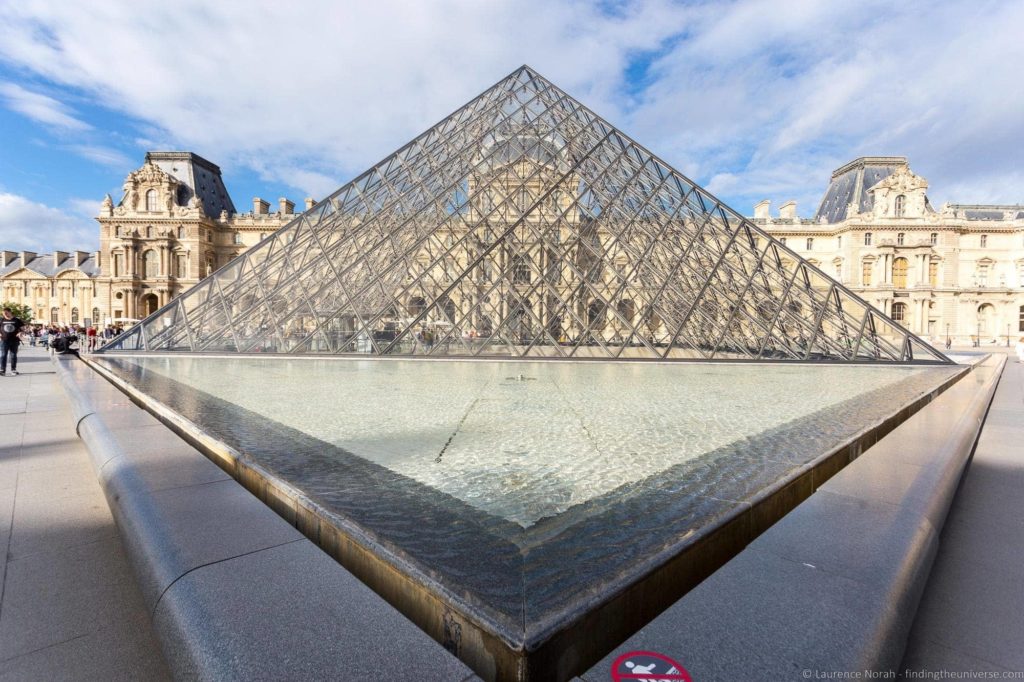 Obviously, seeing the Mona Lisa is on the wishlist for many visitors, but this museum, which covers art from ancient times up to the middle of the 19th century, has obviously got a great deal more to offer. True art lovers could lose themselves for days in the vast collection here!
Of course, if that's you, you are welcome to do the same, although for the purposes of this itinerary we'd probably recommend you try and limit your time to two to three hours so you can fit more of Paris in.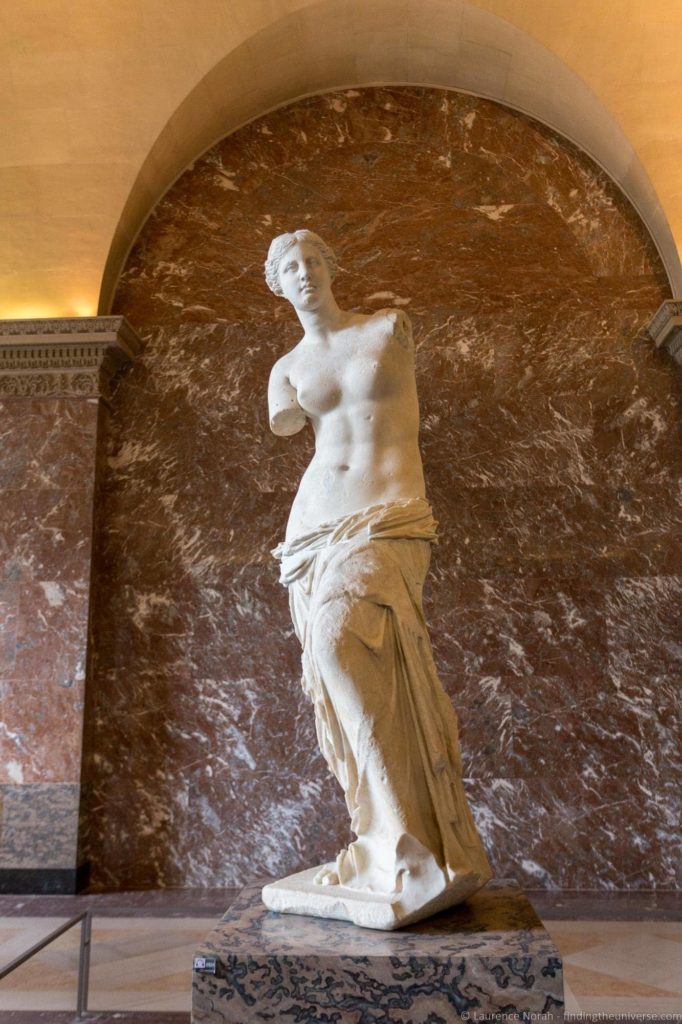 We'd also highly recommend that you pick up either a Paris City Card or a Paris Museum Pass, which will give you fast-track access to the Louvre.
Note that in the busy times, which tend to be the summer periods especially, the Louvre gets very busy. In summer 2019, there were multiple days when the museum actually sold out, and only holders of advance purchase tickets or timed reservations were able to enter the museum.
If you have a Paris Museum Pass, you must reserve your entry online on the official website. This is mandatory for holders of these passes in order to guarantee entry, and we highly recommend you do this in advance. If you do not reserve your slot in advance, you are not guaranteed entry even with the pass.
If you have a Paris City Card, you'll book the timeslot you want when you book the card.
If you do not have a pass, you can buy your ticket and reserve your entry time either on GetYourGuide here (where we normally get our tickets), or online on the official website here. We've sometimes found that GetYourGuide has availability even when the official site is out, so it's always worth checking if you want to visit and can't find tickets on the official site.
Whichever ticket you buy, you will still have to queue for security, but the line for people with tickets is a lot quicker moving than the general admission line. In addition, when the Louvre sells out on its official website, tickets will usually not be sold on site, so you may not be able to just turn up and queue – only holders of advance tickets will be given entry.
Note the Louvre is closed on Tuesdays. See opening times and more on the official site here.
Wine tasting
When you think of France, a few things likely come to mind, and I suspect that wine is likely one of them. So why not take a break from the sight-seeing and museums, and indulge in a little wine tasting.
Conveniently located just by the Louvre Museum, the Caves du Louvre is a wine-tasting experience which will guide you through the French wine making process and introduce you to a number of different French wines. Which you get to drink.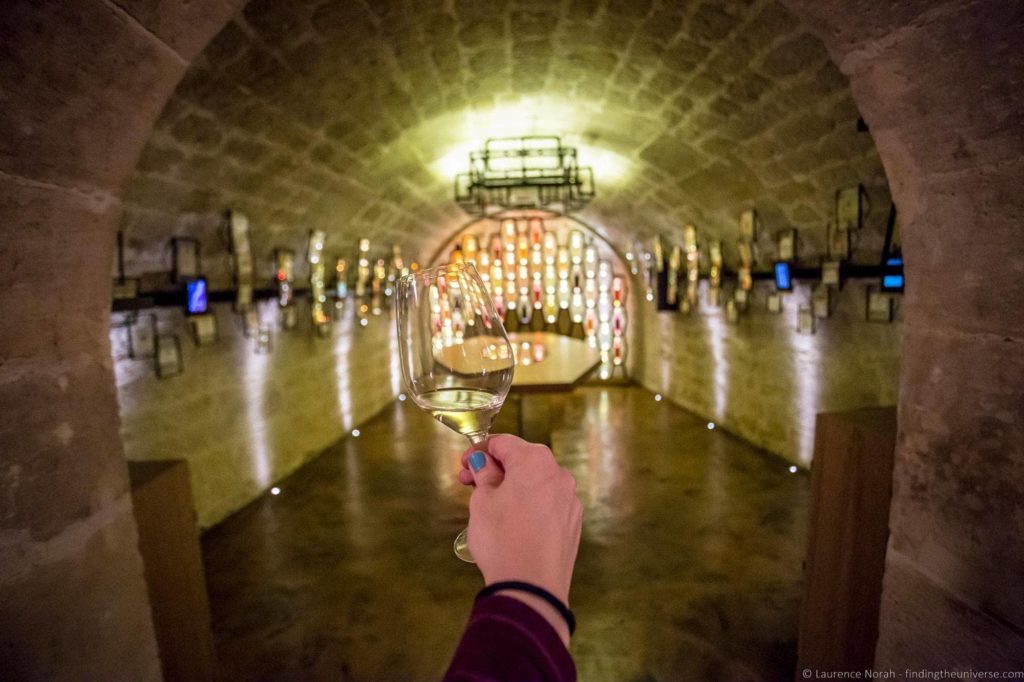 The tour is set in an actual 18th century wine cellar which originally housed the wine collection of the French King. Not a bad setting to learn about French wine we think!
There's a fee for the tour (which includes the wine tasting), and it is included for holders of the Paris Pass. You can also book it separately here.
If you aren't into wine tasting, there are a number of nearby cafes and restaurants where you can refresh and revive. We can recommend afternoon tea at Le Meurice, the Ritz or the Hotel de Crillon if you like afternoon tea (see our guide to the best afternoon tea in Paris if so). For a shorter and less expensive experience, the hot chocolate at Angelina Cafe is also superb.
Arc de Triomphe
We're going to finish off the second day of our three-day Paris itinerary with a visit to the Arc de Triomphe, another of Paris's iconic landmarks. From the Louvre you can either take public transport here, or you can walk up the Champs Elysees, Paris's most famous shopping street.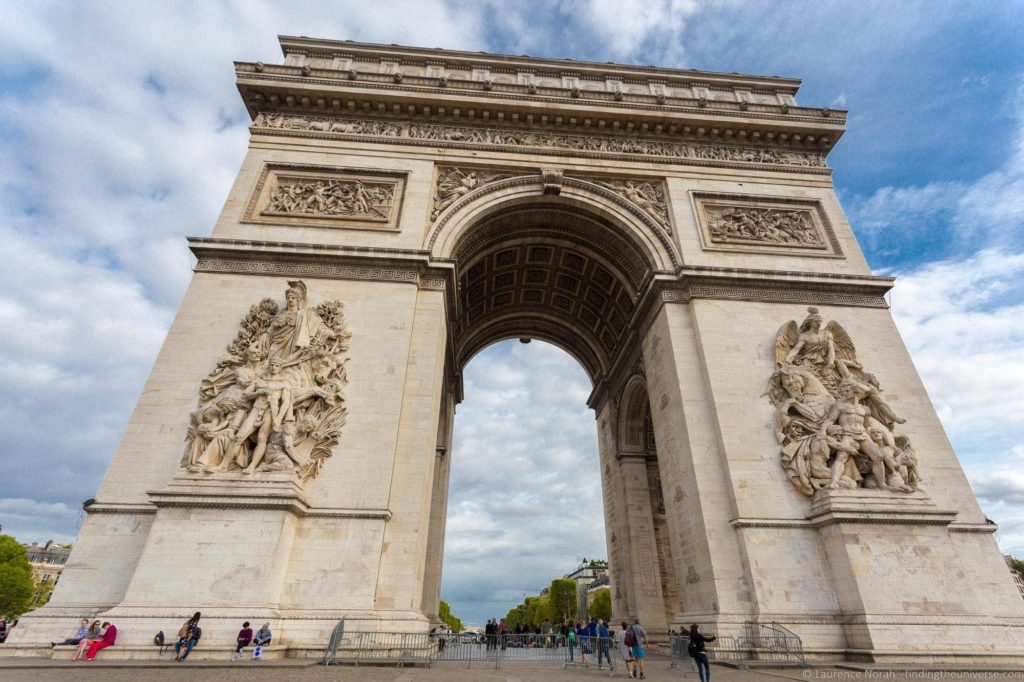 The Arc de Triomphe, built in memory of those who died in the French Revolution and Napoleonic Wars, is wonderfully photogenic.
From the top you get an excellent view of the city, which includes the roads spanning out into the distance and the Eiffel Tower.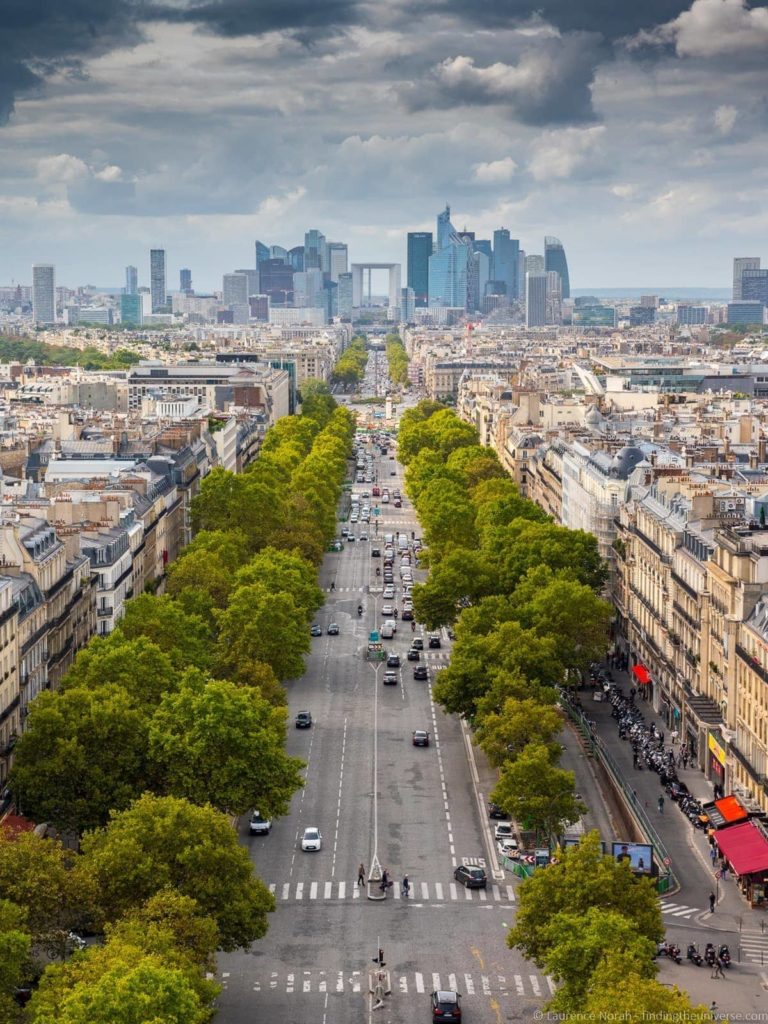 As you journey up into the monument, you will also come to a museum which details some of its history. Below the monument, you will also find the tomb of the unknown soldier.
To get to the Arc de Triomphe, don't try and cross the traffic roundabout. Head to one of the underpasses, and cross in safety. Going up inside the Arc de Triomphe carries a fee, holders of the Paris Museum Pass get free access with skip the line privileges.
You can also book a ticket online in advance here, which is worth doing as the lines can get quite long.
Paris Itinerary: Day 3
On the last day of our 3 day Paris itinerary we're heading out of the city centre to take in one of Paris's most famous Royal Palaces. We're also including some extra sights in the city at the end if you can tear yourself away.
Versailles
The really nice thing about having 3 days in Paris is that you have the flexibility to go a little further out of the centre. My suggestion for your third day is to visit Versailles, the incredible palace that was the seat of French political power and home to French Royalty, including Louis XVI and Marie Antoinette.
To truly appreciate Versailles, I would suggest allocating at least half a day of your third day in Paris, if not more. There is easily enough to see here to fill an entire day, which is why we don't recommend coming here on our two day Paris itinerary.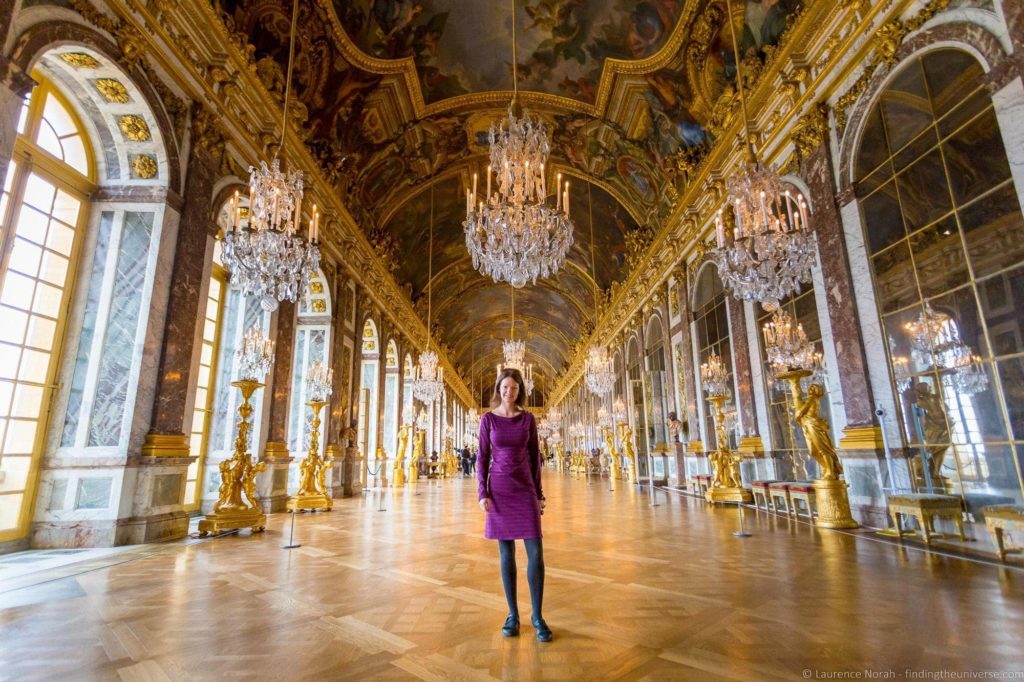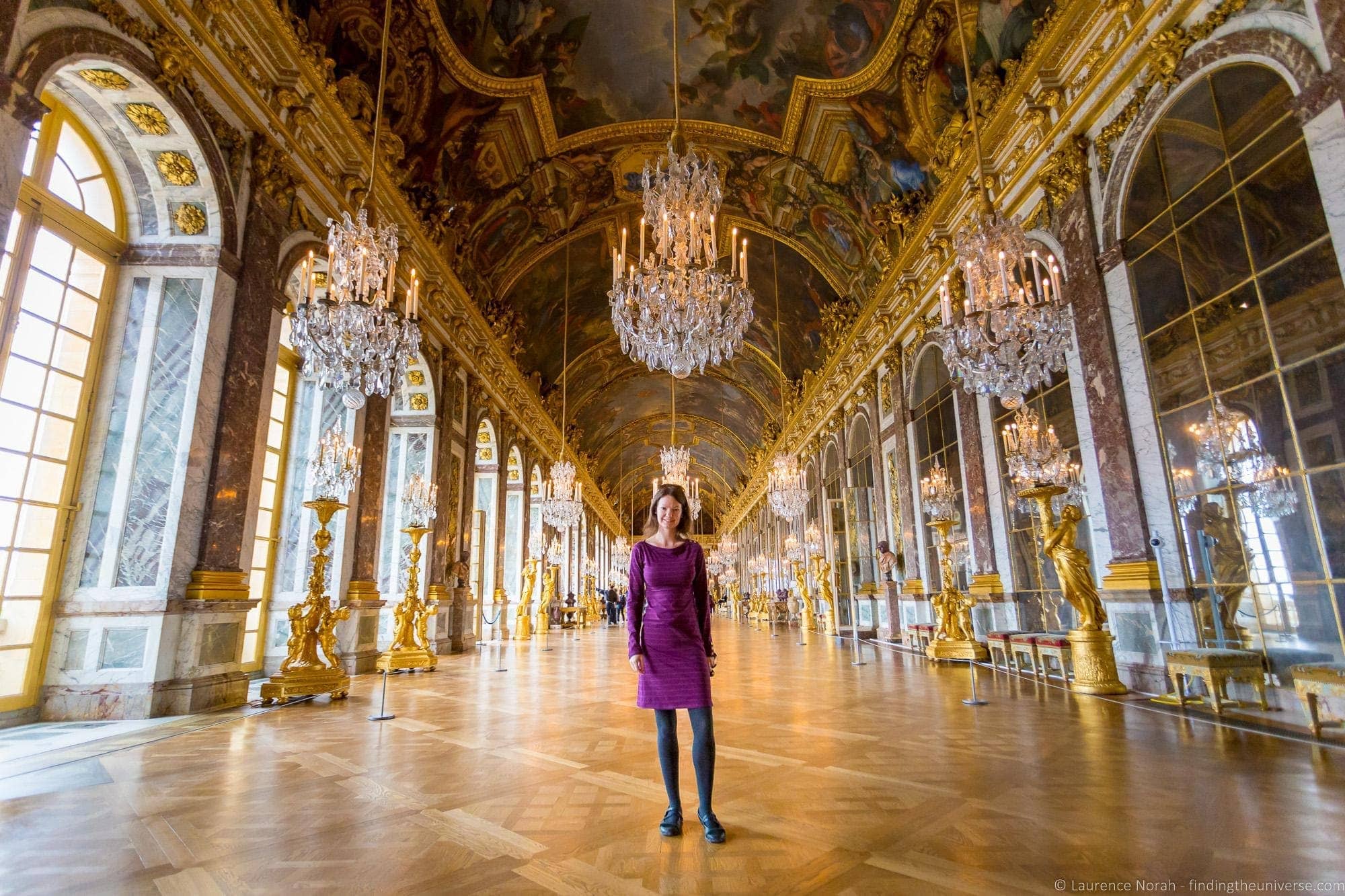 We suggest starting off by touring the Palace. You'll want to get here for opening time, as this is a really popular tourist attraction and it gets busier as the day goes on. Once you have toured the Palace and seen such highlights as the incredible Hall of Mirrors and the Kings Grand Apartments, you can head outside, where there is a great deal more to see.
A walk in the incredible (and vast!) gardens is a must. We particularity enjoyed heading over to Marie Antoinette's estate, which is a slightly quieter part of the gardens, and home to a small model farm, tucked away temples, and walking paths.
It's very easy to spend a whole day exploring Versailles and the grounds, and don't feel bad if you do, it's totally worth it.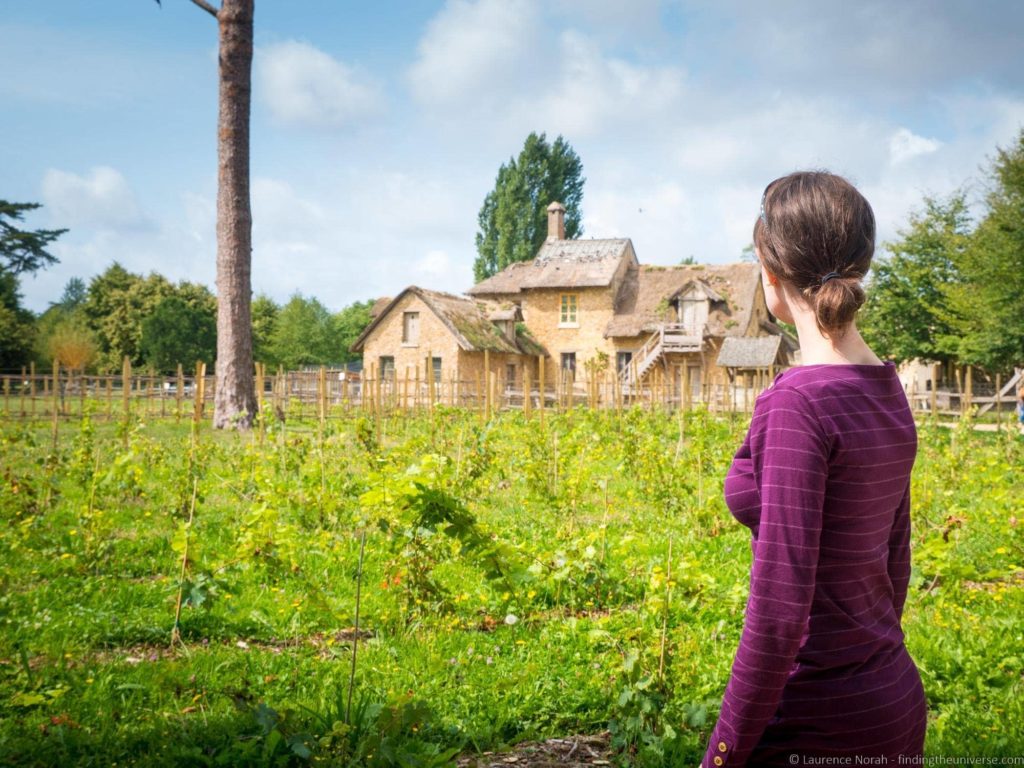 Visiting Versailles is quite easy, you can get a train (RER C) from central Paris to the Gare de Versailles Chateau Rive Gauche, and from the train station to the Palace it is a well sign-posted ten minute walk.
Fast-track entry to the Palace, Gardens and other Versailles attractions is included on the Paris Museum Pass – although you will still need to join the security line. You can also book tickets online here, or book a guided tour online here.
Montmartre
If you manage to tear yourself away from Versailles, my suggestion for finishing off your last day in Paris is to head to the Montmartre region. This is home to a large hill, atop which sits the glorious Sacre Coeur de Montmartre, another of Paris's iconic buildings.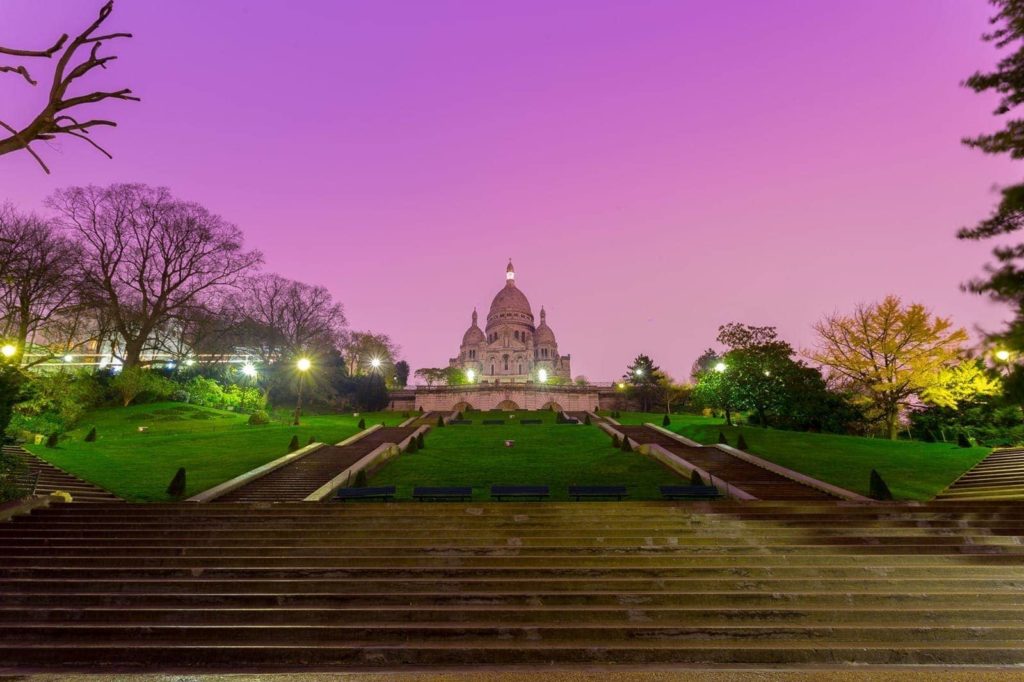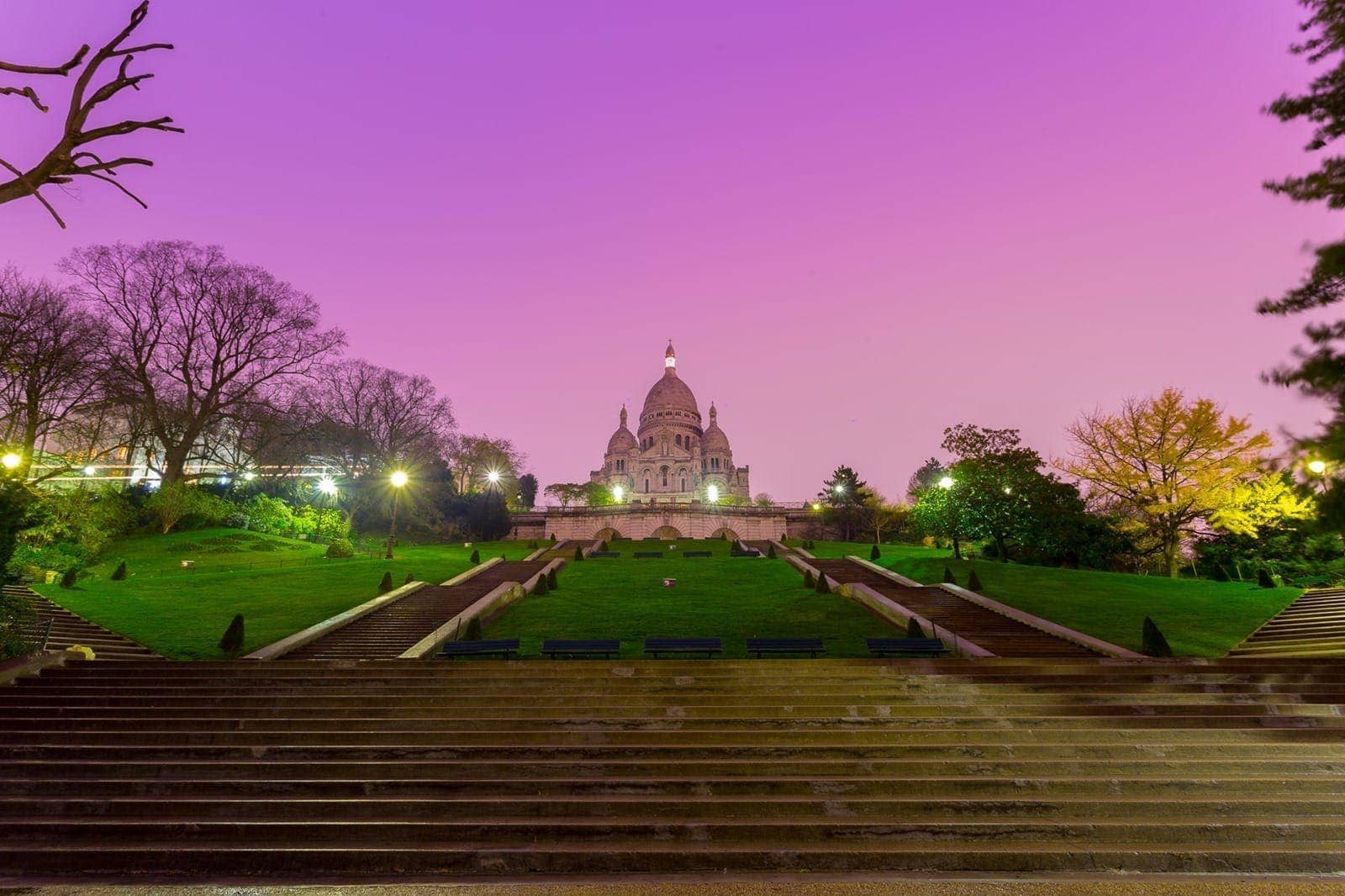 This area of Paris was particularly famous as being home to artists, and folks like Dali, Picasso and Hemingway all either lived or frequented this area.
It's still popular with artists, and the Place du Teatre is the place in Montmartre is the place to go to get your portrait or caricature painted. Fans of Dali will also want to visit the Dali Exhibition, home of the largest collection of works by Dali in France.
Montmartre is a maze of cute little streets, cafes and shops. The Basilica is free to visit, if you get here in time, although there is a small fee if you want to climb the tower.
Montmartre is also a popular place to watch the sunset across the city, and what better way to finish your 3 days in Paris than by watching the sun set across this magical city from atop Montmartre?
3 Days in Paris Itinerary Map
To help you visualise our 3-day Paris itinerary we've put together this helpful map which shows the attractions for each day. You can access this on Google Maps here.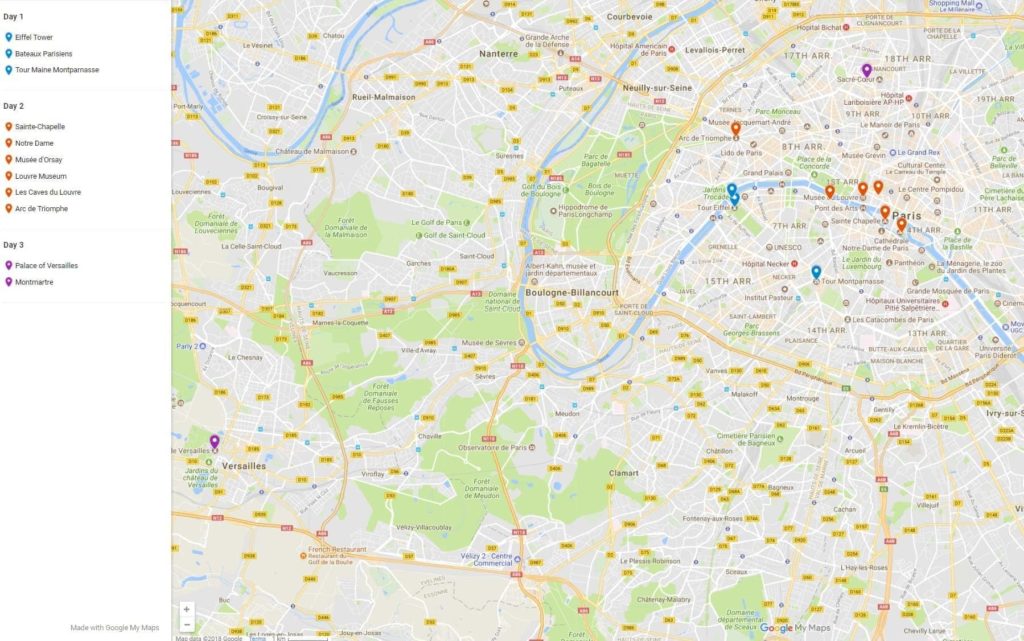 3 Days in Paris Itinerary Overview
Here's a quick day by day breakdown of all the sights this itinerary covers:
Where to Stay in Paris
As you would expect from a major European capital city, Paris has no shortage of options when it comes to accommodation. We've stayed in a variety of places, from hotels to homestays to apartments.
Ideally you want to be fairly central if you can, to minimise your travel time. Our suggestion is to take a look at the listings for Paris on booking.com. They're our favourite booking engine when we travel, usually giving us the best choice and the best prices. They also have everything from apartments and hostels to high end hotels. Here are some options we suggest, depending on your budget.
If you prefer an apartment, then we recommend Plum Guide or Vrbo.
Plum Guide carefully curate their listings so their options tend to be of a very high quality whilst still being available at a range of price points. We've stayed at a number of their properties around the world, including a beautiful apartment in Paris with spectacular Eiffel Tower views. See their listings for Paris here.
If you can't find what you want from the above choices, or you want some new options to try out, we wrote a whole post on the best alternatives to AirBnB which you should check out!
We also have a page full of travel resources, which includes our tips for getting the best deals on accommodation, which you can find here.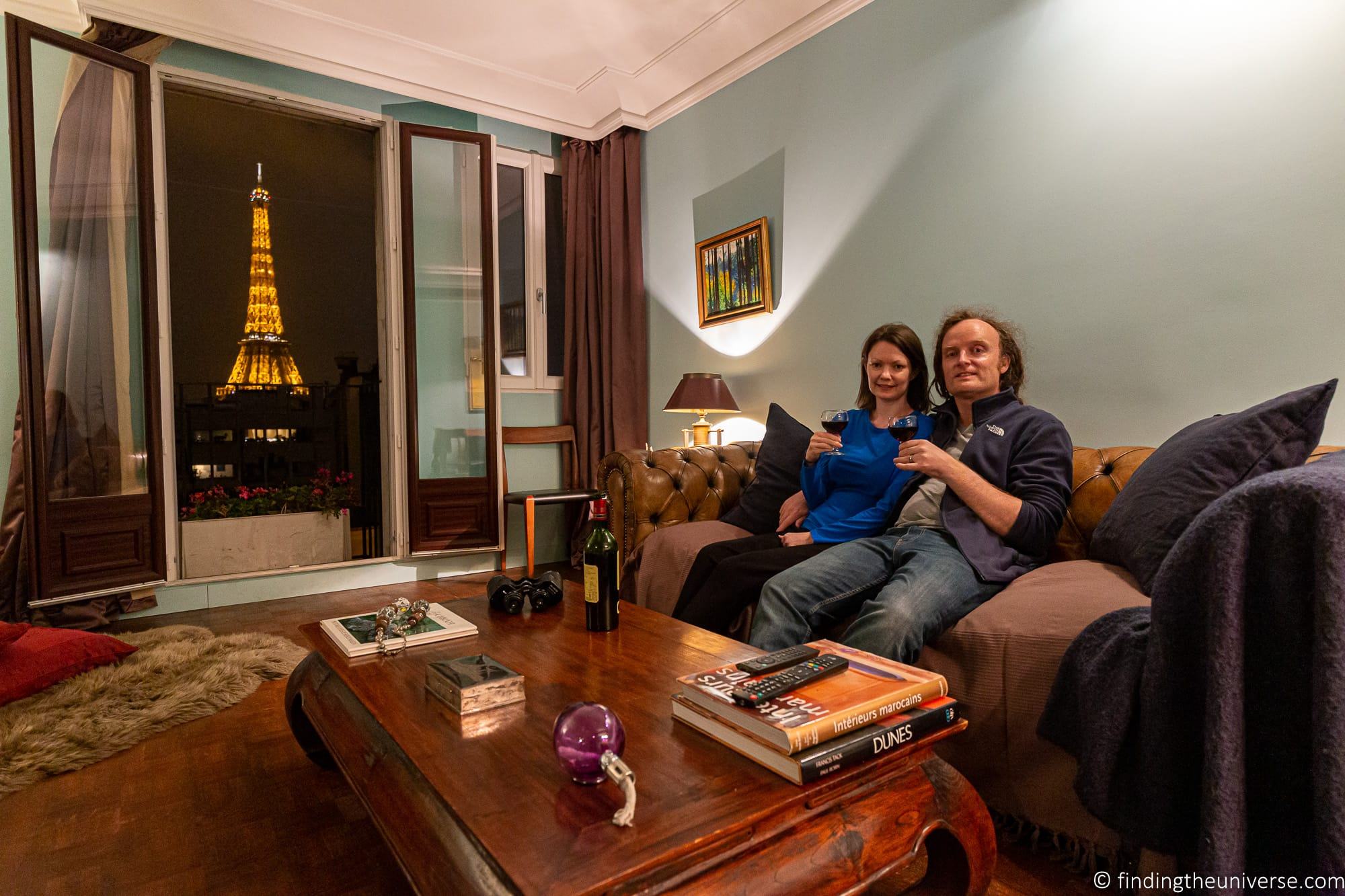 When to Visit Paris
We're actually happy to visit Paris at pretty much any time of year, and this Paris itinerary would work at any time of year.
Summer brings sunshine and warmth, although of course the city is a lot busier at this time of year, so if crowds aren't your thing, you might want to skip the summer months.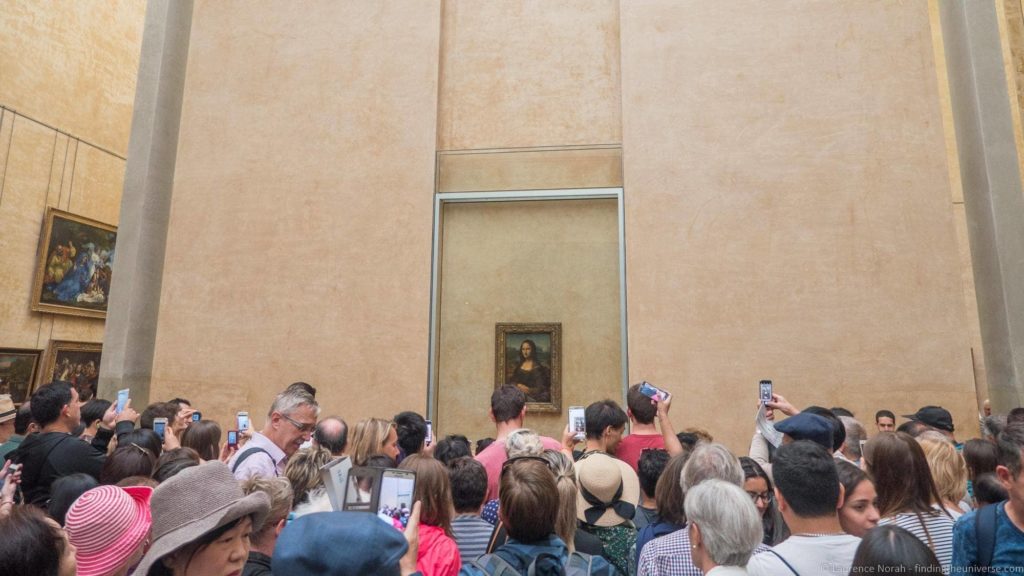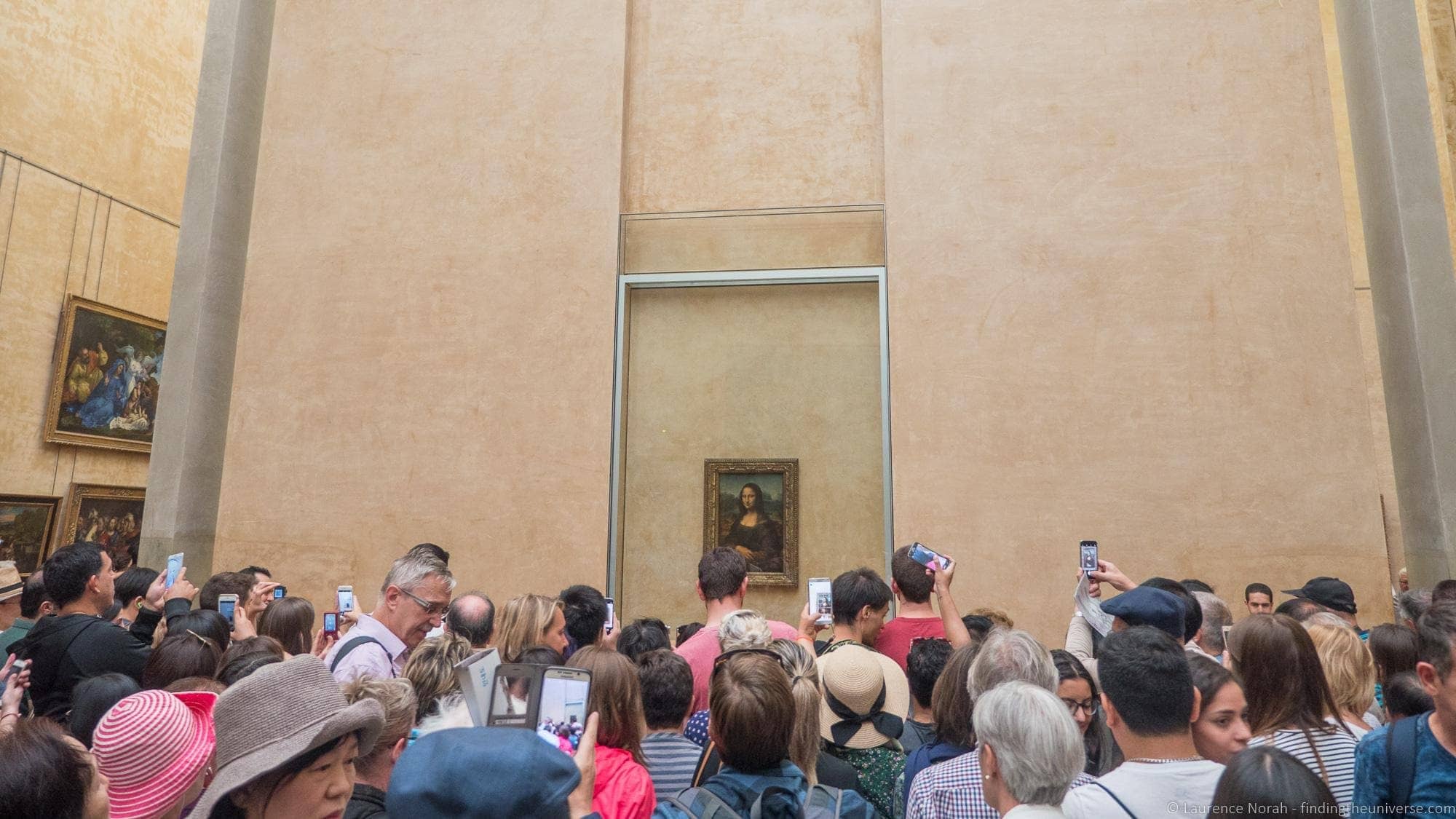 We also love Fall and Spring in the city, when the temperatures are a bit cooler and the crowds less. In the run up to Christmas, the city is beautifully decorated and some of the stores in particular are worth visiting just to see the elaborate decorations they put up. After Christmas the city is a lot quieter, and of course temperatures are at their lowest.
Ultimately, we think Paris is worth visiting whenever you can, so just decide how busy you can handle, and if you'd prefer it to be warm or cold, and go from there!
How to Get to and From Paris
As the capital of France, Paris has multiple options for visitors looking to visit. There are three major airports in Paris. Charles de Gaulle is the main airport for international arrivals, with Paris Orly being the second most popular international airport. Both of these airports are easily reachable by public transport from the city centre.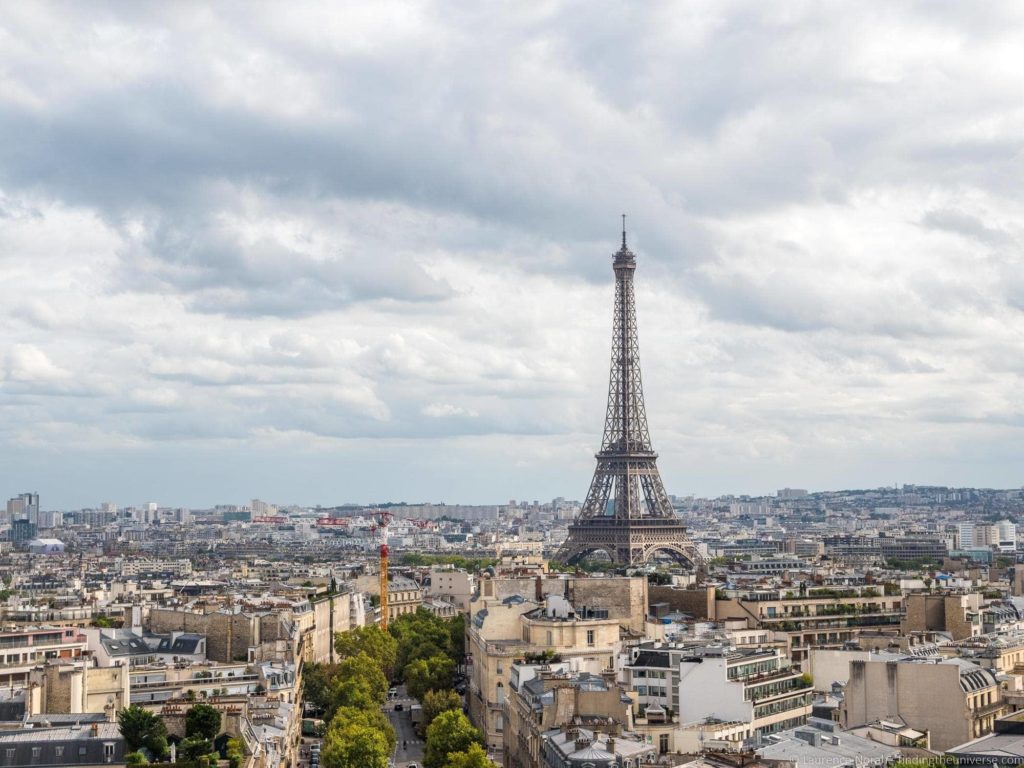 Paris Beauvais-Tille airport is where you will likely arrive if you are flying with a budget airline. This is some way out of the city centre, but regular shuttle buses are available to take you into the city.
Paris is also connected to the high-speed French and European rail network, and there are a number of train stations in central Paris. You can even travel from the UK by train, taking the channel tunnel to do so. See our guide to getting from London to Paris for more suggested options.
Finally, of course, you can reach Paris by car from France and the rest of Europe. Our advice would be to park your car in a secure long stay car-park on the outskirts of Paris and take public transport to the centre.
We recommend against driving in the city centre, as public transport is cheap and fast, and a lot easier than stressing about driving around the crowded city streets, and trying to find a parking space.
How to Get Around Paris
Paris has an excellent public transport network, and in particular the Paris Metro system is really good, getting you around all the major parts of the city at minimum cost. There's also a good bus network, as well as local trains.
For public transport, you can purchase t+ tickets which allow for one-off travel on the Paris bus, RER trains and metros. These are available at train and metro stations using the ticket machines. These machines accept both credit cards and cash, and can be configured for English language.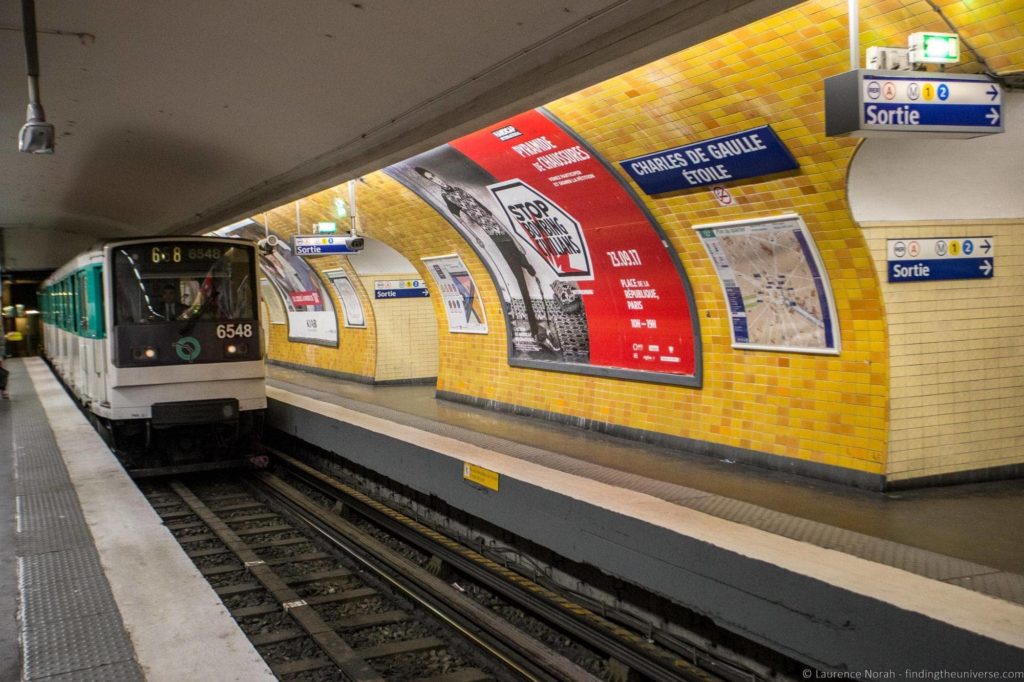 Each ticket can be used for a single journey of up to 2 hours on the metro (including transfers) and 90 minutes on buses (including transfers). For more information on these tickets, see the official page.
From 2019, the Paris transport system has introduced the Navigo Easy Card. This is a rechargeable card system which is designed to replace the cardboard T+ tickets. A card costs €2 to buy, but allow you to buy a discounted pack of 10 tickets which will save you money if you do quite a bit of travel.
Other than being electronically stored, the tickets work the same, so we would recommend visitors to Paris using the Navigo Easy system as the most cost-effectivee method of paying for transport as a visitor to Paris.
For more on getting around Paris, see our detailed guide to how to get around Paris, which should help you plan all your transport in the city.
Walking Tours of Paris
If you'd like to take a guided tour of Paris, the two companies we usually use are Take Walks and Context Travel. These both offer small group walking tours in Paris, which are a great way to learn about some of the sights and history of the city. Of course, if you decide to take a walking tour you will have to adjust the itinerary accordingly to suit.
If you were interested in a tour, Take Walks has this Paris in a Day tour which includes a major Museum, the Eiffel Tower, Montmartre & a Seine River Cruise – an excellent introduction to the city!
Context travel offer a number of very focused tours of Paris, and these offer very specialised insights into particular subjects. We'd suggest maybe taking one of these for a specific area of interest that you really want to learn about, perhaps for Versailles. They also offer an introduction to Paris tour.
There are of course other options for various tours in Paris, including all the tours on this page, which offers a variety of things to do from different providers.
For example, there's this delicious looking food tour, this in-depth tour of Hemingway locations in Paris or this tour of Montmartre.
So definitely check out the options to figure out what is best for you!
How to Save Money in Paris
Being a major European city, Paris is definitely not a budget destination. There are a few ways to save money of course, even on an itinerary as packed with attractions as this one is. Food is one way – rather than eating out for every meal for example, you could stay in an apartment or hostel that lets you cook your own meals.
If that's not an option, consider having picnic lunches or breakfasts, and eating out in the evenings. Also, keep an eye out for the "menu du jour", most restaurants offer a fixed lunch or evening menu which includes a number of dishes at a fixed price.
You can usually get a meal for between €12 & €25 which includes two or three courses, bread, and sometimes even wine or coffee. Check out our guide to the best restaurants in Paris for lunch deals.
The cheapest way to get around Paris is to walk of course, followed by the excellent public transport system. We usually walk as much as we can, and then take the metro for the longer trips. Taxis can be convenient, but they will eat into your budget very quickly.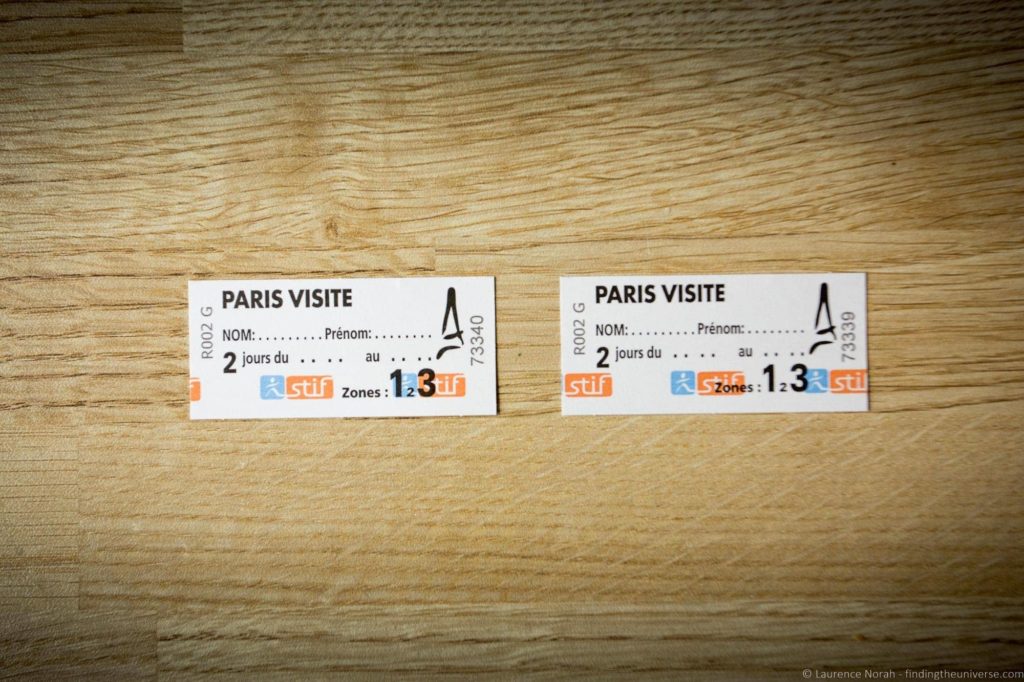 One of our favourite ways to save money when we visit a major city where we want to see a lot of sights is to invest in a city sightseeing pass. In Paris there are three main passes that we recommend, the Paris Pass (buy yours from the official site here), the Paris Museum Pass (buy here) and the Paris City Card.
Calculating if a pass is worth it for you will of course depend on exactly which attractions you want to visit.
From our itinerary, here's what's included on which passes, as well the cost of individual tickets as of June 2023 and links to book each attraction directly.
Adding all the above together and you are looking at around €270 in entry fees.
Our recommendation is to consider a 4 day Paris Pass.
We suggest the 4 day Paris Pass because it actually comes with a 4-day Paris Museum Pass. With that, you get access to pretty much everything on our itinerary, as well as many more activities and attractions including more museums, walking tours, and even dining activities!
As of June 2023, a 4 day Paris Pass costs €222 for an adult, saving you around €50 per person.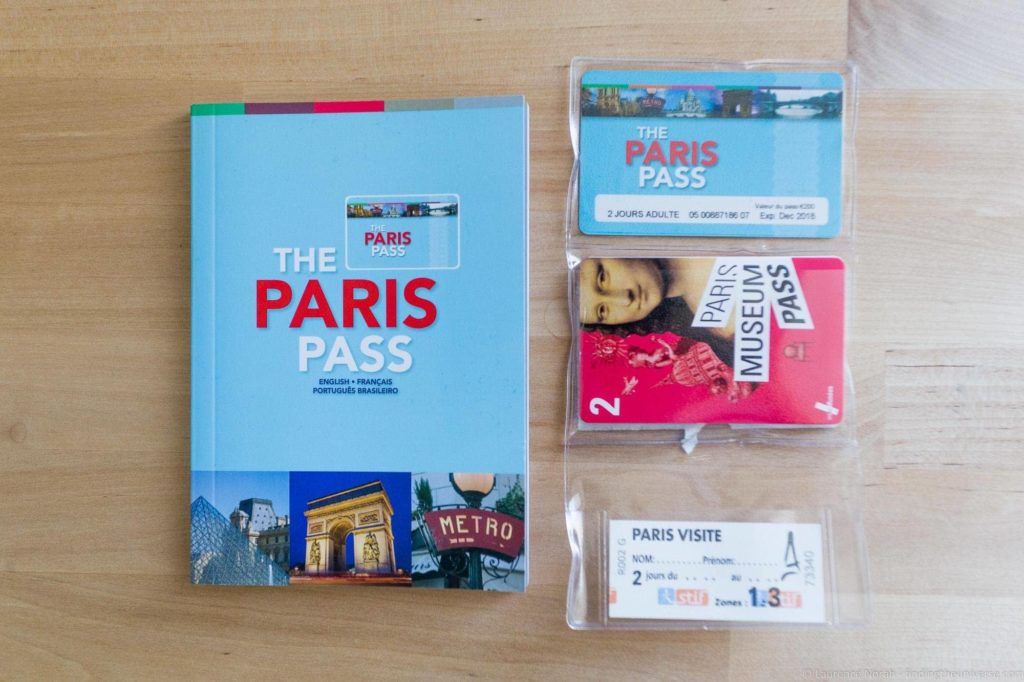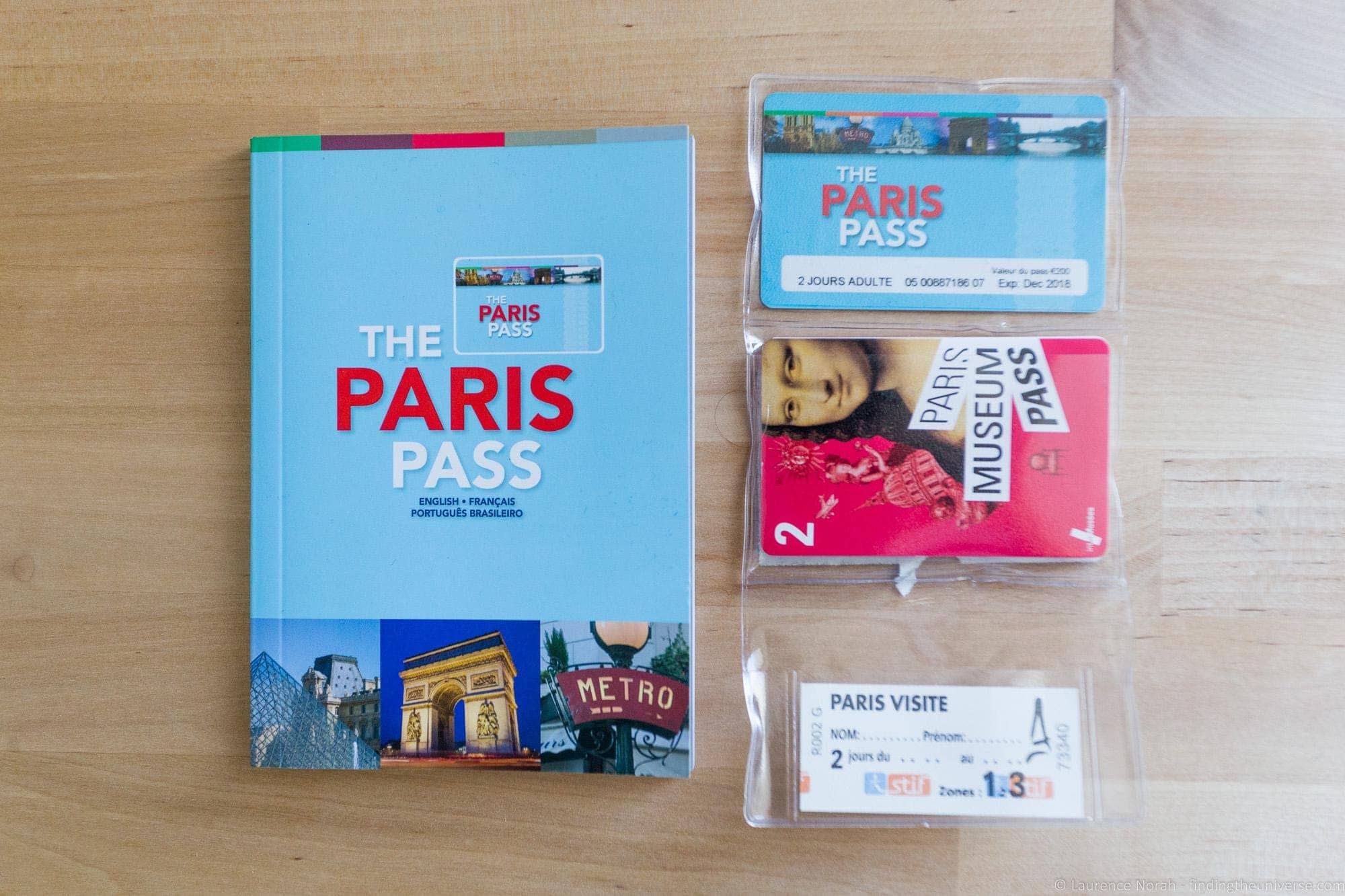 Of course, your individual situation will vary, and you might have different attractions you want to visit. In addition, you should be aware that if you are an EU citizen under the age of 26 that many attractions are free or discounted to visit (you need ID!).
Also, on the first Sunday of every month, many museums are free to visit – although very crowded as a result!
We think the Paris Pass can be good value for money (click here to buy), but do feel free to check out our detailed review of both the Paris Pass and the Paris Museum Pass, and come to your own decision as to what works for you!
You might also decide that purchasing individual tickets makes more sense. In that case, we highly recommend booking online in advance, especially for major attractions like the Eiffel Tower and the Louvre, which can get very busy and even sell out a long time in advance.
Finally, we can also suggest checking out the Paris City Card. This includes a guided Eiffel tower ticket, Seine River cruise and access to the Louvre. It also comes with an audioguide to Paris, as well as a further 10% discount on other Paris attractions.
This is a good option if you aren't planning on visiting everything in our itinerary. It also has the advantage that you book the timeslots for the Louvre and the Eiffel Tower when you book the card, so can be convenient.
Practicalities for visiting Paris
Safety
Paris is a safe city in our experience, although it does have a reputation for being home to a number of scams. Most of these are easy to avoid once you know about them (read up on some of the common scams in Paris here).
As with any major city, of course you need to keep your wits about you – keep your possessions in view all the time, keep your wallet or phone in a front pocket (with a zip if possible), and don't do anything that you wouldn't do at home.
We've not had any problems in Paris, although there are a few scams to be aware of – check our guide to avoiding common Paris scams so you are prepared in advance.
Power
Electricity in Paris is of the 220v standard, with the 2 pin European style plug. Travellers from countries like the UK and the US will need an adapter like this. See more on travel adapters and how to choose one for your trip in our guide to the best travel adapters.
US travellers need to check their equipment supports the 220v standard – it will be written clearly on the power adapter. As a general rule, we have found that laptops, phone and camera chargers and other small electronics are universal, whilst larger devices like hair dryers and hair straighteners are not.
Currency
Paris is part of the Eurozone, so the currency is the Euro. You can get Euros from ATM's, banks and currency exchanges, although credit cards are of course widely accepted, and there is no need to carry large quantities of currency.
Internet Access
Internet access is widely available in the form of WiFi all around the city and in hotels and coffee shops, so you shouldn't have any trouble getting online. You can also pick up local SIM cards if you have an unlocked phone. If you are travelling from the USA, consider a Google Fi package which lets you use your data overseas.
Alternatively, consider an eSIM service like Airalo.
For more options on getting online when travelling, check out our guide to getting online when travelling to help you figure out the best options. We also have a guide to picking the best travel router, which can help you extend a weak WiFi network and share it across multiple devices.
Water
The water in the taps in Paris is safe to drink unless otherwise indicated. If you don't like the taste, bottled water is widely available. We usually recommend you travel with a re-usable water bottle like one of these to save on having to buy water bottles.
We love our Klean Kanteen water bottles for travel as they are lightweight, easy to clean and the company is a certified B-Corp.
Eating in Paris
If you want to eat at one of the more popular restaurants in Paris, we recommend that you book in advance. We recommend and use La Fourchette (the fork), which is the most popular online restaurant booking website in France.
It's easy to use and makes booking restaurants a breeze, especially if you don't speak French. Check it out here to find reviews, sample menus and book a table.
Further Reading for your 3 Days in Paris
We have visited Paris on a number of occasions, and have written a good deal about our experiences in the city. To help you further plan your stay in Paris, here are some of our favourite posts and external resources.
And that's it for our guide to spending 3 days in Paris! As always if you have any feedback or questions, just let us know in the comments below.