We love Paris, it's one of our favourite cities in Europe and one we have visited many times. Ideally, we'd love for you to visit it for as long as possible! Still, we know that's not always possible, and you might only have a short amount of time to see the city.
The good news is that whilst having a few days to explore Paris is wonderful, it's also possible to see many of the highlights of Paris in a day. And in this post, that's just what we're going to help you do.
We've put together this post to help you get the most out of your 1 day in Paris. It's going to take you to the highlights of the city – everything you're going to want to see, even on a 24-hour timetable.
As well as a step-by-step itinerary, we're also going to share some tips for getting around efficiently, saving money in Paris, tips on where to stay if you're here overnight, and the fastest way to get to and from the major Paris airports, if you're arriving by plane. Let's get started.
Paris in a Day: Itinerary
This is a full all day Paris itinerary that will have you seeing some of our favourite sights in Paris – which also happen to be the highlights of Paris that most visitors want to see. It's definitely set up to be a full day, with the sights towards the end opening late so you can keep sightseeing even into the evening.
It's just a suggestion though, so don't feel obliged to see everything on this list – it's important to tailor any itinerary you read to your specific interests, available time, budget, and travel style.
Sainte Chapelle
It took me multiple visits to Paris before I finally made it to Sainte Chapelle. Now I urge everyone to make it a priority on their trip to Paris!
This is a relatively small chapel that is not too far from Notre Dame, but the interior, which consists of almost floor to ceiling stained glass, is absolutely outstanding. It will definitely take your breath away.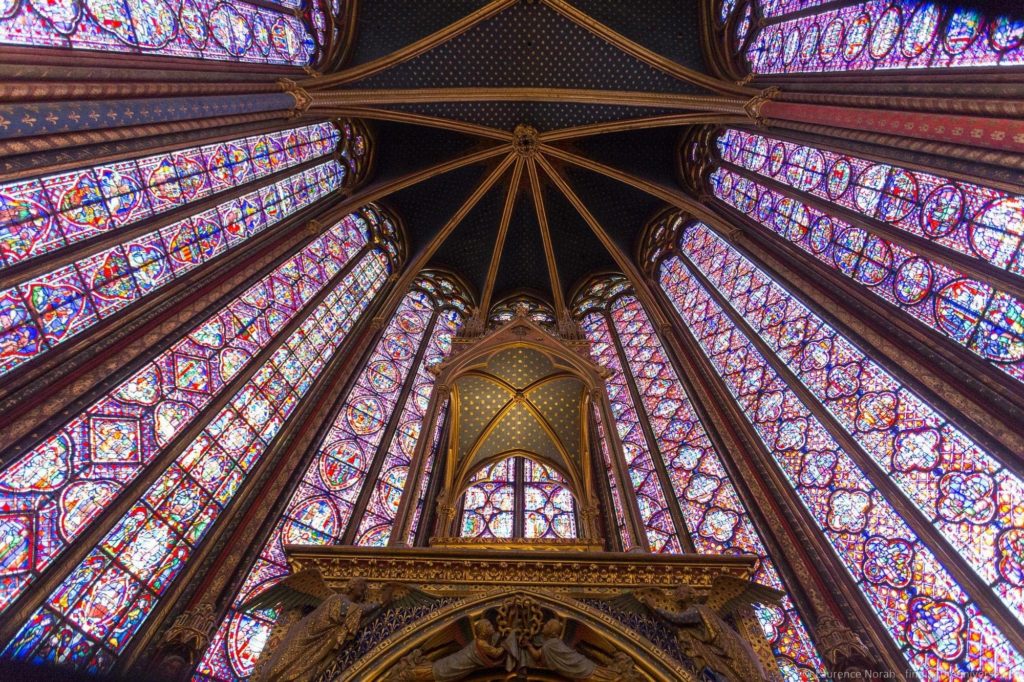 The 13th century Saint Chapelle is quite popular, and the small size and mandatory security checks mean that the line to get in can be long. This is why I have put it on my list as the first thing for your second day in Paris – you want to get here early, ideally get in line ten – fifteen minutes before the opening time. After all, no-one wants to spend their time standing in lines.
There's a fee to enter Saint Chapelle, and you can buy tickets online here.
Sainte Chapelle is close to Notre Dame, one of the world's most recognisable cathedrals. However, following a devastating fire seriously damaged Notre Dame in 2019, and the cathedral is closed to visitors as a result. We definitely still recommend walking by to get a glimpse of Notre Dame, however you can't currently go inside.
Other nearby attractions on Île de la Cité include the Conciergerie (you can get a combined ticket for that and Sainte Chapelle here), and the Mémorial des Martyrs de la Déportation (Deportation Memorial).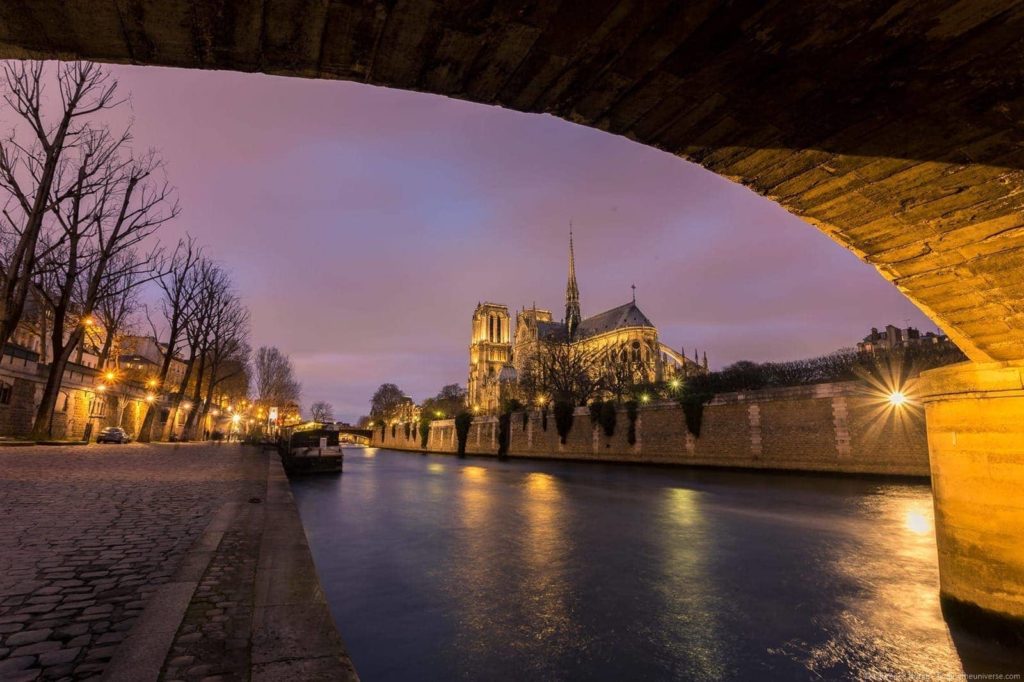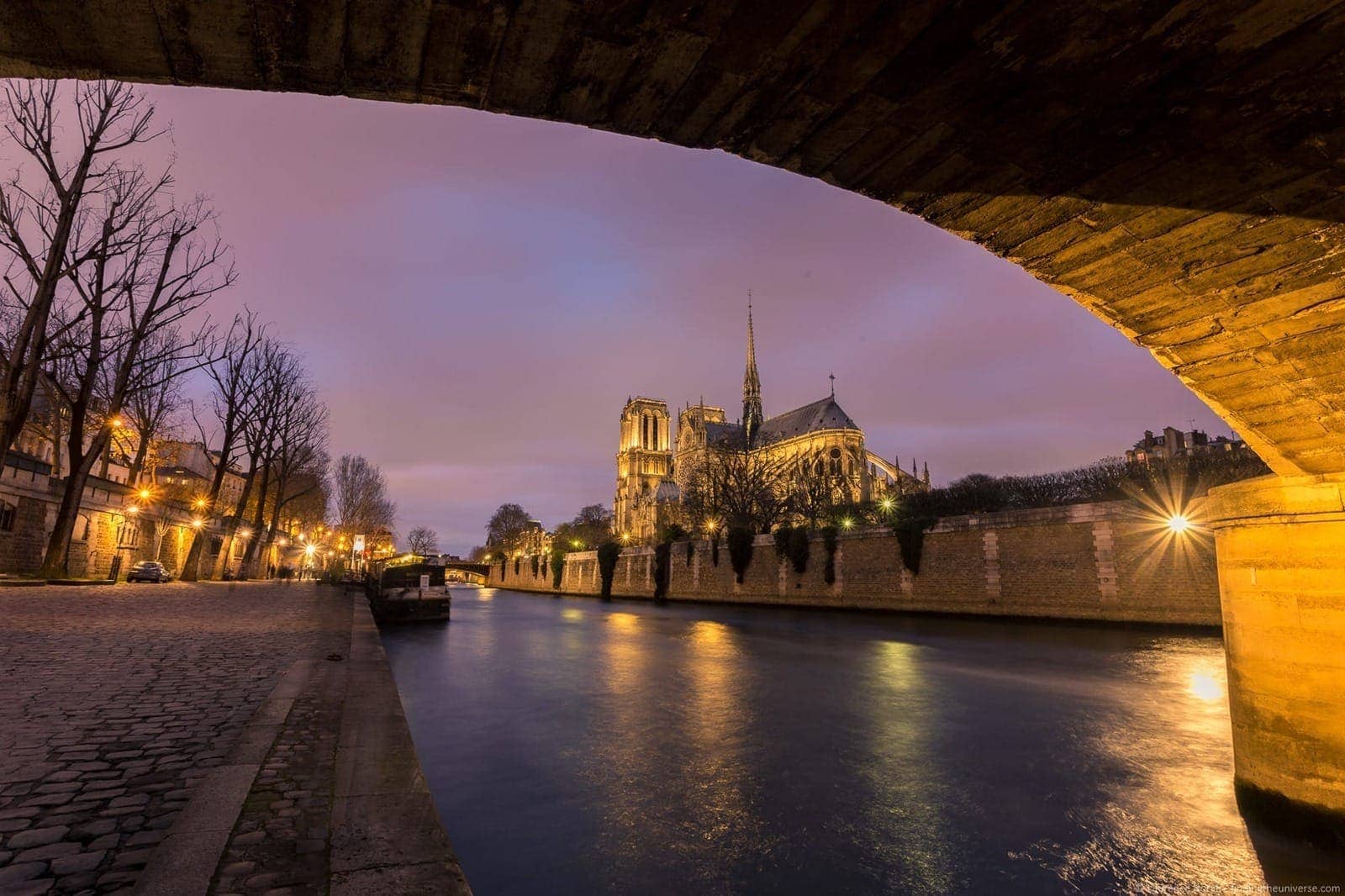 If you're arriving into Paris on the same day as this itinerary, getting from the airport to Sainte Chapelle isn't too hard.
From Charles de Gaulle, RER line B stops at St. Michel / Notre Dame, and a single ticket at time of writing costs under €10. From Paris Orly, you can take the Orlyval light rail train to the Antony RER station, from where you can also take the RER line B to the Sainte Chapelle area.
Another option is to take the bus, with bus companies operating routes from both airports into Paris city center. You can also book a shuttle bus transfer or a private transfer from the airports of course.
The Louvre
From Sainte Chapelle to the Louvre Museum, our next stop for our day in Paris, it's either an 18 minute walk, or around 13 minutes if you take Metro line 7. We'd recommend walking as the views along the river are very pretty, and it doesn't take much longer.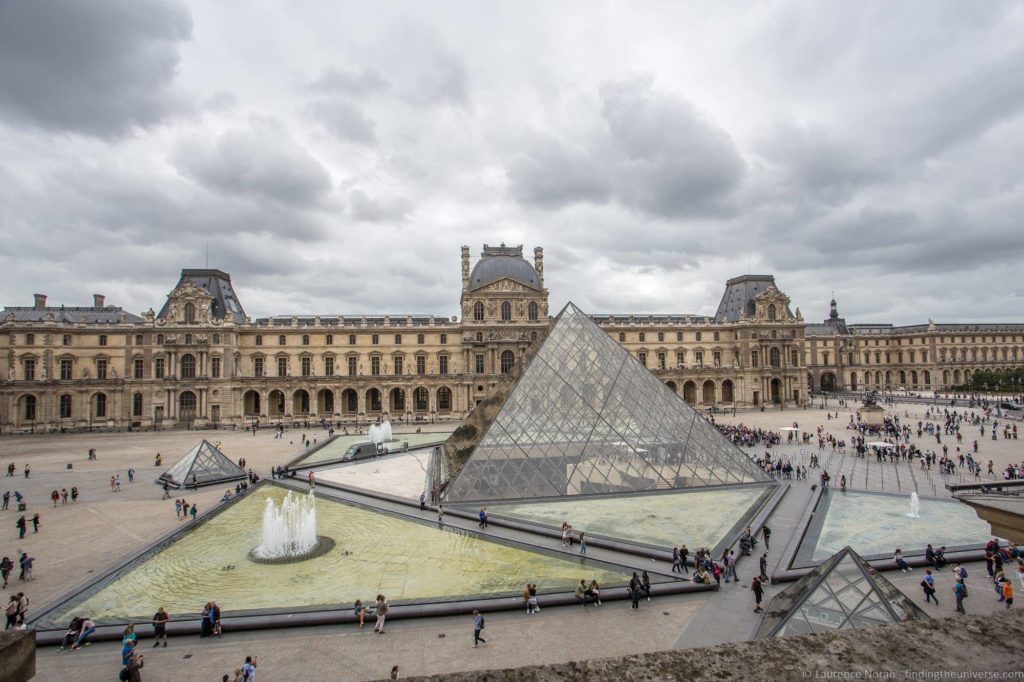 The Louvre was originally built as a fortress, and the first buildings date from around the 12th century. However, as the city developed, it evolved in function, and in the 16th century it became the main palace of the French Kings when they lived in Paris. Following the French Revolution, it was turned into a museum, and has served as an art museum since 1793.
Today, it is the world's largest art museum, and is home to over 380,000 objects, with 35,000 on display at any one time. Highlights include the Mona Lisa and the Venus de Milo, but as you would imagine, there's a great deal to see here. In fact, you could probably spend a full day (or more!) just exploring the Louvre.
Of course, with just a day in Paris, this won't let you see anything else if you really want to explore the Louvre. But if you want to see a lot of highlights in Paris, we suggest you limit yourself to about two hours. Entry is ticketed and timed, and as one of Paris's most popular attractions, the lines here can be long. This is definitely an attraction you'll want a skip the line ticket for.
You can buy them from GetYourGuide here, or on the official site here. It's also included on the Paris City Card.
Alternatively, you can take advantage of a Paris Museum Pass, which includes skip the line access to the Louvre as well as a number of other attractions, however see the note below about reserving your entry time.
Note that in the busy times, which tend to be the summer periods especially, the Louvre gets very busy, and it's recommended that you purchase a ticket online in advance to avoid disappointement.
If have a Paris Museum Pass, you must reserve your entry online on the official website. This is mandatory for pass holders in order to guarantee entry, and we highly recommend you do this in advance. If you do not reserve your slot in advance, you are not guaranteed entry even with the pass.
Another pass option to consider is the Paris City Card. This includes entry to the Louvre, and you can book the timeslot when you buy the card.
For more on the various pass options in Paris, check out the section further on in the post on saving money during your time in Paris to make sure you get the right option for you.
If you do not have a pass, you can reserve your ticket online on GetYourGuide here, on Tiqets here or on the official website here.
We have found that third party websites may have availability even if the official site does not as their allocation comes from a separate pool. Just note that sometimes there will be a booking fee added to these services which makes the price a touch higher.
We would recommend only using reputable websites – we can recommend either GetYourGuide, or Tiqets, both of which we have used in the past.
Eiffel Tower
You can't really avoid seeing the Eiffel Tower when you visit Paris, and a visit to this huge wrought iron tower is a definite must for your day in Paris!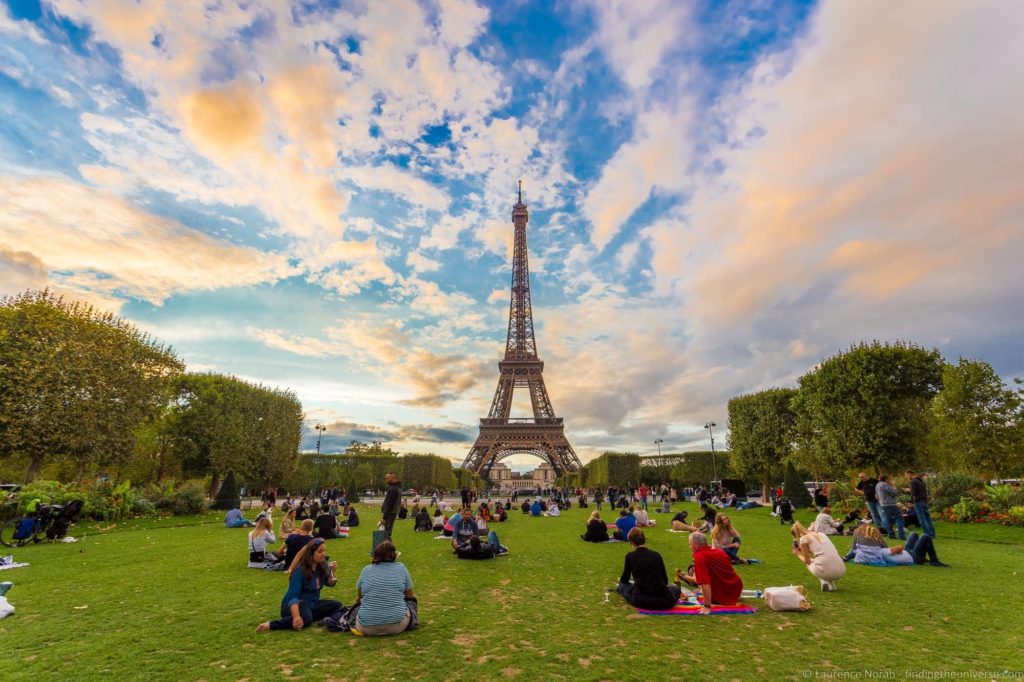 Almost every time we visit Paris we visit the Eiffel Tower, and we are always awed by just how big it is. When it was opened in 1889 it became the tallest man-made structure in the world, with a total height of 324 metres to the very tip. As a visitor, you can go nearly to the top – the very top observation platform is 276 metres above the ground, making it the highest publicly accessible observation deck in Europe.
Of course, you don't have to go to the very top to enjoy the Eiffel Tower, or in fact, to climb it at all. You can enjoy excellent views of the tower from the Champ de Mars gardens, as well as from the Trocadero on the other side of the River Seine. If pressed for time or not really into the tower, we'd recommend coming here instead for a nice view.
That said, if this is your first visit to Paris, we do recommend that you go up inside the tower. There are three floors that you can visit, and the first two levels even have restaurants. If it's near a meal time, this is certainly a unique place to get a meal whilst you're in Paris!
The more casual eateries don't require reservations but if you want eat at 58 Tour Eiffel or Jules Verne you'll want to make a reservation before your trip. You can reserve directly with the restaurants here.
The Eiffel Tower is definitely one of the most popular attractions in Paris, and if you want to go up it, it's very much worth planning a little in advance. The on-site ticket lines get very long, so you definitely want to book in advance.
Tickets for going up the Eiffel tower are available from the official website, and prices vary depending on which level you want to access, and if you want to take the lift or stairs to the first floor.
We very much recommend that you buy your tickets in advance to save time. The best prices are definitely available by booking direct on the official website.
If you'd prefer to take a tour, we recommend this one with 2nd floor access or this one with summit access. These both include free cancellation last time we checked, which official tickets do not.
If you have a Paris Pass, a guided climb to the second floor is included. These tend to run in the middle of the day, so check times on the official site to ensure they meet your schedule. The Paris City Card also includes guided access to the second floor, with optional summit access.
Note that even with pre-booked tickets, you will still need to go through security screening, as with all the other major Paris attractions.
Getting to the Eiffel Tower from the Louvre will involve either a lovely 40-minute walk along the Seine, a 30-minute metro ride, or a 25-minute bus ride. For more tips on visiting, see our complete guide to the Eiffel Tower.
Seine River Cruise
If all this walking around seems a bit much, then we suggest you take a Seine River Cruise. These are a really popular way to sight-see in Paris, and a number of Seine River cruises depart from right next to the Eiffel Tower.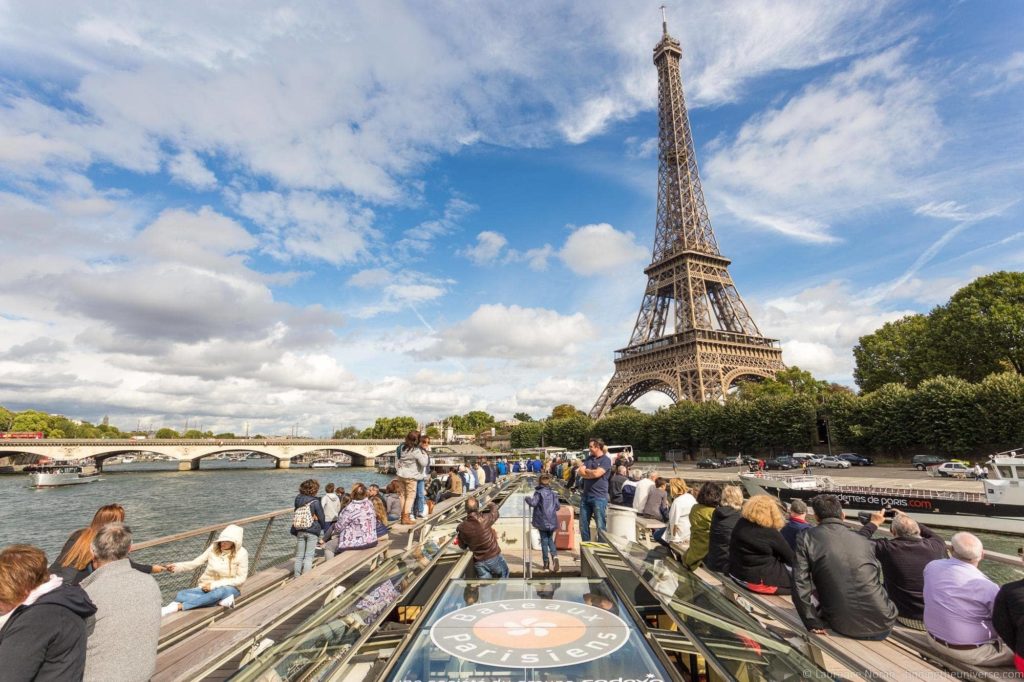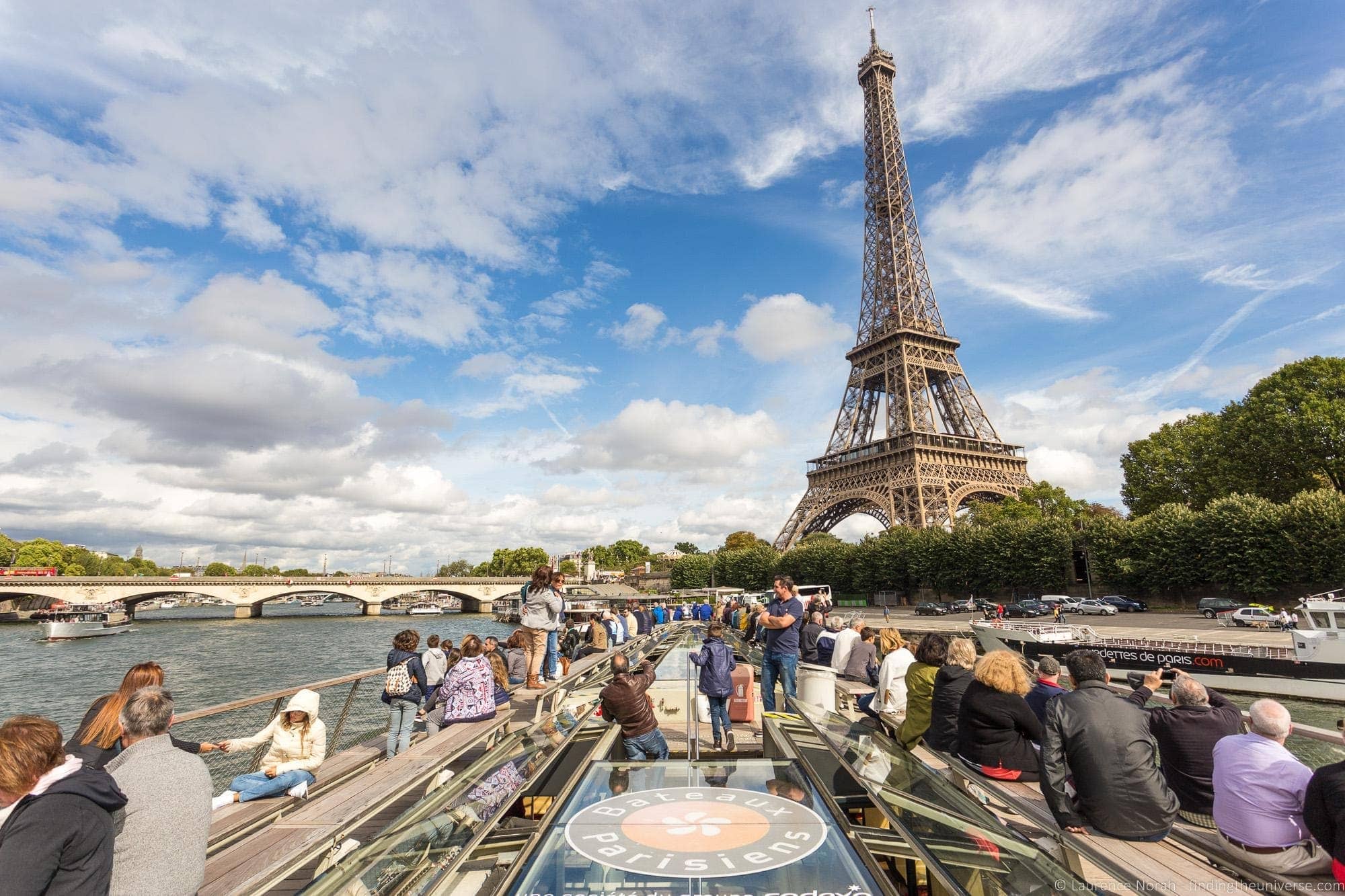 There are a wide variety of Seine Cruise options available, from shorter cruises of around an hour to ninety minutes, as well as longer cruises that feature a meal.
Additionally, cruises differ in terms of commentary, from pre-recorded to live commentary, as well as the languages on offer. In terms of sight-seeing, cruises usually start at the Eiffel Tower and head along the Seine River towards Notre Dame.
We have a full post comparing Seine River sightseeing options, which we definitely recommend reading to understand all your options. If you'd prefer a dinner cruise, we also have a comprehensive guide to Seine River dinner cruises.
Our recommendation for an Eiffel Tower departure is a cruise with Bateaux Mouches (small discount with our link) or Bateaux Parisiens. The latter is also included for holders of the Paris Pass and the Paris City Card.
You can also see a selection of cruise options, some of which include dinner, here or here.
Arc de Triomphe
The Arc de Triomphe is a massive monument in the shape of an arch, which commemorates and honors those who fought and died for France in both the French Revolutionary and Napoleonic Wars. It was commissioned by the Emperor Napoleon in 1806, but due to its massive scale, it was not completed until 1836.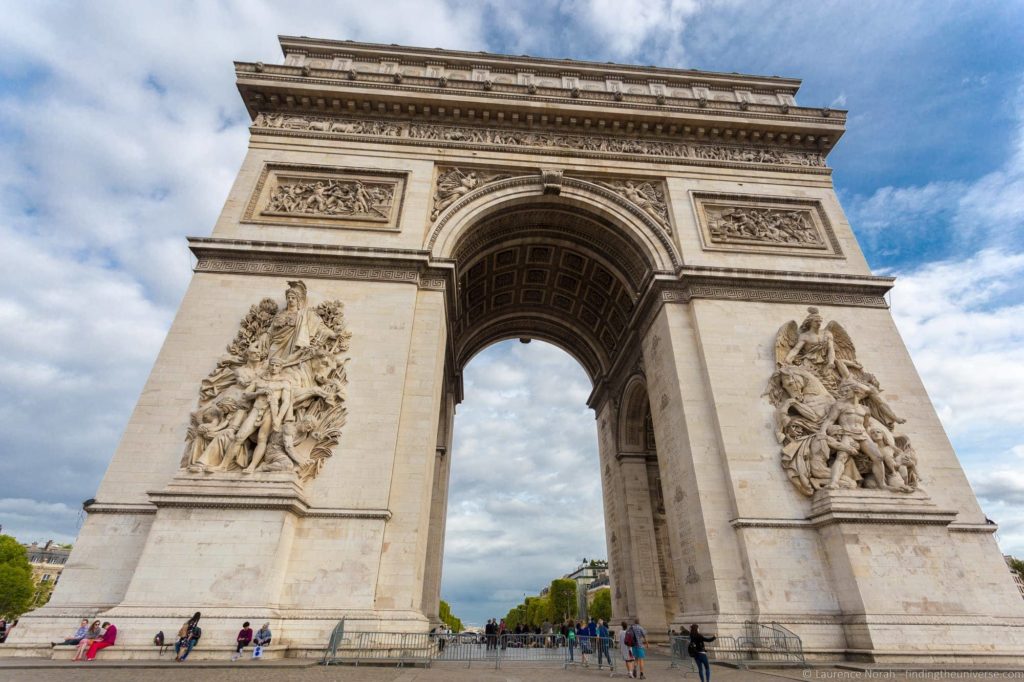 Today, the Arc de Triomphe stands alongside the Eiffel Tower and the Louvre as a must-visit location in Paris. You can admire it from the outside for free, but my suggestion would be to pay the entry fee and to go to the top.
From here, you get stunning views across the city. Twelve roads radiate out from the arch, including the Champs-Élysées, and from the top you can see the majority of the highlights of Paris.
Note that the Arc de Triomphe is in the middle of a huge traffic roundabout, and many visitors make the mistake of trying to walk across this. Don't do this! There are pedestrian access tunnels which are far safer and what you should be taking.
You can purchase tickets on site for access, although you may have to queue. You can also purchase a skip the line ticket online here which is what we would recommend doing as the cost is the same and you get to skip the ticket line.
From the Eiffel Tower it's a 15-minute metro ride or half-hour walk to the Arc de Triomphe. If you walk, we suggest going via the Trocadero for great views back to the Eiffel Tower.
Champs-Élysées
From culture to consumerism! The Champs-Élysées is the most famous shopping street to Paris, particularly for luxury items. It's over a mile long and is home to everything from car brands to clothing stores to French macaroon shops.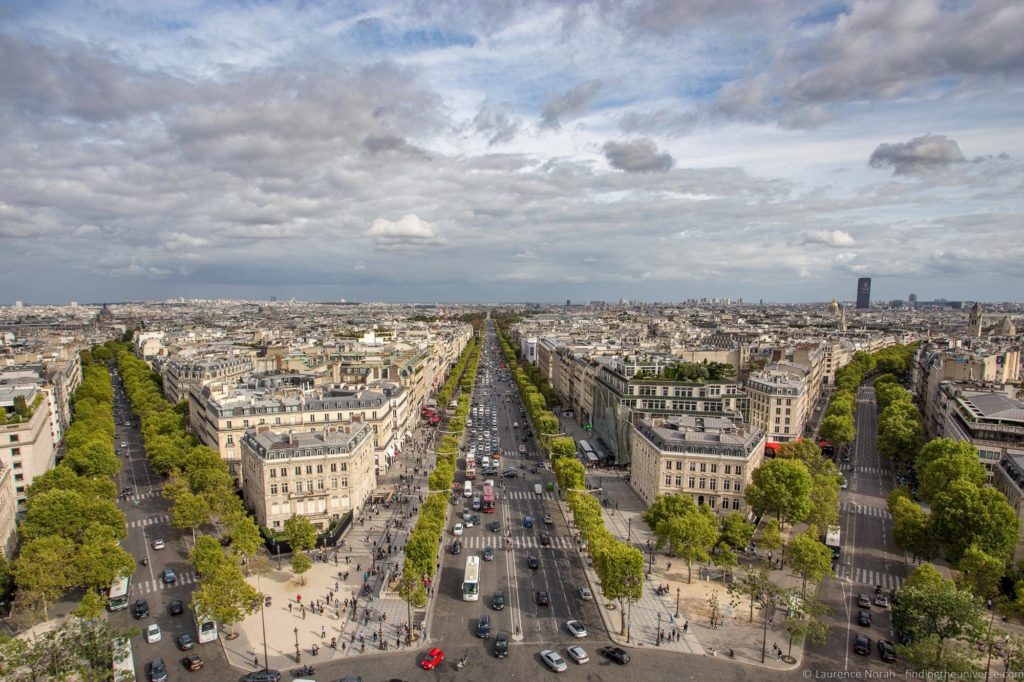 It's also one of the major streets in Paris for celebrations. The Bastille Day military parade for example, passes down the Champs-Élysées every year on the 14th July, and Europe's most famous cycling race, the Tour de France, has finished here every year since 1975.
The Arc De Triomphe is at one end of the Champs Elysees so it's easy to get here!
Tour Montparnasse
Our last suggested stop in Paris, if you still have time and stamina, is the Tour Montparnasse, one of our favourite photography locations in Paris. We'd even argue that if you only go up one "tower" in Paris, you make it this one. That's because from the top you get a spectacular view of Paris that includes the Eiffel Tower.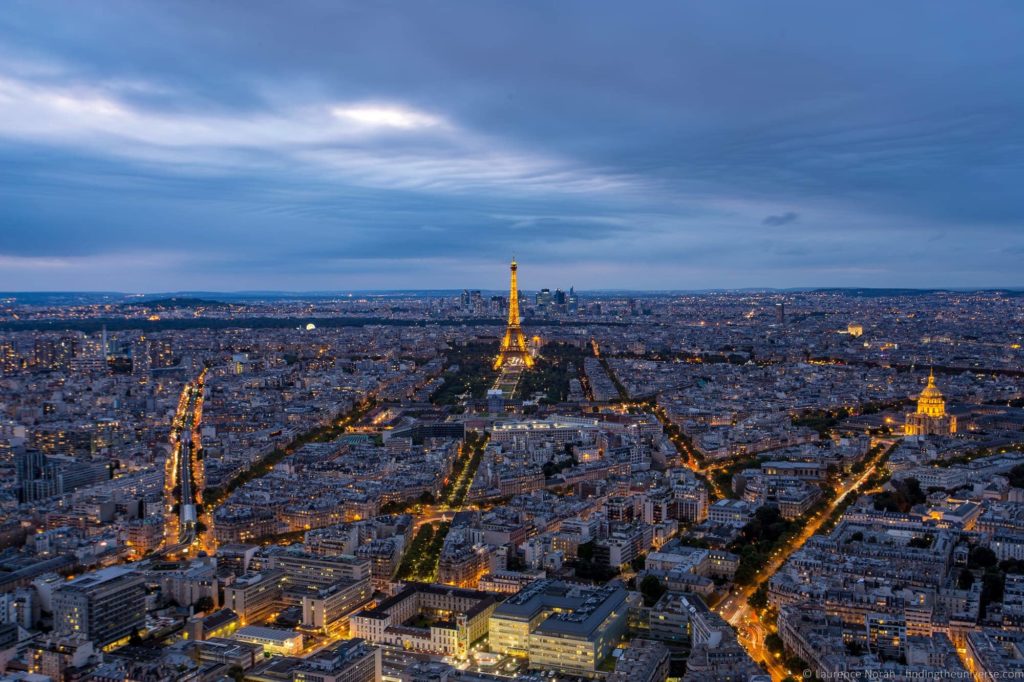 The 210 metre high tower has two main observation decks, an inside one which is also home to a restaurant, and an open top floor deck. This is surrounded by glass, but it does have cutouts through which you can take pictures and avoid nasty reflections – something I wish more observation decks in towers had!
This is a wonderful spot for watching the sunset over the Paris, and experiencing the city turning into the "City of Light", as all the street lights come on and the daylight fades through dusk into night. It's also open late, so you can come up here relatively late into the evening to enjoy the view.
The Tour Montparnasse is next to Gare Montparnasse, from where you can get the bus to Orly Airport, or take the Metro / RER out to Charles De Gaulle, if your day in Paris doesn't involve an overnight stop and you have to get out to a transport hub. Just be sure to give yourself plenty of time to check-in and catch your flight.
There's an entry fee for visiting, and you can either buy your tickets in person, or you can buy skip the line tickets in advance here on GetYourGuide. Free skip the line entry is also included for holders of the Paris Pass.
Map for Spending A Day in Paris
Here's a map of the attractions to give you an idea of how it all fits together. As you can see, the route forms a rough circle, and sticks to central Paris, making it easier to get around. You can also see this map here on Google Maps.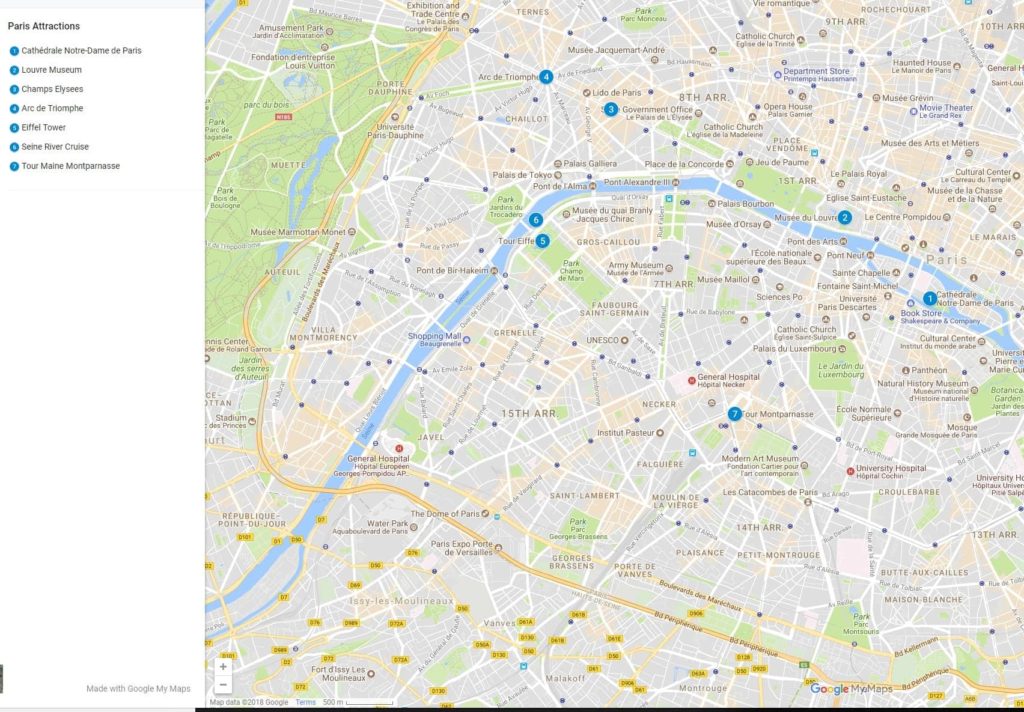 Paris 1 Day Itinerary Summary
Here's an overview of what you will be doing on your day in Paris for quick reference:
Sainte Chapelle
Louvre Museum
Eiffel Tower
Seine River Cruise
Champs Elysees
Arc de Triomphe
Tour Montparnasse
How to Get Around Paris
Paris is an easy city to get around. For much of this itinerary you will be able to travel by foot, and then you can use public transport for any slightly longer trips. The Metro network is easy to use, and there are also buses. Jess loves using this Streetwise laminated map which also includes a metro map.
In terms of tickets, you can buy a single ticket which is valid on Zones 1 and 2 (this includes everywhere on our itinerary), and with this you can travel on either the bus, metro or RER (suburban railway). A better deal though is to buy a pack of ten tickets, known as a Carnet, which can only be loaded to a Navigo Easy card.
The Navigo Easy Card is a rechargeable card system which costs €2 to buy, but if you will be using public transport a few times the savings from the T10 carnet can add up.
Other than being electronically stored, the tickets work the same, so we would recommend visitors to Paris using the Navigo Easy system as the most cost effective method of paying for transport as a visitor to Paris.
You can buy the Navigo Easy card at all Paris Métro stations or RER ticket booths across the city.
It's also possible to buy a ticket that is valid for a whole day. This is called a Paris Visite Pass. Depending on your situation, this may or may not be better value.
We have a full guide to how to get around Paris, which should help you plan your transport in the city.
Getting to and from Paris Airport
There are three major airports in Paris. Charles de Gaulle is the main airport for international arrivals, with Paris Orly being the second most popular international airport. Both of these airports are easily reachable by public transport from the city centre.
From Paris Orly to central Paris you can take the bus (see information here), which takes 15 – 20 minutes to get to central Paris.
Charles de Gaulle (CDG) is a little further away. You have the option of taking the bus, which will be around 30-45 minutes, or you can take the RER train from the airport which takes between 25 and 50 minutes to Gare du Nord, depending on if it is a fast or a slow service.
Another option, which might be more cost effective if you are travelling in a group, is to take a taxi or private shuttle. This will take you for a fixed price from the airport to central Paris. You can book this service in advance here.
Walking Tours of Paris
If you want to see the highlights of Paris in a day, but would prefer to do so as part of a guided tour, then we suggest you take a look at Take Walks. We've used them for walking tours in cities around the world, and have never been disappointed.
They focus on small group tours, led by experts, and they have a number of walking tours in Paris we can recommend. These are:
A full day walking tour of Paris which includes many of the highlights in our post, including a major art museum, the Eiffel Tower, and a Seine River Cruise
A three hour tour that includes Saint Chapelle and Notre Dame
They also have more tours in Paris, see all the options here
Of course, there are other operators running tours in Paris, such as this delicious looking food tour, this in-depth tour of Hemingway locations in Paris or this tour of Montmartre.
As you can see, there are lots of good options for walking tours in Paris!
Where to Stay in Paris
If you have the time to spend a night in Paris, this will definitely give you more time to fit more into your day as you won't have to rush off and catch a flight or train to your next destination. You might even be able to fit in a bit more sight-seeing, so check out our 2 day and 3 day Paris itineraries for some inspiration.
Paris has no shortage of accommodation options across a wide variety of budgets. Whilst it's by no means a cheap destination, we think good value can be had. Based on our itinerary, we'd recommend finding somewhere as central as your budget will allow, to reduce time spent travelling to and from your accommodation.
Our recommended tool for finding accommodation in Paris booking.com. They're our favourite booking engine when we travel, usually giving us the best choice and the best prices. They also have everything, from apartments and hostels to high end hotels. Here are some options we suggest, depending on your budget.
If you prefer an apartment, then we recommend Plum Guide or Vrbo.
Plum Guide carefully curate their listings so their options tend to be of a very high quality whilst still being available at a range of price points. We've stayed at a number of their properties around the world, including a beautiful apartment in Paris with spectacular Eiffel Tower views. See their listings for Paris here.
If you can't find what you want from the above choices, or you want some new options to try out, we wrote a whole post on the best alternatives to AirBnB which you should check out!
We also have a page full of travel resources, which includes our tips for getting the best deals on accommodation, which you can find here.
How to Save Money in Paris
Often when we put together a city itinerary, we recommend a city pass. For Paris, our favourite passes are the Paris Pass (see our review here) the Paris Museum Pass (see our review here), and the Paris City Card.
For the Paris Pass, and the Paris Museum Pass, the minimum duration for both these passes is two days, which means that for just a day in Paris, you might not see much in the way of cost savings.
Here's how the costs break down, as of June 2023, along with which passes they are included on and links to book tickets directly.
As you can see, none of the attractions are included on all the passes, and with only a day in Paris, we think you are better off booking individual tickets for each attraction for the best value for this Paris itinerary.
If you are in the city for a bit longer though, or choose to visit some different attractions, then they are definitely worth checking out. In this case, we recommend comparing inclusions and prices between the following attraction passes to see which might work for you:
Practicalities for visiting Paris
Eating in Paris
Paris has a wide range of dining options to choose from, from Michelin starred restaurants through to bistros and cafes. You certainly won't go hungry!
Generally we don't recommend specific restaurants as they can change so quickly, however we do have a guide to some of our favourite restaurants in Paris here to give you some options. Usually you'll find that most restaurants in Paris and France will offer some sort of menu of the day, or "menu du jour", which will be a cost-effective way to get a great meal.
We'd also suggest that if you want to eat at one of the more popular restaurants in Paris that you consider booking in advance. We recommend and use La Fourchette (the fork), which is the most popular online restaurant booking website in France. It's easy to use and makes booking a breeze, especially if you don't speak French. Check it out here to find reviews, sample menus and book a table.
Power
Electricity in Paris is of the 220v standard, with the 2 pin European style plug. Travellers from countries like the UK and the US will need an adapter like this. See more on travel adapters and how to choose one for your trip in our guide to the best travel adapters.
US travellers need to check their equipment supports the 220v standard – it will be written clearly on the power adapter. As a general rule, we have found that laptops, phone and camera chargers and other small electronics are universal, whilst larger devices like hair dryers and hair straighteners are not.
Currency
Paris is part of the Eurozone, so the currency is the Euro. You can get Euros from ATM's, banks and currency exchanges, although credit cards are of course widely accepted, and there is no need to carry large quantities of currency.
Internet Access
Internet access is widely available in the form of WiFi all around the city and in hotels and coffee shops, so you shouldn't have any trouble getting online. You can also pick up local SIM cards if you have an unlocked phone. If you are travelling from the USA, consider a Google Fi package which lets you use your data overseas, or an eSIM service like Airalo.
For more options on getting online when travelling, check out our guide to getting online when travelling to help you figure out the best options. We also have a guide to picking the best travel router, which can help you extend a weak WiFi network and share it across multiple devices.
Water
The water in the taps in Paris is safe to drink unless otherwise indicated. If you don't like the taste, bottled water is widely available.
We usually recommend you travel with a re-usable water bottle like one of these to save on having to buy water bottles. We love our Klean Kanteen water bottles for travel as they are lightweight, easy to clean and the company is a certified B-Corp.
Safety
Paris is a safe city in our experience, although it does have a reputation for being home to a number of scams. Most of these are easy to avoid once you know about them (read up on some of the common scams in Paris here).
As with any major city, of course you need to keep your wits about you – keep your possessions in view all the time, keep your wallet or phone in a front pocket (with a zip if possible), and don't do anything that you wouldn't do at home.
We've not had any problems in Paris, although there are a few scams to be aware of – check our guide to avoiding common Paris scams so you are prepared in advance.
Further Reading for Your Paris Visit
We've been lucky enough to visit Paris a number of times, and from our visits we've put together quite a few articles to help you plan your trip. We hope you find them useful!
And that's it for our guide to getting the most from a day in Paris! Is Paris on your travel list? Would you visit Paris for just a day? Do you have any feedback or questions about our day in Paris? Let us know in the comments below!