I recently had the pleasure of going skiing in Scotland. I've skied a fair bit around the world, including in California, Austria, Italy, France and Spain, but somehow had never skied in my home country of the UK. However, after a recent trip to the Cairngorms National Park, I am pleased to say that I have fixed this oversight!
There are actually five outdoor Scottish ski resorts, three of which are in the Cairngorms National Park. For my first Scottish skiing experience, I went to Cairngorm Mountain, found in the Cairngorms National Park. This is the sixth highest mountain in the UK, and is also home to the UK's highest funicular railway. Fun royal fact – Prince Charles took skiing lessons here.
In terms of skiing, Cairngorm Mountain has over 35 runs across a variety of levels from green/blue (easy) to black (expert), which total just over 20 miles or 30km of skiiable piste. In this post, I'm going to talk about my experience skiing in the Cairngorms National Park.
I'm also going to provide you with all the information you need to know to plan your own skiing adventure in the Cairngorms, including when to come, how to get around, where to hire equipment if you need it, and some lodging options.
I'd also recommend reading this post in conjunction with our guide to what to pack for a ski trip, so you re fully prepared.
Let's get started!
What sort of skiing is available at Cairngorm Mountain?
There's a good selection of downhill skiing and snowboarding options at Cairngorm Mountain. There are 38 runs, which are divided as follows:
12 beginner "green/blue" runs
13 intermediate "red" runs
13 advanced "black"runs
As you can see, there is quite a lot of variety, with something for every level of skier or snowboarder, making this a great place to start your Scottish skiing experience. There are also areas for off-piste skiing, as well as a children's circuit and a fully set up snowboarding park.
There's no specific cross-country skiing location here, although there are lots of locations for back country skiing in the Cairngorms National Park.
The longest run available is 3.3km, with an elevation difference from top to bottom of 518m.
These runs are served by a total of 11 ski lifts, which range from beginner level rope tows through to faster T-Bars and button lifts. There is also a fast funicular that takes you from the bottom of the mountain all the way up to the top in a nice warm enclosed environment.
The funicular did close in 2018 for refurbishment and finally reopened in January 2023.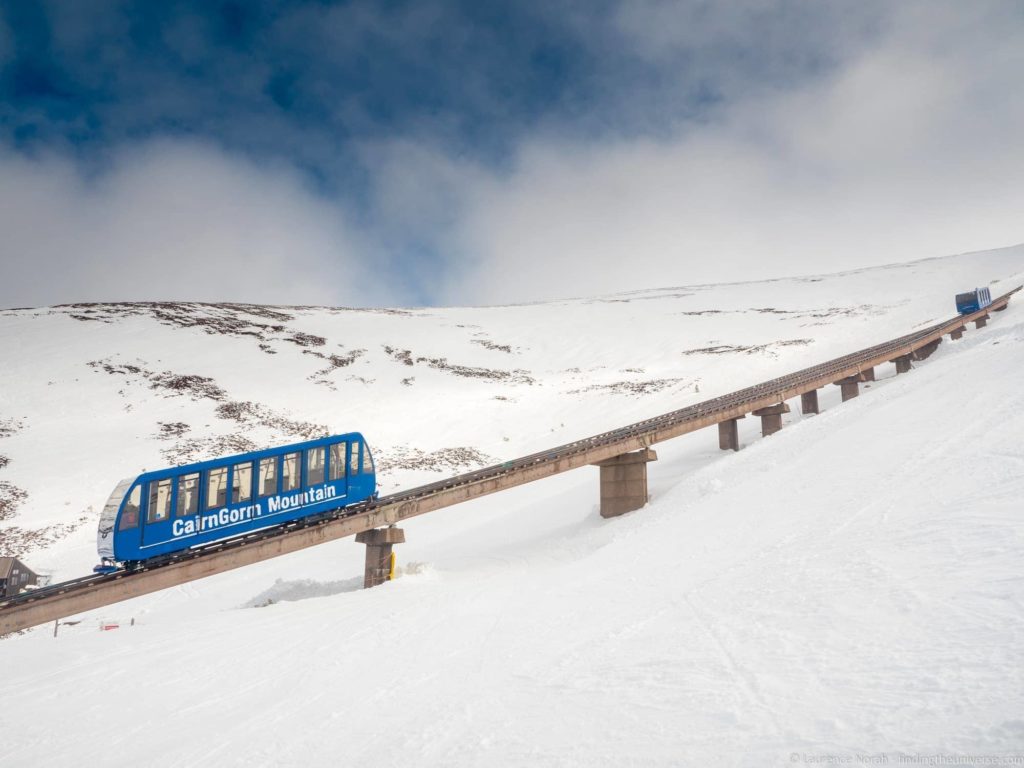 One thing to be aware of – sledging isn't currently allowed on the mountain, although there are a number of places where you can sledge in the Cairngorms National Park.
Where is the CairnGorm Mountain ski resort?
The CairnGorm Mountain ski resort, operated by Natural Retreats, is found in the heart of the Cairngorms National Park, which is the UK's largest national park. This is located in the northeast of Scotland. The closest town to the CairnGorm Mountain ski resort is Aviemore, around twenty minutes away.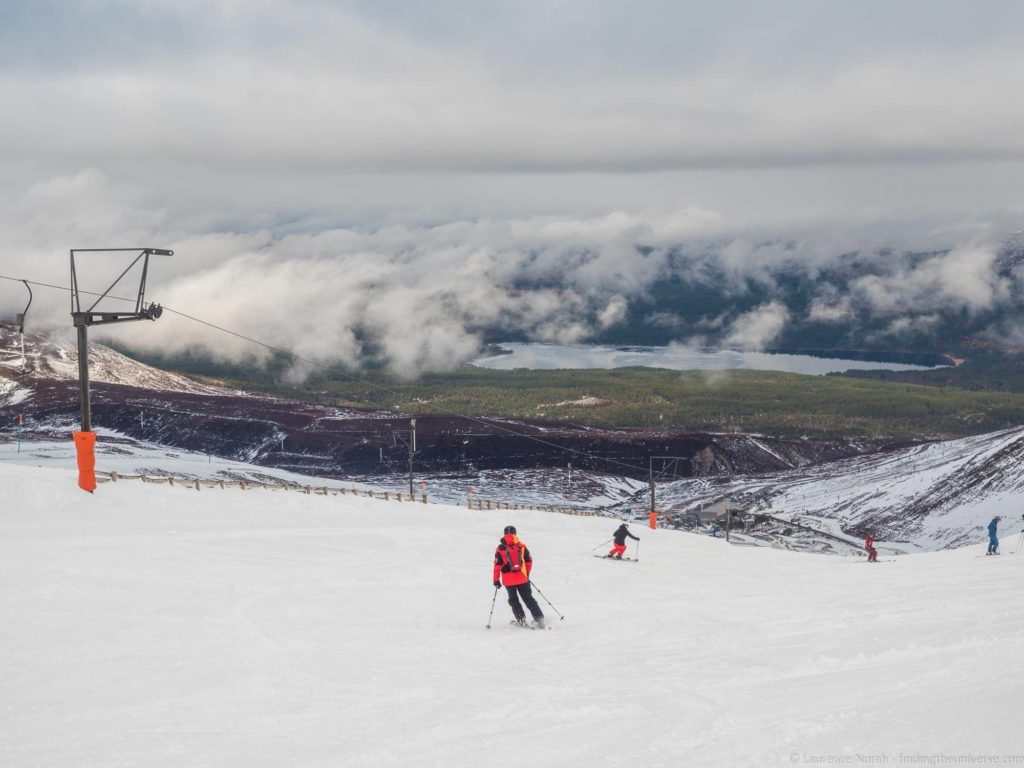 The largest major cities nearby are Inverness, which is about 40 miles north, and Aberdeen, which is about 90 miles east. From Edinburgh or Glasgow, it's around a 2.5 hour drive, or 130 miles.
What's it like to ski in the Cairngorms National Park at CairnGorm Mountain?
The hillside is fairly exposed, and the resort is well above the treeline, so it reminded me of skiing at a high alpine resort in Europe where there are no trees.
My day started off a little cloudy, but it quickly cleared, and the views across the National Park as I skied down were spectacular – so much so that lots of people were stopping to take photos of the view. I won't lie – I did this too.
I also appreciate that CairnGorm Mountain has a funicular for access to the very top of the mountain, which makes getting up to the top easy.
There are no chair lifts, the other lifts are all t-bar or button style tow bars. However, some of these are pretty fast versions (the fast ones are labelled for advanced skiers only), and I certainly didn't feel I was losing time by not having access to chairs.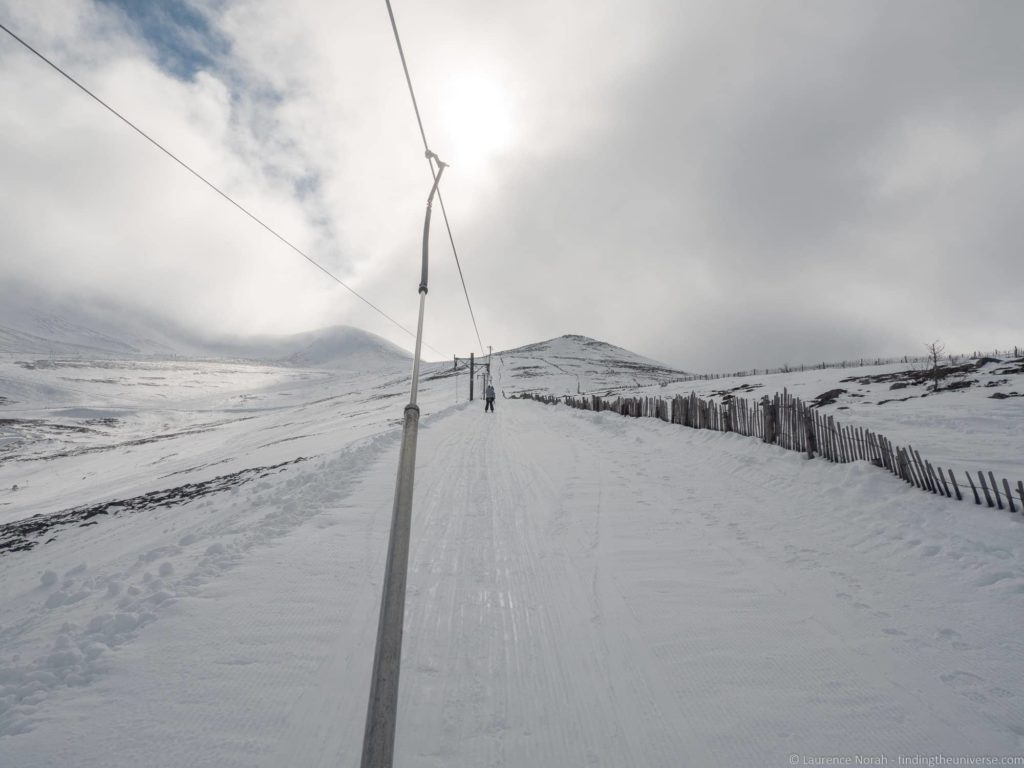 In terms of the slope quality, I had zero complaints. I arrived just after opening, and the slopes were well groomed, well-signposted, and easy to navigate. I did a variety of the runs on offer (everything except black, Jess said I had to come back in one piece!), and overall had a wonderful day of skiing.
I drove up to the resort and parked on-site, which was free. The car park was large, and it was a very short walk to both the ski hire location and the lifts. At the ski hire centre they had everything for hire from skis and snowboards to poles, boots and helmets. However, they didn't have any clothing for hire, although I had my own so this wasn't a problem.
It was a lot busier when I left, so if you want quieter slopes (and less queuing for gear if you're picking that up), going as soon as they open is going to be your best option.
I can definitely recommend this as an option though if you're in the UK and looking for a few days of skiing or snowboarding fun. It would also be an excellent place to learn.
How much does it cost to go skiing at CairnGorm Mountain?
Obviously the answer to this will vary depending on whether or not you need equipment or not. However, there are definitely some fees you will have to pay.
The basic price you have to pay is for your lift pass, which will give you access to the funicular (currently out of service) and all the lifts.
For 2023/24, a one day pass will cost £30 for an adult, with discounts available for juniors, seniors, and students. An afternoon ticket is also available for £21.
If you live in Scotland, you might also want to know that annual passes are also available. If you plan to ski a lot, this can definitely save you money over the whole season.
Equipment hire is also available on site. For 2023/24, it will be £32 for a one day hire of skis, poles and boots for one adult. You can hire for an afternoon, a single day, or for up to five days. You can also hire individual items if you don't need everything. Packages also include a helmet.
Prices are usually published just in advance of the season opening, so if they aren't on the website yet you will have to check back later on.
What facilities are available at CairnGorm Mountain?
This is definitely primarily a snow resort, so the facilities largely revolve around that. There's equipment hire, parking, toilets, and free wi-fi on site. There are also two main catering areas – the Cas Bar at the parking level, and the Ptarmigan Restaurant at the top of the slopes. This is the highest restaurant in the UK, and as you would imagine, offers stunning views of the surrounding national park.
Can I learn to ski or snowboard at CairnGorm Mountain?
You can learn to ski or snowboard at CairnGorm Mountain.
There are three local providers that CairnGorm Mountain recommends: Ski Norwest, Free Ski and School of Snowsports. These all offer various packages, including group and private lessons.
I'd say that if you are based in the UK that this can be a great way to learn to ski at a reasonable price – especially if you just want to spend a day or two figuring out if skiing is for you or not.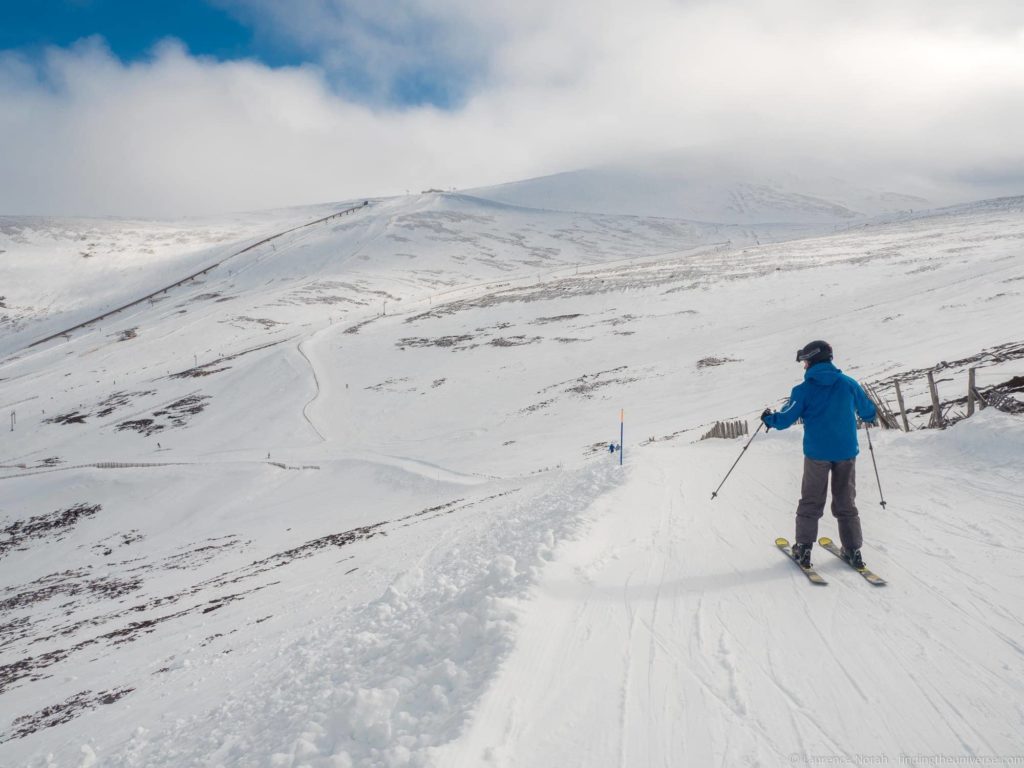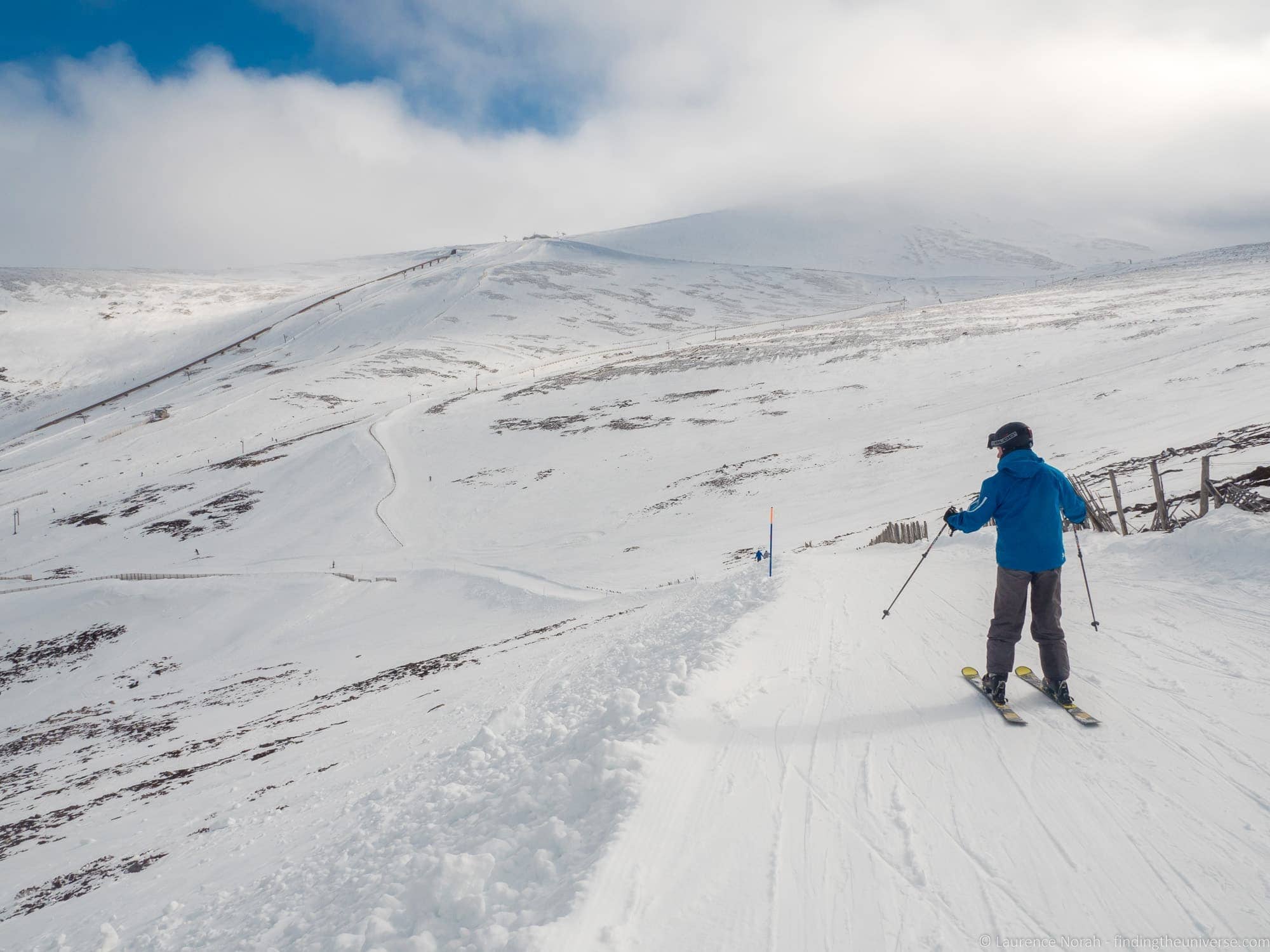 Lessons are available for adults and kids in both group lessons and private lessons, and cover all abilities. More experienced skiers will have to book a private lesson however.
When is the Ski Season at Cairngorm Mountain?
This being Scotland's highest snow resort, the skiing at Caingorm Mountains tends to be more reliable than at other resorts in Scotland. There are also snow cannons to help increase snow coverage.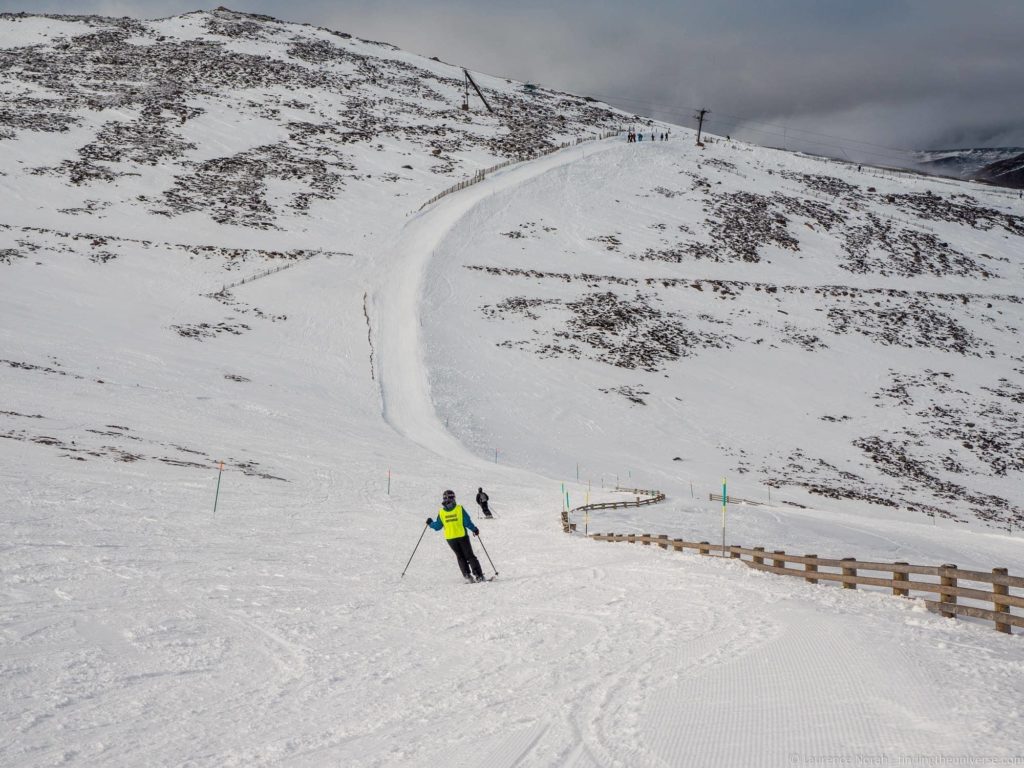 All of these factors mean that the season can be fairly long, usually running from December through to April. Generally, the best times to go are March or early April. The busiest time is in the February "half-term", when a lot of families visit. It can also be busy around Easter, depending on when that is.
Of course, snow is not guaranteed, and the mountain is often shut due to high wind conditions or not enough snow. So you will definitely want to check conditions in advance on the official website prior to setting out for a day of skiing or snowboarding.
How do I get to CairnGorm Mountain?
The easiest way to get to CairnGorm Mountain is to drive – there's a large car park on site, and this will definitely give you the most flexibility in terms of arriving and leaving when you want. It's also going to be the easiest way to get around the other attractions in the Cairngorms National Park. From Edinburgh or Glasgow, it's around a 2.5 hour drive. From Inverness it's around an hours drive.
Aviemore is relatively easy to reach by public transport. It has a train station, which connects directly to Edinburgh and Inverness, amongst others. Aviemore is also on the Caledonian Sleeper route from London, so you could take the overnight train from London, and be on the slopes the following morning in Scotland. See Caledonian Sleeper timetables and book online here. You can also read about our experience taking the Caledonian Sleeper here.
There are also a number of direct bus connections to Aviemore, both from destinations around the country and also locally. Local services are operated by CityLink and Stagecoach. National services are available with both National Express and Megabus.
If you arrive into Aviemore by bus or train, you can than take a local bus all the way to the CairnGorm Mountain parking lot. There's also a public bus from Aviemore, which is only 9 miles away, the 31, operated by Stagecoach. This has services every day, and takes just over half an hour to get from Aviemore to the CairnGorm Mountain car park. You can see the route and find timetables here.
There are also taxis available in Aviemore.
Where to stay when skiing at CairnGorm Mountain?
There's no on-site accommodation in winter at CairnGorm Mountain, so you'll need to find accommodation elsewhere during your visit.
When we visited the Cairngorms National Park, we stayed at the gorgeous Foresters Lodge. This was a self-catering pet-friendly four bedroom property with room for up to ten people and features including a games room with billiards table, wood-fires, a fabulous outdoor hot tub, and even a Finnish style sauna. Honestly, it was hard leaving!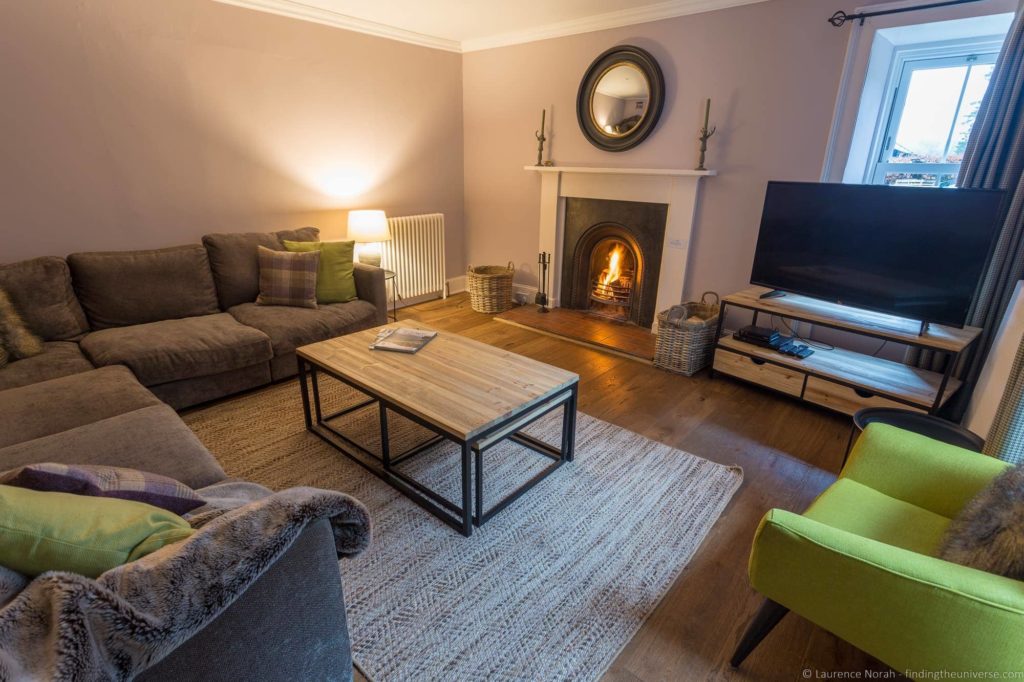 The Foresters Lodge was on the edge of the town of Nethy Bridge, about a half hour drive from CairnGorm Mountain, so definitely best suited to those of you with a car.
The company that arranged our accommodation, Seasgair Lodges, have a number of wonderful looking properties that would suit groups from 2 to 12. Some of these properties are available in Aviemore itself, which might better suit those wanting to be near services (restaurants, shops, train station, grocery store) or those traveling without a car.
There are also plenty of other accommodation options in the Cairngorms National Park – for skiing on CairnGorm Mountain we'd suggest staying within 10 miles of Aviemore – take a look at some of the options on booking.com for this area to get an idea of what's out there.
Final Thoughts on Skiing at CairnGorm Mountain Ski Resort
I really enjoyed my day of skiing at CairnGorm Mountain. I was definitely fortunate with the weather though, we were only in the park for three days, and the other two days we were there the mountain was closed due to the high winds. I'd say that this is the biggest challenge facing Scotland's ski resorts – the weather, and the less reliable snow.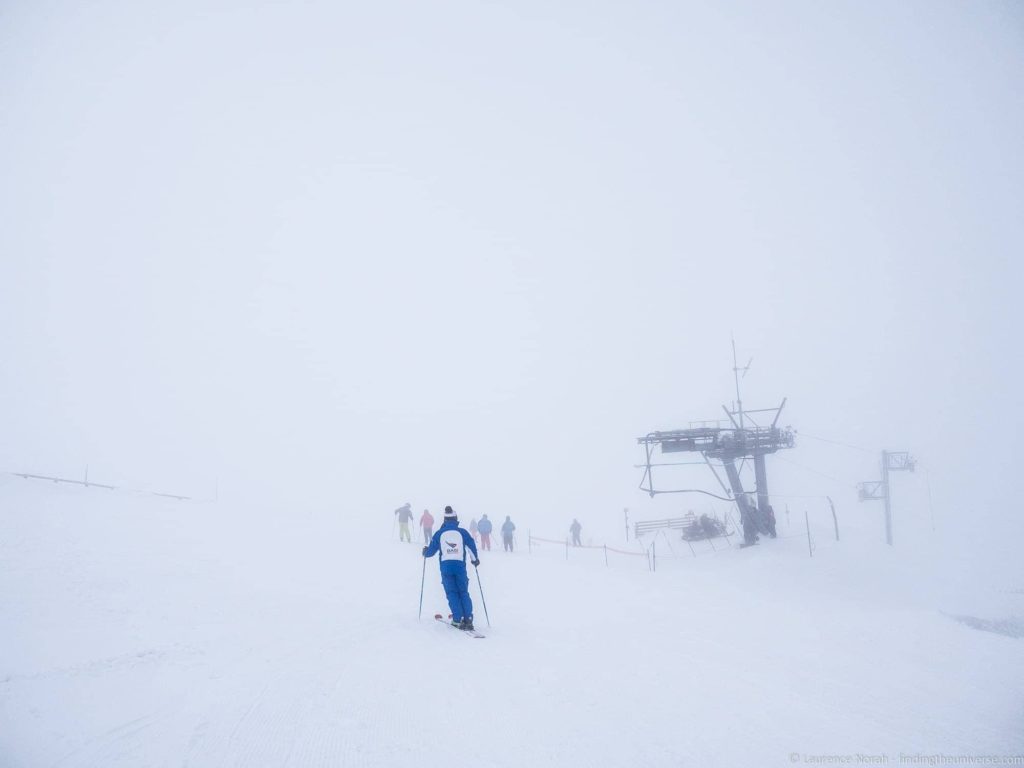 That said, when conditions are good, such as the day I went, this is fantastic location for skiing. It's got plenty of variety, prices are good, it's easy to reach, and the views are just fantastic. So if you want to try skiing in Scotland, I can highly recommend giving the CairnGorm Mountain a try!
Further Reading
If you're planning a trip to Scotland, or just looking for more information about travelling in Scotland, we've got a lot of resources we've put together about both Scotland and the wider UK to help you out. Here are some of those, as well as related third party resources.
And that's it! We hope you enjoyed our guide to skiing at CairnGorm Mountain in the Cairngorms National Park. Would you come skiing here? Have you ever thought about Scotland as a skiing destination? As always, your feedback and questions are welcomed in the comments below!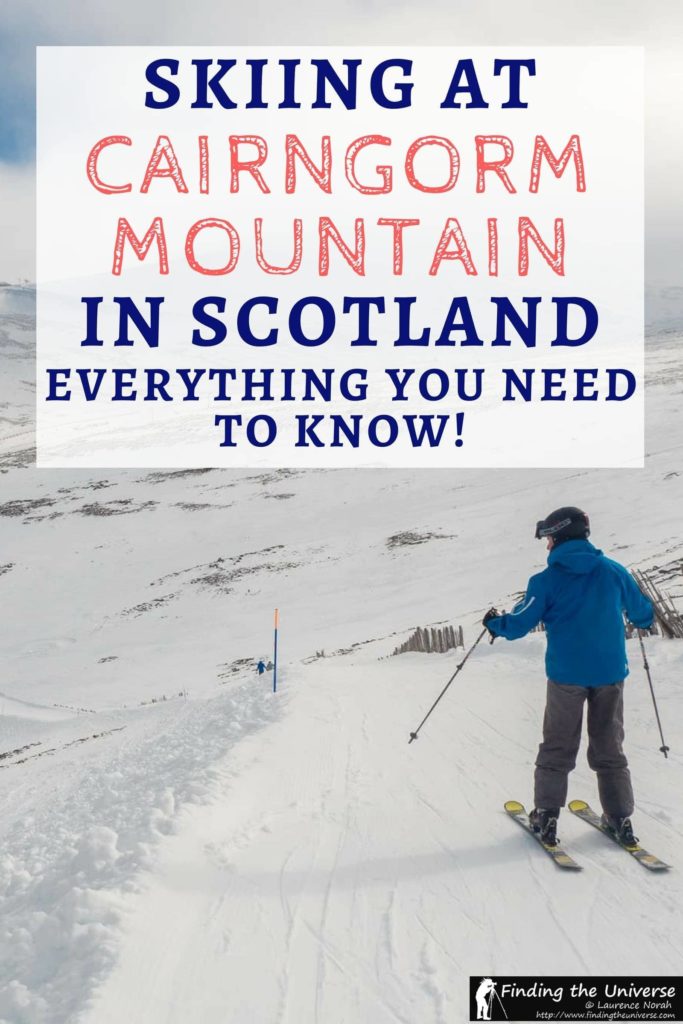 So you know: we were supported on our trip to the Cairngorms National Park by Visit Cairngorms, who helped put together our itinerary. Our three nights of lodging were provided by Seasgair Lodges. My ski equipment hire and lift pass was provided by Natural Retreats Cairngorm Mountain. We'd like to thank these partners for their awesome support! We covered all our other expenses ourselves, including food and transport, and as always, we retain full editorial control over the site – you can see how we choose who to work with in our code of ethics.