There's a lot to do in Belfast, as our guides to spending 2 days in Belfast and things to do in Belfast should make clear.
Belfast also makes an excellent base for exploring some of the highlights of Northern Ireland. There are good transport links across the region, and the majority of companies operating day tours in Northern Ireland depart from Belfast.
There are also lots of accommodation options, as well as restaurants and pubs, to entertain you after a full day of exploring.
With this in mind, we wanted to share some of the best options you have for day trips from Belfast.
These cover a wide range of interests, as well as a variety of different transport options. Some will be easy to do by public transport by yourself, others will require either a hire car or to take a dedicated guided tour. For each one, we've gone through the options you have.
Day Trips from Belfast
These are some of our favourite day trips from Belfast, although of course it's not a definitive list. There's so much to see and do in Northern Ireland! Hopefully, this selection of tours will give you plenty of inspiration for your own trip.
Giant's Causeway
Without a doubt, the day trip from Belfast to the Giant's Causeway is one of the most popular day trips from Belfast.
And this is for a good reason. The geological marvel known as the Giant's Causeway is a UNESCO world heritage site, and is quite the sight to behold. A series of geometric basalt columns, largely hexagonal in shape, link together in what looks like a road, leading down into the sea.
You can walk all around and over the columns, which cover a fairly large area, and which make for some great photos. It's also impressive just to witness the power of nature. It's so perfect in its shape and form that it looks like it was built rather than formed by nature.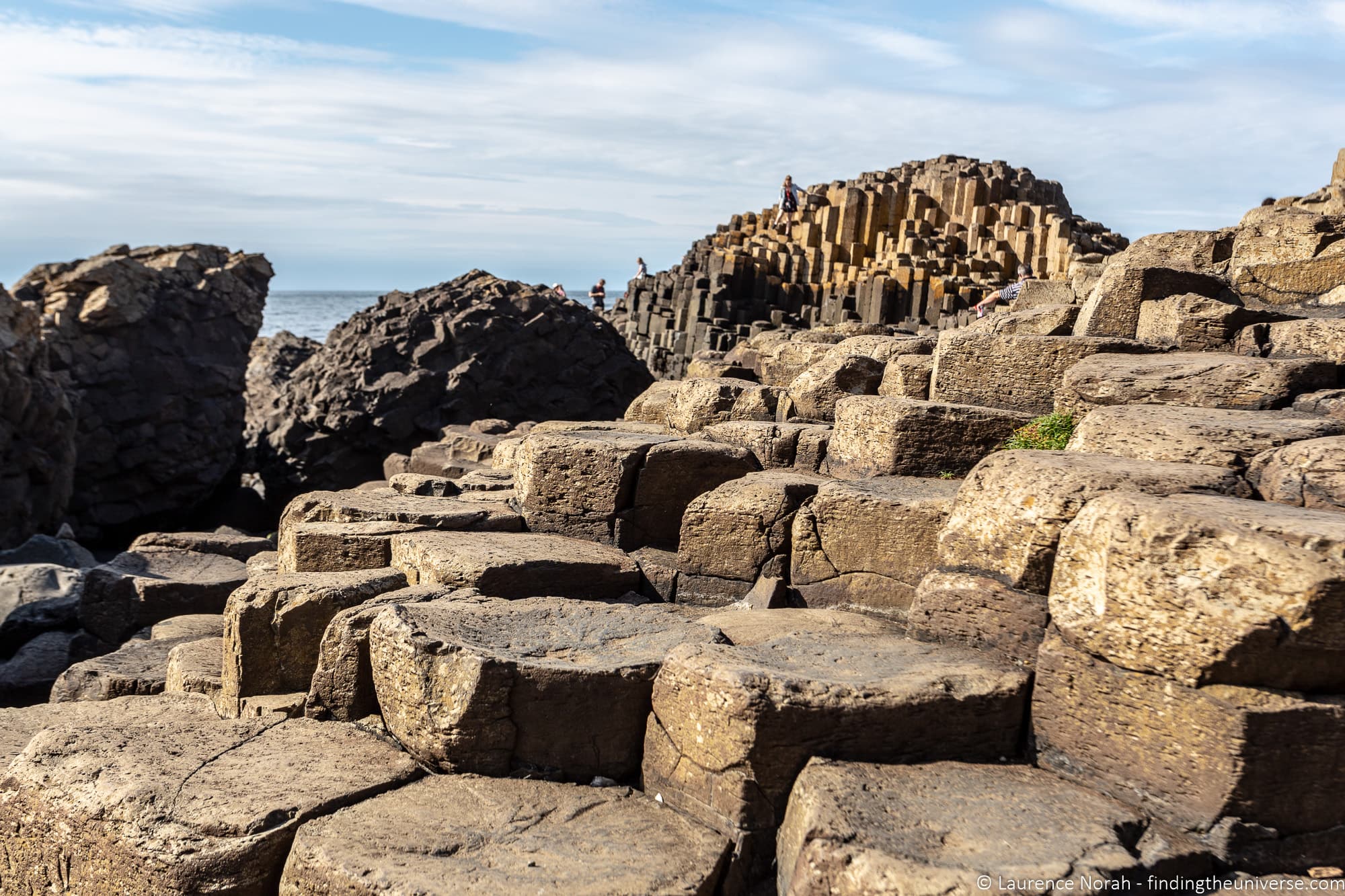 This, in fact, is why it is called the Giant's Causeway. Legend has it that what we see today are the remains of a massive causeway built across the Irish sea between Ireland and Scotland by the Irish giant Fionn mac Cumhaill.
The legend says that Fionn built it in response to a challenge he was issued by a Scottish giant named Benandonner. The causeway was built to allow Fionn to cross the sea and do battle with Benandonner. Various versions of the story are told, with one or the other giant's winning depending on which version you choose to believe.
You can learn all about the myths of the Giant's Causeway, as well as the geological explanation for its formation, at the excellent Giant's Causeway center, which is found at the top of the hill. From here, it's around a 15 minute walk down the hill (or a 5 minute bus ride, for a small fee) to the Causeway itself.
Access to the Giant's Causeway itself is free, and it is open year round. However, there is a charge for parking and to visit the visitor center, as well as for services like the audioguide. Tickets are cheaper if you buy them online in advance from the official site here.
It's a National Trust property, so National Trust members get free access. The bus to and from the Causeway from the visitor centre also has a small fee, which is also waived for National Trust members.
We think a visit to the visitor centre is definitely worth it, as it has a lot of information about the geology and mythology of the area, as well as its history as a visitor attraction.
How to Get to the Giant's Causeway from Belfast
The Giant's Causeway is one of the most popular visitor attractions in Northern Ireland, and you have a number of options for reaching it.
First, if you have a car (or rent one), it's around a 60 mile drive from Belfast to the Giant's Causeway, a journey that usually takes a little over an hour via the M2 motorway. If you drive, you can park on site, for which you will need to pay the entry fee.
In the busier months, the car park can become full, in which case there is a park and ride service available from the town of Bushmills.
Second, you can also reach the Giant's Causeway by public transport. There are a couple of options.
First, you can take a bus directly from Belfast to the Giant's Causeway. This takes around 90 minutes, with service from Belfast through to Aird, Giants Causeway The Nook. The bus number is 221, find times here.
You can also take a train from Belfast to Coleraine (takes around 90 minutes, see times here), then switch to the local Ulsterbus service which will take you to the Giant's Causeway visitor centre (takes around 40 minutes, find times here). The specific bus service is the 402 from Coleraine to Ballycastle, also known as the Causeway Rambler Service. The stop for the Giant's Causeway is Aird, Giant's Causeway The Nook.
Price wise, you can pick up a Zone 4 iLink day ticket for £16.50 which covers train and public bus across much of Northern Ireland.
Finally, there are multiple tours that run from Belfast (and Dublin) to the Giant's Causeway. These vary in length, as well as the other attractions they visit. We've listed some of these options below.
Tours to the Giant's Causeway from Belfast
When picking a tour, we suggest finding one that visits a number of sights that you are interested in. This may be Game of Thrones filming locations in Northern Ireland, more National Trust sites, or just some general sightseeing.
Causeway Coastal Route Highlights
One of the most scenic drives in Northern Ireland is the Causeway Coastal Route. This runs for nearly two hundred miles along the Northern Ireland coastline, from Belfast right around to Londonderry.
This driving route features many highlights – certainly too many to do in one day, even driving yourself. However, you could certainly cover some of the sights in a day trip from Belfast.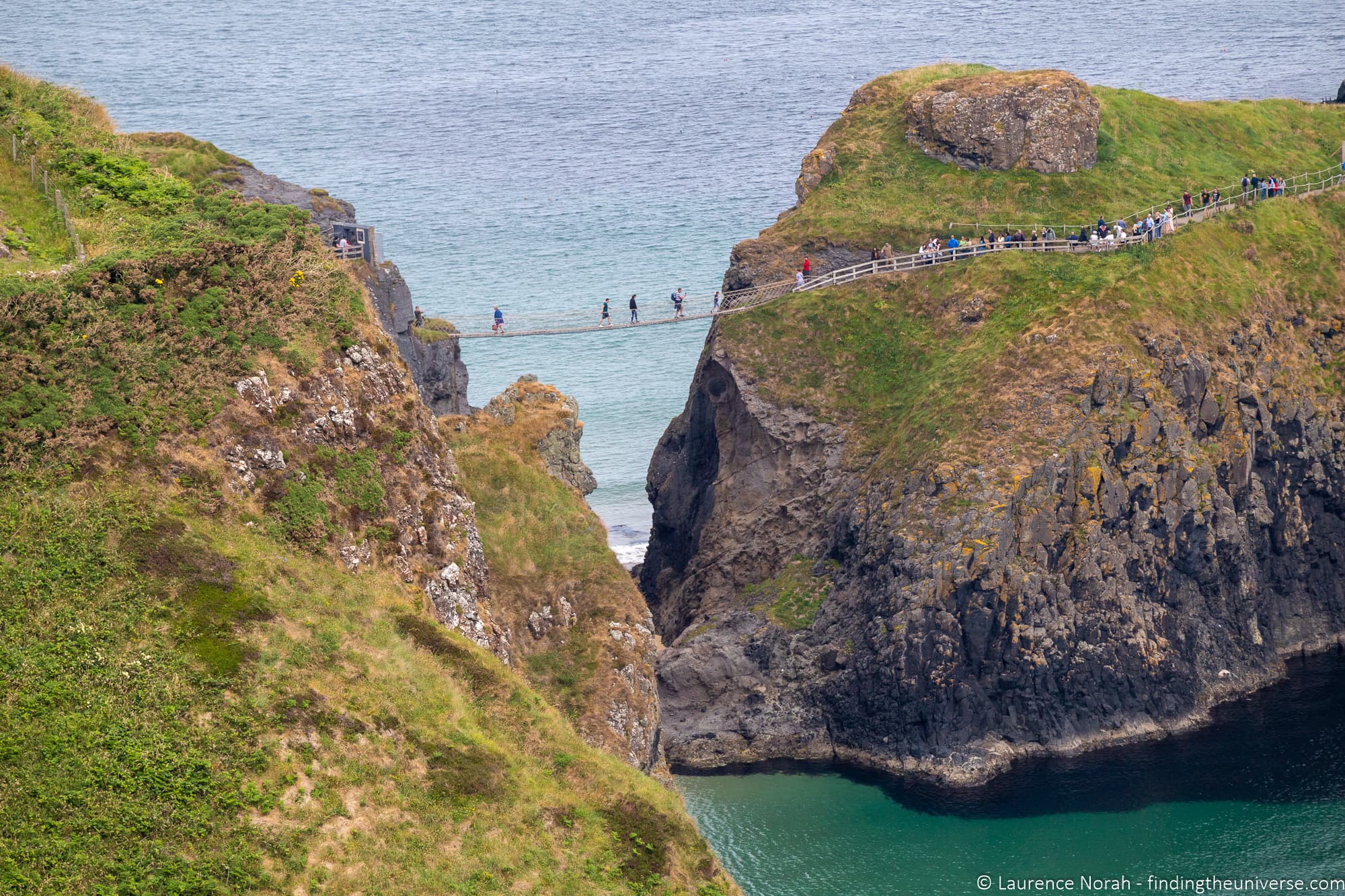 Some highlights include Carrickfergus Castle, Torr Head, the Dark Hedges, Ballintoy, the Giant's Causeway and Bushmills Distillery. We have a guide to the highlights of the Causeway Coastal route here for more ideas.
Ideally, you would hire a car and try and schedule two days to take in the whole route to Londonderry, which would also give you time to explore more of the sights along the way. However, if you have only one day, you can still visit some of the highlights.
How to visit the Causeway Coastal Route from Belfast
The Causeway Coastal Route is primarily a driving route, and so the best way to experience it is in a hire car. The route largely follows the coast, and there are a great many attractions along the way. With a car, you'll be able to pick and choose those that most interest you.
It is possible to explore parts of the Causeway Coastal Route by public transport, using one or more of the Translink Rambler Services. This will require some careful planning around bus schedules to ensure you can see everything you want to see.
You can also take a day tour from Belfast that will cover many of the highlights of this route.
Tours of the Causeway Coastal Route
If you don't have a car, the best way to see some of the major highlights of the Causeway Coastal Route is a day tour. Some good options we've found are as follows: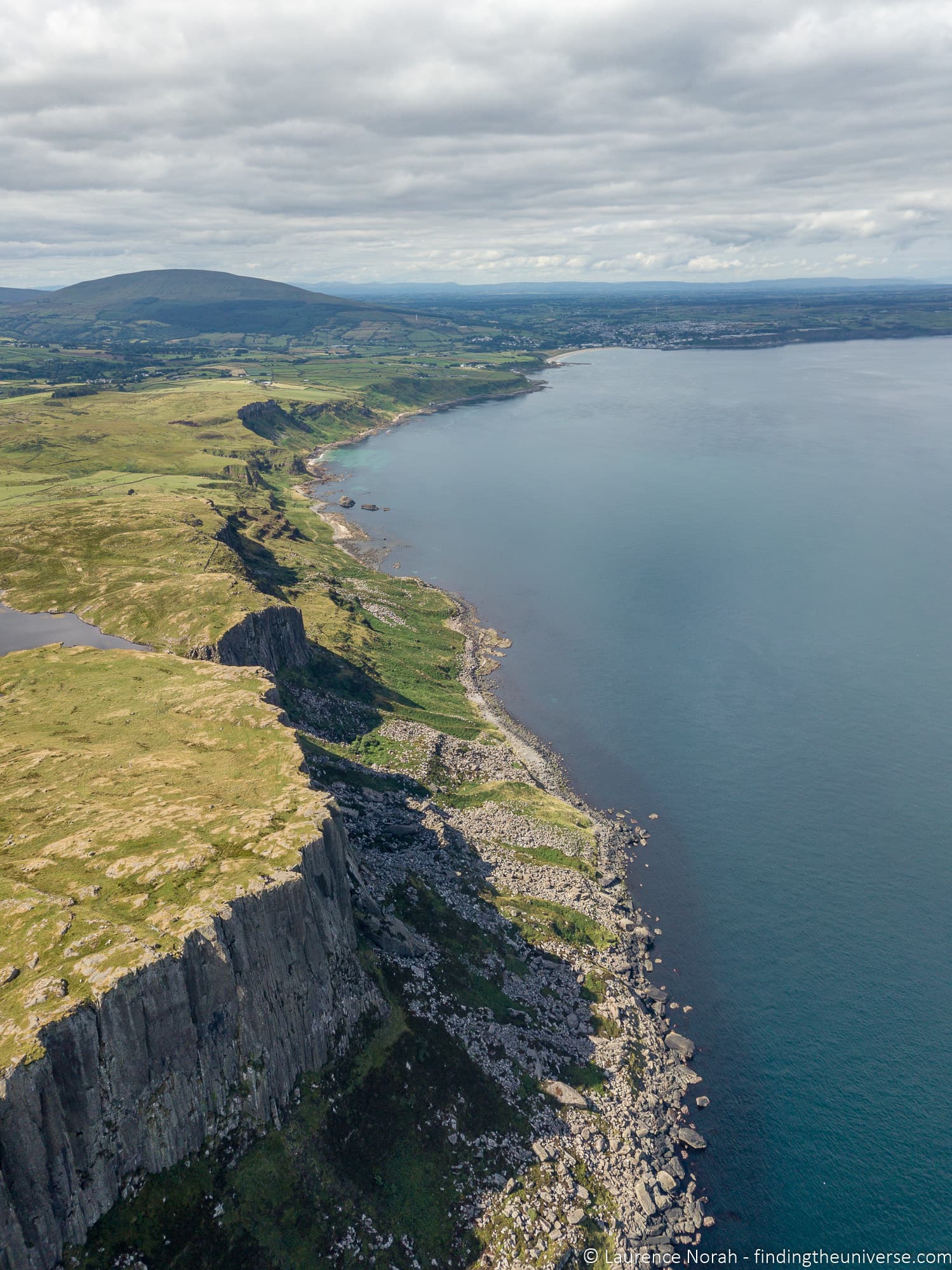 Game of Thrones Filming Locations
Fans of the HBO Game of Thrones TV series will be delighted to hear that many of the real-world filming locations for the show are to be found in Northern Ireland.
One of the most famous of these filming locations is the Dark Hedges, which was the filming location for the Kings Road in the show.
However, there are a great many more filming locations all around Northern Ireland, from Castle Ward and Inch Abbey in the south, through to Ballintoy Harbour, the Dark Hedges, and Larrybane Quarry in the north.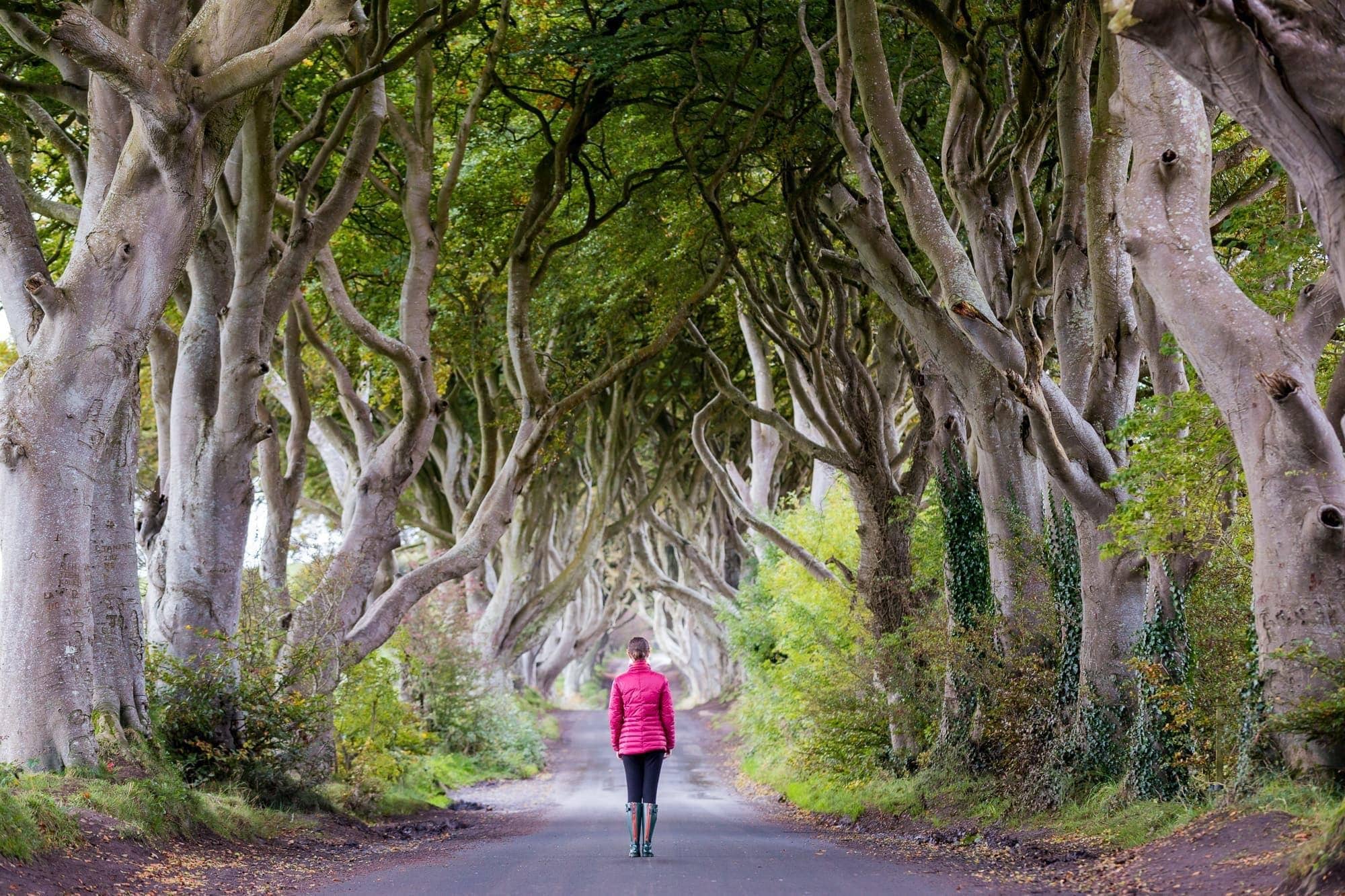 In fact, the main decision you will likely have to make as a Game of Thrones fan visiting Northern Ireland is which direction to go from Belfast. There are filming locations both south and north of the city, and it would take at least a couple of days to explore them all.
For example, you could spend one day exploring locations south of the city like Castle Ward, Inch Abbey and Tollymore Forest Park. This is also where you'll find the Game of Thrones studio experience.
Then you could spend a day north of Belfast, visiting the Dark Hedges, Ballintoy Harbour and Portstewart Strand, to name but a few of the locations.
Many of the locations you can visit have some sort of sign depicting the scene that was filmed there, to give you some context as to what you are seeing. Others, such as Castle Ward, offer full Game of Thrones experiences like archery lessons.
Whatever you discover, we're sure you'll have a great time hunting down all the Game of Thrones filming locations in Northern Ireland. We have a full guide to all the Game of Thrones filming locations in Northern Ireland which we definitely recommend you check out for more information.
How to visit the Game of Thrones Filming Locations from Belfast
The Game of Thrones filming locations are spread out across Northern Ireland. You could certainly visit some of the locations by public transport; however, if you really want to see a few in a day your best option is to either hire a car or take a tour.
With a car, we'd recommend either spending one day visiting the locations to the north of Belfast and/or spending one day visiting locations to the south of the city. You'll need to choose the ones of most interest to you as there are two many to visit them all in one day.
If that sounds like too much work though, you can also take one of many tours which are available from Belfast. This is probably the easiest option for most people.
Tours of Game of Thrones Filming Locations from Belfast
We would recommend that a tour of the Game of Thrones filming locations might be the easiest and best way to see them.
Guides will know exactly where to take you, and many of them will carry images from the show on an iPad or printed out, so you can orient yourself for each scene and location. Some of the tour guides have been actors, extras, or staff in the GoT series.
If you have two days, you could take two different Games of Thrones tours that cover different locations.
Some tours you might consider are as follows:
The Gobbins
The Gobbins has been a popular day trip from Belfast since Edwardian times, although the attraction did fall into disrepair through the middle of the 20th century.
The good news is that it is fully restored and operational again!
You are probably wondering first of all what the Gobbins is. Well, it's a dramatic cliff-face path that has you following a defined route in the company of a guide along some of Northern Ireland's most spectacular coastal scenery.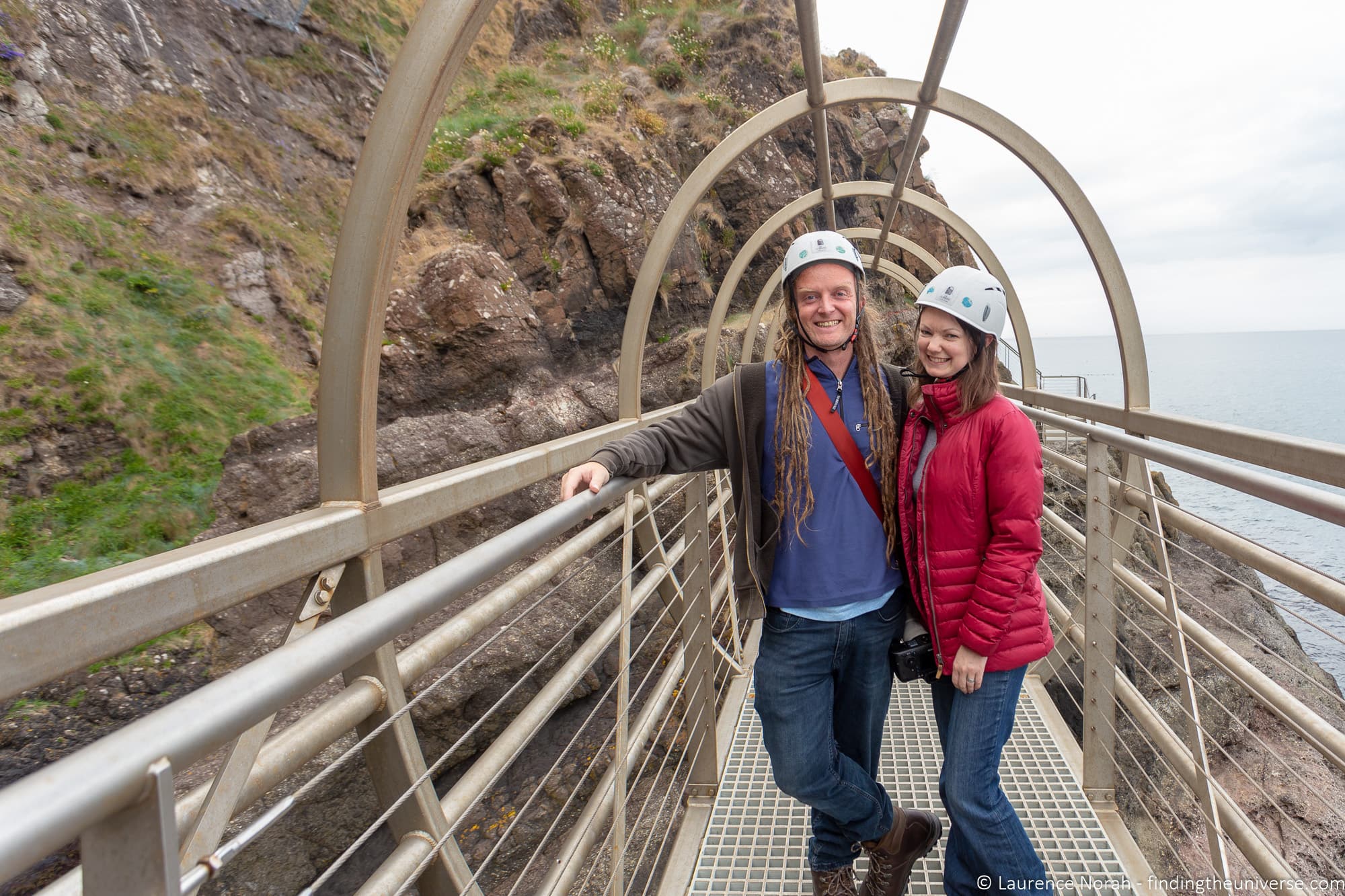 It was built by an Edwardian engineer, ostensibly to demonstrate his skill and experience tackling complex engineering challenges, which the Gobbins walk construction certainly was.
The walk itself is not too far, but it involves a series of bridges, steps and cliff-hugging paths that afford wonderful views of the coastline, sea life, and birdlife. The experience takes around 2.5 hours in total, and it has to be done as a guided tour, which needs to be booked in advance on the official website here.
Note that tours do not run year round, and weather conditions can cause cancellations. So do check the official website and contact them prior to setting out for your tour just in case.
How to Get to The Gobbins from Belfast
The Gobbins is not far from Belfast, found around 18 miles along the coast in a north-easterly direction.
If you have a car, the drive will take you in the region of 30 minutes, depending on traffic. You need to park at the Goffins Visitor Center and you need to have booked your tour in advance. You'll arrive at the Gobbins Visitor Center, where there is free parking, and the tour includes your return shuttle transfer to the start of the walk itself.
You can also reach the Gobbins Visitor Center by public transport from Belfast. From Belfast you can take a train to Ballycarry, which is on the Belfast – Larne line. Ballycarry is around a mile from the Gobbins Visitor Center, which you can either do on foot (it is around 20 minutes), or you could take a taxi from Ballycarry.
Note that we've not been able to find a guided tour from Belfast which includes the Gobbins, so you will need to drive or take public transit.
Dublin
Dublin is the capital city of the Republic of Ireland, and is a tremendously fun city to visit. There's loads to do here, from trying Irish whiskey, to learning about the Irish Emigration, to finding out about some of Ireland's greatest writers.
There's also beautiful architecture, lovely old library rooms, and of course – lots of Guinness to be drunk!
A day in Dublin will definitely give you a good idea of what the city has to offer, from the party-centric vibe of the Temple Bar, to the bustling city center shopping streets, to the museums and other cultural attractions.
We've written guides for spending 2 days in Dublin and 3 days in Dublin, which should give you some options for your day here. We also have a guide to whether the Dublin Pass is worth it, which might help you save money if you are planning on visiting a number of paid attractions like the Guinness Storehouse.
Dublin is also easily visitable from Belfast, and it has quite a different feel in our opinion, making it very much worth of inclusion on our guide to day trips from Belfast.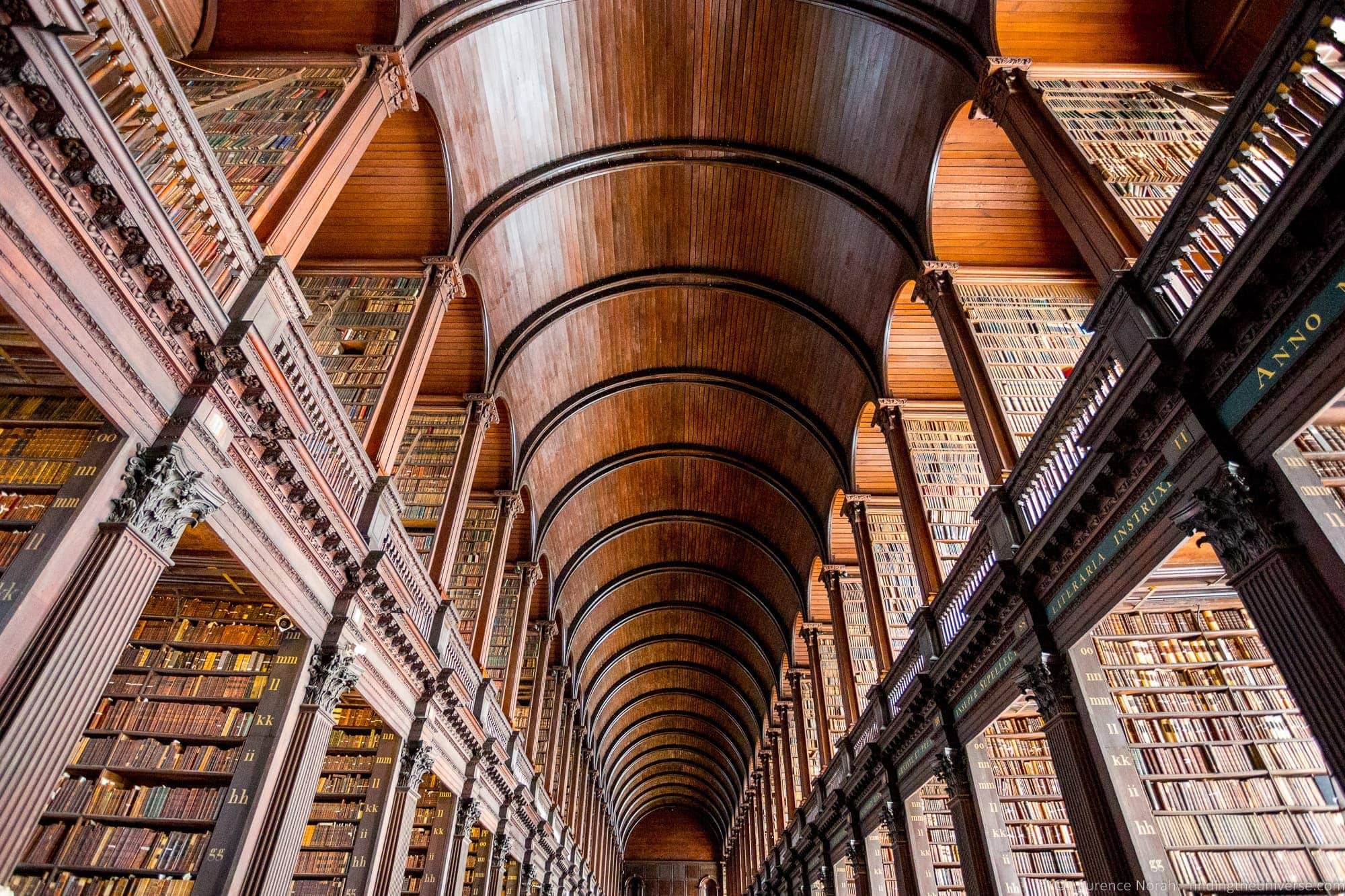 How to Get to Dublin from Belfast
You can drive from Belfast to Dublin very easily, with the 105 mile journey usually taking in the region of 2 hours, depending on traffic.
However, as we don't think you'll be using your car in Dublin city and parking can be expensive, our advice would be to take public transport. There are regular bus and train services that run between Dublin and Belfast, with journey times of around 2 hours.
You can take a train or bus directly into the city centre of Dublin, so you can start sightseeing straight away.
Tours to Dublin from Belfast
We aren't currently aware of any tours from Belfast to Dublin, although these have run in the past so do check.
Alternatively, you could take public transport to Dublin, and then take a guided tour in the city itself. For example, this is a guided bike tour of Dublin, and this is a guided walking tour of the city.
Londonderry
The city of Derry, officially known as Londonderry, is the second largest city in Northern Ireland after Belfast. It's in the north-west of the country, near the border with the Republic of Ireland.
There is a lot to see and do in Derry. The city is particularly known for its 17th century city walls, a massive construction which encircles the older part of the city. They are the only intact city walls surviving in Ireland. Access to Derry's old centre is achieved through the seven gates.
You can also walk atop the walls for nice views of the surrounding area, they are free to access and the whole route is a mile in length.
Of course, there is more to Derry than the walls. Take time to visit the Tower Museum, see the beautiful Guild Hall, cross the Peace Bridge, check out local street art, and explore the 17th century St. Columb's cathedral.
Note that Derry was seriously affected by the Troubles, and is often regarded as the location where this conflict began. This time of violence had a lasting impact on the city, causing great divisions. The Peace Bridge is one symbol of the city trying to repair these divides.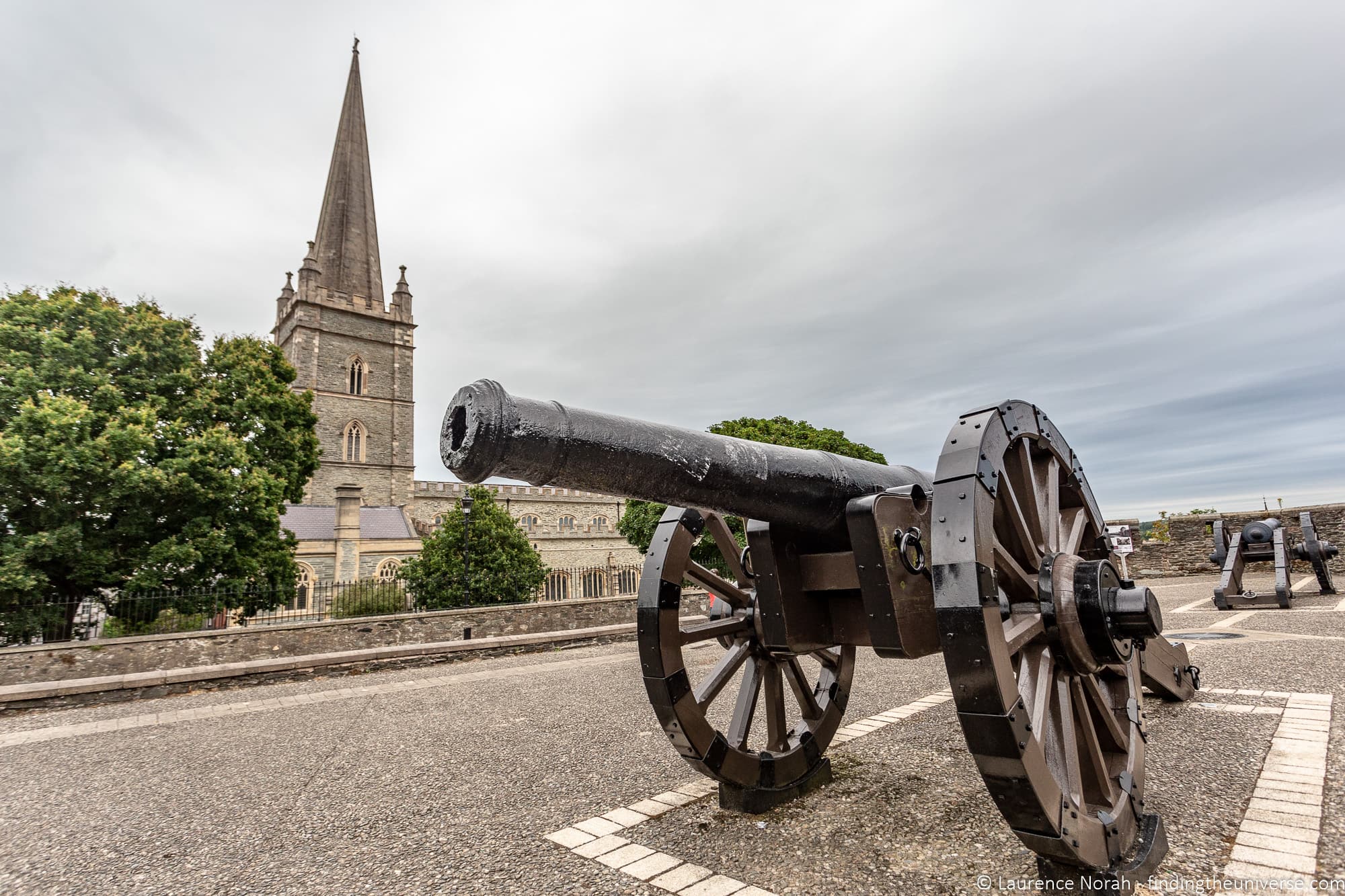 How to get from Belfast to Derry
From Belfast to Londonderry it's around a 70 mile drive on good roads, which averages between 90 minutes and 2 hours, depending on road traffic.
There are also regular trains, with a direct train from Belfast to Derry taking just over two hours. There are also direct bus services which take around two hours.
Tours of Derry
There is at least one tour of Derry departing from Belfast, which is this one.
As with Dublin, you could also make your own way to the city, and then take a guided tour once there. For example, there's this walking tour, and this private tour of the walled city.
Carrickfergus
If you're looking for a shorter day trip from Belfast, then you might consider a trip to Carrickfergus. This town is just over ten miles from Belfast along the Causeway Coastal Route, and is easy to reach by public transport or car.
Carrickfergus dates from the middle ages, and due to its important location on the water, it was for a time the largest city in the area. It was highly defended, with a large city wall encircling the town, as well as an impressive castle sitting on the waters edge.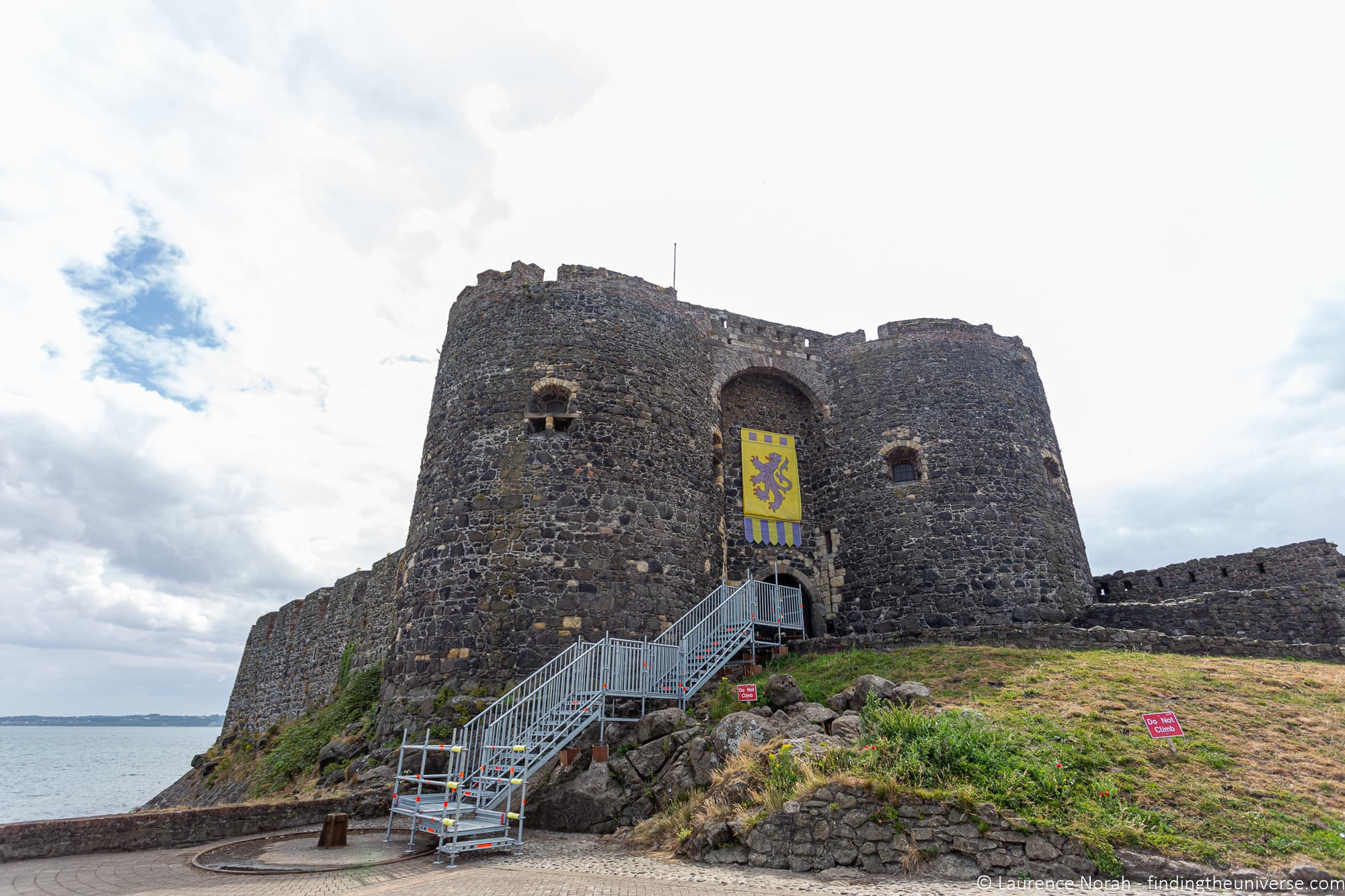 Carrickfergus Castle, which was built in 1177, is still in very good condition, and a visit here is a highlight of a trip to Carrickfergus. It's the best preserved Norman-style castle in Ireland, and you can tour rooms inside the castle as well as visit the walls. There's a small entrance fee for doing so, but it's well worth it.
As well as the castle, there are a number of other attractions worth visiting in Carrickfergus. We recommend you visit the excellent and free museum in the town center, the remains of the old town walls, and the beautiful St. Nicholas Church, first established in the 12th century.
Once you are in Carrickfergus, all the town's main attractions are within walking distance of each other. A trip to Carrickfergus can make for an interesting and relaxing day out of Belfast.
How to get from Belfast to Carrickfergus
Carrickfergus is only a short distance from Belfast, with the drive here taking 20 to 30 minutes, depending on traffic.
You can also travel here by public transport. The train from Belfast takes less than 20 minutes, and direct bus services take around half an hour. See train and bus times here.
Tours of Carrickfergus from Belfast
We aren't aware of any tours that specifically visit Carrickfergus from Belfast; however, some of the tours that run along the Causeway Coast and up to the Giant's Causeway include a stop at Carrickfergus such as this full day tour or this full day tour.
Often this is just a quick photograph stop for Carrickfergus Castle, so if you do want to spend some time here, read the tour description carefully to be sure it includes time to visit some of the attractions. You might find it easier to just take a bus or train if Carrickfergus is your main aim.
Rathlin Island
One of our favourite places to visit whilst we were driving the Causeway Coastal Route was Rathlin Island. This small island is found off the north coast of Northern Ireland, and can be accessed by a ferry service which operates regularly from Ballycastle.
There are a number of reasons to visit Rathlin Island, other than it's quiet and laid back atmosphere. The predominant reason for visiting is to go to the RSPB Rathlin West Light Seabird Centre, where you can see a huge variety of breeding seabirds in the spring and summer months. Species include puffin, guillemot, kittiwake, razorbill, and fulmar.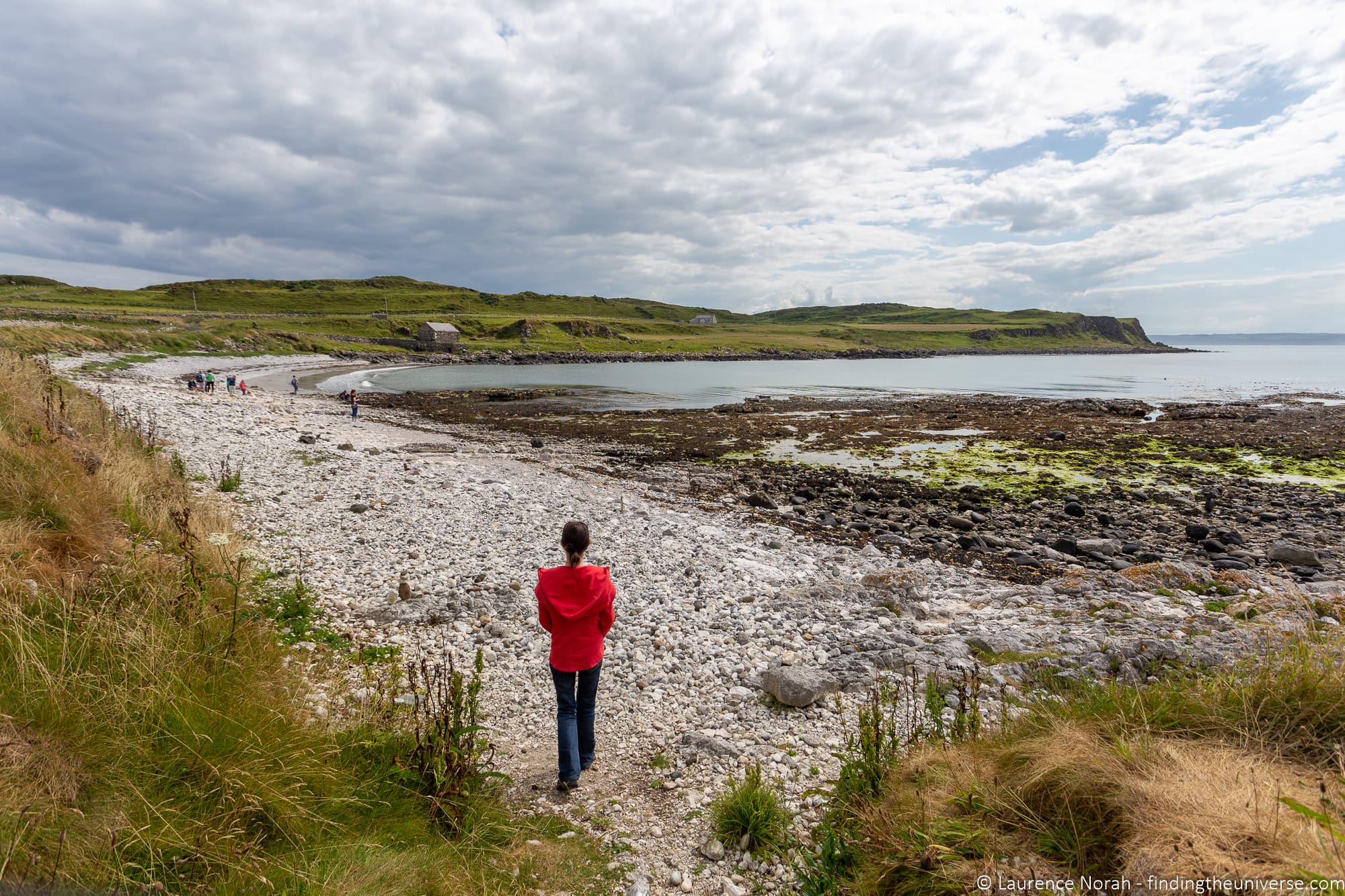 The reserve is operated by the RSPB, and is open to visitors from April through to September. When it's open, there are volunteers on site who have telescopes and binoculars available to aid in bird watching, plus they can help you with bird identification. There's a small museum on site as well, with information about the lighthouse here.
There's a small fee to visit the RSPB reserve, which is free for RSPB members.
As well as bird watching, Rathlin has pretty churches, a cave where Robert the Bruce hid from the English, a lovely beach, and the opportunity to see seals. If you have time, we can highly recommend spending the night on the island, as we did.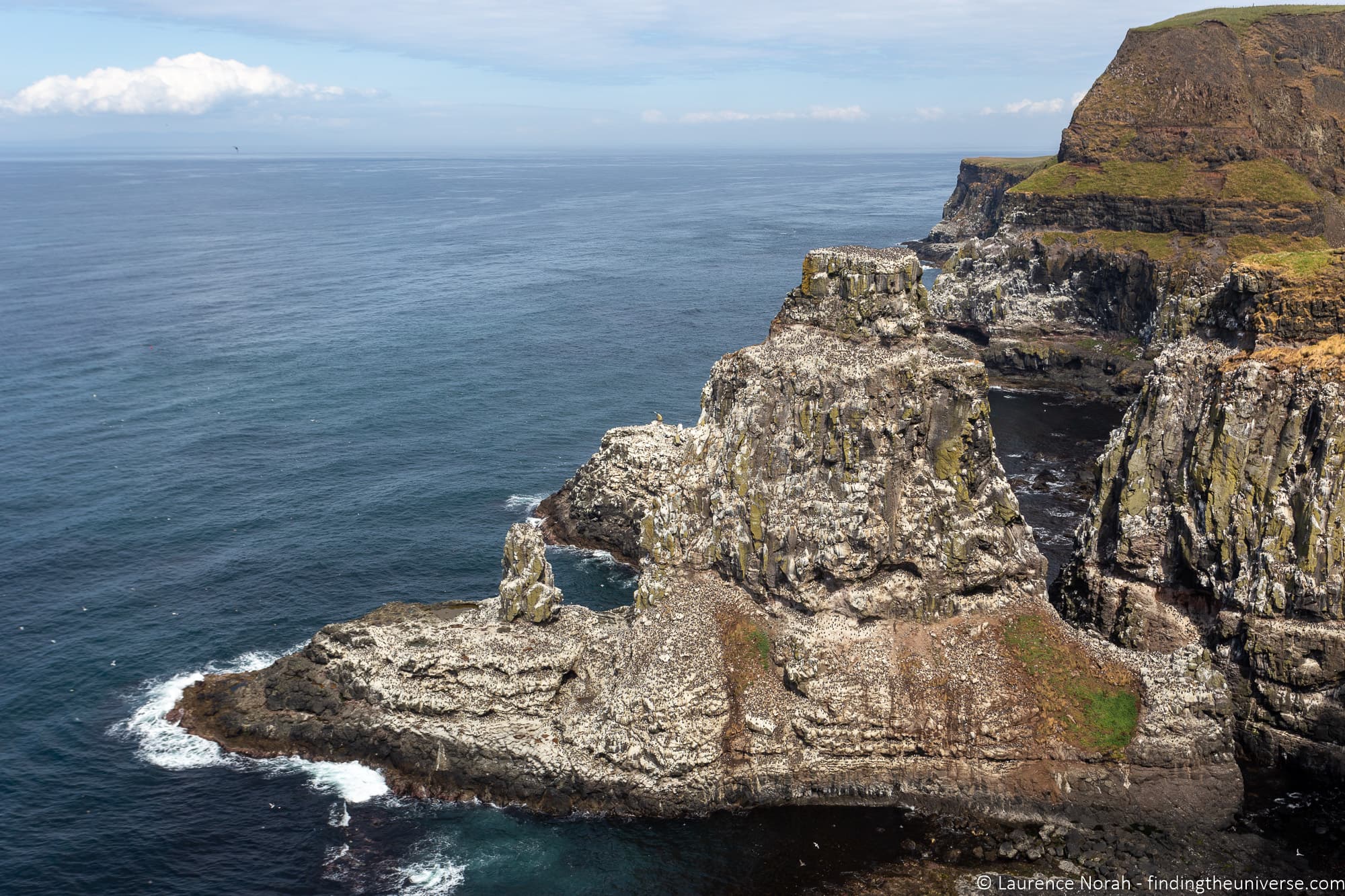 How to get from Belfast to Rathlin Island
Rathlin can only be accessed by ferry, with ferries running from Ballycastle. The trip across takes 25 minutes on the fast ferry, and 40 minutes on the slower ferry. Note that unless you live on the island, or have a blue disability badge on your vehicle, you generally won't be able to take a car across. There is a bus service on the island to get you around, or you can walk or bike.
From Belfast to Ballycastle, if you are planning on visiting Rathlin for the day, our recommendation would be to drive. The drive will take you just over an hour, and you can park at the Ballycastle ferry terminal.
It is possible to take public transport to do a day trip to Rathlin, but it will take a couple of hours each way by bus, so this will end up being quite a long day. You'll want to leave early to have enough time on the island. Still, it is possible!
We aren't aware of any tours that visit Rathlin Island from Belfast for the day, however you may be able to book a private tour, or find a local tour company that offers group tours.
Hillsborough Castle
If you prefer your castles to be of the regal variety, then you might want to pop along to Hillsborough Castle as a day trip from Belfast.
This castle, found around 30 minutes drive south of Belfast, is the official residence in Northern Ireland of the British monarch, as well as the residence for the Secretary of State for Northern Ireland.
The "castle" is not really a castle, but actually a Georgian country house which dates from the 18th century. It was built for an Irish peer, the Marquess of Downshire, who was a secretary of state himself. His family sold it on to the British government in 1922.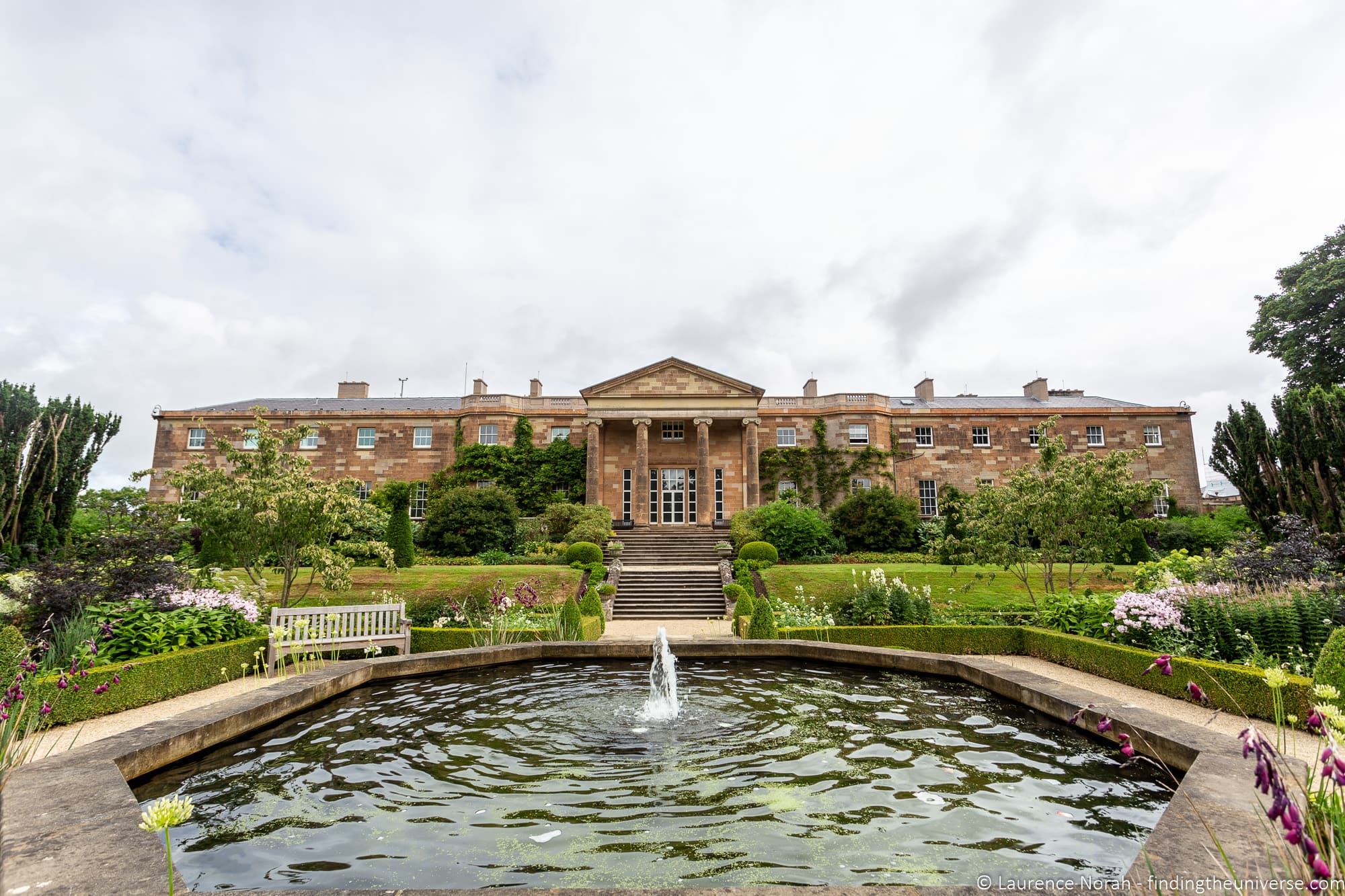 From 1924 until 1973 the house served as the official residence for the Governor of Northern Ireland. It has also been the location for a number of key political talks, hence it has features not normally found on a Georgian House, like bulletproof glass!
The castle and its grounds have been open to the public to visit since 2014, and are managed by Historic Royal Palaces, who also manage the Tower of London, Hampton Court Palace and Kensington Palace, among others.
The castle is open every day (although can close for official use), and you can take a guided tour of the castle interior. You can also explore the stunning gardens, which span 100 acres around the property. You can see opening times here.
There's an entry fee for visiting, and you can buy your ticket online in advance here.
How to get from Belfast to Hillsborough Castle
Hillsborough Castle is in the town of Hillsborough, which is around 13 miles southwest of Belfast. You can drive, with the trip taking around 20 minutes, depending on traffic. There is no on-site parking, so you will need to find parking in Hillsborough. During busier months, a park and ride service operates.
You can also reach Hillsborough Castle easily by public transport, with the bus journey taking 20 – 30 minutes depending on the time of day.
We are not aware of any guided tours that visit Hillsborough Castle from Belfast for the day.
Lough Neagh
If you'd like to visit some beautiful Northern Irish countryside, then you might want to spend the day exploring the area of Lough Neagh.
Lough Neagh is the largest lake by area in the British Isles. It's around 20 miles long and 9 miles wide, and there is a huge amount to see and do around its shores, from forest parks to historical buildings to wildlife attractions.
Lough Neagh being a large body of water, it's also possible to partake in water-based activities, including boat tours, kayaking, and fishing. You can see more on the official website here.
How to Visit Lough Neagh from Belfast
Being so large, you'll want to identify some key points of interest for your visit to Lough Neagh, so you can make the most of your day trip. We'd also recommend that the lake is probably best visited by car, so you can explore at your leisure.
From Belfast to the eastern shore of the Lough (closest to the city), it's around 25 miles, or a half hour drive, depending on traffic. Fully circumnavigating the lake by car would take at least two hours of driving.
Depending on where you want to go around the Lough, it is also possible to travel here by public transport from Belfast, particularly to the towns around Lough Neagh like Crumlin. See times and options here.
There are also tours that visit Lough Neagh. We recommend looking at Lough Neagh Tours, which offers tours of the highlights of Lough Neagh, with departures from Belfast.
St. Patrick's Trail
Last but not least in our guide to the best day trips from Belfast is a trip through Saint Patrick's country. As you are likely aware, St. Patrick is the patron saint of Ireland, and there are a number of locations throughout Ireland which are associated with him.
Many of these are easily reachable from Belfast, and there is even a trail you can follow in Northern Ireland to visit these – the St. Patrick's trail. This links 15 sites associated with the saint together into a manageable driving route.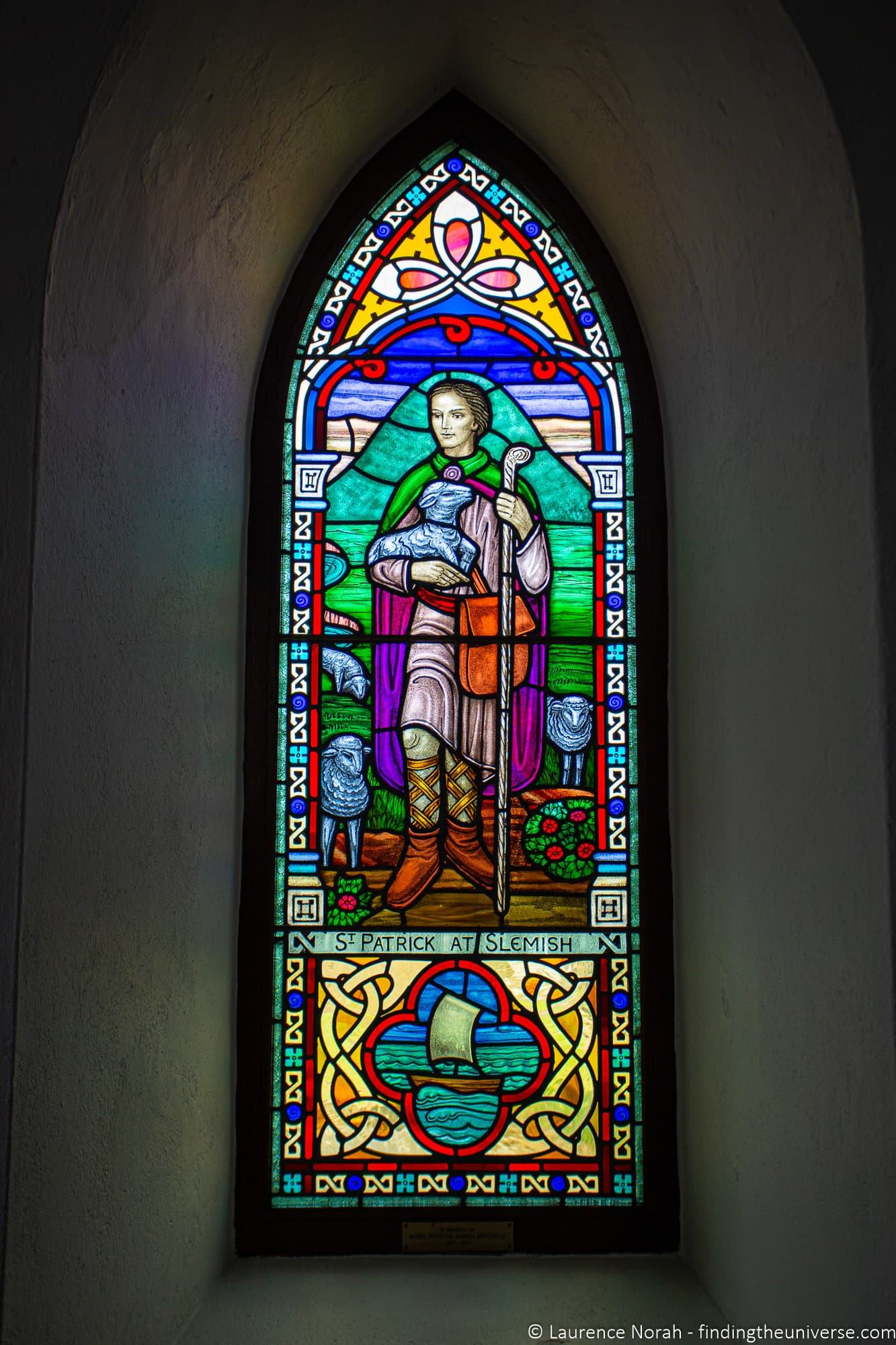 This trail starts just to the east of Belfast in Bangor, and runs for 92 miles, through Newtownards, Downpatrick, Newry and Armagh. Along the way you'll see the slopes of the mountain that St. Patrick tended his sheep on, the location of the first church he founded, and his grave at Downpatrick.
There's an excellent guide to the Saint Patrick's trail in Northern Ireland here, which also has a good map you can use to find all the key locations. The trail is do-able in a day if you drive yourself, but we'd suggest doing it in 2 days if you want to stop and visit most of the sites and attractions.
How to Follow St. Patrick's Trail from Belfast
If you want to visit all the major sites along the St. Patrick's Trail from Belfast, then your best option is to drive a car. This will let you see all the sites easily and stop at your leisure.
In theory it would also be possible to visit some of the sites by public transport from Belfast, although to follow the whole trail would be more challenging as there are not always public transport options.
We would perhaps suggest picking a few highlights that you want to visit along the route and seeing if it's possible to visit them with public transport.
If you are only visiting one place, we'd recommend heading to Downpatrick to visit St. Patrick's Grave at Down Cathedral, the St Patrick's Centre, and the Down Country Museum.
Downpatrick can be reached by bus from Belfast, the journey takes around an hour and is direct. You can see times and prices here.
Tours of St. Patrick's Trail
We haven't found any specific tours that follow the St. Patrick's Trail in its entirety. However, there are some options.
First, this full day tour from Belfast stops at some St. Patrick's sites, including the St. Patrick's Center, his grave in Downpatrick, and the church (the oldest church in Ireland) where he died.
Second, you can make your way to Downpatrick and take this good value 2-hour walking tour.
Getting around Northern Ireland
There are a variety of ways you do day trips from Belfast – you can take a tour, you can hire a car, or for some of our suggested day trips you can take public transport.
For public transport, Northern Ireland has both rail and bus services. Usually these will be a little slower than driving yourself, and less direct than taking a tour. However, for travellers on a budget, or for destinations closer to Belfast, public transport can definitely be a good option.
Bus and train timetables and destinations can be found on the translink website, where you can also find prices and book tickets.
Where to Stay in Belfast
If you're going to be basing yourself in Belfast while you take one or more of these days trips from the city, then you're going to need somewhere to stay! We've done the research for you, and below are some of our preferred options for where to stay in Belfast.
Of course, there are lots more options in the city, at a range of price points and styles. We recommend you check out all the listings available in Belfast here. We can also recommend trying Vrbo if you're looking for an apartment. We stayed in an apartment on our first visit to the city.
Further Reading
Well, those were some of our favourite day trips from Belfast! As you can see, there's plenty to keep you occupied. There's also plenty to see and do in the city itself, and we've written a number of guide to help you plan your time in Belfast, and across Ireland and the UK in general.
Here's some content we think you'll find useful for planning.
And that's it! Hopefully you found this post useful. As always, if you have any feedback or questions, do let us know in the comments below.