We're big fans of self-drive road trips when we travel, and we especially love road tripping around the UK since we are currently based there. We've written a number of guides to exploring the UK on your own, including a detailed 1 week UK itinerary and a 2 week UK itinerary, as well as a detailed guide to driving Scotland's epic North Coast 500.
These itineraries do require you to drive, and if you're visiting the UK from abroad, this might be a daunting prospect! In today's post, we're going to share everything we know from our years of experience driving in the UK to help you be as prepared as possible.
This will include an overview of applicable laws you need to be aware of, general tips for driving in the UK, and some general information on the roads.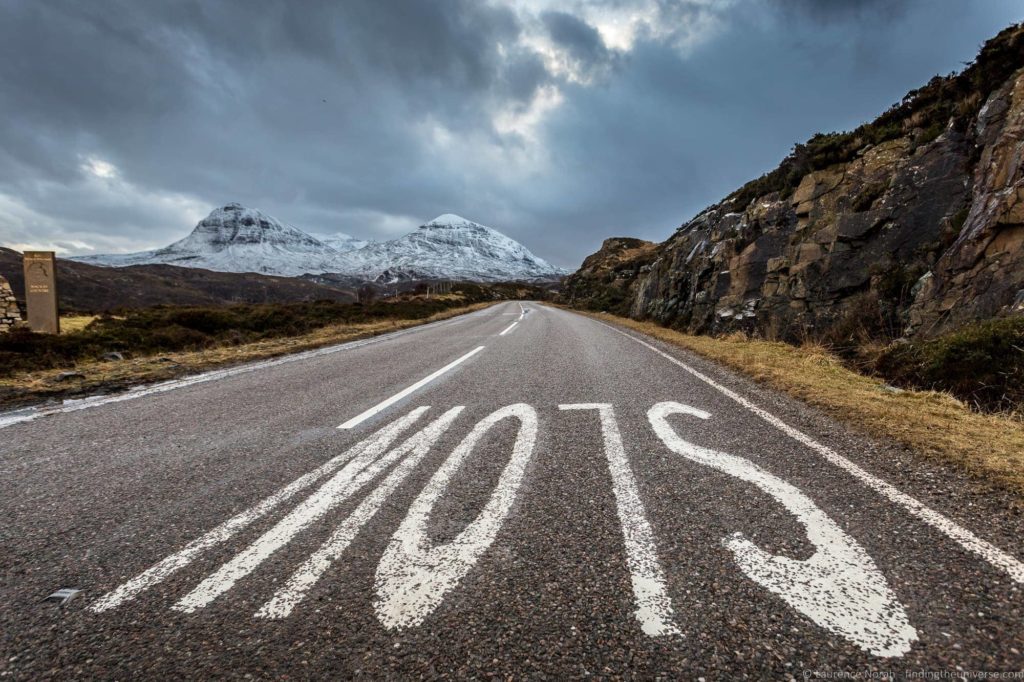 Let's get started with our guide to driving in the UK.
Driving in the UK: Tips, Advice and Information
1. Age Limits
In the UK, the minimum legal age you can hold a driving license is 17. You are allowed to drive from 16, but only on a provisional license with a qualified driver in the passenger seat. As a visitor to the UK, if you are wanting to drive then you will need a full license, and you will need to be at least 17.
Do be aware that if you are looking to rent a car (more on this later in the post), that many car rental firms will require you to be over 21, and most charge extra fees if you are under 25. If you are 21 or under you might want to considering explore the UK using public transportation instead.
2. Basic Rules of the Road in the UK
As with every country, there are some basic rules for driving that you need to observe. These are:
Drive on the left hand side of the road
Observe all posted speed limits and road signs
Don't drive if you are over the legal blood alcohol limit
You must stop at all STOP signs and red traffic lights
Everyone in the vehicle must wear a seat belt (see below for exceptions to this rule)
Obey all directions given by police officers
Give way to all emergency vehicles which have their sirens and/or lights flashing
We'll expand on many of the above rules throughout the post to help you understand them.
3. Measurement Systems
The UK primarily uses imperial units for driving related measurements. Major distances are always measured in miles, with shorter distances, such as the distance to a STOP sign, measured in yards. One yard is three feet, and there are 1760 yards in a mile. Speed limits are given in miles per hour, and vehicles display their speed in miles per hour.
Fuel uses the metric system and is bought in litres – despite fuel economy numbers for vehicles always being listed in miles per gallon! I know, it doesn't make much sense. Still, that's how it is.
4. Road Types in the UK
The UK has a number of road types, which are denoted by a lettering system. A road will have a letter to indicate it's type, and then a number which is unique to that road. So for example, the M1 is a motorway. "M" denotes motorway, whereas 1 denotes the number. Generally the roads are as follows:
"M" roads. An "M" is a motorway, which is the largest road in the UK, and also usually the fastest. An M road can be anything up to four lanes of traffic each way, although three lanes is more common. Sometimes "M" roads will just be two lanes in each direction. Motorways have speed limits of 70 miles per hour. Learner drivers and certain classes of vehicle, as well as pedestrians, are not permitted on motorways. Motorways do not have traffic lights or roundabouts – to join them you use the on and off slipways. Signs on motorways are always white lettering on a blue background.
"A" roads. A roads are generally the main roads in the UK and for the most part have a speed limit of 60 miles per hour unless otherwise indicated. Some sections of "A" road will be dual carriageway, in which case the speed limits will be 70 miles per hour. For this to be the case, there must be a central dividing reservation between the two lanes. "A" roads can have traffic lights and roundabouts. Signs are generally a green background with yellow or white writing. Very rarely, in more remote parts of the UK, "A" roads can be single track.
"B" roads. A "B" road is smaller road, usually used to link "A" roads. They can still carry a fair amount of traffic, however they tend not to be as long.
"C", "D" and other roads. These are smaller roads which might even be single-track roads. These tend to be minor roads, either in very rural areas, or which cover shorter distances in less rural areas.
5. Road Speed Limits in the UK
Speed limits vary depending on the road you are driving on, and are posted regularly.
Speed limit signs are circular. The speed limit is the number in the sign, with a red circle around it. Obeying these signs is a legal requirement. Sometimes you will see a sign that is a white circle with a black diagonal through it. This means that any previously posted speed limits have ended, and you can resume the national speed limit – 60MPH on normal roads, and 70MPH on dual carriageways or motorways.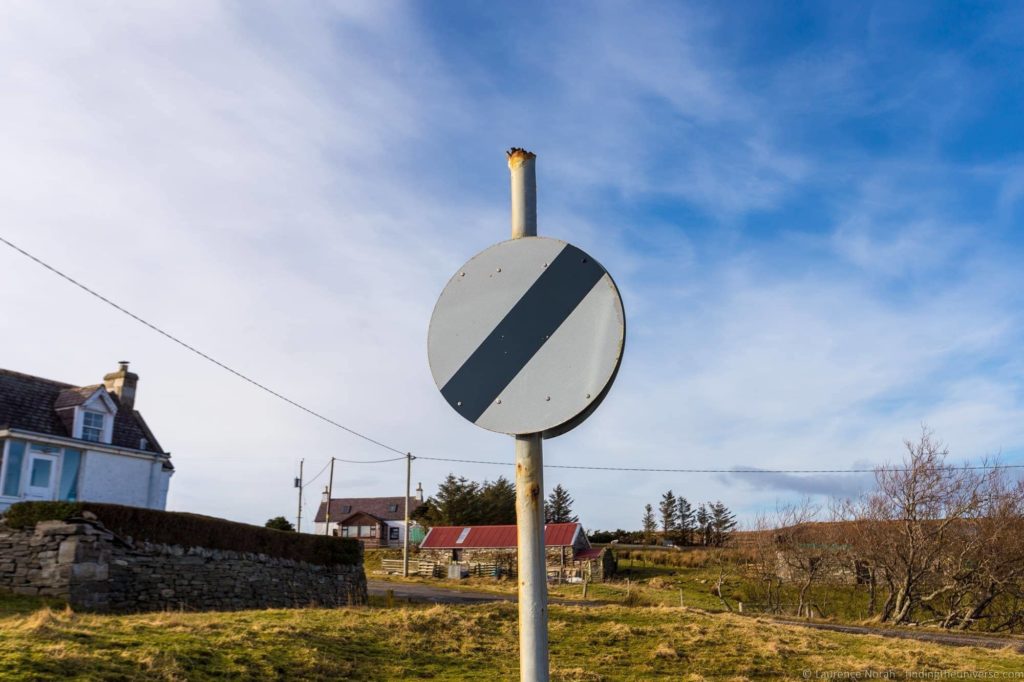 For motorways or dual carriageways (two lanes in either direction, separated by a central dividing line), the speed limit is 70 miles per hour – although you will often see drivers illegally driving much faster on these roads. Don't be tempted to follow this lead, penalties for breaking the speed limit can be high.
Nearly all other roads in the UK have a national speed limit of 60 MPH. In populated areas, if not otherwise indicated, the speed limit will usually be 30 MPH.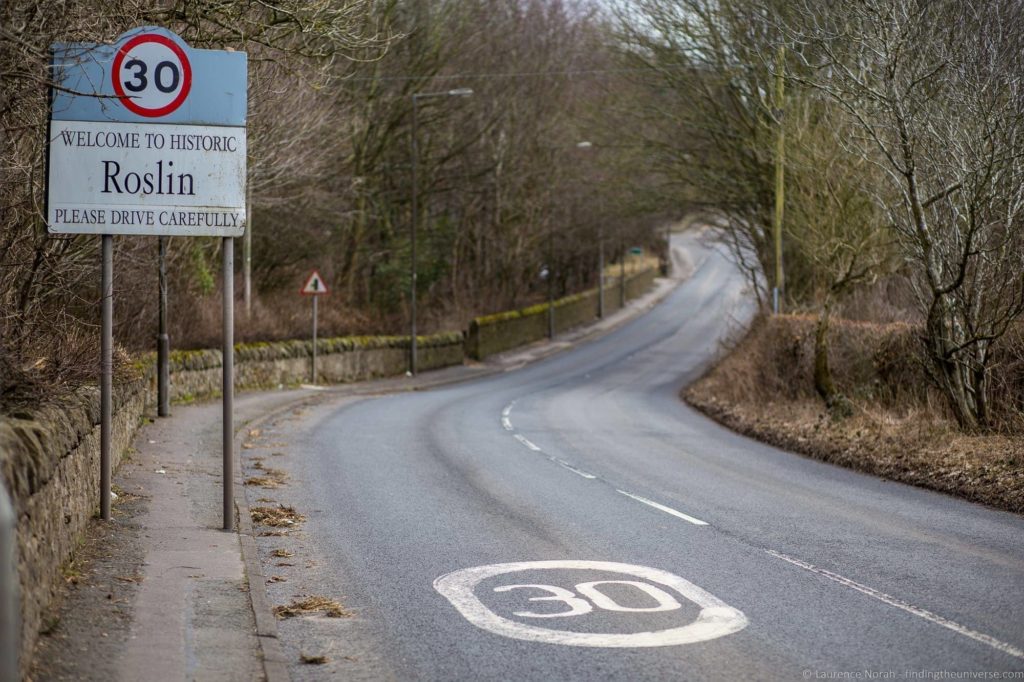 Note also that speed limits in the UK vary depending on the type of vehicle you are driving and whether or not you are towing something. So always check the speed limits relative to the vehicle you are driving, especially if you are hiring a motorhome or pulling a caravan, as the limits can be different. See here for official guidance.
6. Seat Belt Use in the UK
Everyone sitting in the vehicle must wear a seat belt, and there must be a seat belt provided for every passenger. For example, if a vehicle has three seat belts in the back seat, you would not be allowed to have four passengers on that seat.
It is the driver's responsibility to ensure that everyone is wearing a seat belt, and the law allows for significant fines for non-compliance.
There are a number of key exceptions to seat belt use. The one that will be most applicable for visitors to the UK is for reversing. If you are reversing your vehicle, you are allowed to remove your seat belt to aid with seeing where you are going; however, you must put it back on as soon as you stop reversing if you intend to continue your journey.
It is also possible to drive without a seat belt in the UK if you have a medical reason. However, you will need a "Certificate of Exemption from Compulsory Seat Belt Wearing", which you will need to keep in the vehicle with you. Finally, if you are driving a classic car which never originally had seat belts, then you are allowed to do so without seat belts. In these vehicles though you are not allowed to carry children under three at all, and all other children must only sit in the back seats.
In addition, drivers of licensed taxis are permitted to drive without a seat belt, so don't be alarmed if your taxi driver is not wearing a seat belt – this is perfectly legal. All passengers in the taxi must still wear the seat belt though.
See the section later on in the post on driving with children in the car for rules around car seats.
7. Traffic Lights
Like nearly every country in the world, the UK uses traffic lights to control traffic. Lights can be red, yellow, or green. These colors mean:
Red – stop. Red means stop, and you must stop at a red traffic light. There will normally be a line on the road marking where you should stop if you are the first car to arrive at the light – otherwise you just stop in line behind other waiting traffic.
Yellow – you must come to a stop at the stop line. If you are moving too quickly to safely stop, for example you are about to cross the stop line and the light turns from green to yellow as you approach, you may proceed. However if you can safely stop it is advisable to do so and not try to "beat the light".
Green – proceed. The light goes from red to yellow to green, at which point you may continue. If a light is green as you approach it, you may continue to travel, although be aware that if it changes to yellow you are required to stop unless it is unsafe to do so.
If you are coming from the USA, you might be used to the US rule that allows you to turn at a traffic light, even if it is red. This is not allowed in the UK – if the traffic light is red, you must remain stationary until the light turns green.
8. Stop Signs and Give Way Signs
STOP signs in the UK are the same as STOP signs around the world. These large red octagonal signs have the word "STOP" in white lettering, and when you encounter one of these you must bring your vehicle to a complete halt.
STOP signs are not very common in the UK, as they can only be placed at junctions with severely limited visibility. When you encounter a STOP sign, you must bring your vehicle to a complete stop, and give way to all other traffic. Multi-way STOP signs, such as those you find in the USA, are not used in the UK, so you must always give way at a STOP sign and wait until it is safe to proceed.
Give way signs are far more common in the UK than STOP signs. These are triangular signs with the words "give way" written on them, and are similar to the "Yield" signs in the USA. Usually there will also be a white triangle painted on the road as well.
At a Give Way sign you must give way to other vehicles, but if the road is clear as you approach it, there is no requirement to fully stop.
For more information on road junctions, see the appropriate section of the UK Highway code, here.
9. Roundabouts in the UK
Roundabouts are very common in the UK when roads meet. Using them is quite simple – you always give way to the traffic on a roundabout, which will be approaching from your right. You will always turn left onto a roundabout, and traverse it in a clockwise direction.
The only exception to the give way rule is if the roundabout has traffic lights, in which case you have right of way if the light onto the roundabout is green – this means that the traffic on the roundabout will be stopped at a red light.
It is important to know your intended exit before you reach the roundabout, so you can be in the correct lane and signal correctly. If you are taking the first exit for example, you would signal left and use the left hand land.
If you are going right (or all the way around), you would signal right and use the right hand lane.
It's always best to slow right down and be aware that many people do not always signal correctly on roundabouts.
For intermediate exits and for going straight ahead, you do not normally signal, and can generally use either lane. For more information on correct roundabout use, see this section of the UK Highway Code, which also has some helpful diagrams for lane use and signalling.
10. Pedestrian Crossings
There are a number of different types of pedestrian crossings in the UK which you need to be aware of as a driver. These have been given odd names, including Zebra, Puffin and Pelican crossings.
Zebra crossings, so called because of the white and black stripes on the road, do not have stop lights. You can recognise them by the white stripes painted on the road, as well as flashing yellow beacons on either side of the road. Vehicles must stop at these crossings if a pedestrian is in the road or waiting to cross.
Puffin and Pelican crossings are similar to each other. They don't have stripes on the road, and are instead traffic light controlled. To cross, pedestrians push a button by the side of the road to trigger the traffic light to change colour and activate the walk symbol (a little green man). You only need to stop at these if the light is red, or if there is someone on the crossing and the light is either amber, or flashing amber.
These are the main crossing types, however, there are a number of other pedestrian crossings and rules to be aware of regarding pedestrians crossing the road in the UK, see the full official guidance here.
11. Single Track Roads
In some parts of the UK, particularly in more rural and remote areas such as those found when driving Scotland's North Coast 500 or the Scottish isles you may find yourself driving on single track roads. This is a road with just a single lane, on which traffic can drive in either direction, with passing places available so vehicles can get past each other.
These roads require a bit of extra knowledge, and I have written a whole post about driving on single track roads to help you out.
12. Emergency Vehicles
I actually failed my first driving test in the UK as a result of not giving way to an oncoming fire engine with its lights and siren going. Just what I needed in the middle of my test in a small rural village in north Wales!
Suffice to say, giving way to an emergency or incident support vehicle is definitely a requirement when driving in the UK. Rule 219 of the highway code covers this in detail, but in general, if an emergency vehicle is actively on its way to an incident, signalled with flashing lights and / or a siren, then you must take appropriate action to allow it to pass.
In doing so, you must still obey the traffic signs on the road, as well as not put yourself or other road users in any danger, and you do not need to mount the kerb (curb), which may endanger pedestrians.
13. Passing Other Vehicles
Passing another vehicle works much the same as in other countries around the world. You are allowed to pass on a normal road if there is a broken white line down the middle of the road and it is safe to do so. As vehicles drive on the left, you must overtake on the right.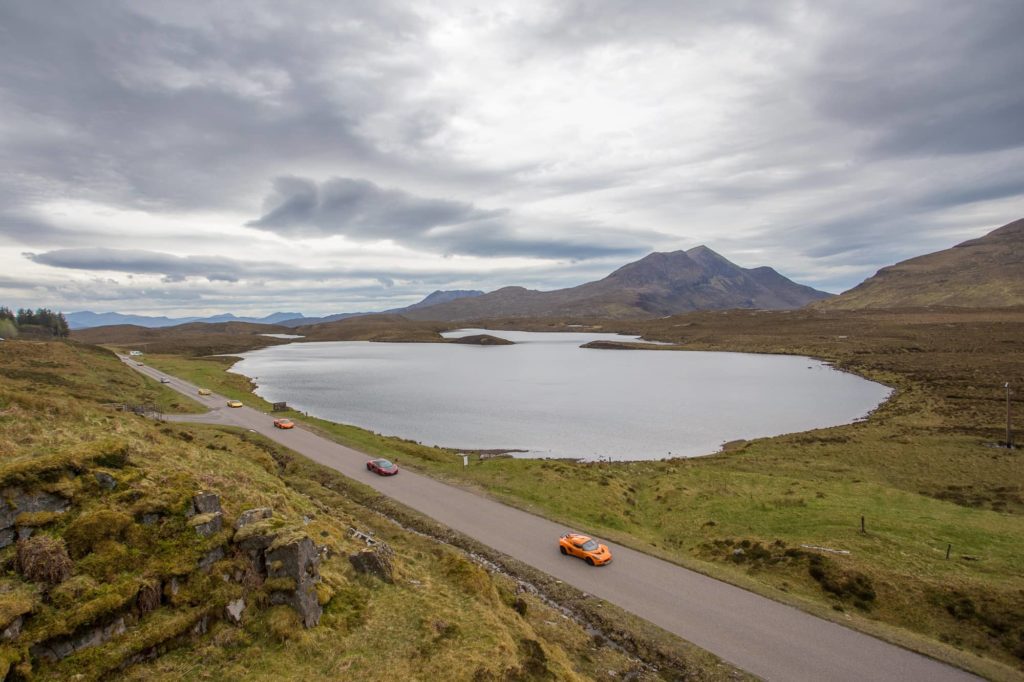 On dual-carriageways and motorways, the law is that you must pass on the right. It is not legal to pass on the left (to undertake), and the outside lanes should only be used for overtaking – you should always stay in the left hand lanes if you are not performing a passing manoeuvre.
14. Motorway Exit Numbers
In the UK, exit numbers on the motorways are sequential, so Exit 2 follows Exit 1, and so on. Occasionally, exits will have been added after the road was first built, and these will then adopt a letter – Exit 1a, 1b etc. Unlike in some countries like the USA, the exit numbers do not correspond to mileage.
15. Hiring a Vehicle in the UK
The rules vary from company to company, but to rent a vehicle in the UK you will need a full license in your name. If you are travelling from abroad and the license is not in English, then you may also need an international drivers permit. These are normally quite easy and inexpensive to obtain, but you definitely need to do it in advance of coming to the UK.
As well as a driver's license, if you are coming from overseas, you will normally need a valid form of ID such as a passport that matches the driver's information on the driver's license.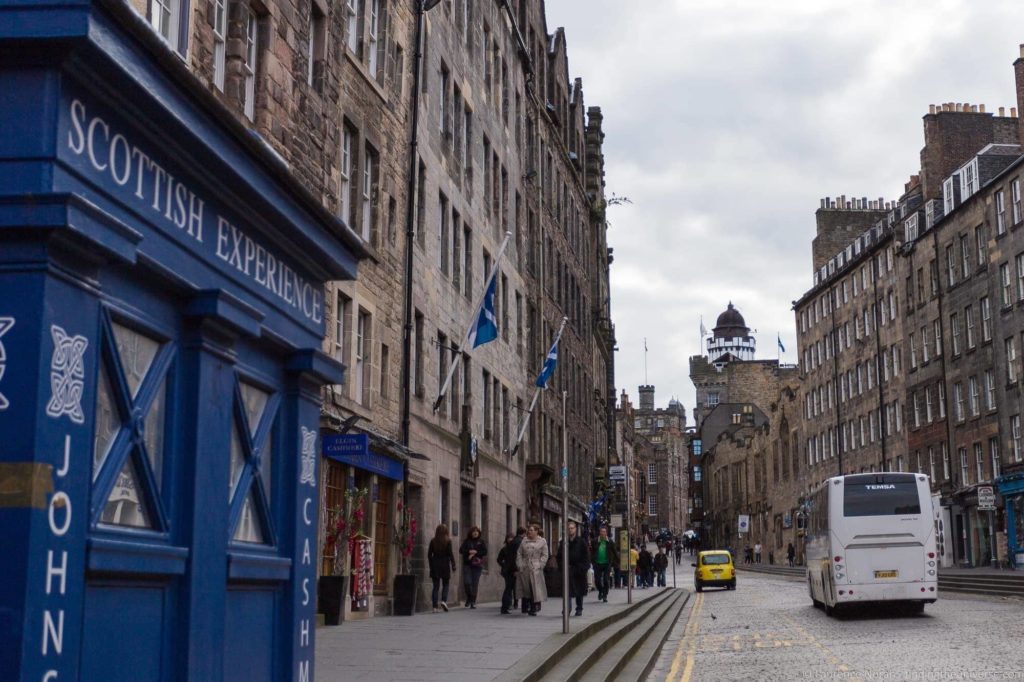 In terms of age, each car hire company sets its own rules. Whilst the legal age to hold a license in the UK is 17, few rental companies will rent to drivers under the age of 21, and many require you to be 25 or over. If they do rent to younger drivers, they will usually charge a hefty surcharge, as well as have requirements over how long you have held a full license.
If you are looking to hire a vehicle in the UK, we recommend that you take a look at Rentalcars.com to compare car hire deals across a range of different providers, including the biggest names in the business, to get a great deal for your trip.
16. Buying Petrol / Gas in the UK
In the UK, there are numerous brands of gas station (generally known as petrol stations or service stations), including internationally recognisable brands such as BP and Shell. There are two main types of fuel in the UK – petrol and diesel.
In our experience, many rental cars tend to be diesels as they have greater reliability. They also get better mileage per gallon, which offsets the slightly higher price you pay for diesel at the pump.
It is critically important that you put the correct fuel type into your vehicle when filling up. Petrol will usually be marked as "unleaded", and will often have an octane rating, usually 95 for standard, and 98 for higher performance vehicles. Unless you are driving an expensive sports car, you will usually find that a petrol car will be just fine on the standard 95.
Fuel is sold and priced by the litre, and if you are coming from the USA, you will likely experience sticker shock if you try to figure out the price of fuel compared to back home. The good news it that cars are fairly fuel efficient in the UK, and driving distances are not so great.
If you are driving a diesel car, it will usually say clearly on the fuel cap that it is a diesel car, and you must only put diesel in the tank when filling up (and of course, petrol if it is a petrol car). If it does not say, then it is more likely to be a petrol car, however you should definitely confirm this with your rental agency.
If you put the wrong fuel type in your car, this can cause serious engine damage. If you do – it is very important you do not drive the car – call your rental agency and ask for help.
When you fill up your car, the majority of petrol stations will require you to pay after filling up. This is because most gas stations are small shops, and they tend to make more profit off shop sales than fuel sales.
To fill up, just take the correct hose off the machine. Ensure the pump resets to zero, and put the nozzle into your car tank. Most pumps require you to hold the handle as you fill it up, they don't usually have a switch to hold it open until it is full. Once it is full, make a note of the tank number, and go to the cashier to pay.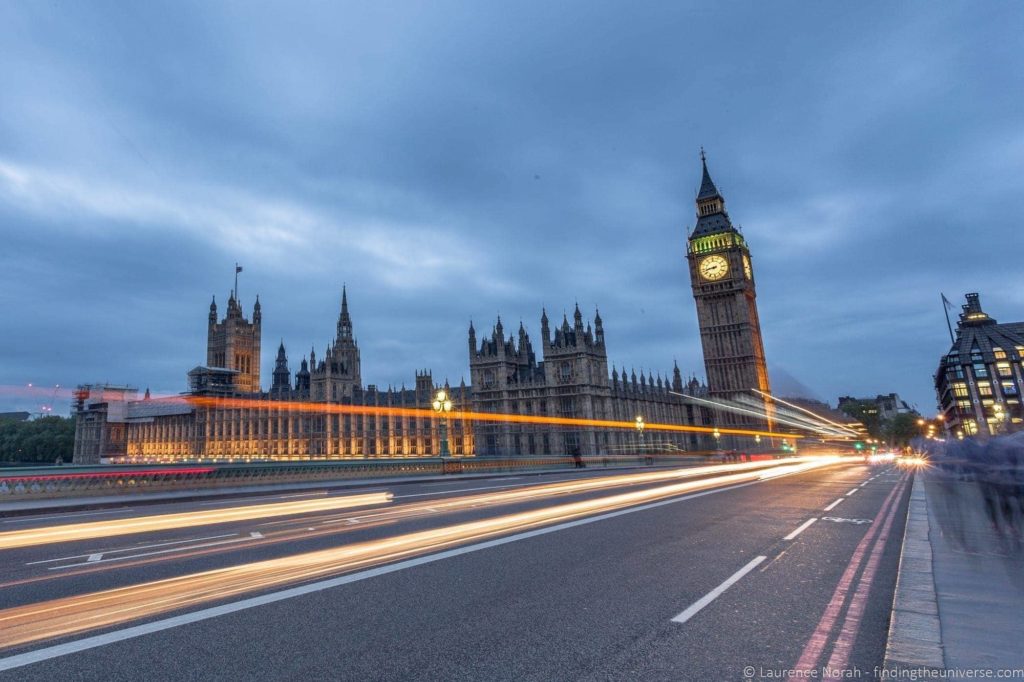 Some gas stations, particularly those at supermarkets, let you pay at the pump by card – to do so you will require a chip and PIN enabled card, and you will need to know your PIN number. You need to authorise your card in advance at these pumps before it will dispense fuel.
Fuel prices vary dramatically across the UK. The cheapest prices are usually at the major supermarket brands, such as Asda, Tesco and Sainsbury's, where prices can be up to 15p cheaper per litre than other nearby stores. The most expensive fuel prices are always to be found at motorway service stations, where prices can be 20 – 30p higher per litre than the average.
17. Drink driving laws in the UK
As with the majority of countries in the world, the UK has strict drink driving laws. The limit varies across the different parts of the UK, with Scotland having more strict limits for drinking than England for example. Drink driving is a serious offence in the UK, and the easiest way to avoid a fine or loss of your license is to avoid drinking at all if you are driving.
Calculating how much you can drink to stay under the blood-alcohol limit is a difficult task, as there are so many factors at play, including everything from your weight through to what you have eaten that day.
You can see the official limits for drink driving on the UK government website here. Again, we'd definitely suggest not drinking at all if you are driving.
18. Insurance
It is mandatory to have at least third party insurance when driving a vehicle in the UK, which will cover the other party if you are involved in an accident for which you are either fully or partly to blame. Most rental cars will come with third party insurance, however they will often charge a surplus for full cover, known in the rental industry as a collision damage waiver.
If you travel and rent cars regularly, check if you can get a credit card which includes car hire cover. This can save you a lot of money, as rental car companies tend to charge a premium for add ons like insurance. Another alternative is to book insurance cover through a specialist insurance provider rather than purchase it directly from the car hire company – again, this can save you a lot of money.
19. Mobile Phone Use
It is illegal to have a mobile phone or GPS unit in your hands whilst driving a vehicle or in the UK. You are allowed to operate them if there is a hands free kit, or if they are mounted securely in the car in a location that does not obscure the drivers view of the road ahead. You can also operate a built in GPS unit if the car has one.
However, keep in mind that if the police feel you are distracted or not fully in control of your vehicle, they can penalise you even for using a device that is not in your hands. Note also that the law applies even if your vehicle is stopped. The best option is to either have your passenger operate the device, or to pull over safely before operating your device.
The only exception to the rule is that you are allowed to use your phone in your hands to dial 999 (the UK emergency number), if there is no practical way to stop safely and it is an emergency. See more on use of devices and the law on the official government website here.
20. Driving with Children
If you're driving with children in the UK, then there are a few more rules you need to be aware of, specifically around child car seats.
In general, until children are 12 years old or 135cm tall (whichever comes first), then they must use a child car seat. After that point is reached, then they must use a seat belt, as would any other passenger.
If you have your own child car seat that you want to bring to the UK, you need to make sure it is an EU approved model, as these are the only kind that are approved for UK use.
You can read more specfics about using child car seats, and how to identify if your seat is legal for use in the UK, on the official UK government website for child car seats. There is also a page on when you are allowed to not use a child car seat in the UK.
21. What To Do If You Get Stopped By The Police in the UK
Hopefully you won't be stopped by the police when driving in the UK, but if you are, you should pull over immediately where it is safe to do so. Remain in your vehicle with your seatbelt on and your hands clearly visible, and wait for the officer to approach you. You should wind your window down as the officer approaches so you can follow their directions.
A uniformed police officer can stop any vehicle for any reason, and you must stop when asked to do so – it is illegal not to stop when directed to do so by a police officer. When you are approached by the police, they will likely ask you to produce your driving license, insurance certificate and MOT certificate – the latter being a government issued certificate of vehicle road worthiness.
If you have a rental car, you should have the proof of rental documentation. If you are unable to produce the requested documentation, you must take it to a police station within seven days of your stop.
If you are stopped, the officer may suspect you of drinking, in which case they can ask you to take a breath test. They also have the power to issue on the spot fines, and for more serious offences such as driving without a license or if you are operating a vehicle believed to be stolen, the police have the power to seize your vehicle. This is obviously unlikely to happen if you are driving in a rental car from a reputable rental agency of course.
Our advice is to follow all the posted signs and speed limits, and you shouldn't have any problems when driving in the UK. For more information on being stopped by the police and your rights, see the official UK government website entry here.
22. Speed Cameras
One of the primary traffic control and accident reduction measures in the UK is the use of speed cameras. These are in wide use on the roads in the UK, and are very effective at catching speeding drivers, with fines automatically sent through the post if you are caught speeding.
If you are driving a rental car, these fines will be sent to the rental agency, who will usually add this to your rental bill – often with a surcharge for the administration.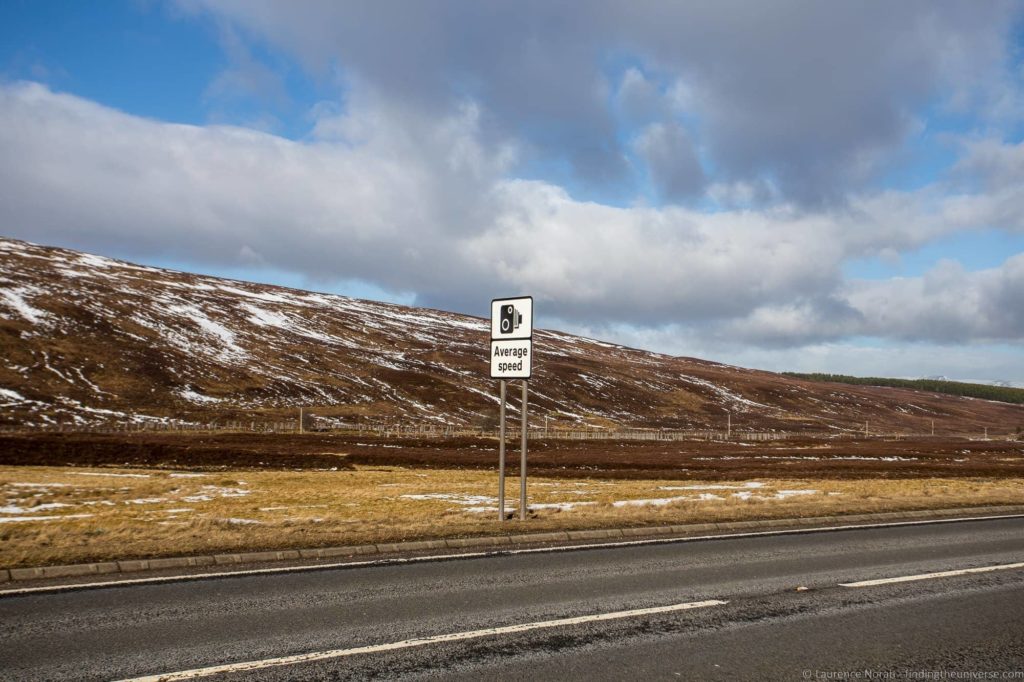 Whilst many motorists dislike speed cameras, remember that they are there to help reduce accidents and improve road safety. If you stick to the speed limits, you won't have any problems. In addition, fixed speed cameras are clearly marked, so you have no excuse for missing them!
23. Toll Roads & Toll Bridges
There are very few toll roads or bridges in the UK, as the UK roads are funded by a system of taxes paid by UK motorists. This tax is levied on UK car owners, as well as on fuel (hence the relatively high fuel prices in the UK – the majority of the cost is tax).
There are some toll roads, such as the M6 Toll near Birmingham. There are also some bridges in the UK which are toll bridges, such as the Clifton Suspension Bridge in Bristol, although these are fairly rare. Toll roads and bridges are clearly marked before you enter them. Follow the directions as you approach the toll booth, and in most cases you should be able to pay either by credit / debit card or in cash.
In very rural areas there are some very small privately owned bridges, where you may have to pay in the region of 20p for a crossing. Again, these will be clearly marked, but you will only be able to pay cash for such a crossing. These are very rare however.
24. Congestion Charging Zones / Low Emission Zones
In a number of cities across the UK, including London, there are what are known as "Congestion Charging Zones". These are parts of the city which carry a daily fee if you wish to drive in them. Cameras at every entry and exit point to these zones record your vehicle details, and automatically bill you. In the case of a rental car, this bill will go to the rental agency.
Congestion charge zones are very clearly marked before you enter them. Our advice is to avoid them entirely – there's no good reason to drive in central London as traffic is very slow, parking is expensive, and with the congestion charge it becomes very uneconomical. Public transport or taxis are a much better option, as is walking.
We'd always advise picking up your rental before or after the London portion of your trip if your UK trip includes exploring London.
You can read more about the congestion charging zone in London here.
As well as congestion charging zones, some areas also have zones which target high emissions vehicles, known as Low Emission Zones. These tend to penalise higher emissions vehicles like delivery trucks and older cars. However, it's worth checking that the vehicle you are driving won't be charged when entering one of these zones, which you can usually do on the website for the city or area you are visiting.
25. Parking in the UK
There are various options when it comes to parking in the UK. Most cities have a number of parking options, including multi-storey parking structures, and on-street metered parking bays. For the former, you normally park, and pay on return to your vehicle. For the latter, you generally pay in advance, which can be less convenient if you don't know how long you need.
Many parking locations also allow payment by parking apps which can be more convenient as you can pay by credit card and extend your parking without returning to your car. You will need a phone with internet access to use these however.
It's always important to read the parking notices when parking. Some areas offer parking for residents only, and you can be fined if you park in a residents or permit only area. Your vehicle can be clamped, or even towed, if you park where you are not allowed to park.
There are two main indicators of parking along the side of the road. If there are two solid yellow lines by the road (known as double yellow lines), then you are not permitted to park for any reason. In London, you might also see double red lines, which mean the same thing.
If you see a single yellow line, this usually means that you can park and wait for a short period of time – generally indicated by a sign that will outline the restrictions. Often, you can park without restriction on single-yellow lines on Sundays and public holidays, however always check the local parking notices before doing so.
There are a number of additional guidelines for parking in the UK, which are covered in rules 238 to 252 of the UK highway code, which you can read here.
26. Manual / Automatic Vehicles
If you're visiting and driving in the UK from the USA, you might be surprised to learn that the majority of cars in the UK have a manual transmission, or "stick shift". There are even two classes of driving license in the UK – one for automatic cars, and one for manual cars.
You cannot drive a manual car on an automatic driving license, although you can drive an automatic car on a manual license.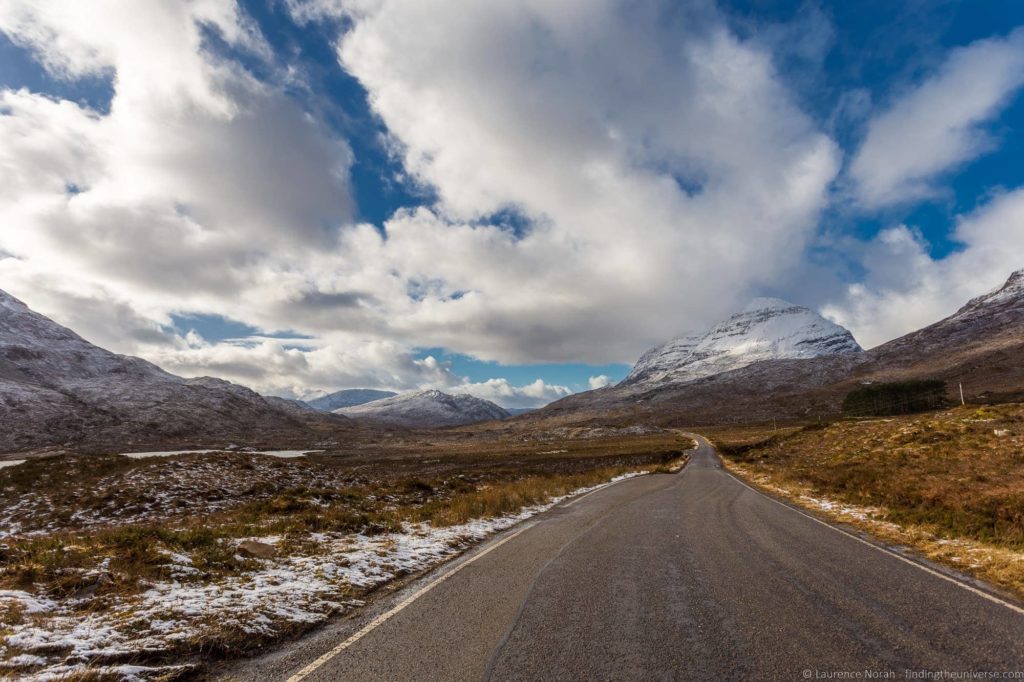 Since licenses from other parts of the world might not specify automatic or manual, it will be important particularly if you are hiring a car that you pick the transmission type that you are able to drive. If you don't know how to drive a manual you should definitely not use the UK roads as your place to learn how to drive stick!
One thing to be aware of, if you can drive both types of ar, is that automatic cars are nearly always slightly more expensive to rent than manual cars. So if you want to save a bit of money on your car rental and you can drive a manual, you might want to choose that.
27. Documentation Requirements for Driving in the UK
There are a few papers you should have when you drive a car in the UK.
To start with, you will absolutely need a driving license.
If you are from outside the UK, we also recommend a passport or ID card to verify your identity if required.
The car you are driving will need to have up to date car insurance, valid for the duration of your trip. If you are hiring a car, this will be provided and should be in the vehicle.
If you are bringing your own car to the UK, you should also ensure you have the vehicle documentation.
General Quirks to be aware of when Driving in the UK
I've driven in a fair few countries around the world on both sides of the road, and I have to say, the UK does have some serious quirks when it comes to driving.
Cities in particular can be a challenge for the new driver. Cities and towns in the UK were not for the most part designed around automobiles which means streets can be narrow and corners sharp.
There are also often one way systems, and occasionally lanes will merge without warning, or you'll find yourself inexplicably in a left turn only lane at a set of traffic lights with no obvious prior warning given.
My advice is just to try to relax, to invest in a good GPS system (Google Maps is pretty good too) that will handle the inevitable re-routing, and to build in extra time to mitigate lost time when you inevitably take a wrong turn. Don't worry, I do it all the time and I live here!
Another thing to bear in mind is that the United Kingdom is made up of four countries – England, Scotland, Wales and Northern Ireland. Whilst the regulations are similar across these countries, there are some differences such as the drink driving limits.
In addition, road signs vary from country to country. For example, in Wales you will encounter signs that are written in both Welsh and English. These means that signs are larger and can take a bit more time to process as you read them.
Further Reading and Information on Driving in the UK
Whew! Well, that was a lot of words to hopefully help you get started. Of course, I can't cover everything in just one post, so here are some helpful resources to get you on your way:
And that's it! We hope you found our guide to driving in the UK helpful. If you have any feedback or questions, let us know in the comments below!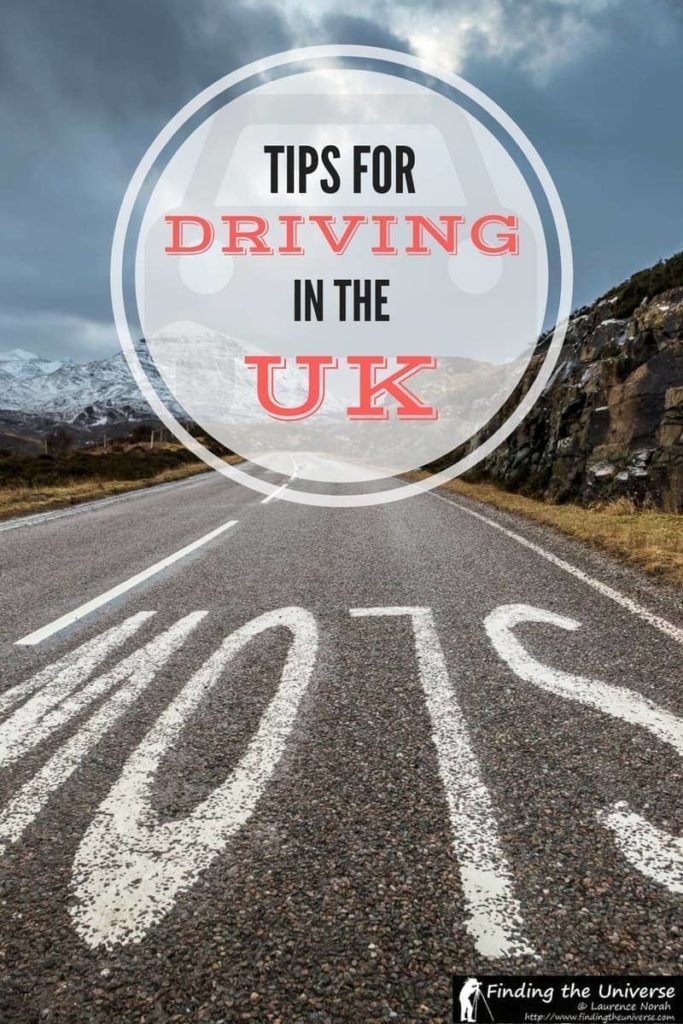 Please note that this blog post is for guidance only and should not be taken as any form of legal advice. Check road regulations and laws in the UK before driving to be sure you are safe and legal as laws and guidelines change regularly.