We loved the Game of Thrones TV show. We also love that our travels have let us visit multiple real world Game of Thrones filming locations, including the Game of Thrones filming locations in Iceland and in Girona Spain.
Of course, Game of Thrones was shot at locations all around the world. However, due to the number of filming locations in the country, we think it's fair to say that its official and spiritual home is Northern Ireland.
Northern Ireland was a key filming location for Game of Thrones. If you're visiting Northern Ireland, there are a great many filming locations you can visit, plus a number of other fun Game of Thrones themed sights.
As well as the real world filming locations for Game of Thrones in Ireland, the city of Belfast is also home to the Titanic Studios, where much of the show was filmed.
We have visited nearly all the Game of Thrones filming locations in Northern Ireland. We're going to take you through all of these, as well as provide all the information you need to plan your own Game of Thrones themed Irish adventure!
Which Seasons of Game of Thrones were filmed in Ireland?
All eight seasons of Game of Thrones had scenes that were shot in Northern Ireland. In fact, over 25 real world locations were filmed across the country.
Ireland starred as a number of locations in the show, including the area around Winterfell, Winterfell itself, the Iron Islands, Dorne, the Dothraki Grasslands, the Stormlands, and Riverrun.
Suffice to say, nearly everywhere from the fantasy continents of Westeros and Essos can be found somewhere in Northern Ireland, meaning that a visit to Northern Ireland is a must for fans of the show.
Getting to the Game of Thrones Locations in Northern Ireland
Whilst some of the locations on our list can be visited by public transit, most are in relatively remote locations that are not necessarily near a train station or bus stop. This would make them challenging to visit by public transit.
We recommend that your best options for visiting the Game of Thrones sites in Northern Ireland are by using a car or taking a tour.
By Public Transit
We don't recommend trying to visit many of the sights in our guide by public transport as the majority of them just aren't accessible. However, if you do want to give it a go, the best place to find information on public transport in Northern Ireland is on the Translink website.
By Car
If you are happy to drive, then you can either drive your own car or rent a car to visit the sites in this guide. Check out our travel resources page for our recommended car hire companies.
We'd suggest setting aside at least two days for this trip, but ideally more like four to five days, as that will give you plenty of time to see all the sights in our guide as well as other locations like the Giant's Causeway, Titanic Museum and so on.
By Tour
Tours are a great way to see a number of sites in one day and you'll have a guide to point out exact filming spot and show you the scenes shot there. Many tours also include the option to wear costumes and many are led by those who were actually involved in the TV series in some way.
If you are going to take a tour, we'd suggest basing yourself in Belfast as this is a lot closer to most of the sights than Dublin, and there are lots of tours to choose from. There are of course tours from Dublin, but you'll spend a lot of time driving, meaning less time sightseeing!
We have a full list of tours at the end of the post, but to give you some ideas: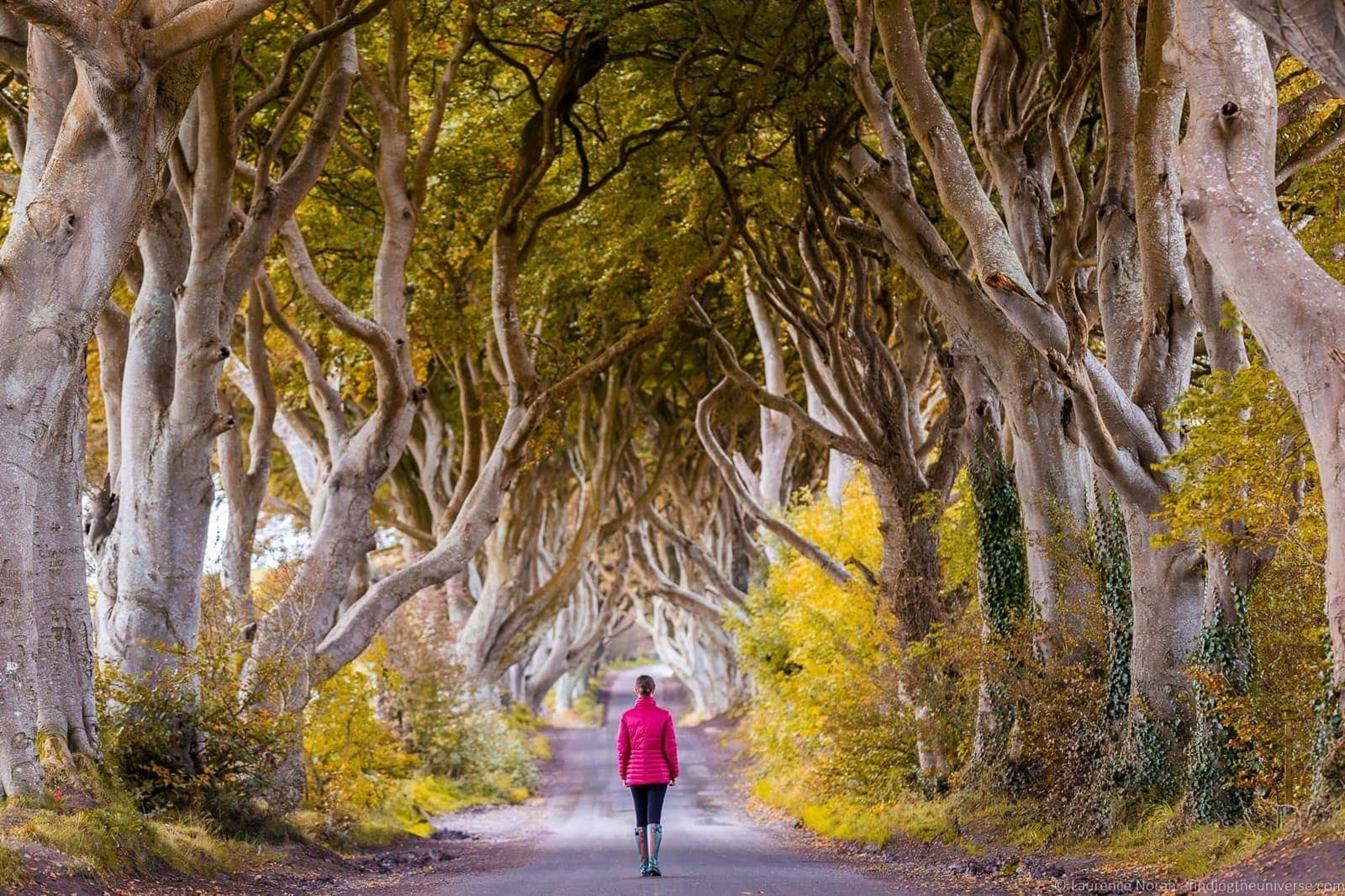 Game of Thrones Filming Locations in Ireland
This guide covers all the major filming locations for Game of Thrones in Ireland. The locations are primarily split between those locations which are south of Belfast, and those which are located north of Belfast.
As far as we are aware, Game of Thrones was only shot in Northern Ireland, not the Republic of Ireland.
If you are looking for somewhere to base yourself whilst exploring, we think Belfast would make for a great option. We really like Belfast and there is plenty to do there and you can reader our guides to things to do in Belfast and our guide to spending 2 days in Belfast for some more ideas.
If you have one day, we'd suggest choosing a handful of locations either north or south of Belfast. You can see some by public transit, but taking a car or joining a tour are your best options. If you are short on time, a guided tour is probably going to allow you to see the most with limited time.
If you want to visit all the locations on this list, we'd suggest setting a least two full days aside to do that. You could spend one of those days visiting the locations south of Belfast, and one of the days exploring the GoT filming locations north of Belfast.
We've ordered these locations approximately from south to north for ease of planning, and we also have a map to all the Game of Thrones filming locations in Northern Ireland later in the article to help you plan your trip.
Leitrim Lodge / Mourne Mountains – Winterfell
The picturesque Mourne Mountains are a popular spot for walking in Northern Ireland, with the 12 peaks of Mourne Mountains being the highest mountain range in the country.
As you would imagine, such scenery provided a good backdrop for Game of Thrones. They were used for a number of locations in the show.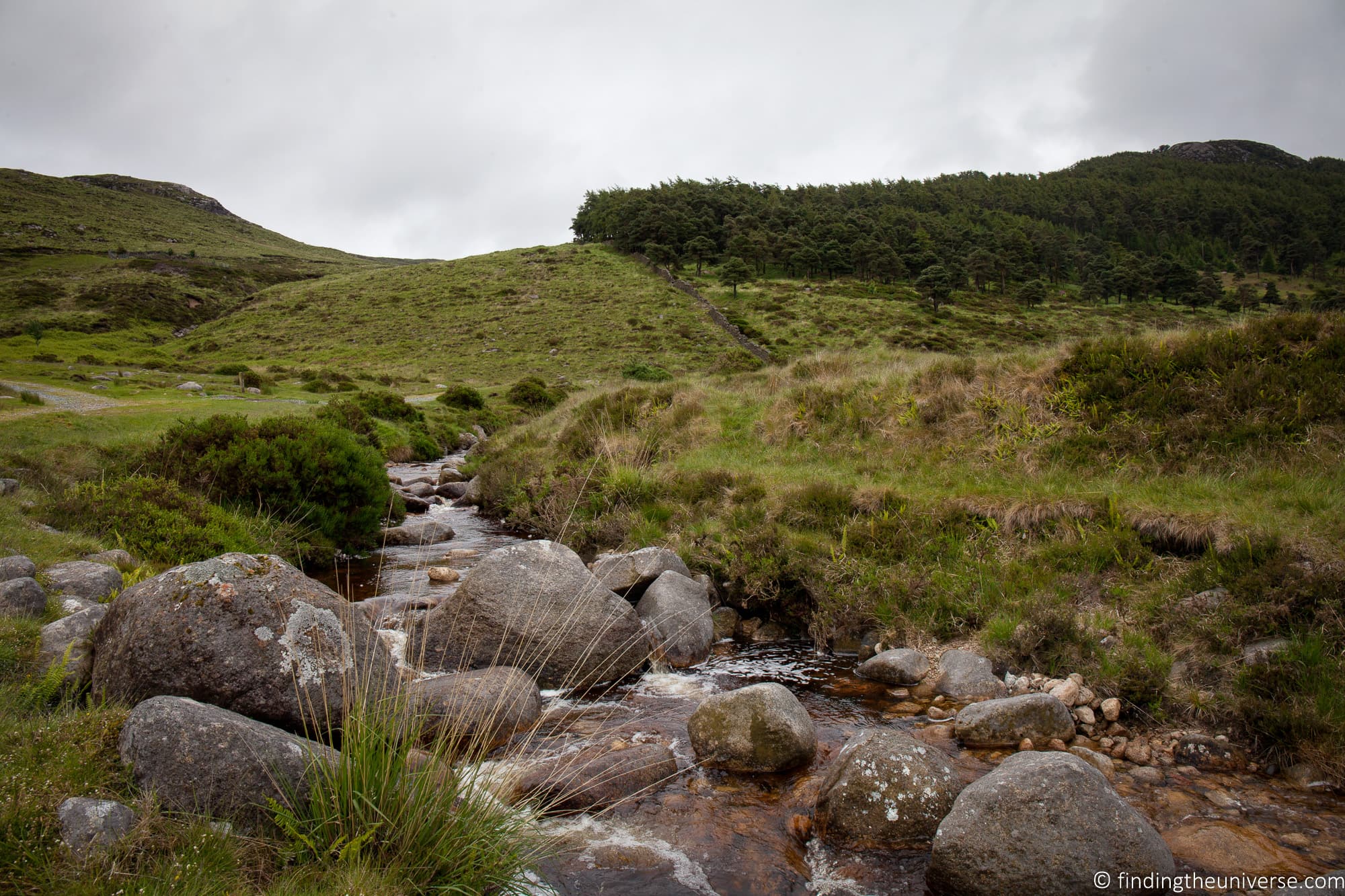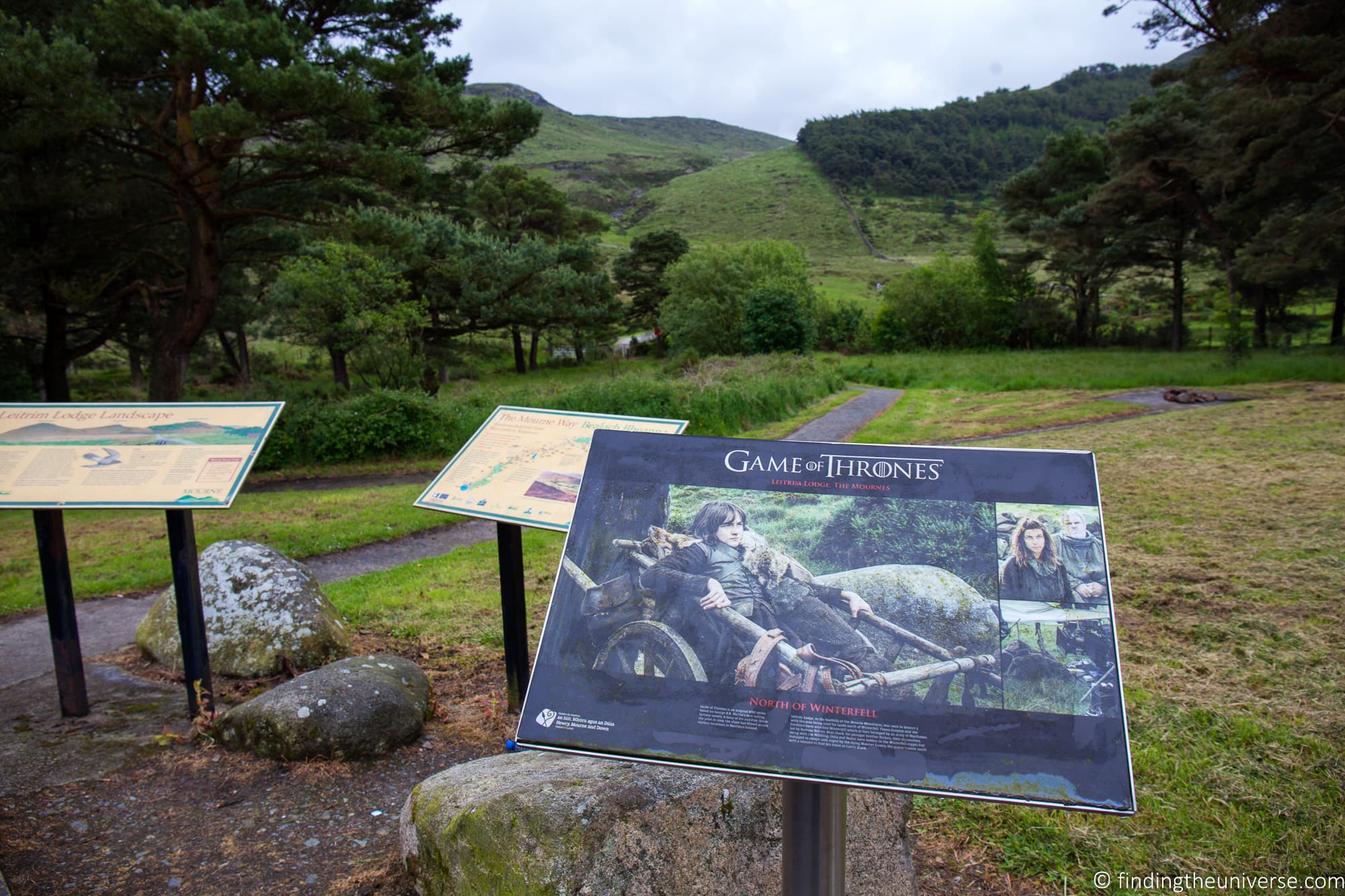 First, the landscapes around Leitrim Lodge Car Park near Hilltown were used in Episode 2 of Season 3.
Following the sacking of Winterfell earlier in the show, Bran, Rickon, Hodor and Osha are travelling north to the wall with Bran's direwolf Summer. In the scene, Bran wakes from a vision and is seen lying under a canvas awning, with the landscapes near Leitrim Lodge all around them.
Later on in this episode the woods at the foothills of the mountains are used as the location for where Bran first meets Jojen and Meera.
The Mourne Mountains also appear in Episode Season 6 of Season 3 as the entrance of Vaes Dothrak.
The Mourne Mountains and surrounding landscape of Ulster were also an inspiration for C.S. Lewis's Narnia when writing The Chronicles of Narnia series – one of my favourite book series when I was growing up.
If you're interested in exploring these mountain more, this hiking tour will let you do just that.
Tollymore Forest Park – Winterfell Forests
At the northern end of the Mourne Mountains is the beautiful Tollymore Forest Park. Established in 1955, this was the first state forest park in Northern Ireland, and the woods are a popular place for walking and experiencing nature.
Fun fact, many of the White Star liners used oak sourced from Tollymore Forest Park for ship interiors, including the interiors of the ill-fated Titanic.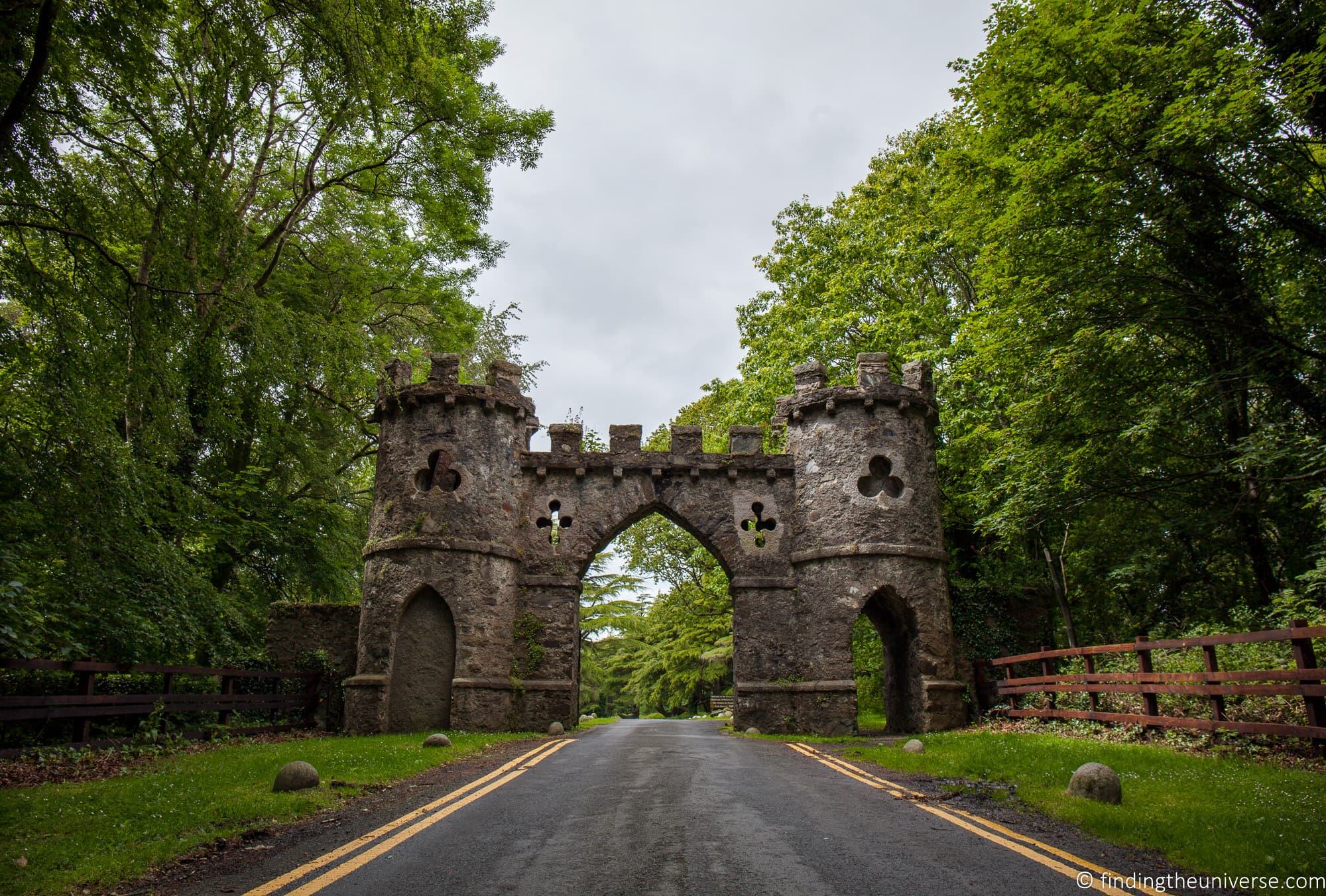 Of course, Tollymore Forest Park was also a Game of Thrones filming location. A number of wooded forest scenes were filmed here, as follows.
First, Tollymore Forest was used in the first ever episode of the show, for two key scenes.
At the very start of the episode, a band of Night's Watch patrolmen find a large number of dismembered wildlings in the Haunted Forest, after which they encounter the first White Walkers, the shows main antagonists. This "Wildling Pit" was filmed in the forest near Parnell's Bridge in the park.
The scenes were actually filmed in summer, and great amounts of fake snow were required to create the frozen winter look.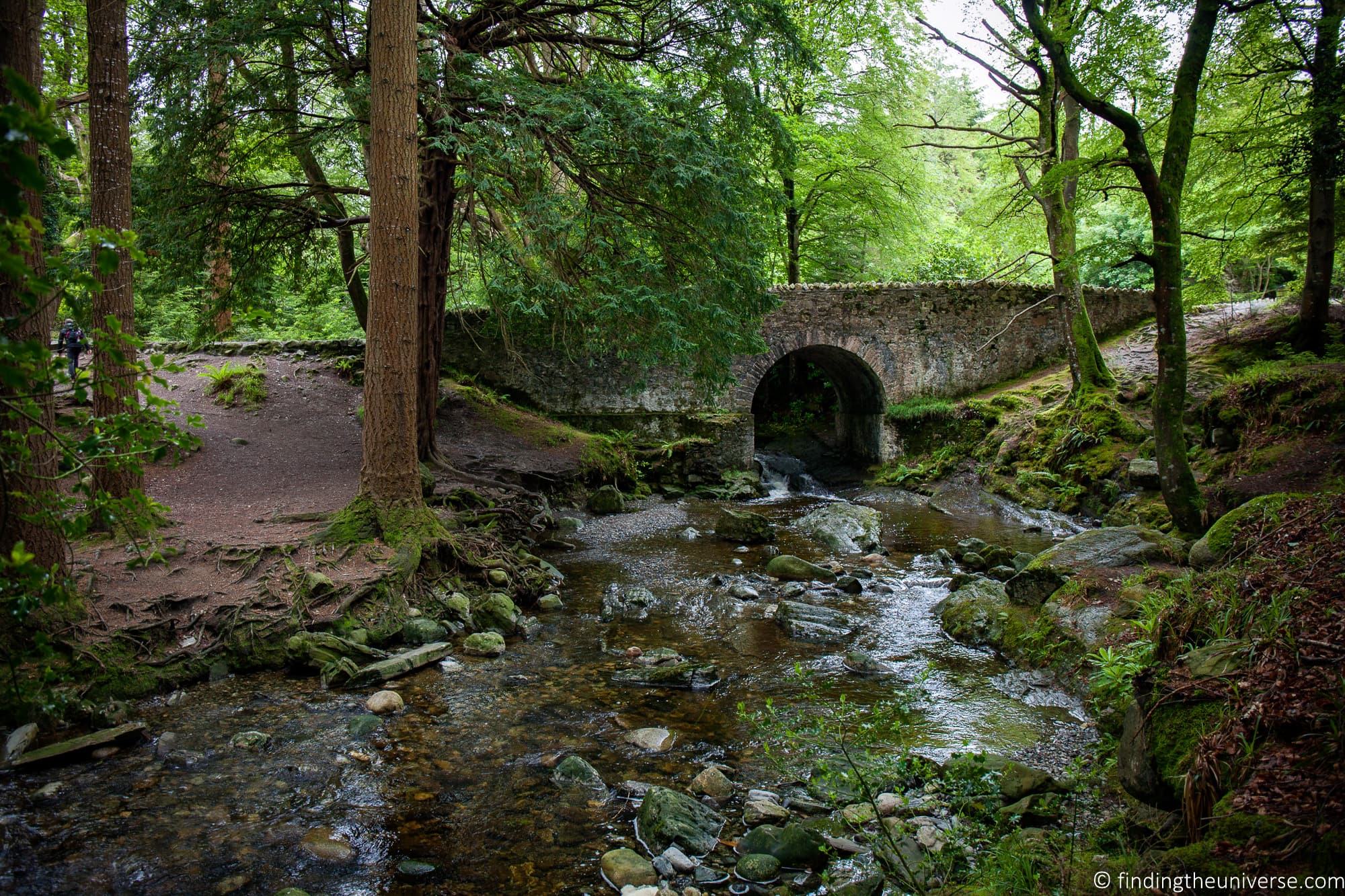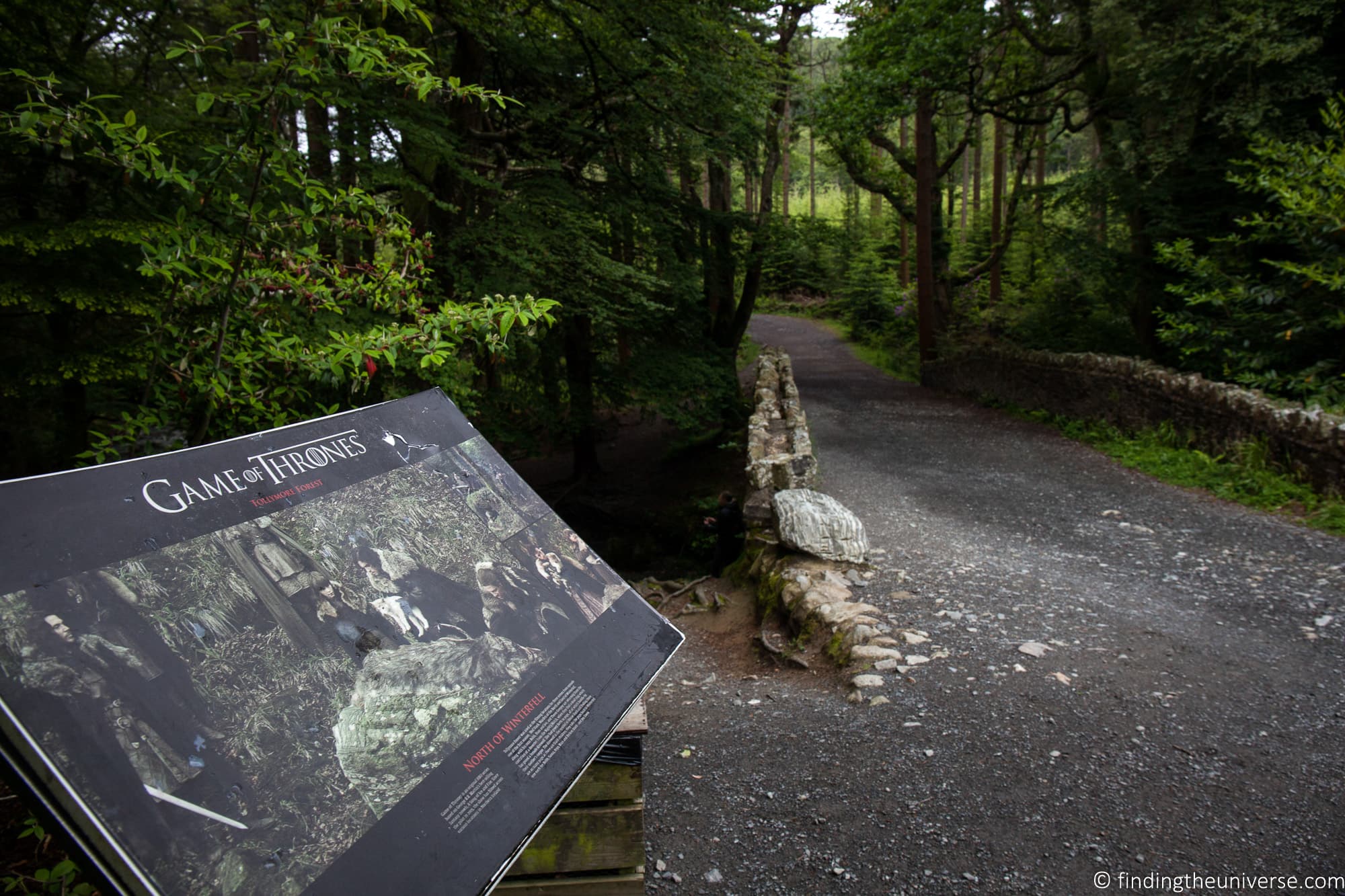 Later on in the episode, when the Stark family are returning from executing Will (poor guy survived a White Walker encounter, but not Ned Stark!), they come across a dead direwolf which has recently given birth to a litter of pups. These direwolves were given to the Stark children, and became regular characters on the show. This film was shot near Altavaddy Bridge in the park.
In the second episode of Season one, Jon and Tyrion travel from Winterfell to the Wall. During this journey they break to make camp and have a lengthy chat. This takes place in, you guessed it, Tollymore Forest Park, and was filmed very close to the Wildling Pit filming location.
Finally, when Theon Greyjoy escapes the evil Ramsay Bolton in Episode 3 of Season 3, the escape is filmed in Tollymore Forest park.
To visit all these filming locations will require a round trip walk of around 2 miles in the forest park from the car park. You can see a map of the trails in Tollymore Forest park here.
It's also possible to book a tour that includes a guided walk of all the filming locations in Tollymore. It's not very expensive, and definitely a great way to find these locations which can otherwise be a bit hidden.
Inch Abbey – Stark Camp, Riverrun, Riverlands
Founded in 1180, the spectacular ruins of Cistercian Inch Abbey are definitely worth a visit, even if you're not a Game of Thrones fan.
That said, since you're reading this post you are likely a fan. So you'll be pleased to hear that Inch Abbey appeared in Episode 10 of Season 1 of Game of Thrones.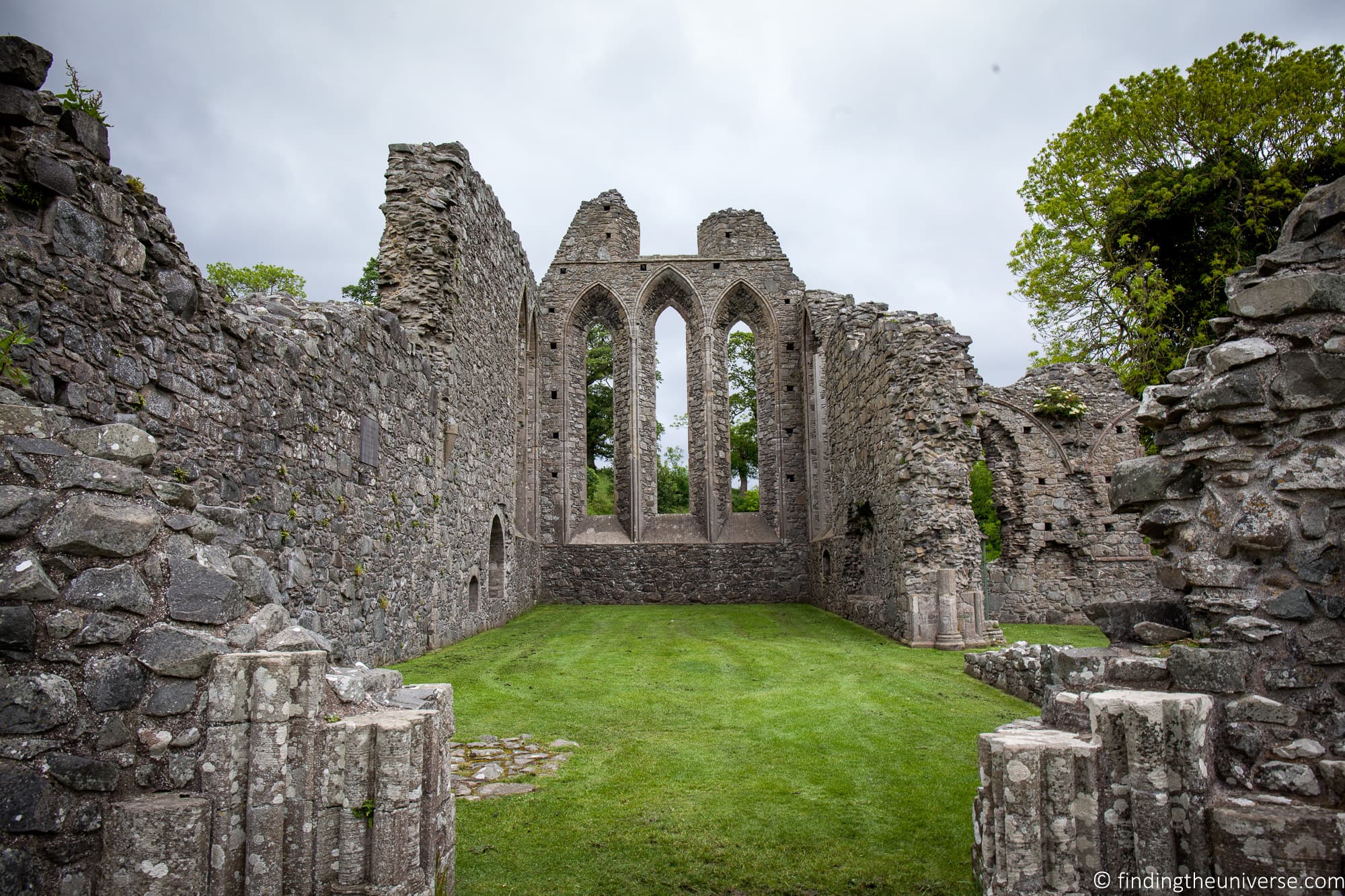 It was here that Robb Stark pitched his camp near Riverrun, following the successful battle of the Whispering Wood in the previous episode. This is also where Catelyn and Robb learn of the death of Ned Stark, and where Robb is proclaimed King in the North.
Quoile River – Riverrun, Trident River
Just near Inch Abbey is the Quoile River, a lovely waterway running through a large area of wetland where you'll find plentiful wildlife viewing and walking opportunities.
On the Quoile River there's a wooden jetty, which featured in Episode 3 of Season 3 as the location of the Trident River.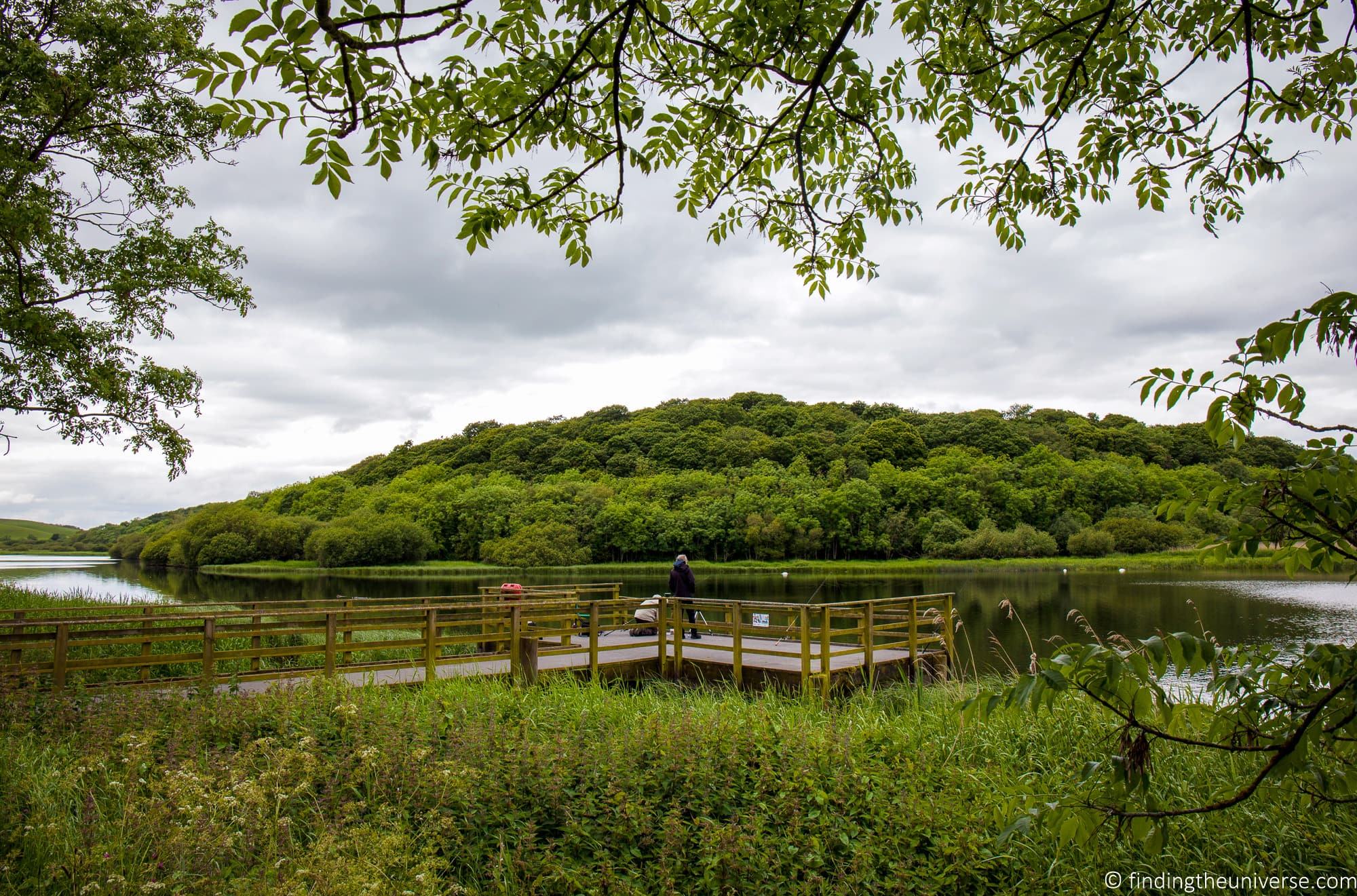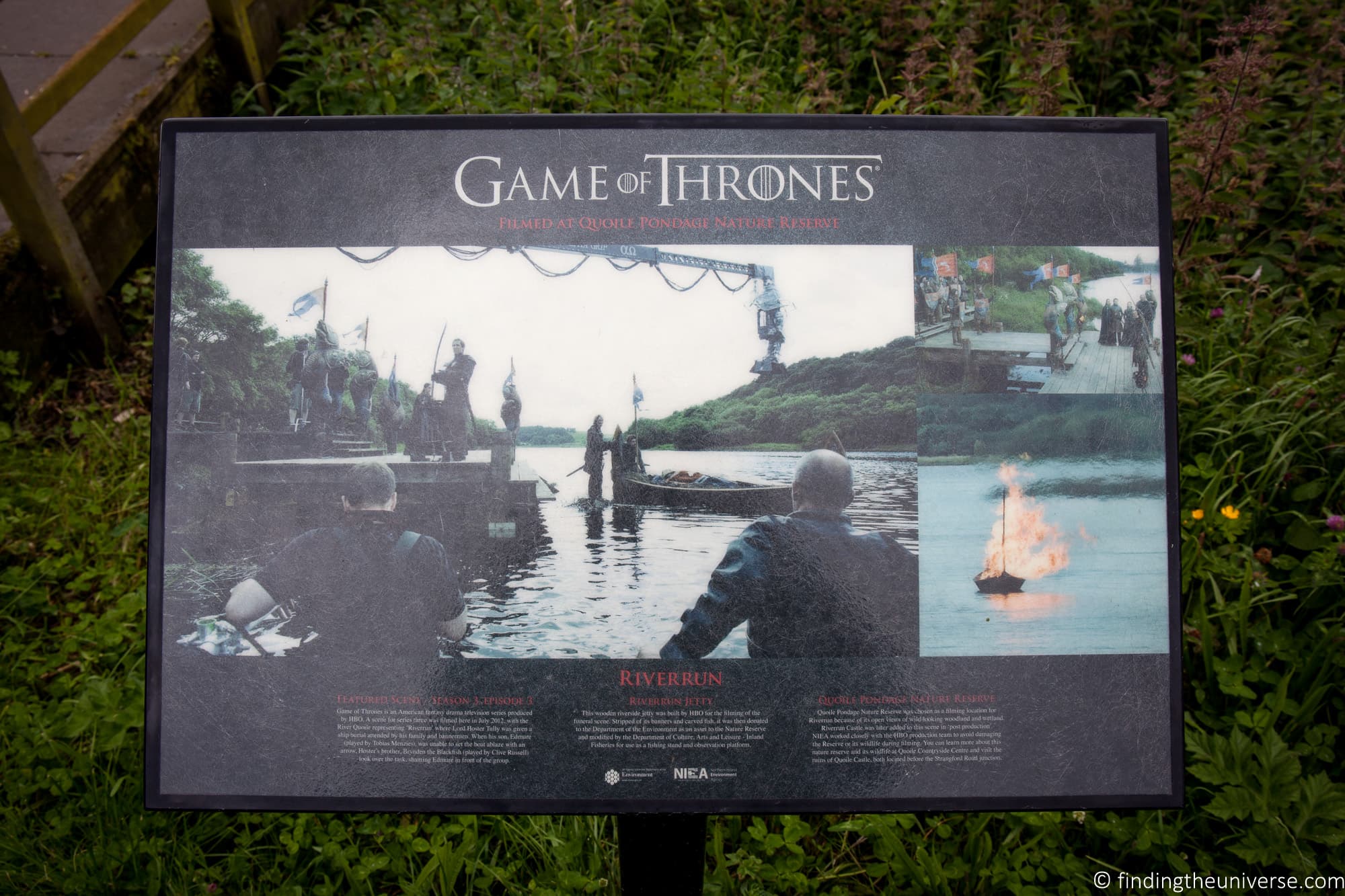 This is the funeral scene for Hoster Tully, Catelyn Stark's father. In the show we see his funeral boat float down the river, with onlookers including Robb and Catelyn Stark standing on the jetty. Attempts to set the boat on fire with a flaming arrow are undertaken by Edmure Tully, but after a number of failed attempts, the responsibility is handed over to Brynden Tully, who succeeds on his first try.
Castle Ward – Winterfell Castle
Castle Ward is an 18th century part Gothic, part Palladian castle which is today owned and operated by the National Trust. The property has a fun history – the owner and his wife had a dispute over the style, so the entire property is split in two, with one side constructed to the Palladian style, and the other in the Georgian Gothic style.
The property is open to visitors and you can tour the house, explore the landscaped gardens, see the working corn mill, and visit the farmyard. This farmyard is home to a tower house, built in 1610, which served as a defensive structure.
It's to the farmyard and this old tower house that Game of Thrones fan will want to head. This was the filming location of Winterfell Castle from Season 1 of the show, although of course some set construction was required to turn the farmyard and tower house into a more complete castle!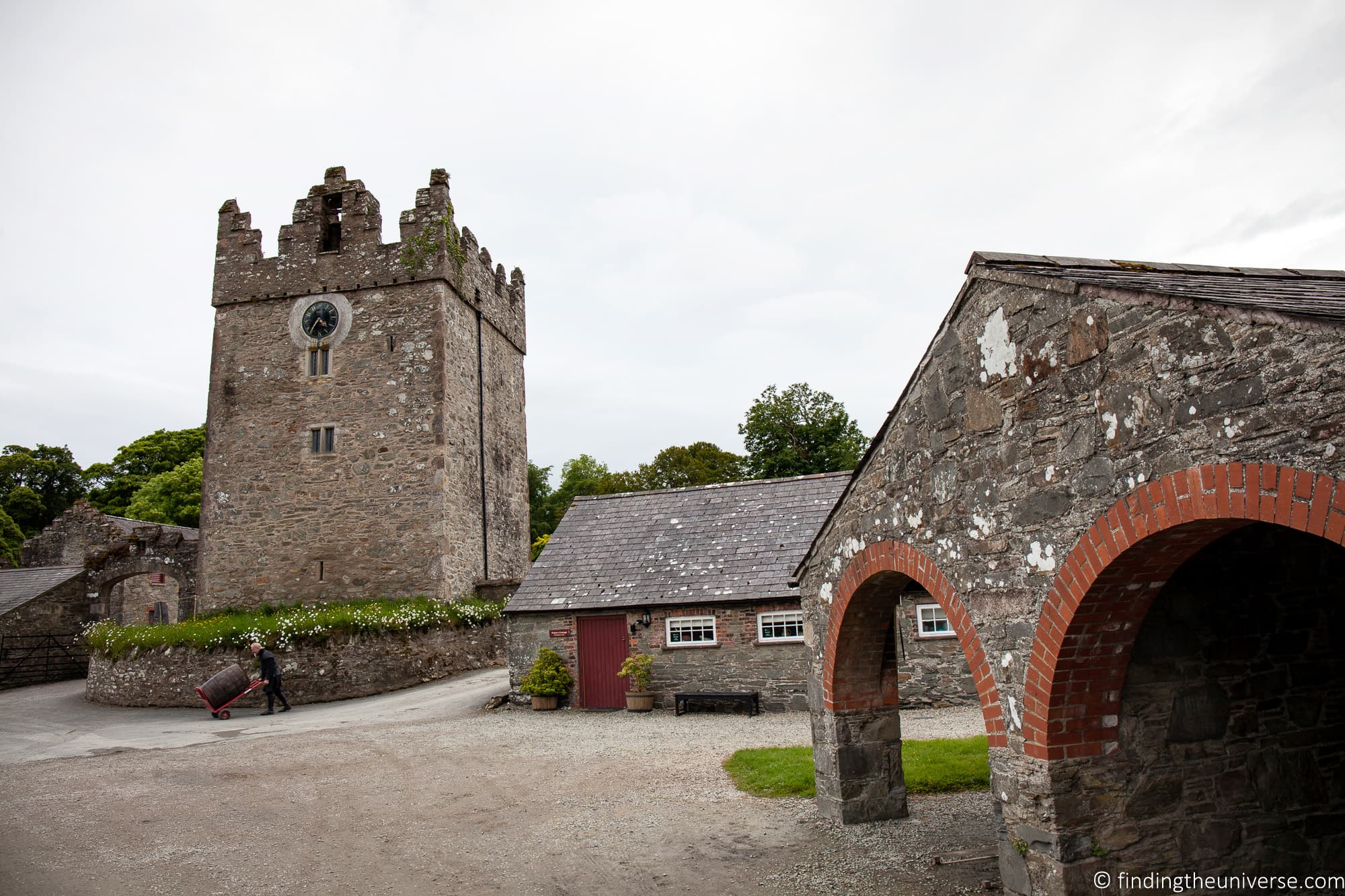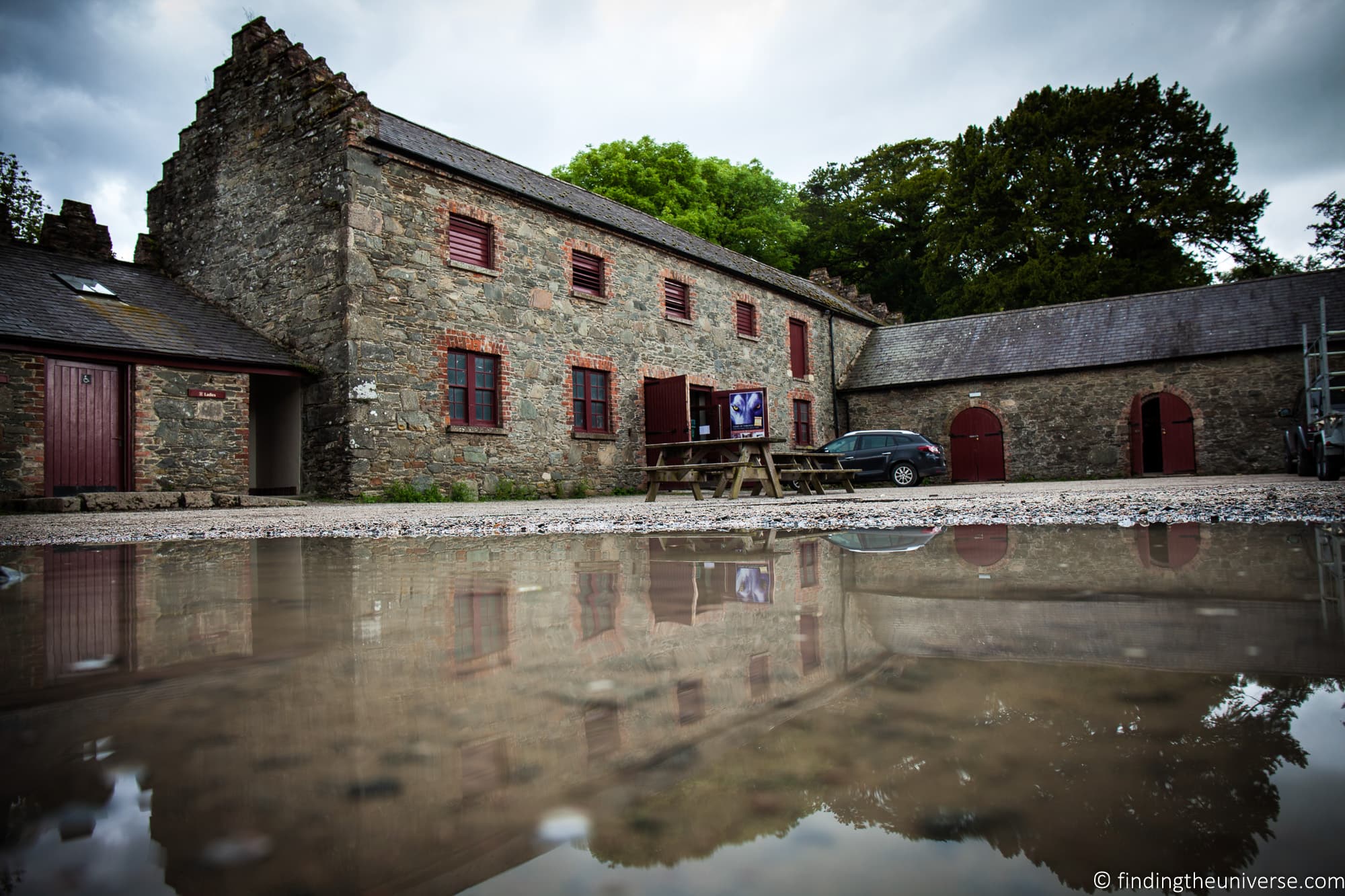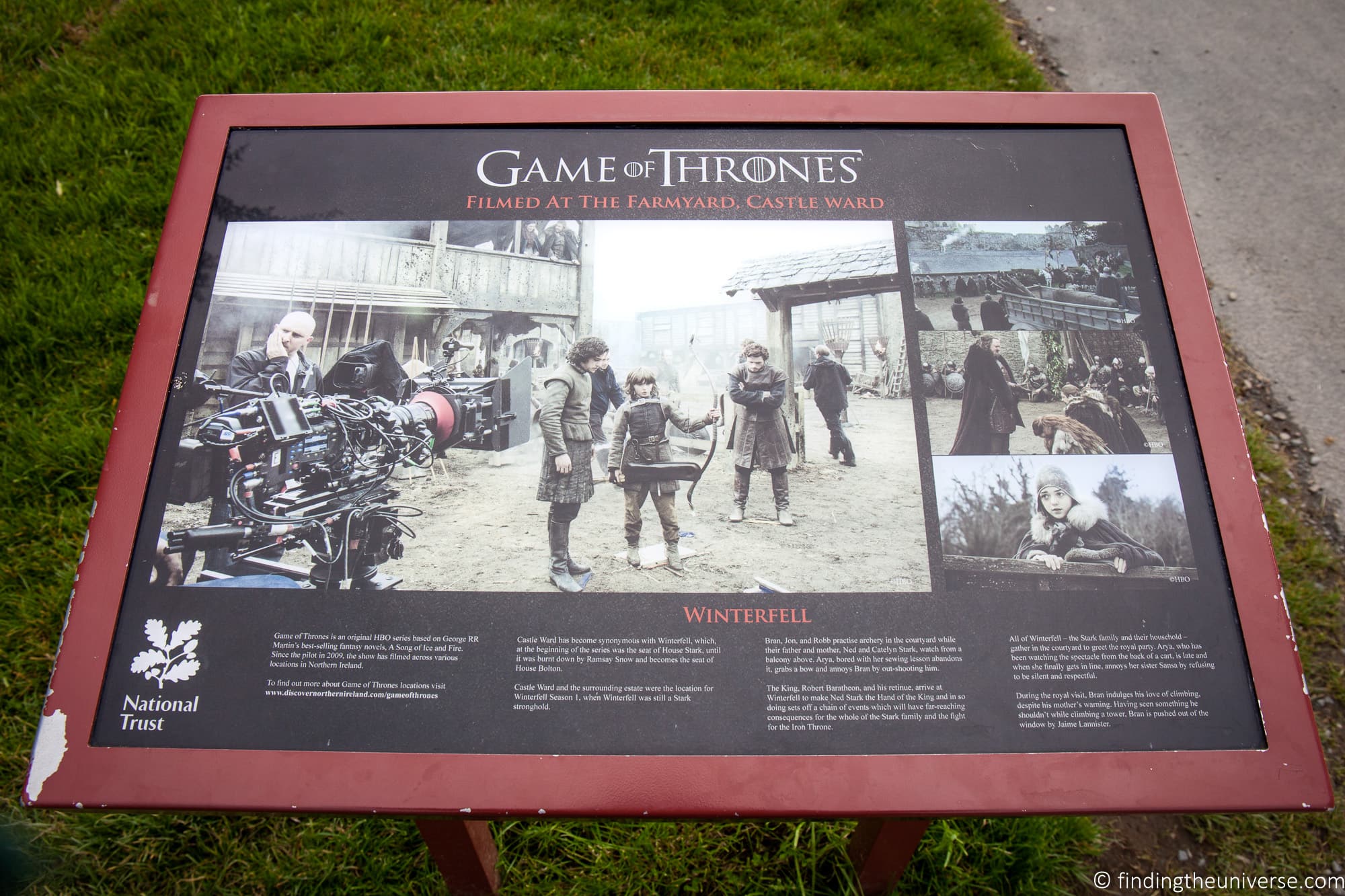 Numerous scenes from multiple episodes of the first season of the show were filmed at Castle Ward, making this a must visit for any fan of the show.
These include the archery training scenes (episode 1), the scene where Bran scales a wall to get a better view of the King (episode 1), the door where Tyrion and Jon first meet (episode 1), the smithy where Arya's sword "Needle" is forged (episode 2), and many more.
Near Strangford Lough you can also find the wall where Sansa's direwolf "Lady" is executed in Season 2.
Castle Ward and the National Trust have fully embraced the Game of Thrones experience, and there are a number of tours and activities you can take here specific to the show, including archery training on a replica Winterfell set, tours of key scenes from the show, and the opportunity to dress up. You can read more about these activities and book in advance here.
As you can see, there's a lot to do at Castle Ward and in the surrounding area, so expect to spend a good two to three hours exploring here.
In addition, Castle Ward is a National Trust site, which means it's free to National Trust members, but otherwise carries an entry fee. As a visitor, if you plan to visit a number of National Trust properties, which are found throughout the UK, you might save money with a National Trust Touring Pass
This allows for free entry to over 300 stately homes, gardens, castles, and historical attractions in the UK. The pass is good for a select amount of days and includes sites across England, Wales, and Northern Ireland.
Audley's Castle and Audley's Field – Stark and Lannister Camp
Audley's Castle is a 15th century castle, now largely in ruins. The castle is a tower house design, found on land known as Audley's Field. The name comes from the original family who owned the land and castle, which was later sold to the Ward family (who owned Castle Ward).
This location was used in the first two seasons in the show. In the first episode of Season 1, when King Robert and his retinue arrive at Winterfell, we first see them riding across the landscape which is Audley's Field.
In Season 2 of the show, Audley's Field was used for a number of filming locations to depict the Riverlands area.
This was also where the Battle of Oxcross takes place in Episode 4. Following the successful battle, Rob Stark meets his bride to be, Talisa, who is tending to the wounded and dying on the battlefield.
Scenes of the Stark camp were also filmed here, particularly in Episode 1, where Audley's Castle can be seen in the background, and scenes of the Lannister Camp were also filmed here.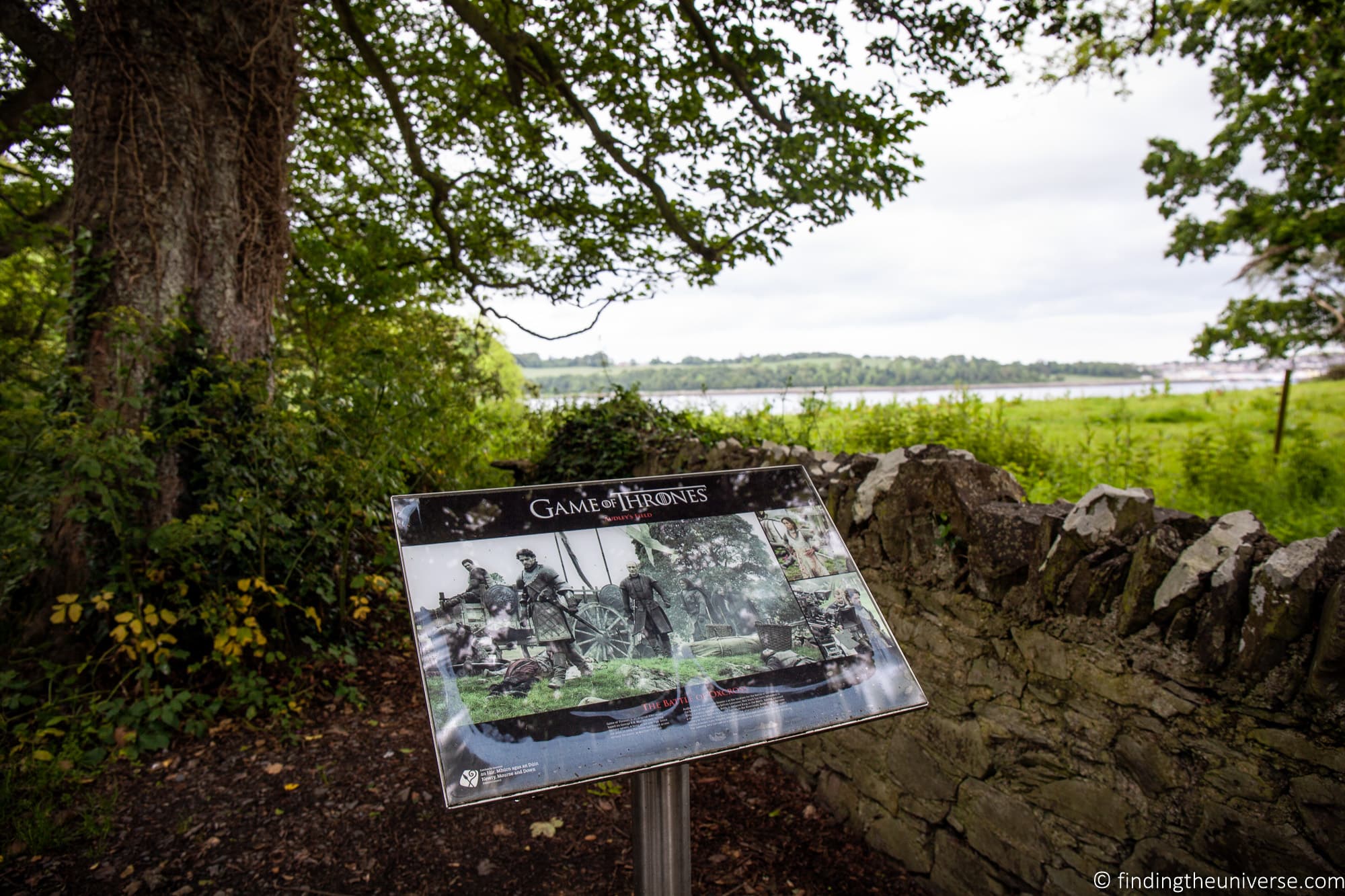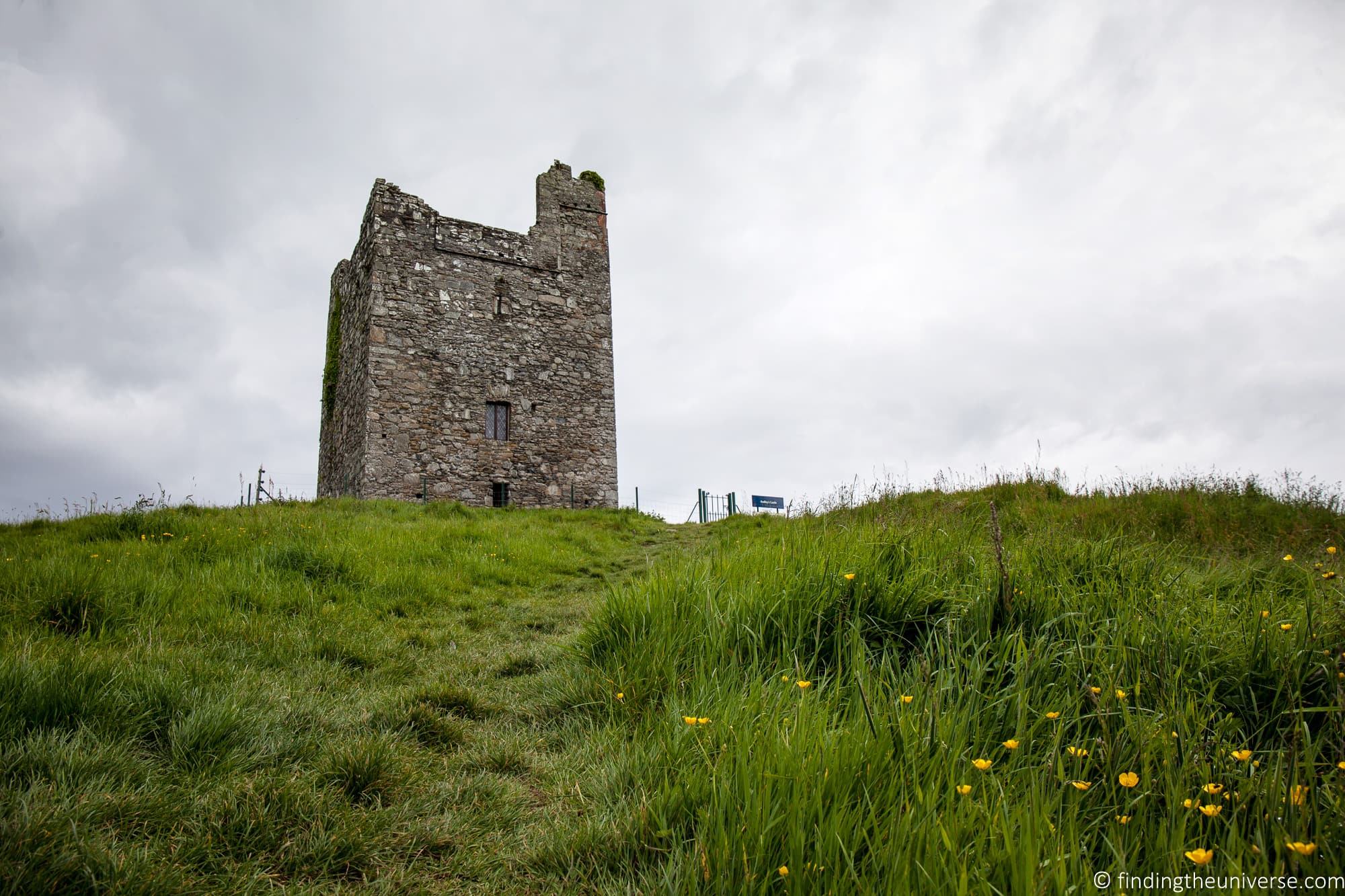 Audley's Field and the general area by Strangford Lough was also used as the filming location of The Twins, home of the Frey family which is found in the Riverlands.
In the Game of Thrones world, The Twins consists of two castles which stand at each end of a fortified bridge, with a toll payable to anyone who wishes to cross. The castles were computer generated, however the scenery around them is of the area around Audley's Field and Strangford Lough.
The Twins appear in a number of episodes, including episode 9 of season 1, where Theon shoots down the messenger ravens leaving the castle.
Finally, a number of other scenes were also shot here in Season 2 and 1 of the show. For example, in Episode 10 of Season 2, Jamie Lannister and his escort, Brienne of Tarth, walk along a path together and encounter three hanging bodies as well as three Stark men who meet a rather unfortunate end.
Quintin Bay and Castle – Stokeworth Castle
Across Strangford Lough on the Ards Peninsula is Quintin Castle. This 12th century castle sits in a beautiful location with rocky coastline and windswept beaches, and was chosen as the location for Castle Stokeworth in Episode 2 of Season 5.
In the episode, this bay is where Jamie asks Bronn to accompany him to Dorne, whilst they stand outside Stokeworth Castle.
The bay used in the scene is the actual bay, however poor Quintin Castle was edited out and replaced with a much grander edifice. The castle itself is a private residence and cannot be visited.
Gosford Castle – Riverrun Castle
Dating from the mid 19th century, Gosford Castle has had many roles over the years. It started out as the home of the Earls of Gosford, but throughout the 20th century it was used for various purposes, including being a hotel, a prisoner of war camp, and a place to house troops.
Today, parts of the castle are luxury apartments, so this is now a private property which isn't open to visitors, although you can see the outside. I am including it for completeness. Game of Thrones fans will recognise it as Riverrun Castle, the home of House Tully, which featured in Season 3 of the show.
Pollnagollum Cave – Hollow Hill, Brotherhood without Banners Hideout
Far out to the west of Northern Ireland you will find the Marble Arches Caves Global Geopark, home to the Marble Arch Caves, which are some of Europe's most impressive caves. The caves and geopark is open for visitors, and you can take a guided tour of the Marble Arch caves (advanced booking recommended).
The cave that will interest Game of Thrones fans though is Pollnagollum Cave. This cave is free to see and is found within the geopark. It's the longest known cave on the island of Ireland, at around 10 miles in length.
You can get to the cave viewpoint a short walk from a nearby carpark. After the cave viewpoint, a 4.3 mile loop walk continues through the geopark and returns to the carpark. You can see a description of this walk here.
Access to the cave itself is possible, but not recommended except for experienced cavers with the appropriate equipment. Access to the caves in the Geopark sites is strictly controlled for safety and conservation reasons.
Pollnagollum Cave featured in Episode 4 of Season 3 of the show, as the location of the hideout of the Brotherhood without Banners, led by Beric Dondarrion.
Lough Neagh – Summer Sea Shores
Lough Neagh, found around 20 miles to the west of Belfast, is the largest freshwater lake in Northern Ireland, and also the largest lake by area in the British Isles.
As you would imagine there's plenty to do on and around the Lough, from watersports to wildlife viewing and more.
Game of Thrones fans will want to head to the shores of the Lough near Massereene Golf Club. Here, in Episode 5 of Season 5, Tyrion Lannister wakes up on a foreign shore in the custody of Jorah Mormont, who wishes to return him to Daenerys Targaryen and regain her good graces.
Toome Canal – Old Valyrian Canal
Flowing out of the northern end of Lough Neagh is the Lower Bann river. This is a part of the Bann river, the longest river in Northern Ireland. From Lough Neagh, the river has been partly canalised for navigation purposes, and the stretch near Toome on the banks of Lough Neagh is often referred to as Toome Canal.
This was the setting of the Old Valyrian Canal, which features in Episode 5 of Season 5. The specific scenes take place just before the scenes on the shore of Lough Neagh, with a captive Tyrion Lannister being transported to Daenerys by Jorah Mormont, on a route that takes them through the ruins of Old Valyria.
It is here that they witness Drogon flying overhead before being attacked by the Stone Men and pitched overboard.
Sallagh Braes – Riverlands
The beautiful Glens of Antrim are one of Northern Ireland's areas of outstanding natural beauty. Within the glen you will find the Sallagh Braes, a rugged cliff face with gorgeous views across the town of Ballygally and the Irish Sea. At the top of the Sallagh Braes is Knockdhu, the site of a Bronze Age fortress.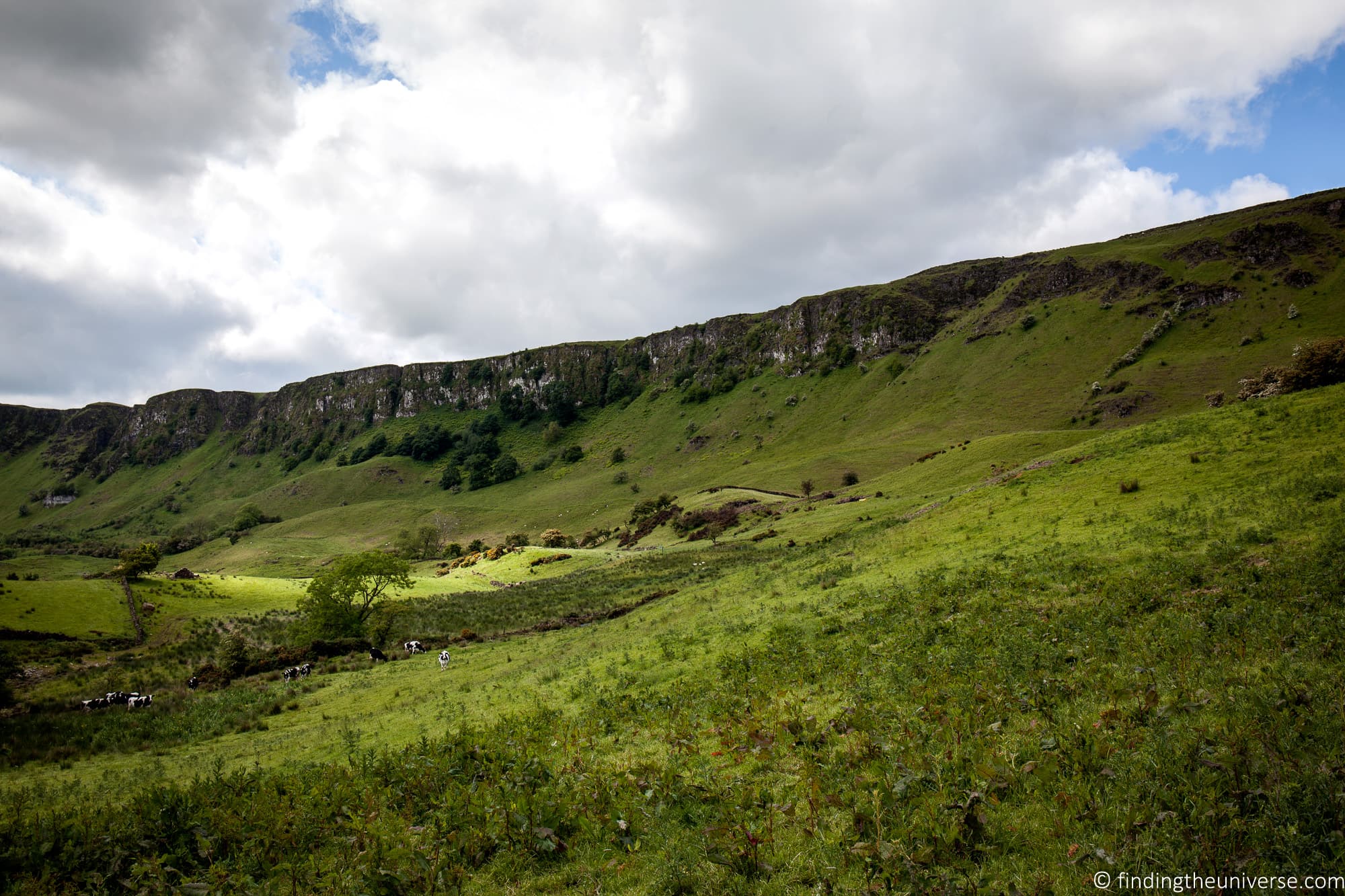 Sallagh Braes is where, in Episode 7 of Season 6, we find the Hound, who has abandoned his previously violent life for a peaceful existence in a quiet village.
Unfortunately, this wonderful dream is shattered when the village is set upon by three men from the Brotherhood without Banners, who murder all the villagers. Very Game of Thrones. Suffice to say, the Hound is not pleased and heads off to exact his revenge.
There's a walking route that takes you to the Sallagh Braes from the Linford Car Park, which you can see described here.
Cairncastle – Winterfell / Harrenhal / Moat Cailin
Just to the north of the Sallagh Braes in the Glens of Antrim is the town and parish of Cairncastle. The lands above Cairncastle are beautifully rugged, and were used for a number of scenes in the show.
It's worth being aware that many of these locations are on private land and therefore inaccessible to the public, however; I am including them for completeness.
Probably the most famous scene to be filmed in the wilderness here is scene from the first episode of season one, where Ned Stark beheads the deserter Will in front of members of the Stark family.
The scenery here was also used in episode 3 of season 5, when Sansa Stark and Lord Baelish (also known as Littlefinger) are travelling together to Winterfell. It is at Moat Cailin that she learns their destination is Winterfell, where she is to be married to the rather unpleasant Ramsay Bolton.
Finally, in episode seven of season 3, Jamie Lannister is on his way back to Kings Landing with Qyburn, and they rest for a while as Qyburn tends to Jamie's stump. This was also filmed in the Cairncastle area.
Shillanavogy Valley – Dothraki Sea
Shillanavogy Valley, located beneath Slemish Mountain in County Antrim, is a lovely grassy valley that offers rewarding views and excellent bird watching opportunities.
Slemish Mountain is actually the plug of an extinct volcano. This is also a site on the St. Patrick's Trail, and is said to be where the Saint tended sheep for several years as a young man.
Game of Thrones fans will likely recognise Shillanavogy Valley as the location for the Dothraki Sea in episode 2 of season 1 of the show, where we see Daenerys Targaryen and the Dothraki as they travel to Vaes Dothrak.
Carnlough Harbour – Braavos
The picturesque harbour of Carnlough village is a wonderfully photogenic spot, and well worth a visit. It's a good spot from where to take cruises, go fishing, or simply watch the fishing boats go about their business.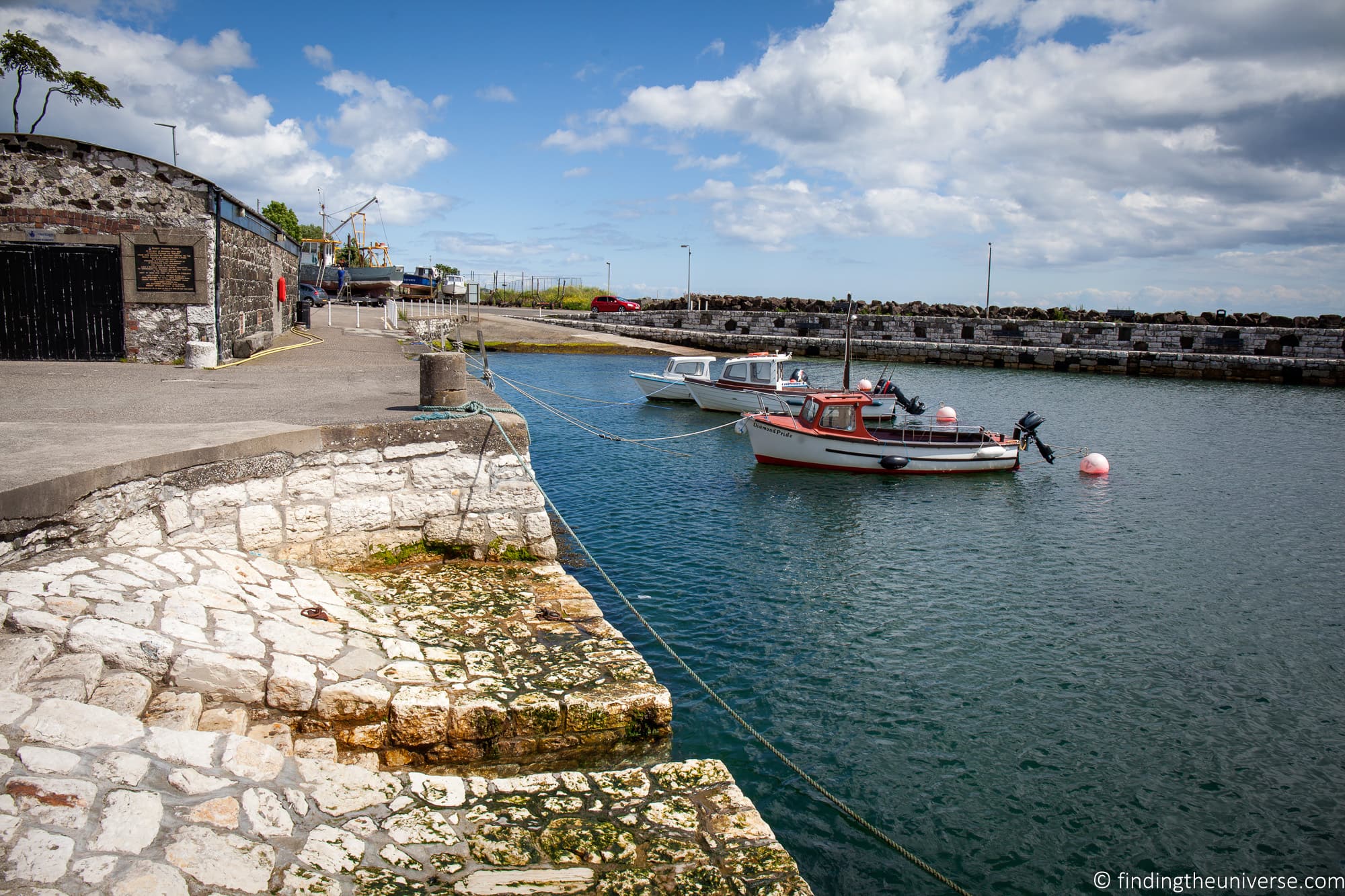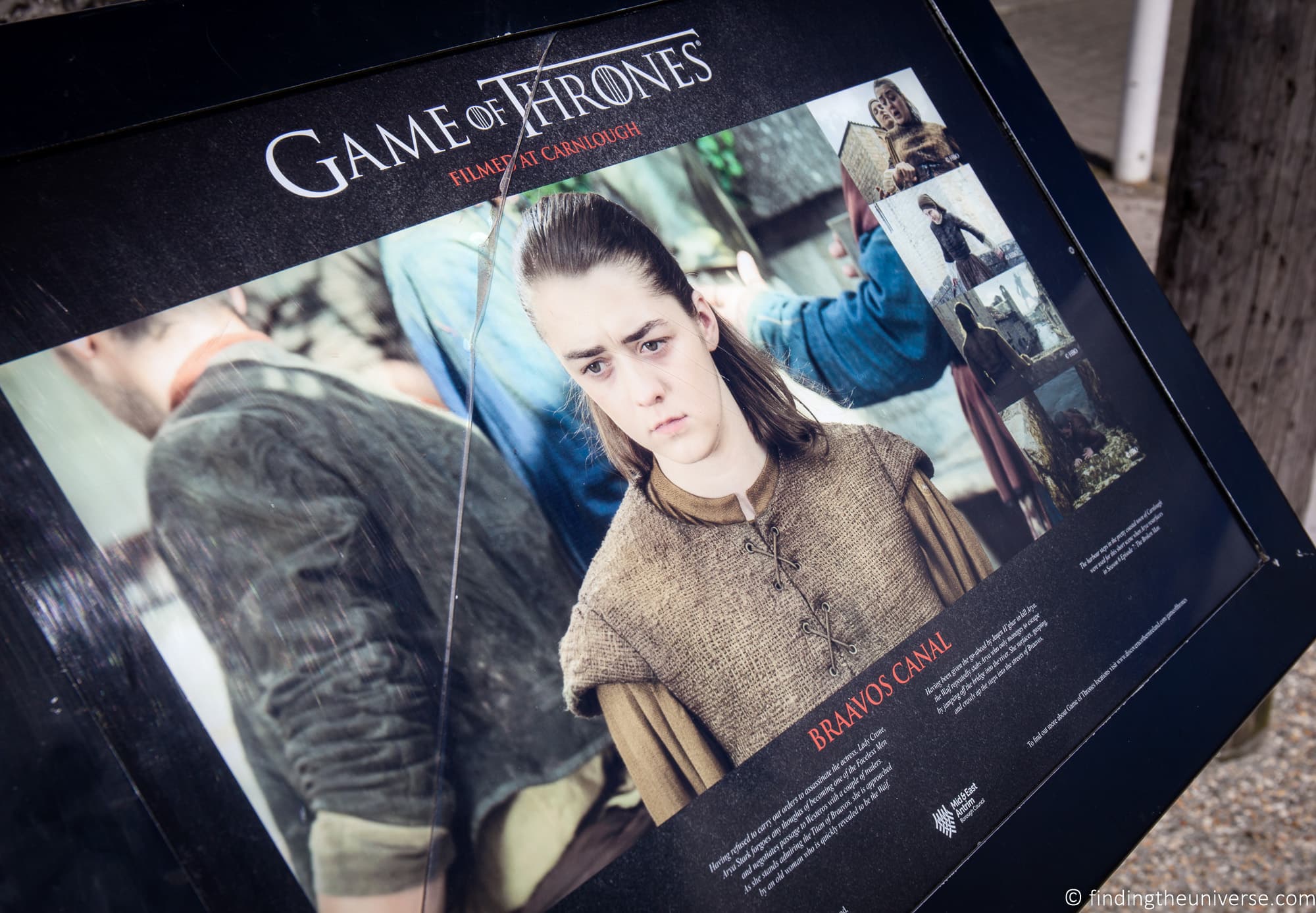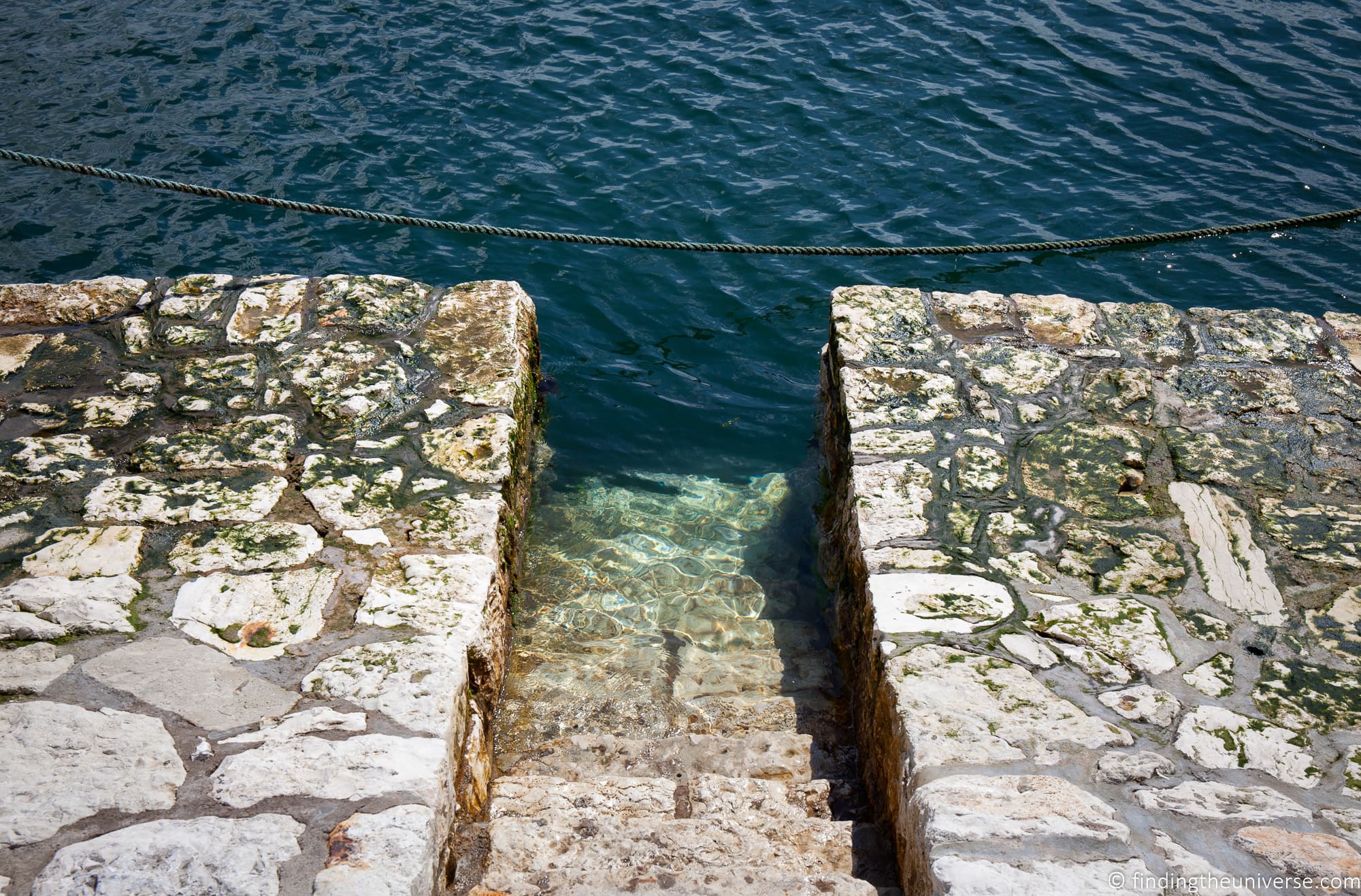 In Game of Thrones, Carnlough Harbour appeared in episode 7 of season 6. After being attacked by the Waif, Arya falls into the Canal of Braavos. We see her emerging up a series of steps, which can be seen in Carnlough Harbour. Included on this tour.
Galboly – Runestone, Vale of Arryn
The abandoned village of Galboly in the Glens of Antrim is found above Garron Point, where there's a small car park and a Game of Thrones information panel (here on Google Maps).
The village was home to around 60 people in the mid 19th century, and had a number of stone built houses. However, over time the popular declined. By 1970 there was just one inhabitant, and today the village is entirely abandoned and is slowly succumbing to the elements as a result.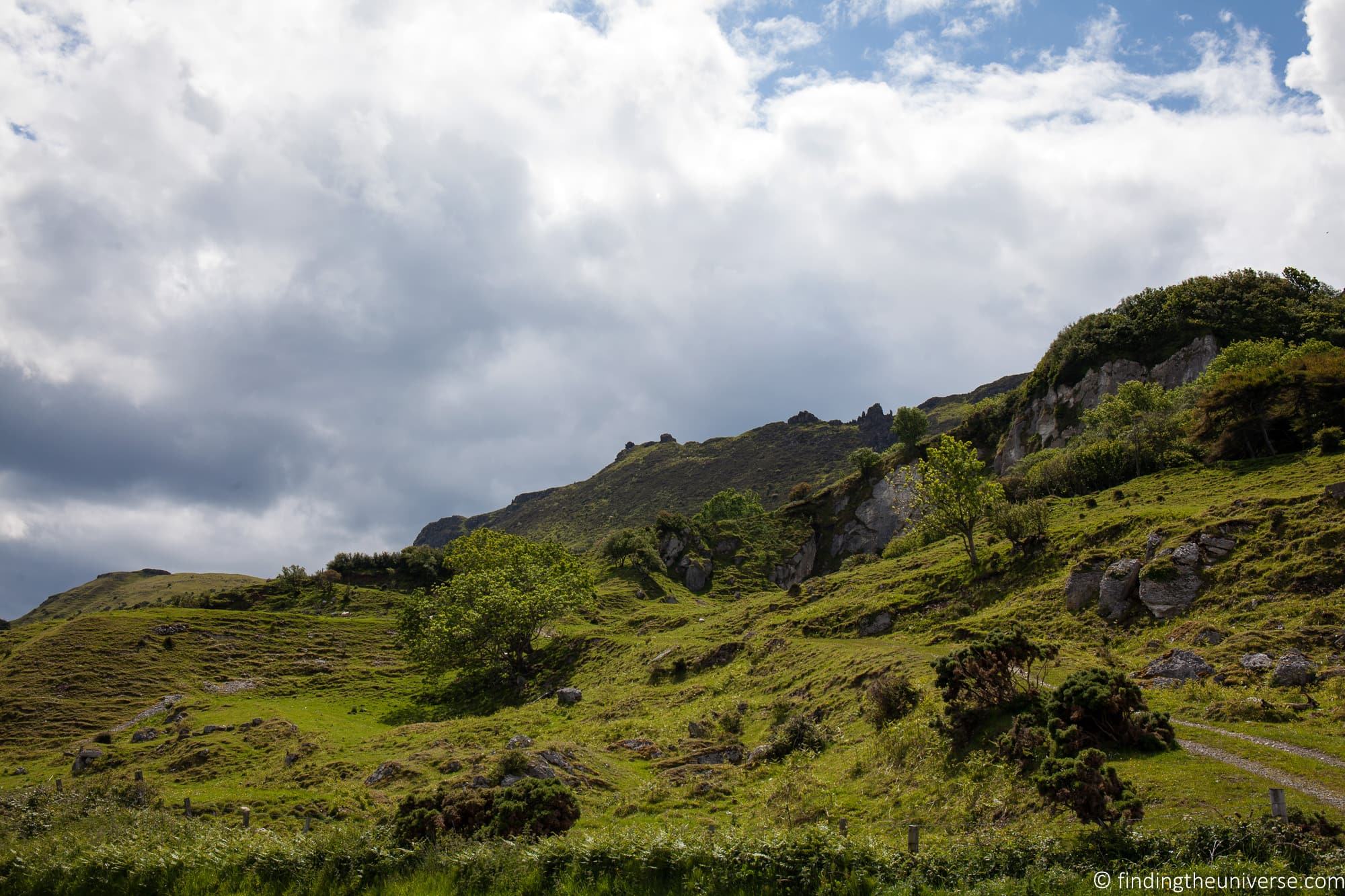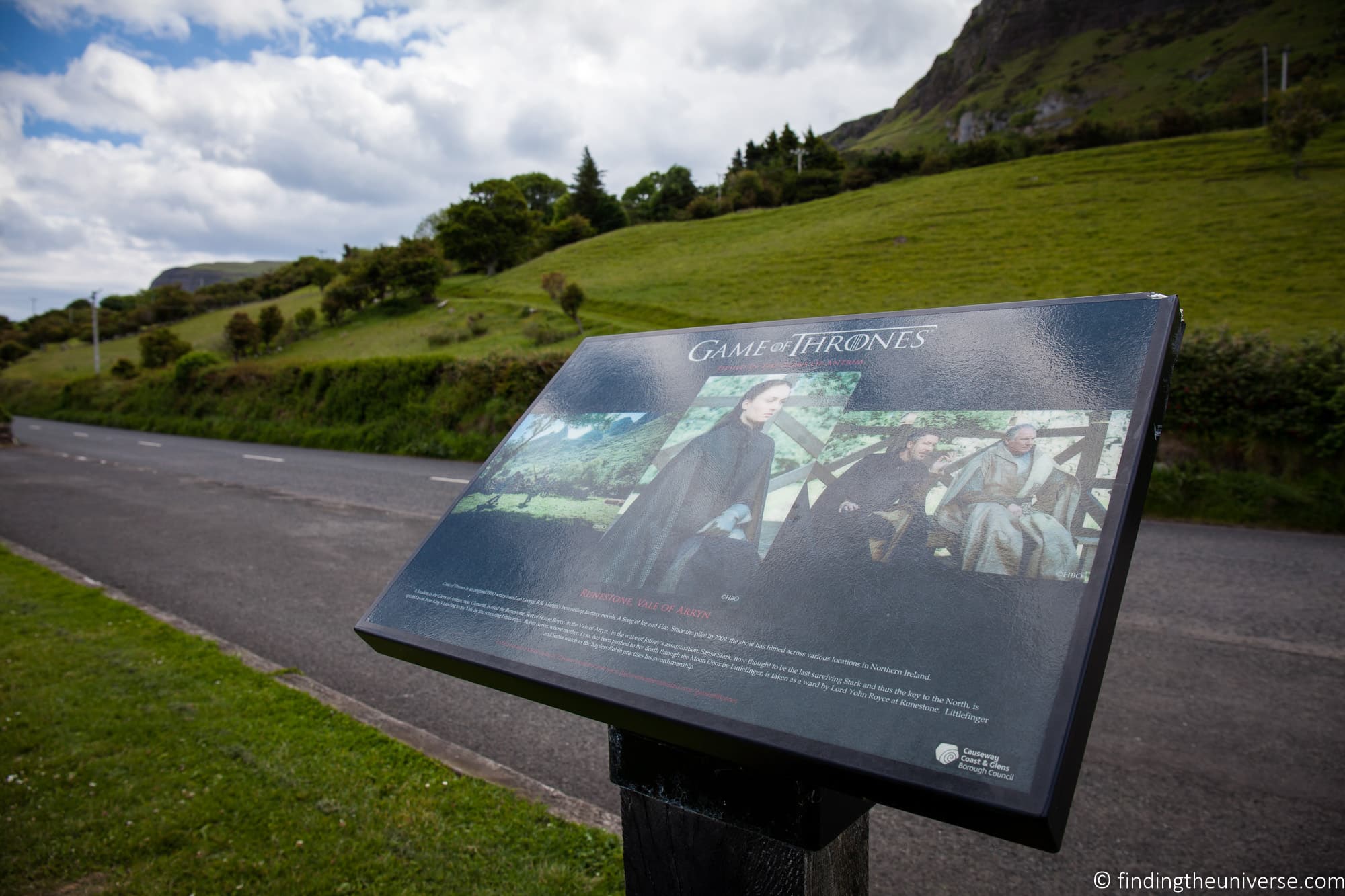 Galboly was used as the filming location for Runestone. In episode 1 of season 5, we see Sansa Stark and Littlefinger watching Robin Arryn trying to learn how to use a sword.
In episode 4 of season 6, Galboly reprises its role as Runestone, with Littlefinger presenting the gift of a falcon to Robin Arryn on his nameday, followed by Littlefinger enlisting the help of the Knights of the Vale to rescue Sansa from Ramsay Bolton.
As of 2019, Galboly itself can't be accessed as it is on private land. However, this may change in the future. Still, it is worth a quick stop at the car park and to see the surrounding scenery and information panel.
Cushendun Caves – Stormlands
Just near the small coastal village of Cushendun in County Antrim are the Red Caves, also commonly called the Cushendun Caves. Formed 400 million years ago, these caves are open to the public and are only a short walk along the coast from Cushendun village.
Speaking of which, Cushendun village is very much worth a visit. Managed by the National Trust, this picturesque village has some lovely houses, a tea room, a ruined castle, and the opportunity to spot red squirrels.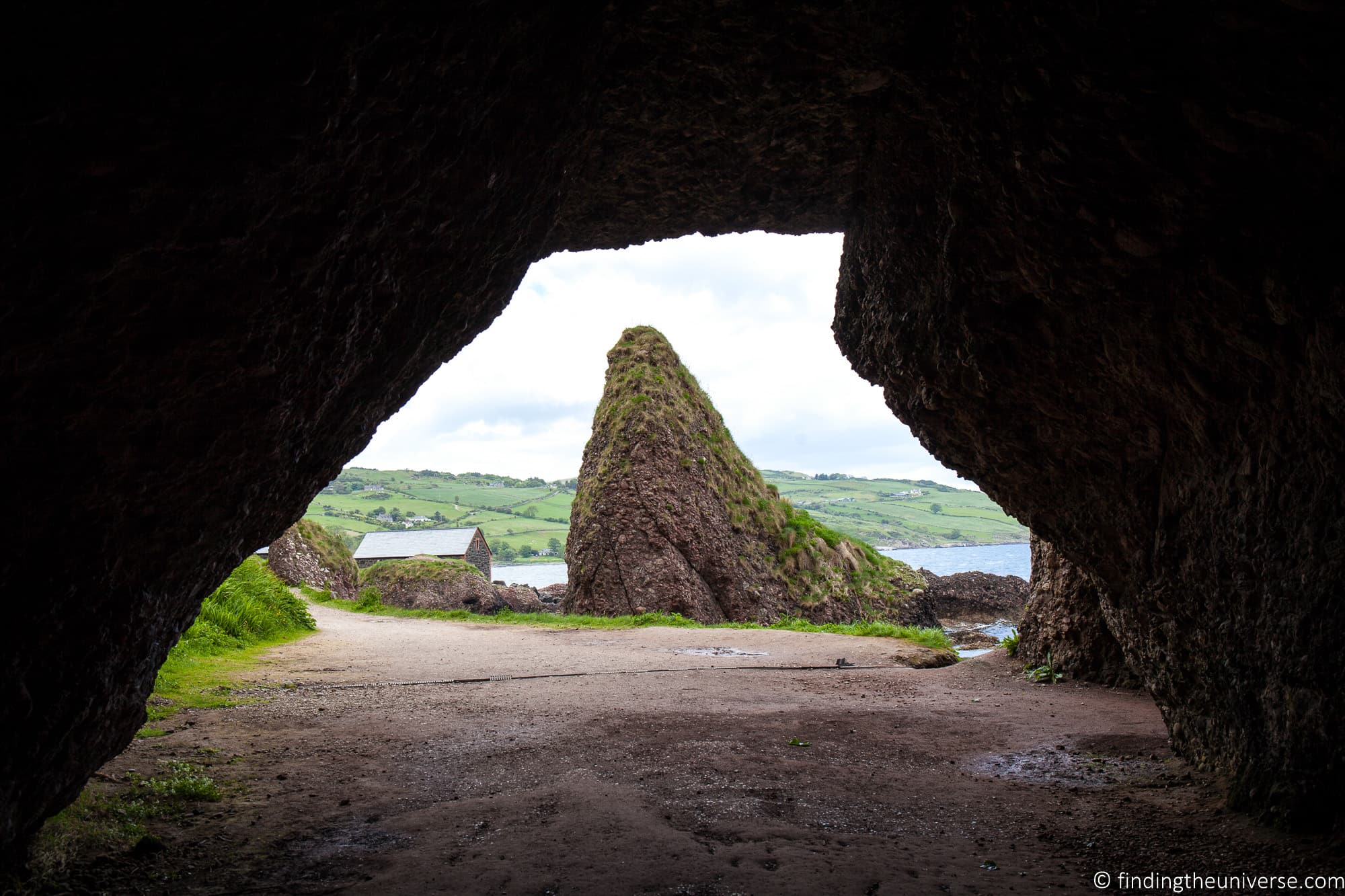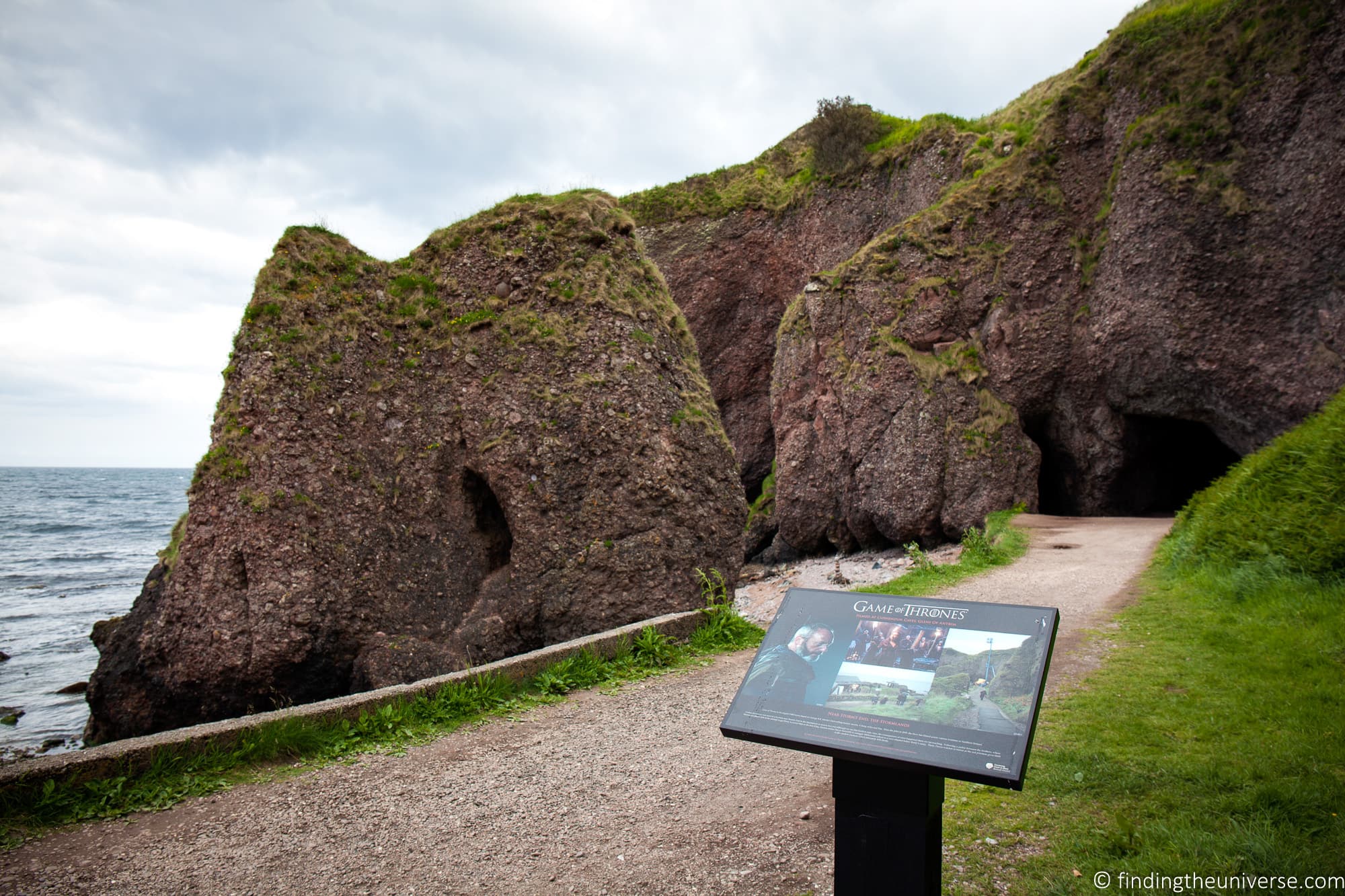 Back to Game of Thrones. In the show, Cushendun Caves appear in episode 4 of season 2. The scene has Davos Seaworth smuggling Melisandre ashore in the Stormlands, to a cove just below Renly Baratheon's camp. They go into a cave, and rather disturbingly, Melisandre gives birth to a shadow creature which heads off and kills Renly. Lovely stuff.
Murlough Bay – Slavers Bay / Stormlands & Iron Islands
Another of the beautiful locations along Northern Ireland's Causeway Coastal route is Murlough Bay. Here there is fantastic rugged coastal scenery, which is perfect for hiking and exploring.
Murlough Bay featured in a variety of Game of Thrones scenes. The most memorable scene in my opinion is from episode 6 of season 5, where we see Tyrion and Jorah attempting to reach Meereen on foot. However, they are captured by slavers, although Tyrion manages to convince them to take them to Meereen anyway.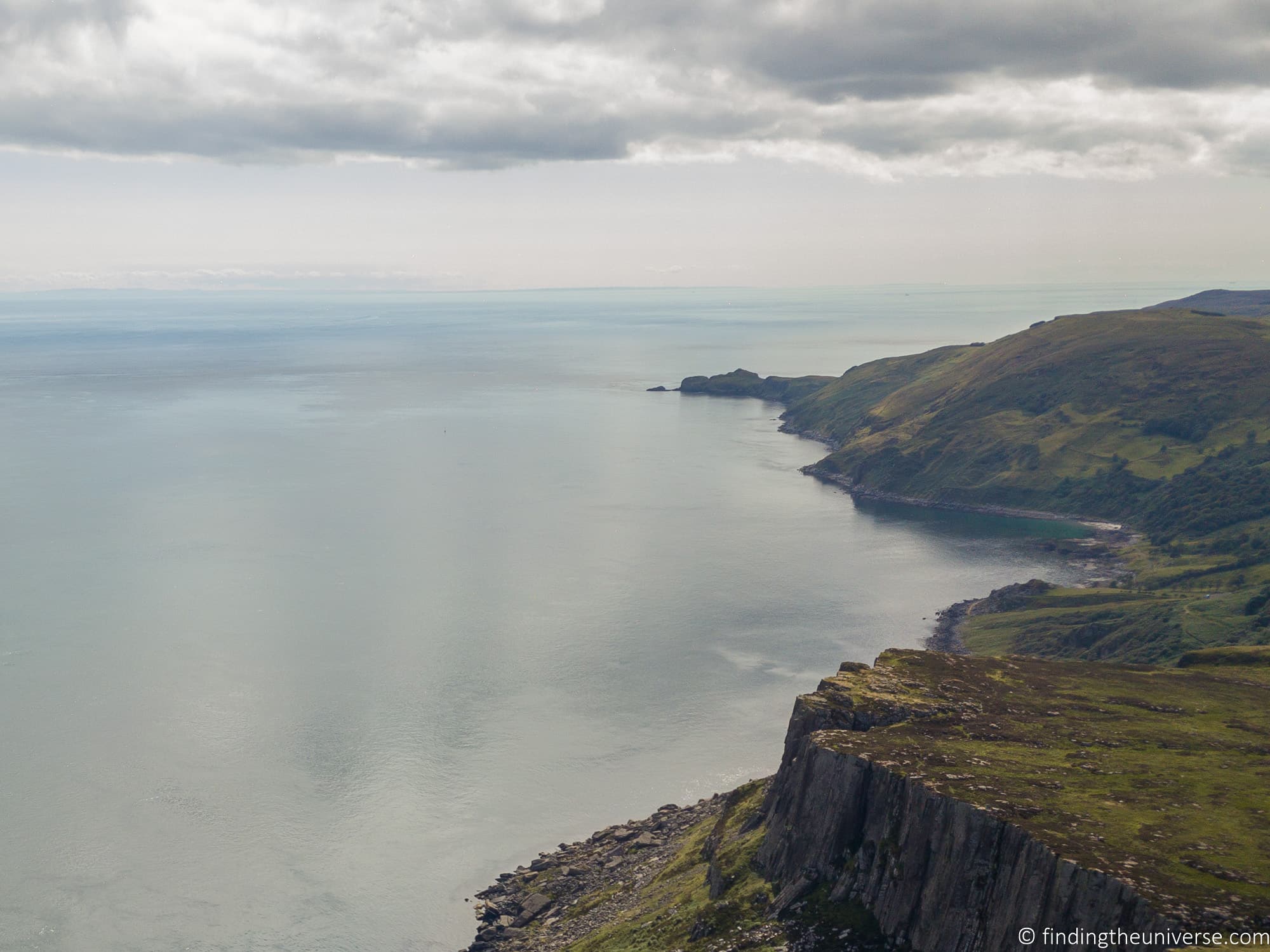 The cliffs above Murlough Bay were also used to depict the Stormlands. In episode 4 of season 2, Stannis Baratheon and his entourage meet with Renly Baratheon, in an attempt to have Renly yield the throne to Stannis. This doesn't go well.
Finally, when Theon and Yara are riding together in episode 2 of season 2, parts of the riding scene were shot here, and you can see the Fair Head Cliffs in the background.
There are two Game of Thrones placards here, one above Murlough Bay describing the Stormlands scene, and one overlooking the beach itself describing the scene with Tyrion and Jorah. You can drive down Murlough Road, where there is some car parking, and the locations are accessible on foot.
Fair Head Cliffs – Dragonstone
A little further along the Causeway Coastal Route, and visible from Murlough Bay, are the spectacular Fair Head Cliffs. This a five kilometre long cliff which rises almost 200 metres / 650 feet above sea level.
Fair Head is a regarded as one of the best places for rock climbing in Ireland, and the area also offers lovely walking opportunities.
In Game of Thrones, Fair Head was used as the location for the Dragonstone Cliffs Season 7 of the show, with a number of scenes taking place here.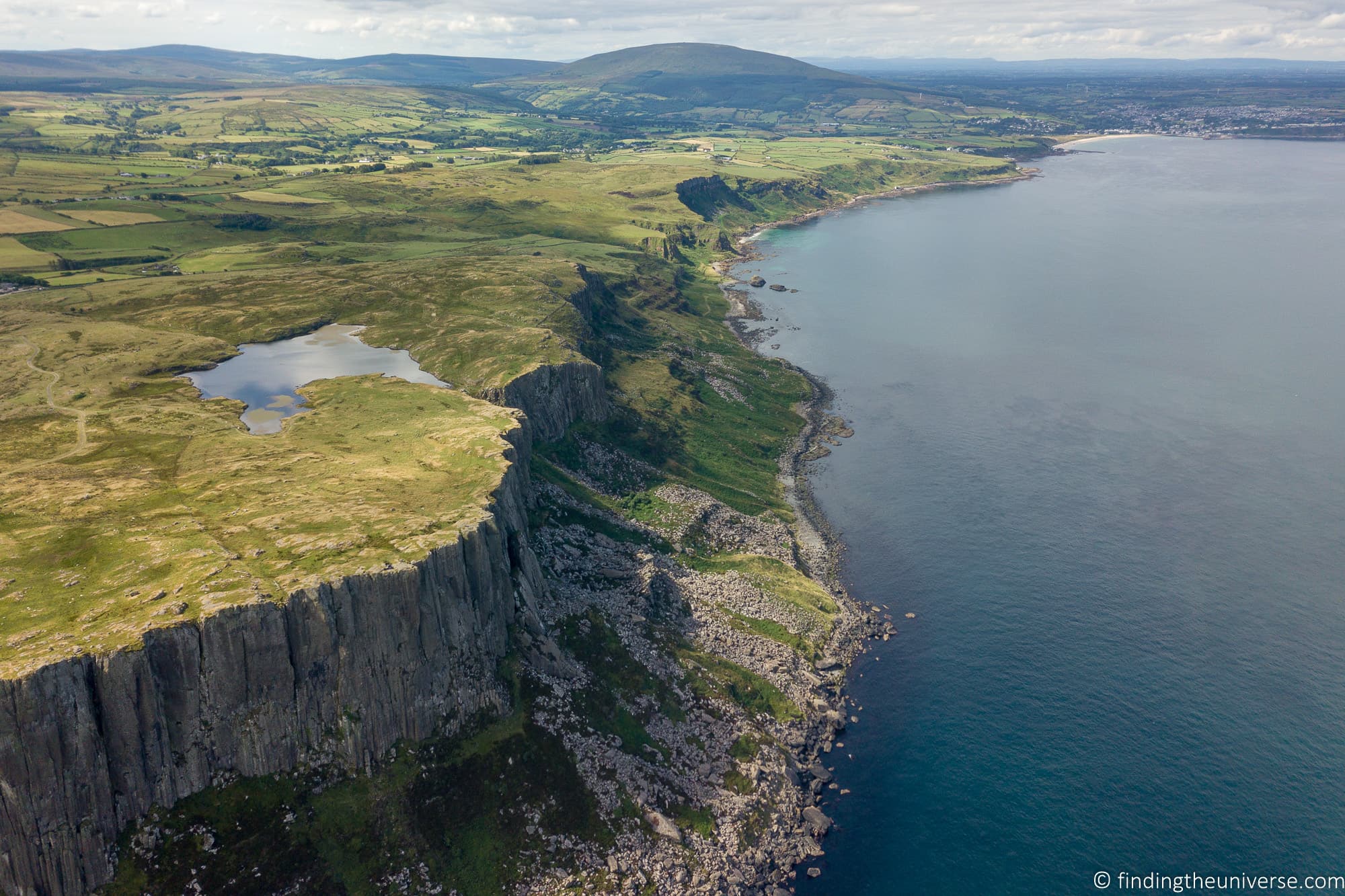 First, the conversation between Varys and Melisandre in episode 3, where Varys confronts Melisandre over her reluctance to meet with Jon. Later in the same episode, we see Tyrion and Jon Snow talking about the need for dragon glass to battle the army of the dead.
In episode 5 of the same season, these cliffs are the location where we see Jon getting friendly with the dragon Drogon, and even petting his face. Shortly afterwards, Jorah turns up, healed from greyscale thanks to the efforts of Samwell Tarly.
Finally, in episode 6 of season 7, the cliffs are where Daenerys sets off to try and rescue Jon Snow and his party from where they have been besieged by the army of the dead. There is lovely aerial footage of the cliffs in this scene.
Access to the cliffs is via foot only. There's a car park where you can park (there's a small fee to park), and there's a Game of Thrones information panel here, as well as information on walking routes. See more about walking in this area here.
Please take care when visiting, as the cliffs are very high, there are no safety measures in place, and this is a windswept area where the weather can change very quickly.
Larrybane Quarry – Stormlands, Iron Islands
Larrybane Quarry is a former chalk quarry which now serves as an overflow car park for the National Trust Carrick-a-Rede rope bridge attraction. That is also definitely worth visiting whilst you are in the area.
Larrybane Quarry, and the surrounding area, was used for a number of Game of Thrones locations.
The first was actually filmed inside the quarry, where in episode 3 of season 2 it features as Renly Baratheon's camp. In the scene we see a mysterious knight best Ser Loras Tyrell under the watchful gaze of Renly Baratheon and his Queen, Margaery Tyrell. The knight is revealed to be Brienne of Tarth, who asks to be named to Renly's Kingsguard, a wish he grants.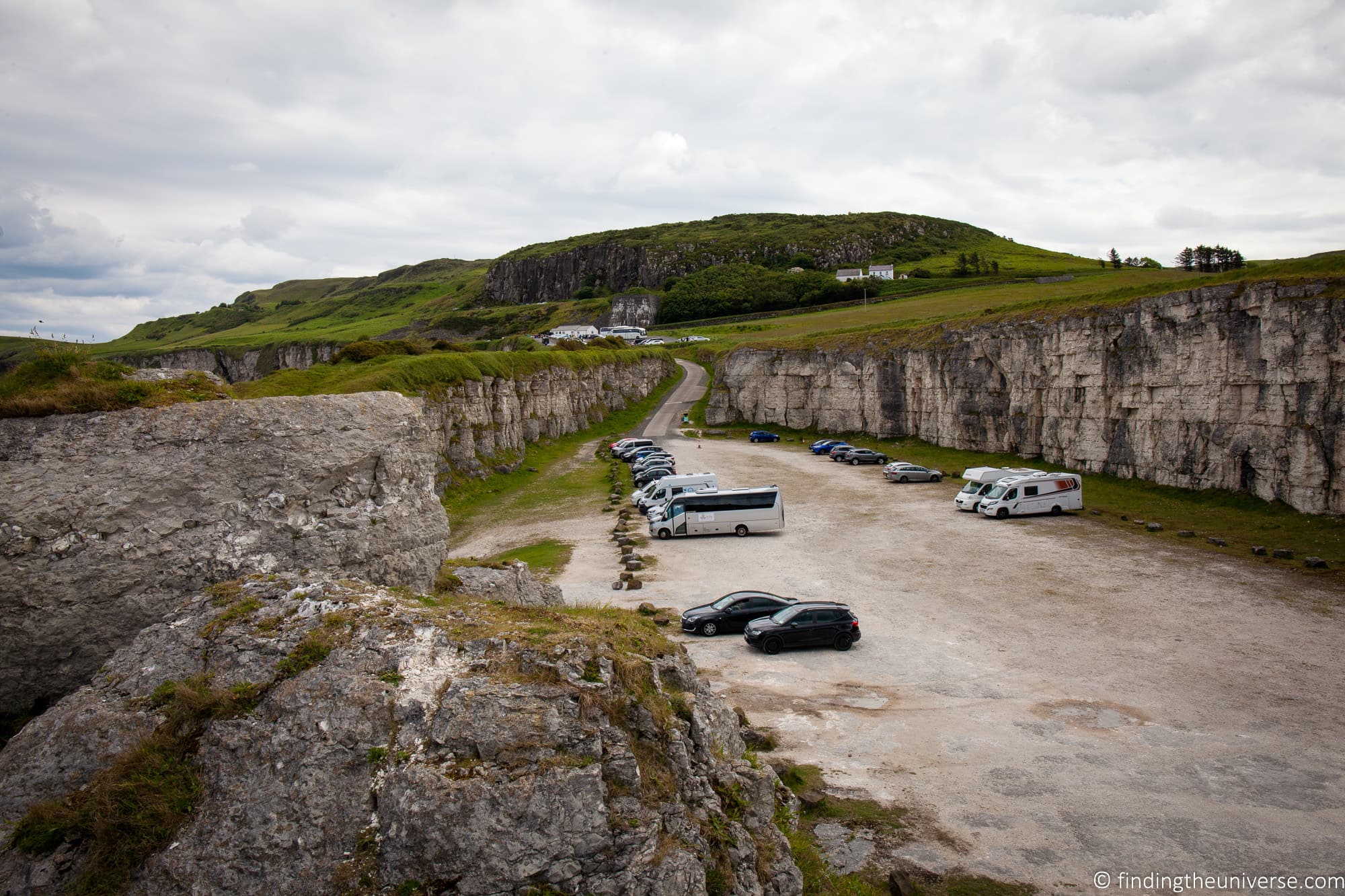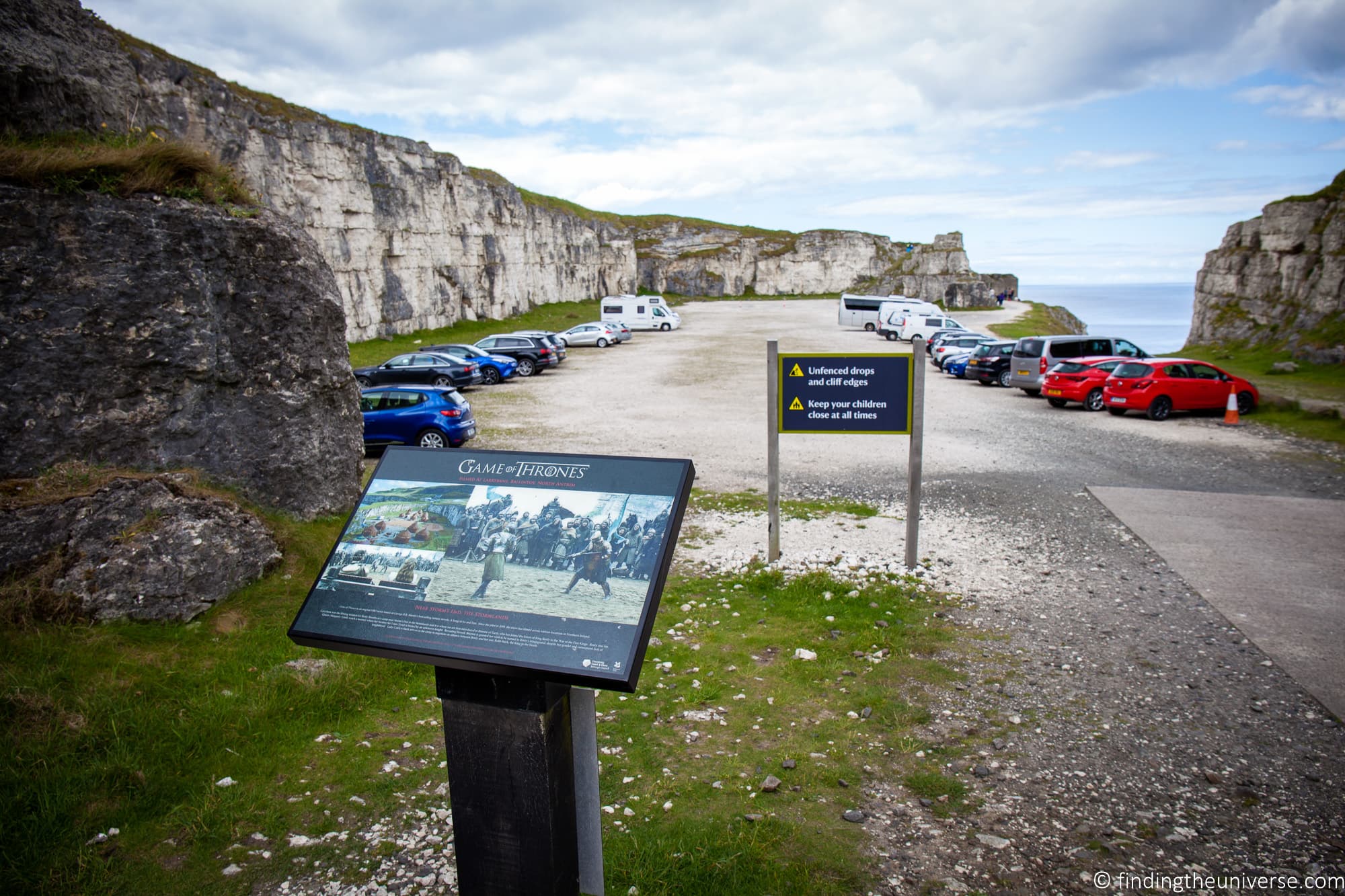 Shortly after this, Catelyn Stark turns up and negotiates an alliance between Renly and Robb Stark, which is also filmed here.
Later in Season 2, in episode 5, Stannis has taken over the camp, and we see him striding through the camp with the walls of the quarry surrounding him, having an argument with Davos over the use of blood magic.
In episode 5 of season 6, the show's producers returned to Larrybane once more. The area near the quarry was used as the location of Nagga's Hill. This was where Yara Greyjoy attempted to lay claim to the Iron Throne, only to be thwarted by their uncle, Euron Greyjoy.
Ballintoy Harbour – The Iron Islands
Continuing along the beautiful Causeway Coastal Route that loops around Northern Ireland's coastline, you will come to the picturesque Ballintoy Harbour. This is an old stone built fishing harbour, which looks as if it hasn't changed in hundreds of years. Probably because it hasn't.
As well as the harbour itself, the area is home to a small cave, a pebble beach, and some interesting rock formations which are fun to explore.
Ballintoy Harbour was also used for a number of Game of Thrones scenes of course, and given how picturesque the harbour is, it's not hard to see why. It was predominantly used as the filming location of scenes from the Iron Islands.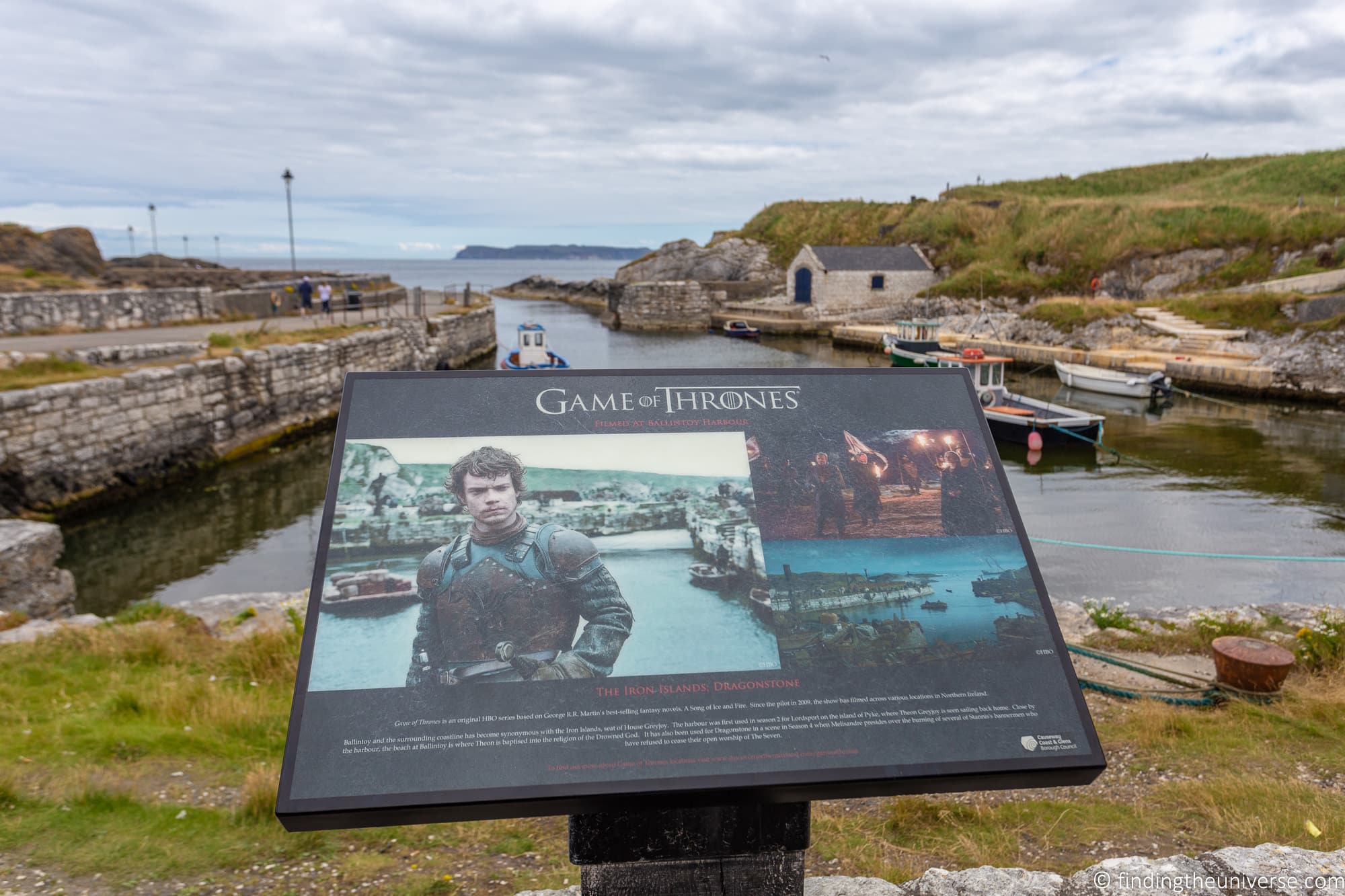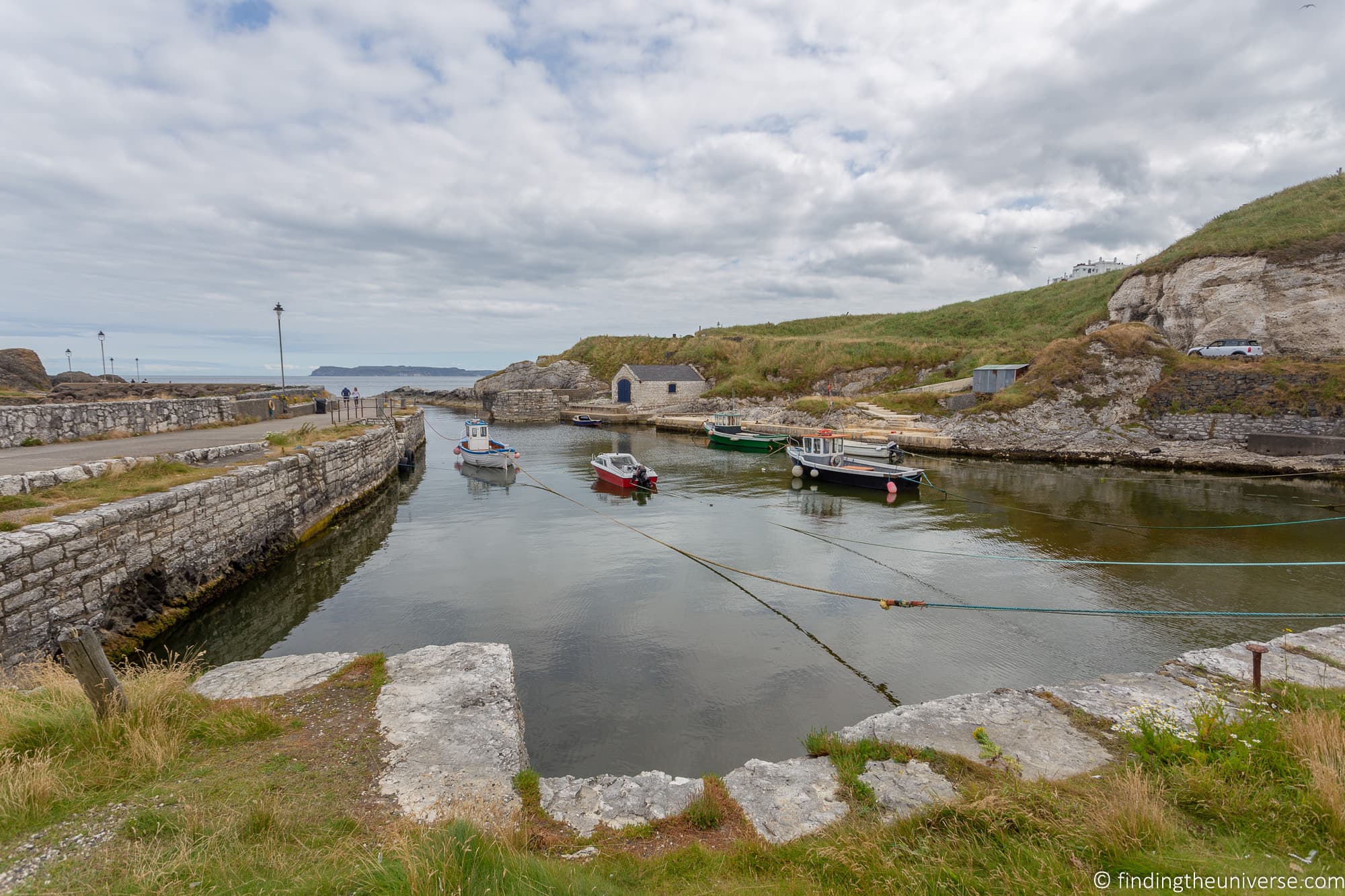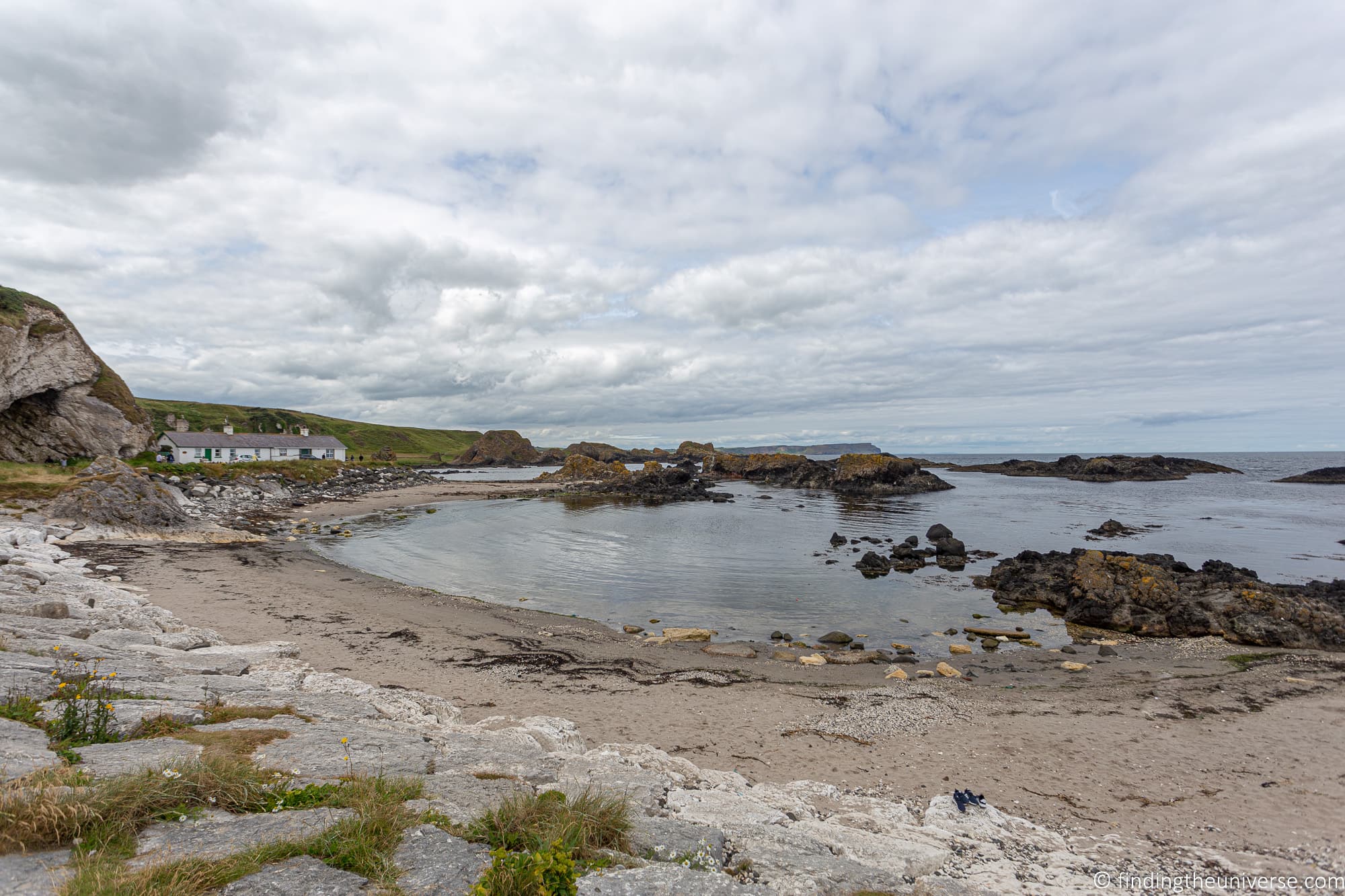 In Episode 2 of Season 2, we first see Ballintoy Harbour, where it becomes Lordsport Harbour in Pyke, the Iron Islands. This is where Theon arrives in an effort to secure the allegiance of the Ironborn to Robb Stark's army.
In the next episode of the season, we see Theon baptised in the name of the Drowned God, a scene which takes place on the beach area by the harbour. In episode 5 of season 2, the harbour is again used as Lordsport Harbour, and is where Theon is given a crew, none of whom respect him.
In episode 2 of Season 4, this same beach is used as a Dragonstone location, in the scene where Melisandre burns those bannerman who have refused to stop worshipping the original seven gods.
Finally, Ballintoy was also used for scenes in Season 6 of Game of Thrones. In episode 2, the beach was used as the location for the funeral of Balon Greyjoy. In episode 5, we see Euron drowned and reborn as ruler of the Ironborn here, and we also see Yara and Theon flee the Iron Islands with their followers and fleet.
Ballintoy Harbour is accessible by road, and there is a parking area just by the harbour itself. Just be aware that the road is quite narrow, and the site is very popular, so take care when driving down here.
Perhaps a more fun way to explore the site (that avoids the congested narrow road) is to take a kayaking tour from Ballycastle that visits the harbor! It's also included on this comprehensive tour from Belfast.
Dunluce Castle – Pyke Castle
Dunluce Castle is a spectacular cliff top crumbling ruin, once the seat of Clan MacDonnell. A castle has stood on this commanding location since the 13th century, although the present castle largely dates from the late 16th and early 17th centuries.
The castle was abandoned in 1690, when the impoverished MacDonnell clan could no longer afford to keep it. It began a long decline into ruin, with parts of it collapsing into the sea over time. Today it is a popular visitor attraction which is well worth a visit. There's parking on site and a fee for actually visiting, you can see prices and opening hours here.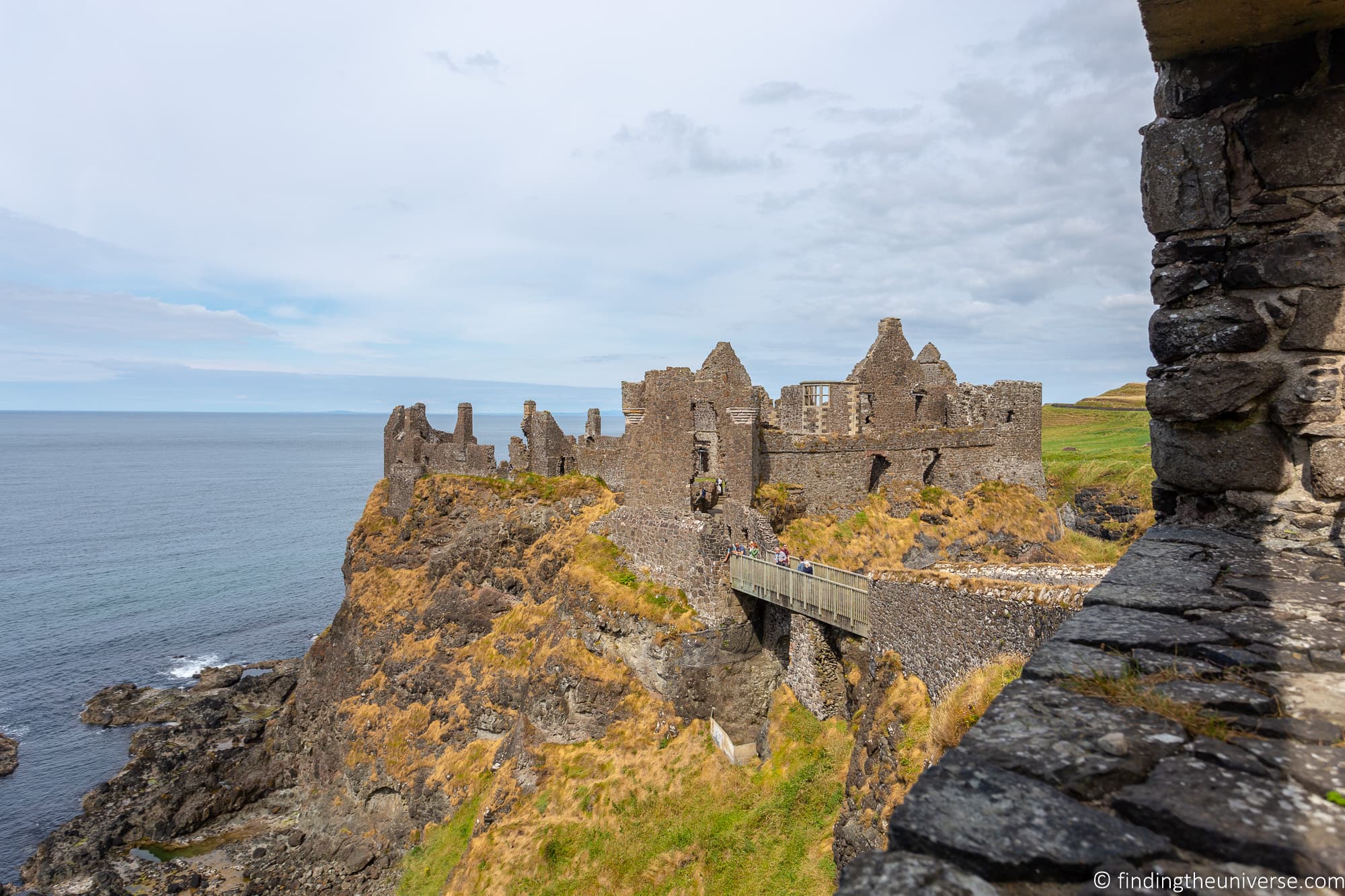 In Game of Thrones, Dunluce Castle serves as the loose setting for Pyke Castle in the Iron Islands. I say loose, because Pyke Castle was computer generated, but the cliff edge location and crumbling look were certainly based on Dunluce Castle.
If you compare the film version with the real version, similarities in the landscape are definitely apparent, however the castle was computer generated.
Pyke Castle appears in numerous scenes of the show across a number of seasons.
Portstewart Strand – Coast of Dorne
Portstewart Strand is a two mile long stretch of lovely sandy beach backed by dunes on the northern coast of Northern Ireland. It's popular for walking and swimming, and is maintained and operated by the National Trust.
In Game of Thrones, Portstewart Strand is used in episode 4 of season 5, as the coastline of the far away land of Dorne. Here we see Jaime Lannister and Bronn of the Blackwater on a mission to bring his niece (well, actually his daughter) back to Kings Landing.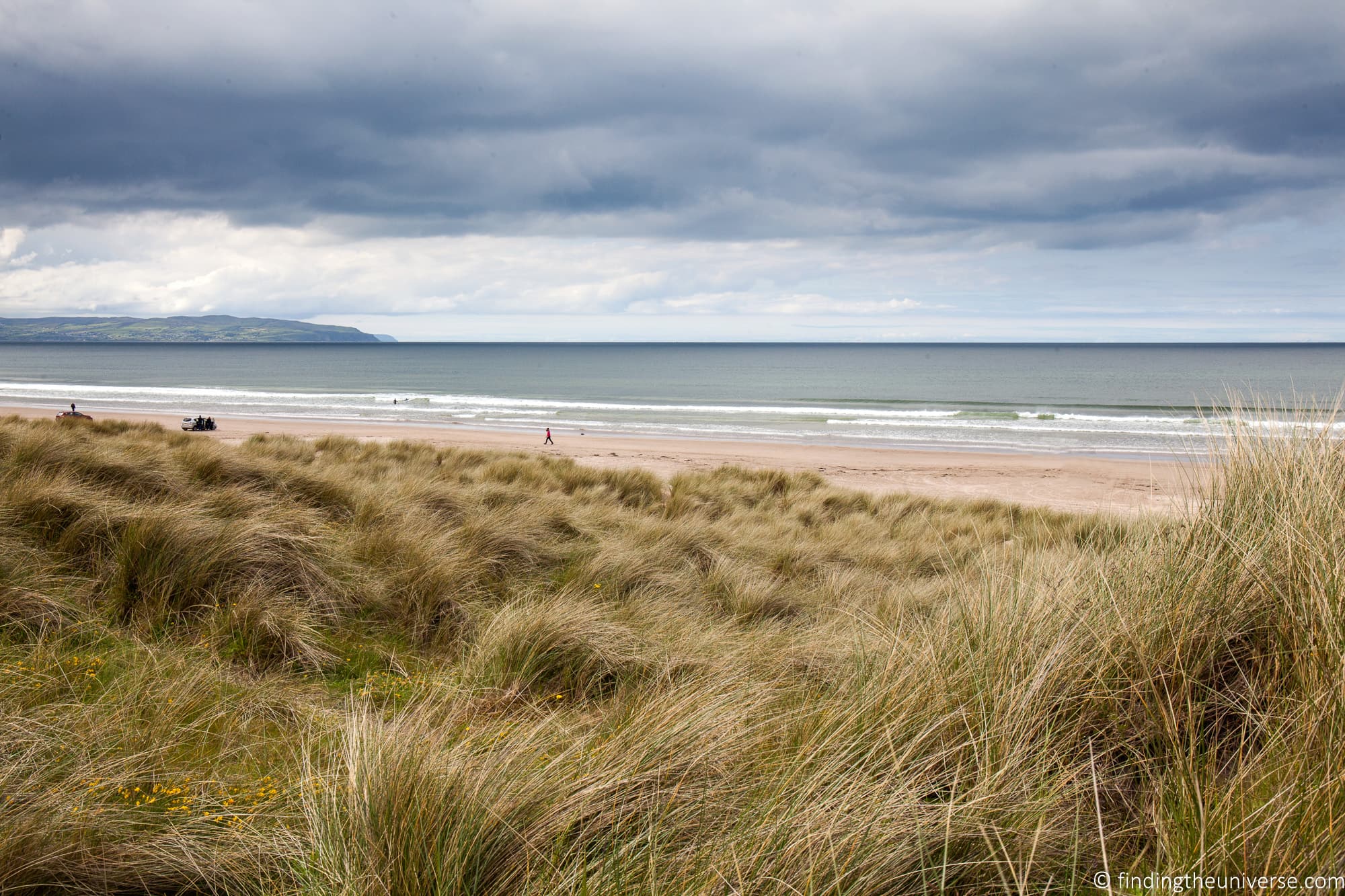 Obviously this mission doesn't start swimmingly well, and they are set upon by Dornish soldiers, whom they dispatch. These scenes amongst the dunes were all filmed at Portstewart Strand.
Portstewart Strand is free to visit, but if you drive there is a fee for parking on site. It is free to park here for National Trust members.
Downhill Beach – Dragonstone
A little further along the coast is the spectacular 7 mile Downhill beach, above which is perched Mussenden Temple. This temple is one of Northern Ireland's most photographed locations, and it's not hard to see why, even if it was pouring with rain when we visited.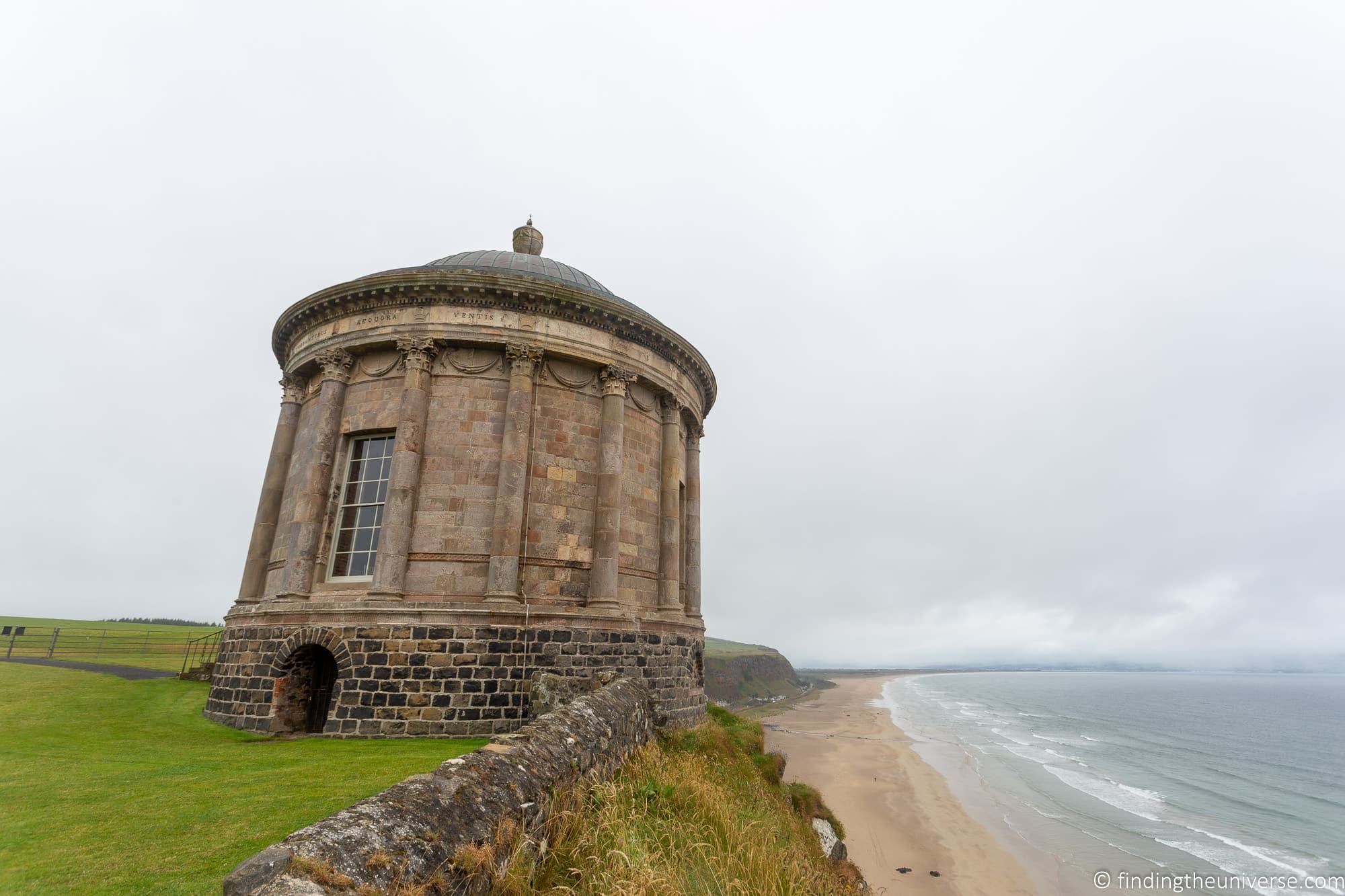 Downhill beach itself was used in episode 1 of season 2 of the show as the location where Stannis Baratheon renounces the Seven Gods of Westeros in place of the Lord of Light.
He burns effigies of the old gods on the beach in a dramatic scene which was filmed on Downhill Beach against the backdrop of the cliffs, onto which Mussenden Temple has been digitally replaced with Dragonstone castle.
If you want to visit the beach itself, it's free to do so, with parking in various locations along the coast. If you want to visit Mussenden Temple, this is part of the Downhill Demesne National Trust property, and there's a small fee to visit (free for National Trust members).
Binevenagh – Dothraki Grasslands, Essos
Binevenagh mountain is an Area of Outstanding Natural Beauty and also a Site of Special Scientific Interest. The mountain is popular with walkers, and offers dramatic views across the surrounding landscapes, as well as rugged basalt cliffs to admire.
In Game of Thrones, Binevenagh was the setting of the Dothraki Grasslands in episode 10 of season 5. In this episode, we see Daenerys walking in front of the spectacular Binevenagh cliff face in search of food, having been brought here by Drogon. She is found and surrounded by a Dothraki horde, who capture her.
The Dark Hedges – The Kings Road
Last but by no means least is probably one of the most well known of all the Game of Thrones filming locations in Northern Ireland – the Dark Hedges.
This spectacular avenue of mature beech trees dates from 1775, and originally served as the frame for the approach to nearby Gracehill House. There is still a road here, but it is no longer part of the Gracehill House estate.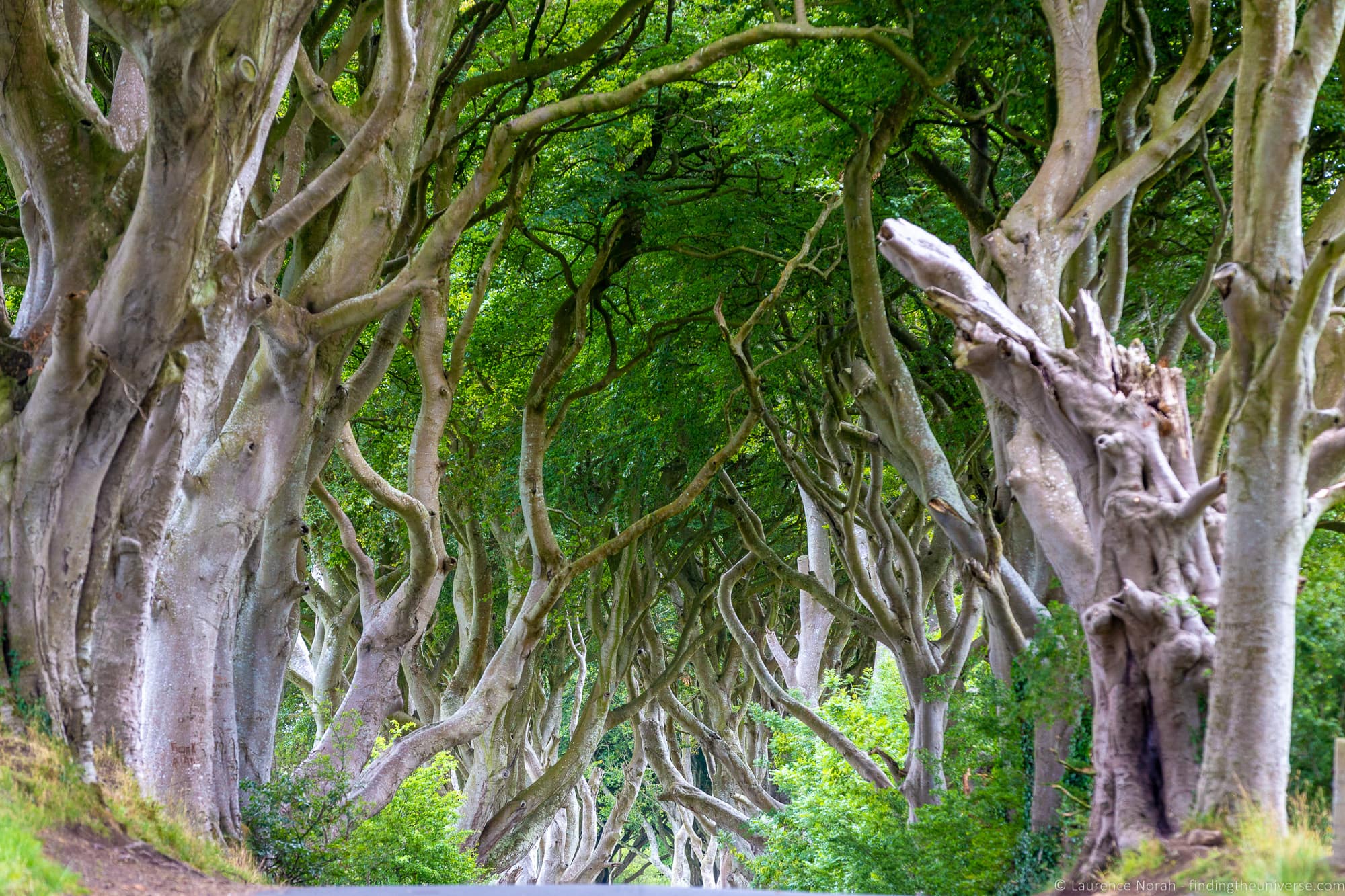 In the hundreds of years since they were planted, the trees have grown and twisted together, forming a stunning organic tunnel which is just over half a mile long.
The trees were used in Game of Thrones as the site of the Kingsroad in episode 1 of season 2, in which we see the new recruits of the Nights Watch heading north from Kings landing, accompanied by Arya, who is making her escape.
The trees are free to visit, and most Game of Thrones tours stop here. The road is closed to public traffic but there is car parking nearby and it is a short walk to the trees. You can also visit on a tour like this.
We have a complete guide to visiting the Dark hedges here.
Game of Thrones Studio Tour
Another real-world filming location you can now visit in Northern Ireland is the actual film studio where some of the show was filmed. This attraction, found at the Linen Mill Studios, opened in 2022.
Here you'll find a wealth of information about what went into making the show, from props and set design through to concept art and costumes. There are also interactive experiences as well as full sets including the Winterfell Great Hall.
This is a definite must-see for fans of the show who want to learn more about how it all came together. Expect to spend at least three hours on site. Book your ticket in advance here.
The Linen Mill Studios are found in Banbridge, which is around 25 miles south west of Belfast. You can get here by car, or you can book a ticket which includes shuttle transfer from Belfast or Dublin here.
More Game of Thrones Sights in Northern Ireland
As well as the actual filming locations, there are a number of other ways to explore the world of Game of Thrones in Northern Ireland.
The Game of Thrones Doors
In January 2016, a major storm hit Ireland and the UK, causing significant damage. Storm Gertrude sadly blew down some of the trees that line the Dark Hedges, famous as the Game of Thrones Kingsroad.
However, from destruction came creativity, in a project put together by Discover Northern Ireland. The wood from the trees that fell was used to create ten intricately carved wooden doors, each one depicting an episode from season 6 of the show. You can pick up a "Journey of Doors" passport, and visit each of these doors yourself.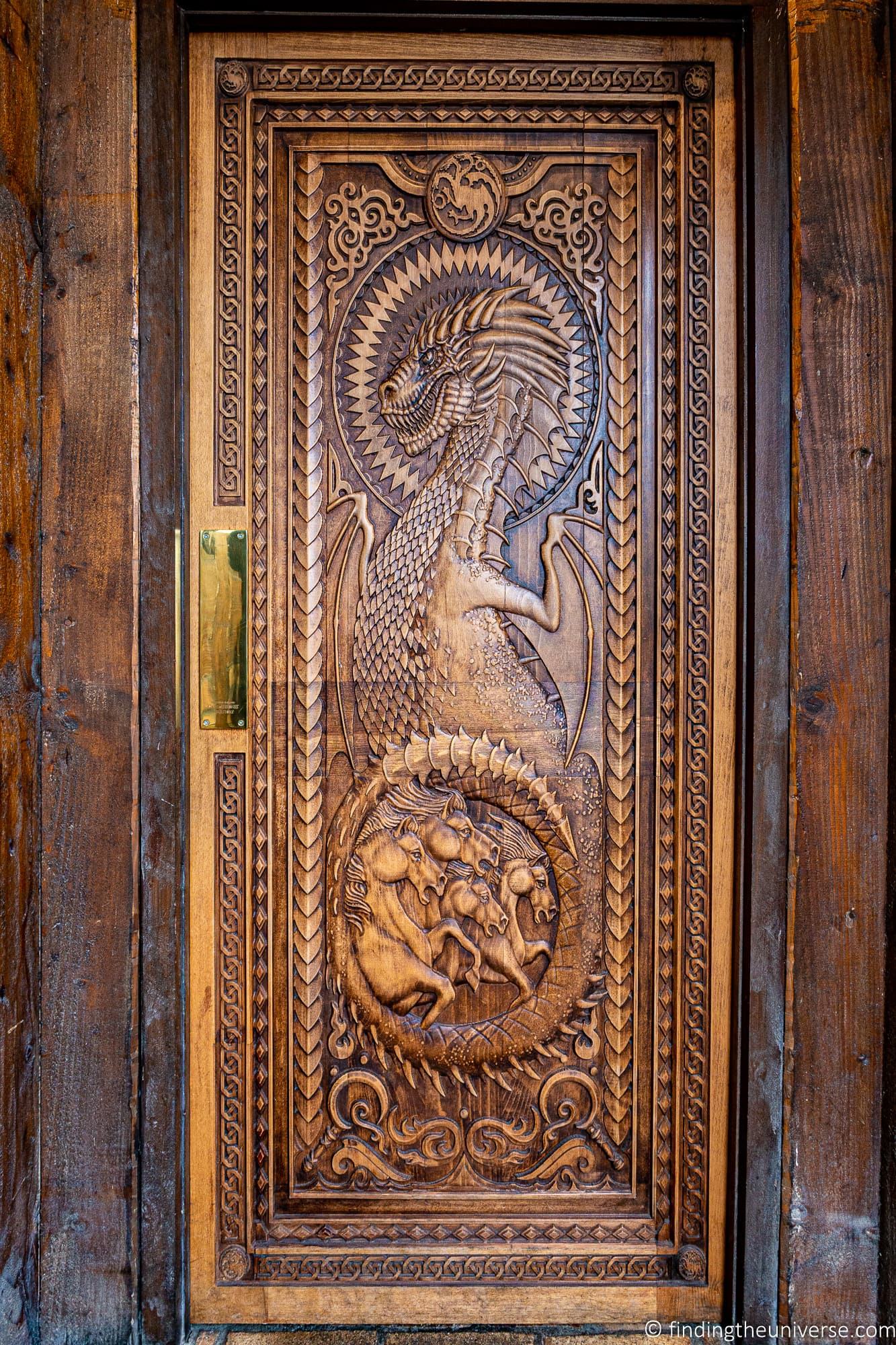 Many of the doors are to be found close to an actual Game of Thrones filming location, or location otherwise associated with the show. Here's a full list of all ten doors and where you can find them.
The Cuan Restaurant and Guest House, Strangford, Co.Down
Fiddler's Green Pub and B&B, Portaferry, Co. Down
Percy French Restaurant, Newcastle, Co. Down
Blakes of the Hollow pub, Enniskillen, Co. Fermanagh
Owens Pub, Limavady, Co. Londonderry
Fullerton Arms Pub, Ballintoy, Co. Antrim
Gracehill House, Stranocum, Co. Antrim
Mary McBride's Bar, Cushendun, Co. Antrim
Ballygally Castle Hotel, Ballygally, Co. Antrim
The Dark Horse Pub, Belfast, Co. Antrim
We think it is definitely worth visiting a few of these doors as they are absolutely beautiful, and an easy addition to your Game of Thrones adventure in Northern Ireland.
Game of Thrones Exhibits
There was a lot more to Game of Thrones than just the filming locations, and Northern Ireland has been home to a number of Game of Thrones exhibits.
These have all been temporary so far, however, it is always worth checking to see if there are any GoT related events or exhibits happening in the country when you visit. These will most likely be in Belfast, although of course they could be anywhere in the country!
Two examples to give you some idea of what has happened in the past are the Game of Thrones tapestry and the Game of Thrones exhibition.
The Game of Thrones tapestry is a hand woven 77 metre long tapestry containing key scenes from every single episode of the show. We saw this tapestry when it was on display in the Ulster Museum. The tapestry is not currently on display, but you can see digital photos of the whole thing online here.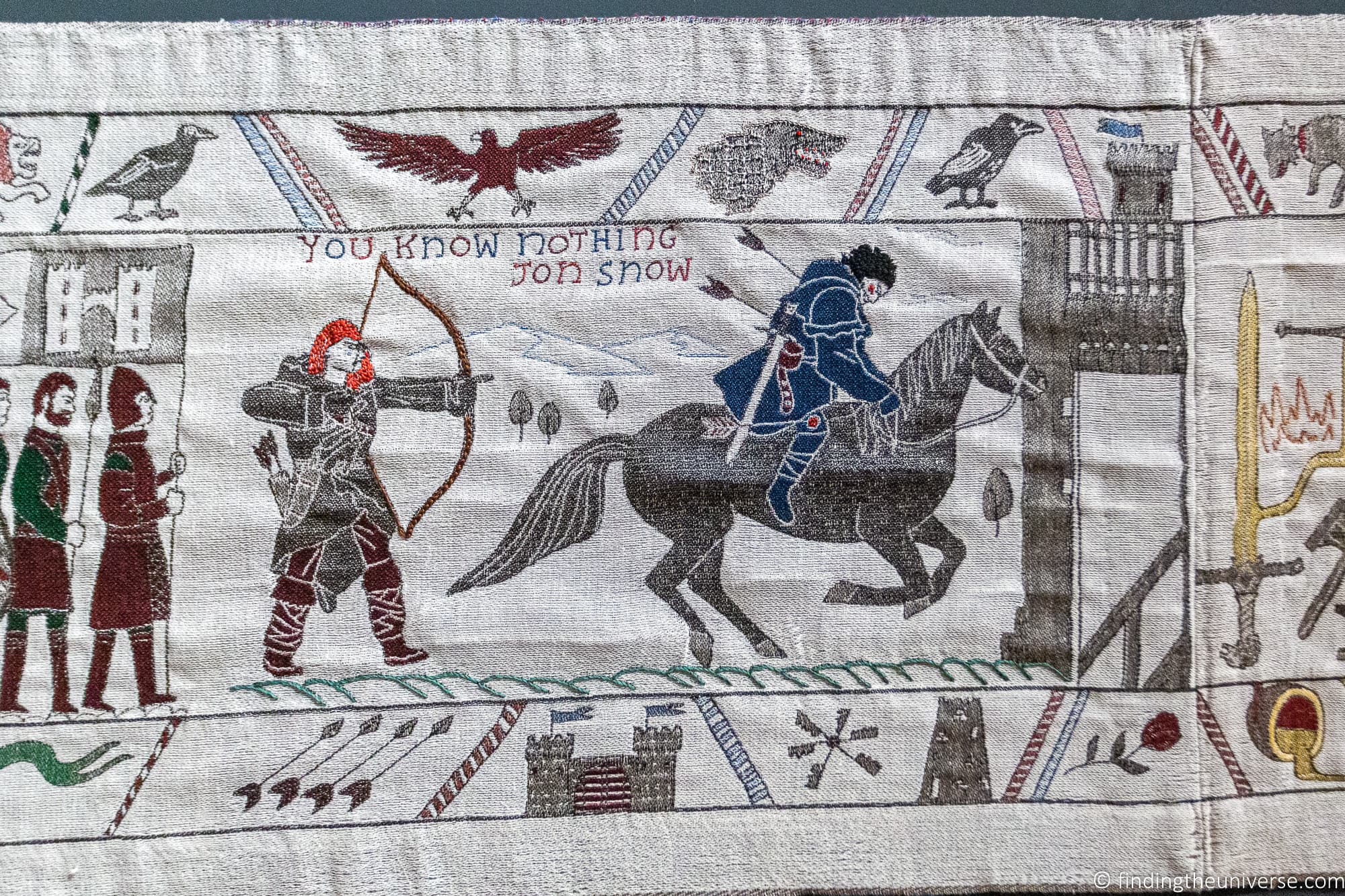 The Game of Thrones Touring Exhibition is an interactive exhibit which is touring the world and which showcases many of the props, costumes and sets from the show.
It's a great way to see behind the scenes of the world. We visited this exhibition when it was in Belfast in 2019, however it has since moved on. You can see where in the world it is on the official website here.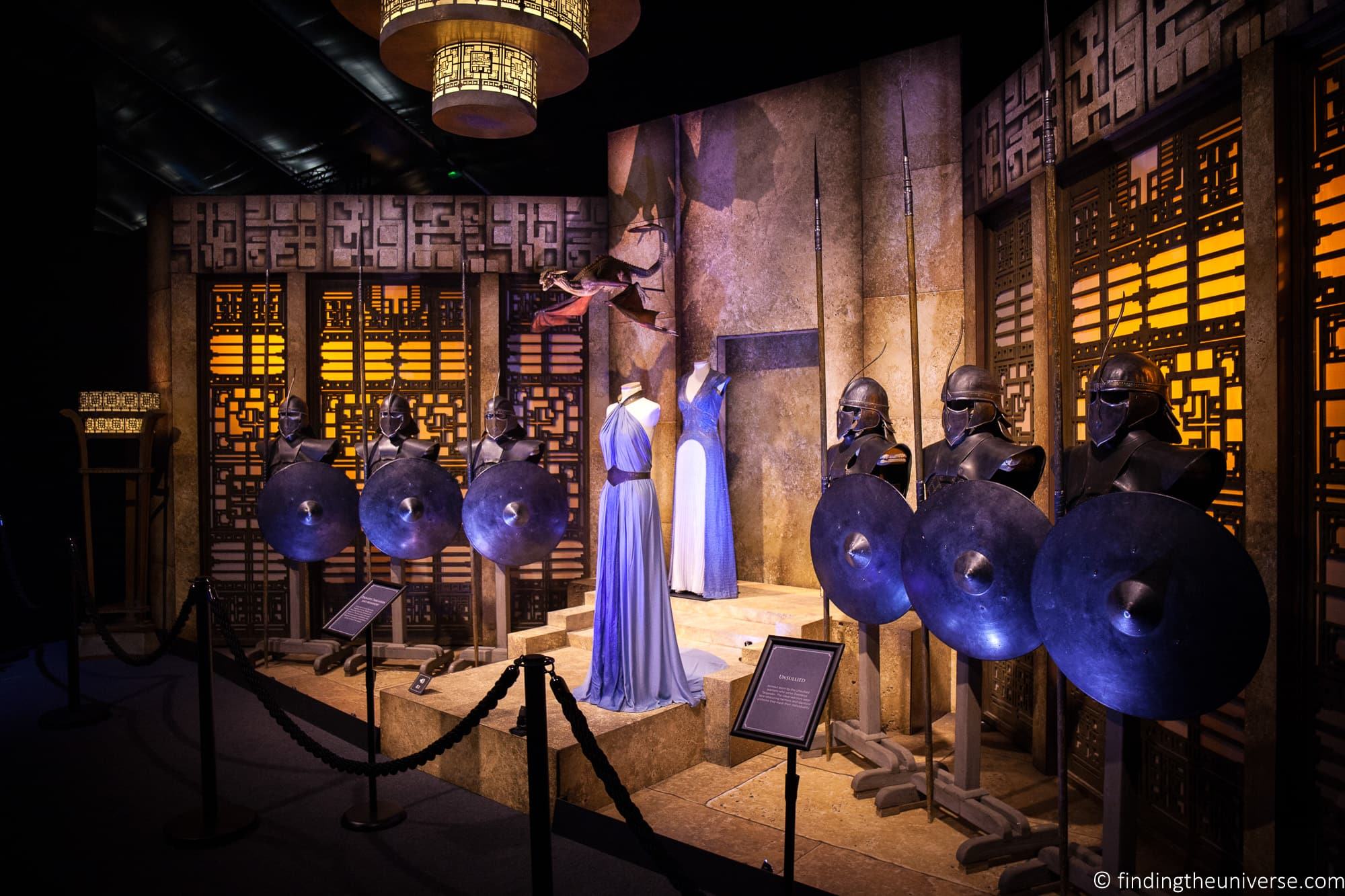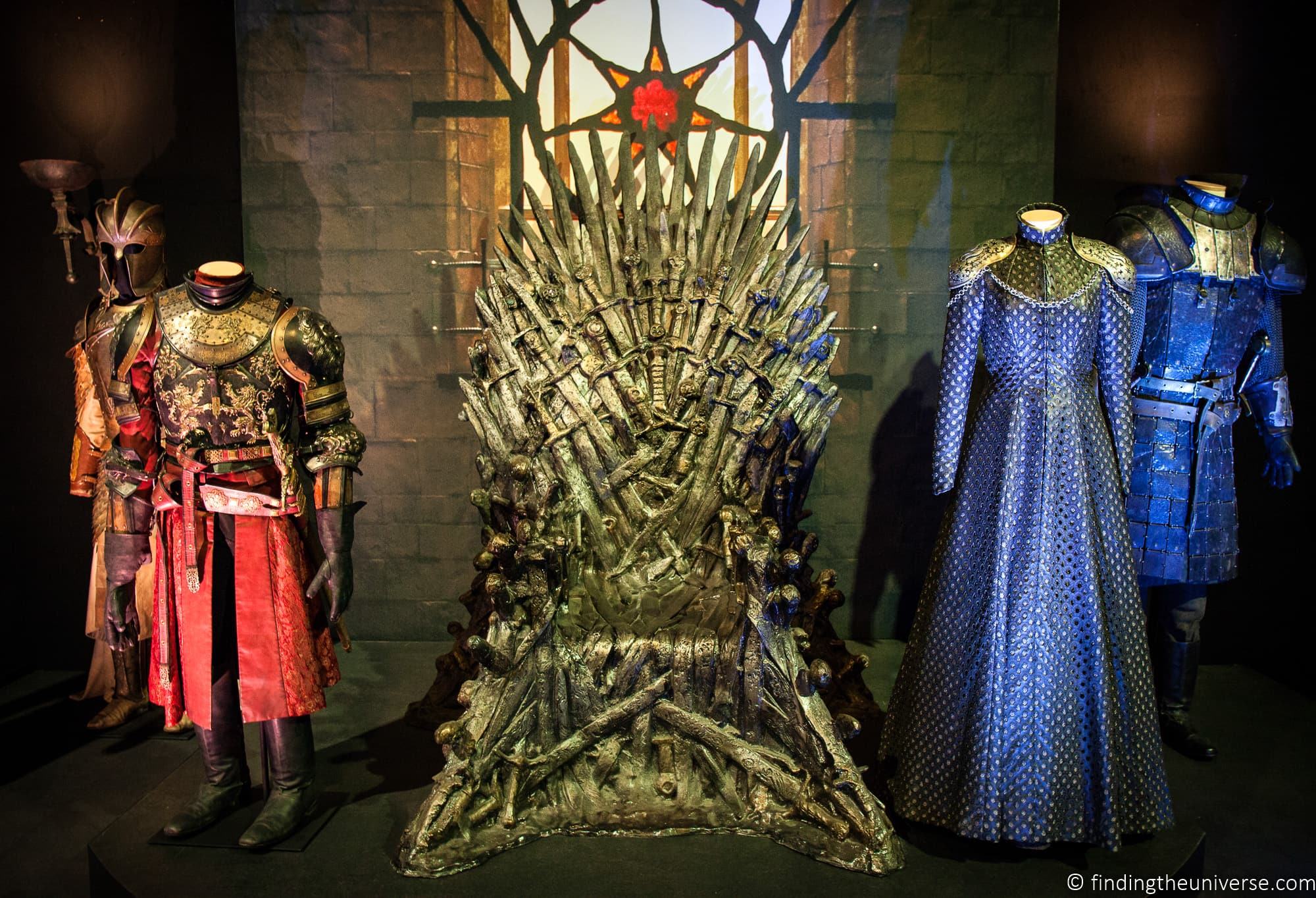 Glass of Thrones Trail
In 2019, to celebrate 10 years of Game of Thrones filming in Ireland, Tourism Ireland commissioned six giant stained glass windows which depict scenes from the show.
These windows, each representing a house or legacy, can be found throughout Belfast. They are all outdoors and free to visit. You can see the full list of attractions and see them on a map here.
Game of Thrones Jewellery
Ok, here's something a bit different. Many of the magnificent pieces of jewellery used in the show were created in Steensons Jewellers, a working jewellers and shop in Glenarm. You can see some of the pieces they created for the show, including Cersei's Crown, Joffrey's crown, and Margaery Tyrell's wedding tiara here.
They also have a line of Game of Thrones inspired jewellery for sale. Definitely a great keepsake if you're looking for a Game of Thrones souvenir to take home with you!
If those pieces are a bit out of your budget you can also find lots of other Game of Thrones inspired jewelry online here, including pieces you can customize.
Map of Game of Thrones Filming Locations in Ireland
To help you visualise all these filming locations we've put together a map, which you can also see on Google Maps here.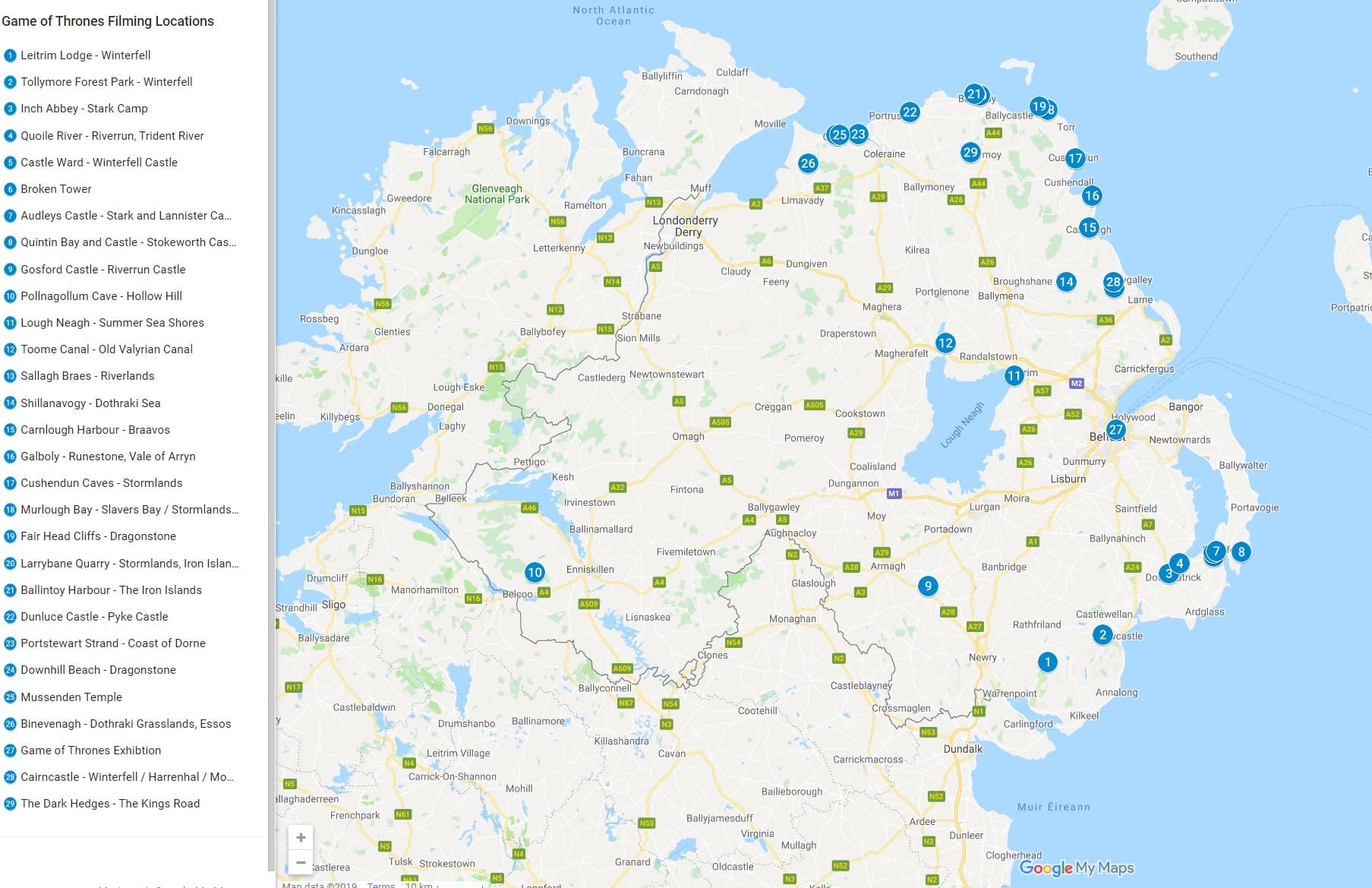 Note there are some additional locations not included on this list such as Magheramorne Quarry (where The Wall was shot) and Moneyglass estate (where a set was built for Winterfell), as these locations were entirely artificially constructed, and there's nothing to see here resembling scenes from the show. They are also not easily accessible by the public.
Summary of Game of Thrones filming locations in Ireland
Here's a summary of all the Game of Thrones filming locations across Northern Ireland, as well as where they represent, for quick reference.
Leitrim Lodge / Mourne Mountains: Winterfell
Tollymore Forest Park: Winterfell Forests
Inch Abbey: Stark Camp, Riverrun, Riverlands
Quoile River: Riverrun, Trident River
Castle Ward: Winterfell Castle
Audley's Castle and Audley's Field: Stark and Lannister Camp
Quintin Bay and Castle: Stokeworth Castle
Gosford Castle: Riverrun Castle
Pollnagollum Cave: Hollow Hill, Brotherhood without Banners Hideout
Lough Neagh: Summer Sea Shores
Toome Canal: Old Valyrian Canal
Sallagh Braes: Riverlands
Cairncastle: Winterfell / Harrenhal / Moat Cailin
Shillanavogy Valley: Dothraki Sea
Carnlough Harbour: Braavos
Galboly: Runestone, Vale of Arryn
Cushendun Caves: Stormlands
Murlough Bay: Slavers Bay / Stormlands & Iron Islands
Fair Head Cliffs: Dragonstone
Larrybane Quarry: Stormlands, Iron Islands
Ballintoy Harbour: The Iron Islands
Dunluce Castle: Pyke Castle
Portstewart Strand: Coast of Dorne
Downhill Beach: Dragonstone
Binevenagh: Dothraki Grasslands, Essos
The Dark Hedges: The Kings Road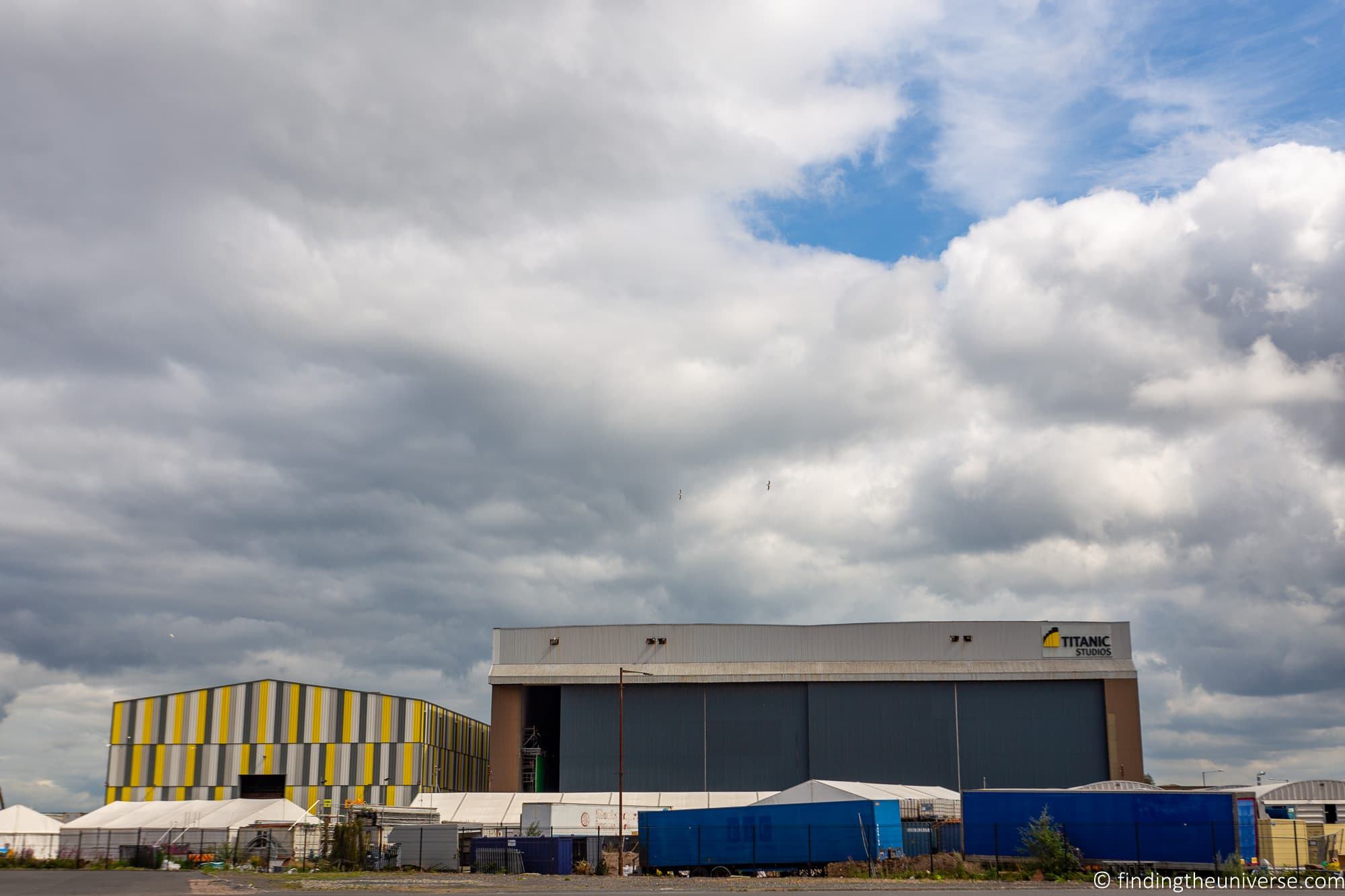 Tips for Finding Game of Thrones Filming Locations in Northern Ireland
First, obviously this post is a good starting point for finding the filming locations. Our map above gives you all the location information you need to find each location. But there are some additional resources you might find useful.
Northern Ireland has really embraced the Game of Thrones phenomenon, and as a result, finding and identifying filming locations is quite easy in most cases.
We highly recommend downloading the GoT:NI smartphone app. This is available for iOS devices (the Android version is currently unavailable), and has detailed information and information on many of the filming locations from the show.
Next, when you actually get to each site, you will find that many of them have an information panel about which scenes were filmed there, with images that help bring the scene to life. We have included images from these panels throughout the post to give you an idea of what to look out for.
Between these two resources and our post, we think you're ready to explore the world of Game of Thrones in Northern Ireland!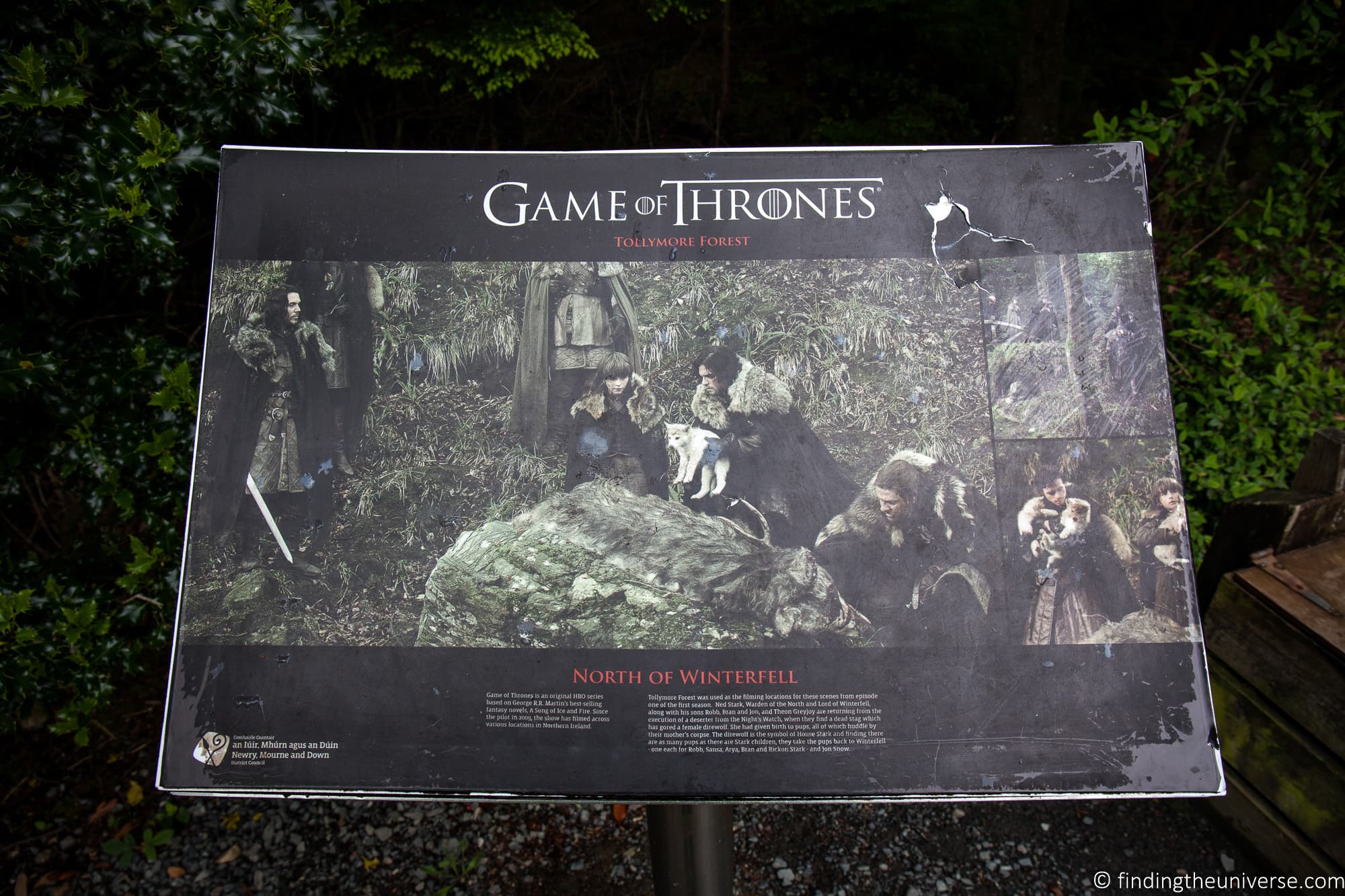 Game of Thrones Tours in Ireland
One great way to see the Game of Thrones locations in Northern Ireland is to take a Game of Thrones tour. The tours are a good way to get to a number of locations quickly and easily, and the best tours feature knowledgeable guides who will share images and behind the scenes stories from each filming location.
Some of the tours even offer the opportunity to dress up in full GoT outfits to get more into the experience and to take some memorable photos!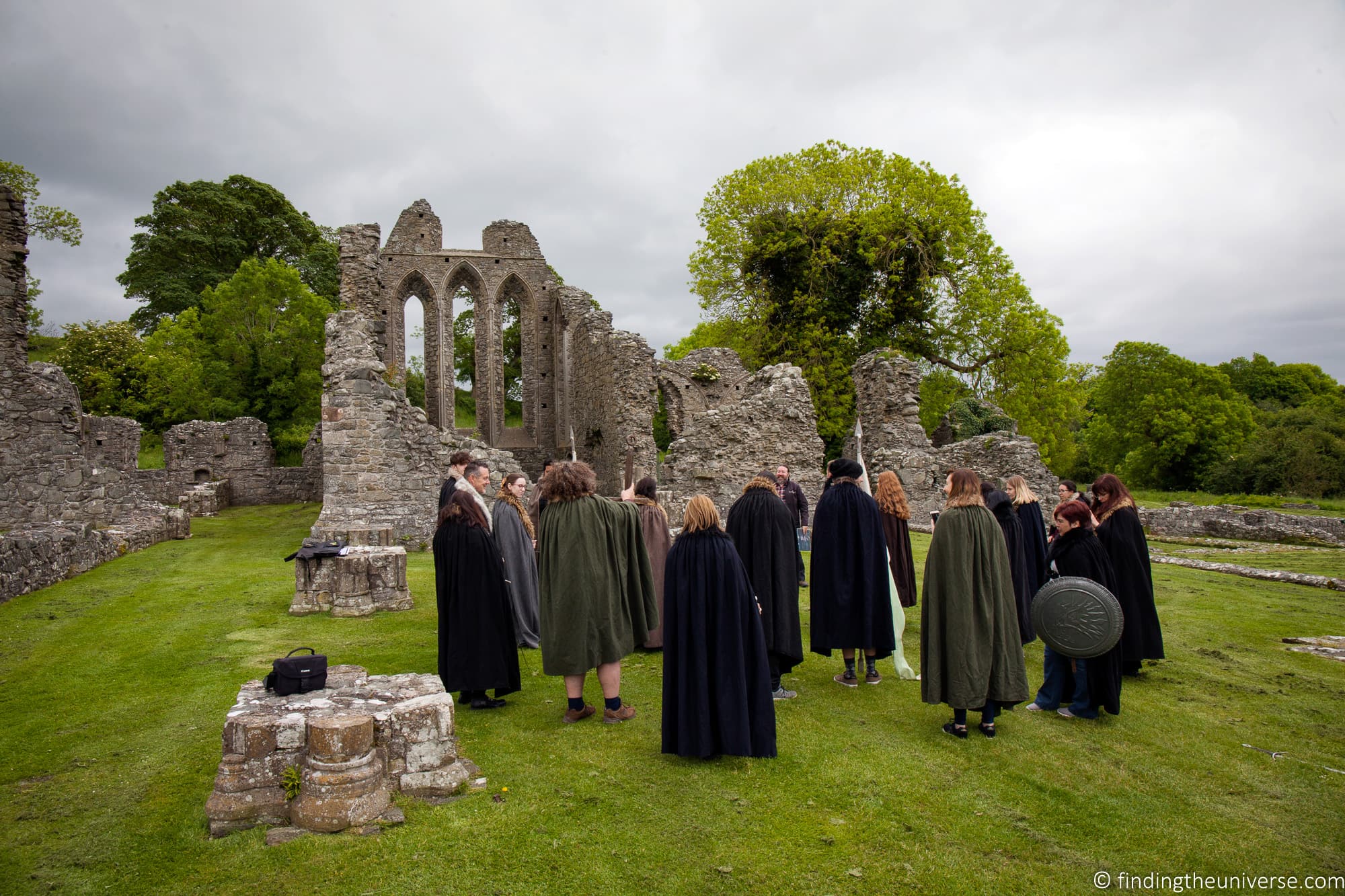 We definitely think that a tour is one of the easiest ways to visit a number of Game of Thrones locations. Here are some of the tours we suggest you take a look at.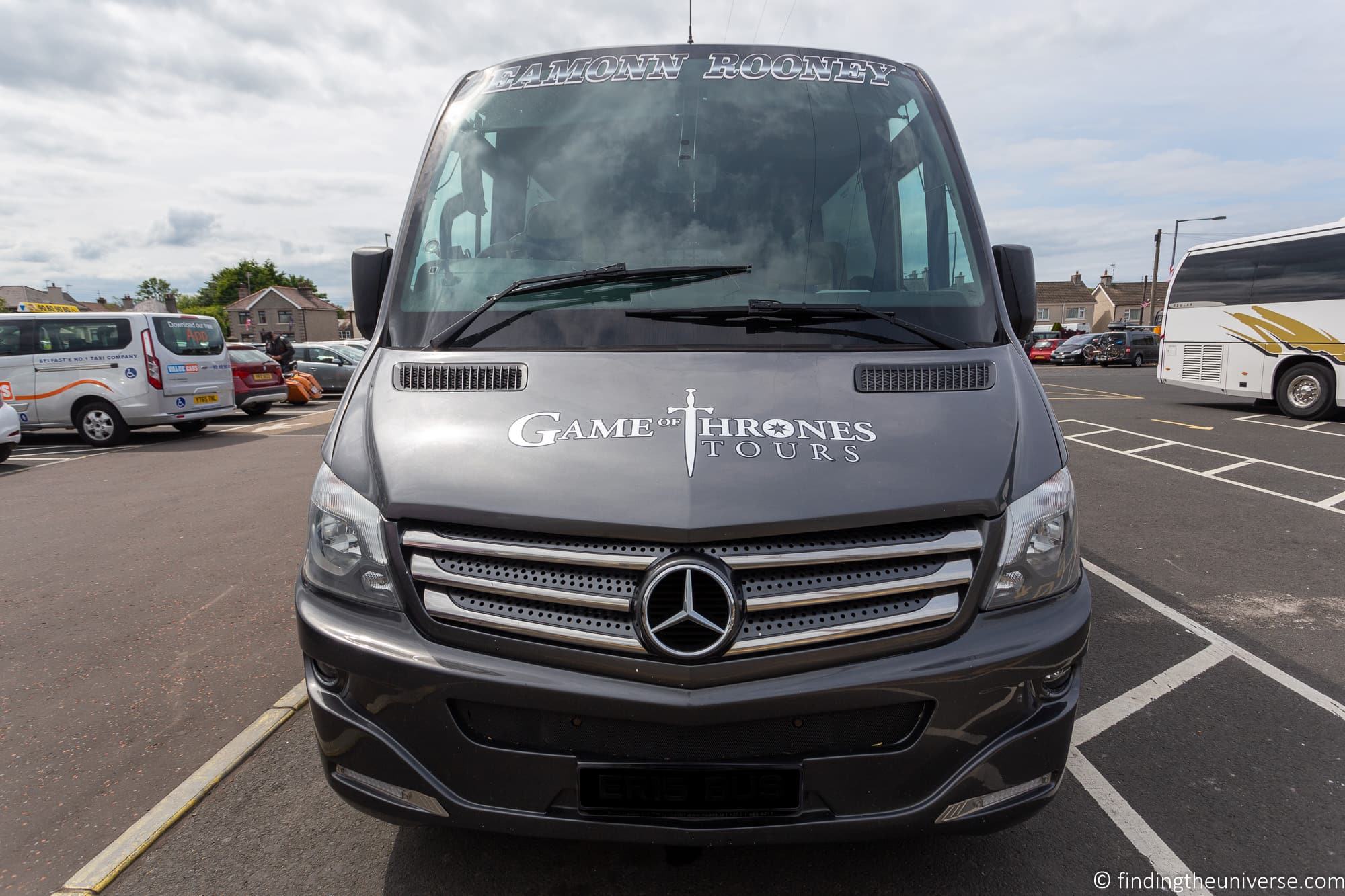 Hopefully between these options you will find something that works for you!
Further Reading
We've been lucky enough to both explore a number of Game of Thrones locations around the world, as well as many parts of Paris. Based on our experiences, we have a number of other posts we think you will enjoy and find useful for your trip planning.
And that's it for our guide to the best Game of Thrones filming locations in Northern Ireland! As always, we're happy to hear your comments and feedback. Just pop them in the comments below and we'll get back to you as soon as we can!