If you're heading to Rome, one thing you absolutely have to do is try gelato – the Italian version of ice cream. Gelato literally means "frozen" in Italian. And in this post, we're going to help you find the best gelato in Rome (in our opinion anyway).
Strictly speaking, gelato differs from ice cream in a few key ways – it has less fat than ice cream for example, and also less air – making it a denser treat than normal ice cream. It's also served warmer than ice cream, meaning it will melt faster as you eat it.
Gelato is incredibly popular in Italy, and as you stroll around Rome you're going to find yourself overwhelmed by choice.
You don't want to waste your time, so as a quick rule of thumb, avoid anything that is wildly colorful or piled really high – these are signs that there's a lot of artificial colors or flavors, plus real gelato is too dense to pile up.
To be honest, the best gelato isn't even on display in piles – it'll be retrieved from wells in the counter that keep it fresh.
You don't have to be a detective though, and spend hours trying to figure out which is the best gelato in Rome, because we've done it for you.
We spent a considerable amount of time trying a wide assortment of gelato shops in Rome across various visits to the city (the tough things we do!), and are pleased to provide our definitive list of where to find the best gelato in Rome.
If you're looking for a more comprehensive dining experience, we also recommend reading our guide to the best food tours in Rome, many of which also include gelato of course!
The Best Gelato in Rome
These are our favourite spots for gelato in Rome, after a great many samplings. These are all based on personal tastings at all the recommendations, many of which we found by asking the locals what their favourites were.
We're happy to recommend all of them, and they are all across the city, meaning wherever your trip takes you, you're never going to be too far from great gelato!
1. Come il Latte
Spoiler alert: this is my favourite of all the gelato places in Rome. The others listed below are all excellent too, but if there was only one gelato spot I could go to in Rome, this would be it.
As the name suggests (it means "like milk"), Come il Latte specialises in super creamy gelato. They make their gelato with between 60% & 70% milk (non-dairy gelato is also available if you're lactose intolerant), and then use the freshest seasonal products for flavours.
The gelato is made fresh every day, and there are a lot of flavours to choose from. Everything from the classics like chocolate, vanilla and pistachio, through to more rarefied offerings like persimmon. Flavours vary depending on the season and what is freshly available, and it should go without saying that there are no colour additives or chemical preservatives going on here.
My favourite part of the whole experience though wasn't even the gelato, even though that was pretty epic. No, it was the fact that before you pick your flavour, you get to decide if you want the interior of your cone (you have to get a cone) coated in dark chocolate or white chocolate. Yep, they have essentially a chocolate fountain, from where the interior of the cone is coated in your choice of dark or white chocolate.
Then it's filled with mind-bogglingly delicious gelato, and you can, if you feel truly decadent, then top it with homemade whipped cream. I mean, at this point, why not?
Even better, unlike many other gelato's which nickel and dime you for every addition, all of the above is part of the price. Which is very reasonable, for the epic flavour adventure you are about to embark on. So yes, just go here.
Where is it? Come il Latte can be found on Via Silvio Spaventa 24/26, which is just a short walk from Rome's Termini train station. This is the main train station in Rome. See their website for opening times and further information.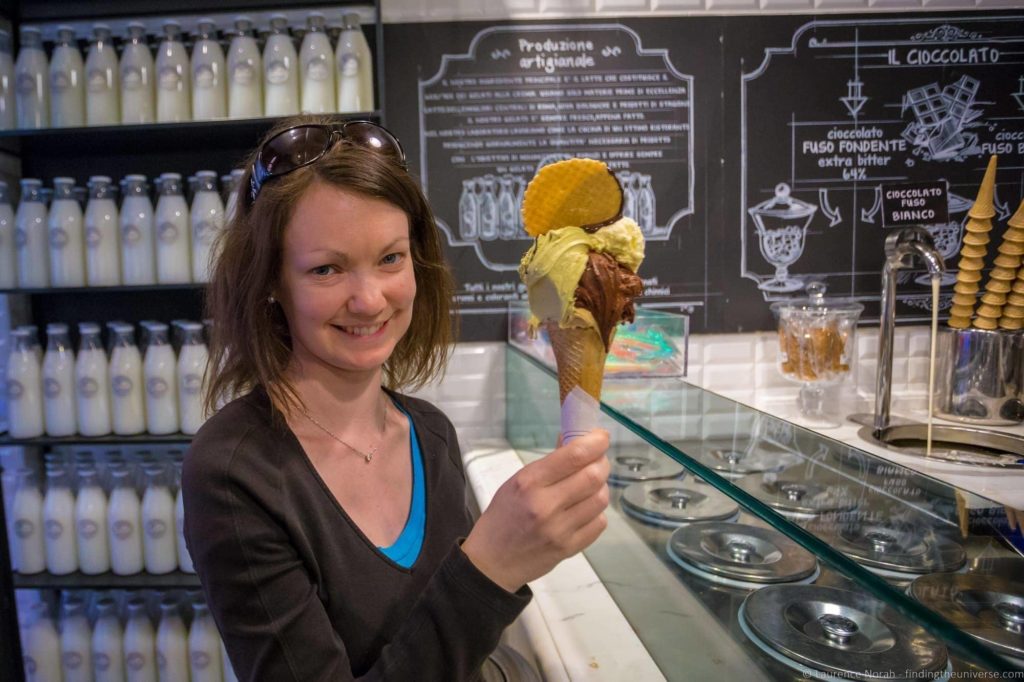 2. Il Gelato di San Crispino
Found a stone's throw from the Trevi Fountain, Il Gelato di San Crispino is practically an institution at this point. It is one of the most centrally located gelaterias on my list, and also one of the first "famous" gelaterias on my list. It even made it into the book (and film) Eat, Pray, Love, and as you can imagine given its location, is pretty popular.
Luckily, the gelato pretty much stands up to the reputation, with fresh flavours and an obsession with quality shining through. They are quite strict here though – you can only get your gelato in a cup – the flavour of a cone is deemed too overwhelming for their delicate gelato.
Still, you can buy your gelato cup, and then enjoy it whilst wandering past iconic sights like the Trevi Fountain or the Pantheon, essentially having your own Eat, Pray, Love moment.
If you are in this area hankering for gelato, this is definitely an excellent option (although also see Gelateria Giolitti below). Even if it is a little more pricey than other gelatos, it's worth it – Il Gelato di San Crispino has some of the best gelato in Rome near the Trevi fountain and the Pantheon.
Where is it? There are actually a number locations, but the one in this list that most will be familiar with is at Via della Panetteria, 42, near the Trevi Fountain and the Pantheon. You will also find one at Piazza della Maddalena. As a bonus tip, if you're leaving Rome and are missing gelato already there's even a branch at Fiumicino Airport!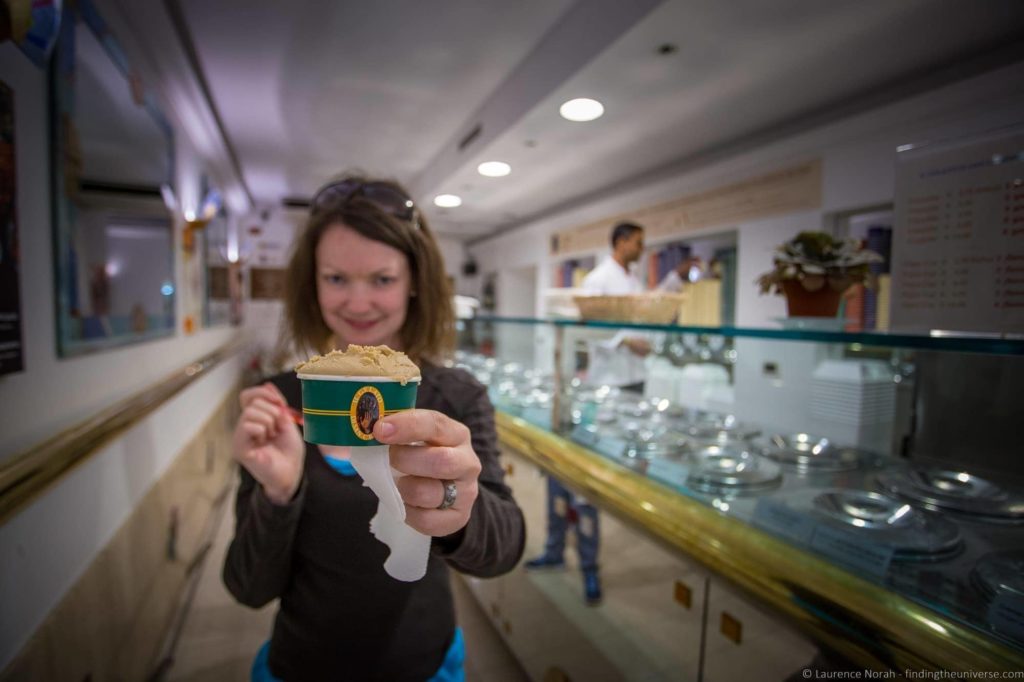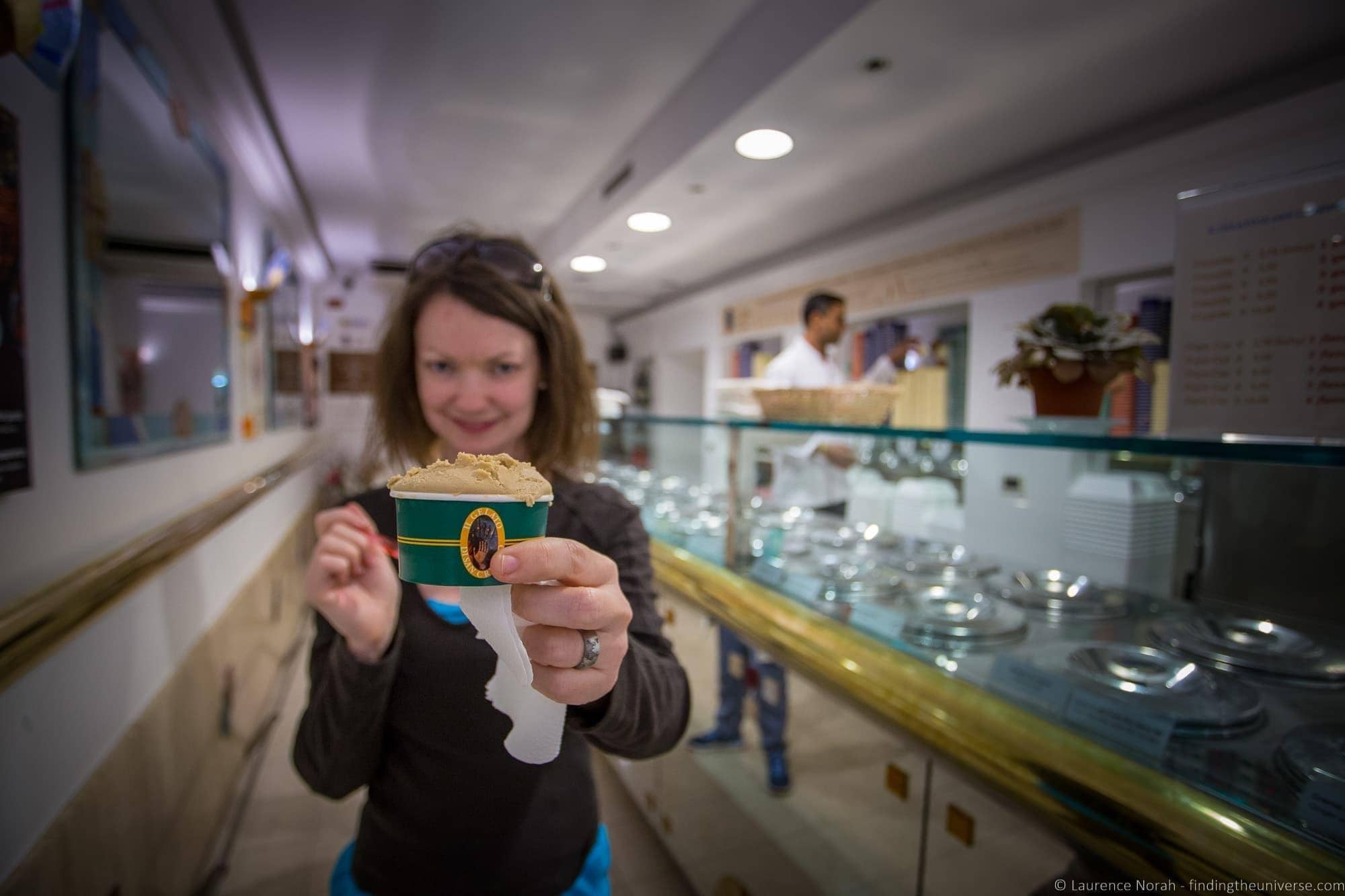 3. Gelateria del Teatro
If you're over near the Castel Sant'Angelo or Piazza Navona, then you'll probably want to head to Gelateria del Teatro for your gelato fix. Established in 2004, Gelateria del Teatro is also the some of the best gelato near the Vatican, even if it's a bit more of a walk.
This gelateria regularly tops best gelato in Rome lists, and for good reason – the ingredients are high-quality, Italian sourced, and everything is made on site under the guidance of passionate owners Stefano and Silvia. They even use filtered water and freshly delivered milk. They also take their cones seriously, so if you like your gelato in a cone, you're in the right place.
The location is also picture postcard perfect – think a narrow cobbled street with a few tables and chairs outside, surrounded by some of the oldest streets in Rome. So yes, a good location, and definitely the one to come to for gelato near the Vatican or Piazza Navona.
There is also a newer location on Lungotevere dei Vallati facing Trastevere.
Where is it? Tucked away on Via dei Coronari, 65-6, about 3 minutes' walk from Piazza Navona.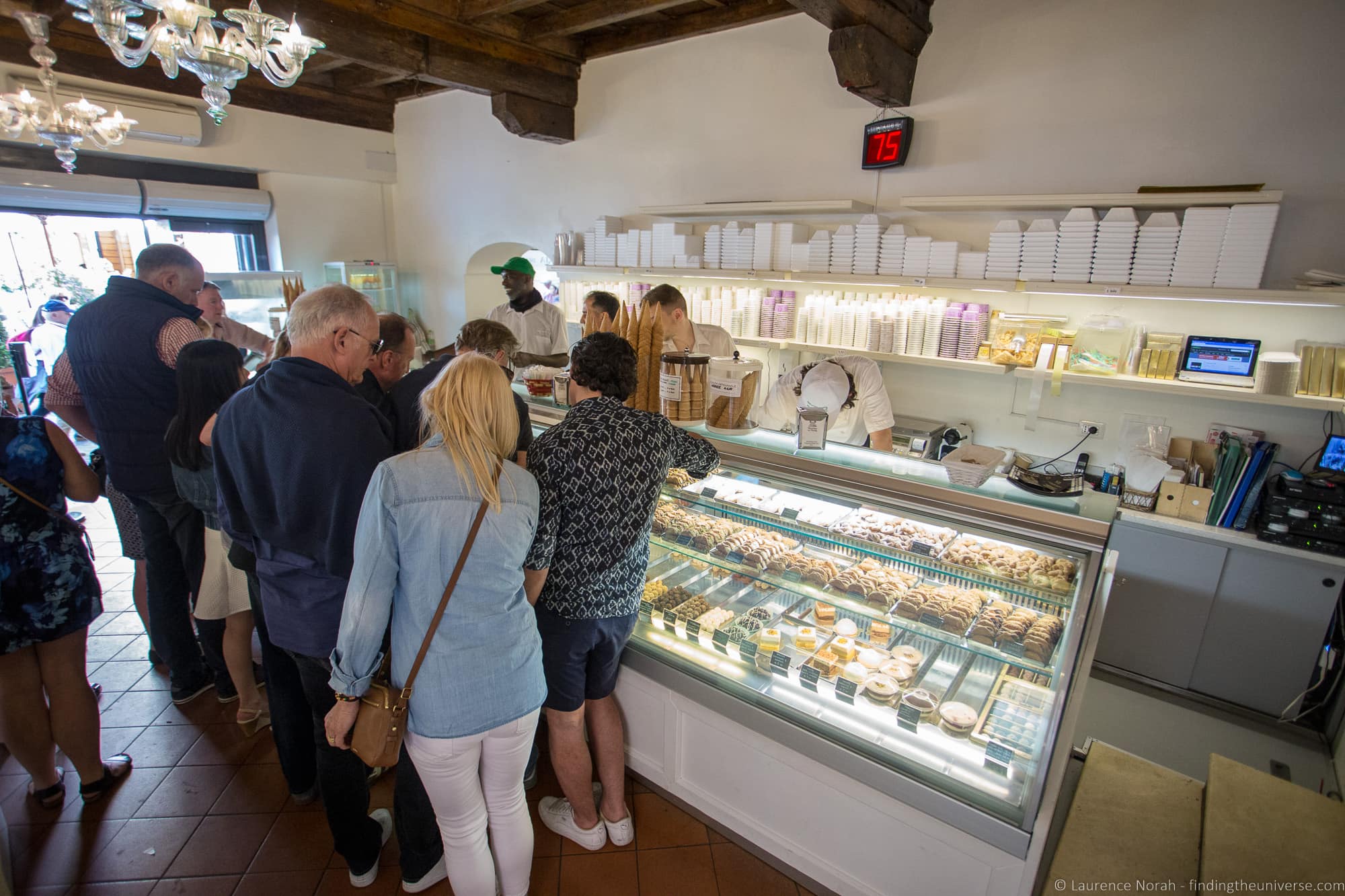 4. Giolitti
One of Rome's oldest gelato shops, having been established in 1890, Gelateria Giolitti is a fantastic option for gelato near the Pantheon and the Trevi Fountain. Between this and the aforementioned Il Gelato di San Crispino there's no excuse for eating bad gelato in this part of Rome!
Giolotti has been in the same family since being opened by Giuseppe and Bernardina Giolotti in the 19th century, and the family commitment to serving high quality gelato has never wavered. In fact, for a time, they supplied cream to the Italian royal family.
Today this iconic gelato shop is near the top of many visitors lists. Even the Obamas came here on a visit to Rome. As you might imagine, such popularity means it gets rather busy in here, and the queues sometimes go out the door.
There's a counter service option, or you can opt to be seated (which costs a little extra). We'd suggest the former, the queue moves pretty quickly and it's worth the wait in any case. Before joining the queue, you'll need to pick up a ticket so you get served in the correct order.
The gelato comes in a wide array of flavours, plus you can accompany it with a coffee (or something stronger) as there's a full service bar here as well – note this is a separate queue to the gelato line.
Where is it? Via Degli Uffici del Vicario, 40, moments' walk from the Pantheon and Trevi Fountain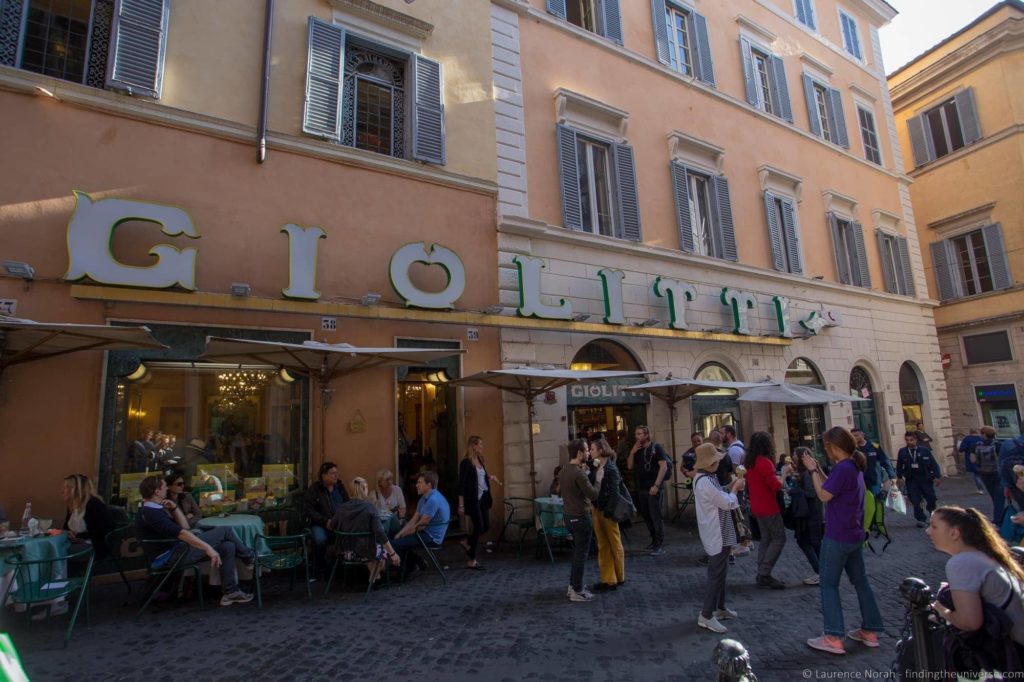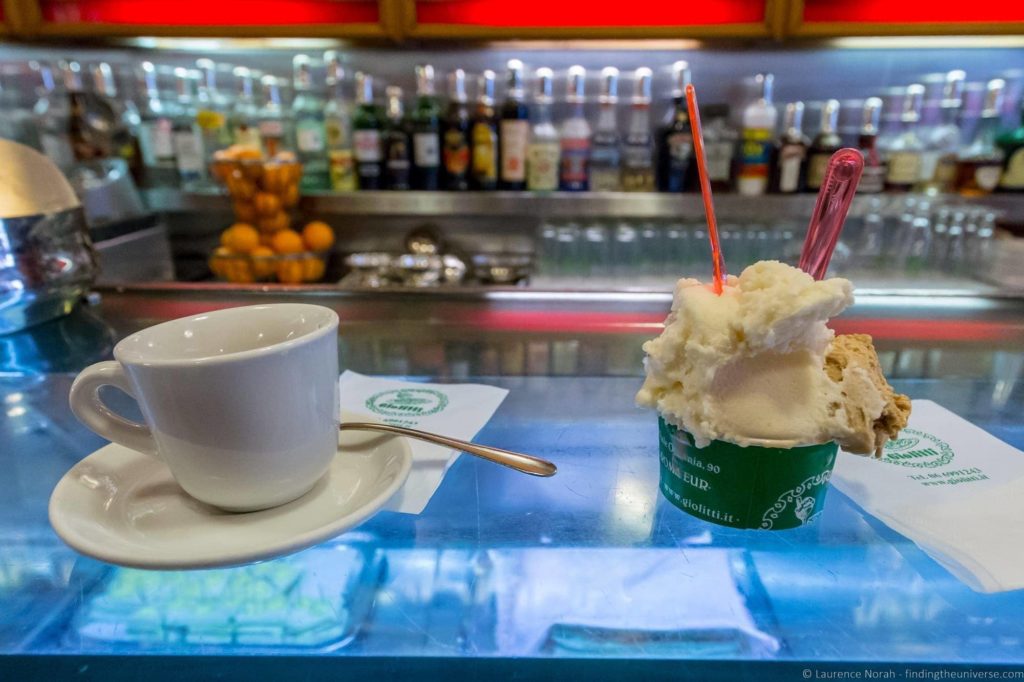 5. Gelateria dei Gracchi
About half way between the Vatican and the Piazza Popolo, Gelateria dei Gracchi is another excellent place for gelato near the Vatican. Personally I tried the chocolate here, and it was truly divine. I'm not the only one to think so – Anthony Bourdain himself rates this as one of the best gelato options in Rome.
A commitment to fresh, seasonal ingredients definitely helps, plus gelato making experience that dates back to 1981, when the owner Alberto Manassei started making gelato in Sardini. Fast forward to 1999, and Gelateria dei Gracchi was opened in Rome.
Like many of the options on this list, this isn't a huge place, so expect to have to grab your gelato and go. You could even wander with it along the banks of the nearby Tiber, although if you're like me, you will probably have eaten it all before you even get there.
Bonus tip – there's another outlet of the Gelateria dei Gracchi on via di Ripetta. This is probably the best gelato near the Spanish steps.
Where is it? Via dei Gracchi, 272. Around 15 minutes walk from the Vatican Museum or 10 minutes from Castel Sant'Angelo.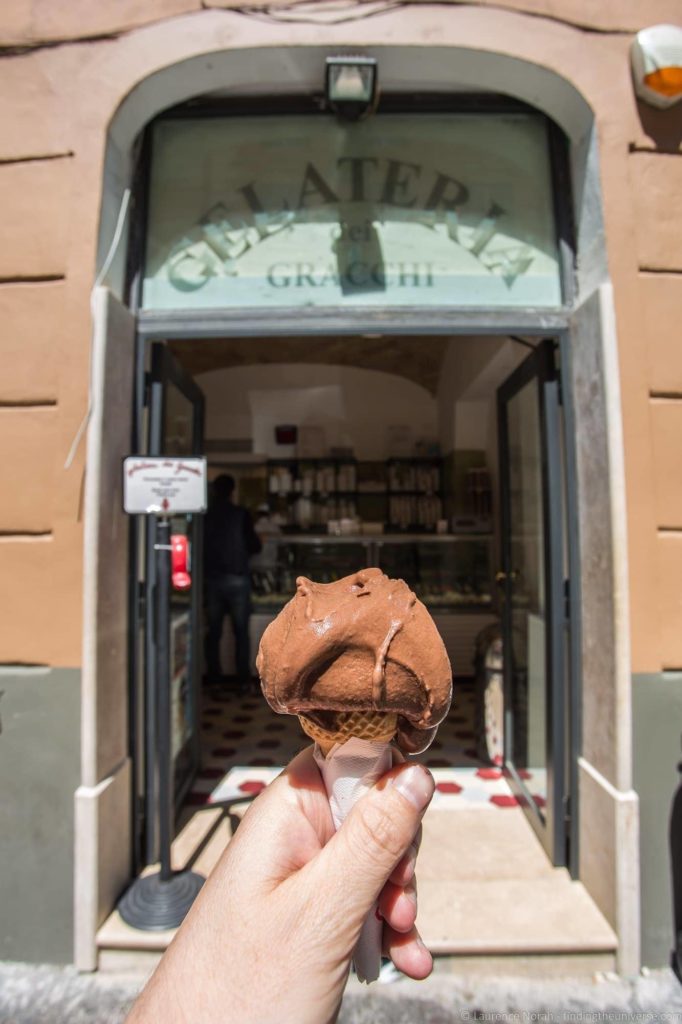 6. Otaleg!
It's not all about central Rome! If you don't mind a bit of effort in your quest for the ultimate gelato, then you might want to head slightly south east of the city centre to Otaleg. Which, you will have noticed, is gelato spelt backwards.
This is found in the Trastevere district, which is a popular foodie destination in Rome just south of the River Tiber, around a 20 minute walk from Piazza Navona.
Here, you will find what many feel is genuinely the best gelato in Rome. So when you're enjoying the delicious flavours, you're backed up by the opinion of some solid gelato aficionados.
But that's not all. When you visit, you'll get to see the unique Otaleg laboratory, and see the whole gelato making process happening right before your eyes.
You'll also get to pick from around sixty flavours, all based on seasonally available produce. And then settle on something infused with some kind of alcohol, because you've earnt it.
Where is it? Via di S. Cosimato 14a. In the heart of the trendy Trastevere district, around 20 minutes walk from Piazza Navona.
7. Grom
When people talk of gelato in Rome, it is almost inevitable that at some point Grom will crop up. This is a very popular chain of gelaterias which started in Turin in 2003, and is now in tens of locations worldwide, including New York, Tokyo and Dubai.
Naturally, there are a number of locations in Rome as well!
This makes Grom a very convenient option, although of course now they are "mainstream", you may not accumulate as many gelato knowledge points compared to picking an option that isn't found around the world.
Still. The gelato is widely regarded as being amongst the best available, and Grom is also well known for having an excellent fruit sorbet range. So definitely an option to keep in mind, and with nine locations in Rome at time of writing, including one at Rome's main train station (Termini) you should be able to find one quite easily too.
Where is it? A number of locations, including Via della maddalena 30, Via Agonale 3, and Rome's Termini train station.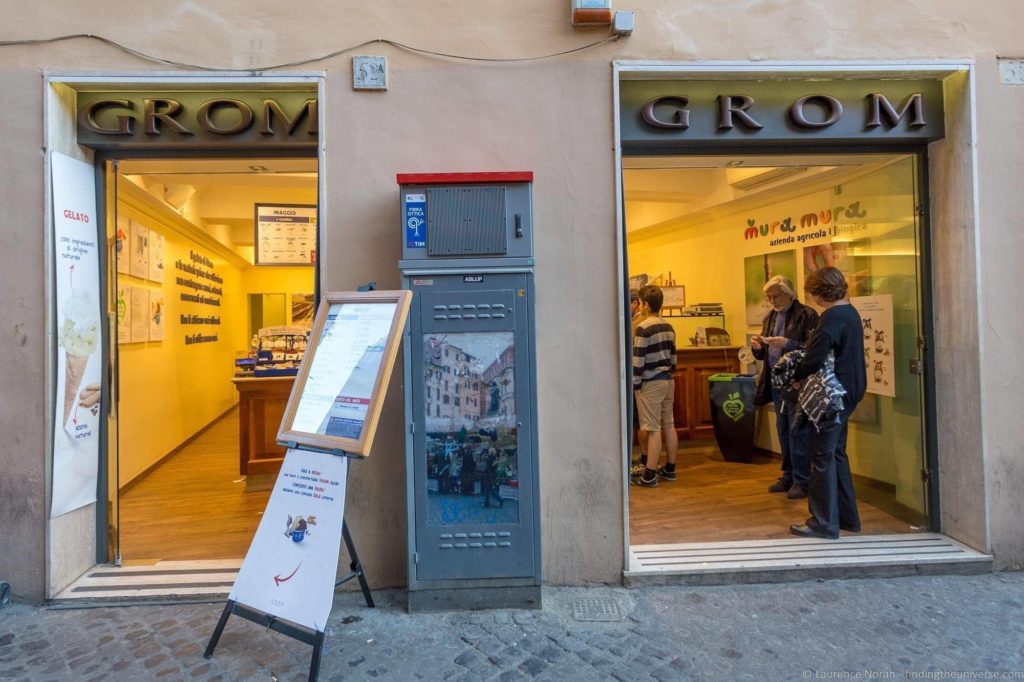 8. Fata Morgana
We've taken a lot of walking tours in Rome, both general and food specific. One thing we always make a point of doing when on a tour is asking the guides where their favourite place for Gelato is.
Fata Morgana regularly appeared on these recommendations, so naturally on a recent visit to Rome we had to check it out.
I am pleased to report that it did not disappoint. Of particular note was the array of chocolate flavours, some of which were what could best be described as experimental.
Personally, I was thrilled to discover a Lapsang Souchong and chocolate flavour gelato. For those of you not familiar with it, Lapsang Souchong is a very smoky tea, which I personally love. Sure, it's not everyone's cup of tea, but I'm sure Fata <organa will have something to suit your tastes!
Where is it? There are a number of locations, but the most convenient for visitors is likely going to be the one at Via dei Chiavari, 37A, 00186. This is about five minutes walk from the Pantheon.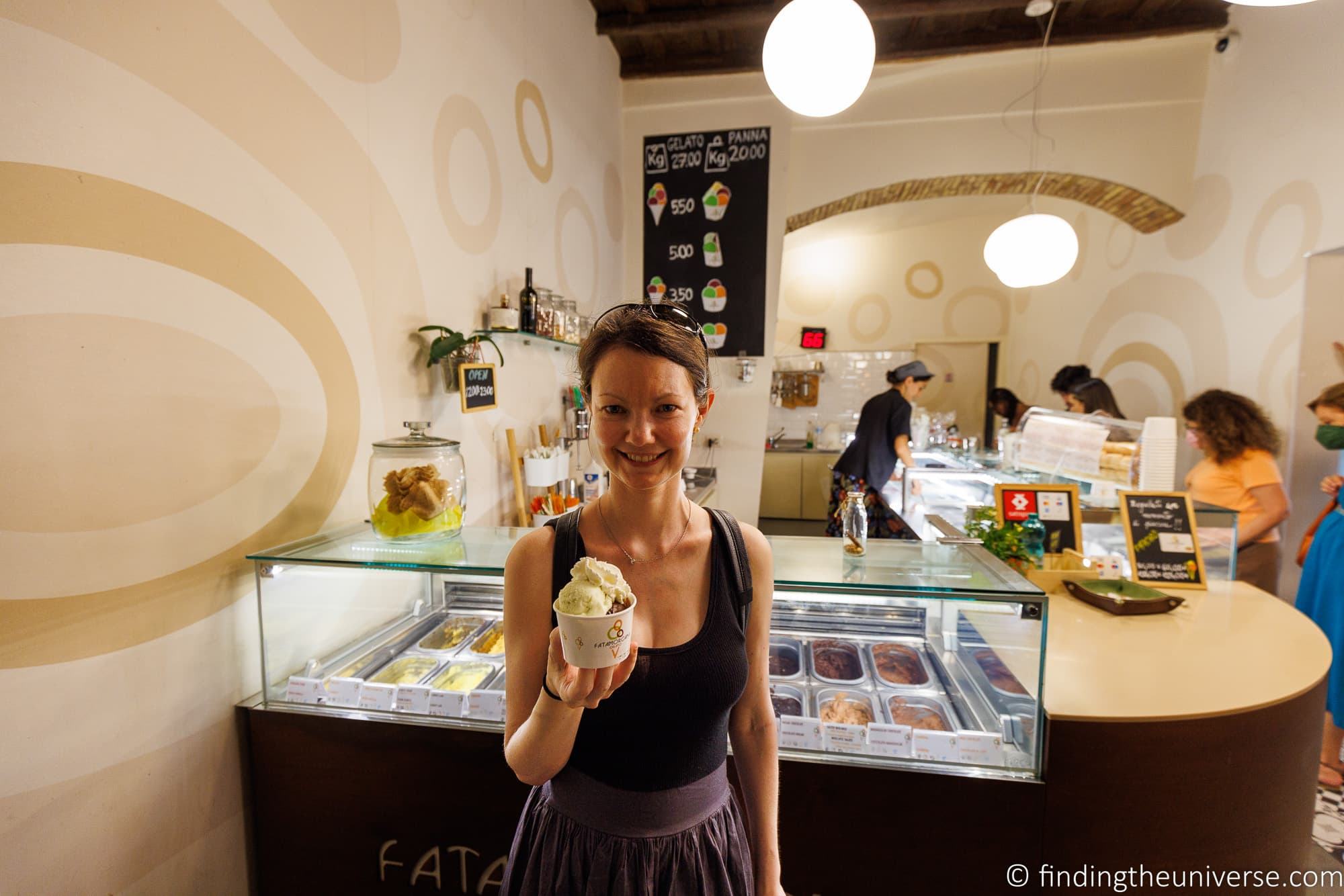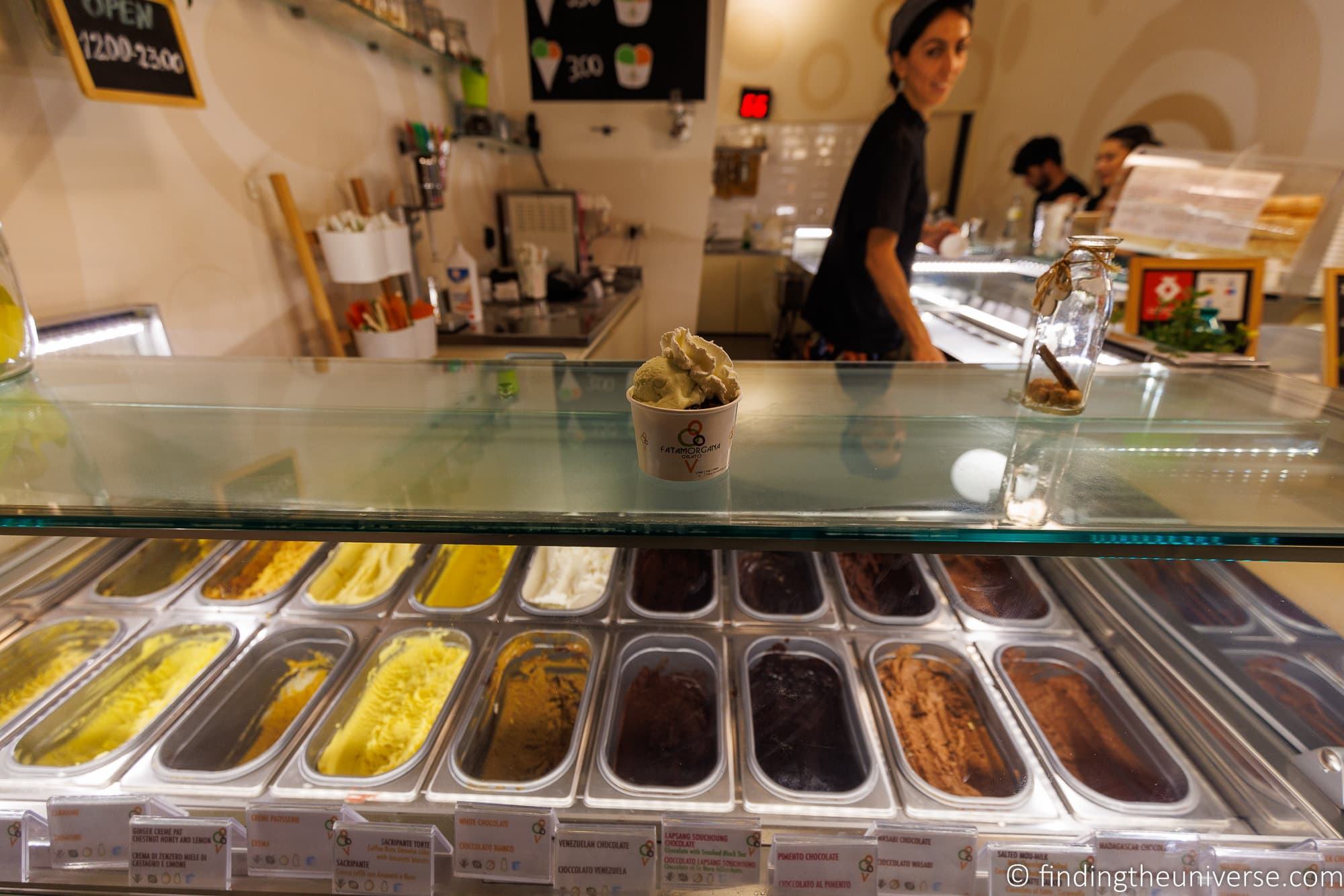 9. Gunther
Named for its owner Gunther Rohregger, this gelateria focuses on using only the freshest, in season ingredients and organic milk to produce their gelato.
You might not find the huge choice of other gelateria's in Rome, but what you will find is absolutely delicious.
The shop we visited, near the Pantheon, is not huge, but they make all their gelato on site and you can even see into the kitchens where the magic happens.
They have a number of locations across Rome, with a location near the Trevi Fountain and one near the Pantheon likely being more convenient for visitors to Rome's centre.
Where is it? A number of locations, we suggest either Via Due Macelli, 108
00187 or Piazza di Sant'Eustachio, 47 00186, near to both the Pantheon and Trevi Fountain.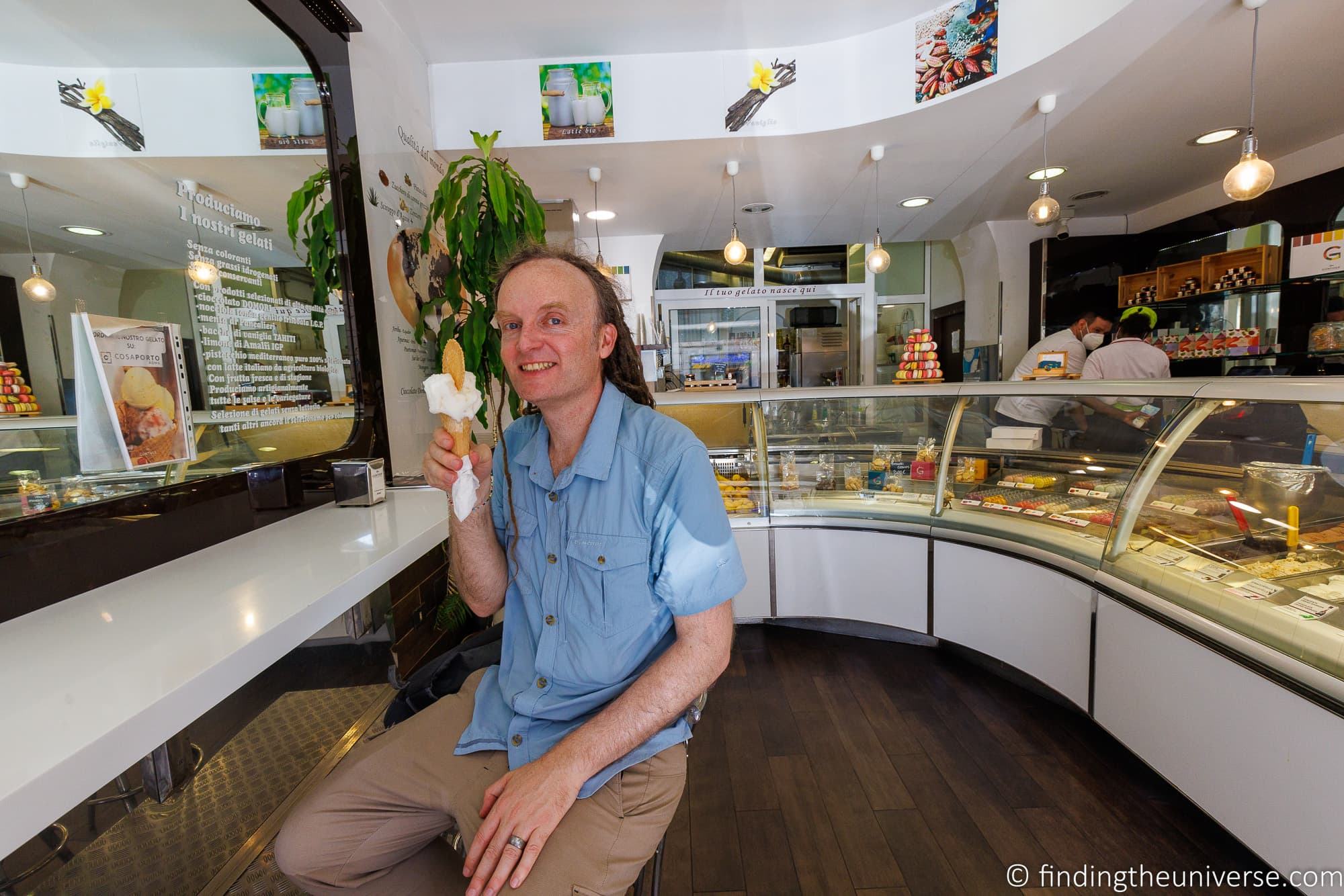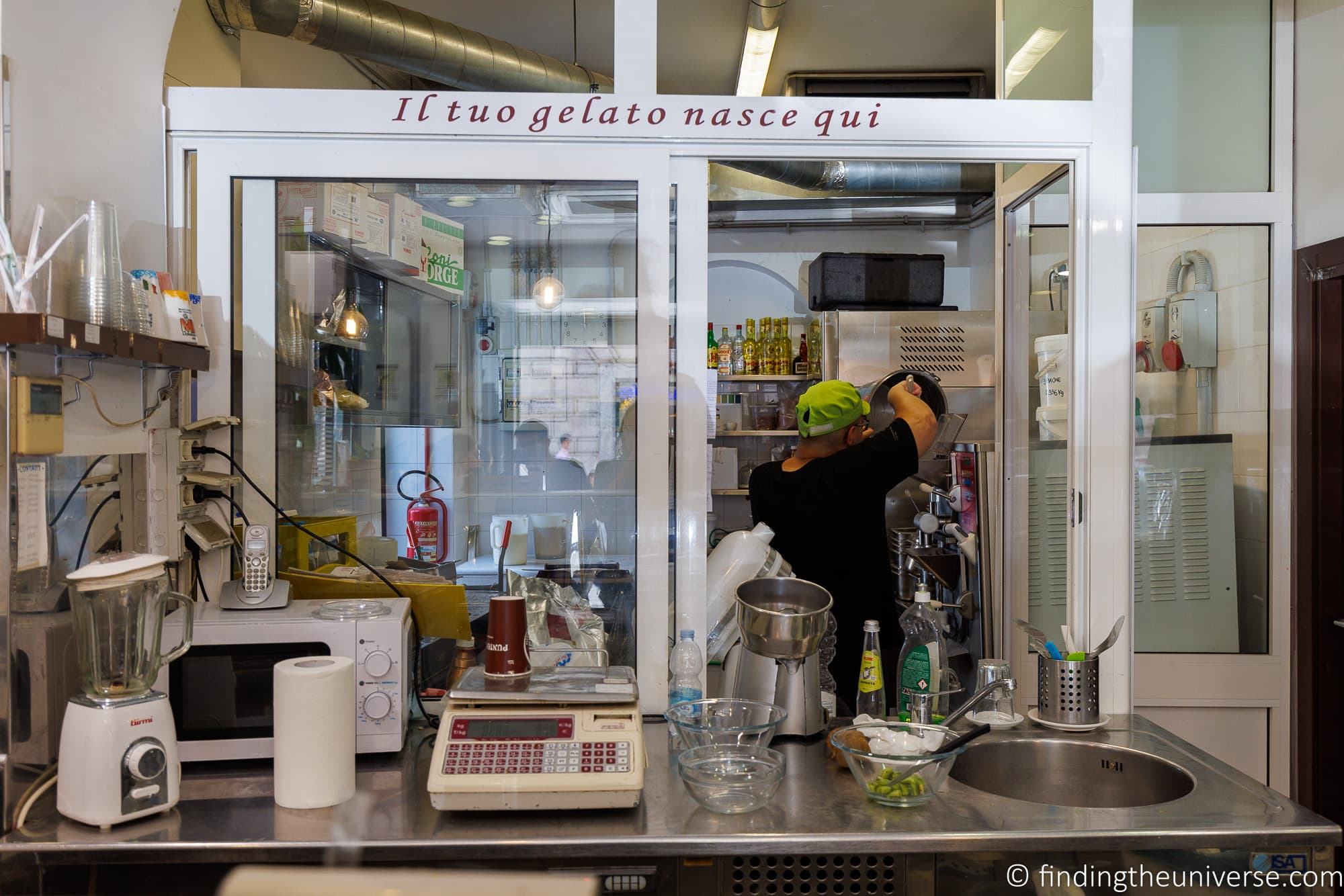 10. Fiocco di Neve
Fiocco di Neve, which literally translates to "snowflake", is just a minute's walk from the Pantheon.
Whilst popular locations in areas of high foot traffic can sometimes result in a lower quality experience, that is absolutely not the case at Fiocco di Neve.
The scoops of mango gelato and melon gelato we had here were absolutely perfect to cool us off in the middle of a European heatwave, offering fresh, natural flavours. They did not have a huge choice, but what was on offer was all very tempting!
Where is it? Via del Pantheon, 51, 00186 Roma RM, around a minute from the Pantheon and Trevi Fountain.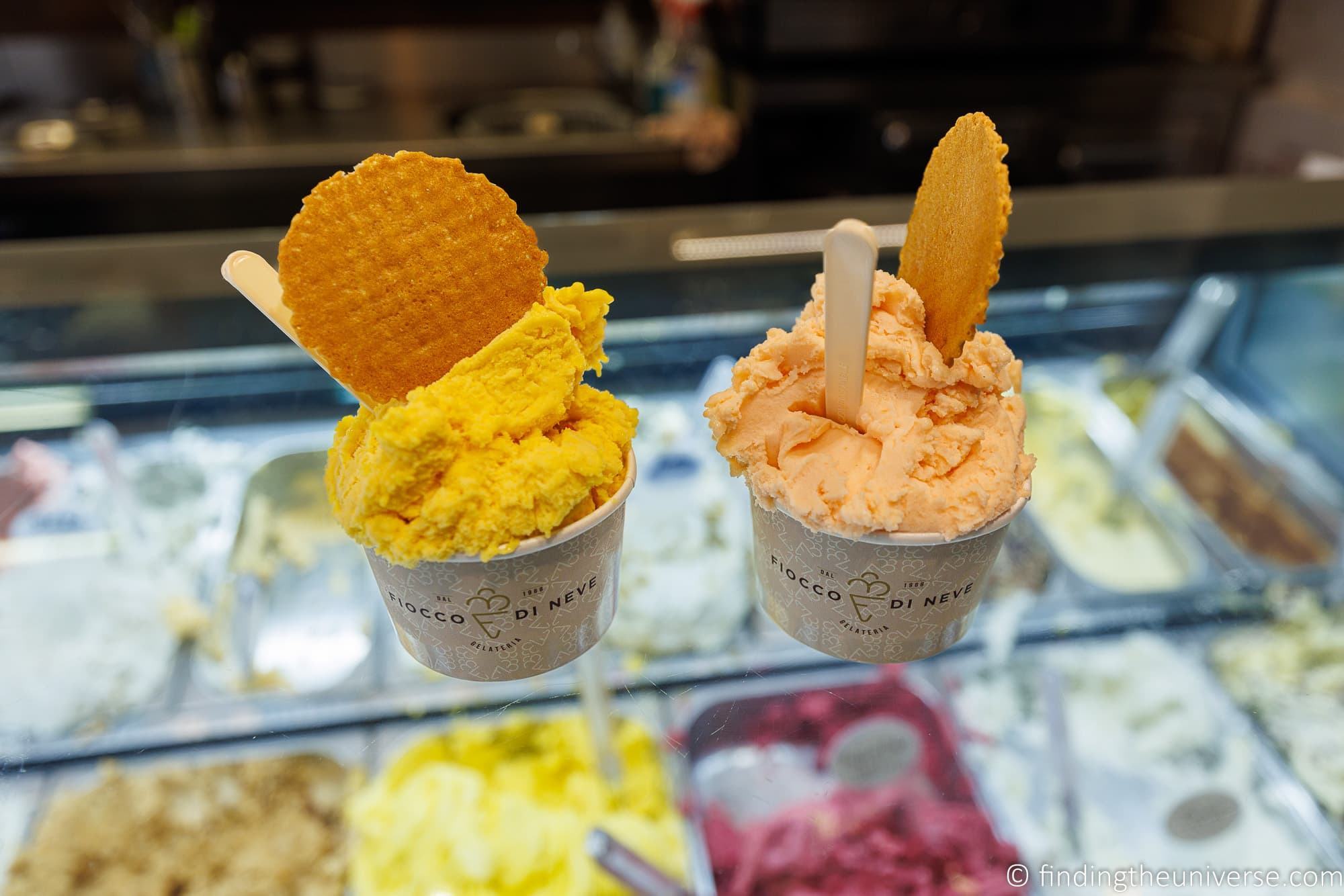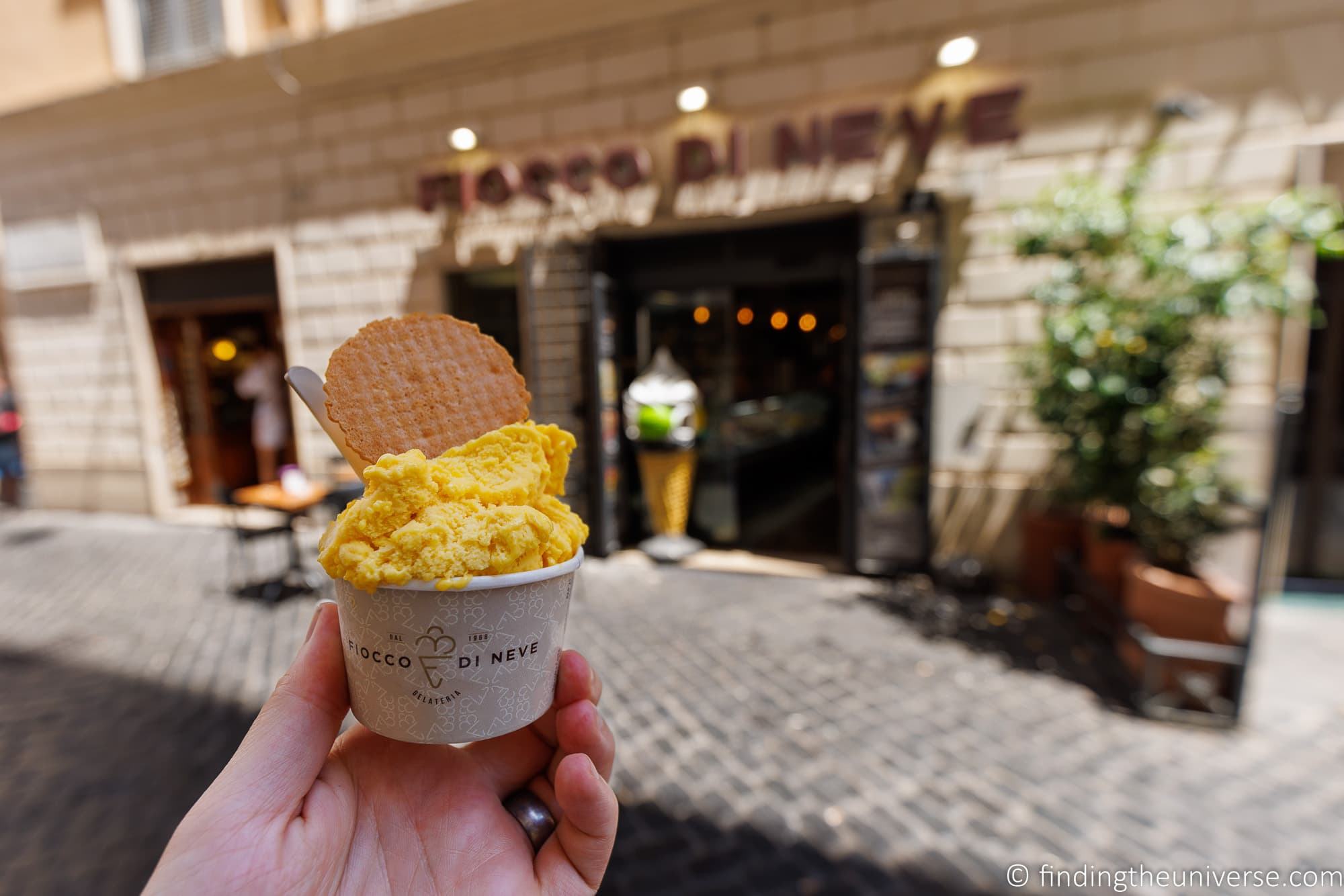 11. The Gelatist
We stumbled across an outlet of the Gelatist as we were walking across Rome on a very hot summer's day. We weren't near any of our other favourite stops, so we dropped in at a location about 15 minutes' walk from the Colosseum.
We were delighted that we did so! There was an excellent choice of Gelato, as well as delicious smoothies and crepes. The store wasn't huge, but we were able to sit down and enjoy some creative flavours, including strawberry cheesecake and one of my personal favourites, salted caramel.
All the gelato is of course made using fresh, in season ingredients, and we appreciated that we could have up to three flavours even in a small cup.
There are quite a few locations across Rome, including a couple within 10-15 minutes' walk of the Colosseum and one near the start of the Appian Way.
Where is it? A number of locations, including one at Via Nazionale, 160, 00184. A good option within about 15 minutes from the Colosseum.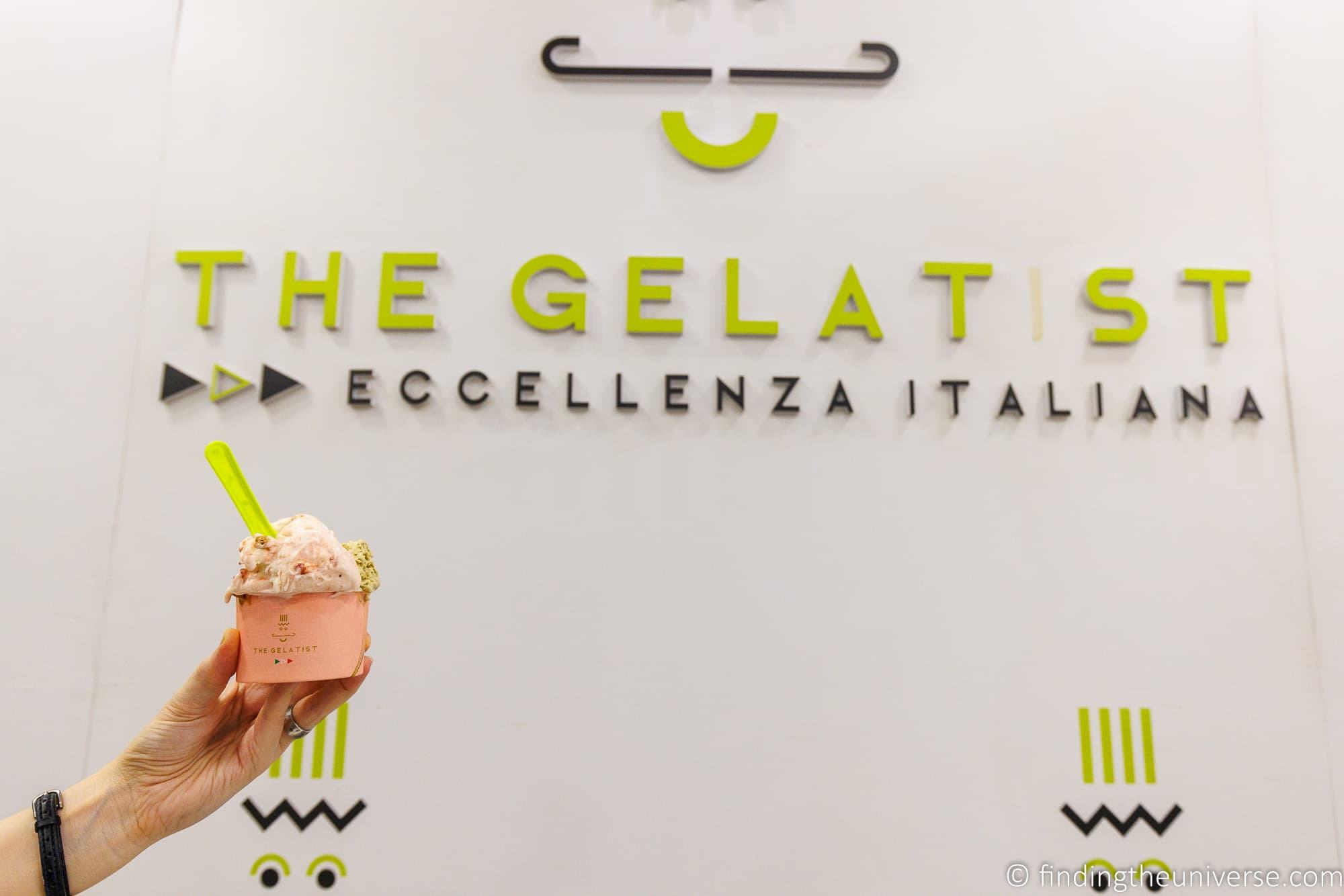 12. Gelateria Della Palma
When we took this walking tour with Take Walks in Rome, it included a free gelato. Obviously, the guide wanted to make a good impression, and they chose the excellent Gelateria Della Palma near the Pantheon as their gelato stop of choice.
They've been handmaking gelato since 1978, and perhaps the most impressive thing about this particularly gelateria is the incredible choice on offer.
On any given day, they will have around 150 gelato flavours to choose from. Admittedly, this can make choosing a flavour a bit tricky, as you peruse the long wrap around counter. The good news is that whatever flavour you settle on, it's going to be delicious!
Where is it? This gelateria is just a couple of minutes' walk from the Pantheon, at Via della Maddalena, 19-23, 00186 Roma.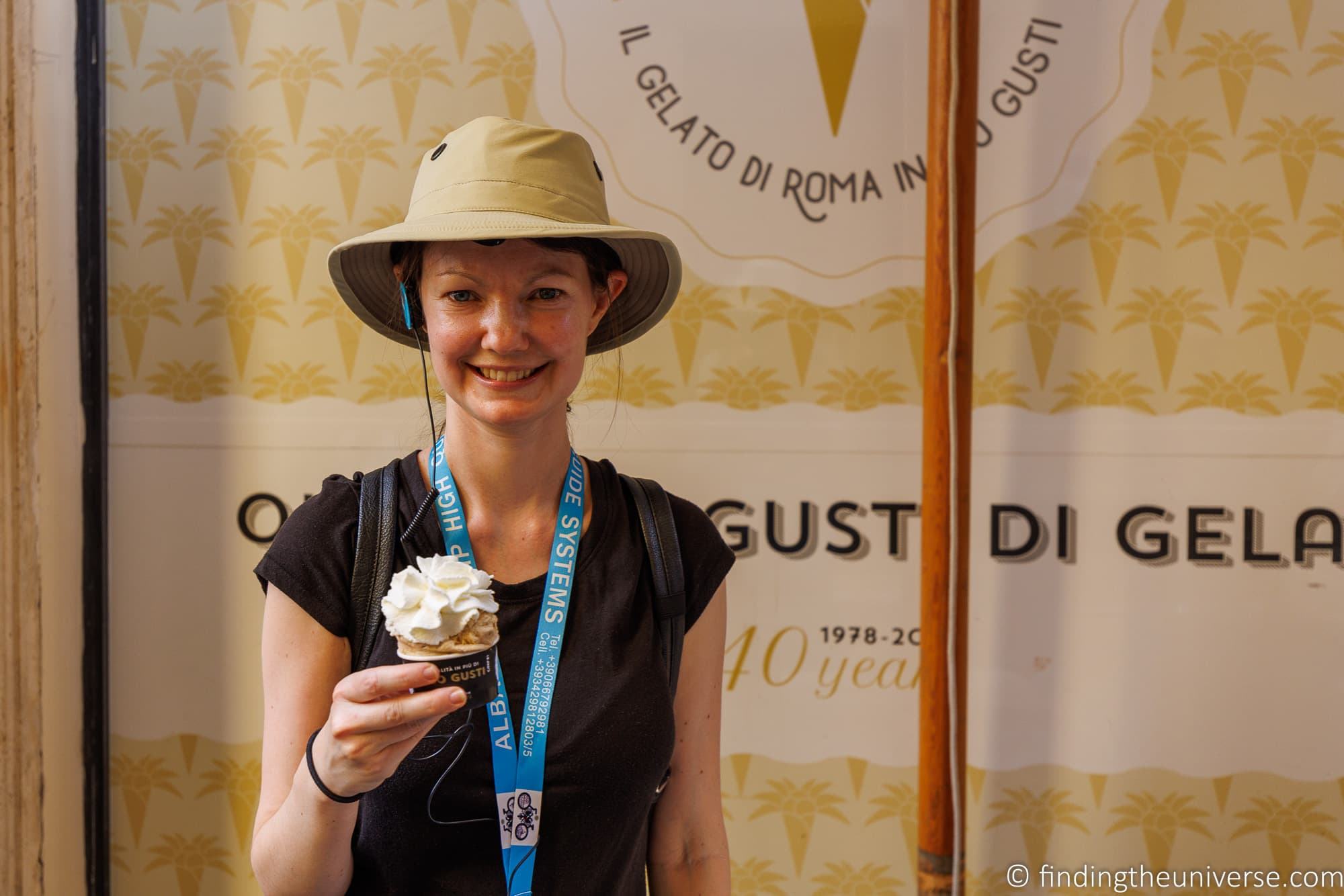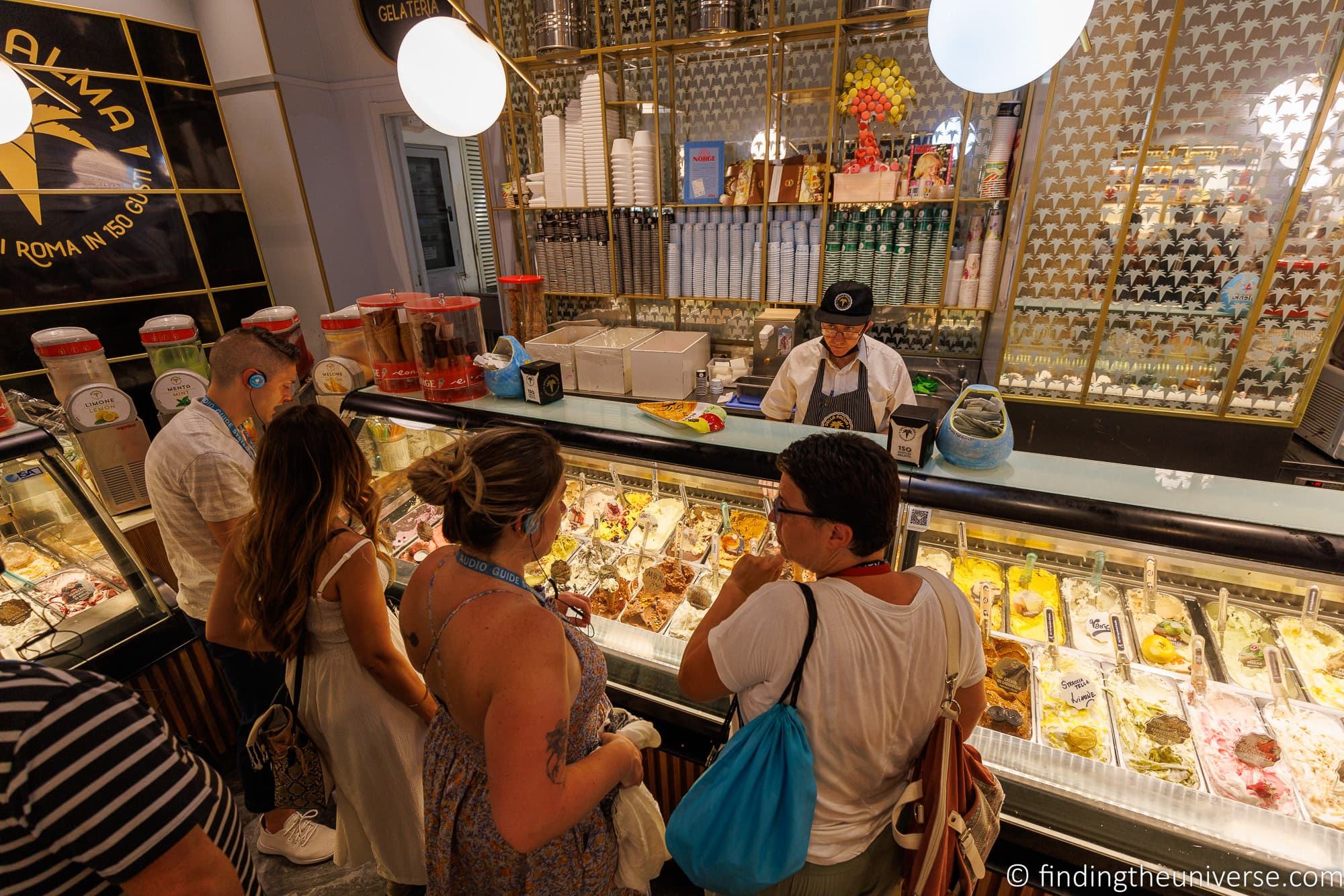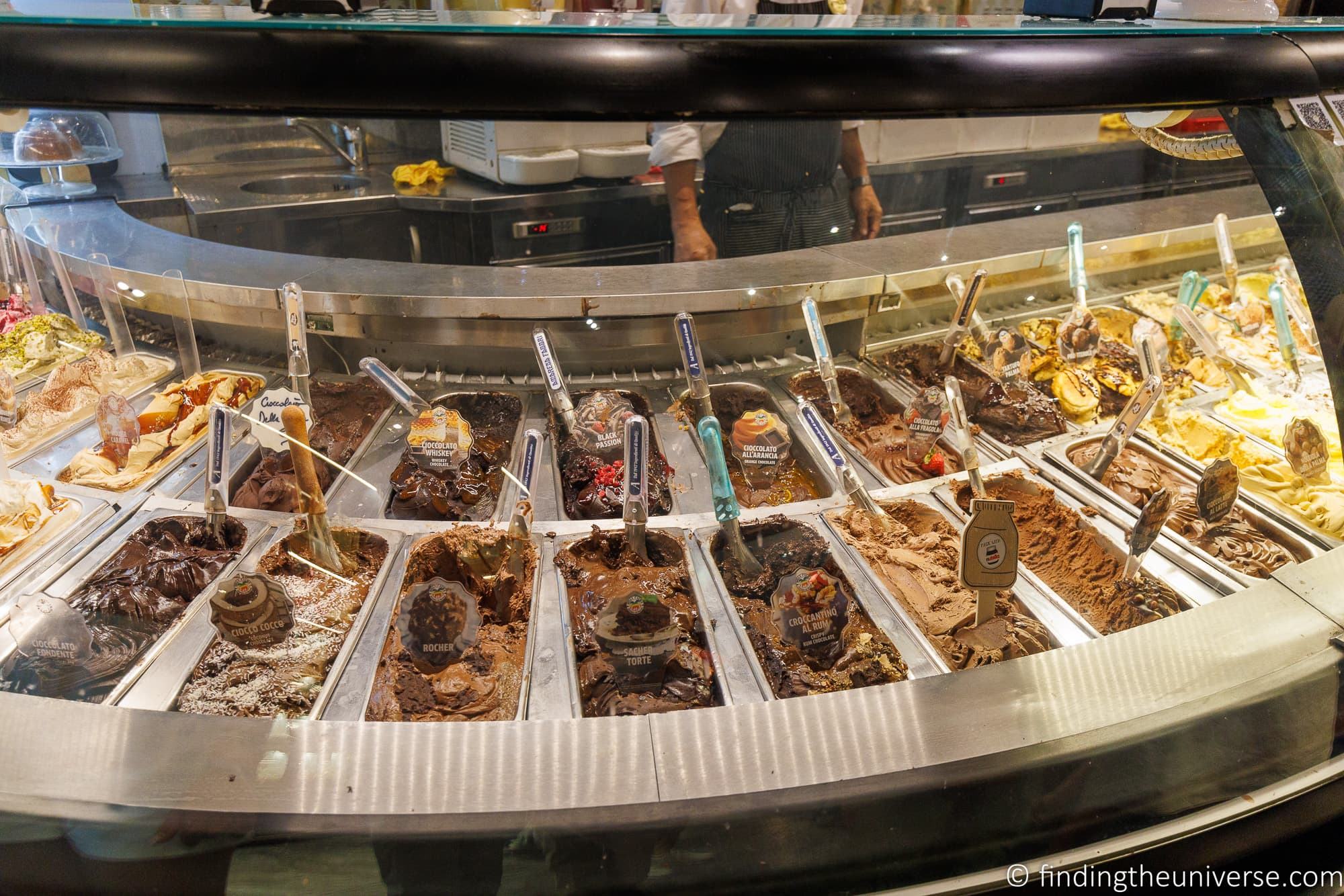 13. Fassi Gelateria
First opened in 1880, this palace to gelato is arguably one of the oldest gelateria's in all of Italy, and the oldest in Rome. Today, the fifth generation of the Fassi family still serve up some of the best gelato in the city, with a tasty range of flavours to tempt you at Fassi Gelateria.
The experience begins as soon as you walk in. The cavernous interior definitely feels palatial, lending credence to the gelateria's nickname, the Palazzon del Freddo, or the "Palace of the Frozen".
On the walls you'll find numerous clippings from media coverage over the years, as well as some historical gelato making equipment. It's also a spot where you pay at the till first before choosing your gelato.
Once paid, you'll be able to peruse their flavours, which include a number of classics that have persisted across the years, as well as more modern favourites. Whichever you choose, we're sure you'll love it.
Where is it? Fassi Gelateria can be found at Via Principe Eugenio 65/67, 00185 Roma. About 15 minutes' walk from Roma Termini or 20 minutes from the train station.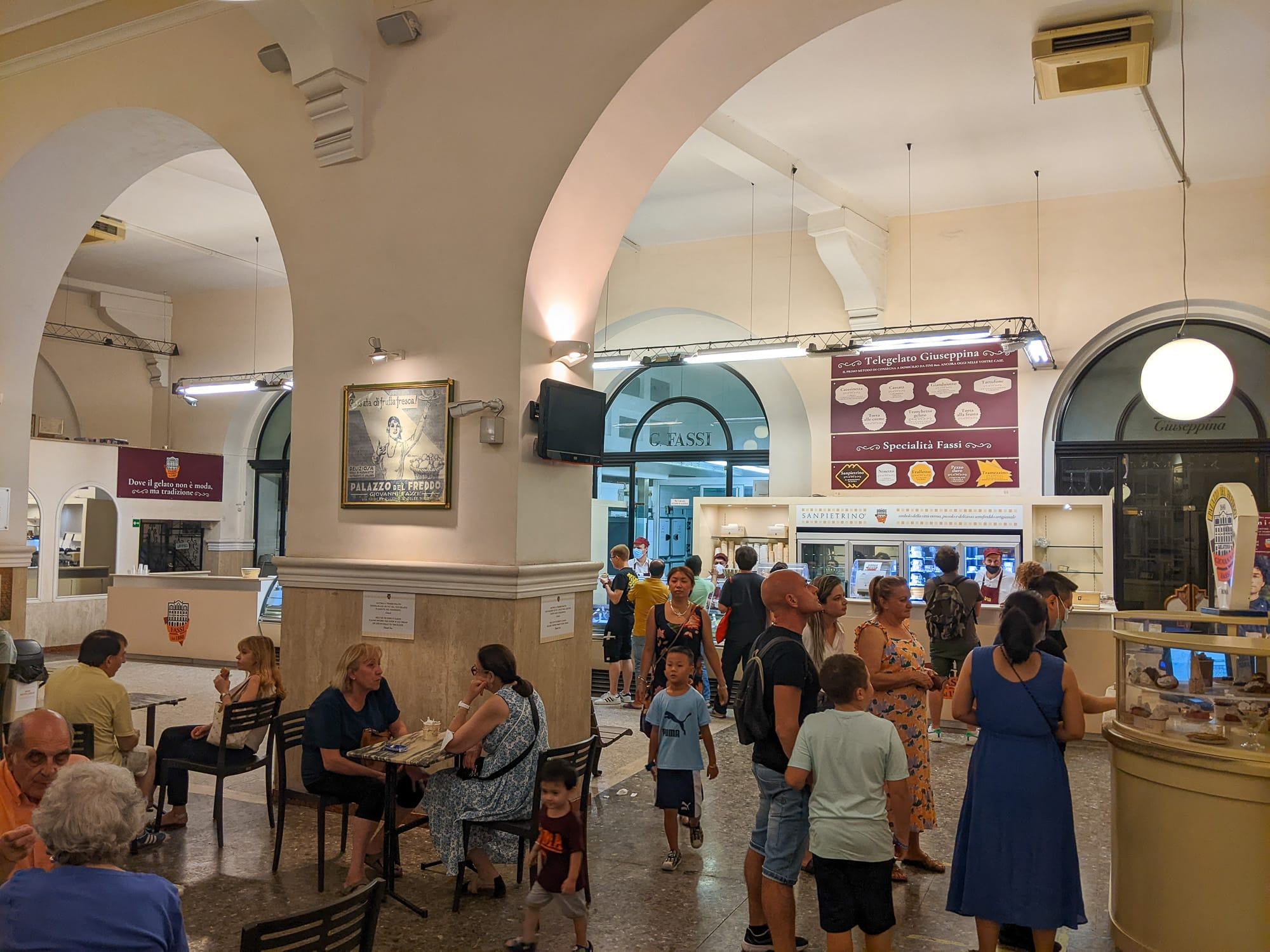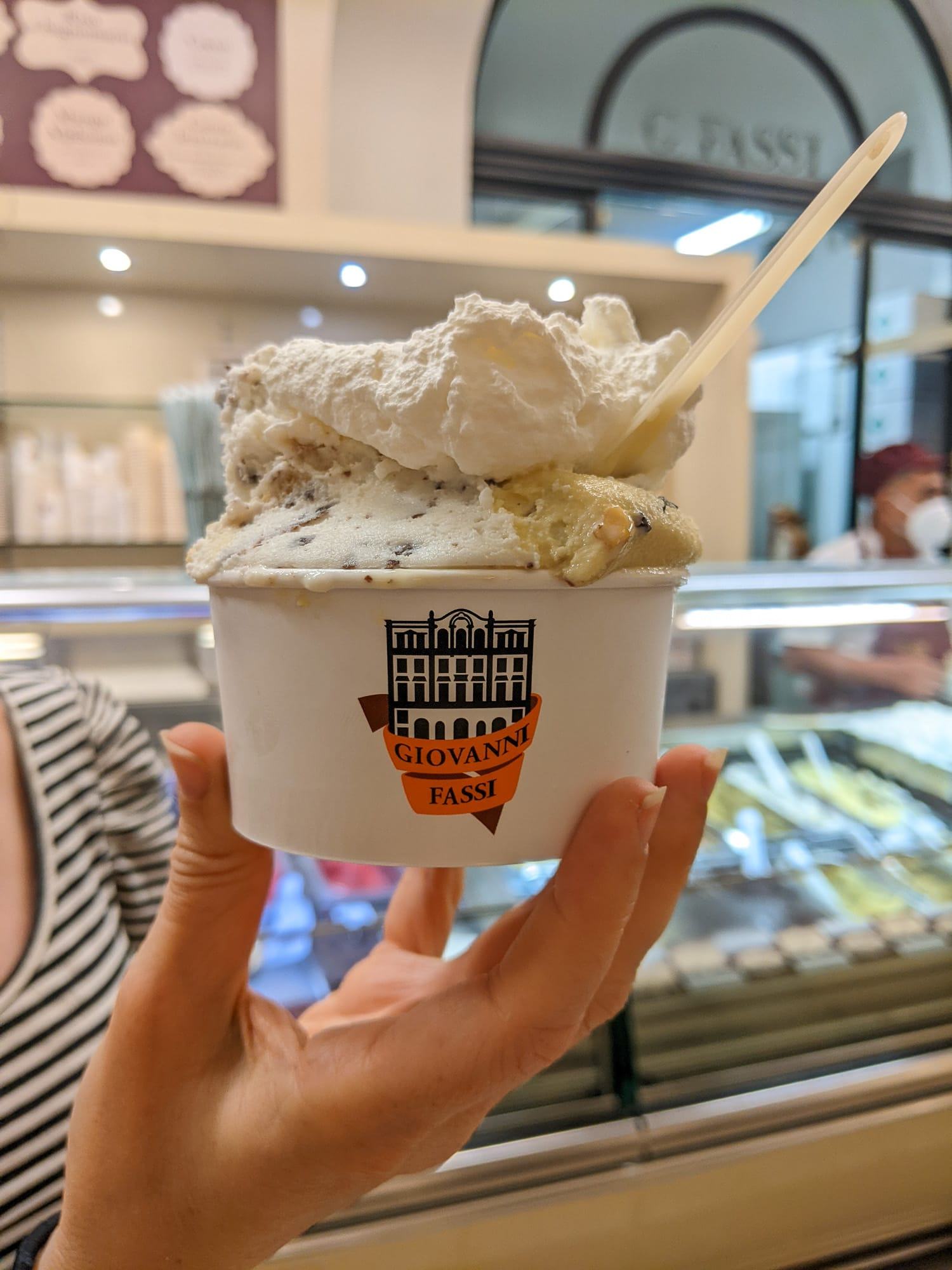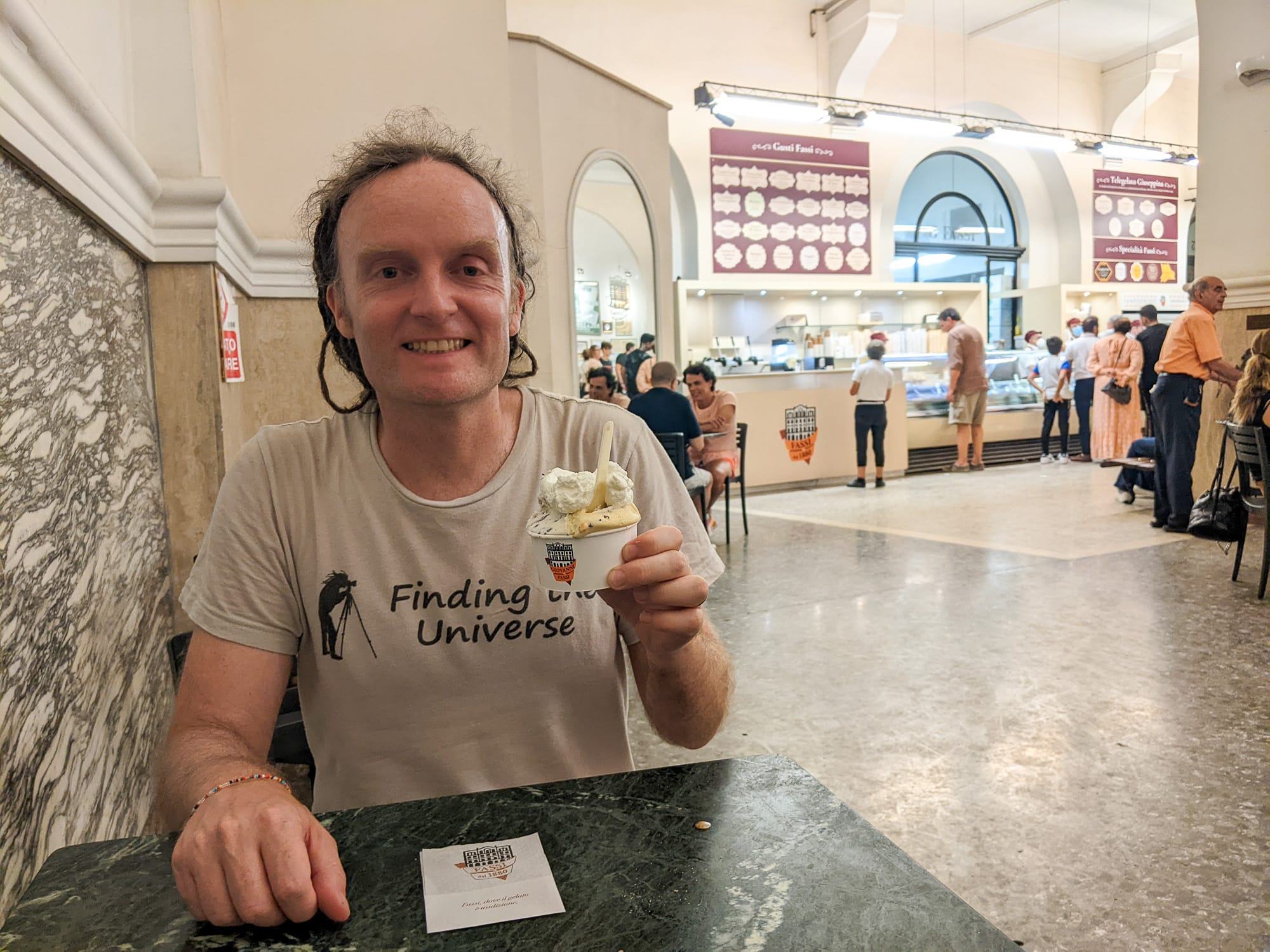 Map of the best Gelato Locations in Rome
It's important that on your trip to Rome you only eat the finest gelato. To help you out with this, I've put together a handy map, so you'll always be able to locate the nearest gelateria from the above list. Click here to see this map on Google Maps.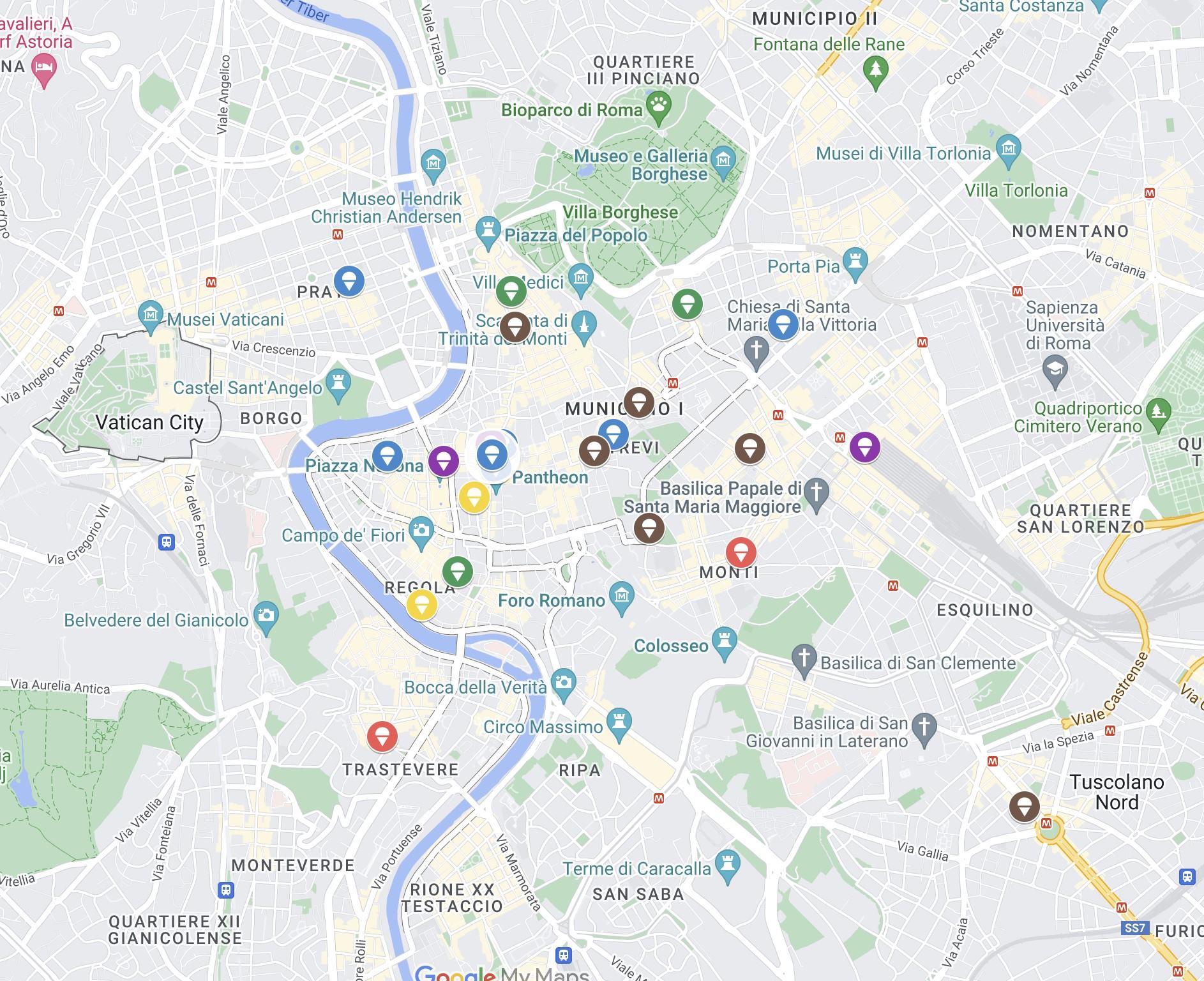 Gelato in a Cone or Cup?
When you order gelato in Rome, you will usually be asked if you want it in a cup (cuppa) or a cone (cono).
If you go for a cup, you will normally have to choose a size which will generally then dictate how much gelato you are going to get.
If you opt for a cone, again there will normally be a choice of size, and sometimes an additional choice of what the cone is made from.
You might be wondering if you should order a cone or a cup. The answer is, it's up to you! Some people will tell you you must only order a cup in order to preserve the pure flavours of the gelato.
Others will say a cone is a more superior experience, as the flavour of the cone can enhance the experience.
Honestly, there's no right answer. Generally we find a cup can be easier for trying multiple flavours, and on a hot day you'll be able to contain the drips better in a cup. But a cone is also delicious. So do what works for you.
Also, don't forget you can normally get cream squirted on the top of your gelato, for the full experience!
Gelato Tours in Rome
Yes folks, you can take a tour of gelato in Rome, and even learn how to make your own gelato! Here are some options in case you wanted to take a tour of Rome that includes gelato, as well as some other wonderful Italian food.
This should give you some ideas for a tour featuring gelato. We also have a guide to the best food tours in Rome, many of which include gelato, if you'd like a more in depth eating experience.
Further Reading for your Rome visit
That summarises our guide to where to find the best gelato in Rome. Presumably though, you're not going to Rome *just* to eat gelato. Although, no worries if that is the case. Either way, we think you'll find the following resources helpful for planning your trip to Rome!
And that's it! Got a favourite gelateria in Italy that didn't make our list? Let us know all about it in the comments below!