Visiting the Colosseum in Rome is probably high on your list of sightseeing priorities for your trip to the Italian capital. It's a fantastic ancient structure which has stood at the heart of the city for over two millennia, and history practically seeps out of it.
Of course, you won't be the only person with the thought of visiting. The Colosseum is one of the most popular attractions in Rome, and has thousands of visitors a day. So many in fact, that in 2019 a visitor cap was imposed, limiting visitor numbers to 3,000 at any given time.
This means that it's more important than ever to properly plan your visit to the Colosseum. If you don't, especially in the busy summer months, you run the real risk of missing out on going inside and exploring this incredible building, and learning first-hand about its history. Tickets regularly sell out, so you want to plan ahead to avoid disappointment.
We've visited the Colosseum many times, and based on our experiences visiting as well as our time exploring Rome and Italy in general, we wanted to share with you a detailed guide to help you plan your own Colosseum visit.
We're going to share how to get Colosseum tickets, how long to visit for, our tips for the best guided tours of the Colosseum, the options you have for what to do at the Colosseum, how to skip the lines at the Colosseum, what to do if Colosseum tickets are sold out, and much more.
We'll also share our tips for visiting the Colosseum, and some more practical information so you get the most out of your time. First though, let's take a look at what exactly the Colosseum is and why it's a must visit for your time in Rome.
An Overview of the Colosseum
Built during the height of the Roman Empire, in around 70 AD, the Colosseum is the largest amphitheatre ever built. In Italian, it's called the Colosseo.
It was built primarily as a venue for spectators to watch events, most famously gladiator style combat matches. It also played host to battle re-enactments, executions, and theatre dramas. Some also believe it was used for mock sea battles although there is little evidence of this.
The name comes from the fact that it was built next to a gigantic statue of the Emperor Nero which was referred to as the Colossus of Nero, although this statue no longer exists. However, the name Colossus somehow ended up being transferred from the statue to the Colosseum, probably in reference to the large size of the amphitheatre.
When it was built, the official name of the Colosseum was the Flavian Amphitheatre, although it is believed that Romans of the time would have referred to it as the Amphitheatrum Caesareum. It's also often referred to as the Coliseum, which is a general term for large outdoor stadiums.
The Colosseum was designed to house up to 80,000 spectators (although some say 40,000), putting it on a par with today's modern sport stadiums. Average audience attendance for events was around 40,000, with attendees including everyone from emperors to working class people.
Following the fall of the Roman Empire, the Colosseum continued to be used as a space for workshops and other events. In the 12th century it was used as a fortified dwelling by a wealthy family.
Unfortunately, a major earthquake in the middle of the 14th century caused serious damage, and parts of the Colosseum were destroyed. Over the years, the stone of the Colosseum was used for other buildings, leading to much of the structure disappearing.
It wasn't until the mid 18th century that the value of the Colosseum was recognised, and efforts were put in place to protect it. It was deemed a holy place by the Pope, due to the many Christians who were believed to have died on the arena floor. However, evidence for this is also limited.
The church made efforts to protect the building, and reinforcements and repairs took place throughout the 19th century.
Today, the Colosseum is one of the most popular tourist attractions in Rome, and is visited by millions of people every year. It forms a part of the Historic Centre of Rome UNESCO world heritage site.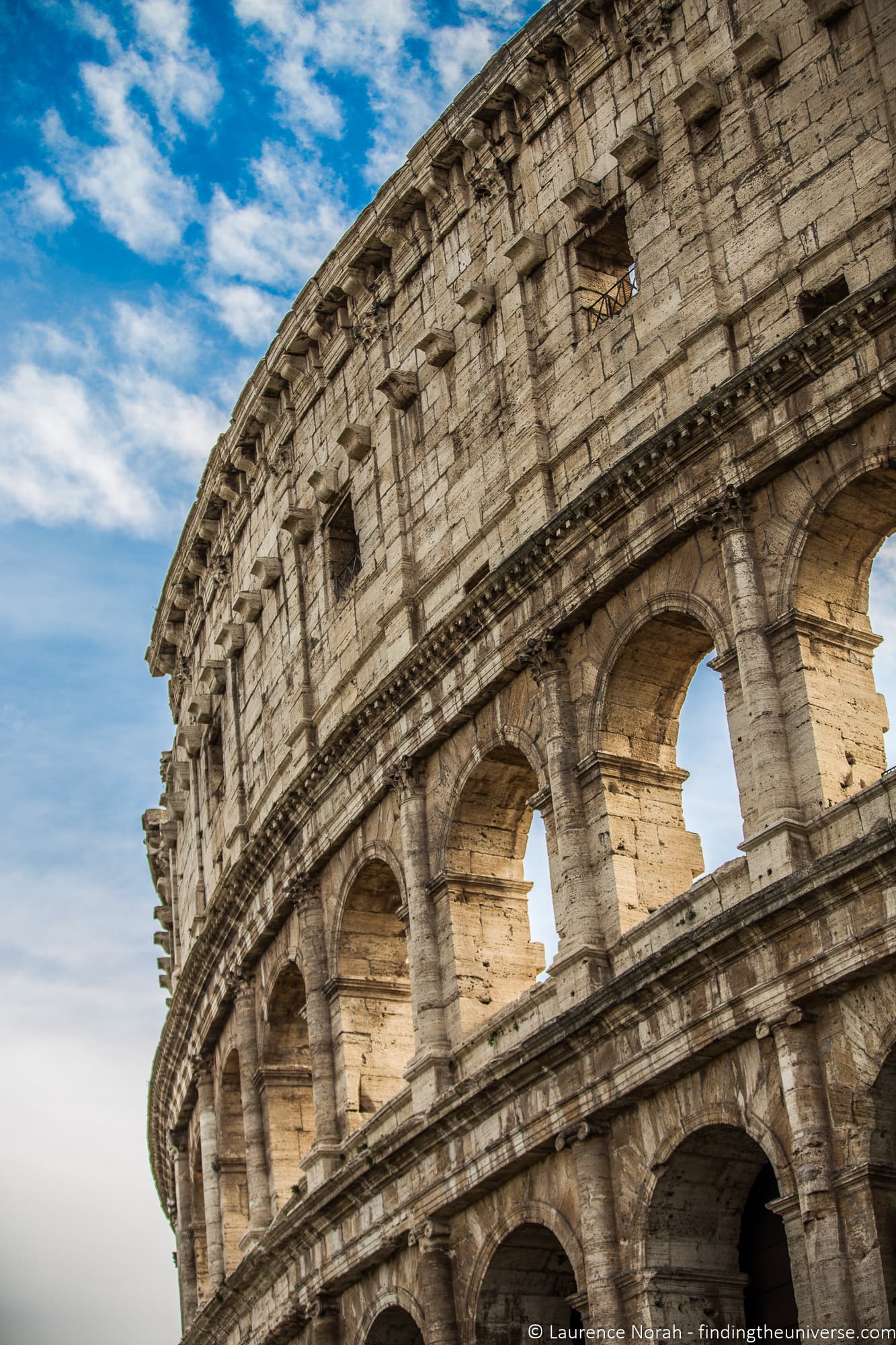 Where is the Colosseum
The Colosseum is in the heart of ancient Rome, near other impressive ancient structures like the Roman Forum and Circo Maximus.
The full street address of the Colosseum is Piazza del Colosseo, 1, 00184 Comune di Roma RM.
The Colosseum is a little way south-east of attractions like the Pantheon, Trevi Fountain and the Spanish Steps. Expect it to take around 25 minutes to walk from this part of the city to the Colosseum.
From the Vatican, it's more like an hours walk to the Colosseum, so public transport, hop on hop off bus or a taxi is definitely going to save you some time.
How to get to the Colosseum
There are a number of options for getting to the Colosseum depending on where you are coming from.
From the popular area containing the Pantheon and out to Piazza Navona, where we often recommend folks look for accommodation, it's around a 20 – 30 minute walk.
The Colosseum is also served by the Rome Metro, with the Colosseo stop being directly across the street from the Colosseum. Currently, Line B serves this stop.
There are also a number of bus routes that stop at the Colosseum. If you are using the Roma Pass or Rome and Vatican Pass (also known as the Omnia Rome and Vatican Card) these include public transport in the city, making this a cost effective option for getting to the Colosseum.
If you are using one of the Hop on Hop off bus services in Rome, the Colosseum is a stop for the majority of these services. A Hop on Hop of bus is included with the Rome and Vatican Pass, or you can buy a ticket for the HOHO bus here.
Finally, Rome has a lot of taxis, so you can use one of these to get to the Colosseum. Always ensure the meter is running when taking a taxi in Rome.
Colosseum Opening Times
The Colosseum is normally open every day of the year with the exception of the 1st of January and 25th of December.
It opens either at 10.30am or 9.30am depending on the time of year and usually closes an hour before dusk. The last admission is an hour before closing time.
You can see full opening times for the Colosseum on the official website here.
Note that sometimes public holidays and events can affect opening hours. For example, Republic Day (2nd June) normally involves a large parade, and the Colosseum is often only open on the afternoon on this day. So always check in advance before planning your visit.
What to see and do at the Colosseum
The Colosseum was the largest amphitheater ever built, and as you might imagine, there is lots to see here.
It is divided into a number of main areas. There's the exterior of the Colosseum, which you can visit without a ticket just to see how impressive this building really is.
Inside the main sections are like a traditional amphitheater or more modern day theatre. There's the seating section, which is spread across four main levels – with the higher quality seating closer to the arena floor.
There's the arena area itself, although the floor for this was made of wood and the majority of this has long since perished. A small recreated section can still be seen to get an idea for how it would have looked.
Below the area where the arena was is the hypogeum. This large two storey part of the Colosseum, was originally entirely underneath the arena floor. This was where the combatants, animals and scenery pieces would have been kept.
It is said that in the first design for the arena, this area could be flooded and used for mock sea battles. However, there is little evidence to support this claim, and even if this did happen it was likely very impractical and quickly repurposed with the walls and holding pens as you see it today.
The hypogeum was originally covered by the arena floor, but as that is largely gone now, it is open to the air. So it is quite easy to see into as you tour the upper levels.
When visiting the Colosseum on a normal ticket you get access to first and second floors of the public spectator area, which gives you excellent views of the structure.
It's also possible to book tickets and take guided tours that include the arena and underground areas. In mid-2021, the underground area that visitors can access expanded greatly following a two-year restoration project.
For a period there was also the possibility to go higher up to the fourth and fifth floors, but this area is under construction as of 2022 and it is unknown if the upper floors will reopen.
See our guide to ticket types and tours for more information.
Finally, it is worth noting that whilst not part of the Colosseum, all tickets to the Colosseum include same-day access to the Roman Forum and Palatine Hill, which is right next to the Colosseum. This is where the business of Rome happened, and should also be part of your visit.
You can visit the Roman Forum before visiting the Colosseum as long as you visit on the same day, and remember to observe the timeslot for your Colosseum entry.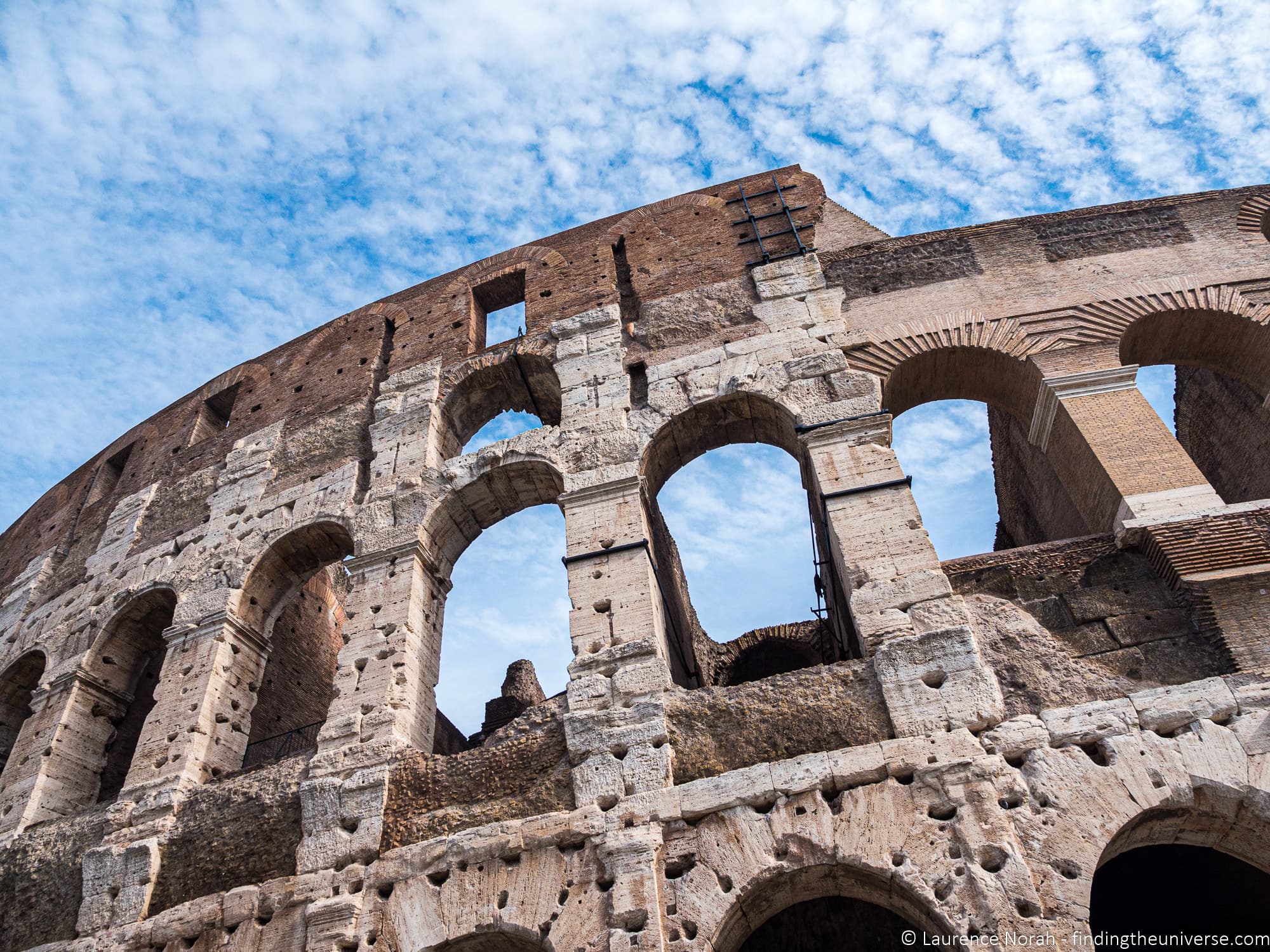 How Long to Visit the Colosseum For?
We would suggest that you allocate at least 2 hours for visiting the Colosseum. As well as time spent exploring the actual structure, you also need to consider that it might take a bit of time to get through the security line.
When is the Colosseum Free in 2023?
The Colosseum is free on the first Sunday of the month. On these days, entry is on a first come first served basis with free tickets available at the ticket office in Piazza del Colosseo, located near the Temple of Venus and Rome.
In addition to the first Sunday, in some years the Colosseum has a number of free days each year. However, these have been put on hold as of 2021.
For reference, in 2020, the following dates were free for visiting the Colosseum:
5th January 2020
2nd February 2020
1st March 2020
9th May 2020
5th June 2020
29th June 2020
23rd September 2020
4th October 2020
4th November 2020
18th December 2020
Note that on the free days, including the free Sunday each month, it is not possible to book a timeslot or reserve access. However, the limit of 3,000 people inside the building still applies.
This means that wait times can be very long and we would generally advise against visiting on the free days if you can help it, unless you are on a very tight budget and have lots of time to spare. In this case, go as early as you can.
Note that the majority of information in this post regarding timeslots, fast track entry and pricing do not apply on the free days. It's just a question of showing up and waiting in line.
Do You Need a Ticket for the Colosseum?
Everyone visiting the Colosseum needs to be in possession of a ticket, or at least a reservation to visit. If visiting on one of the free days, you get a ticket on site on a first come first served basis.
There are a variety of ticket types available depending on what you want to see, and different prices apply for these.
Even those visitors eligible for free entry need to reserve a timeslot, including children who are eligible for free entry. We cover this process below.
How Much does it Cost to Visit the Colosseum?
Pricing for the Colosseum in 2023 is as follows:
€18 for adults
€4 for EU citizens aged 18-25
Free if under 18
There are a number of other concessions available which you can read about here.
Note that these are the prices if booked on the official website. Third party ticket sites tend to be slightly more expensive, but are a good option if there is limited availability on the official site, as there often tends to be.
All visitors, including those eligible for free entry, need to book a timeslot for entry.
If you are using the Roma Pass which includes entry to the Colosseum, then you just have to pay a €2 fee to reserve your timeslot online.
See more on how to reserve a time for the Colosseum in the section below on timeslots.
If you choose to take a guided tour of the Colosseum, or want to visit some of the more special areas in the Colosseum, then this will cost more. For example, on the official website, a ticket which includes the Underground and Arena areas costs €22 (plus €2 reservation fee).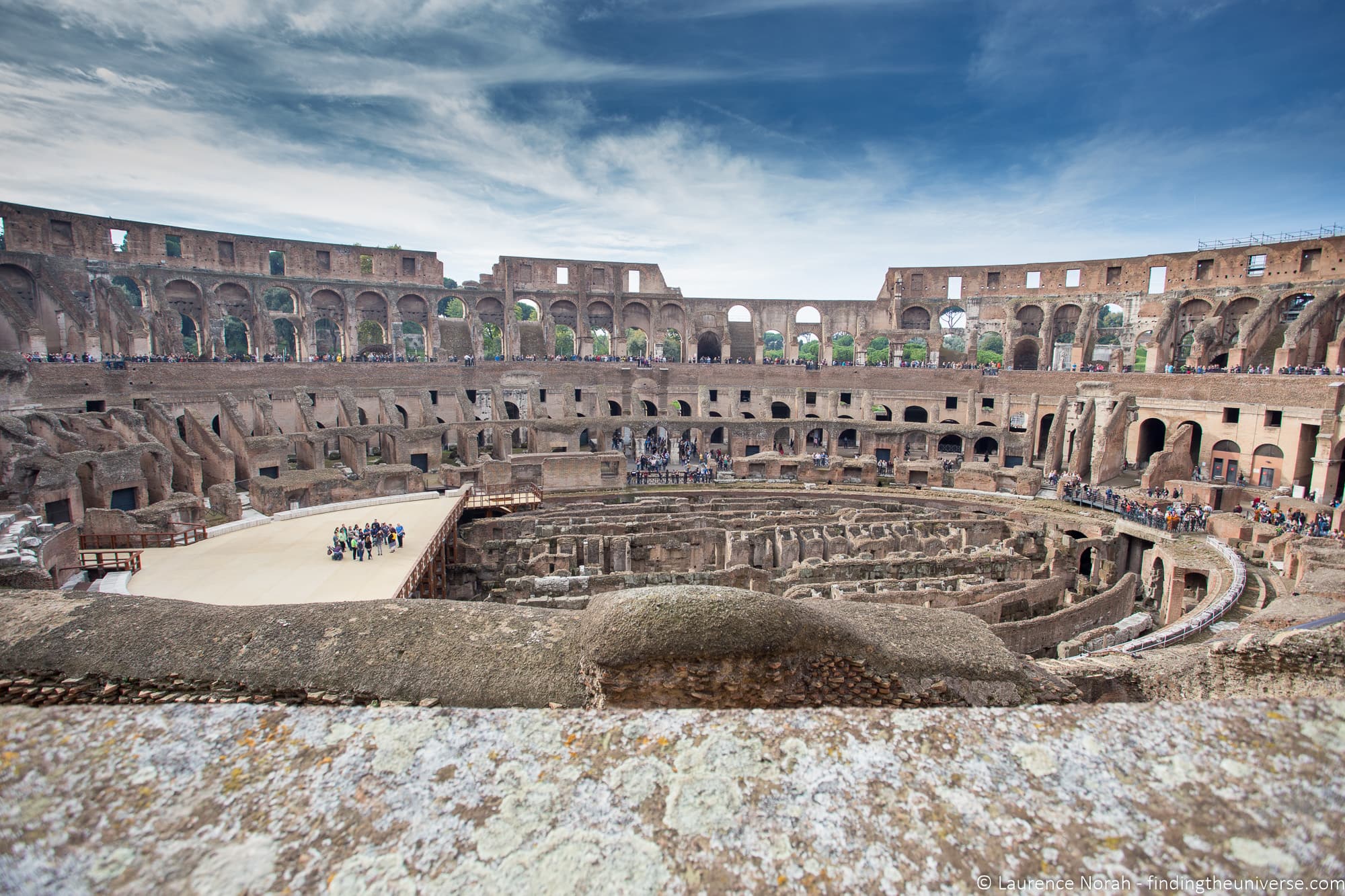 How to Schedule a Time for the Colosseum
If you are visiting the Colosseum as an individual, rather than as part of a pre-booked guided tour, then you need to schedule a time for your visit (except on the free days). Everyone needs to book a timeslot, regardless of age.
Scheduling a time for your visit to the Colosseum can be done on the official ticket website. When you purchase your ticket, you will be asked to select a time. You will only be able to buy a ticket for available times.
There are two other websites we recommend for booking Colosseum entry ticket with a timeslot. These can be a little more expensive than the official site but are a lot more user friendly in our experience. They also normally have more availability than the official site which can sell out very quickly. We suggest checking on both of these as the prices tend to vary.
First, check the prices on GetYourGuide here. These allow you to specify a time for entry and their tickets also normally include free cancellation up to 24 hours before your visit. These are only slightly more expensive than the official site but in our experience tend to have better availability.
Next, you can also book a ticket with a timeslot on Tiqets here. It's also little more expensive than the official site (although you get a 5% discount on their normal price with our link), but like GetYourGuide is a lot more user friendly in our experience.
Note that at busier times of year tickets sell out far in advance, so we advise booking your time as soon as you know when you will be visiting. Tickets are released on a schedule throughout the year, which varies depending on the ticket type.
If you are travelling with children who are eligible for free entry, you also need to reserve a timeslot for your entry, which you can do either on the official site (using the guidance for free entry), or you can reserve a fast-track entry for children on this website.
If you choose to buy the Rome Tourist Card for your time in Rome, which includes entry to the major attractions like the Vatican, St. Peters and Colosseum, you will pick your Colosseum entry time on purchase. This makes this pass very convenient and easy to use.
If you have the Rome and Vatican Pass or the Roma Pass, which include entry to the Colosseum you still need to schedule your Colosseum entry and pay the small online reservation fee. I highly recommend checking there is availability at the Colosseum booking website before you buy one of these passes.
Note that availability for holders of the Roma Pass is different from general availability. Even if the site shows sold out for general admission, there might still be slots available for those with a Roma Pass.
You can check timeslot availability on the official ticket website.
On that page, there is a section for "Roma Pass Holders", with a link at the end of the section which lets you book the entrance time.
You will be presented with the ticket screen for booking your ticket.
Scroll to the bottom of the screen, where you can select the time of your visit. This is easier if you check "available only" to only show available times.
When you have picked the time of your tickets, you will be given the option to select a product. Scroll down and choose the "RESERVATION OF ADMISSION FOR ROMA PASS HOLDERS" product option to reserve your timeslot. Make sure to reserve one for each member of your group. The cost will be €2 each.
Note that the Roma Pass only has free entry to the first attraction visited with the 48h Roma Pass, and the first two attractions with the 72h Roma Pass.
This means that if you do not use the Colosseum as your free entry, you have to pay a reduced entry. This can also be done online, using the "reduced ticket for Roma Pass holders" option which costs €11.50 at time of writing.
We strongly recommend that you reserve your Colosseum timeslot as far in advance as possible as tickets do sell out.
Official Colosseum Website
If you search for the Colosseum, you will likely be presented with a swathe of sites to choose from, and it can be tricky to know which is the official website.
There are two official websites for the Colosseum, which are as follows:
There are many other sites which provide information about visiting the Colosseum (including this one) but the above two sites are the only official sites that I am aware of.
Where to Buy Colosseum Tickets
The first place to look when buying tickets for the Colosseum is the official ticket website. In our experience, this is where the best value Colosseum tickets are available.
You can normally purchase tickets on the official Colosseum website a month in advance. So each day a new day is made available the following month.
There are many third-party websites that will sell you tickets for the Colosseum, however if all you want is the regular individual access without a guide or other access, then the official website is definitely where you should start.
Unfortunately, tickets on the official website tend to sell out pretty quickly, especially at busier times of year. So if you have a date in mind, I recommend marking a date in your calendar a month in advance to check the official site. Sometimes last-minute tickets are available, but this is not guaranteed.
If you are struggling to find tickets, see the section of the post on how to get tickets when they are sold out on the official site. We also have more options below.
Our next choice for Colosseum tickets would be either these options on the tiqets website or these options on GetYourGuide. We use both these sites for tickets in cities across Europe and it is worth checking them both as prices and availability can vary.
Colosseum access is also included on the Roma Pass and the Rome and Vatican Pass, although you do still need to book a timeslot with these passes as described in the previous section. You can see more on the different pass options that include the Colosseum further on in the post.
Another thing to note is that tickets bought from the official website cannot be refunded, nor can you change the date and time. Some third-party sites do allow for refunds and changes, so if this is important to you do check the terms when purchasing.
Colosseum Tickets Sold Out? You still have options to visit the Colosseum!
If you are visiting Rome in the busier months, particularly over the summer and holiday periods, you might discover that there are no timeslots available on the official website, especially for the basic entry ticket.
However, there are still options available to you for visiting.
First, you might want to try some of the tickets available on the official website beyond the regular admission option. They are a little more expensive, but at least they might be available.
For example, there are tickets for the Colosseum which include an audioguide or a videoguide. They are not guided tours, so you go into the individual entrance, but there is a different allocation for these tickets. You can get these tickets on the official website, or here.
There are also tickets available on the official website which get you into more areas, like the arena, underground area, or Bellevue area. Again, these are a little bit more expensive, but you will experience more, and visit some of the less crowded area.
There are also exclusive evening tours of the Colosseum, but in our experience these sell out even faster than the regular tickets due to limited availability.
If you are struggling to find a timeslot, we also recommend trying this page on the Tiqets website, which has a list of ticket types and options as well as when each one is available.
If you are still struggling to get a Colosseum ticket, some websites we recommend you check are the following:
This Colosseum ticket on the Tiqets website, or this one which includes the Mamertime Prison
This ticket for the Colosseum on GetYourGuide
This ticket which uses the group entrance to get you faster access. This takes advantage of the tour ticket pool, meaning you might be able to get entry even if individual tickets are sold out.
If you still can't find a Colosseum ticket using the above sites, then you might consider a pass. For example the Rome and Vatican Pass and the Roma Pass both include entrance to the Colosseum.
With these passes you just need to pay a €2 booking fee and make a reservation on the official site. These reservations come from a different pool and so might have availability even if tickets are shown as sold out on the official site. Definitely check availability first (click "Roma Pass holders" on this site) before purchasing though.
Another option for Colosseum entry if Colosseum tickets are sold out is to take a tour. We think this is a good option, even if tickets are available, as you will learn a lot more about the site.
Tours vary in price, from more basic tours which just see the Colosseum, and others which are more in depth and include some other sights.
Two we recommend are:
We very much suggest you use a reputable company like Take Walks (which we've used many times) when booking a Colosseum tour so you can be confident of a good experience with professional guides. We also have a more complete section on recommended tours further on in the post.
It's a little more expensive than booking an individual ticket, but lower priced than most tours. Good if you just want to visit the Colosseum without a tour, but can't find an individual ticket option for the day and time you want.
Finally, if you absolutely cannot get Colosseum tickets, you might instead consider this ticket which will at least get you access to the Roman Forum, which is right next to the Colosseum and well worth visiting.
Can you skip the lines at the Colosseum?
It's possible to get much faster access to the Colosseum by reserving your ticket and timeslot in advance, but you can't skip the lines entirely due to security checks and the need to validate tickets.
There are two main lines at the Colosseum for individuals – one for those with a booked timeslot and a ticket, and one for those who want to buy a ticket.
With your ticket and timeslot reservation, the former is the line you should aim for. Whilst it is fairly fast due to the timeslot system, there are still security checks to go through. In addition, if you are eligible for a concession or are a child, you will need to provide proof in the form of a government ID.
If you are using the Roma Pass to enter, you will need to show this as well as your timeslot reservation.
The official Colosseum website recommends that you turn up 30 minutes earlier than your reservation, and no later than 15 minutes after your reservation time. If you turn up before or after these times, you will likely not be granted entry.
The fastest way to access the Colosseum is often with a group, as groups have a separate entry and security check. See our section below on recommended tours for some ideas. Your tour guide will advise you as to the meeting point, and will then take you to the correct entrance.
One of the best value options we've found for using the dedicated tour entry is this one. This doesn't actually include a tour, but you do get faster entry in the group line, as well as your Roman Forum / Palatine Hill entry.
Definitely one to consider if you want to get in quickly, but don't want to pay too much for a guided tour.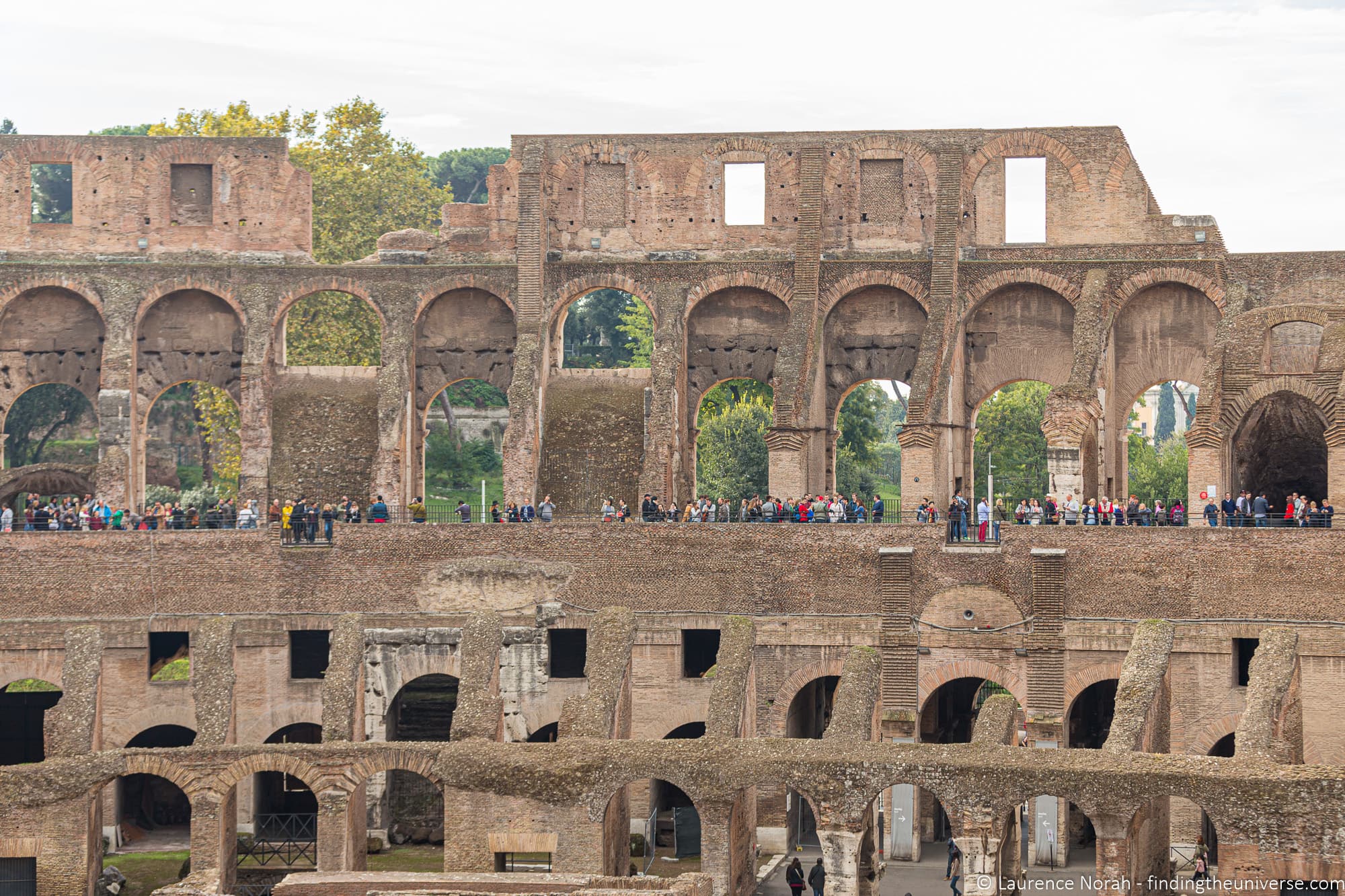 Rome Passes that Include the Colosseum
There are a number of cards available for Rome which offer free or discounted admission to a number of attractions in the city. Some passes also have added benefits like public transport or audio guides to the city.
Which of these cards is best for you will vary depending on which sites you want to visit, how long you have in the city, and your budget.
Rome Tourist Card
The Rome Tourist Card includes entry to the Colosseum which you book when you buy the pass, making this one of the easiest passes for Colosseum entry. It also includes timed access to the Vatican Museums and Sistine Chapel as well as a guided tour of St. Peter's Basilica.
You also get a discount on other attractions in Rome, as well as some nice audio tours of various sights in the city. If you want a pass which covers the essential sights and makes things hassle free, this is a great option. You can buy this pass online here.
Roma Pass
The Roma Pass comes in a 48 hour and a 72 hour version. Both versions include free public transport access in Rome, as well as discounted entry to a wide range of attractions in the city.
The 48 hour pass includes free entry to the first site you visit, whilst the 72 hour pass includes free to entry to your first two visited sites. Obviously, we'd suggest making the Colosseum your first visited site with the 48 hour pass.
Remember that with the Roma Pass you do still need to reserve your Colosseum timeslot in advance on the official website, and pay the €2 reservation fee.
You should also be aware that whilst the Roma Pass does include entry to the Colosseum, this entry is not guaranteed just because you have the pass. If there are no timeslots available for visiting, you won't be able to visit.
So if you know your dates, we suggest checking the available times on the official ticket website before buying your Roma Pass to be sure you'll be able to visit, if this is a primary reason for buying the Roma Pass.
Rome and Vatican Pass
The Rome and Vatican Pass includes the Roma Pass as well as skip the line entry to the Vatican City attractions like St. Peter's Basilica and the Vatican Museums. This is our preferred pass if you are visiting Rome for 3 days as it includes the majority of he attractions in the city.
Entry to the Colosseum is included (as part of the Roma Pass part of the pass), but you do still need to reserve the timeslot in advance and pay the €2 reservation fee. The same caveat in terms of availability also applies to the Roma Pass.
The Rome and Vatican Pass also includes a Hop on Hop off bus, public transport, audioguides for many of the attractions, a guidebook to Rome, and lots more.
Best of Rome All Access Pass
The Best of Rome All Access Pass is a 3 day pass which includes fast track entry to the majority of sites in Rome, including the Colosseum, Vatican Museums and St. Peter's Basilica.
It also includes an audioguide of the city. When you book, you specify a time for the Colosseum. Note this pass does not include any transport.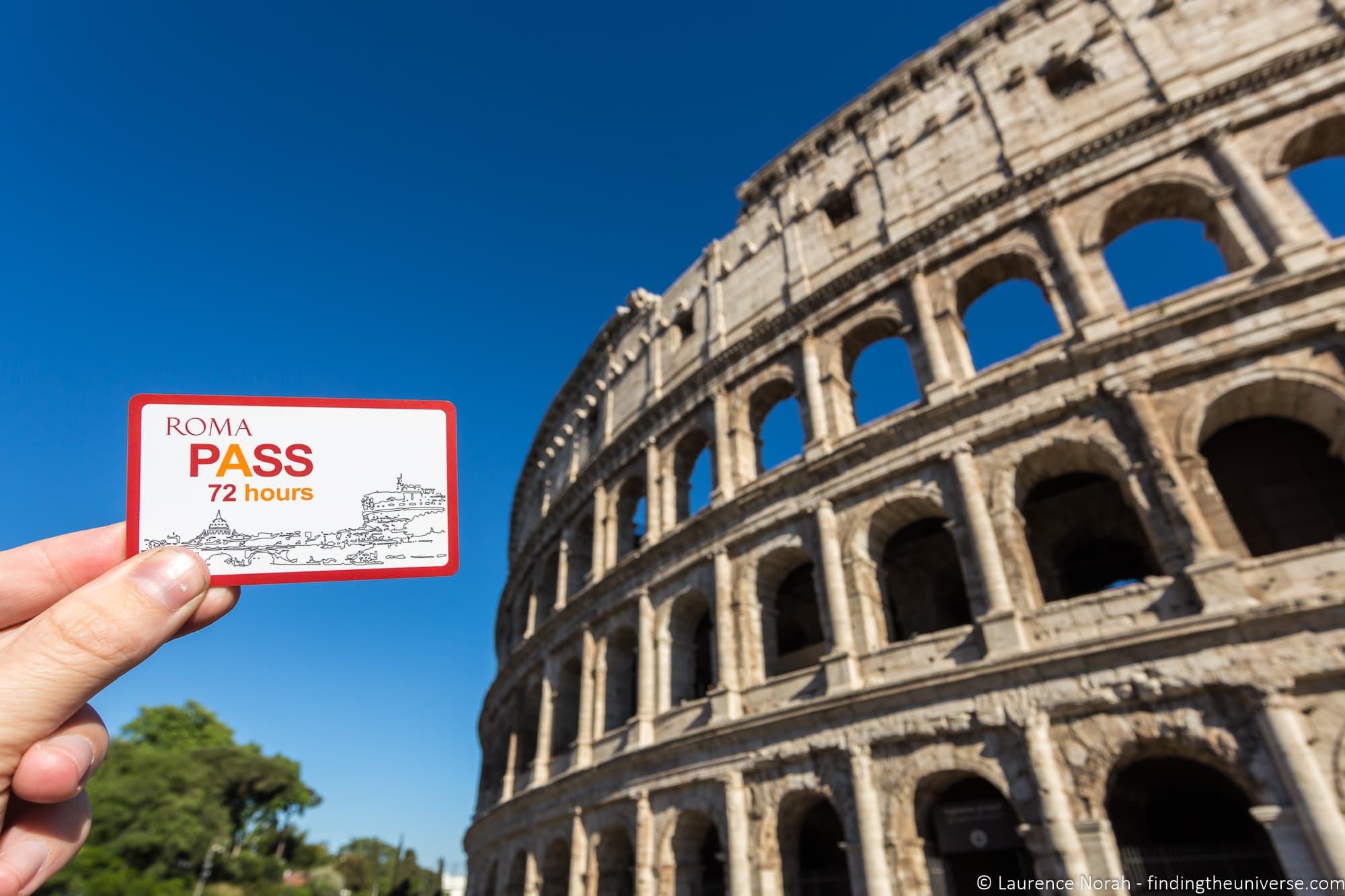 Options for Visiting Different Parts of the Colosseum
The Colosseum has a number of different options for visiting, with the main differences being which parts of the structure you have access to.
The basic access gets you entry to the main parts of the structure, and you will be able to explore many of the spectator stands, as well as see down into the arena. This is the lowest cost option, and is the most popular option for visitors.
You can also purchase tickets which will give you access to more exclusive parts of the Colosseum. These are slightly more expensive and are sold in lower quantities as there is less space. They also require an authorized guide.
There are two main areas you can visit, with our suggested options for visiting as follows. Note that depending on restoration and construction works, as well as any social distancing requirements, not all the tours are always available.
Colosseum Underground Tour, including Colosseum Arena Access
The Colosseum Underground Tour is an official tour sold through the Colosseum website which is offered in a number of languages including English.
The tour includes access to the arena area as well as the area underneath the Colosseum where the gladiators would prepare for battle. This area is known as the hypogeum, and it is a two story underground space.
Originally this would have been hidden under the arena, but as the floor above it has perished, it is well lit and visible.
This is a fully guided tour, and is an excellent option for anyone looking for a more in depth experience.
Note that this tour is very popular and can book up well in advance. If you want to take this tour, we highly recommend booking it far in advance. There are also some third party tour companies offering this tour, such as this one from Take Walks which also includes the Roman Forum.
We list more of these in our recommended tours section below.
Colosseum Belvedere Panoramic View Access
Up until around 2019, it was possible to book the Colosseum Panoramic View Tour which took you up to the 3rd, 4th and 5th floors of the Colosseum, which are not generally open to the public. The tour is also referred to as the Belvedere tour, which means "beautiful view".
These floors offer you a spectacular panoramic view of the Colosseum from high above the ground, and are worth doing if you want a unique perspective of the arena.
As of 2022 this area is again closed to the public, and we will update this guide if this changes.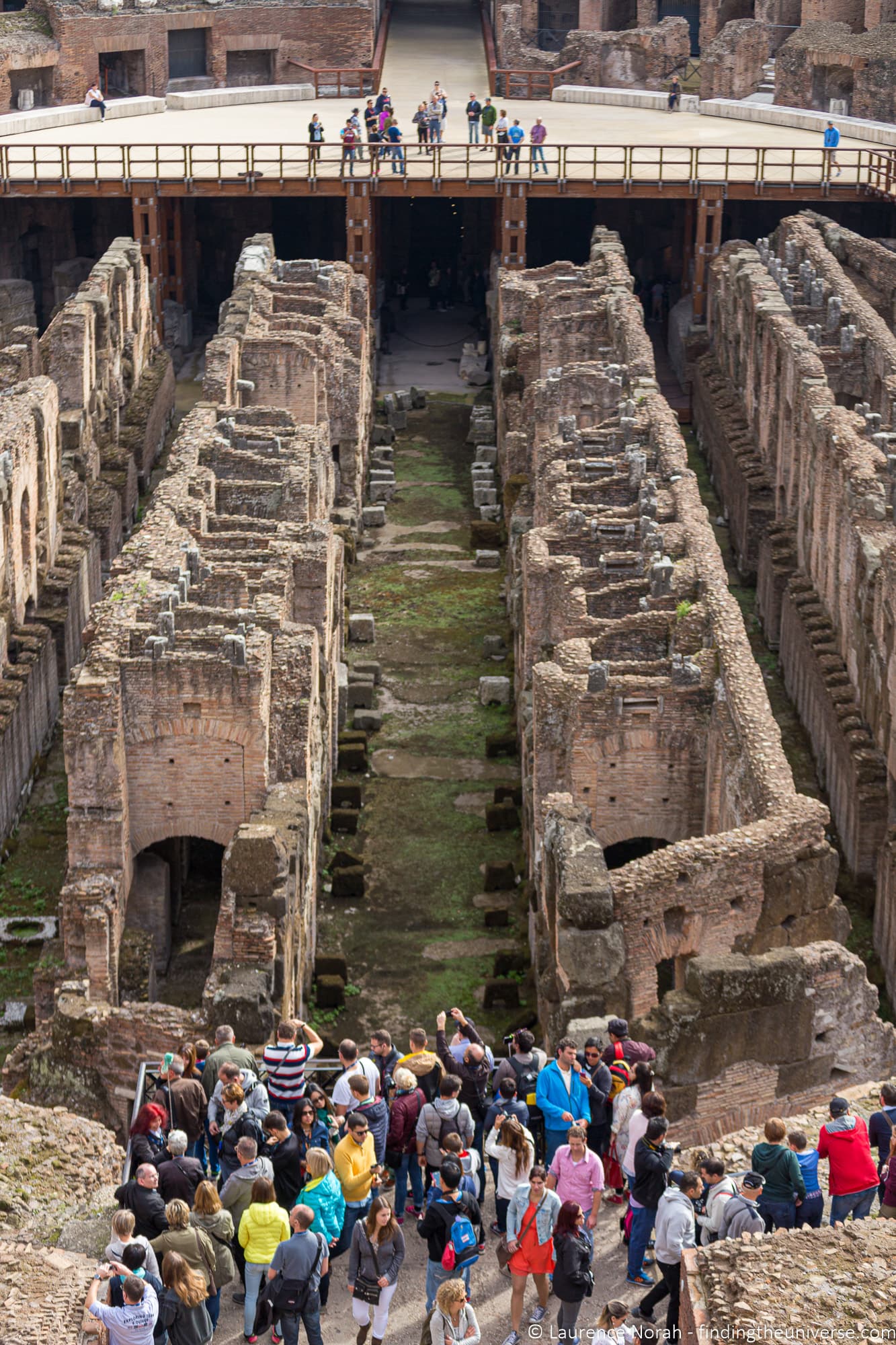 All tours which visit special areas also normally include access to the main part of the Colosseum as well, so you don't need to buy them separately. Once your tour is complete, you can explore the other parts of the Colosseum at your leisure.
Do be aware that the official website does list cheaper tickets for the underground and arena areas, which do not include a tour guide.
These tickets are aimed at official tour companies rather than individuals. The tickets are only valid with an authorized guide, however a guide is not provided – you would need to arrange one yourself. As well as being authorized, the guide also needs to provide a list of everyone coming on official headed notepaper.
This is likely beyond the scope of most visitors to arrange, hence we suggest the guided options.
Note: different areas of the Colosseum can close for works. So do just be aware of this.
Practicalities for Visiting the Colosseum
Facilities at the Colosseum
The Colosseum has toilets on-site, although ideally you would want to go before your visit so as to avoid wasting time on site.
Otherwise, facilities are fairly limited. There's no on-site luggage facilities, cafes, or restaurants. Although there are plenty of places to eat and get a coffee within a short walk of the Colosseum.
Security at the Colosseum
As with any major attraction, security is a major consideration. Security is similar to an airport, with metal detectors and bag scanners in place at all the entry points.
You can't take any large bags or wheeled suitcases into the Colosseum, but small daypacks are normally allowed.
Items including bottles and glasses containers, alcoholic beverages and aerosols, backpacks, camping equipment, bulky bags, and luggage / trolley bags are also not permitted.
Accessibility at the Colosseum
Despite its age, the Colosseum has relatively good accessibility for those with reduced mobility. The main entrance is step-free, and there's an elevator for disabled use to get up to the arena level. Accessible routes are clearly marked.
There are also accessible toilets, and audio and video guides are also available.
It is worth bearing in mind that the area around the Colosseum is cobblestones, which might be tricky for a wheelchair or those with a cane or walker.
Luggage storage Near the Colosseum
For security reasons, only medium to small backpacks can be brought into the Colosseum. Any other luggage is prohibited.
Ideally, you will leave your luggage at your hotel whilst you are out exploring Rome, but this is not always possible.
Instead, you will want to leave your luggage nearby. We recommend you check out Nannybag, which offers secure storage in locations across Rome. Just search for Colosseum in their search box to find locations closest to the Colosseum.
Tours of the Colosseum
If you want to take a guided tour of the Colosseum, there are a number of tour options available to you.
This is also a good option if tickets of the Colosseum have sold out and you have been unable to book a timeslot for the Colosseum, as tour groups have their own ticket allocation.
First, the official Colosseum website offers guided tours of the special access parts of the Colosseum, such as the arena, underground and panoramic views. These tend to be some of the best value tours, however they also sell out very quickly. They also do not offer a general Colosseum tour, and in my experience, the website isn't the easiest to navigate!
Our preferred tour company for guided tours in Italy is Take Walks (also known as Walks of Italy), and we've taken a number of their tours in Rome, including a tour of the Colosseum and Roman Forum. See our review of some of their Rome tours here.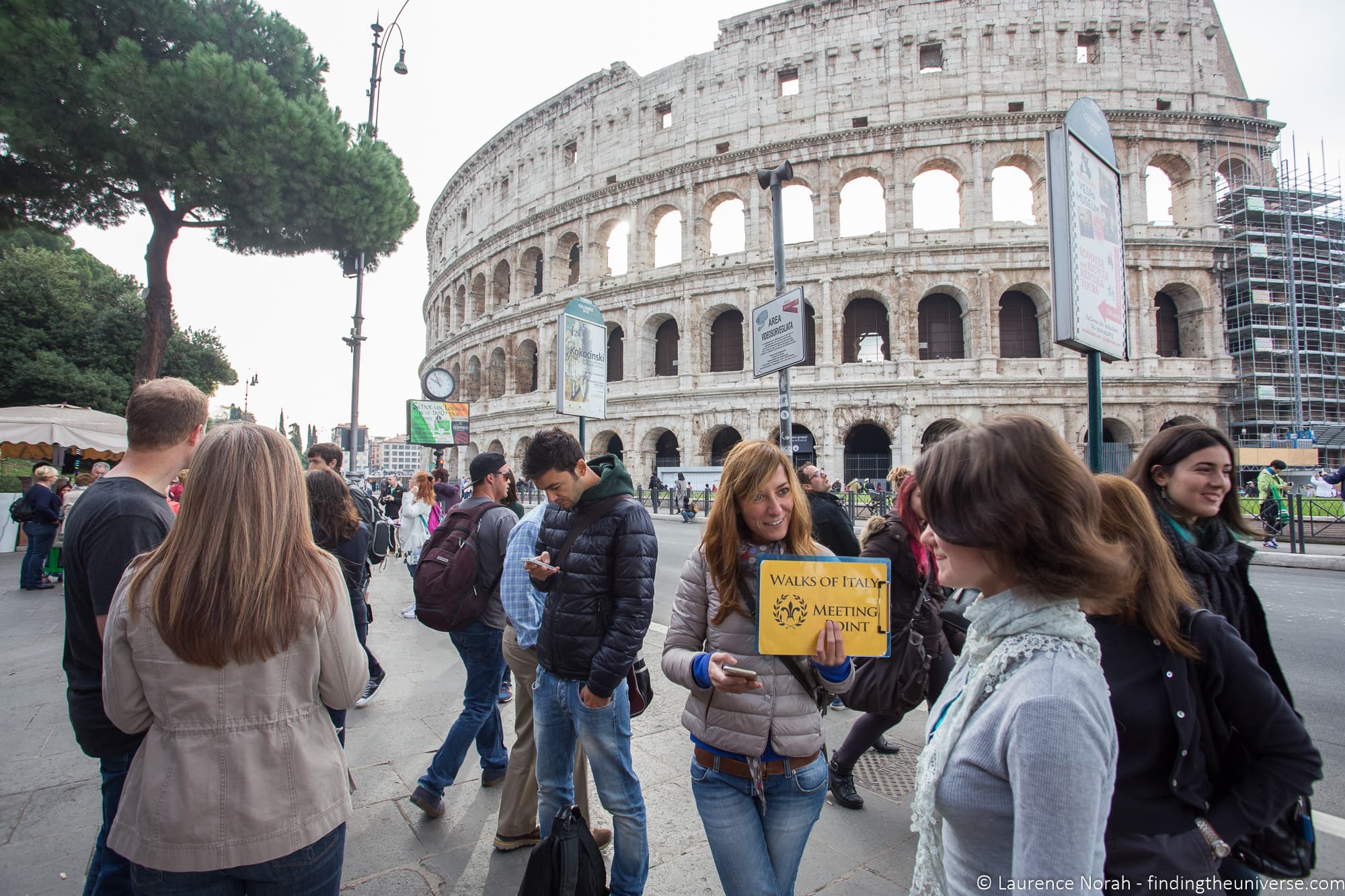 They offer a number of tours, some of which focus on the Colosseum, and other which cover other parts of Rome as well. We recommend the following tours that they offer:
Of course, there are many other operators offering Colosseum tours. We do recommend reading reviews and only going with a reputable company. Some suggested options to check out include:
As you can see, there is no shortage of tours on offer – hopefully you will find something to suit. If you are looking for advice about a tour, feel free to leave us a comment at the end of this post.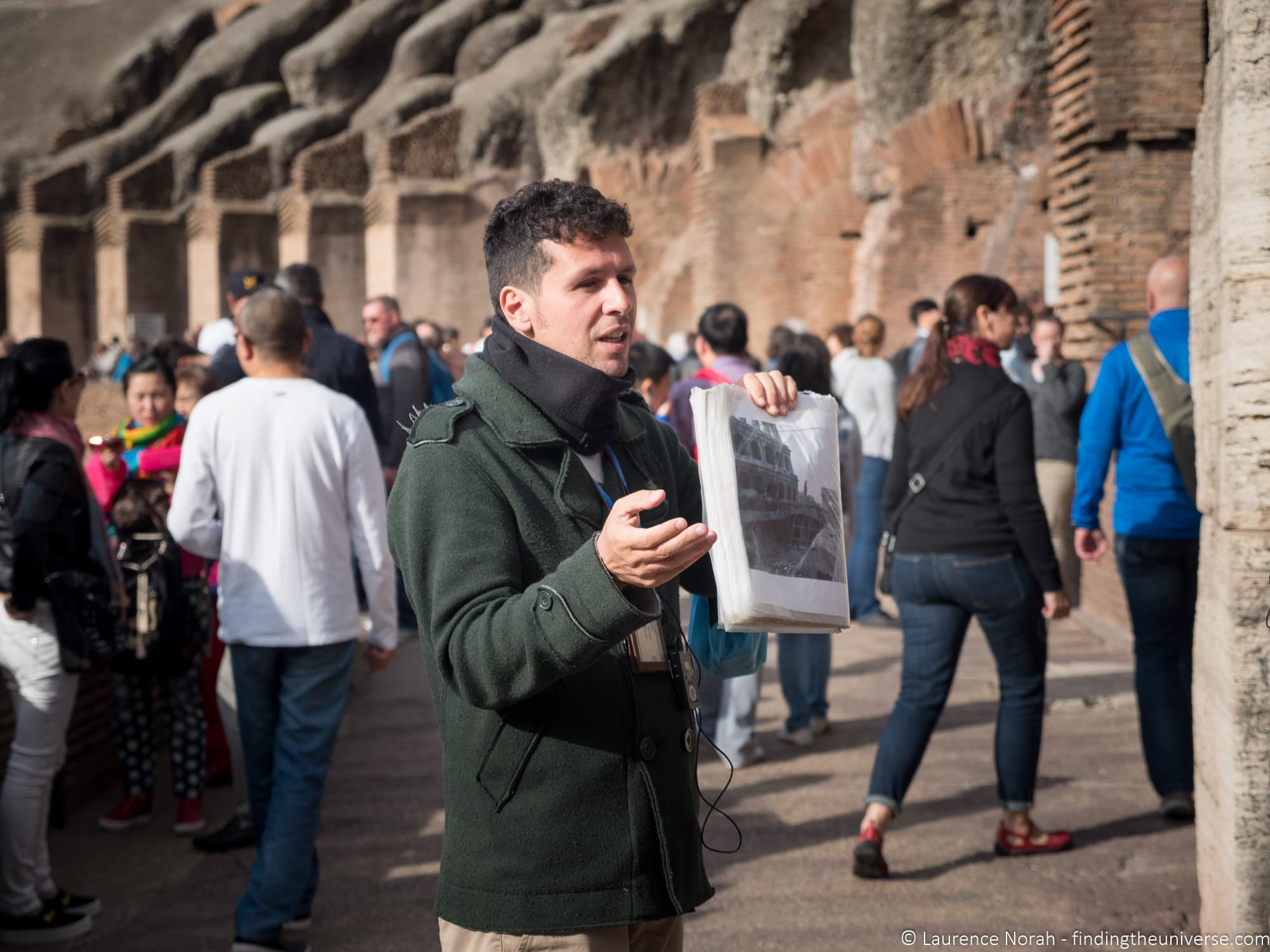 Tips for Visiting the Colosseum
We've been lucky enough to visit the Colosseum a number of times on different visits to Rome, and have visited individually and on guided tours. Based on our experiences visiting, we wanted to share some tips to help you plan your own visit.
Which Colosseum ticket to buy?
If you would prefer to buy an individual ticket for your visit to the Colosseum, then we suggest either the official website here (usually cheapest but not always the easiest website to navigate), the Tiqets website here (using our link saves you 5% on their price), or the GetYourGuide website here.
If you are planning on visiting a number of sights in Rome, perhaps from one of our Rome itineraries, then we recommend purchasing either the Roma Pass or the Rome and Vatican Pass. These will give you entry to a number of other attractions in the city, as well as free public transport.
With these cards, you just need to pay the €2 fee to reserve your timeslot, which you can do online. It is also possible to do it in person for free, but we advise against this as times fill up quickly.
If skip the line access is your priority, then we'd suggest this good value option which gets you in via the group entrance, which is usually the fastest way to get into the Colosseum.
If you're looking for a guided tour that will be more comprehensive and last a bit longer, then we suggest this tour from Take Walks.
Consider a Guided Tour or Audio / Video guide
There is a great deal of history in the Colosseum, and it's not always easy to understand what all the different parts are that you are looking at.
To be honest this statement could be extended to many of Rome's attractions!
We definitely think that the best way to see many of Rome's sights is on a guided tour, and the Colosseum is no exception. These do cost a bit more than just buying a ticket, but we think they are well worth it.
If you don't want to take a guided tour, then we suggest considering either an option that include an audio or video guide. Failing that, at least consider picking up a detailed guide book which has lots of information in to help you understand what you are looking at.
What to Bring
We would suggest bringing as little as possible to the Colosseum in order to minimise your time in security. You are not allowed to bring large bags or wheeled suitcases, but day packs are allowed. Glass bottles and alcohol containers are also not permitted.
We'd suggest bringing just your daily essentials that you might need for exploring the city. These will likely include a bottle of water, suncream, a hat, your camera / smartphone, map of the city, and some spending money.
You should also bring government issued photo ID, such as your passport or driver's license, in case you need to prove who you are when showing your ticket. This is particularly important for children, students, and anyone else using a concession ticket.
Plan your day in advance
Hopefully the theme of properly planning your trip to the Colosseum is coming across well in this guide to visiting!
We would suggest that to make the most of your time at the Colosseum and Rome in general, that you put together a general itinerary for what you want to see each day. This will help you ensure you see everything you want.
Once you have an idea of your itinerary, we highly recommend booking all your tickets in advance, which will save time and ensure you skip the long ticket lines.
If that sounds like too much work, then we instead recommend taking one of our suggested guided tours to get the most out of your time in the city, letting you enjoy yourself, and letting someone else worry about the planning!
Be Wary of on Site Touts
Like many attractions around the world, the Colosseum has a fair number of touts selling various things, from photos with a "Gladiator" (they will always expect to be paid), to tickets for entry.
If you already have an entry ticket from the official site, and need assistance for any reason, look for the CoopCulture staff. A commenter has pointed out that these will only be on site during opening hours, so if you arrive earlier than opening, it is easy to be misled by other official looking ticket sellers who will likely try to sell you a tour.
Whilst these might be legitimate sellers of guided tours, if you already have an entry ticket then you should just head for the entrance and await opening, at which point there will be official staff available to assist you.
If you have bought a ticket from a third-party site or for a tour, read the instructions carefully regarding where to go. It should give detailed information, as well as how to identify your guide if you have one.
Skip the Free Days
It can be tempting to think about visiting the Colosseum on the days when entry is free. However, what you save in money you lose in time and crowds. The Colosseum tends to be very busy on the free days, and tickets are only available in person at the site. These are on a first come first served basis, which means you can spend a great deal of time standing in line.
Visiting with a ticket and a timeslot will guarantee you your entry, and save you wasting time. If you are in Rome for a prolonged period of time, then this is likely less of a concern, but for those of you visiting over a few days, we'd suggest it isn't worth the saving in most cases.
Attractions Near the Colosseum
The largest major attraction near the Colosseum is the Roman Forum, and your Colosseum ticket gets you entry to the Roman Forum and Palatine Hill as well.
Note that many third party websites advertise this as a bonus feature, but the reality is that every ticket to the Colosseum includes access to the Roman Forum. Also be aware that the standard ticket only has access for 1 day. In the past it was valid for 2 days, and many websites still incorrectly state this. Unlike the Colosseum, there is not currently timed entry for the Roman Forum.
There are a number of other attractions within easy walking distance of the Colosseum. These include the Circus Maximus, the Baths of Caracalla and the Capitoline Museums.
For more inspiration to plan your time in Rome, see our detailed itineraries for spending 1 day in Rome, 2 days in Rome and 3 days in Rome, all of which include a visit to the Colosseum.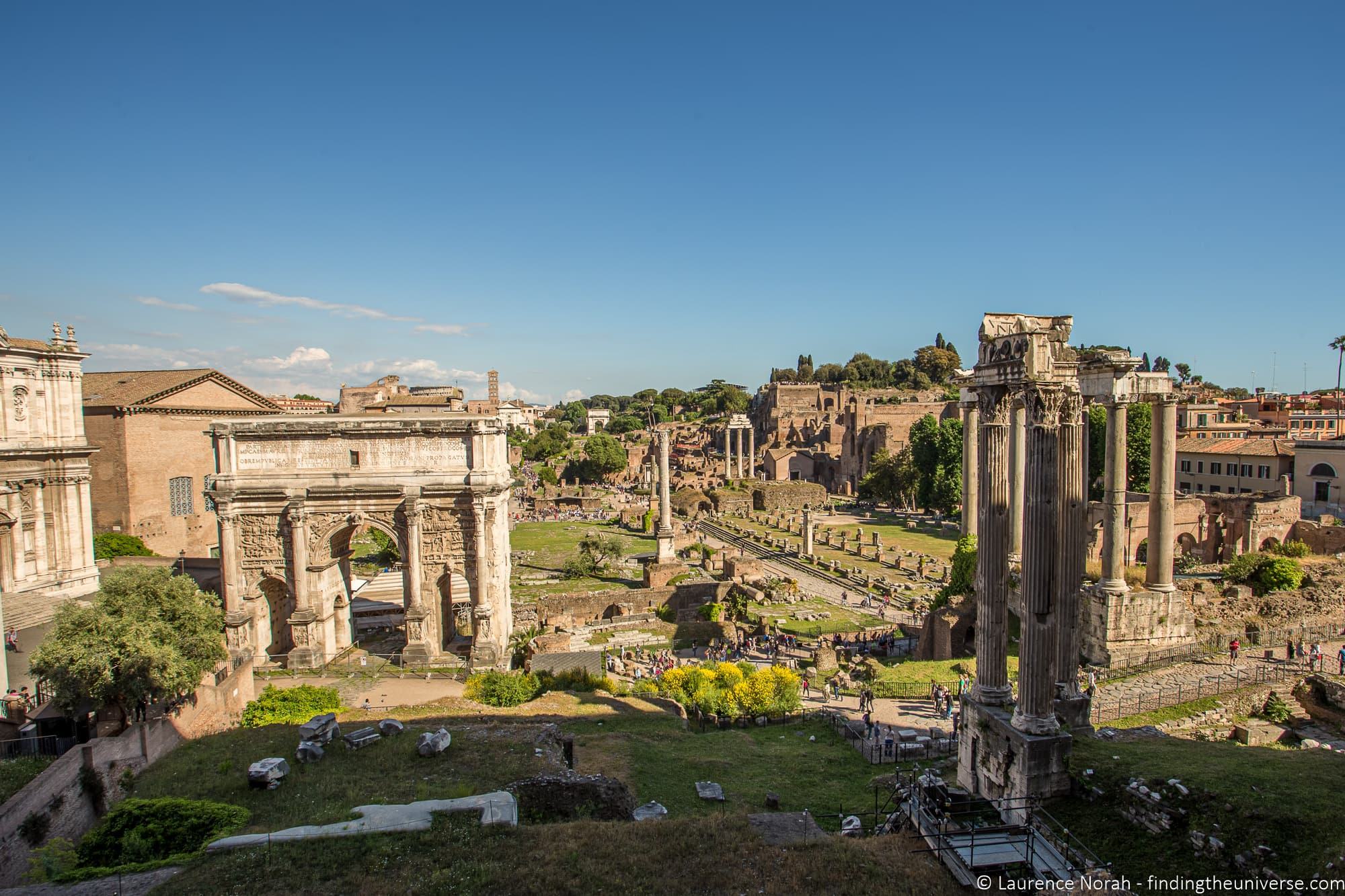 Where to Stay Near the Colosseum
Rome has a huge number of accommodation options across the city. We usually recommend staying in the area around the Piazza Navona as that's within walking distance of everything from the Colosseum to the Vatican City.
However, it's also possible to stay right next to the Colosseum if you prefer. Some properties even have Colosseum views!
Here's our pick of some of the best hotels and other accommodation options where you can stay near the Colosseum.
Of course, there are other options for accommodation in Rome beyond the above. We recommend checking out all the listings on booking.com for Rome to start with.
If you prefer an apartment, then we recommend Plum Guide.
Plum Guide carefully curate their listings so their options tend to be of a very high quality whilst still being available at a range of price points. We've booked them for trips around the world and always had a great experience, and you can read our full review of Plum Guide here. See their listings for Rome here.
If you can't find what you want on Plum Guide, or you want some new options to try out, we wrote a whole post on the best alternatives to AirBnB which you should check out!
Further Reading for Visiting Rome
We have visited Rome many times, and have put together a number of guides to help you make the most out of your time in the city. We've also visited many other parts of Italy, and we've included some of these posts below as well, as well as some other resources we think you'll find useful.
And that's the end of our guide to making the most of your visit to the Colosseum! We hope you found it useful. As always, if you have any questions or feedback on this post, let us know in the comments below!