In this post, we're going to share with you our idea of how to spend the perfect 2 days in Rome. There is a lot to see in Rome, so you'll likely want to return (throw a coin in the Trevi Fountain to be sure of that!), but as an introduction to the city, this itinerary will definitely get you started.
Rome is one of our favourite destinations, it's a city we've visited multiple times and one we're always happy to return to. We just love exploring all the ancient ruins, wandering down cobbled alleyways, eating delicious Italian food and trying all the different flavours of gelato!
Our suggested Rome itinerary is designed more around the first-time visitor looking to see many of the more famous sights, but will also work for a return visitor looking for inspiration.
As well as the itinerary, we'll also be sharing with you our tips for getting around Rome, advice on where to stay, how to save money, a map of our favourite Rome attractions and more!
If you are visiting Europe on a longer trip, this guide to two days in Rome would work well as part of a longer Europe itinerary like this, or a focused Italy itinerary like this. You might want to read these posts afterwards. For now though, let's get started with our guide to spending two days in Rome.
2 Days in Rome: An Itinerary
Day 1 in Rome
Our first day in Rome has you exploring some of Rome's most famous sights, from stunning 2,000 year old gladiatorial arenas to Renaissance artwork.
Colosseum
First on the itinerary for your time in Rome is a visit to the mighty Colosseum. For over two thousand years this has been a landmark location in Rome, and it was once home to the infamous gladiatorial battles that were watched by tens of thousands of Roman citizens, not to mention Roman Emperors.
To be able to visit a place where historical figures would have sat to be entertained (by remarkably gruesome spectacles) is quite incredible, and you can almost feel the weight of history carrying through the stones here.
Of course, the years have taken their toll, and the Colosseum is not quite the same place it was in its heyday. Still, it's a remarkable testament to Roman engineering that so much survives to this day. You'll likely want to spend at least forty-five minutes to an hour here to soak it all in – and maybe longer!
We've put the Colosseum first on the list for our first day in Rome for a reason – it gets very busy, particularly in the summer months. This is a common theme shared across many of Rome's top attractions, and we definitely suggest you look into ways to minimise your time queuing.
The first option to avoid the queues is to buy a ticket directly from the official ticket office website, which gives you the option to specify an entry date and time for your visit. Just be aware these tickets are non refundable. They also regularly sell out.
You can also buy tickets on the tiqets website here, and GetYourGuide here, both sites usually have better availability than the official site and we have used them both to book tickets around the world.
Another good option would be to take a tour (we recommend Take Walks who have a number of Colosseum tours).
Finally, you might consider investing in a Rome city pass that comes with fast-track entry to this and other attractions in Rome, such as the Roma Pass or Rome Tourist Card. We'll cover more of these options towards the end of the post.
Important! As of March 1st 2019, even with a Roma Pass or Rome and Vatican Card, you still need to reserve your entry time to the Colosseum.
You need to do this as far in advance as possible to secure the time you want. You can make the reservation either by calling the reservation line, or (more easily) by booking online. See our guide to visiting the Colosseum for more information on this process.
Please be aware that even if you have a pass with skip the line privileges, you will only be able to visit the Colosseum after you reserve a time slot.
If there are no time slots available, you won't be able to visit, whatever pass you have. At busy times of year, all the time slots do fill up.
If visiting the Colosseum is important to you, and you want to take advantage of a pass, we highly recommend checking timeslot availability before purchasing the pass, which you can do here.
Be sure to check for availability for the €2 Roma Pass reservation option rather than general availability as they come out of a different pool, and Roma Pass reservations are often available even if general tickets are showing as sold out.
If there are no timeslots available, your best option for visiting the Colosseum is to take a guided tour like this, or like this, as guided tours have a separate ticket allocation system.
If you book a guided tour, you don't need to book a separate ticket or timeslot for visiting the Colosseum.
The Colosseum is open every day, with times varying depending on the time of year. You can see more information here.
See our detailed guide to visiting the Colosseum for more information on how to book tickets and get the most out of your time here.
Roman Forum
Right next to the Coliseum, and included on the majority of Coliseum tickets and tours, is the Roman Forum. Since it's right next to the Coliseum, and your ticket likely already includes it, we think it makes sense for this to be your next stop in Rome.
For centuries, the Roman Forum was the heart of the Roman Empire. The square plaza, surrounded by the government buildings of the empire, was where everything from the political to the religious life of the city took place.
Today you can visit the Roman Forum, which is a large open area dotted with excavations, ruins and various notable sights.
Again, you can take a guided tour, or you can see yourself around, although we'd definitely suggest taking some sort of tour to get the most out of your visit and help you to understand exactly what you are seeing. See more about our suggested tours at the end of the post.
The Forum is open every day, you can see full opening hours here.
Circo Maximus
The Circo Maximus (or Circo Massimo in Italian), was Rome's largest public games venue, which played host to numerous events. Perhaps most famously of these were the chariot races, a high-energy sport that became the focus of the Circus.
Other sports and celebrations were of course held at the Circus, including religious celebrations and staged animal hunts, and it was also used as a sort of local market area when not otherwise in active use.
Today, the Circus is an open public park which you can visit for free, and it's only a short distance to the south of the Roman Forum, so we think is worth your time to visit.
Capitoline Museums
Rome has so many incredible museums that it is hard to pick just one or two to visit over two days in Rome. However, we can very much recommend the Capitoline museums, which are right next to the Roman Forum, and in fact offer a unique view of the Forum.
But you're not coming here just for the view. The Capitoline Museums (which are actually just one museum housed in a number of buildings), are home to a number of treasures, including medieval and Renaissance art. They're also well established, being the world's oldest national museum, and in their present guise are set out to a design by Michelangelo.
The museum on Capitoline Hill consists of three main buildings that house different collections, with a primary focus on sculpture, although there are of course other items in the collection including jewellery and other art pieces. One of the most famous pieces, and one that you must see on your visit, is the sculpture of the "She-Wolf" feeding Romulus and Remus, one of the most well known symbols of Rome.
Entry to the Capitoline Museums is ticketed, with discounts available for Roma pass holders. They are open every day from 9.30am – 7.30pm.
Trevi Fountain
We're going to finish off the first of our two days in Rome with a couple of Rome classics. The first of these is the Trevi Fountain, a massive Baroque installation that is arguably the most famous fountain in the world.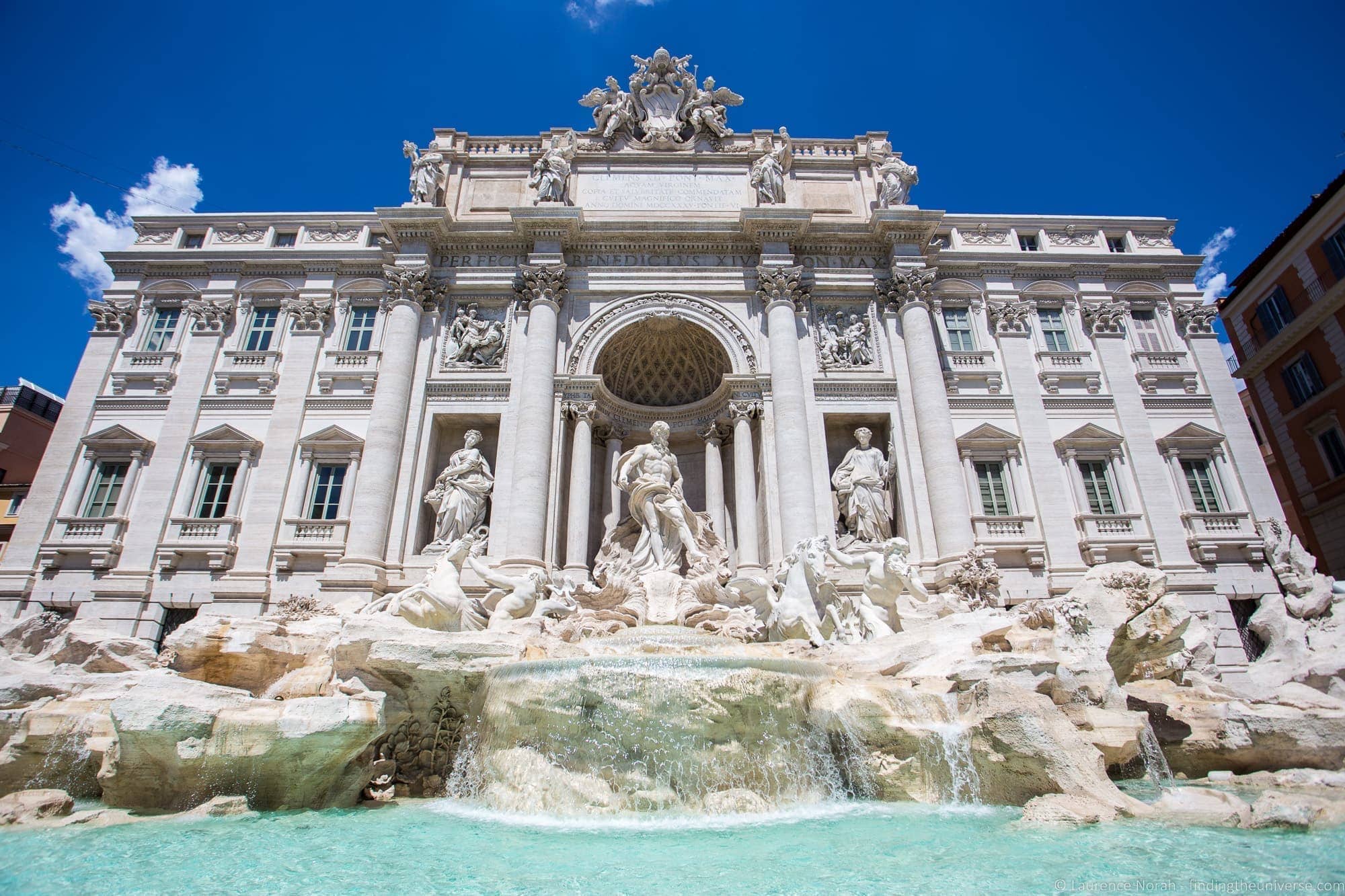 Dating from the middle of the 18th century, this huge fountain was designed by Italian architect Nicola Salvi, and is a must-see for visitors to Rome. It's good to visit at both day or night, but do be aware that it's likely going to be crowded here at pretty much any time of day!
It's considered good luck to throw a coin into the fountain – and if you do so it's said that you are guaranteed to return to Rom. As a result, over 3,000 euros worth of coins are thrown into the fountain every day! This works out well for the needy of Rome, as the funds are used to help provide them with food.
Pantheon
Just a short walk from the Trevi Fountain is another highlight of any visit to Rome – the magnificent Pantheon. Nearly two thousand years old, this is an incredible example of Roman engineering and is guaranteed to take your breath away.
Originally built as a temple, and then turned into a church, the building was completed under the rule of the Emperor Hadrian. It's a huge circular design, with the main area of the church sitting underneath a huge concrete dome, in the centre of which is a huge opening.
Despite being nearly two thousand years old, this is still the world's largest unreinforced concrete dome. Clearly, those Romans built things to last!
As well as its mind-boggling construction the Pantheon is also noted for being the last resting place of a number of historical figures, including the Renaissance painter Raphael. You can see opening times and more information on the official Pantheon website here.
For a long time the Pantheon was free to visit but as of July 2023 there's a small fee. You can pay this on-site, or you can buy it online in advance from the official site here (you'll need to create an account).
Tickets with an audioguide are also available from GetYourGuide online here, although they are a bit more expensive.
You can also book an audioguide in advance here to help explain what you are seeing.
Have Dinner or Take an Evening Food Tour!
Well, that wraps up our first day of our two day Rome itinerary! Now it's time to head to dinner, and you'll find no shortage of options all around Rome.
The choice can be a little overwhelming, so we'd advise reading up in advance and getting some ideas for where you might want to eat so as to get a good option.
Another option to consider, rather than ending your day here, is to take a food walking tour. We've taken this evening food and wine tour of the Trastevere neighbourhood, and thought it was excellent.
It was a great way to try a lot of local food and wines, and also to get some recommendations for other locations to eat in Rome.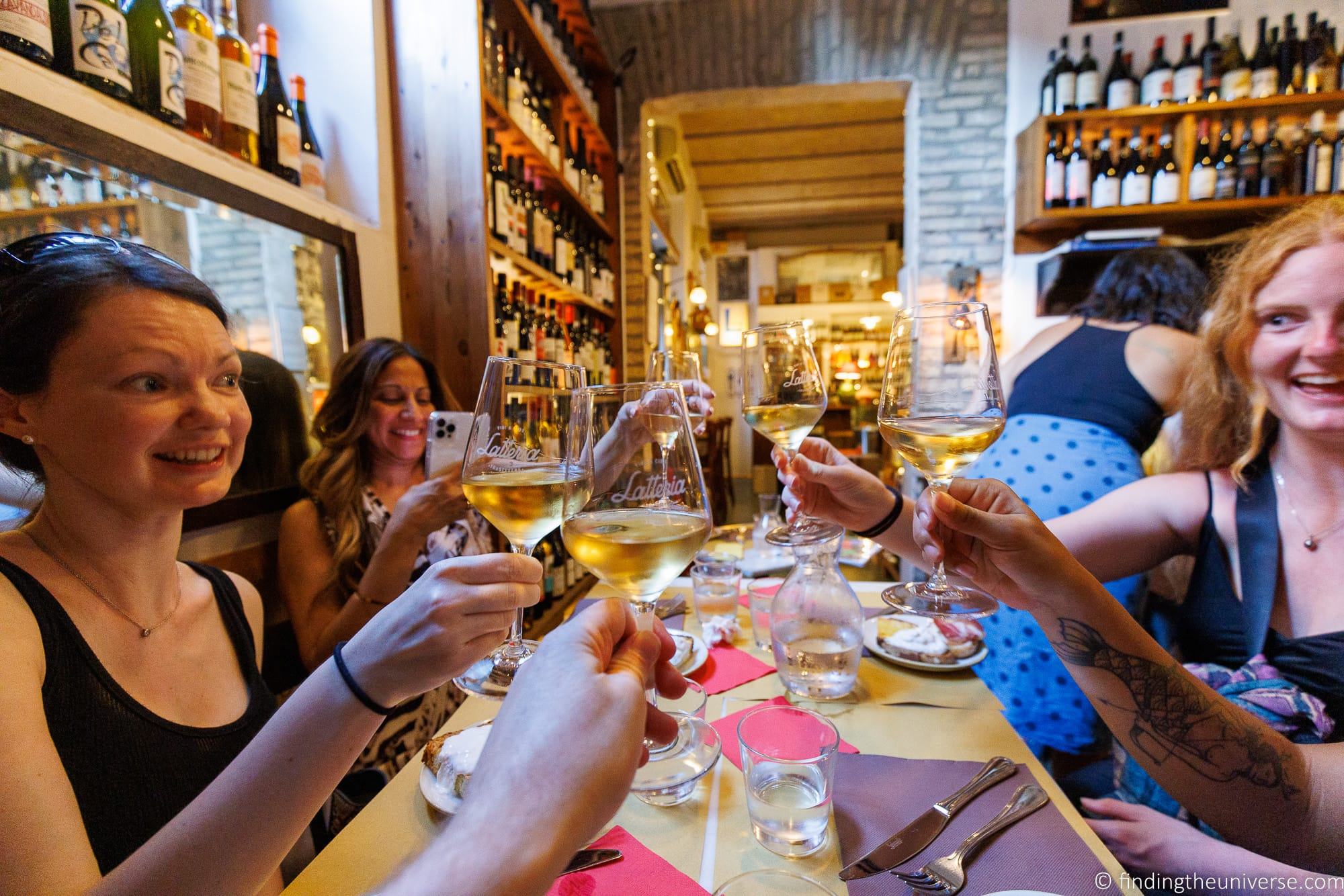 Day 2 in Rome
Vatican City
For your second day in Rome, we're going to start by visiting the city inside the city – the Vatican City in fact. Whilst this wholly surrounded by Rome, it is its own state – the world's smallest!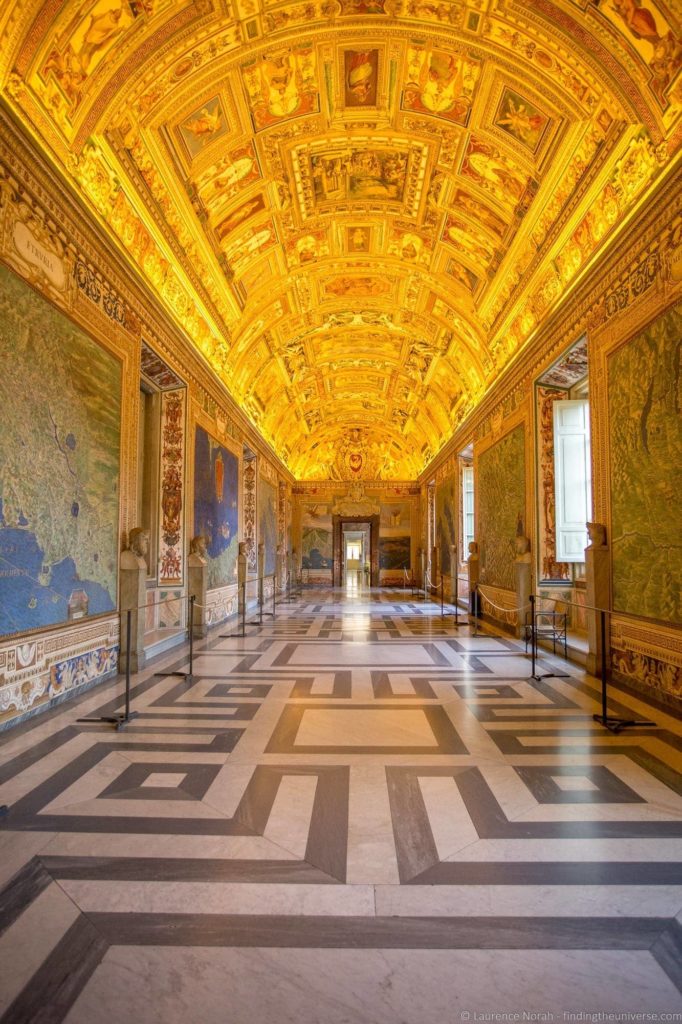 The Vatican City is home to a number of attractions, with the most popular being the Vatican Museums, the Sistine Chapel and St. Peter's Basilica.
These attractions are well worth spending your morning exploring, and in fact you could spend the greater part of a day exploring here – the Vatican Museums alone are home to miles of exhibits!
If possible though, we'd advise limiting your time here to half a day, giving you time to see a few more attractions.
Half a day will give you time to see the highlights of the Vatican Museums, gaze at the incredible Sistine Chapel, and explore St. Peter's Basilica – including taking the walk to the top of the dome, for spectacular views.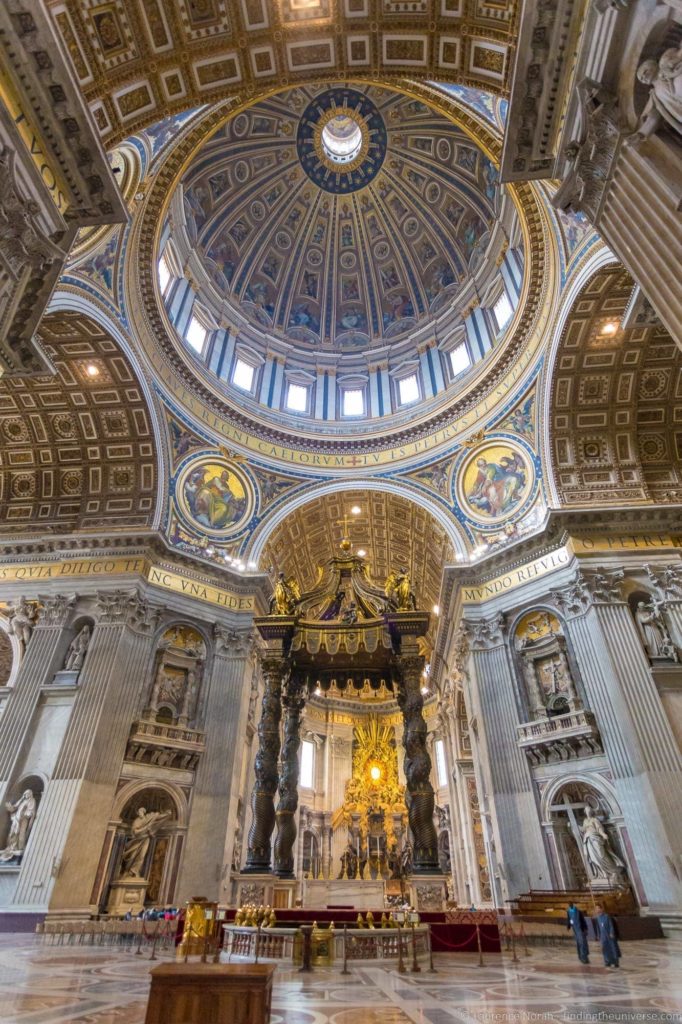 We'd highly recommend getting here early, and using one of our suggestions for saving time getting in – the queues for the Vatican Museums and St. Peter's Basilica are legendary!
We have a number of recommended options for speeding up your access to the Vatican City attractions.
First, you can buy individual tickets online with GetYourGuide here and Tiqets here (latter with a 5% discount on their normal price). These tickets give you skip the line access to the Vatican Museums. This will let you skip the main line for the Vatican Museum, which also includes the Sistine Chapel – but not St. Peter's Basilica.
You can also book tickets online directly from the Vatican, which is usually a little cheaper but in our experience the other sites are easier to use than the official site.
As of early 2023 St Peter's Basilica doesn't actually have an entry fee, but nor does it have skip the line tickets (skip the line tickets used to be an option and we hope they come back soon!).
So the best option if you want to skip the line at St. Peter's Basilica is to invest either in a tour like one of these or a pass which includes a tour like the Rome Tourist Card. Some tours of the Vatican, like this one, also include skip the line access to St. Peter's Basilica which can be a good option.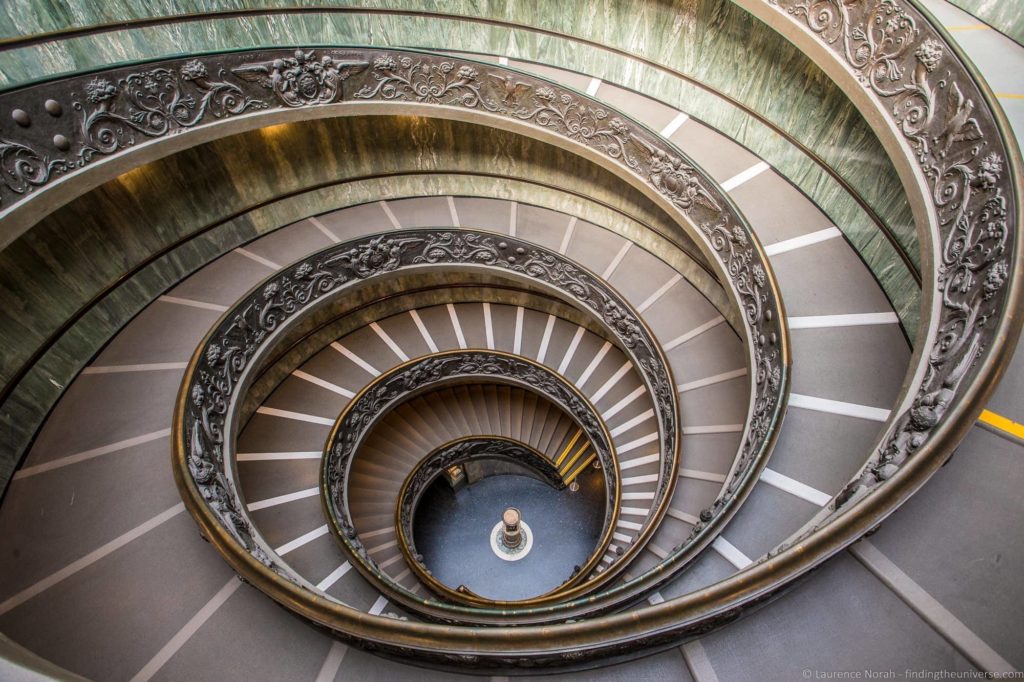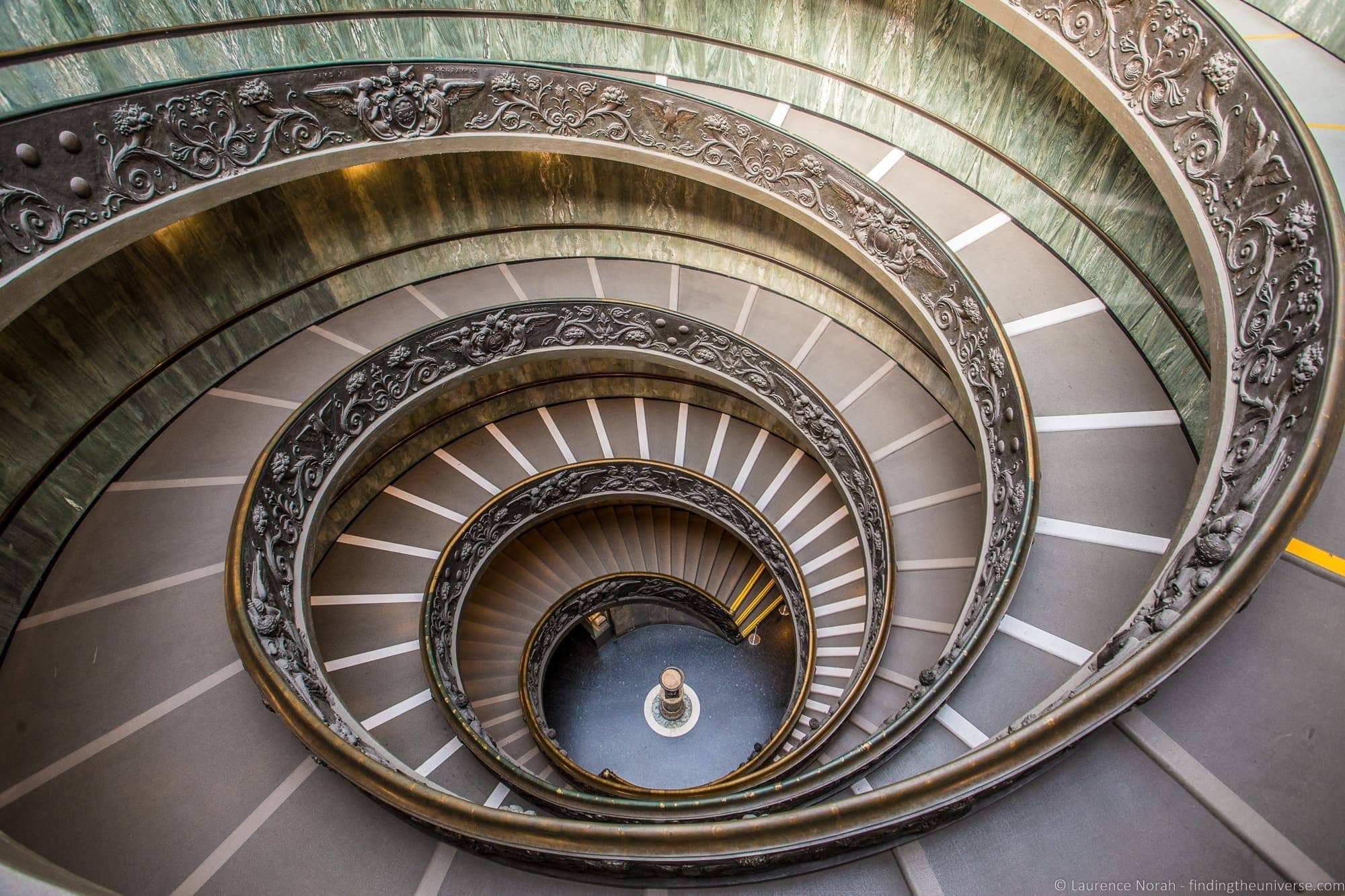 Finally, our last suggestion for skip the line access to the Vatican Museums and St. Peter's Basilica is to take a dedicated early bird tour with one of our preferred walking tour companies.
We've taken two Take Walks tours that featured early access to the Vatican Museums and Sistine Chapel, the Pristine Sistine Tour and the incredible Vatican Key Master's Tour (see our review of the VIP Key Master's Tour here). Both of these were fantastic experiences and worth checking out for your visit.
A guide can really help you understand more what you are seeing, so this is a good option if you prefer a guided experience. Take Walks also offer an after hours tour of the Vatican Museums on some days, if you feel like really maximising your time in the city.
Another option is this early-bird VIP guided tour of the Vatican which starts at 7.30am and includes breakfast at the Vatican.
Note, the Vatican is closed on Sundays and some other days – you can see all opening times and days on the official website here.
For lots more information on visiting the Vatican City and its attractions, see our complete guide to the Vatican, which has everything you need to know, including all the highlights, tips for visiting, how to buy tickets and lots more.
Castel Sant'Angelo
After the Vatican, you're going to head to the Castel Sant'Angelo, which is one of my favourite buildings in Rome. This impressive construction has been sitting on the banks of the Tiber river for almost two thousand years, and is well worth a visit.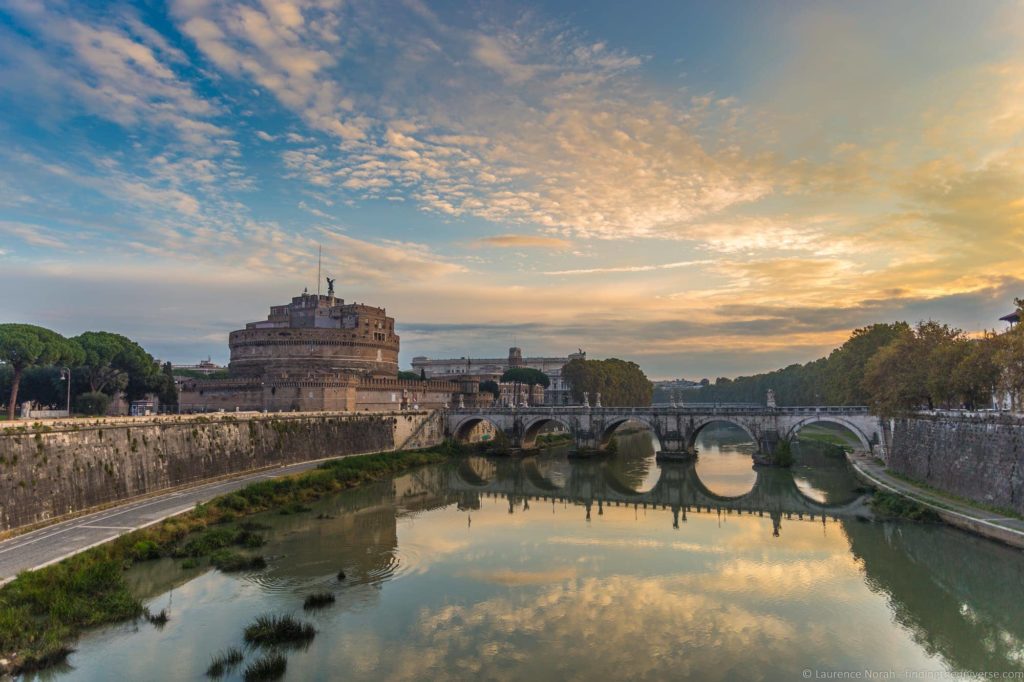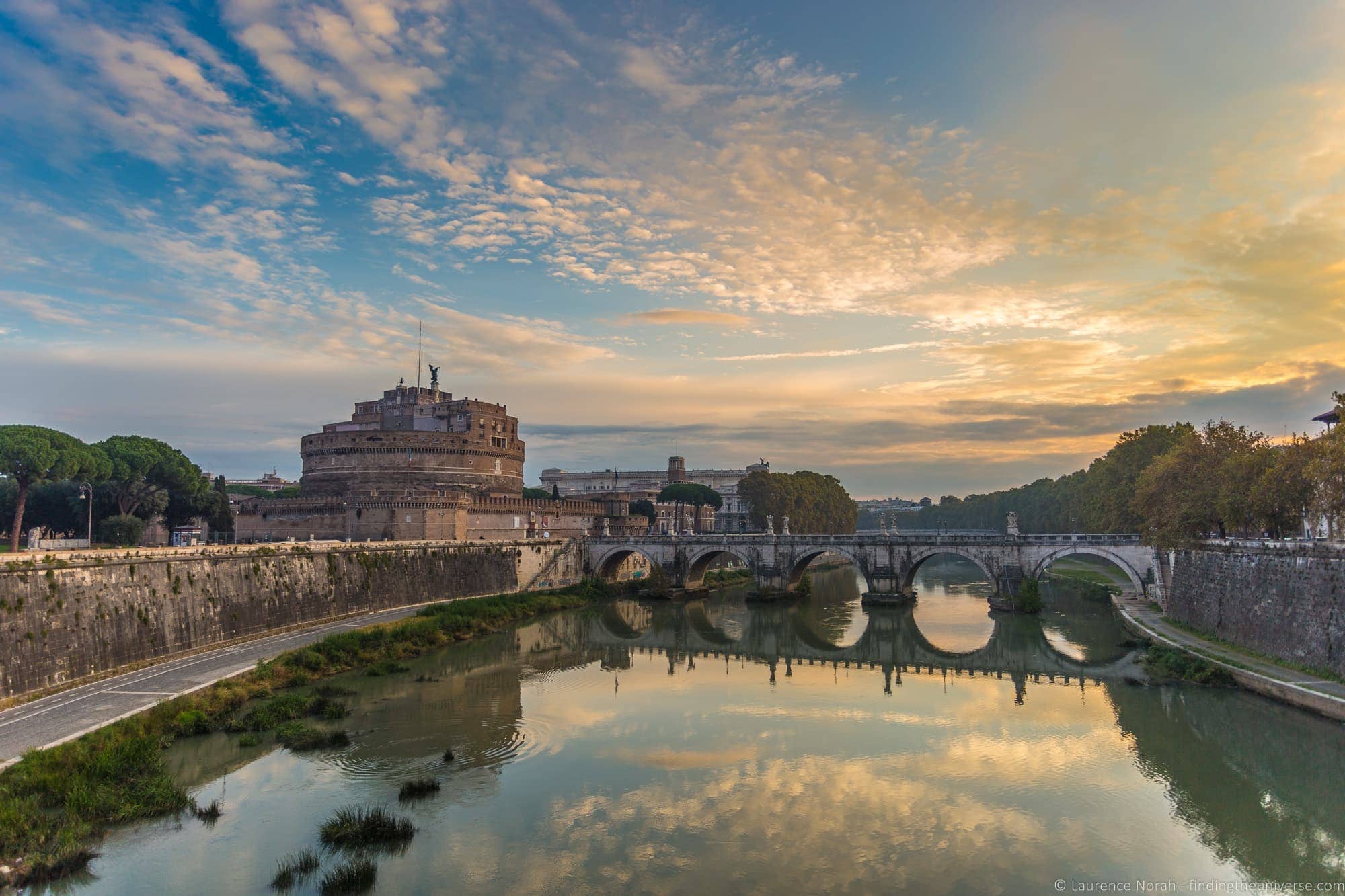 Originally constructed as a Mausoleum for the Emperor Hadrian and his family, when it was built this was the tallest building in Europe. It is still Hadrian's tomb, but over time has played many different roles, including that of a fortress and a castle.
Today it's a museum, and you can visit and marvel once more at the engineering brilliance of the Romans, for whom the term "planned obsolescence" would be anathema. The view from the top is worth the trek up, and you can also see the tomb of Hadrian of course.
There's a fee to enter the Castel. Holder of the Roma Pass get free or discounted entry – more on this at the end of the post. The Castel is open every day from 9am – 7.30pm with some holiday exceptions – see more here.
You can buy tickets in person or from the official ticket site here. You can also buy tickets from GetYourGuide here or from Tiqets here. It's always worth comparing as prices vary.
Piazza del Popolo
A short walk across and along the Tiber River will bring you to the Piazza del Popolo. This was once the northern edge of the city of Rome, and was the first part of the city that many travellers would have seen when arriving here – particularly in the 17th and 18th centuries.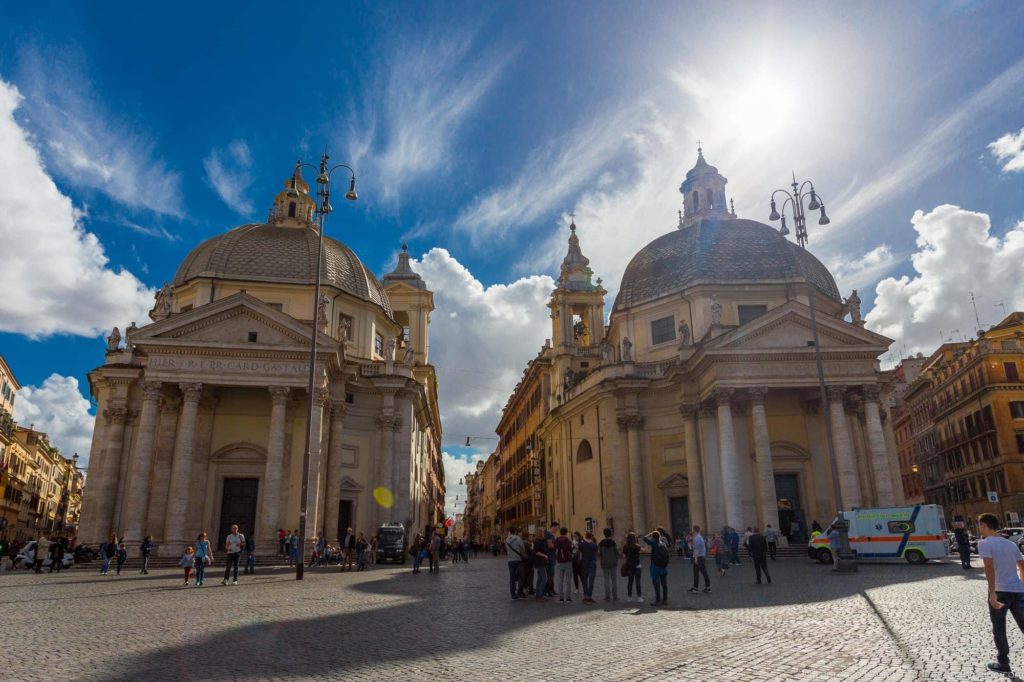 The square, whose name means "People's Square", is home to one of Rome's ancient Egyptian Obelisks, as well as the two 17th century churches of Santa Maria dei Miracoli. It's a nice place to get a coffee or a bite to eat, before heading on into the rest of our itinerary.
Spanish Steps
From the Piazza del Popolo, three roads span out into the city, and exploring these on foot is always a highlight of our trips to Rome. If you take the left-most road looking south, the Via del Babuino, it will lead you to the Spanish Steps, another iconic attraction of Rome.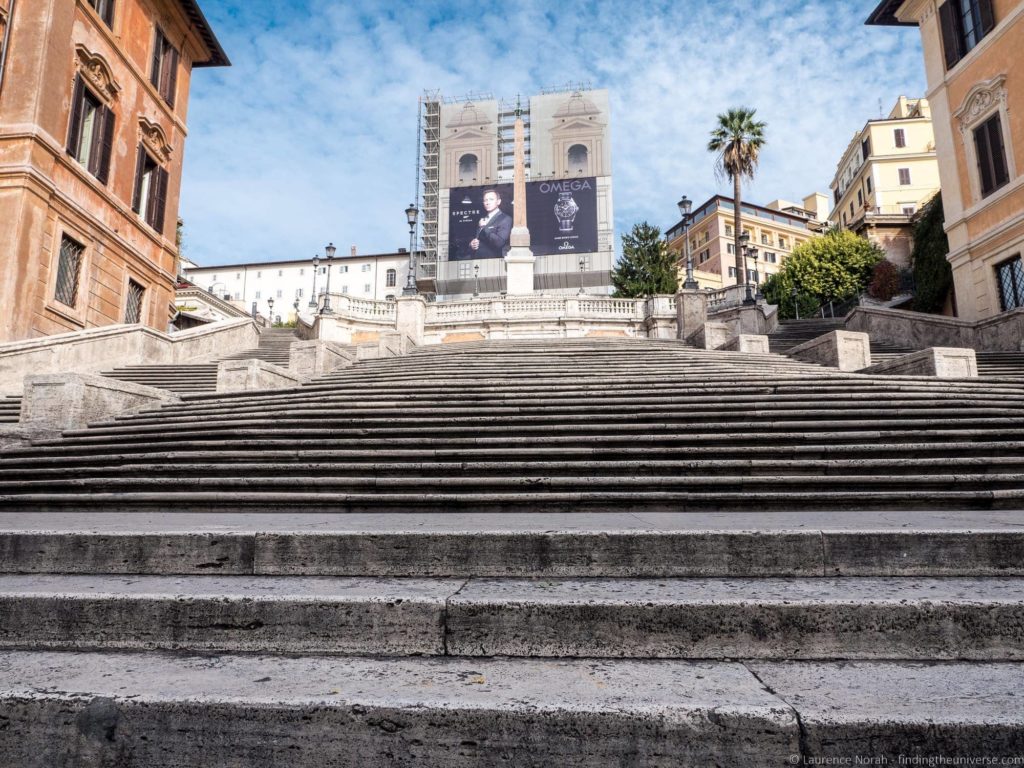 These impressive steps, which lead from a fountain at the base up to a church at the top, were opened in 1725, and have long been a popular place for visitors to see. They were made particularly famous in 1953, when the film Roman Holiday (starring Audrey Hepburn and Gregory Peck) featured them.
The name, in case you were wondering, is because the Spanish embassay to the Holy See is located on the square at the base of the steps, known as Piazza Spagna, or Spanish Square.
The steps are free to visit, and a photo of you standing on them (ideally eating gelato), is pretty much a must when visiting Rome!
Note that as of August 2019, it's no longer permitted to sit on the Spanish Steps as they have been classified as a monument, and there is the potential of being fined if you do so. So stick to standing on them instead!
Museums and Crypt of the Capuchin Friars
Moving on to a slightly off-beat sight now, but one we think you might appreciate. The Museum and Crypt of the Capuchin Friars, found under the church of Santa Maria della Concezione dei Cappuccini, is home to a unique display, quite unlike anything else you'll see in Rome.
In five rooms, the bones of the monks of the Capuchin order are on display, arranged into various forms. It's definitely unique, and with around 3,700 monks making up the display, is certainly going to remind you of your mortality. Out of respect, photography is not allowed here.
It's also worth noting that the Catholic church is keen to stress that the display is not meant to be macabre – rather, it is a reminder of our own mortality, and how short our time on earth is. There's a small fee to visit, which we think is well worth paying.
Chiesa di Santa Maria della Vittoria
Just around the corner from the Museum and Crypt of the Capuchin Friars is the Chiesa di Santa Maria della Vittoria. This church, dating from the 17th century, is famed for it's sculpture by Bernini – the Ecstasy of Saint Teresa, which is definitely worth popping in to see.
If you are particularly interested in art, then instead of the previous two attractions, you might want to head instead to the National Gallery of Ancient Art, found in the Palazzo Barberini. This is home to one of Italy's most important collection of paintings.
Gelato
It's been a long couple of days in Rome, and somehow we've not mentioned one of Rome's most famous foods – gelato! The Italian version of ice cream is a must when visiting the city, but it's hugely important that you only eat the good stuff.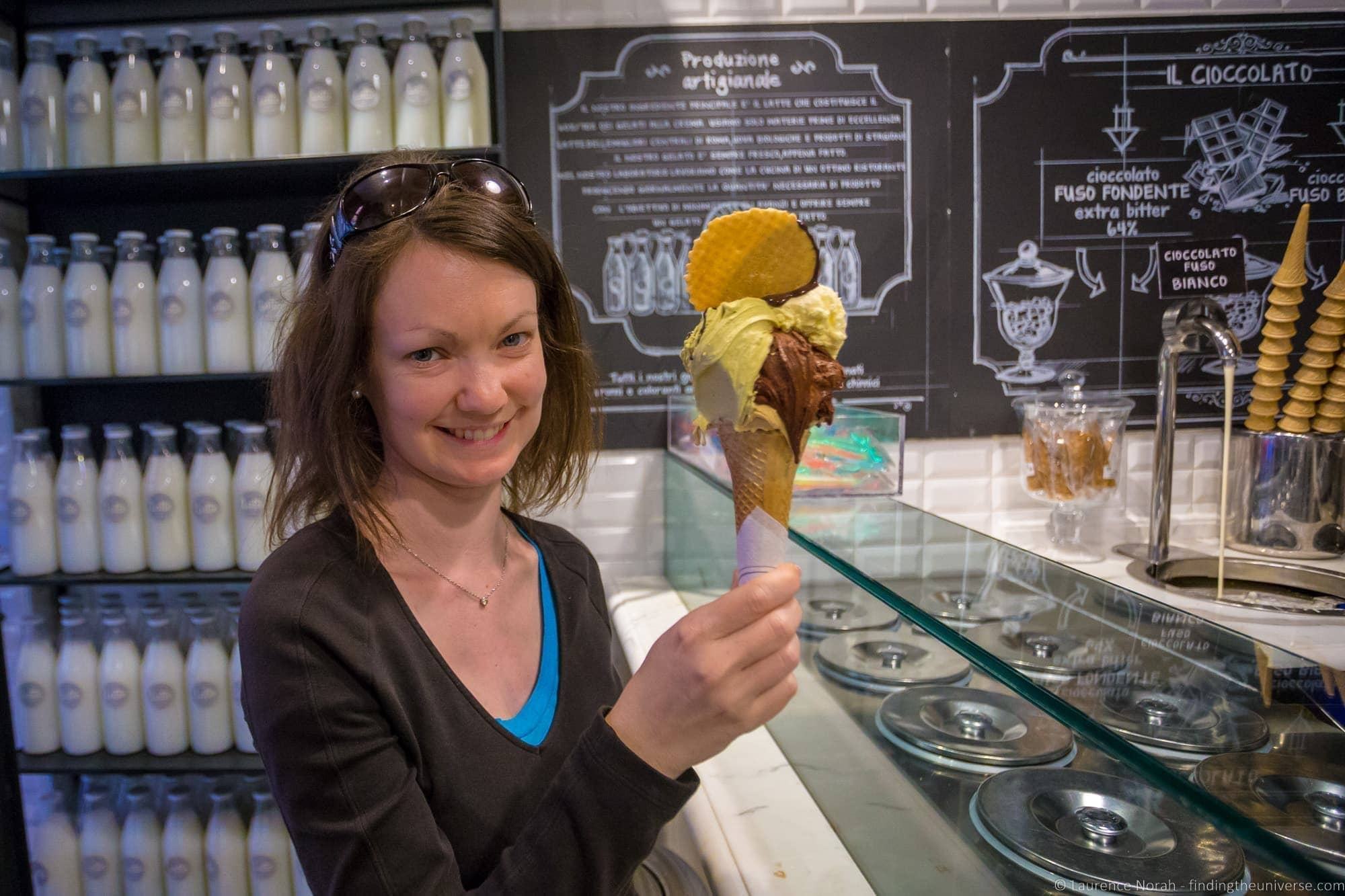 Thankfully, we've already done the research for you, and put together a guide to the best gelato in Rome. Conveniently, our favourite gelato spot in Rome falls right at the end of our second day – Come il Latte.
The gelato here is deliciously creamy and absolutely fantastic – we can pretty much guarantee it was worth the wait!
If you are looking for something a bit more hearty to finish your day off with, you might also consider taking a food tour. We have a guide to our favorite Rome food tours that you might find helpful if that sounds interesting to you.
2 Days in Rome: Rome Map
To help you visualise our suggested itinerary for 2 days in Rome we've added all the sights above to a map.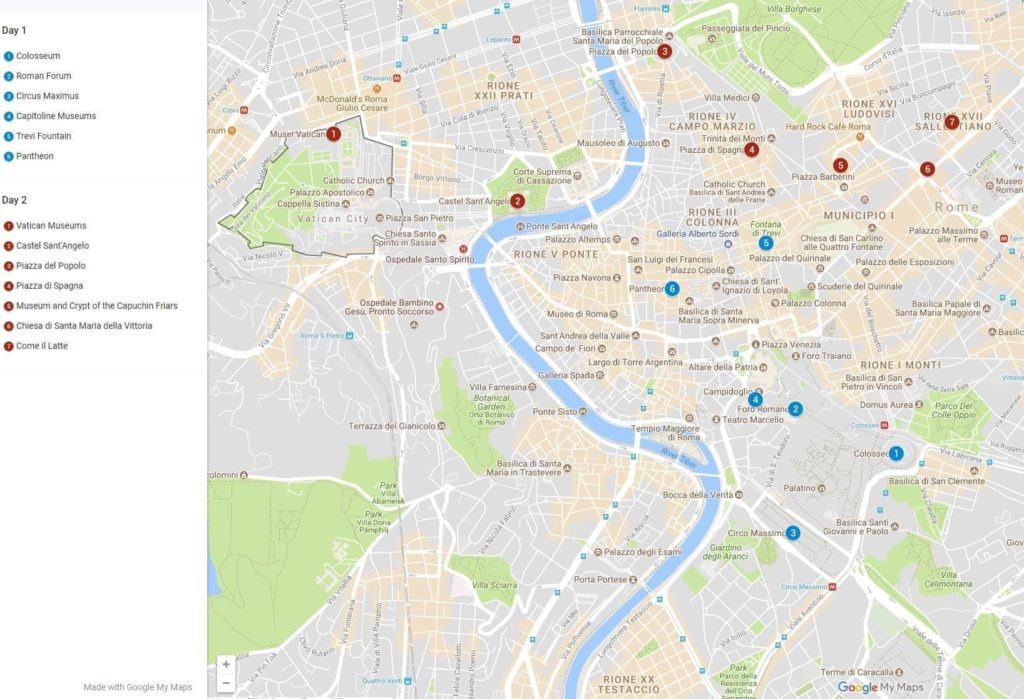 This should also help you plan where you might want to stay. You can also see this on Google Maps here.
Rome Itinerary Overview
To break the itinerary down as an overview:
When to Visit Rome
We have visited Rome at a number of different times of year, and it is certainly a city that can be visited at any time of year.
In summer just be aware that it can get very hot and very busy, as this is the busiest time of year in the city.
We're not saying don't go – you might just need to plan ahead and make sure you get all the necessary skip the line tickets so you can make the most out of your two days in Rome.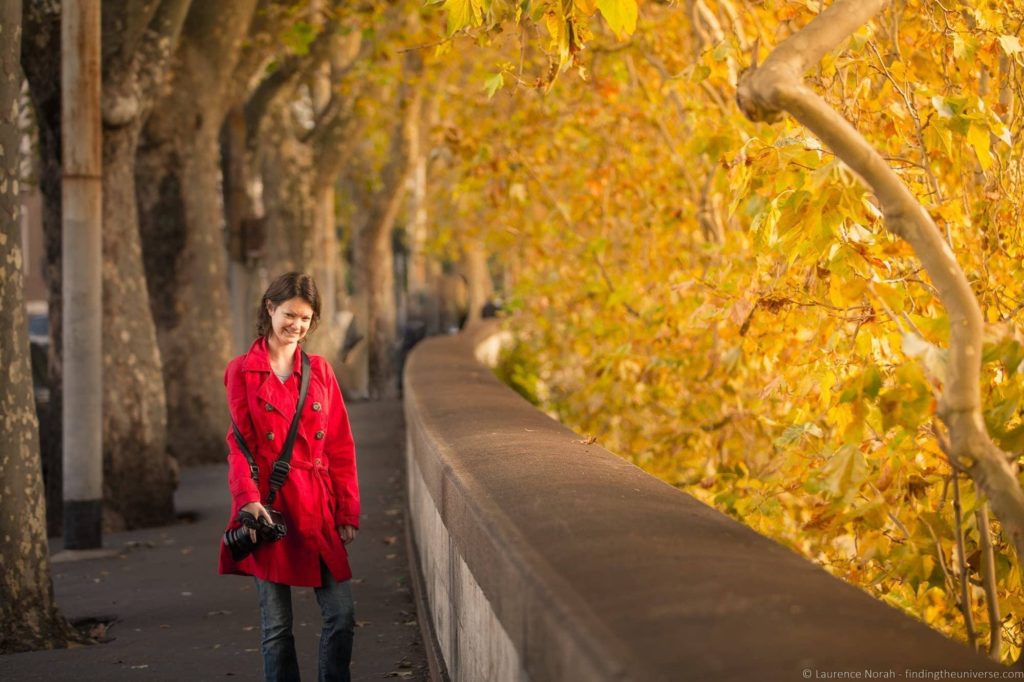 If you have flexibility, we think the shoulder seasons can be a really nice time to visit – between April and June, and then late September through to the end of October.
The weather in Rome at this time won't be quite so fiercely hot, but you'll still have plenty of hours of daylight and enough warmth to make it a pleasant experience.
Winter is also a good time to visit Rome. You'll need to bring warmer clothes of course, but Rome tends to experience fairly mild winters with snow being very rare in the city. It's also a much quieter time of year to visit.
Where to Stay in Rome
For a two day visit to Rome, we're going to suggest a hotel (or hostel, depending on your budget!) is likely going to be the best option. Whilst we love the convenience of an apartment when we travel, we find that for shorter trips, the full service convenience of a hotel is going to be a better option.
One reason we love staying in an apartment is the flexibility it gives us for things like cooking for ourselves, doing laundry and having a space to work, but with only 2 days in Rome, we don't think you'll be doing any of those things!
In terms of location, we would definitely suggest picking somewhere central – so basically the area between the Rome train station (Termini), and Piazza Popolo in the north, and Piazza Navona in the west. This will put you right within walking distance of the main attractions in Rome, as well as close to hundreds of fantastic eateries and cafes.
For some options close to the historical city centre and all the sights in our itinerary, consider the following. These are ordered approximately by price, from low to high, but do always check prices for your dates as they can vary.
Of course, this is just a small idea of what is available! For examples, here's a well rated hostel and a fantastically located apartment.
When we travel we usually use Booking.com as our first port of call for accommodation. They have everything from hostels to apartments to hotels. The review system makes it easy to pick a good option, and they have an excellent cancellation policy.
If you prefer an apartment, then we recommend either Plum Guide or Vrbo.
Plum Guide carefully curate their listings so their options tend to be of a very high quality whilst still being available at a range of price points. We've stayed at a number of their properties around the world, and you can see our review of the Plum Guide here. See their listings for Rome here.
If you can't find what you want from the above choices, or you want some new options to try out, we wrote a whole post on the best alternatives to AirBnB which you should check out!
We also have a page full of travel resources, which includes our tips for getting the best deals on accommodation, which you can find here.
How to Save Money and Time in Rome
As with many of the cities we've visited and written about, Rome has a number of options for saving money (and time!) on your visit, particularly when it comes to sight-seeing.
There are three main attraction passes for Rome that we recommend for a two-day visit. These are:
There is also the Omnia Rome and Vatican Pass (which just combines the Roma Pass and Omnia Card), but this is only available for three days.
If you were visiting Rome for three days or more we would recommend considering the Omnia Rome and Vatican Pass, which includes the Roma Pass, however we don't think it's cost effective for two days.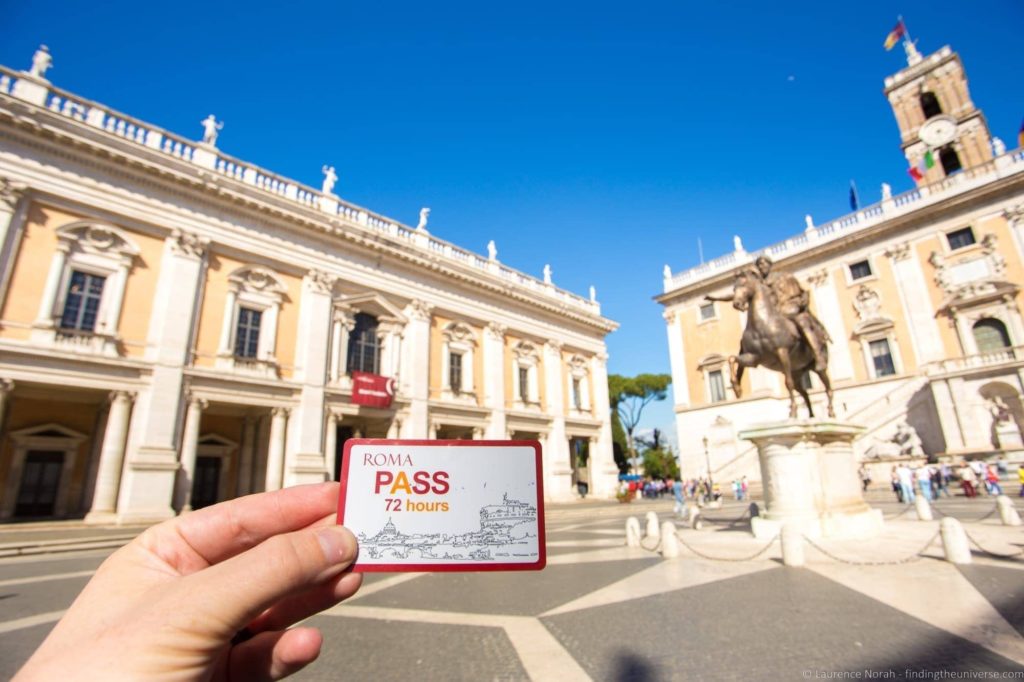 As previously mentioned in this post, Rome is a popular destination, and the lines at the major attractions, especially the Vatican Museums, St. Peter's Basilica and the Coliseum can get quite long.
You definitely don't want to spend your time in Rome standing in line if you can help it, especially if you are only in Rome for two days!
So your options are to pre book entry for the popular attractions, to take a tour that includes entry (we recommend Take Walks and Context Travel, see below for specific tours we recommend), or to pick up a pass that includes entry and fast track access.
The first pass we recommend you consider is the Rome Tourist Card, which includes pre-booked fast-track entry to the Colosseum, Vatican Museums & St. Peter's Basilica, as well as some audio guides and discounts on other attractions. This card is very convenient and removes most of the hassle involved in booking attraction entry.
Another option to consider is the Roma Pass. This is available for either two days or three days. It also includes free public transport in the city. However it is a bit more complicated to use.
The way the Roma Pass works is that you get free access to the first attraction you visit with the 48h pass, and free access to the first two attractions you visit with the 72h pass.
Once you've used your free entries, you get discounted admission at the remainder of the attractions you visit, which includes a wide range of attractions across the city.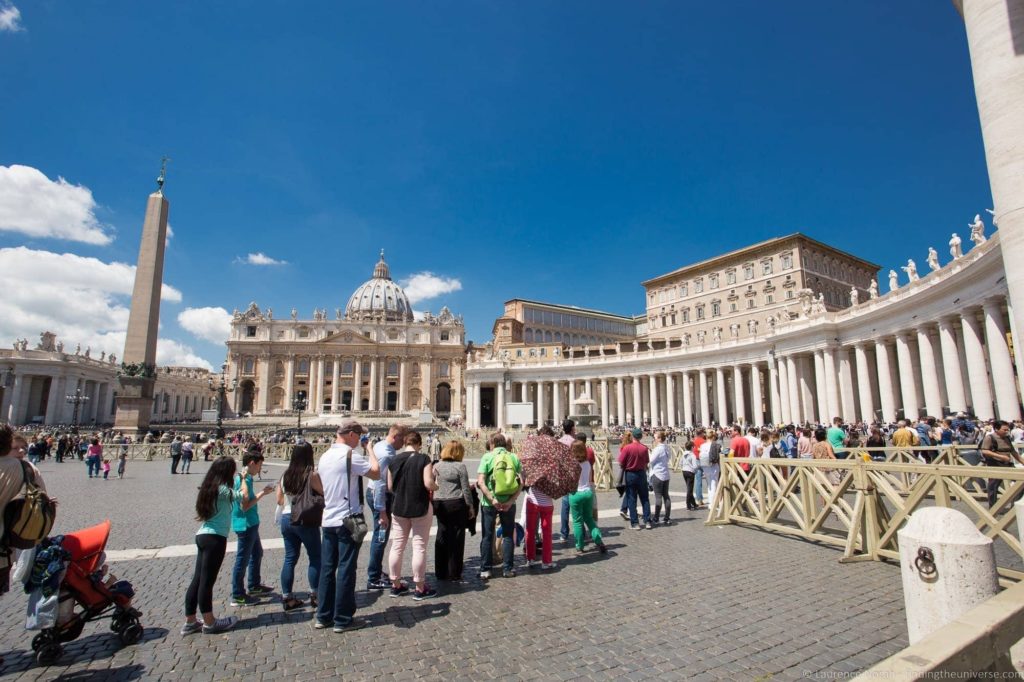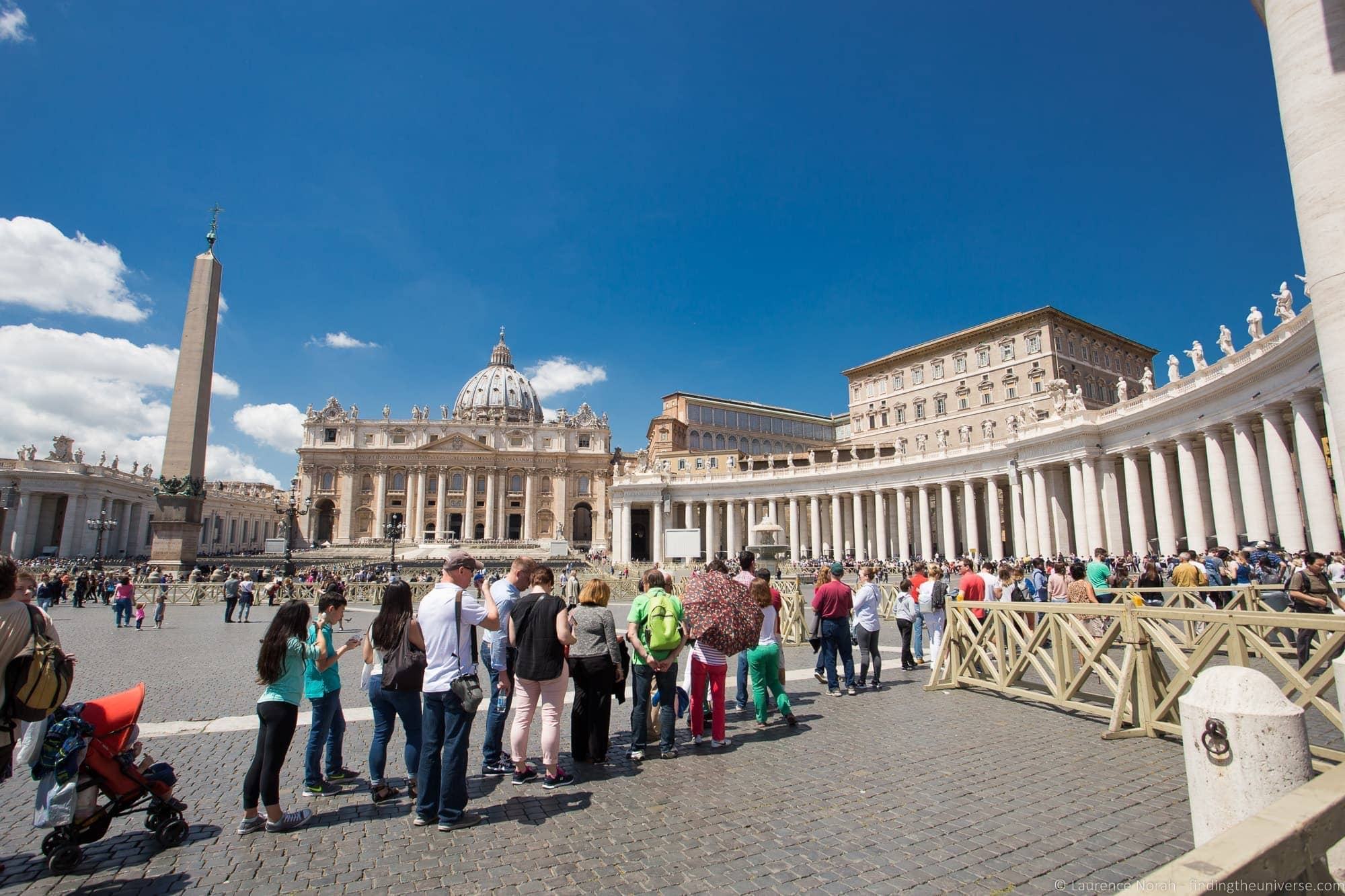 Based on our itinerary, the two day Roma pass would get you free skip the line access to the Coliseum and the Roman Forum (these count as one attraction), after which you would get discounted entry at the majority of other attractions on the list. If you picked up the three day pass, you would also get free entry to the Capitoline Museums as well.
The only disadvantage of the Roma Pass is that it doesn't include the Vatican attractions, so you're still going to be queuing for those. So you have a few time-saving options.
First, you can book a tour like this one or this one which includes the Vatican and St. Peters. Or you can book separate skip the line tickets or tours for the Vatican and St. Peters in advance. Finally, you could invest in a 1 day Omnia Card.
The one-day Omnia Card lets you skip the line at the Vatican, plus a hop on hop off bus tour is included, making it easy to get from the Vatican to the other sights in Rome.
The main disadvantage is that it does not, as of March 2023, include any kind of skip the line access to St. Peter's Basilica, which is a definite disadvantage. At busier times of year the lines can be hours long, so this is definitely an issue.
Overall therefore, we think the best option is the Rome Tourist Card, or booking individual tickets / tours for attractions.
Whatever you choose to do, we highly recommend you come up with a plan in advance.
In summary: Our preferred suggestion would be the Rome Tourist Card OR a Roma Pass and a walking tour of the Vatican / St. Peters that comes with skip the line access
If you don't want to do any of those, then you definitely will want to book your tickets for the most popular attractions online in advance.
How to Get Around Rome
For the two days on this Rome itinerary, the easiest way to get around is going to be by foot. The centre of Rome is very easy to get around on foot, and we think that seeing Rome this way is definitely a highlight of a visit to the city.
You'll just keep stumbling across beautiful old cobbled streets, old churches and buildings, and hidden little restaurants and cafes.
Of course, there's an extensive and easy to use public transport system in the city as well. If you invest in a Roma Pass this includes free public transport for the duration of the pass, so you can hop on and off buses or metros as you wish.
How to get into Rome from the Airport
Rome has two major international airports that you might fly into – Rome Fiumicino (FCO) and Rome Ciampino (FCO). Flights from the North America usually arrive at Fiumicino, whilst flights from Europe may arrive at either.
It's easy to get into central Rome from either airport.
From Rome Fiumicino, you can take the train, bus, or taxi. There's a train station on site which will get you into the city centre in around 30 minutes to an hour. Prices range from €8 – €14, depending on if you take the fast Leonardo Express or the local train services (FL1).
Note that the local train service (FL1) does not go directly to Termini – it goes to Rome Trastevere, and then you would need to change onto the FL5, which you can take to Termini.
There are also a number of bus options which cost €6 – €8, and which take around 50 minutes to an hour, and take you to Termini train station. There's also a taxi stand. You can also arrange either a shared shuttle or a private transfer service, which needs to be booked in advance.
From Rome Ciampino, there's no on-site train station, but there is a local train station just five minutes away by bus. This train costs around €1.50. There are also buses from Ciampino, which also cost €5. Ciampino also has taxis, although as this is a smaller airport there are generally fewer available. You can also book a shared shuttle or private transfer service in advance.
Both airports also have private and shuttle transfer options that you can book in advance.
Where to Store Your Luggage in Rome
It may be that on the day of arrival or departure in Rome, you might need to leave your luggage somewhere.
Usually your hotel or apartment will have left luggage facilities, however, if this isn't the case (often the case with apartment rentals for example), you will definitely want somewhere to leave your luggage for the day while you sightsee.
Many of the attractions in Rome won't let you take bags in with you, and even those that do will likely require you to do additional screening.
As such, we'd recommend you leave your luggage behind so you can explore without being weighed down. We'd suggest this luggage service, which has locations at Termini station as well as the Pantheon and other parts of the city.
We also suggest checking out Nannybag, a service which has storage points across Rome.
Should You Take a Tour in Rome?
Of course, this is up to you and your style of travel! We think that because Rome has so much history and there is so much you can learn on a visit, that taking a tour can be a really great way to do that. Some of the tours can also get you exclusive access to locations that you might not otherwise have been able to see, as well as skip the line access that can save you time.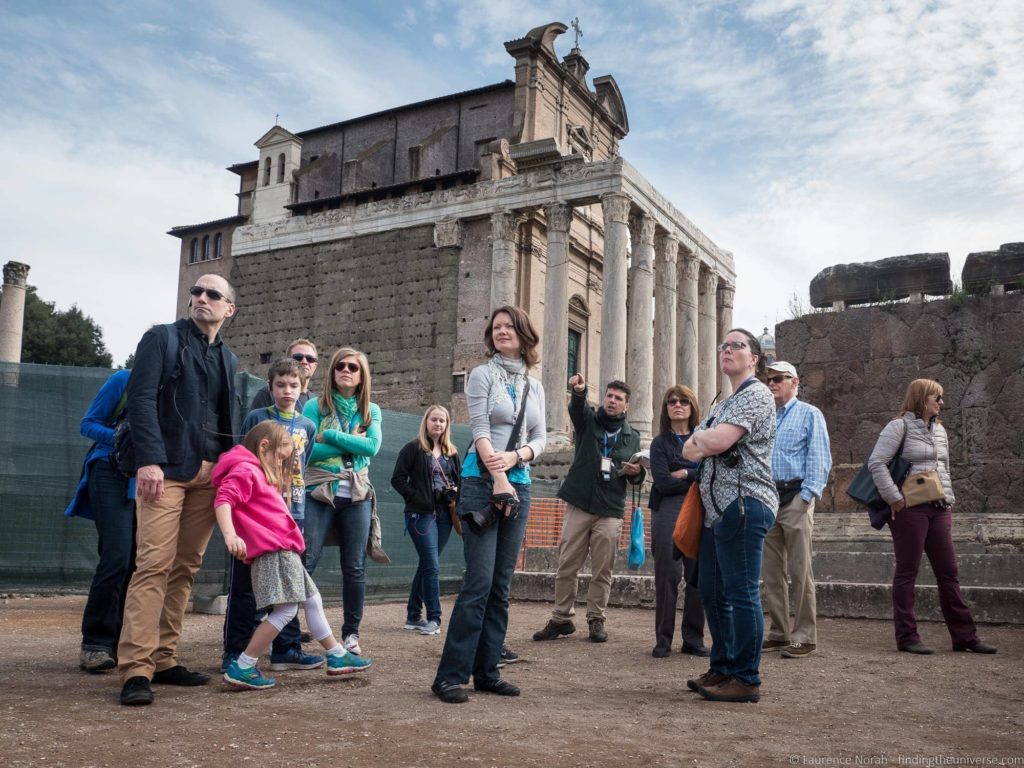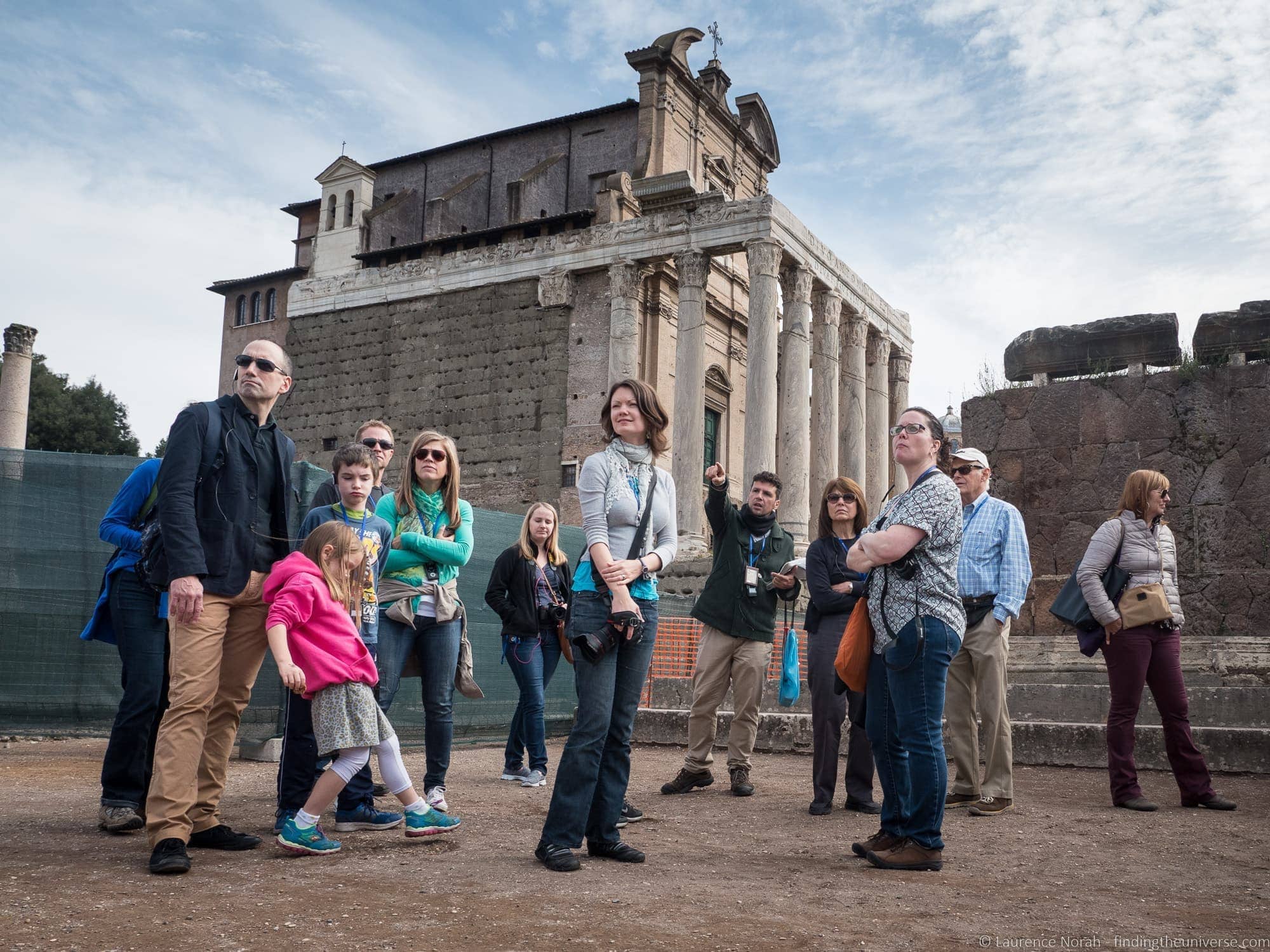 The three companies that we've used in Rome for walking tours (and many other cities around the world) are Take Walks, Devour Tours, and Context Travel. For Context Travel, you get an automatic 10% discount on any booking through any of the Context Travel links in this post.
The tours we'd recommend in Rome based on our itinerary are the following:
We think that these are the best tours to match up with our itinerary, but of course these companies have many more options depending on your specific interests. You can read some of our experiences taking tours in Rome with both of these companies, Context Travel here, and Take Walks here.
We've written fairly extensively about our tours with these companies in Rome, and I link to these reviews in the further reading section below to help you decide if these are going to be good options for you.
There are of course other options for tours in Rome, including all the tours on this page, which offers a variety of things to do from different providers. This one in particular of the Vatican and St. Peter's Basilica is a good value option.
So definitely check out the options to figure out what is best for you!
How Long to Visit Rome for?
This itinerary is for two days, which we think is a good amount of time to experience the highlights of the city. Certainly, spending a weekend in Rome will let you see everything you want to see as a first timer.
That said, you definitely won't run out of things to do in Rome if you stay for longer. An extra day or two will let you visit some of the lesser visited attractions, as well as those attractions like the Appian Way which can take up a bit more time.
If you have longer, you can also take advantage of some of the day trips you can take from Rome, which I outline below.
Where to Go After Rome?
We're often asked where to go after Rome, and our advice on the best way to get there.
We suggest that if you want to explore Italy a little bit further you should head to the relatively nearby cities of Florence and Venice. You could also head to Naples to see Pompeii, or head to the Amalfi coast.
Check out our suggested itinerary for 10 days in Italy for more inspiration and planning advice.
The easiest way to get to the majority of these locations is to take the fast train service. These run frequently and are very quick. Tickets are cheapest when booked well in advance, plus booking in advance will usually guarantee a seat reservation.
You can book train travel in Italy (and Europe in general), on our recommend train ticketing site: Trainline.com.
Another option if you would rather base yourself in Rome and don't want to worry about booking train tickets, is to take a day tour from Rome. Some options from Rome include:
As you can see, you have plenty of options for your adventures from Rome!
Further Reading for Your Rome Visit
We've written a number of posts and guides to visiting Rome, as well as Italy and Europe in general, that we think you will find useful. We also have a number of go-to guidebooks and other resources that we think you will find helpful for planning your time in Rome.
And that's it for our guide to how to spend 2 days in Rome! We hope you found it useful – as always, if you have any questions or feedback, just let us know in the comments below!