Heading to Rome, but not in the city for too long? Don't worry, it's possible to see a lot of Rome in a day, and that's just what this post is going to help you do. We're going to focus on Rome's highlights in this guide to help you get the most out of your day in Rome.
As well as providing a suggested detailed step-by-step Rome itinerary, we're also going to be sharing some advice to help you make the most of your trip, including tips for skipping the lines, saving money, getting to and from the airport, and, if you happen to be staying overnight, a guide to where you might consider staying.
This itinerary would work well as part of a longer trip around Italy like this where you want to see a few different locations, or even as part of a longer Europe itinerary like this one.
Let's get started with our guide to spending 24 hours in Rome!
Rome in a Day: Detailed Itinerary
Our Rome guide assumes you have a full day in Rome and are able to start sightseeing relatively early in the morning. We're focusing on the absolute highlights of the city – attractions and sights that we think the first time visitor will really want to focus on.
It's a busy itinerary for a really full day, from 8.30am through to 6 or 7 pm, so definitely feel free to adjust it to meet your interests and the amount of time you have in Rome. If you have less time than a full day, you'll need to skip a few things.
Colosseum
Our first stop in Rome is the Colosseum.
The Colosseum is a truly incredible building to visit. Dating from ancient Rome, it has survived through the fall of the Roman Empire, the Dark ages, the Middle Ages, the Industrial Revolution and our current modern age.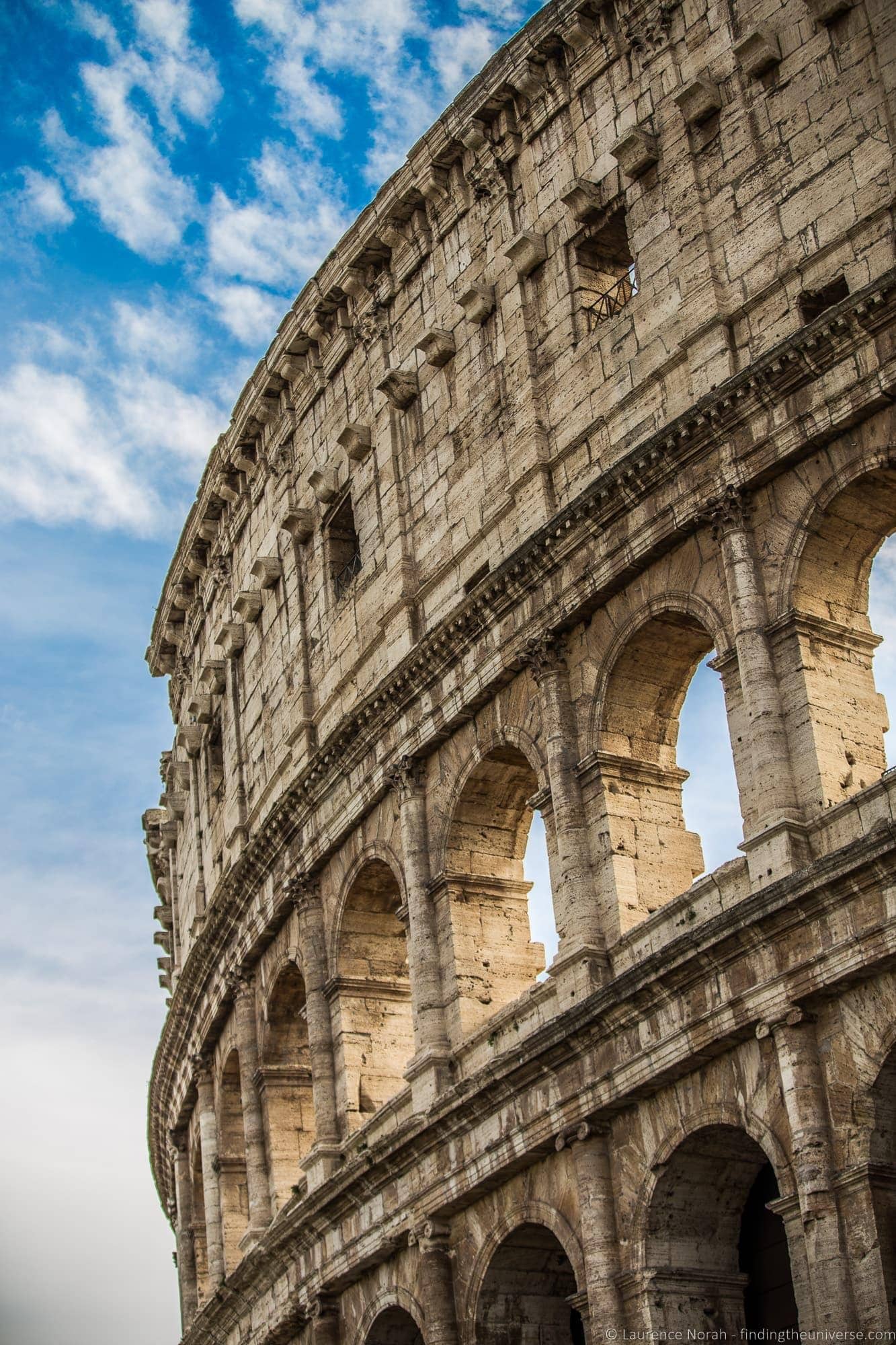 Sure, it's suffered a bit of wear and tear over the years, but it's still incredibly recognisable as a giant sporting arena, and looks pretty good for a 2,000 year old building! Touring here is a must on your first visit to Rome.
The Colosseum opens its doors at 8.30am. You need a schedule a time in advance of your visit and we suggest an early time to maximise your sight-seeing time in Rome. The Colosseum is open every day, with times varying depending on the time of year. You can see more information here.
Getting tickets and planning your visit can seem a bit complicated, so we put together a detailed guide to visiting the Colosseum to help you plan.
Please do read through it, as the Colosseum can book up far in advance, meaning you might be disappointed if you don't plan properly.
In summary, you can book tickets from the official website here, the tiqets website here, and GetYourGuide here.
Roman Forum
Adjacent to the Colosseum, and included with your Colosseum ticket, is the Roman Forum. This was the place at the center of all Roman life – in effect, the heart of the Roman Empire.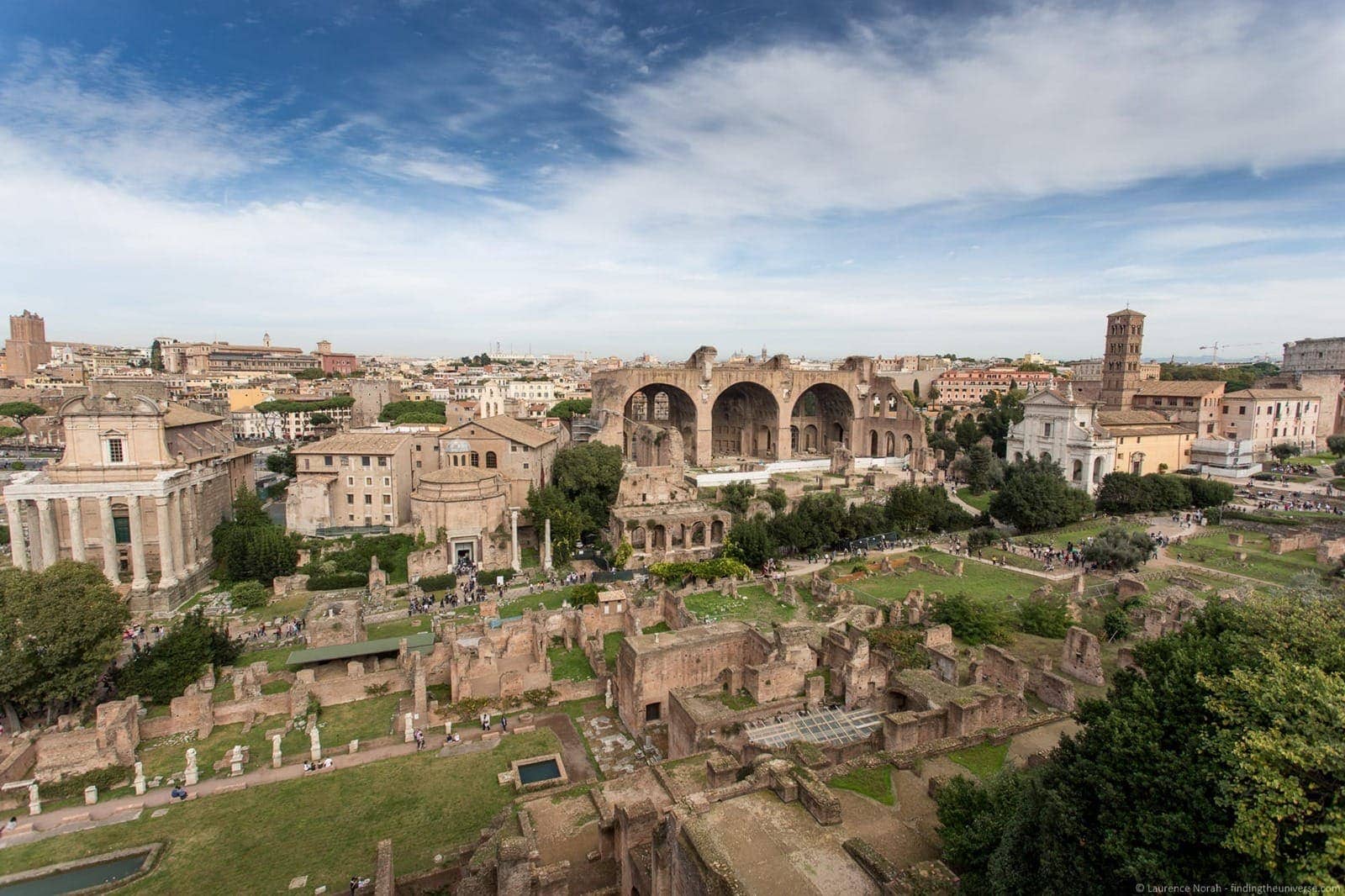 There were temples, shrines, government buildings, speech podiums, judiciary buildings, and places of commerce. Basically, pretty much everything of import that happened in the Roman Empire, would have happened here in some form or another!
Today the Forum is a large sprawling area consisting of many ruined structures in various states. There's a great deal to see here, although we'd suggest trying to limit your time to around an hour to 90 minutes so as to allow you to see what else you have planned for your day in Rome.
The Forum is open every day, you can see full opening hours here.
From the Roman Forum, our suggestion is to take a walk through Rome's historical center. Whilst you won't have time to explore all these locations in depth, there are plentiful opportunities for a photo.
Some of the highlights we suggest you check out as you head towards the Vatican City from the Roman Forum are laid out below, in the order that you will encounter them.
Altare della Patria
As you walk away from the Roman Forum, the first major building you will likely notice is the giant Altare della Patria, also known as the Monumento Nazionale a Vittorio Emanuele II.
This was built to honor Victor Emmanuel, the first King of unified Italy since the 6th century, who was crowned as such in 1861. With a total area of 17,000 square metres, this is quite the monument, and one you are sure to spot.
Pantheon
Those Romans sure knew a thing or two about construction. The Pantheon, which is your next stop, is an excellent example of this. Completed around 126AD, this former temple has been in continuous use, and to this day the roof is still the largest unreinforced concrete dome in existence.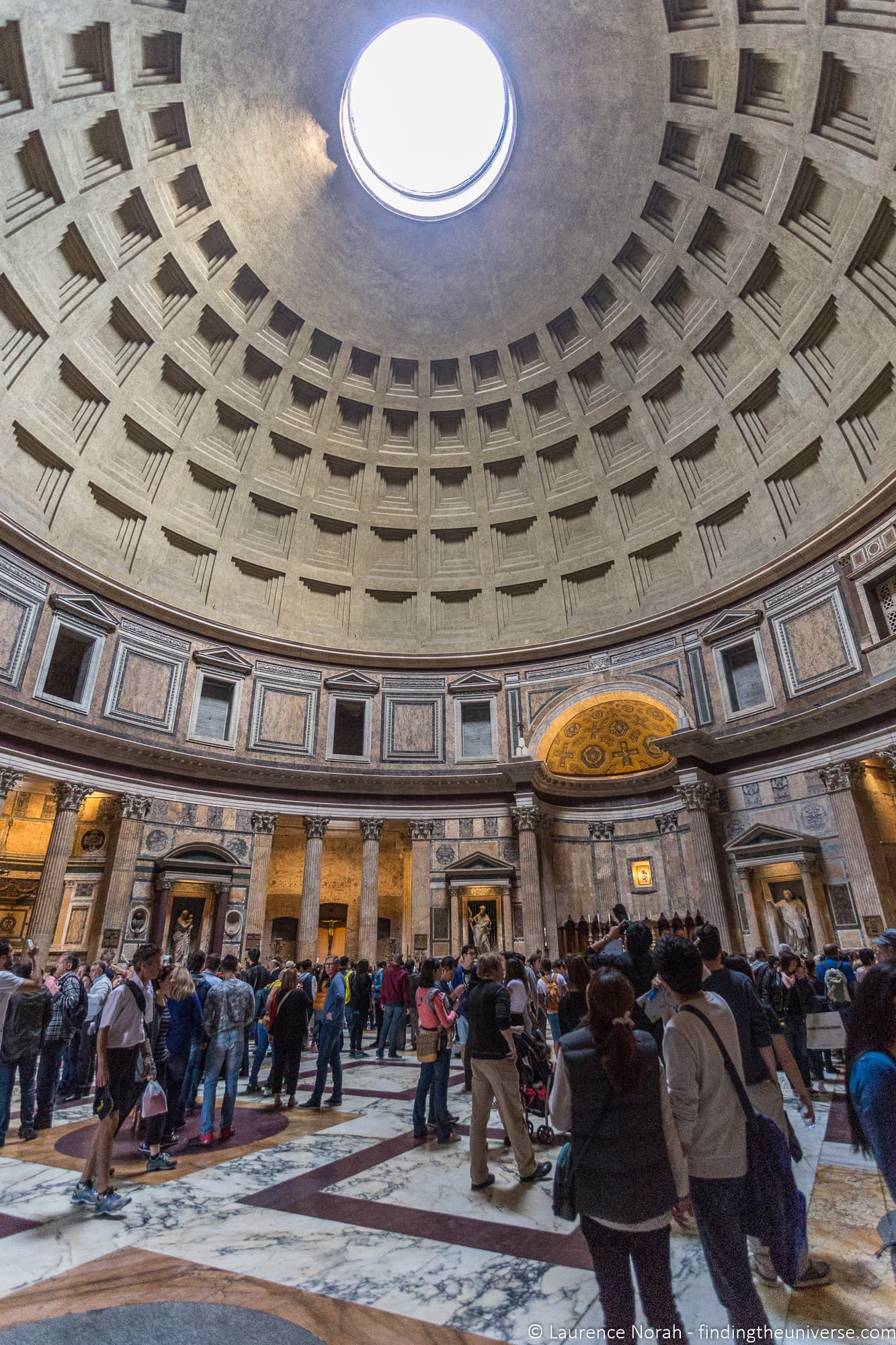 As well as the incredible architecture, the Pantheon is the last resting place of a number of notable folk, including the painter Raphael.
For a long time the Pantheon was free to visit but as of July 2023 there's a small fee. You can pay this on-site, or you can buy it online in advance from the official site here (you'll need to create an account).
Tickets with an audioguide are also available online here, although they are a bit more expensive.
Side note, you might be hungry by now. There are lots of places to dine in this area, although do be mindful of time. You might also want to have either a gelato or a coffee around here – see our guides to the best gelato in Rome and the best cafes in Rome for ideas.
Trevi Fountain
Just a few minutes from the Pantheon is the world famous Trevi Fountain, probably one of the most visited and photographed fountains in the world.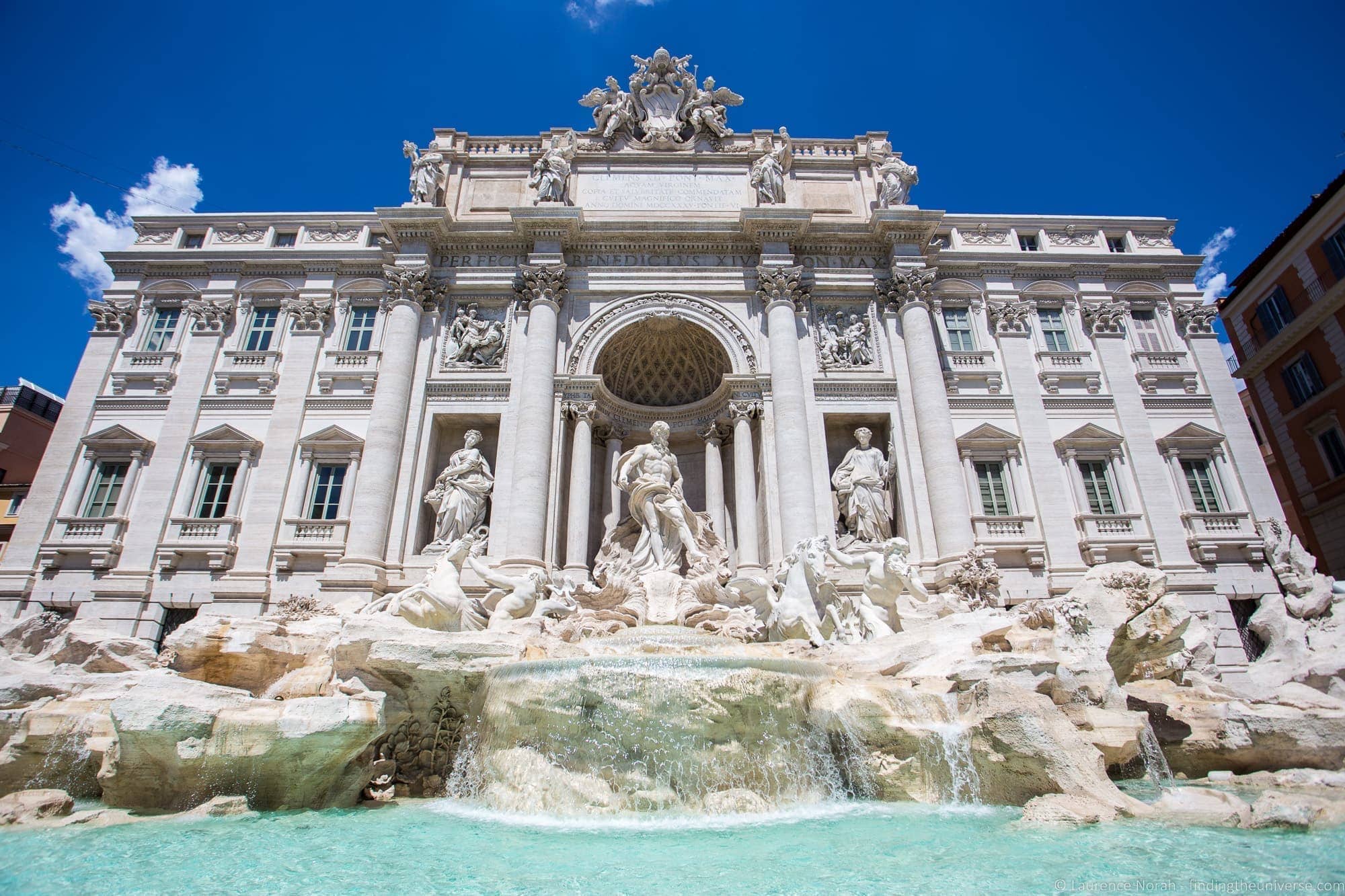 Visiting this fountain at the middle of the day is likely to be a crowded affair, but to be honest, I've never found a time of day or night when it's not crowded here!
Still, the fountain is over 80 feet high and over 160 feet wide, so you're still likely to be able to see it, regardless of how busy it is. It's been attracting visitors since 1762, many of whom today throw a coin into the fountain for luck.
Spanish Steps
There's so much to see in the old historical part of Rome, but we're on a mission here. Our next stop is the Spanish Steps.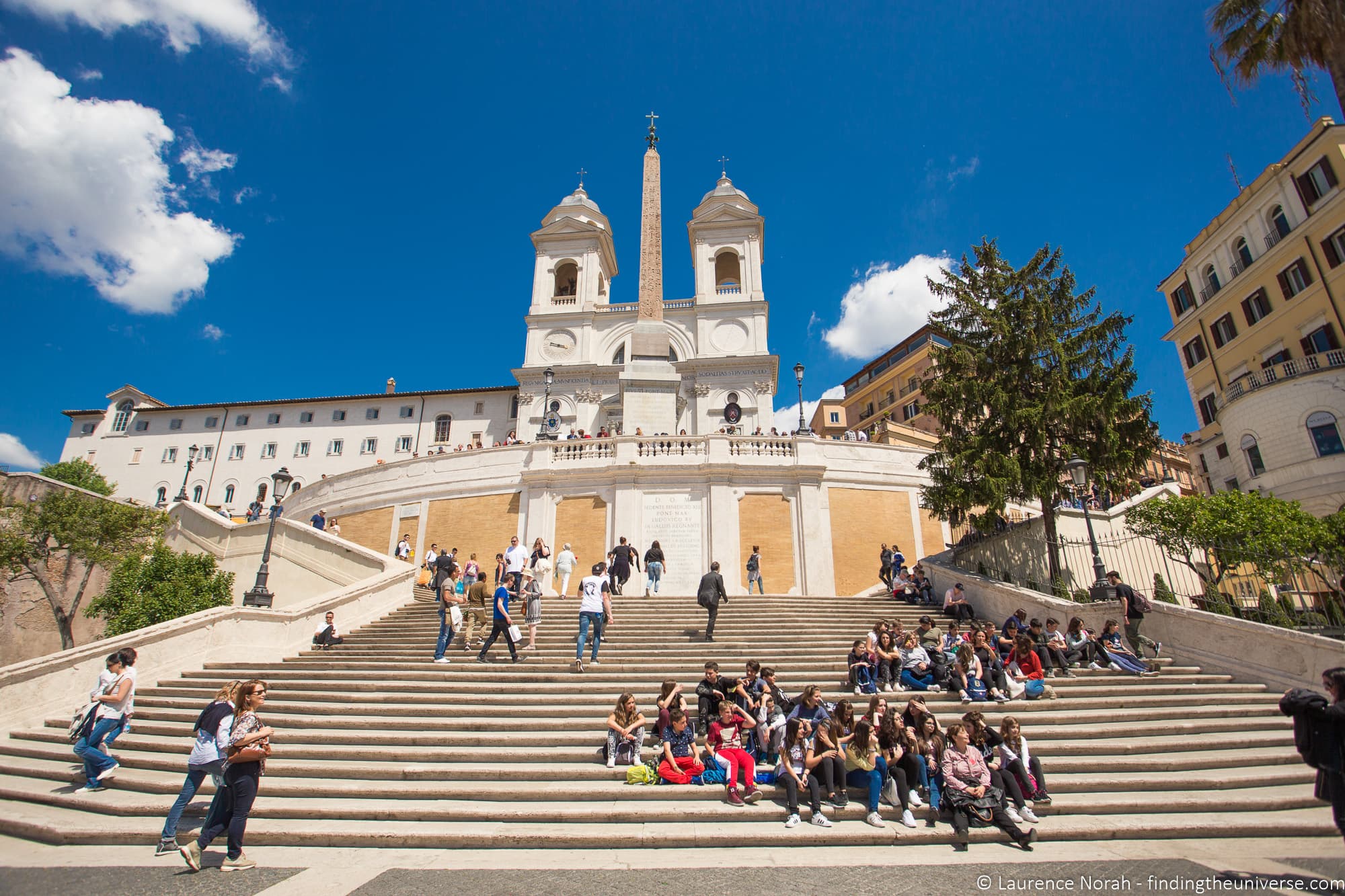 This 135 step stairway leads from Piazza Spagna up to Piazza Trinità dei Monti, where you'll find the Trinità dei Monti church. Having your photo taken whilst on the Spanish Steps (ideally with a gelato in hand), is pretty much an essential part of your day in Rome.
This may also be a good time to quick stop for a quick shot of espresso if you need a boost, and there are several recommended cafes in Rome near the Spanish Steps.
Note that as of August 2019, it's no longer permitted to sit on the Spanish Steps as they have been classified as a monument, and there is the potential of being fined if you do so. So stick to standing on them instead!
Castel Sant'Angelo
Our last stop as we head towards the Vatican Museums is the Castel Sant'Angelo, which sits on the bank of the river Tiber, and has done for around 2,000 years.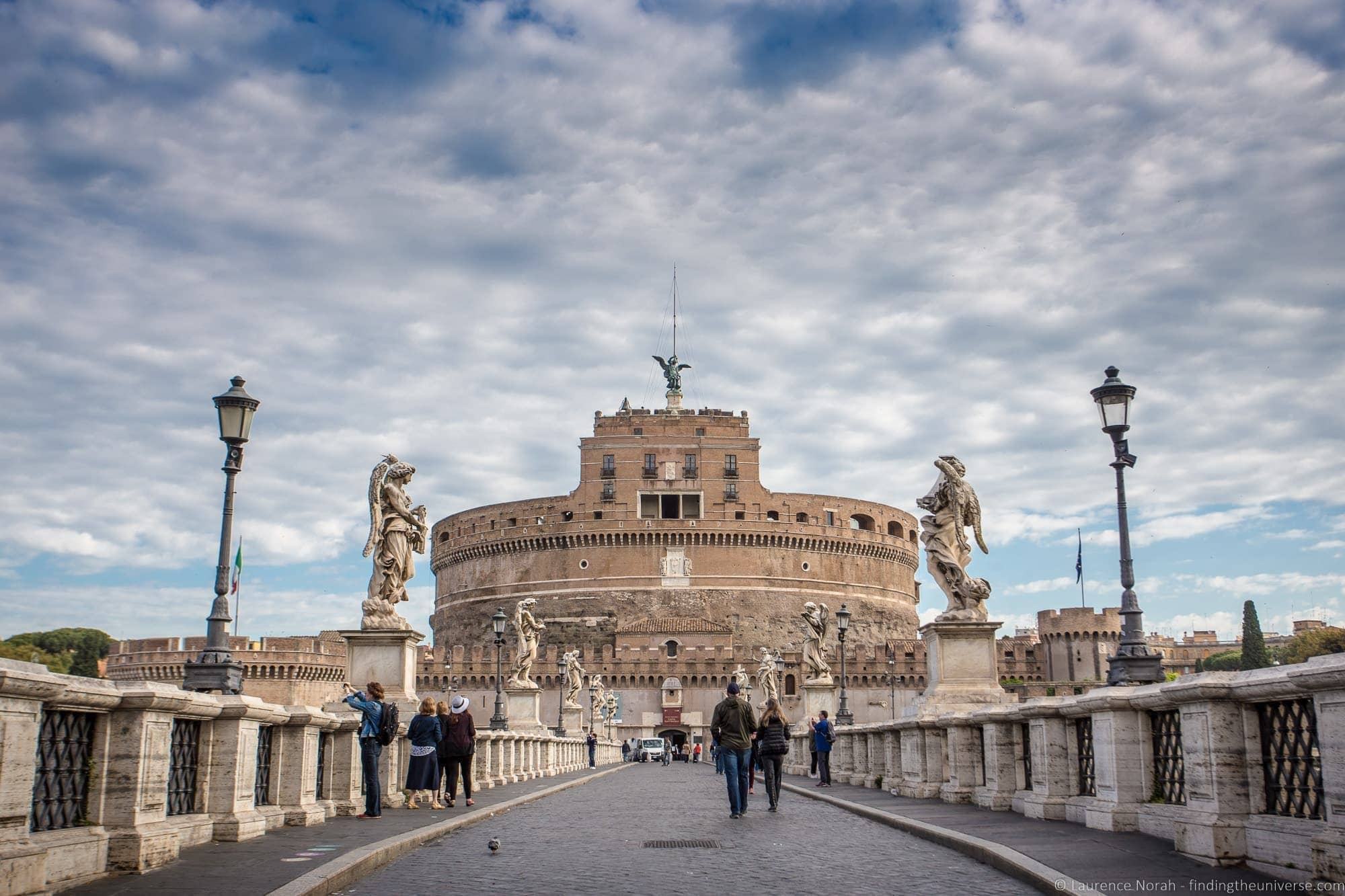 Originally built as the mausoleum for the Emperor Hadrian, this massive cylindrical building has since seen many uses, from fortress to castle to prison. Today, it's a museum, and the views from the top are impressive.
Again, you don't have time to visit if you are following this itinerary, but this is well worth a look from the outside nonetheless!
If you really want to visit, you can buy tickets in person or from the official ticket site here. can also buy tickets from GetYourGuide here or from Tiqets here. It's always worth comparing as prices vary.
Vatican Museum
You've now made it to the Vatican Museums inside the Vatican City, for the second half of your day.
The Vatican Museums are vast – certainly one of the largest museums in the world. There are over seven kilometres of corridors spanning 54 galleries, and with 20,000 works of art on display, there's no shortage of content to keep you busy.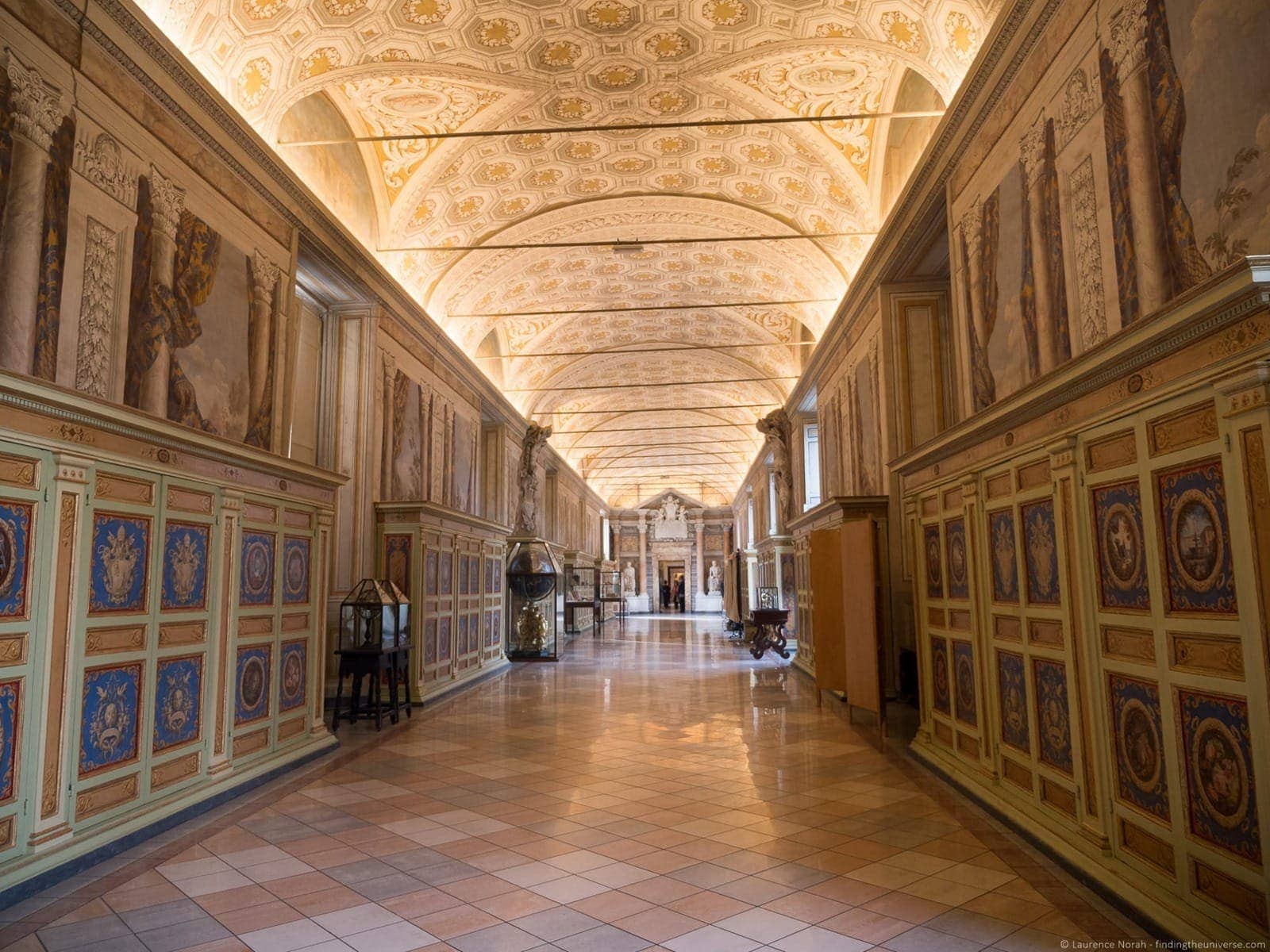 Suffice to say, an afternoon, or even a day, is unlikely going to be enough to fully appreciate what is on display. Some pre-planning, an audioguide, or a guided tour like this one, are good options to make sure that you see some of the absolute highlights of the Vatican Museums collection.
These include the Map Room, paintings by Da Vinci, Raphael & Caravaggio, marble sculptures, and much, much more, including our next stop.
Note, the Vatican is closed on Sundays and some other days – you can see all opening times and days on the official website here. You can book your tickets in advance of your visit on the official site here. You can also book on GetYourGuide here, and on Tiqets here with a 5% discount on their normal price.
Sistine Chapel
Within the Vatican Museum complex is the Sistine Chapel (entry is included with Vatican Museum entry), whose ceiling and Last Judgement painting are generally regarded as one of Michaelangelo's greatest works, and one of the greatest Renaissance works.
The sheer scale of the work is quite mind-boggling. Over many years, Michelangelo painted over 5,000 square feet of frescoes on the ceiling, which depicts various biblical scenes, such as The Creation of Adam and the Story of Noah.
The wall above the altar is reserved for the massive Last Judgement painting, which depicts the second coming of Christ on the final day, where the souls of humanity are judged and sent to their fate. This is another awe inspiring installation that has to be seen to be believed.
As a sidenote, there's no photography allowed in here, and there are guards who will enforce this rule. Lots of people break it, but we have seen people escorted out for doing so. It's also usually very busy, both in here and in the Vatican Museums in general, so do be prepared for that.
St. Peter's Basilica
Our last stop on our tour of Rome's highlights is St. Peter's Basilica, arguably the most important church in the Roman Catholic faith.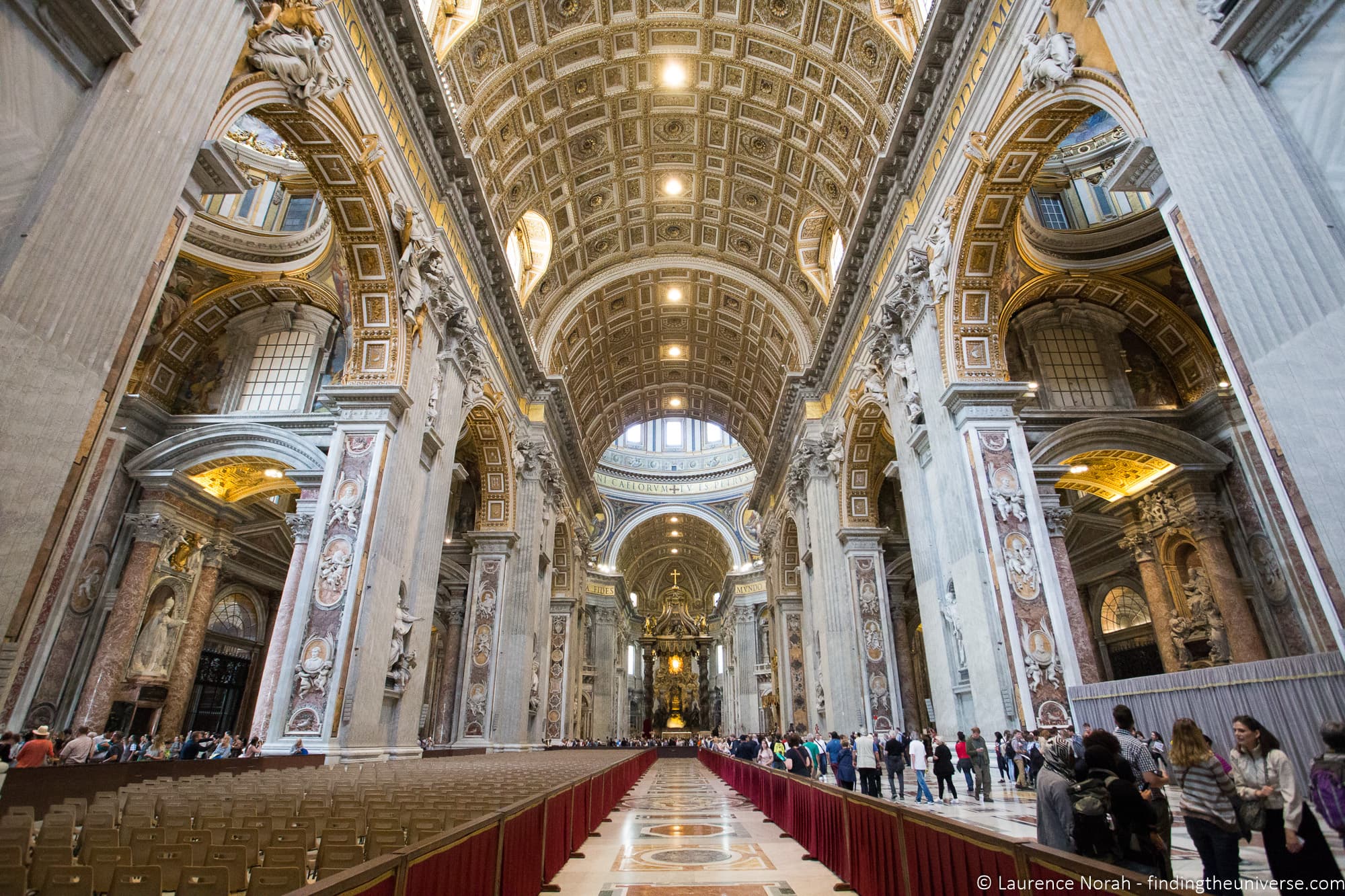 Built in the early 17th century, and designed by Renaissance masters including Michelangelo, Bramante, and Bernini, this is the largest church building in the world, and is said to be the home of the tomb of Saint Peter.
As you might imagine, this is a major site of pilgrimage for Catholics from all over the world, and the Pope holds large masses here on a regular basis. There's a lot to see inside, plus you can head all the way up to the roof for incredible views across the city.
St. Peter's Basilica closes at 6pm October to March, and 7pm April to September. The last entry is usually 75 minutes before closing.
St. Peter's Basilica is very popular and the lines can be long for entry. It is free to visit, but if you book a tour like one of these you can skip the line. Some tours of the Vatican, like this one, also include skip the line access to St. Peter's Basilica which can be a good option.
We'd recommend doing this at busier times of year as the lines can be very long. Just be aware that you might need to adjust your itinerary depending on tour times.
For lots more information on visiting the Vatican City and its attractions, including the Museums and St Peter's Basilica, see our complete guide to the Vatican. This has everything you need to know to plan your visit, including all the highlights, tips for visitng, how to buy tickets and lots more.
1 Day in Rome Map
To help you visualise and plan your day, we've put together this map of the attractions, as well as a suggested walking route through the city. You can also see this map on Google Maps here.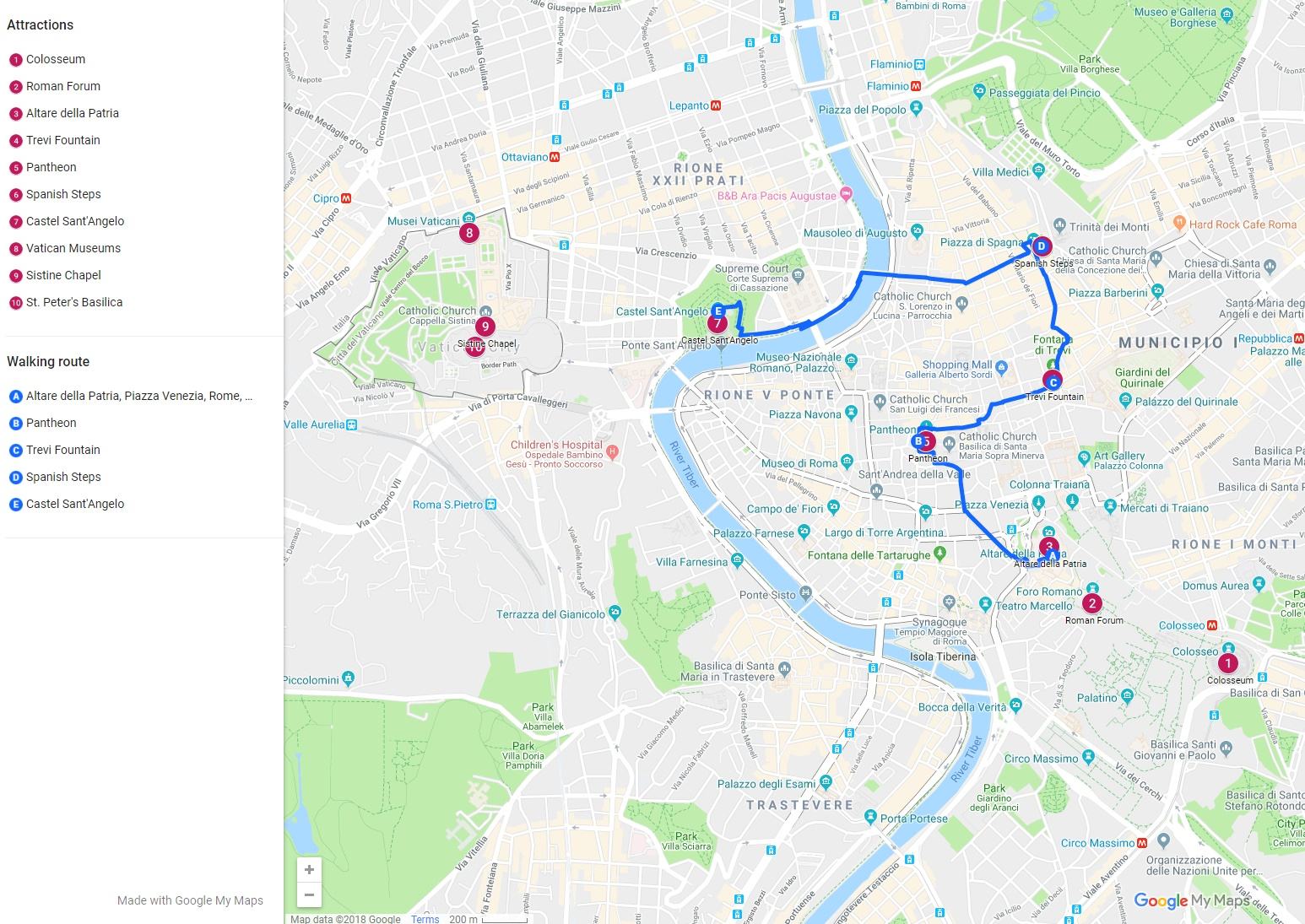 1 Day in Rome Summary Itinerary
Here's a quick overview of what you'll see on your one day in Rome:
Colosseum
Roman Forum
Altare della Patria
Pantheon
Trevi Fountain
Spanish Steps
Castel Sant'Angelo
Vatican Museum
Sistine Chapel
St. Peters Basilica
What about a Rome Tour?
Whilst our itinerary is entirely possible to do in a self-guided manner, you can also visit all the sights on a guided tour. You have a few options for this, depending on how much of the day you want to be guided.
Our first suggestion would be this Rome tour from Take Walks. This full day tour includes everywhere in our itinerary, including the Colosseum, a view of the Roman Forum, a tour of the historic center of Rome and the Vatican City attractions, including the Vatican Museum, Sistine Chapel, and St. Peter's Basilica. So an excellent option!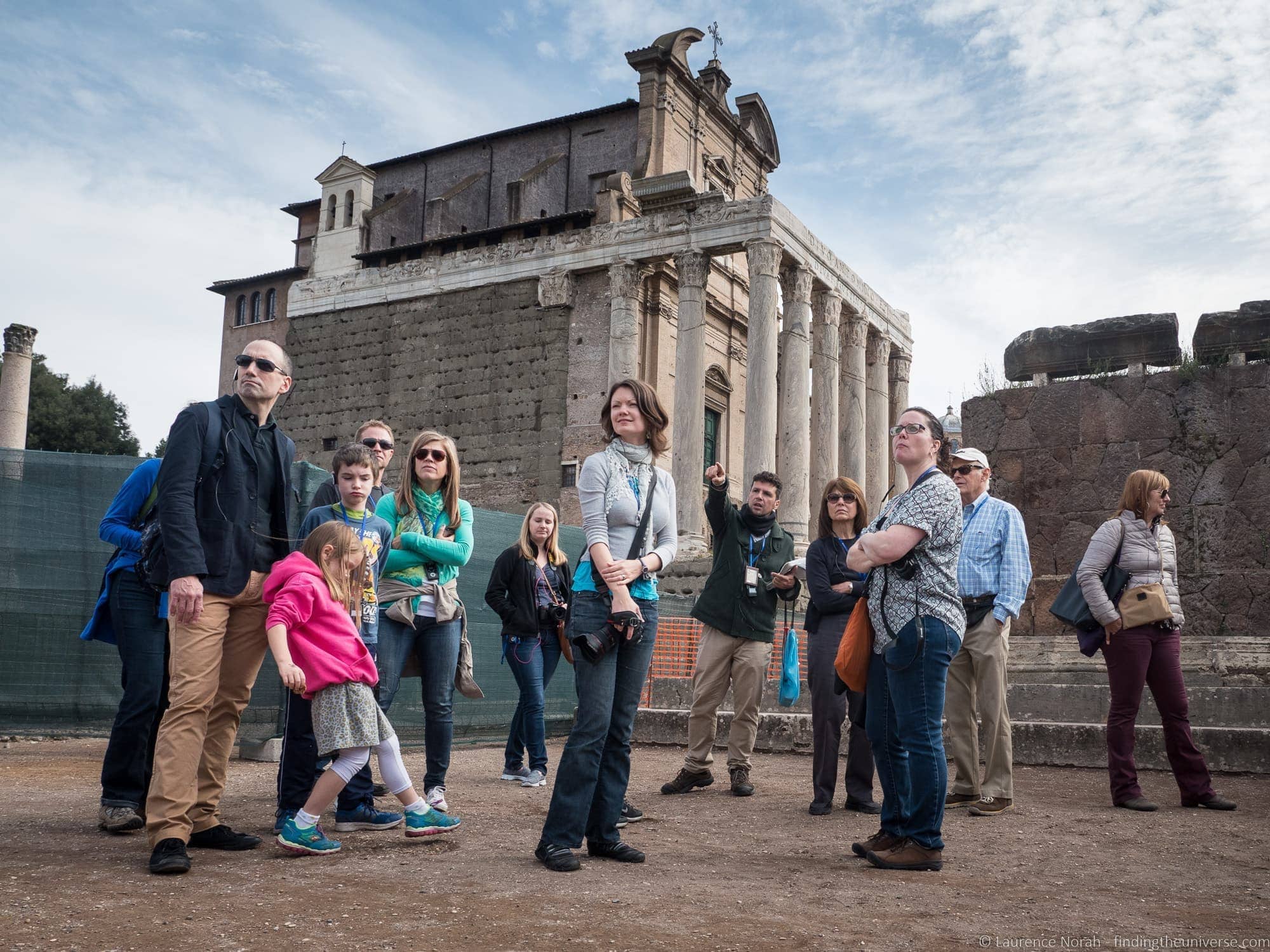 Even better, the tour includes transport from the historic center across to the Vatican, is fully guided, and you get skip the line access to all the major attractions, making it excellent value for money with minimal hassle. Take Walks only run small group tours, and we've taken a number of their tours in cities around the world.
For one day in Rome, this is definitely our preferred guided tour option. Book your tour here.
Another option would be to do part of the day as a guided tour, and part on your own.
For example, you could do a guided Colosseum Tour with the Roman Forum & Palatine Hill in the morning, or a guided tour of the Vatican & St. Peter's Basilica in the afternoon.
You could even do both, although we'd suggest it would make more sense to do the previously mentioned Rome in a Day tour instead.
Finally, you might also consider taking a food tour in Rome, many of which run in the evening. If so, see our guide to the best food tours in Rome for some ideas.
How to Save Money and Skip the Lines in Rome
On our longer 2 day and 3 day Rome itineraries we recommend either the Roma Pass or the Omnia Rome and Vatican Pass, two cards that offer skip the line privileges and cost savings if you plan on visiting the major attractions in the city.
However, neither of these are available for time periods shorter than 2 days, and so whilst they definitely offer convenience in terms of booking and skip the line access to all the attractions on our itinerary, the cost saving is not quite so obvious if you are only in Rome for one day.
The main card option for 1 day in Rome is the Rome Tourist Card, which includes the Colosseum, Vatican Museums & St. Peter's Basilica, as well as some audio guides and discounts on other attractions. This card is really more about convenience than cost saving, making it easy to book everything in one place.
If cost saving is the most important factor for your planning, you will be better off booking individual skip the line tickets for each attraction.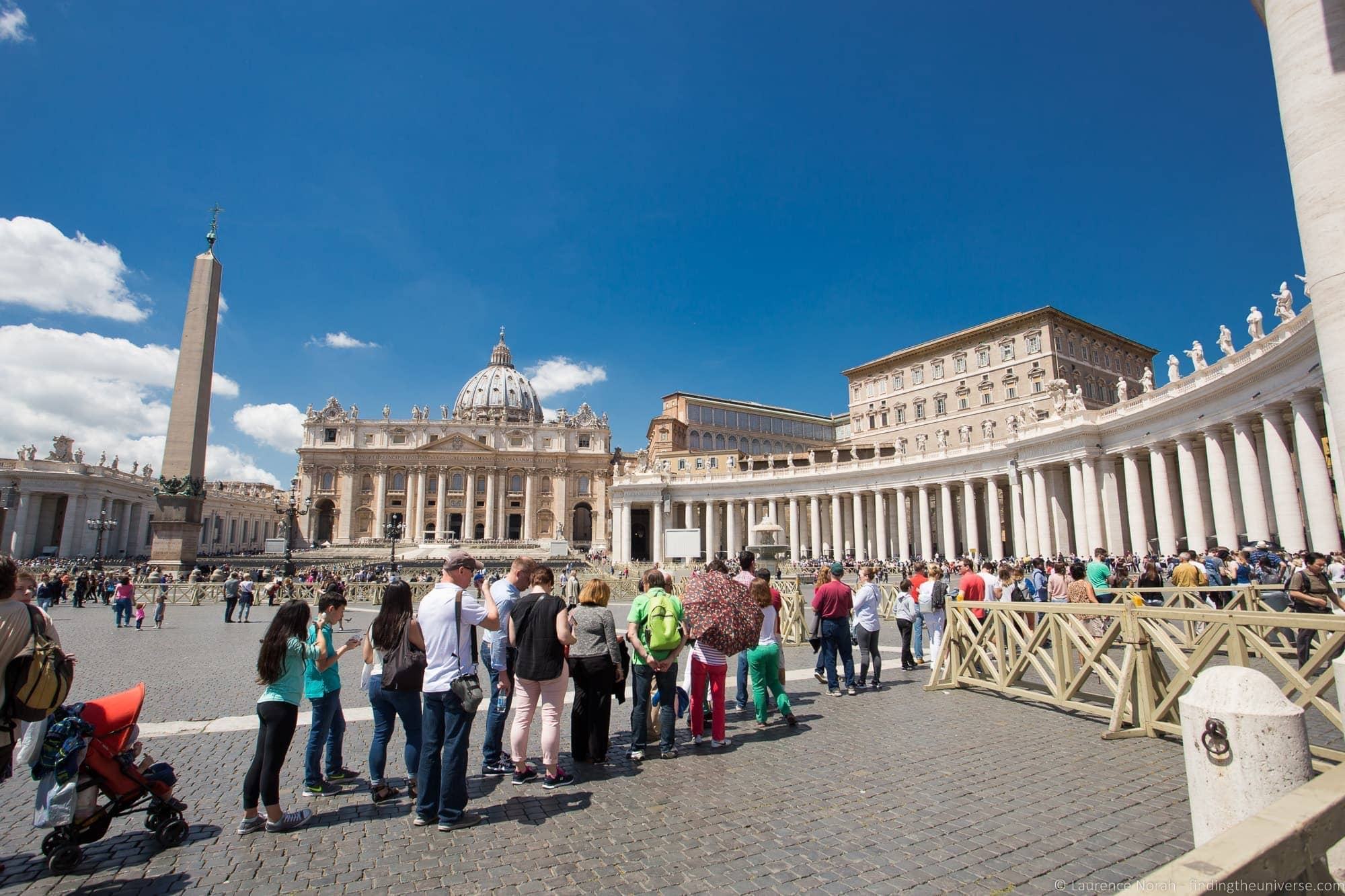 It is absolutely essential that you do book your attraction entry in advance for most of these attractions. Ticket lines can get really really long in Rome, especially in the summer months, and you don't want to waste your day in Rome standing in line.
For the attractions we recommend, you'll want to purchase advance tickets for the Vatican, the Colosseum and St. Peter's Basilica. You can do that here:
Skip the line tickets for the Vatican here on GetYourGuide and here on the official site (both include Sistine Chapel.)
Skip the line tickets from the official website for the Colosseum here (includes Roman Forum).
Note that for the Colosseum we have linked you to the official site which in our experience has the best prices.
The Vatican ticket price is normally similar on GetYourGuide compared to the official site. Personally we find GetYourGuide a lot easier to navigate than the official ticket site, however you might save a bit on the official site so do check both options.
St. Peter's Basilica don't sell fast track tickets, so we have linked you to GetYourGuide and Tiqets, both third party sites that we trust. If you want to visit the Vatican and Basilica, then a tour which includes both like this one can be a good value option.
For the Colosseum, all visitors need to reserve an entry time for when they want to visit. This is true for holders of the Roma Pass as well.
See our guide here on visiting the Colosseum for everything you need to know, so ensure you avoid disappointment.
If you have longer in the city, or just want the convenience of buying one ticket that does everything, we can recommend the Rome Tourist Card, the Roma Pass, or the Omnia Rome and Vatican Pass. Which one works for you will depend on your interests and time in the city.
Where to Stay in Rome
With one day in Rome, you might not be planning on staying overnight. However, just in case you are, we wanted to share some options for accommodation. We'd recommend staying somewhere centrally located so you can get to and from all the sights easily – the area between Piazza Navona, Piazza Venezia and Piazza del Popolo is usually our preferred area to stay in Rome.
For an idea of where I mean, take a look at these hotel options:
If you are taking an early flight, you might want to stay nearer to the airport. Here are some options:
If you are arriving or leaving by train, you will likely want to stay near Rome Termini train station, which is the major train station in the city. Some hotels near to Rome Termini to consider are:
Of course, there are many more options for accommodation in Rome. When we travel we usually use Booking.com for our accommodation. They have a great selection of options, with everything from hostels to apartments to hotels. The review system makes it easy to pick a good option, and they have an excellent cancellation policy.
As an example of what is available in Rome on booking.com, beyond the above mentioned hotels, here's a well rated hostel, and a fantastically located apartment. As you can see – loads of options!
If you prefer an apartment, then we recommend Plum Guide.
Plum Guide carefully curate their listings so their options tend to be of a very high quality whilst still being available at a range of price points. We've used them in locations around the world, and you can see our Plum Guide review here. You can see their listings for Rome here.
If you can't find what you want on Plum Guide, or you want some new options to try out, we wrote a whole post on the best alternatives to AirBnB which you should check out!
Getting to and from Rome Airport
Rome has two major international airports that you might fly into – Rome Fiumicino (FCO) and Rome Ciampino (FCO). Flights from the North America usually arrive at Fiumicino, whilst flights from Europe may arrive at either.
It's easy to get into central Rome from either airport.
From Rome Fiumicino, you can take the train, bus, or taxi. There's a train station on site which will get you into the city centre in around 30 minutes to an hour. Prices range from €8 – €14, depending on if you take the fast Leonardo Express or the local train services (FL1).
Note that the local train service (FL1) does not go directly to Termini – it goes to Rome Trastevere, and then you would need to change onto the FL5, which you can take to Termini.
There are also a number of bus options which cost from €5, and which take around 50 minutes to an hour, and take you to Termini train station. There's also a taxi stand. You can also arrange either a shared shuttle or a private transfer service, which needs to be booked in advance.
From Rome Ciampino, there's no on-site train station, but there is a local train station just five minutes away by bus. This train costs around €1.50. There are also buses from Ciampino, which also cost €5. Ciampino also has taxis, although as this is a smaller airport there are generally fewer available. You can also book a shared shuttle or private transfer service in advance.
Both airports also have private and shuttle transfer options that you can book in advance.
Getting to and from Rome Train Station
If you are arriving by train, you will most likely arrive into Rome Termini. This train station is pretty much in the center of Rome, and there are excellent transport links from here to the rest of the city, including buses, the metro, and of course taxis.
Luggage Storage in Rome
If you are just visiting for the day and not staying overnight, the chances are you don't want to carry your luggage around with you all day. Many of the attractions in Rome won't let you take bags in with you anyway, and even those that do will likely require you to do additional screening.
As such, we'd recommend you leave your luggage behind so you can explore without being weighed down. We'd suggest this luggage service, which has locations at Termini station as well as the Pantheon and other parts of the city.
We also suggest checking out Nannybag, a service which has storage points across Rome (and other cities around the world).
Getting Around Rome
Rome is an easy city to get around, with multiple public bus routes as well as a metro and taxi services. The city center is also easily walkable. For our itinerary, the main section you might want to use transport for would be to get from the Roman Forum across to the Vatican.
In our itinerary, our suggestion is to actually walk this route. Whilst this will take around an hour, the route we suggest would take you through the historic center of Rome, and let you see some of Rome's most famous attractions, including the Pantheon, Trevi Fountain, and Spanish Steps.
Of course, depending on time and your personal preference, you might prefer to just head straight to the Vatican, and skip these, so you have time to explore the Vatican. In which case, the fastest option will definitely be to take a taxi, which will take in the region of 15 – 20 minutes, depending on traffic. Public transport, either bus or metro, will take around 40 minutes.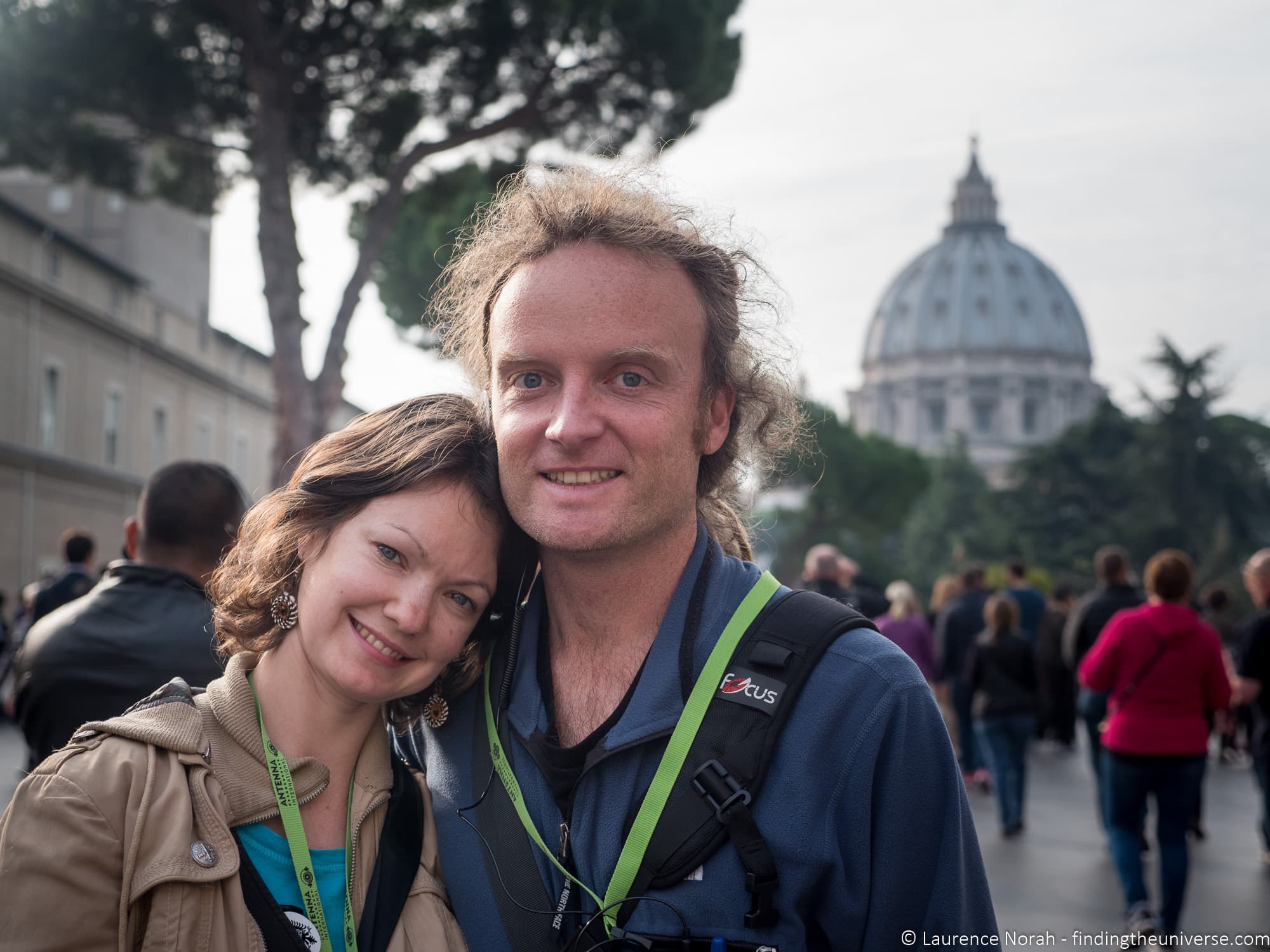 Further Reading for Visiting Rome
We have visited Rome a number of times, and from our trips we've put together a range of guides that we think you will find useful. We also have a number of go-to guidebooks and other resources that we think you will find helpful for planning your time in Rome.
And that's it for our guide to how to spend a day in Rome! We hope you found it useful – as always, if you have any questions or feedback, just let us know in the comments below!