Italy is one of our favourite European countries to travel in. We've visited, and written about, many of the towns and cities across the country.
One thing we are often asked for is a suggested Italy itinerary. And whilst we've written extensive itineraries for a few of the individual cities in Italy, we haven't as yet put together a detailed itinerary for Italy.
So, starting with this post, we're going to change that! This 10 day Italy itinerary covers some of our favourite cities and sights, and would make for the perfect trip, especially if this is a first time visit to Italy.
This itinerary has a focus on the cities we think first time visitors will enjoy, plus it makes the travel part of the trip that much easier. Whilst you can rent a car in Italy of course, we think using the high speed rail network to get between locations on this itinerary is going to be easier.
Speaking of getting around, as well as the detailed day by day itinerary of sights and attractions, the itinerary has tips for getting around Italy, advice on saving money, and general planning advice for your trip.
Italy Itinerary Summary
In summary, this itinerary for 10 days in Italy looks as follows:
Rome – 2 days
Florence & Tuscany – 2 days
Bologna – 2 days
Milan – 2 days
Venice – 2 days
Of course, this is just a guide, and you can add or remove days and destinations to suit your interest and travel style.
There are lots of potential options and variations on this route, including towns like Lucca and Pisa, the Cinque Terre, Naples, the Amalfi Coast, Verona and Padua – to name just a few! So definitely just use this as a guide, and build upon it to make your own ideal itinerary for Italy.
We prefer to travel a little slower and spend longer in a location where possible. We also like to try and spend 2 nights in each location as a minimum, so as to avoid having to pack up and move hotels every day.
It's also important when planning a trip to consider the time spent travelling between locations, and we've tried to keep this to under two hours for each part of our itinerary.
Just remember, there will always be more to see, wherever in the world you are going, and the temptation to fill an itinerary to bursting can be high. Try to resist this temptation, as you'll end up just rushed and not really enjoying the trip.
Now, let's get into the details of this 10 day Italy itinerary.
10 Day Italy Itinerary
Days 1 & 2: Rome
Rome is the capital city of Italy, and we think starting here makes a lot of sense. The city has great international flight connections, as well as train connections to the rest of Italy and much of Europe.
However, the real reason to start here is that there is so much to see and do in Rome. We've visited multiple times, and never run out of things to do in Rome.
2 days in the city will give you time to see the main highlights on offer, covering thousands of years of history, culture and art. You'll also have time to treat yourself to some gelato, sip coffee in a traditional coffee house, and eat delicious Italian food. What a way to start your trip!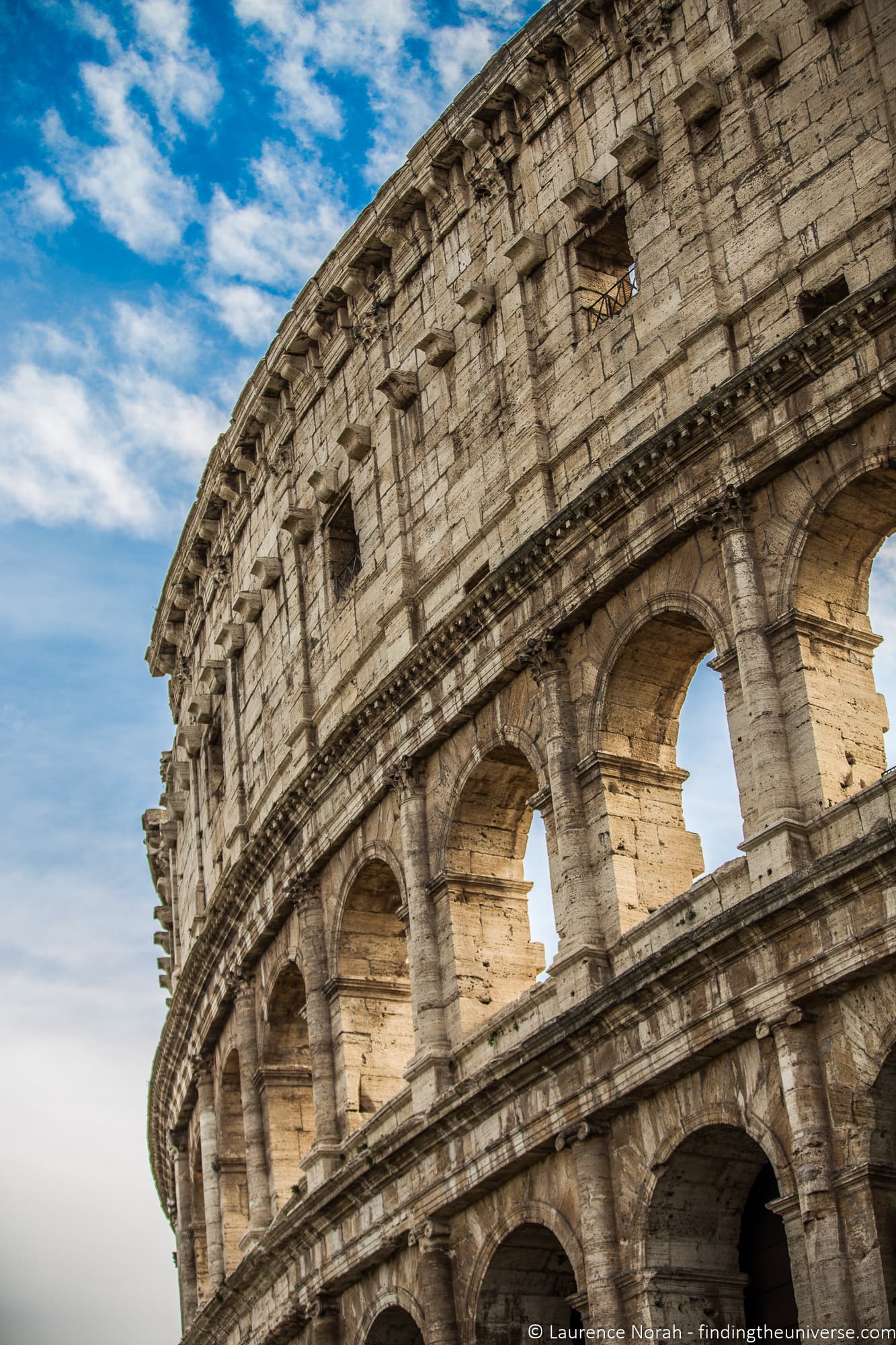 We'd suggest that your 2 days in Rome might look as follows.
What to Do in Rome
On your first day, we'd recommend starting with the Colosseum. Built almost 2,000 years ago, when the Roman Empire was as its height, this is a must-see attraction in Rome.
The Colosseum is a popular attraction, and you'll want to reserve your time slot in advance on the official website so you can get in at a convenient time. Alternatively, you can take a guided tour like this, which includes skip the line entry to the Colosseum as well as the Roman Forum.
Read more about visiting the Colosseum in our detailed guide to the Colosseum.
From the Colosseum, the next logical stop is the Roman Forum. This is right next door, and entry is generally included as part of your Colosseum ticket.
The Roman Forum is where the business of the Roman Empire was conducted, and it was basically the epicentre of the Empire. There's lots to see and do here, and overall you're probably looking at 3-4 hours to take in both the Colosseum and the Roman Forum.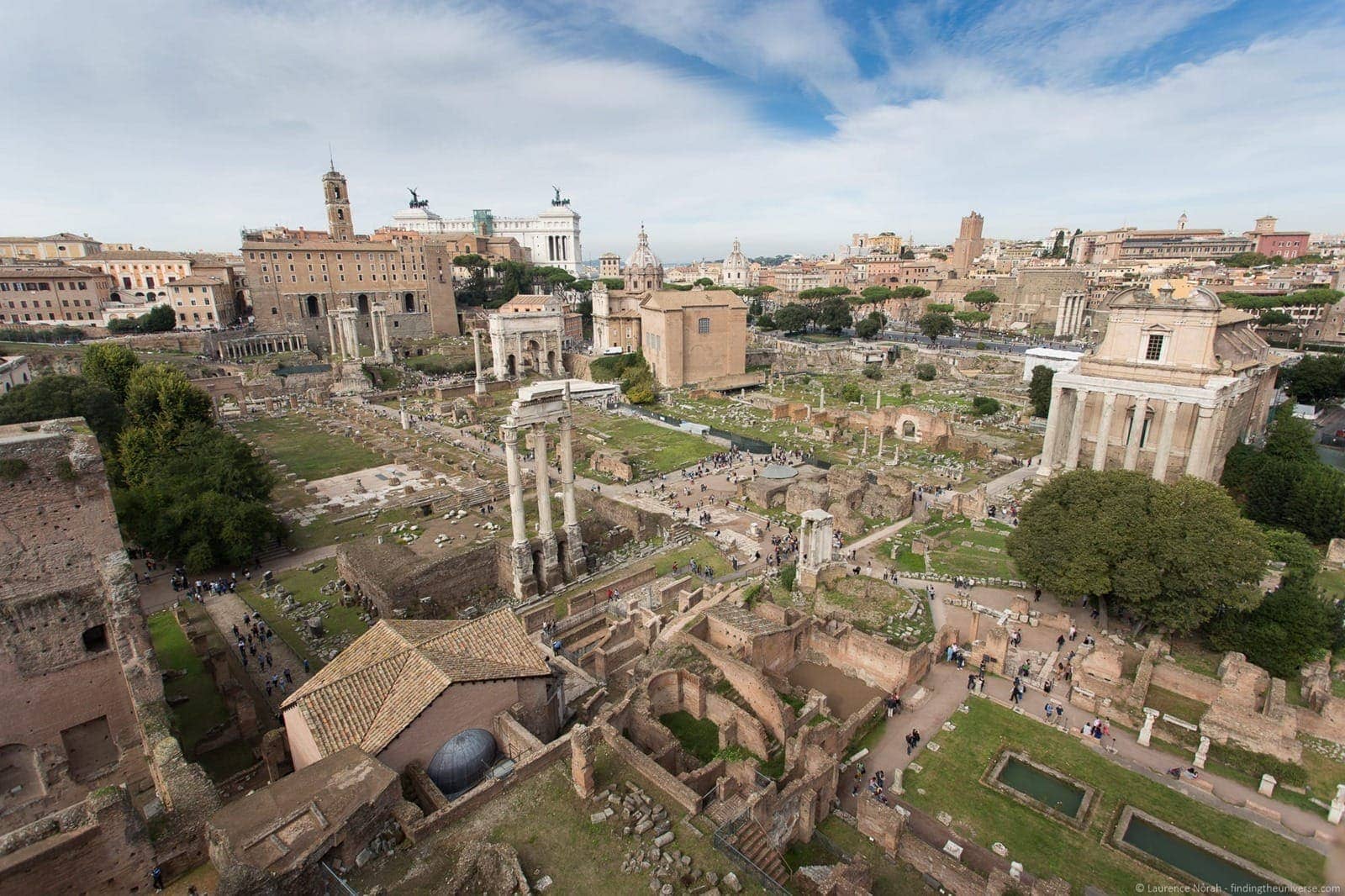 So that's your morning all planned out! We'd suggest having a break for lunch at this point. Head into the historic city centre, which is just 10-15 minute walk from the Forum, where you'll find no shortage of eating options.
For your afternoon, our recommendation is to explore the city centre. You'll likely be tired from your trip, so trying to fit too much in on your first day is probably a bad idea. Instead, you can wander around and take in sights like the Trevi Fountain, Spanish Steps, the Pantheon, and Rome's many pretty piazzas.
We can also recommend taking a break for either coffee or gelato – or both! See our guide to the best gelato in Rome, and the best cafes in Rome for plenty of excellent options.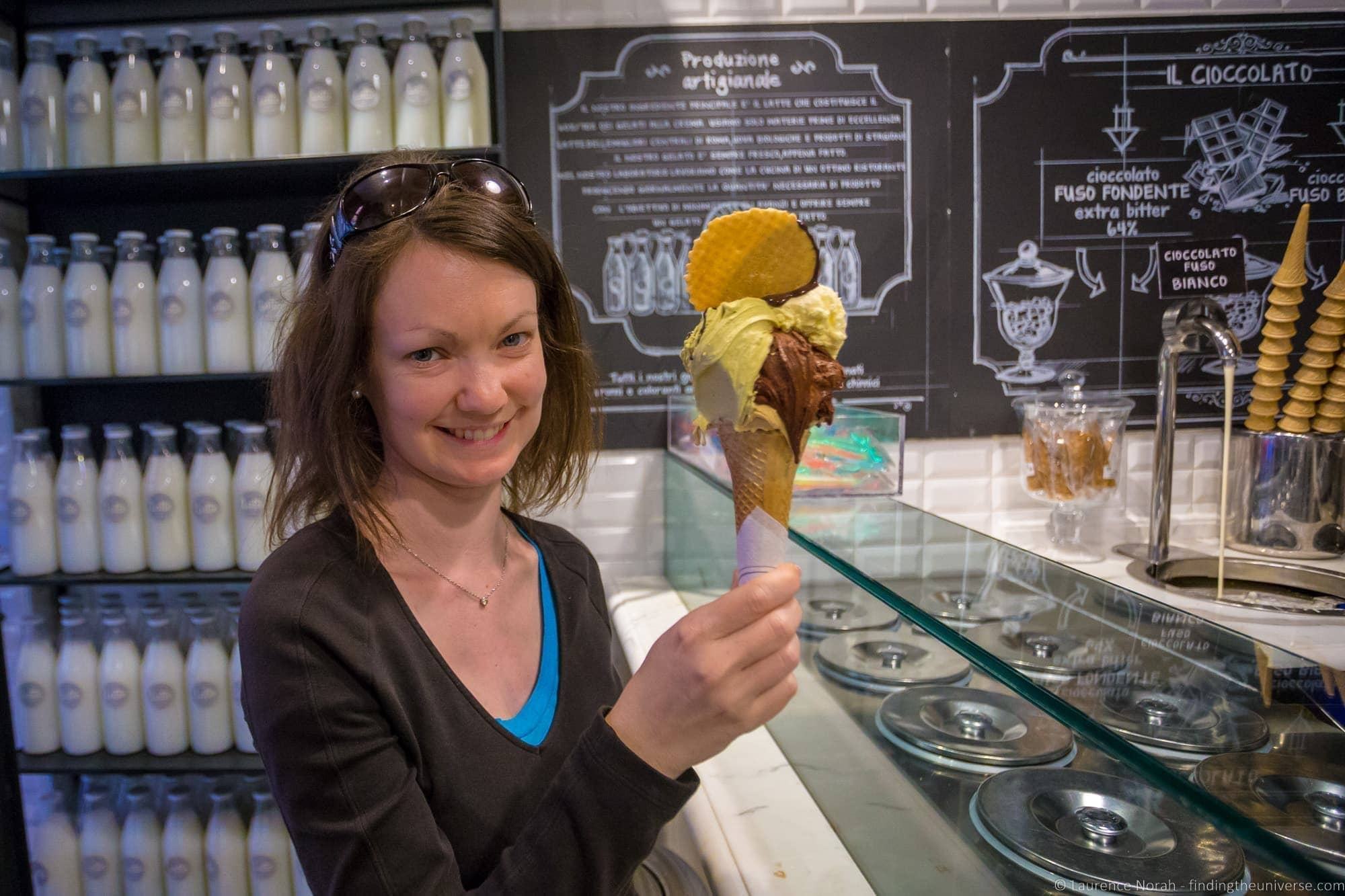 On your second day in Rome, we recommend visiting Vatican City. This is actually a city-state, so technically you'll be visiting a different country. Don't worry though, you won't need to bring your passport, and you probably won't notice when you cross the border.
The Vatican City is home to a number of attractions, including the Vatican Museums & Sistine Chapel, as well as St. Peter's Basilica.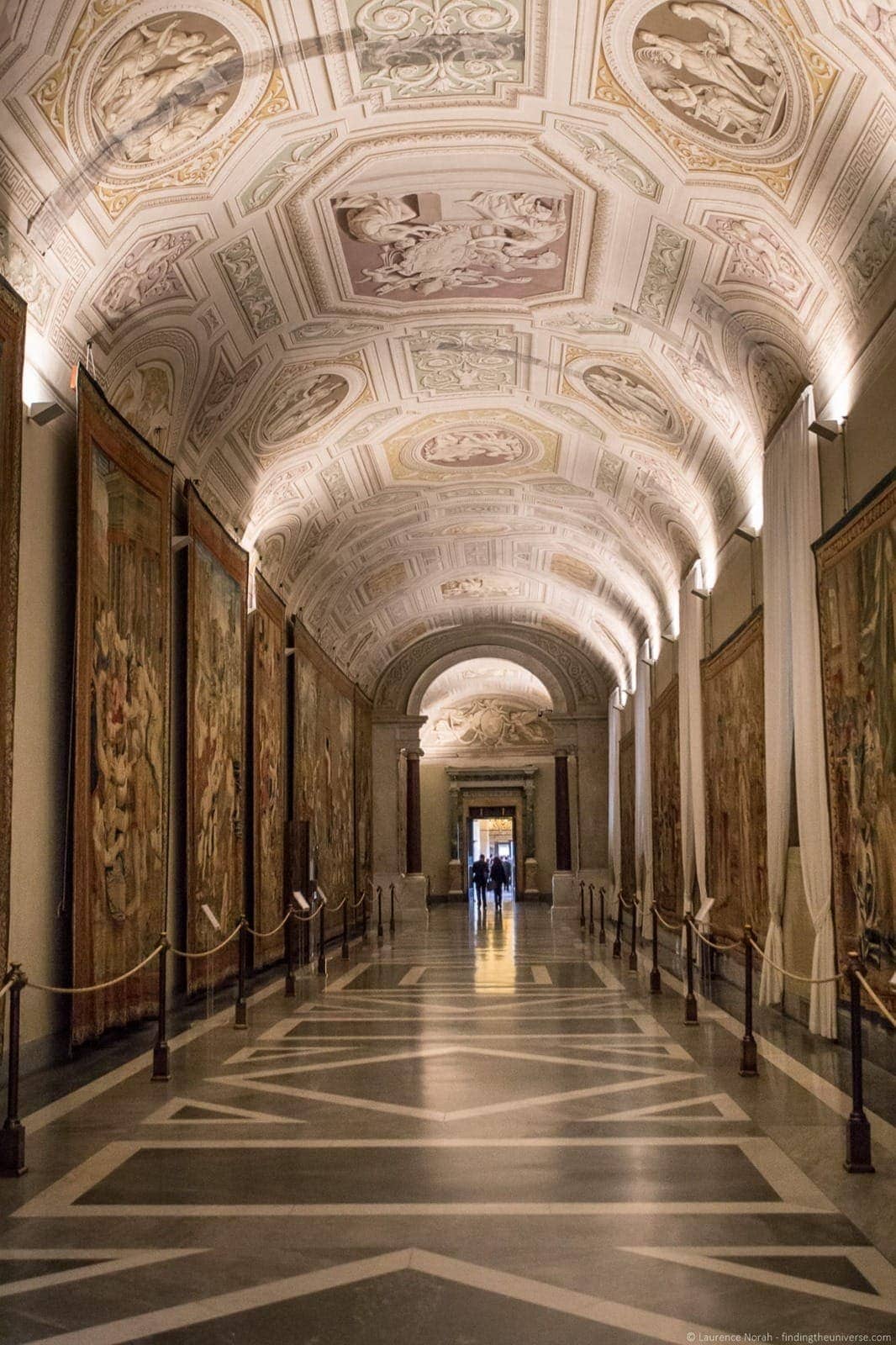 The former is home to one of the most impressive art collections in the world, and includes Michelangelo's masterpiece: the famous Sistine Chapel. Expect to spend 2-3 hours here just to see the major highlights.
The best place to get tickets is directly from the Vatican, as they offer the best value tickets in our experience. Advance tickets include skip the line access and you also get to visit the Sistine Chapel.
Another option is to book with this website, using our link gives you 5% off their usual price for Vatican tickets. It's a little more expensive but somewhat more user friendly in our experience. They also normally have availability even if the official website is booked out.
From the Vatican, it's a quick walk around the corner to St. Peter's Basilica. This is the largest Catholic church in the world, and is also home to a number of notable artworks. If you're feeling fit, I can very much recommend taking the time to head up to the dome for wonderful views across Rome.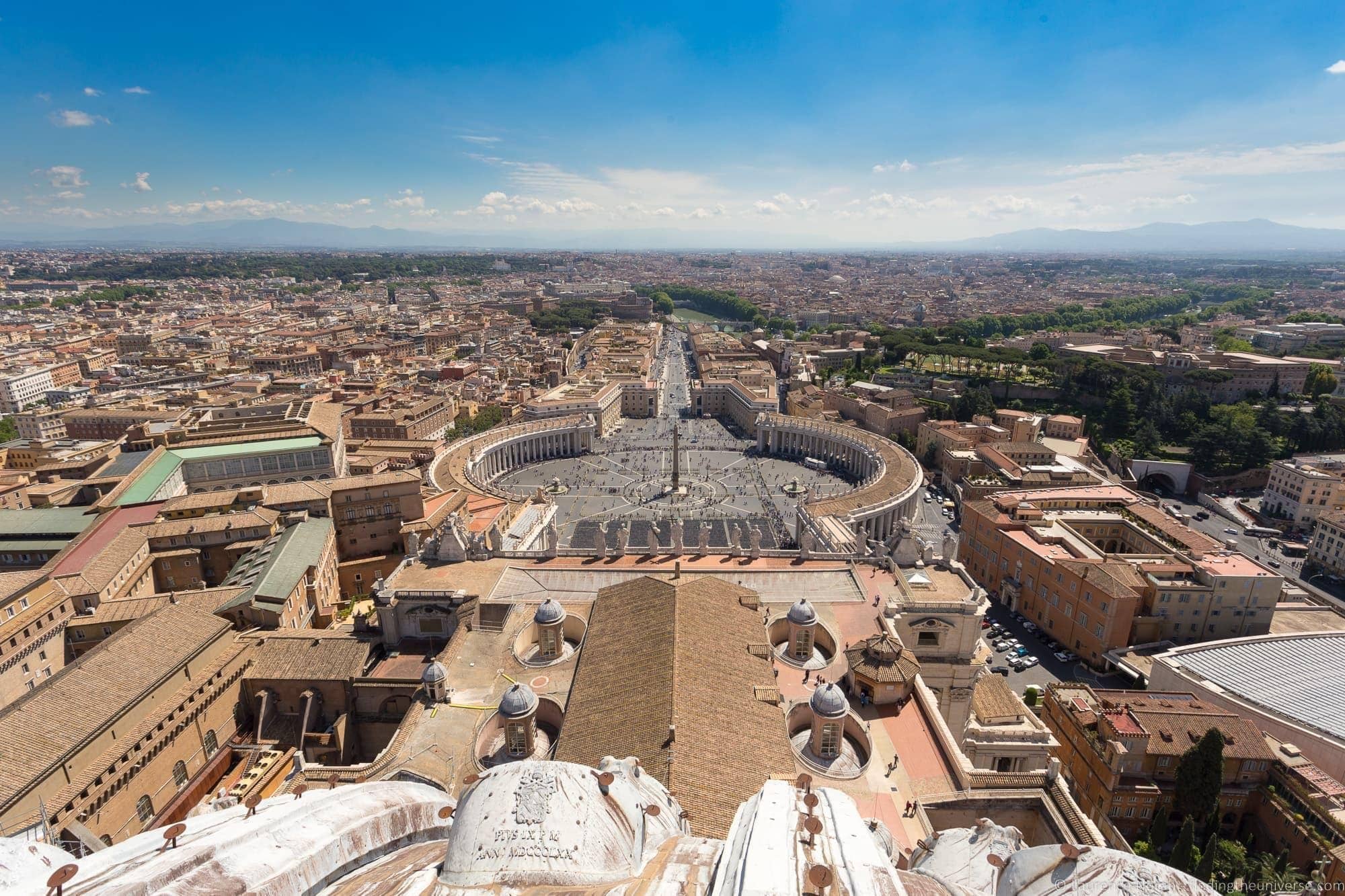 Like the Colosseum and many other attractions in Rome, the Vatican Museums and St. Peter's Basilica are very popular so entry lines can be long.
You will want to plan ahead, and consider purchasing a guided tour like one of these so you don't have to waste your trip queuing unnecessarily.
Alternatively, consider a walking tour like this which includes both the Vatican Museums and St. Peter's Basilica.
Skip the line entry to the Vatican is included on the Omnia Card as well as the Rome Tourist Card, both of which also comes with a number of other benefits. The latter also includes a tour of St. Peter's Basilica which skips the line and includes a dome climb, which is a highly recommended experience.
You can also book individual skip the line tickets on the official site here for the Vatican, which is the most cost-effective option if you don't want to take a tour or buy a pass.
As of early 2023 St Peter's Basilica doesn't actually have an entry fee, but nor does it have skip the line tickets (skip the line tickets used to be an option and we hope they come back soon!). So the best option if you want to skip the line is to invest either in a tour or a pass which includes a tour like the Rome Tourist Card.
Note that regardless of any skip the line privileges, the majority of attractions across Italy will have security checks, so you will always have to go through these.
For lots more information on visiting the Vatican City and its attractions, see our complete guide to the Vatican, which has everything you need to know, including all the highlights, tips for visiting, how to buy tickets and lots more.
Seeing all the above will likely have used up at least half of your second day in Rome.
For the remainder of your day, we would recommend starting off by taking in the 2,000 year old Castel Sant'Angelo on the banks of the Tiber, which is just a short walk from the Vatican City. You can get tickets on the door or in advance here.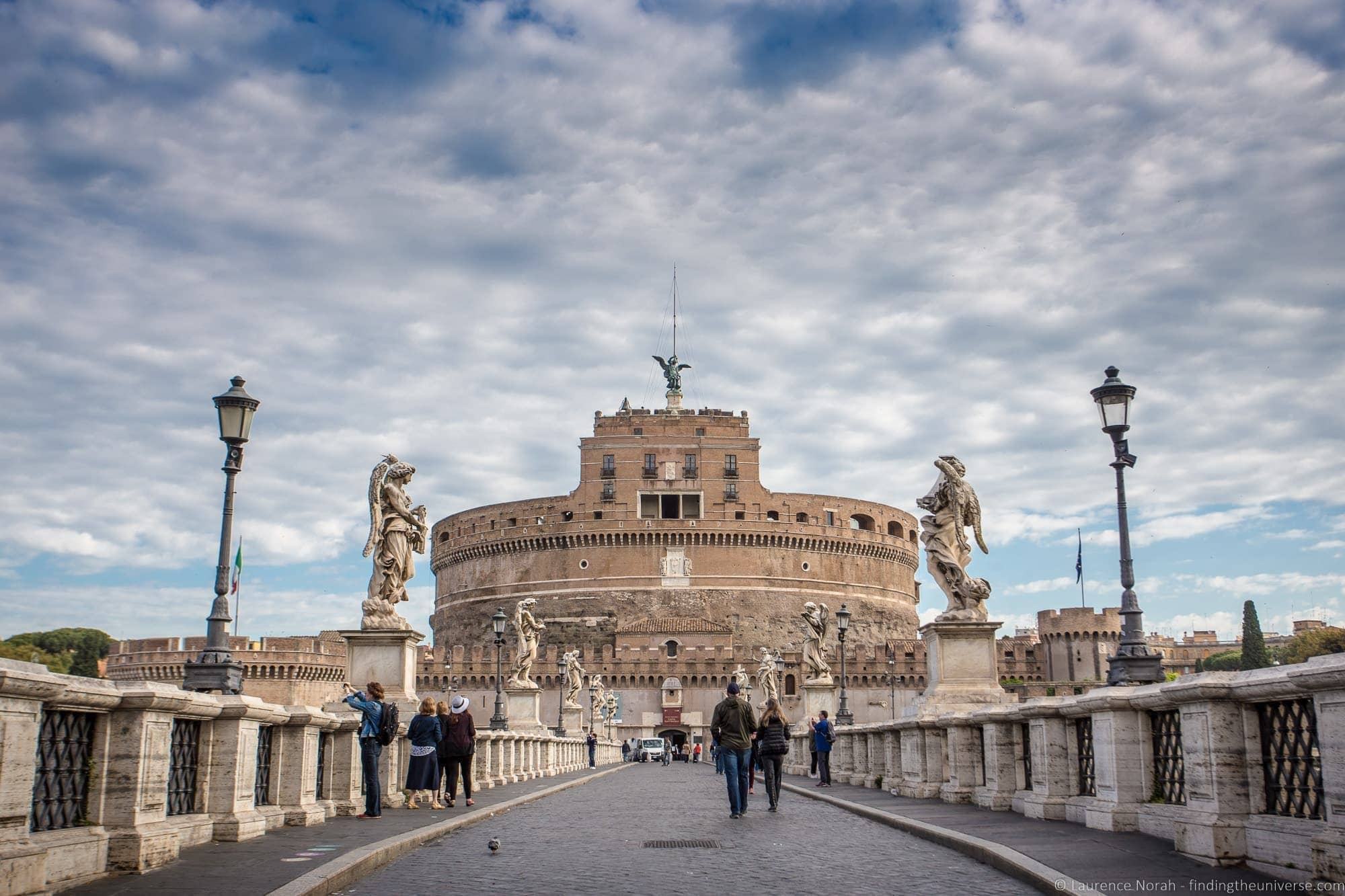 Then, enjoy the rest of your afternoon exploring some of the old churches, shops, coffee houses, and piazzas that the city has to offer. Or you might schedule an afternoon visit to a museum such as the Borghese Gallery. We don't think you'll run out of things to do!
While you're in Rome, you might decide to take a walking tour. We've listed a couple above, both of which are with Take Walks, one of our favorite companies for walking tours. You can see all their Rome tours here.
This would also be a good time to take a food tour. See our guide to the best food tours in Rome here for some ideas.
Rome, like many cities around the world, also has a variety of city attraction passes to choose from which include transport and attraction entry. For 2 days in Rome, we recommend the Rome Tourist Card, which includes the Vatican, Colosseum and a tour of St. Peter's Basilica as well as handy audio guides.
Another option would be a combination of the Roma Pass and the Omnia Card. The former includes public transport and entry to the Colosseum and Castel Sant'Angelo, whilst the latter has entry to the Vatican City attractions.
You can also buy these cards together, in a product called the Omnia Rome and Vatican Pass. This is a good option which we often recommend for Rome, however it's only available in a 3 day version so is likely not going to be a good option for this itinerary.
Of course, every individual trip is different, and you will need to figure out the costs of any card you purchase against the sights you want to see, to ensure it's worth it. If you plan on doing a walking tour, are visiting at a quieter time of year, or don't plan on seeing everything, they might not be worth the cost.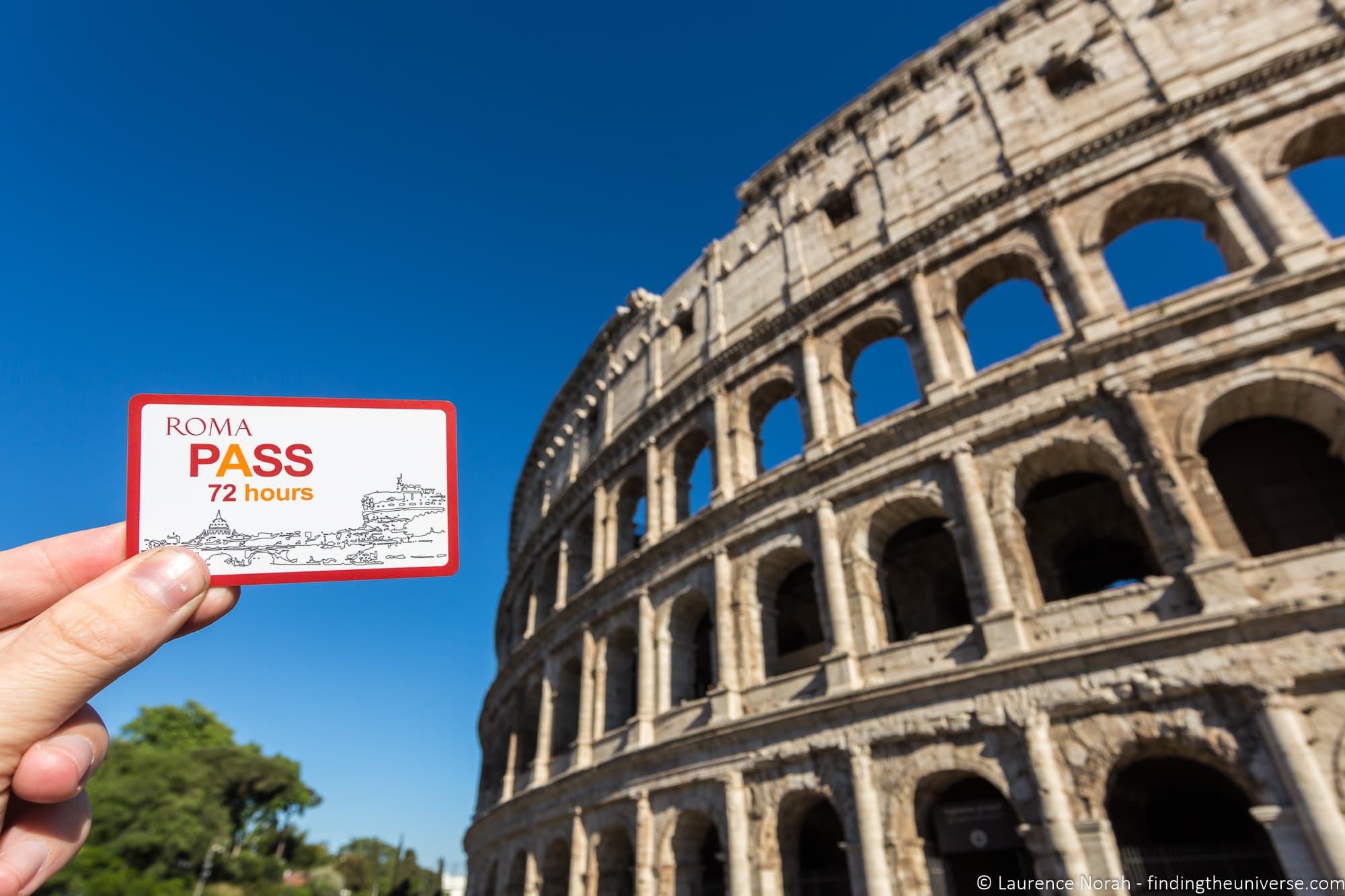 For more inspiration for your visit to Rome, see our itineraries for 3 days in Rome, 2 days in Rome and a day in Rome.
Where to Stay in Rome
For this itinerary, our recommendation is to stay central, ideally close to Termini train station, which is where you'll get the train to your next destination. However, any central location in the old city center will work. We'd recommend looking for locations between Piazza Navona and Termini.
Some suggested options are as follows, ordered approximately by price
How to get to Florence from Rome
You have a few options for getting to Florence for Rome.
Our recommended option would be to take the train. These direct services run multiple times throughout the day, and the journey takes around 90 minutes.
In our experience, you get the best prices by booking a train in advance. This will get you a seat reservation, and booking in advance will get you the best prices. We recommend checking prices and booking online here.
You can also book train tickets just by turning up at the train station. You will still get a seat reservation, but availability is not always guaranteed last minute, and the prices will be usually be higher than booking in advance.
If you wanted to save a bit of money, it's also possible to take a coach from Rome to Florence. These are a little bit cheaper, but take around four hours so we generally think the train is worth paying a bit more for to save time. You can check coach times and prices across a number of providers and book online here. You can also check directly with FlixBus here.
If you'd prefer more of a door-to-door service, you can book a private transfer from Rome to Florence. Obviously this is a more premium option, but if you are travelling in a group it can work out fairly cost effectively. It's also going to be the easiest option, as it will take you from the door of your hotel in Rome to your hotel in Florence.
You can book a private transfer online in advance here. Expect the trip to take around 3 hours, depending on traffic.
Finally, you can also hire a car and drive between the two cities. You can check prices across a number of car rental agencies here.
Honestly, I'd advise against this as it's likely to be more hassle than it's worth. Once you factor in picking up and dropping of the car, fuel costs, tolls and parking fees, it's not likely to be more cost effective or quicker than any other option. That said, if you are travelling as a group it might make sense.
Days 3 & 4: Florence and Tuscany
Florence is a stunning city. It has architectural highlights like the magnificent Duomo and the Ponte Vecchio covered bridge, as well as incredible cultural attractions including Michelangelo's David, the art of the Uffizi Gallery, and the Pitti Palace.
It's also surrounded by rolling Tuscan countryside, which is dotted with beautiful towns like Siena, as well as Chianti growing vineyards.
Suffice to say, there's quite a lot to see and do in Florence!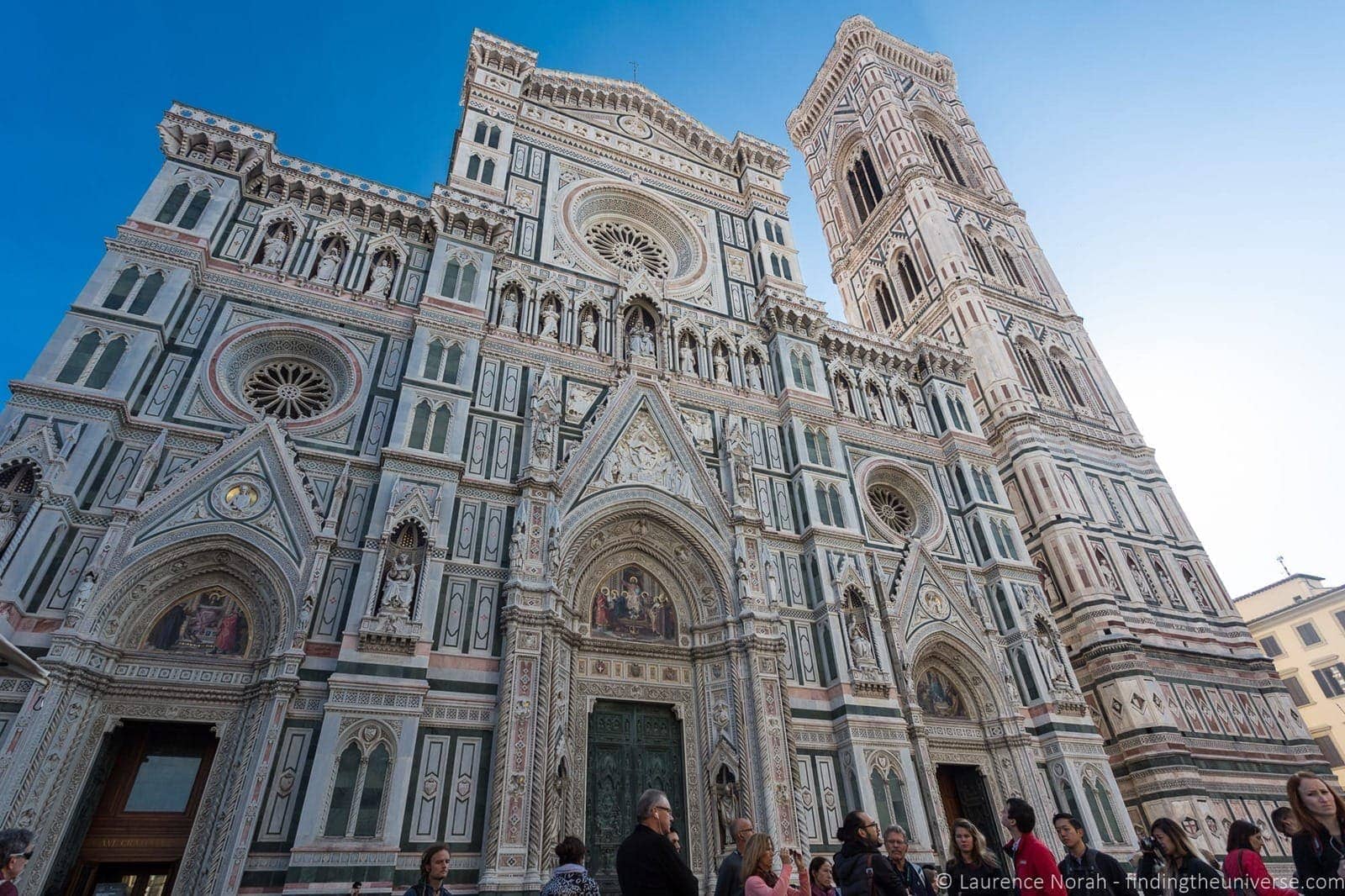 Our suggestion for your two days in the region is to spend one day fully exploring Florence itself, and one day exploring the wider Tuscany region. This will give you the time to experience the highlights of Florence, plus take in some of what Tuscany has to offer.
We've actually written a detailed guide to visiting Florence and Tuscany in two days, which should help plan this part of your trip. We'll also go through a summary of how your two days will look here as well.
What to Do in Florence
For your first day, you'll want to explore the city of Florence itself.
A good plan is to start your day by visiting probably the world's most famous statue – Michelangelo's David. This is found in the Accademia Gallery, where you will also find a number of other artworks including paintings and sculptures.
The statue of David is one of the most popular attractions in the city, so you do need to plan your visit a little bit in advance. The Accademia Gallery, like other popular attractions, operates a timed entry system. You can reserve your tickets online in advance on the official website here. This is definitely not one to just turn up at and hope to get tickets on the door!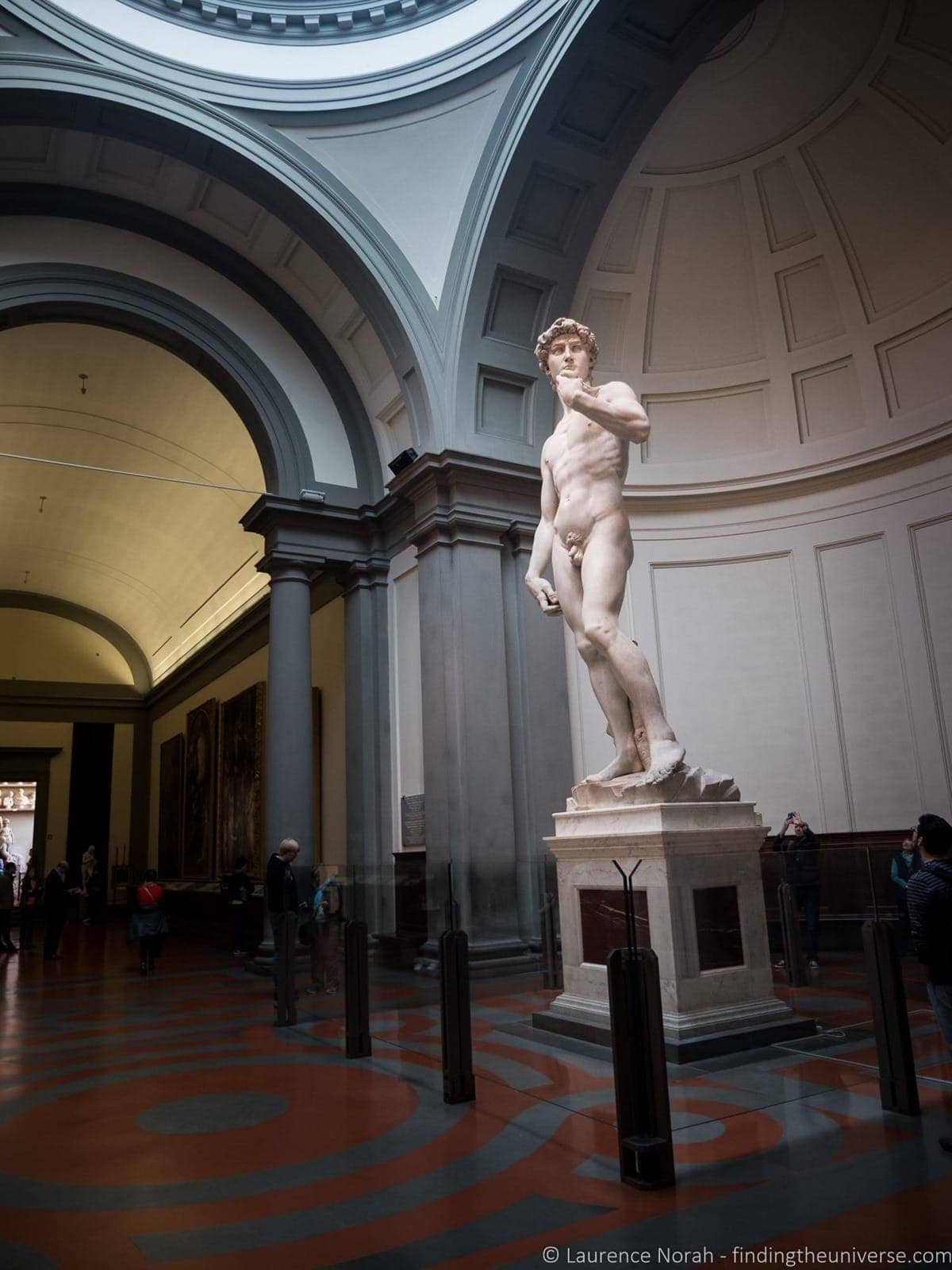 From the Accademia, head on over to the Duomo. This 13th century cathedral features the world's largest brick dome, and the marble facade is truly breathtaking. It's free to visit (although expect a line at busier times of year). I can also recommend taking the time to climb to the top of the dome (fee) which offers a unique perspective of the building, as well as wonderful views across the city.
From the Duomo, I'd advise spending a little bit of time wandering the nearby streets, which are wonderfully picturesque. Make sure to visit the Ponte Vecchio, one of the few bridges in the world to have shops built onto it.
It's also home to an above ground corridor – the Vasari Corridor, a mile long private walkway that linked the Medici's Palazzo Pitti with their Palazzo Vecchio. Because obviously building a mile long private corridor above the streets of Venice is easier than having to actually see the people you rule.
This might also be a good time for a lunch break, depending on how you're time is going.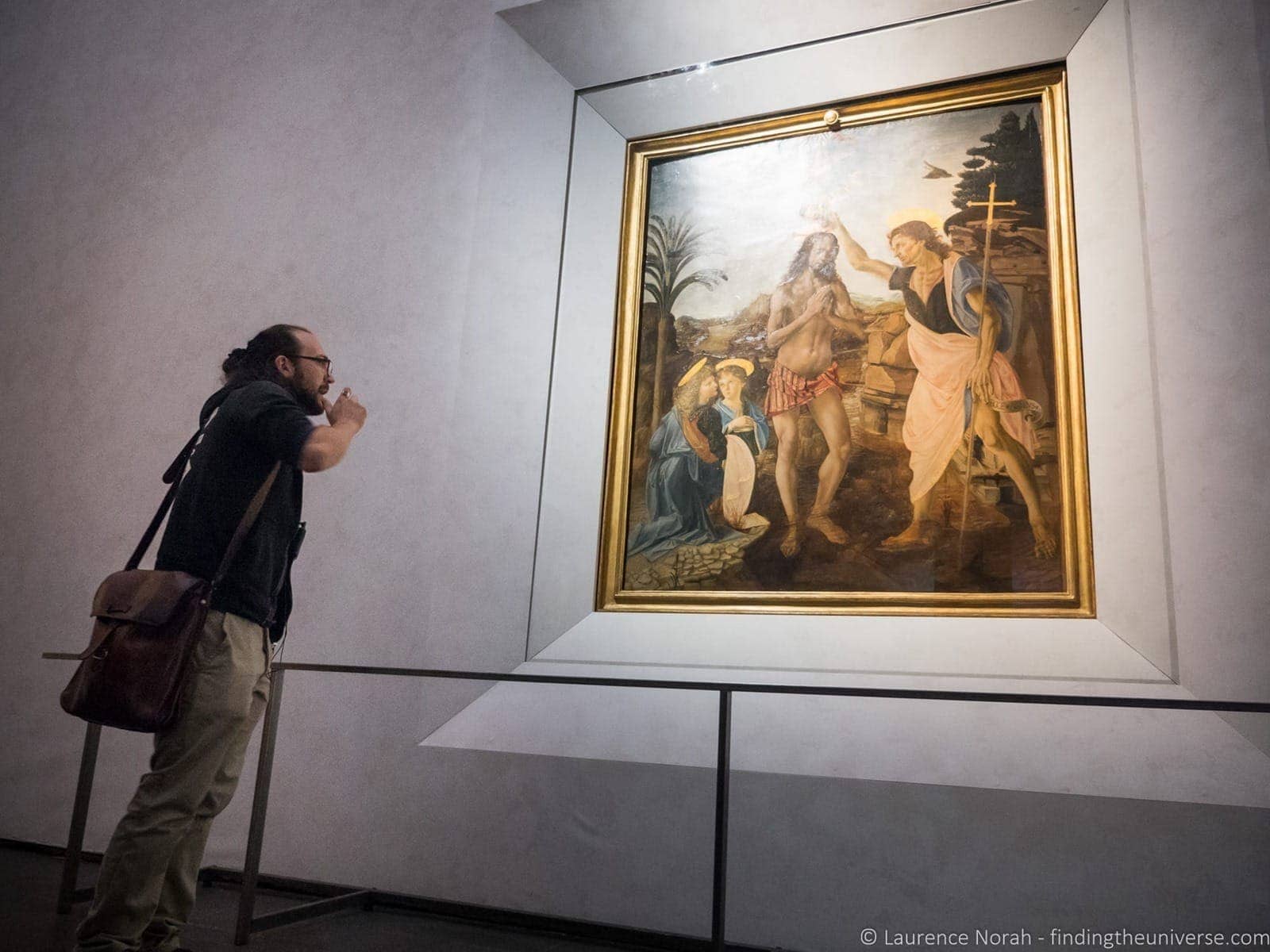 For the afternoon, I'd suggest heading to the Uffizi Gallery. I appreciate two art museums in one day might be a bit much for some, but bear with me. Florence was the birthplace of the Renaissance. Some of the most famous paintings from the world's best known artists originated here.
And the Uffizi gallery is the perfect place to see how the Renaissance really changed art. You can see how painted art in particular evolves from the very flat, two dimensional pre-Renaissance style, to really becoming a much more complex and intricate medium as the Renaissance takes hold.
The Uffizi gallery is also popular, and as a result, also operates a timed entry system. You can buy tickets online from the official site here.
Before we go on to finishing your first day in Florence with a fantastic sunset watching opportunity and city view, I did want to quickly mention that a great way to experience all of the above is with a tour. We took this full day tour of Florence with Take Walks, which included visiting all the attractions above, and we can definitely recommend it.
A tour guide can really bring to life the stories and history of a city and its art, and it really helped us understand what we were seeing. The other advantage of a tour is that it means you don't have to worry about booking time slots or standing in line for tickets!
We took this tour, but there are a number of other Florence tours which you can check out here.
Finally, our final suggestion for your day in Florence is to head up to Piazzale Michelangelo. This is found about a 20-30 minute walk from the city centre, and it offers probably the best view of the city at sunset. It's hard not to be wowed by the view of Florence from this vantage point, with the magnificent Duomo the focal point of the skyline.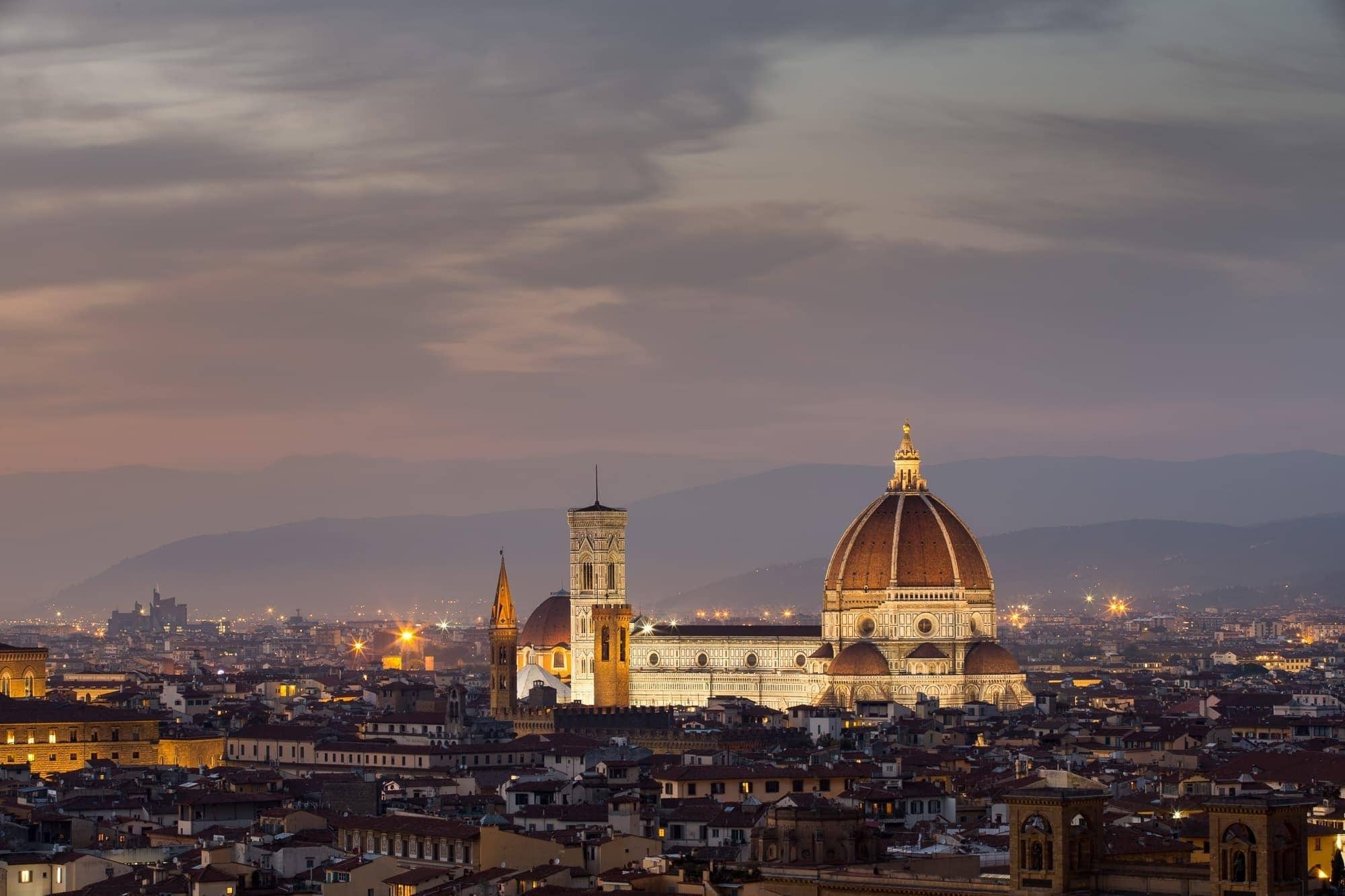 For your second day in Florence, our suggestion is to head out into Tuscany. This region of Italy, of which Florence is the regional capital, is well known for its picturesque landscapes, beautiful towns, and wine production. It's also a popular destination.
You have lots of options for a day trip from Florence, including towns like Siena, Pisa and Lucca, as well as the Cinque Terre region. All of these would make for a fantastic day trip from Florence. Some, like Pisa, are easy to reach by public transport, whilst others might require a tour.
On one of our trips to Tuscany, we did this full day tour from Florence which included wine tasting, time in Siena, and a visit to the town of San Gimignano. It also included a full lunch at a Chianti vineyard, which was delicious, and we thought the tour offered excellent value as well as showcasing some of the real highlights of the region. So that's an option to consider.
There are some other tours you might consider, such as:
Now, let's get on with some practicalities for your time in Florence.
Where to Stay in Florence
As you are probably aware, Florence is a popular city to visit. The good news is that there's a wide range of accommodation options, from hostels to luxury hotels and apartments.
To help you narrow this choice down a little, we've picked a number of central options for you to consider, across a range of price points.
There are lots more options in Florence of course! We recommend you take a look at the listings on booking.com for Florence. as a starting point for your search.
How to Get From Florence to Bologna
Again, as with the rest of our itinerary, our suggestion for getting to the next stop on our itinerary is to take the train. The train from Florence to Bologna runs regularly, and takes around 40 minutes. You can check times and book train tickets in advance here.
It's also possible to take the bus from Florence to Bologna. This is only marginally cheaper than the train and takes approximately twice as long. Check coach times and book online here. You can also check directly with FlixBus here.
You can also book a private transfer between the two cities. Obviously this will be more expensive, but will also be the most convenient (if not necessarily the fastest, as the train is very quick).
Finally, if you have a car, you can drive between the two cities. Expect the drive to take between 90 minutes and 2 hours depending on traffic conditions.
Days 5 & 6: Bologna
For your fifth and sixth days in Italy, you're going to visit Bologna, capital of the Emilia-Romagna region. 2 days is a great amount of time to spend in this city, which is famous for its fantastic food. After all, Bologna is where Bolognese sauce comes from!
The region is also famous for a number of other foods, including Balsamic Vinegar from Modena, Prosciutto di Parma from Parma, and Parmigiano Reggiano cheese – to name but a few.
There is more to do in Bologna than eat of course. Let's take a look at how your two days might look.
What to Do in Bologna
Bologna is famous for its towers, of which it once had over 200. This was because building a tower back in medieval times was a way to demonstrate wealth, and Bologna had quite a few wealthy nobles.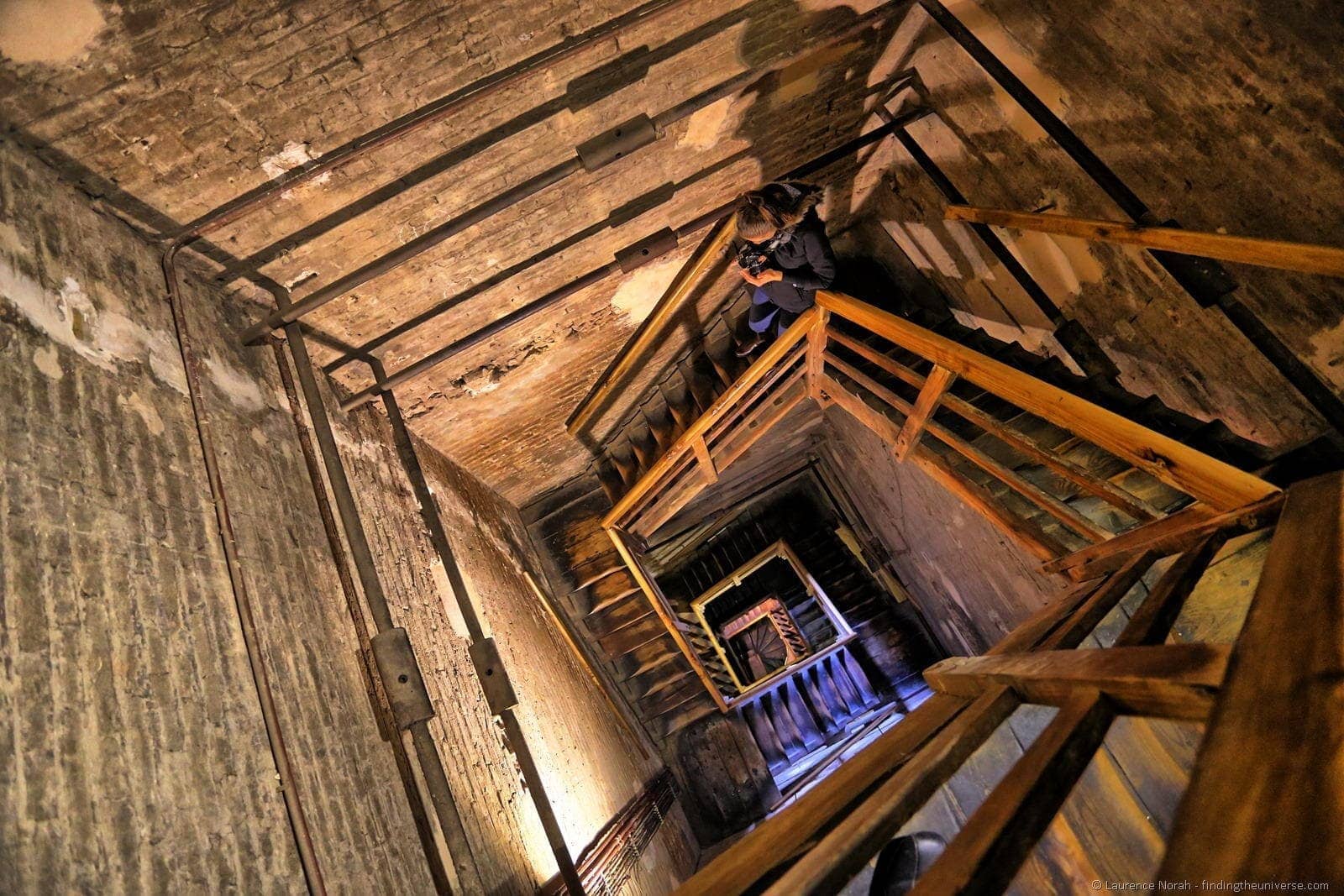 Today, around a tenth of the original towers survive, with the two largest being Garisenda and Asinelli towers. Asinelli is the largest leaning medieval tower in the world, and dates from the early 12th century.
When I'm visiting a new city, I always like to go to the top of a structure like a tower or church, so I can get a feel for the city. The first time I visited Bologna, that was exactly what I did, climbing the almost 500 steps to the top of Asinelli tower. Despite its slight lean this is quite safe, and well worth the ticket price. Book your tickets in advance on the official site here.
The Asinelli tower is right next to the city's main Piazza, Piazza Maggiore. This is home to a beautiful fountain, buildings dating from both the medieval and Renaissance time periods, and stunning arched colonnades.
Speaking of colonnades, Bologna is famous for them. The city has over thirty miles of arcades and colonnades you can explore, which as well as being beautiful, serve the dual functions of keeping you out of the sun when it's hot, and the rain when it's wet!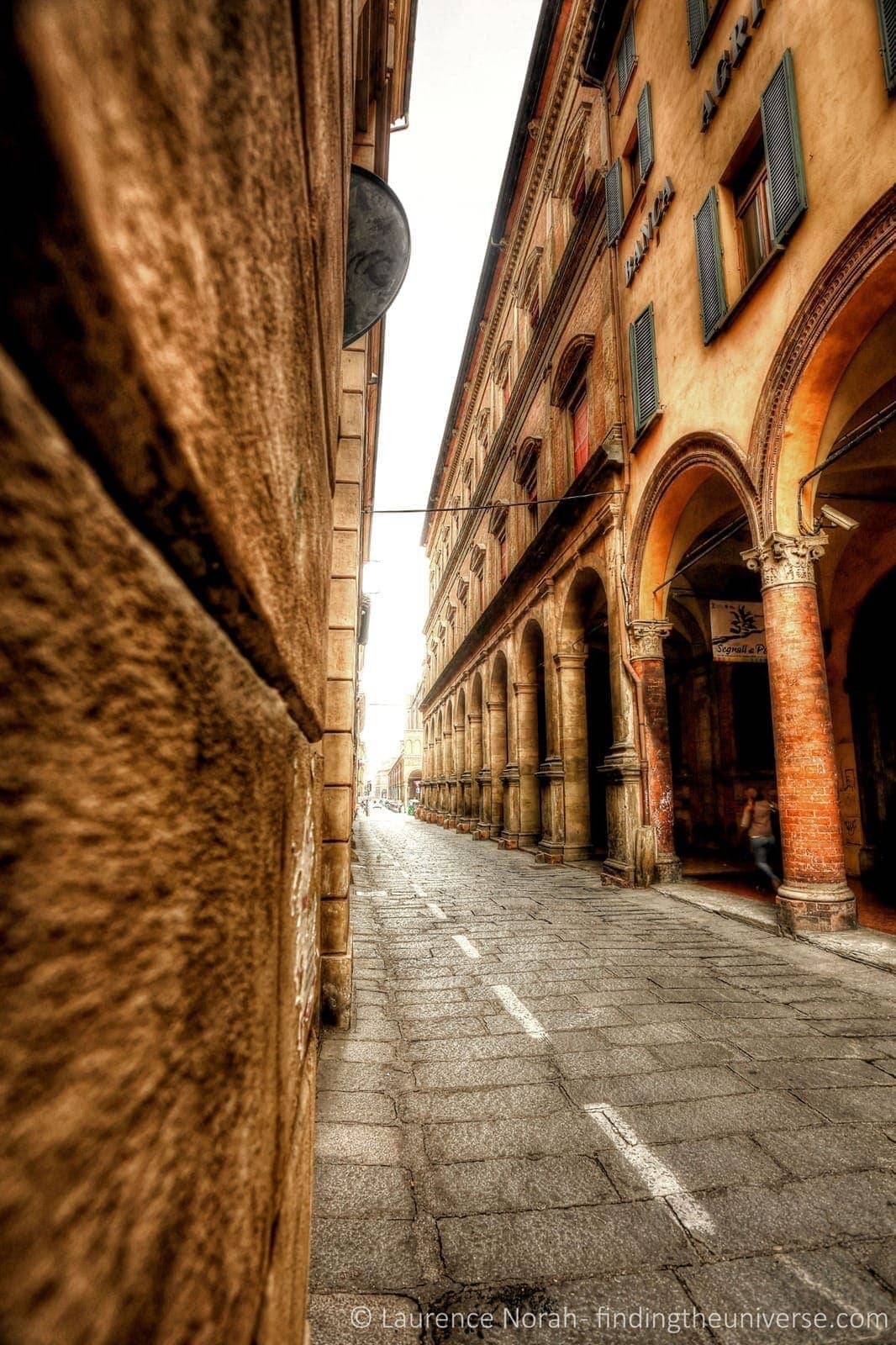 I'd suggest that spending a bit of time around Piazza Maggiore and filling your camera with some photos would be a worthwhile use of part of your morning. Plus you might want a coffee after your lengthy tower climb!
Whilst you're at the Piazzale Maggiore, there are a few attractions you should visit. The free Archiginnasio of Bologna was the home of Bologna's university – the first university in western Europe. The library is home to beautiful arcades, which are covered with the coats of arms of former students. It's free to visit.
Next, you might want to head to the Basilica of San Domenico. Dating from the early 13th century, this basilica is home to a number of famous artworks, and the chapel of St. Dominic is particularly lovely.
To finish off your day, I'm going to suggest taking a stroll in the colonnades to Montagnola Park. Taking a stroll in the colonnades in the afternoon is a traditional local pastime, known as a passeggiata. Via dell'Indipendenza, which runs north from Piazza Maggiore past Montagnola Park, is home to some of the most impressive colonnades, so I think this makes a logical route.
Montagnola Park, which dates from the 19th century, is home to some nice green spaces as well as the remains of a 14th century castle.
I mentioned food, and you definitely don't want to miss out on the local specialities. Things I recommend trying are a piadina (a flatbread sandwich), and a tagliatelle al ragù (meat sauce over flat noodles). While ragù (or Bolognese sauce) is often served with spaghetti in most of the rest of the world, the most traditional way to eat it is with tagliatelle.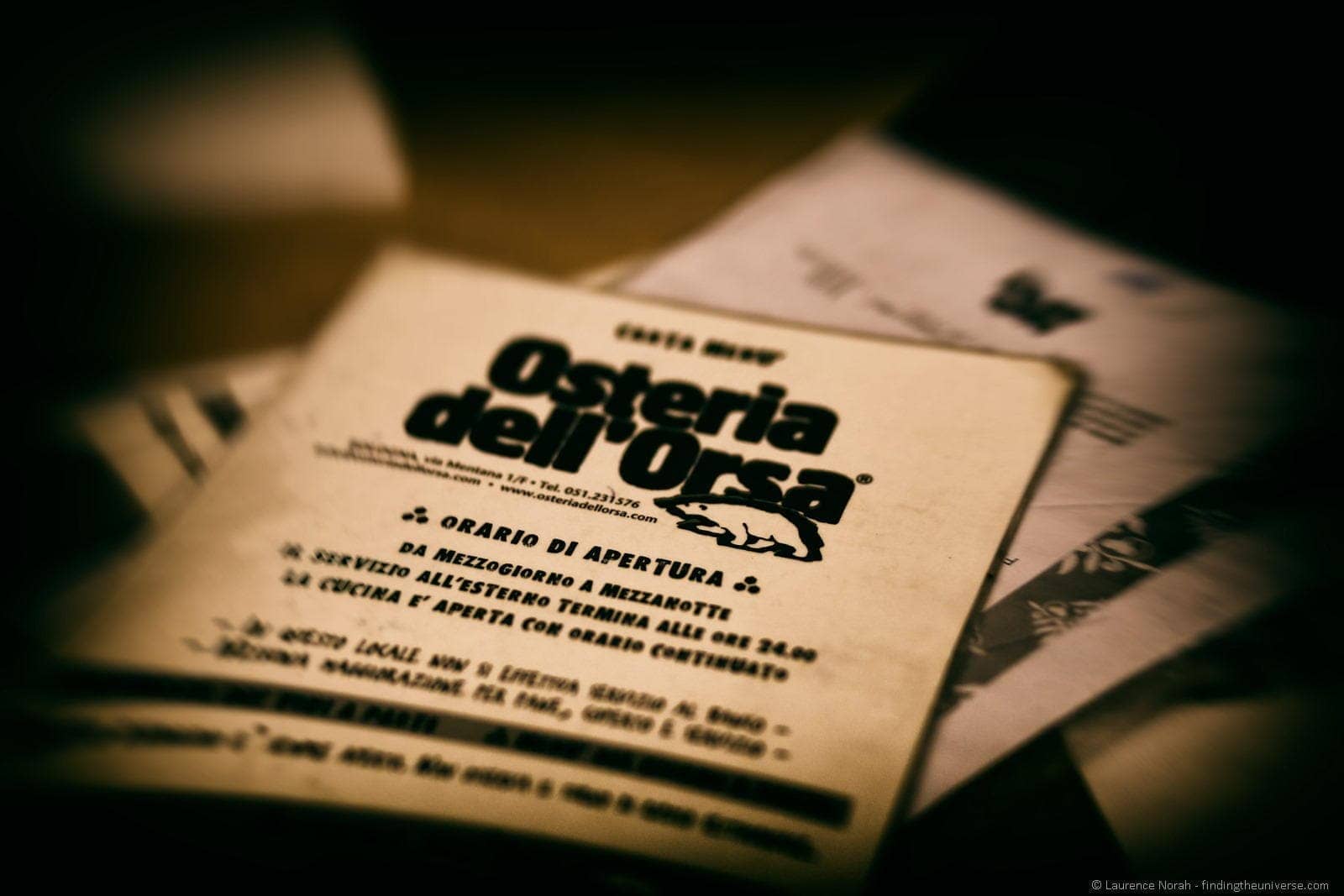 For your second day in Bologna you have two main options. You can continue your sightseeing in the city, or you can take a day trip out into the region to explore a little more.
If you decide to stay in the city there's plenty to keep you busy. Great attractions in the city include the Basilica di Santo Stefano, the Palazzo del Podestá, the Bologna National Gallery, and the museum of the history of Bologna. You might also consider a food tasting tour like this or a cooking class like this to learn how to create some of those delicious dishes you've been eating!
If you decide to head out of Bologna for the day, you have a number of options. First, you can pick a destination that's easy to reach by train from Bologna, such as Parma, Modena, or Ferrara.
If you decide on doing a day out by train, we'd suggest picking whichever location most interests you and going there for the full day. We'd also suggest picking somewhere that is no more than 90 minutes away to minimise the time spent travelling.
Alternatively, you can join a tour from Bologna that will take you to a number of interesting locations in the area. A tour is a good option if you want to see a few things and want to let someone else worry about the logistics. Some options you might consider are:
As you can see, there's lots to choose from depending on your interests.
Now, let's look at some practicalities for you time in Bologna.
Where to Stay in Bologna
As a major city Bologna has plenty of options to choose from across a range of budgets and types. Here are some options to consider for your 2 night stay. These are approximately ordered by price, from lowest to highest, but do always check prices for your dates as they can vary.
We hope one of these options works for your stay in Bologna!
How to Get from Bologna to Milan
By this point you should be familiar with our suggested travel modes for getting between cities in Italy, and Milan is no different. From Bologna there are regular trains to Milan, which take around an hour. Just be sure to get a train to Milano Centrale, which is the central train station. You can check train times and prices between Bologna and Milan online here.
You can also get a bus between Bologna and Milan. This will be around half to a third the price on average and the trip takes around three hours. You can check times and prices here. You can also check directly with FlixBus here.
If you want to drive, you're looking at between a 2 and 3 hour journey on average, depending on traffic conditions.
Days 7 & 8: Milan
Your next stop on this 10 day Italy itinerary is going to be Milan. This is well known as a fashion capital, but there's lots to see and do here to fill your time beyond clothes!
If Milan doesn't rock your world though, there are lot of options to choose from. Some alternatives from Bologna that would also work include Verona and Padua, as well as Lake Garda or Lake Como. You could also head out to the coast, either the Cinque Terre on the west, or Rimini on the east. You could even visit a whole new country, San Marino!
However, let's continue planning your stay in Milan, to which we've also allocated two days, and which has plenty to see and do. We have an itinerary below, and we also have a dedicated guide to things to do in Milan as well as a 2 day Milan itinerary for you to check out.
What to Do in Milan
We'll start your first day by visiting Milan's Cathedral, the Duomo di Milano. Construction started in 1386, and it wasn't fully completed until 1965. Yes, that's 600 years. I think you'll find that taking their time definitely paid off though.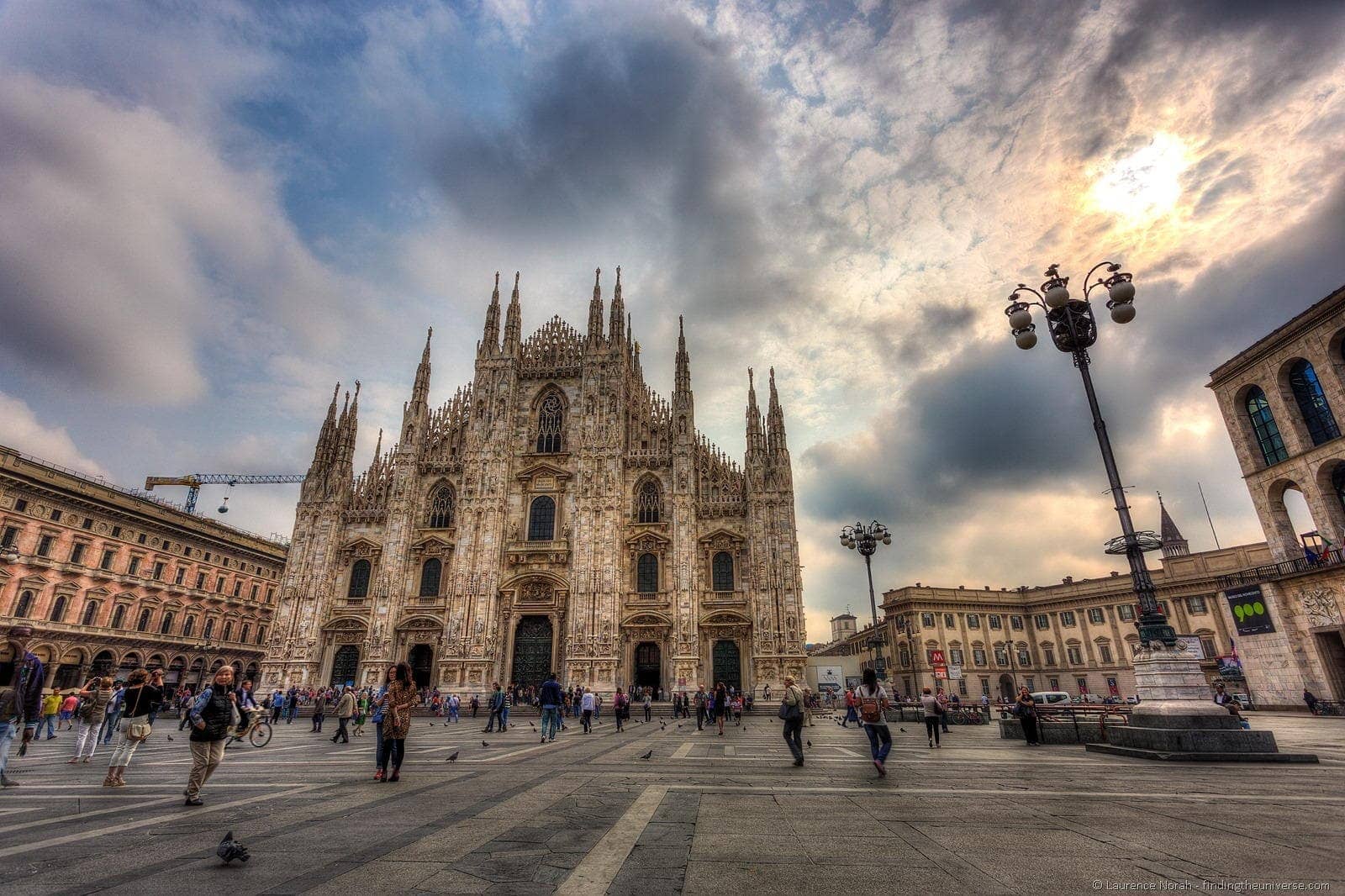 It's the largest church in Italy (the larger St. Peter's Basilica you visited in Rome is technically in the Vatican City state rather than Italy), and is particularly notable for the spires that cover the roof, of which there are 135.
To really appreciate the incredible architecture, I can recommend heading up to the roof. There's a fee to do so, but it is well worth it. You can buy tickets in advance here.
Coming back down from the church, you will find yourself in the Piazza del Duomo, from where there are a number of each to reach attractions.
Lovers of 20th century art will likely want to head to the Museo del Novecento, a relatively new museum with around 400 pieces of art from the twentieth century.
If you'd prefer to explore a former Royal Palace, head to the Palazzo Reale. This was the place of government in Milan from the 16th century, and is today a cultural centre. The staircases are particularly impressive.
Milan is of course one of the major fashion capitals of the world and fashion shows are held in the city twice a year. Fashion week in Milan usually takes place in February and September.
Although you probably won't get to see one of the fashion shows, the city is a great place to shop for Italian fashion. Many of Italy's most famous fashion houses are based in Milan including Prada, Missoni, Dolce & Gabbana, Versace, and Armani.
If you want to learn more about fashion in Milan and have a local to go shopping with, check out this Milan Fashion Tour.
If you enjoy shopping, and honestly, even if you don't, you'll definitely want to head to the Galleria Vittorio Emanuele II. This is an 18th century shopping arcade now home to high-end stores. But even if you don't plan on buying anything, this is worth a visit just for the incredible glass covered design.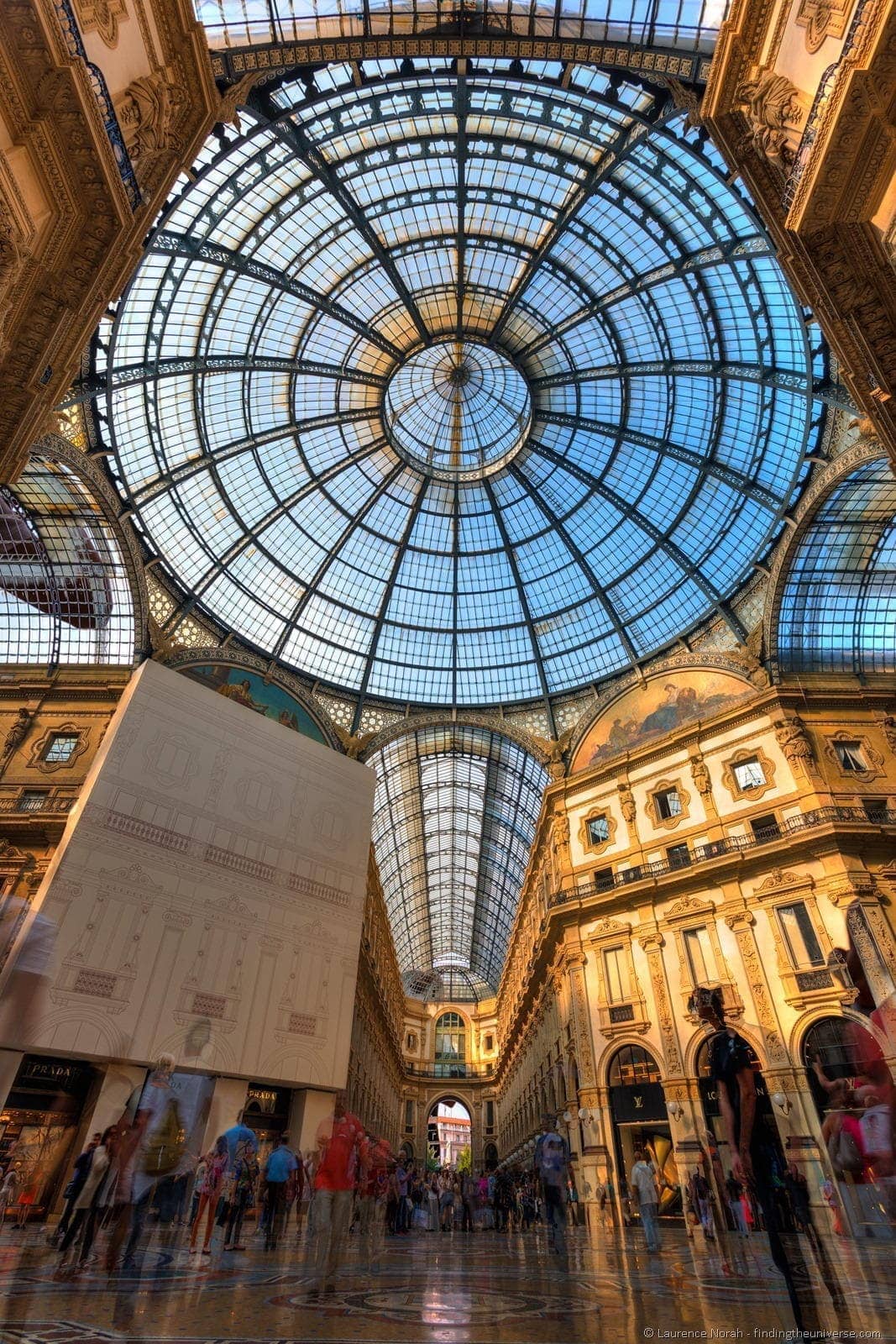 Also within a five minute stroll of the Duomo is San Bernardino alle Ossa. With origins dating from the 12th century, this church is known for its ossuary. In 1210, the nearby cemetery ran out of space, so the church started storing them in a room.
This is now a chapel, decorated almost entirely with human bones, and with a spectacular fresco on the ceiling. It's free to visit, and open when the church is open – you can see opening times here.
Finally, don't miss the small Piazza dei Mercanti. This was the original medieval public square of the city. Milan often feels more modern than other Italian cities, and this is a good place to get that stepping back in time feeling.
The Piazza often plays host to art exhibits, performances and markets, so you might even catch an event. It's also where you'll find the Palazzo della Ragione Fotografia, a 13th century palace which is today used for a variety of exhibitions. As the name suggests, many of these are photographic. Entry fees vary depending on the exhibition.
To finish off your first day in Milan, we recommend finding a nice café and enjoying an aperitivo. This Italian custom of enjoying a drink with some snack in the early evening before your main meal originated in Milan in the 18th century, and is still popular today.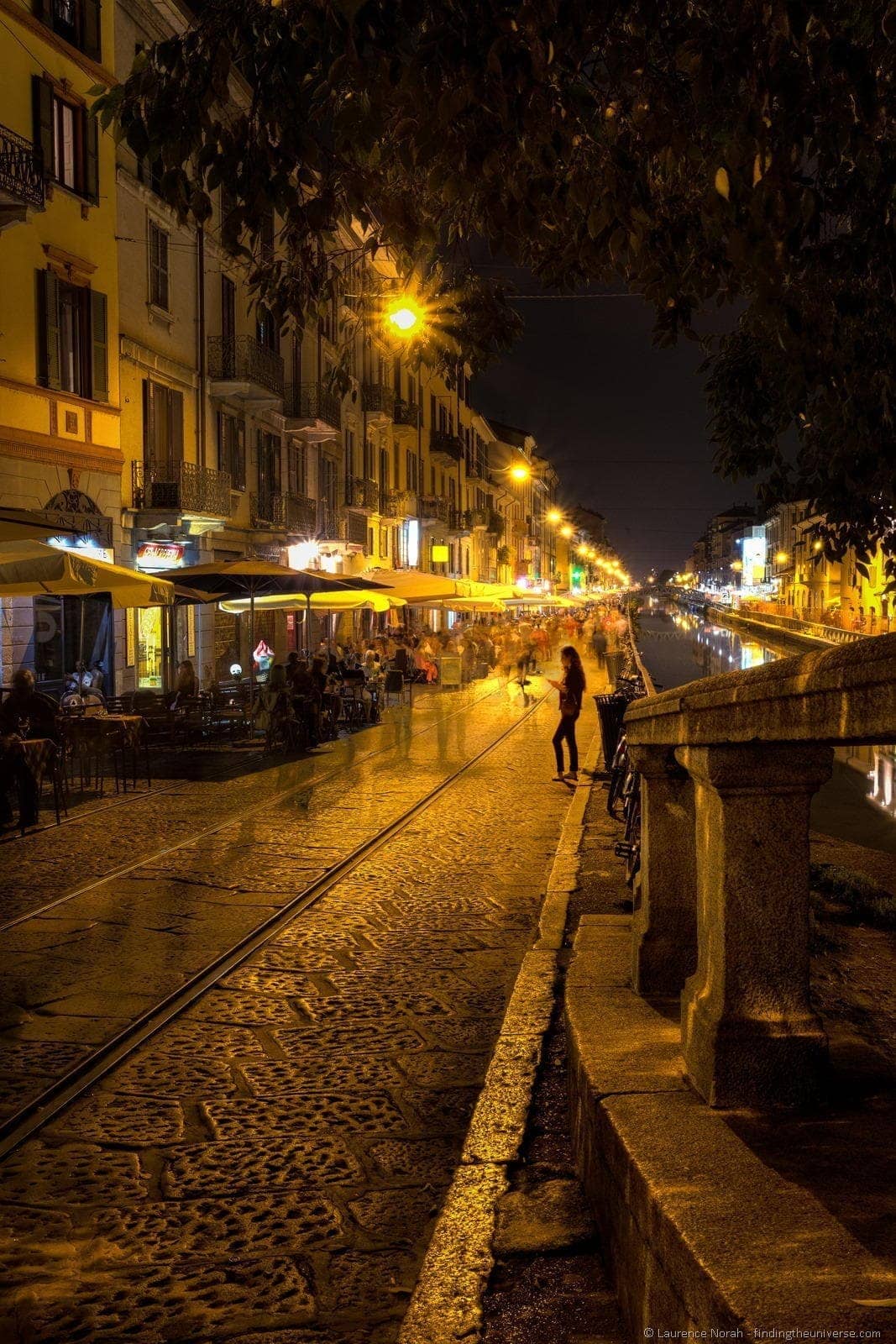 We'd suggest heading over to Milan's canal area, the Navigli district, where there are lots of bars to choose from. Plus, the canals you'll find here were designed by Leonardo da Vinci, so you're also experiencing the work of an Italian master!
Hopefully that gives you plenty to fill your first day in Milan! If you're still looking for things to do, see our guide to things to do in Milan for more ideas.
For your second day in Milan again we have two options for you. You can take a day trip out of the city, or you can take in some more of the city's highlights, including one of the most famous paintings in the world. Our preference would be to continue to explore the city as there's so much to see and do still, but of course it's up to you!
If you decide to stay in the city, then we suggest you might want to schedule some time to see Leonardo Da Vinci's "Last Supper". This is one of the most well known of the artists paintings, and can be found in the Santa Maria delle Grazie. The painting was commissioned in the 15th century as a mural for the church's dining area, and is still to be found in the same place today.
As one of the most famous paintings in the world, the Last Supper has many people wanting to see it. The church controls the numbers tightly – only 30 visitors are allowed per timeslot, and you get 15 minutes with the painting on your visit.
This means getting tickets to see it can be a challenge, as they can book out a long time in advance. The best place to start your search is on the official website here. If they do not have tickets, your next best option is to book a guided tour. Group tours come from a different ticket pool, so you might have a better chance of getting a ticket this way, although of course they are more expensive.
We recommend Take Walks who run a guided tour of Milan which includes many of the highlights such as the Duomo rooftop as well as access to the Last Supper. However, there are many options, some of which just focus on the Last Supper. Take a look at these tours for some options.
For your next stop in Milan, we suggest the Castello Sforzesco. This is a massive castle, built in the 15th century atop a 14th century fortification. By the 17th century, this had been expanded to become one of the largest citadels in Europe.
Of course, today there isn't much need for giant city centre fortresses, so Sforza Castle has been repurposed into a series of museums which include the Museum of Ancient Art, the Egyptian Museum, the Museum of Musical Instruments and the Archaeological Museum.
In fact, there are no less than nine museums to explore here! Between the museums and the castle grounds, I think you could easily spend most of the rest of your day exploring here.
When you're visiting Sforza Castle, we suggest you don't miss the Pinacoteca, which has art from Canaletto, Titian and Mantegna, to name but a few. The Museum of Rondanini Pietà is home to Michelangelo's last sculpture. Then there's the Museum of Ancient Art, the Egyptian Museum, the Museum of Musical Instruments, the Archaeological Museum – the list goes on!
There's a reasonable entry fee to the castle which includes all the museums. You can check prices and admission times, as well as buy an advance ticket, online here.
Finally, lovers of opera might want to consider a visit to La Scala, one of the world's most famous opera houses. If so, make sure to book your tickets well in advance as this is a very popular venue. There are also other venues for classic performances. You can see these and buy tickets here.
If you'd prefer to head out of Milan for the day, you have a number of options, from heading up into the Alps, to exploring Lake Como or Lake Garda, to visiting Cinque Terre, or exploring one of the many towns in the region. Here are some suggested day tours from Milan to consider:
As you can see, there's no shortage of options!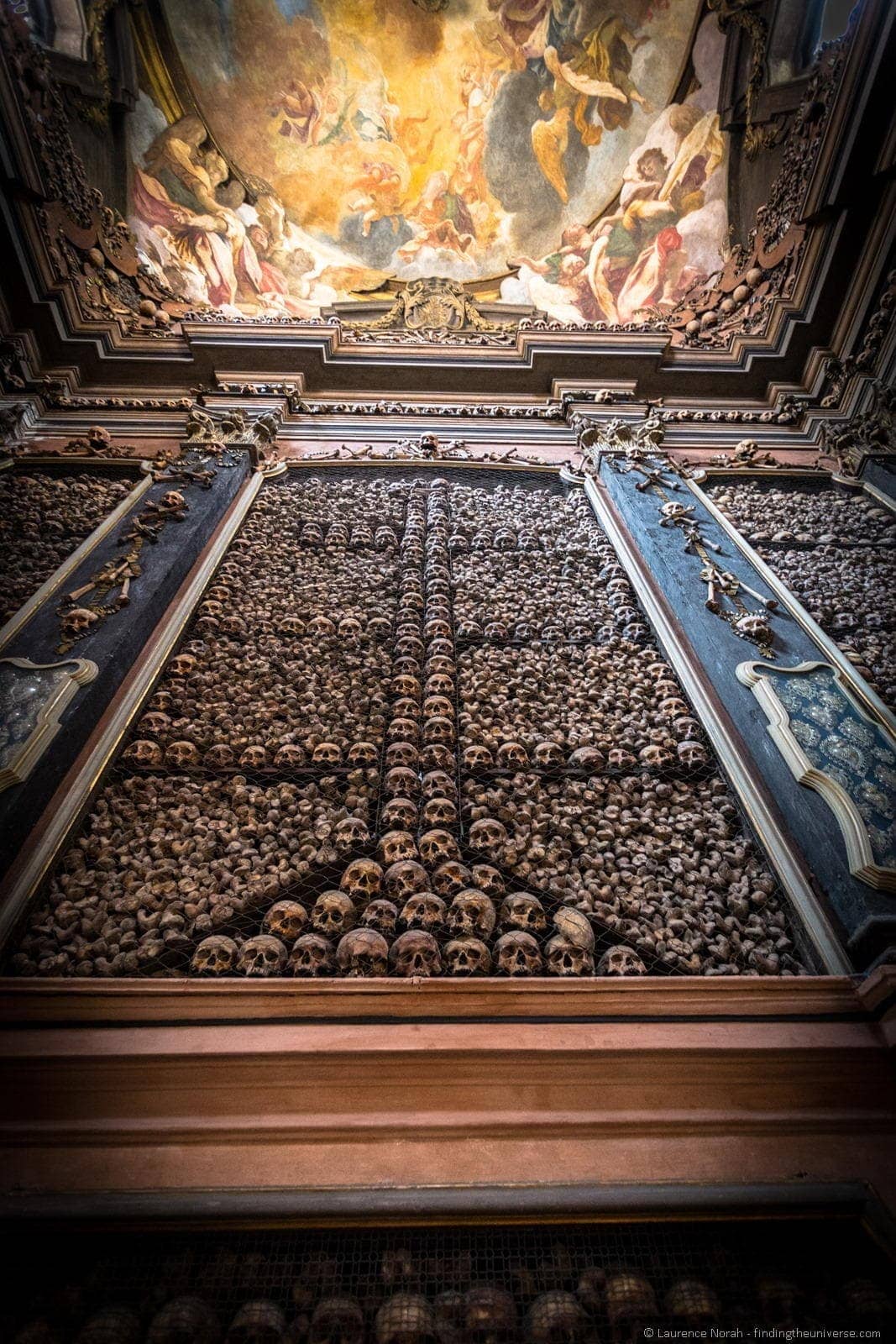 Where to Stay in Milan
As a major Italian city, Milan has plenty of accommodation options to choose from. Here are some suggested options, ordered approximately by budget from low to high.
Hopefully this gives you plenty of options for accommodation in Milan – whatever your budget.
How to Get from Milan to Venice
The best option in our opinion is to take the train from Milan to Venice, specifically the Stazione di Venezia Santa Lucia which is on the island in the lagoon.
Direct trains are well priced if you book tickets in advance, and the journey takes just over two hours if you pick the fastest train option. Slower trains can take up to 3.5 hours, and sometimes require a change. We'd suggest picking the faster trains obviously. You can check train times and prices and buy online here.
If you're on a tight budget, you can also take the bus. Direct buses take around four hours depending on time of day and traffic conditions, and are a convenient option. Check bus times and prices and buy online here. You can also check directly with FlixBus here.
If you want to drive, you're looking at around a 3 hour drive depending on the traffic conditions. As the majority of the island on the lagoon is pedestrian only, you will need to find somewhere to park your car. There are limited options on the island itself, near the train station, and more options on the mainland. You can see the various car parking options near Venice and book online in advance on Parclick here.
It's worth pointing out that the Venice that most tourists known and want to visit is the historical part in the lagoon. This part of Venice is primarily pedestrianized other than a small section near the train station. As such, whatever transport you get to Venice will not be able to get you directly to your hotel if you are staying in the historical area.
Instead, you will need to either walk, or take a water bus, to get closer to your hotel.
There is a great deal more to Venice that many tourists never actually visit, with many of the boroughs actually on the mainland. There are also hotels in these areas of course. However, we suggest staying in the historical centre for the best experience.
Days 9 & 10: Venice
You're in the final stretch of your trip! Don't be sad though, because Venice truly is a magnificent city to visit. We liked it so much we even held our wedding ceremony here.
Venice is one of those places that seems to divide opinion, with visitors either falling in love with it or thinking it's an overcrowded tourist trap.
We're firmly on the former side of the equation. The secret with Venice, in our opinion, is to try and avoid the main thoroughfare that everyone walks on to get through the city, and instead to escape into the maze of passageways that thread through the city. Since its surrounded by water, you can't really get lost, at least not for long. It's a wonderful way to discover everything the city has to offer.
Of course, there are a number of sights that you pretty much have to see during your time in the city. Our suggestion for your two days in Venice would like something like the following.
What to Do in Venice
Start your day off by visiting St. Mark's Square, or the Piazza San Marco. This is the central square in the city, and is surrounded by a number of important buildings, including the Doge's Palace, the Basilica di San Marco, and the Campanile di San Marco.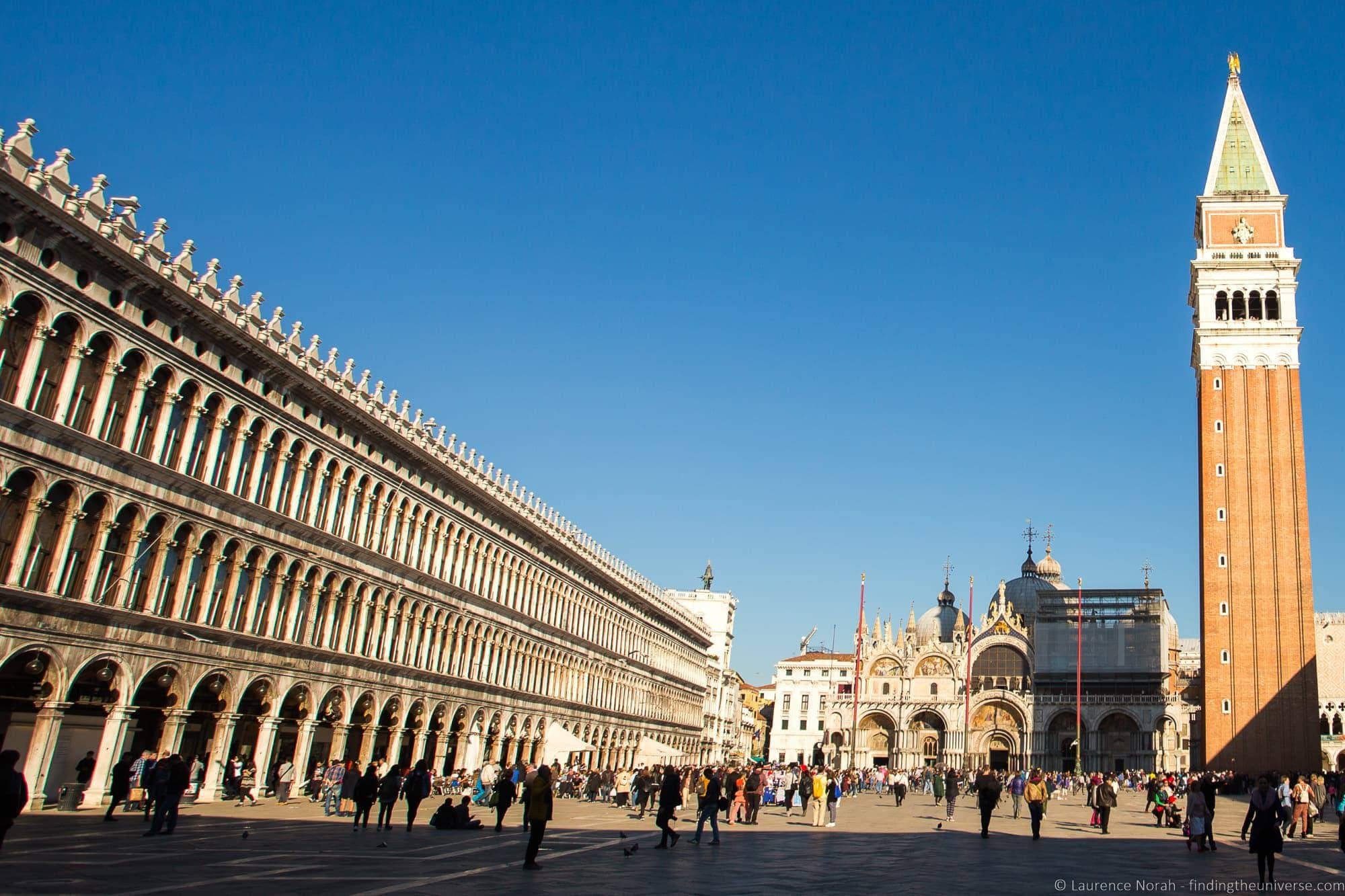 The Basilica di San Marco is a beautiful basilica which is free to visit and has spectacular interior decorations. It is very popular, so there is usually a line, especially in the summer months. You can skip this line by paying €3 on the official website for a skip the line ticket.
I can also highly recommend taking the trip to the top of the Campanile di San Marco. This is a large bell tower and the highest building in Venice, from which you get a fantastic view of the surrounding city and lagoon.
The Doge's Palace is another worthy location for your first day in Venice. This was the seat of power of the Doge, the title given to the ruler of the Venetian Republic back when Venice was a sovereign state. Today, it's a museum, and a good place to both see art and learn about the history of the city.
If you plan to visit, and also to take a gondola ride, consider investing in a Venice Pass for your time in the city which includes a shared gondola ride, admission to the Doge's Palace and an audio guide to the city.
Depending on your interests, you might also want to visit one or more of the other museums around St Mark's Square, which include the Correr Museum, the National Archaeological Museum, and the Biblioteca Marciana.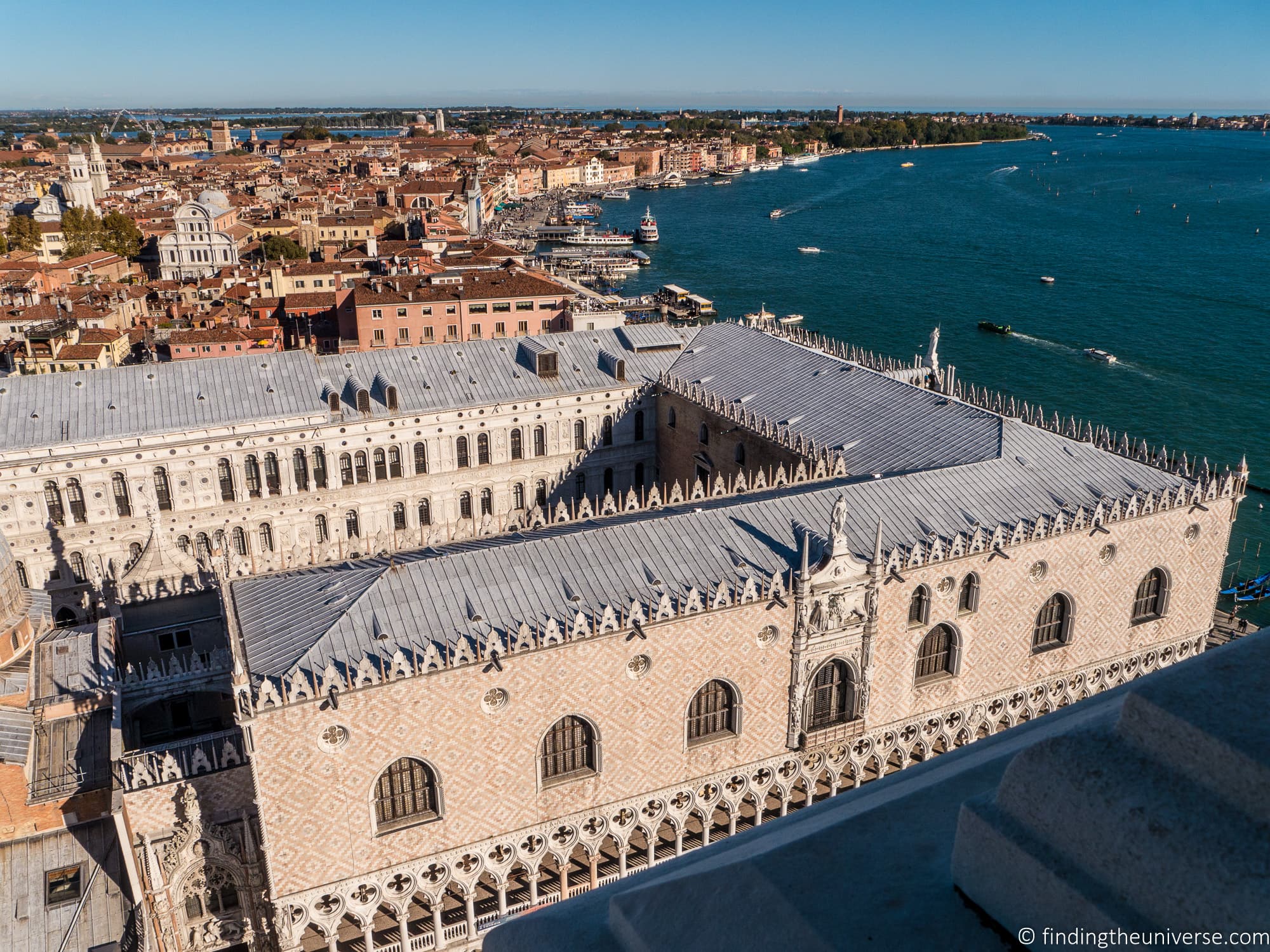 Like the Doge's Palace these museums have an entry fee.
I can also recommend taking the time to read our guide to visiting St. Mark's Basilica and the Doge's Palace for more information on visiting these two popular attractions. We also provide tips on tours and how to see the attractions with fewer crowds.
Having explored St. Mark's Square and surrounding attractions (don't miss the Bridge of Sighs coming out of the Doge's Palace), it's time to see some more of Venice's highlights. Some of our favourite locations to wander to include the Ponte dell'Accademia for a wonderful view of the Grand Canal, as well as the Rialto Bridge.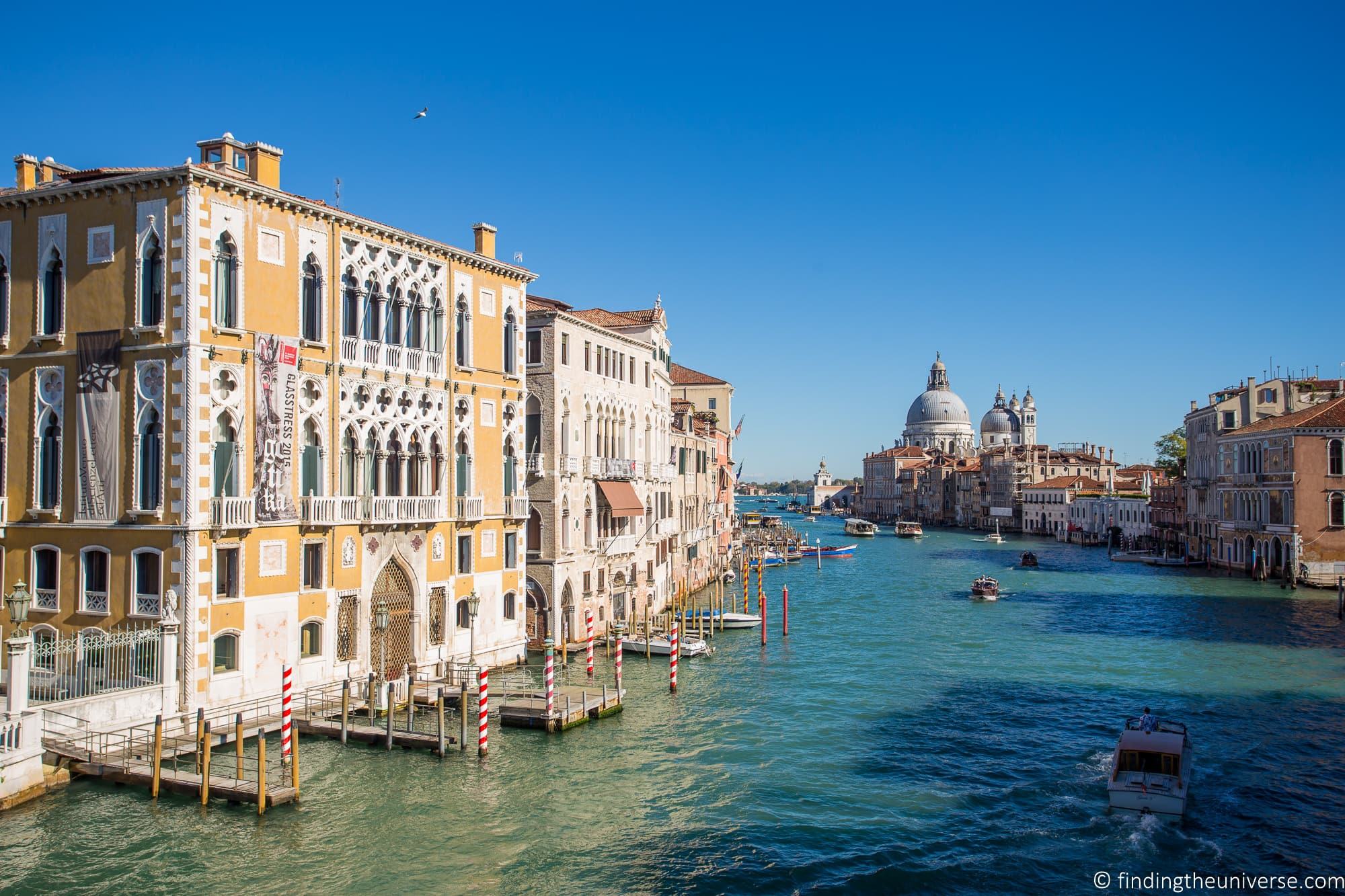 You also really can't visit Venice without going on the water in some form of vessel. Obviously, a gondola ride is the most logical option.
These come in a variety of options. A private gondola ride like this is going to be the most expensive and romantic option. Be aware that prices are set by the city for Gondola rides, and they depend on factors like duration and time of day. Expect to pay €80 for a 25-30 minute private tour in the day, and more at night or for a longer tour. This is not a negotiable price, so don't try to haggle.
You can book a private gondola ride in advance, but in our experience these are much more expensive that just turning up. However, at busier times of year this might be worth it.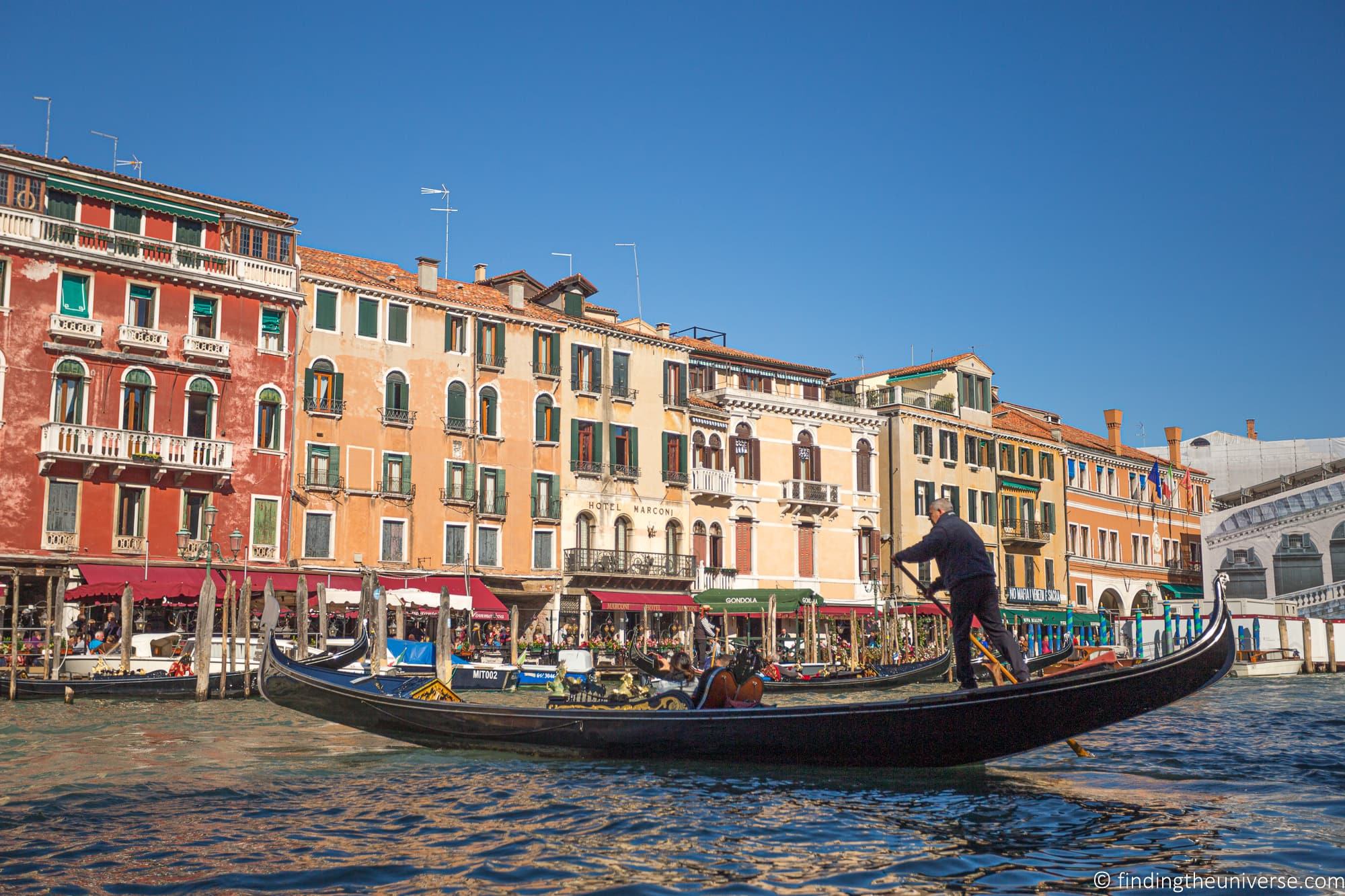 If you find the prices are a bit steep, there are some alternatives. To start with, you can book a shared gondola ride here, We took a shared gondola ride for 30 minutes as part of a city walking tour which was a good value, we specifically did this tour.
Another option if you're not bothered about the length of the tour is to take a gondola taxi from one side of the canal to the other. This just costs a few euros. It'll be over quickly, but as least you can tick the gondola box for a minimal fee!
Alternatively, there are water taxis, water buses, and water sightseeing tours.
We'd recommend finishing off your first day in the city by just exploring the back streets. Wandering, getting lots, and making your own discoveries is one of our favourite ways to spend an afternoon in the city.
For your second day in Venice, our suggestion is to take a boat to one of the other islands in the lagoon. Venice is the largest archipelago of islands in the lagoon, but it is by no means the only group of populated islands.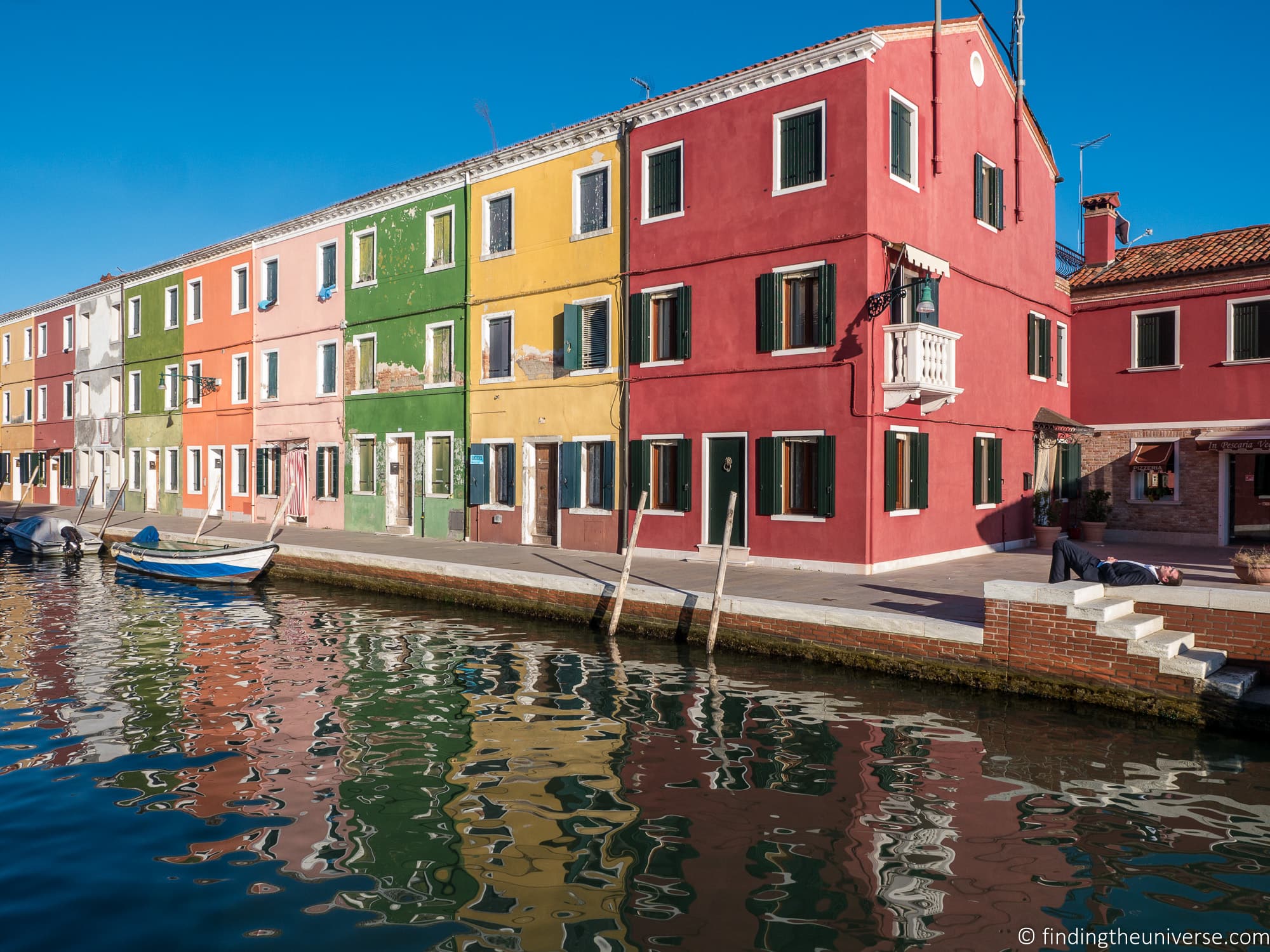 Our two favourites are the islands of Murano and Burano, both of which can be visited together on a pleasant boat trip from the city. Public water buses run between the islands on a regular basis, so you easily do this excursion on your own.
Alternatively, if you prefer a guided tour, take a look at thisfull Day Venice Island Boat Trip. This visits Murano and Burano, and even includes wine tasting.
Murano is famous for its glass making, with Murano glass world renowned for its quality. We love visiting the glassmakers here and watching them sculpt creations out of the hot glass. You can also pick up small souvenirs for very reasonable prices.
Burano is known for its colorful houses and laid back atmosphere. A wander among the streets here is sure to brighten your day – despite it being the end of your trip!
And that's it – your 10 days Italy itinerary is done! We hope you found it useful. Now, let's look at some tips on where to stay in Venice before moving on to lots of practical information to help you plan your trip.
Where to Stay in Venice
Venice is primarily a tourism destination, and as such there's no shortage of places to stay. Here's a selection to choose from to give you a starting point.
We hope this helps you plan your accommodation in Venice. That brings us to the end of the itinerary section of our Italy itinerary! Now let's go over some practical information for your trip.
10 Day Italy Itinerary Map
To help you visualise this itinerary for 10 days in Italy we've put together the below map. You can also see this on Google Maps here.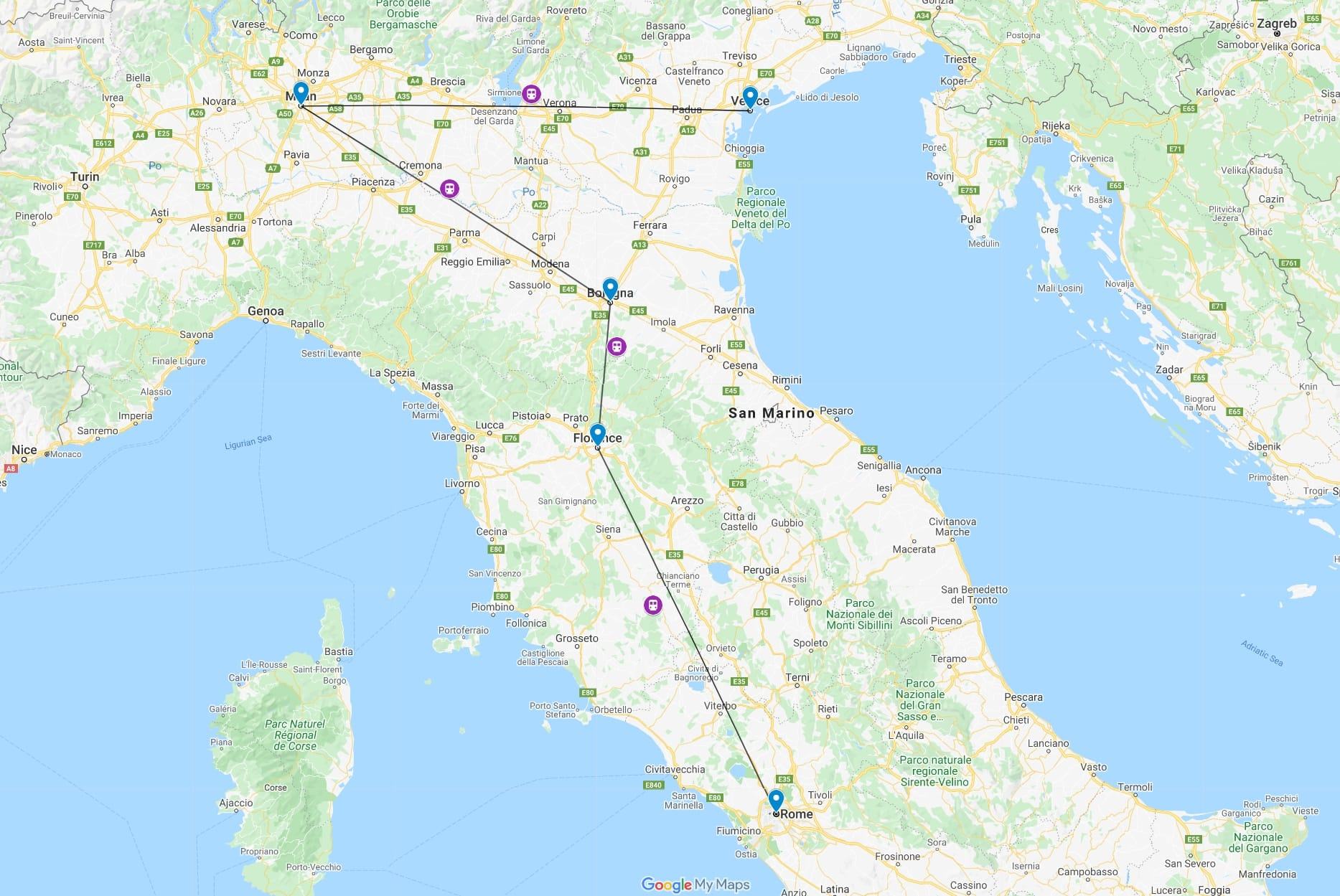 How to Get Around Italy
There are a number of options for getting around Italy. These include the train, long distance bus, or car. You can also try to find a tour the goes to the locations you're interested in visiting if you don't want to plan your own transport. Here's a quick guide to the main options for getting around Italy.
Train
Italy has an extensive rail network which originally dates from 1839. Today, there are over 15,000 miles of active railway, which includes high speed lines where the trains run at up to 190mph. These high speed lines link major cities in Italy, including Rome, Florence, Bologna, Milan and Venice, and are operated by Trenitalia and NTV.
For this itinerary, we recommend taking the direct high speed trains between the cities to make the most of your time. High speed trains are comfortable, usually offering reclining seats, free WiFi, and electrical sockets.
The high speed trains have different names, but include "Le Frecce" trains operated by Trenitalia which are, in order of speed the Frecciarossa, Frecciargento, & the Frecciabianca trains. The other high speed operator is NTV, who operate Italo trains.
I mention the train names because when you book tickets, these train names are usually displayed so you know you are buying the high speed services. Tickets come with a seat reservation, which is mandatory on these trains.
You can check times and prices for trains across Italy, as well as buy tickets, online here. We recommend booking in advance so as to be sure to get a ticket for the train you want, and also to get the best price.
Bus
As of time of writing there are five major bus companies in Italy, which offer buses between the major cities in Italy, as well as to other European countries. The long distance bus services in Italy tend to feature comfortable and modern vehicles, often featuring WiFi and electrical sockets.
Of course, a bus isn't a train, and it can't hurtle through the countryside at 300km/h. Constrained by the rules of the road, bus journeys are generally longer affair than train journeys, usually taking at least twice as long. On the flip side, they do also tend to be cheaper, so if you are on more of a budget, they are a great option.
You can check times and prices for buses across Italy, comparing all the major carriers for the best price, online here with trainline, and here with BusBud. You can also check directly with FlixBus here.
Car
We've hired a car and driven in Italy a number of times, and it is certainly an excellent way to get around. However, it is best suited for exploration a little more off the beaten path, when you want to visit towns, villages, and rural regions that are not so well connected by the public transport routes.
We don't really recommend it if you plan to follow this itinerary or one similar to it. Train travel between the cities in Italy is quick and easy, there is no need for a car within the cities as you can get around on foot, by public transit, or taxi, parking can be difficult and expensive, and many areas of the historic cities are pedestrian only.
It's also worth bearing in mind that the main fast roads in Italy which link the major cities (the autostrade) have tolls on them, which can significantly increase the cost of driving.
If you do want to travel by car in Italy, you can compare deals and book online here. We also recommend checking directly with car hire companies who have outlets in both Rome and Venice, such as Enterprise or Budget.
You can also book private hire transport between most of the major cities as well, although this is quite an expensive option for the longer journeys.
Tour
If you love the idea of travelling in Italy but don't want to plan out all the logistics of transport, accommodation and sight-seeing, then you might consider a tour.
Tours usually handle all those issues, plus you get to travel with a group who you can get to know.
Of course, it's hard to find a tour that mirrors our itinerary exactly; however, here are some great options you might consider.
This 8 day tour of Italy has stops including Rome, Venice, Lake Garda, Florence, Cinque Terre, and Pisa
This 12 day tour of Italy includes Rome, Florence, Venice, Milan, Luca and Pisa.
This 14 day tour with G Adventures includes Venice, the Italian lakes, Florence, Pisa, Siena, Cinque Terre and Rome. This is quite close to our itinerary, with a few extra stops and days
You can see many more tour options for Italy here.
For our itinerary, our suggestion is to use the train – these are regular, inexpensive and fast, especially between major towns and cities.
If you are on a strict budget and don't mind taking a bit longer to get between locations, buses are you next best option.
If you don't want to do much planning at all, then consider one of the tours we've suggested instead!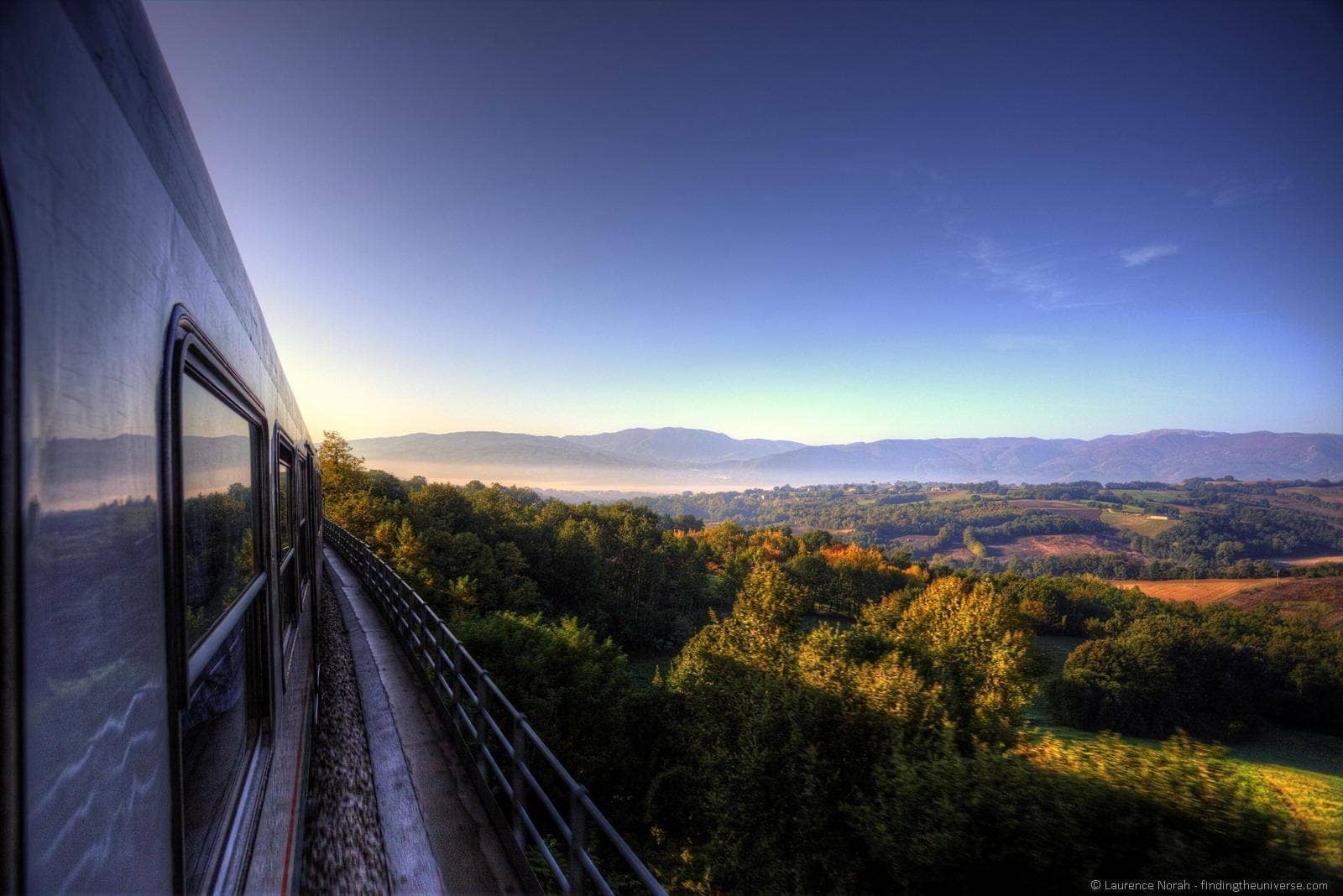 When to Visit Italy
Italy is popular as a year round destination. Our favourite times to visit are definitely in the Spring months of April and May or in the autumn months of September and October. At this time of year it is usually still warm enough for comfortable sightseeing, but not too crowded.
The peak months of July and August are very popular with visitors, meaning you can expect larger crowds and longer queues, particularly at the most popular attractions. If you're visiting at this time of year, you absolutely need to book your skip the line tickets well in advance for any attraction you really want to see.
Also be aware that it can get very hot in Italy in summer, so be prepared for hot temperatures. Also be aware that many churches have strict dress codes, so even when it's hot you need to consider your attire carefully. Bringing along a lightweight scarf or travel wrap can be a good idea.
The winter months are also a good time to visit Italy, even if it is cooler. Expect fewer people and less lines at attractions. You could also consider heading north from Milan and taking a ski trip in the Italian Alps!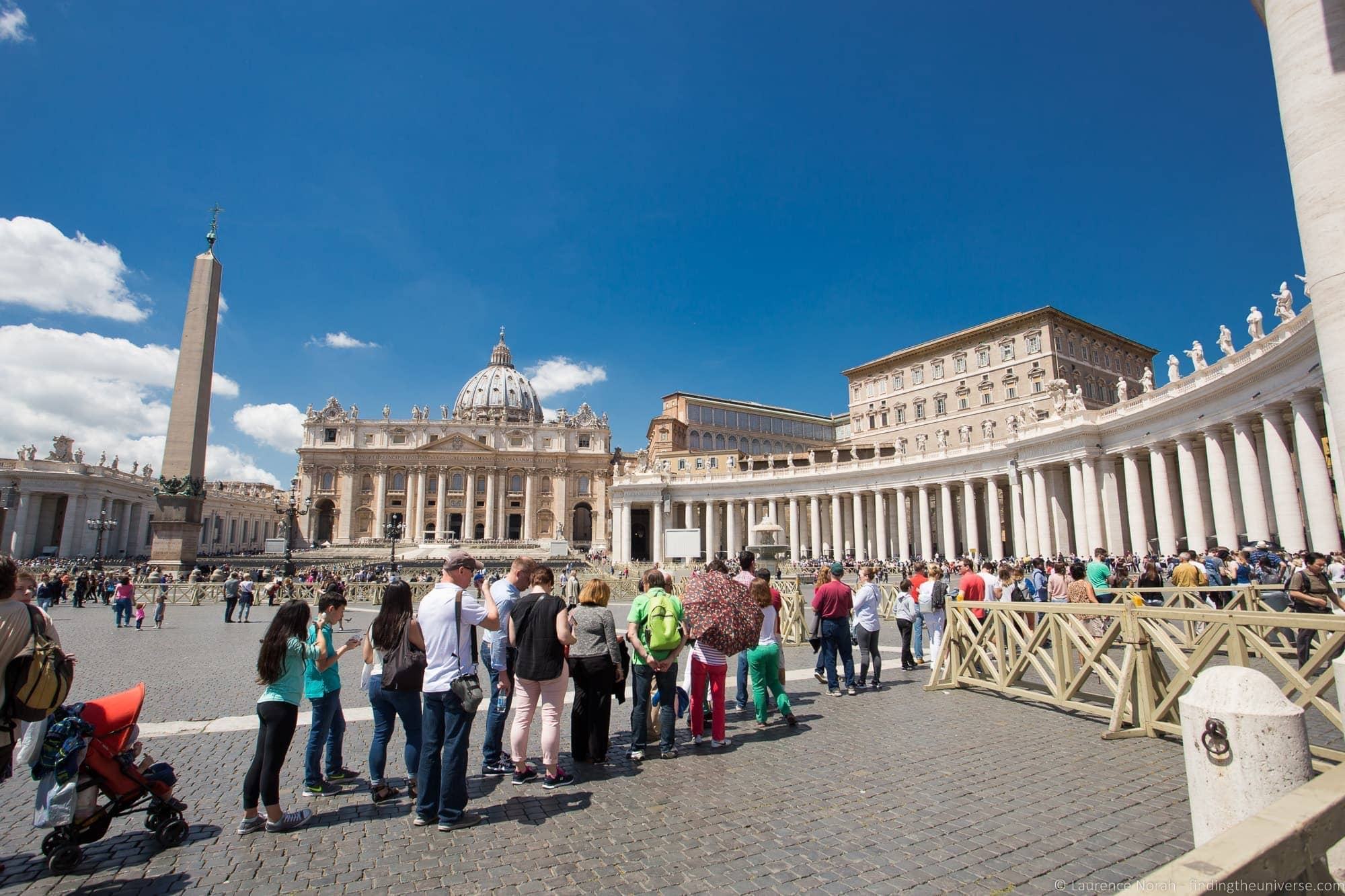 Tips for Visiting Italy
Italy is a relatively easy and safe country to travel in. However, to help you with your planning we wanted to share some tips based on our time in the country. These should help you make the most of your trip.
Opening Times: As with any destination where you plan on visiting attractions, it's really important to check opening times and days well in advance. For example, the Vatican is closed most Sundays, so if your visit to Rome is on a Sunday, you will need to plan for this in advance to avoid disappointment.
Safety: In our many visits to Italy we've never had any safety problems. Just be aware that as with most popular tourist destinations, pickpocketing can be an issue, especially in crowded tourist areas. As always, practice basic safety precautions. Keep valuables concealed, don't carry large quantities of cash, only use official taxis and so on.
Power: Electricity in Italy is of the 220v standard, with the 2 pin European style plug. Travellers from countries like the UK and the USA will need a travel adapter like this, and US travellers need to check their equipment supports the 220v standard – it will be written clearly on the power adapter. See more on travel adapters and how to choose one for your trip in our guide to the best travel adapters.
Currency: Rome is a part of the Eurozone, meaning the currency is the Euro. You can get these from ATM's, banks, and currency exchanges, although credit cards are of course widely accepted. We suggest using a credit card where you can – just ensure it has no foreign currency transaction fee. But we always recommend having a bit of cash on you.
Internet: Internet access is widely available in the form of WiFi across Italy. You'll usually find it in hotels and coffee shops, and also usually on buses and trains between the cities. If you have an unlocked phone you can also pick up a local SIM cards. For more options on getting online when travelling, check out our guide to getting online when travelling to help you figure out the best options for you.
Water: The tap water in Italy is safe to drink (unless posted otherwise), although many locals prefer the taste of bottled water. You can also drink the water that comes out of the taps in the fountains, so just carry a drinking water bottle with you and hydrate as you go. If you don't like the taste, we recommend using a water bottle with a filter like the LifeStraw Go Water Filter Bottle which should improve the taste and alleviate any safety concerns. You can read more about safe drinking water in our guide to safe drinking water when traveling.
Clothing. Many of the attractions in Rome are holy places, and you need to be dressed appropriately. There are big signs up explaining what you should wear, but generally, you need to have clothing that covers your knees and shoulders. This can be an issue with warm weather clothing choices, particularly in summer, so we advise that if you choose to wear tank tops or shorts to keep items to cover your shoulders and knees with you like shawls, scarfs, long skirts, or pants that convert into shorts. Women can take a look at Jess's travel wrap guide and best scarves for travel for ideas.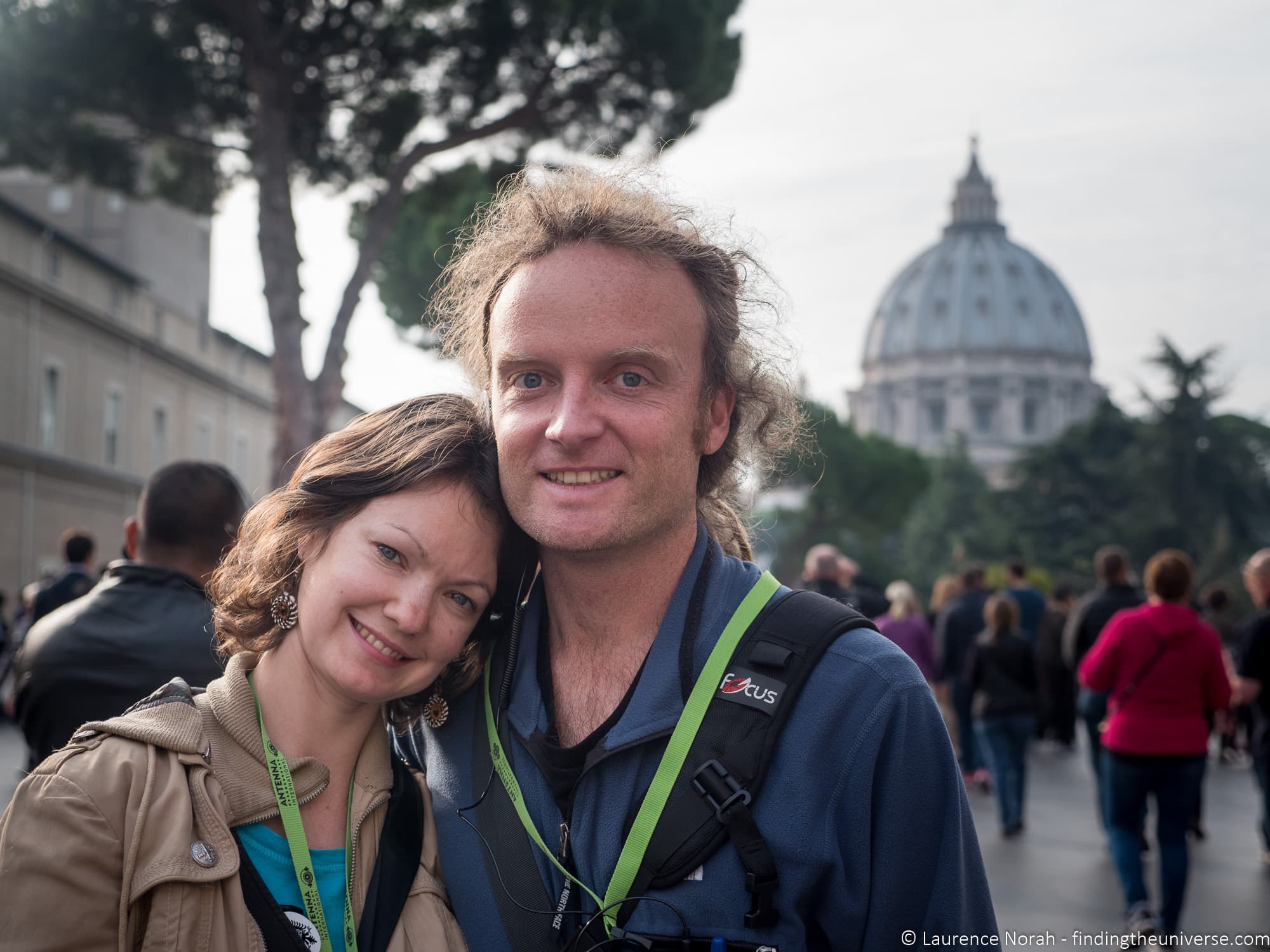 Further Reading for your Trip to Italy
That's it for our 10 day Italy itinerary! We hope you found this post useful. As we've visited Italy many times, we've put together quite a few posts, which should help you plan your trip thoroughly. Some of these we think you'll find particularly useful are:
Well, that's the end of this post. As always, if you have any questions or feedback, pop them in the comments below and we'll get back to you as soon as we can!