We've been lucky enough to visit Rome numerous times, and every time we visit we find more things to do in the eternal city.
We've already written detailed itineraries for visiting Rome, including how to spend 3 days in Rome, 2 days in Rome and even just a day in Rome.
In this post though, we're going to put together all our favorite things to do in Rome so you can pick and choose to create your own perfect Rome itinerary.
Rome, the capital of Italy, is a veritable travelers paradise. There are endless options for exploration, from churches, to crypts, to crumbling relics of bygone empires. Then of course there's the food, the coffee and the incredible art.
Before I plunge in, one point of note. Rome is an incredible city, but be warned, you'll be sharing it with a whole bunch of other folks enjoying their own trips. The must-see's though are must-see for a reason – it's hard to find this much history and culture stuffed into such a small area in many other places.
So get your tourist vibe on, load your camera with film, and take the billionth photo of the Coliseum. Then load up on gelato by the Spanish Steps. By the end of your time in Rome, you'll more than deserve it!
Things to Do in Rome
This guide features the main highlights of Rome that you'll really want to visit on your first or second time to the city.
1. Vatican Museum and Sistine Chapel
Whatever your religious views, the Vatican City in central Rome is one of those places that you really can't visit Rome without seeing.
As well as being the seat of Christianity, this place is home to some of mankind's most famous pieces of art, including Michelangelo's Sistine Chapel.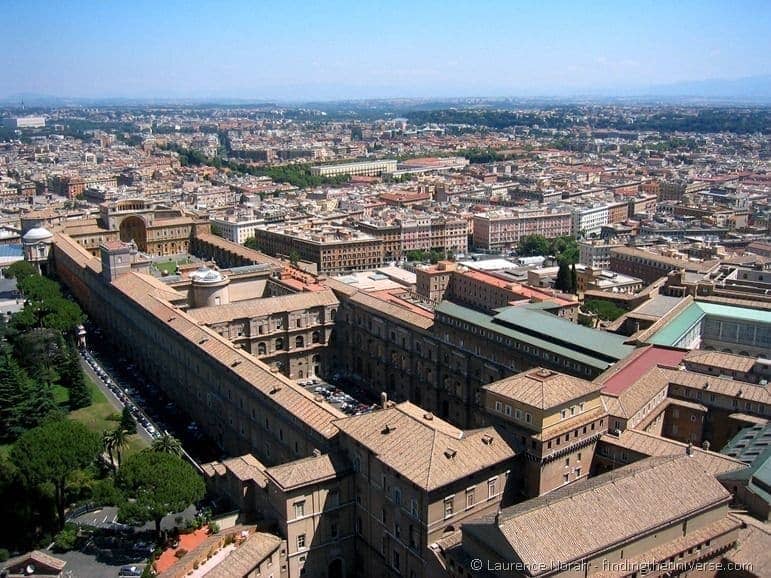 To see this art, you're going to need to visit the Vatican Museums, which are a huge sprawling collection of corridors and rooms which are home to some of the world's greatest art treasures.
The Vatican Museum is a popular place to visit, so unless you are visiting Rome at a very quiet time of year like winter, you'll want to book your tickets in advance.
The best way to do this is directly with the Vatican, as they offer the best value tickets in our experience. Advance tickets include skip the line access and you also get to visit the Sistine Chapel. Another option is to book with this website, using our link gives you 5% off their usual price for Vatican tickets. It's a little more expensive but somewhat more user friendly in our experience.
For lots more information on visiting the Vatican, including recommended tours, tips on buying tickets, and which highlights not to miss, see our complete guide to visiting the Vatican.
2. St. Peter's Basilica
Next door to the Vatican Museums is St. Peter's Basilica. With input from architects and artists including Raphael, Michelangelo and Bramante, this massive church is a spectacular work of art.
St Peter's Basilica is the largest church in the world. Whilst it isn't actually the mother church of the Catholic Church, or even the cathedral of Rome, it is generally regarded as one of the most holy Catholic locations in the world.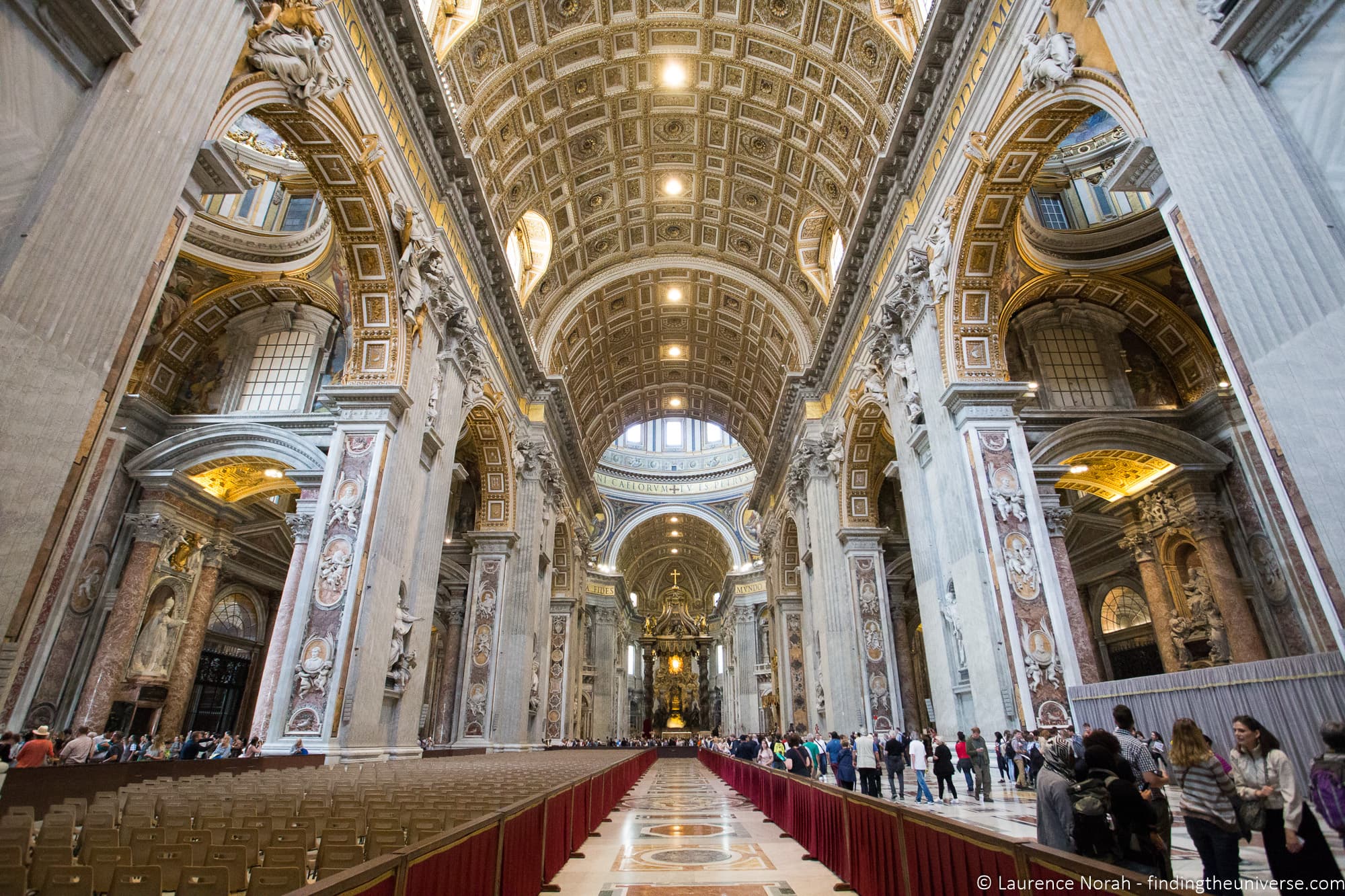 St. Peter, the first of the apostles of Christ, is said to be buried beneath the Basilica, and the pope holds regular liturgies throughout the year here which are open to the public to attend.
St. Peter's Basilica is free to visit, however there is usually a long line to get in, especially in the summer months. If you want to skip this line, you have two options. First, you can go very early before the crowds, as the Basilica opens pretty early in the morning.
Second, you can buy a tour which includes skip the line access here which will get you in faster.
If you do visit, I can highly recommend making the effort to head to the top of the dome. There's a small fee for doing this (payable on site in cash only), and the climb is quite long, but the views from the top are absolutely worth it.
3. Castel Sant'Angelo
Sitting on the banks of the Tiber River is a monument from Ancient Rome – the Castel Sant'Angelo. This was originally built as the last resting place and mausoleum for the emperor Hadrian.
Over its lifetime though, the Castel has evolved and fulfilled many different roles, including being used as a fortress and a castle.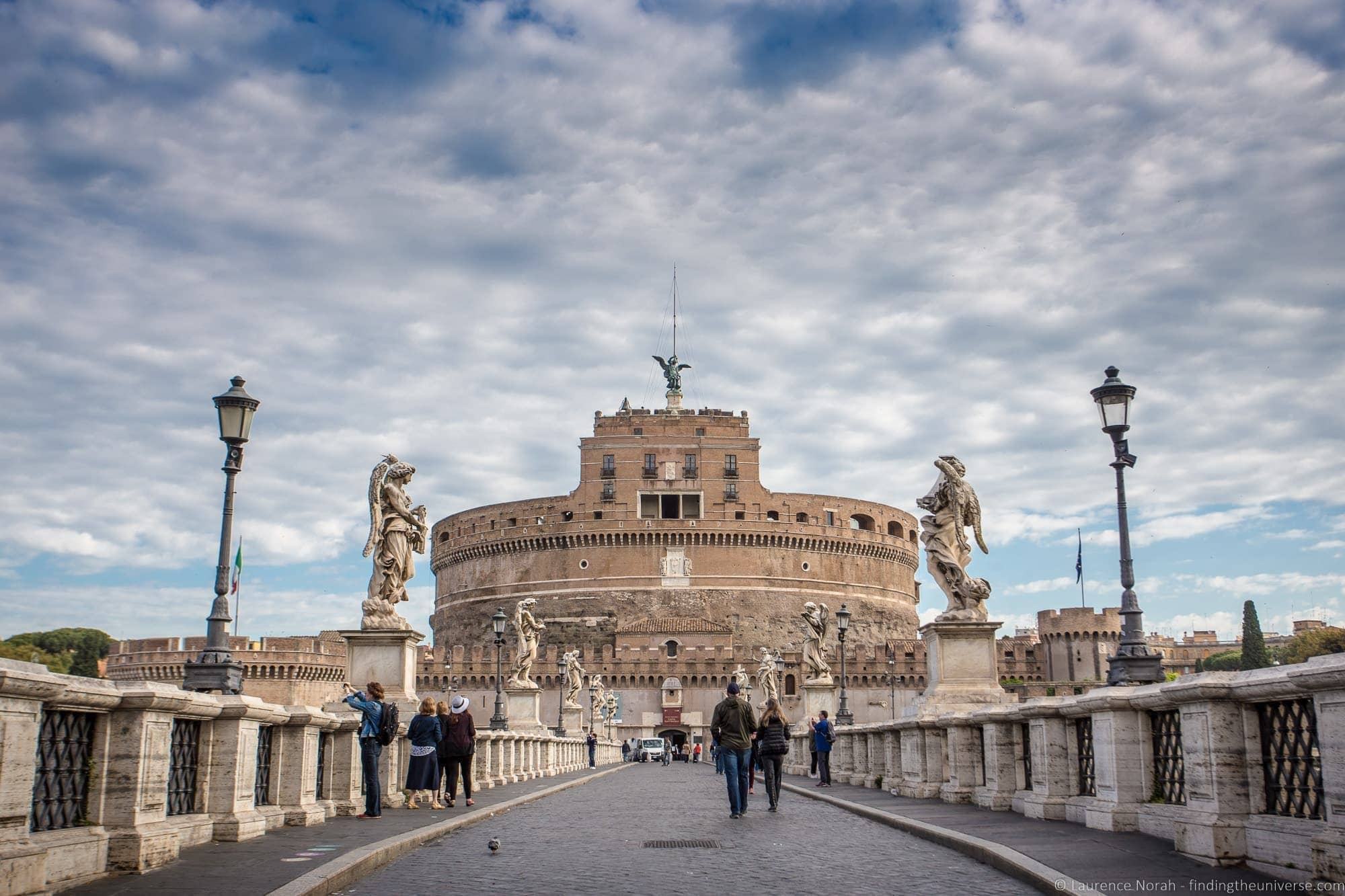 Today, the Castel Sant'Angelo is a museum, and it is fascinating to visit and tour back through 2, 000 years of history. You can walk all the way to the top, and get great views of the city from here. The bridge leading across to the Castel across the Tiber is also a wonderful location for photography in Rome.
The Castel has an entry fee. Like many attractions in Rome, it's included on one of the various city passes, including the Omnia Rome and Vatican Card.
You can also buy tickets in person or from the official ticket site here. You can also buy tickets from GetYourGuide here or from Tiqets here. It's always worth comparing as prices vary, in most cases the official site will be the best value but not always.
4. The Colosseum
There is perhaps no more recognizable Roman structure in the world than the Colosseum, where early Christians were thrown to the lions, and gladiators battled to the sound of crowds baying for blood.
People talk about the place holding a great sense of history and the smell of fear – on the occasions I've visited I've largely just noticed people posing with "centurions" and reliving scenes from Ridley Scott's Gladiator.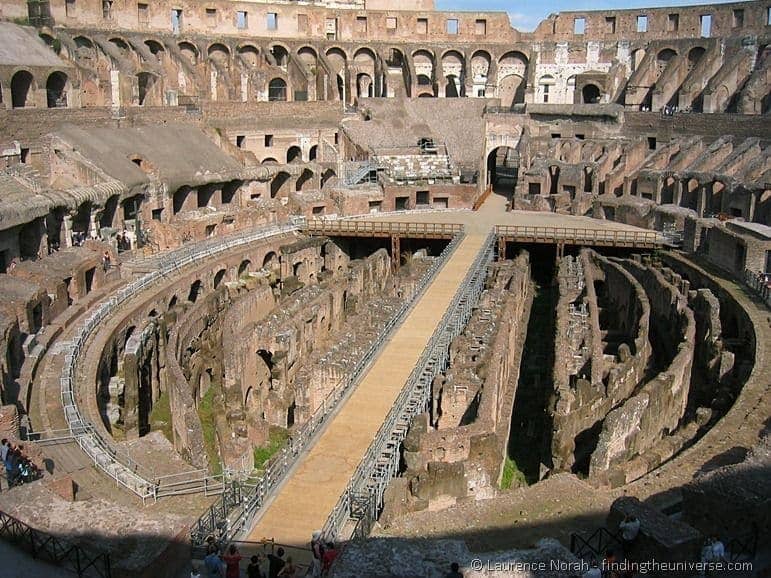 The structure, however, is just boggling, made all the more astounding given the fact that it has been standing in Rome since 80AD. Nearly two thousand years in fact. It is the largest amphitheater that the Roman Empire built, and has to be seen to be believed.
Visiting the Colosseum is a must for a first time visit to Rome, but be aware that there is a timed entry system, with myriad ticketing options. It can be a bit overwhelming, so I've written a detailed guide to visiting the Colosseum to help you out.
5. The Roman Forum
Right next door to the Colosseum, and included with the Colosseum ticket, is the Roman Forum. This was the heart of the Roman Empire, and was the place where the politics and business of the empire took place.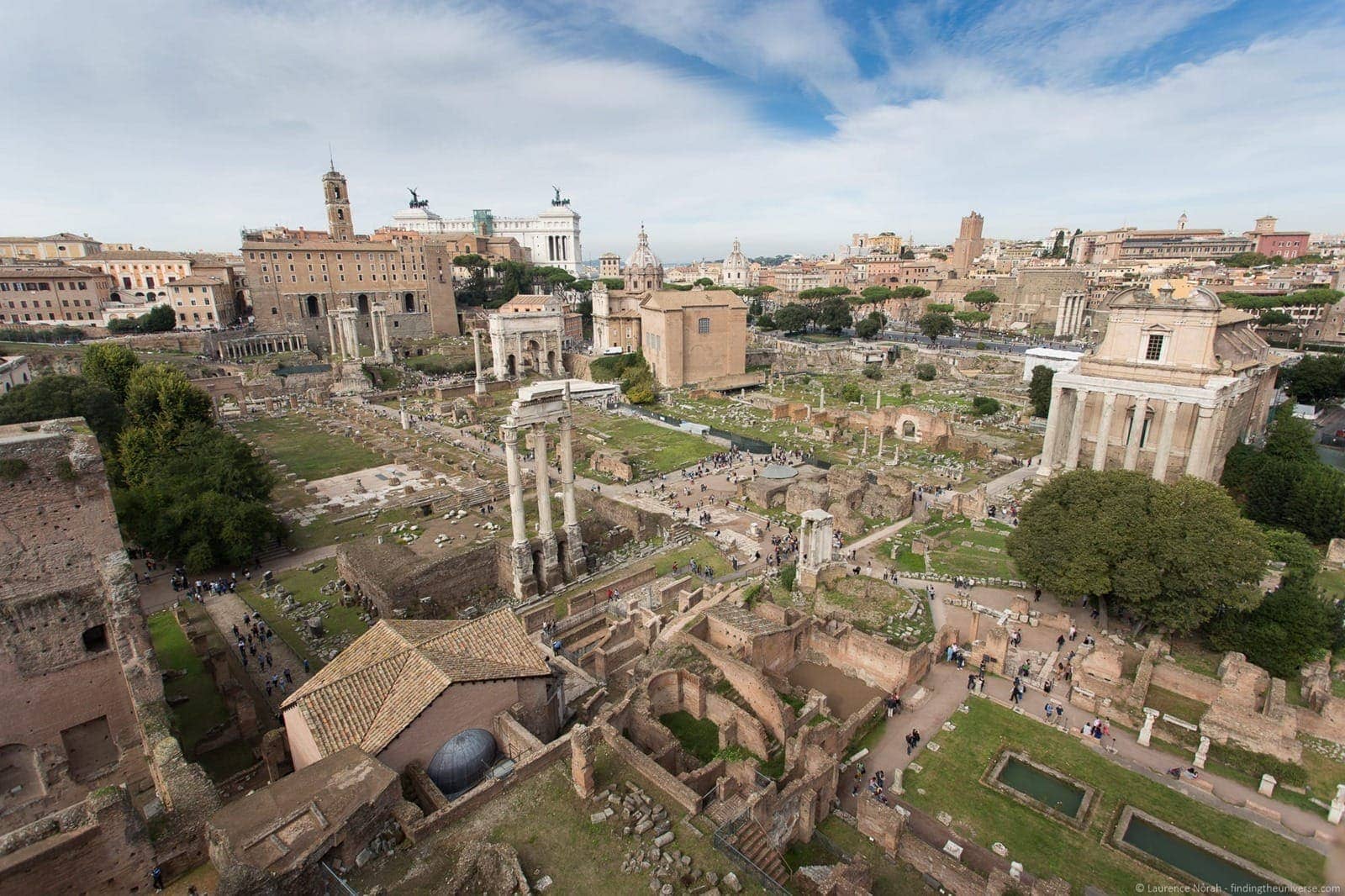 For hundreds of years, this was the place where pretty much everything related to the Roman Empire would have revolved around. Politicians, traders, businessmen and ordinary citizens would have spent a great deal of time here, and a visit to this location is an essential part of understanding Rome as it was.
Entry to the Roman Forum is ticketed, and you can buy tickets on site. However, we'd suggest booking your Colosseum ticket (which includes the Roman Forum), and then visiting the Roman Forum directly after your Colosseum time slot.
6. The Pantheon
The Pantheon is one of my favorite buildings in Rome. Its original incarnation was even older than the Coliseum, although that was destroyed by fire.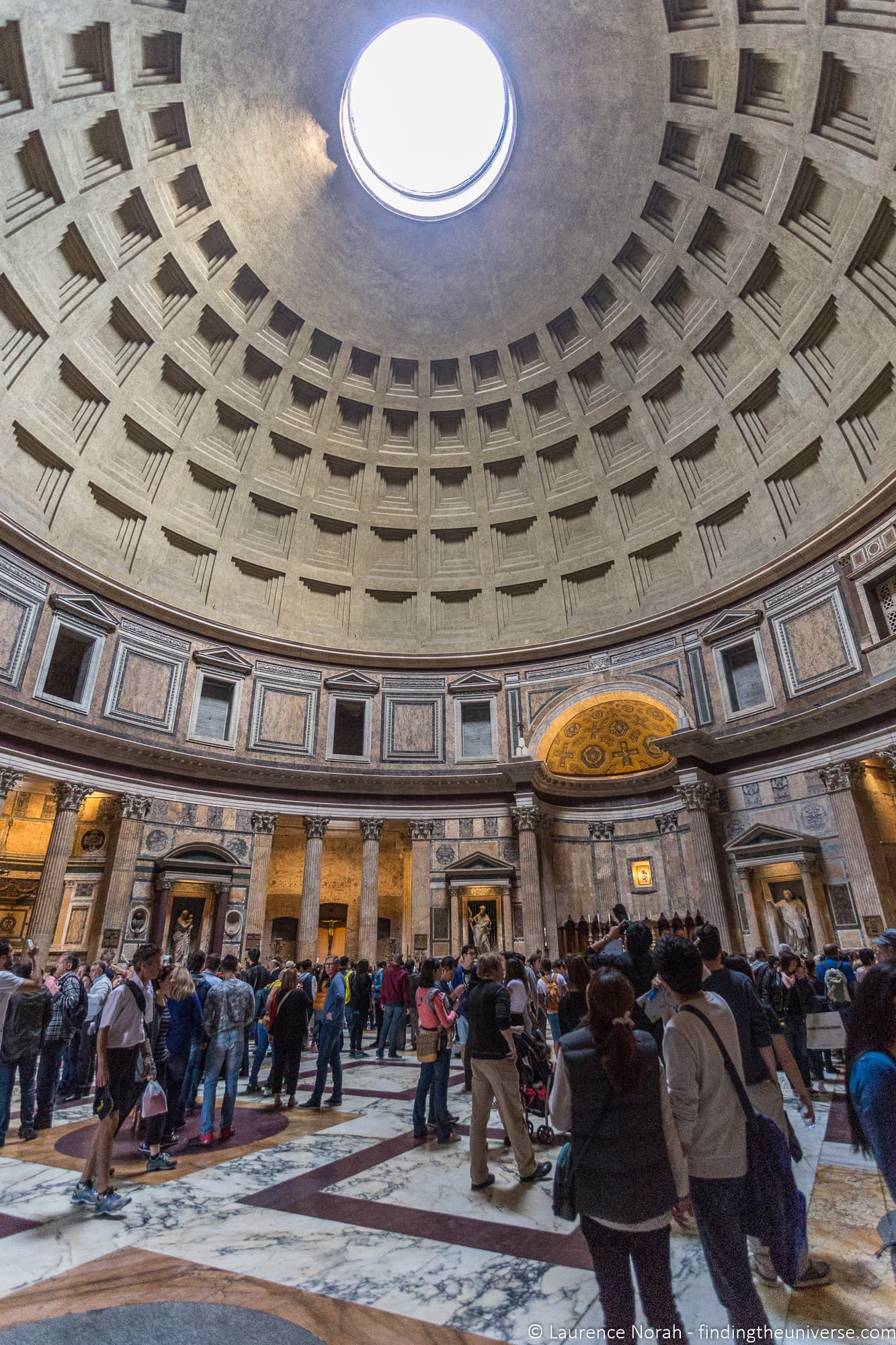 It is particularly remarkable for its enormous dome like ceiling, famous for having a hole known as the oculus at it's apex, through which the building is lit.
To this day, this still holds the record as the largest unreinforced concrete dome in existence, which should give you an idea of how good the Romans were at building things.
When I visited, for some reason, Led Zeppelin's song Stairway to Heaven was playing through a tiny speaker under a statue of the Virgin Mary, a memory that has always stayed with me.
For a long time the Pantheon was free to visit but as of July 2023 there's a small fee. You can pay this on-site, or you can buy it online in advance from the official site here (you'll need to create an account).
Tickets with an audioguide are also available from GetYourGuide online here, although they are a bit more expensive.
7. Trevi Fountain and Spanish Steps
The Trevi fountain is one of the world's most famous fountains. It is traditional to throw a coin into this fountain, and roughly 3,000 euros a day makes its way into the waters.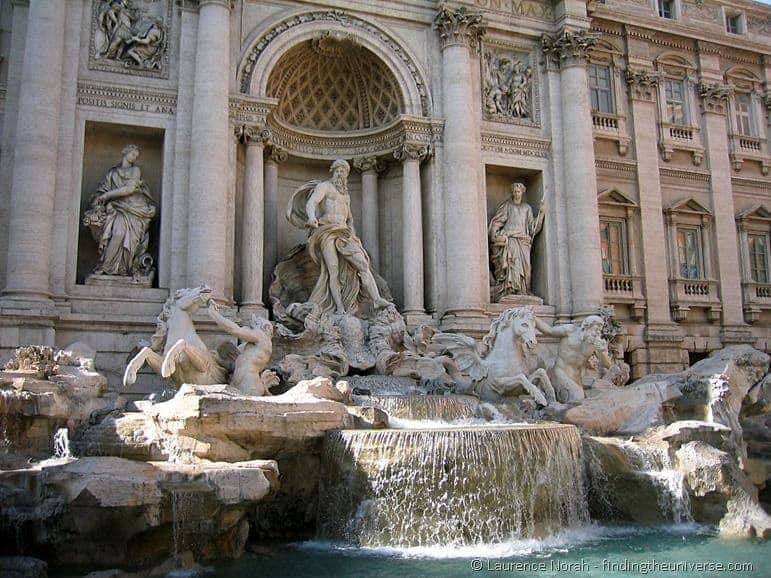 Also in this area are the Spanish Steps, famous for their people watching options, especially over an ice cream. If it's a sunny day, you'll probably want to take a break from all the ancient exploring, and get to grips with some of Italy's famous Gelato.
Note that as of August 2019, it's no longer permitted to sit on the Spanish Steps as they have been classified as a monument, and there is the potential of being fined if you do so. So stick to standing on them instead!
Both the Trevi Fountain and the Spanish Steps are free to visit.
8. Gelato
It's basically mandatory when visiting Rome to eat Gelato. Gelato is the Italian version of ice cream, although the process of making it is a little different and as a result, so is the flavor and texture.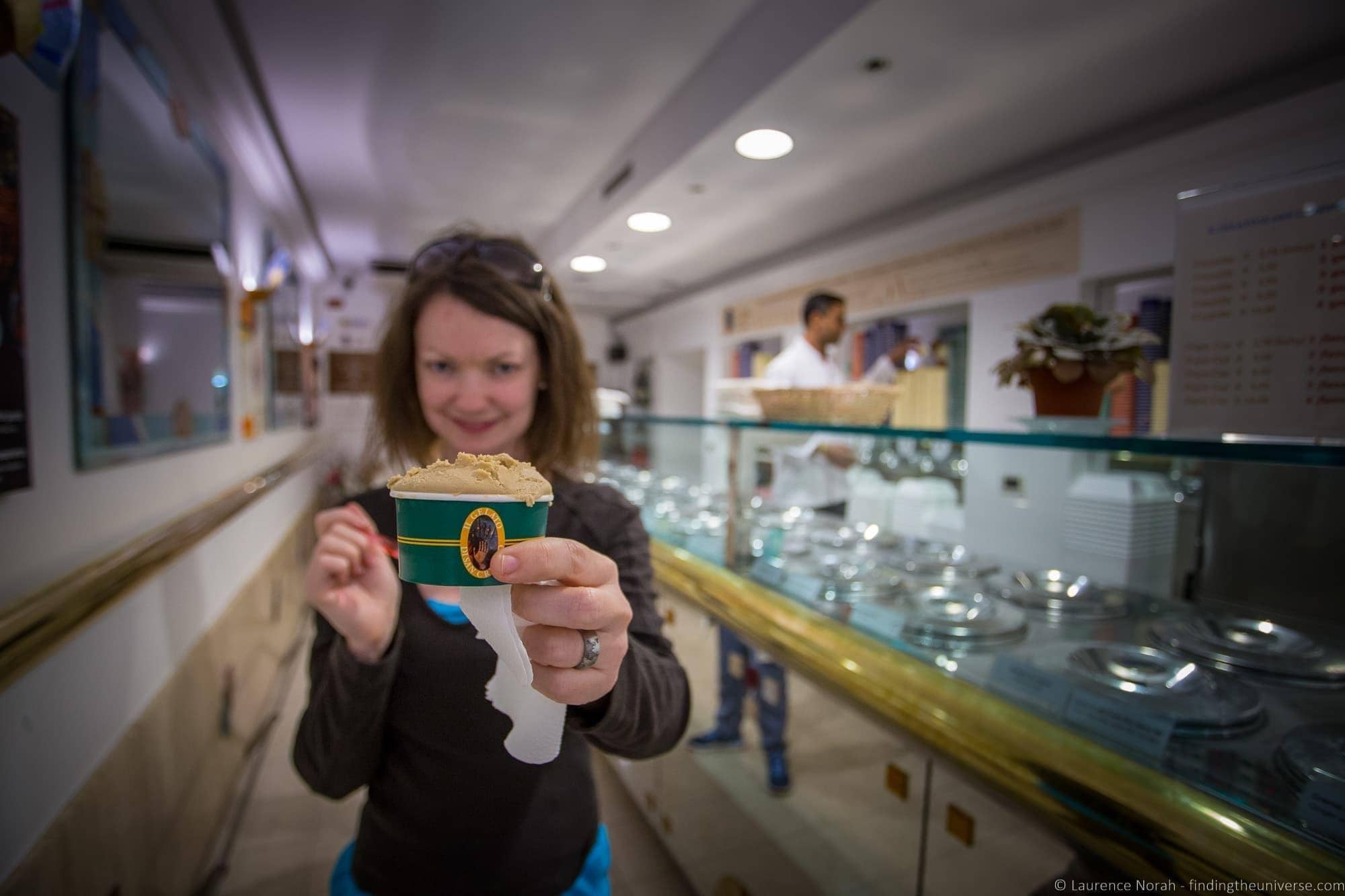 There are a lot of places to get gelato in Rome, which range from the fantastic through to the mediocre. As a quick tip, be wary of ostentatiously colored gelato which is piled high. True gelato doesn't pile well, and it should only have natural colors.
The best gelato is often served out of cold containers rather than being piled up to attract the eyes of roving tourists. Finding this can be trickier than you imagine, so to help you out I've written a detailed guide to the best gelato in Rome, which will help you get only the good stuff.
9. Borghese Gallery
The Borghese Gallery is home to one of the most impressive collections of art in Rome. It has pieces from artists including Caravaggio, Bernini and Raphael, and is a must for any art lover in the city.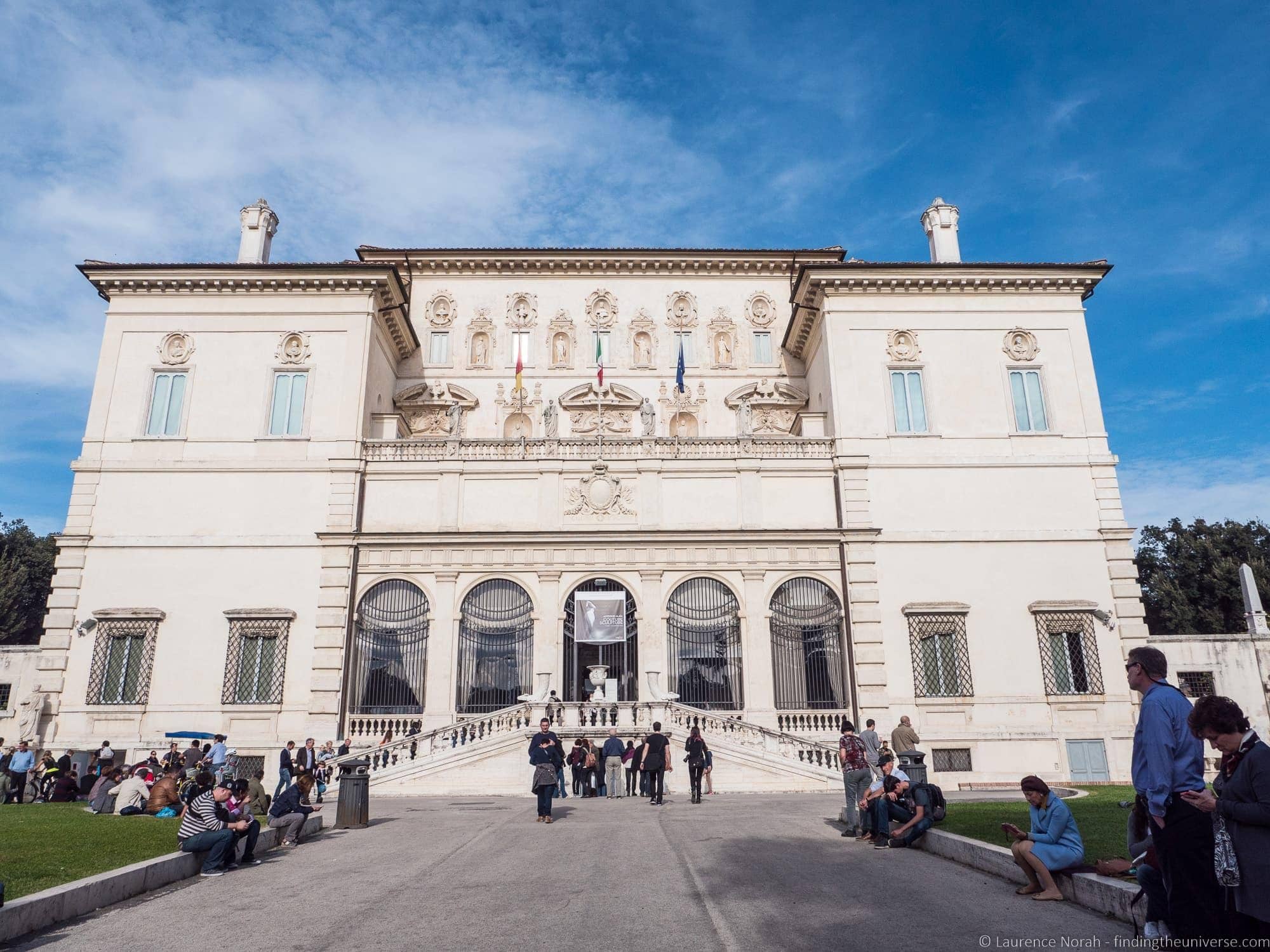 The really nice thing about the Borghese Gallery is that visitor numbers are strictly controlled. Entry has to be reserved in advance, and only 360 people can visit at a time. When you visit, you'll have two hours to see the pieces on display.
Compared to many other art museums in Rome, this is a much less crowded experience. Whilst the museum isn't huge, pretty much everything on display is a masterpiece. So your two hours will be filled with wow moments!
10. The Baths of Caracalla
The Baths at Caracalla are one of my favourite places in Rome. I think what gets me about the place is just the crazy obsession the Romans had with bathing, and the process that they created around that, which resulted in vast complexes like this.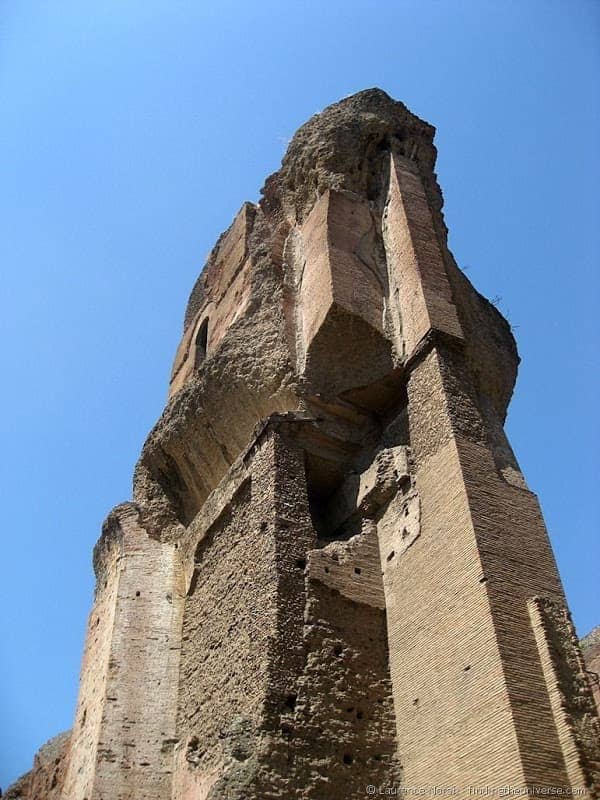 Sprawling over 25 hectares, these baths were built in the 2nd century AD, and operated for four centuries. When operational they could accommodate around 1500 bathers at any one time, although walking around the gigantic ruins, you'd think that most of the Roman population could turn up and have a wash quite easily.
There are of course, examples of mosaics and statues to peer at as well, but really, just walking around the grounds is an incredible experience. If you've got time, this is one I definitely recommend adding to your to-do list.
There's a small fee to visit the Baths of Caracalla. You can buy tickets on site (there's not normally a queue). It's also included on the Omnia Rome and Vatican Card, and the Roma Pass.
11. The Catacombs and Appian Way
If you've visited the coliseum, and seen where the Christians got fed to the lions, you should continue your travels through Rome's slightly ghoulish tourist attractions, and head to the catacombs, where Rome's dead were buried.
With over sixty catacombs to choose from in Rome, you won't struggle to find a spooky underground cemetery to get your ghoul on. Perhaps the most famous though, would be those found along the Via Appia, or Appian Way. These are the ones I've visited, and do require a short bus ride out of Rome, but this is an entirely worthwhile bit of effort.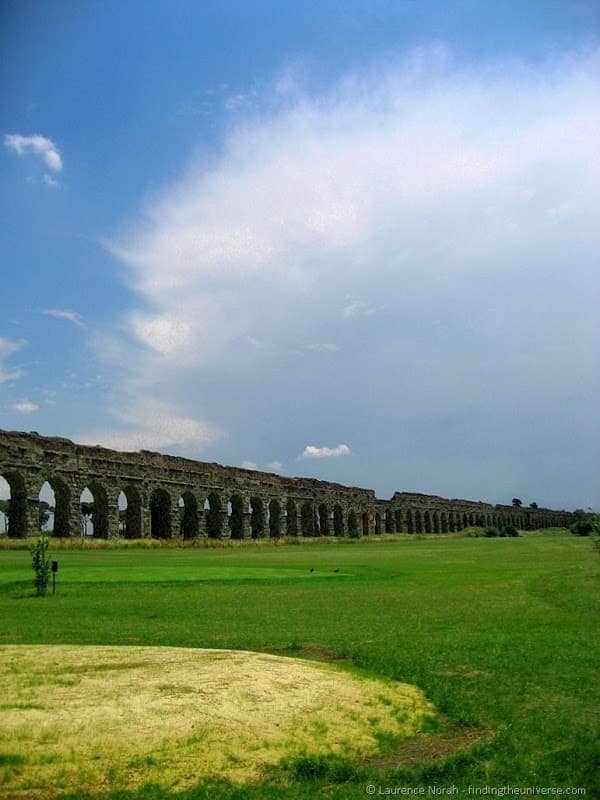 There is nothing quite like descending underground into dark musty corridors lined with ancient graves, dating as far back as 150 AD. The experience is claustrophobic and unnerving, a bit like being returned to the grave prematurely. And as with so much in Rome, absolutely worth doing.
Recommended Walking Tours in Rome
We've taken a number of tours in Rome, and can definitely recommend these if you're looking for a guided experience. For walking tours specifically, the two companies we recommend are Context Travel (10% off tours with this link) and Take Walks.
With Take Walks, we can recommend the following tours, all of which we have personally taken:
The Pristine Sistine tour, which gets you early access to the Vatican Museums before they open to the public, which is even better than skip the line access. If you decide to do this, then you may find that a Roma Pass is going to be better value than the Omnia Rome and Vatican Card.

The

Rome in a Day tour

, which covers many of the highlights of the city in one day. This is a great way to see the sights in Rome and not worry too much about skip the line tickets and queues.

The tour with the Colosseum & Roman Forum

, which covered the Roman Forum and the Colosseum

The

Borghese Gallery Tour with Tickets. which, as the name suggests, takes you on a guided tour of the Borghese Gallery

.
We also did tours with Context Travel, who offer very small group tours for the intellectually curious. These were fairly specialized tours, one focusing on Rome, the Grand Tour and the Romantic Poets, and the other on the history of the Popes and Rome political power.
There are of course other options for tours in Rome, including all the tours on this page, which offers a variety of things to do from different providers. Those of you looking for a food tour will want to see our guide to the best food tours in Rome.
So definitely check out the options to figure out what is best for you!
Where to Stay in Rome
Rome certainly has no shortage of places to stay. We would generally suggest you stay somewhere fairly central, to make accessing all the attractions as easy as possible.
Usually we recommend that you stay somewhere in the area between the Piazza Navona, Piazza Venezia and Piazza del Popolo.
For an idea of where I mean, take a look at these hotel options:
Of course, there are many more options. We tend to use Booking.com for most of our accommodation when we travel, they have a wide selection of options, with everything from hostels to apartments to hotels. The review system makes it easy to pick a good option, and they have an excellent cancellation policy.
Further Reading for Visiting Rome
Hopefully this guide to things to do in Rome
And that sums up our idea of how to spend the perfect three days exploring Rome! We hope you found this itinerary useful. Are you planning a trip to Rome? What do you want to see when you do? Let us know in the comments below!