In this post I'm going to review Cloudways as a WordPress host. This website, as well as our Independent Travel Cats site and Travel Photography Course are powered by WordPress and hosted by Cloudways.
As a bit of background, before I became a travel blogger I worked as a software developer building websites, and I handle all the coding and management of our three sites.
Having well performing websites is important to our business, and a good host is a key part of that.
In this post I'm going to do a review of Cloudways from the perspective of a WordPress site operator, to help you decide if this is the right WordPress host for you. I'll compare it to a number of other popular WordPress hosting providers on the market, and hopefully help you decide if Cloudways is the right host for your WordPress website.
We've been using Cloudways to host our WordPress sites since 2019. I've been wanting to write a review for a while, but I did want to ensure I'd used the service in the real world for a good length of time so I could share my real-world experiences.
This includes my experience migrating to Cloudways, technical support, performance, and price. I've also got an awesome Cloudways promo code you can use to save on your first three months of hosting.
Let's start with an overview of Cloudways as a service.
What is Cloudways?
Cloudways is a managed cloud hosting provider. This means that they provide and manage servers which can be used for a range of web applications.
They offer these applications pre-installed and ready to use, so all you have to do is design your site and create the content.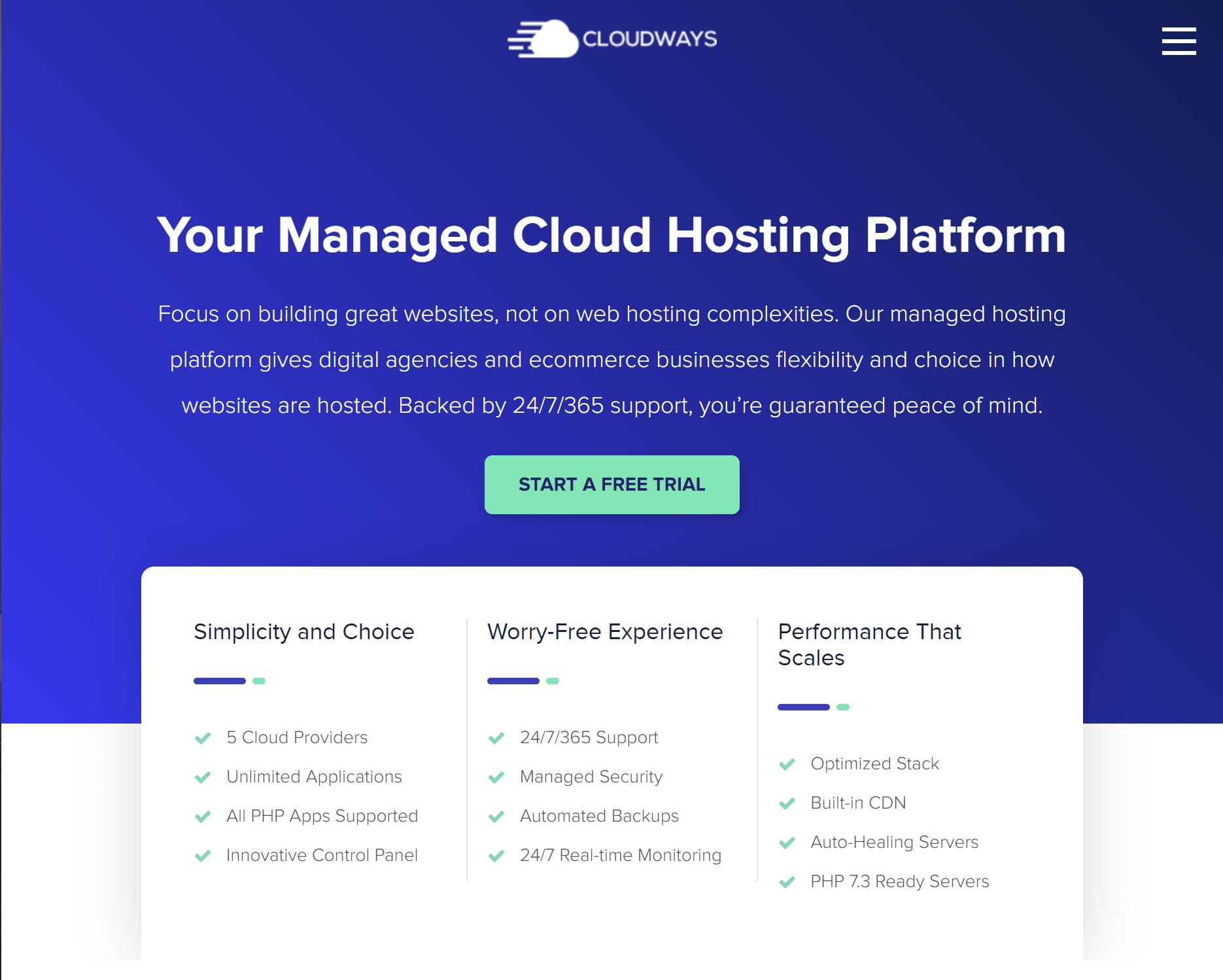 In terms of web applications, Cloudways offers WordPress, as well as other popular applications like Magento, Joomla, Laraval and Drupal. Cloudways handles all the technical aspects of managing the servers and installing this software.
In this post, I'll be talking specifically about Cloudways as a WordPress host. WordPress is a piece of software which is used to power over 450 million websites, or over 20% of the internet.
WordPress makes it easy for content creators to publish and manage content, and is suitable for everything from static business websites through to blogs, ecommerce shops and more. It's almost infinitely customisable, and can also scale to handle millions of users.
We've used a number of different WordPress hosts over the years of running our websites, so we have experience with many of the hosting options out there. We've also written a guide to choosing the best WordPress host to give you some ideas of what to look for in general.
As I mentioned, we've been running our three sites on Cloudways since September 2019, so we've had a fair bit of time to get to grips with what it offers.
Cloudways Hosting Details
Cloudways offers users what is known as a Virtual Private Server, or VPS. There are three main types of server hosting – shared hosting, VPS hosting, and dedicated hosting.
Shared hosting is best for those with low traffic websites (generally less than 10,000 visitors a month), VPS is for medium to high traffic (10,000+ visitors a month), and dedicated is for very large sites (in the millions of visitors a month).
A VPS such as Cloudways offers a significant step up from the cheaper shared hosting that many WordPress site owners start with through providers like Bluehost.
A VPS has multiple advantages over a shared server. The main one is that you have a specific number of resources dedicated to your website.
On shared hosting, a number of websites compete for the same server resources, which means that one website being overloaded can quickly overload the other sites on the server.
With a VPS, you are allocated a specific set of resources and your site is much more robust as a result. You also usually have a lot more control and access to the server if you want it.
If you are on shared hosting, we would recommend moving to a VPS once you reach around 10,000 t0 20,000 visitors a month. Depending on your website design, you can scale a VPS to in excess of a million users per month.
What Features Does Cloudways Offer?
You can see a full list of features on the Cloudways site here.
Here are some of the main features of Cloudways that we like:
Managed hosting. Cloudways offers a choice of various web applications on their platform. Whilst we use WordPress, and this review is based on using Cloudways for WordPress hosting, we could also use Cloudways to run a number of other applications like Laraval, Drupal, Joomla or Prestashop should we choose.
Managed WordPress hosting. Those of you running, or looking to run a WordPress site, will likely use Cloudways managed WordPress hosting. What this means is that you don't need to worry about the server itself or the software on the server. Cloudways manages that for you. All you have to do is the website management (design, plugins etc), as well as creating content.
Choice of providers. You can pick from a range of VPS services to pick the one that best suits your budget and audience location
Optimized WordPress Stack. Cloudways have built a technology stack that works to give you a fast WordPress installation with minimal work required on your end if you use WordPress
Choice of software. WordPress requires PHP and a database, and Cloudways lets you choose which PHP version and database provider you prefer. If you use WordPress, I recommend PHP 8.x+ and MariaDB 10+ for the best performance.
Scalability. You can easily scale a server up in size, and even switch providers if you wish, all with just a few clicks.
Hourly billing. You only pay for what you use, so if you spin up a VPS, use it for a few hours and then delete it, you only pay for the hours it was in use.
24/7/365 support. If you have a problem, live chat is always there to help out
No contract. If you stop using Cloudways, you stop paying.
Unlimited Applications. There are no limits to how many sites you can run on your server, even on the cheapest plan. You just pay for the server. All you are limited by are the resources you use. So if you have lots of low traffic sites, you don't have to pay more to host them.
Free migration. If you are coming from another WordPress host, Cloudways will migrate your site for you, and even provide advice as to what size server you need based on your current traffic levels
No restrictions. Unlike many managed WordPress hosts, Cloudways doesn't restrict what plugins you install on your server
Advanced features. If you want advanced features, Cloudways has them. Many of these are free, including features like Redis, memcached, Object Cache Pro and Varnish, as well as full SSH and SFTP access to your server. There are also some paid addons, including enterprise level Cloudflare, the option to scale a server automatically based on demand, and the option to install WordPress updates automatically.
Security. Cloudways offers two factor authentication to protect your account, you can set up IP whitelists so only specific users can access your database or filesystem, and they have bot protection to help protect your site from hack attempts
Easy, cost-effective incremental backups. Backing up the site happens automatically, on a schedule of your choosing, from every few hours to every few weeks. You can also set how long backups are stored from, from a week to multiple weeks. And because the backup is incremental, it's very cost effective even if you run it every few hours.
Staging environment. When a major plugin update or WordPress version is released, being able to test it on a non-production version of your website can save you the headache of crashing your main site
SafeUpdates. For a small monthly fee, Cloudways will take care of all your WordPress theme and plugin updates automatically. They do the update and perform before and after checks to make sure nothing is broken.
Cloudflare Enterprise. The Cloudflare Enterprise plan is normally priced far out of reach of your average website owner, but Cloudways is able to offer it for a reasonable price. It includes some very powerful speed and security enhancements, including image optimization, a managed firewall, edge page caching and more. Not every site will need this of course, but it is nice to have the option if required.
Of course, there are many more features, but these are some of the most important in our opinion.
How Much Does Cloudways Cost?
Cloudways pricing currently starts at around $11 a month, and then the prices go up depending on the size of the server you require.
We have an exclusive promo code for Cloudways, which will give you 10% off your hosting for the first three months. Just use the code TRAVELCATS when you sign up.
One thing to be aware of is that Cloudways don't actually run their own servers. They provision servers from well-known VPS providers, then set them up for optimal WordPress performance. This includes managing the security updates, and giving you technical support.
I'm telling you this because the cost of Cloudways depends on the size of the server you choose, as well as the actual server provider you go for.
Currently, there are three providers to choose from if you use Cloudways. They are Digital Ocean,, Google Cloud Platform (GCP), and Amazon Web Services (AWS).
In the past Cloudways also offered Vultr and Linode but these are no longer available as of 2023.
The Digital Ocean offering has the easiest pricing to understand. There is a fixed monthly cost for each server, which increases based on the capabilities of the server.
Pricing starts at $11/mo for the lowest cost Digital Ocean server. They also offer higher powered versions of the Digital Ocean server known as Digital Ocean Premium.
You can see full pricing for all their plans here.
Even their low-cost servers offer a generous 1TB of bandwidth, which should be enough for most users especially when paired with a free content delivery network (CDN) like Cloudflare.
A CDN stores copies of your most commonly used files, such as images, on servers around the world. This improves the performance of your website to users located further away from your server, and also reduces your servers bandwidth use.
If you exceed the included bandwidth on Cloudways, you do pay an overage fee, which is detailed here. However, I feel that most users are unlikely to exceed the included bandwidth on these plans.
Google Cloud Platform and Amazon Web Services have a slightly different pricing model. Whilst there's a similar price scale based on hardware, bandwidth is billed on a pay as you go basis. At time of writing, AWS charges $0.12 USD per Gigabyte, and GCP charges $0.14 USD per Gigabyte. You can see these details here.
For most users, I think Digital Ocean will likely be the best option as the pricing is easy to understand and the performance is good.
Note that whilst pricing is quoted monthly on the Cloudways website, it's actually billed hourly. So if you start a server, use it for a few hours, and then delete it, you are only billed for the hours you actually use rather than the whole month.
There are some other charges to be aware of with Cloudways. First, backup costs $0.033 USD per GB, which is rounded up to the nearest $0.50. Backups are incremental, so having regular backups won't cost you a great deal.
As an example, with our three websites our backup is around 25GB in total (we have a lot of images!) and so costs us a rather insignificant $1 USD per month ($0.825 rounded up).
Given that we take a backup of all three sites every 6 hours and keep them for a number of weeks, that is remarkably cheap for the peace of mind it offers.
In addition, Cloudways doesn't offer built-in email services. However, you can pay for the Rackspace email service through Cloudways for $1 a month if you don't have your own email solution already. Again, not exactly a big cost.
Cloudways Promo Code and Free Trial
We have an exclusive discount code for Cloudways, which will give you 10% off your hosting for the first three months. Just use the code TRAVELCATS when you sign up.
This Cloudways discount code can be applied to any hosting plan or application, so it's not limited to WordPress or any specific provider.
In addition, Cloudways comes with a 3 day free trial, so you can sign up and try it out for yourself with no commitment.
Which Cloudways Server to Choose?
Our recommendation for most sites in the region of 20,000 – 500,000 visitors a month is the 2GB Digital Ocean Premium server. This offers a faster CPU and SSD compared to the standard server, and in our experience it offers the best balance between price and performance.
We think 2GB of RAM is the minimum for a production server. If you are running a very low traffic site, then you will likely be able to get away with a 1GB version.
If you are running a site with more dynamic content, such as a web forum or membership site, then you might need a more high-end server. But most websites with content that is only updated a few times a week will probably not need that.
What Server Specifications for WordPress Based on Visitors?
Whilst there are a lot of different factors that go into how big of a server you need, as a general rule of thumb, consider the following specifications:
0 – 10,000 visitors a month: 1 GB RAM, 1 CPU, 1 TB bandwidth, 10 GB storage
10,000 – 500,000 visitors a month: 2 GB RAM, 1 CPU, 2 TB bandwidth, 20 GB storage
500,000 – 1,00,000 visitors a month: 4GB RAM, 2 CPU, 3TB bandwidth, 40GB storage
1,000,000+ visitors a month – scale up if required!
As mentioned above, a lot of factors do come into play when specifying a server. These include caching on your site, how dynamic and regularly updated the content is and so on.
Cloudways makes it really easy to scale a server up, and you get a full overview of server resource utilisation. So if the CPU is regularly nearing maximum usage for your visitors, you can easily opt to upgrade the server with a couple of clicks.
Cloudways Cost vs Other Popular Web Hosting Providers
Overall, I think Cloudways is a very competitive offering considering what you get. Let me go through some example website setups so you can compare pricing with other popular WordPress hosts, for a number of different website sizes.
These website examples are all standard blogs and websites with fairly regularly updated content and comments, but no e-commerce.
For e-commerce, membership sites, or sites with very rapidly changing content (e.g., daily news websites), you might need higher specification servers as the demand on the server is going to be higher.
Website 1 – 10,000 visitors a month. 5GB of storage.
Website 2 – 50,000 visitors a month, 10GB of storage
Website 3 – 250,000 visitors a month, 20GB of storage
Website 4 – 1 million visitors a month, 50GB of storage
I'll use Digital Ocean Premium for my example. It's not the cheapest option, but I believe it offers the best balance of price versus performance. In my experience, using Digital Ocean Premium means you can use one server level lower than non premium (i.e. 1 core CPU instead of a 2 core premium setup).
I'd choose the following setups for each example website. These setups will be more than capable of running each server in my experience, with plenty of headroom for traffic spikes, backup tasks, and anything else you might want to do on the server.
Website 1 – 1GB RAM, 1 Core CPU, 1TB bandwidth.
Website 2 – 2GB RAM 2 Core CPU, 2TB bandwidth
Website 3 – 2GB RAM, 2 Core CPU, 2TB bandwidth
Website 4 – 4GB RAM, 2 Core CPU, 3TB bandwidth
Cloudways Cost
Based on each website, the total cost of Cloudways will be as follows. I'll also include backup and even e-mail. Prices don't include any taxes that may be due depending on where you live.
Website 1: $15.50 USD / mo ($14 hosting + $0.50 backup + $1 e-mail)
Website 2: $29.50 USD / mo ($28 hosting + $0.50 backup + $1 e-mail)
Website 3: $30 USD / mo ($28 hosting + $1 backup + $1 e-mail)
Website 4: $57 USD / mo ($54 hosting + $2 backup + $1 e-mail)
I think you will find that this pricing is very reasonable. Let's compare it against some other popular providers to see how it compares. Prices are correct as of August 2023 and do not include any discounts or promotional pricing.
Cloudways vs Bluehost
Bluehost is a popular host, especially for those starting out. In fact, Jess ran Independent Travel Cats for three years with Bluehost, before the number of visitors necessitated a move.
At the time, Bluehost primarily offered shared WordPress hosting. These days, however, Bluehost also offers VPS and dedicated servers.
The main downside is that whilst they offer attractive pricing, to take advantage of that price you are locked into a three year contract, after which the prices increase significantly.
For this comparison, I will use their standard pricing rather than the discount pricing, which I believe is a more fair comparison.
Using my earlier website examples, pricing for these on similar Bluehost packages would be:
Website 1: $10.99 (basic shared hosting, new signups can get this for $2.95)
Website 2: $39.99 (Standard VPS, new signups can get this for $29.99)
Website 3: $59.99 (Enhanced VPS, new signups can get this for $39.99)
Website 4: $119.99 (Ultimate VPS, new signups can get this for $69.99)
For website 1, this isn't exactly an apples for apples comparison because Bluehost don't have a smaller VPS. However, their basic shared hosting is actually fine at these traffic levels. We ran Independent Travel Cats for a few years on a shared Bluehost plan without issues, until our traffic levels required a move.
Overall, you can see that the standard pricing for Bluehost for roughly equivalent hardware is higher for websites 2, 3 and 4. The difference varies, from around $10 a month at the cheaper levels through to over $60 a month at the more expensive tiers.
If you can get the introductory pricing, then it is more competitive, but you are committing yourself to a three year contract, after which the price will go up.
Cloudways vs Kinsta
Kinsta is often regarded as one of the fastest WordPress hosts around. They build out a very fast stack which takes advantage of the Google Cloud Platform. This runs on very fast hardware and super high-speed network connections, so performance is generally great.
However, you certainly pay for this speed. Kinsta bases its pricing on visitor numbers, so for our websites the pricing would be:
Website 1: $35 / mo (starter)
Website 2: $70 / mo (pro)
Website 3: $225 / mo (business 2)
Website 4: $675 / mo (enterprise 1)
As you can see, the pricing at Kinsta isn't exactly cheap. You can save by paying yearly, which saves you the equivalent of two monthly payments, but it's definitely still expensive.
In addition, advanced features like Redis and Elasticsearch which are included as free add-ons with Cloudways, cost an extra $100 / month each with Kinsta.
Now you may be thinking, Laurence, this isn't a fair comparison. Kinsta is using Google Cloud Platform, and you are comparing it against a slower Digital Ocean VPS product.
Honestly, in the real world, for a standard website or blog, I would argue that the difference is not going to be noticeable. It's certainly not going to be more than $600 a month great, as you would be paying at the higher traffic volume example.
In addition, Kinsta actually offloads a lot of the work to Cloudflare, a global CDN provider that also caches your sites webpages on their servers around the world. This is a feature that anyone can add to any WordPress server by installing the Cloudflare APO plugin for $5 a month.
Kinsta is expensive because at high traffic volumes you are potentially using a lot of bandwidth. In 2019, the average webpage was 4MB in size, so with a million visitors a month you'd be looking at 4TB of bandwidth. Based on Google's bandwidth charges, that's over $500 in bandwidth. So Kinsta has to pass this cost on to you.
However, this assumes no CDN. I think Kinsta's pricing could be made fairer by charging based on bandwidth used instead of visitor numbers.
In my experience, most users would be better off spending some of that saved money hiring a web developer to perform some speed optimizations on their site, which will likely result in a faster overall experience than shaving off a few milliseconds of server response time.
You can see all the Kinsta plans here.
Cloudways vs WPEngine
WPEngine is another premium managed WordPress host. They use Amazon Web Services and Google Cloud Platform services in the back end, which again has the potential to deliver a very fast hosting experience.
However, again, it comes at a cost. Here are our four website examples, and where they fall on the pricing scale with WPEngine. This is based on monthly pricing, again, there is a discount if you pay for a year.
Website 1: $30 / mo (Startup)
Website 2: $115 / mo (Growth)
Website 3: $290 / mo (Scale)
Website 4: ? / mo (Custom)
Like Kinsta, WPEngine bases its pricing on visitor numbers. And because AWS and GCP bill based on bandwidth, they have to pass those prices on to you, the customer. Unlike Kinsta, WPEngine also caps bandwidth per plan with fees for overages.
Again, the Digital Ocean server we recommend might be marginally slower in benchmarks, but the real world difference in terms of the visitor experience is going to be negligible for most WordPress websites.
And, if you really want to test out the performance difference, it's a matter of a few clicks in Cloudways to clone your server onto a GCP or AWS instance and test it yourself.
Cloudways vs Flywheel
Before we moved to Cloudways, our two sites were hosted on Flywheel. This was because we were using a developer to host our sites who was using Flywheel.
As our traffic grew though, the cost of hosting with Flywheel was going to increase, so we looked for other services, and we migrated to Cloudways. We left our developer at this point as I was happy to handle everything ourselves, but he also migrated all his clients to Cloudways based on our experience. Which was a positive sign.
Anyway, back to Flywheel. Flywheel has a really nice looking interface, and they also use the Google Cloud Platform for their services.
As of 2019 Flywheel are actually owned by WP Engine, however, they still offer their own platform and products so I wanted to include them as they are a popular option. Let's look at how the pricing works out. Again, they use visitor numbers to differentiate between plans.
Website 1: $30 / mo (starter)
Website 2: $115 / mo (business)
Website 3: $290 / mo (business 2)
Website 4: ? / mo (Custom)
This is based on monthly pricing, again, there is a discount if you pay for a year. If you look at the pricing, you might notice that it's basically the same as WP Engine. Like WP Engine, they also cap bandwidth per plan.
Cloudways vs Agathon
Agathon are a relatively small hosting company, but they get very good reviews from bloggers I've spoken to who've used them. I've also chatted extensively with their support team and they certainly know what they are doing.
Agathon, thankfully, don't charge based on visitor numbers (you can see their reasoning for that here). They also believe that due to their optimized stack, most bloggers and website owners will fit fine onto their standard plan.
Let's look at our website examples, and see what the pricing would be with Agathon. You can see their full pricing here.
Website 1 – $80 / mo (2GB RAM, 1 Core CPU, 50GB storage)
Website 2 – $120 / mo (2GB RAM 1 Core CPU, 60GB storage)
Website 3 – $120 / mo (2GB RAM, 2 Core CPU, 60GB storage)
Website 4 – $160 / mo (4GB RAM, 2 Core CPU, 80GB storage)
Currently, I can't find any reference to bandwidth limits on Agathon, and they don't charge based on visitor numbers. Billing is monthly rather than annually.
Comparing the price between Cloudways and Agathon, you can see that Cloudways are significantly cheaper. You'll be saving between around $60 and $150 a month.
That said, Agathon does offer a more hands-on service, especially when it comes to WordPress. So if you have issues with your WordPress site that only require a few minutes of work, they can usually help out.
Whether this is worth the price premium is of course up to you, but their pricing is much more reasonable compared to some of the others in our list.
Cloudways vs BigScoots
BigScoots is another popular managed WordPress host that a number of my blogger friends use. Their service is actually fully managed, which means they handle everything for you, including backups and plugin updates.
Their support team is also on hand to help you with any WordPress or hosting issues you have. And, if you wish, you can still get your hands dirty with full SSH and FTP access, as well as staging.
Despite this hands-on approach, BigScoots is still affordable. Their prices are based on visitor numbers, but thankfully they have quite high thresholds for each plan, so the pricing is not too bad. Here's how each of our example websites would look on the Bigscoots managed WordPress hosting:
Website 1 – $34.95 / mo (starter)
Website 2 – $34.95 / mo (starter)
Website 3 – $98.95 / mo (Professional)
Website 4 – $248.95 / mo (Business)
There are a few more differences between these plans to consider. For example, the starter plan only includes 1TB of bandwidth and only 1 website is allowed.
For this reason, many users will likely instead consider the professional plan which has unlimited bandwidth and can take up to 10 websites.
Compared to Cloudways, BigScoots is more expensive; however, they generally do a bit more for you in terms of helping you manage your site, so the price might be worth it in your case.
Cloudways vs Lyrical Host
Another popular host among bloggers is Lyrical Host. This is an independent hosting company based in the UK who offer a managed hosting solution. As well as the actual hosting, their competitively priced plans include access to their development team who can help you with any site or plugin issues. Site backup and e-mail hosting is also included.
They also have a number of features other hosts don't offer, including access to a number of stock photos each month, free malware scans and cleaning, and they even plant a tree for every year you are with them.
So how do the prices stack up? Let's take a look. Despite being in the UK, they do offer pricing in USD, EUR and GBP, so for comparison sake we will use USD. They don't charge based on visitor numbers, instead they charge based on bandwidth, with three tiers available.
They suggest the Tiny package for up to 45,000 visitors a month, the Mighty package for up to 65,000 visitors a month, and the Boss package for unlimited visitors a month, which is what we are basing the below costs on.
Website 1 – $19.28 / mo (Tiny)
Website 2 – $30.31 / mo (Mighty)
Website 3 – $41.33 / mo (Boss)
Website 4 – $41.33 / mo (Boss)
Their packages also include free site and e-mail migration from most hosts, including from WordPress.com and Blogger. They do have a small list of plugins they don't allow, although this is fairly common.
Price wise, Lyrical Host is definitely one of the most competitively priced hosts out there. If you want more support for your site, with access to developers, and don't mind being a little restricted on the plugins, this is a great option.
You can also save 10% on your first month of hosting with Lyrical Host with the code FINDINGTHEUNIVERSE.
WordPress Host Price Comparison Summary
Ok, obviously there are a lot more WordPress hosting providers in the world which I haven't included in this review.
However, this section should have given you an idea of where Cloudways fits in terms of the price, as well as the knowledge to be able to make your own comparisons with other providers.
In summary, I think you'll find Cloudways offers remarkable value for WordPress hosting, whatever size of website you have.
In addition, the ability to scale servers up and down in size as your needs evolve, and the fact that you are billed on an hourly basis, makes it an excellent platform for the long term.
If you really want a lot more hands-on technical support, then you might consider Lyrical Host, BigScoots or Agathon as solid alternatives. Lyrical Host probably offers the next best pricing for most users, especially when you consider everything that is included. In my opinion though I feel that Cloudways will work perfectly for most users.
Which is the Best Cloudways Provider?
When you come to sign up for Cloudways, you will have to decide between DigitalOcean, Google Cloud Platform (GCP) and Amazon Web Services (AWS).
DigitalOcean also offers a faster version of their servers known as Digital Ocean Premium.
For most WordPress websites, my recommendation would be to choose DigitalOcean Premium. The pricing of these is easier to understand as they include a generous amount of bandwidth.
Whilst GCP and AWS are widely regarded as the fastest hosting options on the market, you have to pay for bandwidth, and this can quickly become expensive. I would also argue that for most WordPress sites, especially with caching in place, the speed difference will not be worth the increased cost.
When picking a specific location for DigitalOcean, my advice would be to pick the host which has locations closest to the majority of your users, and which fits your budget.
How Big a Server Do I Need for My WordPress Website on Cloudways?
Picking the right server size for your WordPress website is critical. If the server isn't powerful enough, users will experience slow load times and even page timeouts.
If the server is more powerful than you need, you're basically wasting money.
When you come to host your website on Cloudways, after you have decided on a provider, you will have to decide the size of the server.
There are a lot of factors that go into choosing a server size, including how dynamic the site is, how regularly you update it, and what sort of caching you implement.
In addition, if you put a CDN in front of your site, or opt to use the Cloudflare APO product (recommended) this will offload much of the work your server does to a third party.
As a rough guide though, consider the following server requirements for a WordPress website. This is based on using the recommended Digital Ocean Premium product on Cloudways.
Server Requirements for a WordPress Website
0 – 10,000 visitors a month: 1GB RAM, 1 Core CPU, 1TB bandwidth.
10,000 – 500,000 visitors a month: 2GB RAM 1 Core CPU, 2TB bandwidth
500,000 – 1 million visitors a month: 4GB RAM, 2 Core CPU, 3TB bandwidth
1 million+ visitors a month: 8GB RAM, 4 Core CPU, 4TB bandwidth
Note that memory is measured in bytes. 1 Megabyte (MB) is a million bytes. 1 Gigabyte (GB) is 1,000 MB. 1 Terabyte (TB) is a thousand GB.
Of course, you could definitely run each of these WordPress sites successfully with a lower specification VPS, depending on the setup and type of site it is. But these are a good average.
One thing to bear in mind is that with DigitalOcean you can scale this up in size if you need more resources with just a couple of clicks.
However, if you want to scale down to a smaller server, this takes a bit more time. It's still relatively easy as you just have to clone the server onto a new server, but there are a few more steps involved.
So my suggestion when picking a server is to start with the lowest size that fits your needs, and then scale up if needed, as this is easier than scaling down.
How Fast is Cloudways for WordPress ?
By all the metrics that matter, Cloudways is blazing fast for hosting a WordPress site. This is with all the default settings, before you even start to tweak.
Cloudways also comes with all the features that you need if you wish to further optimize a site. This includes support for advanced caching systems including memcached, Redis and Varnish. You can also enable the Cloudways Cloudflare integration, which can improve site speed times at a cost based on bandwidth usage.
On this site for example, which is running ads (these are bad for performance!), I still score over 90/100 on Google's Pagespeed Insight scores.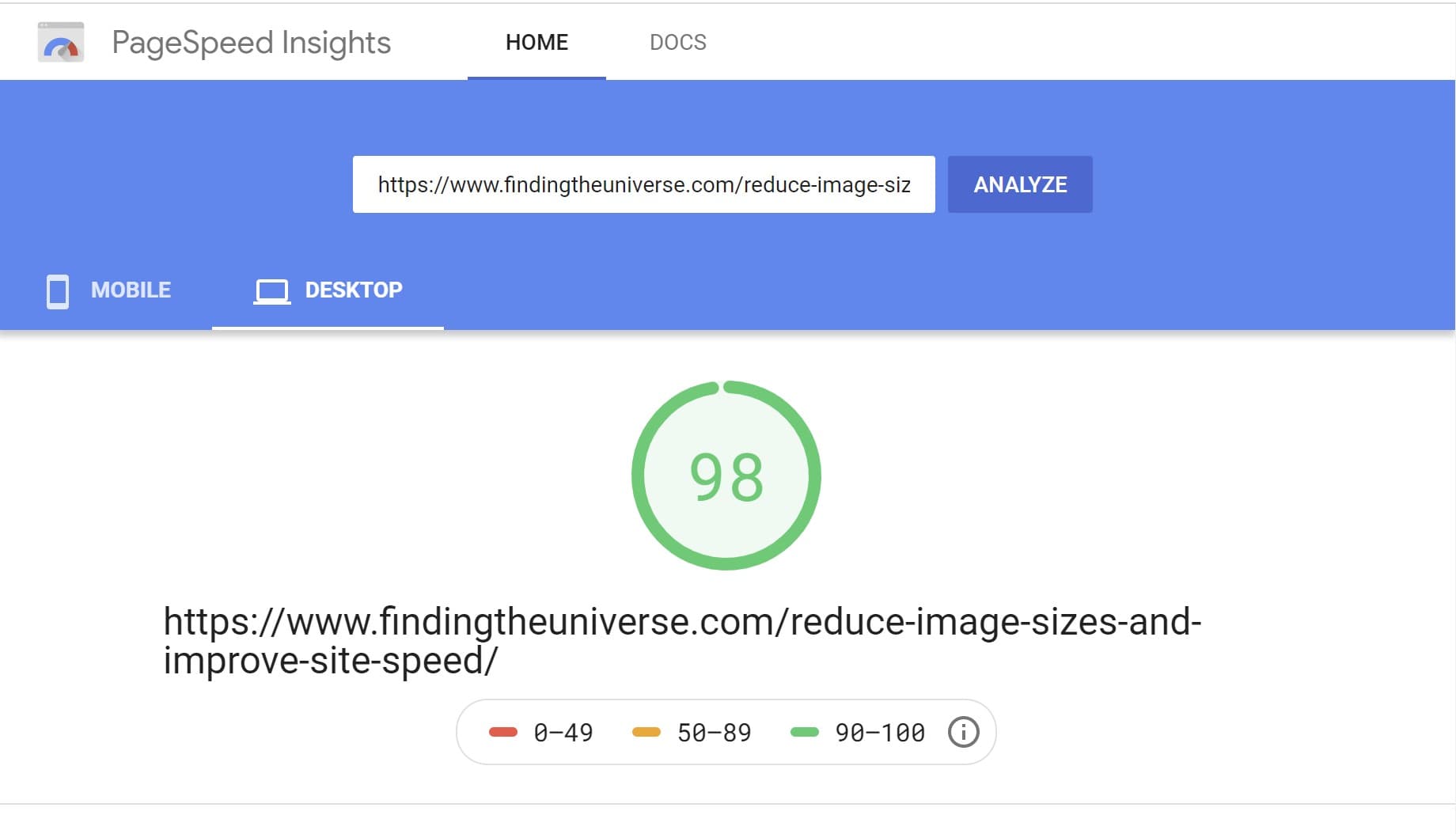 Webpagetest has the same positive results, with fast server response times and "A" scores across all the tests they perform.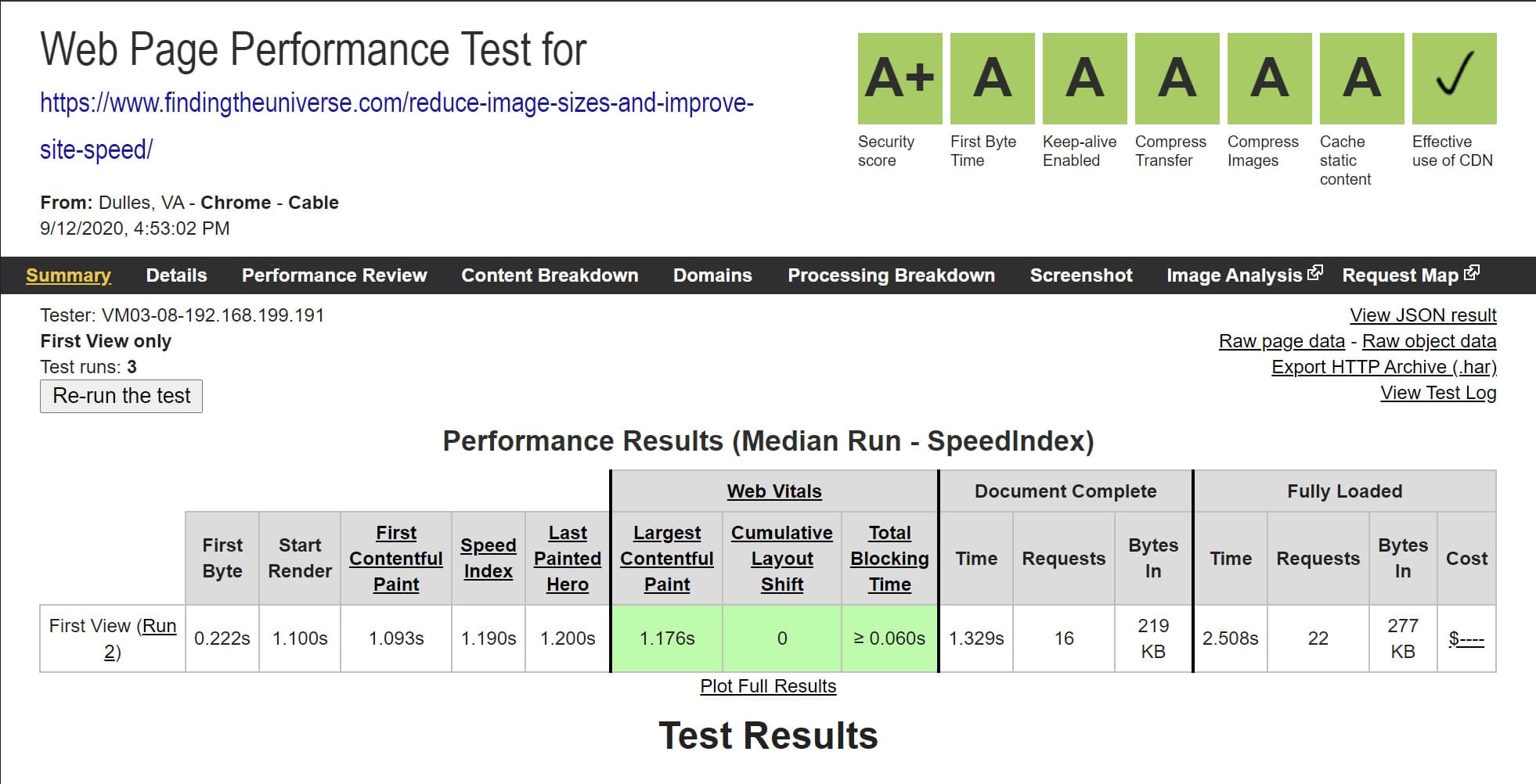 In terms of actual user experience, Google Analytics reports that the average time to fully load a page on this site is under three seconds.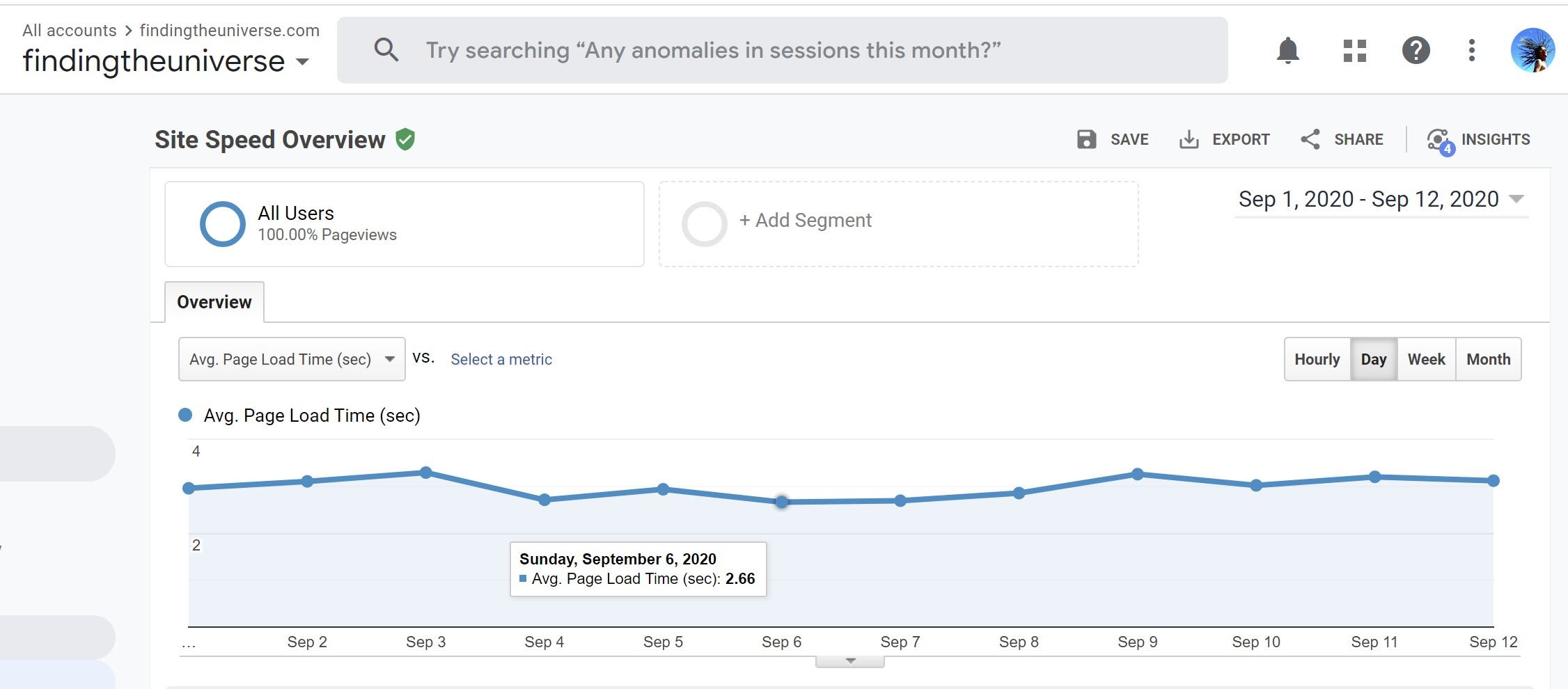 Again, not every metric in the above tests is directly related to server speed, but a slow server would definitely negatively impact these scores.
This is because a slow or overwhelmed server will have a slow server response time. This is also known as the Time to First Byte (TTFB), and if the server takes a long time to respond to the users request, the whole load process is delayed.
Google recommends a TTFB of under 600ms for the best user experience.
In my tests with Cloudways, our server responds in under 50ms when tested from a location near to the physical server (New York City). This indicates the server is more than fast enough. Even locations further from this are well within the requirements.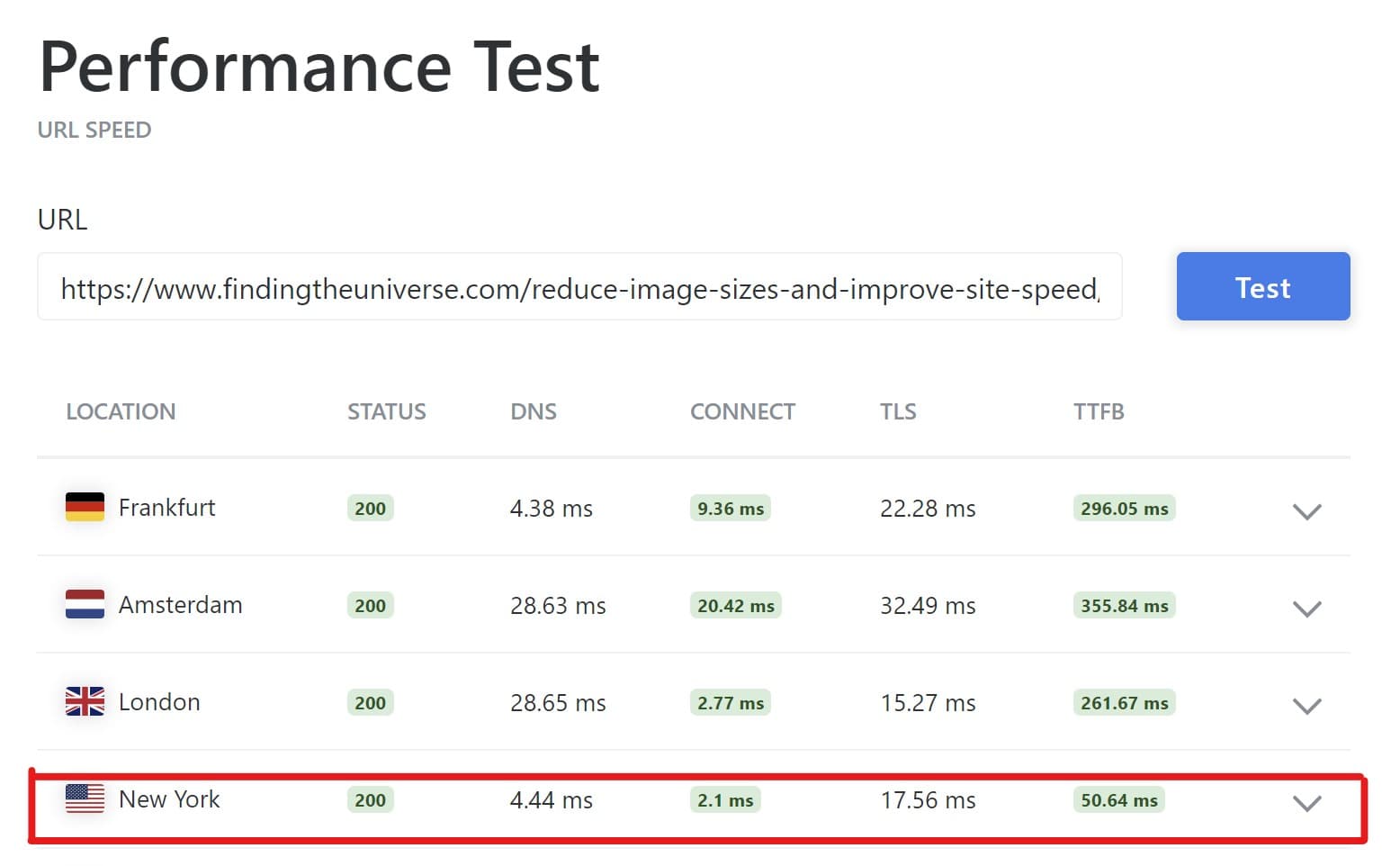 You can use this tool to check the TTFB for your server from locations worldwide.
Overall, Cloudways is in my opinion an excellent base for creating a highly performant WordPress website.
Out of the box it has Varnish enabled, which is a fast server side caching mechanism. Once your web pages are cached in Varnish, they can be returned to your user without even invoking WordPress .
Power users can further tweak by taking advantage of more advanced caching features like Memcached or Redis, but even if you don't want to use these features, your site will not be held back by the Cloudways platform, which is optimized for fast WordPress sites.
Is Cloudways Only for Technical Users?
I have been asked if Cloudways is only for more technically savvy website owners. I personally don't think this is the case.
The interface might be a bit different from what you are used to, but you could say the same for most VPS WordPress providers which each tend to have their own look and feel.
The good thing about Cloudways is that honestly it pretty much just works. Launching a WordPress site just takes a few clicks, and the default setup will work well for most users.
If you want to tweak things, then all the features that power users will want (SSH access, SFTP, resource monitoring, Redis, direct log file access etc.) are all there, but you can just ignore all that if you want and still have a great experience. Or you can hire a WordPress expert and know that they will have all the tools at their disposal to get the most from your host.
If you are migrating from another WordPress host, then the Cloudways team offer a free migration as part of their service, which promises no downtime during the migration. They also have a free migration plugin and detailed migration advice which includes taking a server live if you would prefer to do it yourself.
When you have any questions or issues, I've always had a positive experience with the technical support team. Whether it's advice on cloning a server, setting up a staging environment, or installing an SSL certificate, the response has always been within a few minutes and has always answered my question.
Of course, this isn't a fully managed solution. So you have to handle things like plugin updates, theme updates, and major WordPress updates yourself. This is again just a one or two click process from the WordPress dashboard, as with any other host.
Security updates to the main WordPress install are automatically installed.
It's also worth noting that Cloudways also offer some advanced support addons, where for a reasonable monthly fee they will help you troubleshoot more specific site and WordPress issues, including plugin and theme issues.
If you are new to a host like this, then paying for a month of two of an advanced support plan might provide you the peace of mind you require as you get started with them.
Finally, truly technical users might prefer to bypass Cloudways entirely. You can after all set up an account with a VPS provider with Vultr or Digitalocean, and install all your own software on a server stack yourself.
This gives you total control, although in my opinion the slight extra cost of having Cloudways handle all that for me is more than worth it.
Time spent managing a server at that level is time I could be better spending writing content, answering student questions, or taking photos. I'd say this is an option more for folks who run their own hosting companies or who really love to tinker.
Cloudways Review for WordPress Hosting
We have been running our three websites on Cloudways since September 2019. I'll now go through our personal experiences using Cloudways as a WordPress host.
Migrating to Cloudways
We migrated our websites from Flywheel, where we had been hosted for a couple of years.
Cloudways does offer a free migration service for new users; however, we did our site migrations ourselves using the Cloudways migrator plugin since we had more than one site to migrate.
The migration was a relatively painless process which just involved setting up the sites and copying the data across, before updating our DNS provider to point at the IP address of our new servers.
Initially, I set up our websites on two different DigitalOcean servers, with 4GB of RAM and a dual core CPU. At that time our shared monthly visitor numbers across our websites was at around 1 million visitors. I wasn't sure what server requirements we needed, so I figured more was better to start with.
The Cloudways Interface
Cloudways offers a clean interface which is divided into servers and applications. You can have multiple servers per account, and you can also install multiple applications on each server.
From the server interface you can perform tasks like monitor resource usage, enable, disable or restart services like Redis or Apache, switch between PHP versions, scale the server up and configure backup frequencies.
Here are some screenshots to show you some of the features.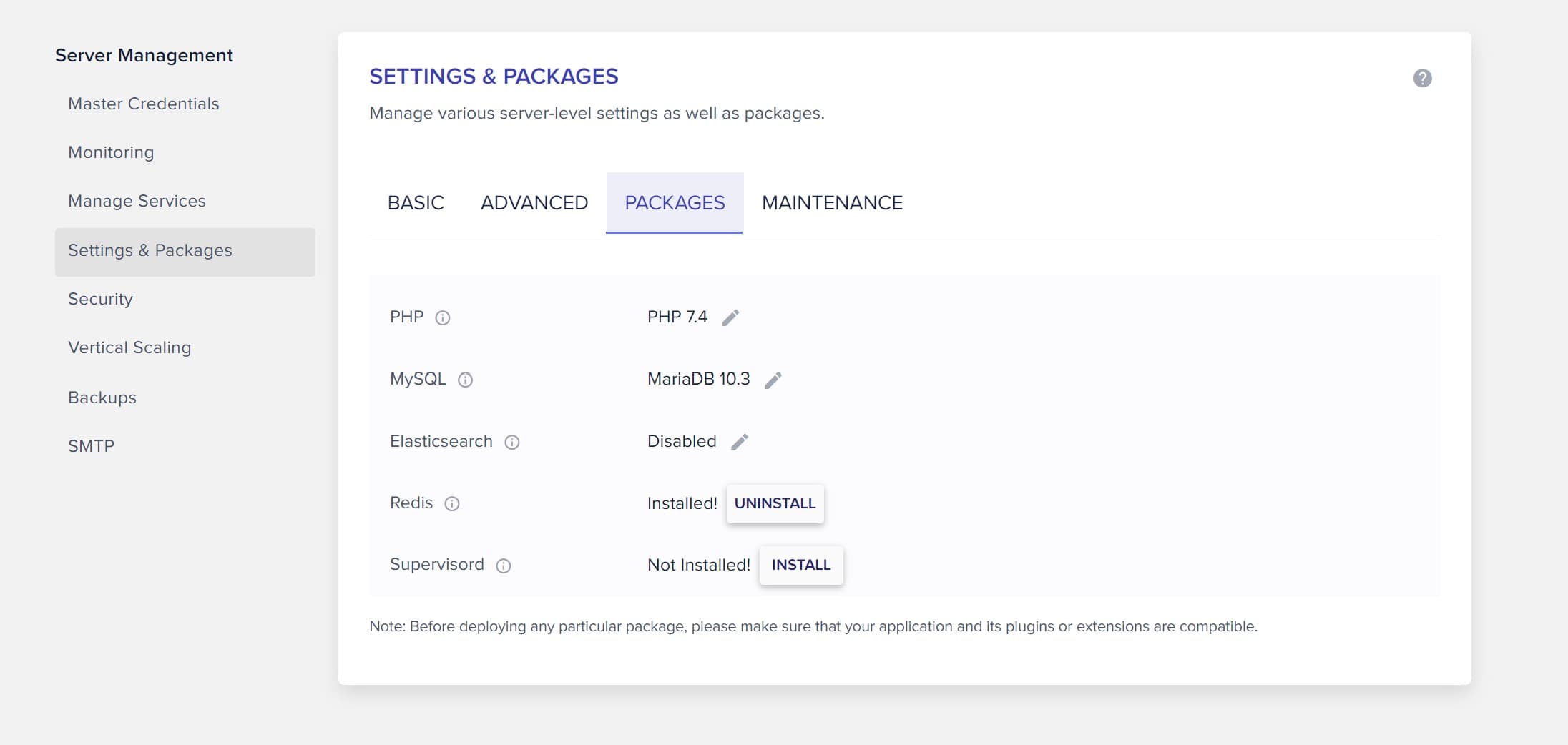 On the server screen you can also add new servers, clone a server to a new server, create a staging environment, stop the server and even delete it.
The application interface is where you control settings specific to a single application or website.
For example, this is where you can configure things like your SSL certificate, backup and restore single websites, and get access to server logs. You can also set up cron jobs, and adjust specific application settings.
For the most part, you don't need to touch most of this, but again, it's there if you need it. Plus, if you have any questions or problems, live chat is just a click away.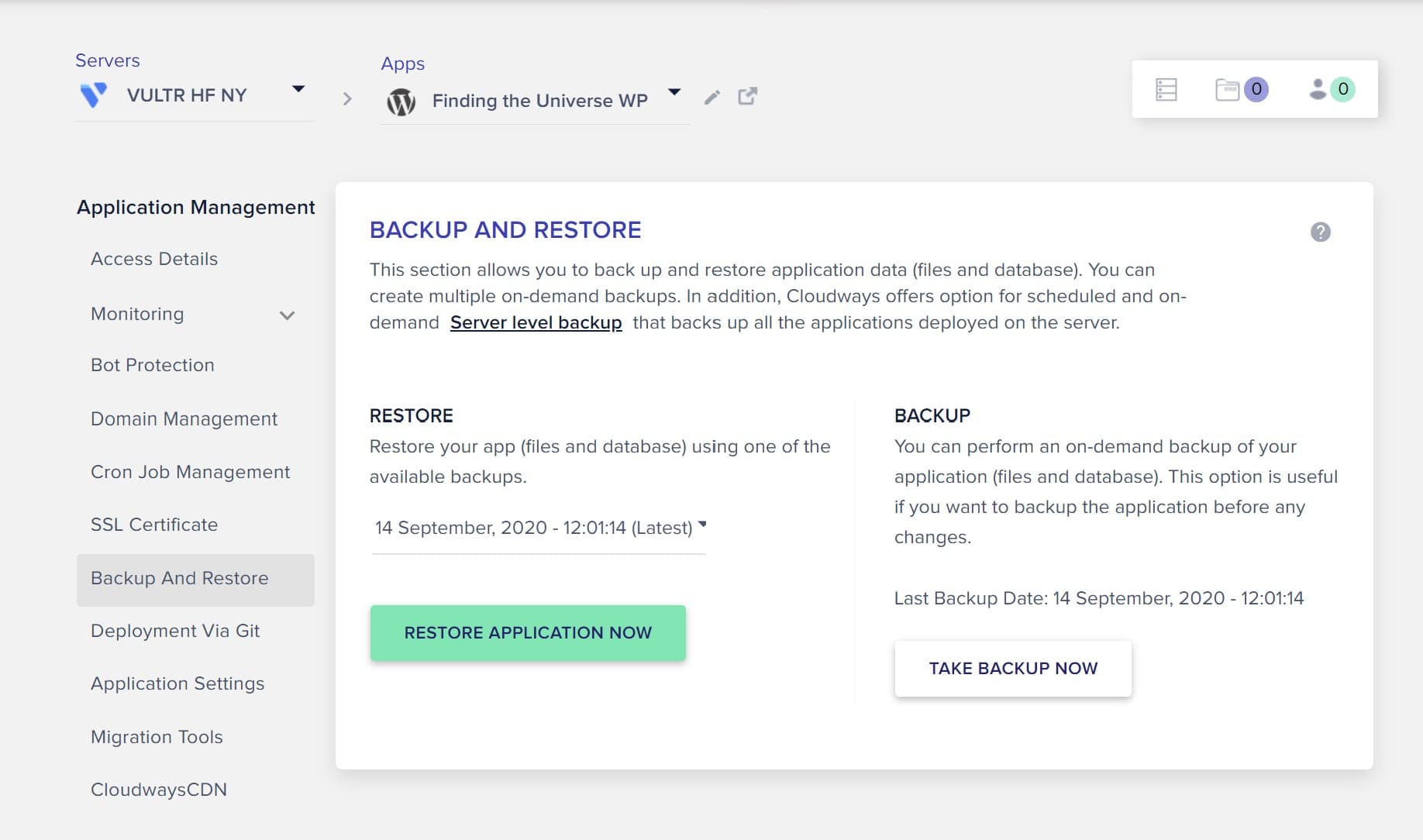 Cloudways Monitoring
With Cloudways, it's easy to monitor server resource usage. From the server screen in the Cloudways dashboard, you can see a top level view of the main resources (CPU, RAM, disk and bandwidth) being consumed at any given time. If any of these are consistently close to their limits, a warning will be shown with an orange symbol.
You can also click through and monitor individual resource usages, over time periods varying from 1 hour through to 6 months.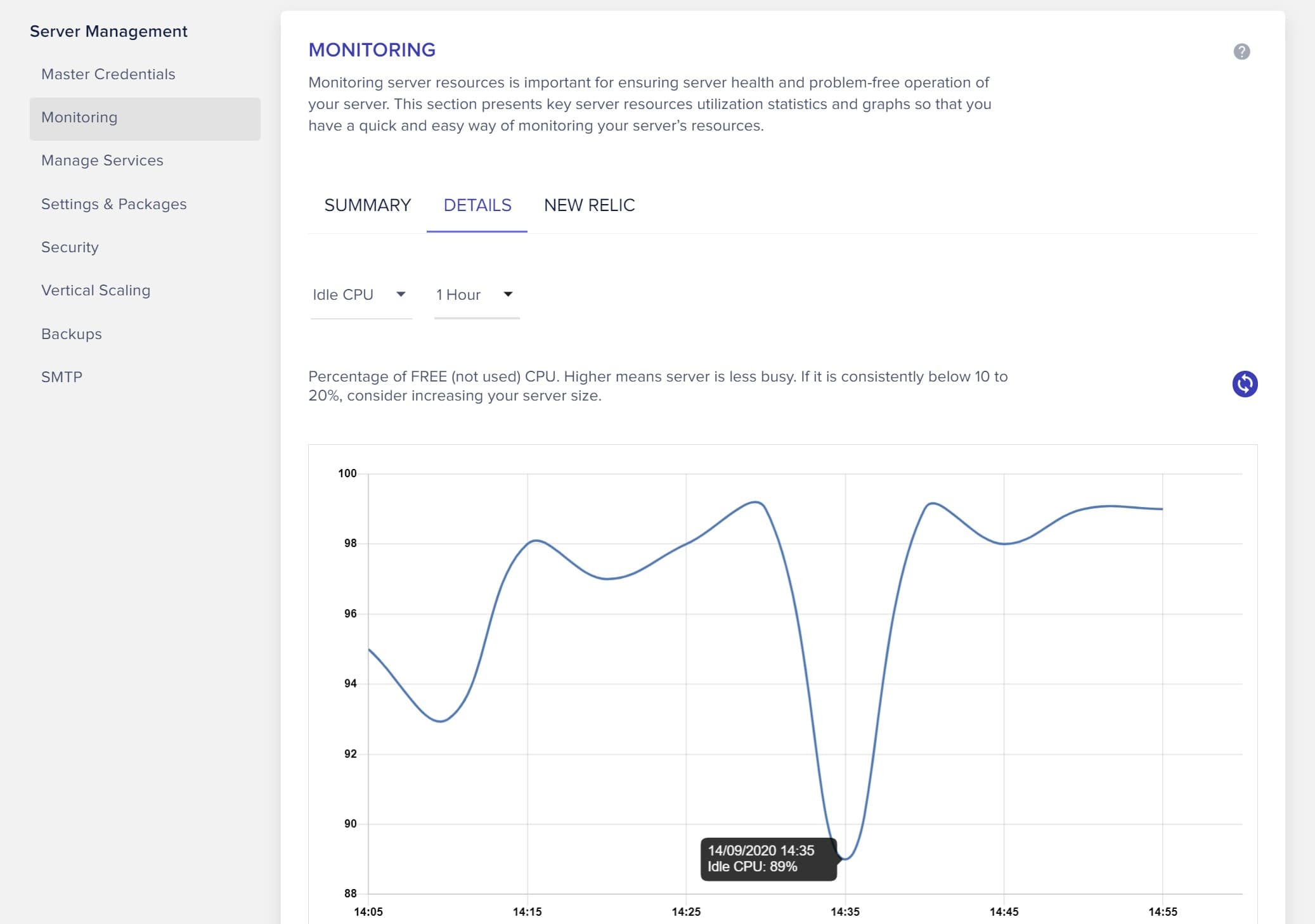 The server resource monitoring feature is great for checking if you are over or under utilizing your servers.
As an example, after installing our websites on the two Digital Ocean servers, I monitored our server resource usage. I quickly came to realise that with good caching in place, as Cloudways offers, I didn't need two servers as they spent much of their time idling.
As such, after a few months I migrated all three of our sites to a single server. This was a simple task – I used the application clone feature to copy an application from one server to the other. Then all I had to do was update the DNS records, check everything looked as expected, and then I could delete the unused server.
I did this with no downtime and it was an easy process with clear documentation available to walk me through the application cloning process.
For a time, I continued to run all three sites on the one original DigitalOcean 4GB/2CPU server. However, in 2020 Cloudways launched access to VULTR high-frequency servers. These were higher performance servers with faster SSDs and CPUs.
I wanted to see if I could save a bit of money by migrating to one of these options. I used the Cloudways server clone feature to directly copy all our sites from a DigitalOcean VPS to a Vultr VPS, which only took a few minutes.
Now the sites are hosted on a single core 2GB RAM Vultr HF server. For the most part, even with traffic volumes in excess of a million unique visitors a month across our sites, the server sits with 90% of its CPU not being used. It's only when something like a backup process runs that the CPU usage goes up a bit.
Note that in 2023 Cloudways discontinued access to the Vultr product, focusing on Digital Ocean. I used to use the Digital Ocean services and had no problem with them. I've not migrated back because I have no need to, but I am happy to recommend them based on our experience with them
Cloudways Performance
In terms of performance, this is definitely something I get a bit obsessed about. No-one likes a slow website, and I do my best to make sure our sites are as fast as possible.
As I discussed earlier in the section on how fast Cloudways is, we have certainly found their service lets us get great performance from our websites.
With Cloudways, I take full advantage of their various caching features, including Varnish and Redis, in parallel with the free W3TC caching plugin. Cloudways also offer their own caching plugin called Breeze, which many users prefer due to its simplicity.
I have managed to put together three websites that are usually interactive in under a second, even long blog posts with lots of images and ads.
Whilst only some of this is speed is to do with the host, I definitely feel that the Cloudways setup means I can get the best performance from WordPress which is, to be honest, quite a heavy and potentially slow application for hosting web content.
Restrictions on Cloudways
One thing I really like about Cloudways, especially compared to many other hosts, is that I'm not restricted by what plugins I choose to run.
On WordPress, plugins add functionality to a site, and there are literally hundreds of thousands of plugins to choose from that can do everything from add ecommerce capabilities to a website, through to image sliders, backup plugins and more.
However, many hosts block certain plugins because they can interfere with their setup, or cause high server load. These often include backup plugins or cache plugins. For an idea of what hosts might not allow, see this list of disallowed plugins at Kinsta, this list at Flywheel or this list at WP Engine.
As a specific example, many hosts block the Broken Link Checker plugin because it can use a lot of server resources. However, we find it helpful for keeping an eye on our links, and appreciate that we can run it if we want.
I do understand that it can often be easier to block plugins rather than have to deal with the troubleshooting that plugin conflicts might cause, and on shared hosting especially plugins can quickly overwhelm a server.
However, as I'm paying for a VPS, I like having more control over what I can install on it.
Cloudways Price
One of the major advantages for me when it comes to comparing Cloudways to other managed WordPress hosts is that it is remarkably cost effective.
As an example, our single VULTR VPS server, which thus far has shown itself more than capable of handling from 500K to a million visitors a month, currently costs us $33 USD a month for all three of our sites. Then there's a couple of extra dollars a month for backup and email.
All in all, it's under $35 USD a month. And even if I were to scale to the next level of server, which has double the power and which I could do in a couple of clicks, it would be under $60 a month.
I think that's quite reasonable.
Of course, your results might vary depending on your site type and content, and what you are able to cache or offload to a CDN.
We use Cloudflare as our free CDN, which saves us a lot of bandwidth whilst also providing an additional layer of server security.
You can also save on the Cloudways price with our exclusive Cloudways coupon code, which will give you 10% off your hosting for the first three months. Just use the code TRAVELCATS when you sign up.
Cloudways Technical Support
When it comes to technical support, I have always had a very positive experience with Cloudways. I like to tinker (probably more than I should) and have from time to time needed to reach out for assistance.
Whether that's been for advice on cloning a server, increased OPcache memory limits, or setting up my SMTP credentials, I've always found the Cloudways team to be responsive and helpful.
Server Access on Cloudways
I definitely appreciate having full server access, so I can get to the site by SFTP and SSH, and do things like monitor server resources using linux commands, set up cron jobs, and edit files.
As an example, our advertising provider requires us to keep a file on our server, which is regularly updated. I created a cron job which automatically updates this file once a day, so I don't need to do it manually, or rely on a plugin.
Again, I appreciate not everyone will want this level of control, but I always think it's best to have things and not need them than the other way around.
It also means that if you hire someone to do work on your site, they will have all the tools at their disposal that they need without being hampered by restrictions that your host might have imposed.
Cloudways Security
Website security is obviously important, especially if your website is your business.
Cloudways has a number of features that help protect your website.
First, because they handle the server, you don't have to worry about outdated software versions being exploited. Like a Windows or Apple computer, a server runs an operating system and software stack which needs regular security updates, and Cloudways handles all that for you.
On top of that, Cloudways has a number of security features to keep your website secure, including built-in firewalls, application isolation and so on. You can read more about some of their security features here.
In 2020, Cloudways launched a security feature they call "bot protection". This is a security feature to help protect websites from common attacks. For example, it's common for hackers to try and "brute force" a login page, trying thousands of username and password combinations in quick succession to guess the admin account of a website.
The bot protection feature helps to mitigate this sort of attack by spotting threats and protecting the site from them. This also improves site performance, as one reason a site might experience slow performance is when it is being overwhelmed by malicious requests.
Bot protection is enabled by default on all new Cloudways accounts, and in my experience it works well to protect a site from common threats.
There are lots of other security features to keep your website and Cloudways account secure, including support for two factor authentication, the ability to restrict direct IP access to your site, the ability to whitelist specific IPs for remote database access and so on.
Finally, advanced users can also manually edit their .htaccess file as well, for additional security.
Downsides of Cloudways
Of course, not everything is perfect. There are a couple of things to be aware of.
First, Cloudways don't actually own or have physical access to any of the servers they provide. They basically take a VPS from a provider like Digital Ocean, or Amazon Web Services, provision it for WordPress, and provide management and technical support.
This means that if there's a problem with the actual server hardware, Cloudways are at the mercy of the third party provider to resolve it. With that said, in the time we have been with Cloudways, we have experienced almost no downtime, perhaps an hour or two at the most over the years.
Cloudways has largely mitigated the downtime issue by choosing some of the most well known VPS providers in the world, so this isn't something to really worry about.
I use a free service called Uptime Robot, which monitors downtime on our sites, and as you can see, it's been good for a long time!

Another detail that might bother more advanced users is that you do have to use the technical stack that Cloudways provides, and the hosts that they use.
Some advanced users might prefer a Litespeed based server, or a pure NGINX solution for example, and this isn't an option. However, if this is you, then you are probably already planning on running your own VPS directly anyway, rather than going through Cloudways.
Another small issue is that you can't turn the backups off. So even if you don't want Cloudways to do any backups of your site for some reason, you still have to pay the minimum of 50 cents a month for the minimum amount of backup. Honestly, I don't think this is a big deal, but given that it's unavoidable, I think it should be included on the pricing page.
Whilst Cloudways does support more advanced caching technologies like Redis and Memcached, setting these up to get the best performance from your setup does require a bit of technical knowhow and the use of some third-party plugins.
It's not that hard, and Cloudways do provide guides for Redis and Memcached, but it could perhaps be more of a single click option.
My last gripe, if you could call it that, is around pricing. I believe Cloudways offers fantastic value for money, but as you get to the very high-end server offerings costing thousands of dollars a month, I feel that the cost is higher than it needs to be. It's still certainly competitive, but there is room for improvement.
Is Cloudways Right for You?
Overall, I would suggest that for the majority of users looking to host a WordPress website, Cloudways is an excellent option.
However, let's do a quick summary based on various needs.
If you are just starting a WordPress website
If you are just starting out and have less than 10,000 visitors a month, then a shared hosting provider will likely be more cost effective to start with.
In this case, Bluehost is a great option, and you can save even more with our link.
Of course, there is nothing stopping you from starting with Cloudways, and you can choose a lower priced server and then easily scale it as you go.
If you think you are going to quickly grow your site, then starting with a service which allows you to quickly scale and where you can avoid having to migrate between hosts, is likely a more sensible option in the long term.
If you have an established site
If you have visitor numbers in excess of 10,000 visitors a month, then I think Cloudways is a fantastic and cost-effective choice.
They will handle all the nitty gritty of server management, offer round the clock support, and have a technology stack that means your site will be fast. This is the case regardless if it's a standard blog with a few updates a week, an ecommerce store, a photography portfolio or a regularly updated news site.
On top of that, Cloudways have a cost-effective backup solution, excellent built-in security features, and all the advanced technical tools you might want should you be more of a power user.
The interface is clean and well laid out, and even if you aren't particularly technically minded you shouldn't have any issues. They also have an extensive knowledge base with lots of guides for everything from going live to managing your backups.
Cloudways will migrate your site from another host for free with a zero downtime promise. Because you pay hourly for what you use, you don't have to worry about being locked in to a lengthy contract. You also get a free 3 day trial to test the service out.
If you need a lot of help with your site
The Cloudways support team is great in my experience, with 24/7 support and free migration assistance.
However, if you need lots of help at the application level, which means WordPress, Cloudways may not be the right choice. If you prefer to avoid things like plugin updates, or need help with editing your theme files, this is outside their standard support.
If this is you, you have a few options. First, there are lots of resources on the internet where you can learn some basic things yourself. Because Cloudways has staging capabilities and a robust backup tool, you can definitely use it to develop your skills.
Alternatively, you can pay extra for an advanced support plan with Cloudways. This includes things like plugin and theme troubleshooting, and this might be a good option for your first few months.
Another option is to hire someone, either on an ad-hoc basis or more permanently, who can handle these things for you. Most sites need minimal maintenance over time, so I think that this usually works out cheaper in the long run that paying for more expensive hosting.
Of course, if you really would prefer to let someone else do more of the work for you, then you might consider a host like Lyrical Host, BigScoots or Agathon.
If you are a power user or have multiple sites
If you have multiple websites, Cloudways makes managing them easy. You can have multiple servers under one account, and install as many or as few applications on each one as you want.
You can also set up different users with access to different applications or servers if you need, making Cloudways a good option if you host websites for multiple users.
Cloudways do more than WordPress hosting as well, and you can even mix application types on different servers.
If you are a power user who wants to squeeze the most performance out of your site, again, Cloudways can help you do that. From advanced caching technologies like Redis and Varnish, to search optimization systems like Elasticsearch, through to the option to switch between PHP versions and database engines, there is a lot here to make you happy.
Plus, it is really easy to start and stop servers from different providers and with different specifications, and test how they work for you and your site. So if you've always wondered if a Google Cloud powered server would make your website faster, you can try it out for short time period and see!
Of course, you might prefer to run your own VPS rather than sign up with Cloudways, and of course you will save a bit of money if you do so.
However, I would argue that unless you make a living from hosting websites, it's going to work out more cost effective in the long run to let Cloudways manage your server stack, so you can get on with tasks that actually create you an income.
Cloudways Review Summary
In summary, I think that most website owners will be more than happy with Cloudways and the services they offer.
If you want to try it out for yourself, don't forget that we have an exclusive discount code for Cloudways.
This will give you 10% off your hosting for the first three months. Just use the code TRAVELCATS when you sign up.
In addition, you also get a three day free trial with Cloudways, so you can try out the service with no commitment. Click here to try it today.
Further Reading
Hopefully this review of Cloudways WordPress hosting has helped you decide if Cloudways is the right host for your WordPress website.
We have a number of other articles and resources that we think you will find useful, covering both blogging and photography. Here are some to get you started.
Thanks for reading, and as always, if you have any questions about Cloudways or choosing a WordPress host, just use the comments section below. We'll get back to you as soon as we can!