Today I'm going to share some basic photography tips, as part of my series of photography tips. This post will cover depth of field in photography.
First, we'll look at what depth of field is, then we'll cover how to achieve it with your camera, and finally look at situations where you might want to use depth of field.
Let's get started.
What is Depth of Field?
The first question is – what is depth of field? Put simply, it's all about how much of the shot you are taking is in focus. The best way to demonstrate what I mean is with a couple of photographs.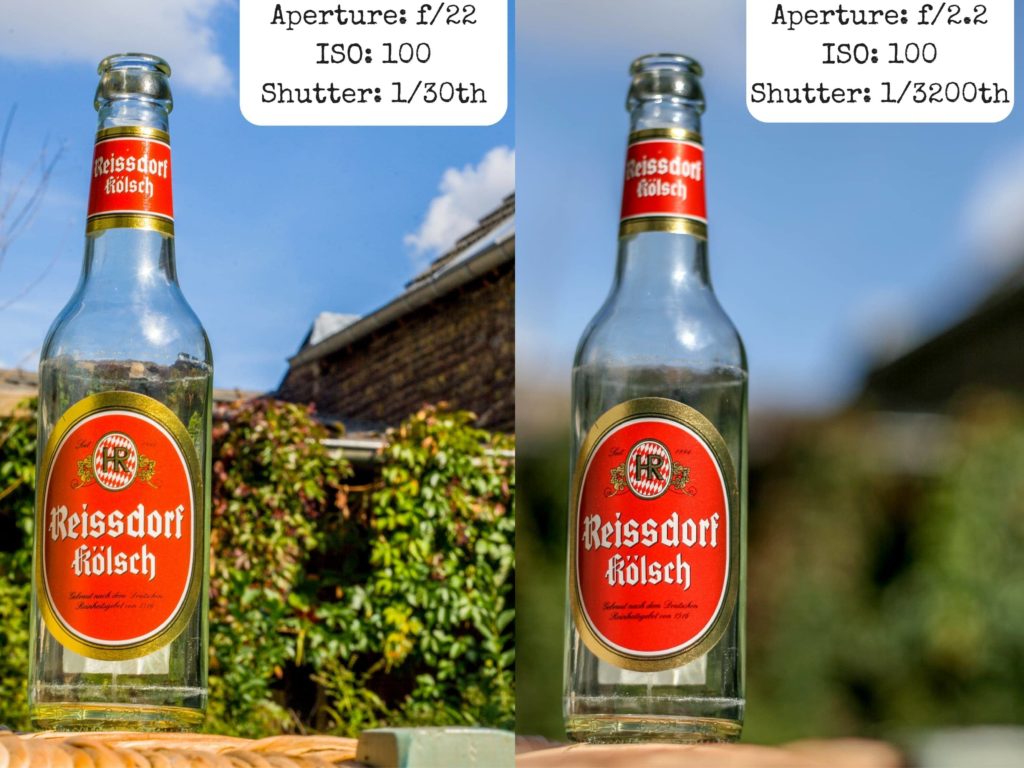 As you can see, these images are essentially the same in terms of framing and light, with the key difference being the focus.
The image on the left is largely in focus, whereas the image on the right has only the beer bottle clearly in focus.
In the image on the right, nearly everything in front of and behind the beer bottle is blurry and out of focus. This is why this effect is known as "depth" of field, as it relates to how "deep" the plane of focus is.
As a side note, the blurry area is known in photography terms as bokeh – you can read all about it in my guide to bokeh in photography here.
How to Control Depth of Field
So how do we control depth of field then? Some basic camera knowledge for you first. A camera works by capturing visible light. Much like an eye, the camera can control how much light it captures to ensure that the shot is correctly exposed.
Too much light, and you end up with a photo that is just washed out whiteness, too little light and the image will be too dark to use. My beer bottle kindly consented to posing for examples of under and over exposure, as can be seen below.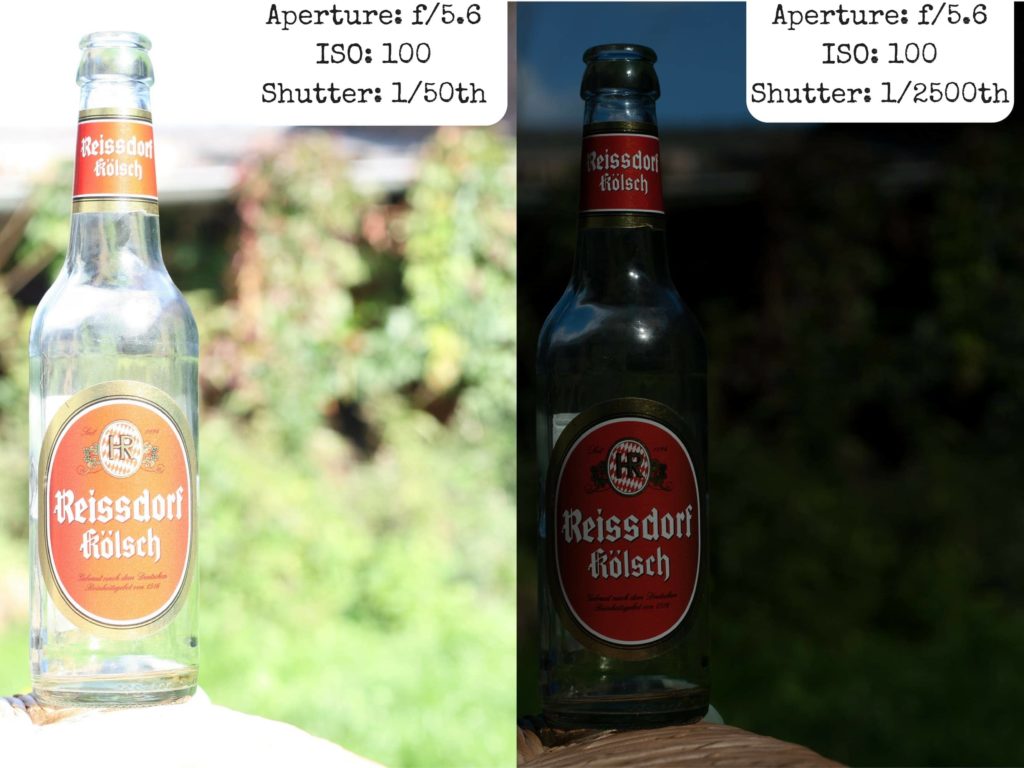 The image on the left is "over-exposed". The image on the right is "under-exposed".
The camera has two mechanisms for controlling the amount of light it lets in. The first is the shutter speed, which controls how long the camera shutter is open. Imagine this like the eyelid – you can control how long you open your eye for. The longer the shutter is open, the more light will get in.
The downside to this is that you need to hold the camera still, so unless you have a tripod you don't want to leave the shutter open for too long or the image will end up blurry. As a general rule of thumb, you can't hand hold a camera for shutter speeds slower than 1/60th of a second.
The second mechanism for controlling the amount of light that the camera captures is the size of the hole that the camera opens to let the light in, which is known as the aperture.
Again, using the eye as an example, this can be thought of as the pupil of the eye. When it is darker, your pupil is bigger to let more light in, when there is more light, the pupil is smaller.
A camera can use different settings of aperture and shutter speed to control how much light is let in. If you increase one, you decrease the other, and vice versa. A fast shutter speed would result therefore in a larger hole, and a lower shutter speed would result in a smaller hole.
The aperture on a camera is measured in "f" stops, a number system that goes from a smaller number to a larger number. Slightly confusingly, the smaller number means that the hole is bigger, and a larger number means that the hole is smaller. So a camera set at say f/1.8 would be letting a lot more light in than a camera set at f/22.
At this point you may be thinking, well, why not just leave the hole as big as possible which would let you use higher shutter speeds to avoid image shake? And the answer is: depth of field.
Depth of field is directly controlled by the size of the aperture. More depth of field (more objects in focus) can be achieved by having a smaller hole (high f-stop number), and less depth of field is achieved with a larger hole (low f-stop number).
If you have an SLR, you should be able to set the camera to "Av" mode, which allows you to set the aperture manually, and the camera will set the shutter speed according to the amount of available light. If you play around with this, you will see how changing the aperture will change the shutter speed, and the results will be images with differing depths of field.
When to Use Depth of Field in Photography
Depth of field is a really important tool to master as a photographer. It allows you to isolate your subject from the background, and is particularly useful for portrait and wildlife photography. Wedding photographers will often use this technique to isolate a bride for example from her surroundings.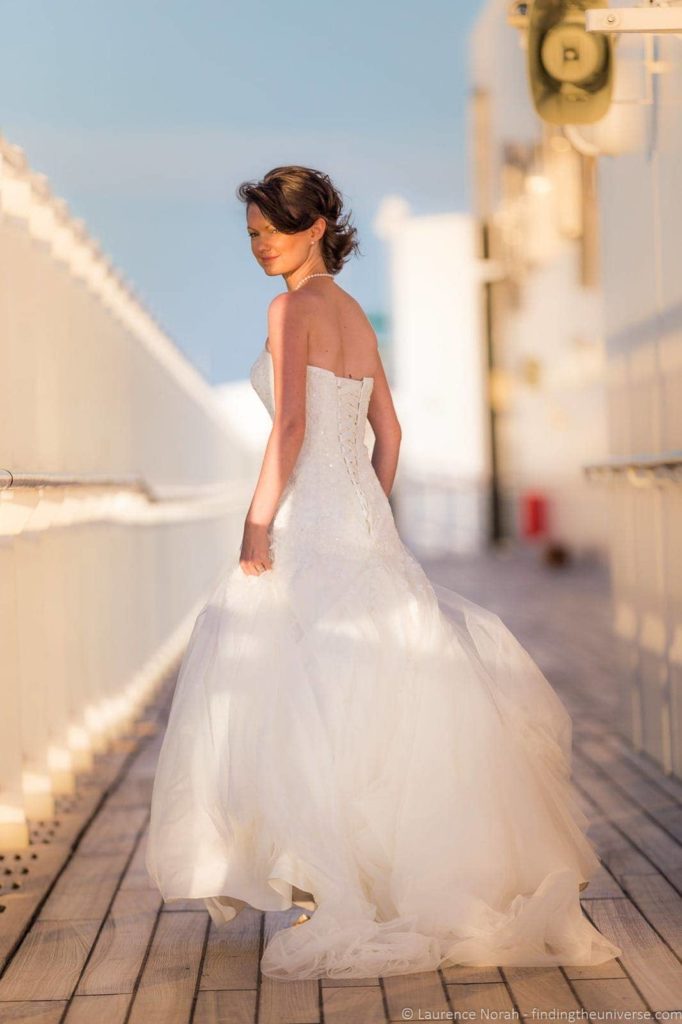 Essentially, when you are taking a picture where you only want your subject to be in focus, you would choose a higher shutter speed and a lower aperture.
This is not something you can directly control on many cheaper point and shoot cameras, but as you move to more expensive options you will find that you can control these options more fully. DSLR cameras, for example, should let you have full control over the aperture settings.
Further Reading on Photography
Well, that sums up my guide to depth of field in photography! I hope you found it useful – don't forget to fire any questions at me in the comments.
I've also put together a number of other photography related guides and resources that you might find useful. These are:
And that's it for my post on depth of field! Hopefully you found it useful. If you have any questions about what I have posted, feel free to post below in the comments and I will do my best to answer!