We love travel themed gifts, and we've already written a comprehensive guide to gifts for travellers. Today, we wanted to highlight some gifts made in the UK for travellers.
Buying a gift made in Britain can help to support local business and jobs, as well as reduce the carbon footprint of your purchase. You'll also find some uniquely British items that you might not be able to find elsewhere!
Without further ado, here's our list of some great gifts for travellers which are made and sold in the UK. To be included on our list, the products all have to be made in the UK, by a UK based company.
30+ Gift Ideas for Travellers that are Made in Britain
Our list includes gifts for travellers made in the UK, and includes items made in England, Scotland, Wales, and Northern Ireland.
In terms of price range, we include budget friendly items like water bottles for under £10 and jewellery and luggage tags for under £20. We also include more luxury items like handmade luggage and cashmere travel scarves, as well as lots of items in between. We've definitely tried to include some British made gifts for all budgets!
It's also worth bearing in mind that whilst all the products in this list are physically manufactured or assembled in the UK, the raw materials for some products might come from overseas. Not all raw materials are produced in the UK, so this is largely unavoidable.
One thing to watch out for when looking for gifts made in the UK are products that are "designed in the UK". This phrase can be used to mask the reality that the products are actually manufactured overseas.
For this list, we have only included items that are physically manufactured in the UK by UK based companies. Where possible, we've tried to be specific about exactly where in the UK it is being made.
If you're looking for more gift idea for travellers, see our ultimate travel gift guide, our guide to gifts for photographers, our guide to tech gifts for travellers and our guide to travel inspired jewellery gifts.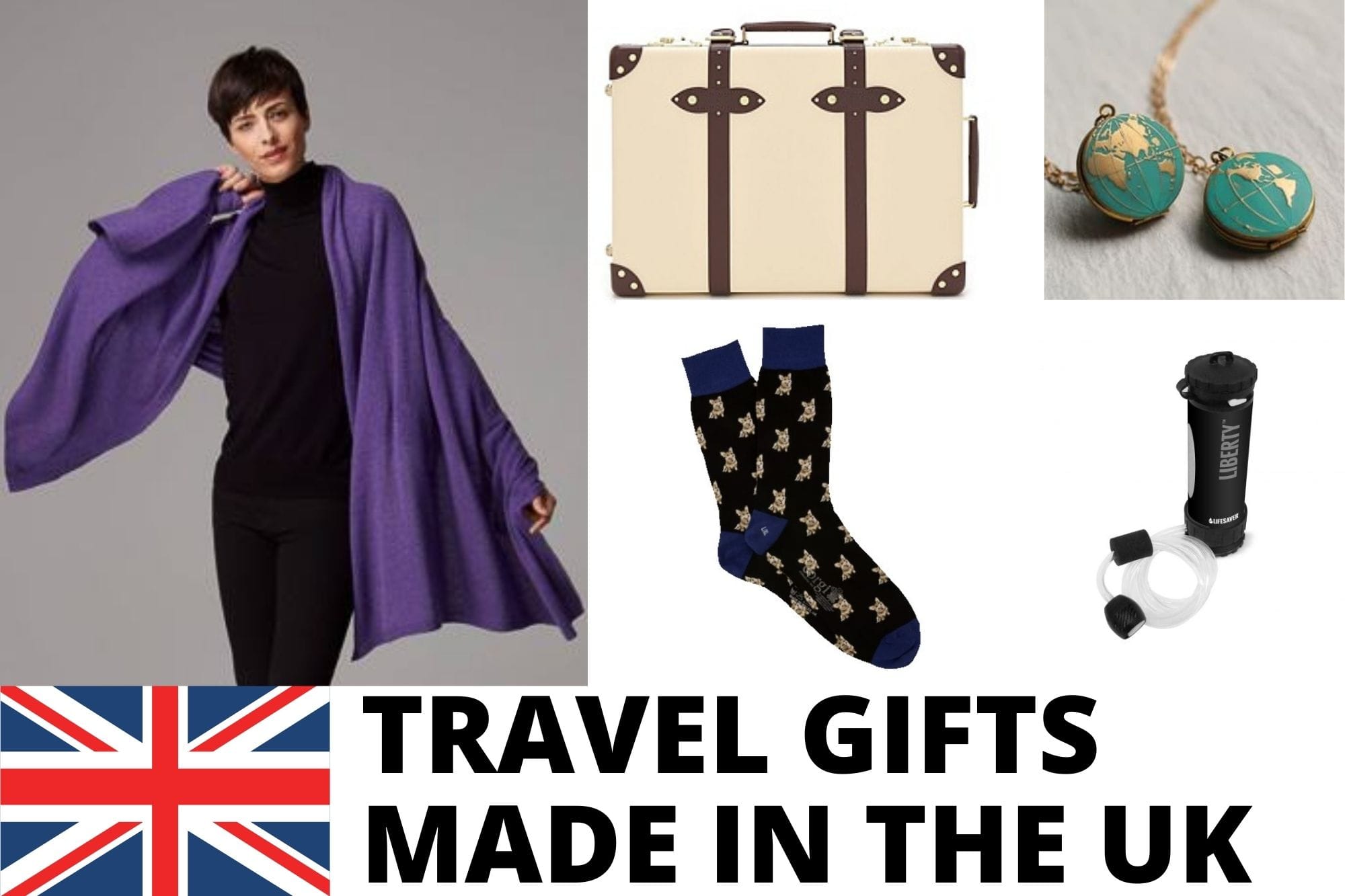 Travel Globe Necklace
London based jeweller Raniska makes a range of beautiful and well priced jewellery items. We think these world map designs in particular would make the perfect gift for a travel lover.
Raniska also has a number of other made in England jewellery items available, including rings, earrings, necklaces and bracelets. Lots of options to choose from!
We have a number of other UK made travel jewellery ideas in this guide. We also have a guide to general travel jewellery gifts from around the world if you're looking for inspiration from other countries.
Scratch Off Travel Map
Like many travellers, we love keeping track of where our travels have taken us. One way we have found do to that is with a scratch off travel map.

This map from UK company Luckies of London features a detailed map of the world, which you can scratch off to reveal the countries beneath. Luckies of London have been producing their high quality maps in the UK since 2009, and were the creators of the scratch off map concept. Maps come in a tube, and are perfect for gifting.
Water Bottle
Staying hydrated, whether we are are travelling or not, is of course important to us. When we travel, we always take a water bottle with us so as to cut down on the waste generated by single use plastic water bottles.
As such, we think that most travellers will definitely appreciate the gift of a high quality re-usable bottle for drinks. There are many of these on the market, however finding a water bottle which is actually manufactured in the UK can be a challenge.
The best option we found is thisEco-Bottle which is actually made in the UK from 100% recycled food grade plastic and can be re-used indefinitely. All their raw materials are sourced in the UK making this the perfect eco-friendly gift. The bottle is dishwasher safe and BPA free. Just be aware that it doesn't have any insulation properties for keeping drinks hot or cold.
Candles
If you aren't travelling, you can still make your home smell like an exotic destination with scented candles. Scent is a powerful way to evoke a memory of a location or occasion, and we love to use candles around our home to bring back memories of past adventures.
There are a number of UK based candle manufacturers. Some to consider include:
Socks
Socks are one of those quintessential gifts. Since everyone needs them, including travellers, we think you might as well invest in those which are made in Britain.
Corgi Socks, which have been made in Wales since 1892, started out as a manufacturer of hard-wearing socks for miners. They have since expanded, and it is said that even the Queen buys her socks from Corgi.
Corgi have a range of socks available in different materials, so we are sure you'll find the perfect gift. They also have a range of other gifts and knitwear available, including scarves, cushions, blankets, hats, and cardigans!
Push Pin Balloon House
We love this tiny push pin balloon house from Clive Roddy and keep ours on our desk, although it can also be mounted to a wall, noticeboard or push pin map. It's a fun reminder of the opportunities of travel, which also happens to be a functional pin holder!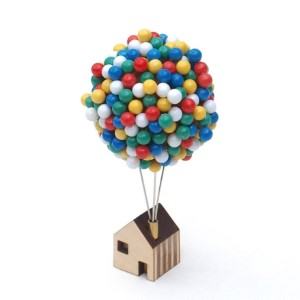 Bath based Clive also has a number of other lovely products, including interesting wooden rings and other art. Check out his range of other items on his store.
Luggage Tags
One thing that all travellers have is luggage of some kind. So a thoughtful gift of handmade personalised luggage tags is one you know your recipient is going to use!
There are a range of luggage tags made in the UK, such as the following:
All the above luggage tags are manufactured in the UK by locally owned businesses.
Scents and Perfumes
If you'd like some perfumes or scents which are made in the UK, check out luxury brand Penhaligons. All their fragrances are made in Hampshire, England (although packaging is made in Europe).
Scents make an excellent gift, and they are also a great addition to any toiletry bag for a trip!
Travel Prints and Artwork
A great gift for a traveller is a product that perhaps reminds them of a previous trip, or gets them excited about an upcoming trip. A piece of art that can be hung on a wall makes for a lovely gift.
Northscape Prints designs and prints all their products in Bangor, Northern Ireland. They have a range of prints, from photos through to illustrations of popular travel destinations, particularly those in the UK and Ireland. If you're looking for a gift made in Northern Ireland, this is an excellent choice!
Sunglasses
Good eye protection is important, and we think all travellers would benefit from a good pair of sunglasses. The good news is that you can actually buy high quality sunglasses that have been designed and made in the UK, and they are even available at an affordable price point!
Oxford based manufacturer Sunwise has been producing well made yet affordable eye-wear in the UK since 1996, and they have a range of award-winning products to choose from.
Shaving Kit
Staying clean shaven is of course important to some travellers, so putting together a gift of made in the UK shaving products might be a great option. UK company King of Shaves makes their products in the UK, and you can see their products here.
A Tour of the UK with a UK based Tour Operator
Not all travel themed gifts have to be a physical product. The gift of an experience that will be treasured for a lifetime is definitely one to consider.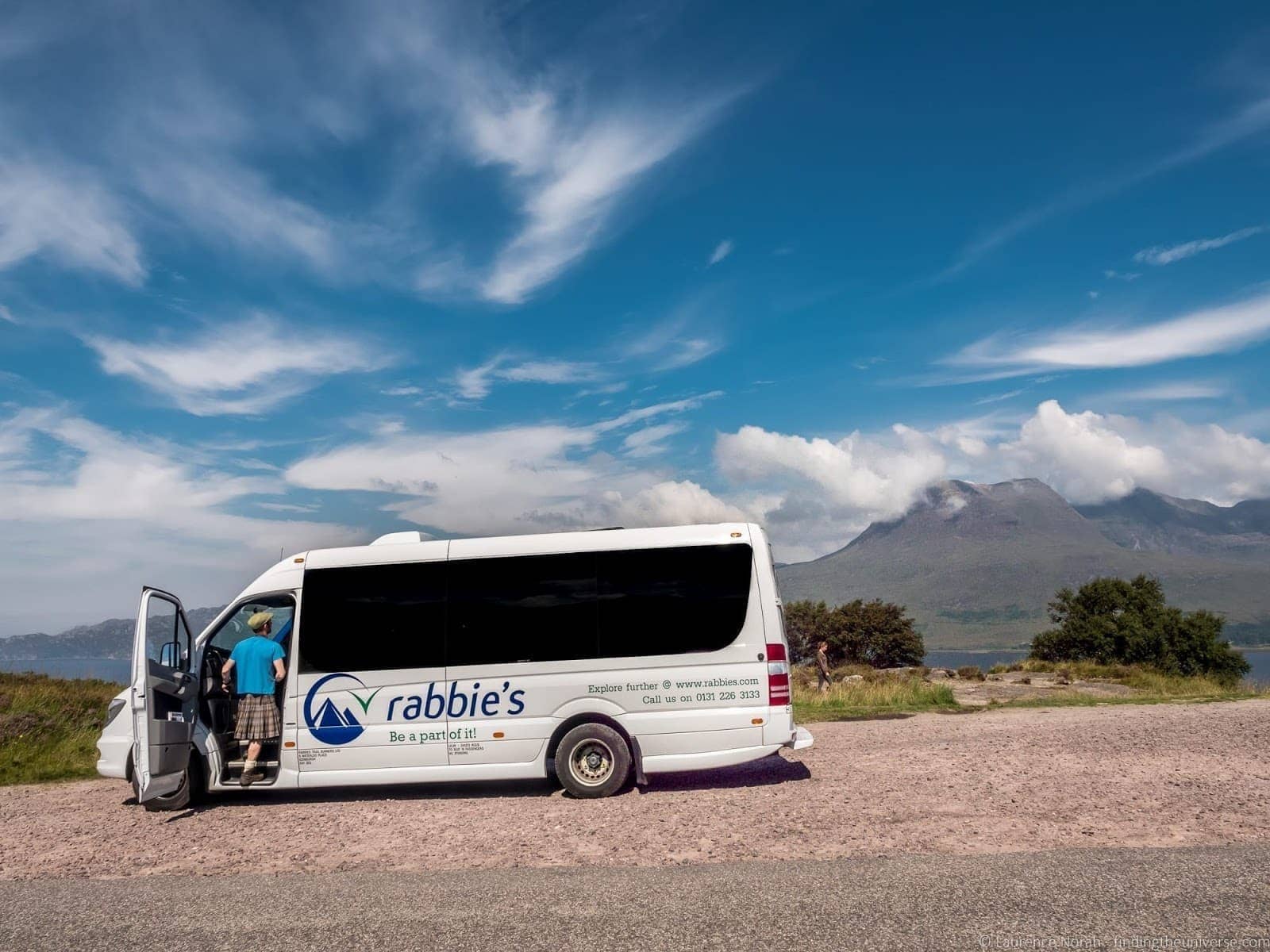 One of our favourite UK based tour company is Rabbie's. Based in Edinburgh, Scotland, the company now offers tours all across the UK and Ireland, with departures from major cities all around the UK and Ireland. Tours are available for a range of durations, from half a day to multiple weeks. All the tours feature groups of no more than 16 in very comfortable vehicles, and you can also book private tours.
We think everyone will find a tour to love with Rabbie's. They offer everything from whisky tasting tours to tours of regions like the Cotswolds, Lake District and Scottish Highlands.
We've taken multiple tours with Rabbie's, both day trips and longer multi-day tours. You can read our experience of a 5 day Scottish Highlands tour here to get a feel for what to expect.
Trove Wallet
Everyone needs somewhere to keep their cash and cards, and travellers are no different. Trove manufacturers a range of wallets, coin purses, cable clips, and more from premium materials in their factory in England.
There are a wide range of styles, materials and colours to choose from including Italian leather and a vegan friendly leather. If you order direct from Trove, you can also custom print a wallet for that personal touch.
Map Themed Gifts
Many travellers, us included, love maps. So a great gift for a traveller might be something that includes a map.
UK company Atlas and I produce a range of map themed gifts, from dog beds through to personalised prints, stationary, wine coolers, bags, and jigsaw puzzles.
The majority of their products are available direct from their online store, but they also sell some discounted products on their Etsy page.
Travel Photography Course
Do you know a traveler who wants to improve their photography skills? Then an online photography course, local photo workshop, or photography book would make a perfect gift.
As I am from the UK, I wanted sneak in my own online travel photography course in our UK made gift guide!
The course covers all the basics of photography that is perfect for those at any skill level and then goes into more advanced photography concepts and techniques. It also covers photography editing and even tips on how to sell your photos.
With over 60 lessons across 10 weeks, optional homework assignments, lifetime access, interviews with several professional photographers, we think the course is pretty amazing value for money. You can also do it at your own pace as you have lifetime access to the content.
You have direct access to Laurence for help and feedback with the homework and any other questions you have about photography. There is also an exclusive Facebook group where you can post questions and receive feedback from the other members of the course, and take part in regular fun photo challenges.
You can purchase the course as a gift to give to someone. Customizable gift certificates are offered at no additional charge for gift purchases and these can be customized for the person and special occasion (e.g., Christmas, birthday, gap year, graduation, etc.).
You can learn more about it here and read testimonials from some of the over 2,000 people who have already joined the course.
Actual Maps
Rather than a map themed gift, your gift recipient might prefer something a bit more practical – an actual map! Ordinance Survey are the go-to map makers for maps of the UK, which are useful for all kinds of outdoor activities.


You can buy their standard maps for someone planning a trip, or you can have custom printed maps put together to highlight a region or area, perhaps from a previous trip in the UK or the hiking trails around one's home. They also offer display maps of specific popular regions of the UK.
World Map Locket
We love map themed jewellery, and this UK made vintage brass and enamel world map locket would make for a wonderful gift. It is double sided and shows the Western hemisphere on one side and the eastern Hemisphere on the other. It's also available in silver.
The locket can be personalised with your own content. The locket is made by Edinburgh based studio Silk Purse, Sow's Ear. They design and create all their jewellery in their small studio in Scotland, and also ensure all their packaging is made from recycled and biodegradable materials.
You can see more lockets by Silk Purse Sows Ear for more options.
Trunki Children's Luggage
If you're looking for a travel themed gift for children, then check out the awesome Trunki range of suitcases. These ride-on suitcases are perfect for getting kids to enjoy some of the less exciting parts of travel, like going through an airport.
Trunki is a Bristol based firm who have been manufacturing their product in the UK since 2012. It's designed to be easy for kids to use (and ride on!), and makes for an excellent gift for kids who love to travel!
Picnic Blanket
If you know someone who enjoys dining in the great outdoors, then you might want to grab them a beautiful British manufactured picnic blanket for their outdoor dining adventures.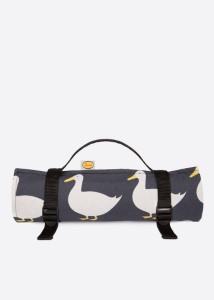 Family owned UK company Anorak produces a range of products, with their picnic blankets all made in the UK. They've been making their designs in the UK since 2009, and currently around 30% of all their products are produced in the UK. They aim to increase this over time.
Anorak also have a number of charity partnerships, and like us, they work with the World Land Trust to offset their carbon emissions.
Travel Journal
If you know a traveller who loves to keep a journal of their adventures, then you might want to buy them a travel journal as a gift.
With this in mind, check out the awesome products from The Pink Pig. This Yorkshire based company makes a lovely range of notebooks, scrapbooks and sketchbooks, perfect for the travelling writer in your life!
If you are looking for a more premium travel journal made in the UK, then take a look at this beautiful leather-bound journal from Billy Tannery. The leather is sourced and tanned in the UK, and the book is sewn and bound in Gloucestershire. The only overseas item is the paper, which is partly made from recycled leather fibres in Italy.
Billy Tannery also have a range of other lovely items which are made in England with a focus on sustainability and supporting local enterprise. These include some gorgeous bags as well as wallets and other accessories.
Writing Gifts
If you're thinking of purchasing a travel journal, then a great companion gift might be a traditional calligraphy set.
Based in Shropshire, the Manuscript Pen Company have been producing pens and calligraphy supplies in the UK since 1856, and you can pick up everything from a beginners calligraphy set through to some beautiful and historic calligraphy gift sets.
Cycle Helmets
If you know a traveller who likes to cycle, then you might want to gift them a UK made cycle helmet.
UK company Dashel manufactures a range of lightweight and good-looking cycle helmets in the UK, and they'll even recycle them when they're no longer wanted. Their helmets are all designed, manufactured and recycled in the UK, at locations in Devon, Leicestershire and Northern Ireland.
The helmets are lightweight, good looking, and most importantly for a cycling helmet, safety certified. An excellent gift for the cyclist in your life.
English Heritage Membership
If you know someone who loves to visit England's beautiful heritage sites, then you might consider the gift of an annual English Heritage Membership.
Membership, which can be purchased as a gift for individuals, couples, or families, will give your recipient access for a whole year to over 400 historic properties across England, as well as free parking at many English heritage car parks.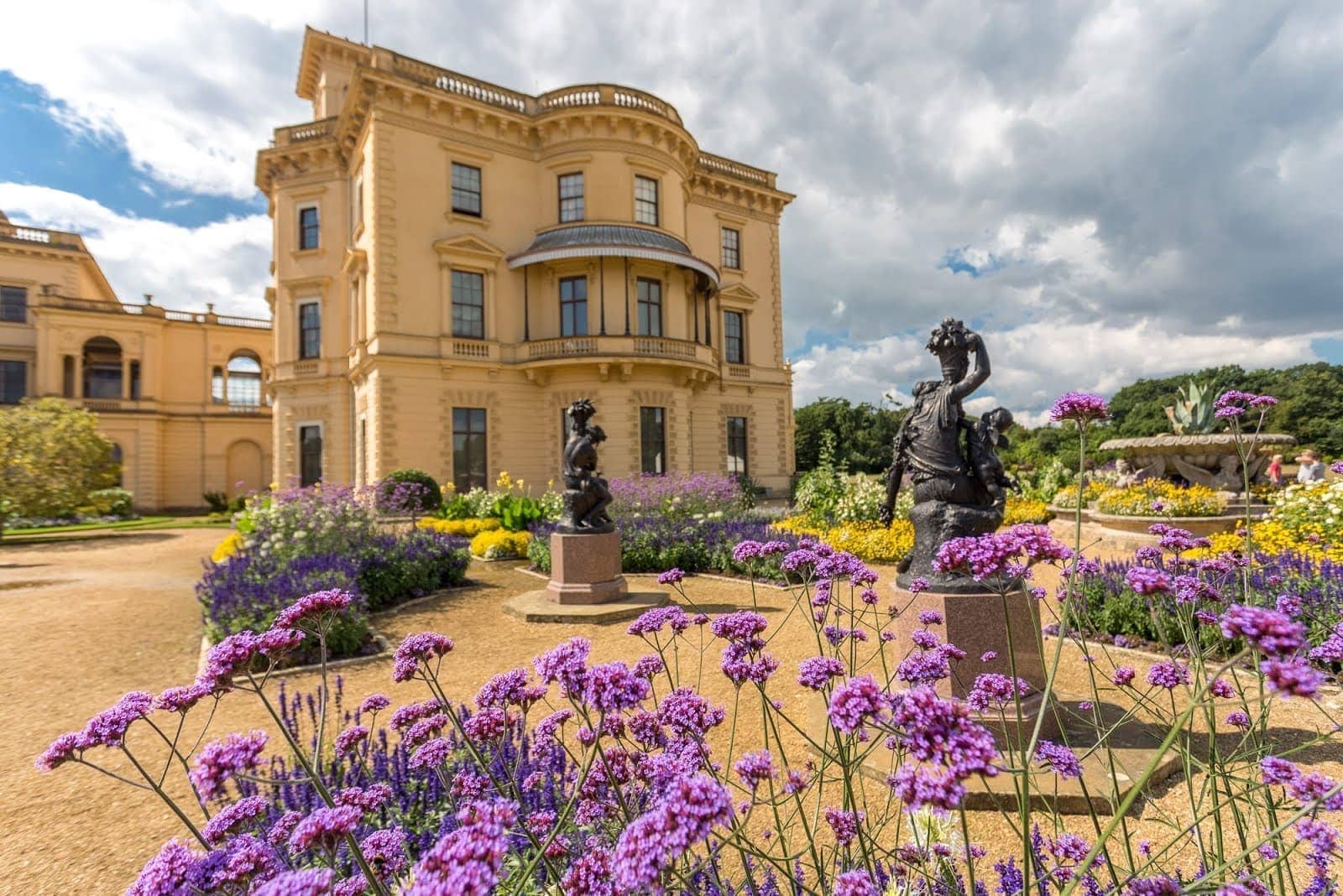 Membership also grants half price admission at a range of properties in Wales and Scotland, as well as free entry to a number of properties in Ireland, the Isle of Man and New Zealand.
Another option would be a National Trust membership, which offers access to National Trust properties across the UK. That can also be purchased as a gift here.
Luxury Wash Bags
A wash bag is a must-have travel accessory, and we think these luxury washbags from English manufacturer Padfield would make for an excellent gift.
Padfield makes all of their products in Somerset, England, using British made materials. Their entire product line is sourced and crafted locally, and proudly made in England. As well as washbags, they offer a range of other products, including card cases and laptop covers.
Cashmere Travel Wrap
A travel accessory that Jess never leaves home without is a travel wrap. These versatile garments are great for keeping her warm when travelling, and can be used as a shawl, a scarf or even a travel blanket.
One of our favourite travel wrap brands is The TravelWrap, who also happen to be based in the UK. Their beautiful 100% knitted cashmere wraps are made in Scotland, and can be monogrammed as well for a personalized gift. They also come wrapped in lovely boxes to make for a truly luxurious gift.
Outdoor Clothing
If you know someone who spends a lot of time outdoors, then you might consider kitting them out in some excellent outdoor clothing. UK company Buffalo Systems designs and manufacturers a range of outdoor clothing items for men and women, and their products are all proudly made in England at their factory in Sheffield.
Items include men's jackets and women's jackets, as well as hoods and gloves. Something for all your outdoors loving friends!
Water Purification System
If you know someone who loves to get outdoors, or who simply cares about their environmental footprint when traveling, then a LifeSaver makes a perfect gift. This British company makes a range of water purification products, and we think their Liberty Water Purification and Pump would make a great gift for a traveller.
The product is great for environments where safe drinking water isn't readily available. This might be on a multi-day hike in the wilderness, or in a country where the tap water isn't potable. The bottle is effective for removing over 99.99% of virus, bacteria and protozoa (cysts).
It also works as a pump, which means you can fill other containers using the pump and supplied hose. This means that multiple containers can be filled with clean water to meet the needs of the day or days.
You can read more about water purification in our guide to safe drinking water when travelling, and we also have a round-up of our favourite water filters for travel.
Ghillie Kettle
If you know someone who loves to camp, then a handcrafted UK made Ghillie Kettle might make the perfect gift.
These portable kettles are basically a stove and kettle in one. All you have to do is gather small pieces of wood and place them in the stove area, and this quickly and efficiently heats up the water.
It's great for camping, and my family and I actually used a variant of these when on a six-week RV trip around Europe many years ago. I remember it being both easy and fun to use.
Travel TV
Finding electrical items that are manufactured in the UK is definitely a challenge! However, it's still possible as UK brand Cello actually makes their TVs in the UK.
As a travel gift, you might consider one of their 12 volt travel TVs. These would be ideal TV for a van, caravan, or motorhome.
Decorative Steamer Trunks
Travel Trunks are so evocative of a different age of travel, when steam trains and romantic transatlantic crossings were the norm.
Whilst these trunks from the English Trunk Company are designed for use around the home as storage, we think any traveller would love to receive one of these as a gift to keep the travel spirit alive in their home.
The English Trunk Company was founded in 2014, and all their trunks are hand made in Cambridgeshire in the UK. The fabrics used are also British made, and sourced from mills throughout the UK.
Custom Coastline Rings
If you're looking for a stunning and unique piece of jewellery which is designed and made in Scotland, check out these options from Edinburgh based jeweller Hannah Louise Lamb.
Hannah has many lovely pieces of jewellery to choose from, but we really love her coastline series of rings like this one. These rings, which are available in a range of materials and are suitable for both men and women, feature a design which traces out a favourite piece of coastline.
So if you know a travel lover who is passionate about a particular part of the world, or perhaps you have a partner with whom you share a special memory of a particular location, you can have a map ring made to remember it.
This is definitely a unique one of a kind gift!
Travel Luggage
An essential item that every traveller needs is a piece of luggage. If you really want to treat someone in your life and have a larger budget, you might consider an item of Globe-Trotter luggage.
This iconic brand has been manufacturing its hard-wearing and fantastically stylish handcrafted luggage in Hertfordshire since 1932. Their cases are tough yet beautiful, and are made by artisans using methods and machinery that dates back to the Victorian era.
Globe-Trotter cases have been a favourite among royalty, and British Prime Minsters – and even the fictional James Bond was known to have a Globe Trotter case!
British Food and Drink Gifts
The UK is home to some iconic food and drink brands and products, many of which make for a wonderful gift.
To start with, Scotland's iconic drink – whisky – has to be produced and matured in Scotland. There's a huge range of Scotch whisky to choose from at a range of price points.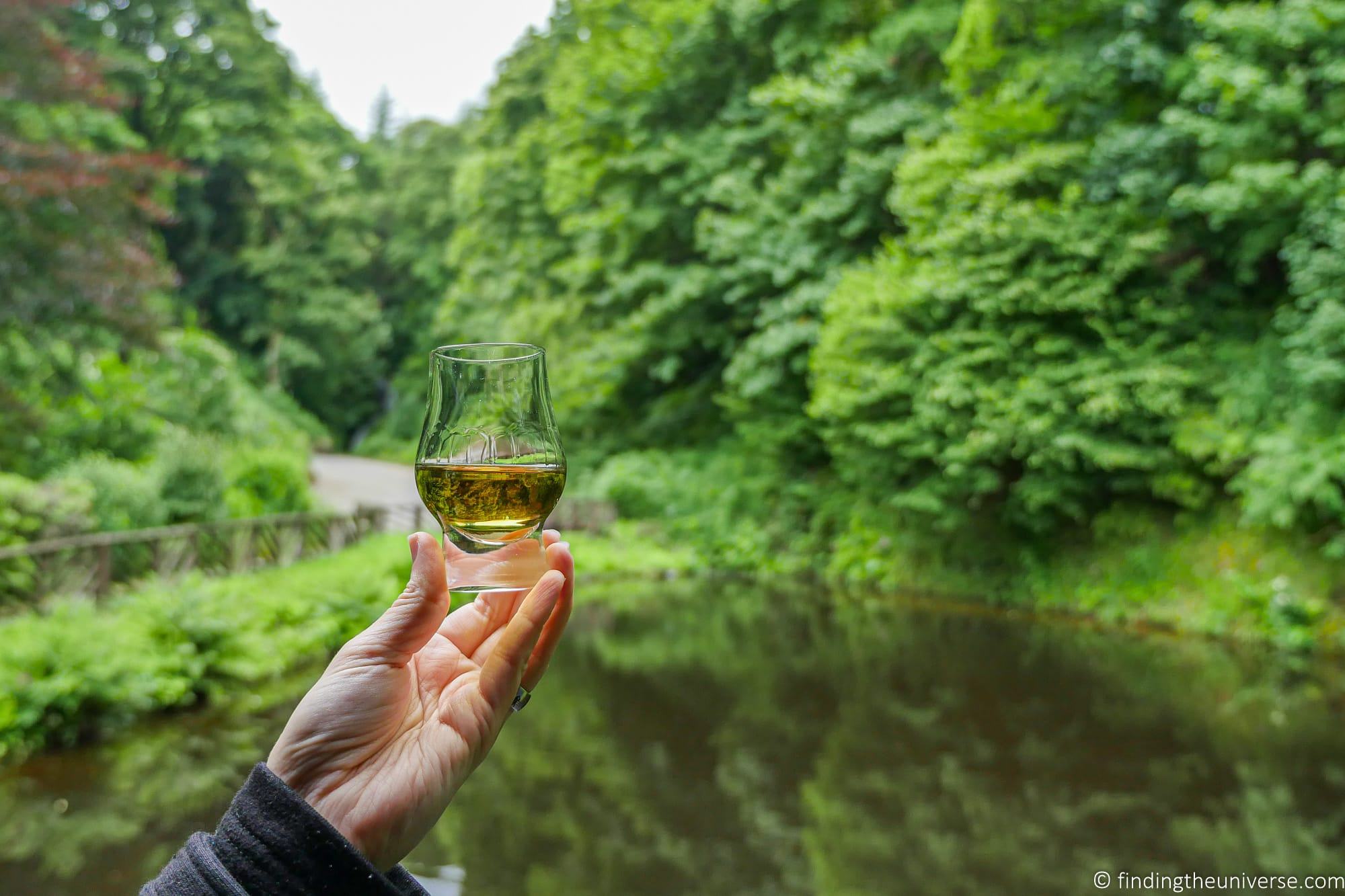 If you're looking for a gift idea though, then a whisky set might is a good option. These often come with items like glasses, bags or hip flasks, as well as different whiskies to try.
There are a great many more delicious British foods and drinks to choose from. We recommend perusing English Heritage's online shop for some ideas. They have everything from fruit wines to condiments, jams and biscuits.
Harvey Nichols is also a good place to shop for British made food and drink items, and you can look specifically for products made in Wales, Scotland, England or Ireland.
Further Reading
We hope you enjoyed our guide to gifts made in Britain for travellers and travel lovers. We've added all the ones that are available on Amazon UK to this list for easy reference.
Before you head off, we also wanted to share some more resources that we think you will find useful in your quest to find the perfect gift for the traveller in your life.
And that's it for our guide to our favourite travel gifts made in the UK. As always, we're happy to hear your feedback and comments about this post. Just pop them in the comments below, and if you have any questions, we'll answer them as soon as we can!