Do you have a travel loving tech enthusiast in your life? Someone who loves to travel, but also loves to have all the latest technology toys and gizmos?
Well, we have the gift guide for you. I love to travel and I love technology, so putting together our idea of the perfect tech gift guide for travellers seemed like a very logical idea.
This gift list will help you find the perfect technology themed gift for the travel lover in your life. The gifts are all practical and useful, and the majority of them are not too expensive either. So you should be able to find something that suits, whatever your budget.
Of course, we have included a few more expensive options if you are getting a special gift for someone, but there's definitely no need to spend a lot on a tech themed travel gift that will still bring a lot of delight and joy to the recipient.
We've personally chosen all the gifts below based on our years of experience as travellers and technology enthusiasts. Many of them we own and use ourselves when we travel.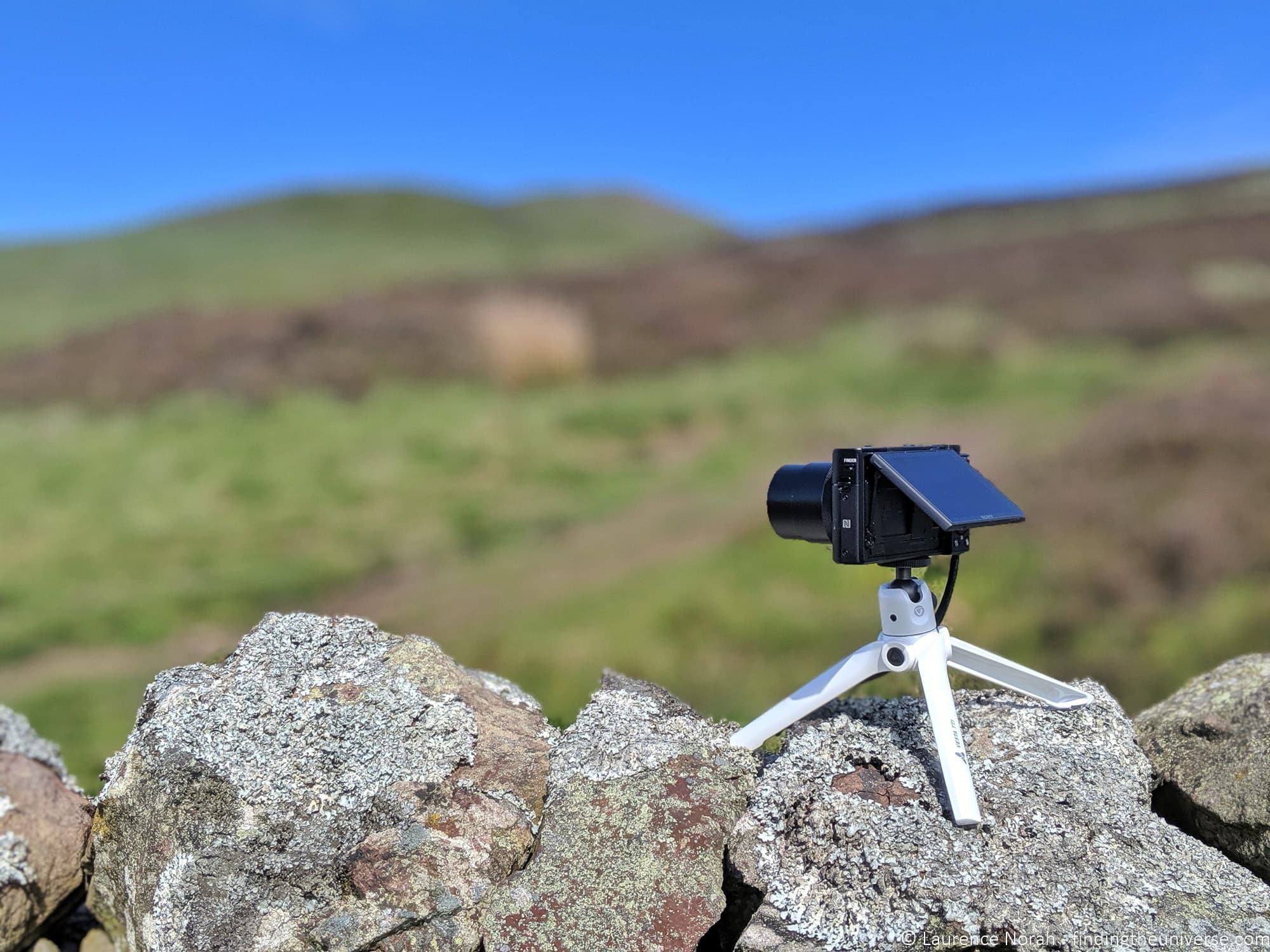 Without further ado, let's get started with our guide to the perfect tech gifts for travellers.
Tech Gifts for Travellers
This list of tech gifts is sorted roughly in order of price, from lowest to highest, although of course pricing can fluctuate.
The gifts should work for all tech lovers, but there are a few where you might need a bit of extra knowledge about the person you are gifting to. We'll make this clear in those cases.
If you are looking for a more general gift, we recommend also checking out our general gift guide for travellers for more inspiration.
One of the best value and most practical tech gifts for a regular traveller is a good travel adapter. Obviously, a tech loving traveller is going to be travelling with a lot of gadgets, and all of these are going to require charging via some sort of electrical outlet.
Unfortunately, there is a huge variety in the size and shape of electrical outlets around the world, which means that keeping a gadget charged is not as simple as just plugging it into the wall socket.
This is where a travel adapter comes in. These devices are designed to plug into multiple types of wall outlet, and then offer a variety of output sockets into which most devices can plug. As well as standard AC outlets, many also often come with a variety of USB outputs, which can be really handy as many devices charge over USB these days.
The only thing to be aware of is that most travel adaptors don't convert voltage. So if you have a friend or family member who is travelling from a country like the USA, where there is a 110V electrical system, to a country like the UK, where there's a 240V system, they will need to check that their devices are going to be compatible. Most gadgets like laptops, cameras and smartphones are designed to work across voltage ranges from 110V – 240V, however, higher power items like hair dryers and curling irons might not work.
There are a lot of travel adapters on the market, and we've written a complete guide to the best travel adapter to help you choose. The main thing you will need to know is which countries the adapter will be used in, as not all adapters cover all countries. This is a great option that covers many countries, although we'd recommend reading our full adapter guide for more suggestions and to understand what to look for.
Special knowledge required: An idea of which countries the adapter will be used in.
Check Price and Buy Here
Do you know someone who loves to take road trips? It's one of our favourite ways to travel and explore a country.
A device that we love for our extended road trips is a car power inverter. This takes the 12V DC power output from any cars cigarette lighter port, and converts it to an AC power outlet as you would find in your home.
Depending on where you are in the world, the voltage will vary, with the US for example at 110V-120V, and Europe at 220-240V.
We've had a few different invertors over the years, and they have proven invaluable for letting us keep our devices charged when we're on the road. This includes charging our laptops, drone, and cameras.
There's not a great deal to choose from when it comes to an invertor. Most car outlets support an output of between 120W and 200W, depending on the fuse. So an invertor that supports this many watts will work. This will suffice to charge most portable electronics, but isn't going to be suitable for high powered devices like a tea kettle or hair dryer.
Many invertors, such as this one, also include USB outputs. Since many devices also charge via USB, we think this is a worthwhile addition.
We've used Bestek power inverters will good success.
Special knowledge required: None
Check Price and Buy Here
If you know someone who is travelling to a specific country or region, and they have an unlocked smartphone, then a really neat tech gift would be a SIM card that will work in the area they are going.
A local SIM card will let them get online where they are travelling to without having to worry about roaming fees and charges.
Some SIM cards even offer free roaming across different regions. For example, in the UK the Three network offers free roaming in the EU as well as a number of other countries around the world.
You can buy SIM cards online for various countries around the world. All the recipient will have to do is pop the SIM card into their phone when they arrive, and they'll be ready to go.
Note that this does require an unlocked smartphone. If they don't have one of these, there are other options for getting online when they travel, including mobile hotspots. See our guide to getting online when travelling for more ideas of what you could purchase them in this case.
Special knowledge required: Destination travelling to and confirmation they have an unlocked phone
Check Price and Buy Here
Who doesn't love coffee? Ok, so some people don't love coffee. But let's just assume for now that the person you are buying a travel tech gift for loves coffee. Well, why not buy them a coffee maker that will travel with them, and let them make great coffee wherever they are?
Ok, so this might not seem very technology focused, but trust me, sometimes the simplest gadgets are the best. There's a wide range of travel coffee makers on the market, which vary from powered devices that take K-Cups through to entirely manual options.
We'd suggest that you might want to investigate what sort of coffee the person you are buying for prefers. They might be into a drip coffee, or they might love espresso. Either way, there's a travel coffee maker out there for them.
If you just want a simple solution though, the Aeropress Coffee maker is wonderfully simple, and is renowned for making great coffee. For more inspiration, see our guide to the best travel coffee makers.
Special knowledge required: None
Check Price and Buy Here
All of us travel with a great many electronics these days, and that means we have a lot of devices to keep charged.
When we're on the road, we don't always have access to a wall outlet to charge our devices, which can be an issue for keeping essentials like our phone charged, not to mention all our other devices.

To get around this issue, we travel with a USB battery pack. This lets us charge our devices via USB, with a fully charged battery pack capable of charging our phone around 2.5 times before needing to be charged itself.
USB battery packs come in different capacities and sizes. We think the best trade-off between weight and battery capacity comes at the 10,000 mAh size, which is what we travel is. We suggest this battery pack offers the best combination of portability and charge capacity.
Special knowledge required: None
Check Price and Buy Here
Sometimes the low tech gifts are the best gifts. Everyone needs water when they travel, but access to safe drinking water is by no means universal.
The main option available to travellers is to buy bottled drinking water as they go. However, even if using a reusable water bottle and buying large bottles of water, this still has a negative impact on the environment from the single-use plastics.
Thankfully, there is a better way. You can buy a water bottle with a built-in filtration system that makes safe, clean drinking water from most sources of water around the world.
We use and travel with a Lifestraw water filtration bottle, and have used it around the world to create safe drinking water from all sorts of water sources. It's no larger than a standard water bottle, and there's not much of a price premium. A great low-tech gift for an environmentally conscious travel lover in your life. You can read more about safe drinking water in our guide to safe drinking water when traveling, and we also have a guide to the best water filters for travel.
Special knowledge required: None
Check Price and Buy Here
Travel Apps Gift Card
What do you get someone when you don't know what to get someone? A gift card!
But seriously, there are a lot of great paid apps out there for both Android and Apple devices, and you can buy gift cards for both of these stores.
These gift cards will convert to credit in the app store of your recipient's choice, and then they'll be able to buy a variety of apps. These might include paid travel related apps, games to keep them entertained – or even eBooks to read as they travel. The possibilities are almost endless!
You can buy gift codes for Google Play here, and Apple here. All you need to know is what sort of device the person you are buying for has. If it's an Android smartphone, they'll need a Google Play gift card, and if it's an iPhone, they'll need an Apple gift card.
Special knowledge required: What type of device they have so you can get the right gift card.
Tripod
If you know someone who loves to take photos when they travel, then a travel tripod would make for a perfect gift.
We never travel anywhere without our tripod. They open up a world of photography possibility, including long exposure photography and astrophotography. They also let us get better photos of ourselves when we travel.
If you're still not convinced, check out our guide to why you need a tripod for travel photography.
There's a huge range of travel tripods on the market today, at a range of price points. The main thing to consider are the weight of the tripod (no-one likes to carry a heavy bit of kit around with them when travelling), and the size of the camera it needs to support.
If the person you are buying for primarily uses a smartphone or compact camera, then a mini tripod like this will probably suffice. If they have a larger camera, like a mirrorless or DSLR camera, then you will likely want to get them a more sturdy travel tripod like this or this. See our guide to the best travel tripods for more ideas.
Special knowledge required: Type of camera they have
Light! If the person you are buying for likes to head off grid and into the back country, they will definitely appreciate the gift of a head lamp.
A head lamp is, in our experience, much more useful than a torch for travel, as it can be used hands free. We find our head torches come in useful for camping trips, night photography expeditions, and any time we're travelling anywhere where the electricity supply might not be totally reliable.
There's a huge range of head lamps on the market. Our tip would be to get a headlamp that includes a red light, which will help save night vision for photography at night. A rechargeable head lamp is also a good idea as it will save on having to carry and buy extra batteries.
We've always had positive experiences with the well known Black Diamond brand of headlamps, and would recommend this model which is both rechargeable and has a red light.
Special knowledge required: None
Check Price and Buy Here
Quick Dry Clothing
Doing laundry when we travel is definitely a chore, but it's a necessity, especially on longer trips.
One thing we've found that really helps the process, especially if we don't have access to a dryer, is wearing quick-dry clothing.
This type of high-tech clothing is ideal for laundering on the go, as it means we can usually wash it in the evenings, and it will be dry by morning.
Quick drying clothing is also more comfortable for travel in hot countries. This is because it's designed to wick the sweat away from the body rather than getting damp. Cotton for example tends to get wet from sweat and then stays uncomfortably damp – not ideal for a full day of travel.
You can get quick dry versions of most popular items of apparel, including t-shirts, button-up shirts, polo shirts, dresses, long pants and underwear.
Of course, clothing can be challenging to buy for someone else, as you'll need to know exact sizing and an idea of style. But this can definitely be a great gift.
Special knowledge required: Size and style preference
If the person you are buying the tech travel gift for regularly travels with a laptop, and uses it to catch up on work, then they will likely appreciate the gift of a portable travel mouse. Whilst laptop trackpads have come a long way, for more delicate tasks like photo editing, our experience has taught us that a dedicated mouse makes life a lot easier.
There are a lot of travel mice out there. Usually they come in a more compact form factor than a traditional mouse. Our tip would be to buy one that uses Bluetooth technology so a USB port is not wasted with a radio receiver, as well as one that is rechargeable so batteries don't need to be bought.
Our favourite travel mouse, and the one that we always travel with, is the Logitech MX Anywhere 3. We love Logitech's mice – the infinite scroll wheel is a fantastic feature, and this mouse uses what Logitech calls a darkfield sensor, so the mouse works on pretty much any surface. It works over either bluetooth or infra-red (an IR receiver is included), can pair with up to three devices, and is chargeable over USB.
Special knowledge required: None
Check Price and Buy Here
A good WiFi signal is an important part of any trip. Unfortunately, our travels have taught us that strong WiFi signals aren't always available everywhere we go. Sometimes for example we'll be staying in a hotel or other accommodation, and the WiFi won't quite reach our room, or if it does reach, the signal keeps dropping out.
This can be frustrating if we want to work, or even if we're just planning on catching up on our favourite TV shows over our favourite streaming services.
Thankfully, there's a solution to this problem, and it's a travel router. A travel router is a small device which is used to extend an existing wireless network and provide a stronger WiFi signal that your device can find.
Travel routers also offer a number of other benefits. For example, sometimes a hotel will only allow us to connect one or two devices to the network. Given that we all travel with multiple WiFi enabled devices these days, this limitation can be quite frustrating.
With a travel router, the travel router appears to the hotel network as one device, and then we can connect all our devices to the secure network the travel router creates.
Speaking of security, a travel router also offers significant security benefits compared to connecting directly to public networks. Essentially it creates a barrier between itself and the devices you connect to it, offering an additional layer of security to keep browsing data safe.
We have a complete guide to the best travel routers on the market. One of our current favourites is this device, which is super portable and inexpensive.
Special knowledge required: None
Check Price and Buy Here
VPN Subscription
When we travel, security is often something we think about. However, many travellers focus on physical and personal security. Obviously, these are important, as keeping ourselves and our possessions safe is definitely key to a happy trip.
However, virtual security is something that many travellers forget about. This is definitely worrying, because so much of our lives revolves around the digital realm these days. From the contents of our e-mail through to our bank accounts, the thought of this information becoming publicly accessible is certainly something to worry about.
The bad news is that it isn't that hard for an attacker to intercept and access data, especially when connecting to unsecured wireless networks like those often found in hotels, airports, and cafes. The good news is that it is possible to protect our data, using what is called a VPN.
A VPN is essentially a service that creates an encrypted connection between a device and the internet, securing all the data that passes through it. VPN stands for "virtual private network", and a VPN subscription would be the perfect gift for any traveller looking to keep their private data, well, private.
We have a full guide to why you need a VPN, as well what we think are the best VPNs for travel here.
There's a wide range of VPN software products out there. Usually you can purchase a subscription for a period of time, ranging from a month up to multiple years. They are not particularly expensive, although we think data peace of mind is worth the price anyway! Here are some VPN subscriptions we recommend.
Private Internet Access – one of the best value and well reviewed VPN services on the market
NordVPN is one of the most highly reviewed and respected VPN services in the world. They offer competitive pricing, especially on their multi-year plans, and by connecting through their VPN software on your devices you'll know your sensitive data is safe from prying eyes. We also have a NordVPN discount code. If you enter "travelcats" at checkout you can save 65% on the 2 year plan.
Special knowledge required: None, will work on any device
The photos and videos we take on our trips are often the most precious and important mementos that we have of our adventures. Which is why it is so important to keep them properly backed up.
A great backup solution should take two forms – a local backup, and an offsite cloud backup.
This two location approach keeps data safe should the worst happen, and one of the backup solutions fail.
There are a lot of cloud backup providers, but we have found the services of Backblaze to be the best. They offer unlimited backups for a very reasonable annual fee, with a slight discount if you purchase a two year subscription.
Giving the gift of data backup may not seem like the most fun gift in the world, but trust me, if you are the person who bought the solution that saves someone's photos and files, they will definitely be forever thankful!
You can buy a Backblaze subscription as a gift here. Note that this is for computers like Macs or Windows devices only, and not for smartphones. You can also read our guide to the best backup options for photographers for more ideas.
Special knowledge required: None, will work on any Windows or Mac laptop or desktop computer.
Music! Who doesn't enjoy listening to a bit of music when they travel? Of course, headphones are a great option for when you want to enjoy some music in private, but from time to time it's also nice to be able to entertain others.
To do that, a Bluetooth speaker is the answer. These connect over Bluetooth, a short range radio standard which is supported by most smartphones and laptops on the market.
We've had great results from the Ultimate Ears range of waterproof Bluetooth speakers. The Wonderboom for example produces great sound, is waterproof, and runs for up to 13 hours on the built-in rechargeable battery.
Special knowledge required: None
Check Price and Buy Here
Jess and I both love reading, and it's a passion we enjoy when we travel. Unfortunately, books are not always the greatest travel companions – they can be heavy and bulky, meaning most travellers will only be able to pack one or two books into their bag.
These will likely cover a part of the journey – perhaps some time at the airport and some transit time, but it certainly won't do for a whole holiday. Especially if that holiday involves lots of time lying poolside and relaxing!

Thankfully, technology has come up with a solution to the problem of carrying enough books to cover a whole holiday – an e-reader! Whilst we still prefer the feel of a real book, we certainly can't argue with the fact that you can fit hundreds, if not thousands, of books onto an ereader. This means your gift recipient will be able to take as many books as they want on their travels, and not have to worry about luggage weight restrictions!
There are quite a few e-readers on the market, and as well as dedicated devices you can also get apps for tablets and smartphones that let you read. However, our recommendation would be to get a dedicated e-reader. This is because they are specifically designed for reading, with screens that look similar to actual paper, and battery life that will usually last for weeks. They are also designed to be read even in bright sunlight, where tablet and smartphone screens often struggle.
We own an Amazon Kindle, and recommend the Amazon Kindle Paperwhite. This has a built in light for reading in the dark, and is even waterproof – perfect for those poolside reading sessions!
Special knowledge required: None
Check Price and Buy Here
Electronics Organizer
The problem with travelling with a lot of tech gear is that we generally end up with a giant tangle of cables in our bag. This can be frustrating, and worse, improperly packed cables can easily get damaged.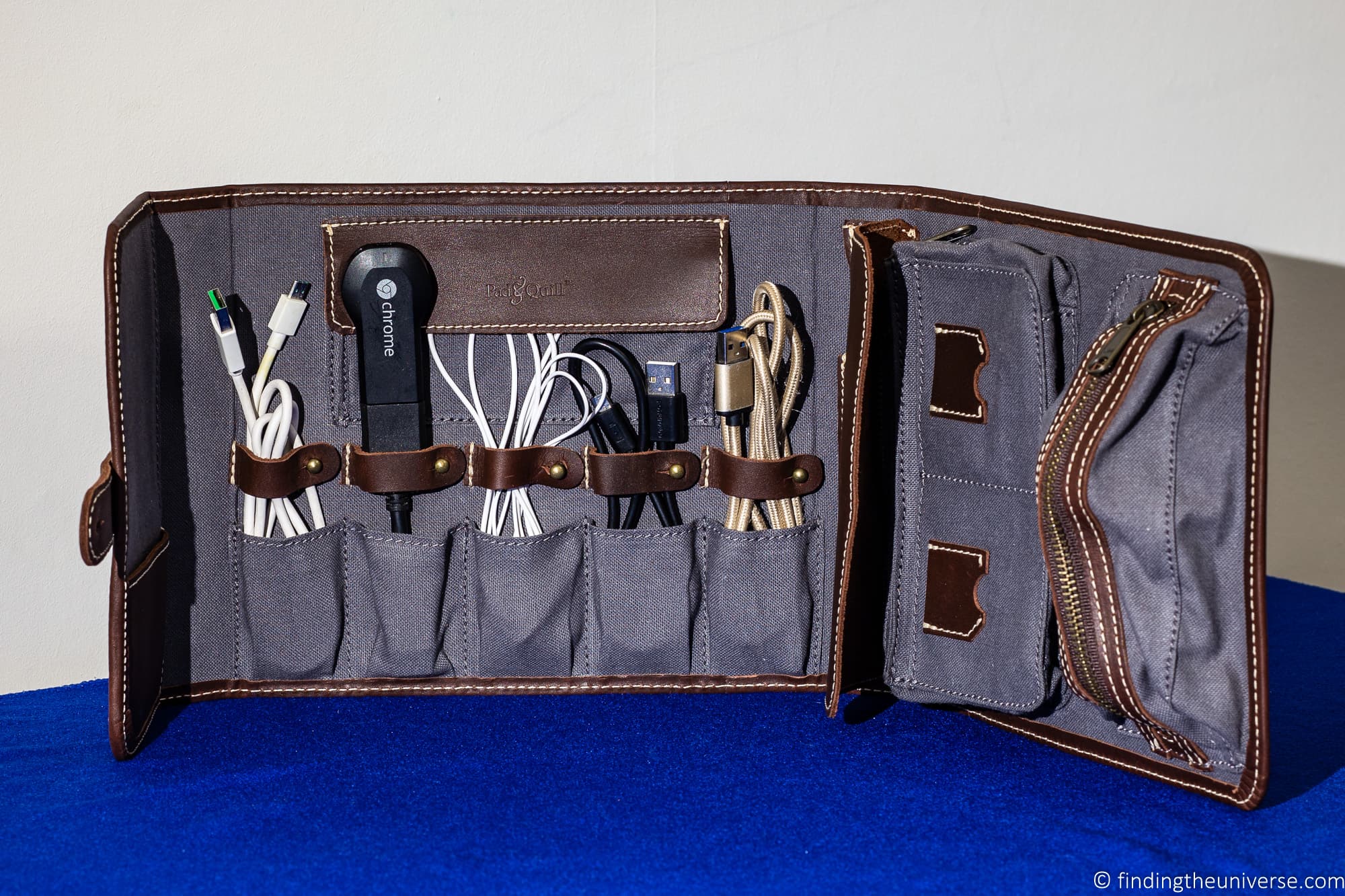 The solution to this is to get an electronics organizer. This is a case which is especially designed to handle a variety of cables, as well as other tech accessories like hard drives, memory cards and USB drives.
We personally use and love our Pad and Quill hand crafted leather cord organiser. It looks great and comes in a variety of sizes, depending on how many cords are being carried. In our case, it's a lot of cords, so we went with the largest option!
There are also many other options available at a wide range of prices, you can see some options here.
Special knowledge required: An idea of how many cables they travel with
Check Price and Buy Here
When we travel, like many people we take a lot of photos. Keeping these backed up when we're on the road is tough as the internet is usually not fast enough so we can upload them to our cloud backup solution.
Our solution is to travel with an external hard drive. This means that we can back up our photos onto both our laptops and the external hard drive, so if something should happen to one or the other of these devices, at least our photos will be safe.
Traditionally, external hard drives have been mechanical. This means that the disk physically spins inside the drive. Whilst this allows for large capacities, it is also prone to damage, especially if it is dropped. This is definitely an issue for travel, where our devices are subject to quite a bit of rough and tumble.
The good news is that in recent years a new technology for hard drives has emerged – solid state storage (SSD). These are much like USB flash drives, and don't have any moving parts. For a long time these were quite an expensive option, but the price on these has come down dramatically. Today, we would recommend buying an external SSD for backup purposes as a great gift for travellers. We'd suggest a capacity in the range of 500GB would be sufficient for at least a year's worth of travel photos.
If the person you are buying for also creates a lot of video content, or travels with offline movies or other large files, then consider either a 1TB or 2TB option.
Special knowledge required: None
Check Price and Buy Here
Photo / Video Editing Software
I'm a professional photographer who teaches an online photography class. One of the things I teach folks when I'm teaching them photography, is the art of photo editing. For me, there are three main parts to mastering photography – learning how to use a camera, learning how to compose a great photo, and learning how to edit a photo.
All three of these are really important. Which is why I believe any lover of photography (or video!), will be delighted to receive a copy of either some photo editing software, or video editing software, depending on their preferred medium.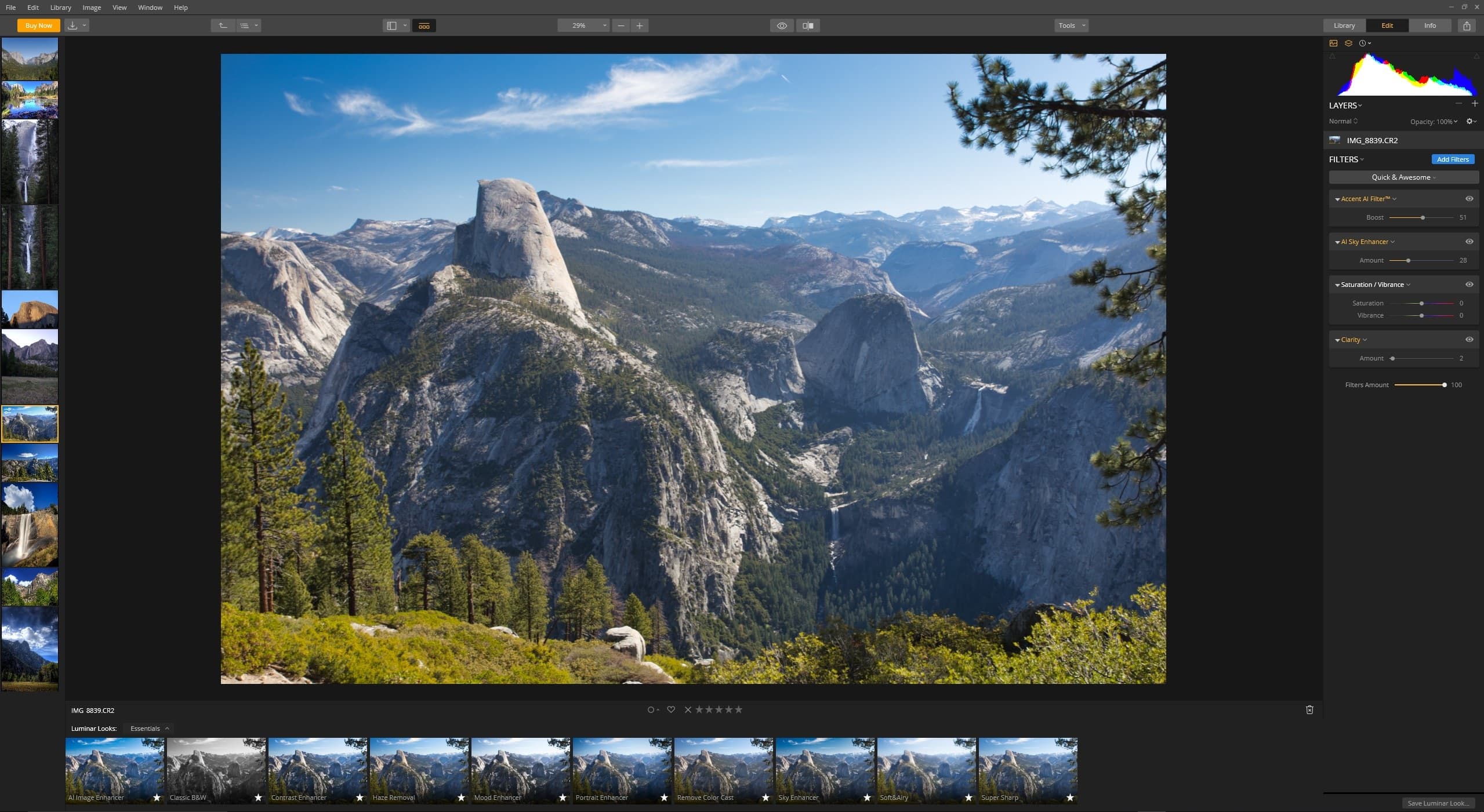 There is a wide range of photo and video editing software on the market. We don't do a great deal of video, but for photo, we have tried a wide range of photo editing software to see which is the best. We've written a full guide to the best photo editing software too.
There are two main models for buying photo editing software. You can pay a one-off price for a product that will just work for life, or you can pay a subscription fee. The advantage of the latter is that you will continue to receive updates to the software, the disadvantage is that you are locked in, and if you stop paying the fee, the software will stop working.
As a gift therefore, a standalone one-off purchase might be best. In that case, we recommend Skylum's Luminar software, which offers a great feature set and ease of use at a compelling price.
We actually use the Adobe Lightroom product for our photo editing, which is only available as a subscription. It's the industry standard for photo editing, and we think the subscription is worth the price. A one-year subscription would make a great gift, and then if the recipient likes it they can choose to extend themselves.
Special knowledge required: None, will work on any Windows or Mac laptop or desktop computer.
Movie Subscription Service
One thing we love to do after a long day exploring a new destination is to curl up in front of a great movie. Unfortunately, not every destination we visit has a TV with a great selection of movies – or even movies in a language we can understand!
We think that movie and TV lovers will appreciate the gift of a streaming movie service. These will let them watch movies and TV shows on the go, as long as they can find a reliable internet connection.
There are quite a few services out there these days, offering a range of different movies and shows. As most of them are accessed via a web browser, they will work on most devices. Some options to consider include:
Amazon Prime – as well as movie and TV shows, this is a great gift as it includes other benefits like expedited delivery from Amazon, a photo backup service, and lots more. You can buy a gift Amazon Prime subscription here.
Netflix – The original streaming services, and likely what most people will first thing of when they think of streaming movie and TV. Has a wide range of TVs and Movies, including plenty of original content
Disney Plus – Launched in 2019, this platform already has an impressive catalog to draw upon, as you would expect from Disney! Lovers of Disney, Star Wars, Marvel, National Geographic, and Pixar content need look no further.
Special knowledge required: An idea of the sort of content the person you are buying for enjoys will help you pick the right platform for them
We take a lot of pictures when we travel. Unfortunately, digital files aren't quite as handy as film prints, meaning that we don't get to look back on all our photos as much as we might otherwise like.
The solution to this (other than starting a blog and sharing your life online!) is a digital photo frame. These look like normal picture frames, but, you guessed it, they display digital photo files!
Digital photo frames have a wide variety of features these days, including WiFi connectivity, and they can pull photos from a wide variety of sources, including social media networks, memory cards and smartphone apps.
So however the person you are gifting to stores their digital photos, you should be able to find a digital photo frame that will let them relive their favourite travel memories every day!
Special knowledge required: None
Check Price and Buy Here
Language Software
Visiting a new country invariably means that there is going to be a language barrier to deal with.
Whilst we are certainly not exactly experts at learning new languages, we do like to try and pick up at least a few basic phrases in advance of our trips. We find that even knowing a few phrases makes interacting with locals easier, and folks definitely appreciate us making the effort.
If you know someone heading on a trip to a country with an unfamiliar language, they will likely appreciate you buying them some software to help with learning the language. This is especially the case if they are going on a longer trip, as they will likely need to use the language more regularly.
Naturally, there are a variety of ways to learn a language, with different options available depending on the language being learnt.
One of the most popular and well known options for learning a language is the Rosetta Stone software, which is available for a wide range of languages around the world. Another option is DuoLingo, although as this is available for free it might not be as good as a gift.
Special knowledge required: Where they are going and if they know the language already
Check Price and Buy Here
Smart Watch
If you know someone who is into fitness and loves to have their technology available at the tip of their fingers at all times, then consider buying them a smartwatch.
Smartwatches come with a range of capabilities, depending on the brand and price point. Basic functionality should include the ability to synchronize with a smartphone to display notifications and messages.
Most smartwatches also include fitness tracking features like heart rate monitoring and activity tracking. Some are also water and sweat proof.
We'd suggest that the type of watch you purchase will depend on the type of smartphone the person you are buying for owns. If they have an iPhone, then look no further than the Apple Watch series.
Android owners have quite a choice, but we'd suggest the Samsung Galaxy Watch series is the best option on the market right now.
Special knowledge required: Type of phone they own
Check Price and Buy Here
During some parts of travel, blocking out the background noise can be essential to an enjoyable trip. This is especially true on airplanes and other modes of transport.
With this in mind, we think noise cancelling Bluetooth earbuds would make for a great gift for any travelling tech enthusiast. As well as blocking out sounds in the environment, they can also be used for listening to music, watching movies, and taking calls.
Whilst there are wired options on the market, these tend to be more bulky. A wireless Bluetooth solution is a great option for space saving, and will work with most smartphones and laptops on the market today.
There are plenty of options out there. We'd suggest that the Sony WF-1000XM4 are the best option at the moment though. These offer active noise cancelling technology, up to 24 hours of playback, and fantastic audio quality. They also come with a travel case to protect and charge them when not in use.
Special knowledge required: None
Check Price and Buy Here
Smart Luggage
An essential part of travel is the luggage that carries all our belongings. Excitingly, luggage has evolved beyond being mere bags that we fill with clothes. Now, you can buy luggage that features a wide range of smart features.

These can include USB power sockets with built-in battery packs, location tracking, RFID signal blocking, and more.
Smart luggage does carry a price premium over most normal luggage, but a tech lover will definitely enjoy having luggage with features, although they'll want to check their airline restrictions to be sure it's allowed on board.
Special knowledge required: None
A smartphone is pretty much a necessity for travel these days. We use ours to stay in touch with loved ones, plan what we're going to see, navigate, book accommodation and activities, take photos – pretty much everything actually!
Unfortunately, getting online when travelling can be a challenge, and internet access is pretty much key to most of the uses I described above. In our experience, one of the easiest way to get online when travelling is just to buy a SIM card for the destination or destinations we are travelling with. These let us use locally priced data and phone services instead of the often mind-bogglingly priced roaming fees that many phone operators charge.
To use a local SIM card does however require a phone that isn't locked. A locked phone is usually sold by the networks on a multi-year contract, and by locking the phone the carriers ensure that it can only be used on their network.
Thankfully, there are lots of phones on the market that are not locked, that you can buy outright for a fixed price. Our current recommendation for an unlocked smartphone for travel would be the Google Pixel 6.
This is a very capable smartphone with one of the best camera's on the market, available for a very reasonable price. It also has some of the fastest security updates available on a smartphone, which is essential for a traveller.
Special knowledge required: Just be sure they don't already have an unlocked smartphone
Check Price and Buy Here
If you know someone who loves to take photos or videos, then a drone will make for the perfect gift.
We love our drone. It lets us get photos and videos from angles that would be all but impossible without it. Ok, we could hire a helicopter, but that would drain our travel budget a bit too quickly for our liking!
There are a huge range of drones on the market, and of course, you'll want to be sure that the person you are buying for is aware of the legality around flying drones in the destination they are heading to.
For someone looking to get into drones, we'd recommend the DJI Mavic Mini. This won't break the bank (great for a new drone operator), but offers great video and photo performance in an incredibly compact package.
We've used a DJI drone for a number of years and haven't had any problems, and are happy to recommend this well known drone brand.
If the person you are shopping for already has a drone, then instead consider picking up one or more of these drone accessories for them instead.
Special knowledge required: None
Check Price and Buy Here
I've already talked about how much we love watching movies and TV shows to relax and unwind after a day of travel. However, sometimes a laptop or smartphone screen doesn't quite cut it, and our accommodation options don't always come with a big screen TV.
The good news is that you can actually have a big screen TV experience when you travel, just by using a portable projector. These little devices can project media from a smartphone or laptop, and if you have a large enough wall to project onto, can project actually quite a large screen, usually equivalent to around 100 inches. The majority of these devices are also battery powered, so you don't even need an outlet to run them.
A portable projector would make a great gift for any movie lover who want that big screen experience but at a minimum weight. There are a few options on the market, but for image quality and portability, our current pick would be the Anker Nebula Solar Portable projector. This offers a bright output, built-in speakers, 3 hours of playback on battery, and is compatible with the major streaming platforms as well.
Special knowledge required: None
Check Price and Buy Here
A camera makes for the perfect tech gift for any traveller – even if they're not necessarily into technology! After all, who doesn't love to capture great photos of their travels, which will turn into lifetime mementoes that can be treasured forever?
Whilst many travellers these days will likely have some kind of smartphone that will likely be capable of taking reasonable photos in a range of scenarios, we think that a dedicated camera is still worth investing in.
They will usually get better quality photos, open up more photography possibilities, and being a standalone device, will usually last longer. You can also get cameras that work across a variety of situations, such as cameras that work underwater, or cameras that are well suited to hiking and backpacking.
The camera market is pretty huge, and there's a massive choice of cameras out there. Which camera you decide to buy as a gift will depend on your budget, as well as the level of photography interest the person you are buying for has.
To help you decide, we'd suggest reading through some of our camera buying guides. We have a general guide to the best travel cameras on the market, as well as specific guides to the best action cameras, best compact cameras, best mirrorless cameras and best DSLR cameras.
We're sure that between these guides you should find the perfect travel camera for you.
Special knowledge required: How complex a camera you think they will be happy using
A laptop makes for a fantastic gift for a tech-loving traveller. This is especially the case if they plan on doing any kind of work or even writing as they go.
We find that even writing e-mails is a lot easier on a laptop than on a smartphone, and the same of course goes for more intensive tasks like editing photos, backing up our photos, and so on. Of course – it's not all about work. Watching TV shows and movies on a laptop is far more pleasurable than a small smartphone screen.
As with many of the gifts in this guide, there's a huge range of laptops on the market. The main decision points are going to be around budget, as well as whether or not the person you are buying for prefers a Mac or a Windows PC.
If it's a Windows machine, we think a great portable option for travellers is the Microsoft Surface Pro. This features a detachable keyboard so it can also be used as a tablet, a touchscreen, and enough performance for the majority of tasks.
For Apple lovers, we'd suggest the 13-inch Apple Macbook Air. This is an excellent portable Apple laptop.
For more demanding tasks, you'll want to invest in something a bit more powerful. I'd suggest reading our complete guide to the best laptops for photo editing, which will equip you with all the information you need to make an informed choice as to what to look for in a laptop.
Special knowledge required: Preference of laptop type, Windows or Mac
Check Price and Buy Here
Further Reading
We hope you enjoyed our guide to tech gifts for travellers, which we put together based on our personal experiences as long time travellers and tech enthusiasts.
Before you head off, we also wanted to share some more resources that we think you will find useful in your quest to find the perfect gift for the traveller in your life.
And that's it for our guide to our favourite technology themed travel gifts. As always, we're happy to hear your feedback and comments about this post. Just pop them in the comments below, and if you have any questions, we'll answer them as soon as we can!