If you're planning a hike to Havasu Falls, then you are probably wondering what you need to bring with you. This is a great question. The 20 mile round trip hike to the falls can definitely be a challenge, and you will likely be carrying much of your gear on your back. As such, it's essential that what you pack for the Havasu Falls hike covers everything you need and nothing you don't!
In this guide, I want to take you through everything you need to pack for Havasu Falls, from camping equipment if you are camping, through to food, clothing and other useful items. This is based on my personal experiences visiting and camping at Havasu Falls, carrying all my own gear in and out again.
The Havasu Falls are in a remote part of USA, and accessing them requires obtaining a permit/reservation in advance as well as a hike across 10 miles of fairly inhospitable terrain. Water is not available on the hike, and in the summer in particular, the heat can be extreme.
On the flip side, in winter the temperatures can drop to freezing. As such, what you pack will depend on what time of year you visit. With this in mind, we've put together a general guide for what to bring at any time of year, as well as some specific items for winter and summer trips.
In terms of how long to plan for, Havasu Falls cannot be visited on a day hike. The minimum time you can visit for is one night and two days. However, as the minimum length of a campsite reservation is three nights and four days, and permits are relatively expensive, most people take full advantage of their trip and stay the full amount of time. So you need to plan for food and supplies to last for that amount of time.
Other than foodstuffs, there are minimal supplies on the site itself. As such, you will want to plan to take everything you need with you, and then to pack it all out again. I would also recommend having sufficient food for your trip so you don't have to rely on on-site supplies.
If you are looking for a guide to the hike itself, as well as how to get a reservation, how to get great photos, and other tips, see my complete guide to the Havasu Falls hike.
What to Pack for Havasu Falls – General Packing List
This section of the guide has general packing recommendations for Havasu Falls whatever time of year you are planning the hike.
As the majority of visitors to Havasupai stay overnight at the campsite, the guide focuses on those visitors and includes camping equipment.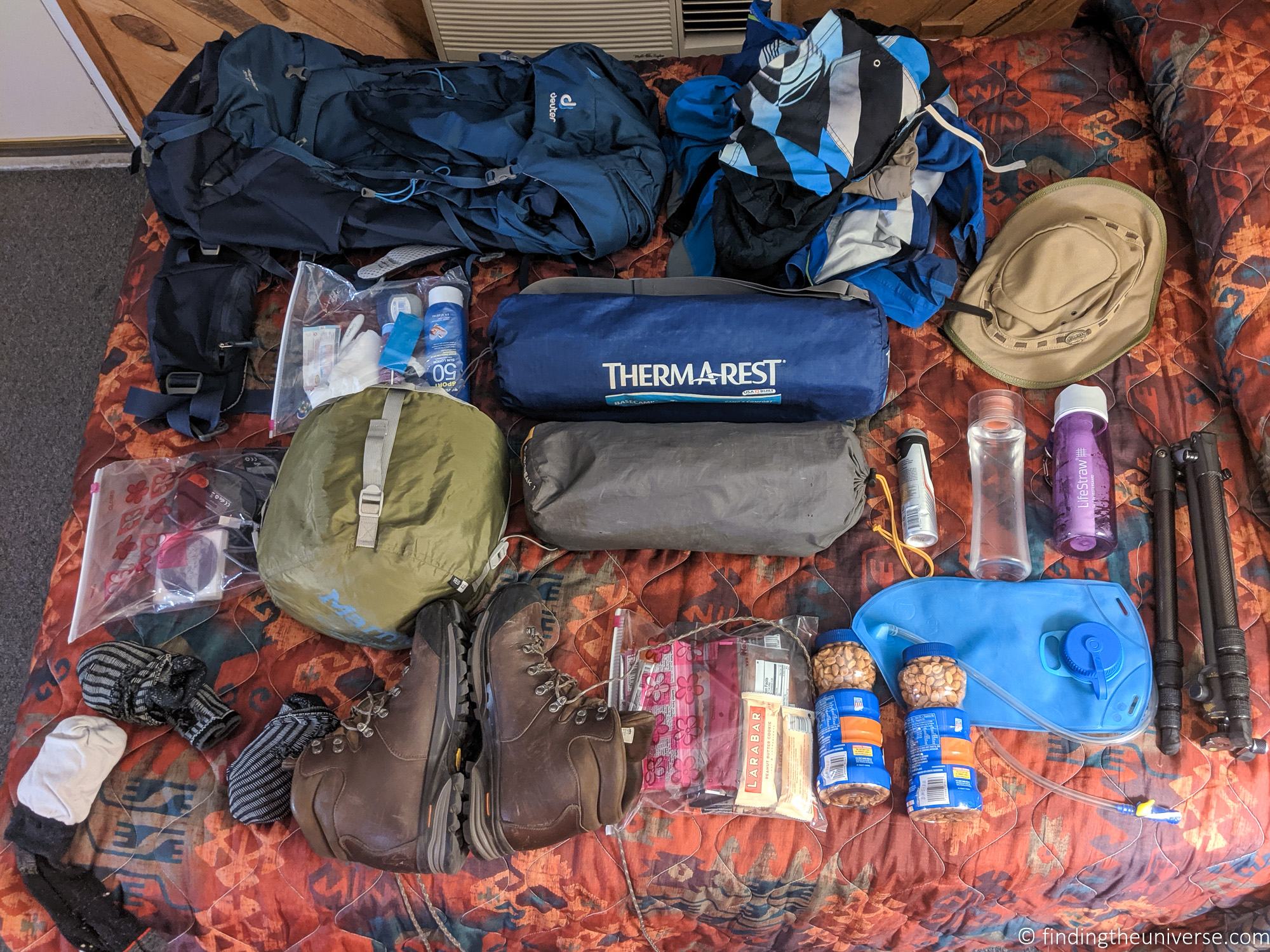 However, if you are staying in the lodge rather than the campground, these have cooking facilities as well as proper beds and bedding. As such you will not need to bring a tent, sleeping mat or sleeping bag. You will still want to bring food, lots of water, and all the regular hiking provisions though.
This is probably the most important piece of equipment for your hike, as this is what you are going to be carrying all your gear in. You want a backpack that is comfortable for a several hours of hiking and will fit everything you plan to bring.
For the Havasu Falls hike, my recommendation would be a backpack in the region of 40L – 55L. This should suffice for most hikers, giving you enough room to carry gear and supplies for your four nights. It also means you won't overpack and try to carry too much!
You want to make sure the backpack has sufficient storage of course for everything you plan to bring with you. A feature to look out for in particular are the external straps, as this is where you will likely carry items like your tent and sleeping mat.
Other features to consider include a waterproof cover, separate compartments for wet and dry gear, and how easy the bag is to load and unload.
Picking a backpack is an important decision, and ideally you will want to visit a store in order to try on a variety of backpack options and find the best option for you. When I did the hike I used a Deuter Aircontact Lite 50+10L. You can check prices on Amazon here, and REI here.
Available for both men and women, this was really comfortable and let me carry everything I needed.
However, there are lots of options on the market across a range of budgets. I have a full guide to choosing a travel backpack here to help you out, which also has a range of suggestions across price points.
There are two schools of thought for sleeping accommodation when visiting the Havasu Falls campground, which is either to take a tent or to take a hammock.
Personally I prefer a tent and sleeping mat arrangement as it gives you more protection from the elements and privacy. This is what most people choose to do.
In terms of a tent, as you're going to be carrying it I'd suggest you want something small and lightweight – basically the smallest tent you are comfortable sleeping in. Weight wise, for one person you're aiming for a tent that weighs no more than 4lbs. Just ensure that it comes with rain protection.
If you are travelling as a group, consider taking larger tents and dividing the load up between the group when you pack. Just be aware that tent capacities tend to be a little optimistic and assume you are happy being extremely cosy with your companions! So I'd say a group of 4 people would want two 3 or 4 man tents, especially in the hot summer months.
I was travelling on my own, so I had a small lightweight tent with just enough room for me. I didn't spend a lot of time in it, but it was perfect for my needs.
You can see a range of tents on Amazon here, and REI here.
Sleeping bags usually have either a season rating, or a temperature rating (or both).
The season rating roughly tells you at what time of year the sleeping bag will be good for. A 1 season product will be good for summer, whilst a 3 season product will be good from Spring to Fall. A 4 season sleeping bag will be good year round, including in more extreme winter conditions.
The temperature rating usually gives a range of values, one of which will include a comfort rating range. The idea is to give an idea at what outside air temperature the sleeping bag will be comfortable to sleep in. There will also be a temperature that suggests a minimum safe temperature to use the sleeping bag at, below which it will not provide effective protection from serious conditions like hypothermia.
Of course, everyone is different, and there are a number of factors to consider including other layers you are wearing, what you sleeping on, fit of the sleeping bag and so on.
For the cooler times of year at Havasu, you will want at least a 3 Season sleeping bag, which should be good down to around 20F – 30F. This is a great option from Thermarest, whilst this is a more budget friendly option. I used a Marmot Sleeping Bag like this.
You might also want a camping pillow, depending on your comfort needs. Personally I find putting spare clothes inside the sleeping bag carry bag works for me as a pillow, which was what I did when visiting Havasu Falls, but it's up to you.
You can see more options on Amazon here, and REI here.
I don't know about you, but I don't find the ground particularly comfortable to sleep on. So when I'm camping I always have some kind of sleeping mat. As well as providing comfort, a sleeping mat insulates you from the cold, which can rise up from the ground beneath you as you sleep.
There are a number of different types of sleeping mat, from a simple foam roll mat like this, through to a more premium high end combined air/foam mattress like this Thermarest mat.
I've used Thermarest products for years on camping trips around the world and they are definitely my favourite sleeping mat, combining comfort with warmth and portability. I always use a Thermarest when visiting Havasu Falls as it makes the sleeping experience much more comfortable in my opinion.
They are a little more on the expensive side though compared to a basic roll mat, so are probably only worth the investment if you are planning multiple camping trips.
You can see a range of camping mats on Amazon here and REI here.
If you're a hammock person, you might prefer this option, especially if you are visiting in the warmer summer months. A hammock is lightweight and can be picked up very inexpensively, saving you money and pack weight. Plus you won't need a sleeping mat either, or a sleeping bag in summer.
There are plenty of trees where you can hang your hammock with no trouble. Just be sure to bring some sort of rain protection like a tarpaulin or fly sheet as rain is possible at any time of year, and can come on swiftly and strongly.
You might also want a hammock with a mosquito net to keep the bugs from eating you while you sleep. You can see a selection of camping hammocks on Amazon here and on REI here.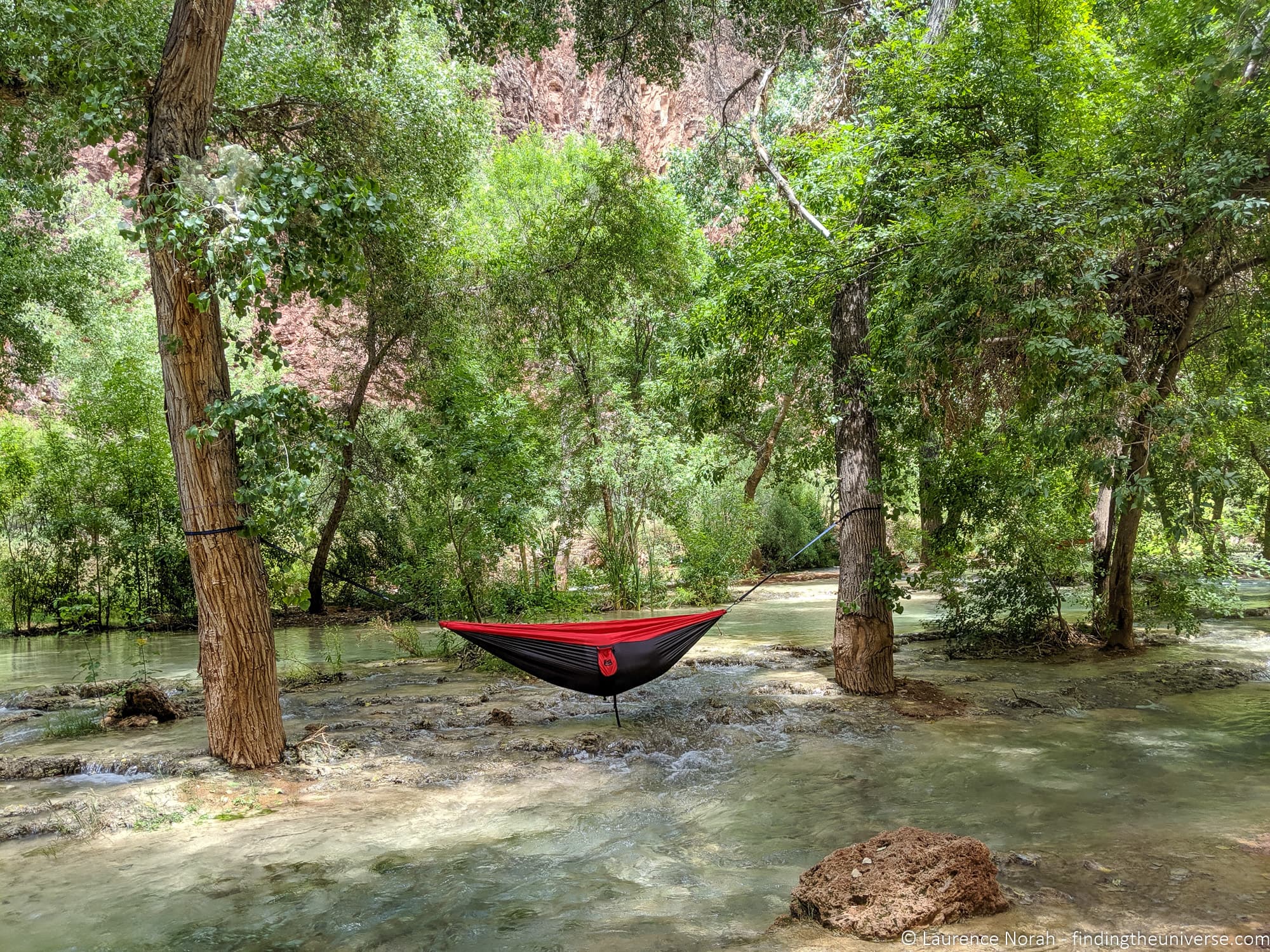 There's no electricity or lighting in place at the Havasu Falls campground, so you are going to need to bring your own light for when it gets dark.
For camping, the best option in my opinion is a head torch. These provide ample light in the direction you are going, and keep your hands free. This makes them perfect for everything from food preparation, to making camp, to finding your way to the bathroom.
I can recommend additionally looking for a head torch which lets you vary the output intensity, so you can save battery and only use the bright light when you really need it. Another useful feature to look out for is a red light as well as the standard white light. A red light is more friendly to other campers, letting you see your way without blinding others and affecting their night vision.
When you walk around the camp, it's also polite to ensure your headlamp is pointing towards the ground near your feet rather than off into the distance. Shining a bright light into people's eyes at night is not good campground etiquette.
There are a huge range of headlamps available. I'd recommend getting one which is rechargeable via USB. The battery should be good for the whole time you are there on most of the torches on the market. I've always had good experiences with the Black Diamond range of headlamps.
This one for example features USB recharging capabilities as well as the option to use standard batteries, and has both red and white LEDs of variable output. Of course, more budget oriented options are available, such as this one. See more headlamp options on Amazon here and REI here.
The campsite at Havasu Falls has a spring for drinking water, and water is also available at the lodge in the village.
There are varying opinions online as to whether or not you need to filter this water. The tribe recommends you do, and certainly to do so is sensible given the remote location. You don't want to have stomach troubles when faced with a 10 mile hike out!


With this in mind, you will definitely want some kind of water filtration system. Personally I've had good experiences with the LifeStraw system, which lets me get water from almost any source and then drink it. I used a LifeStraw Go water bottle for the hike, and it was also handy for the hike down to Beaver Falls, as I could refill it on the go.
There are lots of similar water filtration systems though, so find the one that works for you. Just be aware that with a water bottle system like I used, you obviously have to put all your water into the water bottle for it to be filtered. So you might prefer a system that is designed for filtering a larger quantity of water like this. Alternatively, consider water purification tablets like these.
You can read more about water purification in our guide to safe drinking water when traveling, and we also have a guide to the best water filters for travel.
As well as water filtration, you will also want a way to carry water. This is for two reasons – first, the hike in and out is 10 miles each way, and you'll want to be carrying around 1 gallon of water per person each way.
Then, when you're in the campsite itself, you're going to need a way to get water to and from your camp. The campsite is around a mile long, and the water spring is roughly in the middle. You don't want to keep making trips to and from the spring, so something like a water bladder or collapsible water container is likely going to be a good idea.
I personally had a LifeStraw Go water bottle, a water bladder, and a regular water bottle on my trip.
See more water filtration options on Amazon here and REI here, and water bottles on Amazon here and REI here.
There is a lot to do and see at Havasu Falls. There are the two main waterfalls, which are found at each end of the campsite. Then there's the hike down to Beaver Falls, as well as the longer hike to the confluence of the Colorado, amongst other adventures.
You will definitely want some kind of small day pack for any of these trips. This will let you carry water, a towel, water shoes, sunscreen, safety kit, and snacks on these trips. You're not going to want to take your main pack for these shorter trips, but you will definitely want to take something.
I'd suggest finding a small backpack of around 20L in capacity. You want something small and lightweight that folds down into a small size for easy stowing when you're not using it. There are lots of options to choose from, see this one as an idea of what I mean.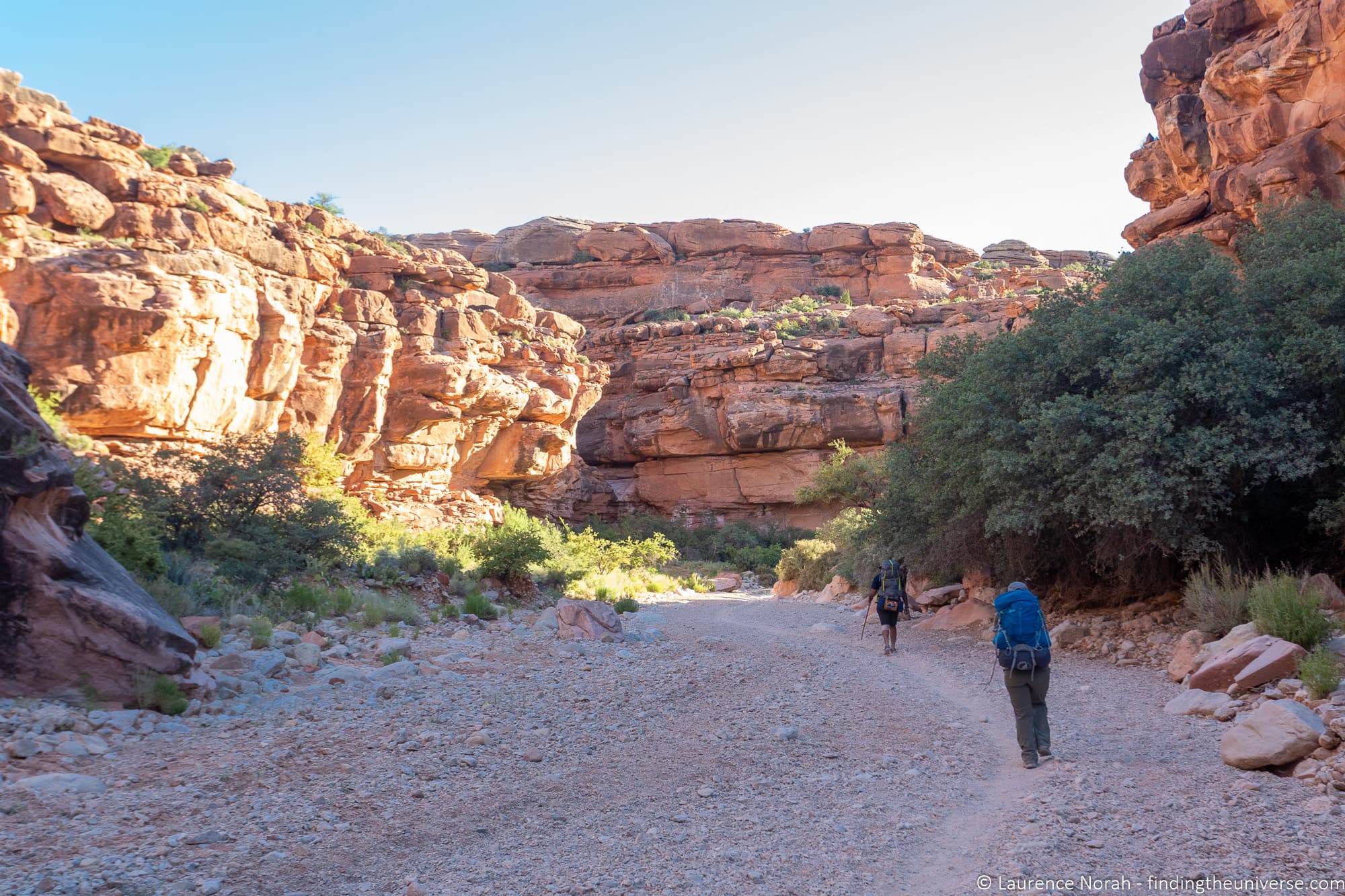 Hiking poles are definitely an optional item, but you will likely find that they make the hike easier, especially on the steep first mile or so down from the car park. They can help protect your knees from the impact of hiking, and help keep you balanced as you hike.
Personally I didn't use hiking poles as I didn't have a pair with me, but I would have appreciated them at points on the hike.
There are plenty of hiking poles to choose from, you can see a selection on Amazon here, and REI here.
Having the right footwear is absolutely key to having an enjoyable Havasu Falls experience. Ideally you want a good pair of hiking boots that are waterproof, fit well and offer good ankle support.
You also want to be sure that you have "broken in" your hiking boots on a series of hikes and walks in advance of your actual Havasu Falls hike. Breaking the boots in will soften them and mould them to your feet, meaning you are less likely to get blisters during the hike.
I would definitely not suggest buying a pair of boots, getting the fit right in the store, and then wearing them for the first time on the hike itself. You might be extremely lucky, but more likely you will end up with sore feet and blisters.
In terms of which hiking boots to go for, there is a huge range to choose from across a range of budgets. A good pair of hiking boots can last you for many years, and if you plan on doing a lot of hiking, finding the right pair is definitely worth taking your time over.
Personally, I own this pair of Scarpa Hiking boots. I've worn Scarpa boots for decades, and am currently only on my second pair. Jess likes the Merrell brand and she usually hikes in her Merrell Moab waterproof hiking shoes boots.
For more ideas on hiking boots, see the hiking boot section of our guides to the best travel shoes for men and the best travel shoes for women.
Like a backpack, hiking boots are definitely an item you are going to want to make sure you test out and get right before setting out on your hike.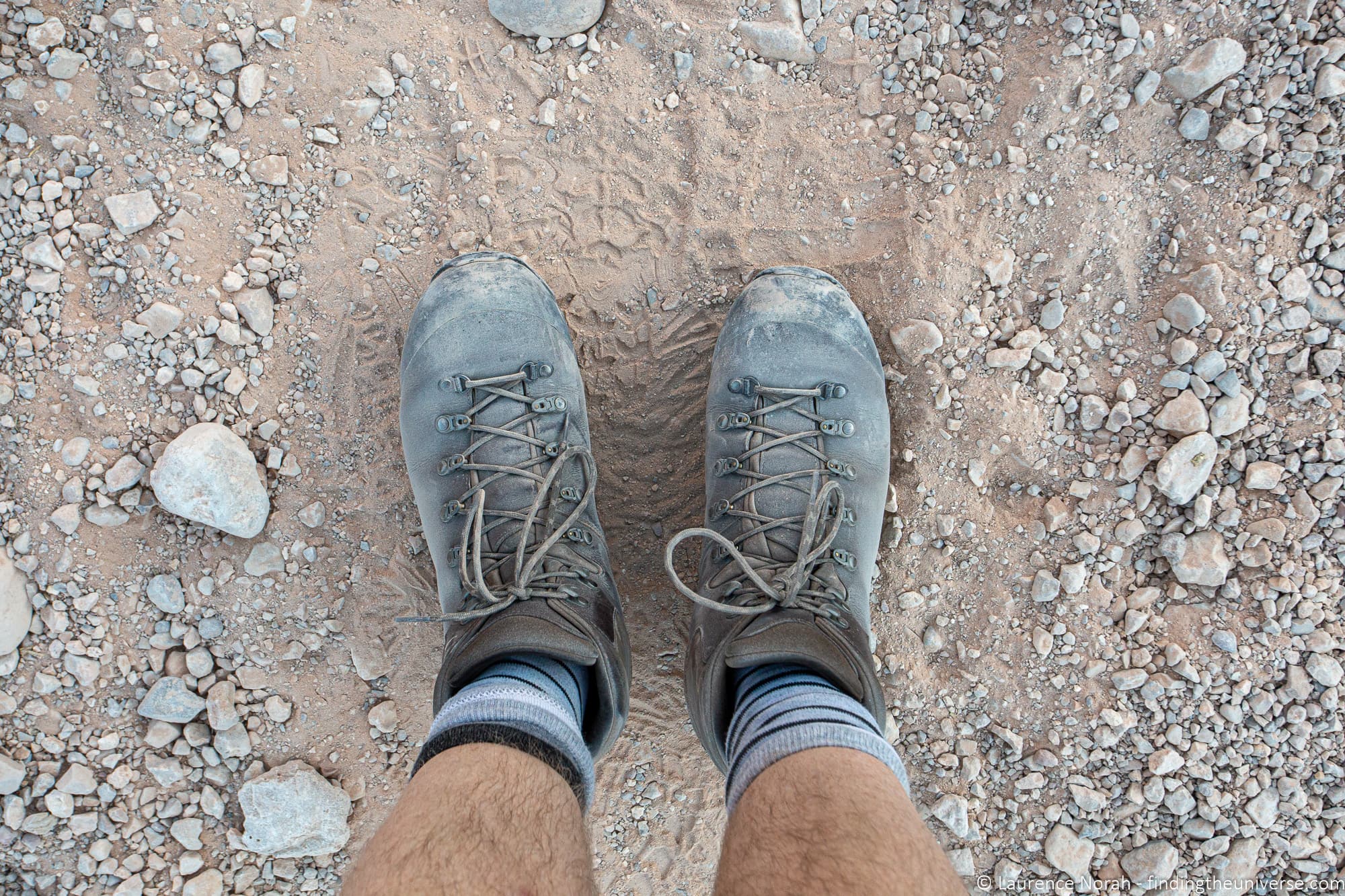 The Havasu Falls campground doesn't have a shower, but you are likely going to be bathing and/or swimming at some point during your visit, so you are going to need a towel to dry off.
If you're visiting in the cooler months you could choose to skip a towel, but I find a small travel towel like this one doesn't take up much space and is useful for drying off when washing my face etc.
So I've included it here as a year round item to pack for Havasu Falls, although of course like everything on this list, it's up to you if you want to pack it or not!
I've included water shoes as a year round option because you will likely find them useful for walking around camp and if you plan on doing the hike to Beaver Falls, which requires a number of river crossings.
They are a must for visiting in summer. If you intend to spend time swimming, which you definitely will, you are going to need water shoes to protect your feet. The water in the swimming holes can be sharp and uneven, and you can easily hurt your feet if you don't have a pair of water shoes on.
I have a pair of these shoes, which are designed to be multi-purpose. They are great as water shoes, offering quick drying slip on comfort, but also work well for trail hiking or city streets. They're also lightweight and pack away easily.
Alternatively, these Speedo water shoes are a good value option, they are Jess's favorite brand of water shoes and they make versions for both men and women.
You're going to want a pair of hiking socks to go with your hiking boots. A good pair of hiking socks will keep your feet warm but not too hot, wick the sweat away so they don't get damp, and generally keep your feet in good condition so you enjoy the walk.
There are lots of options for hiking socks. I'd recommend picking a material that works for you, and ensuring you pack at least two pairs – one for the hike in, and one for the hike out. You absolutely want a fresh pair of socks for the return hike.
Personally I like merino wool socks like this, but whatever you go for, make sure they are well made, fit properly, and are appropriate for the season you are visiting. You'll want lighter socks in the summer, and thicker socks in the cooler months
You'll also want socks for your time at the campground, especially if you plan on doing some of the day hikes. Personally I just took lighter normal socks for these trips, but it's up to you.
You can see more hiking socks on Amazon here, and REI here.
Some hikers, especially those more prone to blisters, may also want to bring hiking sock liners to wear during the hike in and out. Sock liners are basically a thin pair of socks that you wear under your hiking socks. This reduces the friction between your boot and your foot, and can greatly reduce blisters.
Clothes for Havasu Falls
Obviously the clothes you pick will depend on the time of year, and I have included some weather specific clothing tips in the summer / winter section of this guide.
However, there are some general clothing options you will want as well of course.
I'd suggest for the hike in and out you will want a good pair of hiking pants and two pairs of wicking shirts, one for each way. For your time on site normal clothing is fine. I prefer the hiking pants which convert to shorts for flexibility, but this is up to you.
Bring some clothes you can layer. Even in summer it can be cool in the mornings, so a lightweight fleece is also a good option.
Naturally you'll want undergarments as well.
There are many variants of the above clothing of course. We've had great results with North Face gear, but if you have a preferred brand that fits you well, go for that. We'd suggest looking for something that is quick drying, non-chafing and easy to move around in.
Rain Jacket or Poncho
I'd recommend a lightweight rain jacket or a poncho at the very least, as rain is possible at any time of year.
Depending on whether you are visiting in winter or summer you might prefer either a heavier rain jacket which can be your outer shell, or a lightweight jacket you can put on over a t-shirt. The key is to find a jacket that fits well, in rain and windproof, and is breathable. Otherwise as you sweat you'll get wet from the inside, which sort of defeats the point!
We've had good jackets from Berghaus, North Face and Trespass, but there are myriad brands out there, so find one that works for you.
Toothbrush / Toiletries / Hygiene items
Don't forget your basic toiletries when you pack for Havasu Falls. So obviously that's your toothbrush, toothpaste, deodorant, moisturizer, etc. All the toiletries or hygiene products you find essential on a day to day basis, or that you might need while you are there.
A travel sized bottle of alcohol based hand sanitizer is also a good idea so you can easily clean your hands when needed.
Whatever time of year you visit Havasu Falls, you will want to wear sunscreen. You're going to spending a prolonged amount of time outdoors, and UV light can cause skin damage year round.
If you are visiting in summer, ensure you get high factor water resistant sunscreen. The reasons should be obvious – sunburn is very bad for you, and hiking with sunburn is really uncomfortable!
Anti-Chafing Ointment
If you are not used to hiking, especially in the heat, you might find that parts of your body chafe and rub uncomfortably. You can get special anti-chafing products like Body Glide or Foot Glide. Personally I just use Vaseline, but you might prefer a non-petroleum based product.
Food
Whilst food can be bought on site at the store, I would advise bringing all your own food with you so you are not reliant on food availability.
You will have to make a choice about what food you want to bring, and whether or not you want to bring a stove. If you bring a stove, then I would recommend bringing dehydrated meals like these. These pack light and all you have to do is add water for a tasty hot meals.
If you're visiting in the cooler months then I would definitely recommend bringing meals you can heat up, as these will help you stay warm. There's a great selection of backpacker friendly dehydrated meals here.
In terms of food, you will have to make a personal decision as to how much food you need to bring. I would suggest looking at each of the four days, and making a basic meal plan for what you plan to eat each of the days of your trip.
I'd recommend packing the following:
Snacks such as peanuts, trail mix, chips, and dried fruit
Bread, peanut butter, packet sandwich mixes like tuna
Dehydrated meals
Trail bars / protein bars
Dried meat like jerky
Electrolyte tablets or power you can add to water. Especially important in the summer months to keep from getting dehydrated
Coffee or tea bags. Instant coffee is easiest (we have used the Starbucks Via packs for both hot and cold coffee), but if you like your coffee a certain way, see our guide to the best travel coffee makers for some options to get your caffeine fix on when camping.
The goal is to pick food which is energy dense – i.e. it is light but has lots of energy for the weight. Nuts are a great example of a high energy food, which is why nuts are often a key component of trail mixes and trail bars.
Don't forget also that you need to pack out all your trash, so try to avoid bringing food that comes in heavy containers or which might tear your trash bags. Canned food for example tends to be relatively heavy due to the water content, so look for packet foods and dehydrated food instead to save on weight.
Finally, alcohol is prohibited by both tribal and federal law anywhere on Havasupai land, which includes the Falls and the parking area. So it's best not to bring any at all, even in your vehicle. Your car and pack will be searched at the checkpoint before you park for the trailhead.
Depending on the type of food you bring, you will want some form of camping stove and fuel, as well as pots and pans. Campfires are not permitted at the campsite or anywhere along the trail, so a gas burner is your only option for heating.
Personally, as I was visiting in the warmer months, I decided I could skip hot meals for a few days and save having to carry a stove. But if I had been visiting in a cold month, I probably would have taken a stove to make hot meals.
Of course, this is a personal decision! You can certainly pick up lightweight backpacking stoves like this for your trip. The lightest option will be just to get meals which require hot water. In that case, a stove specifically designed for quick boiling water and saving gas like this JetBoil would be a great option.
Don't forget your utensils as well if you're going to be making hot meals, as you're going to need something to serve and eat them with.
See more camp stoves and cooking gear on Amazon here, and REI here.
Mug or thermos
If you do plan on making hot drinks or soupt, don't forget to bring some kind of mug or thermos flask to put them in. The Jetboil I mentioned above can be used as a mug, but if you are boiling water for multiple people or have a different stove, a mug like this is a good idea.
Biodegradable Camp Soap
You're going to be at Havasu for a few days, so you will likely want to do some cleaning whilst you are there. This might include washing dishes, washing your face, bathing yourself, washing your hands, etc.
We'd suggest picking up a specially designed soap product for backcountry camping which is non-toxic and biodegradable. For example, Campsuds is a well known American camping brand wash liquid which can be used as any kind of soap, including as a shampoo, laundry soap, dishwashing soap, and shaving soap. It comes in a small travel sized bottle, perfect for this trip.
I cannot emphasise enough the importance of a rat sack or other item to protect your food from the critters on site. The squirrels in particular are really good at chewing through pretty much anything to get to food.
A rat sack is basically a steel mesh bag which you can keep your food in which will stop animals eating it.
When I visited Havasu Falls there were also plastic containers with lids available around the site. These could be sealed and hung from trees, or placed on the ground with a large rock on top of them. However, I would advise against relying on the availability of these.
Some visitors have also reported good results by sealing their food inside freezer bags, and then placing inside a dry bag which is hung from a tree. I can't comment personally as to the effectiveness of this approach as most dry bags are not animal proof, but this is an option to consider.
Whatever you do though, make sure you do something to keep your food safe. I saw multiple campsites where the occupants had clearly not taken precautions, and tents and backpacks which had been chewed through to find the tasty goodies inside.
At the very least you'll want to seal all your food inside multiple freezer bags to hide the odours. But a rat sack or container like this one is definitely going to be a more reliable option.
Camera + Camera Batteries
Havasu Falls is a stunning place, and you are definitely going to want to take a lot of photos when you visit.
Personally, I brought my full camera setup with me, including my DSLR, travel tripod and ND filters. If you want some tips on getting photos at Havasu Falls, see the photography tips section of my Havasu Falls guide.
Of course, I appreciate not everyone will want to carry a pile of photography equipment with them. And you can definitely get great photos at Havasu Falls with a modern smartphone or a good compact camera.
If you do choose to bring a camera with you, don't forget to fully charge the batteries before you leave, and ideally bring at least one spare battery with you. You definitely don't want to run out of battery power when you're there!
If you're in the market for a new camera for your trip, see my guide to the best cameras for hiking and backpacking to get some tips on which model might suit your budget.
I'm guessing that you'll be hiking into Havasu with one or more devices that need charging, such as a smartphone. As the campground doesn't have power points (the hotel does), if you are camping I'd suggest bringing a USB power bank to charge your devices.
When I went to Havasu Falls I took a smartphone, a headlamp, and a camera battery charger, all of which charged via USB. This meant I knew that I'd be able to top off my devices and batteries if I needed to.
Of course, you'll want to try and minimise usage by turning off devices when not using them. I didn't get any mobile reception at all at Havasu, so I had my phone on airplane mode, and turned it off when not using it. But it was still good to know I could charge my devices if I wanted to.
In terms of size, this will depend on how many devices you are taking with you. A 10,000mAh pack should be a good tradeoff between size and portability for most users though. We recommend this one.
Another option is to pick up a solar powered USB charger. It's pretty sunny at Havasu, especially over summer, and a solar powered battery pack will let you recharge your devices using solar energy. This is a good option if that sounds good to you.
Finally, don't forget your USB cables, so you can actually plug your devices in and charge them.
Toilet paper or tissues (just in case they run out for some reason!)
There are toilets on site at both the campground and the lodge, and in my experience these were well stocked with toilet paper. However, it is always best to be prepared, so bringing some spare toilet roll or tissues is always a good idea for any backcountry trip.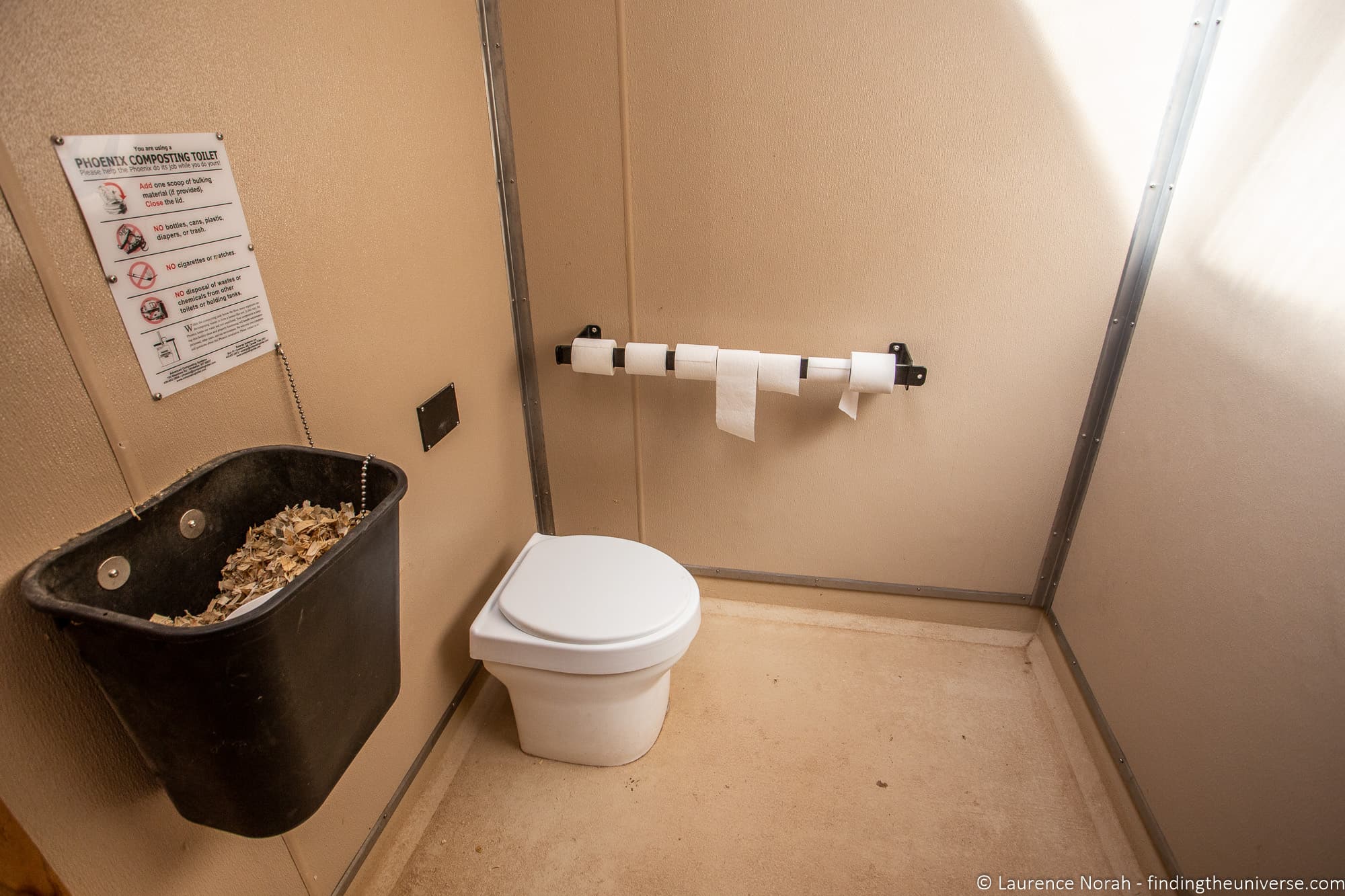 Sealable bags to pack your trash out in
Havasu Falls is a remote backcountry location, and anything you bring with you, needs to return with you. There are no places to throw away rubbish along the trail or at the site.
You'll want to a be a responsible visitor and not leave trash behind for the tribe members to have to pick up. If you plan properly, this is easy enough to do.
You will want to make sure you have somewhere to keep your trash safe and to contain any odors, which can be both unpleasant, and attract unwanted critters. As such, I'd suggest packing a few large properly sealable bags would be a good idea.
Alternatively, you can get a bag designed for backcountry trash like this, which seals fully and which you use with standard trash bags.
First Aid Kit
Havasu Falls is a remote location and you will want good travel insurance to cover you in the case something should happen to you necessitating medical assistance.
I'd also advise that for less serious injuries you should bring a basic first aid kit. The most common issues you are likely to encounter are minor cuts and scrapes, blisters, sunburn, and insect bites.
So I'd suggest bringing a basic first aid kit like this with antiseptic ointment and plasters / bandages, something like aloe vera gel for soothing sunburn, OTC pain relief medication like aspirin or Ibuprofen, gauze, alcohol wipes, Vaseline, moleskin for blisters, and an antihistamine cream for insect bites.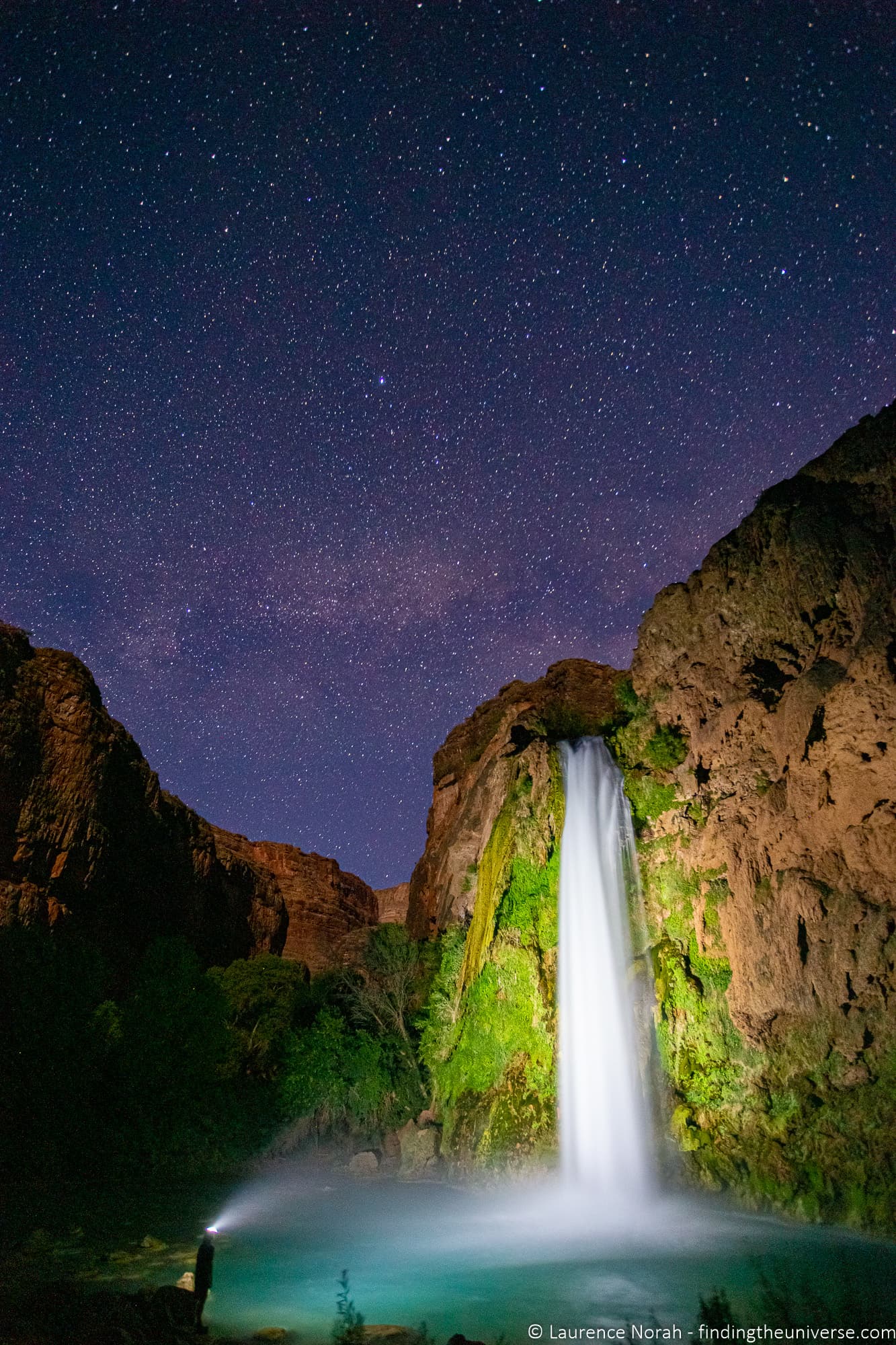 What to Pack for Havasu Falls in Spring / Fall / Winter
The campground at Havasu Falls is open from the 1st March through to the 30th November, and this range of months means you can get big shifts in temperature.
It is unusual for temperatures to go below freezing, but you will definitely want to be prepared for cold weather camping if you are visiting in these months.
Overall when packing for colder times of year you will want to ensure you have sufficient layers, a good jacket or coat, a sufficiently warm sleeping bag, and I'd recommend bringing supplies for making hot meals. I'd also suggest the below items as well.
Thermals
If you're visiting Havasu Falls in the colder months, including January through March and October through December, then I would recommend bringing some thermal undergarments with you.
These, which come as both pants and shirts, are warm items of clothing designed to be worn as your baselayer. They are usually made of a warm material such as merino wool, and trap your body heat to keep you warm.
I personally like merino wool baselayers, as they are really warm and super comfortable. For example, check out this top for men, and this top for women. However, some folks find wool can be itchy, in which case you could look at either synthetic or bamboo baselayers, both of which will perform well. Jess sometimes finds wool to be itchy, so wears something like this.
Warm Hat
You can lose a lot of heat through your head, so a warm hat is going to be essential. I'd suggest something that fleece lined for warmth like this one. Jess likes hats like this one or this one.
Whichever hat you go for, just make sure it fits snugly, and isn't liable to blow off your head in a gust!
Gloves
Your extremities often feel the cold first, and there's nothing worse than freezing cold hands! So a good pair of gloves is a must. Again, like the hat, I'd advise a pair of windproof gloves.
Currently I use these gloves. They're designed specifically for photography, but are good for any situation where being able to use your fingers without having to take the whole glove off is useful. They have a warm merino wool lining and magnetic finger caps and are good at temperatures around freezing and just below.
I also have a pair of Isotoner windproof gloves which do the job just fine, plus they let me operate my smartphone without taking my gloves off.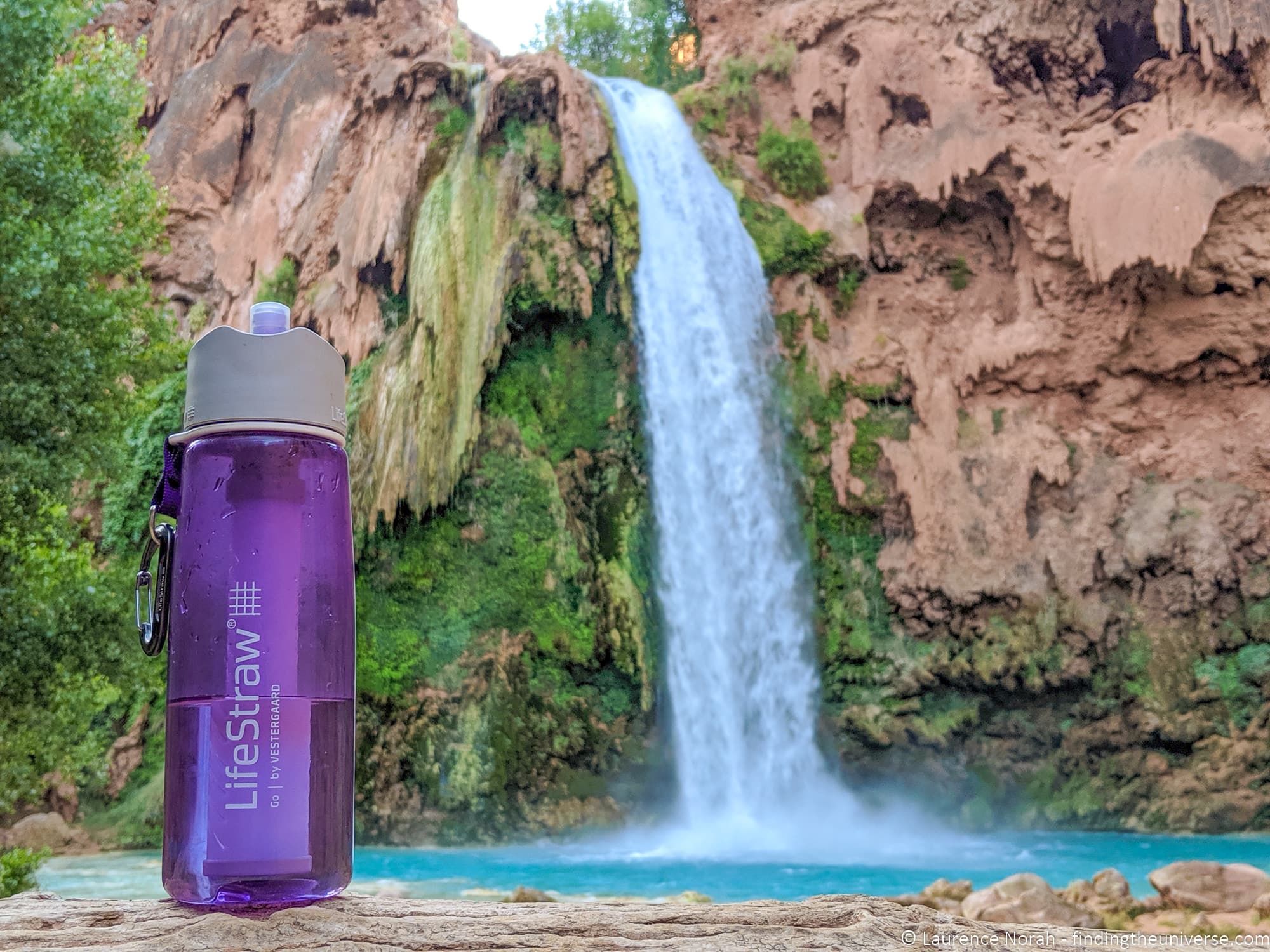 What to Pack for Havasu Falls in Summer
Summer, and warmer months close to summer in early Fall and late Spring, is a great time to visit Havasu Falls. Whilst it is going to be significantly hotter, and daytime temperatures can exceed 100F, this is a wonderful time for swimming in the pools and river.
Of course, you will need a pack a few different items for visiting Havasu Falls in summer compared to winter.
You are absolutely going to need a sun hat if you're visiting Havasu Falls in the summer. The sun gets very hot, and the hike in and out especially have minimal shade.
Whilst I'd suggest starting the hike early in the morning so as to get most of it done before the sun gets too high, a sun hat is still going to be a necessary item.
Sunglasses
All that sun comes with a lot of UV, and to protect your eyes (and generally stop you squinting at everything), you will probably want to bring a pair of sunglasses with you to Havasu Falls.
You are definitely going to want some high factor water resistant sunscreen at Havasu Falls. The reasons should be obvious – sunburn is very bad for you, and hiking with sunburn is really uncomfortable.
Swimsuit / swimming gear
The water at Havasu Falls is a pleasant 70F year round, making it particularly refreshing on a hot summer day. To take advantage of this you're definitely going to want to pack some swimwear. Make sure to also pack a sealable plastic bag or two as well, in case it doesn't fully dry before its time to hike out.
Rehydration Tablets
We recommend packing rehydration tablets year round but these would be particularly important in the summer when temperatures can exceed 100F. In these temperatures your body sweats a lot to keep you cool, and you need to replenish the lost salts and minerals otherwise you will start to feel quite unwell.
Usually when hiking in hot conditions I drink at least one rehydration solution a day. You can also pack Gatorade (frozen Gatorade is also usually available for sale), but I find that rehydration tablets like these are easier to pack and take up less space and weight.
If you visit Havasu Falls in the warmer months, biting insects like mosquitoes will definitely be around. If you prefer not to be treated as a mobile insect buffet, you'll want to stock up on some insect repellent which has DEET as an active ingredient, like this.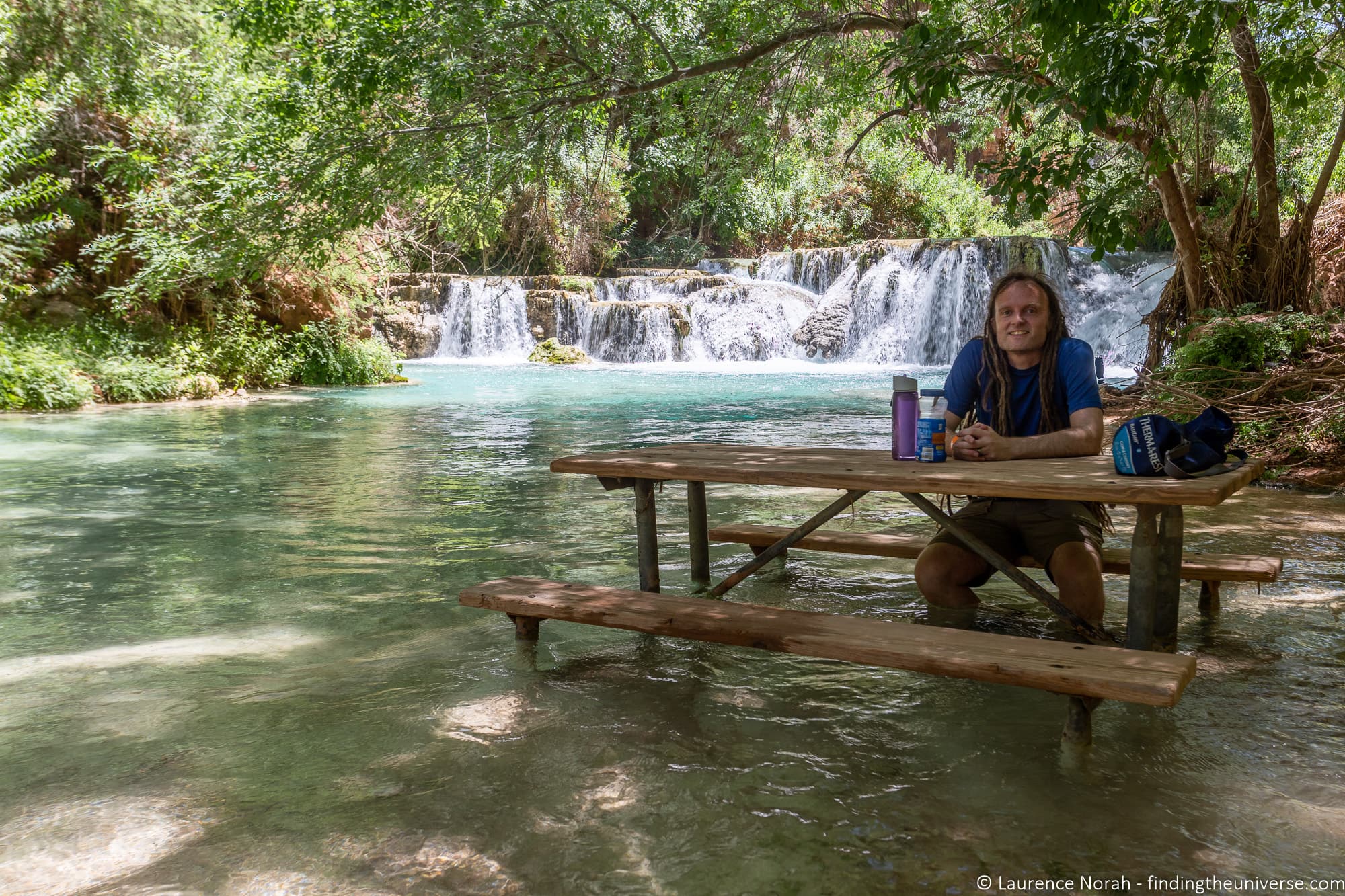 Further Reading
Well, that's it for our guide to what to pack for Havasu Falls! We hope you found it useful. You can also see the majority of the items in this guide as an Amazon list here.
Before you head off, here are some other resources we think you'll find useful.
If you have any feedback about the above, or questions that we've not answered, please let us know in the comments below and we'll get back to you as soon as we can.