If you're planning a trip to Turkey, then we think the region of Cappadocia should be high on your list of places to visit. It's famous for its surreal landscapes, cave dwellings, and hot air balloon experiences. We've been lucky enough to visit Cappadocia a number of times, and have found lots of things to do in Cappadocia.
In this guide, we want to share with you some of our favourite things to do in Cappadocia. Naturally this includes hot air ballooning, which is one of the main reasons people visit. However, there's so much more to see and do in the area!
As well as our guide to what to do in Cappadocia, we're also going to share lots of practical information to help you plan your visit. From getting here and away, to getting around, when to visit, tours you can take, and where to stay in Cappadocia – we've put everything you need in one place so you can have the perfect trip to Cappadocia.
First, let's answer some important questions you might have about Cappadocia.
Where is Cappadocia Turkey?
Whilst Cappadocia (Kapadokya in Turkish) might be one of the more popular destinations in Turkey, it's actually hard to find on a map. First, many travelers think Cappadocia is a town or city, but it is actually a region. However, Cappadocia refers to an ancient region of Turkey rather than a present day region. In present day Turkey, what was Cappadocia is now a part of the Central Anatolia region in the area around the Kizilirmak river.
If you are looking at a map of Turkey, the Cappadocia region is found right in the centre of Turkey. It's about 450 miles (700 km) south east of Istanbul, 200 miles (350 km) south east of Ankara, or 350 miles (575 km) north east of Antalya.
From a visitors perspective, the main highlights of Cappadocia are today found in a triangular area, between the cities of Aksaray, Niğde and Kayseri. The most popular region is the city and province of Nevşehir, where you'll find the picturesque villages of Göreme, Uçhisar, Ortahisar Belediyesi, and Ürgüp.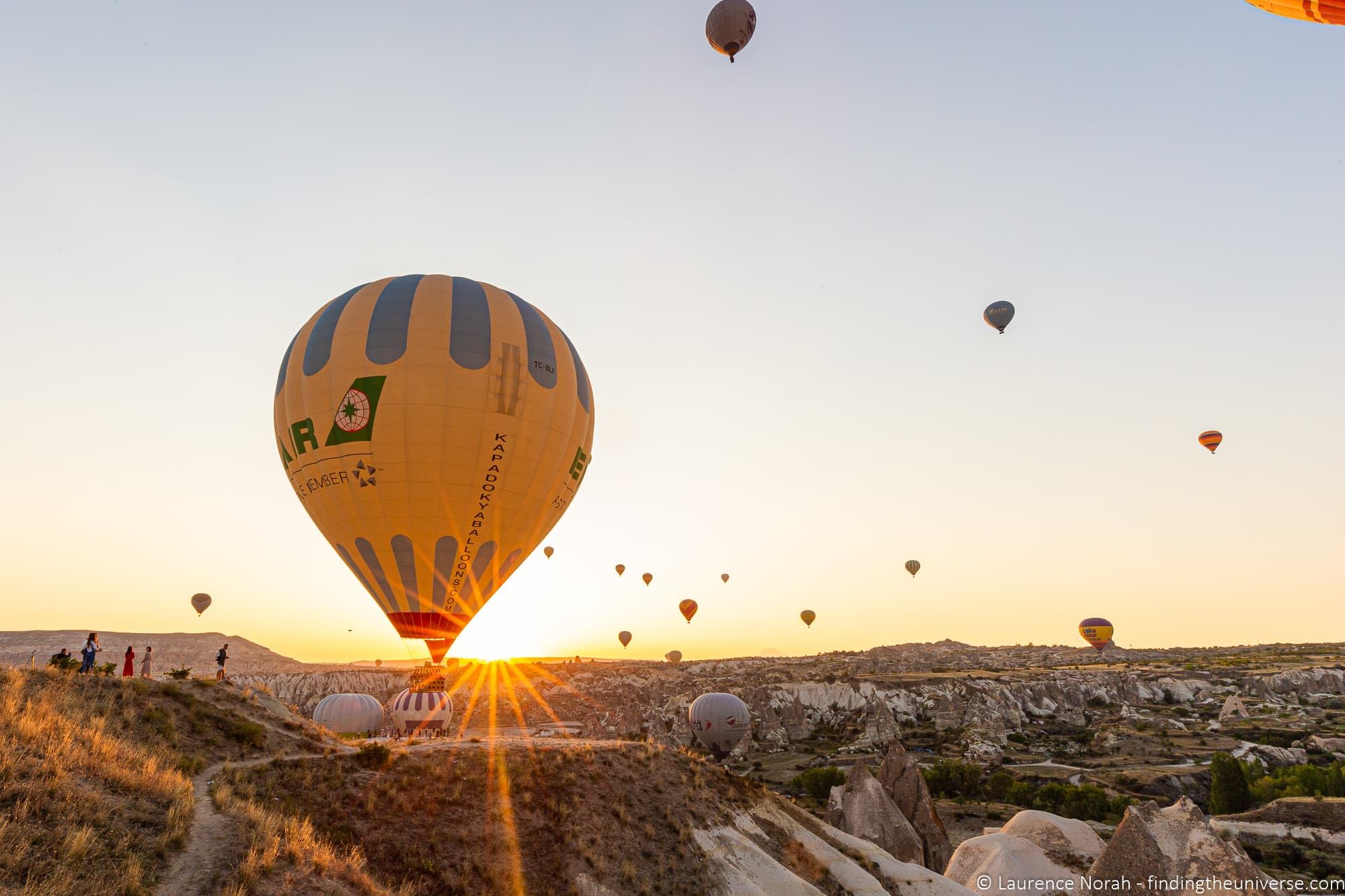 Why is Cappadocia Famous?
You may be wondering why Cappadocia is such a popular region to visit in Turkey. Well, it largely comes down to the landscapes.
Let's go back in time a bit. Millions of years ago, the land here was filled with active volcanoes. These covered the region in ash and other volcanic materials, in layers hundreds and even thousands of feet deep. Over time, this material hardened into a material known as tuff.
The active volcanoes are today dormant, and for millennia erosion has worked away at the tuff. As the tuff has different hardnesses, different parts have eroded at different paces. This has resulted in a surreal landscape of rock outcrops and so called "fairy chimneys".
For hundreds of years the locals of the region have taken advantage of the workable nature of the tuff rock structures and turned them into unique dwellings. They also tunneled below the ground, and created vast underground cities, linked by miles long tunnels. Much of the area is today a UNESCO world heritage site.
Suffice to say, it has to be seen to be believed.
Cappadocia is also well known as one of the best places in the world to take a hot air balloon flight. From the air, you get a truly wonderful birds eye view of the landscape. The majority of balloon flights take place from near the town of Göreme.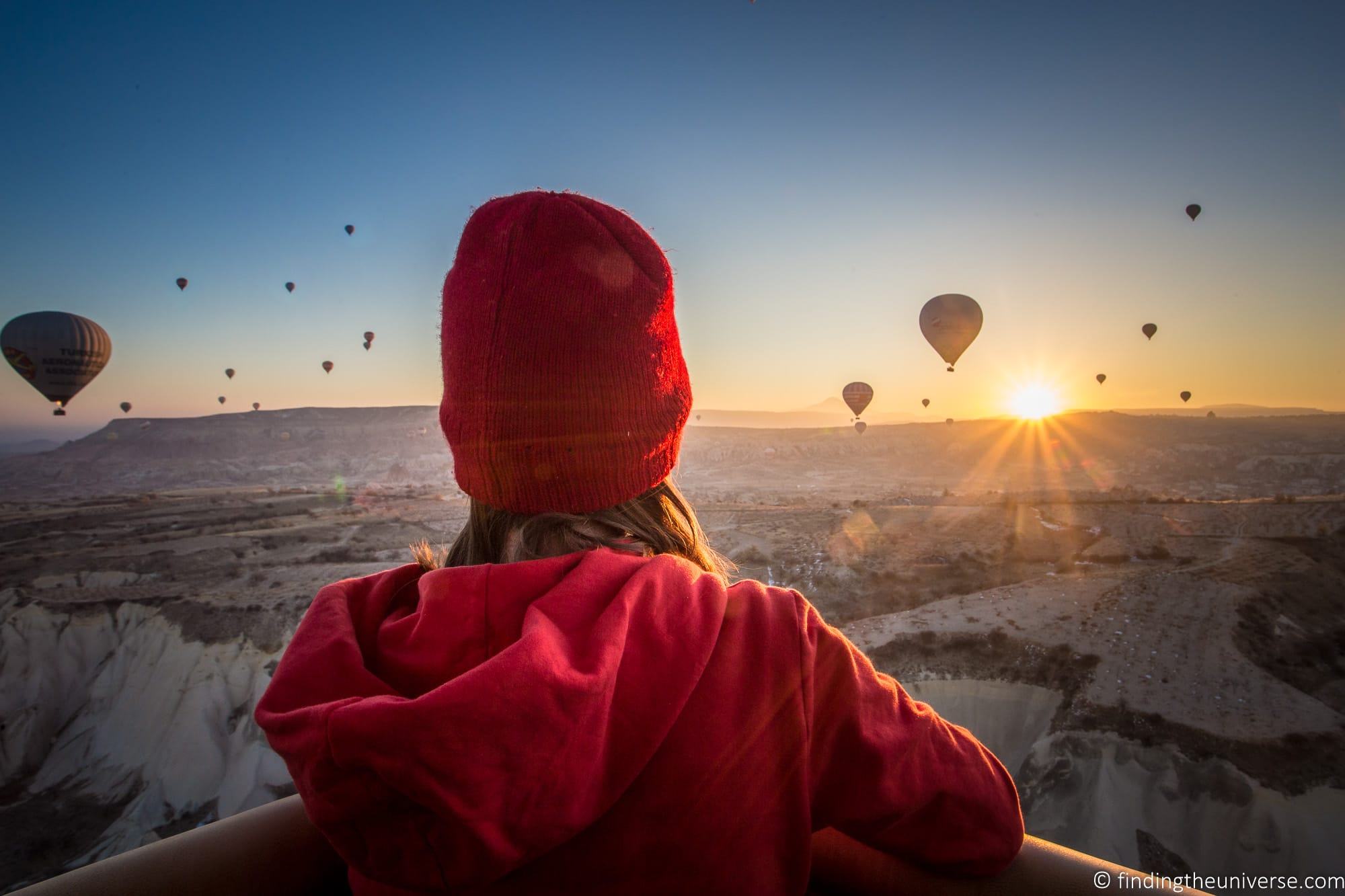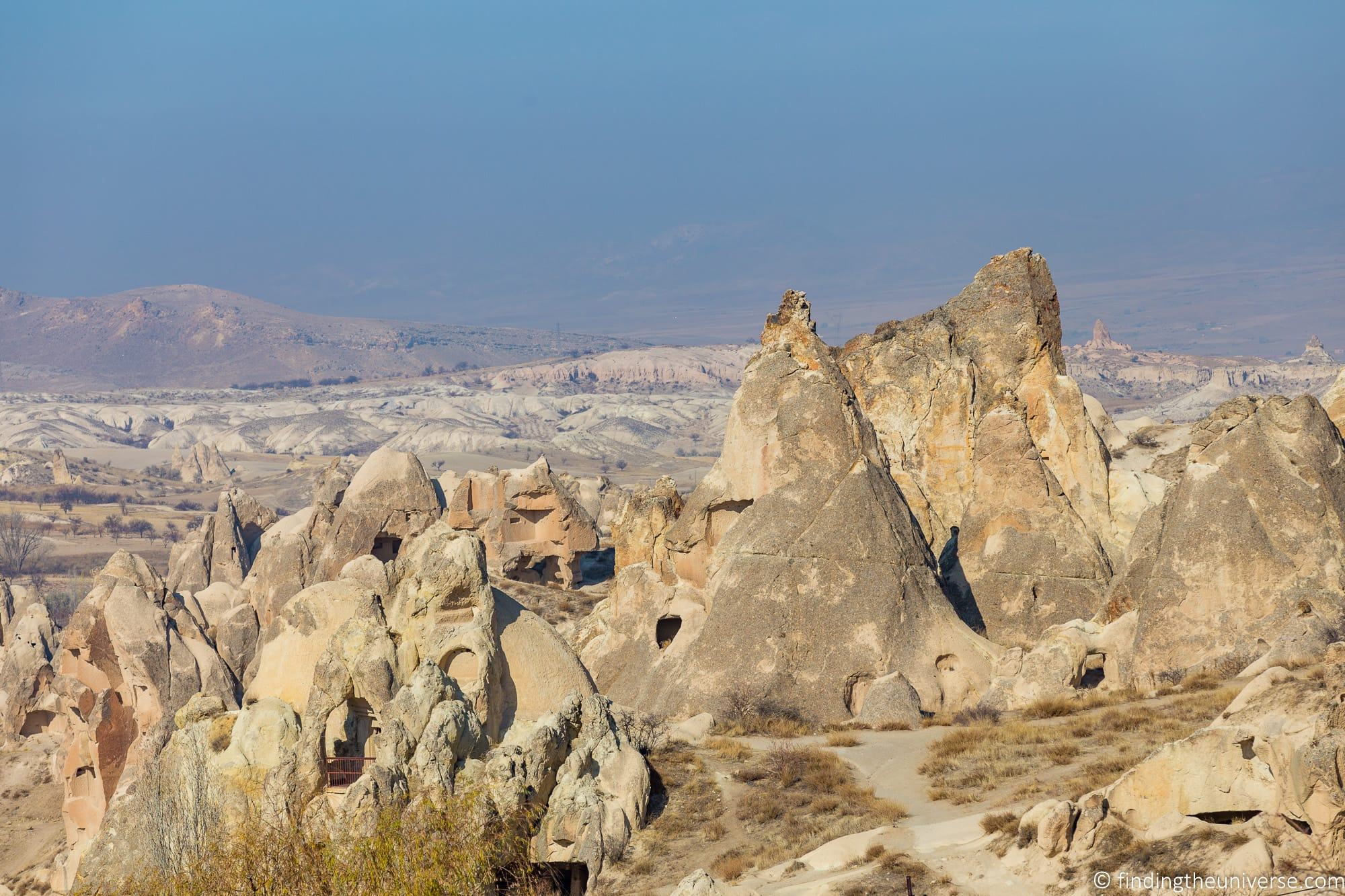 How to Get to Cappadocia Turkey
Turkey is a large country, and the area known as Cappadocia is quite a distance from major cities like Istanbul, Ankara, and Antalya. However, its popularity means it is relatively easy to get to.
Probably the fastest way to get to Cappadocia from within Turkey is to fly. There are two main airports servicing Cappadocia, which are Kayseri Erkilet Airport (also known as Erkilet International Airport)(ASR) near Kayseri, and Nevsehir Kapadokya Airport (NAV) near Gülsehir.
Kayseri is the larger of the two airports and is around an hour's drive from Goreme. Nevsehir is around a 40 minute drive away. From either airport it's easy to book an inexpensive shuttle transfer to the main towns. Private transfers are also available.
Most major airports in Turkey offer flights to one of these two airports, including Antalya and Istanbul. From Ankara it is also possible to fly, although the flights are not usually direct so it may be quicker to take another form of transport.
If you want to travel to Cappadocia by air from outside of Turkey, you will probably need to fly to Istanbul and then take an onward direct flight from Istanbul. Whilst Kayseri is an international airport, it only has limited connections from outside of Turkey.
If you would rather not fly, there are a number of other options. First, you can take the train. The main train station is in Kayseri, from where you can either take a bus or taxi onwards to your final destination in the area.
By train you can travel to Ankara from Kayseri (around 6.5 hours, there's also an overnight train). If you are travelling from Istanbul, you would need to take a train to Ankara (around 4 hours) and then switch.
Another option is to take the bus. If you are travelling to the Cappadocia area from southern Turkey, such as Antalya, there is no train so the bus is the best option. This will take around 9 hours, and most buses run overnight. There are also bus services to Ankara (around 5 hours) and Istanbul (around 12 hours). You can check bus timetables and prices and book online in advance here.
Finally, you can of course also get to Cappadocia by car. Having a car will also have the benefit that it will allow you to tour the region, which is fairly spread out, at your own pace. The roads in western and central Turkey are generally good, although driving in the larger cities can be a bit nerve wracking due to the volume of vehicles on the road. If you rent or bring your own car, make sure you have a valid toll sticker to use the toll roads.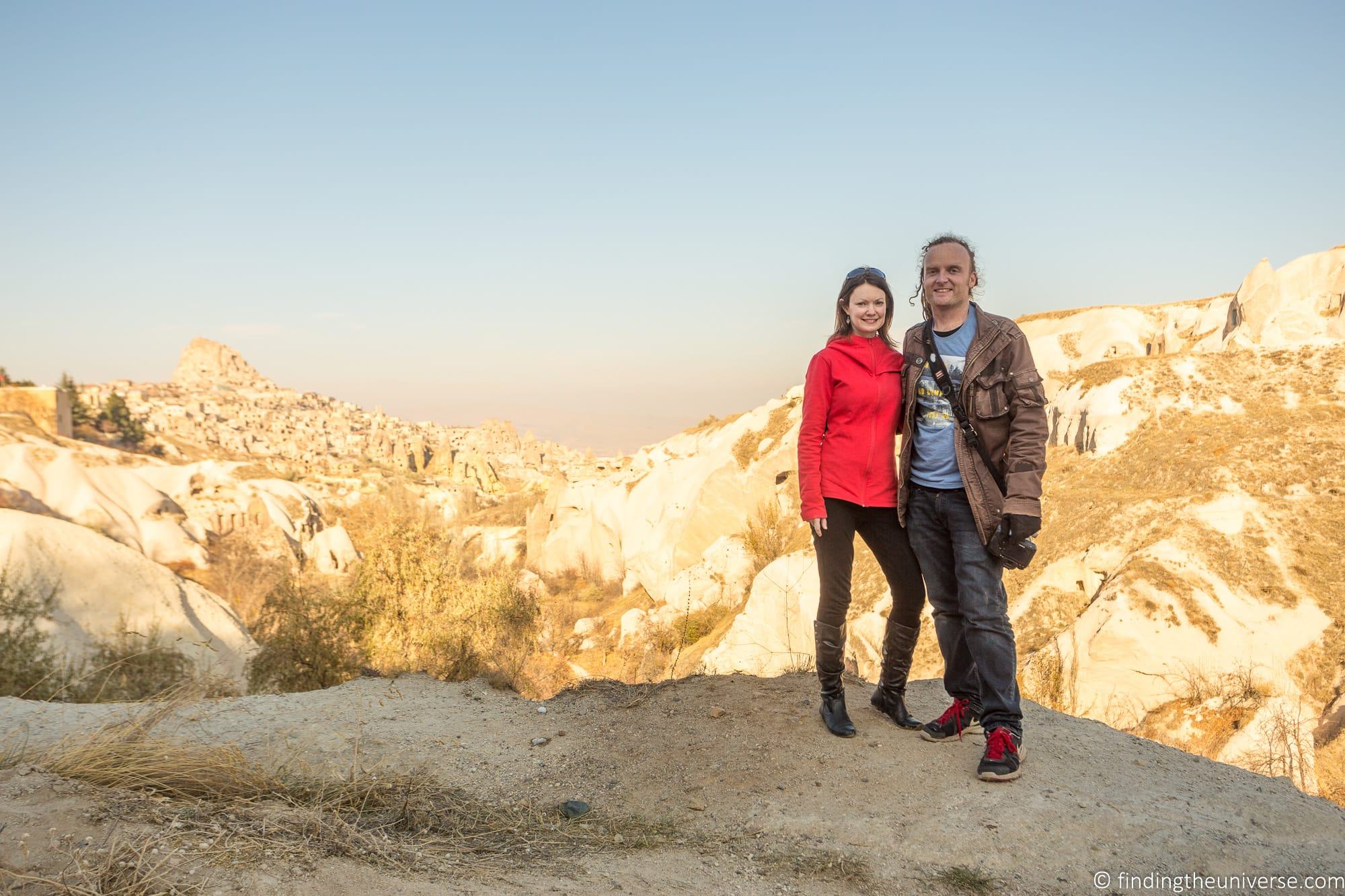 Turkey Tours which Include Cappadocia
A lot of visitors choose to join a tour to visit Turkey. This can be a great option for many given the long distances, language barriers, and the advantages of having a local guide who can help you learn all about the country and its customs and attractions.
Taking a tour also means you don't need to arrange your own transport, lodging, attraction entry, or dining.
We've visited Turkey several times now, both independently and as part of a tour, and can definitely say that joining a tour can be a great way to see a lot of Turkey's highlights, especially for a first time visitor to the country.
You can join both group and private tours in Turkey, and most include time in Cappadocia. Here are some tours I'd recommend from short ones only visiting Cappadocia to 2 week tours that include a number of places in Turkey with sufficient time in Cappadocia.
As you can see there are plenty of options to suit a whole range of budgets and durations.
When to Visit Cappadocia
Cappadocia is a year round destination, but there are a few things to bear in mind when planning your trip.
First, Turkey gets very hot in summer, and Cappadocia is no exception. In July and August, temperatures will regularly exceed 30C / 86F. This is also a popular time to visit, so prices can be higher.
The months of May through June and September through October offer a good compromise between warm weather and less crowds. March and April are the months with the highest average wind speeds, which can result in balloon flights being cancelled, although this is of course a possibility at any time of year.
The cooler months of November through to February bring the possibility of snow, and temperatures around freezing.
We've visited in both the height of summer and in winter when there was snow on the ground. We enjoyed both of our visits and we were able to go hot air ballooning in both summer and winter. You just want to make sure you pack and dress appropriately for the weather.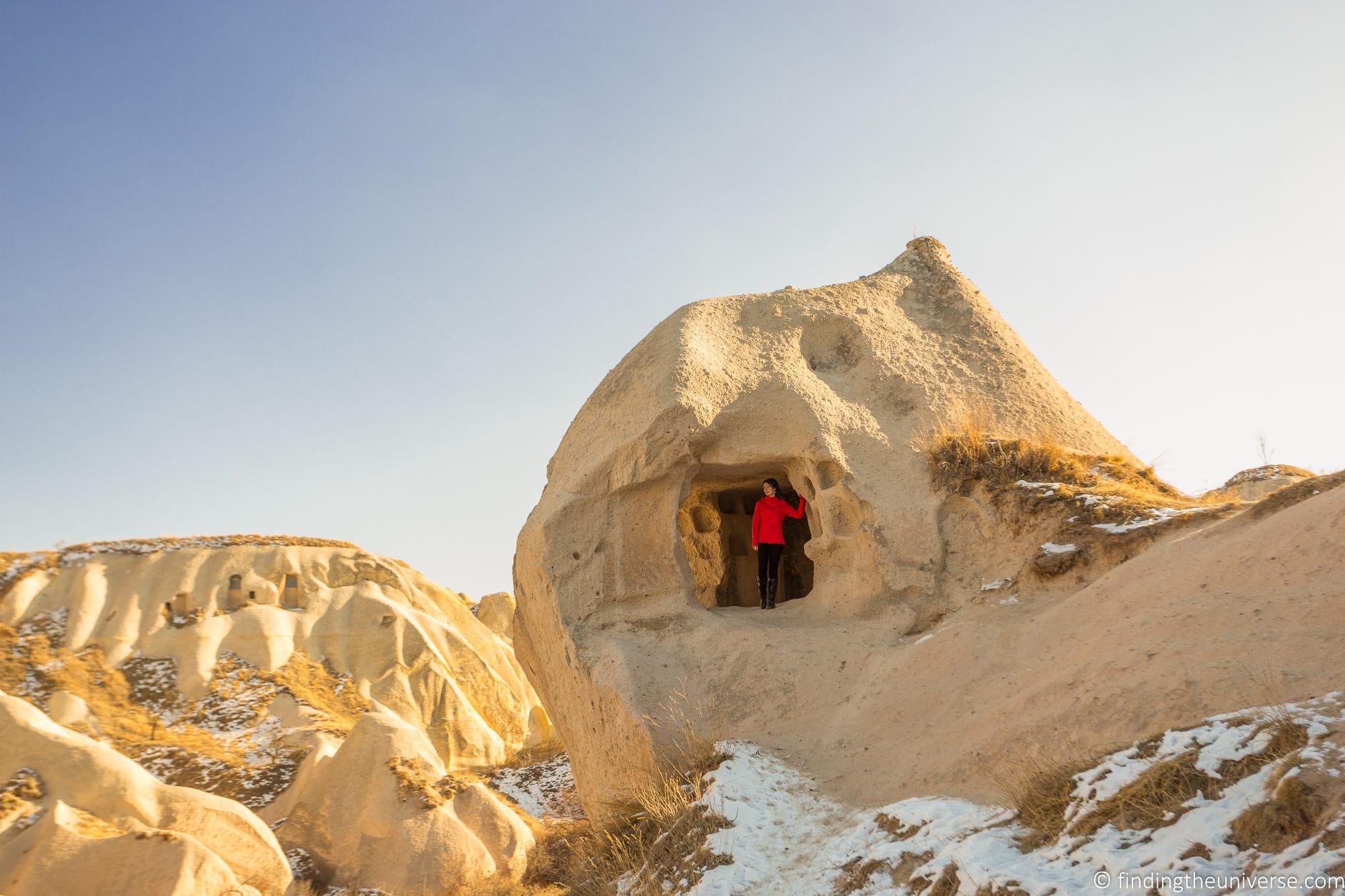 How Many Days do you Need in Cappadocia?
We would advise spending at least two days in Cappadocia. As you're about to see, there are a lot of things to do in Cappadocia, and the region covers quite a large area, so you won't run out of things to do if you stay longer. You can easily find things to do in the region to fill several days.
Staying for longer also improves your chances of doing a hot air balloon flight, as if a flight is cancelled due to the weather, you might still be able to go the next day.
I'd use this guide to things to do in Cappadocia to help you determine how much you want to do and see in the region and then you can use that to decide how much time you want to stay here.
If you are planning your visit to Cappadocia as part of a longer visit to Turkey, check out our comprehensive two week Turkey itinerary which has lots of information to help you plan.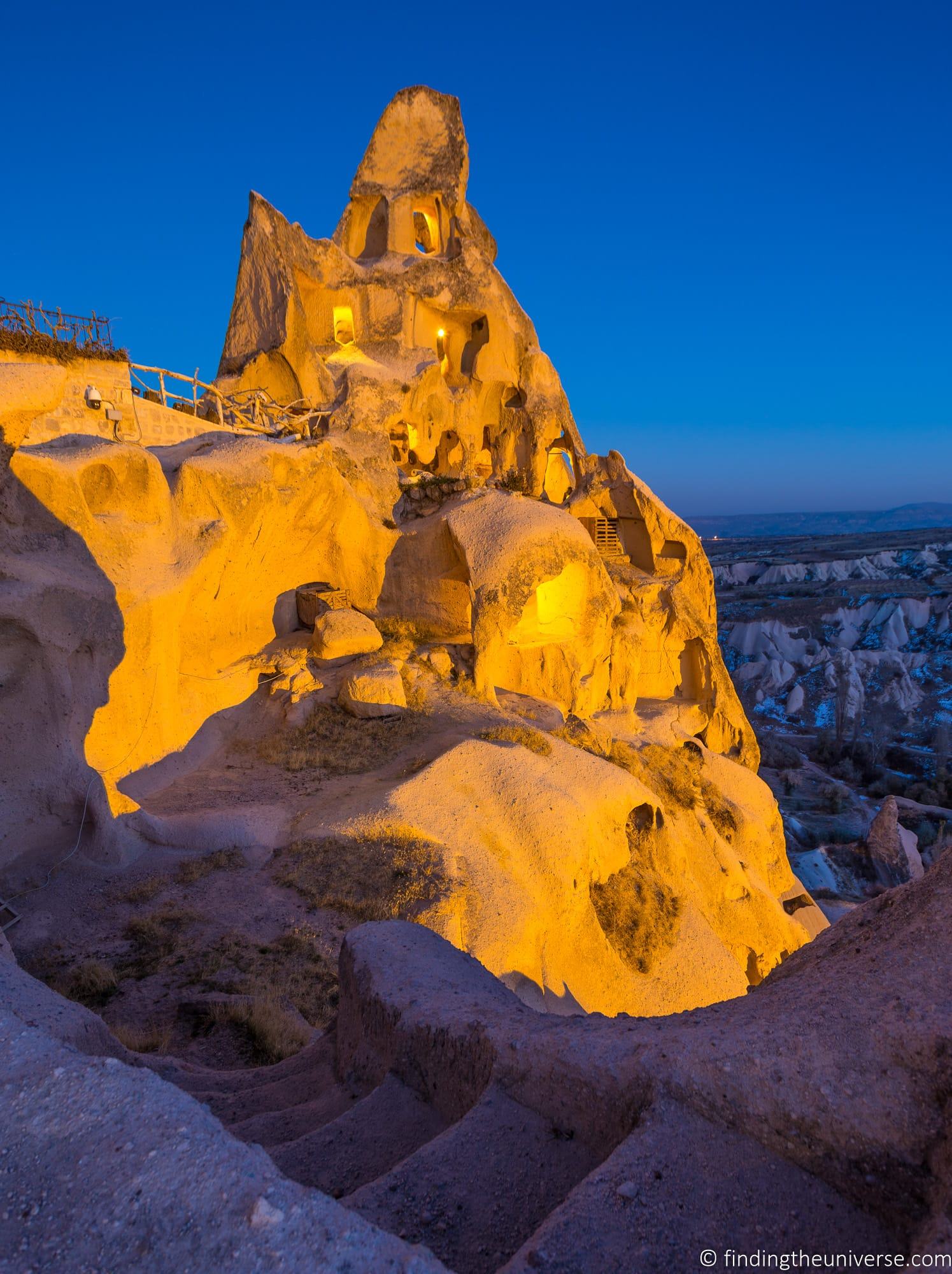 Things to do in Cappadocia
Now you know some facts about Cappadocia, let's go through all our favourite things to do in Cappadocia. From exploring underground cities to hiking through stunning landscapes, there's something here for every interest!
Go Hot Air Ballooning
One of the most popular activities in Cappadocia, and the one that is perhaps most associated with the region, is hot air ballooning. Almost every morning, throughout the year, dozens of balloons launch into the sky at sunrise.
There are a number of reasons that hot air ballooning in the region is so popular. First, the weather conditions are good for hot air ballooning. Balloons can only fly in good weather when there are low winds, and this region is blessed with many days throughout the year with great flying conditions.
The other reason is that hot air ballooning is a wonderful way to see the incredible landscapes of the Cappadocia region. The fairy chimneys and rock houses are really spectacular, and floating above and between them in a hot air balloon is an amazing experience. It's also nice that there are so many other balloons, as this makes for lovely photo opportunities.
We've been hot air ballooning in Cappadocia a number of times, and it is truly a memorable experience. It is of course an expensive experience, although relative to other hot air ballooning trips around the world it is great value. We absolutely think it is worth it—if you only plan to fly in a hot air balloon once in your life, Cappadocia is a fantastic place to do it.
For hot air ballooning, you'll need to book a flight. You need to do this in advance as the flights take off around sunrise, and most companies will send a shuttle to pick you up from your accommodation the morning of the flight.
If you are staying in Cappadocia for a few days, then we advise booking your flight for the first morning of your stay. This way, if your flight has to be cancelled due to the weather, you will still have changes on the following days. When booking, you'll also want to check the cancellation policy in case you can't fly.
There are many operators to choose from. Most offer a fairly similar experience, with flights lasting between 60 and 90 minutes. Flight time is always dependent on the conditions, and may be longer or shorter.
Another difference between operators will be the size of the basket. Lower priced flights usually have larger baskets with more people in. That said, the baskets are always separated into compartments so you won't feel squashed in, and the balloon operators do their best to rotate the balloons as they fly so everyone gets great views.
Finally, different operators will have different services. These may include a breakfast, champagne on landing, hotel transfers, or photos. When comparing balloon flights, don't just focus on the price. Always check all the details so you know what you are getting. This is likely going to be a once in a lifetime experience, so spending a bit more might be worth it!
Also, most importantly, is your health and safety. We would recommend only choosing balloon companies with a good history and a number of recent positive customer reviews.
Here are some balloon flights to consider:
As you can see, there are plenty of choices when it comes to hot air balloon flights in Cappadocia.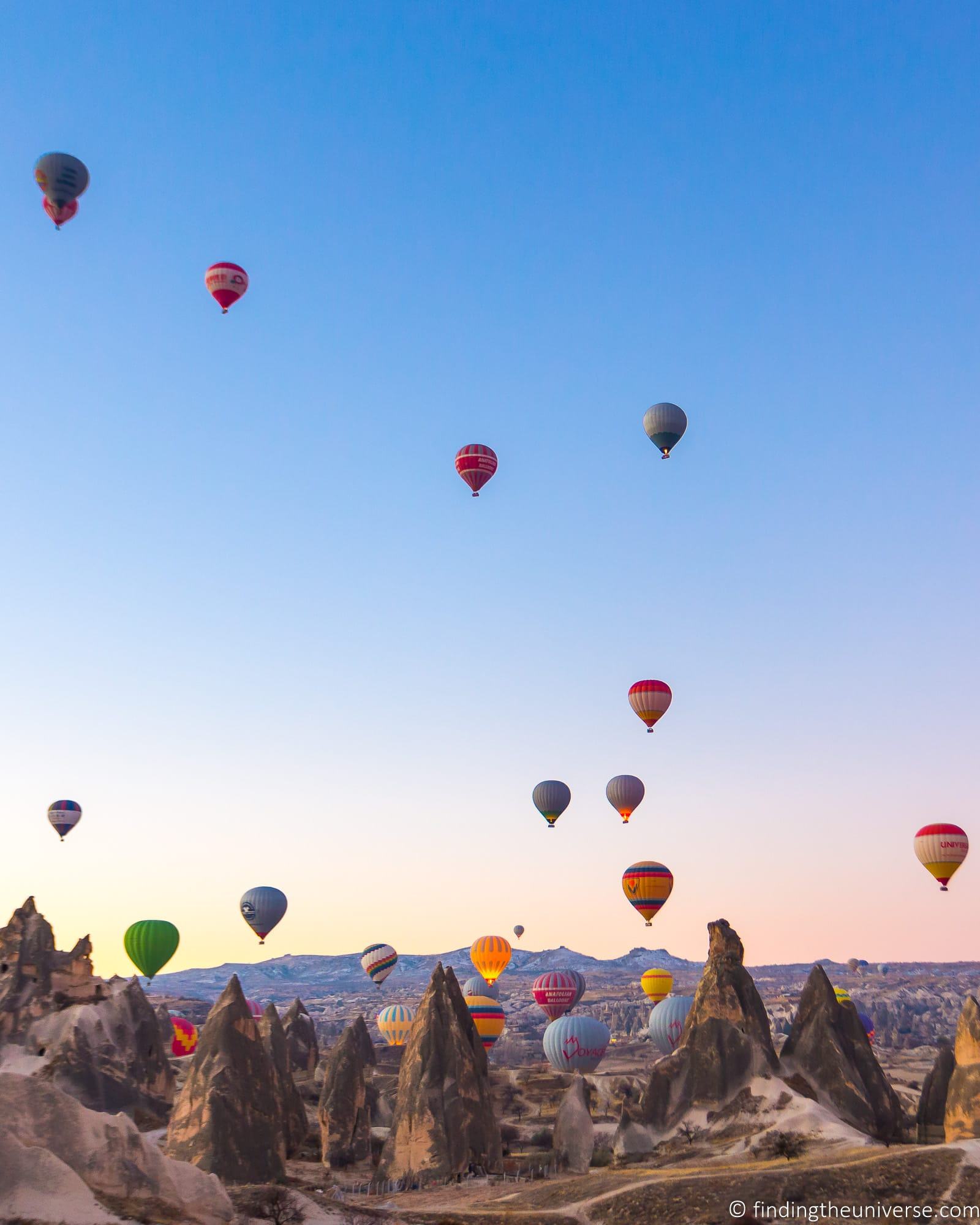 Visit an Underground City
One of the most fascinating things about the Cappadocia region is the way the local inhabitants have moulded the landscape to meet their needs. The rock here is perfect for turning into dwellings, as it is soft enough to easily dig into, yet strong enough to remain stable.
The practice of creating homes out of the rock in Cappadocia dates back at least 2,500 years, and is still alive and well today.
However, it's not just individual homes that have been created here. In fact, entire cities have been built underground!
These underground cities came about as a result of a need to provide safety to the people living in the area. It's believed that the cities started to be built during the time of the Hittites, in the 8th century BC, although they may be even older than that.
Over time, they were used and expanded by other inhabitants of the era, most notably by the Byzantine-era Christians between the 8th and 12th centuries when the Byzantine empire was at war with the Arabs.
Throughout these times the population of Cappadocia needed safe places of refuge, something that an underground city was able to provide. It is believed that there were at least 36 underground cities across Cappadocia. The deepest discovered to date is Derinkuyu, which was found in the 1960s, and is believed to date back to at least the 8th century BC.
Derinkuyu is a huge multi-level underground city. Research in 2016 indicated that it had as many as 18 storeys, descending to a depth of 85 metres (280ft) below ground level. Within this vast expanse of rooms up to 20,000 people could live in safety, with everything from stables, churches, warehouses and wells all on site to provide for the citizens needs. It's also linked to other underground cities in the region by a huge network of tunnels. In times of danger, the single entrance could easily be sealed off, and the citizens could live within until the danger had passed.
Derinkuyu has been open to visitors since the late 1960s. There's an entry fee to visit, and it is open every day except Monday.
You can see opening times and prices on the Turkish Museums website here. You can visit yourself and buy a ticket on arrival, or you can take a guided tour which includes Derinkuyu like this.
There are also a number of other underground cities in Cappadocia. Kaymakli is another huge complex which you can visit. Another massive city was discovered in 2014 in Nevşehir, which will likely open to the public soon.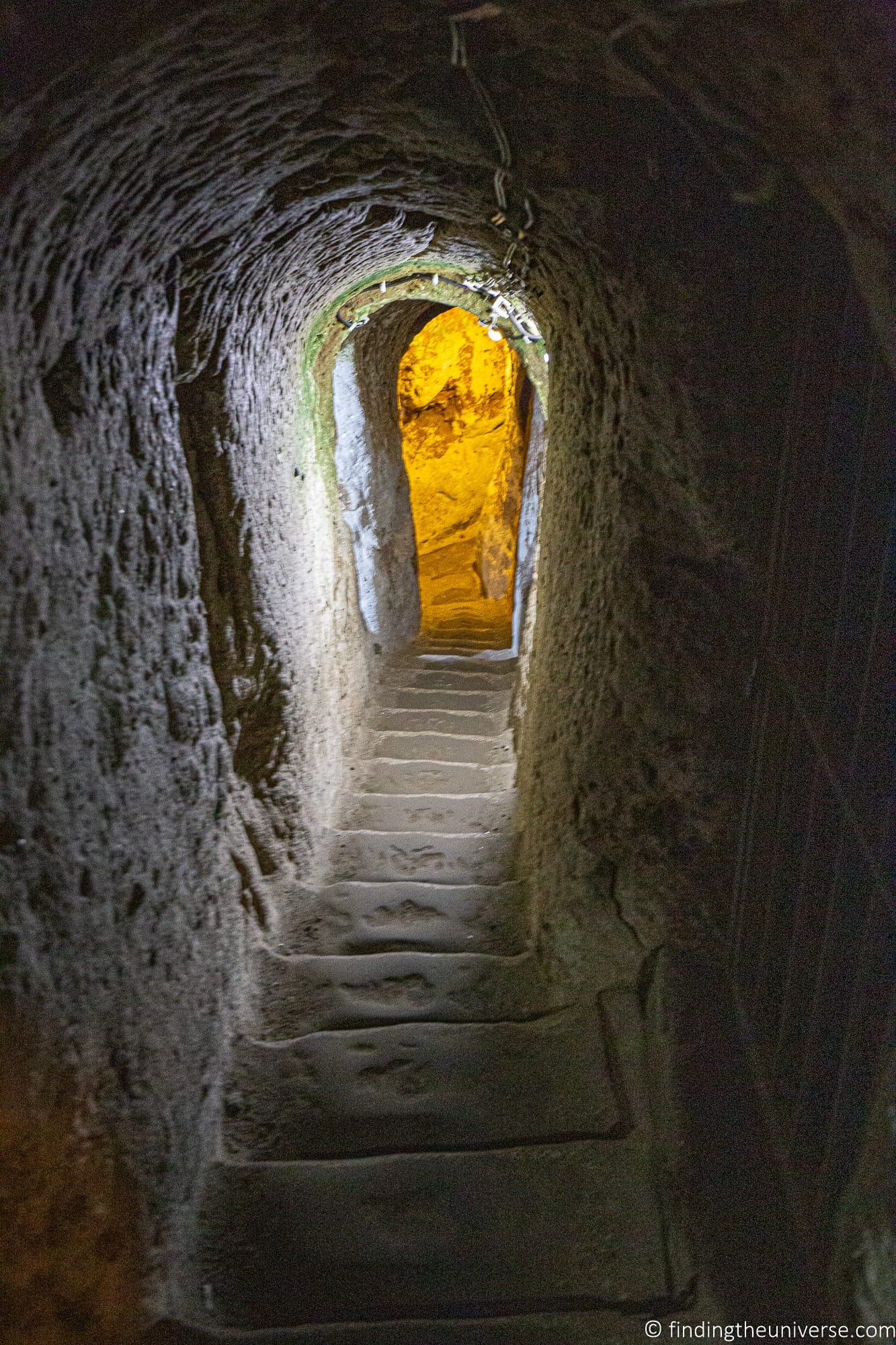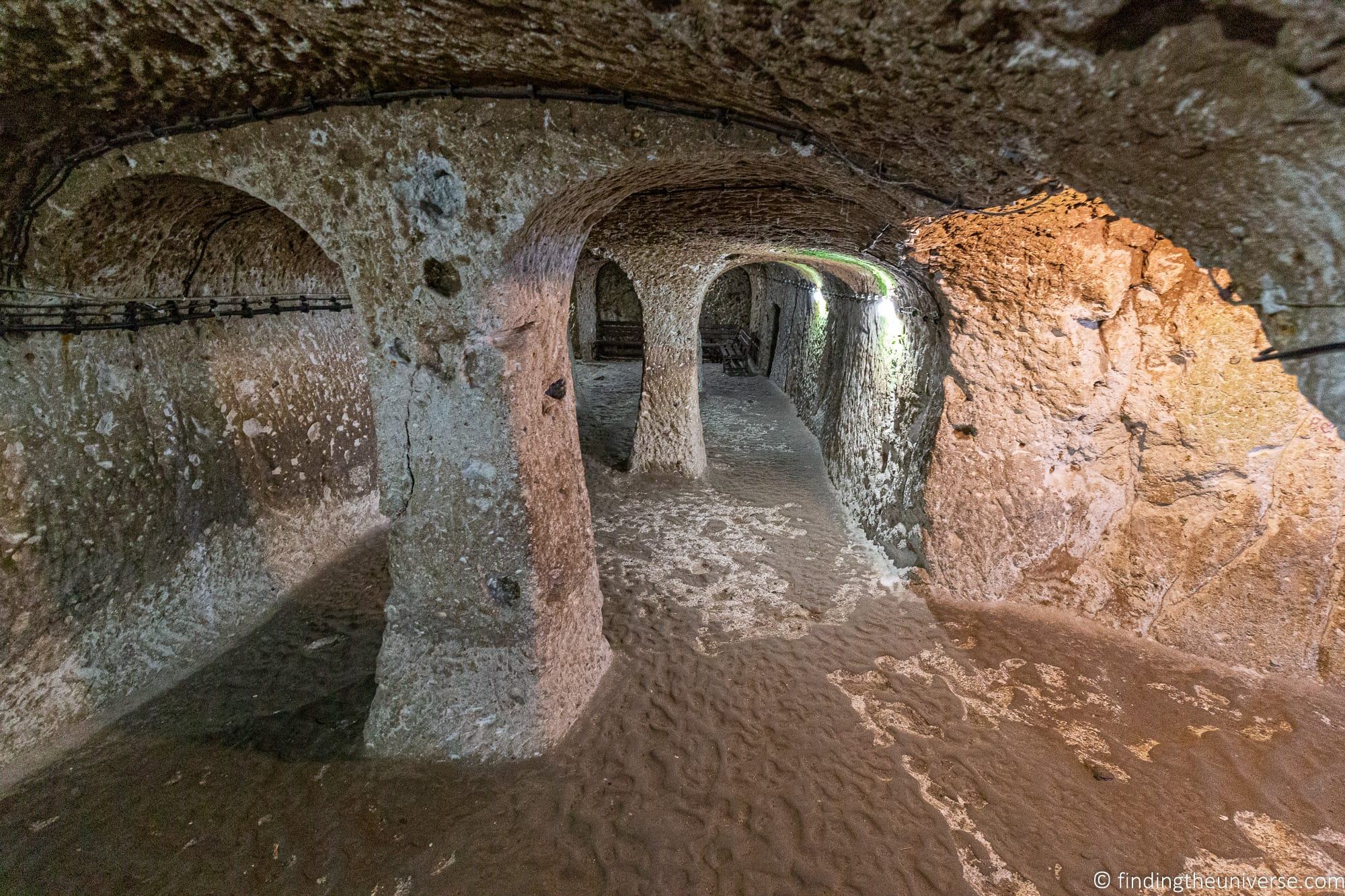 Visit the Göreme Open Air Museum
Whilst we're on the subject of dwellings within rocks, let's talk about the Göreme Open Air Museum. This is one of a number of locations in Cappadocia which you can visit to learn more about the various uses of the rock structures in the region.
The Göreme Open Air Museum is particularly notable for its religious structures. It is home to a number of churches which have been carved out of the rock, with many of them featuring stunning frescoes depicting religious scenes and icons. These were primarily built between the 10th and 14th centuries.
The Göreme Open Air Museum was one of the first UNESCO world heritage sites in Turkey, and its close proximity to the town of Göreme (a 20 minute walk or 5 minute drive) means it is quite popular.
It's also relatively small, so can get quite crowded, although as it's in the open air and there are quite a few churches to explore and there is normally room for everyone.
The Göreme Open Air Museum is open every day and there's an entry fee to visit. You can see opening times here. We'd recommend either getting renting an audioguide or visiting as part of a guided tour like this, as it will give you more context and information as to the importance of what you are seeing.
Another open air museum you can visit in Cappadocia is the Zelve Open Air Museum. This is a fairly large cave town with homes as well as churches, and was inhabited as recently as the 1950s.
It's larger and less visited than Göreme Open Air Museum, although doesn't have so many beautiful frescoes. Honestly, I would say that they are both worth the visit if you have the time.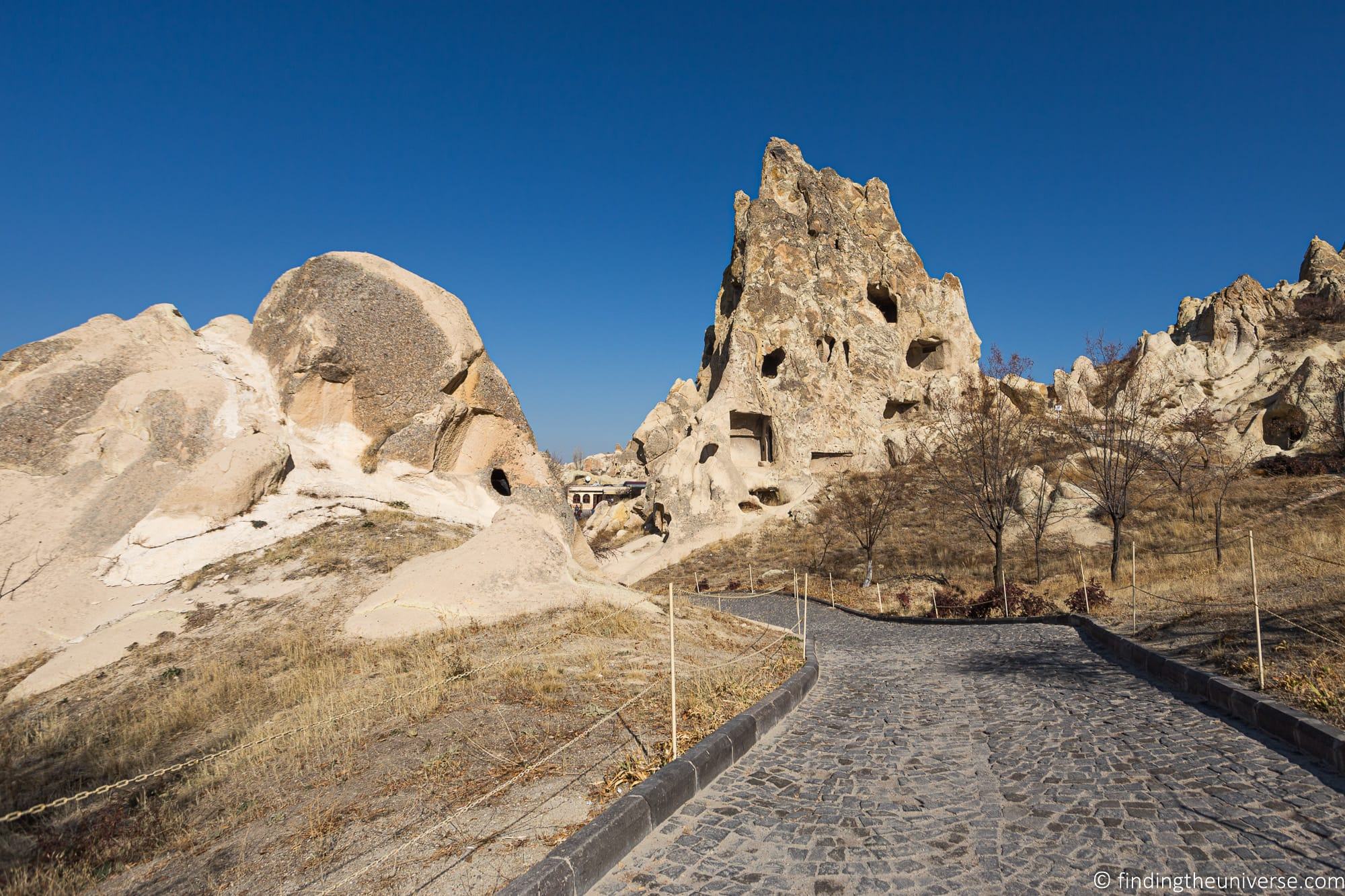 Visit Love Valley
The Cappadocia region has no shortage of beautiful valleys to look at, but one of our favourites is definitely Love Valley.
Love Valley is famous for the huge fairy chimney rock formations that are found throughout the valley, and it has long been a popular destination for lovers (and for marriage proposals!).
You can hike in the valley itself, or just admire the view across the valley from the large viewing area on the valley rim. Here, you'll also find a number of photogenic spots, including heart shaped swings and various sculptures.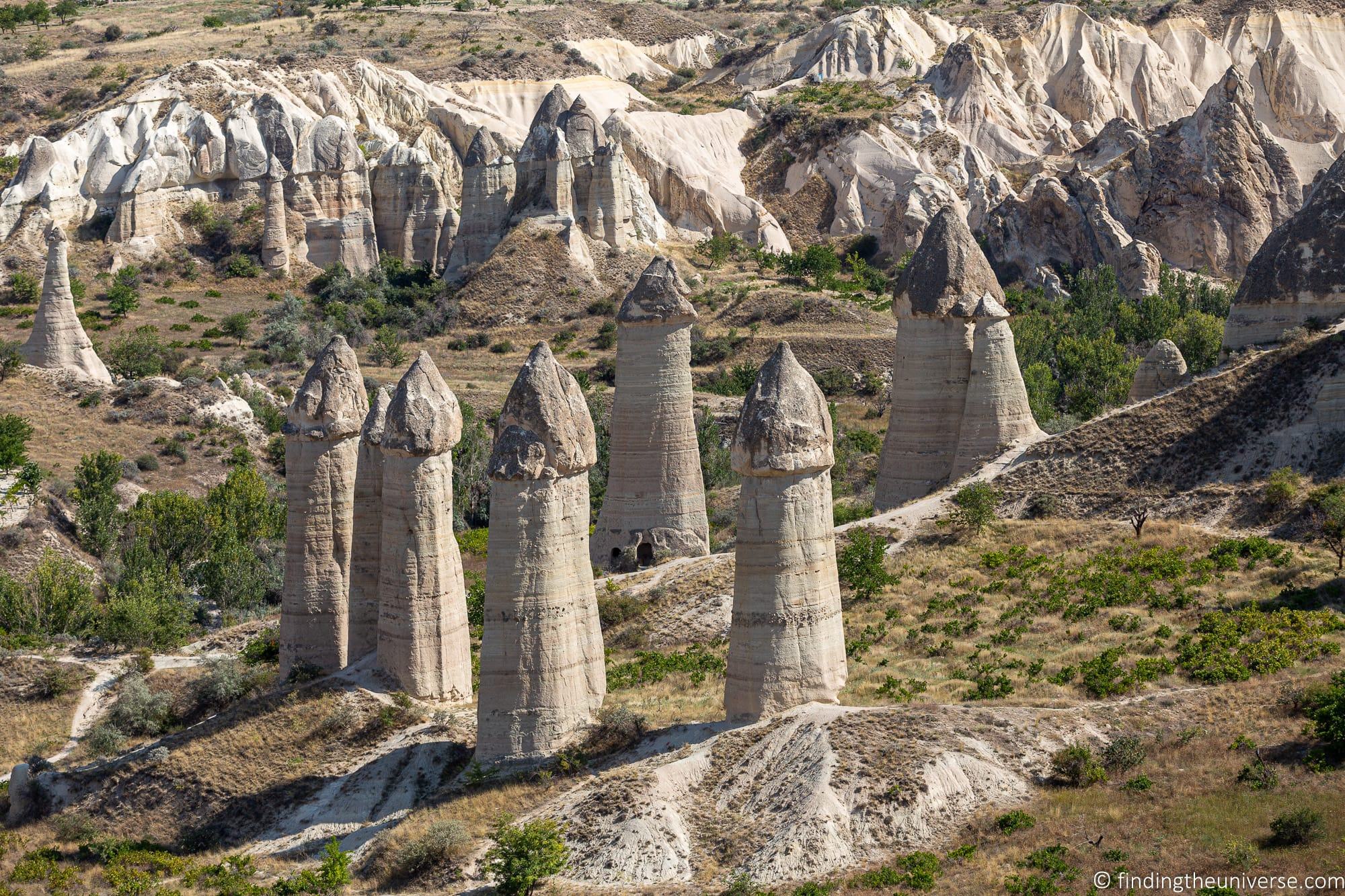 Güray Museum (Müze Güray)
Avanos is well known across Cappadocia and Turkey for pottery production. The area has been producing pottery since the time of the Hittites, over 3,000 years ago, and it is still going strong today.
If you want to learn about the history and traditions of ceramics in the region then you will want to visit the Cappadocia Underground Ceramic Museum, or Güray Museum.
Here you can watch demonstrations of pottery being made, learn all about the ceramics industry, and see hundreds of pottery items that span the thousands of years of pottery production in the area. The museum is even located underground, carved out of the rock, which is certainly in keeping with local construction traditions.
You can see opening hours on the official website here, and you can buy entry tickets either at the door, on online in advance here.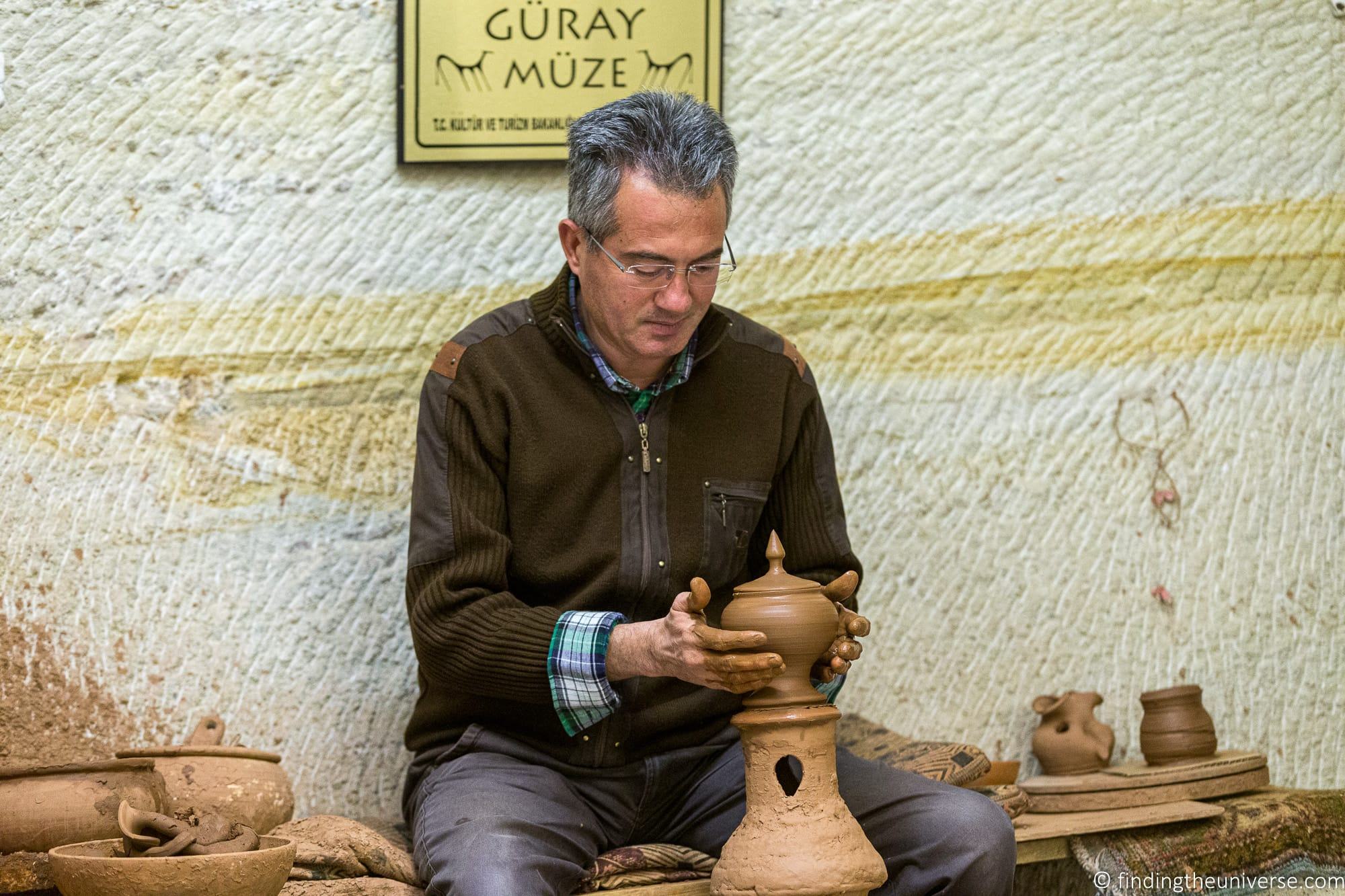 Watch the Sunrise and Sunset
After hot air ballooning, I would say that my favourite experiences in Cappadocia were watching the sunset and sunrise. Sunrise in particular is an incredible sight, as dozens of balloons fill the skies, and you certainly don't need to be in a balloon to appreciate this view.
For sunrise, my recommended location is the viewpoint found just to the east of Goreme, which you can see on Google Maps here. From here you will get an elevated view across the town and surrounding landscapes, with the added bonus that you will also see the balloons inflating and taking off.
Plan to arrive 30-45 minutes before sunrise, and be aware that this is quite a popular location so can be fairly busy, although there is lots of space for everyone.
The above sunrise location is also a good location for sunset, although I would suggest instead heading out to Kizilcukur, or Rose Valley. There's a panoramic viewpoint here above the beautiful red colored rock formations here which offers stunning sunset views.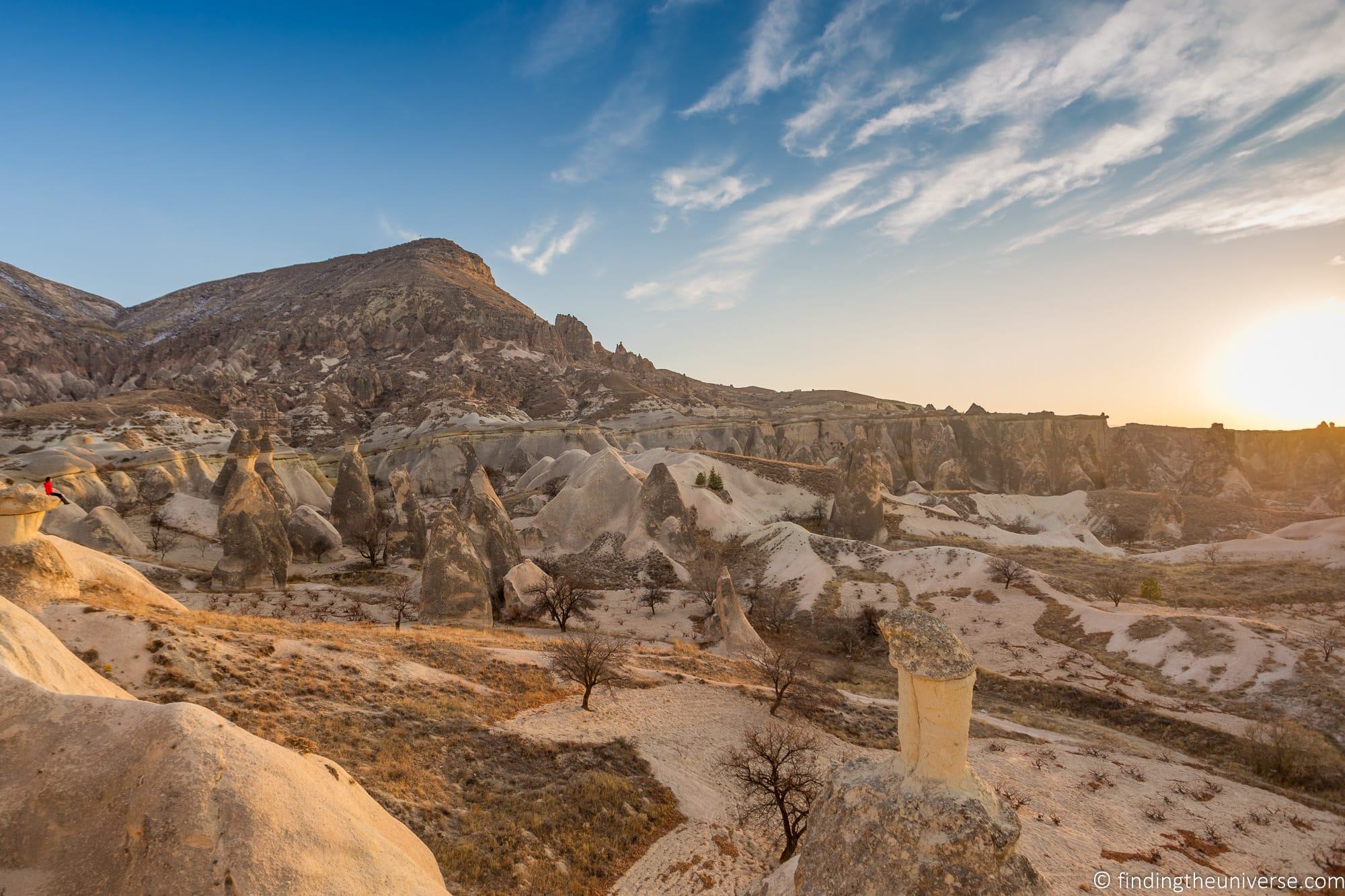 Stay in a Cave Hotel
I may have mentioned cave dwellings a few times in this guide. Which might have led you to wonder what it would have been like to live in one of these carved out homes.
Well, the good news is that you don't need to wonder – you can find out for yourself! There are a number of cave hotels in the Cappadocia region where you can experience sleeping in a cave.
We think this is an experience everyone should try out, although it's worth being aware that there is a bit of a premium charged over regular hotels. If you want to try staying in a cave hotel during your visit to Cappadocia, here are some recommended options. All of these include breakfast when we last checked.
Note when booking a cave hotel that sometimes only some rooms are cave rooms, and other rooms might be normal hotel rooms. So always ensure you book the right kind of room to avoid disappointment.
Visit Uçhisar Castle
If you prefer your rock dwellings to be of a more dramatic disposition, then you'll want to include a visit to Uçhisar Castle on your list of things to do in Cappadocia.
Found in the town of Uçhisar, this castle is hard to miss. It's a 60 metre (200ft) high mountain that dominates the surrounding skyline. It's one of the highest points in the area, and so it can be seen from miles around.
The hill was, as the name suggests, turned into a defensible castle location around 2,000 years ago during the Roman occupation of the area. With its excellent vantage point over the surrounding lands it made for an excellent strategic base.
Today, the castle and it's warren of corridors is open for visitors. There's a small entry fee, and you can navigate your way through the passageway all the way to the top, from where you can get spectacular views of the surrounding landscapes.
Uchisar is around 5km from Goreme. You can either visit it as part of a guided tour like this, or by yourself. If you don't have your own transport, you can either take a public bus from Goreme to Uchisar, or take a taxi.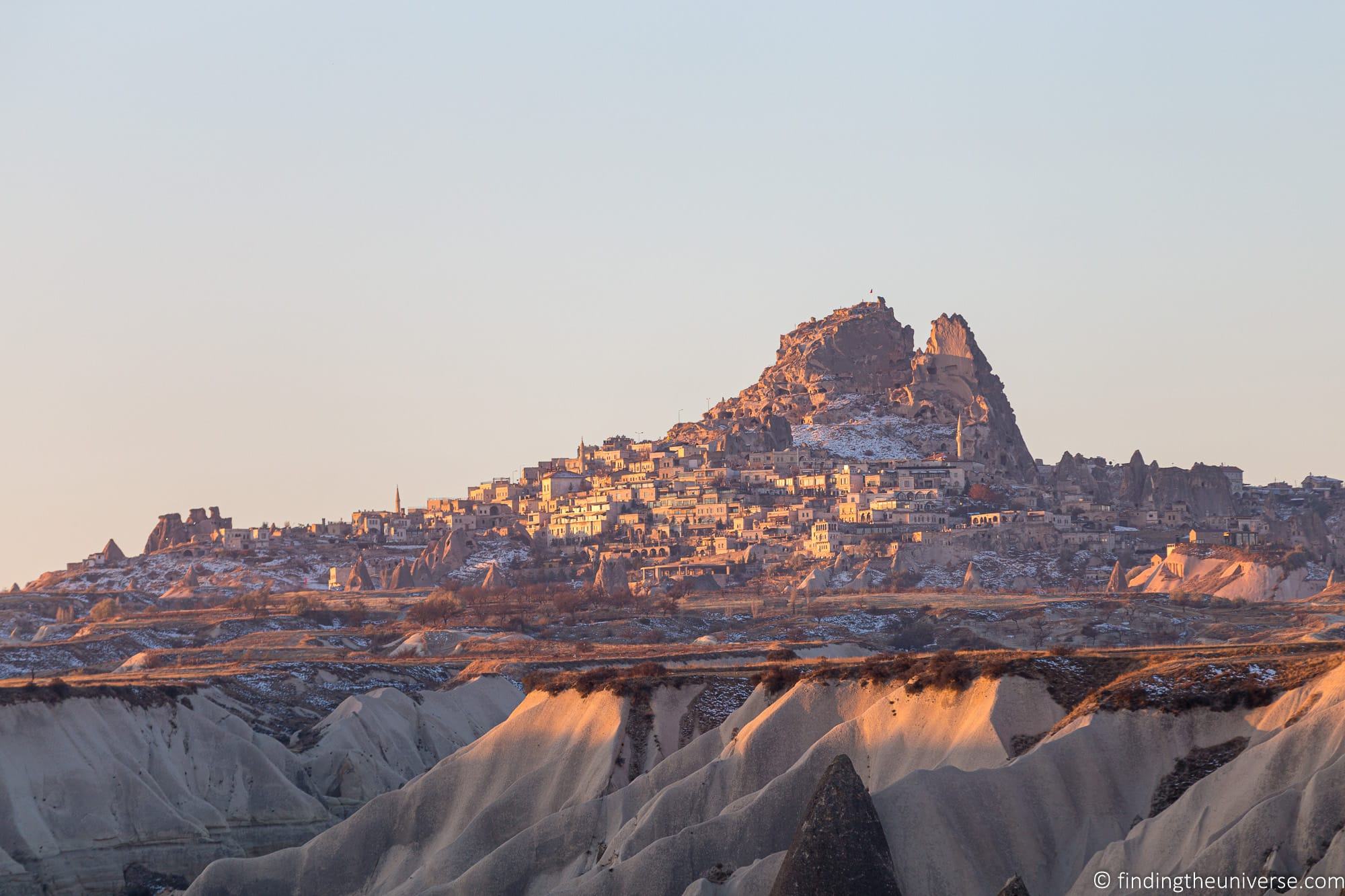 Explore Pigeon Valley
Cappadocia has a number of beautiful valleys you can explore, which I also cover in my section on hiking below. One particularly well known and popular valley that I wanted to highlights is Pigeon Valley.
This valley, which is named for the thousands of pigeons that call the valley home, offers a nice scenic hiking trail of around 4km between Uchisar and Goreme. Even if you don't choose to hike though, the viewpoint from the southern end of the valley offers lovely views down the valley, with the town of Uçhisar and Uçhisar Castle in the background.
There are also a number of shops and vendors here, as well as trees covered in the evil eye symbol.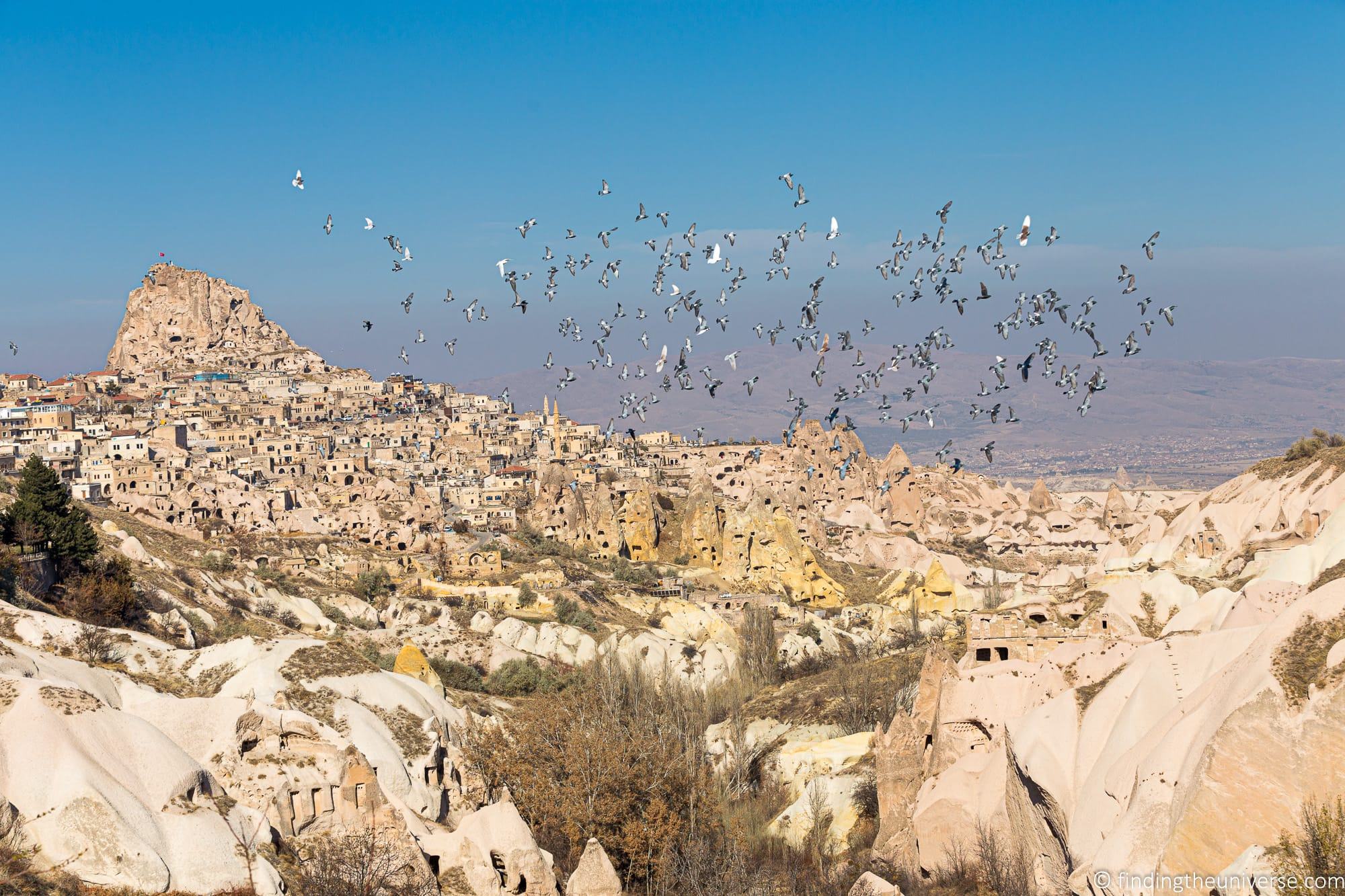 Enjoy an Evening Turkish Show
If you're looking for some evening entertainment for your visit to Turkey, you might want to take in an evening show. This can be a particularly good idea if you are visiting in winter and want some warm, indoors based entertainment!
There are a number of evening shows available. Normally they'll offer an evening meal which is accompanied by live entertainment which will include favourites such as whirling dervishes and belly dancers.
We've taken in one of these shows as part of a tour we did with Turkey. It was definitely firmly aimed at tourists, but it was also a lot of fun, and a good way to experience some of the highlights of the local culture and cuisine.
We'd suggest this evening show, which includes dinner, unlimited drinks including wine and beer, hotel pick up and drop off and of course, entertainment.

Shop for a Local Souvenir
Speaking of shopping, at some point in your visit to Cappadocia it's highly likely that you're going to see some vendors or visit a shop. Some of the tours include a visit to a local workshop, which can be a good way to see how some of the local crafts like pottery and carpets are made. And of course, there's no shortage of opportunities to buy the products!
Of course, it's up to you if you want to actually buy something. We think picking up something locally crafted makes for a great souvenir, even it if it isn't overly expensive or large. Plus it's a nice way to help the local artisans!
For those really interested in learning about the local arts and crafts, you might consider a private art tour like this one. The tour focuses on the history of the local Anatolian arts and crafts and takes you to meet local artisans.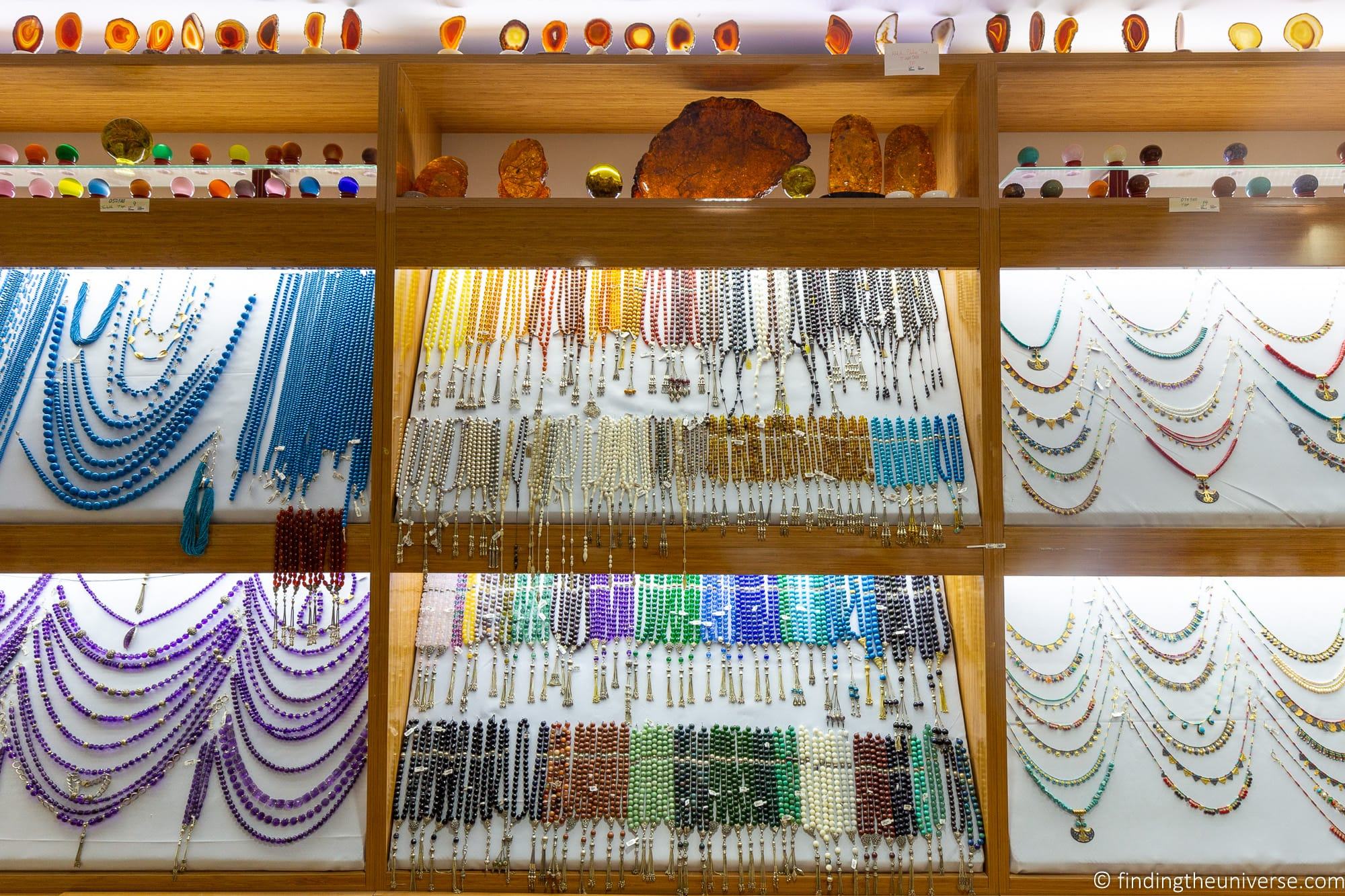 Go Hiking
The beautiful landscapes of the Cappadocia region make it perfect for hiking. Taking a hike is an excellent way to experience the region, to see some of the fairy chimneys up close, as well see some of the thousands of man-made caves that fill the area.
There are a huge number of hikes you can take in the area, from short trails through to long full day trips. If you are planning a longer hike, you will want to be suitably prepared of course. This is especially the case in the summer months where the temperatures can be very high.
Popular destinations for hikes in Cappadocia include:
Red Valley / Rose Valley (2-4 hours, a number of paths available)
Pigeon Valley (4 km of trails that link Uchisar with Goreme)
Love Valley (a 2 km trail with some of the most spectacular fairy chimneys)
Ihlara Valley (the valley is 14 km long and you can hike as far as you wish)
Most of the valleys have trails that are pretty easy to follow, and you can link some of these locations and trails together for a longer hike. Many of these locations are also within walking distance of Goreme.
If you like the idea of hiking but would prefer to be guided, there are some tours which include guided hiking. For example, this is a full day hiking tour of Cappadocia, whilst this tour includes hiking and an underground city visit.
You can also explore these scenic valleys on an ATV tour, or on horseback!
Visit an Outdoor Market
When we travel, we always enjoys visiting local markets to get a feel for the produce and home goods of the region. If you'd like to see the seasonal produce, spices and other goods that are on sale, then visiting one of Cappadocia's outdoor markets is a great way to do so.
The largest market in the region takes place in Avanos every Friday. However, there are other markets throughout the region at other times – we'd suggest asking at your lodging about local markets as times can vary.
Although they generally run into late in the afternoon, the best time to visit is in the morning when there is likely to be more fresh produce available.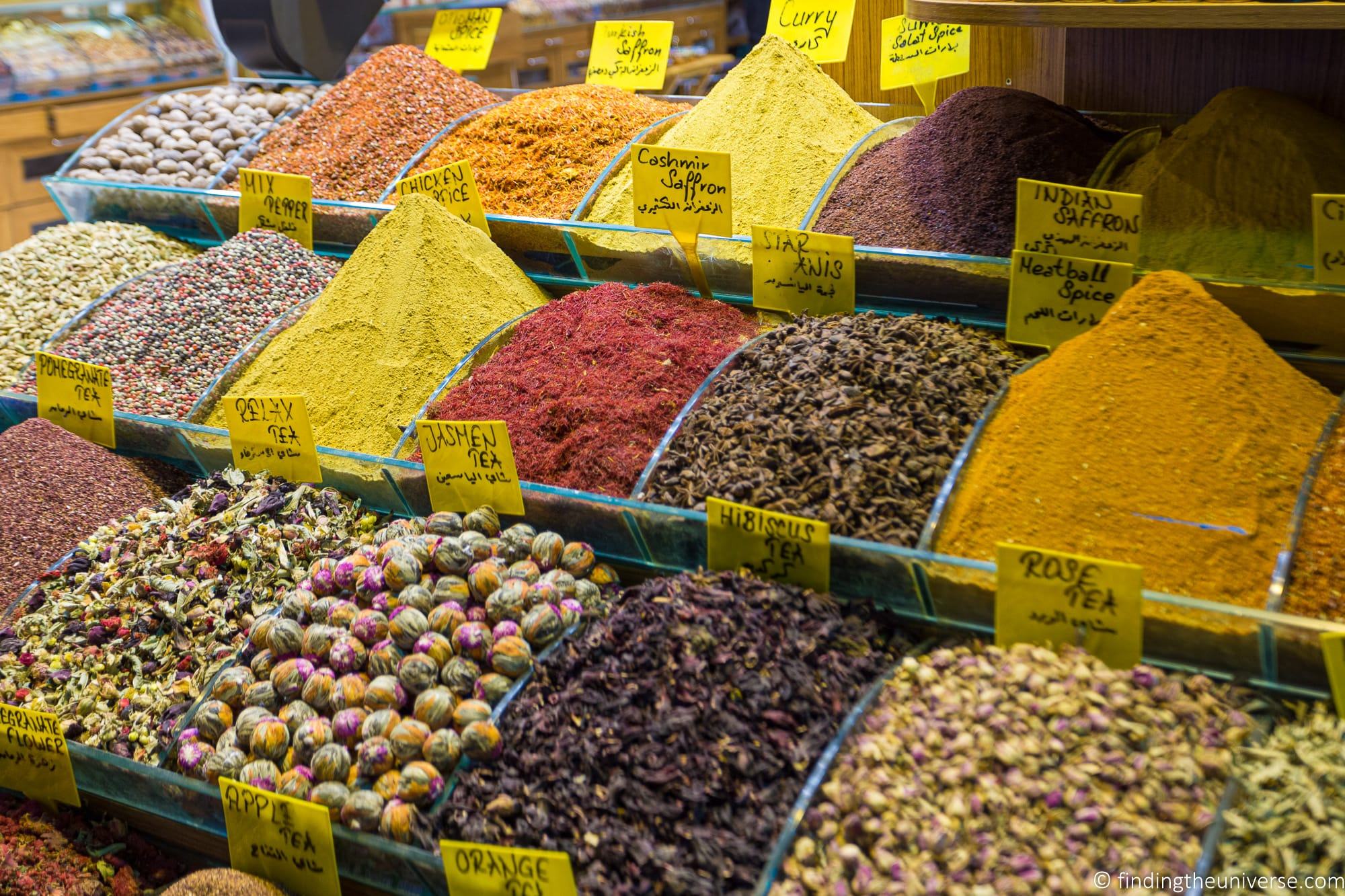 Have a Traditional Bath
After all this exertion, you might feel it's time to relax. Well, Cappadocia has you covered in that department as well.
A great way to relax is to take a traditional bath, known as a hammam. This method of public bathing is based on the ancient Roman bathing rituals. It involves a number of steps, from perspiring in a hot room through to bathing in a pool and often also includes a massage. This is usually followed by a period of relaxation. The baths are usually public, and are segregated by gender.
On one of my visits to Cappadocia, I had a traditional hammam with a foam massage. This involves receiving a traditional massage accompanied by lots of foamy bubbles, and after a long day of exploring it was very welcome.
There are other type of bathing in Cappadocia, including a traditional mud bath.
You can book a foam massage in advance here, and a mud bath in advance here.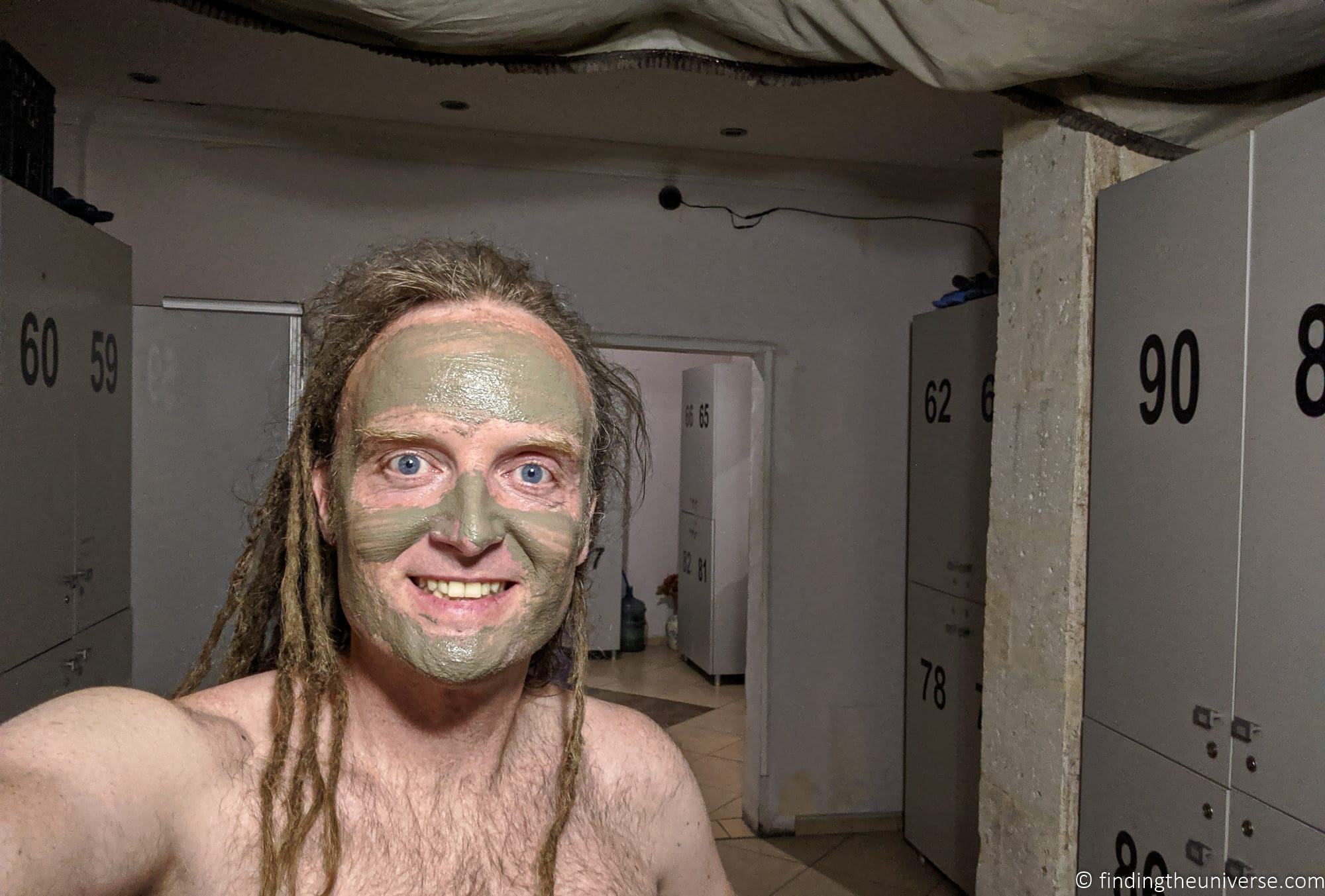 Cappadocia Sightseeing Map
To help you visualise the main highlights in Cappadocia, we've put together this map of things to do in Cappadocia. You can also see this map on Google maps here.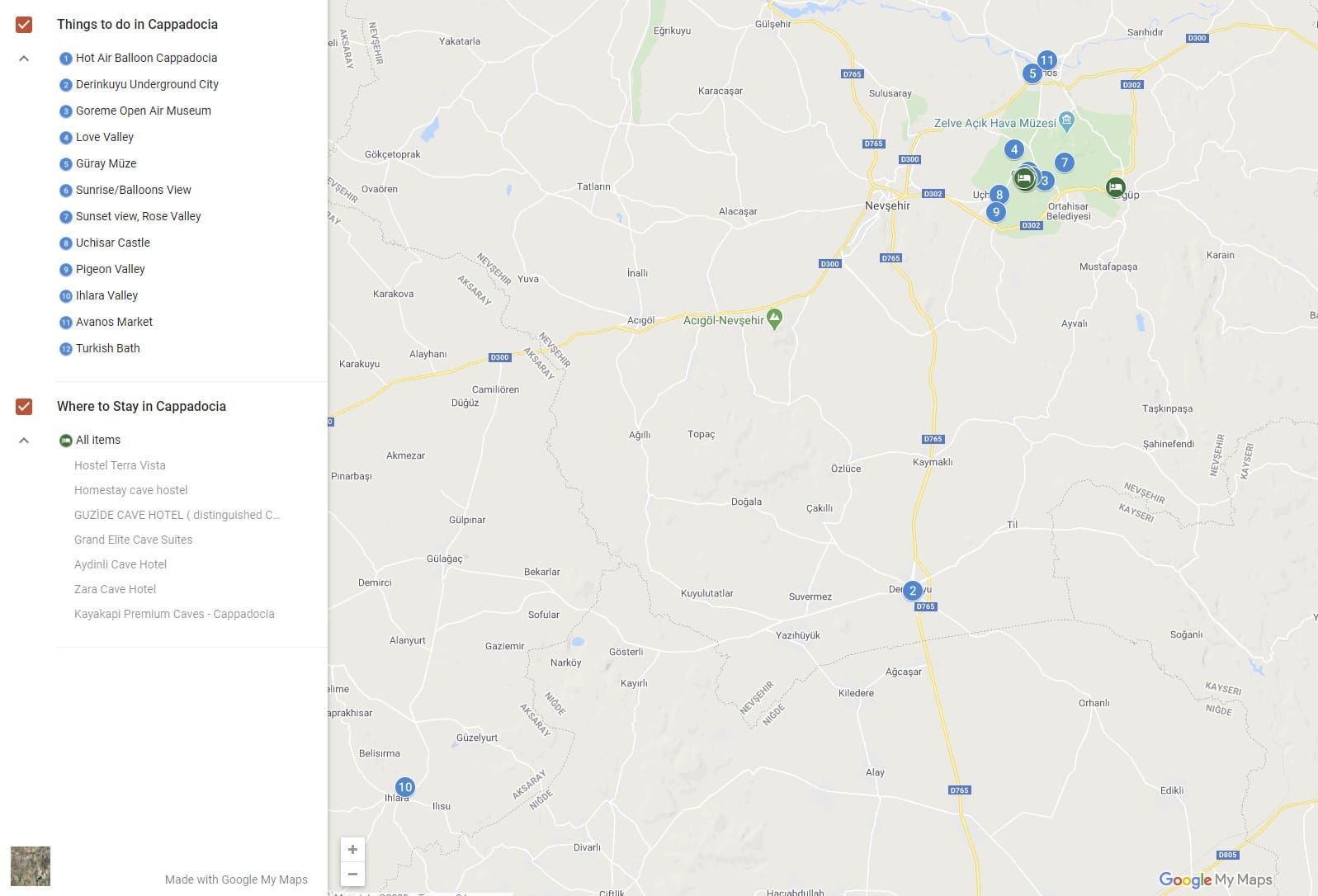 How to Get Around Cappadocia
Cappadocia is a large region. Whilst the majority of the sights and highlights in our guide are in a smaller area, you are still looking at up to an hours drive between some attractions. As such, you'll need to plan your transport accordingly. You have a number of options for getting around.
First, public transport. There's a good public bus network which links most of the towns in the area, which will get you to many of the sights in our list.
For those sights which aren't on the public bus network, taxis are widely available and not too expensive. Taxis should be metered, but you may also be able to negotiate a fixed price if you have a specific route in mind. If you are visiting a location to watch a sunset, you can normally arrange for the taxi driver to come and collect you at a certain time, or take a business card so you can call them when you are done.
Another option is of course to drive yourself with a hire car. The roads in Cappadocia are good, and driving yourself will give yourself the flexibility to explore at your leisure.
If you'd like the flexibility of a vehicle but would rather not drive yourself, you can hire a private car and driver, either for a half day or a whole day. This is a cost effective option and will let you sightsee at your leisure without having to worry about arranging taxis or dealing with the traffic.
Cappadocia also has a hop on hop off bus option which visits the major sights and attractions, although this doesn't run all year.
Finally, perhaps the easiest way to get around Cappadocia is to join a tour. This is a popular area to visit, and there are lots of tours to choose from which visit the most popular parts of the region. I'll cover tours in the next section.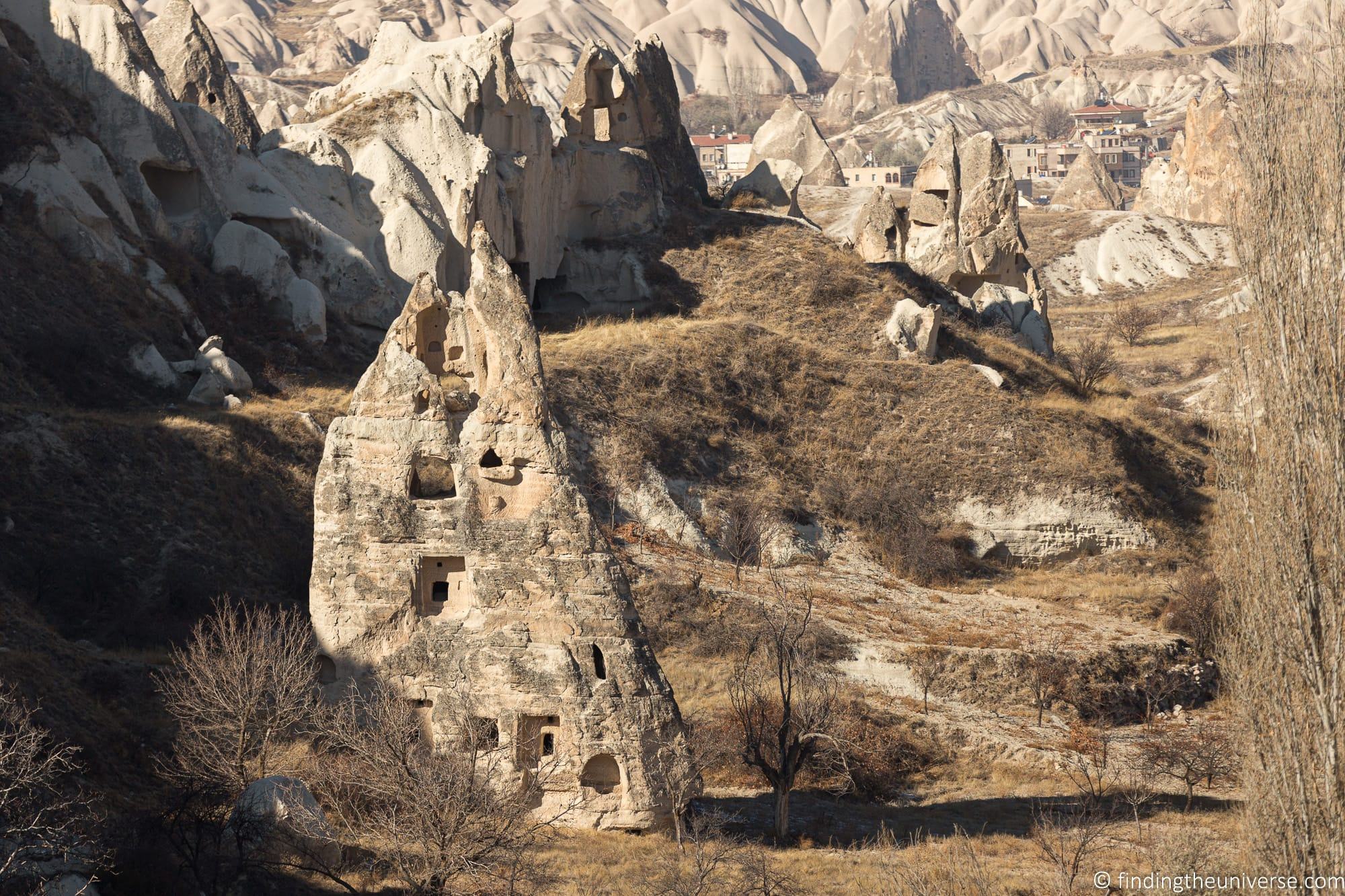 Tours in Cappadocia
Cappadocia is a popular place to visit and as such there are many tours available. These cover all the major highlights in the region, and are priced very competitively. We'd say that if you don't want to worry about transport, or enjoy having a more guided experience, a tour is a great way to experience the region.
One of the great advantages we have found of joining tours in Turkey, other than the transport, is the access to an English speaking guide. Many sites contain little information in English so having a guide can really help you better understand the history and attractions in the region.
When booking a tour, we recommend reading recent reviews from other travellers, as well as checking exactly what is and isn't included. For example, some tours may include meals and entry fees, whilst others do not. So don't just look at the price, always check what's included.
Here are some of our picks for tours in Cappadocia that you should consider for your visit.
As you can see, there are lots of tours to choose from! You can also see more on GetYourGuide here and Viator here.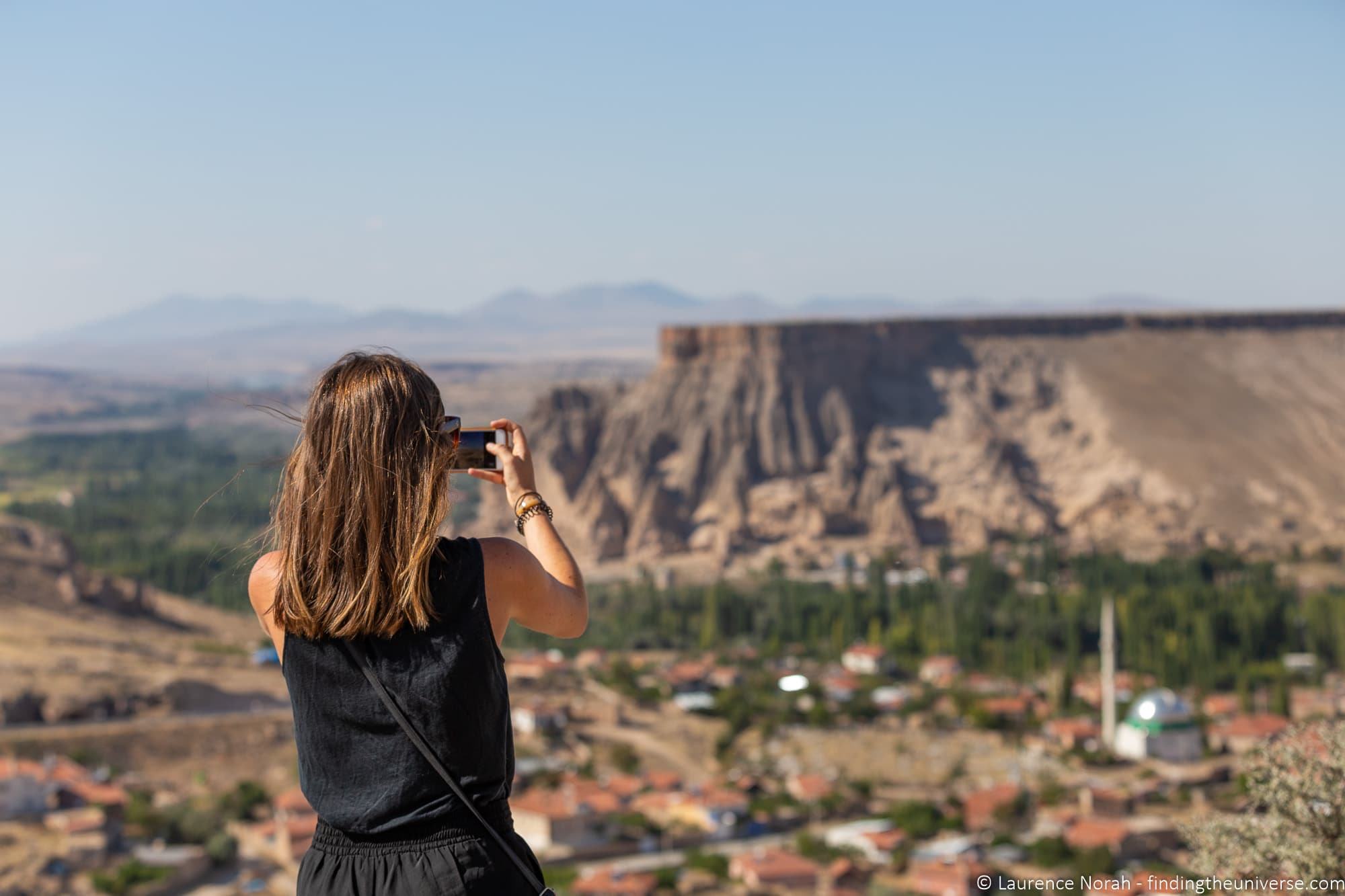 Cappadocia Museum Pass
If you think you'll be visiting a few museums in Cappadocia, you might consider the Cappadocia Museum Pass. This is a product of the Ministry of Culture and Tourism, and offers access to 13 attractions in Cappadocia. The pass is valid for three days.
The pass includes the Derinkuyu underground city, Goreme Open Air Museum and Neveshir Museum. It's definitely worth looking into if you plan on visiting a number of these locations. You can buy it online from the official website here.
Where to Stay in Cappadocia
The Cappadocia region is quite large, but for your visit we recommend staying in the town of Göreme or in one of its nearby towns such as Uçhisar, Ortahisar, Belediyesi, or Ürgüp.
The hot air balloon flights primarily operate from Göreme, so staying here or nearby will position you well to either take a flight, or to just watch the balloons as they drift over the landscape at sunrise.
In addition, these four towns have a huge range of accommodation options and are close to many of the main attractions in the area. Here are our picks for where to stay in Cappadocia.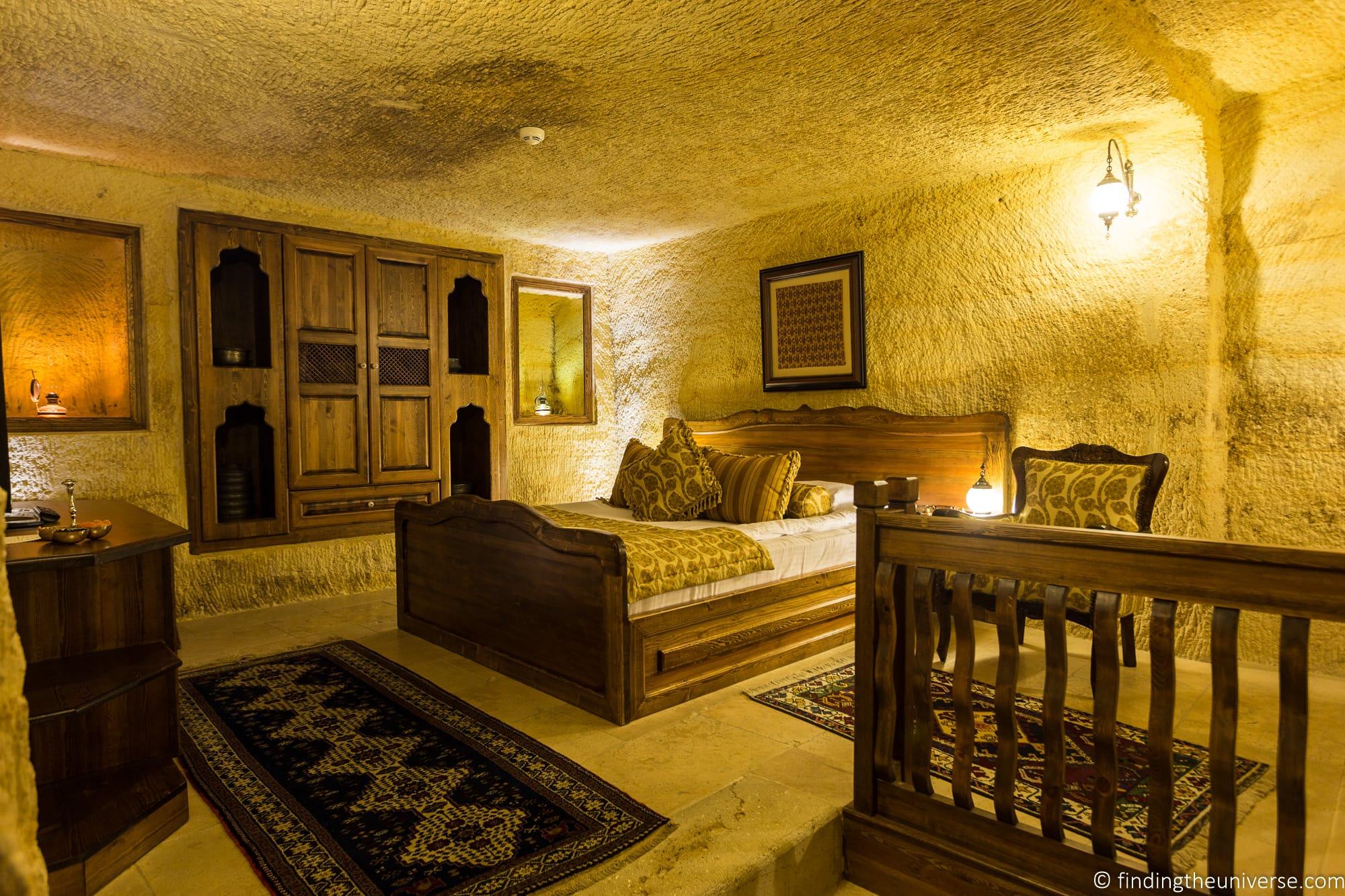 Further Reading
I hope you found this guide to things to do in Cappadocia useful. We've written some more content on the Turkey we think you will find helpful, as well as some general travel tips to help you prepare.
And that's it for our suggestions of what to do in Cappadocia! As always, we're happy to answer your questions and hear feedback. Just use the comments section below and we'll get back to you as soon as we can.